Our dear Christian brothers and sisters, we welcome you all in the name of our Lord Jesus Christ. Today we will look at some Bible verses that will encourage us to rely on God in our critical times.
When someone has everything, he trusts God, but the problem is that when someone is in a very bad situation, he gives up his faith.
But God's Word is telling you today that when you go through bad times, trust God more and pray and leave all your thoughts to God and He will prepare the way for you.
If we look at Job's life in the Bible, we can see that he believed in God when he had everything, and he believed in God when he had the hardest day of his life, which resulted in a hundred times what he lost.
No matter what you study throughout the year, when the exam takes place, you know what you studied throughout the year. And it will make you understand whether you will pass or fail. In the same way, you believed in God, but when trials and temptations come in your life at that time you know how much you believed in God.
Dear children of our beloved God, remember that if you truly believe and love God, you will never lose faith in God, no matter how great the trial, no matter how bad the time, because He knows how to save you from that trial. He knows how to deliver you from your specific trials which seem so hard for you to overcome.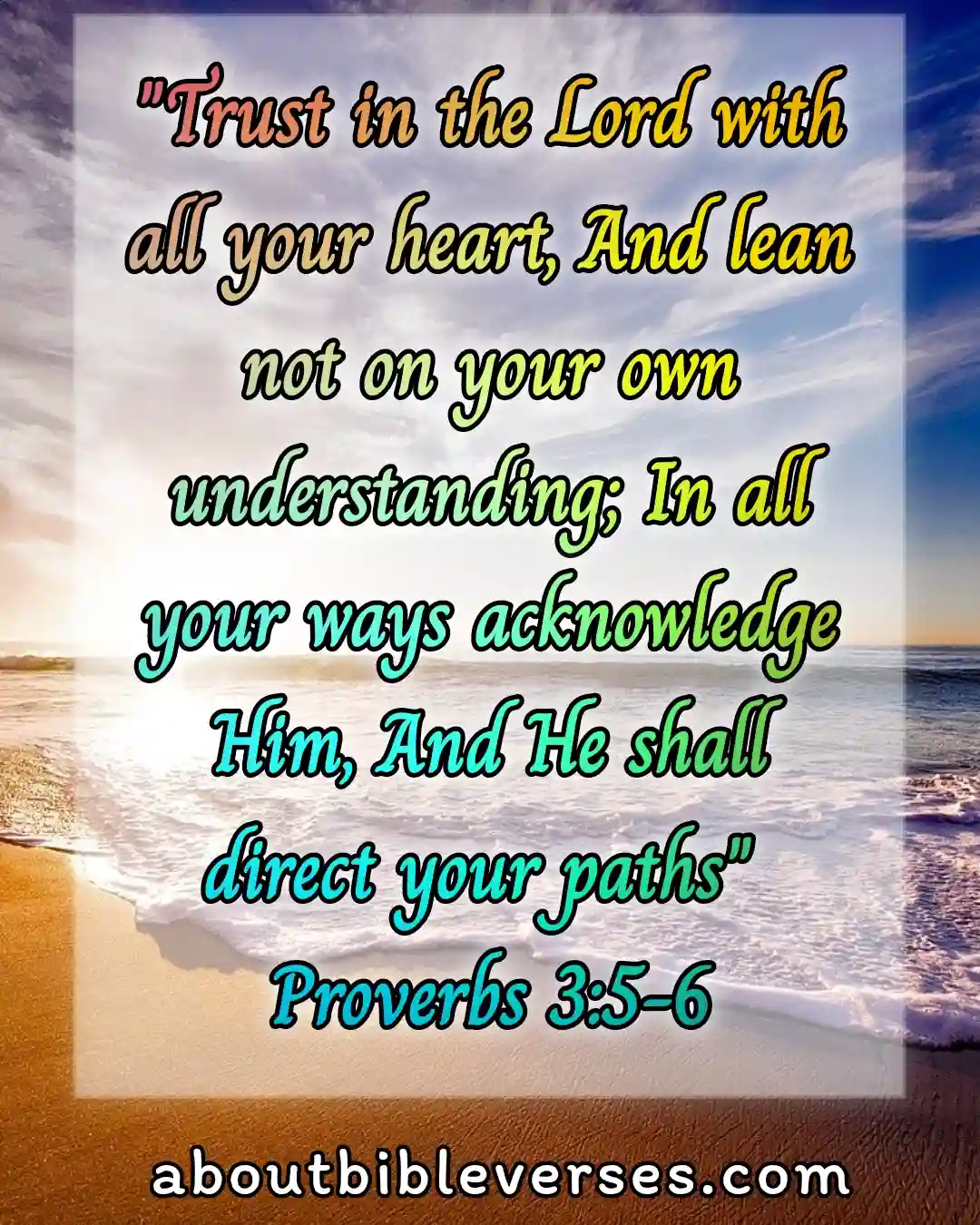 Proverbs 3:5-6(KJV)"Trust in the Lord with all thine heart; lean not unto thine own understanding. In all thy ways acknowledge him, and he shall direct thy paths"
Explanation:- Let us put our faith in Jesus as he is worthy to help us in our lives. We should not trust in our own understanding as we are limited in knowledge and we do not know about the future. We shall be prosperous if we trust in the Lord.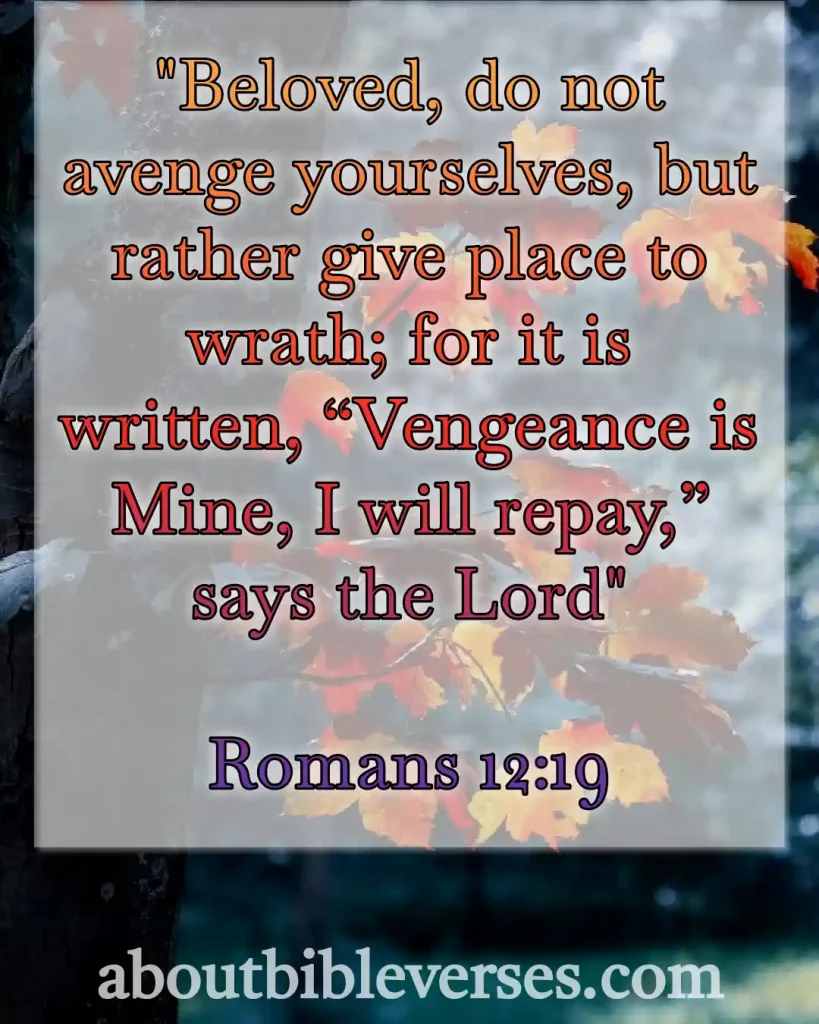 Romans 12:19(KJV)"Dearly beloved, avenge not yourselves, but rather give place unto wrath: for it is written, Vengeance is mine; I will repay, saith the Lord"
Explanation:- Even in times of persecution, believers must be humble and they should not take any revenge towards others who torture them. God will help us by taking revenge. He is almighty and wise so we are to rely on his plan.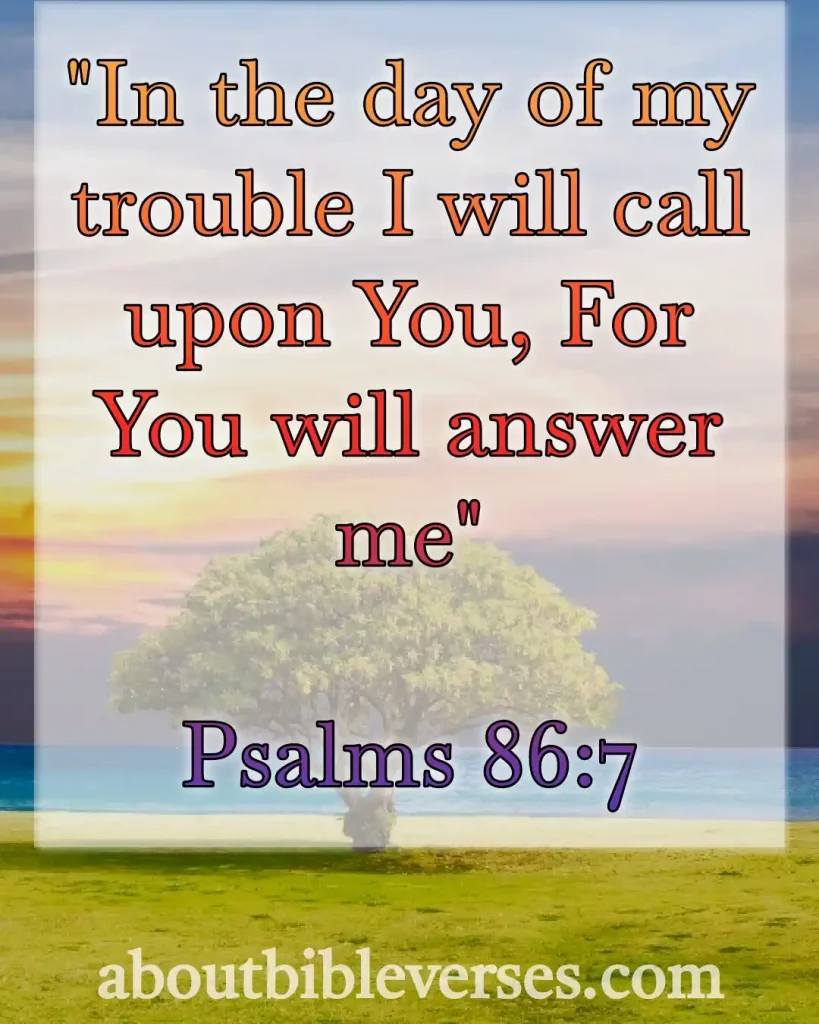 Psalm 86:7(KJV)"In the day of my trouble I will call upon thee: for thou wilt answer me"
Explanation:- God listens to our prayers and he is capable of delivering us from our troubles. He is faithful and promised us to help while we don't find any assistance from others.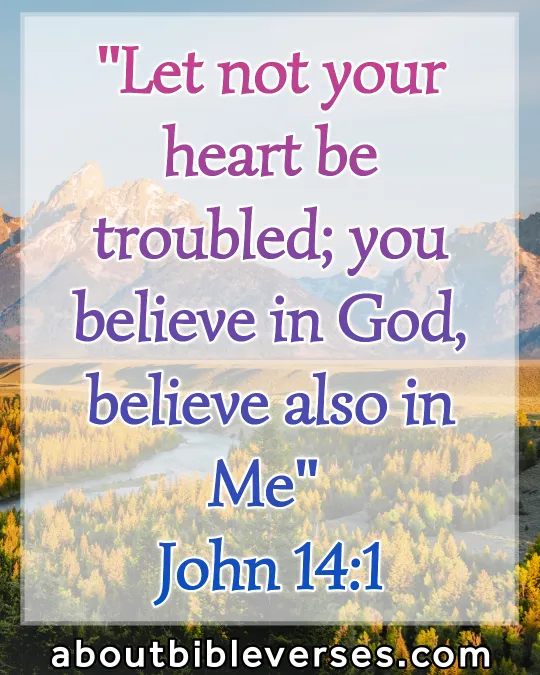 John 14:1(KJV)"Let not your heart be troubled: ye believe in God, believe also in me"
Explanation:- Though we may face many unprecedented events in our lives yet we need to trust God as he is our father who will save us from all evil. When we believe him it means we honor him and trust him.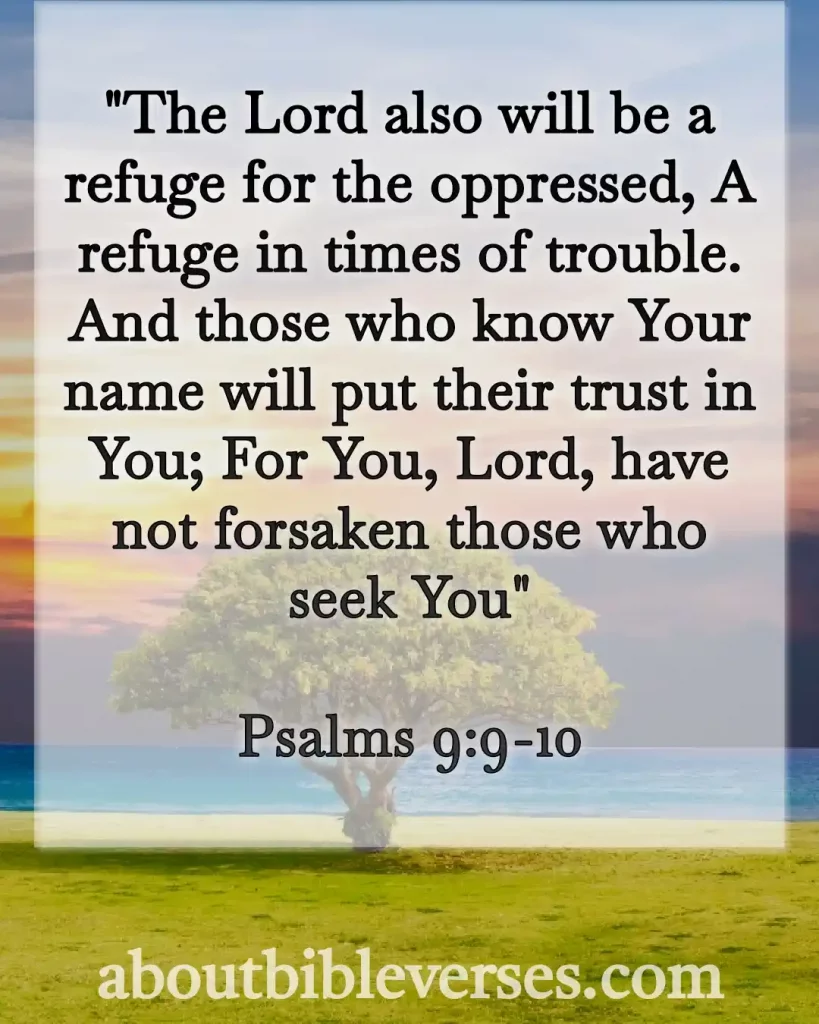 Psalm 9:9-10(KJV)"The Lord also will be a refuge for the oppressed, a refuge in times of trouble. And they that know thy name will put their trust in thee: for thou, Lord, hast not forsaken them that seek thee"
Explanation:- The Lord knows the right time to extend his mighty hand and it was displayed while the children of Israel were in Egypt. They were oppressed by the Egyptians and the Lord answered their prayers and delivered them as the four hundred years were completed which was foretold to Abraham.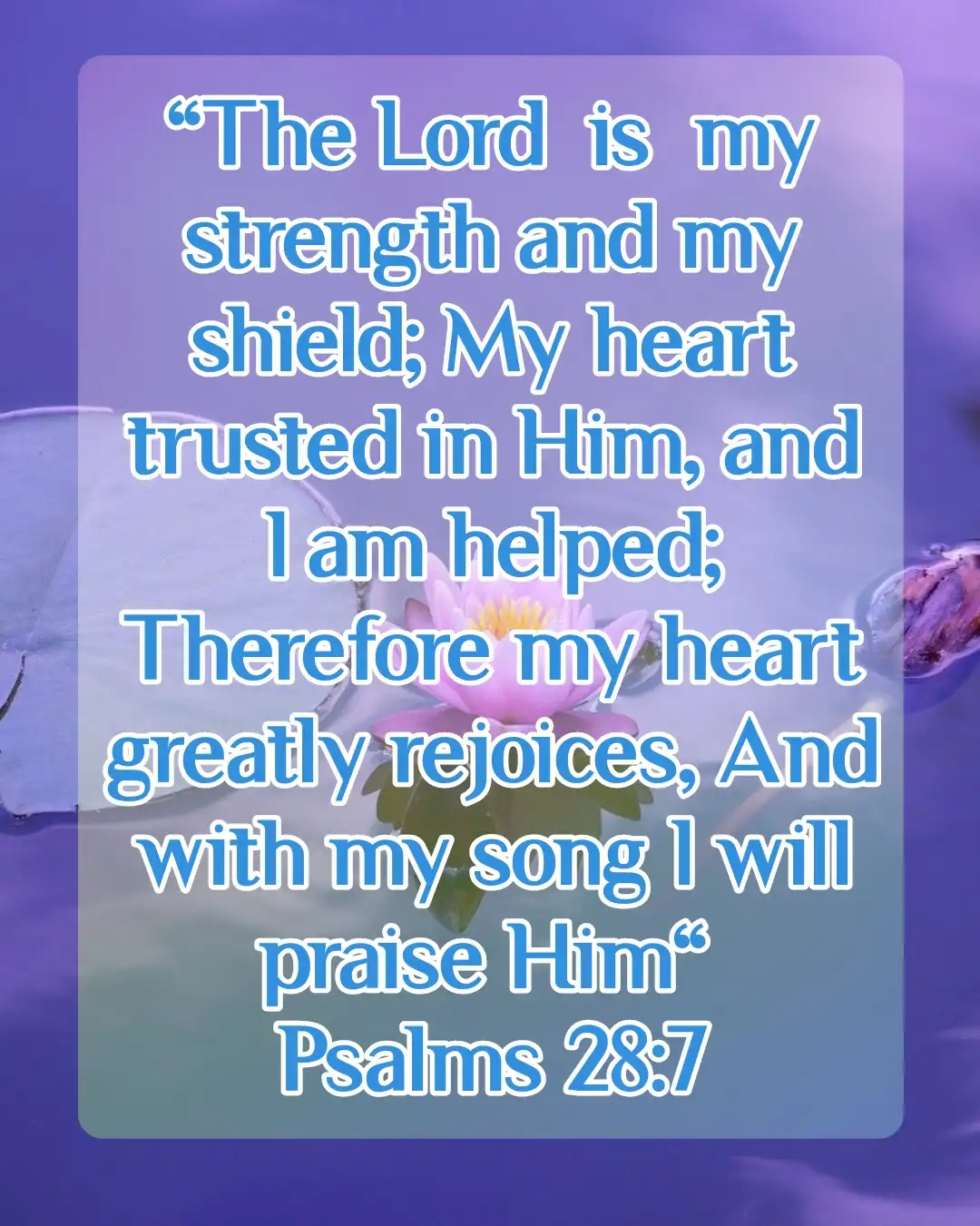 Psalm 28:7(KJV)"The Lord is my strength and my shield; my heart trusted in him, and I am helped: therefore my heart greatly rejoiceth; and with my song will I praise him"
Explanation:- If we walk with the Lord on a daily basis then we will truly understand that he is our strength and he can protect us from all our enemies. Instead of worrying, we can rejoice in him as he will deliver us by his mighty hands.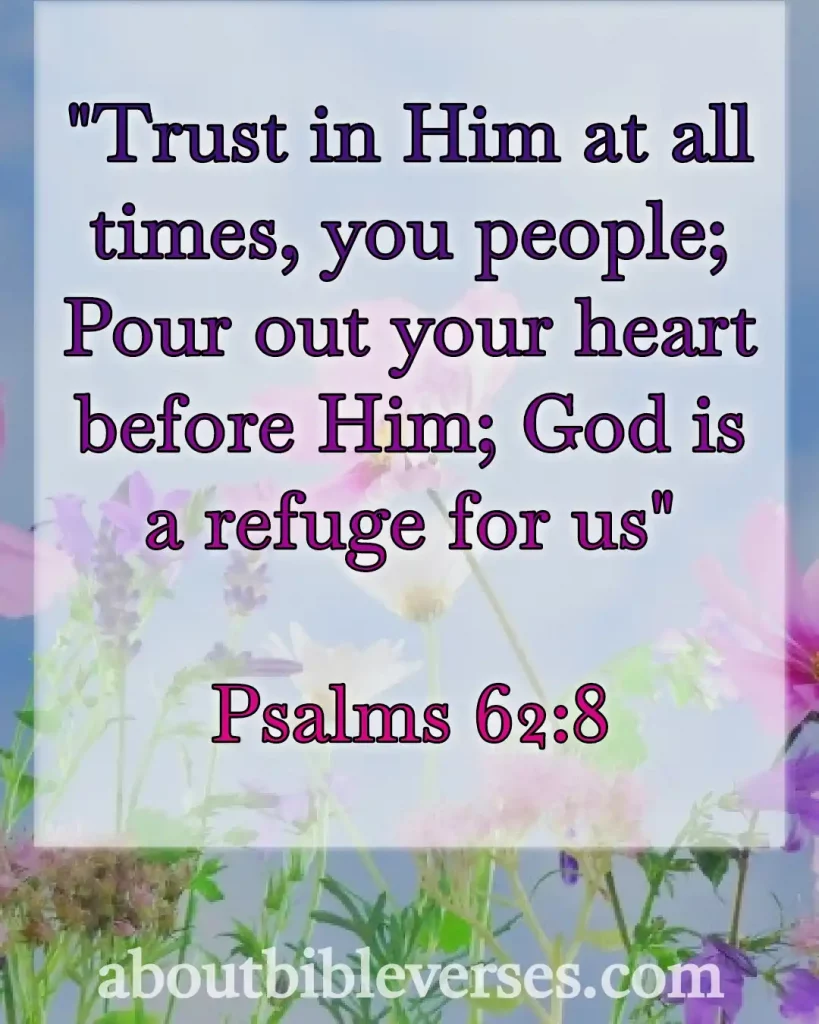 Psalm 62:8(KJV)"Trust in him at all times; ye people, pour out your heart before him: God is a refuge for us"
Explanation:- To be blessed we need to trust God. Without trusting him we can not get any blessings from him. The first act that every believer needs to do is trust him with all the heart, mind, and soul then the Lord will show his strength in our weakness.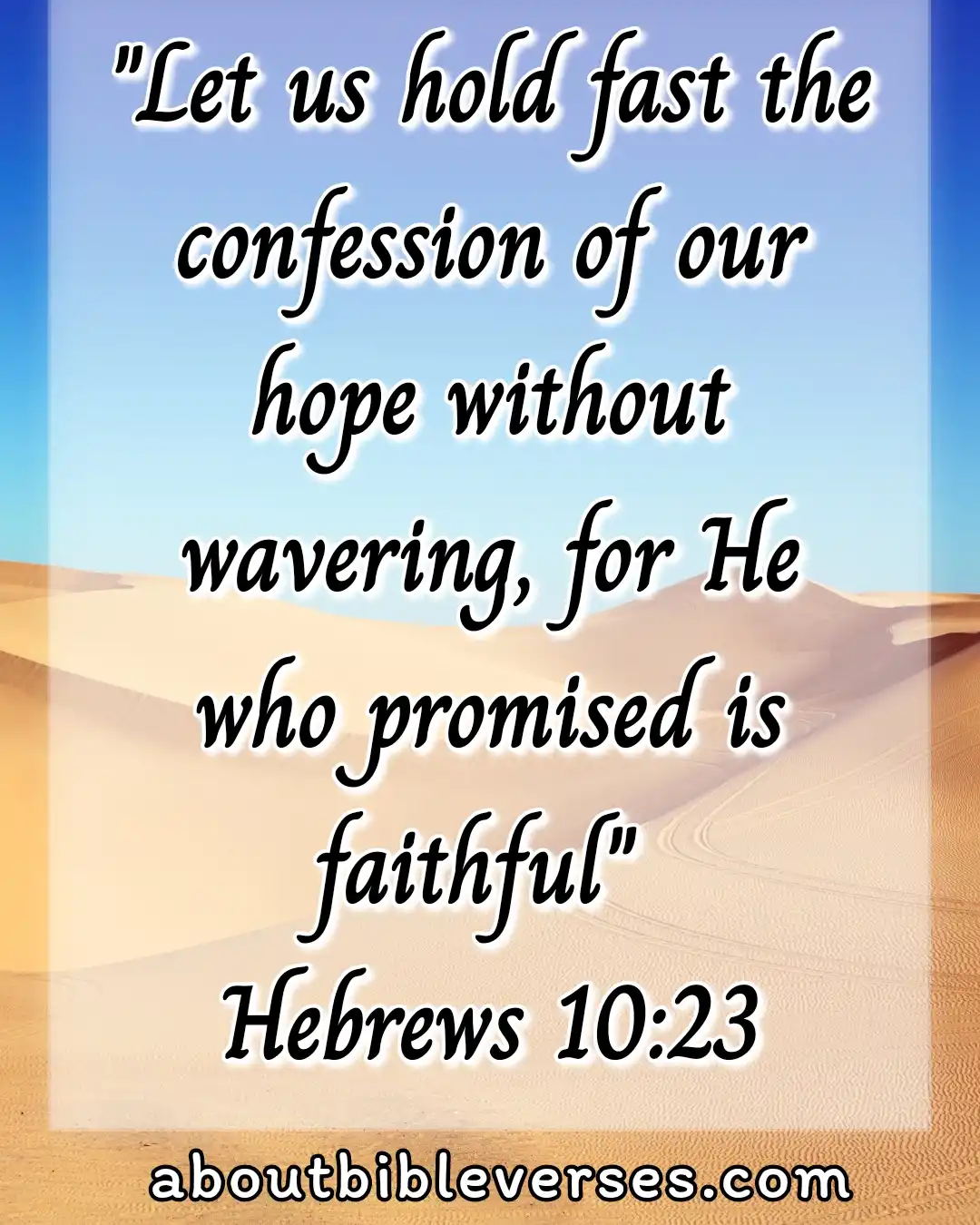 Hebrews 10:23(KJV)"Let us hold fast the profession of our faith without wavering; (for he is faithful that promised"
Explanation:- God knows us very well and he always thinks for us. We need to draw closer to him in order to build a healthy relationship with him. Our relationship with the Lord will help us to overcome the evil of this world and finally we will be able to prepare us to stand before him.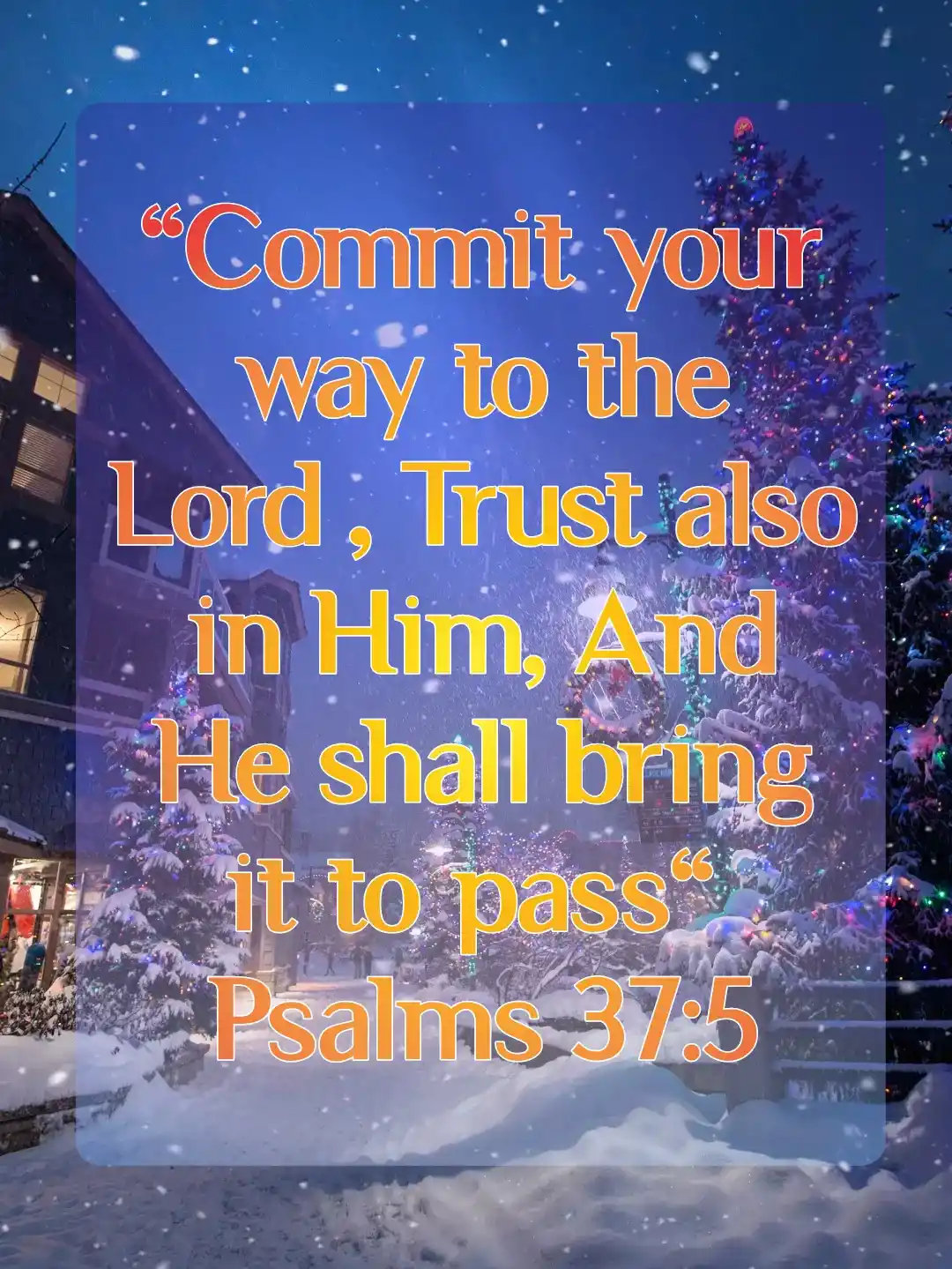 Psalm 37:5(KJV)"Commit thy way unto the Lord; trust also in him; he shall bring it to pass"
Explanation:- We may be educated with the knowledge of this world, but we are still foolish if we don't rely on God. We have to follow Jesus in every situation of our life which will help us to be directed by the wisdom of God.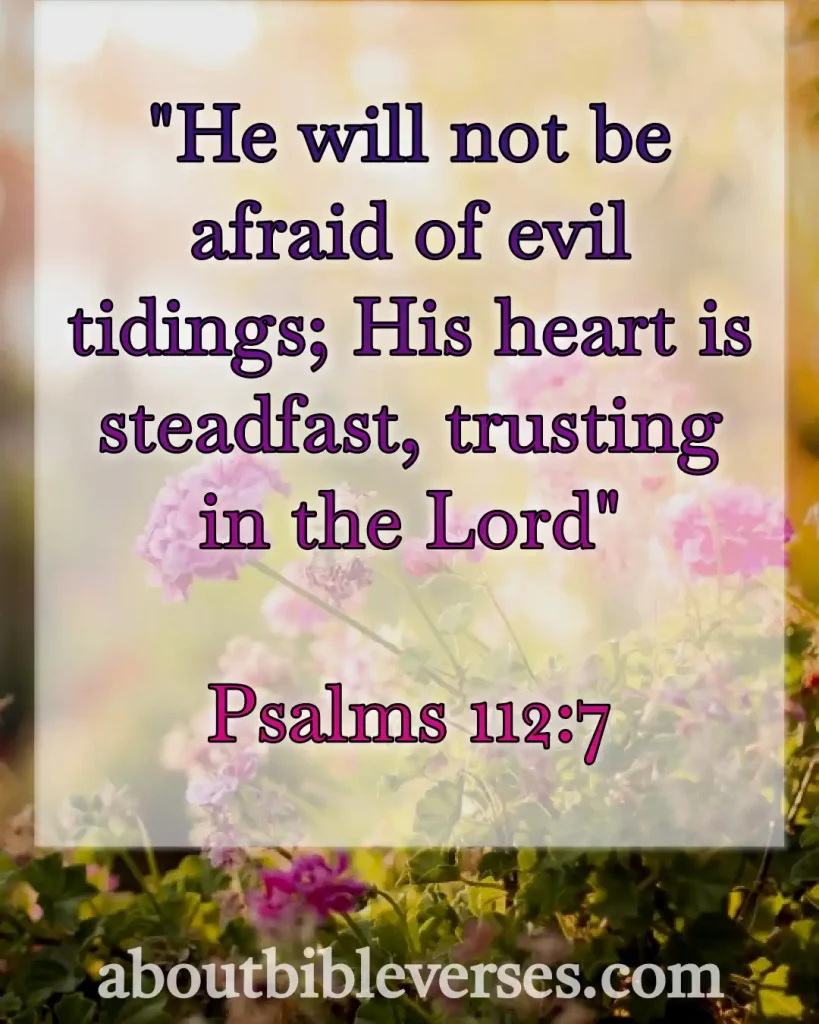 Psalm 112:7(KJV)"He shall not be afraid of evil tidings: his heart is fixed, trusting in the Lord"
Explanation:- As long as we will obey the word of God we have nothing to fear except God. Our righteous living will help us to enjoy our lives on this earth. Sometimes we may face hardships but we will be victorious in the end.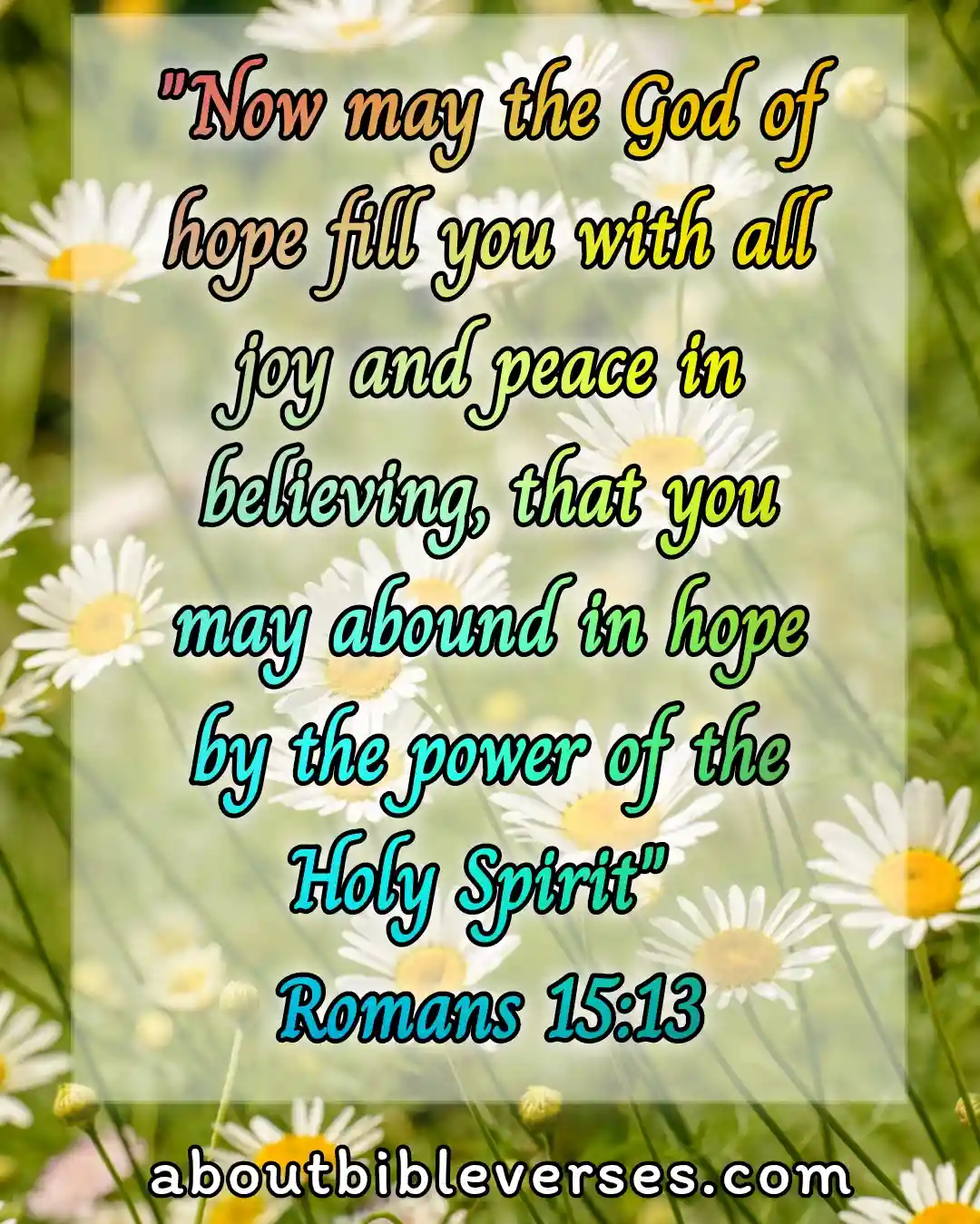 Romans 15:13(KJV)"Now the God of hope fill you with all joy and peace in believing, that ye may abound in hope, through the power of the Holy Ghost"
Explanation:- There is hope and joy in Christ Jesus who bought us by his precious blood. We are now his children and he guards us against all our enemies. This is the new life where we have the freedom to live under the guidance of God.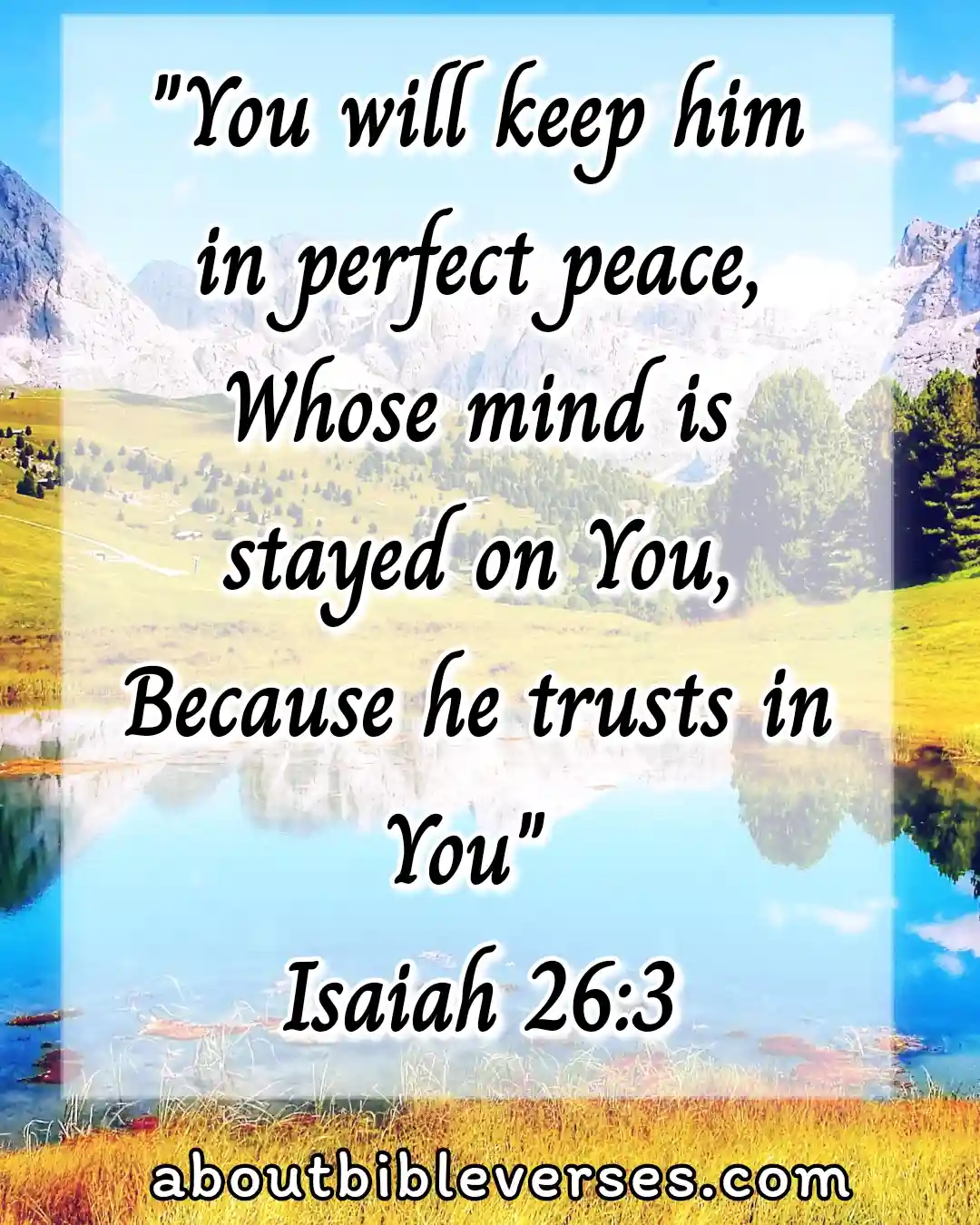 Isaiah 26:3(KJV)"Thou wilt keep him in perfect peace, whose mind is stayed on thee: because he trusteth in thee"
Explanation:- Being a child of God we need to focus on him so we will be able to overcome all our temptations and trials. God is wise and he is perfect in keeping his time. We may be late for our work but he is punctual in his work and we need to depend on him to be rewarded.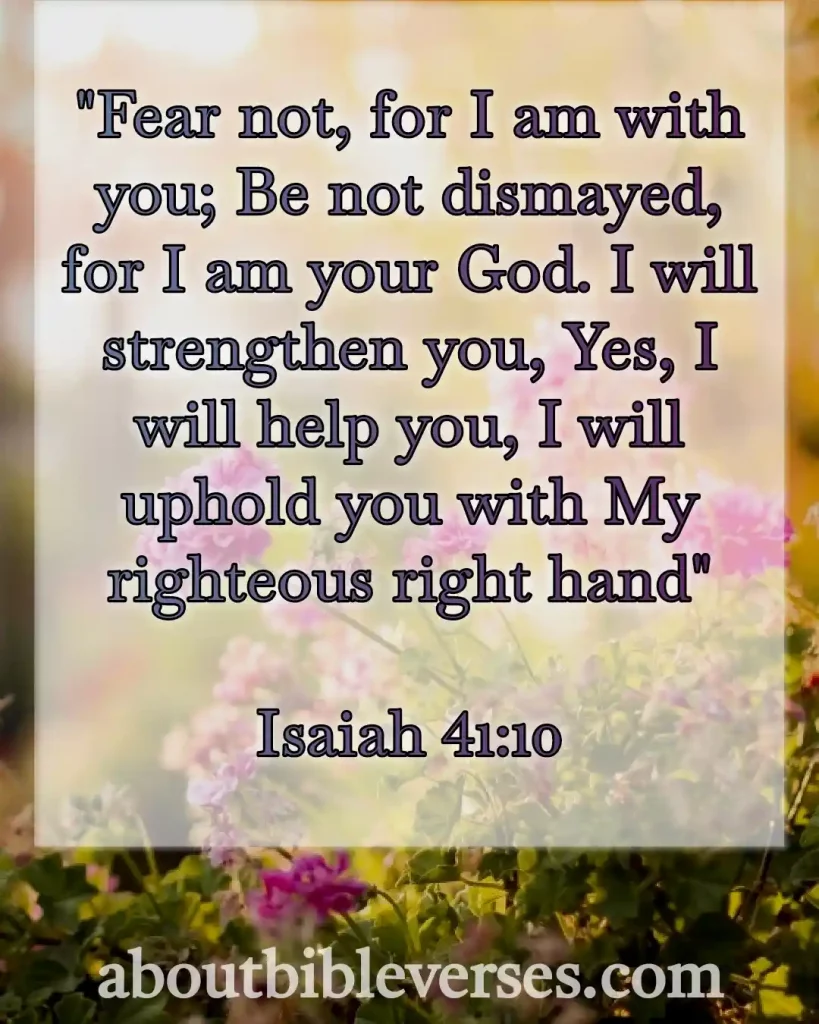 Isaiah 41:10(KJV)"Fear thou not; for I am with thee: be not dismayed; for I am thy God: I will strengthen thee; yea, I will help thee; yea, I will uphold thee with the right hand of my righteousness"
Explanation:- Why should we fear while God is with us? We should only fear him and live a righteous life by obeying his teachings. He will lead us to a life which is full of joy and happiness.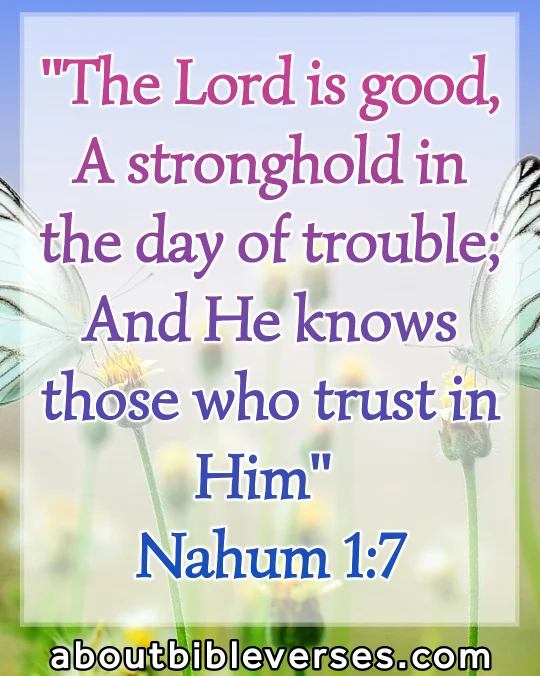 Nahum 1:7(KJV)"The Lord is good, a stronghold in the day of trouble; and he knoweth them that trust in him"
Explanation:- Though we have brought many devices and advanced technologies, we are not complete until we put God first in our lives. He is our stronghold in times of sorrow and suffering. He is the mighty God who loves his people and redeems them from their trials.
More Bible Topics
[Best] 11+Bible Verses About Mourning The Loss Of A Loved One
[Best] 20+Bible Verses – Do Not Fear AnyMan Because I Am With You
[Best] 10+Bible Verses – Why Accept Jesus As Your Lord And Savior
[Best] 17+Bible Verses About Living Life With Purpose
[Best] 5+Bible Verses About Expectations With Prayer To God