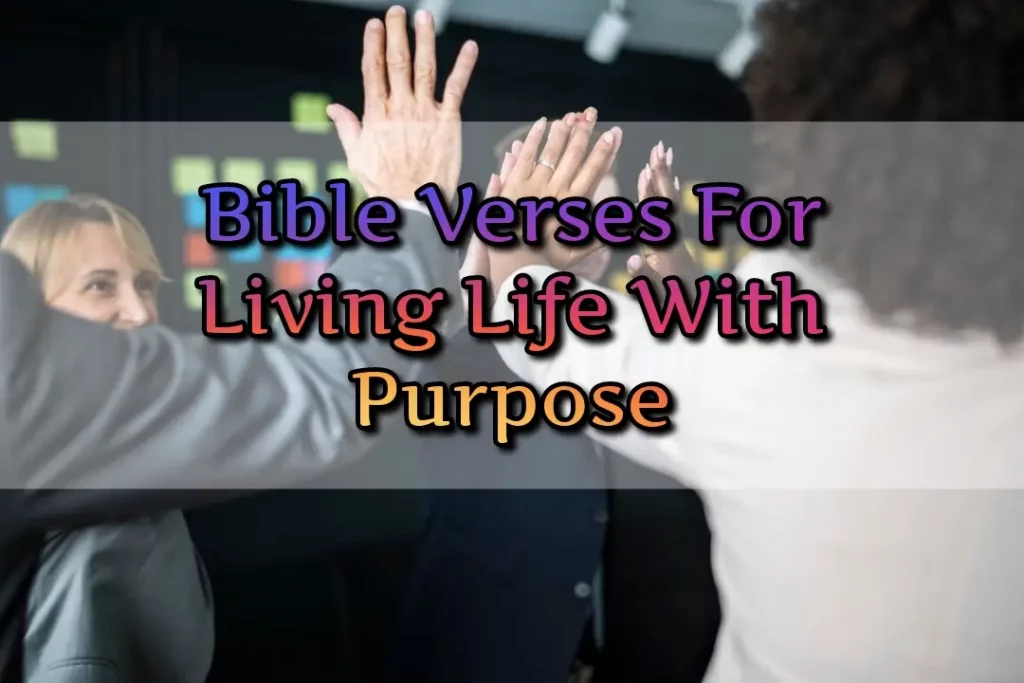 Children of God, if you do not understand the purpose of living in the Christian life or if you are suffering in the Christian life and do not find the meaning of life, then today's topic is for you. 
Dear Christian brothers and sisters, you need to know that when God sent us into this world, He has special and best plans for each of us that He gives us over time.
If the purpose of our lives is to earn money, to take care of the family, to enjoy it, then it is wrong because unbelievers do things that do not know our Lord Jesus Christ.
The first purpose of our life is to please our God and to live according to his will. If we are suffering in our lives by accepting Christ, we need to welcome that suffering and rejoice because we need to understand that we are going to get something good.
Because in this world there is no hindrance to bad deeds but there are many hindrances to good deeds. When Paul found out about the Lord Jesus, he said, "I feel like I should die now and become one with the Lord Jesus, but I am alive so that I can show you the right way and increase your faith" (Philippians1: 23-25). In the same way, we do not have to give up and wait for God's plan for our lives.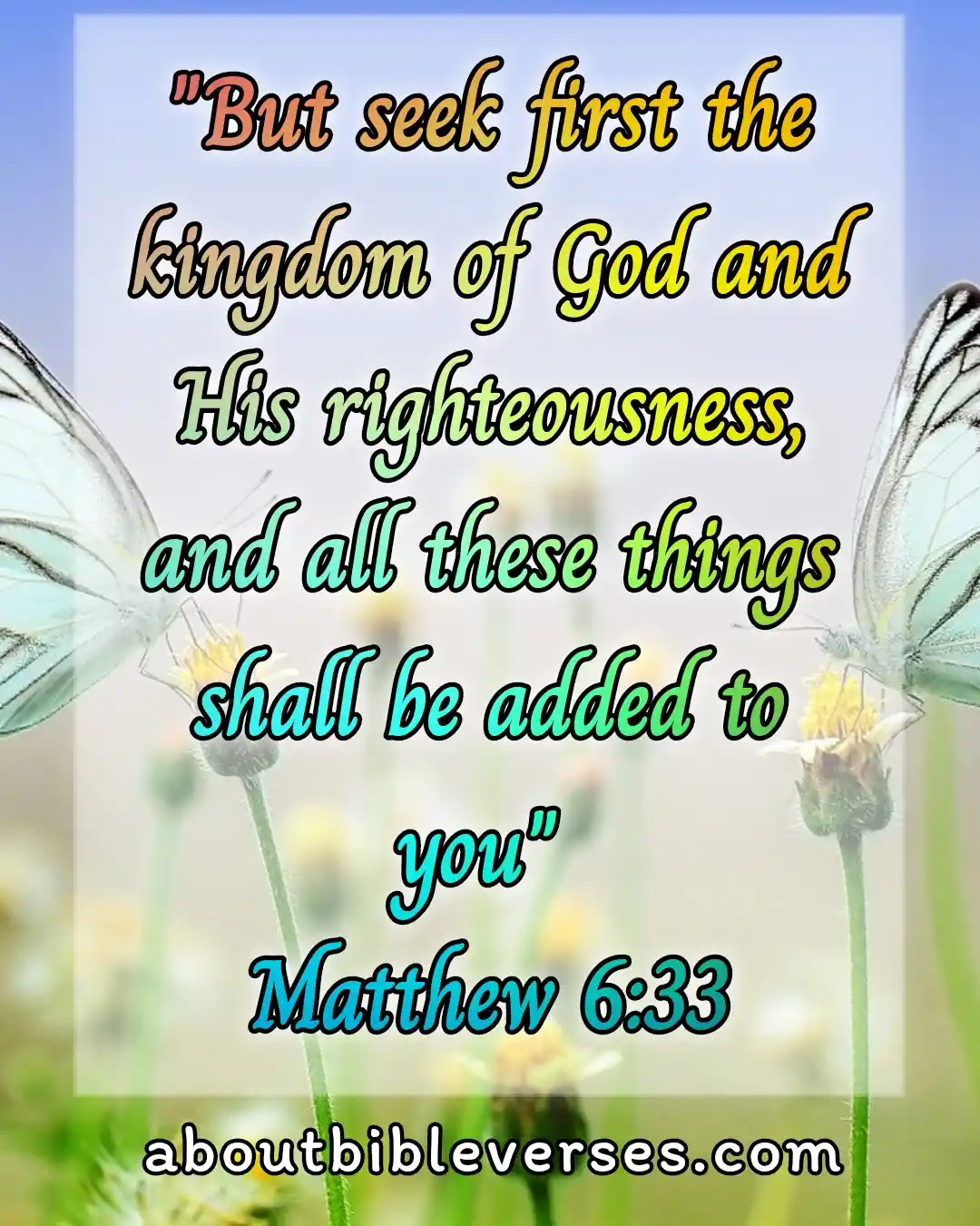 Matthew 6:33(KJV)"But seek ye first the kingdom of God, and his righteousness; and all these things shall be added unto you"
Explanation:- We are to live on this earth to do the work of God. In our everyday life, we should always seek God's Kingdom in order to be blessed. It is our supreme duty to accomplish by which we can please God.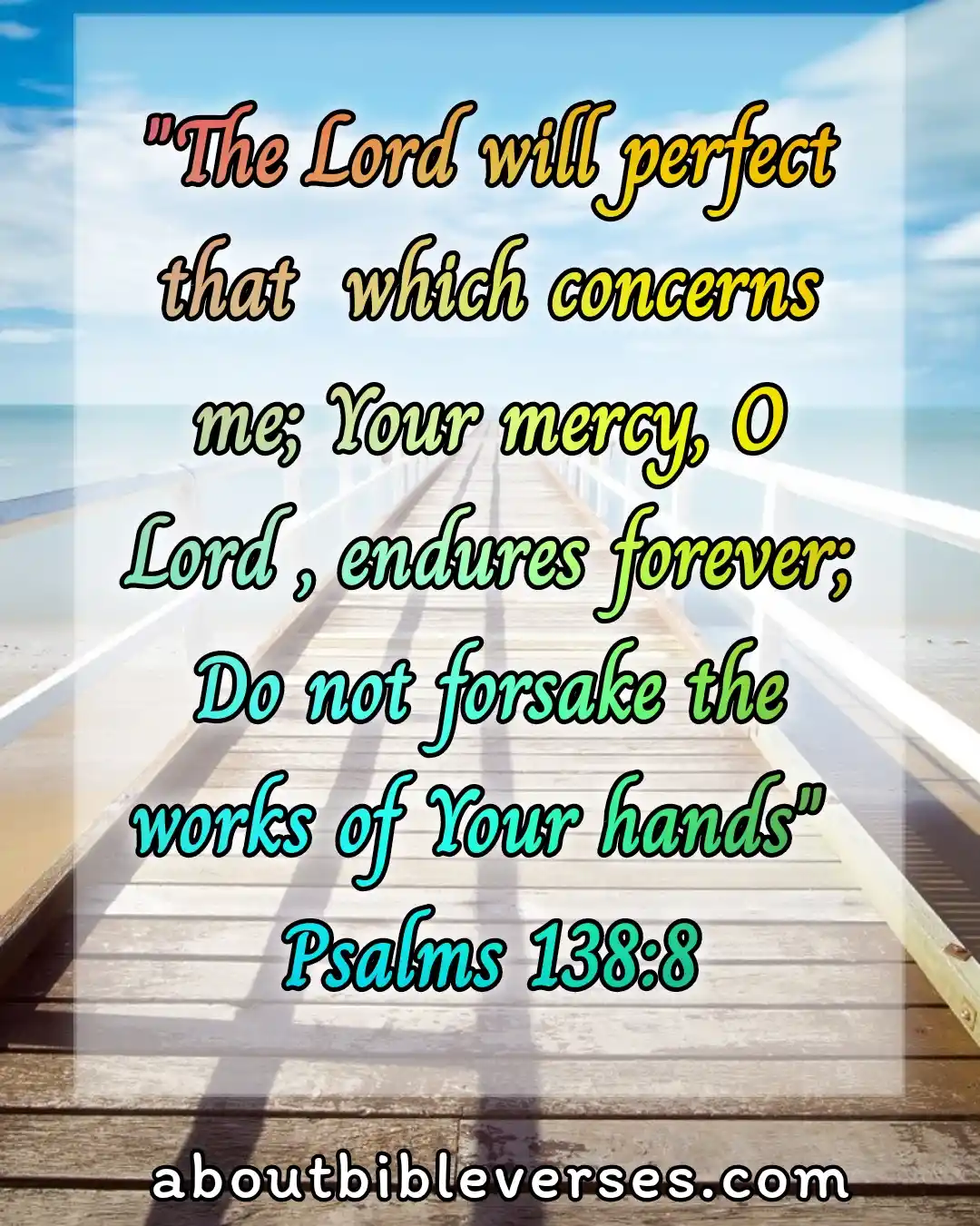 Psalm 138:8(KJV)"The Lord will perfect that which concerneth me: thy mercy, O Lord, endureth for ever: forsake not the works of thine own hands"
Explanation:- God has done so many wonderful works for the sake of mankind. He is gracious and kind to us while we are to seek His face even when we are in our trouble. His mighty hand will redeem us from our adversaries.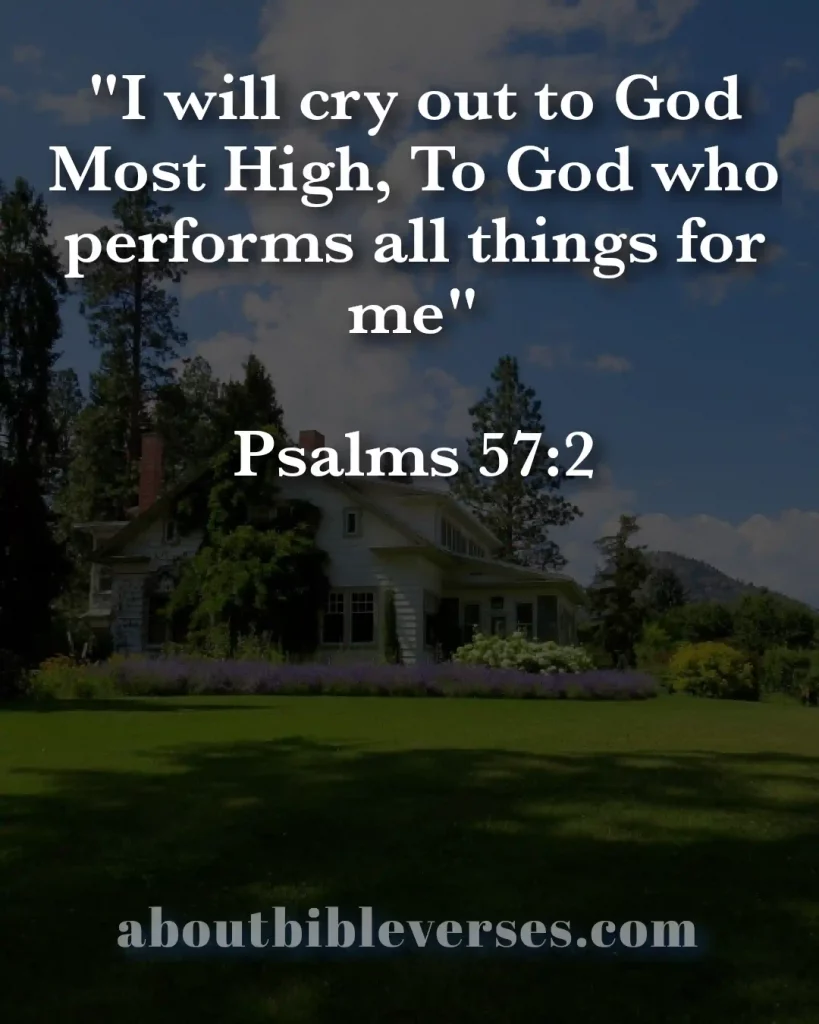 Psalm 57:2(KJV)"I will cry unto God most high; unto God that performeth all things for me"
Explanation:- With prayer, we can come closer to God, and with a repented heart we can get God's presence in our hearts. He seeks his people who really love him and think of him.
Colossians 3:23-24(KJV)"And whatsoever ye do, do it heartily, as to the Lord, and not unto men; Knowing that of the Lord ye shall receive the reward of the inheritance: for ye serve the Lord Christ"
Explanation:- In our every work we must obey God and it should be done from our heart because God has appointed us with some responsibility and that should be accomplished by fearing him.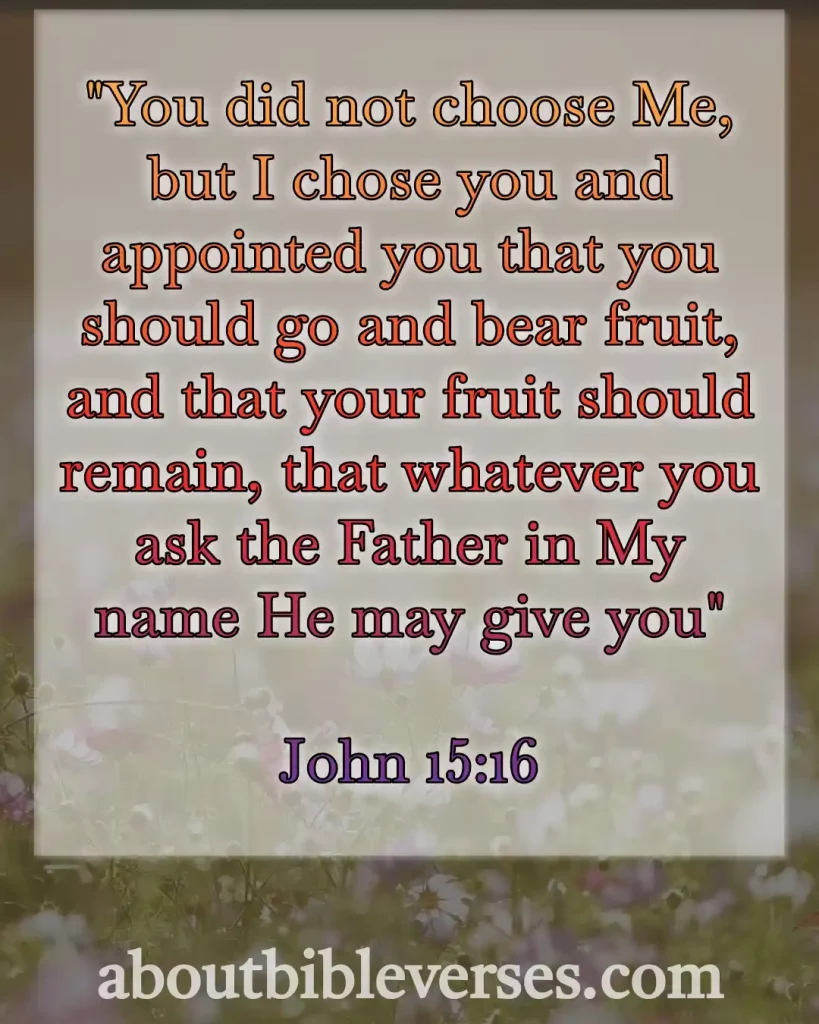 John 15:16(KJV)"Ye have not chosen me, but I have chosen you, and ordained you, that ye should go and bring forth fruit, and that your fruit should remain: that whatsoever ye shall ask of the Father in my name, he may give it you"
Explanation:- Jesus told his disciples that they were chosen by him in order to extend his Kingdom on this earth. The Lord is still calling his people whom he found worthy for his ministry and sending them out in the world to bring lost souls for his kingdom.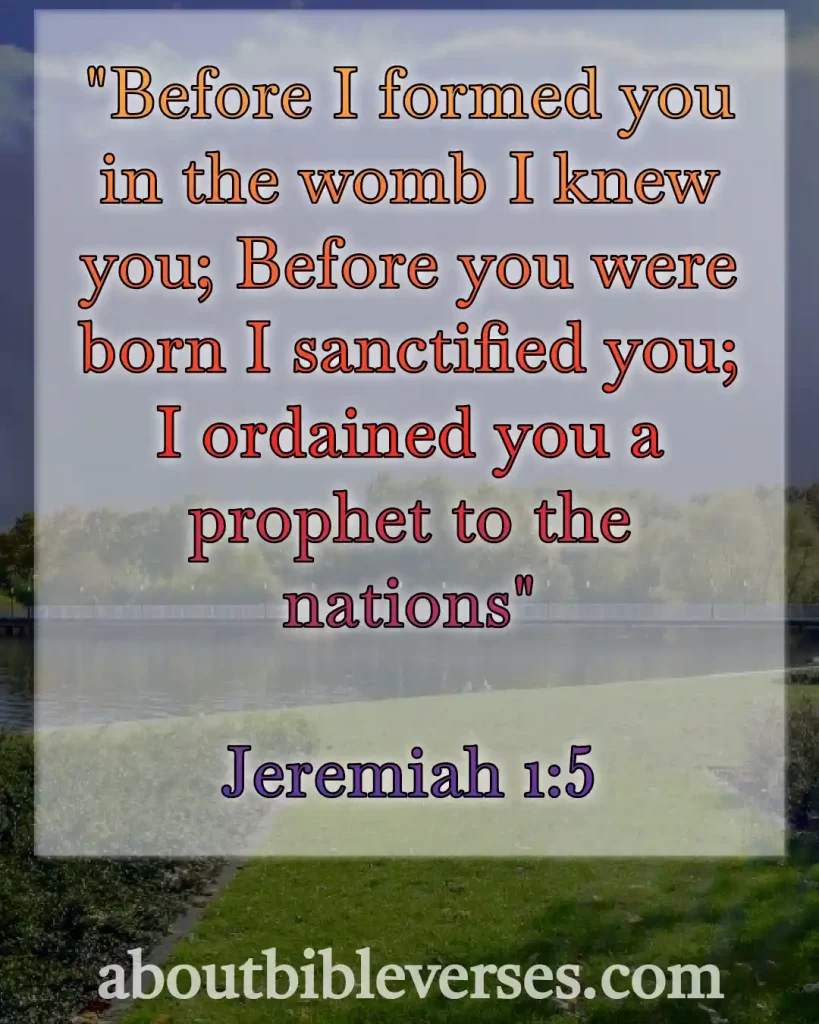 Jeremiah 1:5(KJV)"Before I formed thee in the belly I knew thee, and before thou camest forth out of the womb I sanctified thee, and I ordained thee a prophet unto the nations"
Explanation:- The Lord knows us very closely because while we were in our mother's womb he sanctified us and he has selected us according to his wisdom and planned for our life.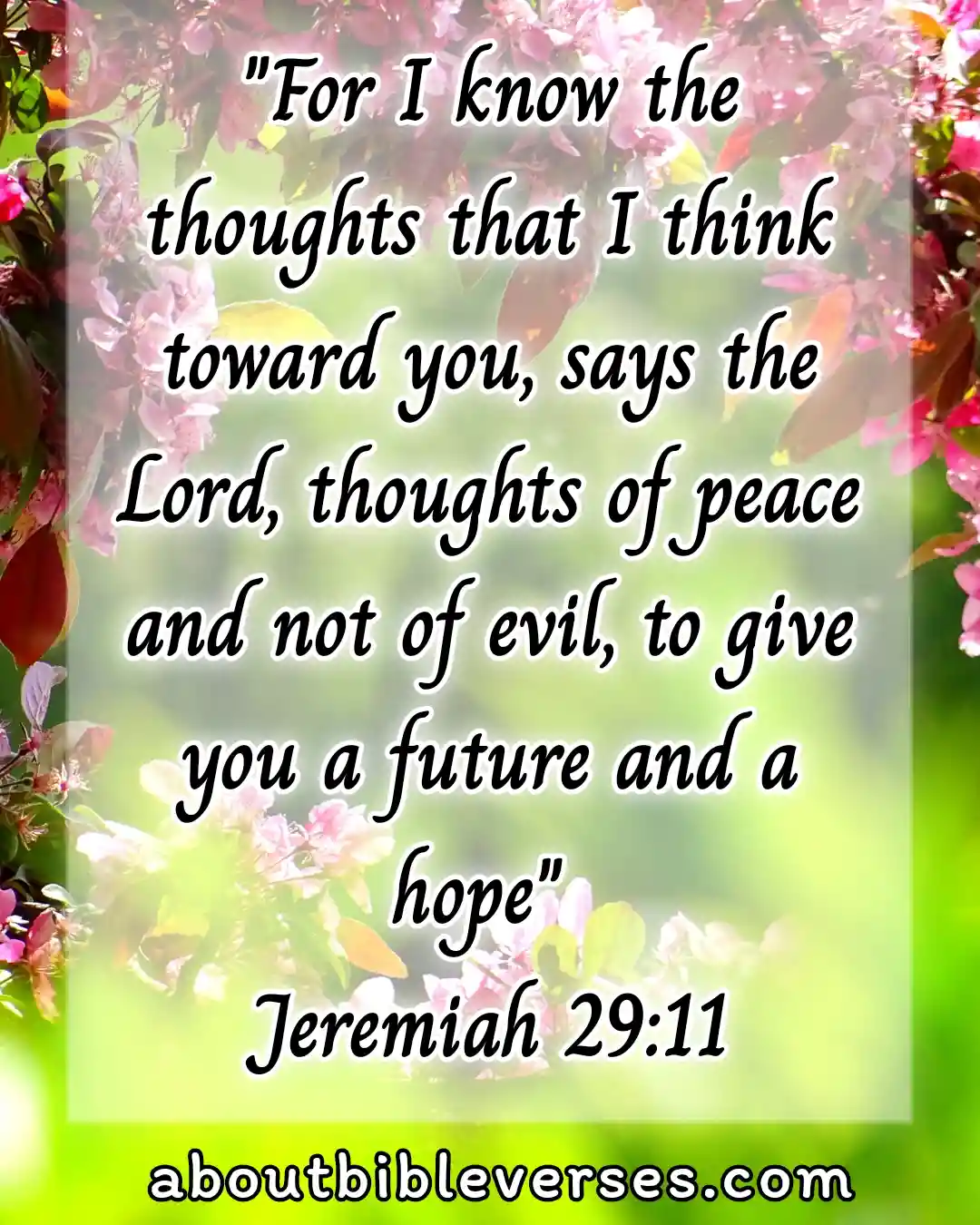 Jeremiah 29:11(KJV)"For I know the thoughts that I think toward you, saith the Lord, thoughts of peace, and not of evil, to give you an expected end"
Explanation:- To be blessed in our life we must seek the plan of God which he made for us and it should be believed that all of these plans are best for us. There is no evil in the plans of God as he is a loving father to us.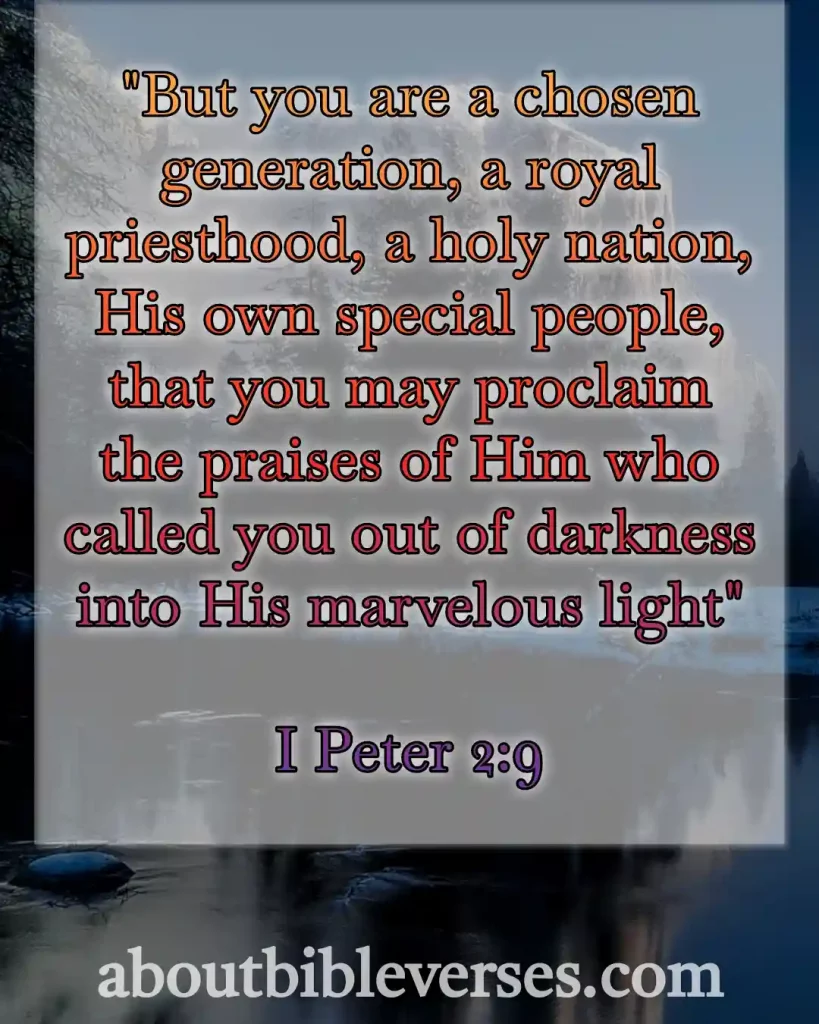 1 Peter 2:9(KJV)"But ye are a chosen generation, a royal priesthood, an holy nation, a peculiar people; that ye should shew forth the praises of him who hath called you out of darkness into his marvellous light"
Explanation:- Gentile nations were not God's chosen people earlier but the rejection of Jesus by the Jews made the gentiles draw closer to the Lord. Thus they got the privilege to worship the one true God who created this wonderful universe.
God Has A Purpose For Your Life Verse
We have a purpose in the Christian life. This purpose is to help someone else just as we have come to know our Lord Jesus Christ and to come out of this dark world where Satan rules.
Our God, the Lord Jesus Christ, commanded us to convey Christ's message to them. Remember that God is working to expand His kingdom through you when you cannot keep telling others about Jesus Christ.
Our sole purpose is to bring all those lost souls back to Jesus Christ. The angel of God in the kingdom of heaven rejoices when we bring back even one lost soul.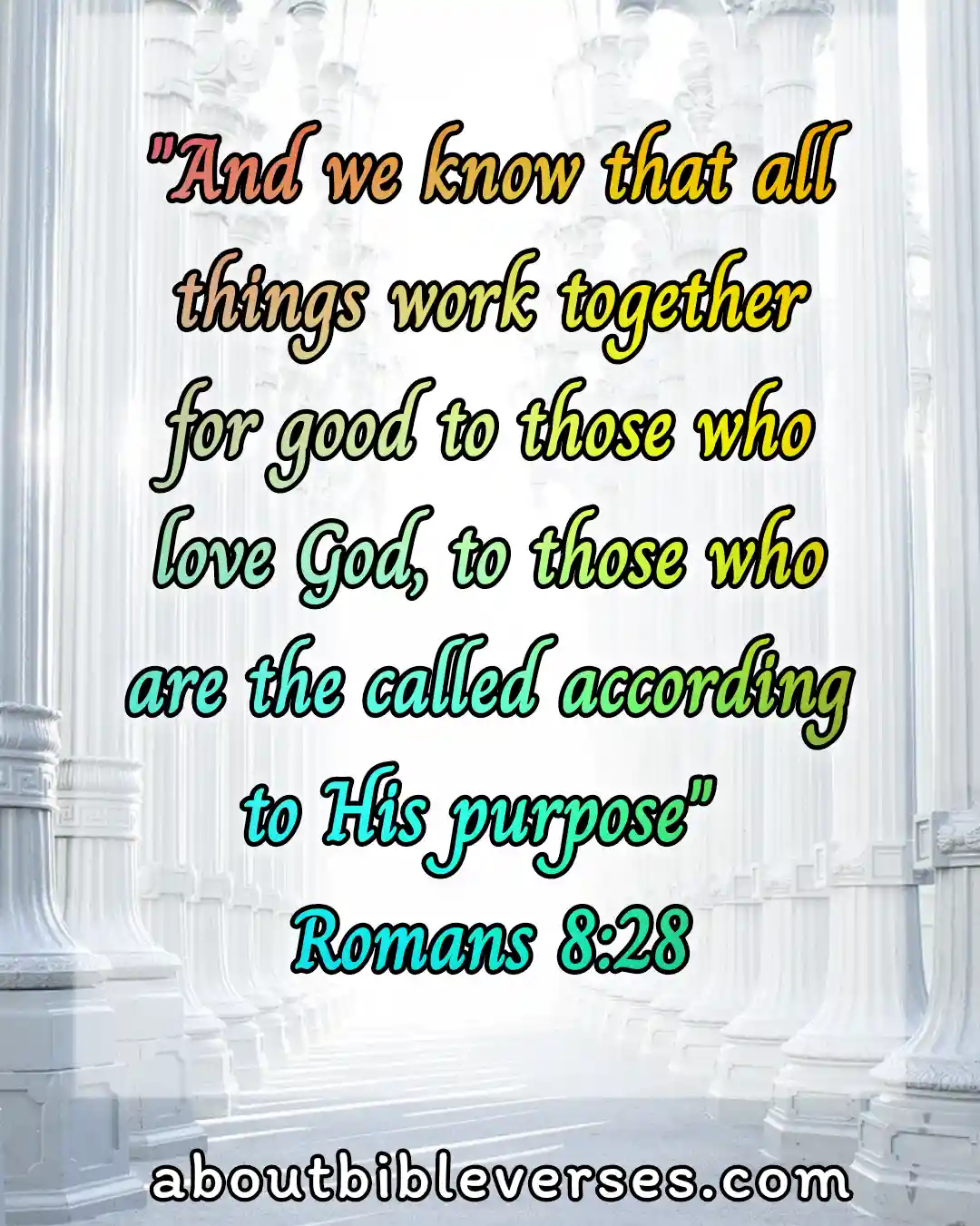 Romans 8:28(KJV)"And we know that all things work together for good to them that love God, to them who are the called according to his purpose"
Explanation:- A man who works according to God's plans will be blessed and everything in his life will occur what he desires. God does good things for his people always and sometimes through trials he will lead them in order to give them some best gifts.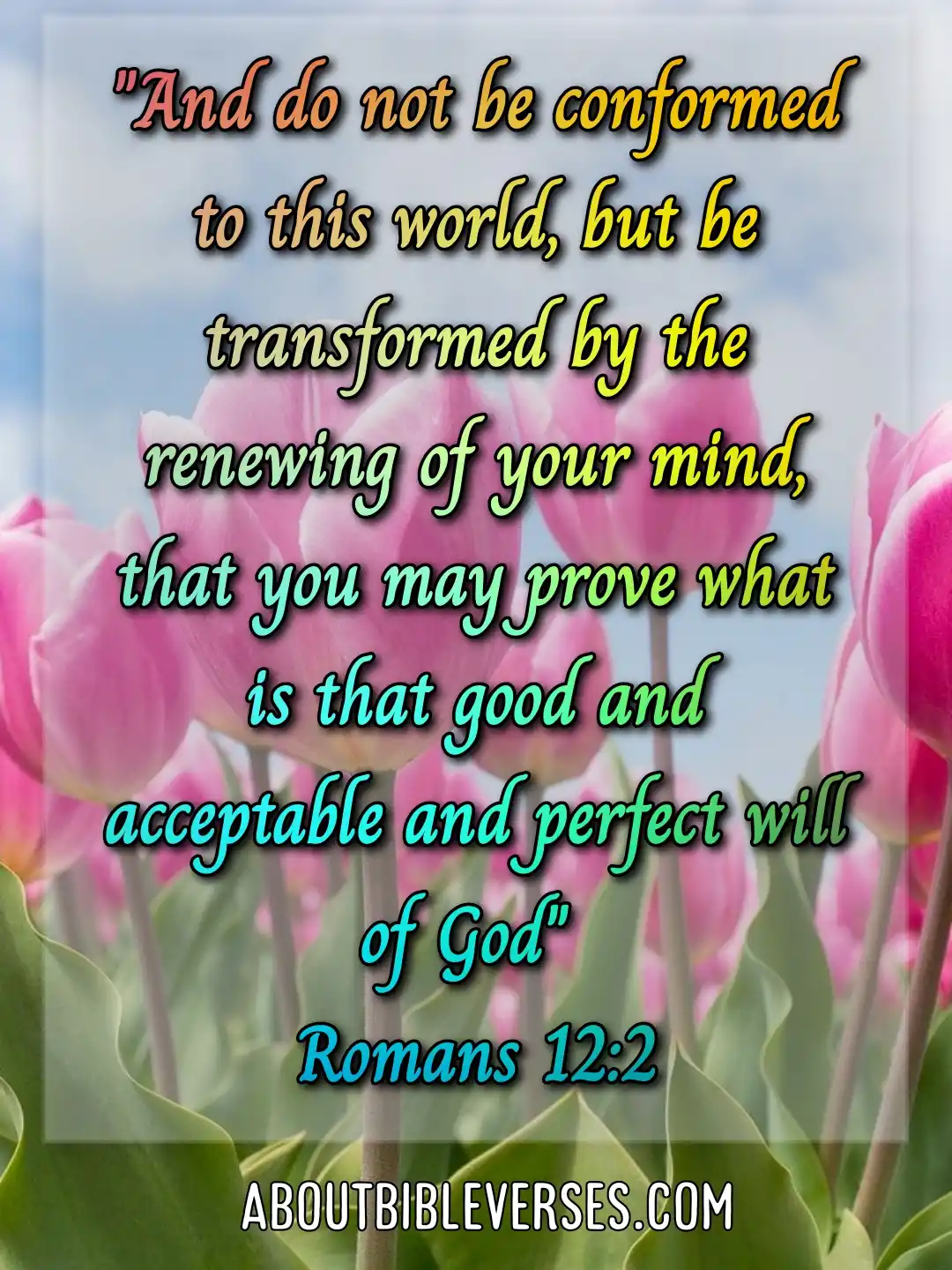 Romans 12:2(KJV)"And be not conformed to this world: but be ye transformed by the renewing of your mind, that ye may prove what is that good, and acceptable, and perfect, will of God"
Explanation:- Being the child of the holy God we must stay away from this sinful world which has no good thing to make us acceptable before God. We are to present ourselves holy and acceptable before the Lord by which we will have the authority to enter his Kingdom where we will live with him forever.
Proverbs 19:21(KJV)"There are many devices in a man's heart; nevertheless the counsel of the Lord, that shall stand"
Explanation:- In our hearts, we have so many plans to do but we must submit our wills before the Lord as he is our God and he will lead us according to his own plans and finally we will be blessed if we obey him.
Ephesians 2:10(KJV)"For we are his workmanship, created in Christ Jesus unto good works, which God hath before ordained that we should walk in them"
Explanation:- The believers are the instrument of God and he wants to fulfill his desire by using them in various fields where he will reveal his amazing plans to the world. God likes to use us to open up the plans that he has planned for mankind.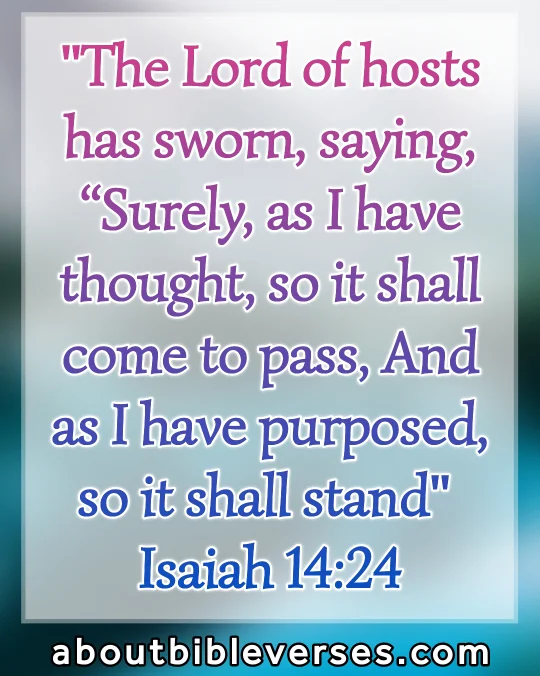 Isaiah 14:24(KJV)"The Lord of hosts hath sworn, saying, Surely as I have thought, so shall it come to pass; and as I have purposed, so shall it stand"
Explanation:- The Lord is the king of this earth and he knows everything ahead of us. We are of his faithful children who should obey him and walk in his teachings to fulfill his desire on this earth by which we will inherit the everlasting life which the Lord has made for us.
Bible Verses About Our Mission In Life
We may or may not get something in this world in our Christian life, but we need to have a purpose, that is, to have eternal life with God. And to fulfill this purpose we must live according to God's plan in this world.
This is because God knows our past, present, and future. We can lose our salvation if we follow our own will, but if we follow God's will then surely our future will be better. We will be able to draw closer to God, and God will tell us what He has planned for us.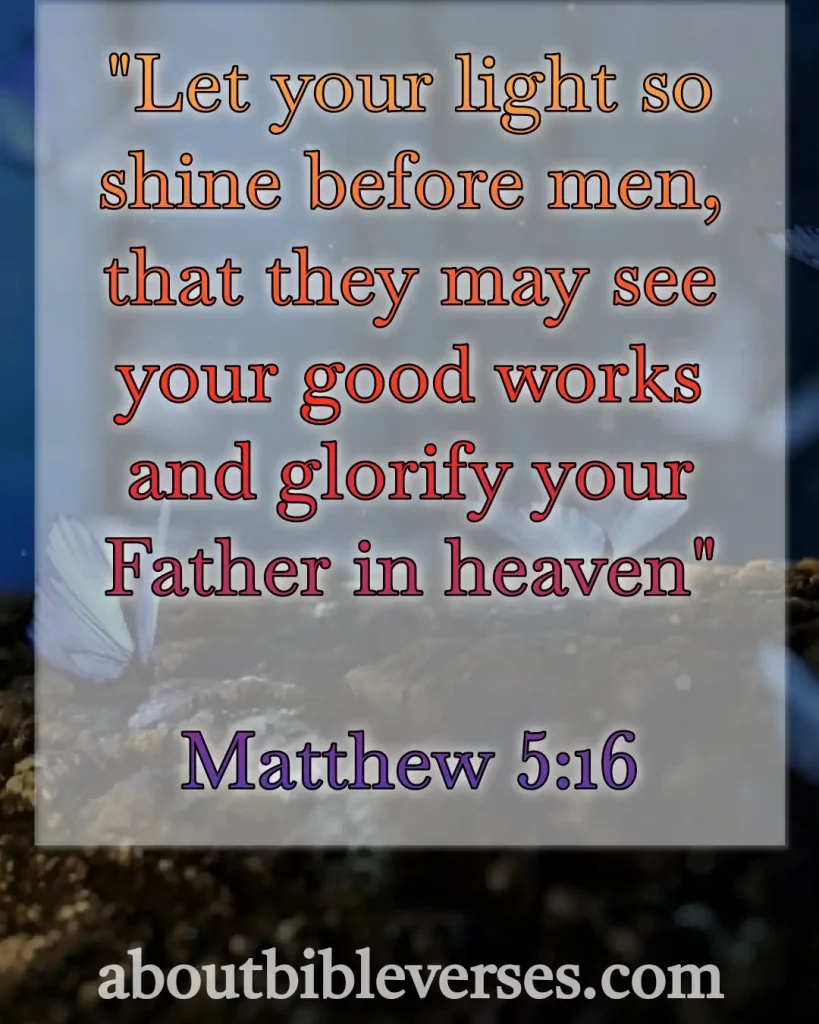 Matthew 5:16(KJV)"Let your light so shine before men, that they may see your good works, and glorify your Father which is in heaven"
Explanation:- Every believer should live a righteous life by which people around the world may know that God dwells in us. We are the people who bear his image in our lives so we must be careful in our ways of living.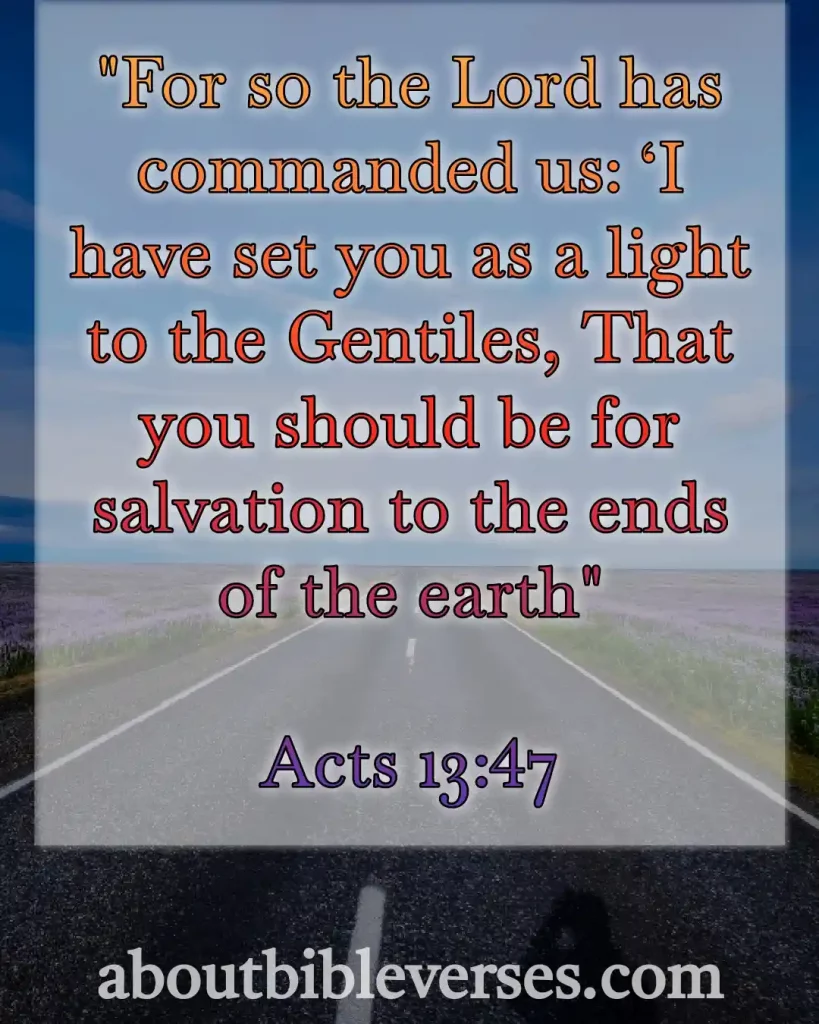 Acts 13:47(KJV)"For so hath the Lord commanded us, saying, I have set thee to be a light of the Gentiles, that thou shouldest be for salvation unto the ends of the earth"
Explanation:- Paul was called to be a gospel preacher to the gentiles and he had done his job wonderfully as the Lord was with him throughout his ministry. Gentiles were chosen by the Lord and they become God's children by believing the gospel.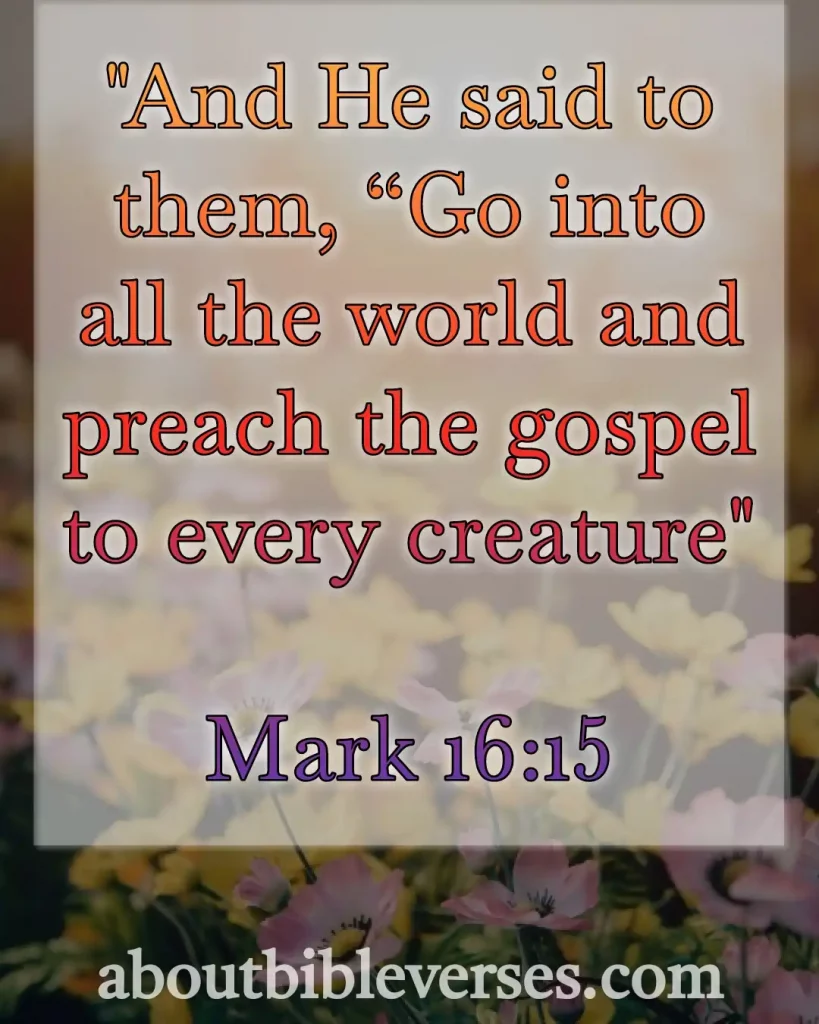 Mark 16:15(KJV)"And he said unto them, Go ye into all the world, and preach the gospel to every creature"
Explanation:- Jesus commanded his disciples to preach the gospel to the entire world who needs to be saved from eternal death. After the ascension of Jesus into heaven, his appointed disciples fulfilled his mission by preaching the gospel into the world.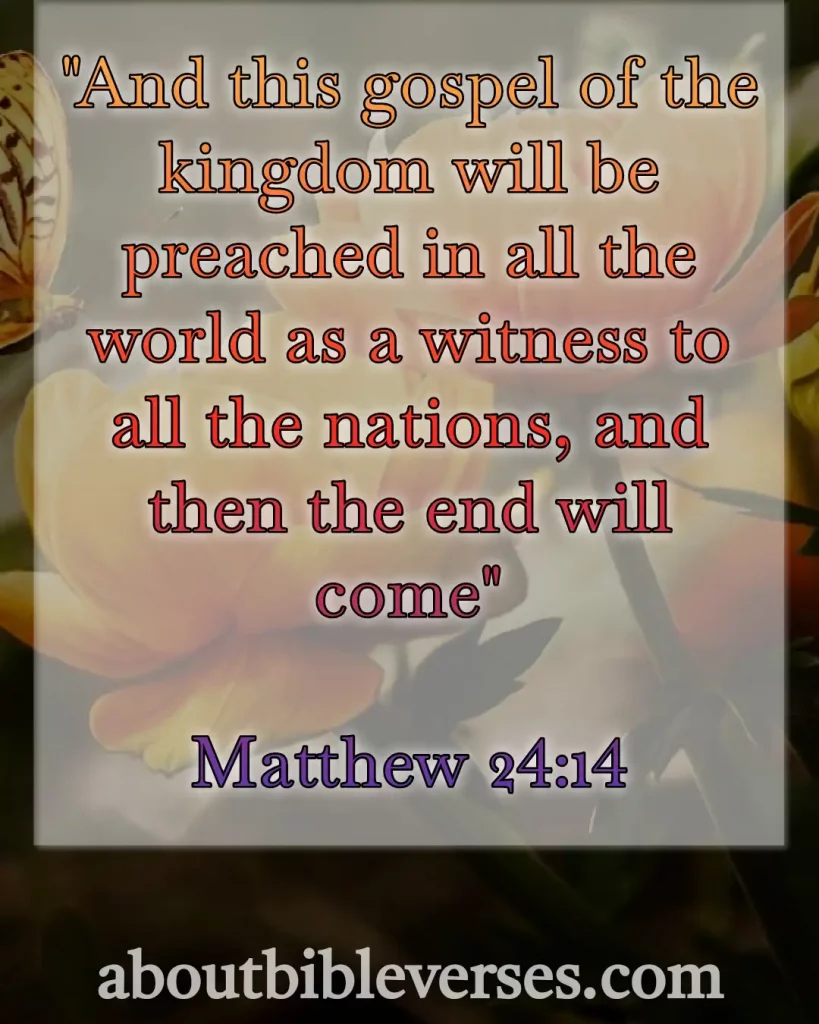 Matthew 24:14(KJV)"And this gospel of the kingdom shall be preached in all the world for a witness unto all nations; and then shall the end come"
Explanation:- The people of other faith should know the one true living God who created heaven and the earth. Every follower of Jesus should preach the gospel to the world so the unsaved people may turn their ways and find the grace of God.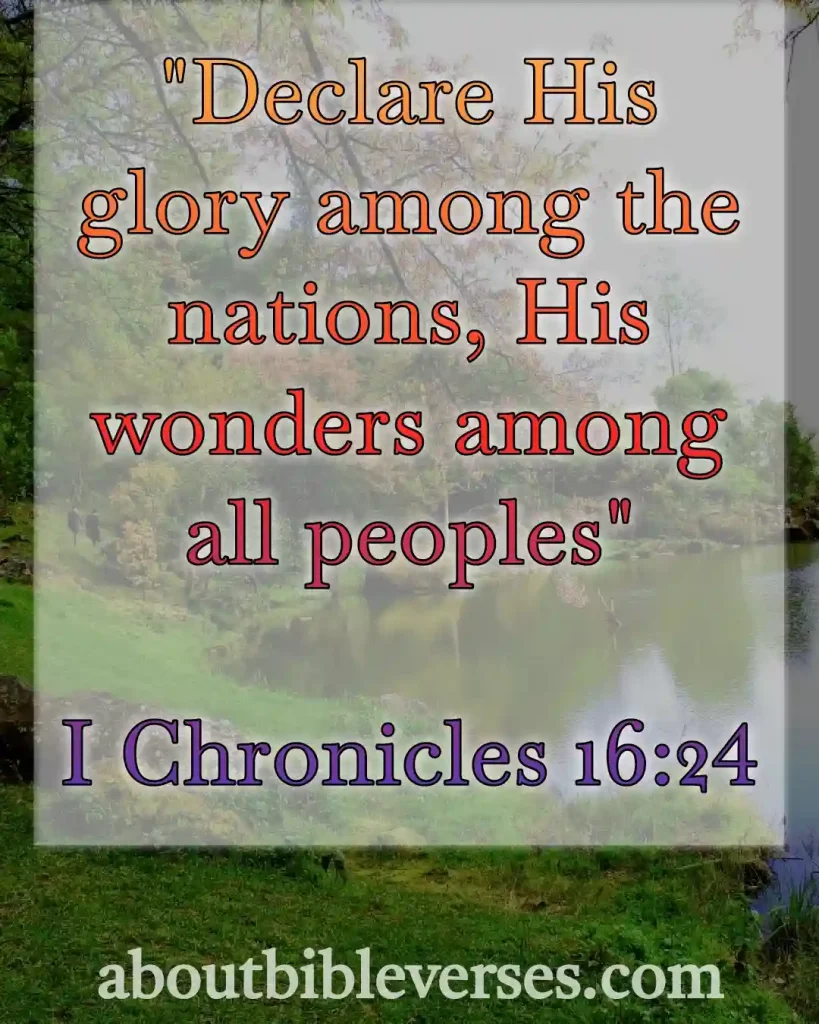 1 Chronicles 16:24(KJV)"Declare his glory among the heathen; his marvellous works among all nations"
Explanation:- God has manifested himself before the world through his creation and his mighty works proclaim his existence since the very beginning of the creation.