Dear children of God, welcome to the name of our Lord Jesus Christ. Today we will know what the Bible says about working.
The Bible tells us that we must work hard, that is, we must work hard, and Paul wrote in his letter that if someone does not work, he is not fit to eat, and if we look at his life, we will see that Paul preached the word of God and he worked hard. He said that we must work hard to help the weak.
He could have spent his life on the money of the apostles if he had wanted to, but he did not do so even when a man in the church offered him some food and he paid for it.
God's Word tells us that we must all work and lead our lives, but we must be honest and just because our work will reveal our Lord Jesus Christ.
But God is not pleased with people who are lazy. He does not want his people to be lazy or not to work. He called people who work hard. He also says those who are tired and weary should come to him and he will give them rest. But lazy people will not get that opportunity due to their laziness.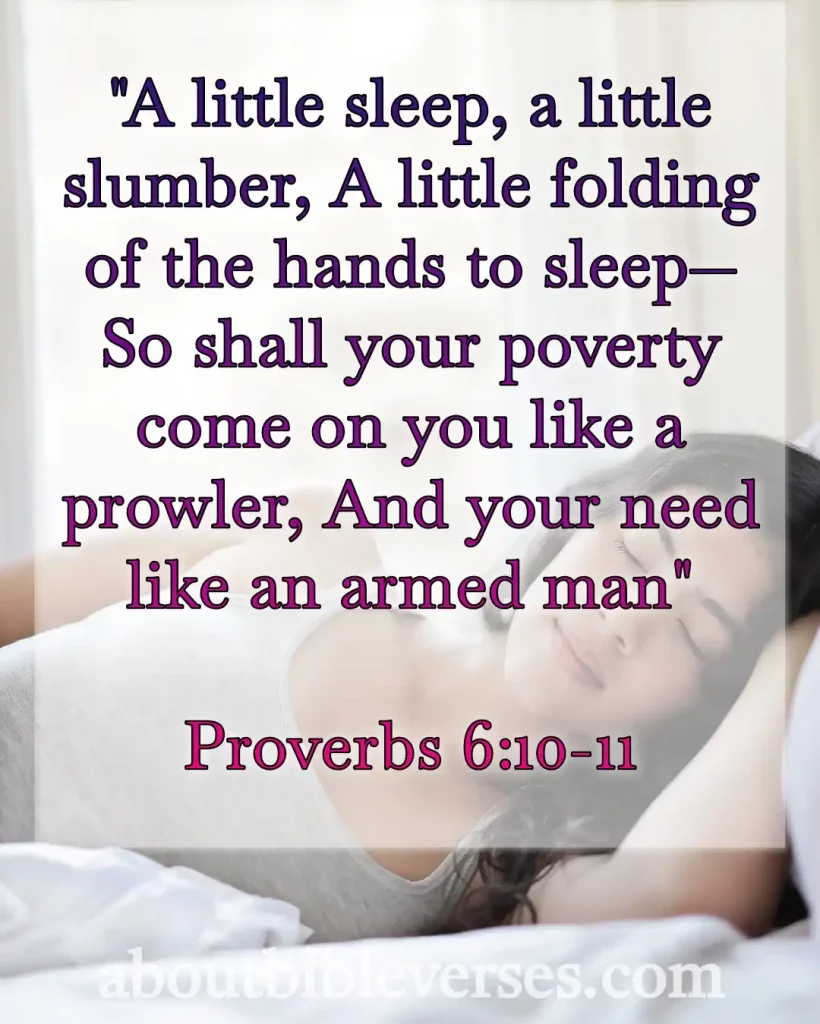 Proverbs 6:10-11(KJV)"Yet a little sleep, a little slumber, a little folding of the hands to sleep: So shall thy poverty come as one that travelleth, and thy want as an armed man"
Explanation:- Poverty will come into our family if we live an idle life. To be prosperous we need to work hard and success will follow us. Leaving our laziness, we should move forward so we can survive our families.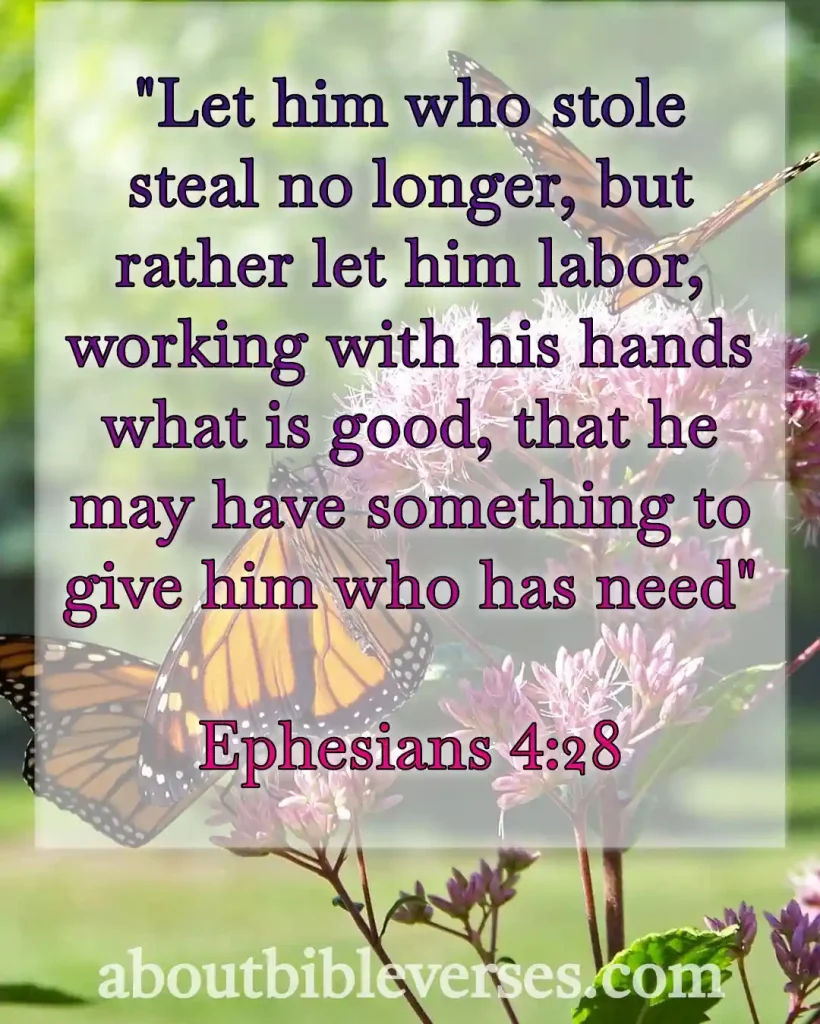 Ephesians 4:28(KJV)"Let him that stole steal no more: but rather let him labour, working with his hands the thing which is good, that he may have to give to him that needeth"
Explanation:- Scripture always encourages us to work hard so we may not steal and run our family smoothly. Those who still walk in stealing are called to give up their evil habit and work hard for earning by which they will be able to provide for the needs of their families.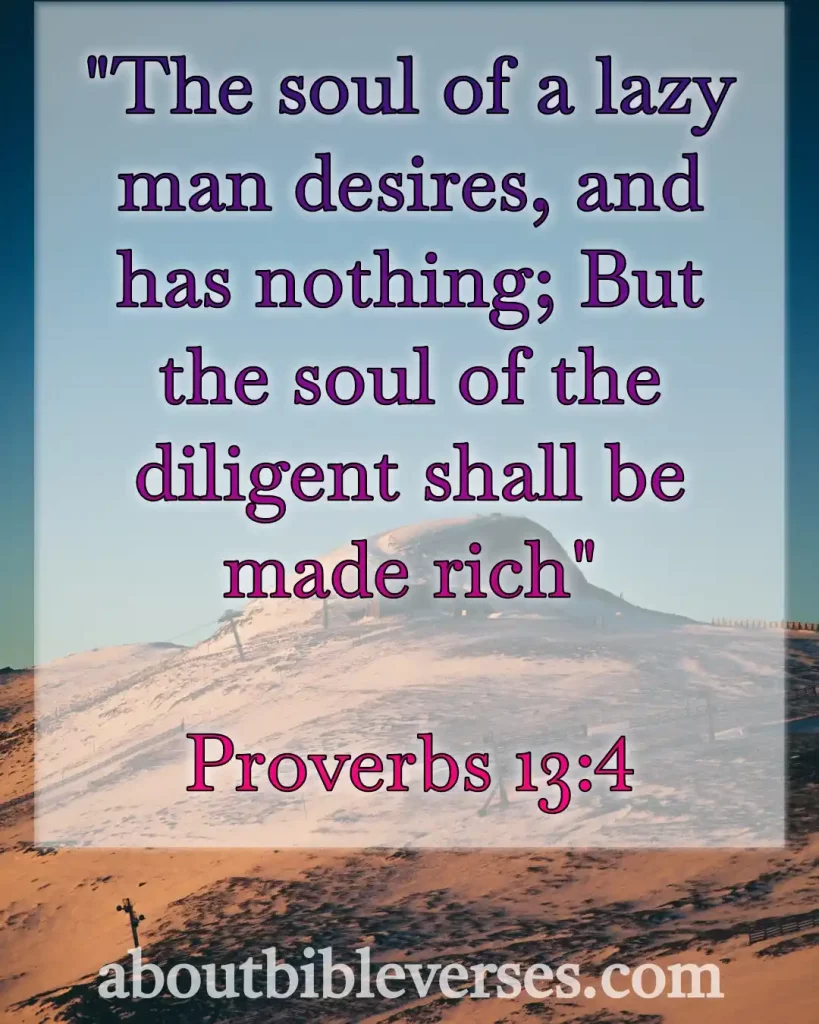 Proverbs 13:4(KJV) "The soul of the sluggard desireth, and hath nothing: but the soul of the diligent shall be made fat"
Explanation:- People who are lazy have nothing in their hands. They are unable to help others as well. They seek many things but ultimately they are hopeless due to their idleness.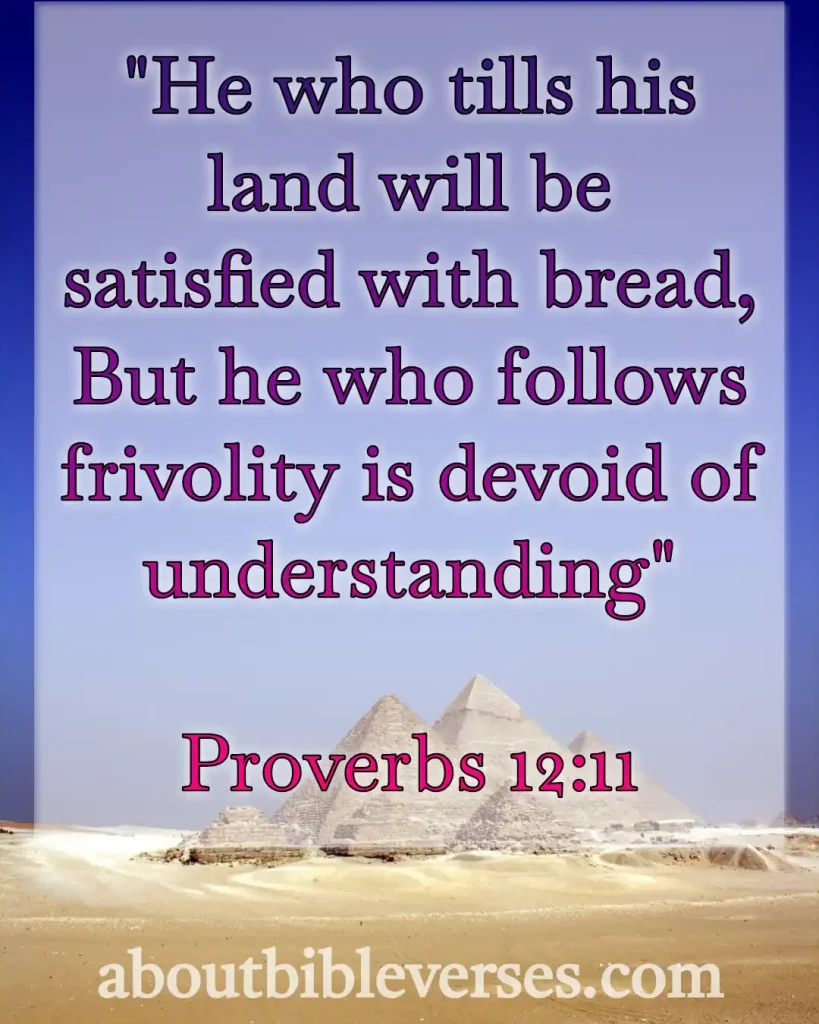 Proverbs 12:11(KJV)"He that tilleth his land shall be satisfied with bread: but he that followeth vain persons is void of understanding"
Explanation:- Hardworking people will enjoy their lives and they will be fruitful in their families. Many will follow them and learn how to work hard in their lives. But those who will live a lazy life will inherit nothing and suffer mentally.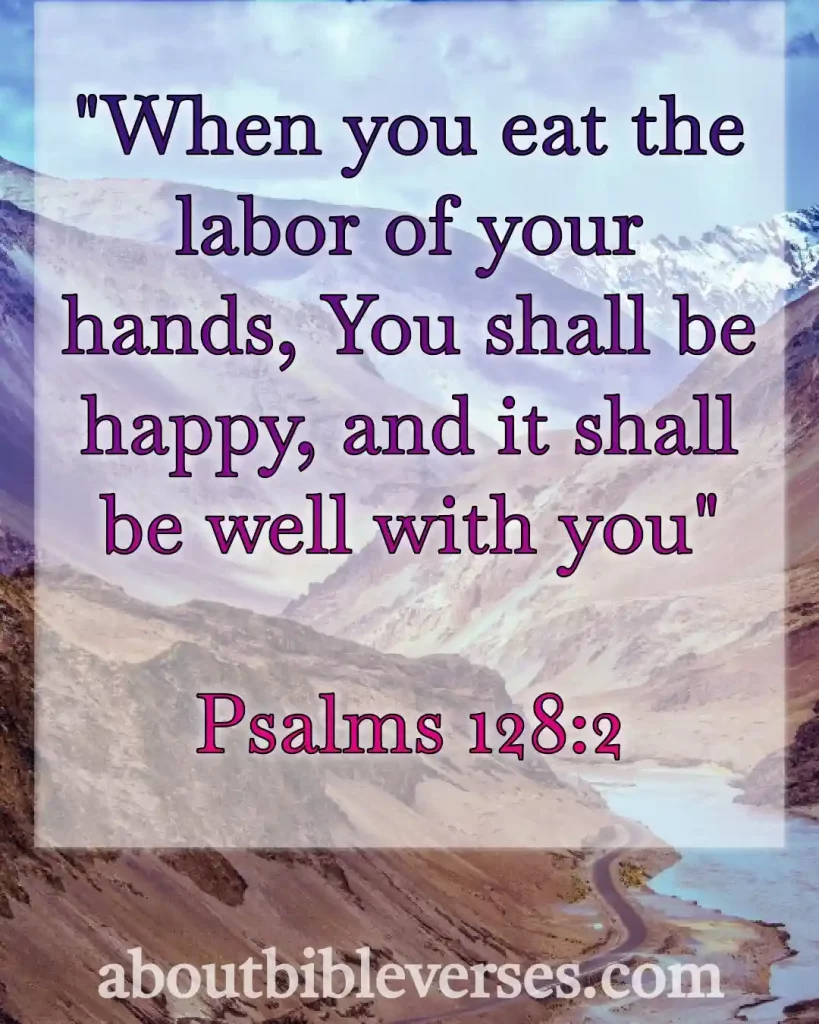 Psalm 128:2(KJV)"For thou shalt eat the labour of thine hands: happy shalt thou be, and it shall be well with thee"
Explanation:- The man should work hard in order to be satisfied. They will eat the food and be content as they work hard. God will be happy for their hard work and they will be blessed.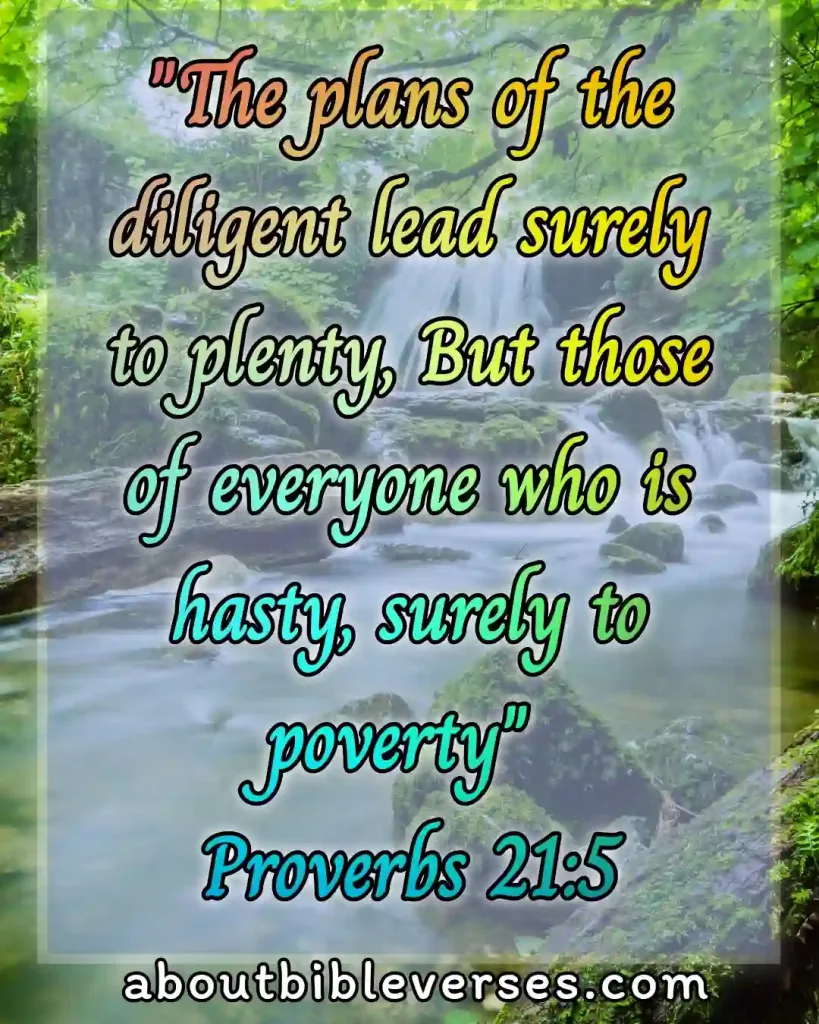 Proverbs 21:5(KJV)"The thoughts of the diligent tend only to plenteousness; but of every one that is hasty only to want"
Explanation:- We should work diligently because our thoughts will drive us to do good. Thus it will lead us to be prosperous in our lives.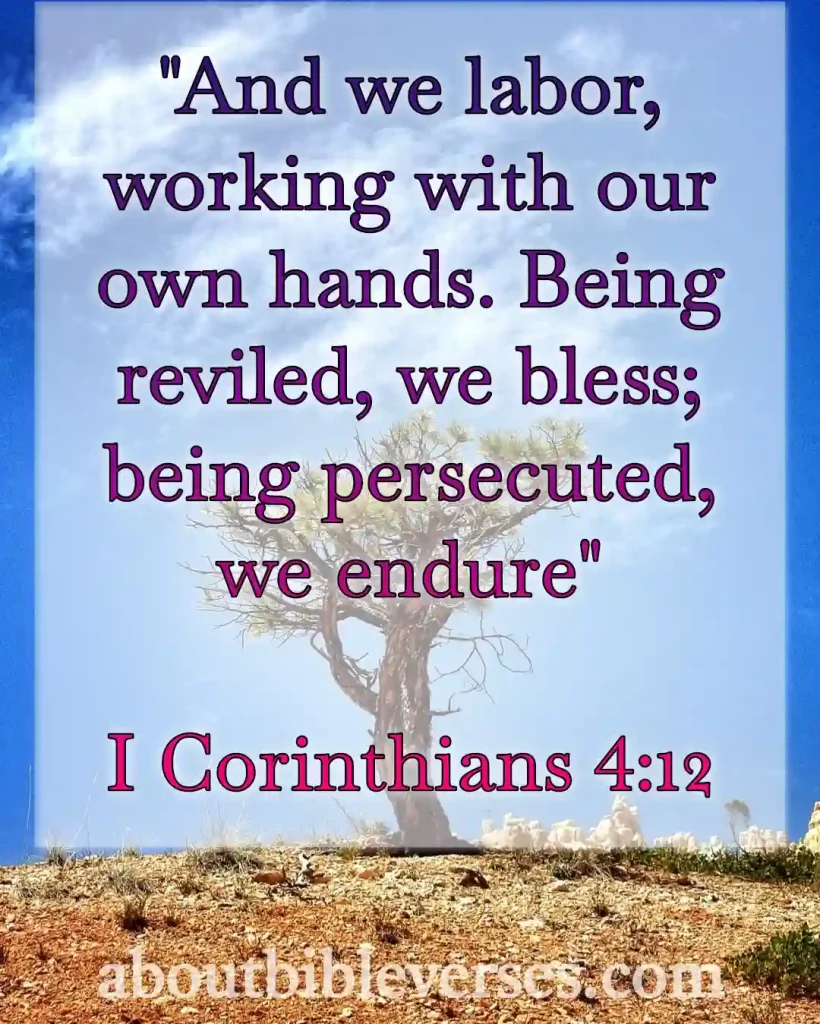 1 Corinthians 4:12(KJV)"And labour, working with our own hands: being reviled, we bless; being persecuted, we suffer it"
Explanation:- Let us give our mind, soul, and spirit to God and work hard to be blessed from above. God has called us in his kingdom to live a holy life but we are to work hatred for the glory of God.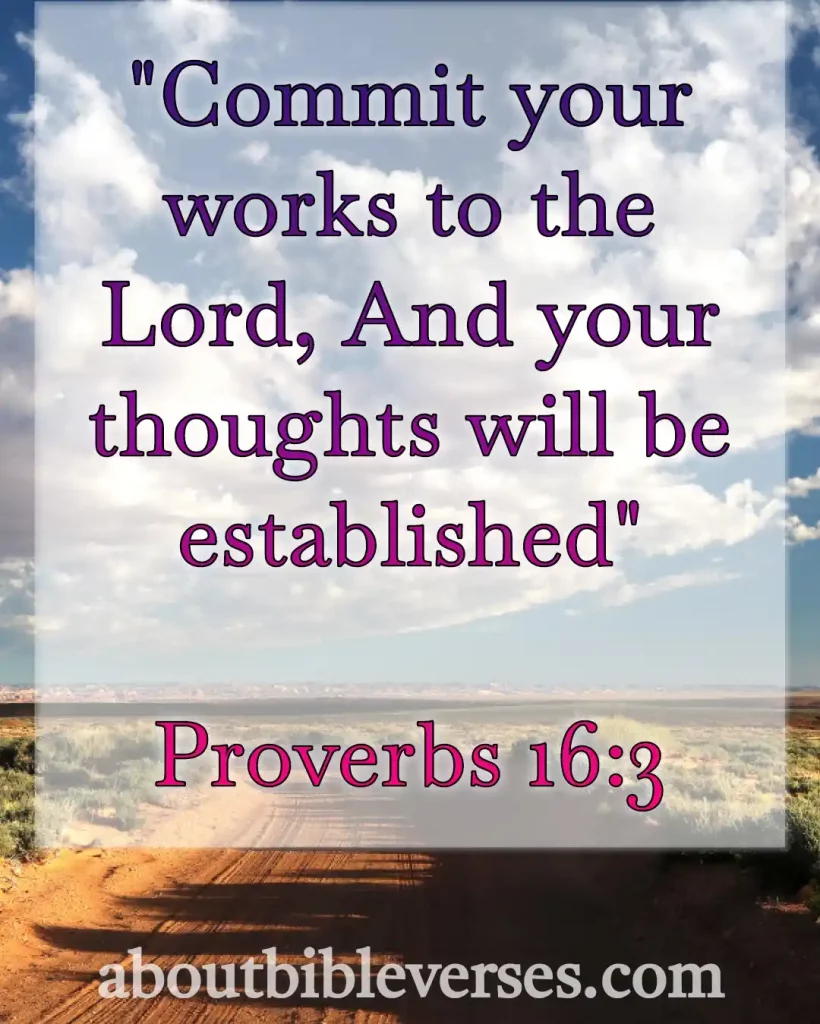 Proverbs 16:3(KJV)"Commit thy works unto the Lord, and thy thoughts shall be established"
Explanation:- Many people work hard yet they do not get satisfaction and fail to meet the need of their families. Here, we need to know that before beginning any job we must pray and inform God first. Then we will be successful at our work.
Bible Verses About Unity And Working Together
The Bible tells us to work together for God's work, and God loves it, and God's Word says that two is better than the one, because if one person makes a mistake, the other can correct it. Apart from this when we work together for the extension of God's kingdom, we feel the presence of God too.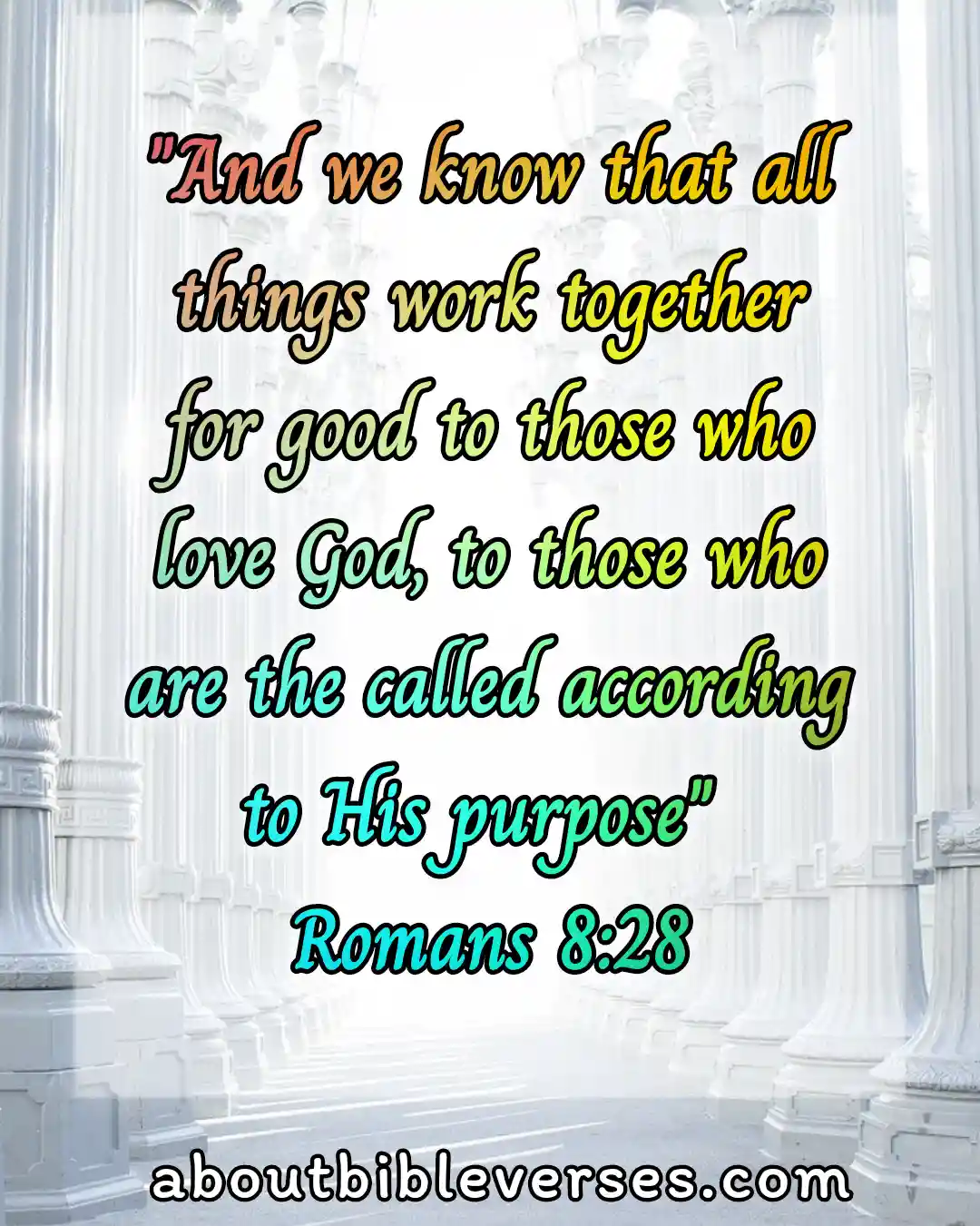 Romans 8:28(KJV)"And we know that all things work together for good to them that love God, to them who are the called according to his purpose"
Explanation:- In our lives sometimes we come across trials and hardships but we need to remember that God has some purpose in our lives. So we can seek God's plan in our troubles. God knows how to deliver us from our dangers.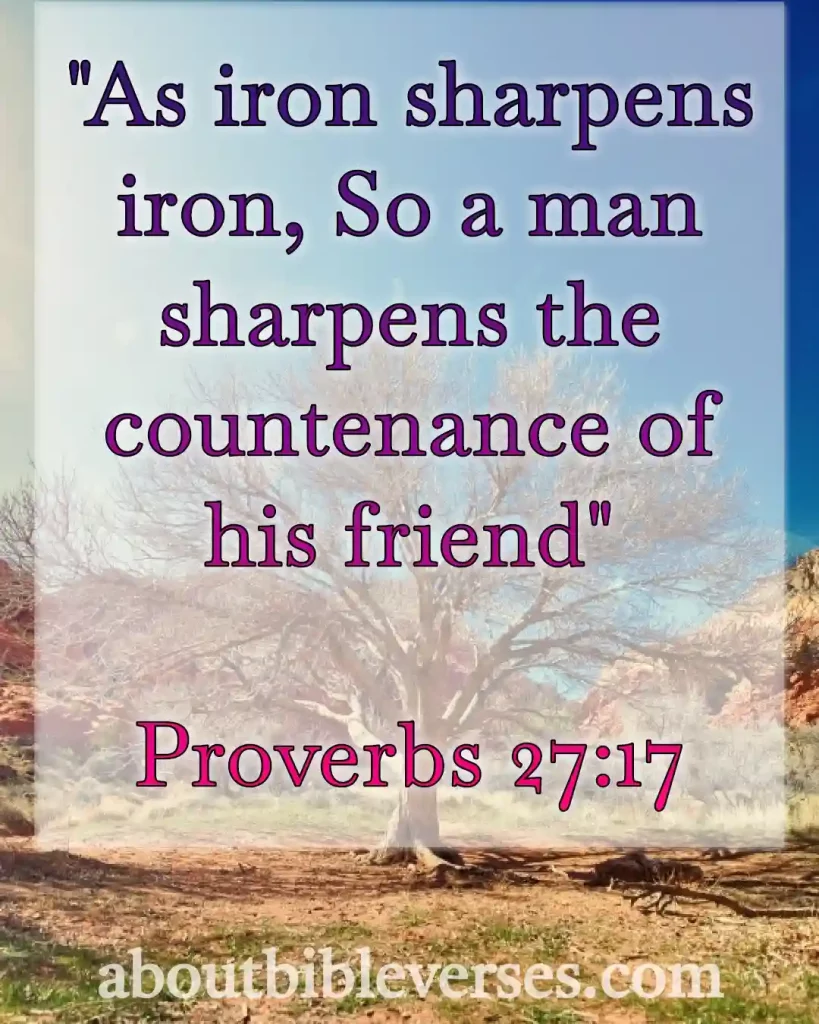 Proverbs 27:17(KJV)"Iron sharpeneth iron; so a man sharpeneth the countenance of his friend"
Explanation:- As iron sharpens iron so in that same manner, a wise man can make someone wise. Here we need to encourage one another and we must share our working ideas with others to grow in our unity and works.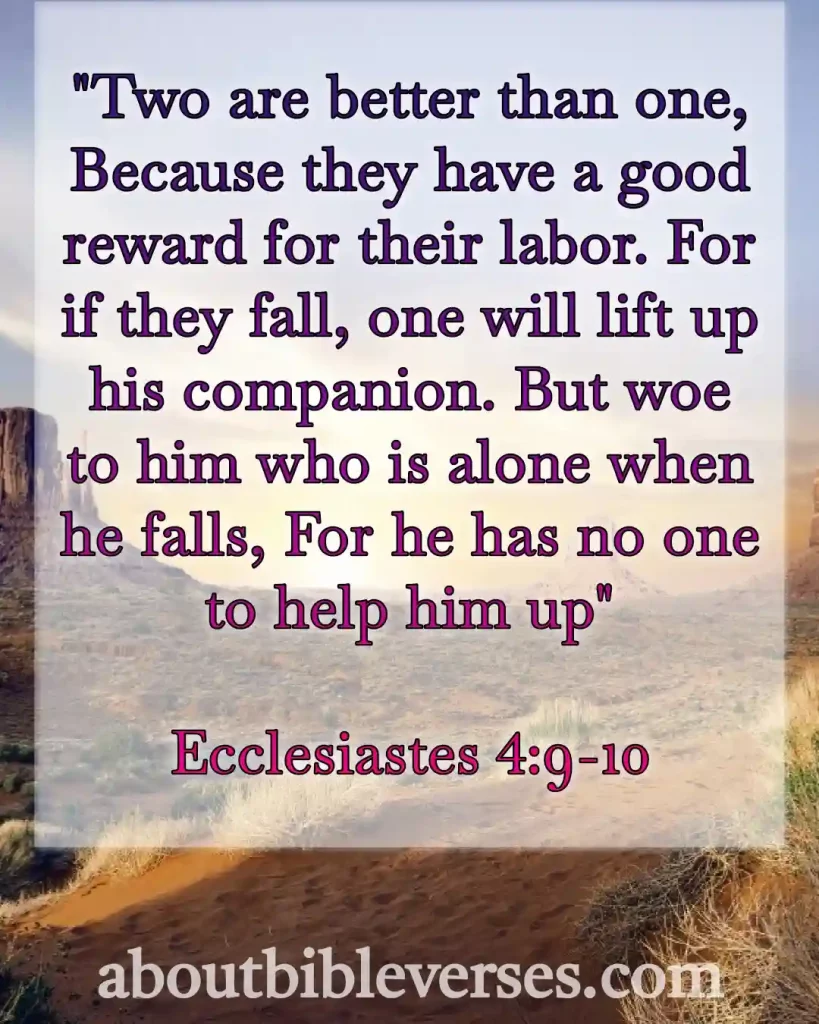 Ecclesiastes 4:9-10(KJV)"Two are better than one; because they have a good reward for their labour. For if they fall, the one will lift up his fellow: but woe to him that is alone when he falleth; for he hath not another to help him up"
Explanation:- If we work unitedly then we will be able to see the face of success. We must work together where one can pull the other when he is down. Thus working together makes us happy and we reach the goal that we set before the work.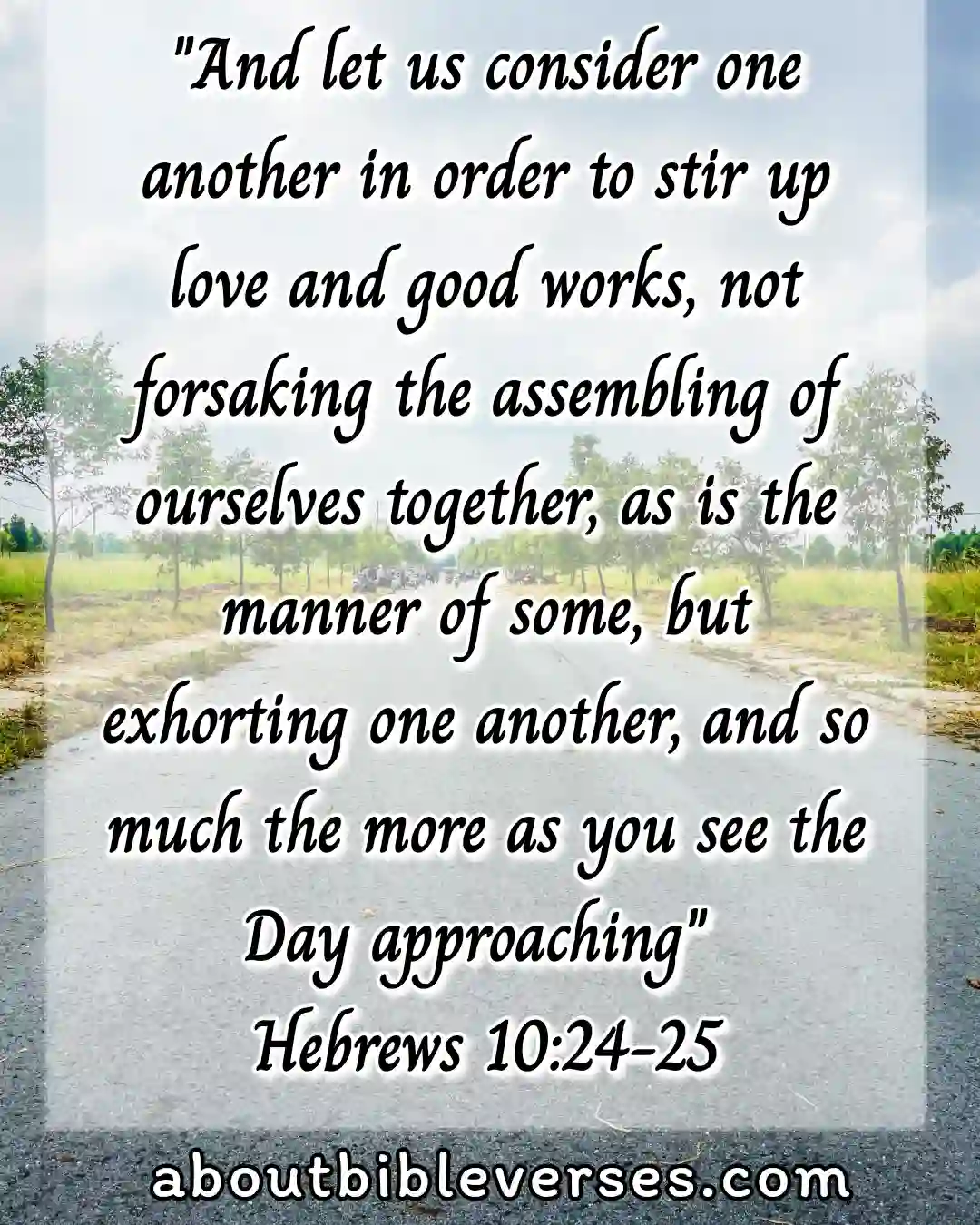 Hebrews 10:24-25(KJV)"And let us consider one another to provoke unto love and to good works: Not forsaking the assembling of ourselves together, as the manner of some is; but exhorting one another: and so much the more, as ye see the day approaching"
Explanation:- In our work, we must establish love and honor, and respect for each other. If we look at others in a narrow mind then we will not be able to reach the peak of success. So we must have the same mind and love for each other to achieve the goal.
Bible Verses About God Working In Our Lives
Dear children of God, when we live in the will of God and abide by the word of God, God works according to His plan in our lives, and God does many great things in our lives and gives us a bright future with the power to protect us from danger.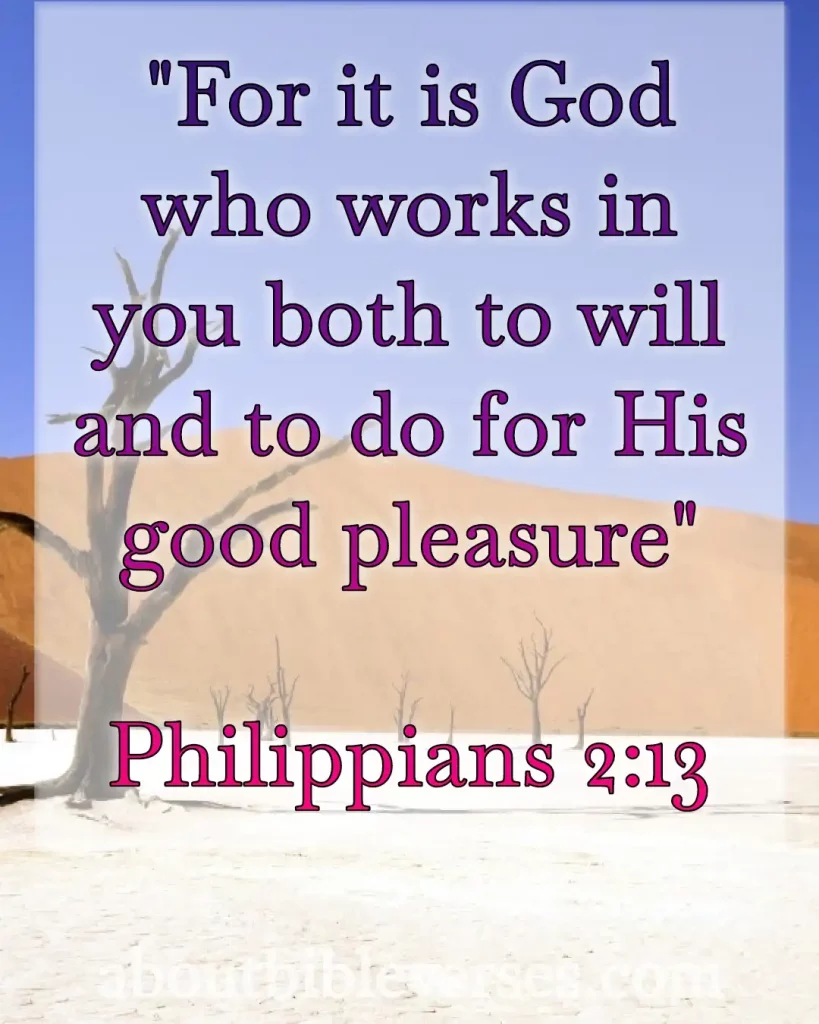 Philippians 2:13(KJV)"For it is God which worketh in you both to will and to do of his good pleasure"
Explanation:- In our lives, we see that we work only but we must see the works of God who silently works behind us. We need to thank him every day for his wonderful presence in our lives which helps us to accomplish our works.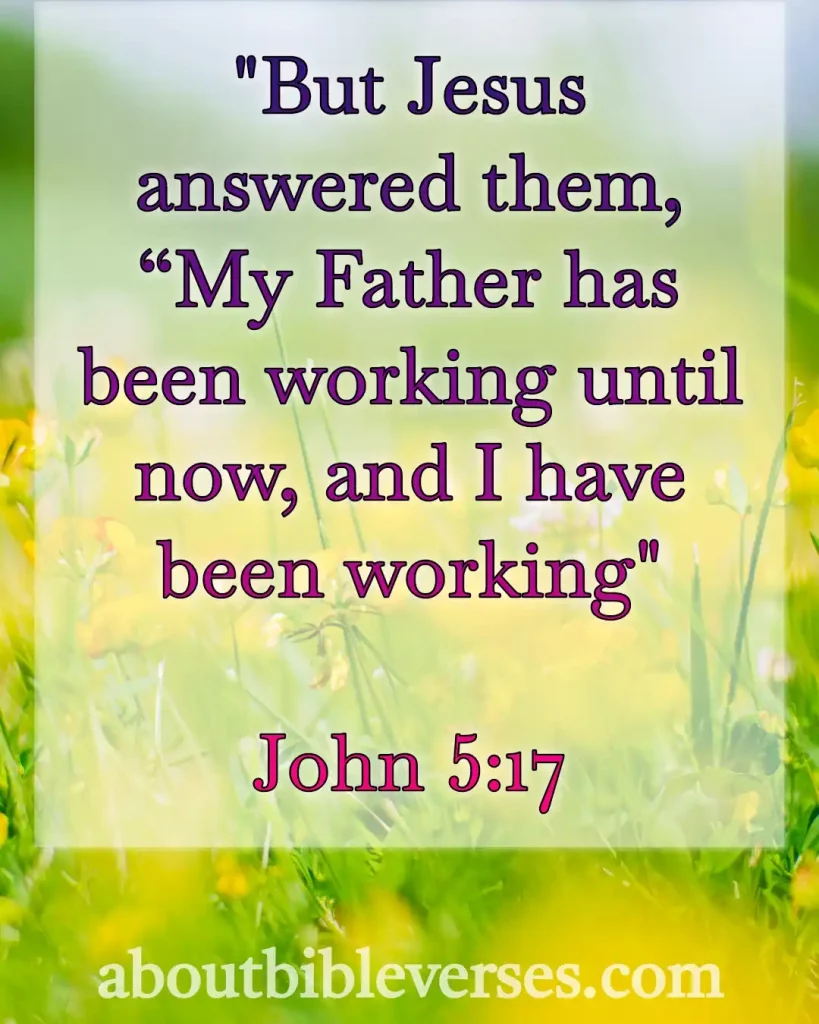 John 5:17(KJV)"But Jesus answered them, My Father worketh hitherto, and I work"
Explanation:- Jesus says his Father working every time. So we need to be wise and work hard to live a righteous life. We should not follow the people who live an idle life but like God, we are to work always.
Bible Verses About Working For The Lord
The first thing we need to do in our Christian life is to serve our God with all our heart and soul, that is, to work for the kingdom of God because God is constantly working for us and thinking of us. He is a God who never sleeps but lets us sleep.
He cares for us day and night and loves us so much that we should work for him as much as he has loved us and worked for us so we must work for the growth of God's kingdom as much as we can.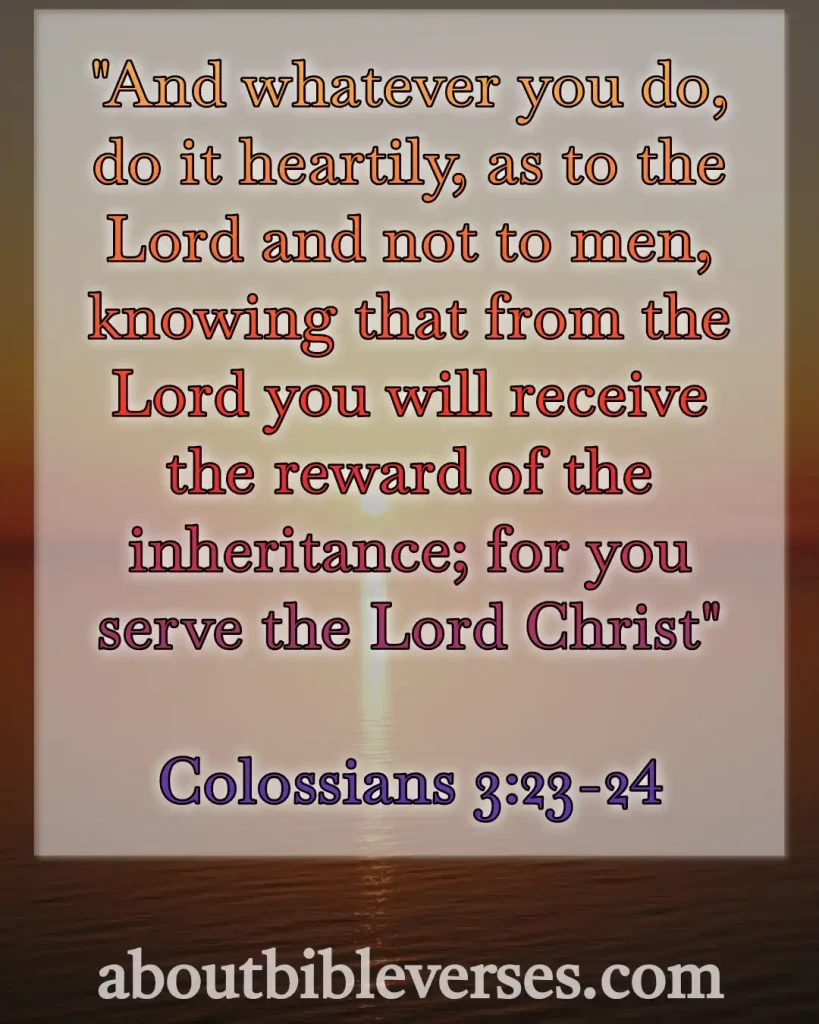 Colossians 3:23-24(KJV)"And whatsoever ye do, do it heartily, as to the Lord, and not unto men; Knowing that of the Lord ye shall receive the reward of the inheritance: for ye serve the Lord Christ"
Explanation:- We should work faithfully because the Lord is watching us and one day we have to stand before him to give the account of our works. We must know that our works silently speak about God. If we do good works people will praise our God and if we do evil works people will speak against our God. So we must do good works for the sake of our Lord.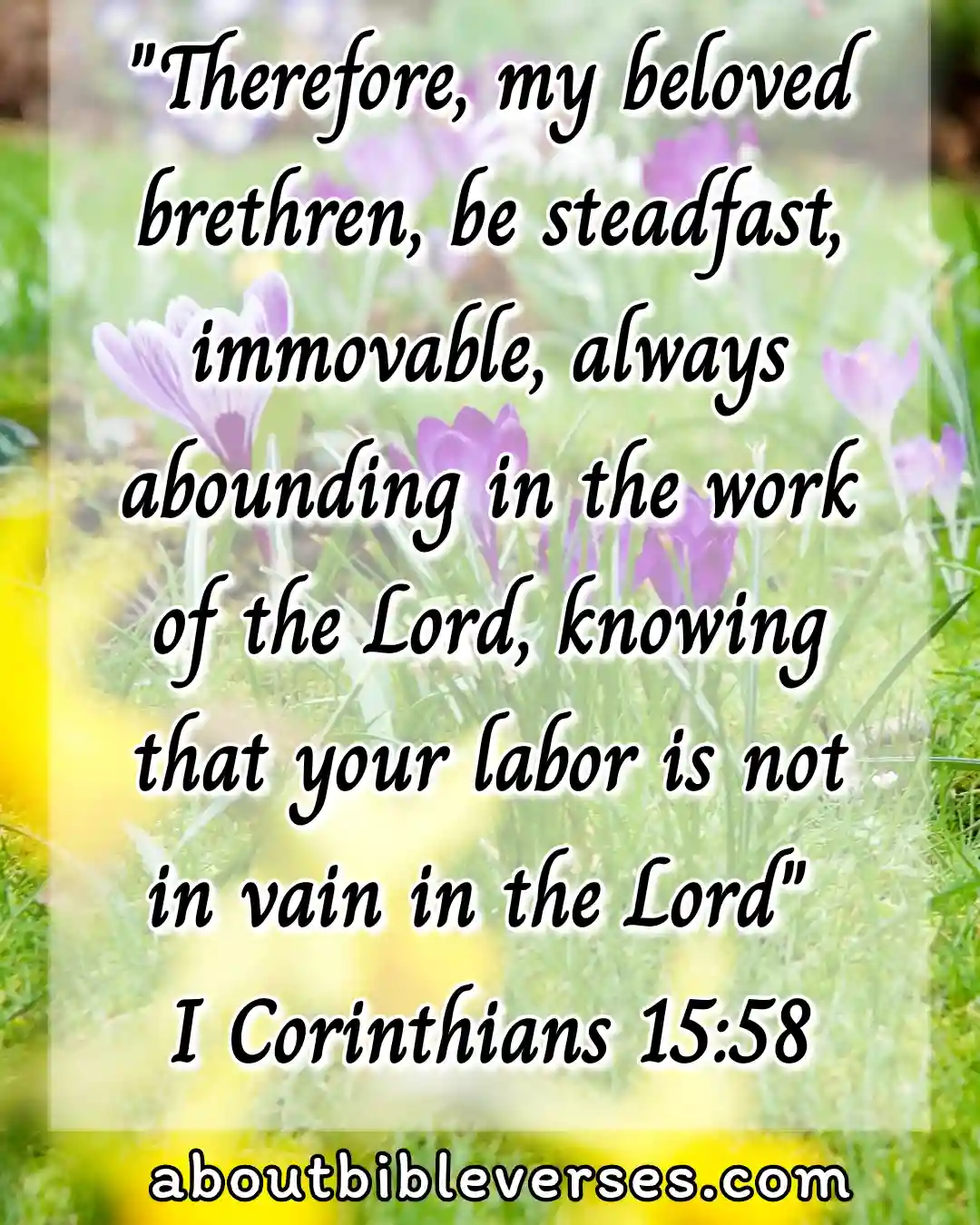 1 Corinthians 15:58(KJV)"Therefore, my beloved brethren, be ye stedfast, unmoveable, always abounding in the work of the Lord, forasmuch as ye know that your labour is not in vain in the Lord"
Explanation:- Besides our works, we need to give time to the Lord. We are to give time for God's work. We will surely receive blessings when we work for God's kingdom and our families will also receive many blessings.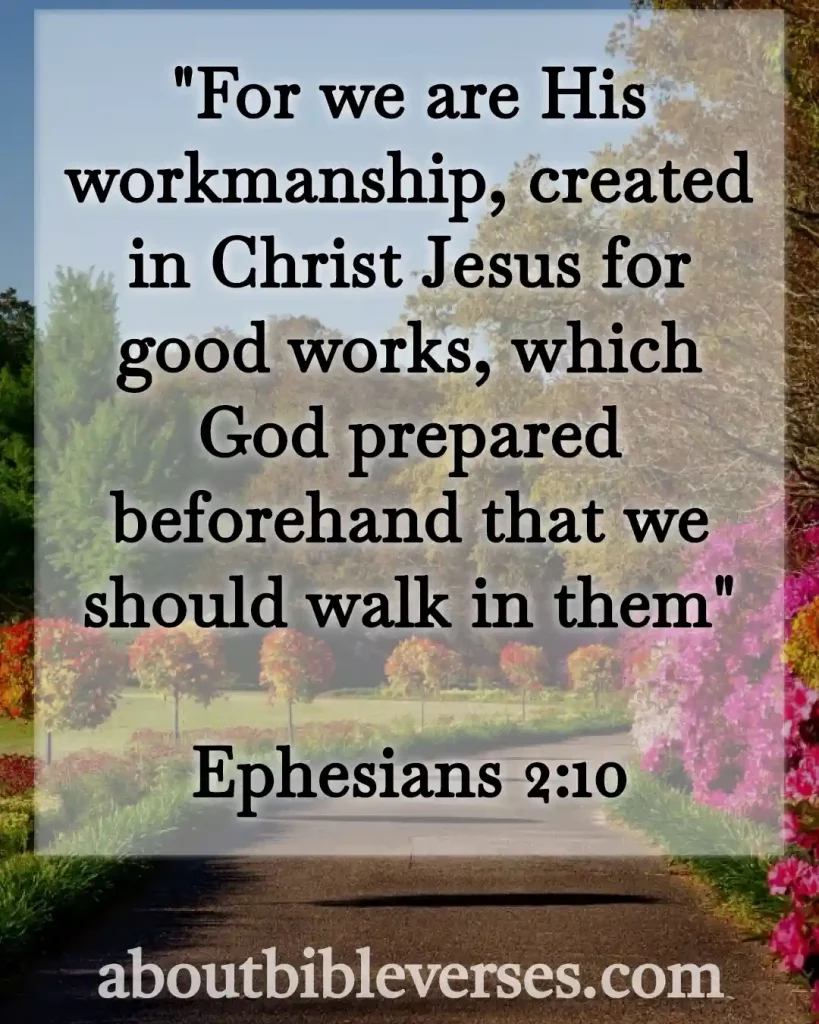 Ephesians 2:10(KJV)"For we are his workmanship, created in Christ Jesus unto good works, which God hath before ordained that we should walk in them"
Explanation:- We are created to do works for the Lord. Our main job is to please God by following his words., So we must give our best in obeying his scripture by doing his works.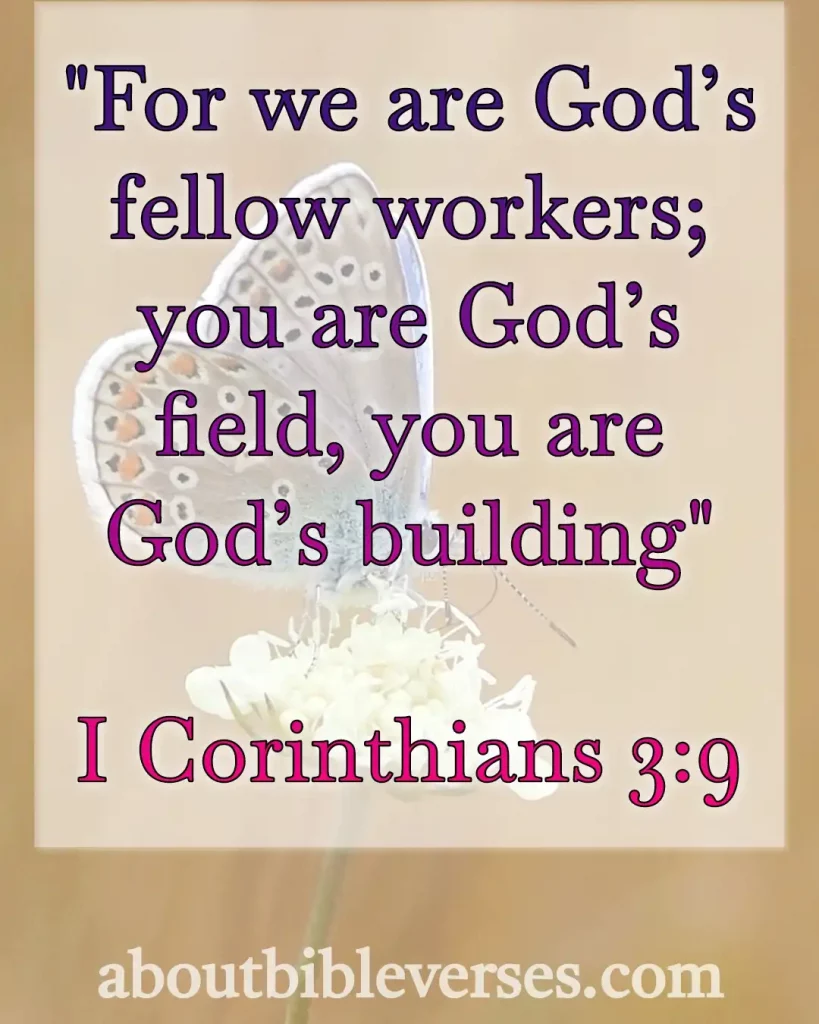 1 Corinthians 3:9(KJV)"For we are labourers together with God: ye are God's husbandry, ye are God's building"
Explanation:- We should work with the Lord. as our God has called us with a mission to fulfill so we must commit our best to work for God's righteousness and kingdom.
Bible Verses About Success And Rewards For Hard Work
Dear children of God we must remember that all that we do on this earth is for the purpose of pleasing God and that God loves these hard-working people.
The Bible says don't get tired of doing good deeds. Remember that all these works are not the purpose of any human being. You are doing for God's purpose and God will reward you in due time.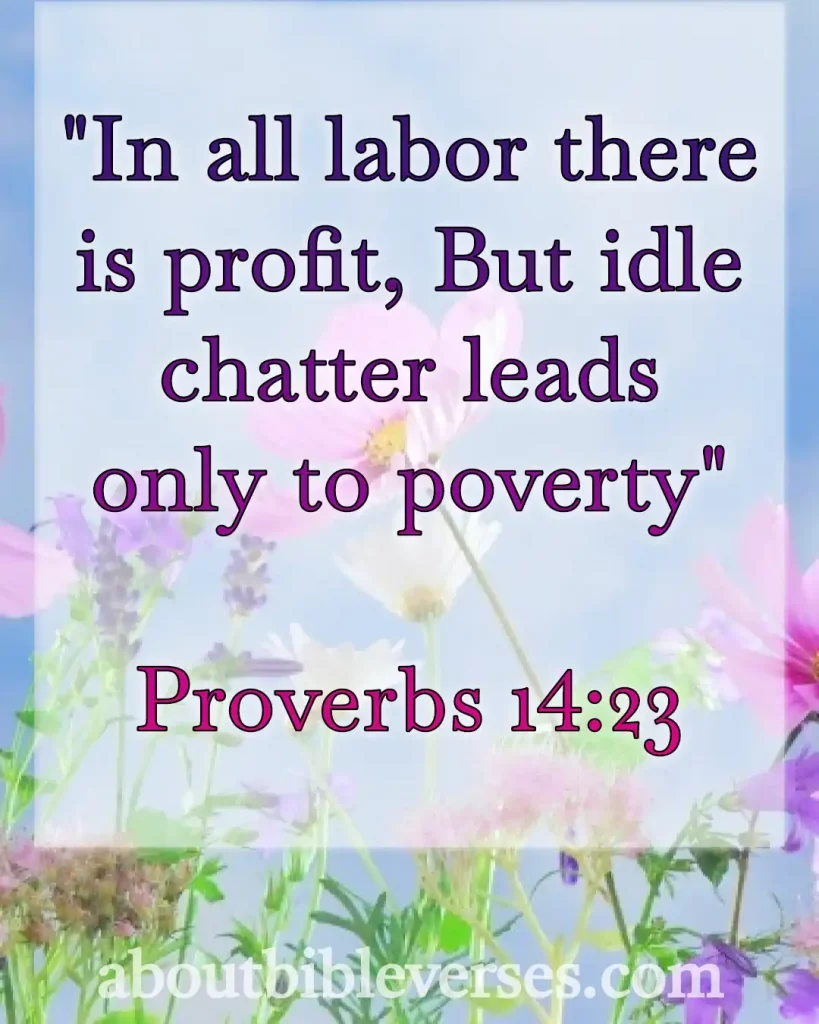 Proverbs 14:23(KJV)"In all labour there is profit: but the talk of the lips tendeth only to penury"
Explanation:- Our labors bring us profit but we need to be wise to speak because our words have power. We are God's chosen people so our words and works must be based upon God's will.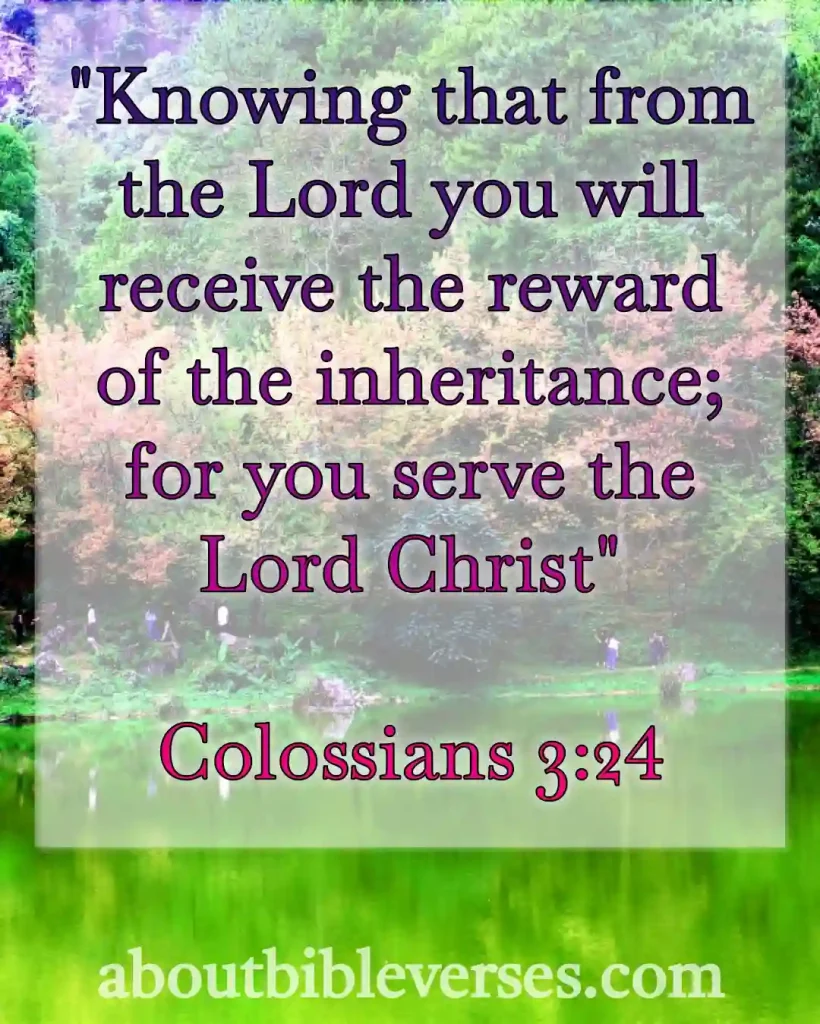 Colossians 3:24(KJV)"Knowing that of the Lord ye shall receive the reward of the inheritance: for ye serve the Lord Christ"
Explanation:- There will be a reward after our death as the Lord has promised us to judge us and reward us according to our works. Remembering that we need to work hard and that should bring glory to God.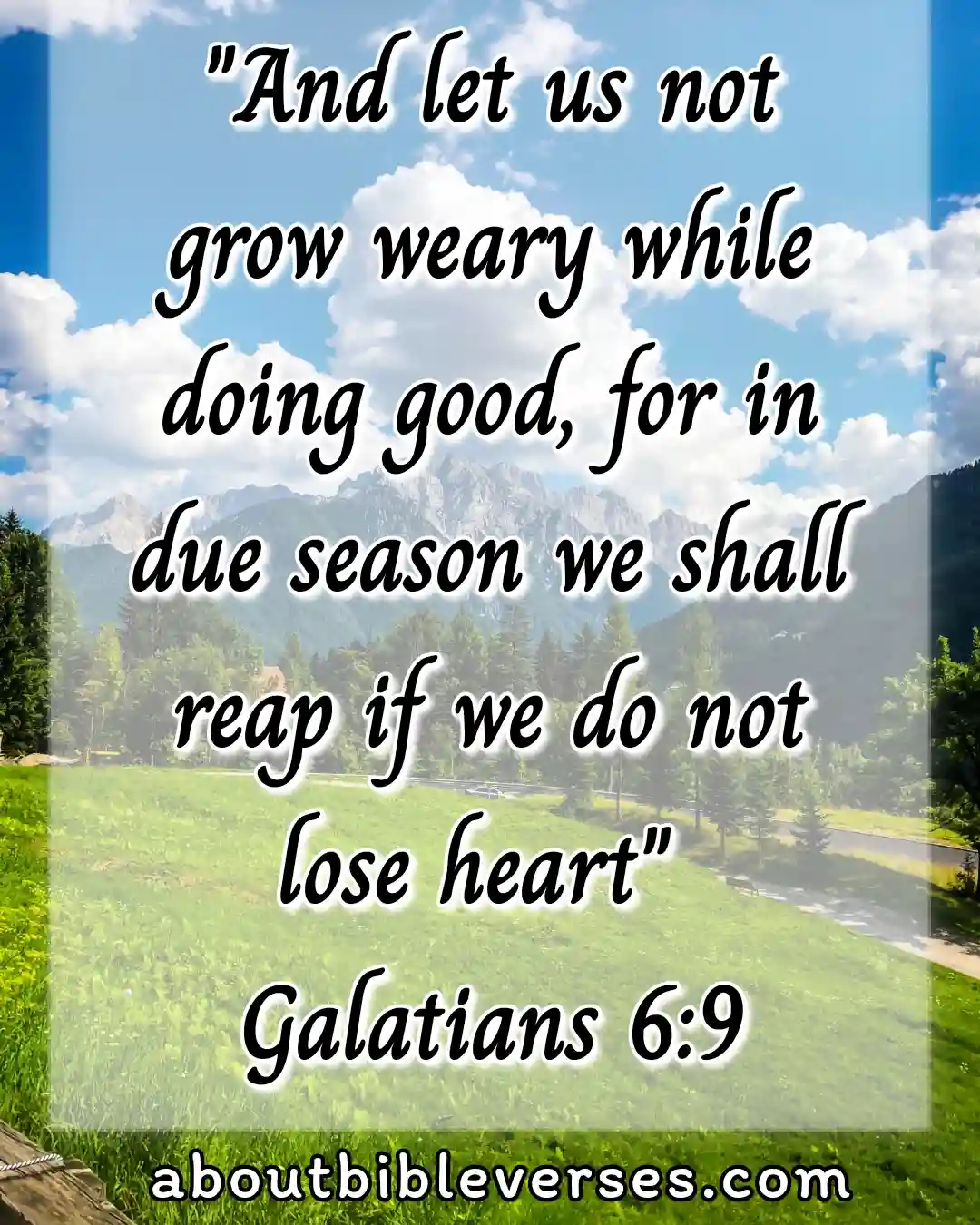 Galatians 6:9(KJV)"And let us not be weary in well doing: for in due season we shall reap, if we faint not"
Explanation:- We should not be tired of doing good works. All our works will be revealed at the time of judgment so we must know that our works have some consequences.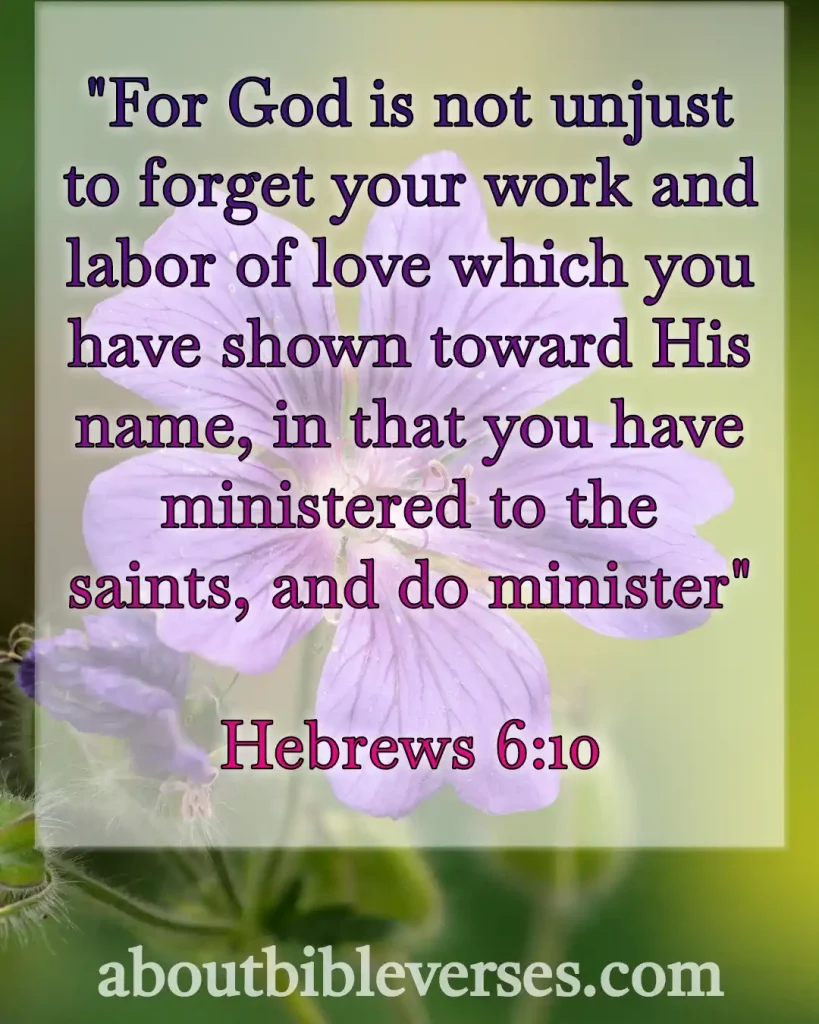 Hebrews 6:10(KJV)"For God is not unrighteous to forget your work and labour of love, which ye have shewed toward his name, in that ye have ministered to the saints, and do minister"
Explanation:- If we do something for God's sake then definitely we will get the reward. God does not forget our contribution to his kingdom's extension. He will help us to do his work and guide us according to his plan.
More Bible Topics
[Best] 25+Bible Verse About Responsibility – Duty Of Man
[Best] 15+Bible Verses For When You Feeling Down And Sad
[Best] 15+Bible Verses For Scammer, Fraud, And Misleading
[Best] 25+Bible Verses About Fornication And Adultery(KJV) – And How To Overcome
[Best] 13+Bible Verse About Helping And Giving To The Poor, Needy, And Orphans
[Best] 9+Bible Verses About Feeding The Hungry Poor People
[Best] 14+Bible Verses On Self Confidence(KJV)- You Can Do It, Never Lose Yourself
[Best] 14+Bible Verses About Trusting God In Difficult Times
[Best] 15+Bible Verses About Bad Language(KJV) – Foul Language Verses