Our dear Christian brothers and sisters, I hope you are well by the grace of our Lord Jesus Christ.
Today we will know what the Bible says about helping our poor, needy, and orphans.
God's Word tells us – we should always be ready to help others, especially the poor and orphans.
We cannot give anything directly to God because God does not need anything but we give to God by helping His people and the Bible says that when we help the poor we lend to God and He will repay us.
If we look in the Book of Acts, we see that all the believers of God and disciples sold their property and shared it with each other, and (Acts 20:35) we see on the way there Paul said we must work hard and help the needy. Yes, because the Lord Jesus Christ says that giving is more than receiving.
Let us now look at some of the verses in the Bible.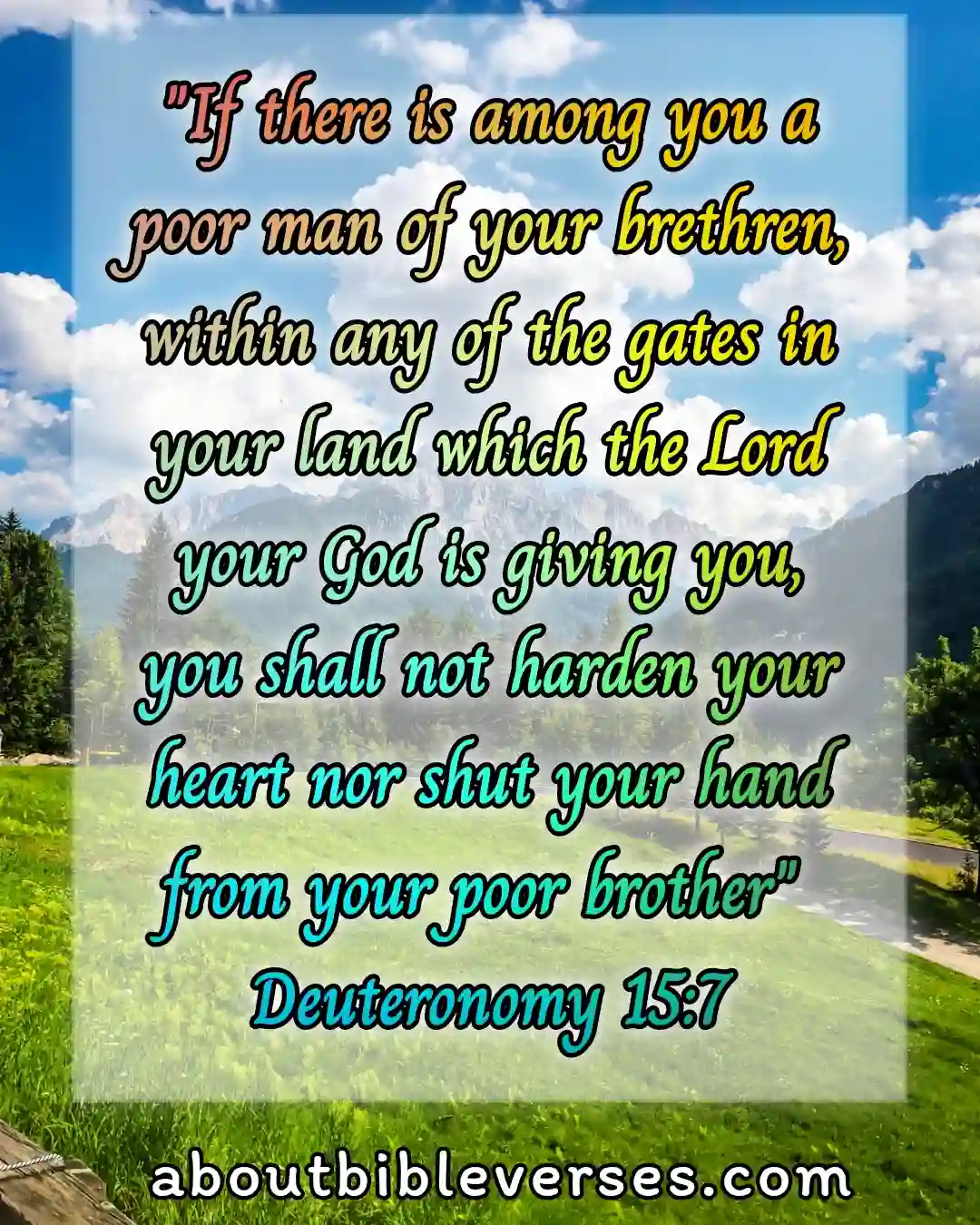 Deuteronomy 15:7(KJV)"If there be among you a poor man of one of thy brethren within any of thy gates in thy land which the Lord thy God giveth thee, thou shalt not harden thine heart, nor shut thine hand from thy poor brother"
Explanation:- God's people should take care of the poor and needy. They must extend their help hands while others are found in need. God loves to see the act of giving to poor.
Deuteronomy 15:10-11(KJV)"Thou shalt surely give him, and thine heart shall not be grieved when thou givest unto him: because for this thing the Lord thy God shall bless thee in all thy works, and in all that thou puttest thine hand unto. For the poor shall never cease out of the land: therefore I command thee, saying, Thou shalt open thine hand wide unto thy brother, to thy poor, and to thy needy, in thy land"
Explanation:- God will bless us when we step forward to help others. The Lord sees our works and he will be pleased by seeing our charitable deeds. As the Lord is the rewarder of our works so we need to be wise in giving others especially those who are in trouble to run their families.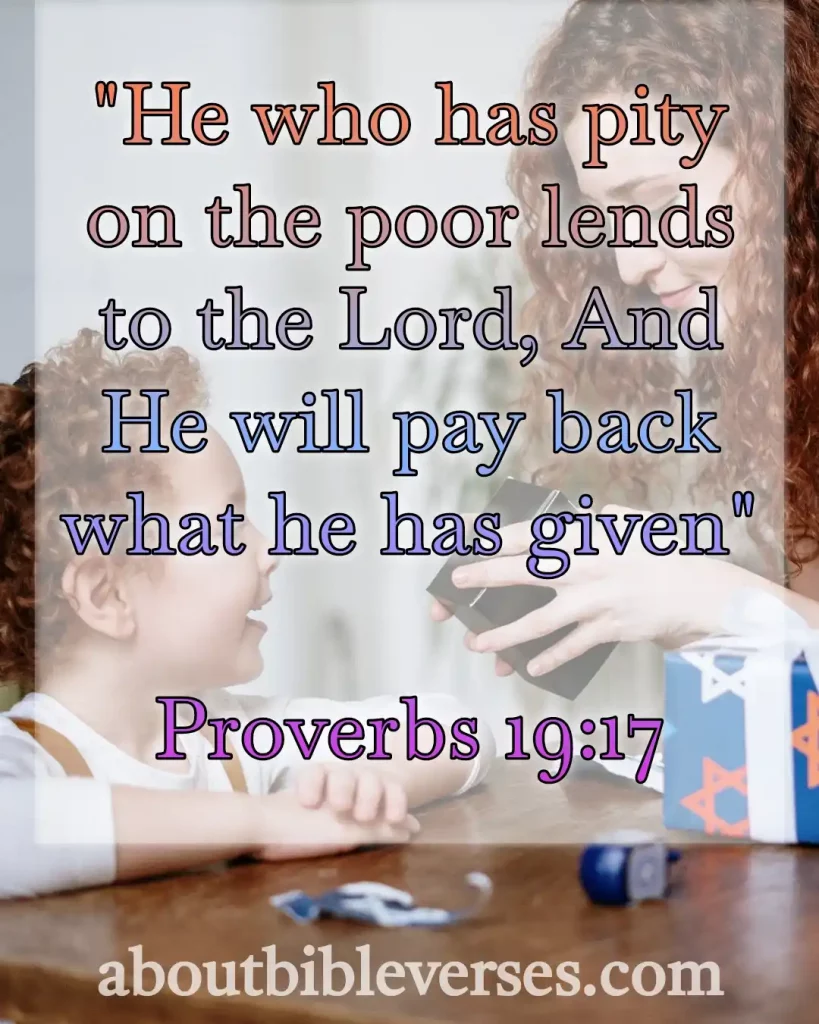 Proverbs 19:17(KJV)"He that hath pity upon the poor lendeth unto the Lord; and that which he hath given will he pay him again"
Explanation:- One who shows kindness and sympathy to the poor actually lends God. He will be gained back from the Lord for his wonderful work.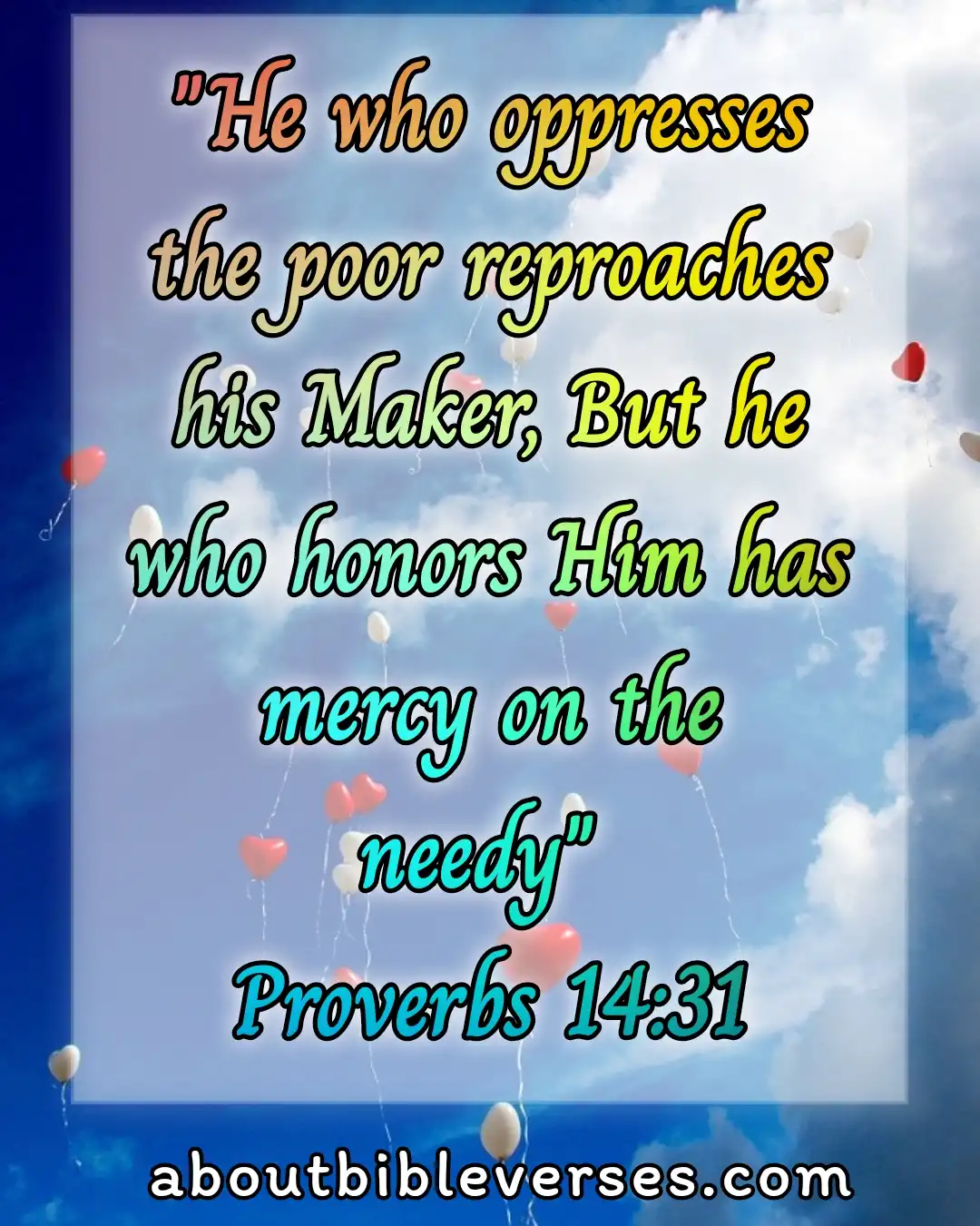 Proverbs 14:31(KJV)"He that oppresseth the poor reproacheth his Maker: but he that honoureth him hath mercy on the poor"
Explanation:- We should not oppress the poor as the Lord is their maker and sustainer. The Lord will destroy those who persecute his people who are struggling in their lives.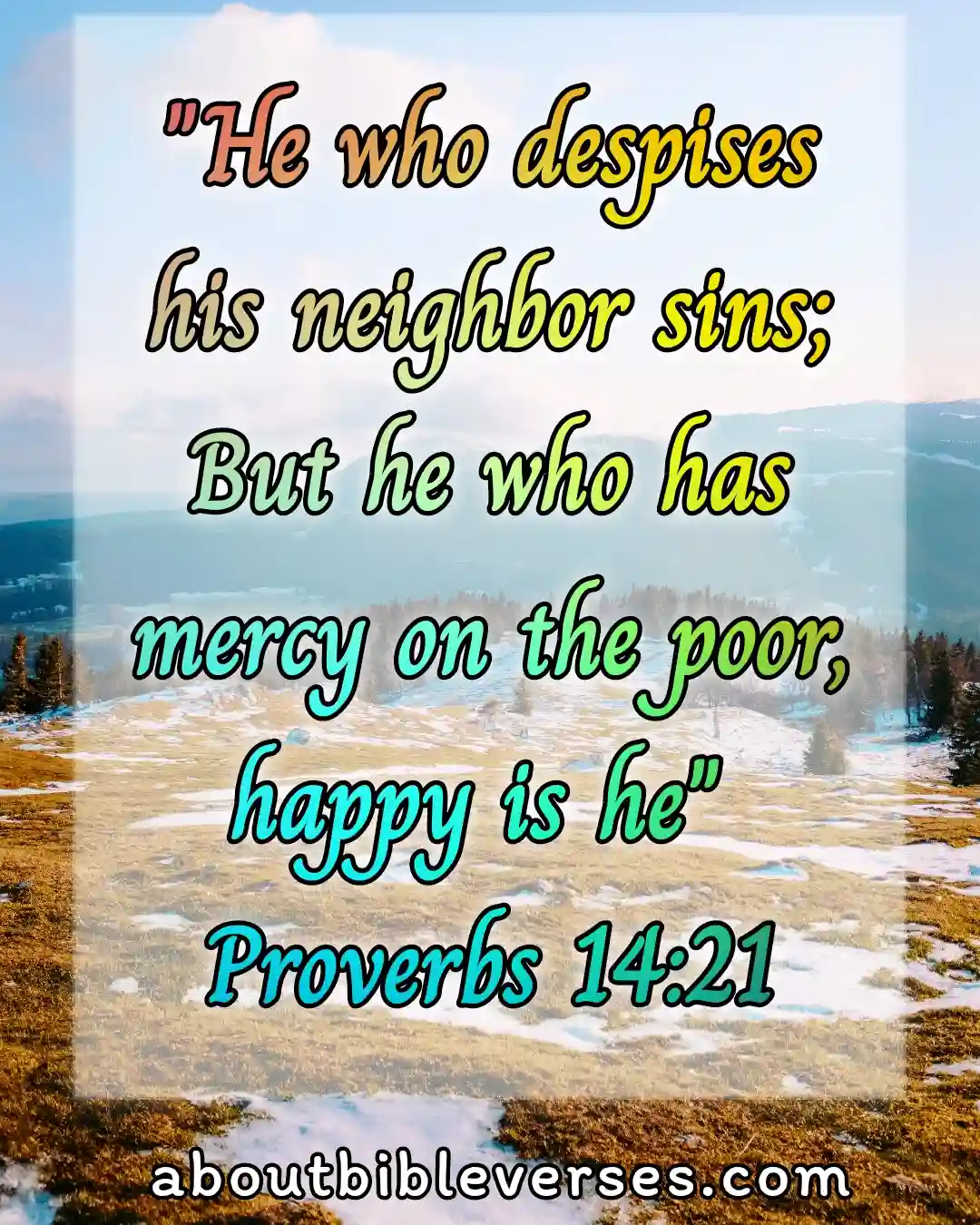 Proverbs 14:21(KJV)"He that despiseth his neighbor sinneth: but he that hath mercy on the poor, happy is he"
Explanation:- Jesus also says to love prior neighbors and it should be obeyed for the sake of our righteousness. We are to show mercy and kindness to the poor as the Lord is their creator and he will reward us for our previous works.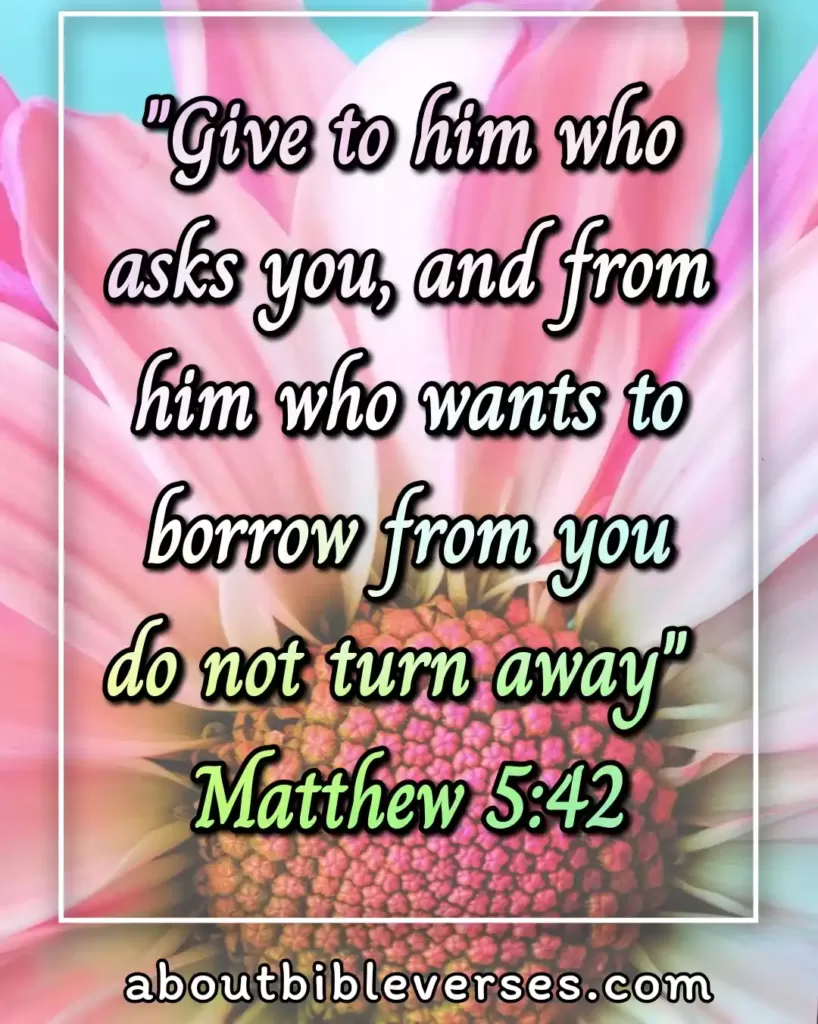 Matthew 5:42(KJV)"Give to him that asketh thee, and from him that would borrow of thee turn not thou away"
Explanation:- When we have things extra then we must share with others who do not have them. The more we receive blessings from the Lord the more we need to give others. This helps us to walk with the Lord according to his will.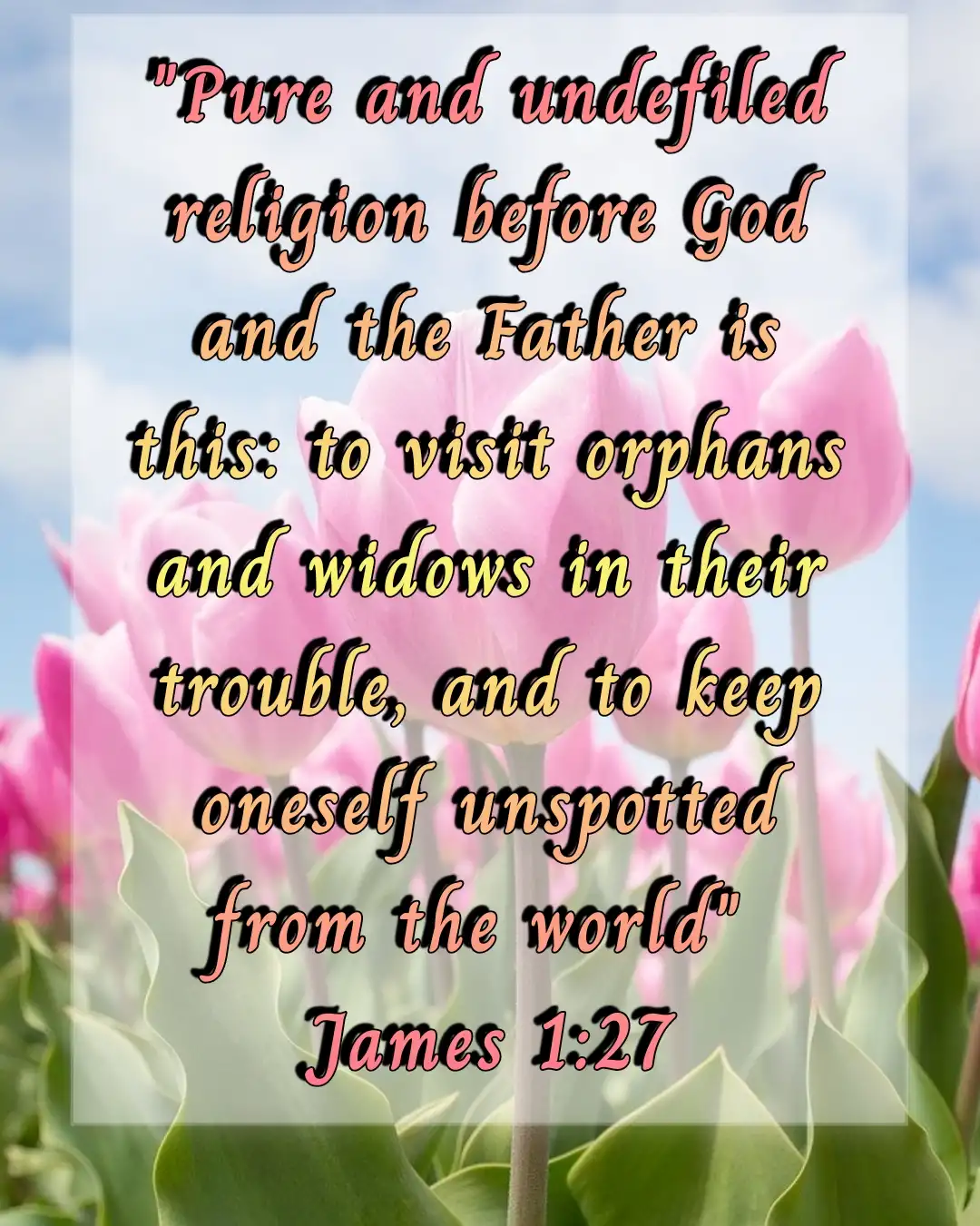 James 1:27(KJV)"Pure religion and undefiled before God and the Father is this, To visit the fatherless and widows in their affliction, and to keep himself unspotted from the world"
Explanation:- If we claim ourselves religious then we need to fulfill the will of God by helping others. We cannot become God's children until we show our love and kindness by helping people who badly need our support.
Bible Verses For If You Never Helping And Giving The poor, Needy And Orphans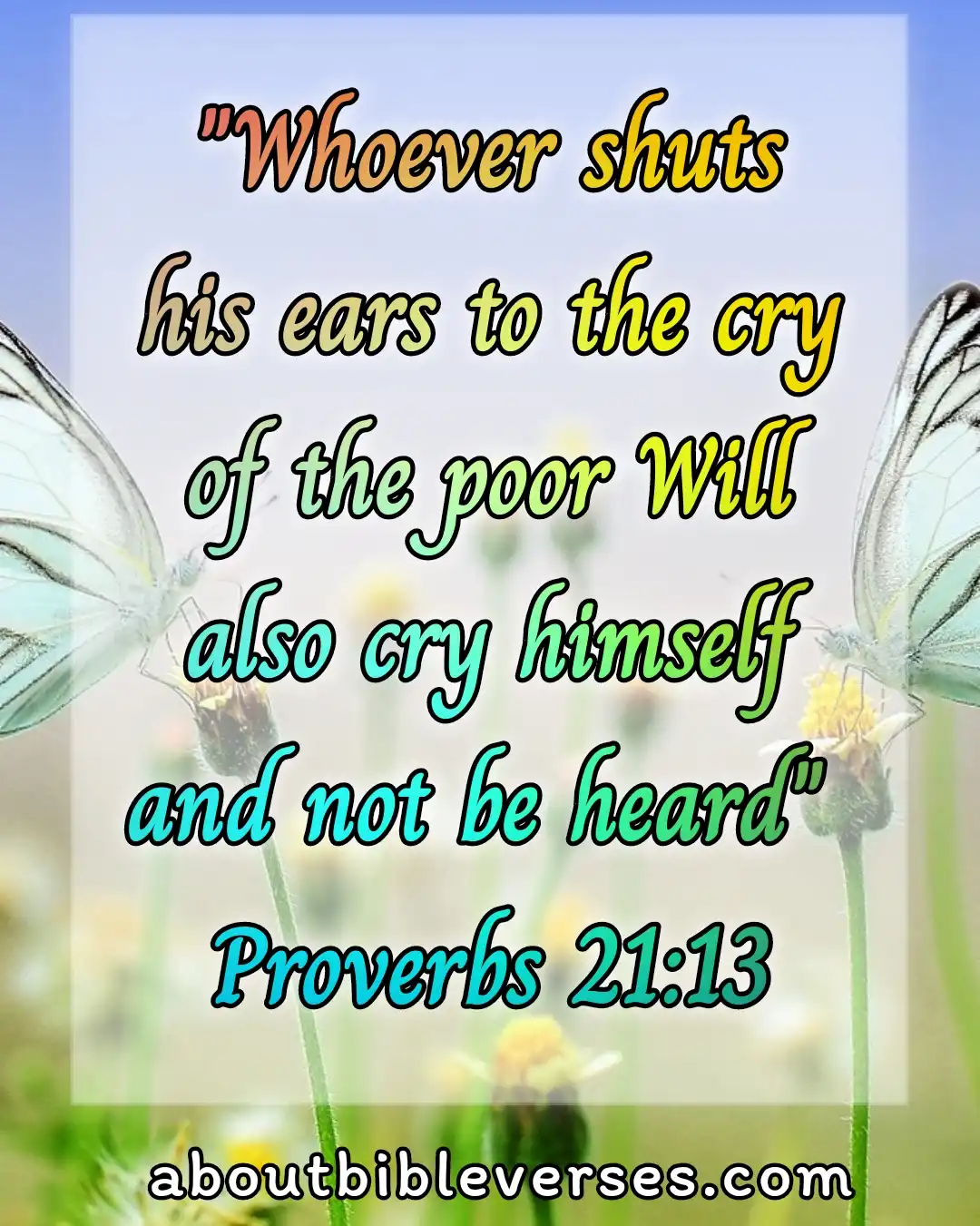 Proverbs 21:13(KJV) "Whoso stoppeth his ears at the cry of the poor, he also shall cry himself, but shall not be heard"
Explanation:- The Lord has given us eyes and ears and we need to use them for the glory of God. the request of the poor's appeal must be paid heed in order to be the real child of God. if we fail to hear the poor's cries then the Lord will also remove himself from us.
Bible Verse About Never Cheat And Mocks The poor, Needy And Orphans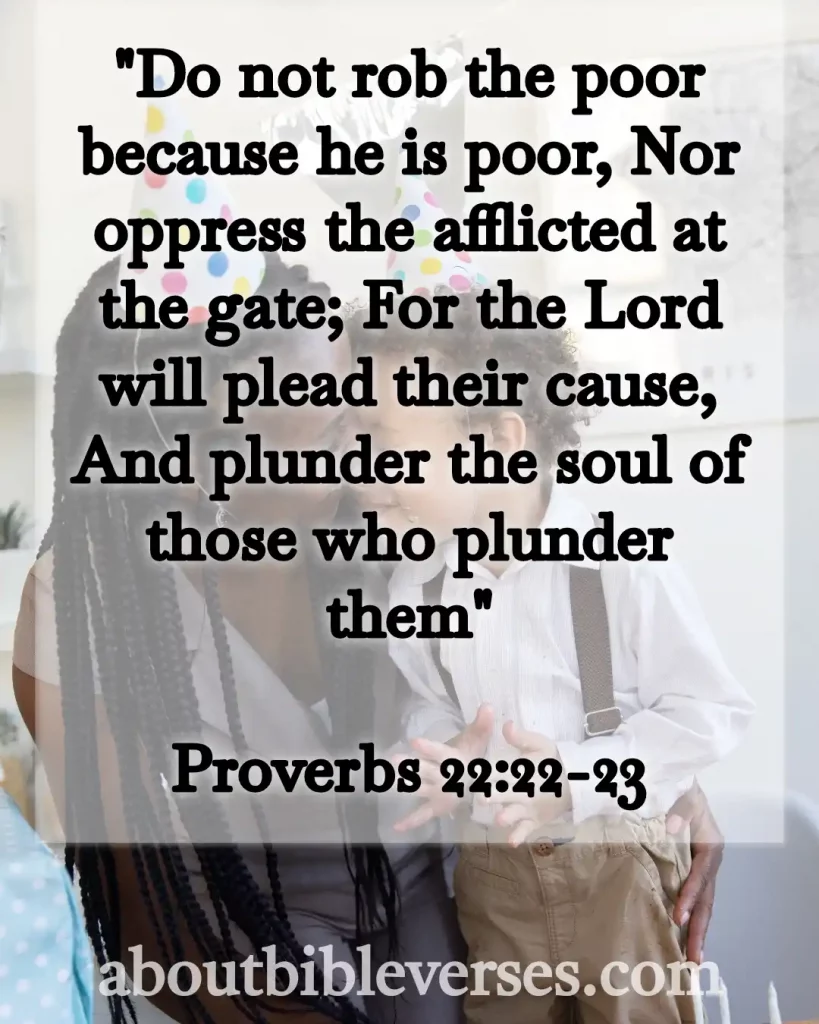 Proverbs 22:22-23(KJV)"Rob not the poor, because he is poor: neither oppress the afflicted in the gate: For the Lord will plead their cause, and spoil the soul of those that spoiled them"
Explanation:- The Lord is watching each of us and our works. He demands us not to rob the poor as The Lord will spoil us due to our unrighteous works. We are to help them instead of afflicting them in their distress.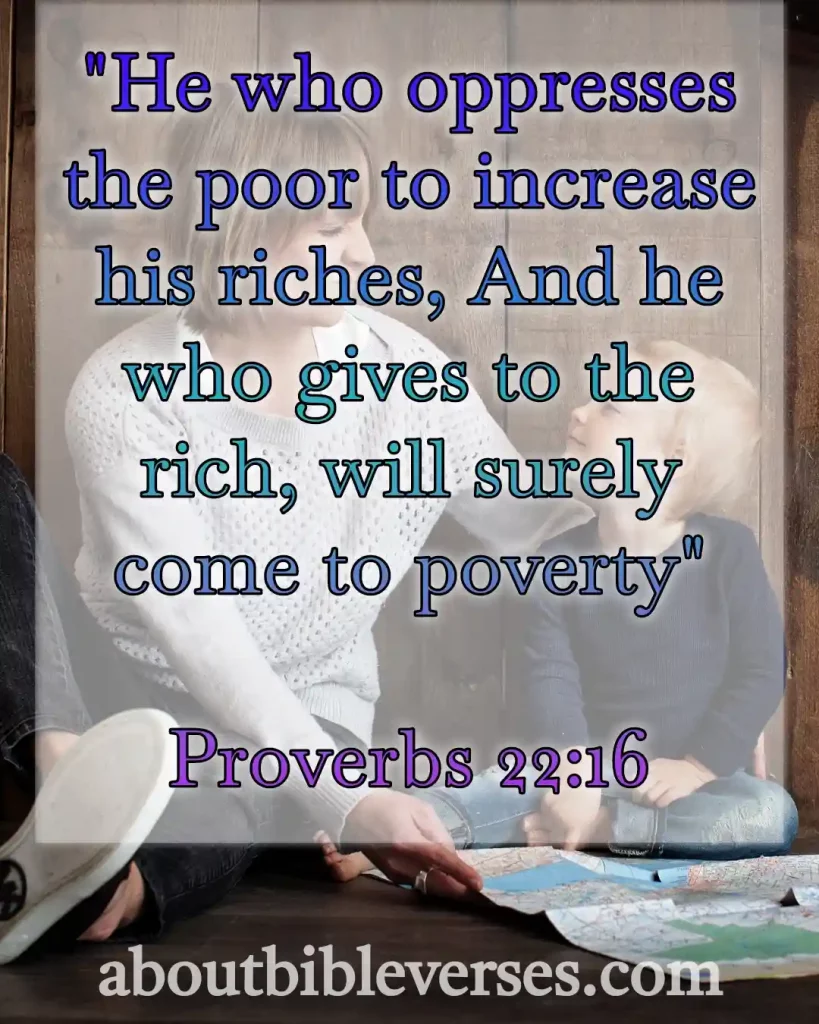 Proverbs 22:16(KJV)"He that oppresseth the poor to increase his riches, and he that giveth to the rich, shall surely come to want"
Explanation:- People who snatch things from the poor to be rich and those who give to the rich are equally committing crimes and they have to pay the penalty for their deeds.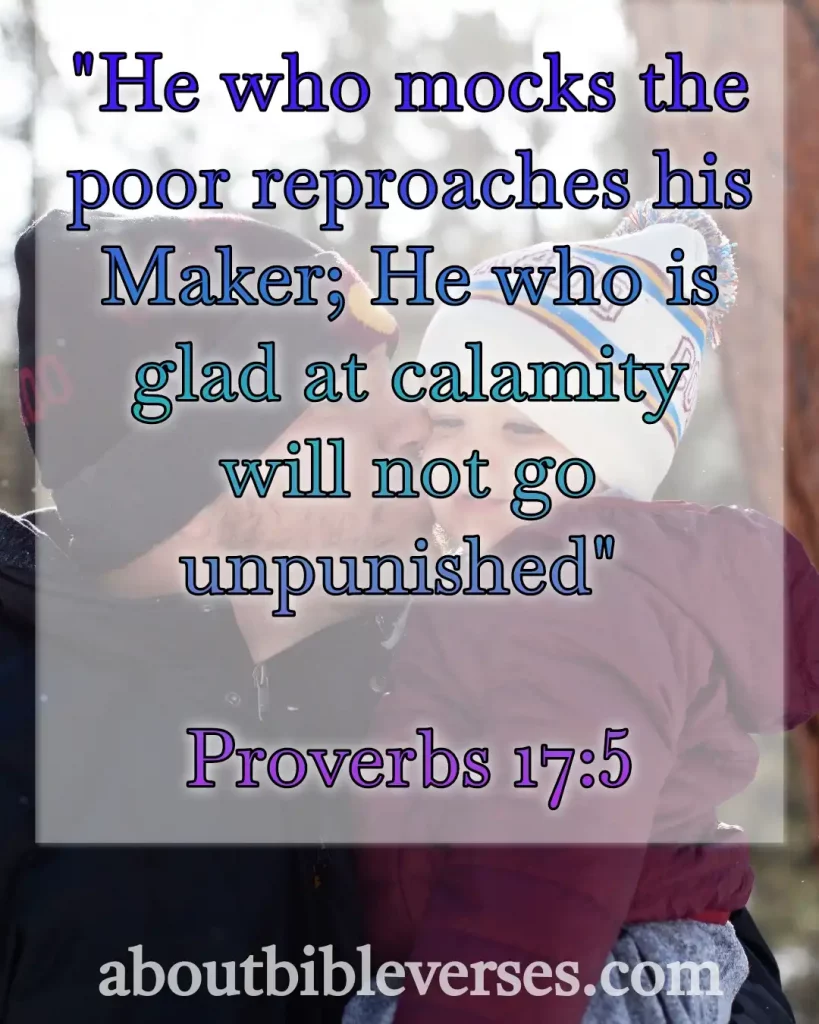 Proverbs 17:5(KJV)"Whoso mocketh the poor reproacheth his Maker: and he that is glad at calamities shall not be unpunished"
Explanation:- Poors and rich are both created by the Lord. If we mock the poors and make fun by looking at their troubles then surely God will give the punishment. He will not leave these acts unpunished.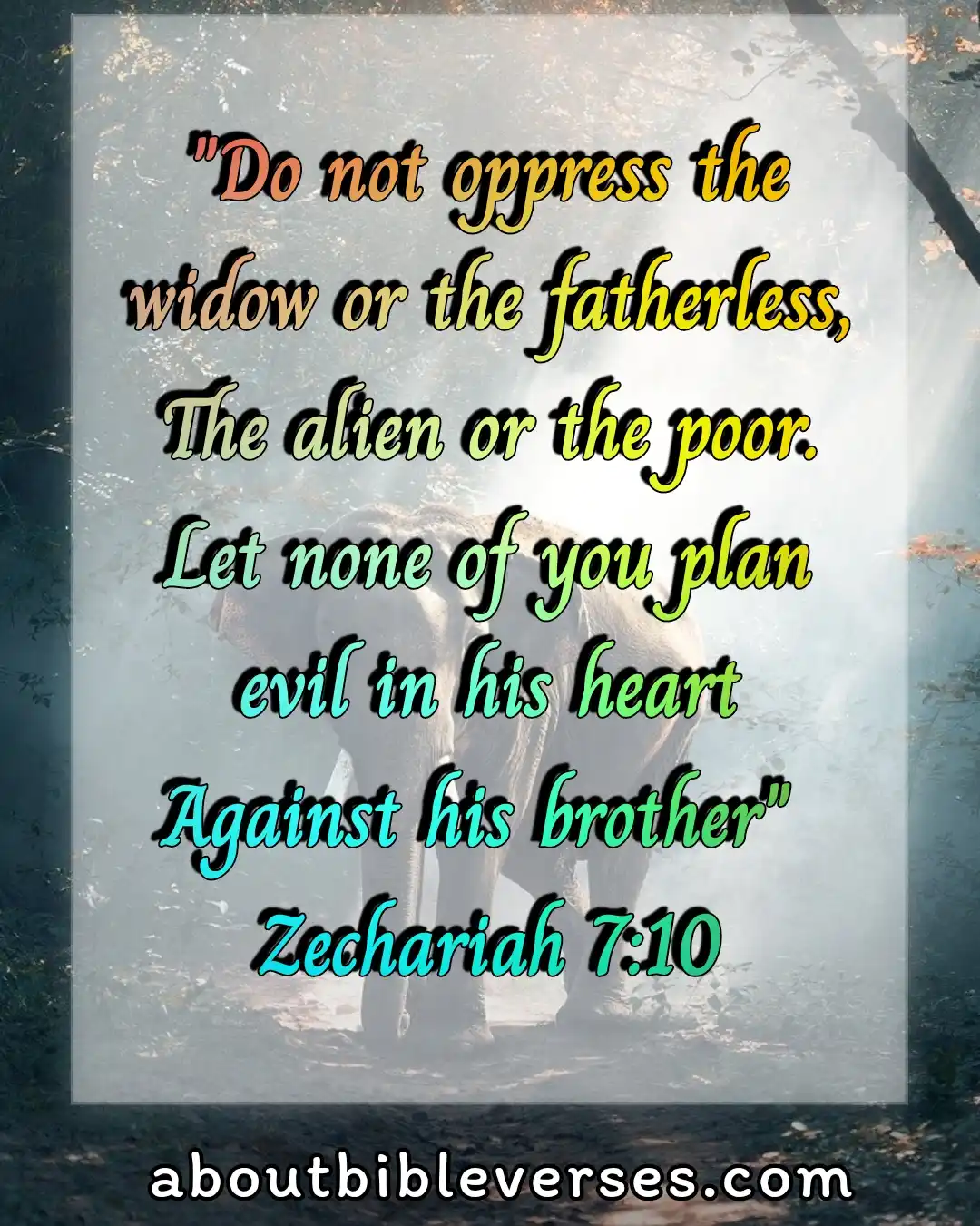 Zechariah 7:10(KJV)"And oppress not the widow, nor the fatherless, the stranger, nor the poor; and let none of you imagine evil against his brother in your heart"
Explanation:- Here many people oppress the widows and fatherless and get their benefits from them. But God hates such people who don't take care of them. Even strangers should be welcomed and honored.
If You helping and Giving the poor, needy, and orphans Then Never Want A Refund(Luke 14:12-14)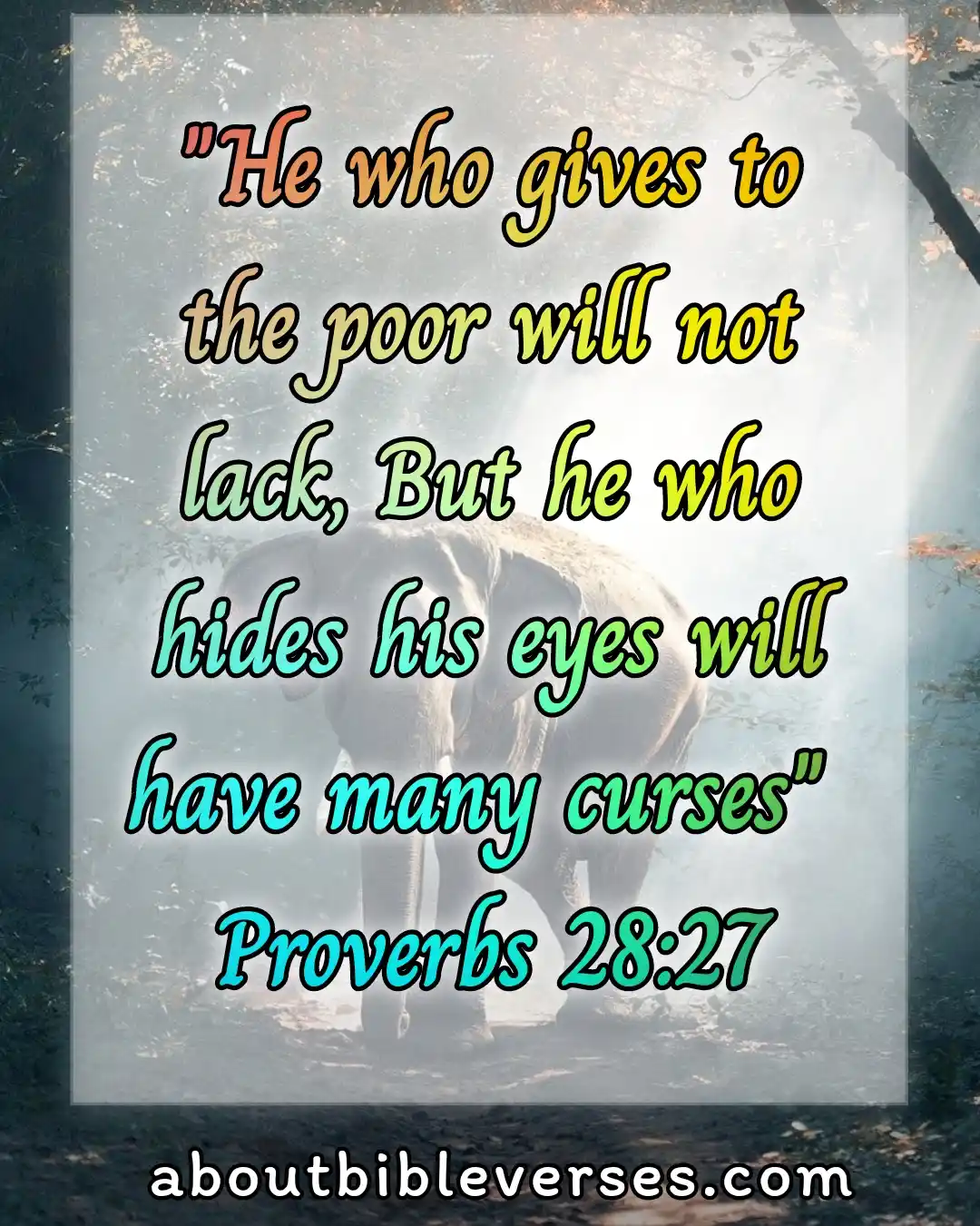 Proverbs 28:27(KJV)"He that giveth unto the poor shall not lack: but he that hideth his eyes shall have many a curse"
Explanation:- Here we have a promise from the Lord that if we give our things to the poor then we will have no lack. God will provide us and bless us more and more so we can help his children from our hearts. Along with that, he will reward us for all our deeds while we shall be righteously resurrected.
More Bible Topics
[Best] 9+Bible Verses About Feeding The Hungry Poor People
[Best] 14+Bible Verses About Trusting God In Difficult Times
[Best] 11+Bible Verses About Pain And Suffering
[Best] 10+Bible Verses About God's Timing Is Perfect
[Best] 30+Bible Verses For College Students
[Best] 17+Bible Verses About Living Life With Purpose