Our dear brothers and sisters in Christ, if you are having a lot of pain and suffering in your life, then the Word of God today will help you to overcome this pain and suffering.
Just know that almost every Christian in the world has this problem. But we will not be afraid of this pain and suffering. If we look at every disciple of our Lord Jesus Christ, they have all gone through suffering, even our Lord Jesus.
Just remember that the more you suffer in this Christian life, the more you will be rewarded by our God. The more you suffer, the more you should thank and pray for God's praise.
Jesus told us that we will suffer in this world, but those who remain faithful to life through this suffering will receive the crown of life. When sorrow comes to you in your life, comfort yourself in this way. And little by little I will overcome these pain and suffering steps and one day I will get the crown of that life.
(2 Corinthians 4:16-17) God's Word tells us not to be discouraged because the more we suffer in this life, the more our soul grows. And this sorrow is only temporary but after this sorrow, the best and most excellent glory will come in our life which is incomparable with our sorrow.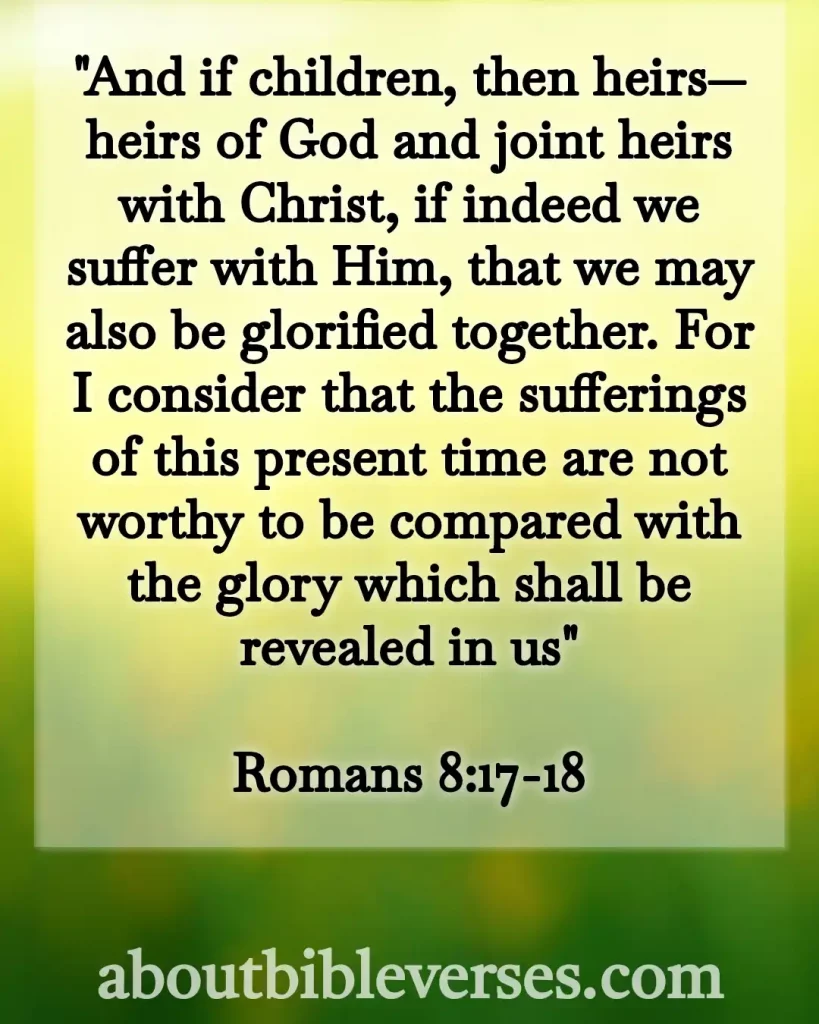 Romans 8:17-18(KJV)"And if children, then heirs; heirs of God, and joint-heirs with Christ; if so be that we suffer with him, that we may be also glorified together. For I reckon that the sufferings of this present time are not worthy to be compared with the glory which shall be revealed in us"
Explanation:- The suffering that we are going through in this world is temporary and we will be awarded by the Lord at the time of judgment. We are suffering from Jesus and as he was glorified so we shall be glorified too.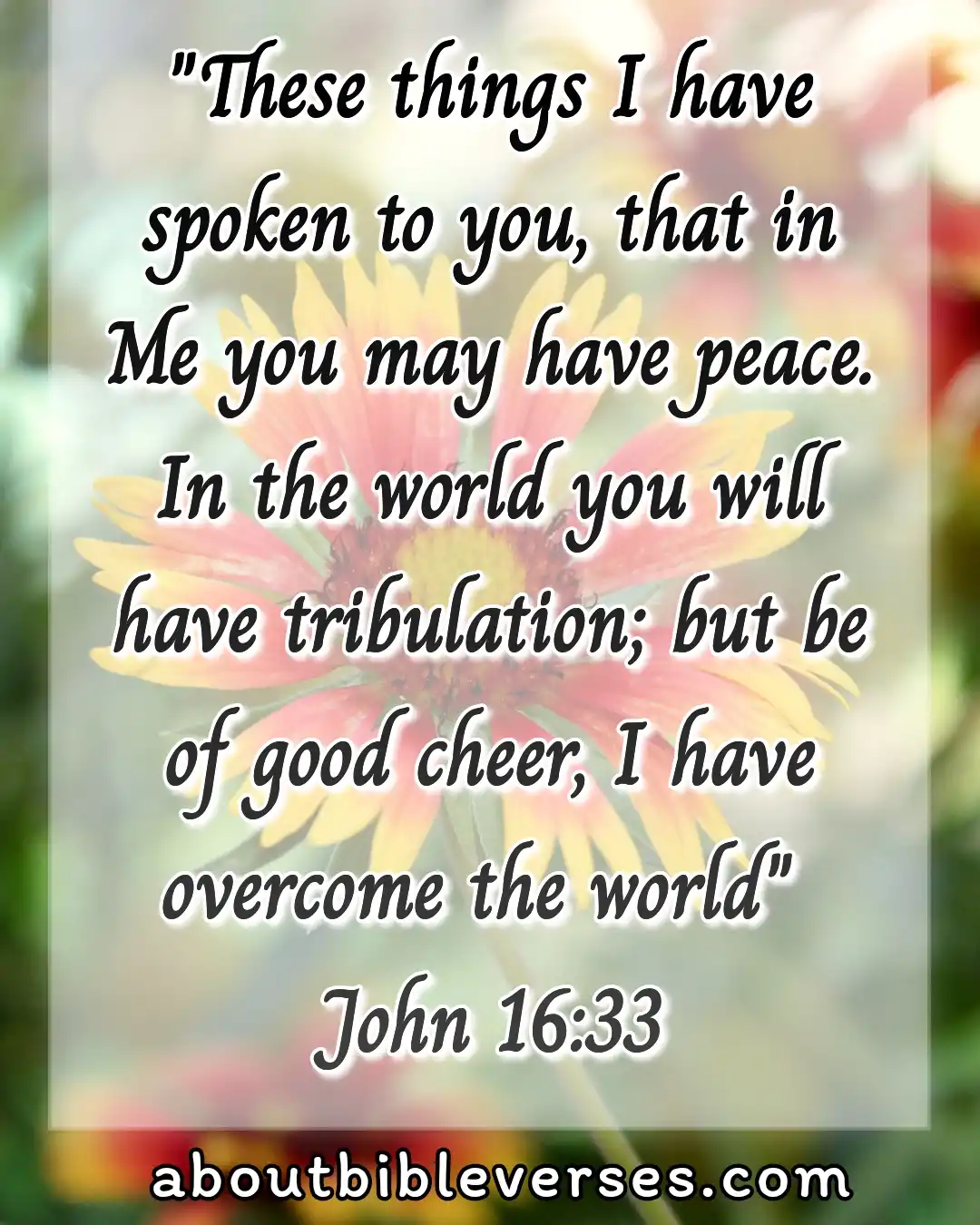 John 16:33(KJV)"These things I have spoken unto you, that in me ye might have peace. In the world ye shall have tribulation: but be of good cheer; I have overcome the world"
Explanation:- This world is the place where we are to live for certain days but we need to spend our days here wisely.  Definitely, we will encounter tribulation here but we have a hope to rejoice because we will enjoy our life once we suffer here.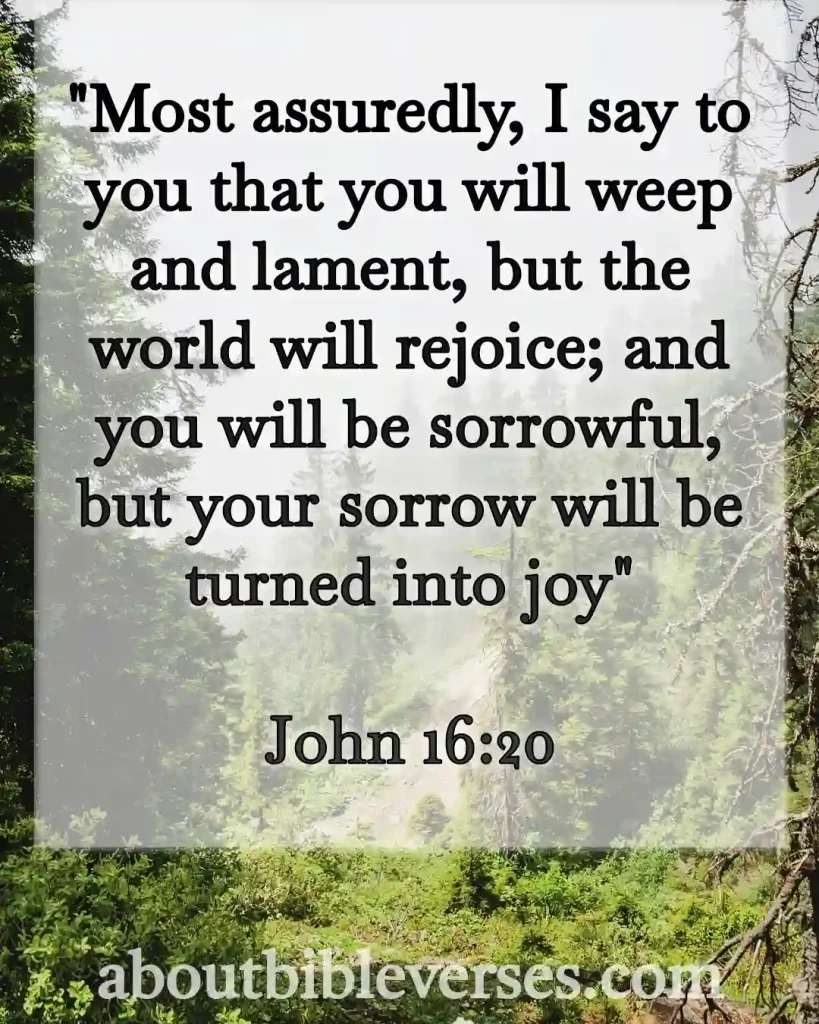 John 16:20(KJV)"Verily, verily, I say unto you, That ye shall weep and lament, but the world shall rejoice: and ye shall be sorrowful, but your sorrow shall be turned into joy"
Explanation:- Christians are to suffer for their faith but they will be glad while they will get a new life that will have no end.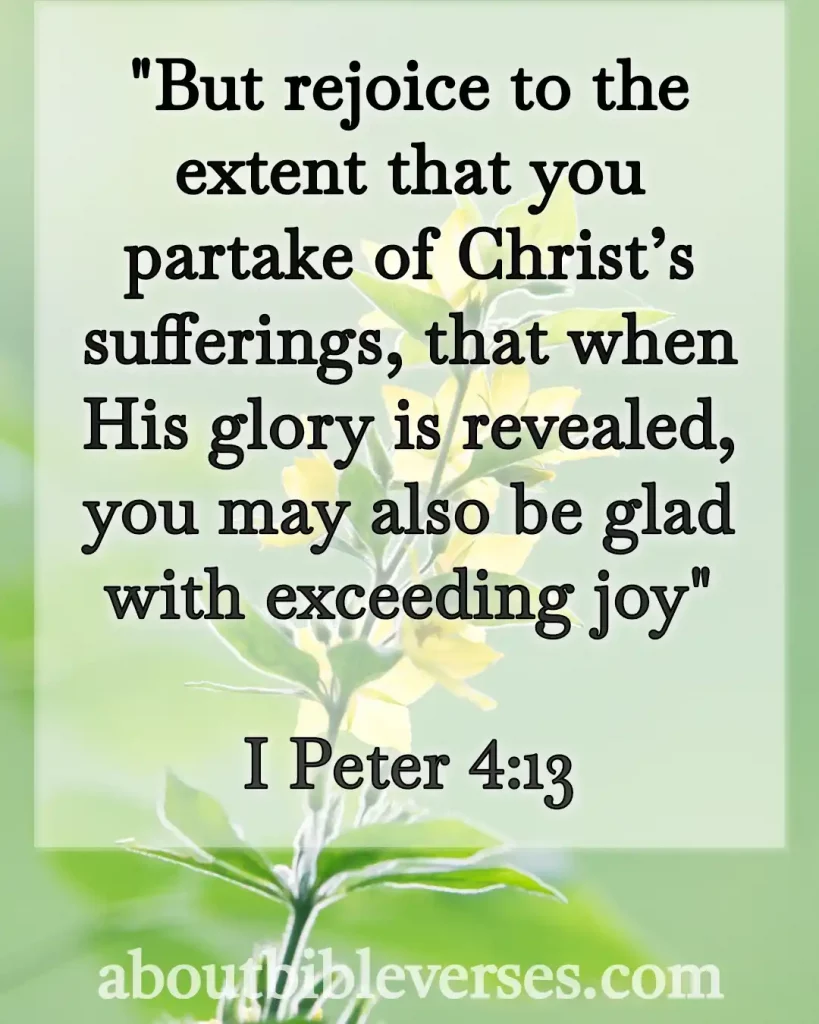 1 Peter 4:13(KJV)"But rejoice, inasmuch as ye are partakers of Christ's sufferings; that, when his glory shall be revealed, ye may be glad also with exceeding joy"
Explanation:- Those who are suffering in this world due to receiving Jesus will be glorified and rewarded the moment Jesus will reveal his glory for his faithful saints.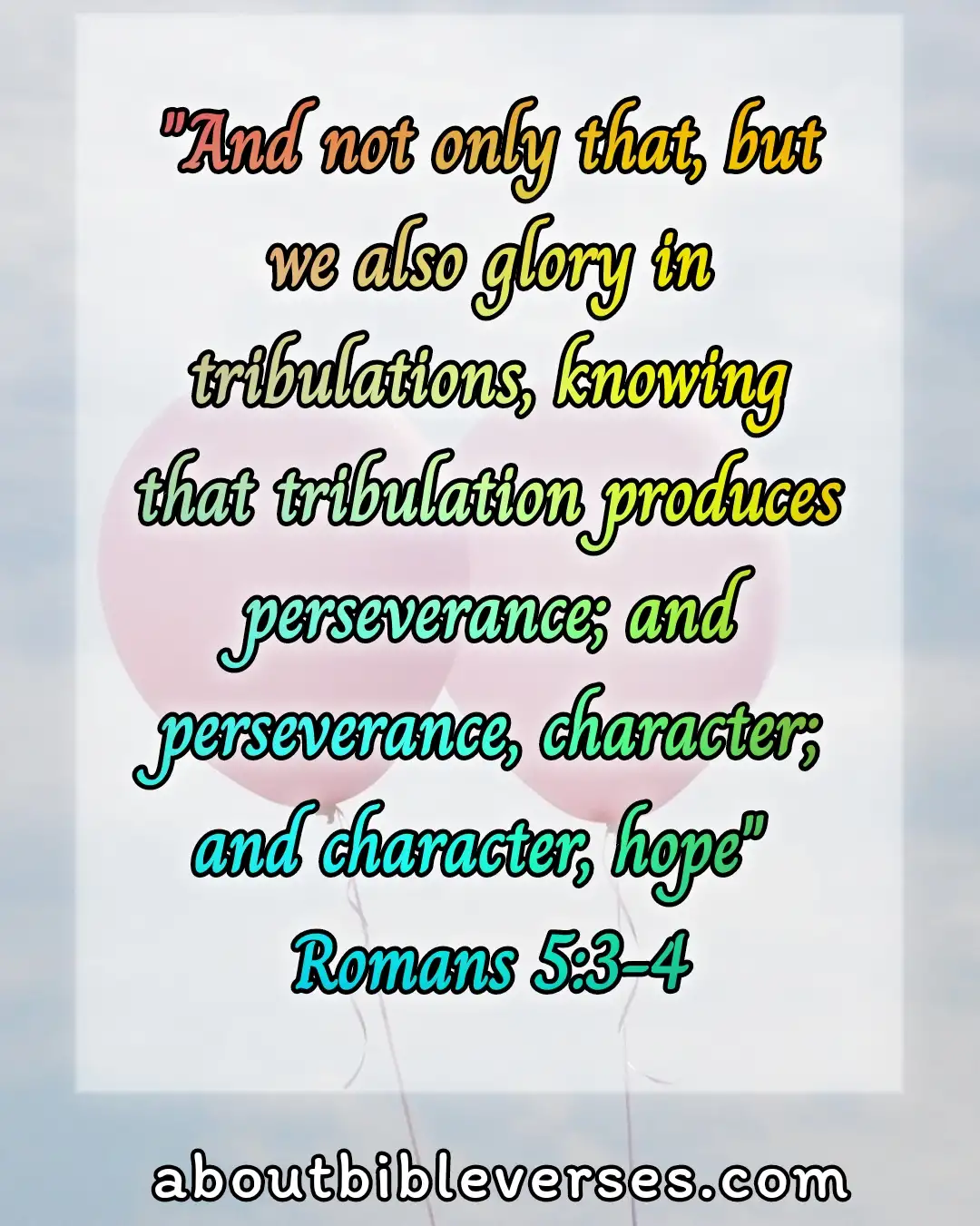 Romans 5:3-4(KJV)"And not only so, but we glory in tribulations also: knowing that tribulation worketh patience; And patience, experience; and experience, hope"
Explanation:- Our hope in Christ will be experienced when we will go through tribulation. As it works to extend our patience in the hardships.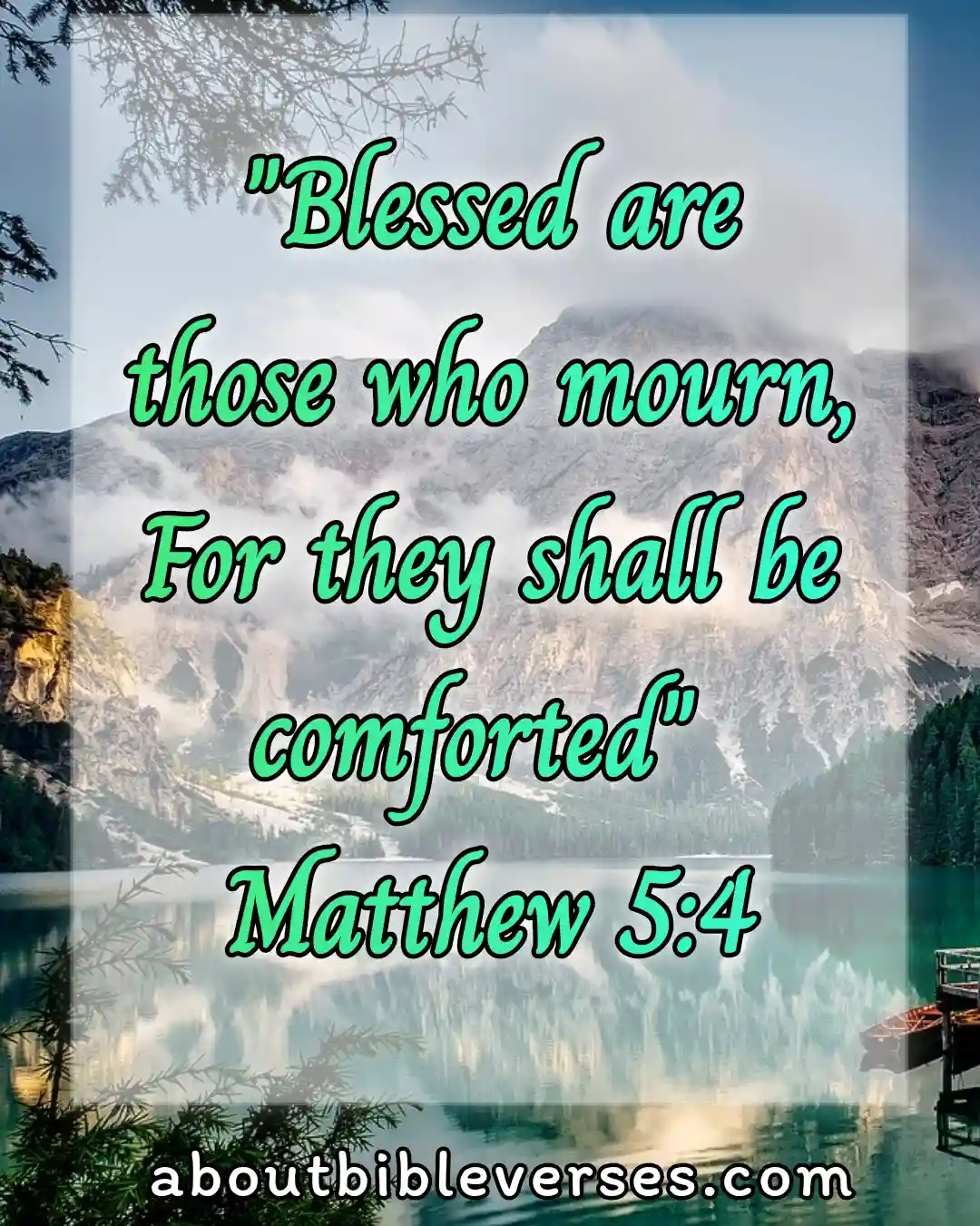 Matthew 5:4(KJV)"Blessed are they that mourn: for they shall be comforted"
Explanation:- The disciples of Jesus will be blessed if they endure sufferings on this earth. The persecution and sufferings will lead them to get the reward that Christ has determined for his people.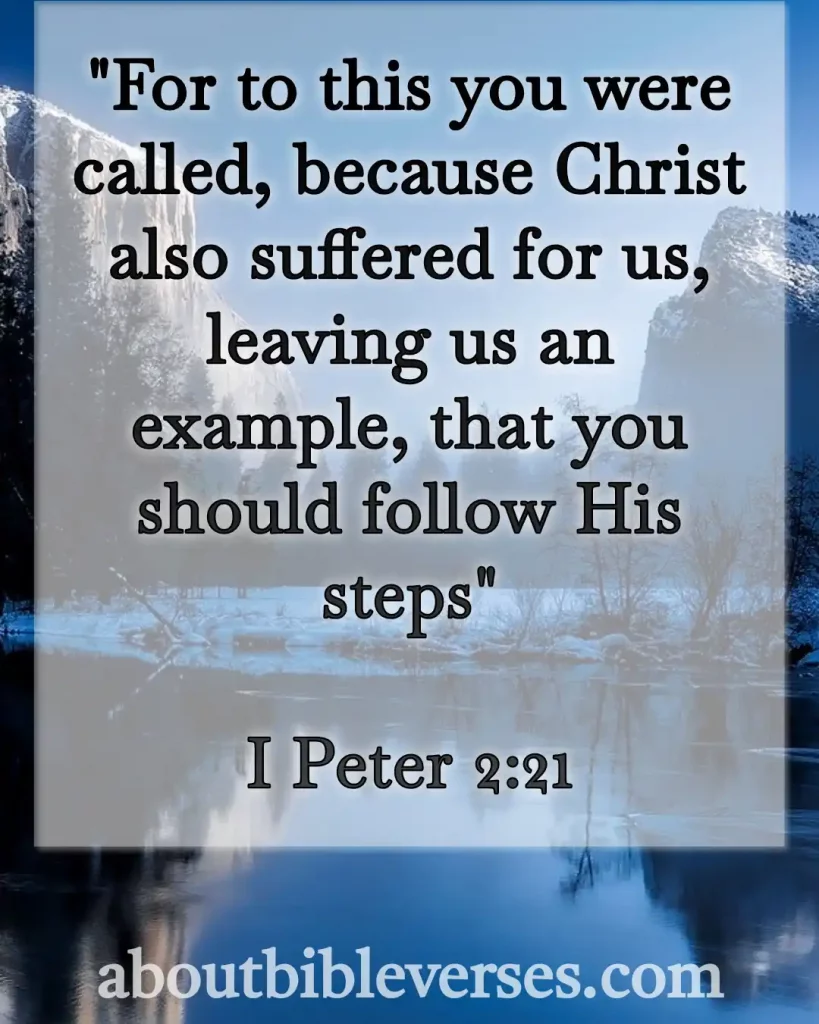 1 Peter 2:21(KJV)"For even hereunto were ye called: because Christ also suffered for us, leaving us an example, that ye should follow his steps"
Explanation:- Christ has left us an example to go through the sufferings. We need to have the mind to receive the sufferings for the sake of Jesus. As he has separated us by his teachings so we became the enemy in the eyes of the people who walk in darkness.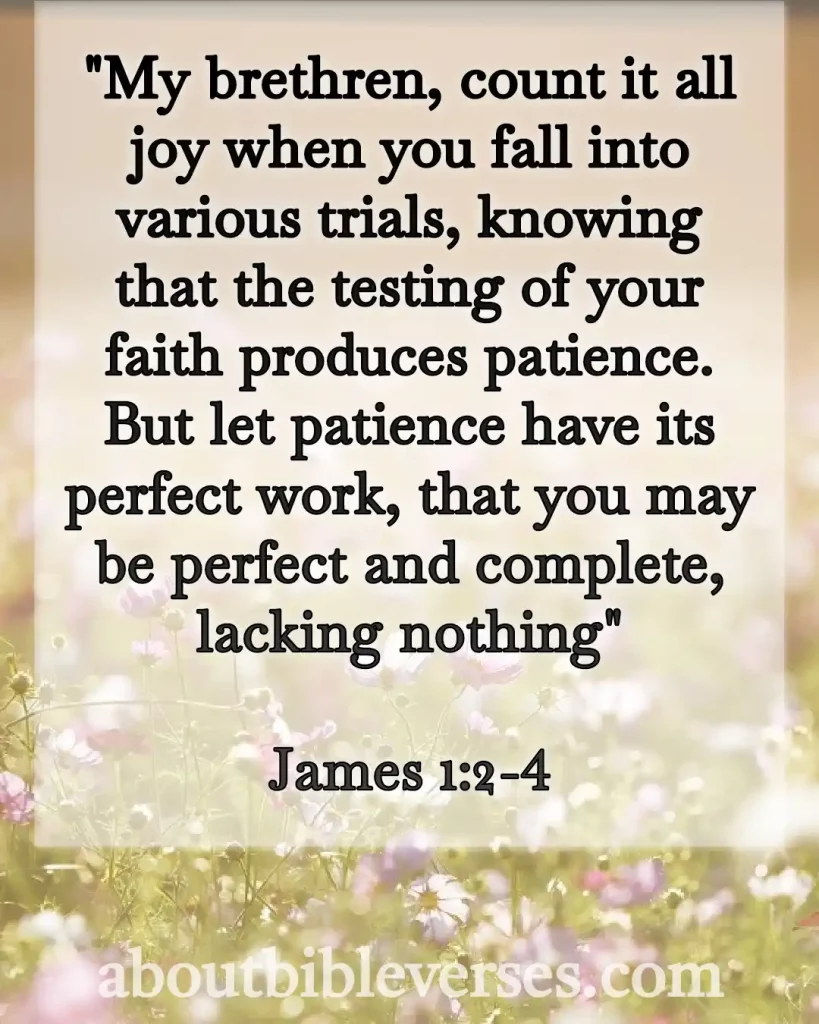 James 1:2-4 (KJV)"My brethren, count it all joy when ye fall into divers temptations; Knowing this, that the trying of your faith worketh patience. But let patience have her perfect work, that ye may be perfect and entire, wanting nothing"
Explanation:- Sufferings and temptations will definitely appear in the Christian life who will desire to walk with God. But they must be glad to face that trials in their lives because God will help them to overcome them and finally they will win the crown from the hands of the Lord.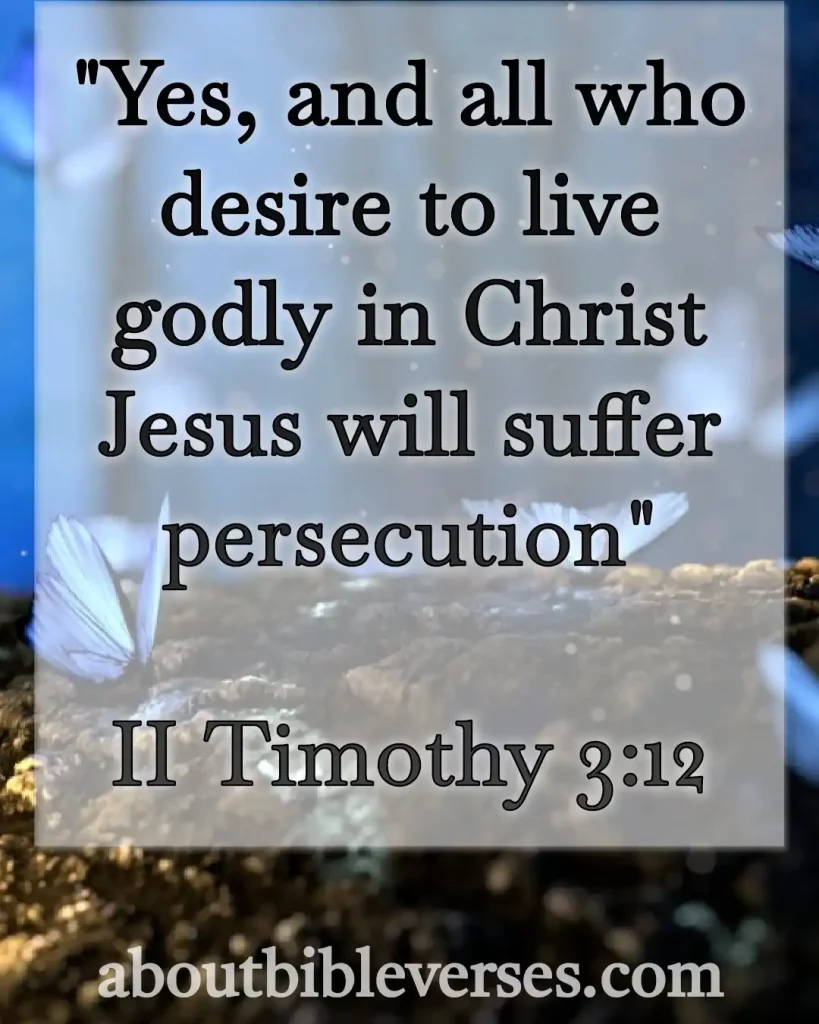 2 Timothy 3:12(KJV)"Yea, and all that will live godly in Christ Jesus shall suffer persecution"
Explanation:- The Christian life is not so easy to complete. It is hard to walk with the Lord as sufferings and persecution will come and give any pain to the believers. Yet it has tremendous fruit at the end of the journey.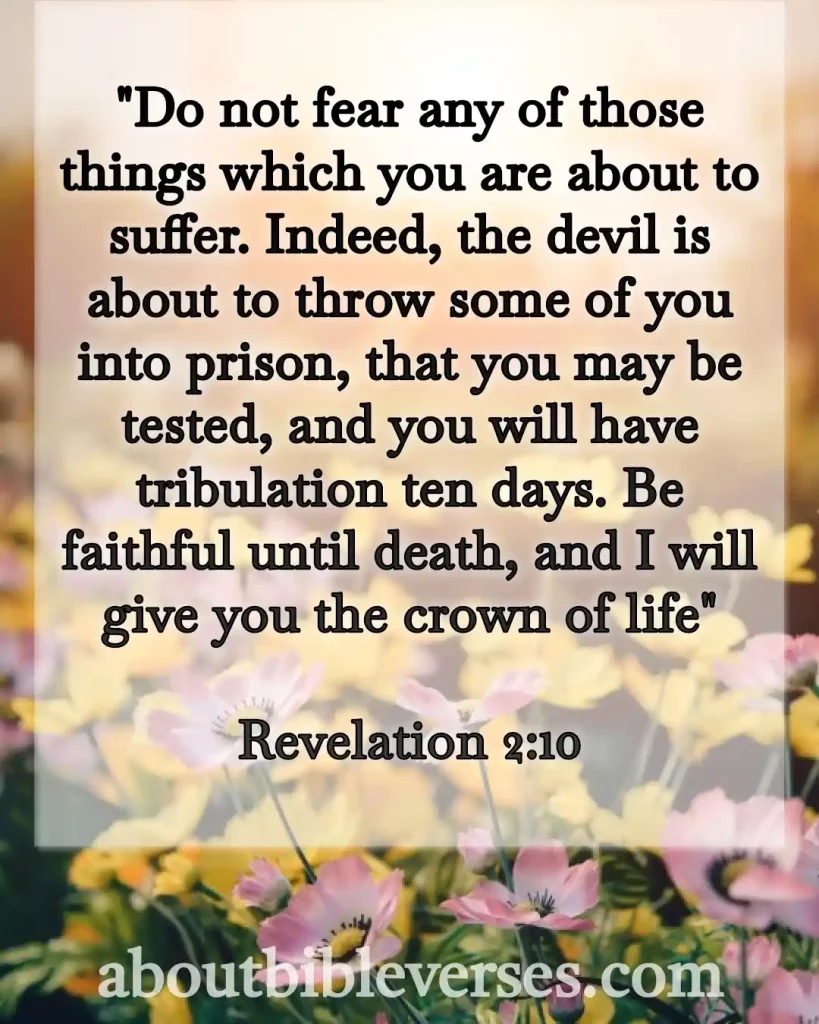 Revelation 2:10(KJV)"Fear none of those things which thou shalt suffer: behold, the devil shall cast some of you into prison, that ye may be tried; and ye shall have tribulation ten days: be thou faithful unto death, and I will give thee a crown of life"
Explanation:- The Devil will lead many believers to give up their hope but they must not listen to the Devil. God will prosper and guide those who feel very weak and unable to finish their journey. God alone will provide the strength to have faith in the hope that they have for eternal life.
Bible Verse About No More Pain And Suffering In Heaven
When in this world we will be able to go through these pains and sufferings and pass through life and enter the kingdom of heaven, then there will be no pain, no sorrow, there will be only happiness and joy for eternity. There will be nobody's problems, there will be no more crying, there will be living with God for eternity and God's blessing in the age to come.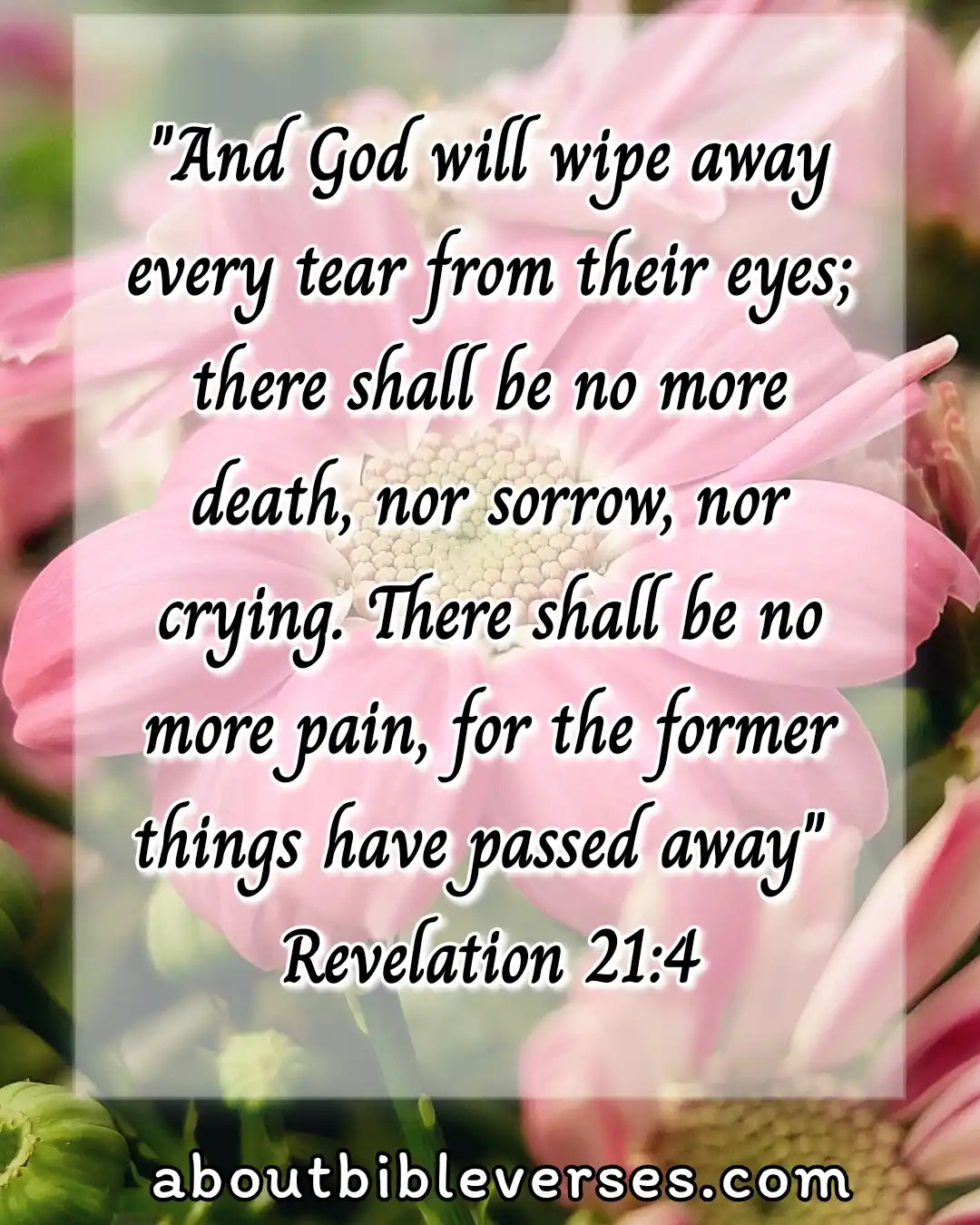 Revelation 21:4(KJV)"And God shall wipe away all tears from their eyes; and there shall be no more death, neither sorrow, nor crying, neither shall there be any more pain: for the former things are passed away"
Explanation:- In the new earth, there will be no more death, sorrow, and no one will cry. Everyone will enjoy their life in heaven. The previous things will not take place anymore in the new land.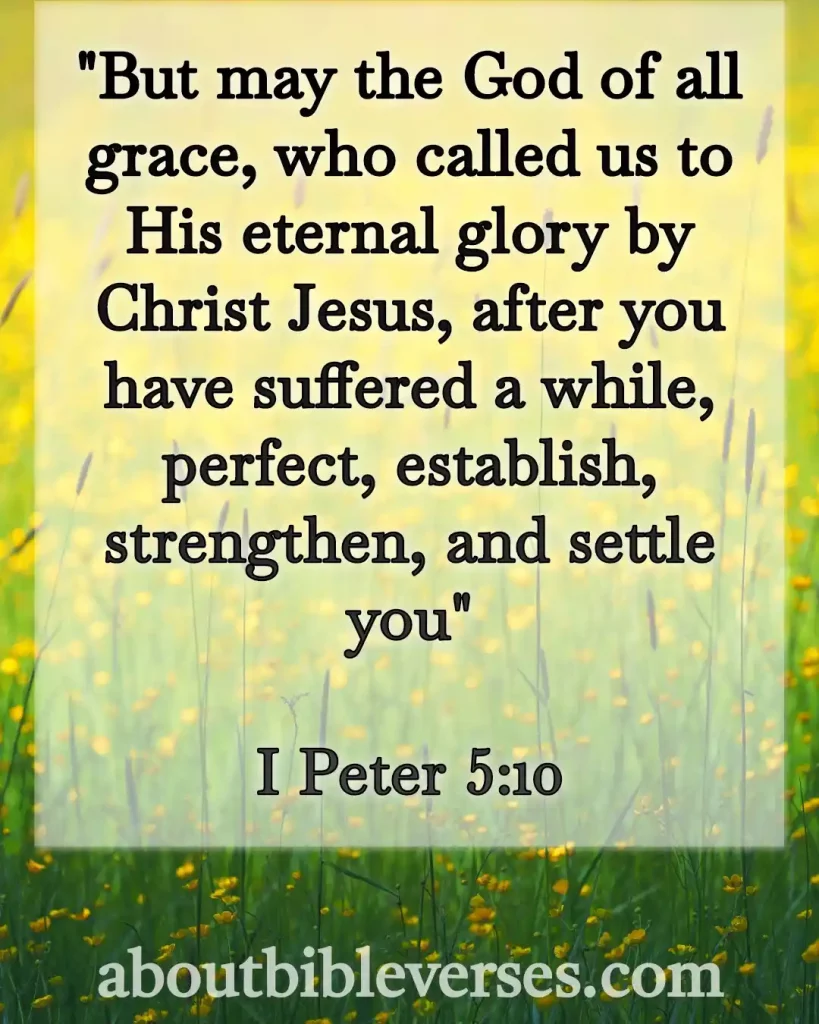 1 Peter 5:10(KJV)"But the God of all grace, who hath called us unto his eternal glory by Christ Jesus, after that ye have suffered a while, make you perfect, stablish, strengthen, settle you"
Explanation:- By grace God has called us and asked us to be holy and obey his words to enter his kingdom where people will no longer face sufferings and pain. Because they will live with the Lord forever.
More Bible Topic
[Best] 10+Bible Verses About God's Timing Is Perfect
[Best] 10+Bible Verses – Why Accept Jesus As Your Lord And Savior
[Best] 17+Bible Verses About Living Life With Purpose
[Best] 5+Bible Verses About Expectations With Prayer To God
[Best] 20+Bible Verses – Do Not Fear AnyMan Because I Am With You
[Best] 25+Bible Verses About Being a Good Person
[Best] 9+Bible Verses God Is Preparing You For Greater Things
[Best] 15+Bible Verses About Awake, Awake Your Soul, Awake From Your Slumber