Hello friends, I welcome each of you to give you peace in the name of our Lord Jesus Christ. What we are going to talk about today is that God told us never to take revenge on anyone.
Because God did not identify us as His children for vengeance, but He called us to love and pray for others, to bless them. Even if our enemy is thirsty we give him water and if he is hungry we give him food (Romans 12:20).
That is why in Luke 6:27-28 He says to love our enemies, bless those who hate us, bless those who curse us, pray for those who mistreat us.
And Matthew 5: 38-39 tells us that you have heard, it is said that eye for eye and tooth for tooth, but I say to you, do not resist evil men, but if someone slaps you on the right cheek, give him the other cheek as well. Increase
But you will not take revenge because I will take revenge whatever it is, says the Lord. Let us now look at the Bible verses where God has repeatedly warned us not to take revenge but to leave it up to God.
Bible Verses Do Not Take Revenge
God tells us through His Word that we must forgive and pray for others. Even if someone hurts us, we will not take revenge.
For God said in his Word, If you forgive others, your heavenly Father will forgive you, but if you do not forgive others, then your heavenly Father will not forgive you, that is, if we do seek revenge, God will not forgive us.
Romans 12:17-19(KJV)"Recompense to no man evil for evil. Provide things honest in the sight of all men. If it be possible, as much as lieth in you, live peaceably with all men. Dearly beloved, avenge not yourselves, but rather give place unto wrath: for it is written, Vengeance is mine; I will repay, saith the Lord"
Explanation:- Christians should live peacefully with everyone as the Lord called to live a peaceful life. They are not allowed to take revenge while they encounter opposition from others. The Lord himself will take revenge because it is his job to keep his children holy and free from all evil.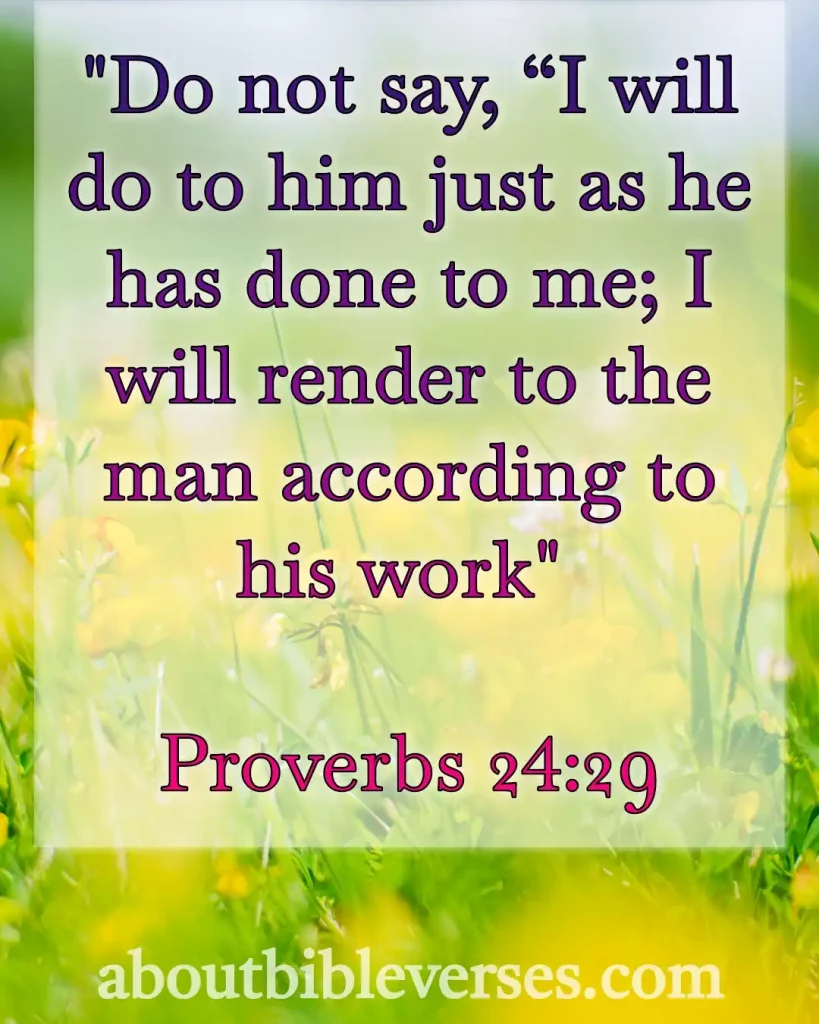 Proverbs 24:29(KJV)"Say not, I will do so to him as he hath done to me: I will render to the man according to his work"
Explanation:- Being a follower of one true God, we are not to commit any mistake by taking revenge against those who hurt us. We should talk nicely with them as they are still living under the darkness. God will do his work in them on behalf of us.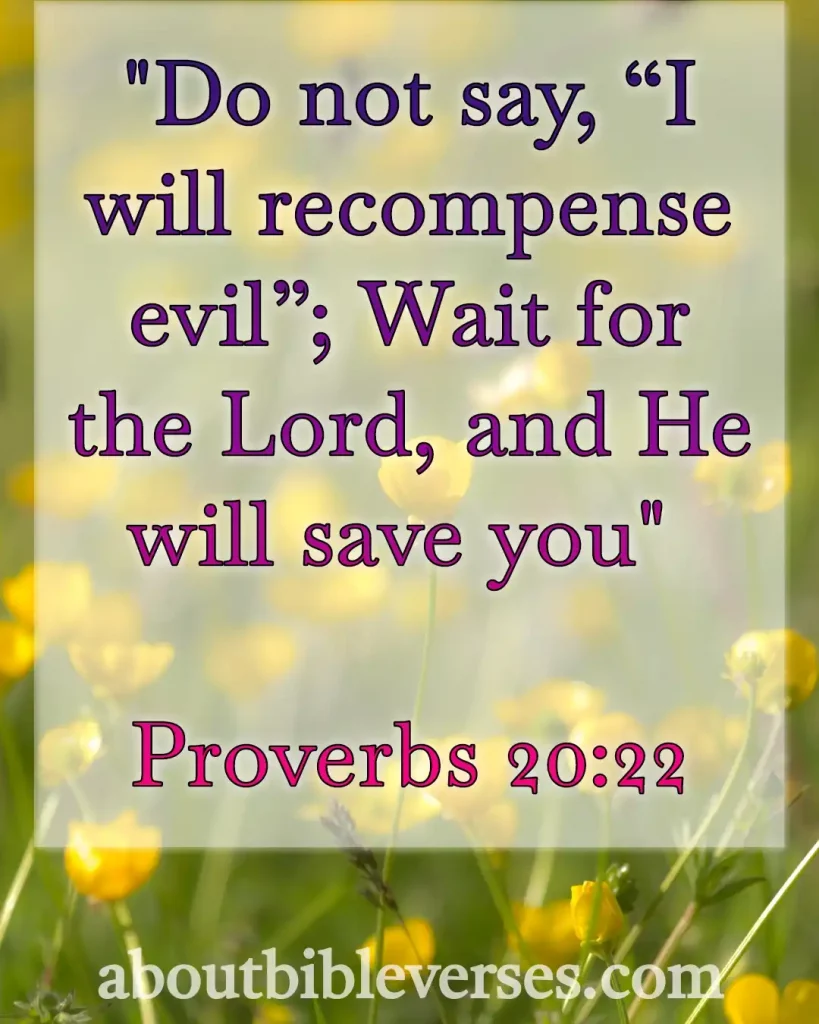 Proverbs 20:22(KJV)"Say not thou, I will recompense evil; but wait on the Lord, and he shall save thee"
Explanation:- Let us not say to anyone that we will take the recompense rather we should leave it in the hands of the Lord. The best thing that we can do is wait for God as he has promised us to fight for us.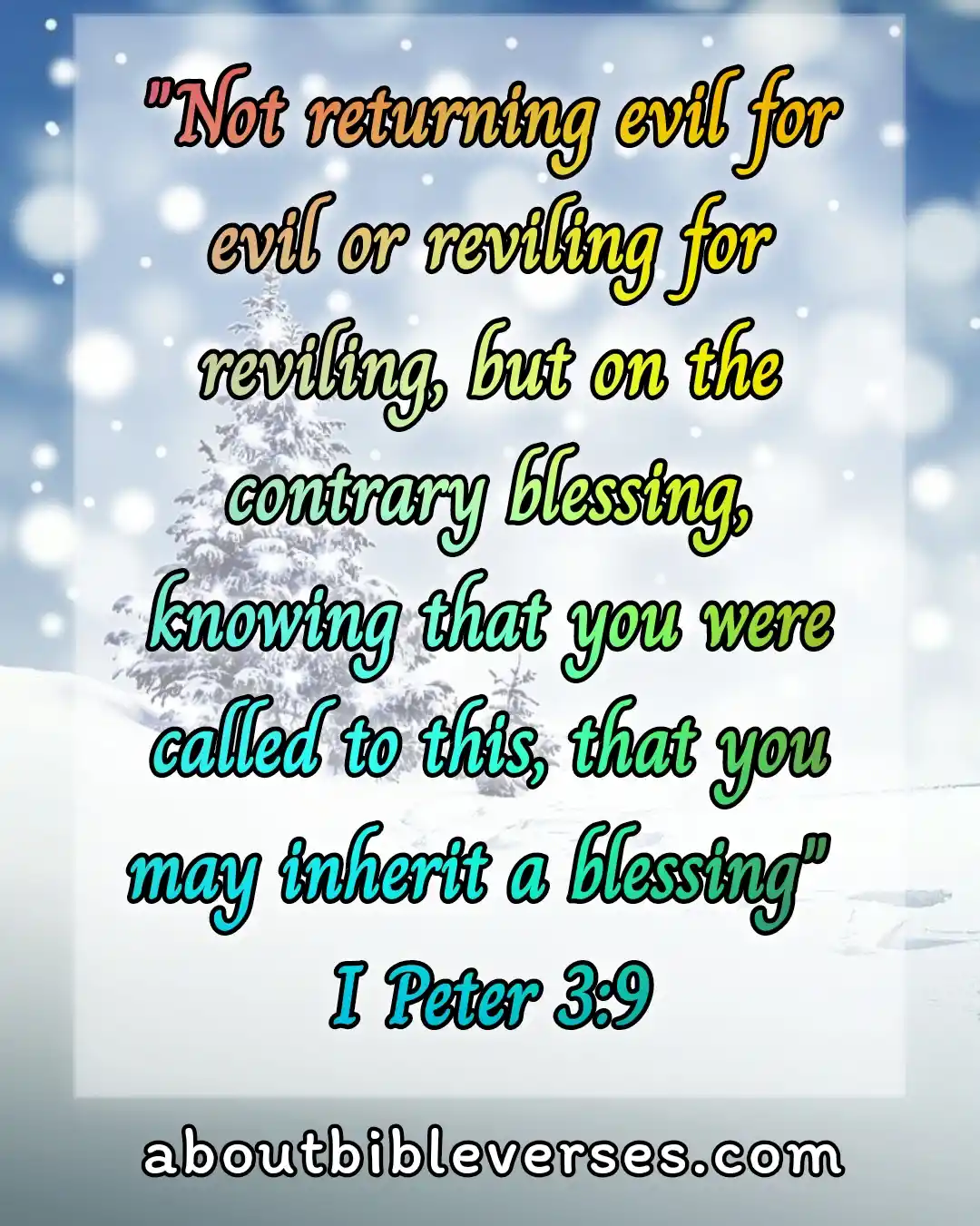 1 Peter 3:9(KJV)"Not rendering evil for evil, or railing for railing: but contrariwise blessing; knowing that ye are thereunto called, that ye should inherit a blessing"
Explanation:- The children of God need to live a holy life where they are called to walk with God in every step of life. In the times of hardships and trials, God will be the stronghold and he will deliver from their trials.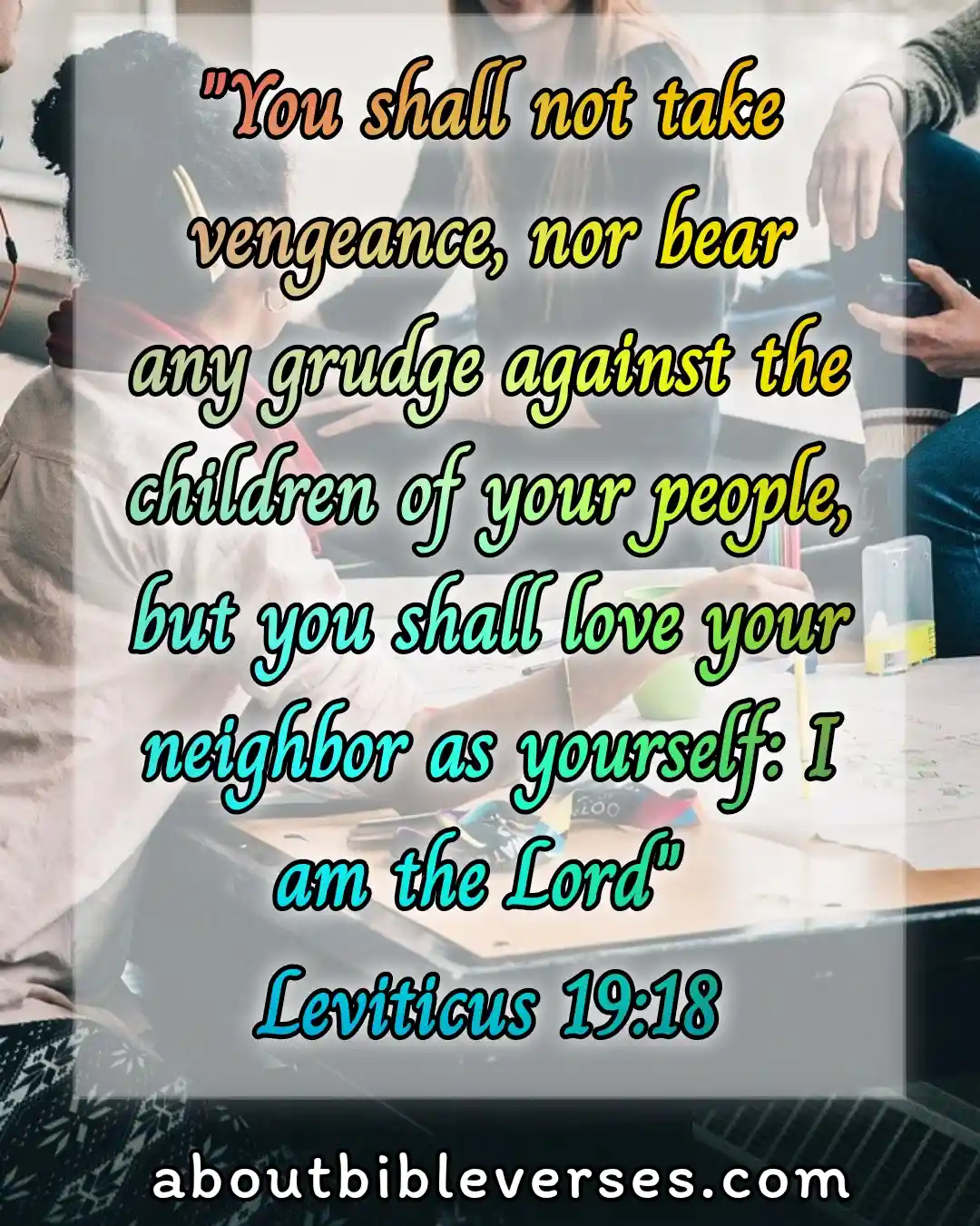 Leviticus 19:18(KJV)"Thou shalt not avenge, nor bear any grudge against the children of thy people, but thou shalt love thy neighbour as thyself: I am the Lord"
Explanation:- Love should be always reigned in the hearts of believers as it covers all iniquities. So, leaving everything behind we need to show our love to our enemies and it will really affect their hearts. By doing so we can be able to make them understand the love of God.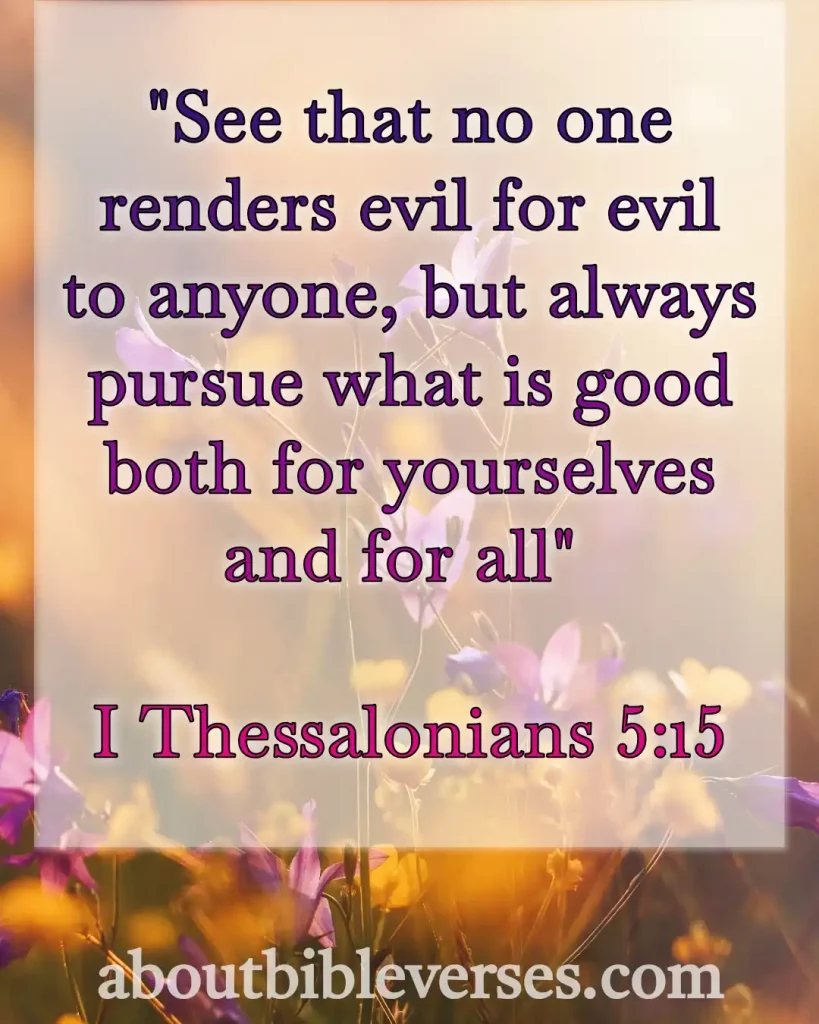 1 Thessalonians 5:15(KJV)"See that none render evil for evil unto any man; but ever follow that which is good, both among yourselves, and to all men"
Explanation:- As Christ has forgiven his enemies even when he was on the cross we are to follow him while we come across such situations in our lives. We need to show our love and forgiveness which we obtained from the Lord and it makes our Lord happy too.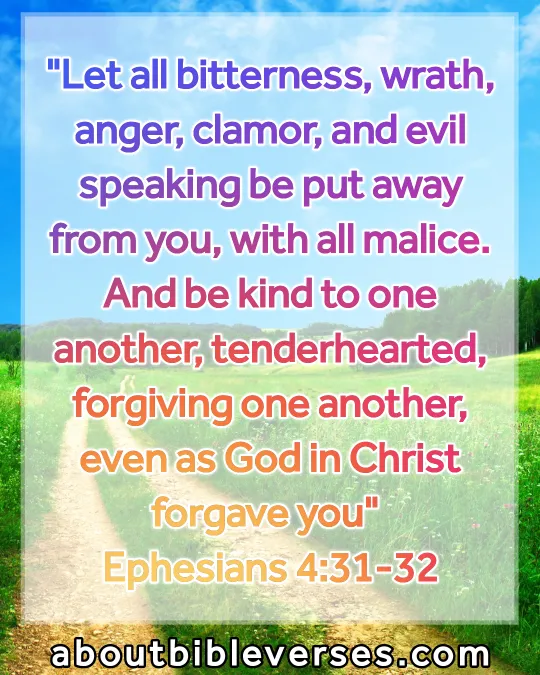 Ephesians 4:31-32(KJV)"Let all bitterness, and wrath, and anger, and clamour, and evil speaking, be put away from you, with all malice: And be ye kind one to another, tenderhearted, forgiving one another, even as God for Christ's sake hath forgiven you"
Explanation:- We must live a Christ-like life where we should give up all kinds of bitterness, wrath, anger, and evil speaking. God hates those who disobey his words and deny his ways to walk on. But we should please God by obeying his words in our day-to-day life.
Bible Verses Vengeance Is Mine Says The Lord(KJV)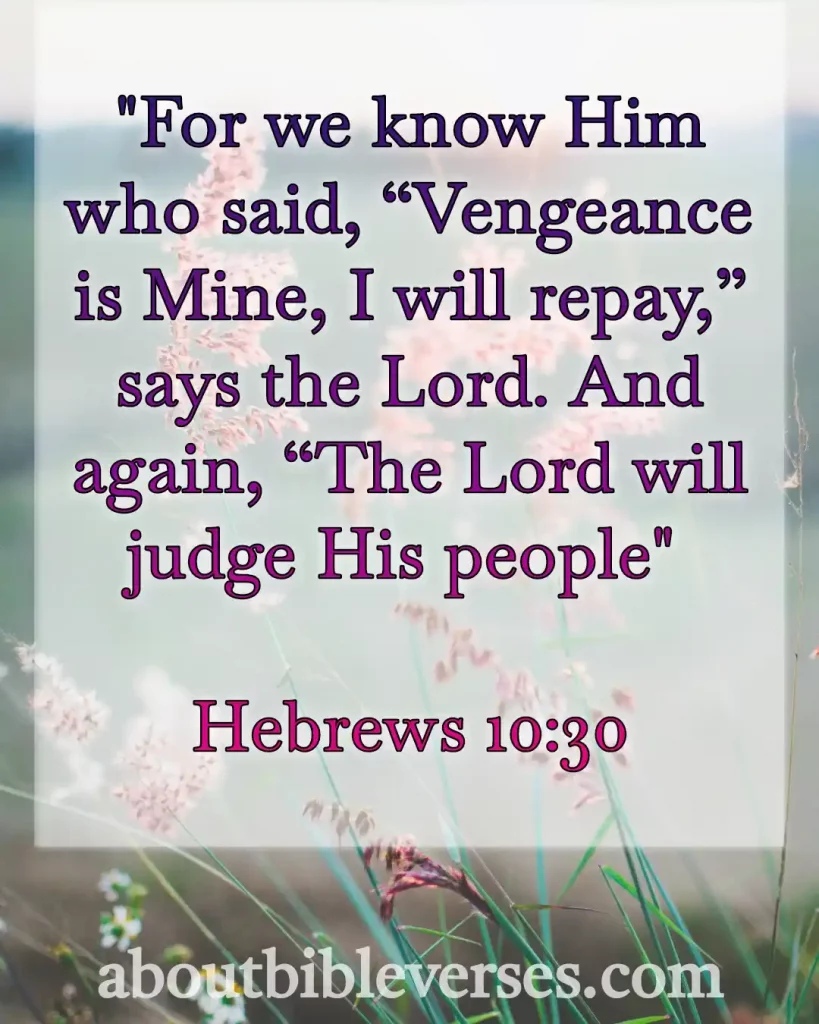 Hebrews 10:30(KJV)"For we know him that hath said, Vengeance belongeth unto me, I will recompense, saith the Lord. And again, The Lord shall judge his people"
Explanation:- God is in control of everything and he knows what is happening and what will happen in the days to come. He will reward everyone according to his righteousness. So he warns us not to take any vengeance as he will judge everyone according to his own judgment.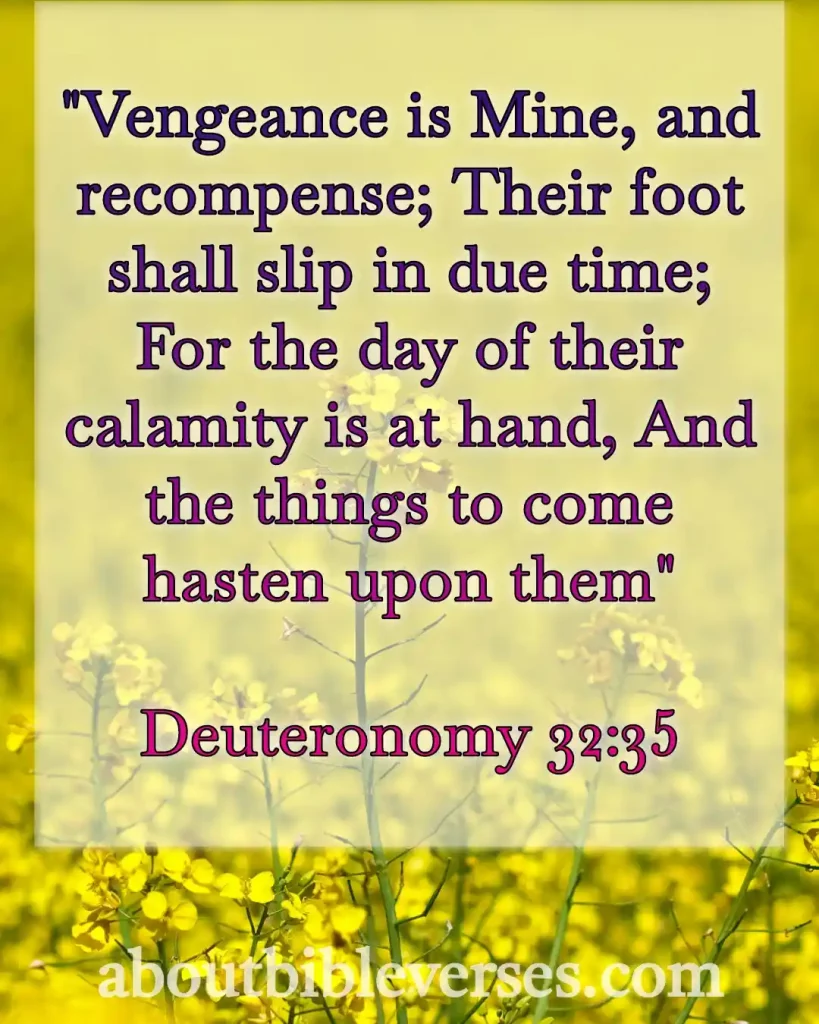 Deuteronomy 32:35(KJV)"To me belongeth vengeance and recompence; their foot shall slide in due time: for the day of their calamity is at hand, and the things that shall come upon them make haste"
Explanation:- If we leave God it would result in severe trouble. He will take revenge according to his own time and we can see it in the times of Noah while everyone left his ways and only Noah and his family remained faithful. As a result of that, the great flood came upon the earth and it destroyed an entire mankind except for Noah and his family.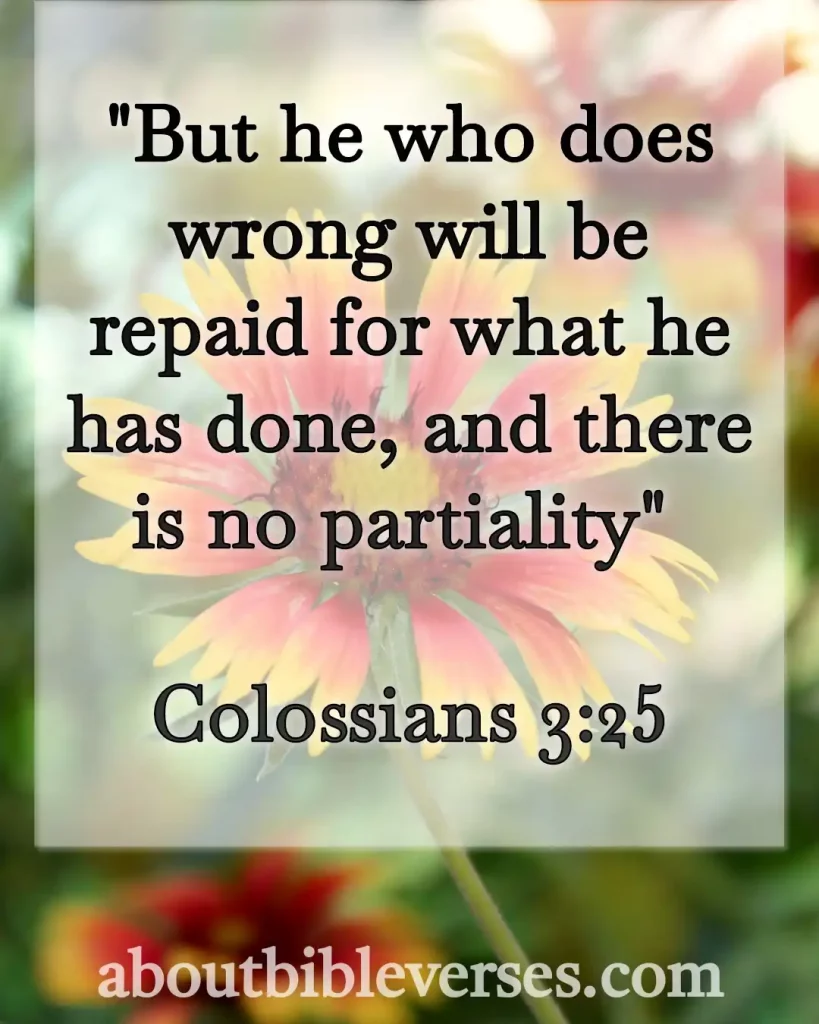 Colossians 3:25(KJV)"But he that doeth wrong shall receive for the wrong which he hath done: and there is no respect of persons"
Explanation:- God will judge us according to our work and there will be no partiality in his judgment. So we must be careful in our ways of life. we are weak and foolish if we leave God and walk the way people are walking in this world.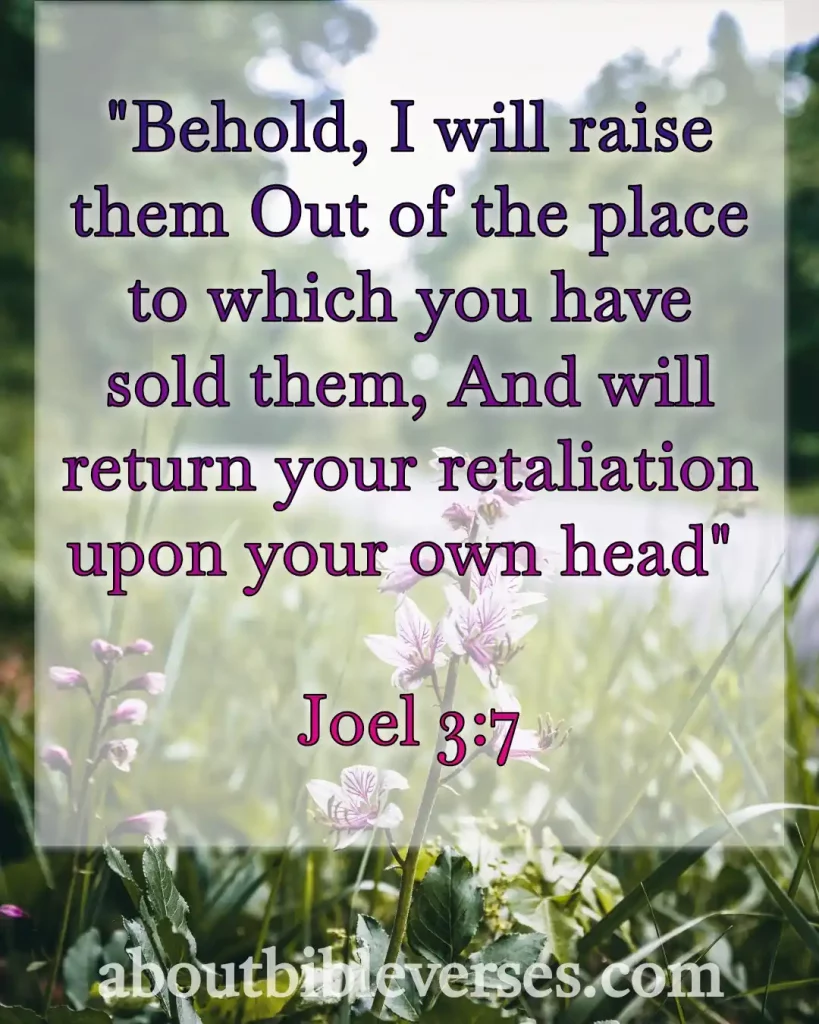 Joel 3:7(KJV)"Behold, I will raise them out of the place whither ye have sold them, and will return your recompense upon your own head"
Explanation:- God is always keeping his eyes upon his faithful people and he is also bringing calamities in the lives of those who are forsaking his commandments. We shall be blessed if we stay in his promises and fulfill the words that he has given us.
Bible Verses About Justice And Revenge
Psalm 94:1-2(KJV)"O Lord God, to whom vengeance belongeth; O God, to whom vengeance belongeth, shew thyself. Lift up thyself, thou judge of the earth: render a reward to the proud"
Explanation:- God knows a perfect time and he is able to take revenge upon those who disobey him. We should not worry when wicked grow because God will surely destroy them as he is a God of righteousness.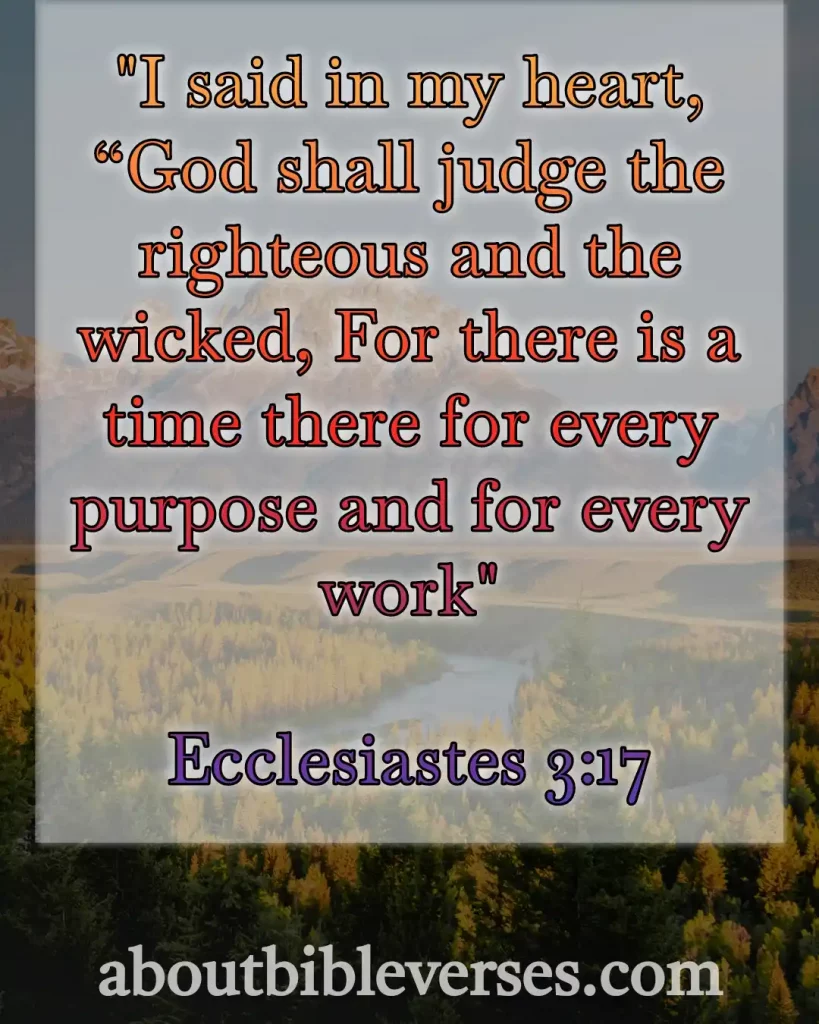 Ecclesiastes 3:17(KJV)"I said in mine heart, God shall judge the righteous and the wicked: for there is a time there for every purpose and for every work"
Explanation:- Can we influence God by our wealth and wisdom? Surely no, as he is the wise God and he is ruling this earth by his righteousness. There is a time for everything and the Lord will do his work at the right time. We may not know what is the right time but he is not lazy to do his work.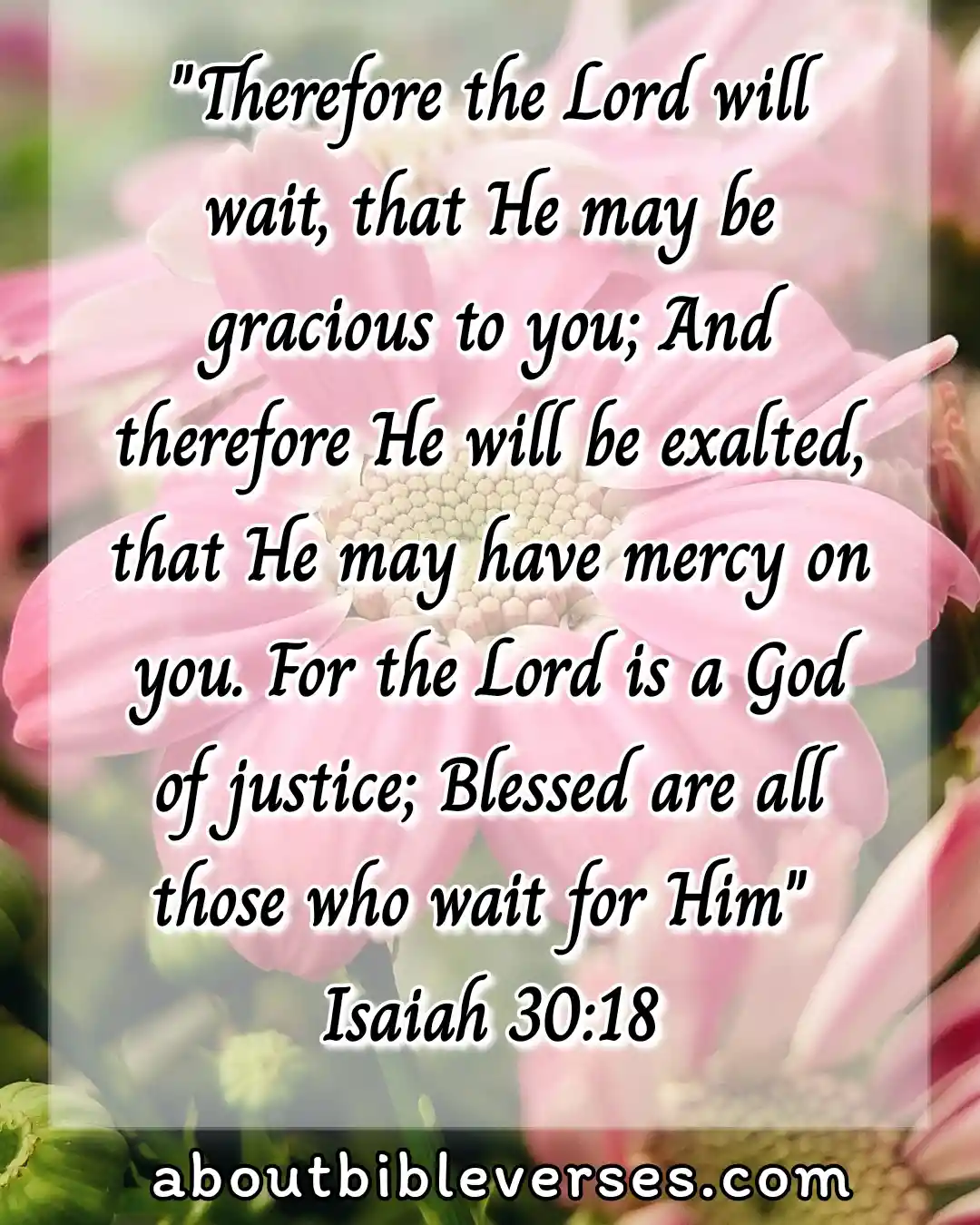 Isaiah 30:18(KJV)"And therefore will the Lord wait, that he may be gracious unto you, and therefore will he be exalted, that he may have mercy upon you: for the Lord is a God of judgment: blessed are all they that wait for him"
Explanation:- We must depend on the Lord and he will perform the work at the appropriate time. Our limited brain cannot give us the plan of God but we can wait upon the Lord for his presence in the situation that seems unable to be overcome.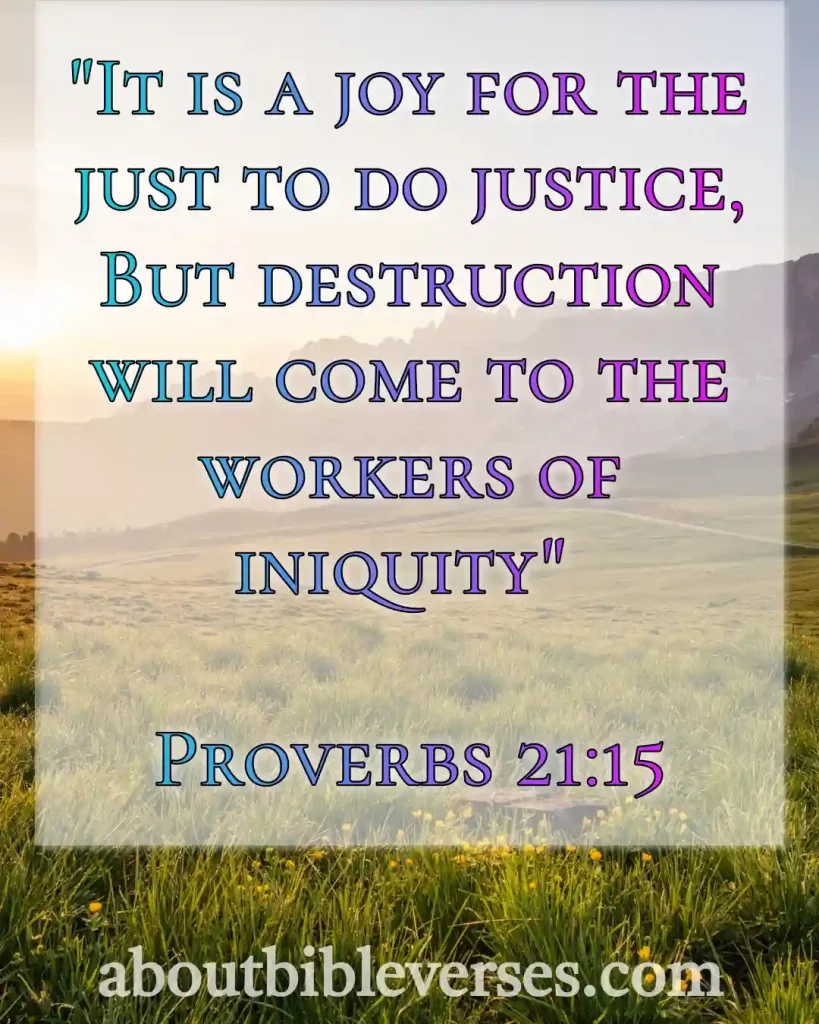 Proverbs 21:15(KJV)"It is joy to the just to do judgment: but destruction shall be to the workers of iniquity"
Explanation:- Those who live on God's words will get the life and they will enjoy their lives. But many who are walking in their own desires will see death and receive punishment from the Lord.
Examples Of Revenge In The Bible
Genesis 27:42(KJV)"And these words of Esau her elder son were told to Rebekah: and she sent and called Jacob her younger son, and said unto him, Behold, thy brother Esau, as touching thee, doth comfort himself, purposing to kill thee"
1 Samuel 18:25(KJV)"And Saul said, Thus shall ye say to David, The king desireth not any dowry, but an hundred foreskins of the Philistines, to be avenged of the king's enemies. But Saul thought to make David fall by the hand of the Philistines"
Judges 15:7(KJV)"And Samson said unto them, Though ye have done this, yet will I be avenged of you, and after that I will cease"
Judges 16:28(KJV)"And Samson called unto the Lord, and said, O Lord God, remember me, I pray thee, and strengthen me, I pray thee, only this once, O God, that I may be at once avenged of the Philistines for my two eyes"
2 Thessalonians 1:8(KJV)"In flaming fire taking vengeance on them that know not God, and that obey not the gospel of our Lord Jesus Christ"
More Bible Topic

s
[Best]16+Bible Verses About Acknowledging God In All Your Ways
[Best] 20+Bible Verses About Generosity(KJV) – Generous To Others
[Best] 15+Bible Verses About Wishing Good Luck For Success
[Best] 25+Bible Verses About Fornication And Adultery(KJV) – And How To Overcome
[Best] 22+Bible Verse About Working Hard And Not Being Lazy
[Best] 25+Bible Verse About Responsibility – Duty Of Man
[Best] 15+Bible Verses For When You Feeling Down And Sad
[Best] 15+Bible Verses For Scammer, Fraud, And Misleading