Dear friends, as Christians we want to support and encourage one another. When one begins a new endeavor, it is natural to wish them well – to hope for their success and prosperity. But the Bible tells us not to believe in luck.
Why? Because as believers, we know there is no such thing as fate. Our lives and future are in God's sovereign hands. Success does not come from random luck, but from the grace and blessings of the Lord.
So instead of wishing for vague "good luck", let's pray for our loved ones with purposeful blessings to give them the courage to move forward. We can pray for them to have the wisdom to make good decisions, peace to calm any worries and renew their strength.
Dear friends, let us direct them to focus on the Lord. If they trust to seek His will first, then God will direct their steps. If they fail, let them rely on His strength.
But "good luck" gives way to superstition. Let us speak the life-giving truth. May we encourage others to trust in the Lord. Only in Him do we find true success, not luck.
Dear friends, let us now look at the words of the Bible where God promises that if we trust Him, He is with us and will fulfill our steps.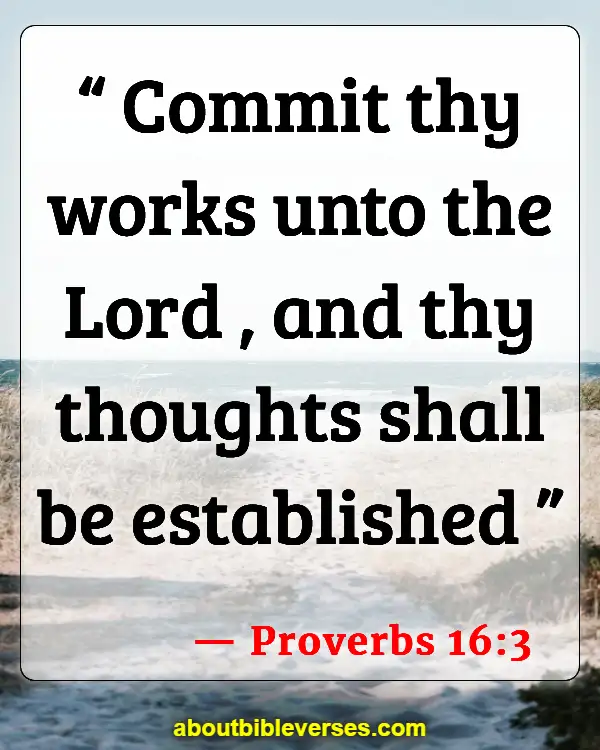 Proverbs 16:3
"Commit thy works unto the Lord , and thy thoughts shall be established"
Joshua 1:8
"This book of the law shall not depart out of thy mouth; but thou shalt meditate therein day and night, that thou mayest observe to do according to all that is written therein: for then thou shalt make thy way prosperous, and then thou shalt have good success"
Philippians 4:6-7
"Be careful for nothing; but in every thing by prayer and supplication with thanksgiving let your requests be made known unto God. And the peace of God, which passeth all understanding, shall keep your hearts and minds through Christ Jesus"
Joshua 1:9
"Have not I commanded thee? Be strong and of a good courage; be not afraid, neither be thou dismayed: for the Lord thy God is with thee whithersoever thou goest"
Proverbs 19:21
"There are many devices in a man's heart; nevertheless the counsel of the Lord , that shall stand"
Psalm 118:24-25
"This is the day which the Lord hath made; we will rejoice and be glad in it. Save now, I beseech thee, O Lord : O Lord , I beseech thee, send now prosperity"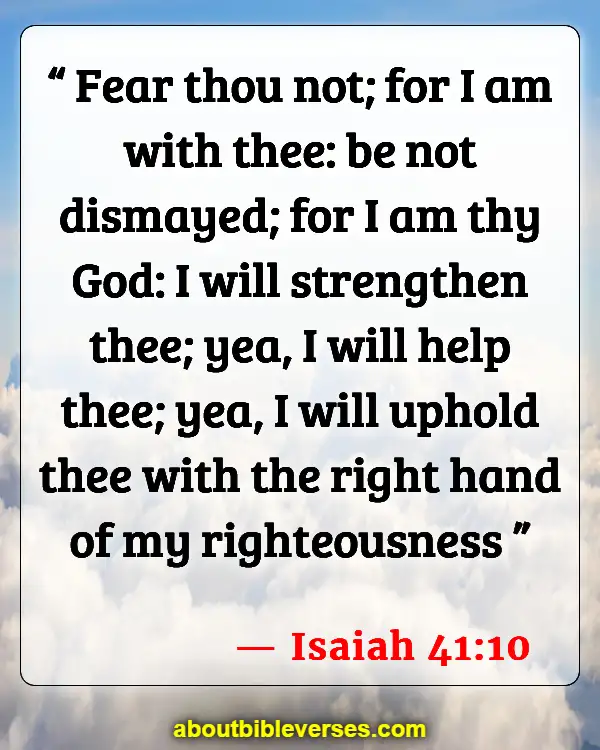 Isaiah 41:10
"Fear thou not; for I am with thee: be not dismayed; for I am thy God: I will strengthen thee; yea, I will help thee; yea, I will uphold thee with the right hand of my righteousness"
Psalm 73:26
"My flesh and my heart faileth: but God is the strength of my heart, and my portion for ever"
Psalm 138:8
"The Lord will perfect that which concerneth me: thy mercy, O Lord , endureth for ever: forsake not the works of thine own hands"
Psalm 20:7
"Some trust in chariots, and some in horses: but we will remember the name of the Lord our God"
Isaiah 55:8-9
"For my thoughts are not your thoughts, neither are your ways my ways, saith the Lord . For as the heavens are higher than the earth, so are my ways higher than your ways, and my thoughts than your thoughts"
Isaiah 26:3-4
"Thou wilt keep him in perfect peace, whose mind is stayed on thee: because he trusteth in thee. Trust ye in the Lord for ever: for in the Lord Jehovah is everlasting strength"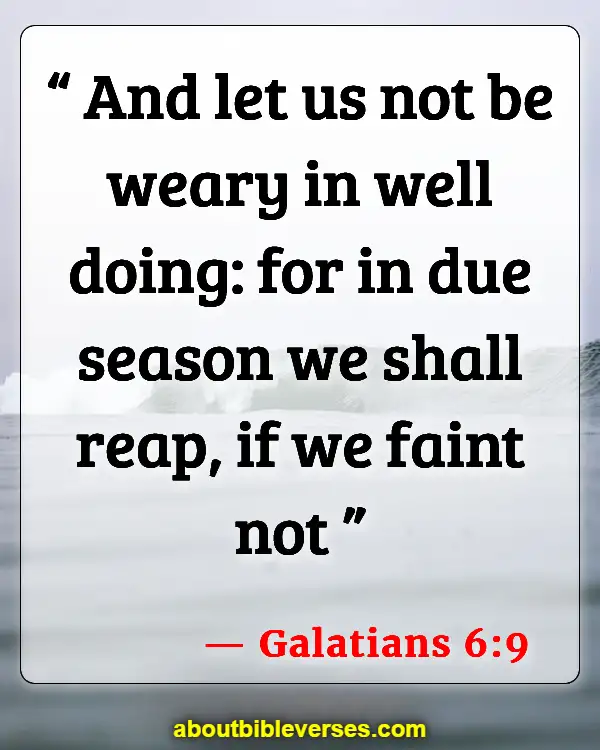 Galatians 6:9
"And let us not be weary in well doing: for in due season we shall reap, if we faint not"
Psalm 121:7-8
"The Lord shall preserve thee from all evil: he shall preserve thy soul. The Lord shall preserve thy going out and thy coming in from this time forth, and even for evermore"
Psalm 91:11-12
"For he shall give his angels charge over thee, to keep thee in all thy ways. They shall bear thee up in their hands, lest thou dash thy foot against a stone"
Mark 10:27
"And Jesus looking upon them saith, With men it is impossible, but not with God: for with God all things are possible"
Isaiah 41:13
"For I the Lord thy God will hold thy right hand, saying unto thee, Fear not; I will help thee"
Psalm 32:8
"I will instruct thee and teach thee in the way which thou shalt go: I will guide thee with mine eye"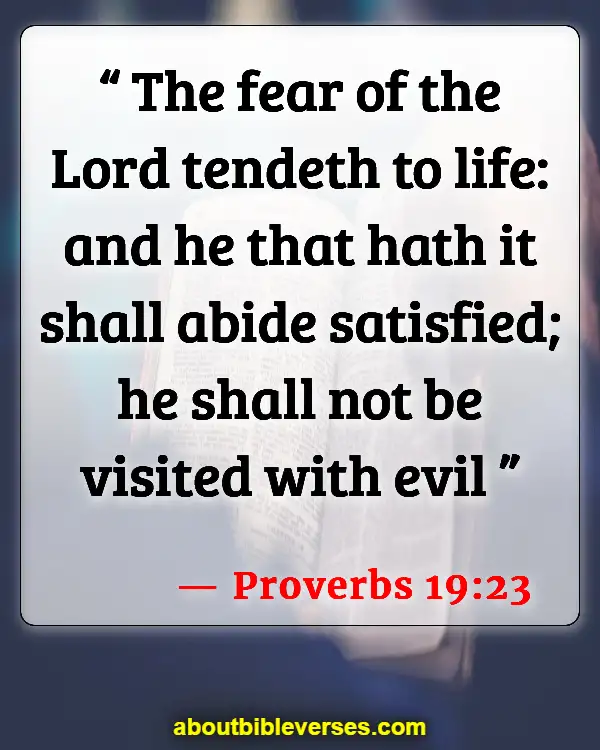 Proverbs 19:23
"The fear of the Lord tendeth to life: and he that hath it shall abide satisfied; he shall not be visited with evil"
Deuteronomy 31:8
"And the Lord , he it is that doth go before thee; he will be with thee, he will not fail thee, neither forsake thee: fear not, neither be dismayed"
Psalm 1:3
"And he shall be like a tree planted by the rivers of water, that bringeth forth his fruit in his season; his leaf also shall not wither; and whatsoever he doeth shall prosper"
Proverbs 3:1-2
"My son, forget not my law; but let thine heart keep my commandments: For length of days, and long life, and peace, shall they add to thee"
1 Chronicles 22:13
"Then shalt thou prosper, if thou takest heed to fulfil the statutes and judgments which the Lord charged Moses with concerning Israel: be strong, and of good courage; dread not, nor be dismayed"
2 Chronicles 26:5
"And he sought God in the days of Zechariah, who had understanding in the visions of God: and as long as he sought the Lord , God made him to prosper"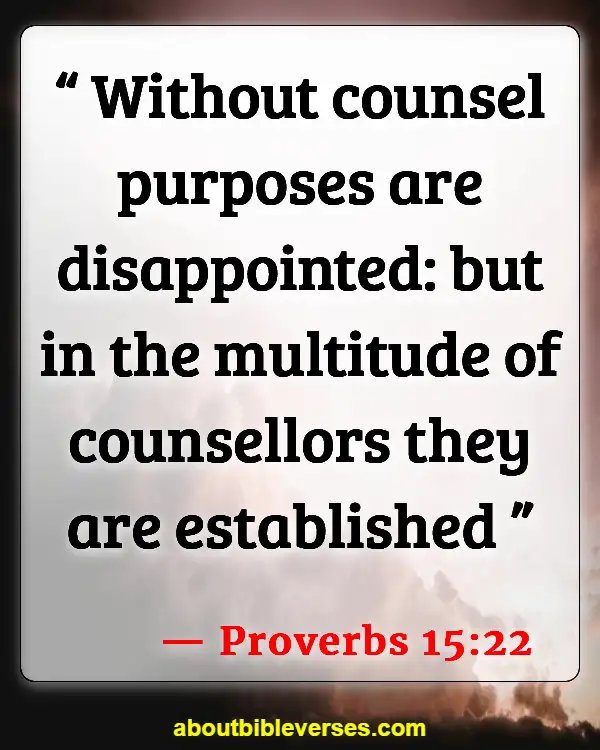 Proverbs 15:22
"Without counsel purposes are disappointed: but in the multitude of counsellors they are established"
James 1:25
"But whoso looketh into the perfect law of liberty, and continueth therein, he being not a forgetful hearer, but a doer of the work, this man shall be blessed in his deed"
Proverbs 4:7
"Wisdom is the principal thing; therefore get wisdom: and with all thy getting get understanding"
Proverbs 2:7
"He layeth up sound wisdom for the righteous: he is a buckler to them that walk uprightly"
Proverbs 22:29
"Seest thou a man diligent in his business? he shall stand before kings; he shall not stand before mean men"
Psalm 37:4-5
"Delight thyself also in the Lord : and he shall give thee the desires of thine heart. Commit thy way unto the Lord ; trust also in him; and he shall bring it to pass"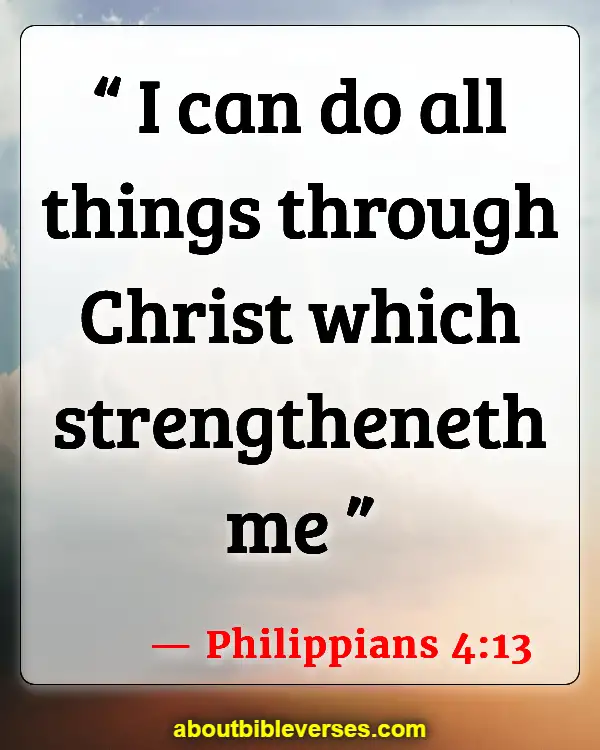 Philippians 4:13
"I can do all things through Christ which strengtheneth me"
Psalm 23:1
"The Lord is my shepherd; I shall not want"
Matthew 6:33
"But seek ye first the kingdom of God, and his righteousness; and all these things shall be added unto you"
Proverbs 16:20
"He that handleth a matter wisely shall find good: and whoso trusteth in the Lord , happy is he"
Proverbs 3:5-6
"Trust in the Lord with all thine heart; and lean not unto thine own understanding. In all thy ways acknowledge him, and he shall direct thy paths"
Romans 8:28
"And we know that all things work together for good to them that love God, to them who are the called according to his purpose"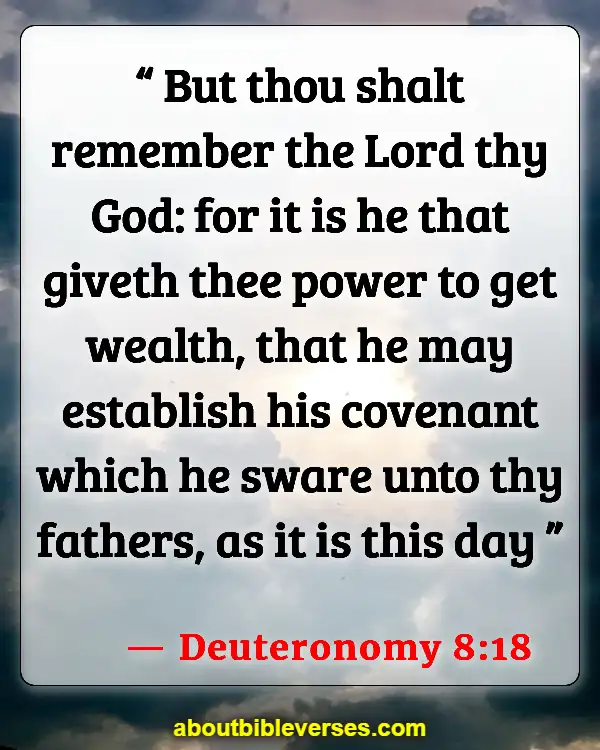 Deuteronomy 8:18
"But thou shalt remember the Lord thy God: for it is he that giveth thee power to get wealth, that he may establish his covenant which he sware unto thy fathers, as it is this day"
2 Timothy 2:15
"Study to shew thyself approved unto God, a workman that needeth not to be ashamed, rightly dividing the word of truth"
Ecclesiastes 10:10
"If the iron be blunt, and he do not whet the edge, then must he put to more strength: but wisdom is profitable to direct"
Jeremiah 29:11
"For I know the thoughts that I think toward you, saith the Lord , thoughts of peace, and not of evil, to give you an expected end"
Psalm 37:23
"The steps of a good man are ordered by the Lord : and he delighteth in his way"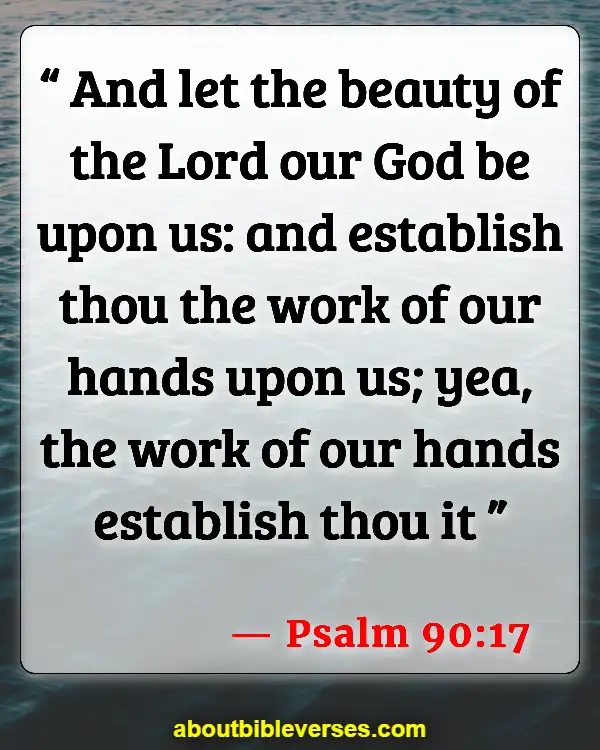 Psalm 90:17
"And let the beauty of the Lord our God be upon us: and establish thou the work of our hands upon us; yea, the work of our hands establish thou it"
Genesis 39:3
"And his master saw that the Lord was with him, and that the Lord made all that he did to prosper in his hand"
Proverbs 13:4
"The soul of the sluggard desireth, and hath nothing: but the soul of the diligent shall be made fat"
Proverbs 3:9-10
"Honour the Lord with thy substance, and with the firstfruits of all thine increase: So shall thy barns be filled with plenty, and thy presses shall burst out with new wine"
Proverbs 14:23
"In all labour there is profit: but the talk of the lips tendeth only to penury"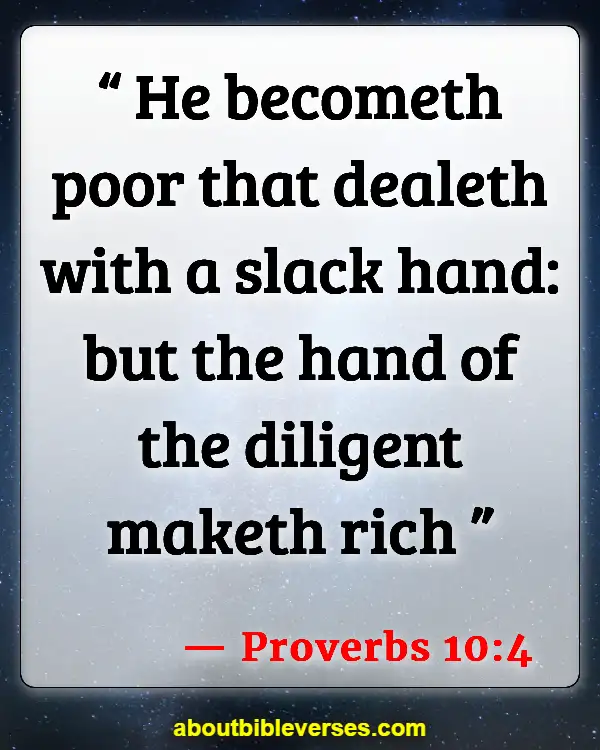 Proverbs 10:4
"He becometh poor that dealeth with a slack hand: but the hand of the diligent maketh rich"
Psalm 127:1
"Except the Lord build the house, they labour in vain that build it: except the Lord keep the city, the watchman waketh but in vain"
Proverbs 18:15
"The heart of the prudent getteth knowledge; and the ear of the wise seeketh knowledge"
Proverbs 16:9
"A man's heart deviseth his way: but the Lord directeth his steps"
Psalm 128:1-2
"Blessed is every one that feareth the Lord ; that walketh in his ways. For thou shalt eat the labour of thine hands: happy shalt thou be, and it shall be well with thee"
Proverbs 17:8
"A gift is as a precious stone in the eyes of him that hath it: whithersoever it turneth, it prospereth"
Ecclesiastes 11:6
"In the morning sow thy seed, and in the evening withhold not thine hand: for thou knowest not whether shall prosper, either this or that, or whether they both shall be alike good"
Psalm 122:6
"Pray for the peace of Jerusalem: they shall prosper that love thee"
Proverbs 19:20
"Hear counsel, and receive instruction, that thou mayest be wise in thy latter end"
Proverbs 11:14
"Where no counsel is, the people fall: but in the multitude of counsellors there is safety"
Proverbs 13:11
"Wealth gotten by vanity shall be diminished: but he that gathereth by labour shall increase"
Isaiah 48:17
"Thus saith the Lord , thy Redeemer, the Holy One of Israel; I am the Lord thy God which teacheth thee to profit, which leadeth thee by the way that thou shouldest go"
Deuteronomy 29:9
"Keep therefore the words of this covenant, and do them, that ye may prosper in all that ye do"
2 Corinthians 9:8
"And God is able to make all grace abound toward you; that ye, always having all sufficiency in all things, may abound to every good work"
Luke 16:10
"He that is faithful in that which is least is faithful also in much: and he that is unjust in the least is unjust also in much"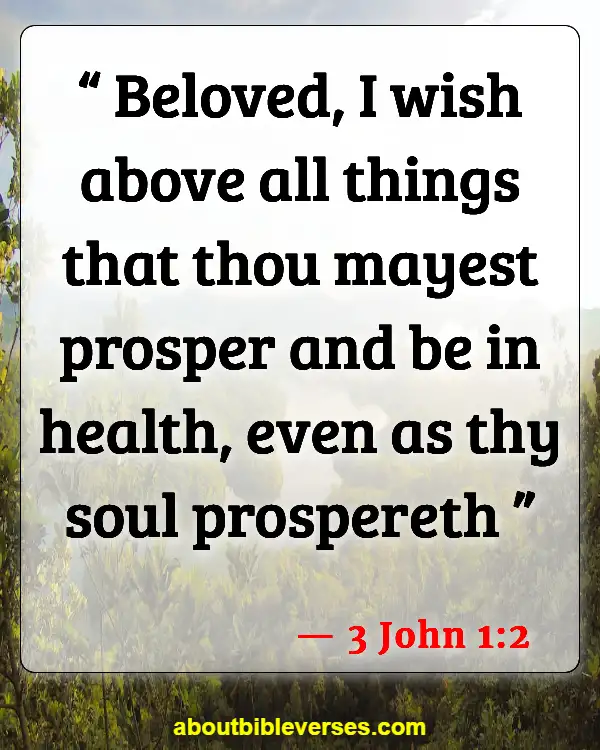 3 John 1:2
"Beloved, I wish above all things that thou mayest prosper and be in health, even as thy soul prospereth"
Proverbs 28:25
"He that is of a proud heart stirreth up strife: but he that putteth his trust in the Lord shall be made fat"
Proverbs 12:11
"He that tilleth his land shall be satisfied with bread: but he that followeth vain persons is void of understanding"
Proverbs 16:16
"How much better is it to get wisdom than gold! and to get understanding rather to be chosen than silver"
Psalm 145:19
"He will fulfil the desire of them that fear him: he also will hear their cry, and will save them"