Hello everyone, I hope you all are well with the grace of our Lord Jesus Christ. The topic we will discuss today is responsibility.
From the Bible, we learn about the responsibilities of a wife and what a husband should do, what a parent should do, what a child should do, what a master should do, and what a servant should do, as well as what the responsibilities of a leader should be.
The Bible tells us to be faithful to the little things because we bear the image of our Lord Jesus by our works, so we must obey God's commandments and responsibilities.
Let us look at the Word of God that helps us to understand our responsibilities.
Luke 16:10(KJV)"He that is faithful in that which is least is faithful also in much: and he that is unjust in the least is unjust also in much"
Philippians 2:3-4(KJV)" Let nothing be done through strife or vainglory; but in lowliness of mind let each esteem other better than themselves. Look not every man on his own things, but every man also on the things of others"
Romans 12:6-8(KJV)"Having then gifts differing according to the grace that is given to us, whether prophecy, let us prophesy according to the proportion of faith; Or ministry, let us wait on our ministering: or he that teacheth, on teaching; Or he that exhorteth, on exhortation: he that giveth, let him do it with simplicity; he that ruleth, with diligence; he that sheweth mercy, with cheerfulness"
Bible Verses About Social Responsibility
2 Corinthians 6:3(KJV)"Giving no offence in any thing, that the ministry be not blamed"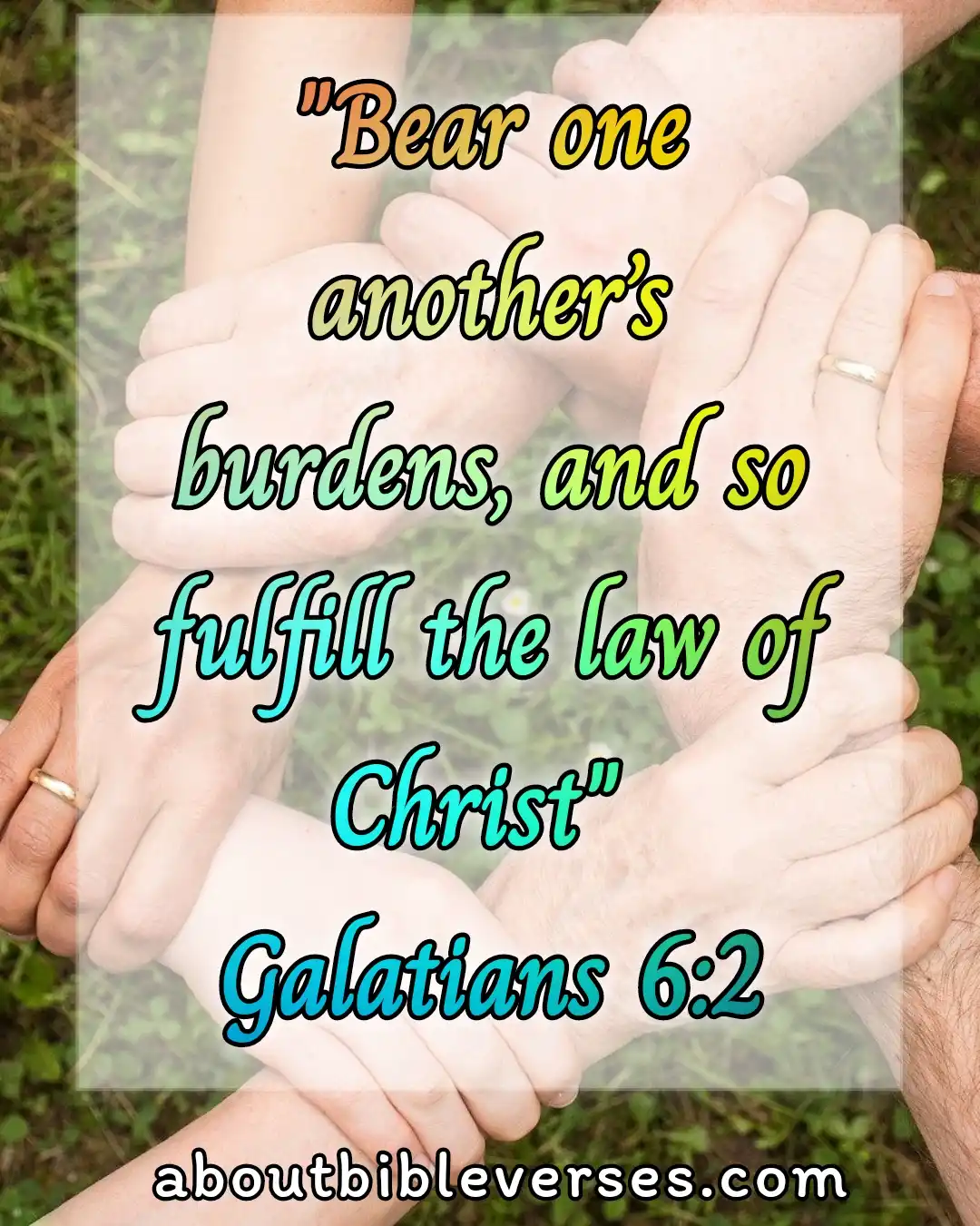 Galatians 6:2(KJV)"Bear ye one another's burdens, and so fulfil the law of Christ"
James 2:8(KJV)"If ye fulfil the royal law according to the scripture, Thou shalt love thy neighbour as thyself, ye do well"
Bible Verses About Personal Responsibility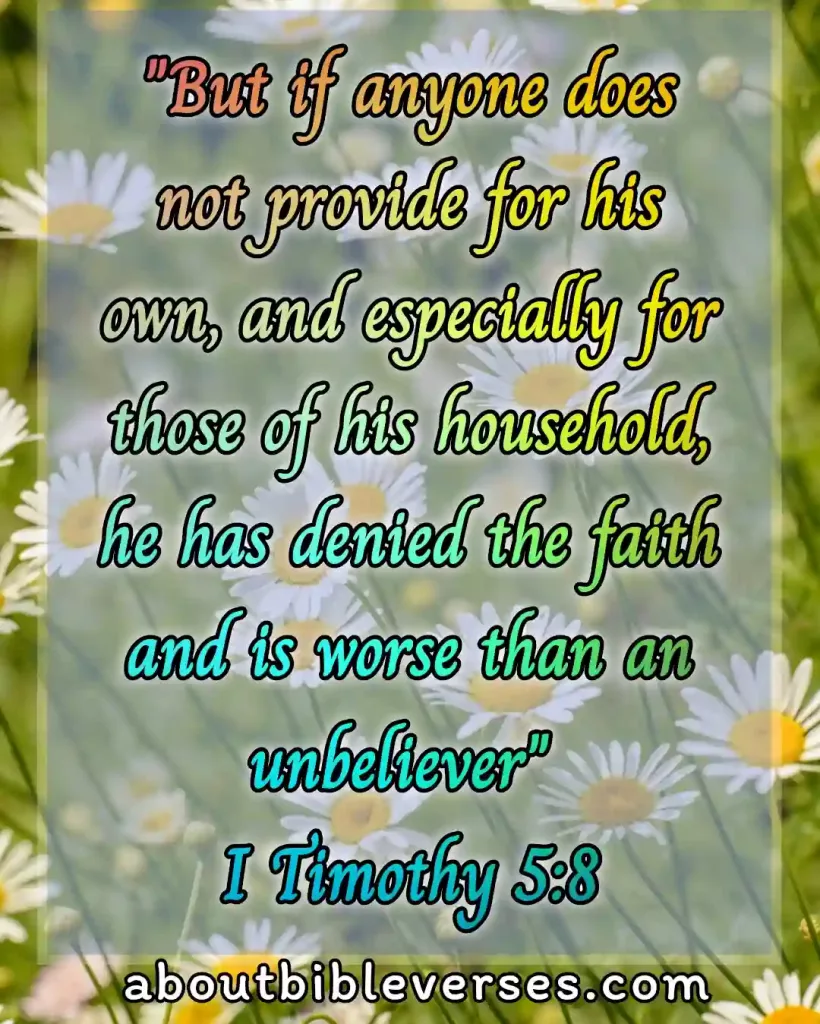 1 Timothy 5:8(KJV)"But if any provide not for his own, and specially for those of his own house, he hath denied the faith, and is worse than an infidel"
Galatians 6:4-6(KJV)"But let every man prove his own work, and then shall he have rejoicing in himself alone, and not in another. For every man shall bear his own burden. Let him that is taught in the word communicate unto him that teacheth in all good things"
Bible Verses About Responsibility Of A Husband And Wife
1 Corinthians 7:3(KJV)"Let the husband render unto the wife due benevolence: and likewise also the wife unto the husband"
Ephesians 5:25(KJV)" Husbands, love your wives, even as Christ also loved the church, and gave himself for it"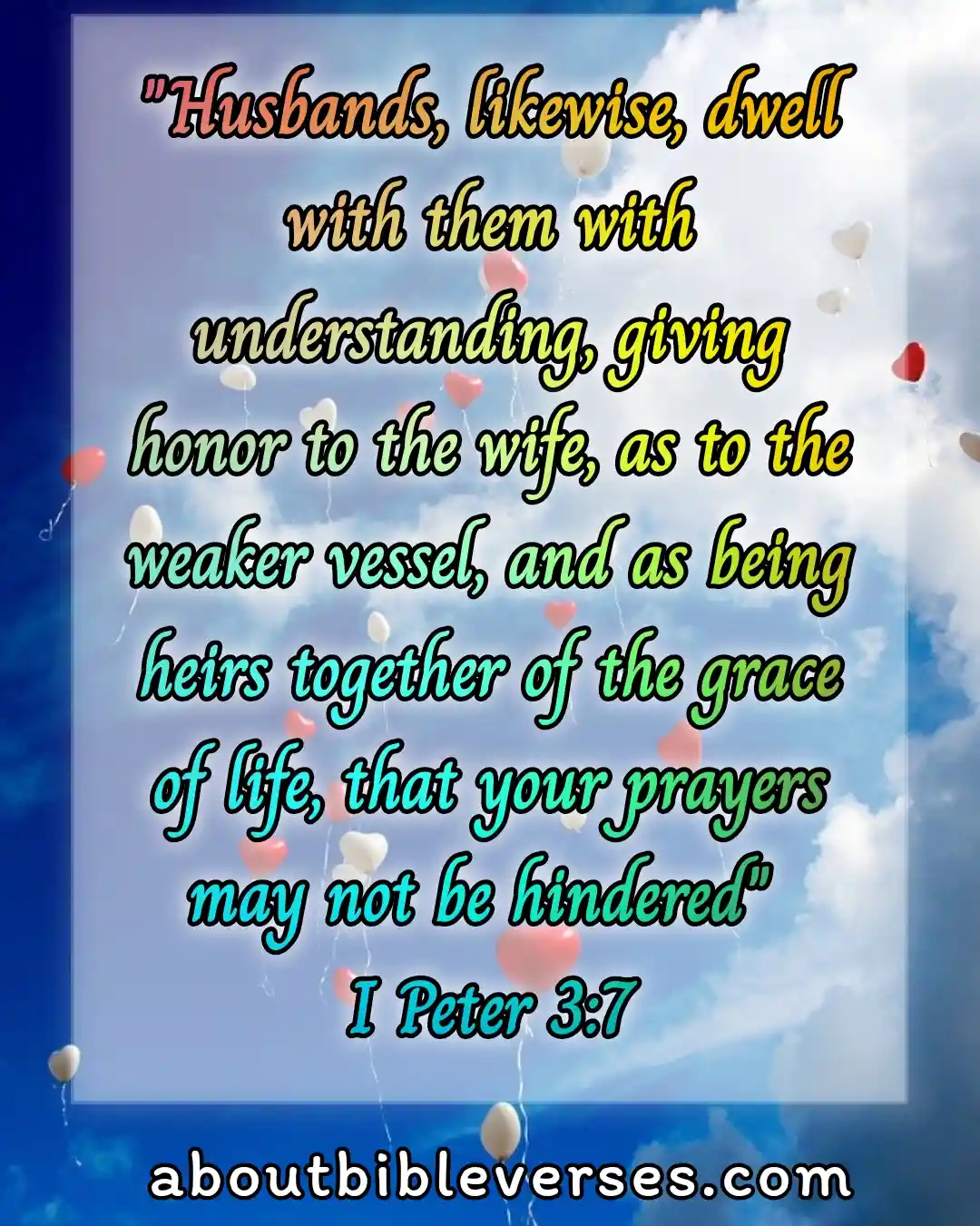 1 Peter 3:7(KJV)"Likewise, ye husbands, dwell with them according to knowledge, giving honour unto the wife, as unto the weaker vessel, and as being heirs together of the grace of life; that your prayers be not hindered"
Proverbs 31:27-28(KJV)"She looketh well to the ways of her household, and eateth not the bread of idleness. Her children arise up, and call her blessed; her husband also, and he praiseth her"
1 Corinthians 7:10(KJV)"And unto the married I command, yet not I, but the Lord, Let not the wife depart from her husband"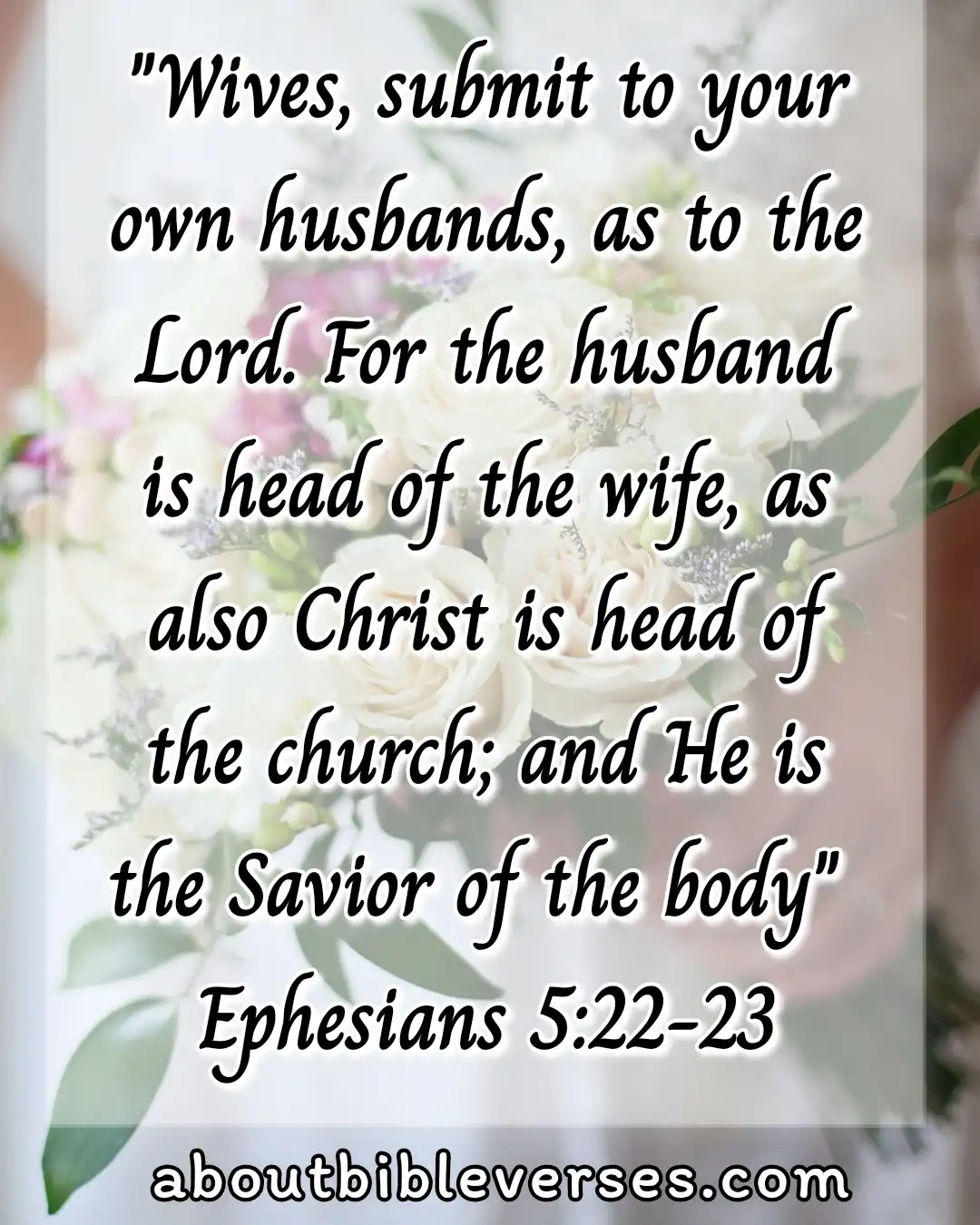 Ephesians 5:22-23(KJV)"Wives, submit yourselves unto your own husbands, as unto the Lord. For the husband is the head of the wife, even as Christ is the head of the church: and he is the saviour of the body"
Colossians 3:18(KJV)"Wives, submit yourselves unto your own husbands, as it is fit in the Lord"
1 Timothy 3:11(KJV)"Even so must their wives be grave, not slanderers, sober, faithful in all things"
Bible Verses About Responsibility Of A Fathers And Mothers
Deuteronomy 6:6–7(KJV)"And these words, which I command thee this day, shall be in thine heart: And thou shalt teach them diligently unto thy children, and shalt talk of them when thou sittest in thine house, and when thou walkest by the way, and when thou liest down, and when thou risest up"
Proverbs 22:6(KJV)"Train up a child in the way he should go: and when he is old, he will not depart from it"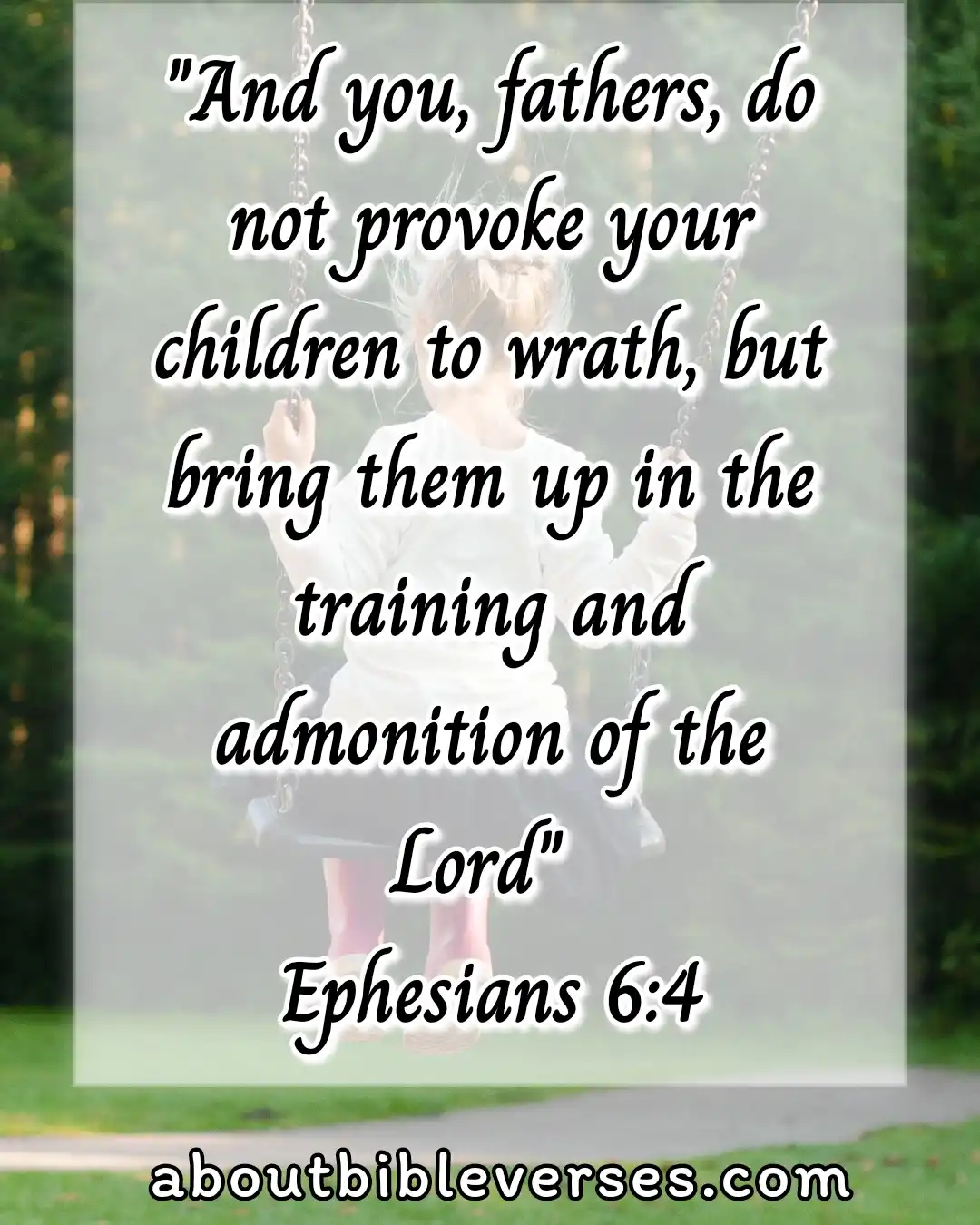 Ephesians 6:4(KJV)"And, ye fathers, provoke not your children to wrath: but bring them up in the nurture and admonition of the Lord"
Bible Verses About Responsibility Of A Children
Ephesians 6:1-3(KJV)"Children, obey your parents in the Lord: for this is right. Honour thy father and mother; which is the first commandment with promise; That it may be well with thee, and thou mayest live long on the earth"
Bible Verses About Responsibility Of The Servants And Masters
Ephesians 6:5-9(KJV)"Servants, be obedient to them that are your masters according to the flesh, with fear and trembling, in singleness of your heart, as unto Christ; Not with eyeservice, as menpleasers; but as the servants of Christ, doing the will of God from the heart; With good will doing service, as to the Lord, and not to men: Knowing that whatsoever good thing any man doeth, the same shall he receive of the Lord, whether he be bond or free. And, ye masters, do the same things unto them, forbearing threatening: knowing that your Master also is in heaven; neither is there respect of persons with him"
Colossians 4:1(KJV)"Masters, give unto your servants that which is just and equal; knowing that ye also have a Master in heaven"
Deuteronomy 24:15(KJV)"At his day thou shalt give him his hire, neither shall the sun go down upon it; for he is poor, and setteth his heart upon it: lest he cry against thee unto the Lord, and it be sin unto thee"
Leviticus 25:43(KJV)"Thou shalt not rule over him with rigour; but shalt fear thy God"
Bible Verses About Responsibility Of Leaders And Pastors
Matthew 20:26(KJV)"But it shall not be so among you: but whosoever will be great among you, let him be your minister"
Proverbs 29:14(KJV)"The king that faithfully judgeth the poor, his throne shall be established for ever"