Hello everyone, welcome to the name of our Lord Jesus Christ. Today we will know what the Bible says about people who are scammers, frauds, and misleading.
 The Word of God warns us all the time to stay away from scammers, frauds, and misleading people lest we become like them. God does not like these people at all. He is not pleased with these people, but God is angry with them.
It is possible to become rich by scamming, Fraud, And Misleading someone in this world, but we must remember that God is taking note of all these things and God will reveal them at the right time (Luke 8:17). God's word concerning them to be rich, and you are making yourselves fat like beasts to be sacrificed by living a comfortable life by scam, Fraud, And Misleading in this world (James 5:2-16).
The Word of God warns us not to be misled, and Luke 16:10 says to be faithful in the little things. And Jesus said in Mark 8:36 What do you gain if you conquer the world and lose your soul?
 Example Fraud In The Bible
If we look at the way in the Bible Acts 5: 1-10 we will see that Ananias and his wife Sapphira were both scammed which resulted in their being sentenced to death.
Let us now look at some of the words of God in the Bible where God has warned us more about the scammer, fraud, and misleading.
The Bible Condemns Deception And Lying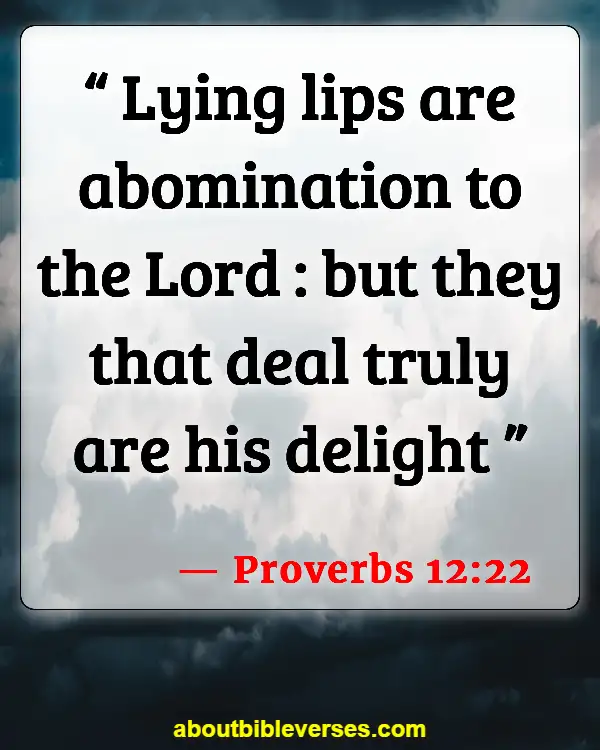 Proverbs 12:22
"Lying lips are abomination to the Lord : but they that deal truly are his delight"
Psalm 101:7
"He that worketh deceit shall not dwell within my house: he that telleth lies shall not tarry in my sight"
Proverbs 6:16-19
"These six things doth the Lord hate: yea, seven are an abomination unto him: A proud look, a lying tongue, and hands that shed innocent blood, An heart that deviseth wicked imaginations, feet that be swift in running to mischief, A false witness that speaketh lies, and he that soweth discord among brethren"
Proverbs 19:9
"A false witness shall not be unpunished, and he that speaketh lies shall perish"
Leviticus 19:11
"Ye shall not steal, neither deal falsely, neither lie one to another"
Proverbs 20:17
"Bread of deceit is sweet to a man; but afterwards his mouth shall be filled with gravel"
Proverbs 14:25
"A true witness delivereth souls: but a deceitful witness speaketh lies"
The Bible Warns Against Dishonest Gain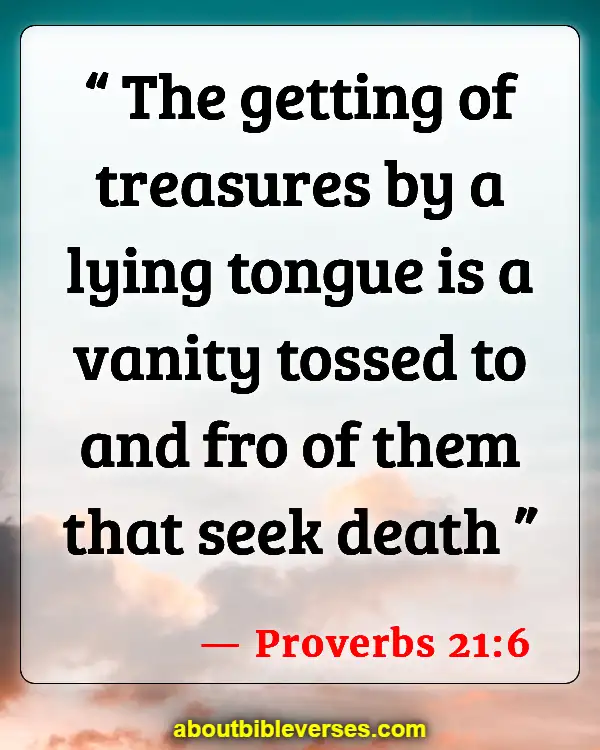 Proverbs 21:6
"The getting of treasures by a lying tongue is a vanity tossed to and fro of them that seek death"
Ezekiel 22:13
"Behold, therefore I have smitten mine hand at thy dishonest gain which thou hast made, and at thy blood which hath been in the midst of thee"
Proverbs 10:2
"Treasures of wickedness profit nothing: but righteousness delivereth from death"
Proverbs 20:21
"An inheritance may be gotten hastily at the beginning; but the end thereof shall not be blessed"
Micah 6:10-12
"Are there yet the treasures of wickedness in the house of the wicked, and the scant measure that is abominable? Shall I count them pure with the wicked balances, and with the bag of deceitful weights? For the rich men thereof are full of violence, and the inhabitants thereof have spoken lies, and their tongue is deceitful in their mouth"
Proverbs 13:11
"Wealth gotten by vanity shall be diminished: but he that gathereth by labour shall increase"
The Dangers Of Greed And Dishonesty In The Bible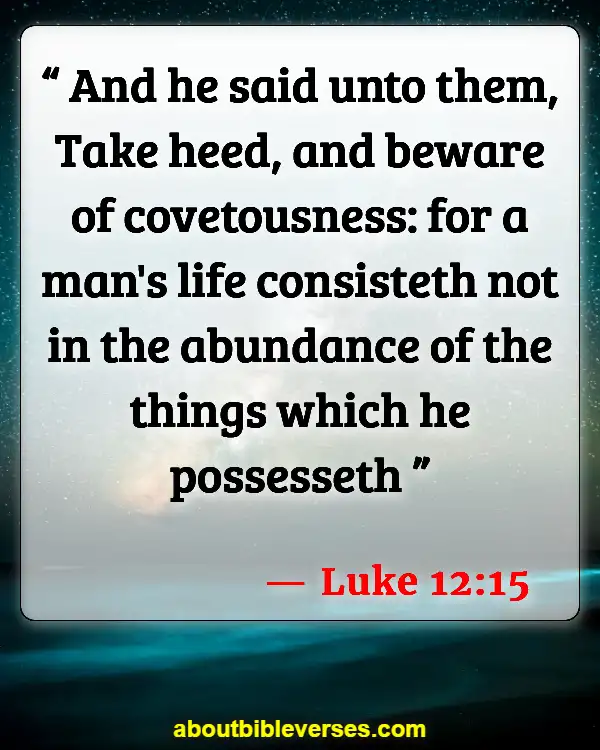 Luke 12:15
"And he said unto them, Take heed, and beware of covetousness: for a man's life consisteth not in the abundance of the things which he possesseth"
1 Timothy 6:10
"For the love of money is the root of all evil: which while some coveted after, they have erred from the faith, and pierced themselves through with many sorrows"
Colossians 3:5
"Mortify therefore your members which are upon the earth; lewdness, uncleanness, inordinate affection, evil concupiscence, and covetousness, which is idolatry"
Proverbs 15:27
"He that is greedy of gain troubleth his own house; but he that hateth gifts shall live"
Proverbs 28:25
"He that is of a proud heart stirreth up strife: but he that putteth his trust in the Lord shall be made fat"
Proverbs 1:19
"So are the ways of every one that is greedy of gain; which taketh away the life of the owners thereof"
Consequences Of Deceptive Behavior In The Bible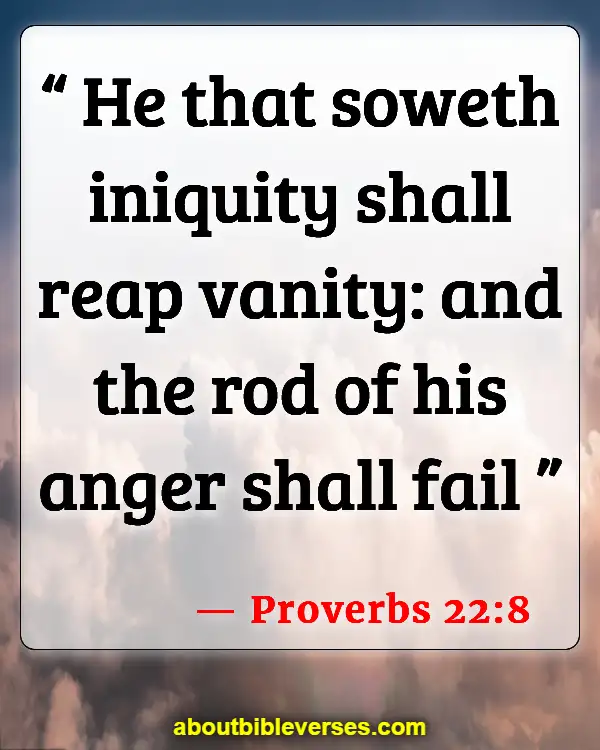 Proverbs 22:8
"He that soweth iniquity shall reap vanity: and the rod of his anger shall fail"
Proverbs 11:3
"The integrity of the upright shall guide them: but the perverseness of transgressors shall destroy them"
Hosea 12:7
"He is a merchant, the balances of deceit are in his hand: he loveth to oppress"
Proverbs 10:9
"He that walketh uprightly walketh surely: but he that perverteth his ways shall be known"
Proverbs 21:7
"The robbery of the wicked shall destroy them; because they refuse to do judgment"
James 5:4
"Behold, the hire of the labourers who have reaped down your fields, which is of you kept back by fraud, crieth: and the cries of them which have reaped are entered into the ears of the Lord of sabaoth"
Proverbs 16:8
"Better is a little with righteousness than great revenues without right"
The Bible Call For Righteous And Honest Living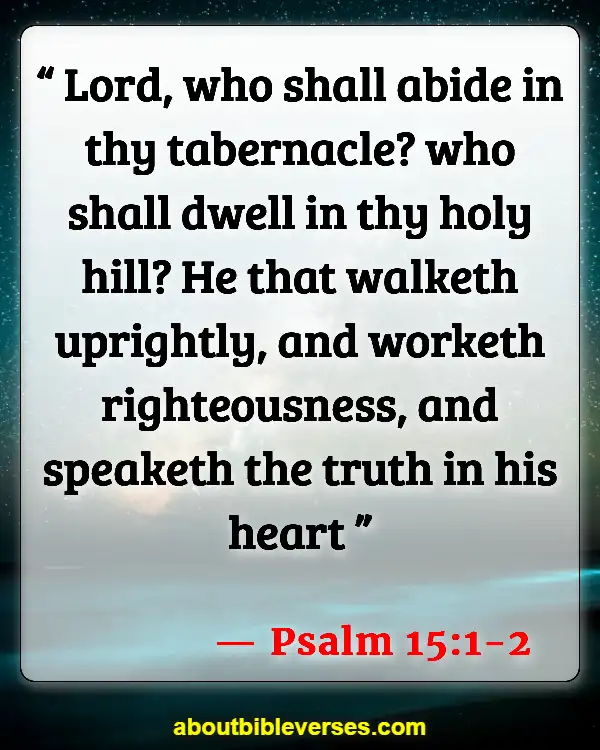 Psalm 15:1-2
"Lord, who shall abide in thy tabernacle? who shall dwell in thy holy hill? He that walketh uprightly, and worketh righteousness, and speaketh the truth in his heart"
Proverbs 11:1
"A false balance is abomination to the Lord : but a just weight is his delight"
Proverbs 16:11
"A just weight and balance are the Lord 's: all the weights of the bag are his work"
Proverbs 11:18
"The wicked worketh a deceitful work: but to him that soweth righteousness shall be a sure reward"
Luke 16:10
"He that is faithful in that which is least is faithful also in much: and he that is unjust in the least is unjust also in much"
1 Peter 2:12
"Having your conversation honest among the Gentiles: that, whereas they speak against you as evildoers, they may by your good works, which they shall behold, glorify God in the day of visitation"
2 Corinthians 8:21
"Providing for honest things, not only in the sight of the Lord, but also in the sight of men"
The Bible Teaches About False Prophets And Misleading Teachings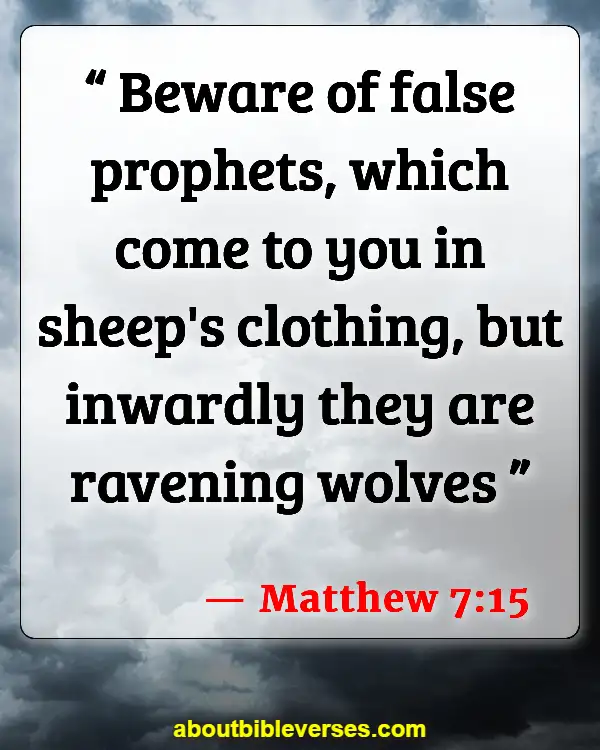 Matthew 7:15
"Beware of false prophets, which come to you in sheep's clothing, but inwardly they are ravening wolves"
2 Peter 2:1-3
"But there were false prophets also among the people, even as there shall be false teachers among you, who privily shall bring in damnable heresies, even denying the Lord that bought them, and bring upon themselves swift destruction. And many shall follow their pernicious ways; by reason of whom the way of truth shall be evil spoken of. And through covetousness shall they with feigned words make merchandise of you: whose judgment now of a long time lingereth not, and their damnation slumbereth not"
1 John 4:1
"Beloved, believe not every spirit, but try the spirits whether they are of God: because many false prophets are gone out into the world"
Matthew 24:11
"And many false prophets shall rise, and shall deceive many"
2 Corinthians 11:13-15
"For such are false apostles, deceitful workers, transforming themselves into the apostles of Christ. And no marvel; for Satan himself is transformed into an angel of light. Therefore it is no great thing if his ministers also be transformed as the ministers of righteousness; whose end shall be according to their works"
2 Timothy 4:3-4
"For the time will come when they will not endure sound doctrine; but after their own lusts shall they heap to themselves teachers, having itching ears; And they shall turn away their ears from the truth, and shall be turned unto fables"
Romans 16:18
"For they that are such serve not our Lord Jesus Christ, but their own belly; and by good words and fair speeches deceive the hearts of the simple"
The Blessings Of Honesty And Uprightness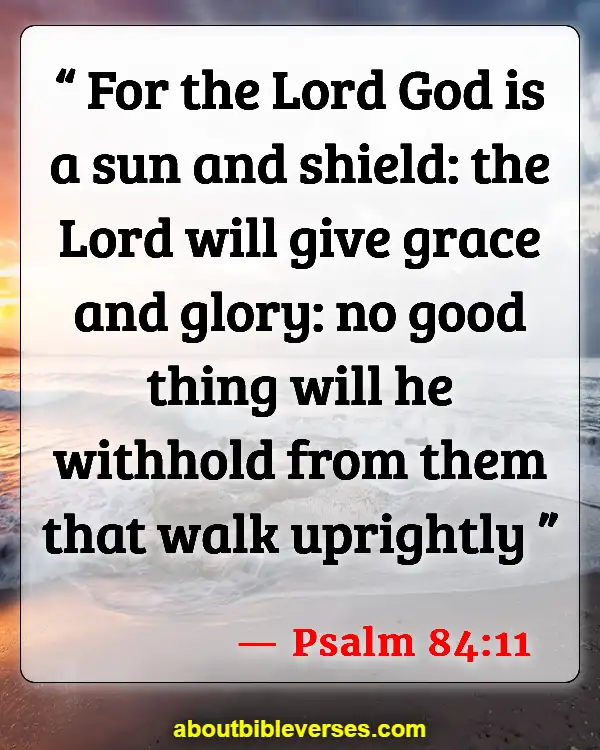 Psalm 84:11
"For the Lord God is a sun and shield: the Lord will give grace and glory: no good thing will he withhold from them that walk uprightly"
Psalm 25:21
"Let integrity and uprightness preserve me; for I wait on thee"
Proverbs 2:7
"He layeth up sound wisdom for the righteous: he is a buckler to them that walk uprightly"
Proverbs 28:6
"Better is the poor that walketh in his uprightness, than he that is perverse in his ways, though he be rich"
Psalm 41:12
"And as for me, thou upholdest me in mine integrity, and settest me before thy face for ever"
Proverbs 20:7
"The just man walketh in his integrity: his children are blessed after him"