This world is a temporal place where we are designed to dwell for a limited period of time. One day it will be destroyed with fire and the Lord will renovate with his own wisdom. The people who are following the teachings of Jesus will be worthy to enter that new earth.
Here we have to go through death but it does not mean our souls marched towards an end rather our souls are moving to approach their final destination. We should not mourn while we lose our loved ones. The word of God must be applied in our hearts to console us for the sudden shock of the demise of our family members.
As death will lead to move towards the earth where we all will be standing for the judgment and According to God's instruction some will see everlasting life in heaven and the rest will suffer in hell.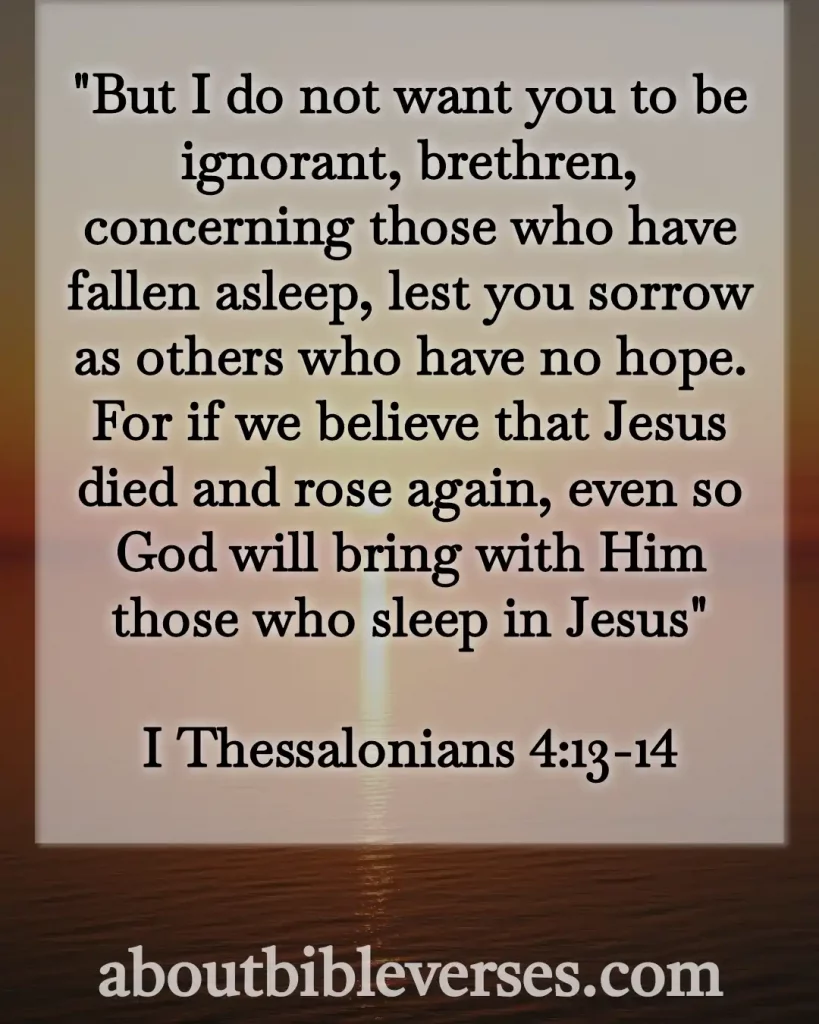 1 Thessalonians 4:13-14(KJV)"But I would not have you to be ignorant, brethren, concerning them which are asleep, that ye sorrow not, even as others which have no hope. For if we believe that Jesus died and rose again, even so, them also which sleep in Jesus will God bring with him"
Explanation:- We are different from the people of this world because the Lord has made a hope for us that we will enjoy our life after death. We must know that we will be resurrected from death and we'll stand for the judgment and we will enter into the kingdom of God.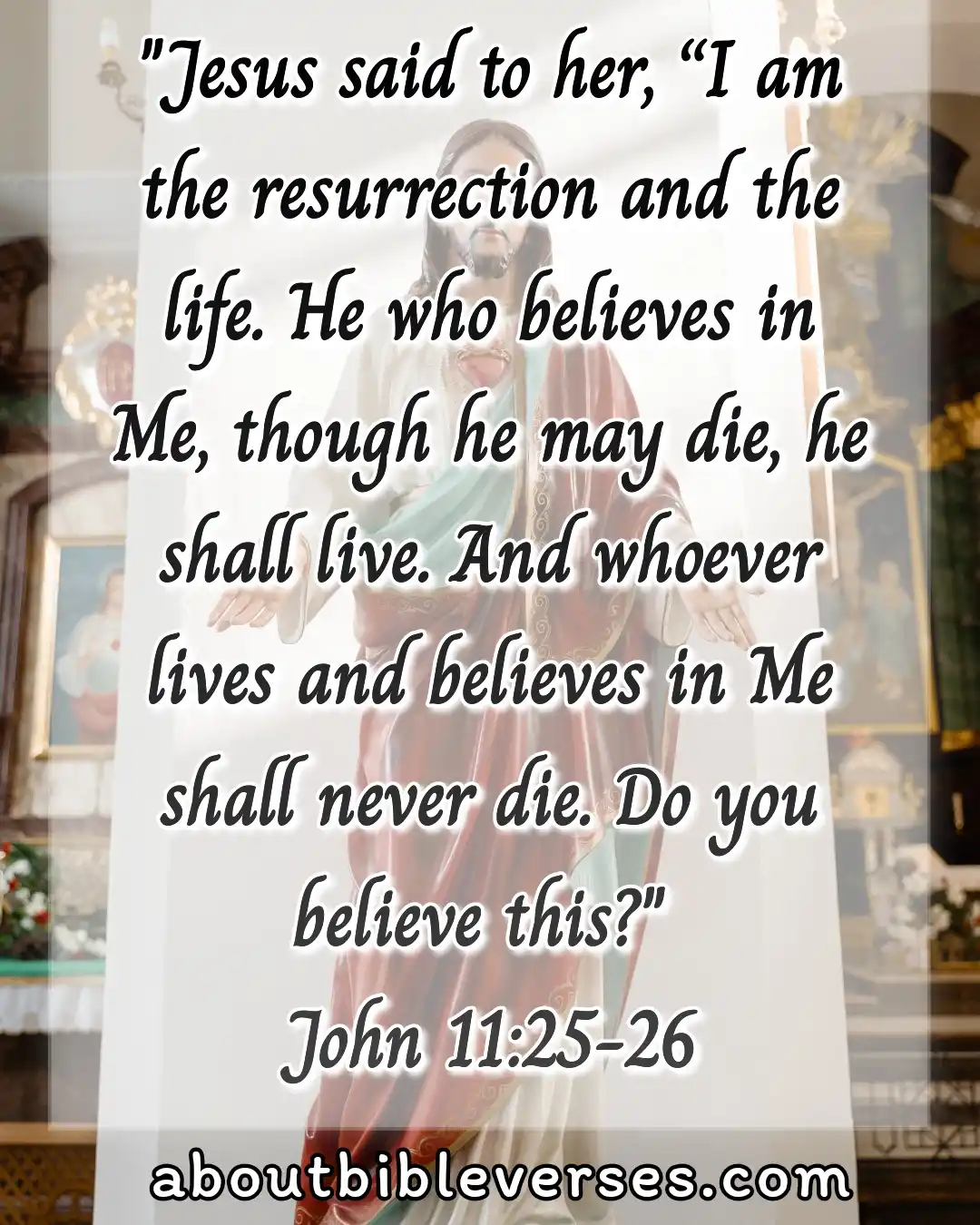 John 11:25-26(KJV)"Jesus said unto her, I am the resurrection, and the life: he that believeth in me, though he were dead, yet shall he live: And whosoever liveth and believeth in me shall never die. Believest thou this?"
Explanation:- The best gift we can ever get from Jesus is everlasting life. If we believe and obey him then we will see no death and we will reign with him in heaven.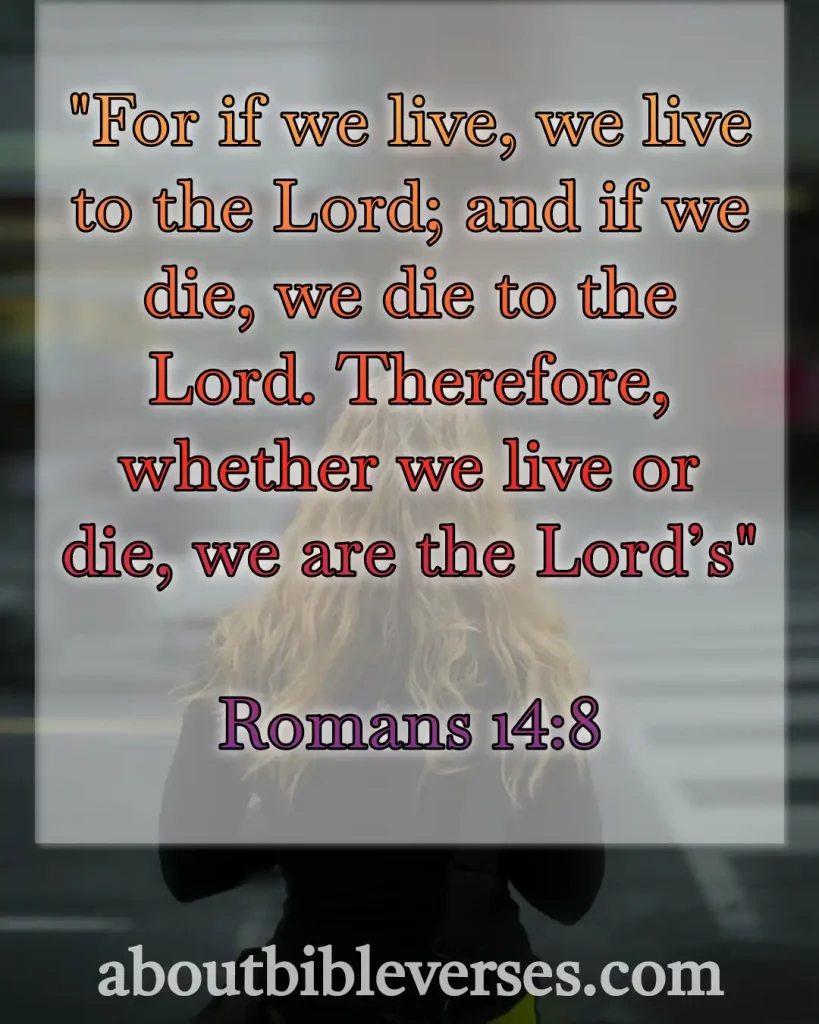 Romans 14:8(KJV)"For whether we live, we live unto the Lord; and whether we die, we die unto the Lord: whether we live therefore, or die, we are the Lord's"
Explanation:- Our life on this earth is for a period of time and we will never live here for many days. Our life span is seventy years and we will leave after that. But we have a hope in Jesus that is never-ending life.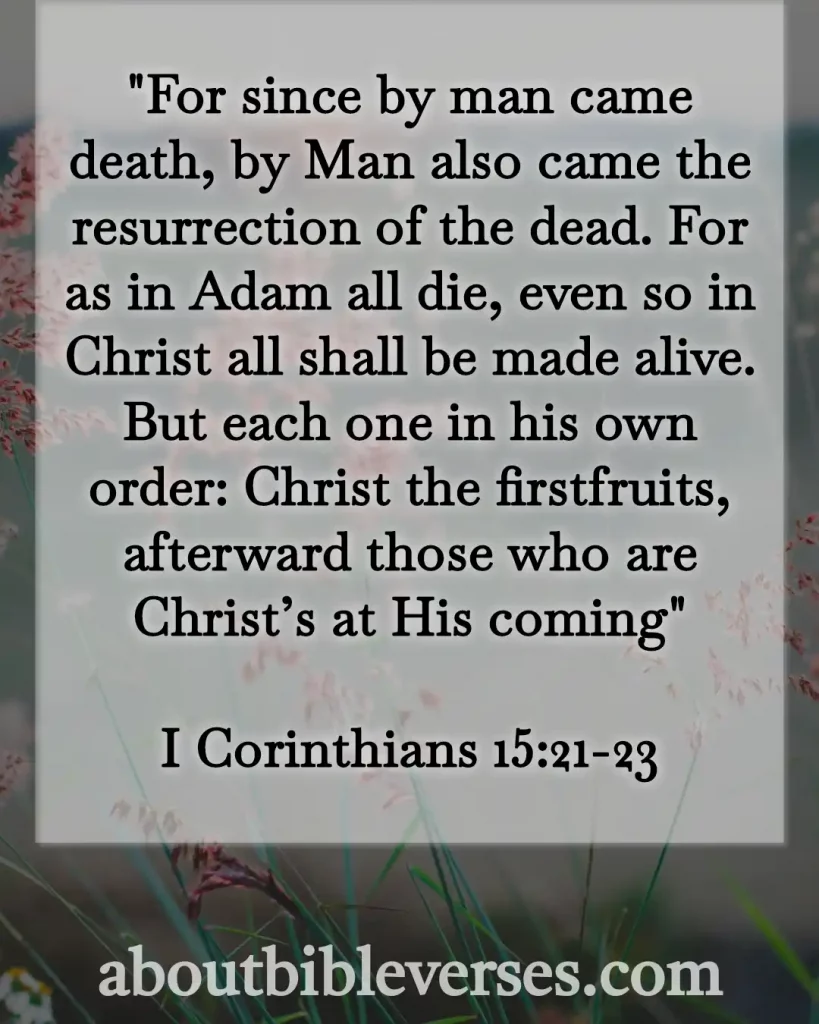 1 Corinthians 15:21-23(KJV)"For since by man came death, by man came also the resurrection of the dead. For as in Adam all die, even so in Christ shall all be made alive. But every man in his own order: Christ the firstfruits; afterward they that are Christ's at his coming"
Explanation:- In the beginning, there was no death but the sin of Adam and Eve introduced death on this earth. And Jesus came and made the way to avoid death. In him, we will be alive.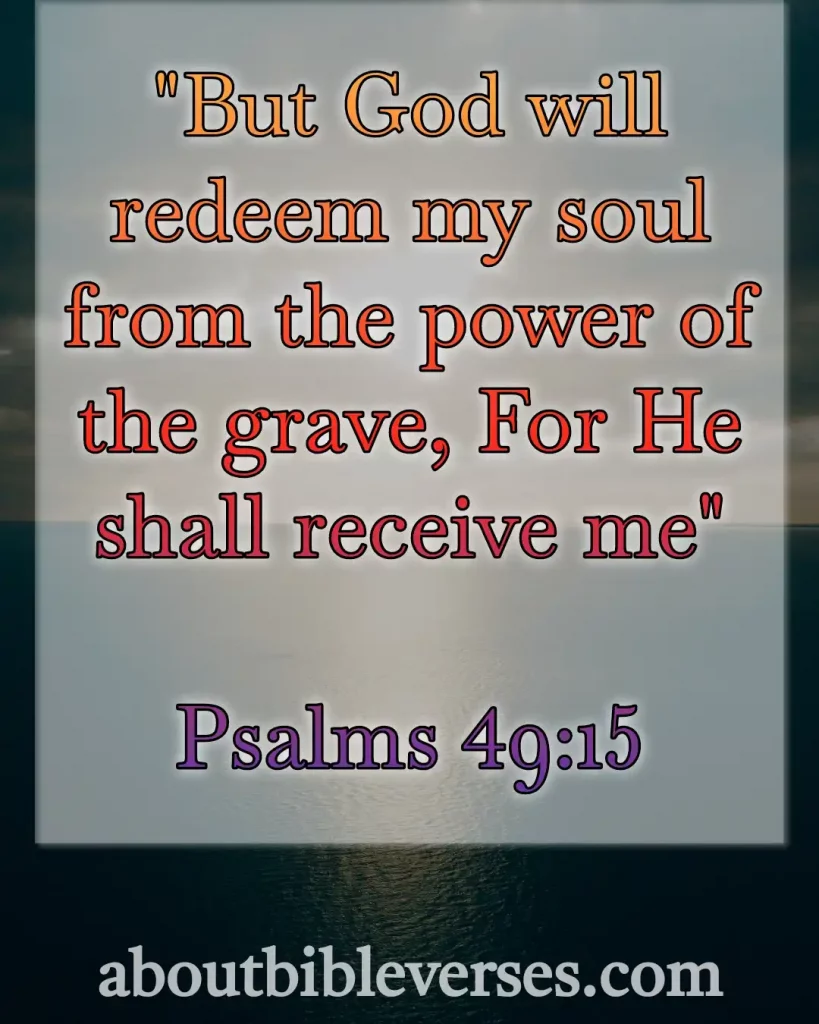 Psalm 49:15(KJV)"But God will redeem my soul from the power of the grave: for he shall receive me."
Explanation:- In Jesus, we are saved from the power of the dead. We are to face death but his grace made us righteous and now we are worthy to live with him.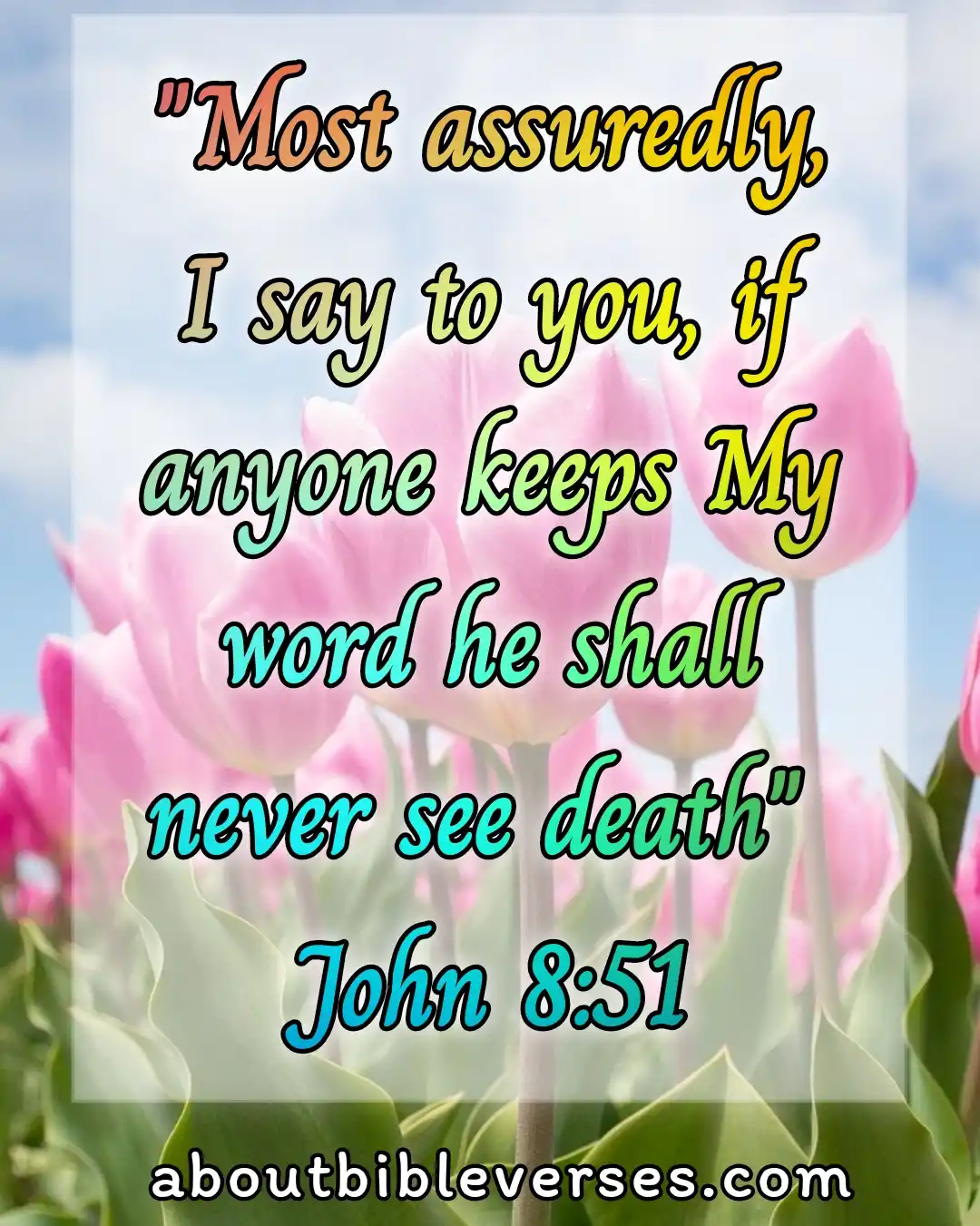 John 8:51(KJV)"Verily, verily, I say unto you, If a man keep my saying, he shall never see death"
Explanation:- Jesus says if a person believes in him, he will never see death as he will get a resurrected body and live forever. He came to give us a new life where we will have the privilege to have communion with the Lord.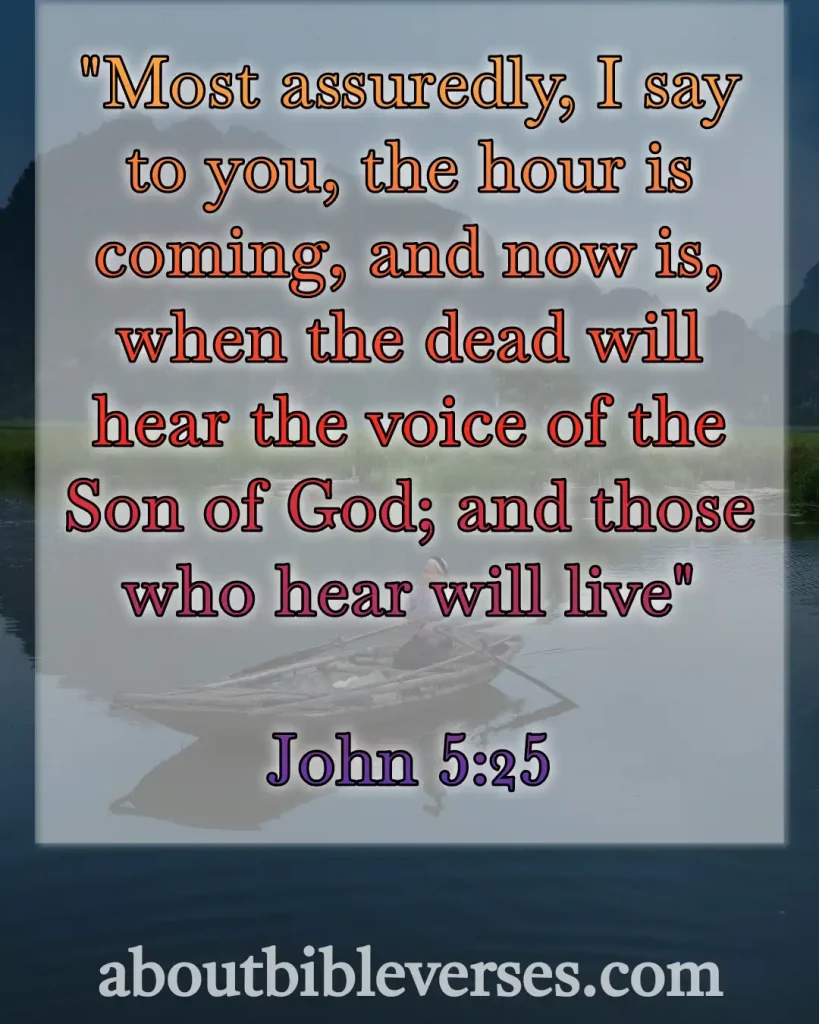 John 5:25(KJV)"Verily, verily, I say unto you, The hour is coming, and now is, when the dead shall hear the voice of the Son of God: and they that hear shall live"
Explanation:- At the second coming of Jesus, a great event will take place where the righteous will be rewarded and given a glorified body to live with the Lord forever.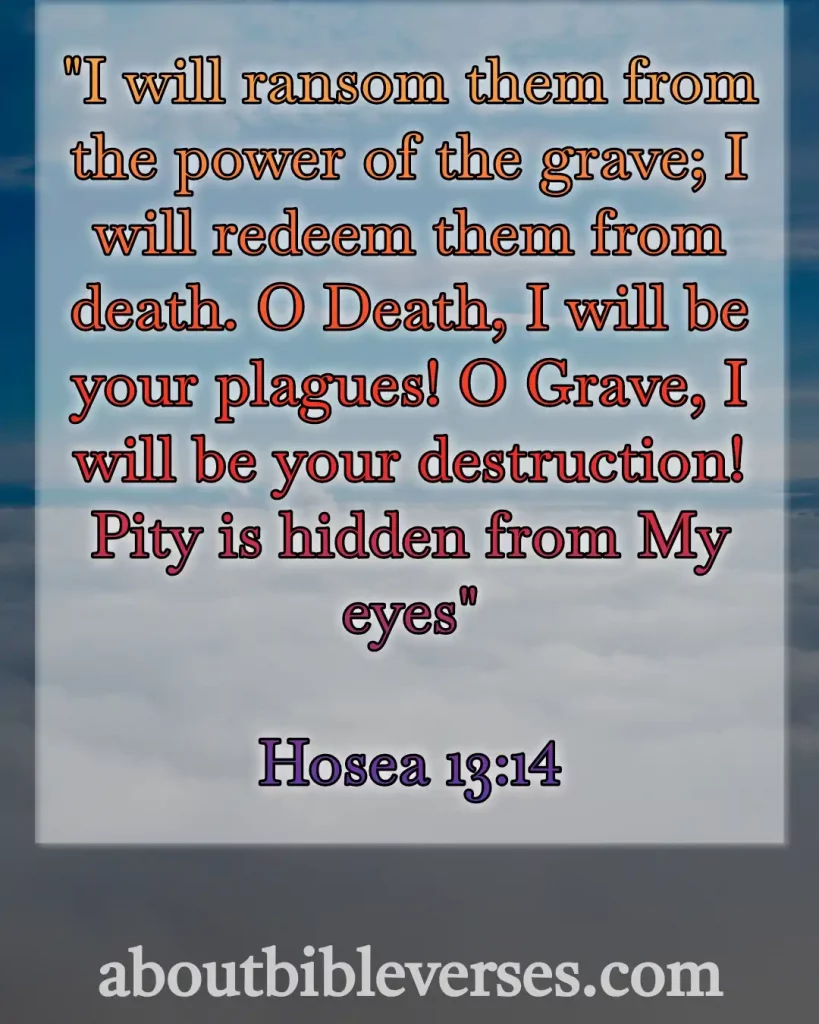 Hosea 13:14(KJV)"I will ransom them from the power of the grave; I will redeem them from death: O death, I will be thy plagues; O grave, I will be thy destruction: repentance shall be hidden from mine eyes"
Explanation:- Through the mouth of the prophet Hosea, God has already told his arrival and the purpose of his coming. He would come to save the sinners and along with that, he would set free people from their bondage. All these words of the Lord were fulfilled with the birth, death, and resurrection of Jesus.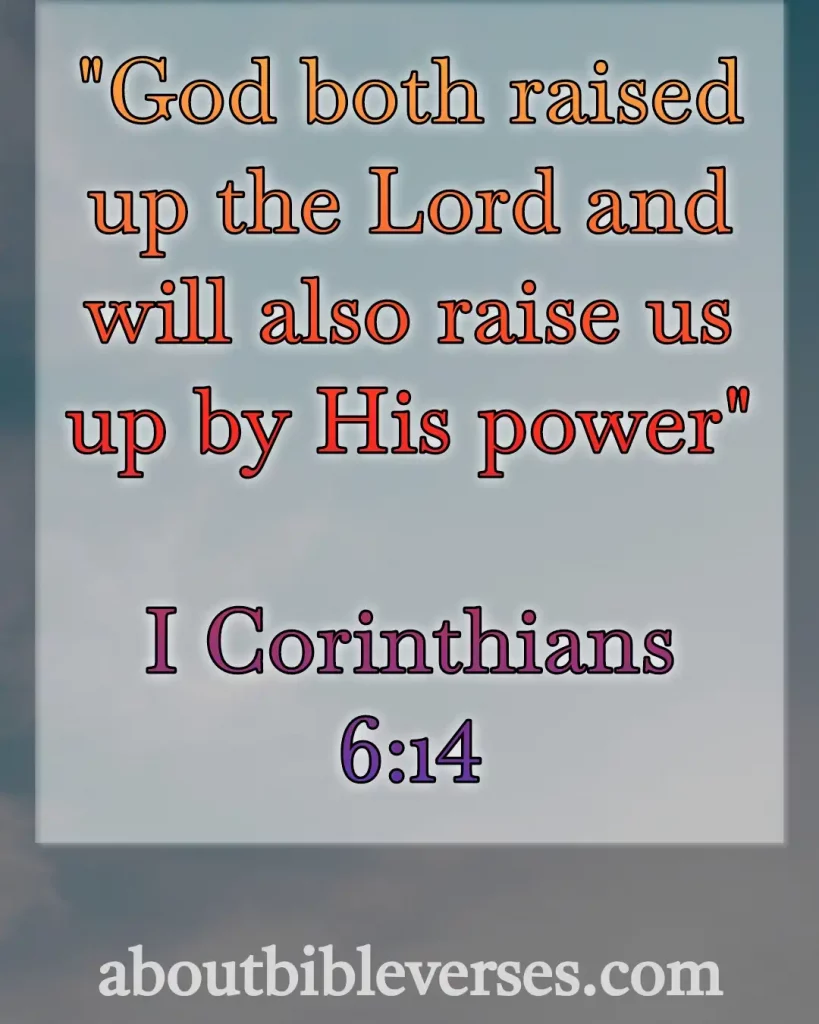 1 Corinthians 6:14(KJV)"And God hath both raised up the Lord and will also raise up us by his own power"
Explanation:- The Lord had to raise Jesus from the grave and give him a glorious life and this same thing will happen to us when we will believe Jesus and walk in his words, we will also be resurrected and given a new body to reign with Him in eternity.
1 Corinthians 15: 42-45(KJV)"So also is the resurrection of the dead. It is sown in corruption; it is raised in incorruption:It is sown in dishonour; it is raised in glory: it is sown in weakness; it is raised in power:It is sown a natural body; it is raised a spiritual body. There is a natural body, and there is a spiritual body.And so it is written, The first man Adam was made a living soul; the last Adam was made a quickening spirit"
Explanation:- Our physical body is corrupted and it will mingle with the dust as we are created from it. But our new body will be incorruptible and we will rise in glory and the new body will be powerful. We must trust the word of God and we shall be given this gift from the Lord.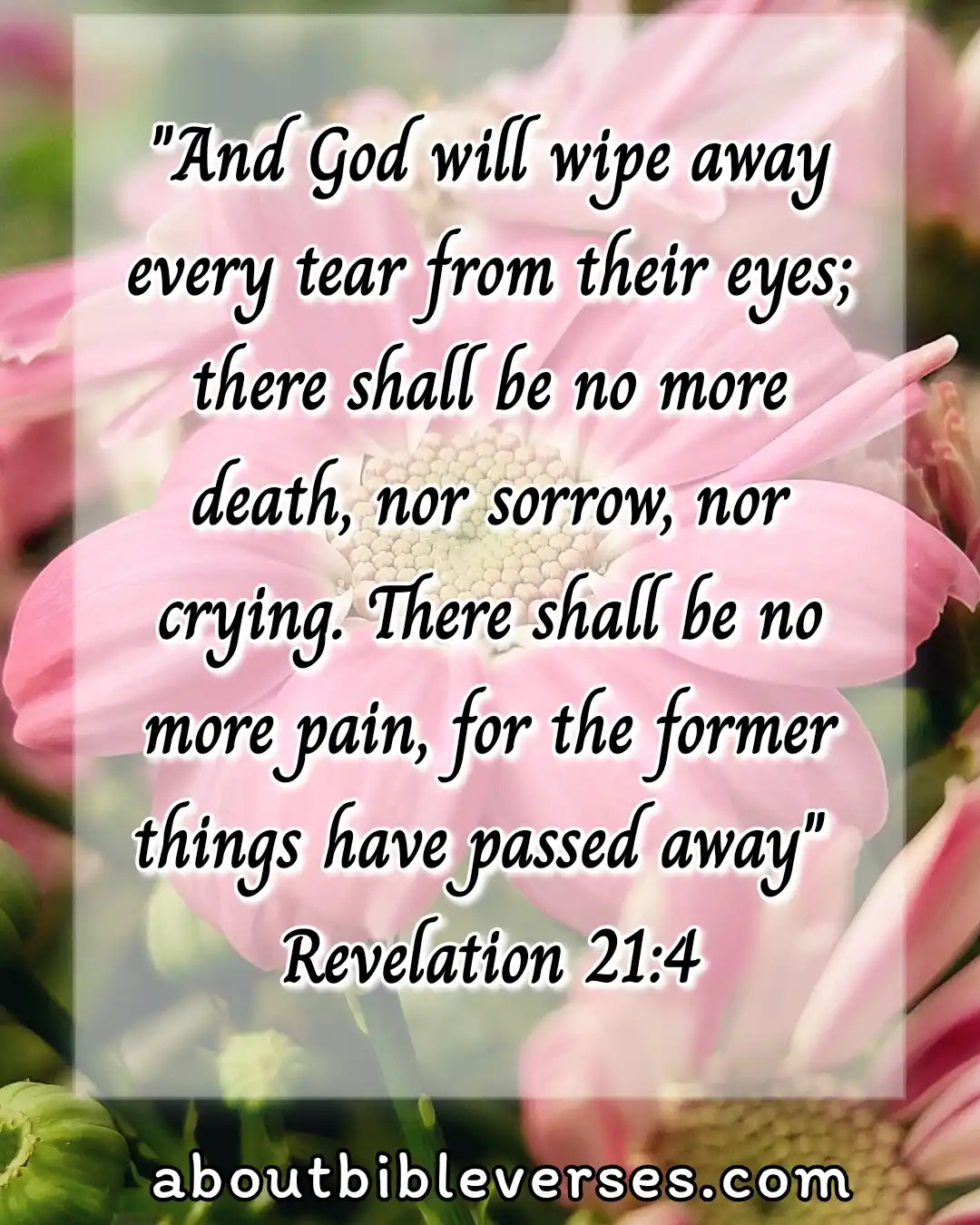 Revelation 21:4(KJV)"And God shall wipe away all tears from their eyes; and there shall be no more death, neither sorrow, nor crying, neither shall there be any more pain: for the former things are passed away"
Explanation:- In the new earth, believers will live joyfully and there will be no more pain, suffering, and tears. And death will have no authority over the lives of the believers. This is the plan of God that will be given to his faithful saints.
More Bible Topic
[Best] 10+Bible Verses – Why Accept Jesus As Your Lord And Savior
[Best] 17+Bible Verses About Living Life With Purpose
[Best] 8+Bible Verses About Divorce And Remarriage
[Best] 5+Bible Verses About Expectations With Prayer For God
[Best] 7+Bible Verses About Antichrist – Do Not Trust Every Spirit
[Best] 20+Bible Verses – Do Not Fear AnyMan Because I Am With You