We all believers of Jesus Christ live in a hope that that one day our Lord Jesus Christ will come and our suffering and pain in this world will come to end. Yes, it is absolutely true that Jesus Christ will come.
But many of our believer brothers and sisters think that if Jesus will come then why is He taking a too long time, why is he not coming right now? Why God allowed his people to go through suffering and being persecuted in this world?
The reason Jesus is not coming quickly is that He is very kind and loves everyone, therefore He is giving time to all the sinners to repent and believe in Jesus so that they will inherit the kingdom of God. Now we are under the period of His grace, He is so gracious to us so that we become His children. When Jesus Christ will return for a second time, there will be no more grace rather judgment.
This is the reason Bible says, again and again, Don't sleep but be ready because you do not know when our Lord Jesus Christ will come. Dear friends, ask yourself, 'Are you really ready for the kingdom of God?'
If not God is giving you time to repent and become His child, because there will be no way to repent and come to God after death and maybe Jesus will return even while you are still alive, there will be no excuse before God. Here are some Bible verses and images below that speak of the coming of the Lord Jesus.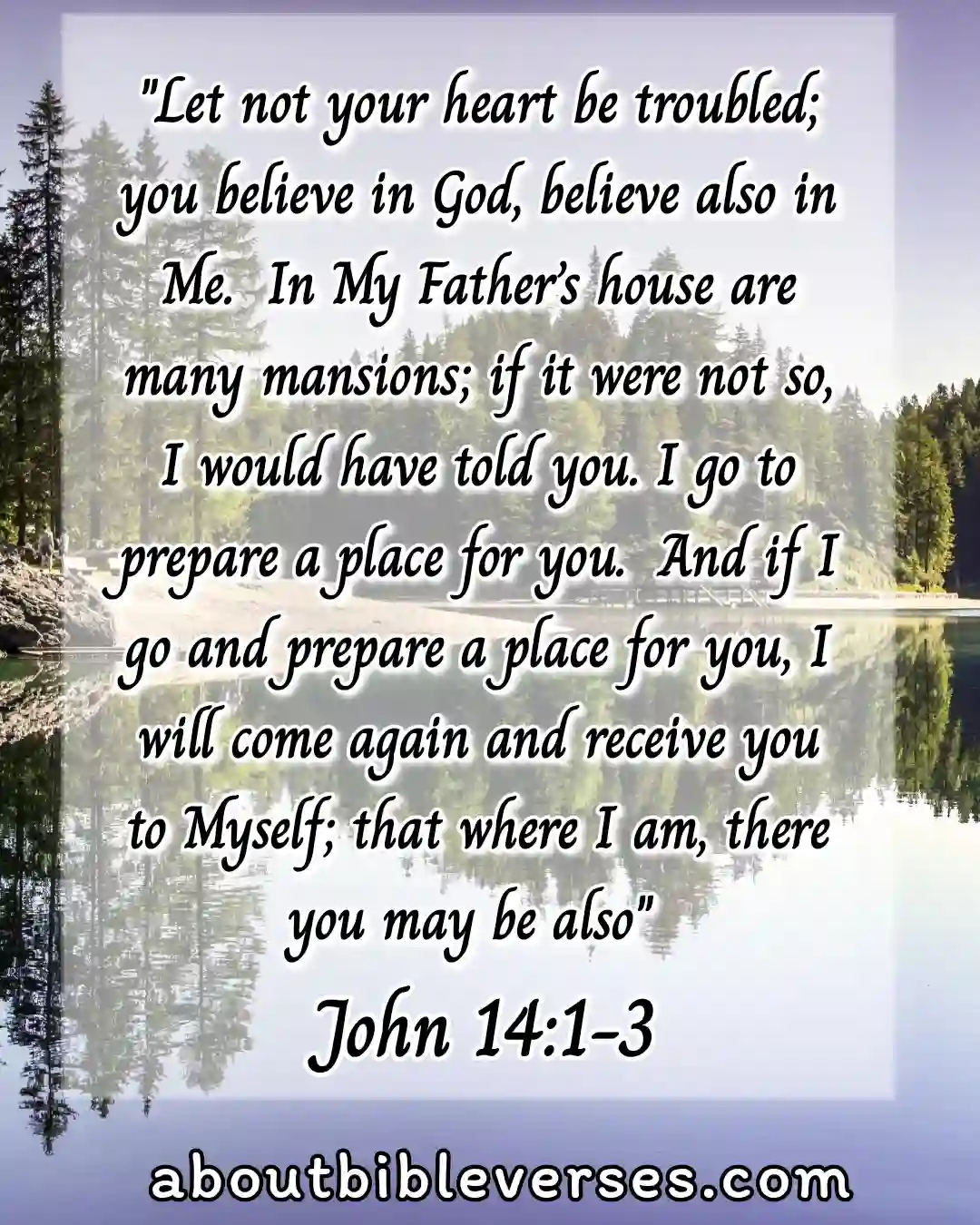 John 14:1-3(KJV)"Let not your heart be troubled: ye believe in God, believe also in me.In my Father's house are many mansions: if it were not so, I would have told you. I go to prepare a place for you. And if I go and prepare a place for you, I will come again, and receive you unto myself; that where I am, there ye may be also"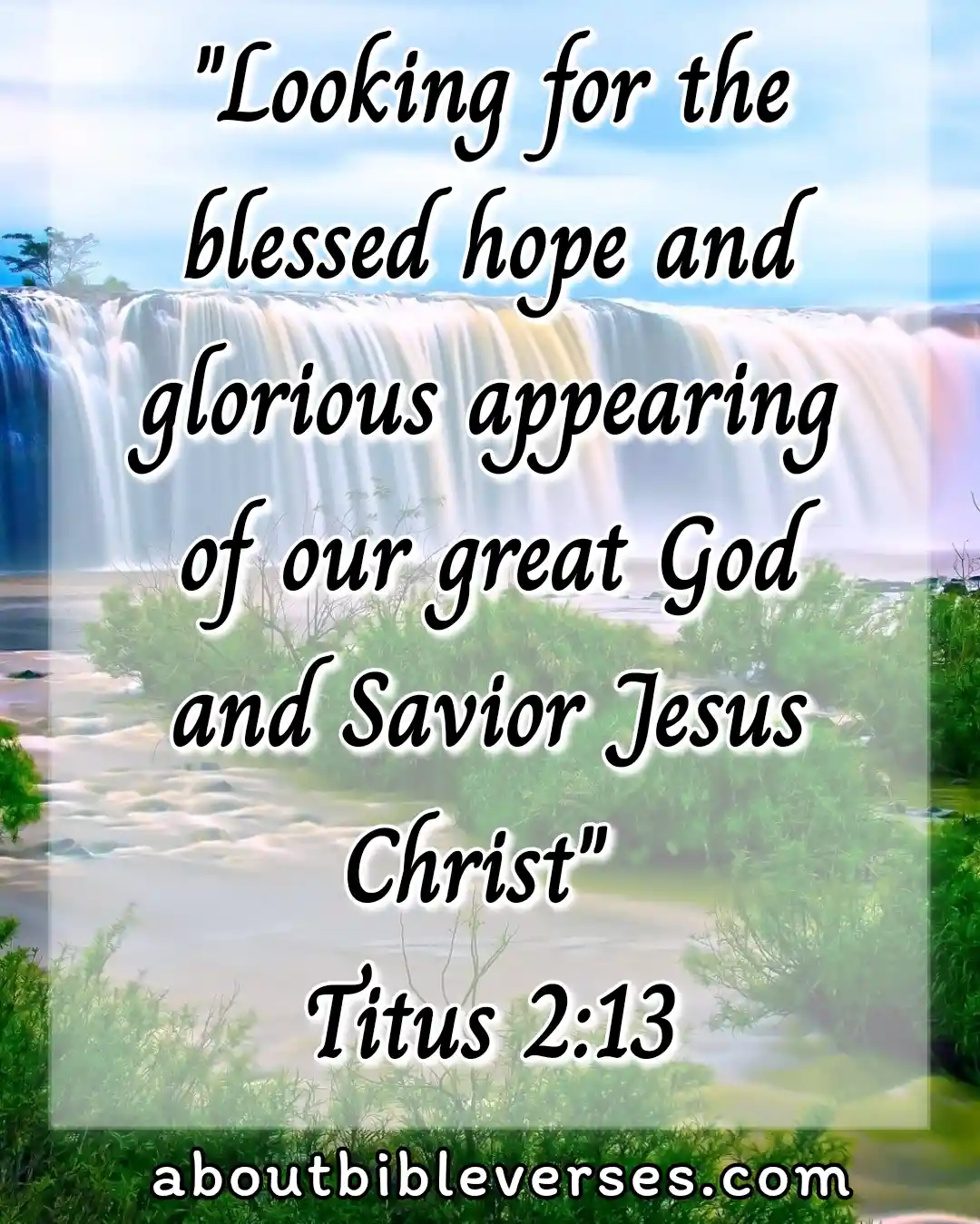 Titus 2:13(KJV)" Looking for that blessed hope, and the glorious appearing of the great God and our Saviour Jesus Christ"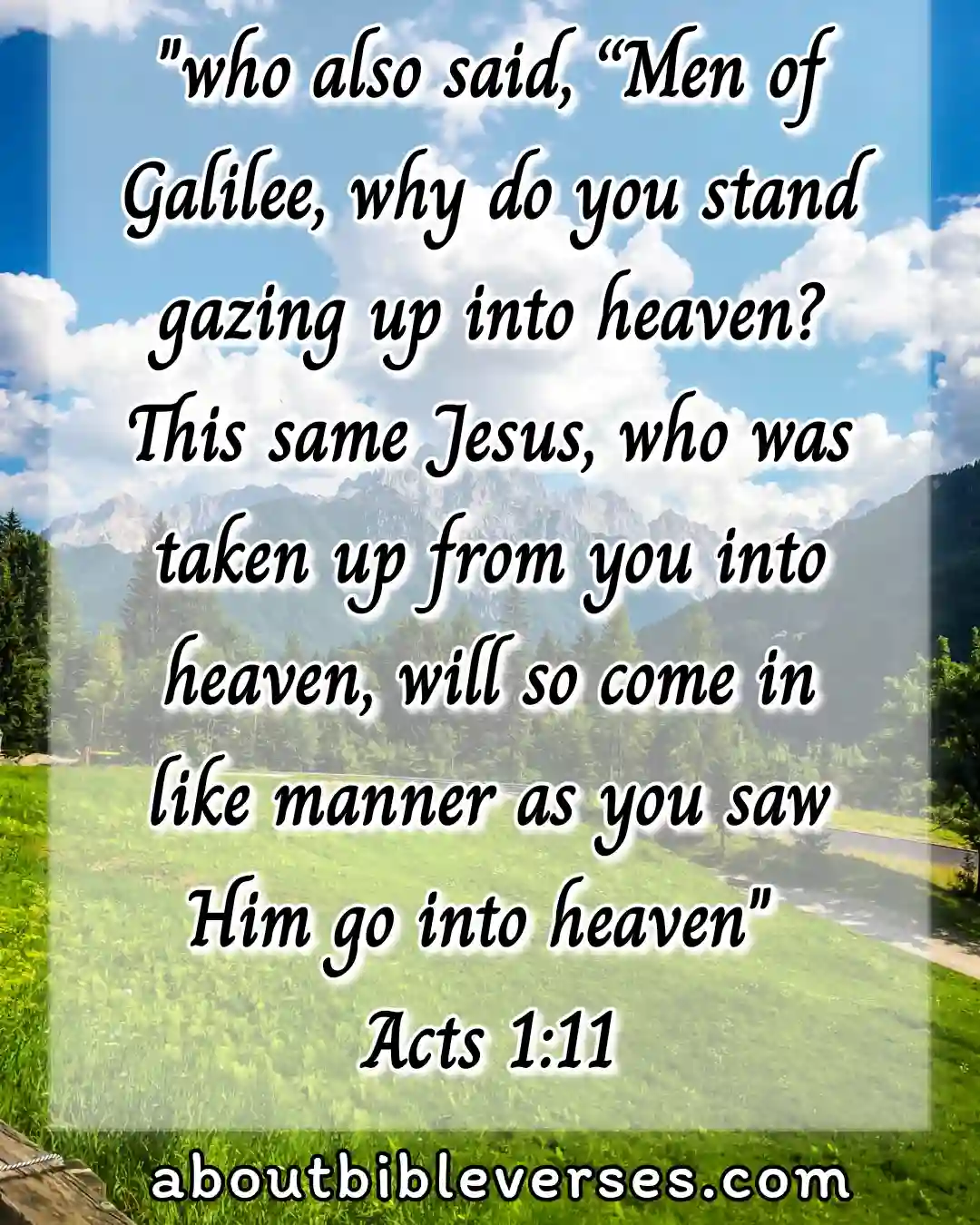 Acts 1:11(KJV)"Which also said, Ye men of Galilee, why stand ye gazing up into heaven? this same Jesus, which is taken up from you into heaven, shall so come in like manner as ye have seen him go into heaven"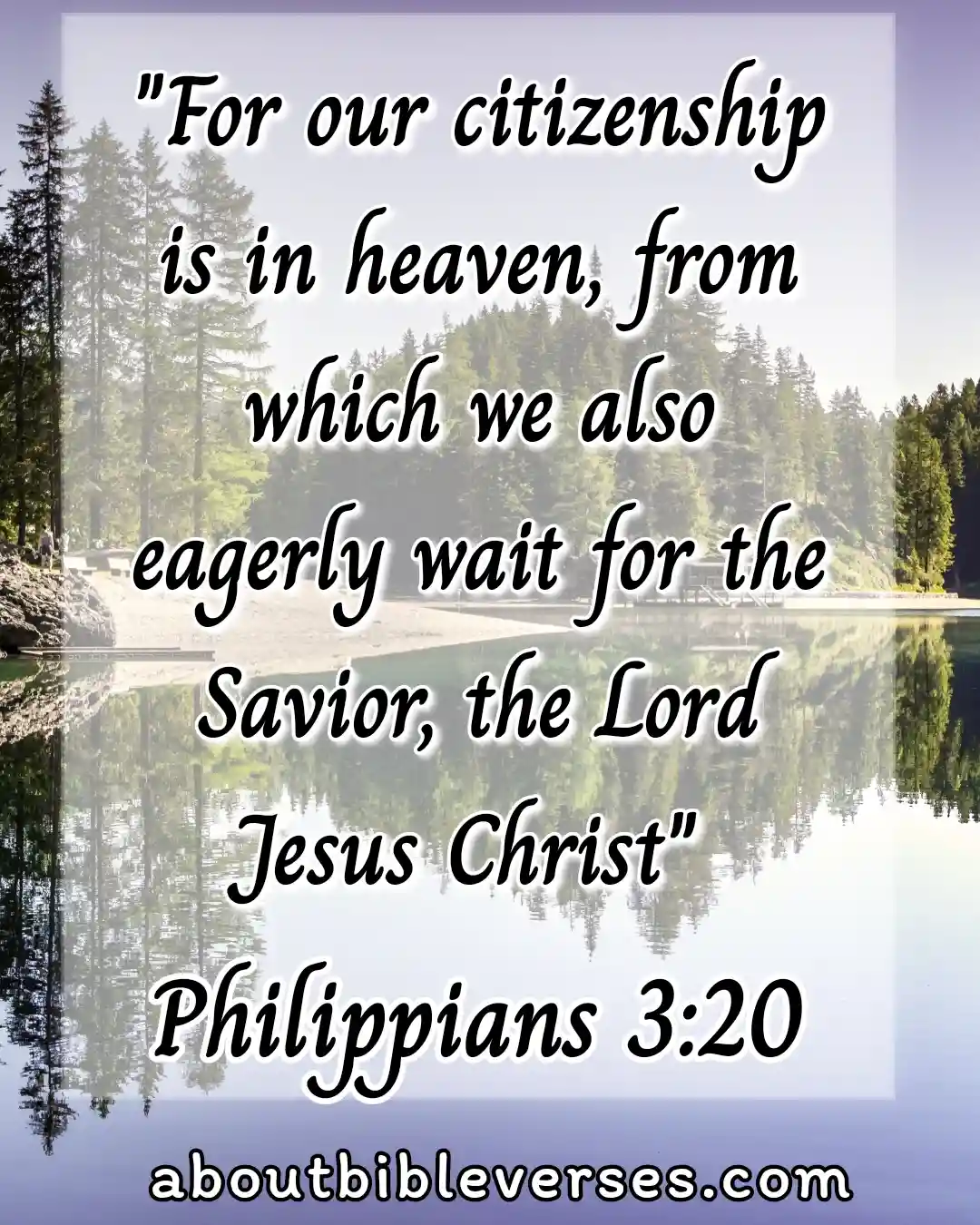 Philippians 3:20(KJV)"For our conversation is in heaven; from whence also we look for the Saviour, the Lord Jesus Christ"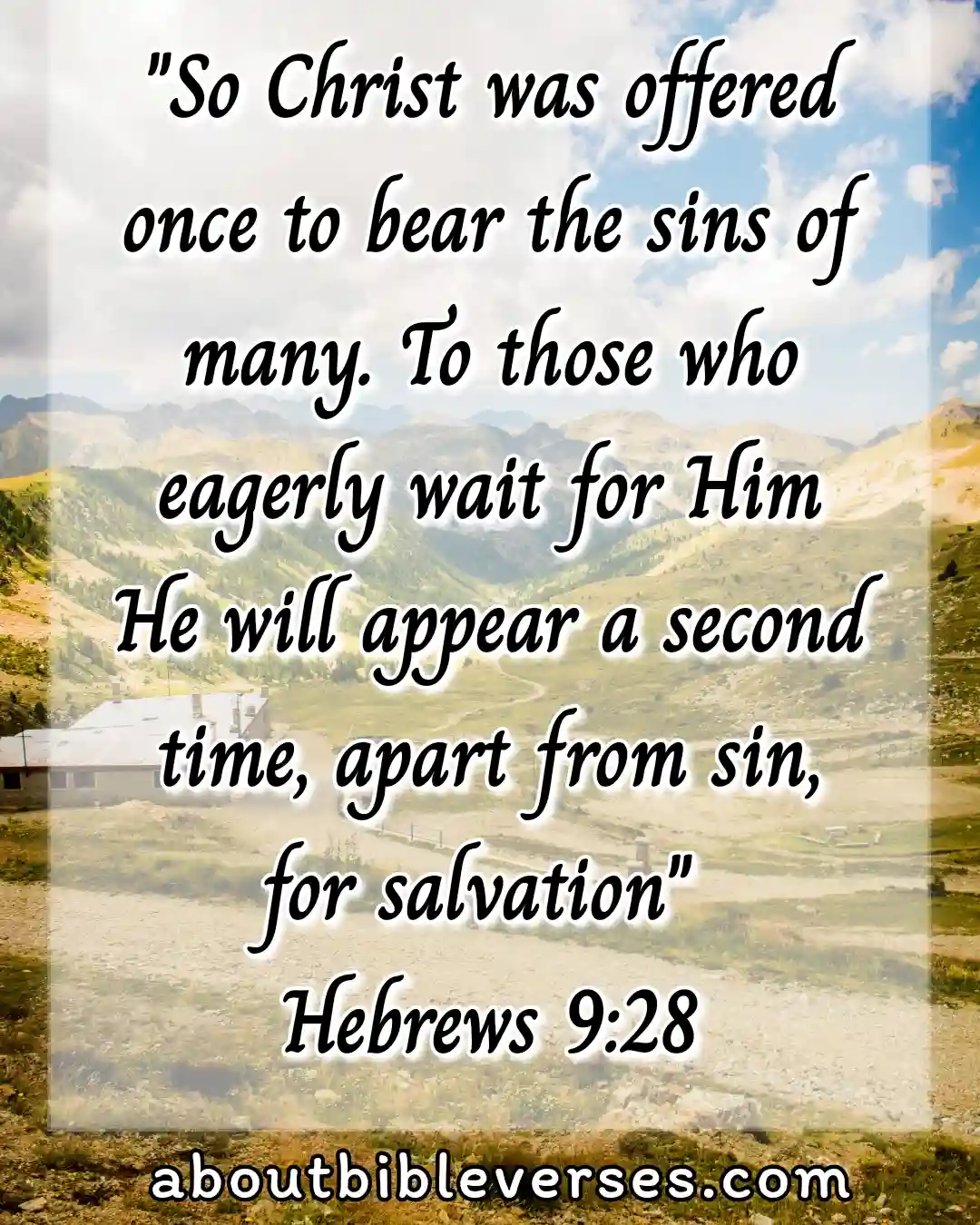 Hebrews 9:28(KJV)"So Christ was once offered to bear the sins of many; and unto them that look for him shall he appear the second time without sin unto salvation"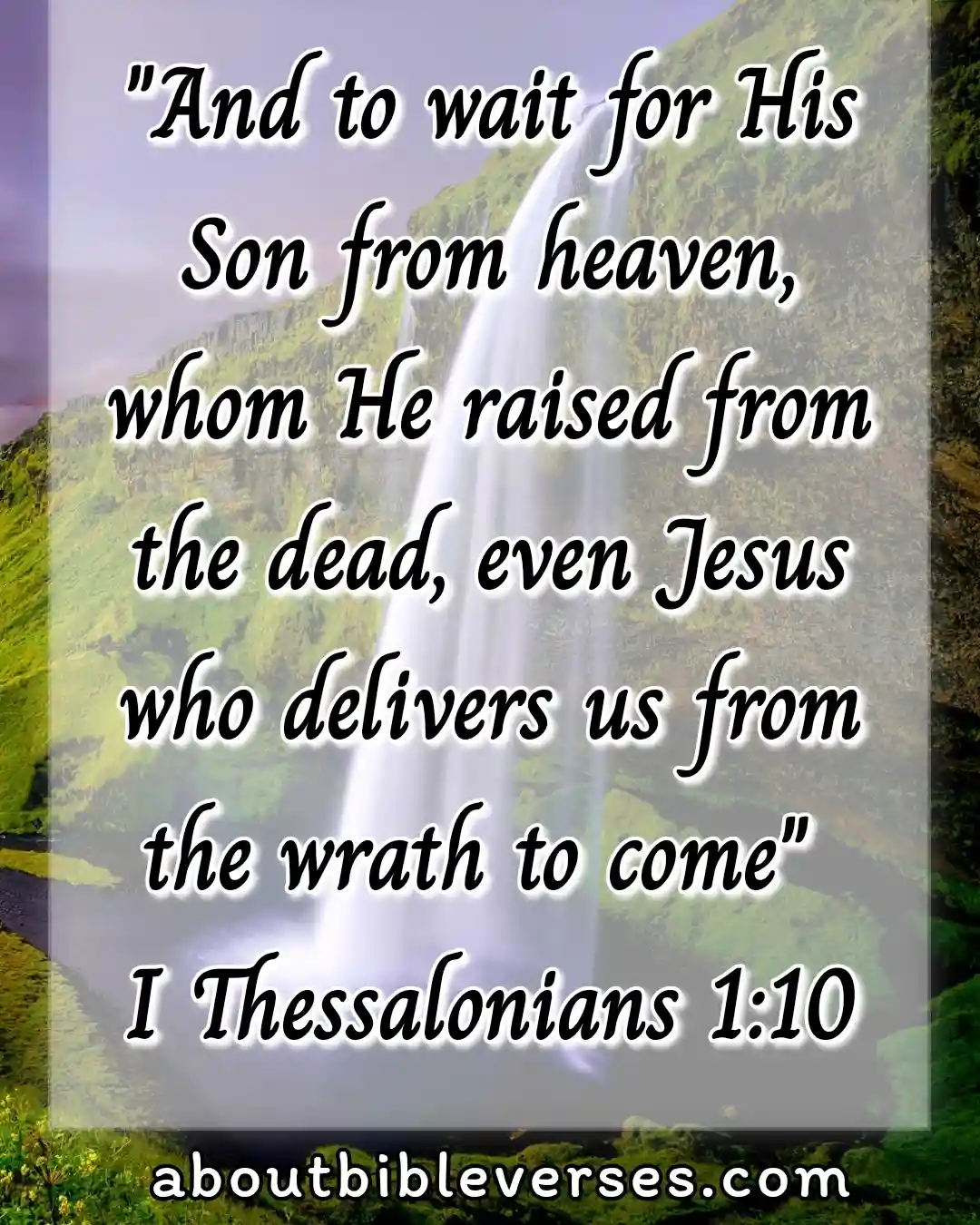 1 Thessalonians 1:10(KJV)"And to wait for his Son from heaven, whom he raised from the dead, even Jesus, which delivered us from the wrath to come"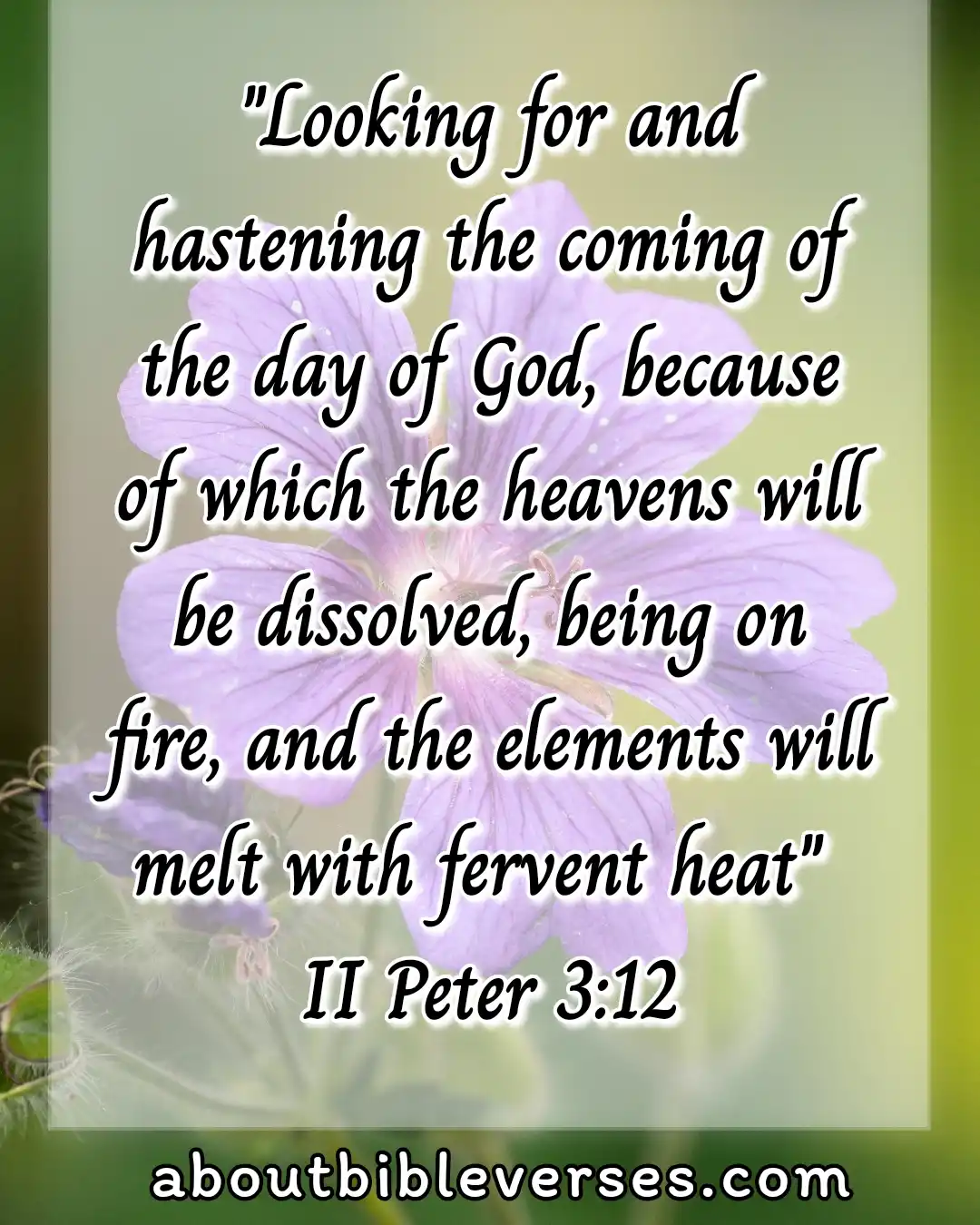 2 Peter 3:12(KJV)"Looking for and hasting unto the coming of the day of God, wherein the heavens being on fire shall be dissolved, and the elements shall melt with fervent heat"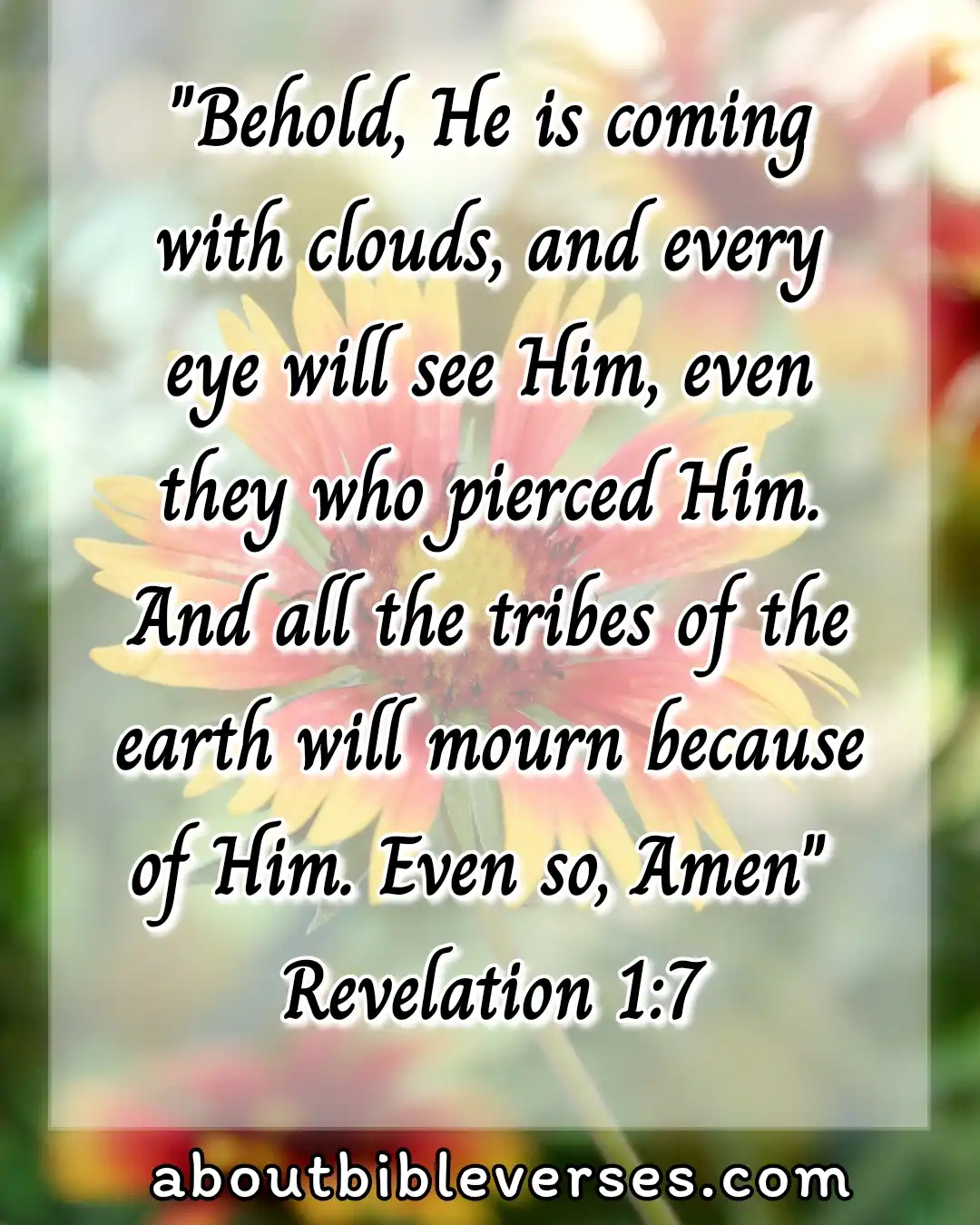 Revelation 1:7(KJV)"Behold, he cometh with clouds; and every eye shall see him, and they also which pierced him: and all kindreds of the earth shall wail because of him. Even so, Amen"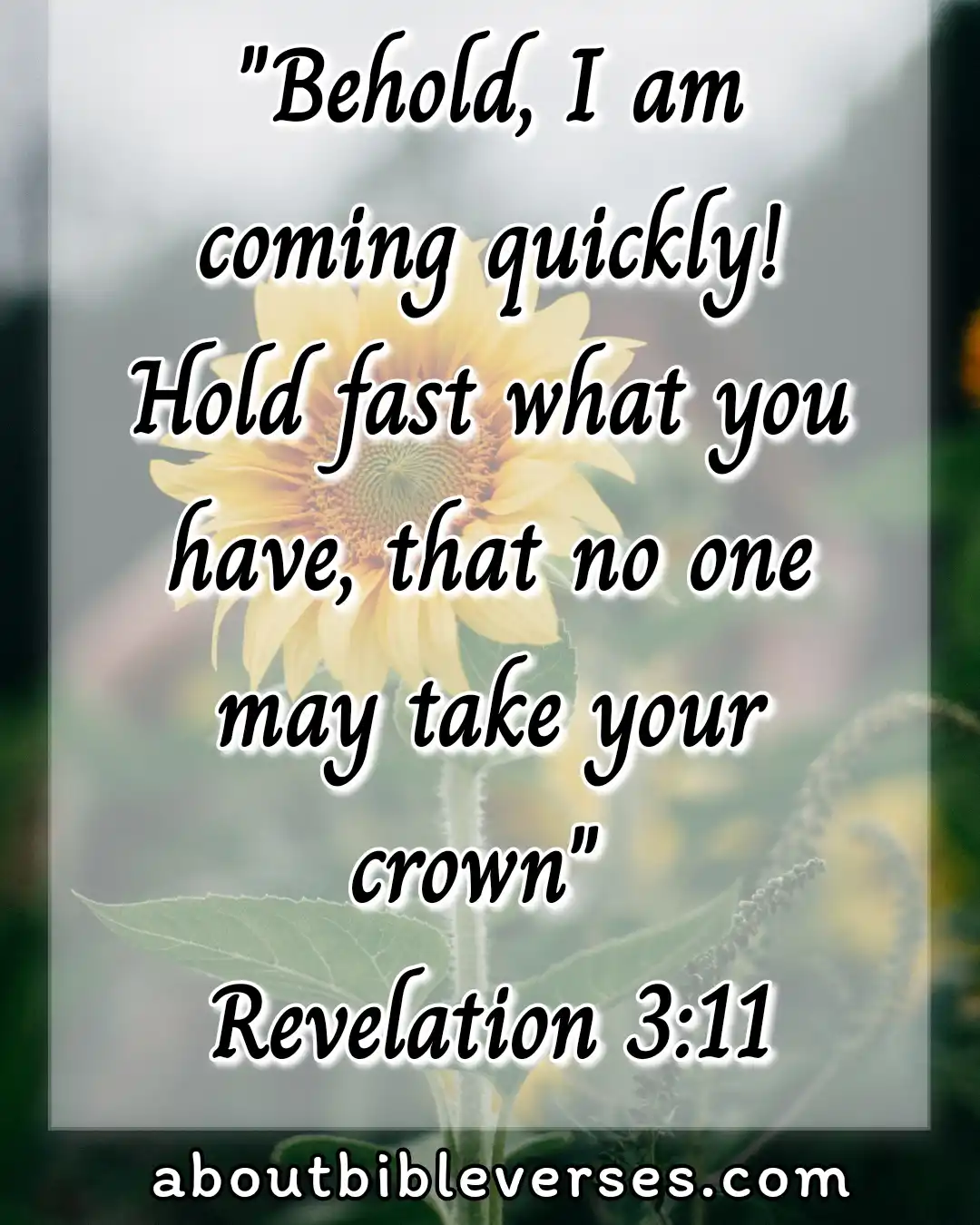 Revelation 3:11(KJV)"Behold, I come quickly: hold that fast which thou hast, that no man take thy crown"
Revelation 22:12(KJV)"And, behold, I come quickly; and my reward is with me, to give every man according as his work shall be"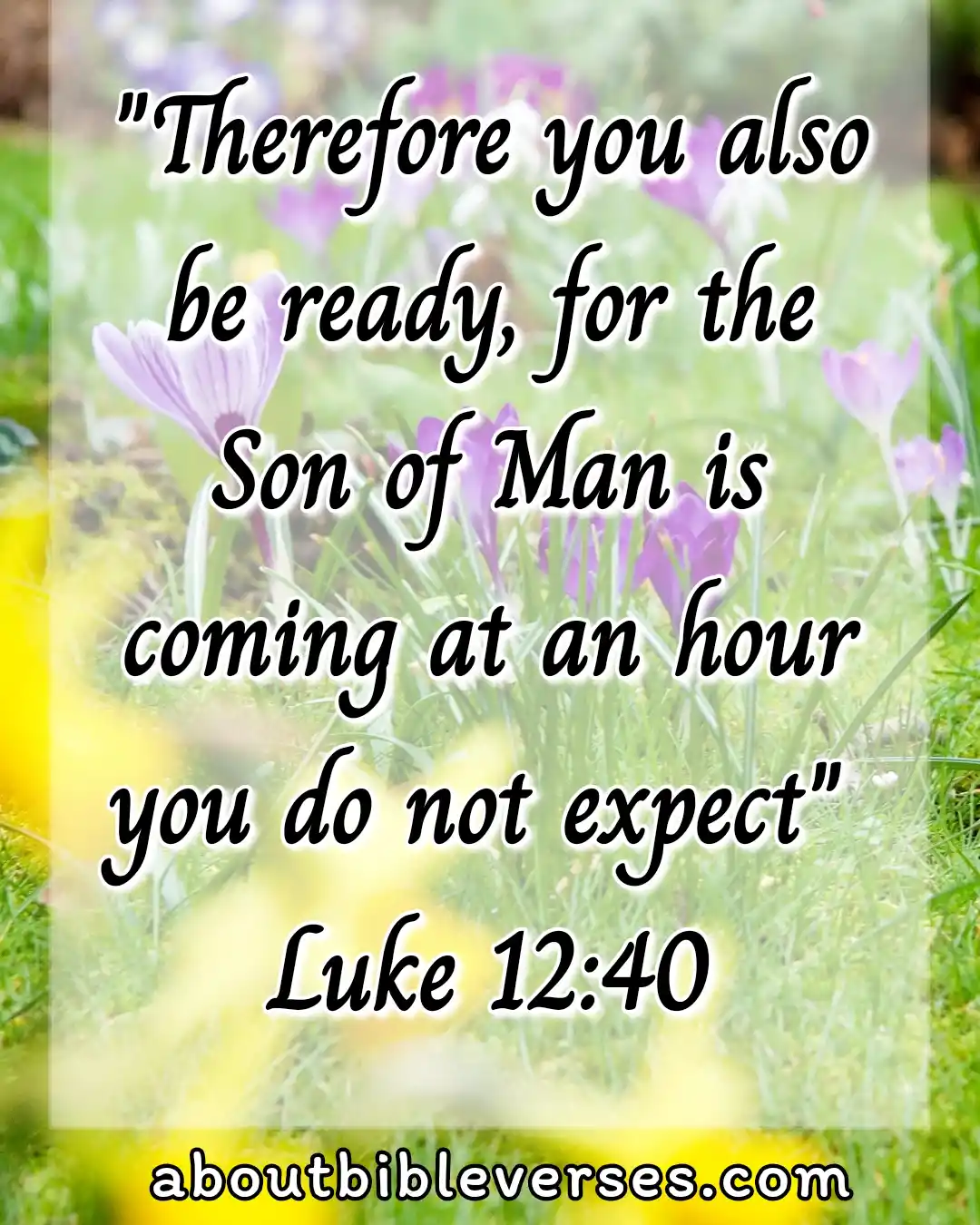 Luke 12:40(KJV)"Be ye therefore ready also: for the Son of man cometh at an hour when ye think not"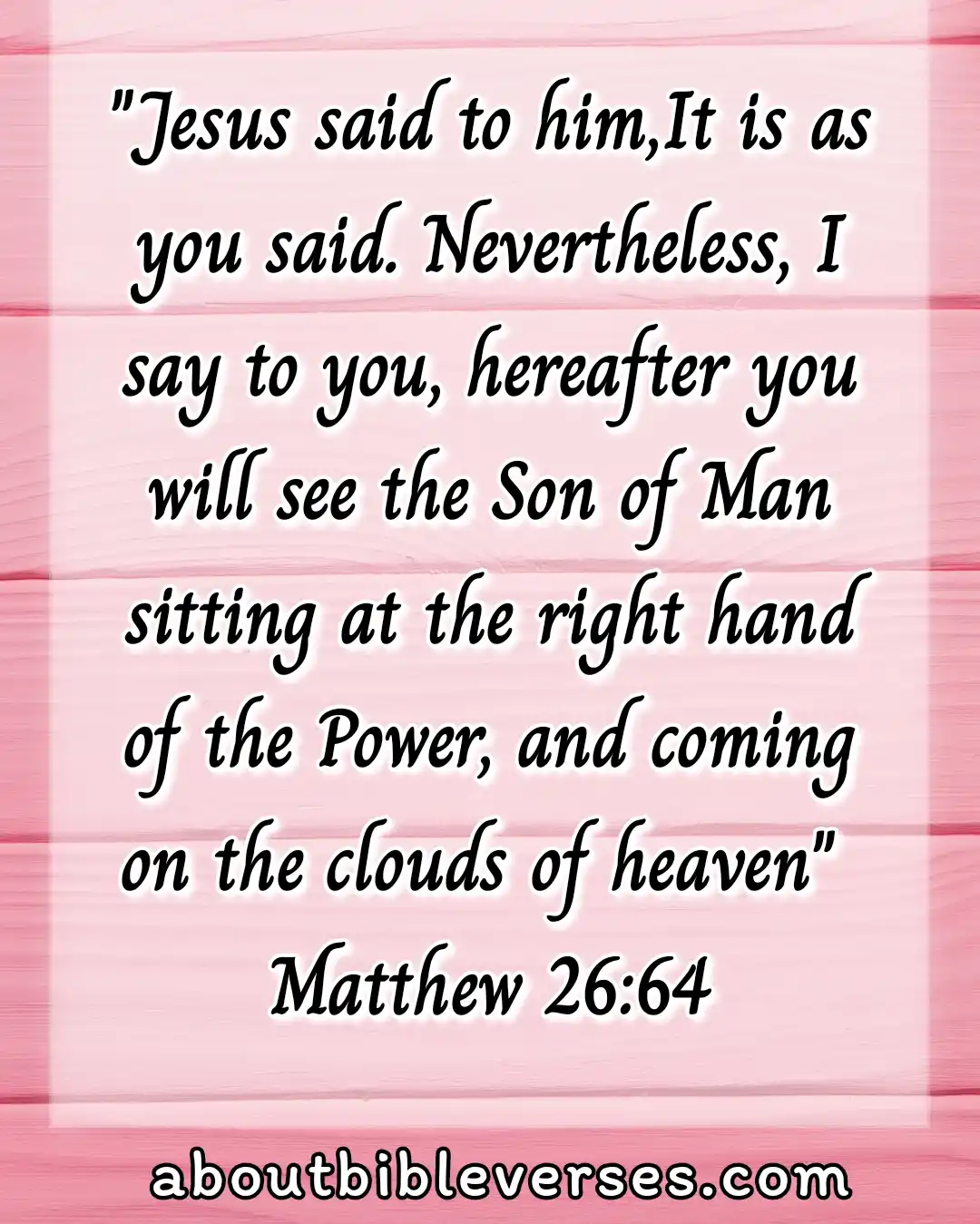 Matthew 26:64(KJV)"Jesus saith unto him, Thou hast said: nevertheless I say unto you, Hereafter shall ye see the Son of man sitting on the right hand of power, and coming in the clouds of heaven"
Matthew 24:42(KJV)"Watch therefore: for ye know not what hour your Lord doth come"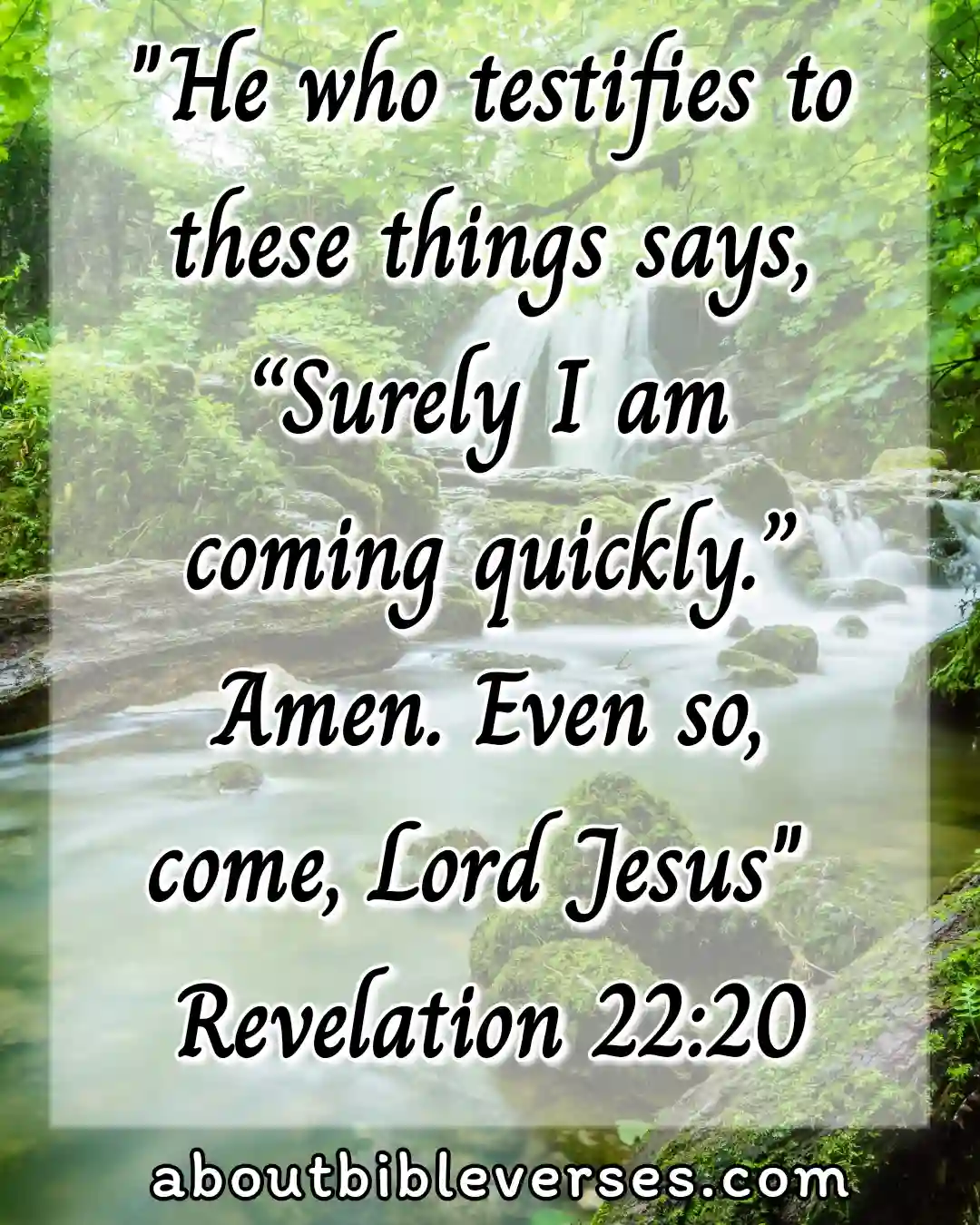 Revelation 22:20(KJV)"He which testifieth these things saith, Surely I come quickly. Amen. Even so, come, Lord Jesus"
bible verses about signs of the second coming
4 And Jesus answered and said unto them, Take heed that no man deceive you.
5 For many shall come in my name, saying, I am Christ; and shall deceive many.
6 And ye shall hear of wars and rumors of wars: see that ye be not troubled: for all these things must come to pass, but the end is not yet.
7 For nation shall rise against nation, and kingdom against kingdom: and there shall be famines, and pestilences, and earthquakes, in divers places.
8 All these are the beginning of sorrows.
9 Then shall they deliver you up to be afflicted, and shall kill you: and ye shall be hated of all nations for my name's sake.
10 And then shall many be offended, and shall betray one another, and shall hate one another.
11 And many false prophets shall rise, and shall deceive many.
12 And because iniquity shall abound, the love of many shall wax cold.
13 But he that shall endure unto the end, the same shall be saved.
14 And this gospel of the kingdom shall be preached in all the world for a witness unto all nations; and then shall the end come.
15 When ye, therefore, shall see the abomination of desolation, spoken of by Daniel the prophet, stand in the holy place, (whoso readeth, let him understand:)
16 Then let them which be in Judaea flee into the mountains:
17 Let him which is on the housetop not come down to take anything out of his house:
18 Neither let him which is in the field return back to take his clothes.
19 And woe unto them that are with child, and to them that give suck in those days!
20 But pray ye that your flight is not in the winter, neither on the sabbath day:
21 For then shall be great tribulation, such as was not since the beginning of the world to this time, no, nor ever shall be.
22 And except those days should be shortened, there should no flesh be saved: but for the elect's sake, those days shall be shortened.
23 Then if any man shall say unto you, Lo, here is Christ, or there; believe it not.
24 For there shall arise false Christs, and false prophets, and shall shew great signs and wonders; insomuch that, if it were possible, they shall deceive the very elect.
25 Behold, I have told you before.
26 Wherefore if they shall say unto you, Behold, he is in the desert; go not forth: behold, he is in the secret chambers; believe it not.
27 For as the lightning cometh out of the east, and shineth even unto the west, so shall also the coming of the Son of man be.
28 For wheresoever the carcass is, there will the eagles be gathered together.
29 Immediately after the tribulation of those days shall the sun be darkened, and the moon shall not give her light, and the stars shall fall from heaven, and the powers of the heavens shall be shaken:
30 And then shall appear the sign of the Son of man in heaven: and then shall all the tribes of the earth mourn, and they shall see the Son of man coming in the clouds of heaven with power and great glory.
31 And he shall send his angels with a great sound of a trumpet, and they shall gather together his elect from the four winds, from one end of heaven to the other.
32 Now learn a parable of the fig tree; When his branch is yet tender, and putteth forth leaves, ye know that summer is nigh:
33 So likewise ye, when ye shall see all these things, know that it is near, even at the doors.
34 Verily I say unto you, This generation shall not pass, till all these things are fulfilled.
35 Heaven and earth shall pass away, but my words shall not pass away.
36 But of that day and hour knoweth no man, no, not the angels of heaven, but my Father only.
37 But as the days of Noah were, so shall also the coming of the Son of man be.
38 For as in the days that were before the flood they were eating and drinking, marrying and giving in marriage, until the day that Noe entered into the ark,
39 And knew not until the flood came, and took them all away, so shall also the coming of the Son of man be.
40 Then shall two be in the field; the one shall be taken, and the other left.
41 Two women shall be grinding at the mill; the one shall be taken, and the other left.
42 Watch therefore: for ye know not what hour your Lord doth come.
43 But know this, that if the goodman of the house had known in what watch the thief would come, he would have watched, and would not have suffered his house to be broken up.
44 Therefore be ye also ready: for in such an hour as ye think not the Son of man cometh.