To know the consequence of judging others, let us see the Bible verses about judging, As the Lord will judge us according to our works.
The Lord has created this universe with a plan. Due to Adam's disobedience, sin entered the world and corrupted the entire human being. Sinful nature is active in us till today. Often we judge others when they make some mistakes.
We forget that one day we have to stand before the judgment. Jesus came on this earth to give us salvation so that we can live with him forever. The Bible reminds us that one day we all have to stand before the judgment of the Lord. If we judge others we have to pay in return because the Lord is looking at us every time.
The judgment of the Lord is based upon the truth. We have to keep in mind that the Lord will not forgive at that time. If you do not take it seriously one day we have to suffer for our judgment towards others. The Bible strictly warns us that after our physical death we have to face the judgment which will lead us into eternal destiny.
This is the grace period where we are living today but after the end of this world, Jesus himself will judge us. The Lord has shown his mercy but he will be furious on the day of judgment.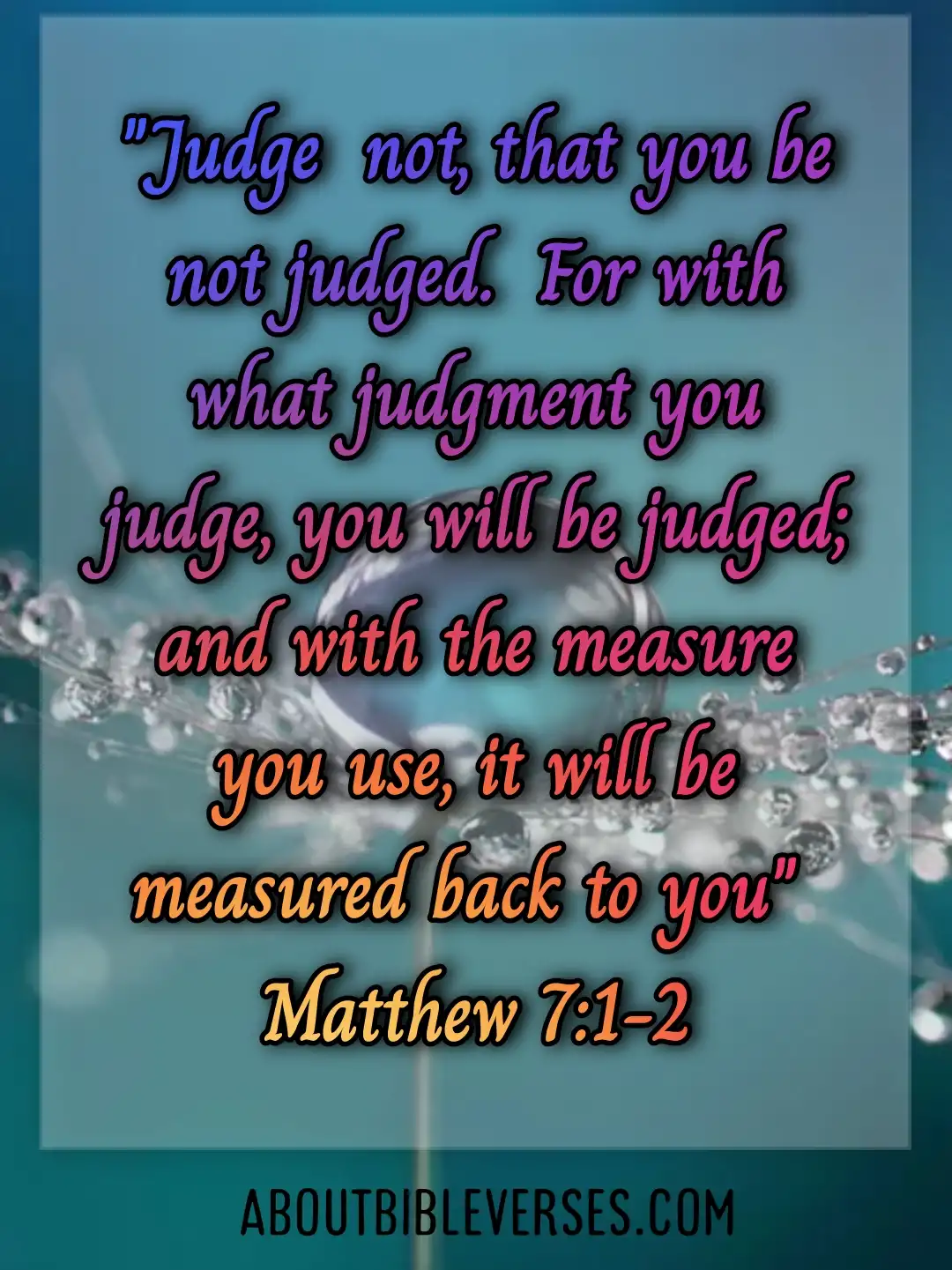 Matthew 7:1-2(KJV)"Judge not, that ye be not judged.For with what judgment ye judge, ye shall be judged: and with what measure ye mete, it shall be measured to you again"
Explanation:- Jesus warned us not to judge others because we all have to stand in front of his judgment. We should have love in our hearts to forgive others as Jesus himself forgives us from our sins.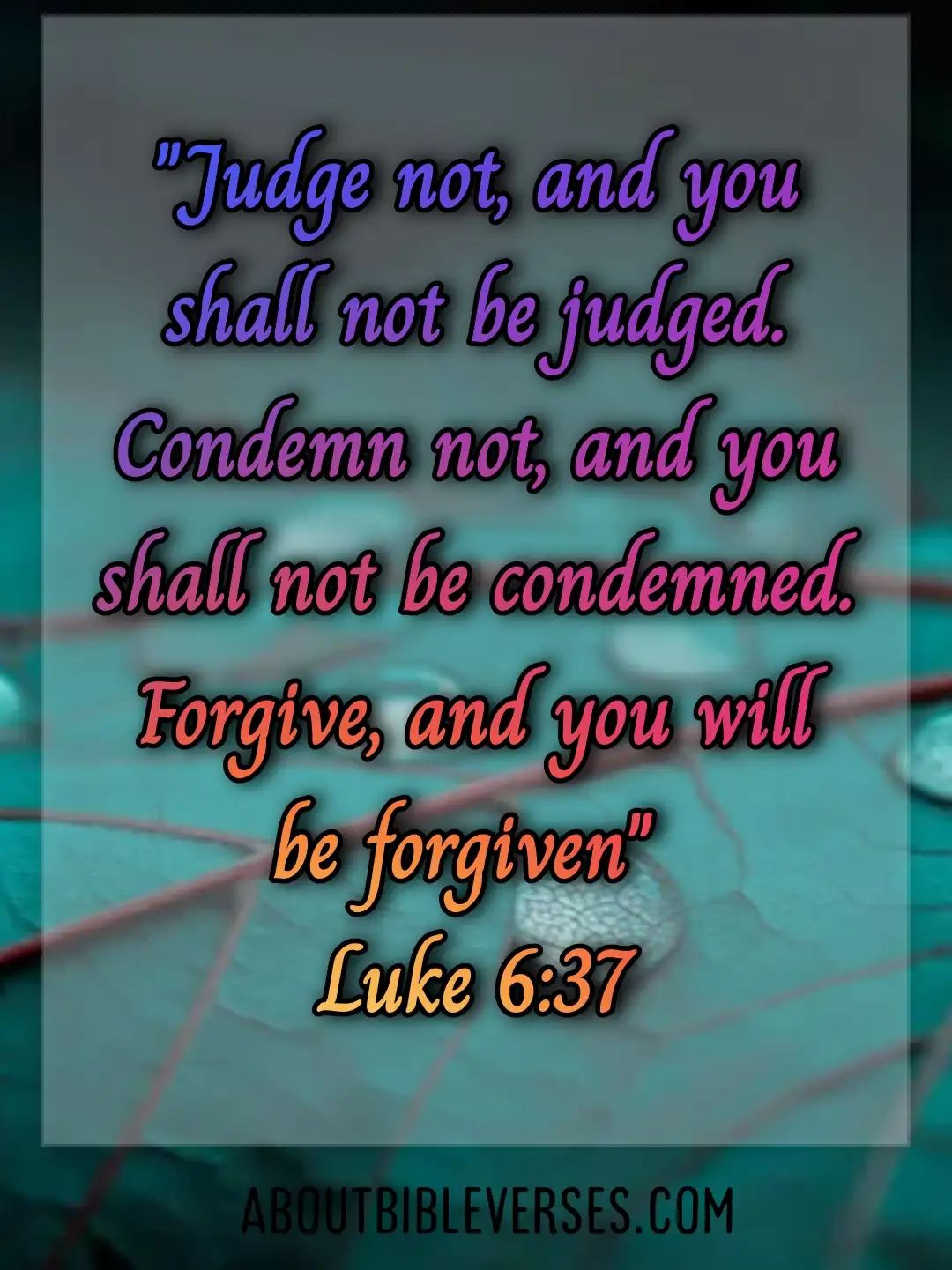 Luke 6:37(KJV)"Judge not, and ye shall not be judged: condemn not, and ye shall not be condemned: forgive, and ye shall be forgiven"
Explanation:- We are the citizens of heaven so as long as we will be on this earth we must not judge others. Because we are here to fulfill the will of God by living a Christ-centric life. Jesus taught us not to give punishment to anyone because he had shown us mercy while we were sinners.
Matthew 6:14-15(KJV)"For if ye forgive men their trespasses, your heavenly Father will also forgive you,But if ye forgive not men their trespasses, neither will your Father forgive your trespasses"
Explanation:- The Bible tells us that we should not remember what people had done to us. Instead of that, we have to forgive them. Jesus told us to love one another. If we love people then we will be able to forget their evil deeds too.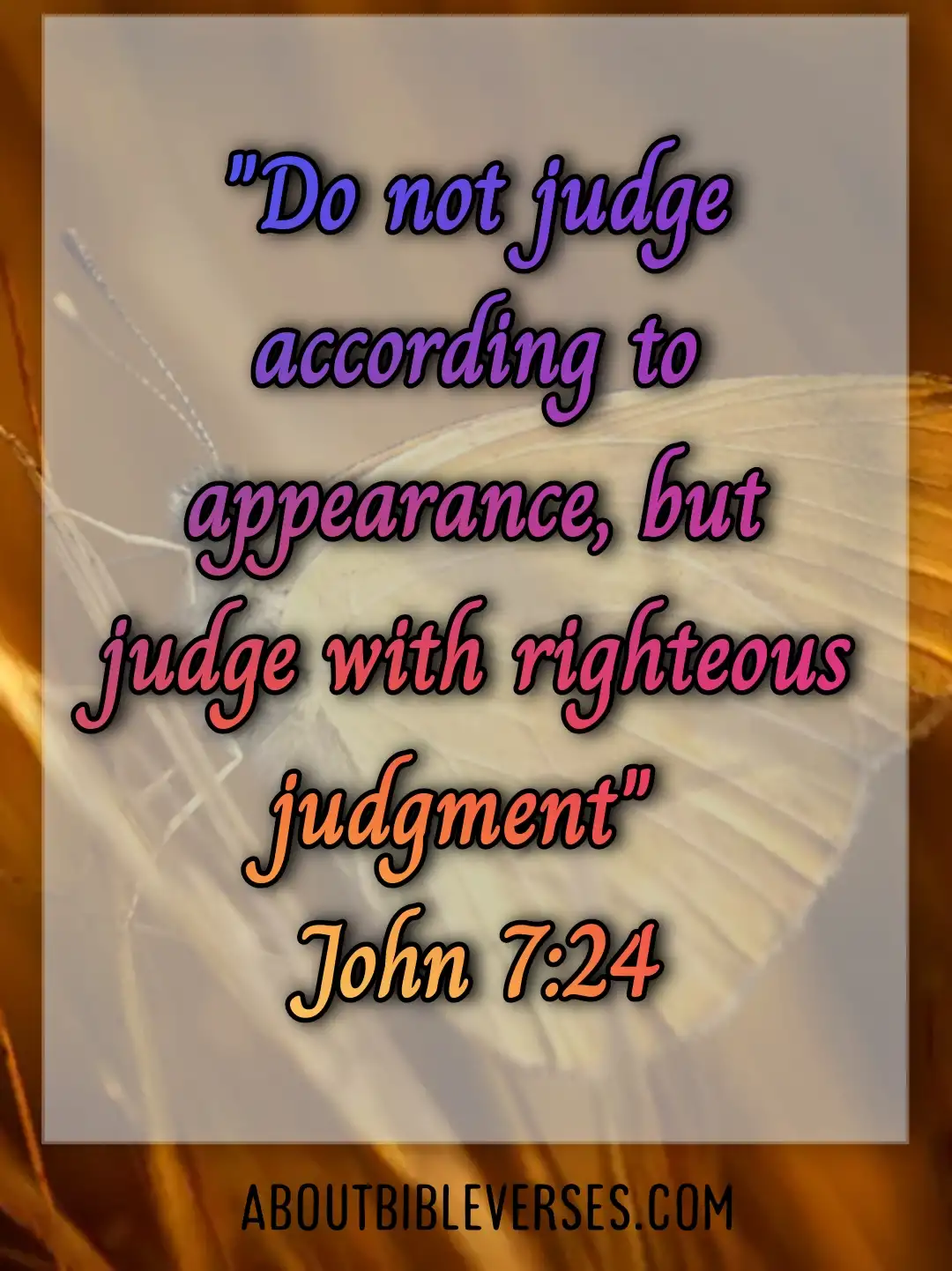 John 7:24(KJV)"Judge not according to the appearance, but judge righteous judgment"
Explanation:- The Jews were not satisfied with the miracle of Jesus that he has done on the Sabbath day. Jesus told them not to judge people but to understand their situation. That time they had gone away from the Lord but they followed all the rituals.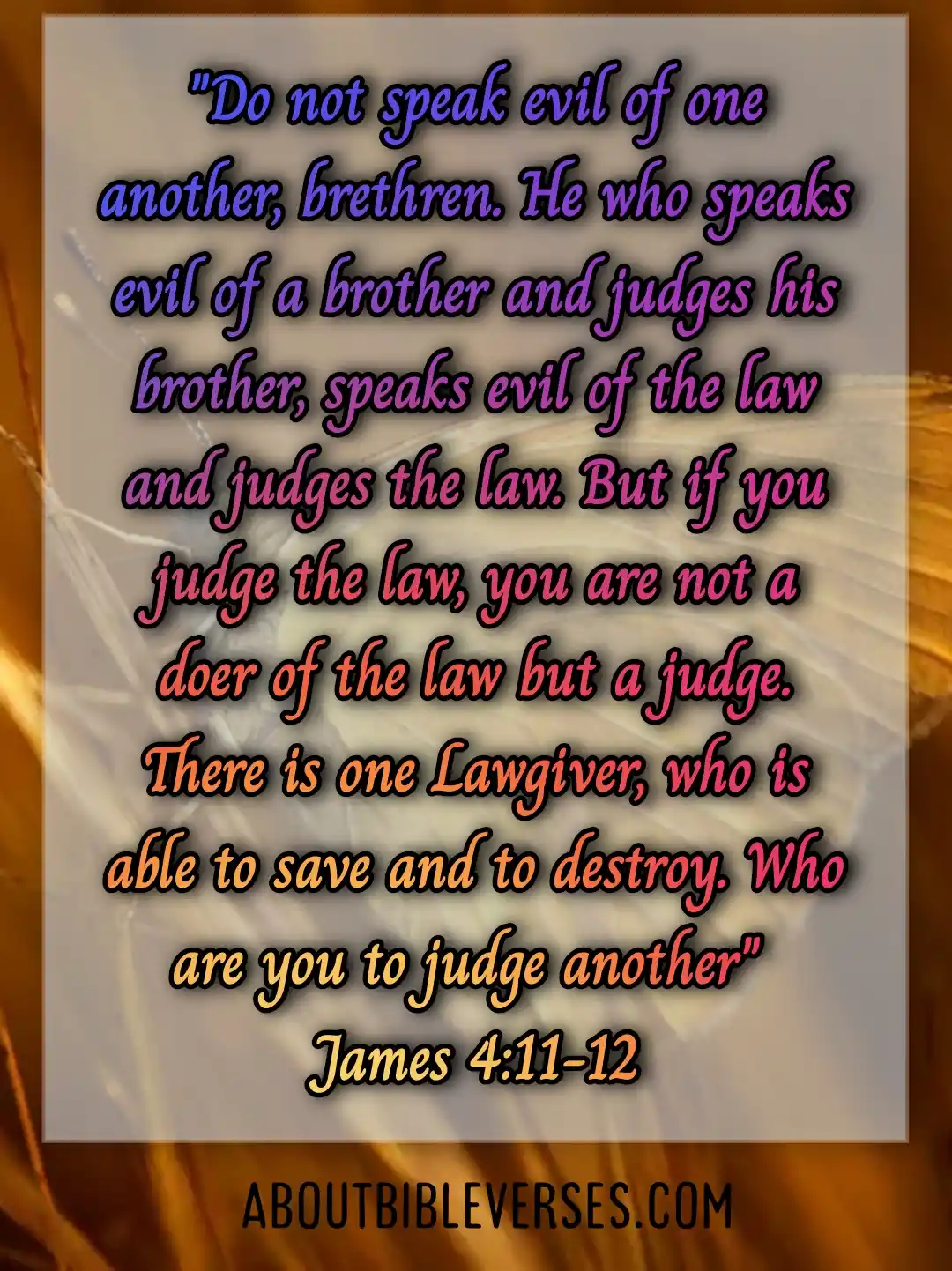 James 4:11 – 12(KJV)"Speak not evil one of another, brethren. He that speaketh evil of his brother, and judgeth his brother, speaketh evil of the law, and judgeth the law: but if thou judge the law, thou art not a doer of the law, but a judge.There is one lawgiver, who is able to save and to destroy: who art thou that judgest another"
Explanation:- The book of James tells us to be a doer. There are many Christians who just hear the word of God but they never live according to the scriptures. He warned us not to judge our brother who had failed to obey the teachings of the Lord. We should not judge them.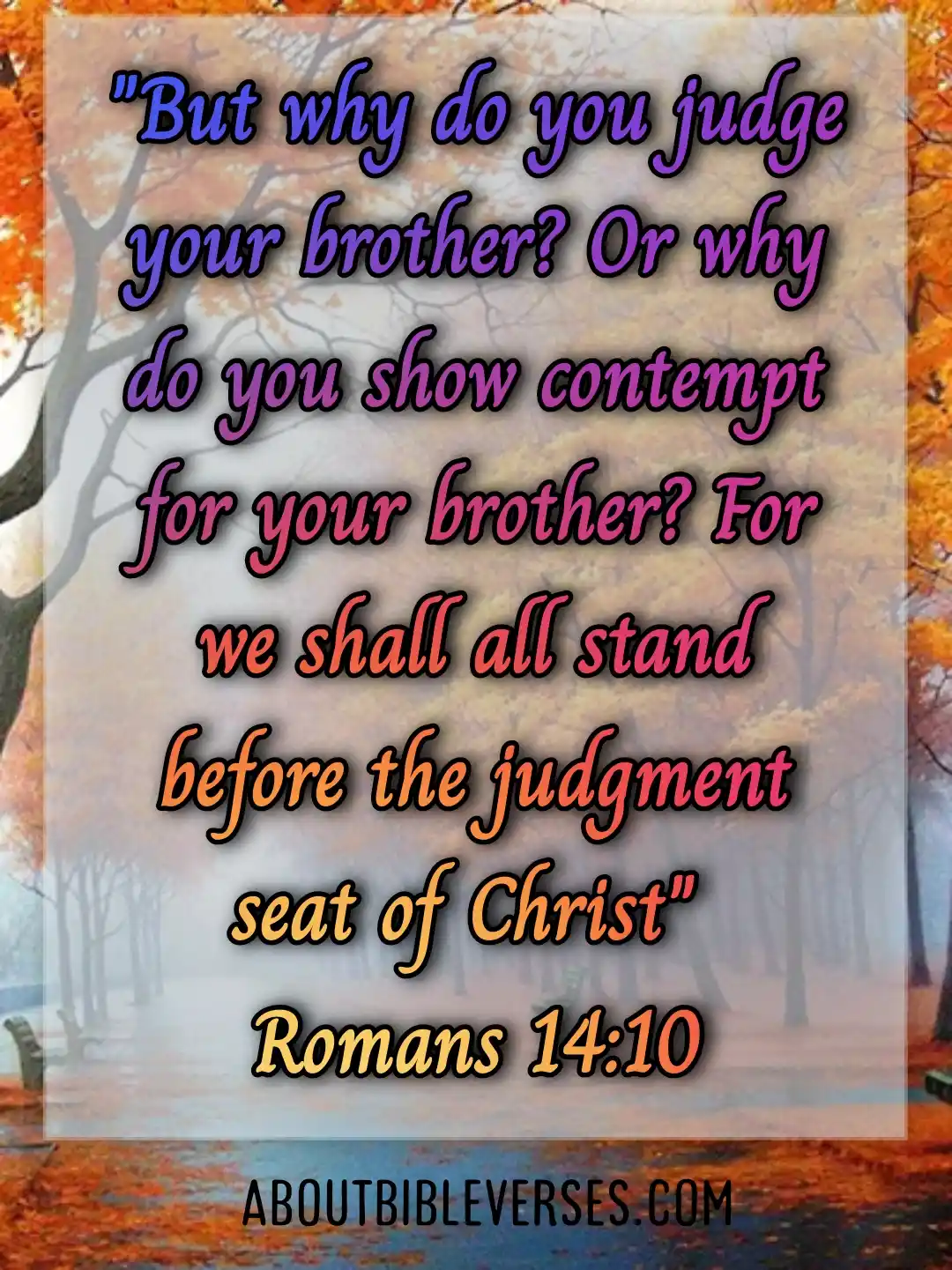 Romans 14:10(KJV)"But why dost thou judge thy brother? or why dost thou set at nought thy brother? for we shall all stand before the judgment seat of Christ"
Explanation:- The Bible tells us that once we have to die then we will stand before the judgment of the Lord. This world is not our permanent home. After this world, we will be in hell or heaven. The Lord himself will judge us according to our deeds on the earth.
Proverbs 31:9(KJV)"Open thy mouth, judge righteously, and plead the cause of the poor and needy"
Explanation:- There are many people who try to please rich men. They forget that one day they will have to stand before the judgment. God created the poor and rich, so he will judge everyone.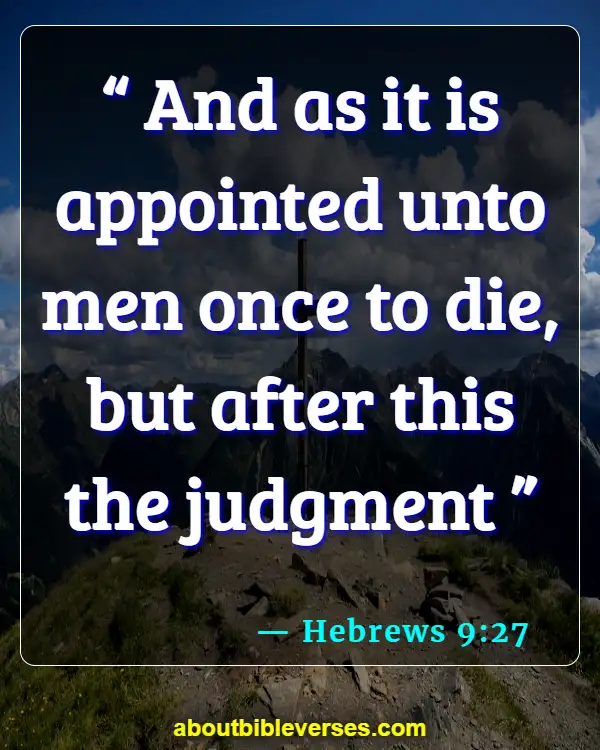 Hebrews 9:27(KJV)"And as it is appointed unto men once to die, but after this the judgment"
Explanation :- Once we have to go through physical death on this earth. None can escape from that. After the first death, we all will stand before the Lord for the final judgment. That will lead us into our eternity.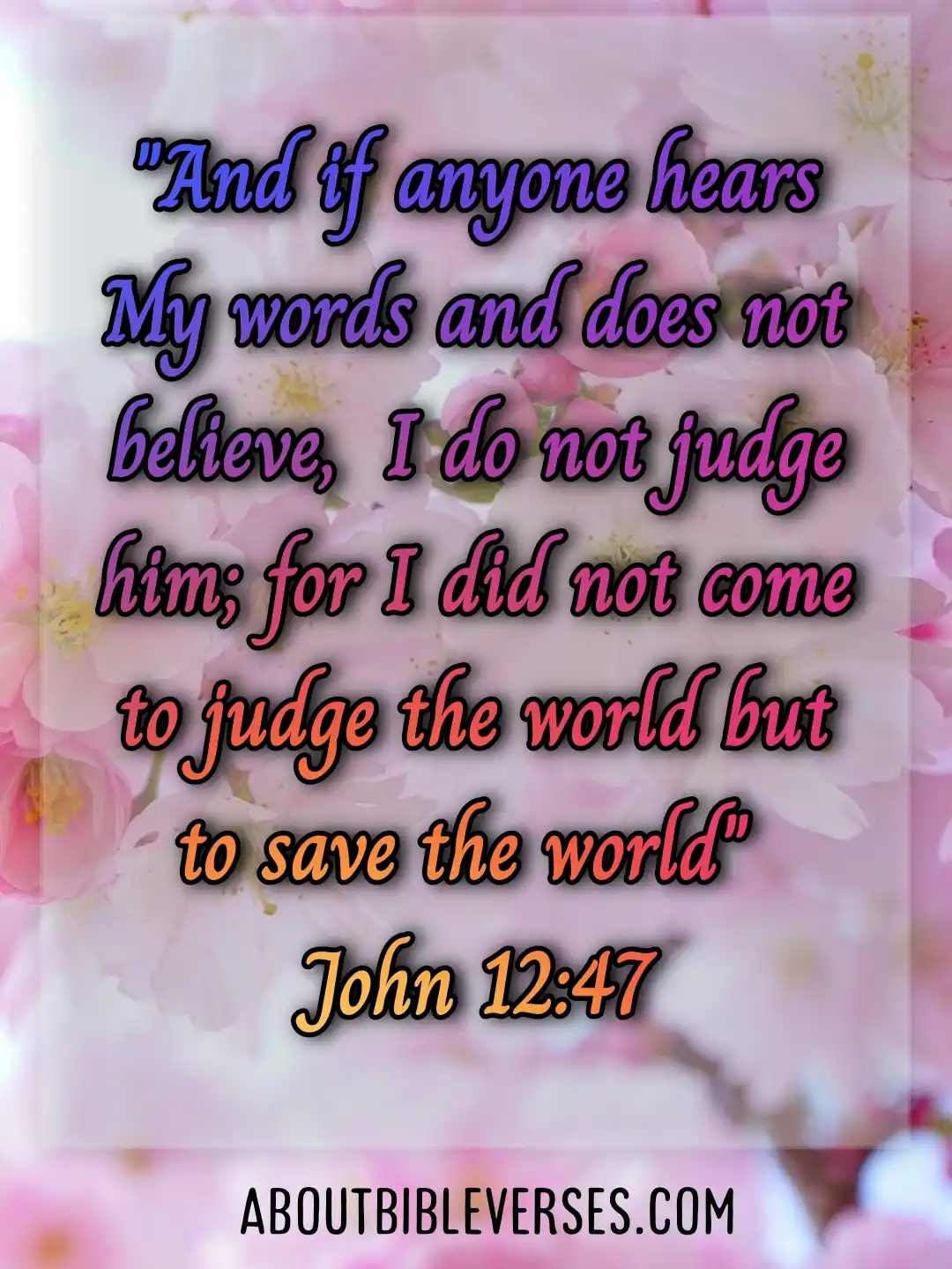 John 12:47(KJV)"And if any man hear my words, and believe not, I judge him not: for I came not to judge the world, but to save the world"
Explanation :- Jesus said that he came on this earth not to judge but to give us salvation by shedding his precious blood on the cross. In this time the Lord shows his mercy so that we can repent for our sins. But on judgment day he will show his other face.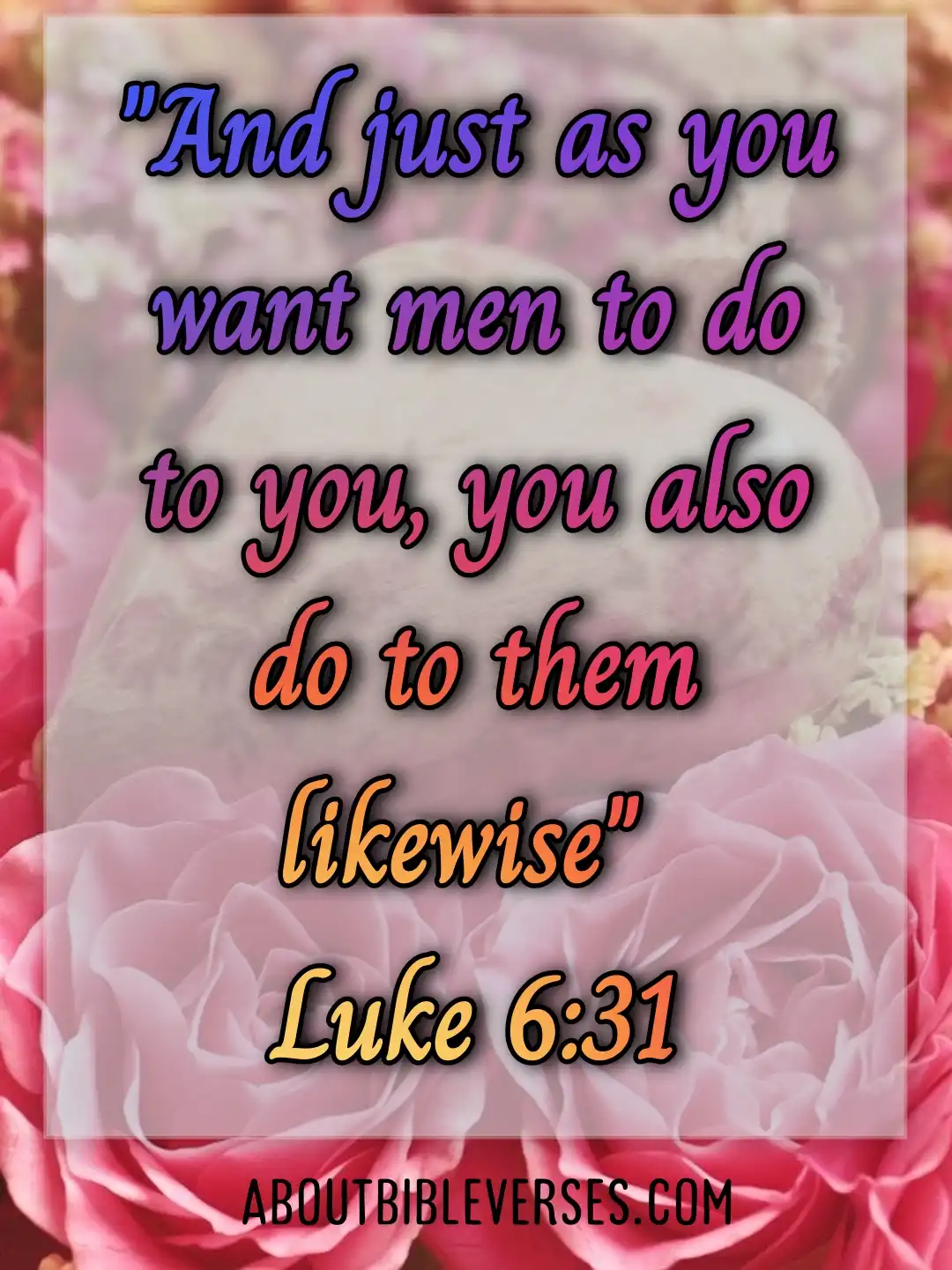 Luke 6:31(KJV)"And as ye would that men should do to you, do ye also to them likewise"
Explanation:- We wish that people should treat us well but on the other hand, we treat them the opposite. We should behave nicely towards others and if we are able to do so then we will receive that.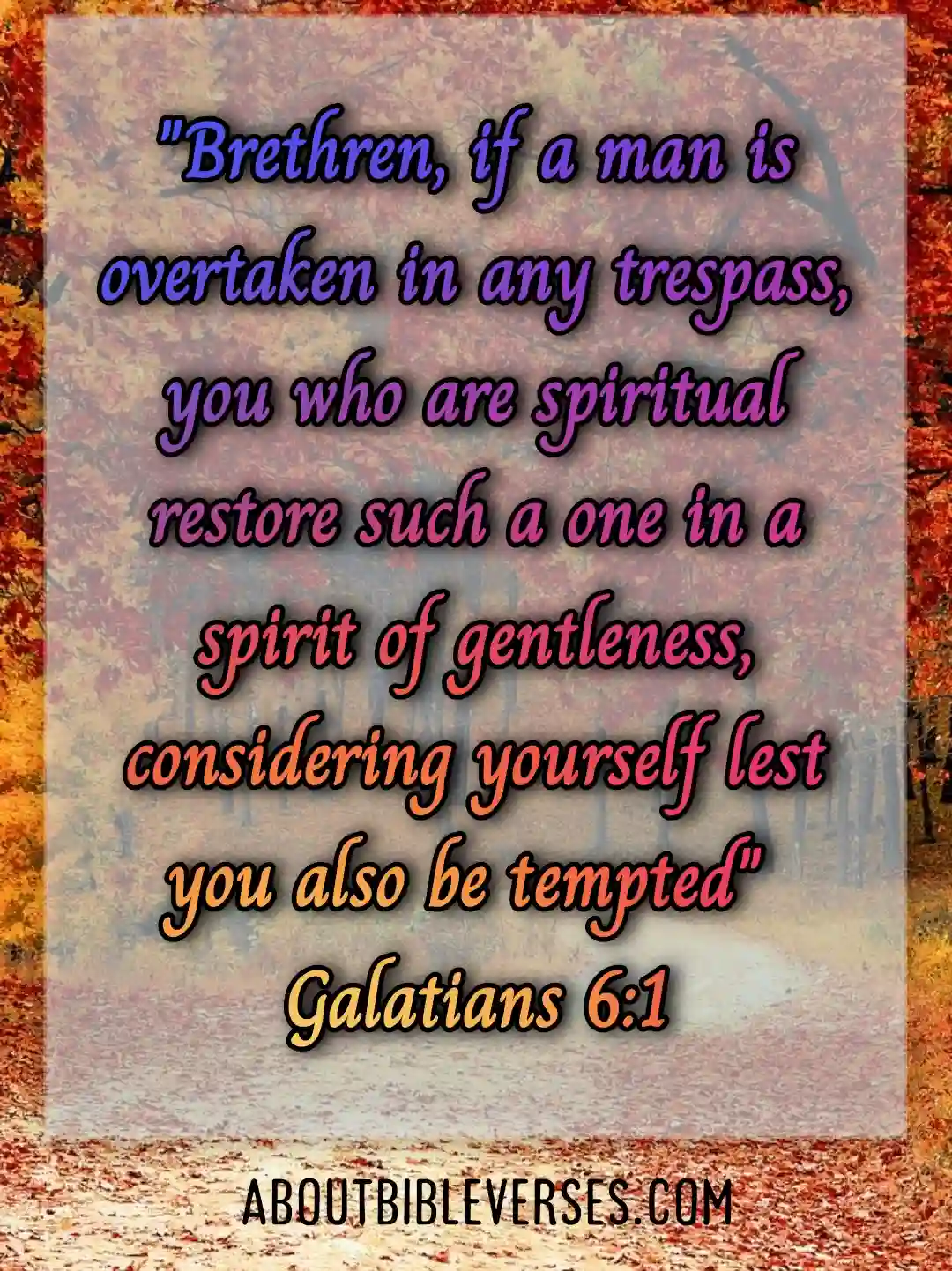 Galatians 6:1(KJV)"Brethren, if a man be overtaken in a fault, ye which are spiritual, restore such an one in the spirit of meekness; considering thyself, lest thou also be tempted"
Explanation:- If anyone makes some mistake, then we should handle him with the teachings of the scriptures. We need to show him the mercy of the Lord. We should understand that we are on a spiritual battlefield and the devil is trying to destroy us. So, we all have to treat each other spiritually.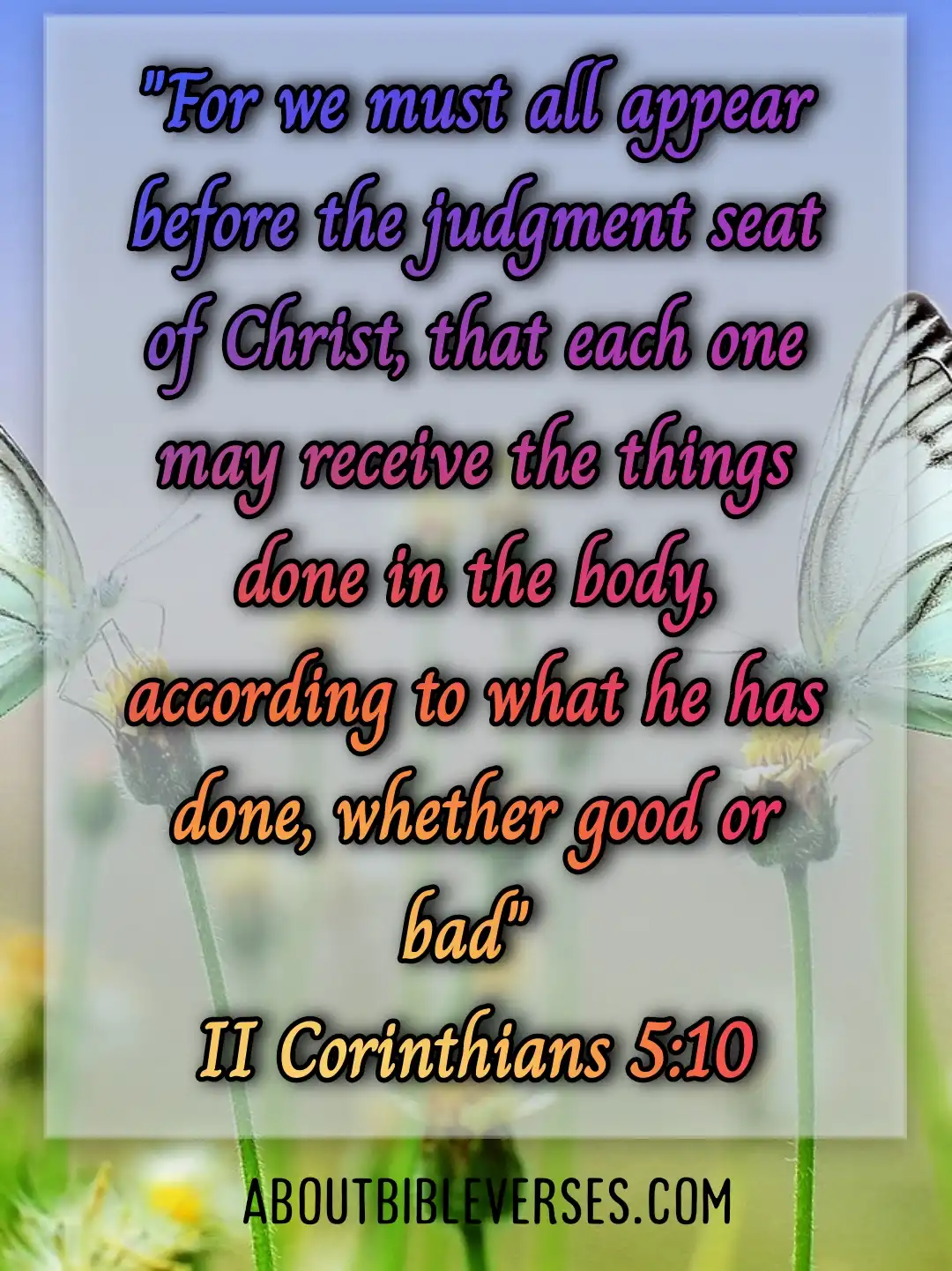 2 Corinthians 5:10(KJV)"For we must all appear before the judgment seat of Christ; that every one may receive the things done in his body, according to that he hath done, whether it be good or bad"
Explanation:- This is very serious that we all will have to stand before the judgment of the Lord. We might do good or evil but the Lord will give us the reward according to every single deed that we are doing now. People may not see our hidden works but, the Lord is observing us all the time.
Leviticus 19:15(KJV)"Ye shall do no unrighteousness in judgment: thou shalt not respect the person of the poor, nor honor the person of the mighty: but in righteousness shalt thou judge thy neighbour"
Explanation:- We have to judge people according to the righteousness of the Lord. We must care for the poor and needy. If we only take care of the rich then we will receive the reward from the Lord. Because he will give us the punishment according to our deeds.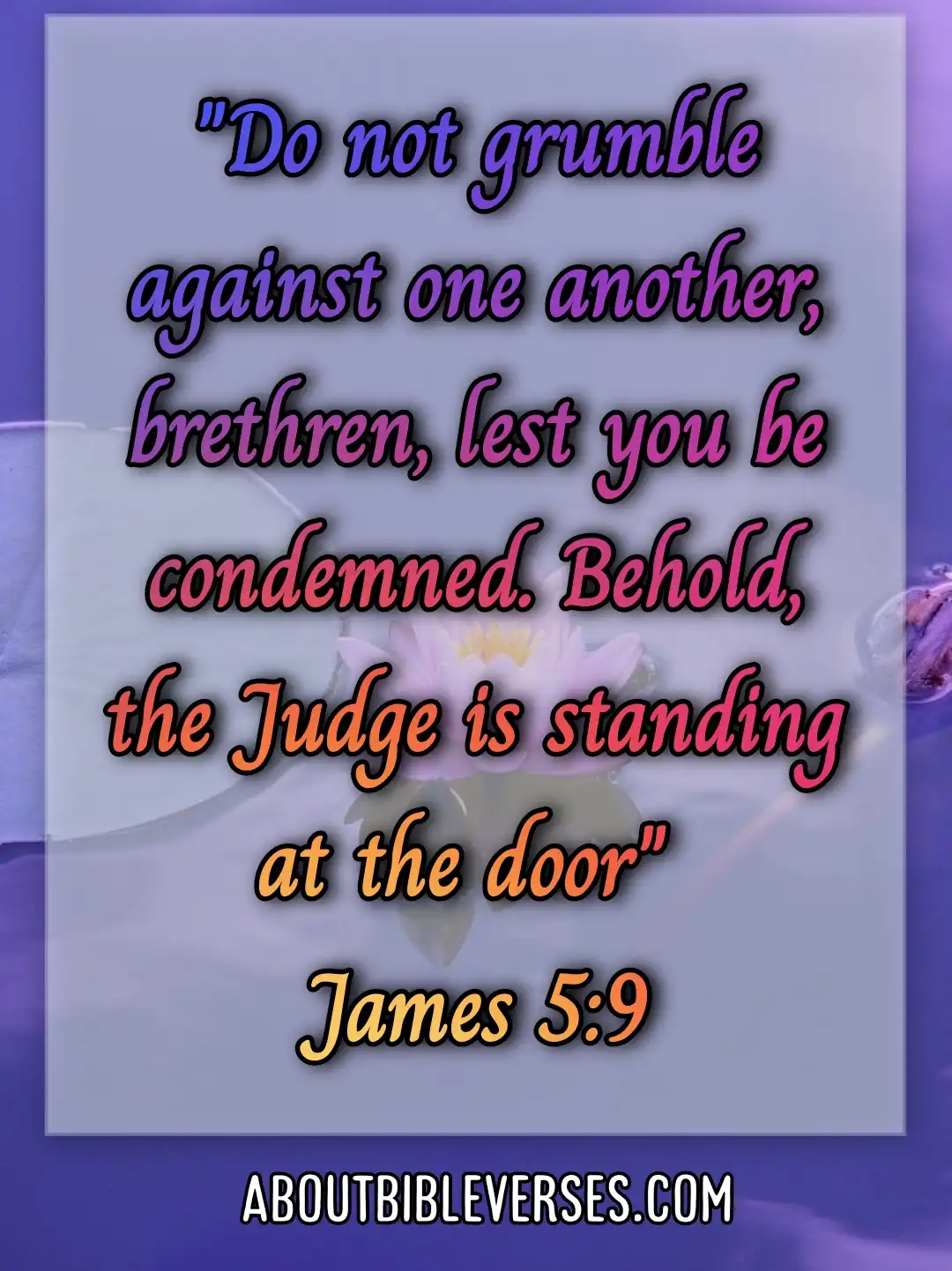 James 5:9(KJV) "Grudge not one against another, brethren, lest ye be condemned: behold, the judge standeth before the door"
Explanation:- We are here not to judge people because it's not in our hands. If we judge people from our perspective then we have to face the same judgment on the last day. So, we all have to be careful in our speech and action.
1 Corinthians 4:5(KJV)"Therefore judge nothing before the time, until the Lord come, who both will bring to light the hidden things of darkness, and will make manifest the counsels of the hearts: and then shall every man have praise of God"
Explanation:- The Lord knows the hearts of righteous and evil. He warned us not to judge others because the judgment was laid upon the hands of the Lord. So, we should not judge people according to our knowledge.
More Bible Verses About Judging
Romans 2:1-3(KJV)"Therefore thou art inexcusable, O man, whosoever thou art that judgest: for wherein thou judgest another, thou condemnest thyself; for thou that judgest does the same things.But we are sure that the judgment of God is according to the truth against them which commit such things.And thinkest thou this, O man, that judgest them which do such things, and doest the same, that thou shalt escape the judgment of God?"
Explanation:- The scriptures tell us that we should be very careful while we deal with other people. The Bible tells us that we all are sinners. No one can ever claim that he is righteous. So, when one will judge another he must remember that he has to receive the same judgment. But the judgment of the Lord is different from us. He will judge us according to the truth. If we judge people to gain our benefits or to fulfill our desires then we have to be patient to receive the Lord's judgement.
Colossians 3:12-15(KJV)" Put on therefore, as the elect of God, holy and beloved, bowels of mercies, kindness, humbleness of mind, meekness, longsuffering;Forbearing one another, and forgiving one another, if any man have a quarrel against any: even as Christ forgave you, so also do ye.And above all these things put on charity, which is the bond of perfectness.And let the peace of God rule in your hearts, to the which also ye are called in one body; and be ye thankful"
Explanation:- We must take care of our actions and words because the Lord is looking at us all the time. We have to be meek, gentle, and humble in the sight of the Lord. At the same time, we have to submit ourselves to the Lord. To be a true Christian we need to put on Christ in our deeds. We should forgive others while they misbehave us. We all belong to one body and that is Christ so, instead of judging others, we have to forgive others.
John 8:7(KJV)"So when they continued asking him, he lifted up himself, and said unto them, He that is without sin among you, let him first cast a stone at her"
Explanation:- While the Jews were about to kill the woman whom they caught for her adultery. Jesus asked them to cast the stone who committed no sin. So all of them left the place instantly. This incident tells us that we are sinners and we should not judge others.
Galatians 5:14(KJV)"For all the law is fulfilled in one word, even in this; Thou shalt love thy neighbour as thyself"
Explanation:- Jesus gave a perfect example of love by sacrificing his life on the cross for the entire world. He also requires us to love one another. If we love others then we will have time to judge others.
Romans 14:1(KJV)"Him that is weak in the faith receive ye, but not to doubtful disputations"
Explanation:- We have to look after our fellow brothers who are weak in faith. Instead of judging their faults, we have to help them so that they can correct themselves.
1 Corinthians 6:2(KJV)"Do ye not know that the saints shall judge the world? and if the world shall be judged by you, are ye unworthy to judge the smallest matters?"
Explanation:- When the Lord Jesus will come on this earth, he will separate his followers from the unrighteous. At that time righteous men will judge the world. So, it is important for believers to be careful while judging others.
Matthew 18:15(KJV)"Moreover if thy brother shall trespass against thee, go and tell him his fault between thee and him alone: if he shall hear thee, thou hast gained thy brother"
Explanation:- If our brother makes some mistake then we must approach him alone. We have to make him understand his fault. If he listens then we will be able to win him.