Today, we'll be focusing on Bible verses about Resurrection and the Resurrection of Jesus in KJV. Jesus promises eternal life to those who trust in Him. He told His disciples about the hope of resurrection and a life continuing with Him forever. His followers, once doubtful about life beyond the grave, found unshakeable faith when they witnessed Jesus after His resurrection.
Many wonder about life beyond our earthly existence. Jesus assures us that by believing in Him, death becomes but a doorway. While Adam introduced sin into the world, Jesus, often referred to as the 'second Adam', offers us redemption. Sin entered humanity's story when Adam and Eve went against God's command, introducing mortality.
Scripture reminds us that we all fall short, deserving the consequences of our missteps. Yet, by embracing Jesus as our Savior, we're freed from the grip of sin. He sacrificed Himself on the cross, shielding us from God's rightful judgment.
Jesus teaches that resurrection awaits everyone. Even those who stray will be resurrected. But, those who walk beside Him and follow His teachings will find eternal joy in heaven.
Now, let's turn our hearts and eyes to the Bible passages below, reflecting on the profound truth of the Resurrection and the Resurrection of Jesus. If today's reflection touches your heart, please share your thoughts and spread the message.
---
Bible Verses About Resurrection of Jesus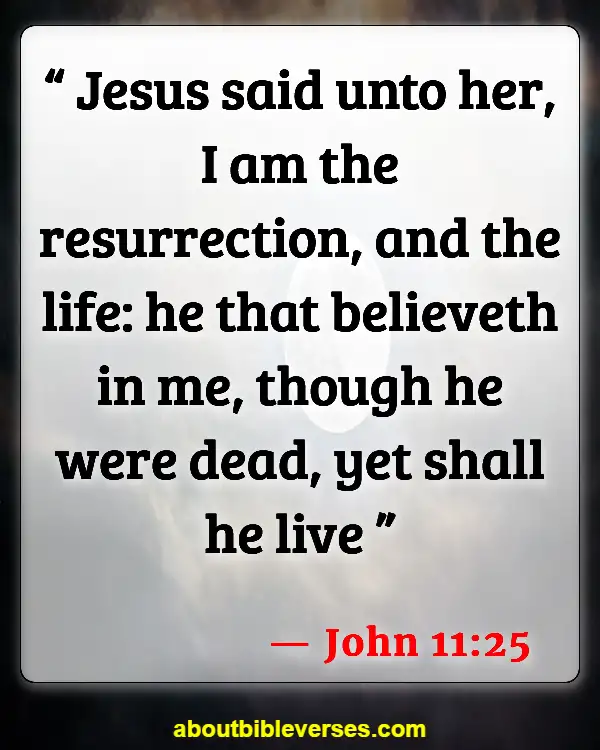 John 11:25(KJV) "Jesus said unto her, I am the resurrection, and the life: he that believeth in me, though he were dead, yet shall he live"
Explanation: In the midst of grief at Lazarus's passing, Martha expressed her unwavering faith in Jesus. It was then that Jesus profoundly declared Himself as the essence of life and resurrection. This serves as a gentle reminder that through belief in Him, eternal life is a promise.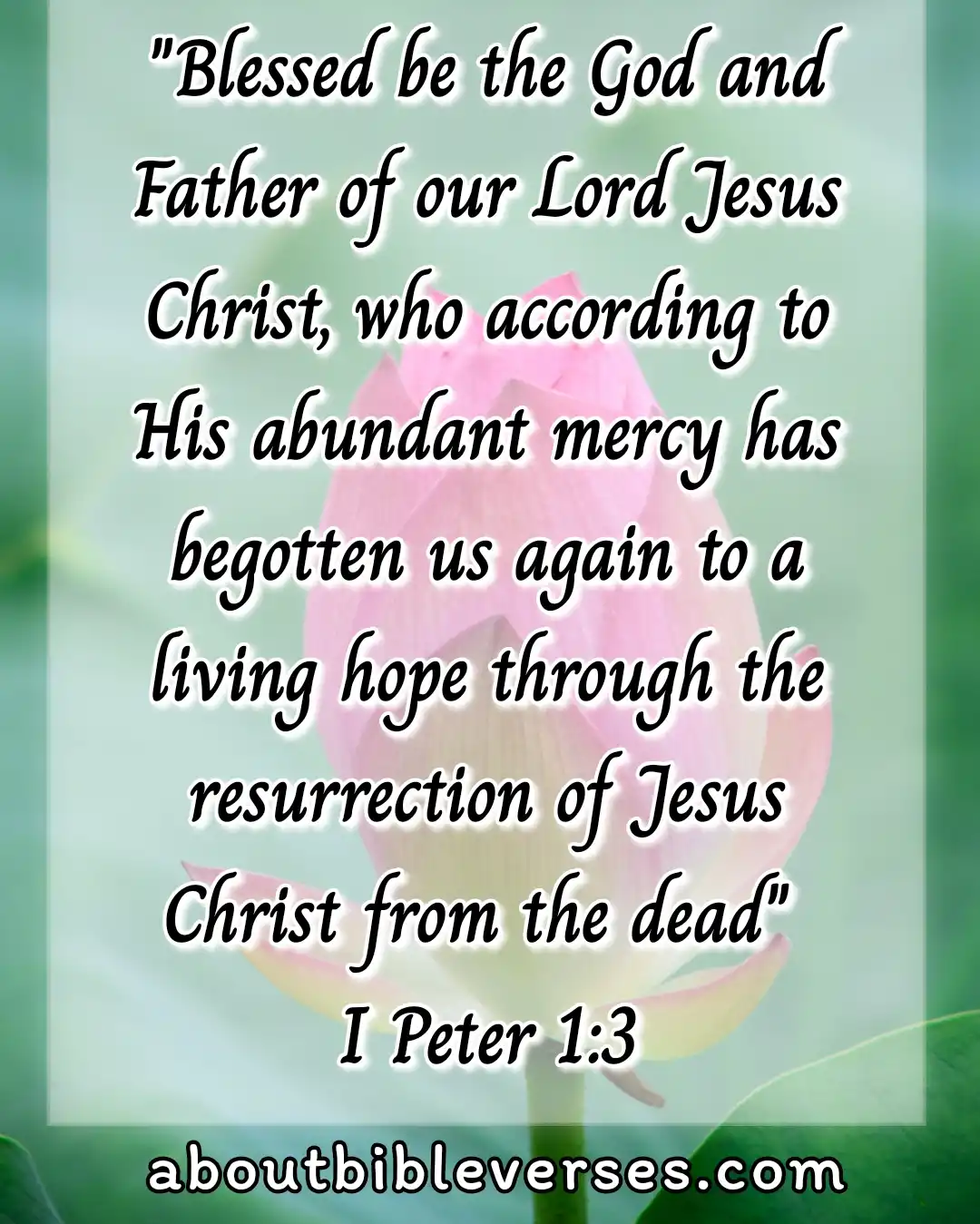 1 Peter 1:3(KJV) "Blessed be the God and Father of our Lord Jesus Christ, which according to his abundant mercy hath begotten us again unto a lively hope by the resurrection of Jesus Christ from the dead"
Explanation: Here, Peter celebrates the boundless mercy of God, which grants believers an enduring hope. Through Jesus's resurrection, we are reminded that our ultimate destination is a heavenly inheritance, untouched by worldly corruption.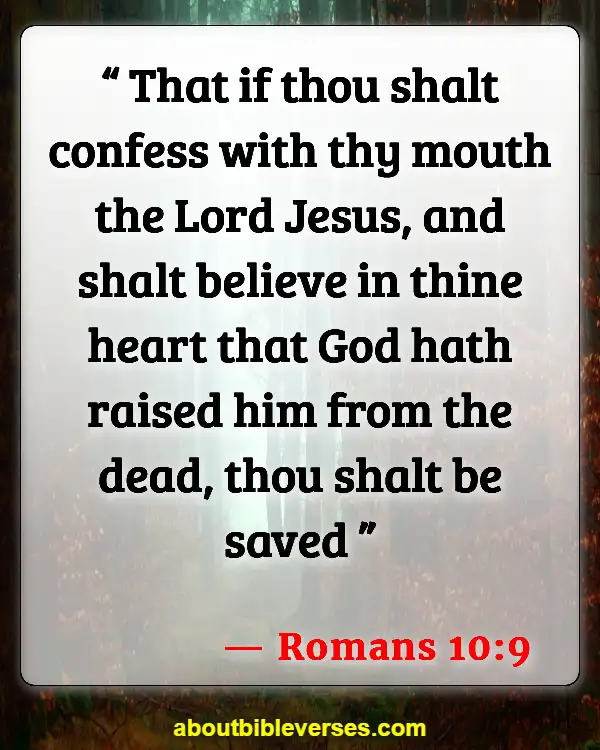 Romans 10:9(KJV) "That if thou shalt confess with thy mouth the Lord Jesus, and shalt believe in thine heart that God hath raised him from the dead, thou shalt be saved"
Explanation: This verse captures the essence of faith in Christ. To truly embrace eternal life in heaven, one must recognize and profess Jesus as the singular path to redemption. This requires more than just words; it calls for a deep-rooted belief in one's heart about Jesus' resurrection and the eternal love and grace it represents.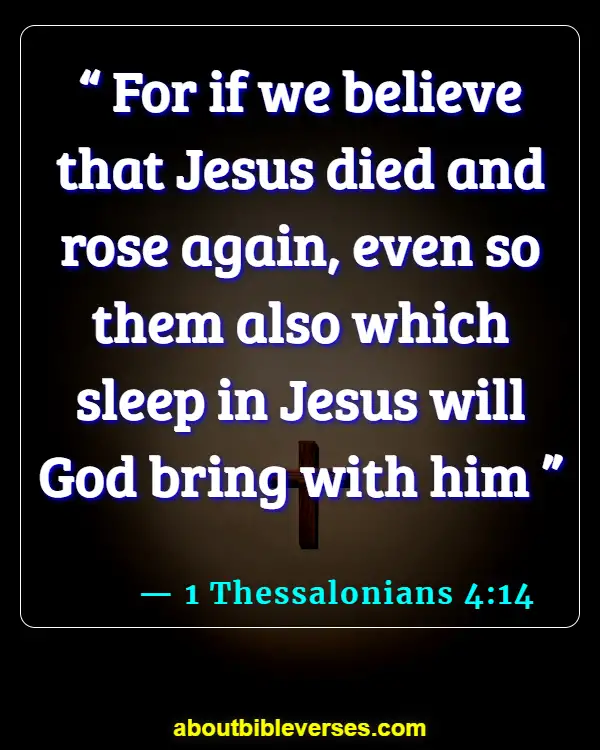 1 Thessalonians 4:14(KJV) "For if we believe that Jesus died and rose again, even so them also which sleep in Jesus will God bring with him"
Explanation: Paul encourages us not to mourn as those without hope. Instead, he emphasizes that just as Jesus triumphed over death, so will those who are in Christ. It's a promise of a glorious reunion.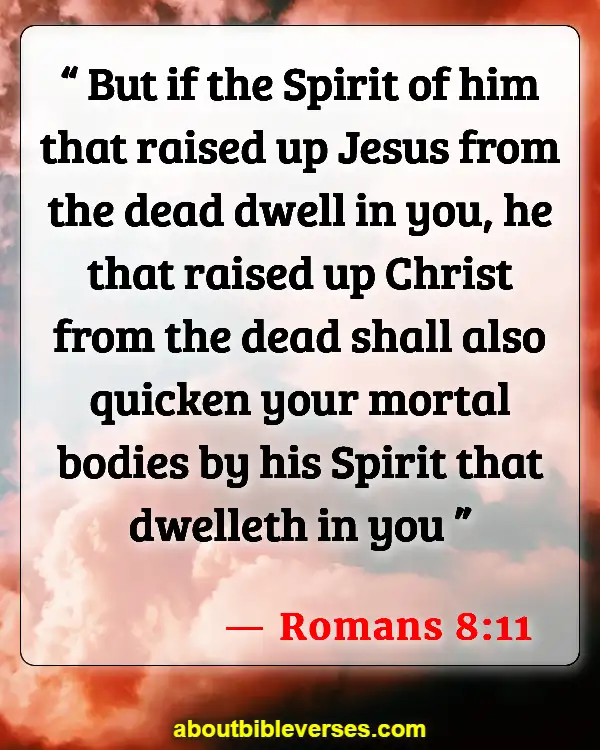 Romans 8:11(KJV) "But if the Spirit of him that raised up Jesus from the dead dwell in you, he that raised up Christ from the dead shall also quicken your mortal bodies by his Spirit that dwelleth in you"
Explanation: Living in the Spirit is transformative. Just as the same Spirit raised Jesus, so too will it breathe life into our mortal beings. It's a call to live in spiritual vibrancy, anticipating the day of our own resurrection.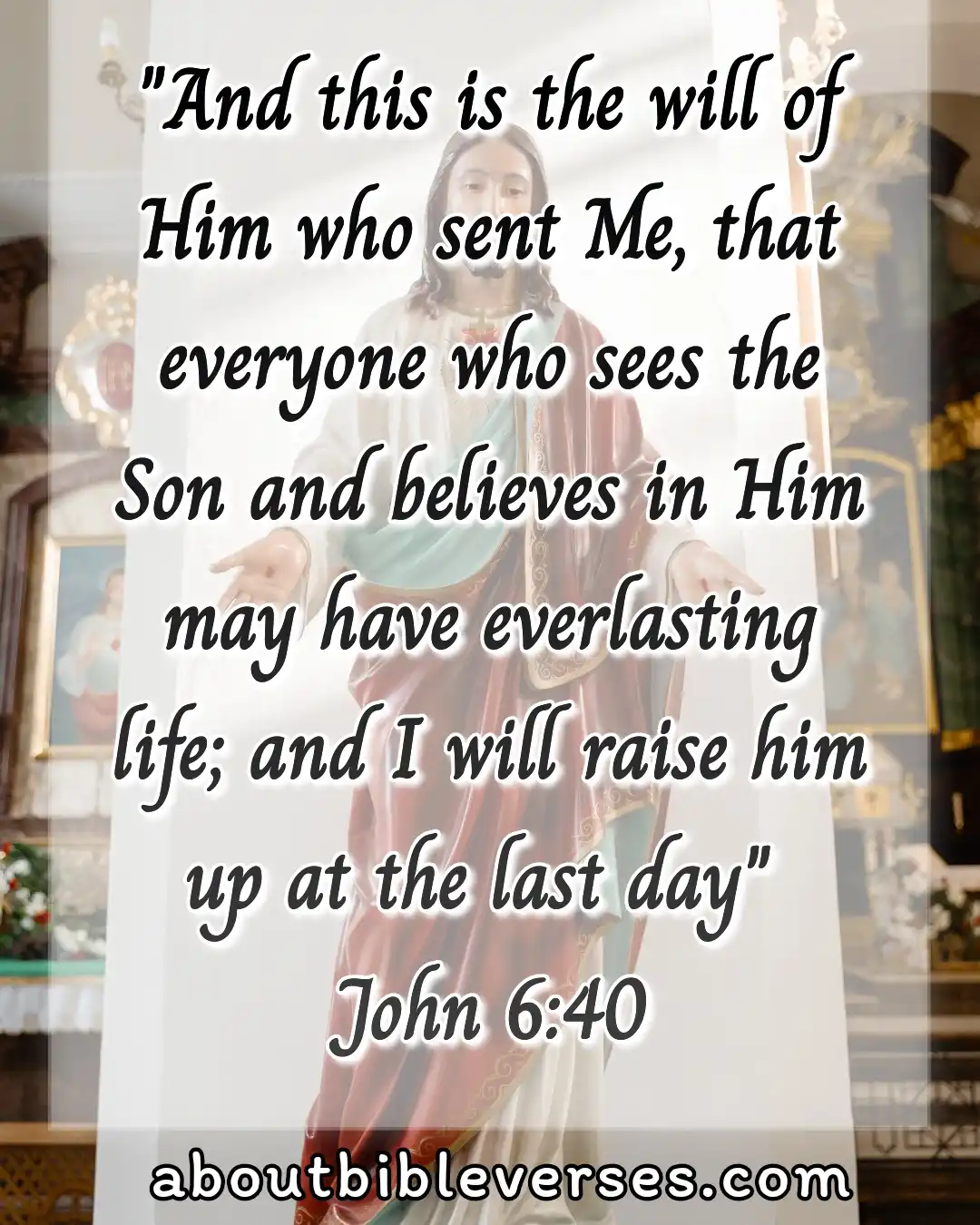 John 6:40(KJV) "And this is the will of him that sent me, that every one which seeth the Son, and believeth on him, may have everlasting life: and I will raise him up at the last day"
Explanation: In this proclamation, Jesus establishes Himself as the divine sustenance for our souls. Like nourishing bread, belief in Him quenches spiritual hunger and thirst. More than just temporary relief, it promises an eternal life and resurrection.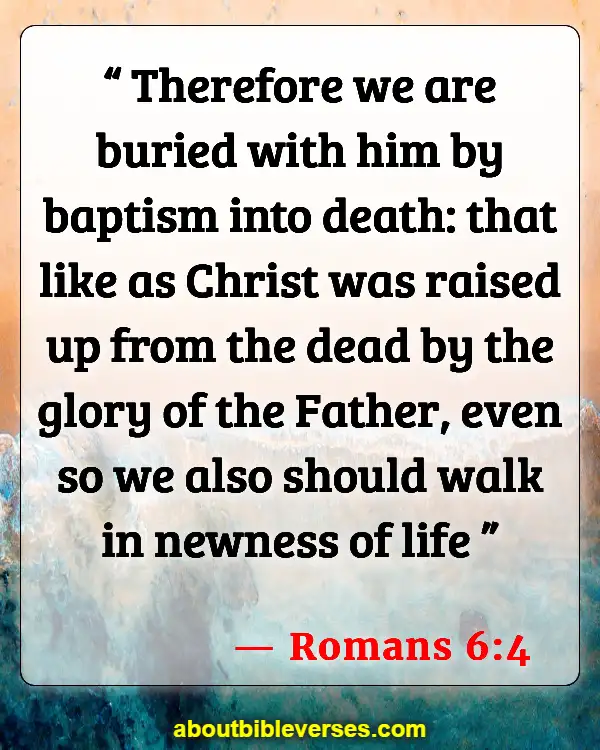 Romans 6:4(KJV) "Therefore we are buried with him by baptism into death: that like as Christ was raised up from the dead by the glory of the Father, even so we also should walk in newness of life"
 Explanation: In embracing Christ, we are reborn. Our past selves, with all their flaws and sins, are symbolically buried through baptism, just as Christ was buried. And just as He rose anew, we are called to walk in this renewed life, embracing His teachings and embodying His love and grace.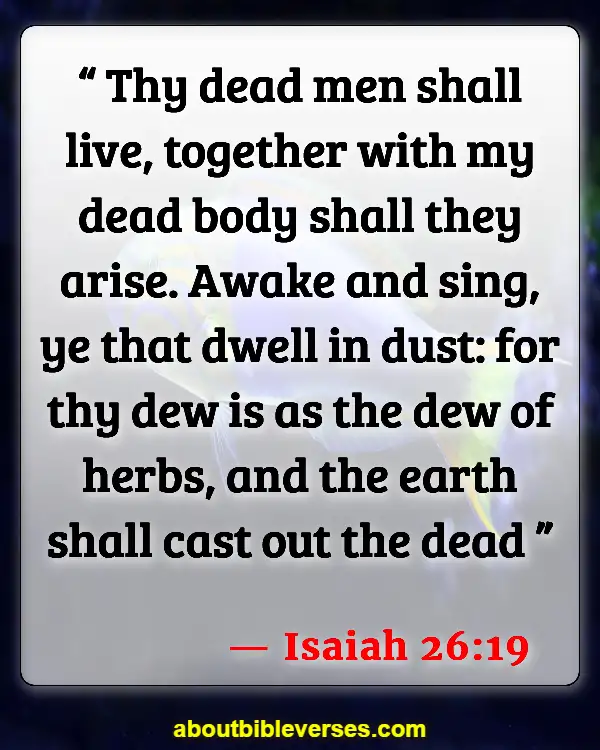 Isaiah 26:19(KJV) "Thy dead men shall live, together with my dead body shall they arise. Awake and sing, ye that dwell in dust: for thy dew is as the dew of herbs, and the earth shall cast out the dead"
 Explanation: Isaiah, in his prophecy, highlighted God's enduring love and mercy towards His people, even when they strayed. Israel, as God's cherished nation, was offered hope and redemption. This verse illuminates the promise of resurrection and eternal life, pointing to the day when the faithful will rise and rejoice in the Lord's glory.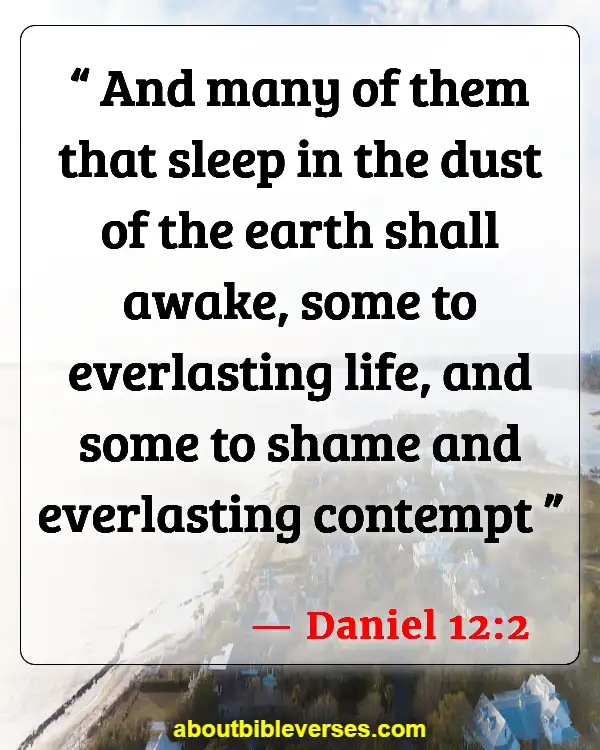 Daniel 12:2(KJV) "And many of them that sleep in the dust of the earth shall awake, some to everlasting life, and some to shame and everlasting contempt"
 Explanation: Through Daniel, God provides a profound glimpse into the final days. In Christ's glorious return, a monumental shift will unfold: those resting in faith will awaken to eternal joy, while others will face the consequences of their choices. It's a powerful reminder of the hope we have in Jesus and the weight of our decisions.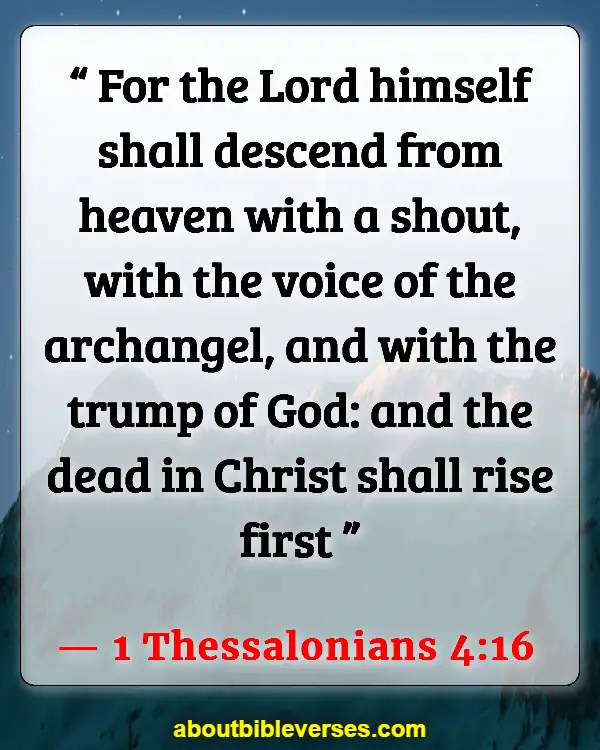 1 Thessalonians 4:16(KJV) "For the Lord himself shall descend from heaven with a shout, with the voice of the archangel, and with the trump of God: and the dead in Christ shall rise first"
 Explanation: Our eternal hope lies in this very promise: that Christ will return in majestic splendor, heralded by the archangel's voice. Those who have departed this world in faith will rise, an affirmation of life after death. In these words, we find solace, hope, and an invitation to remain steadfast in our devotion to the Lord.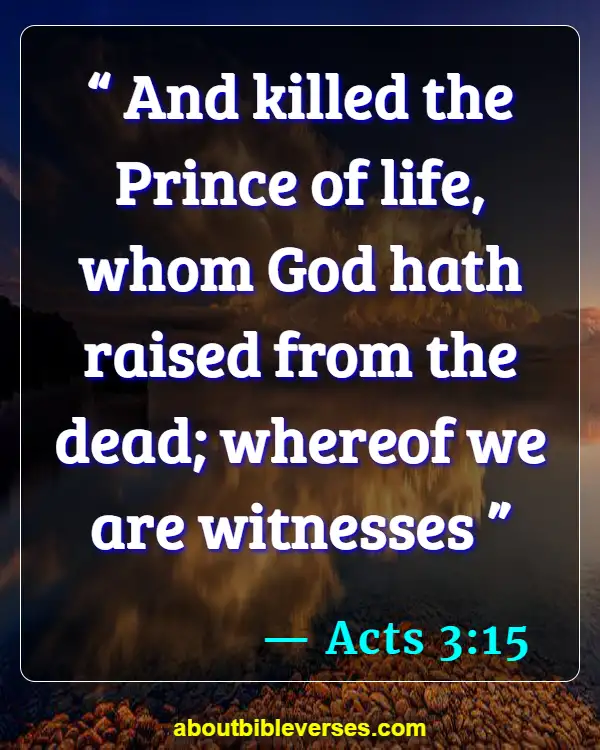 Acts 3:15(KJV) "And killed the Prince of life, whom God hath raised from the dead; whereof we are witnesses"
 Explanation: Peter's words following the miraculous healing speak of profound irony: humanity, in its limited view, sought to end the life of the very Source of life. Yet, death could not hold Him. Jesus's resurrection serves as a testament to His divine nature, and as witnesses, we are called to share this transformative truth with others.
Acts 24:15(KJV) "And have hope toward God, which they themselves also allow, that there shall be a resurrection of the dead, both of the just and unjust"
Explanation: Resurrection is a foundational belief woven into the fabric of our faith. By trusting in God's promises, we are reminded of His unyielding faithfulness. Every prophecy He has spoken has come to pass, and in His time, He will fulfill every word. The resurrection assures us that, one day, each soul will rise, to be embraced by His eternal love or to face the consequences of one's actions.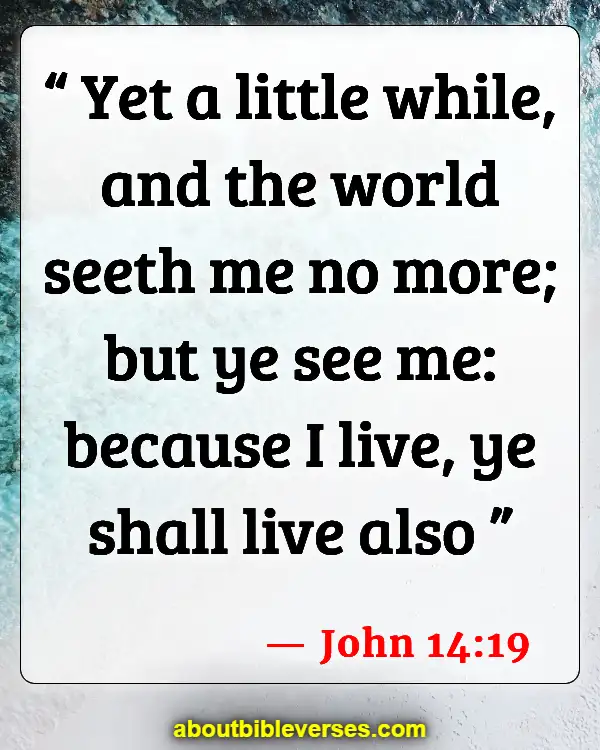 John 14:19(KJV) "Yet a little while, and the world seeth me no more; but ye see me: because I live, ye shall live also"
Explanation: In His infinite compassion, Jesus provided solace to His disciples, assuring them of a guiding presence even after His departure. He promises us that we are never truly alone. While the world may not recognize the Holy Spirit, believers are comforted by His enduring presence, serving as a testament to Jesus' eternal love and commitment to us until the very end.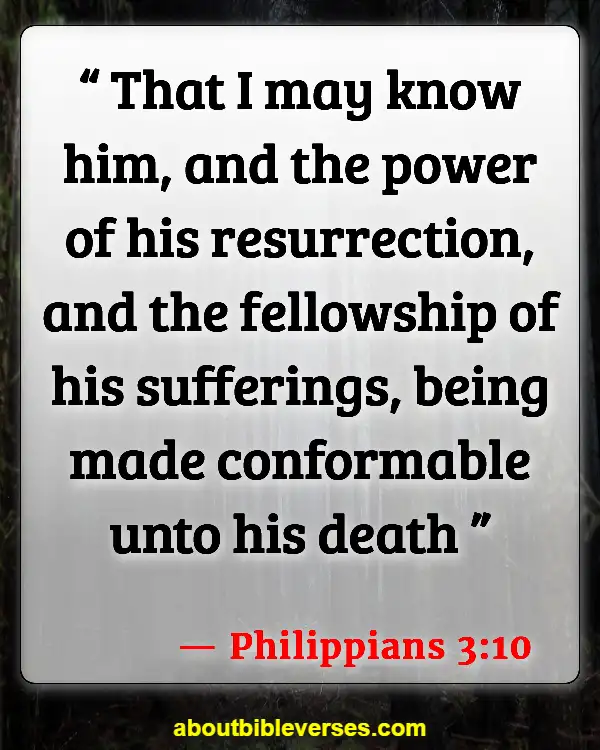 Philippians 3:10(KJV) "That I may know him, and the power of his resurrection, and the fellowship of his sufferings, being made conformable unto his death"
Explanation: Through God's boundless grace, we are offered salvation, an invitation to a deeper relationship with Him. On our own, we are ensnared by sin, but through Jesus, we find liberation. By immersing ourselves in His teachings and acknowledging the profound significance of His resurrection, we align our hearts with His, embracing the life and redemption He offers through His sacrifice.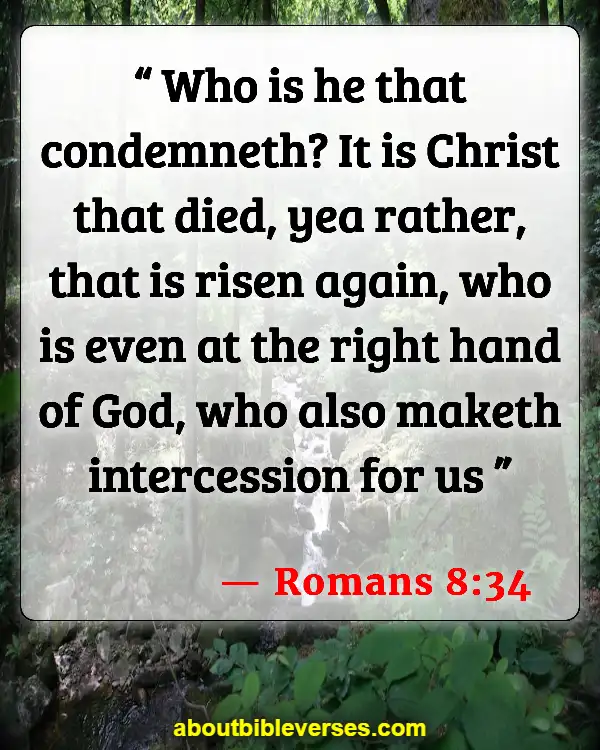 Romans 8:34(KJV) "Who is he that condemneth? It is Christ that died, yea rather, that is risen again, who is even at the right hand of God, who also maketh intercession for us"
Explanation: Christ's love for us is so profound that He not only bore our sins upon the cross but continues to intercede on our behalf, standing beside the Father. We were once bound by our transgressions, destined for despair, but through Jesus' selfless act, we are given hope, redemption, and the promise of eternal communion with Him in heaven.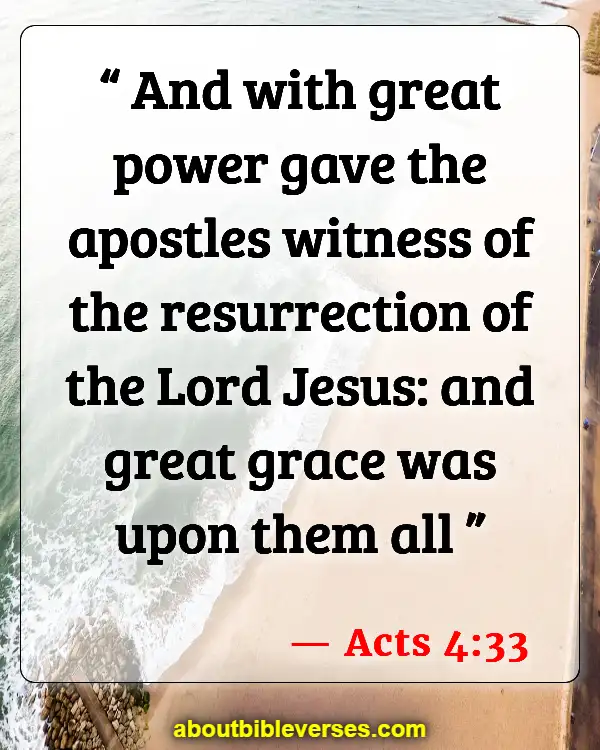 Acts 4:33(KJV) "And with great power gave the apostles witness of the resurrection of the Lord Jesus: and great grace was upon them all"
Explanation: The apostles, once scattered and disheartened, were reignited with purpose and passion after witnessing the risen Lord. Their transformed lives serve as a testament to the power of Jesus' resurrection. With fervor and conviction, they embarked on a mission to share the Good News, proving that encountering the living Christ leaves an indelible mark on the soul, propelling one to share His love with the world.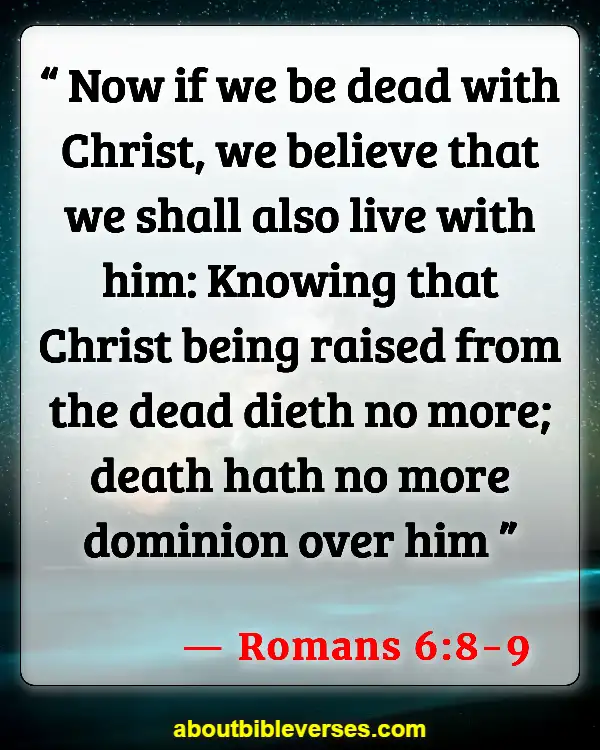 Romans 6:8-9(KJV) "Now if we are dead with Christ, we believe that we shall also live with him: Knowing that Christ being raised from the dead dieth no more; death hath no more dominion over him"
Explanation: In Jesus, we find the assurance of eternal life. By accepting Him and sharing in His death, we, too, embrace the hope of rising with Him. With Christ's resurrection, He triumphed over death once and for all, reminding us that death cannot claim dominion over Him—or those who follow Him.
His promise of return keeps the flame of hope alive, as we await the moment when we're united in His eternal kingdom.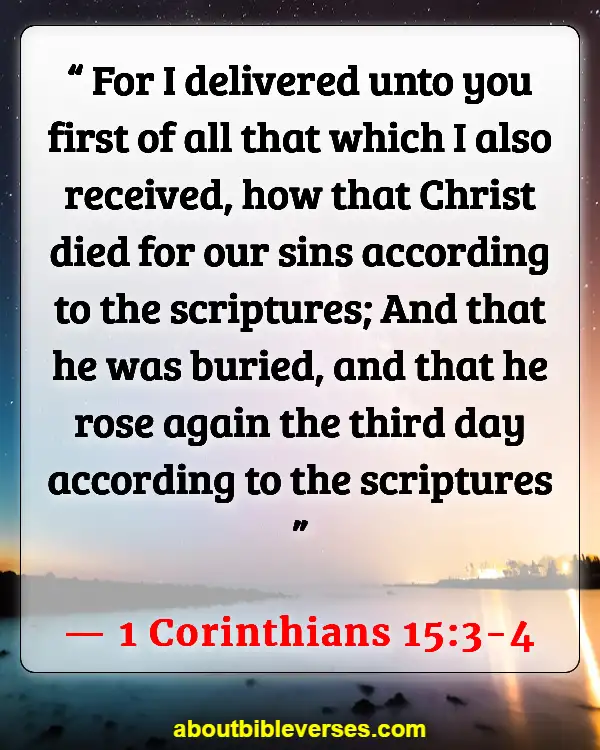 1 Corinthians 15:3-4(KJV) "For I delivered unto you first of all that which I also received, how that Christ died for our sins according to the scriptures; And that he was buried, and that he rose again the third day according to the scriptures"
Explanation: Jesus' life, sacrifice, and resurrection were always part of God's grand design, prophesied long before His arrival on Earth. Through scriptures, we were prepared for the Lamb of God who, despite His purity, would shoulder our sins.
With His resurrection, Christ defeated death, giving hope and assurance to all believers that eternal life awaits, and in Heaven, we shall bask in His eternal love and grace.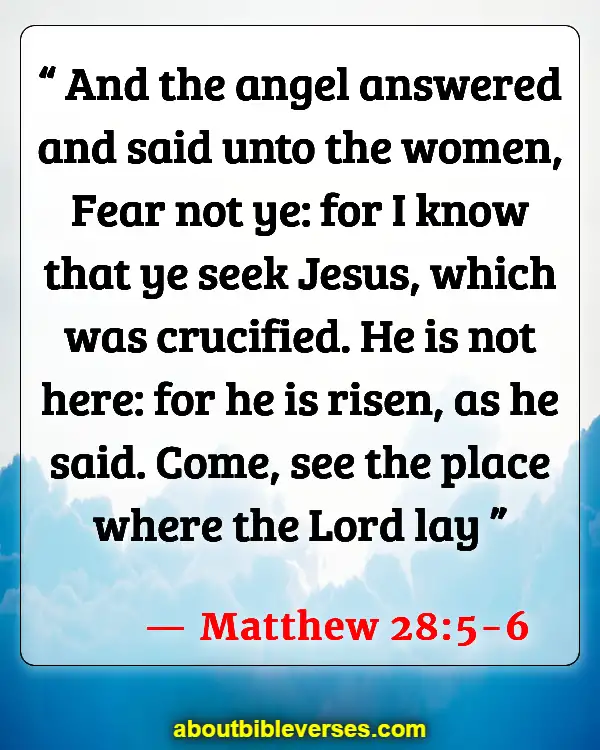 Matthew 28:5-6(KJV) "And the angel answered and said unto the women, Fear not ye: for I know that ye seek Jesus, which was crucified. He is not here: for he is risen, as he said. Come, see the place where the Lord lay"
Explanation: When Mary Magdalene and her companion approached the tomb, they were met with a divine revelation. The angel, in his serene majesty, reassured them with the joyous news: Jesus, the Savior, had risen!
Overwhelmed with elation, they hurried to share this glorious testament of God's promise fulfilled, rekindling hope and faith in the hearts of many.
---
Role of the Resurrection of Jesus in Christianity
In the heart of Christianity, there's a powerful story about Jesus rising from the dead. It's called the Resurrection. Imagine waking up one morning to find that everything wrong in the world has a chance to be made right. That's the kind of hope the Resurrection brings!
You see, Christians believe that Jesus wasn't just an ordinary man. He was the Son of God. And by rising from the dead, He showed that love is stronger than death. This wasn't just a magic trick; it was a sign of something big. It meant that good can overcome evil and that hope can beat despair.
Now, think about when you're playing a game, and you get a "do-over" or a second chance. The Resurrection is sort of like God's way of offering a "do-over" for everyone. It tells us that no matter how many mistakes we make, God's love is always there to pick us back up.
It's also like a promise. Just as Jesus rose from the dead, we too can experience new beginnings. Whenever we feel lost, sad, or alone, the story of the Resurrection reminds us that better days are ahead. It's a beacon of hope in tough times. The bible verses about resurrection of Jesus that have been highlighted today are a great way to revisit this important moment.
So, every time you see a cross or hear about Easter, remember the beautiful message behind it. Remember that you're loved, that second chances are possible, and that there's always hope. That's the magic of the Resurrection in Christianity.
Last Updated: October, 13 2023