Hello dear friends and cherished souls, welcome to our spiritual haven in the name of Jesus Christ. Today, we will delve deeper into the comforting words of the Scriptures, focusing on Bible verses about Faith And Hope in KJV. We truly hope this message uplifts your spirit. If it touches your heart, please feel free to comment and share, so others may also find solace.
The Bible, as we know, is not just a book, but the divine word of God. Within its pages, it carries the promises and assurances that cater to all our spiritual needs. Especially during moments when we feel hopeless, the Bible's verses on faith and hope serve as a comforting embrace, reminding us of God's eternal love and presence.
Indeed, our truest hope is anchored in God and His unwavering promises. As the Bible beautifully articulates, cursed are those who place their trust in man alone. Relying solely on human efforts can lead to disappointments, but placing our trust in God rejuvenates our spirit. Even in the darkest hours, when hopelessness seems overwhelming, the light of Jesus shines brightly, offering us a beacon of hope and salvation.
Reflect upon the lives of the disciples of Jesus. Their days were imbued with hope, stemming from their deep understanding and relationship with Jesus. Recognizing and accepting Jesus in our lives transforms our perspective and fills us with everlasting hope. If you find yourself ensnared in the chains of hopelessness, take a moment, open your heart, and sincerely invite Jesus in. Embrace His promises, and witness the transformative power of the hope He offers.
The Almighty assures us, "If you seek me with your whole heart, you will find me." So, my dear friends, in moments of doubt, seek Him with fervor and dedication. Let His boundless love penetrate your soul, and see how it dispels every shadow, filling you with a radiant beam of hope. It's essential to remember that the presence of God and hopelessness are incompatible. For a heart filled with God's presence is a heart overflowing with unwavering hope.
With love and blessings, let's now turn our attention to the sacred Bible scriptures that beautifully discuss the themes of Faith And Hope.
---
Bible Verses About Faith and Hope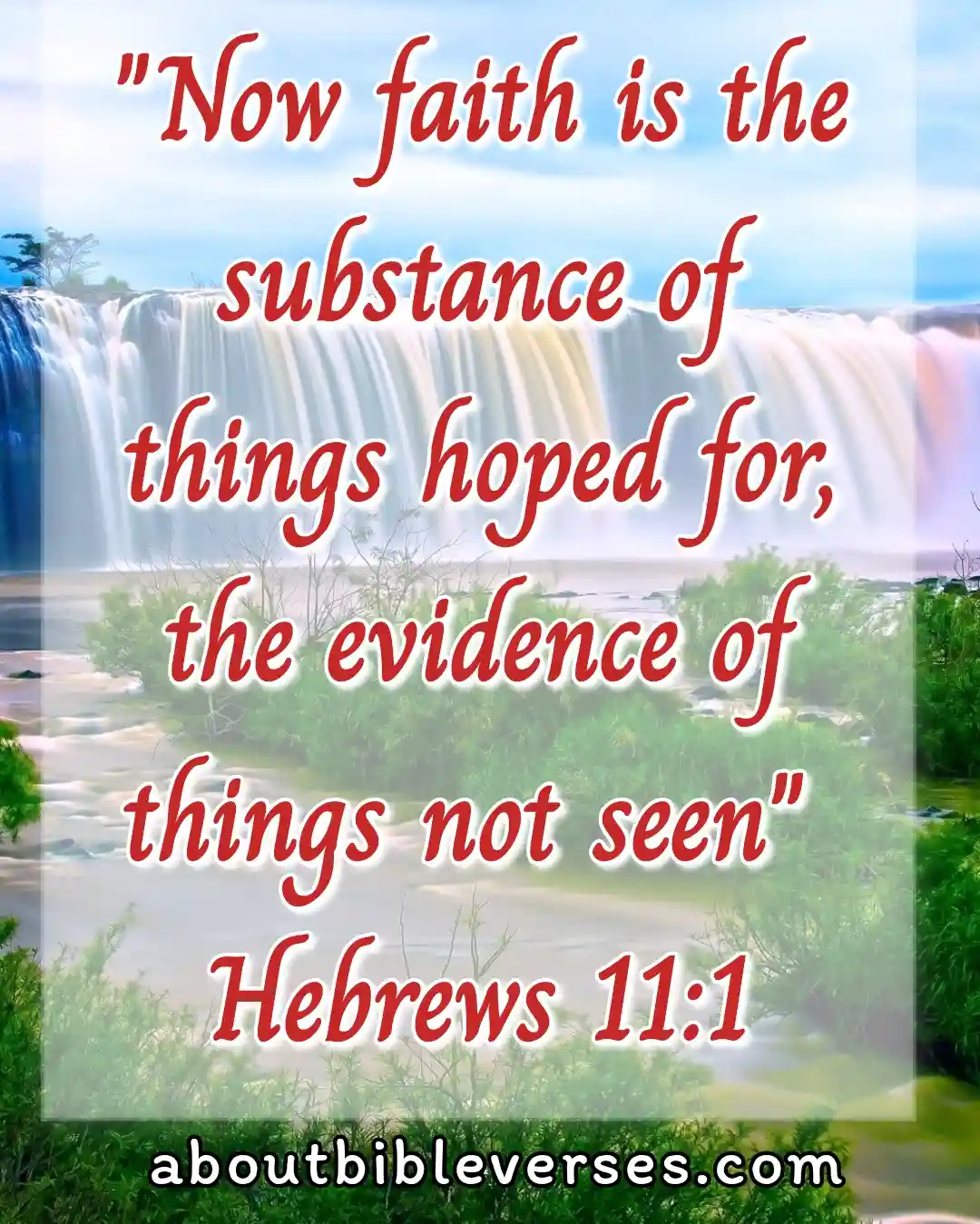 Hebrews 11:1(KJV) "Now faith is the substance of things hoped for, the evidence of things not seen"
Explanation: Faith is like a bridge that connects us to the unseen wonders of God. It's a beautiful gift that allows us to see beyond the physical realm and into the spiritual. The Bible isn't just telling us about faith; it emphasizes its importance by reminding us that without it, we cannot truly connect with God. When we have unshakeable faith, we align ourselves with God's promises and open the door to receive His blessings.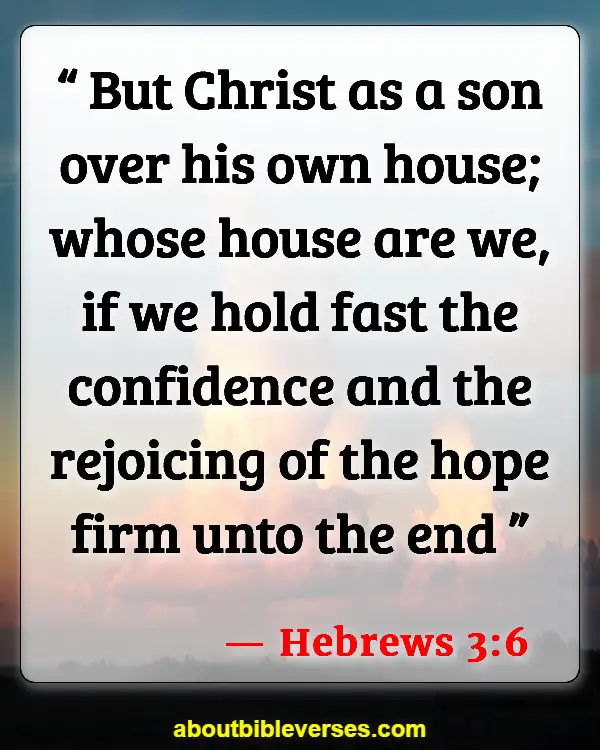 Hebrews 3:6(KJV) "But Christ as a son over his own house; whose house are we, if we hold fast the confidence and the rejoicing of the hope firm unto the end"
Explanation: Our time on Earth is temporary, but our souls yearn for eternity with the Lord. As believers, we find solace in knowing that we are part of God's divine family, with Christ as our guiding light. This scripture teaches us that our eternal home awaits, but we must remain steadfast and anchored in our faith. By holding onto the hope and joy in Christ, we can look forward to the everlasting life God has prepared for us.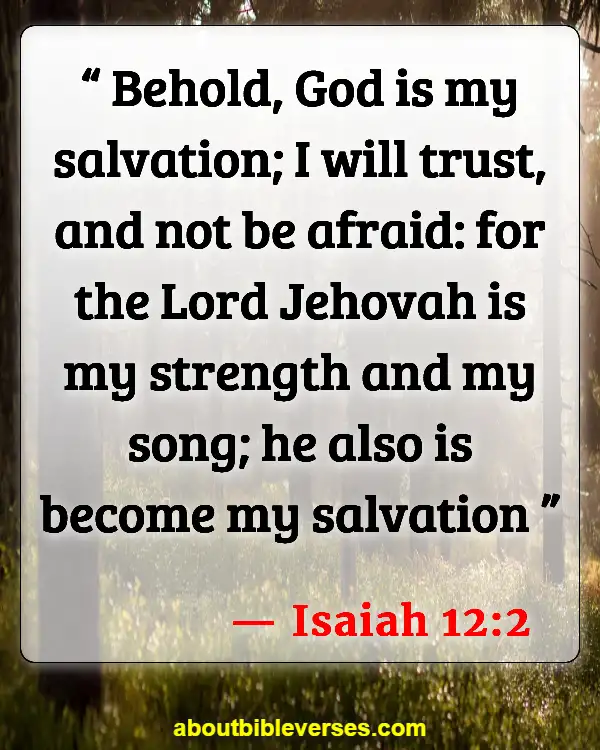 Isaiah 12:2(KJV)"Behold, God is my salvation; I will trust, and not be afraid: for the Lord Jehovah is my strength and my song; he also is become my salvation"
Explanation: Throughout history, God has been a source of strength for His people. When life's storms rage, turning to God is our safest refuge. In this verse, Isaiah reminds us of the unwavering protection and love that God offers. Having faith in Him equips us with strength and courage, ensuring that fear doesn't hold us captive. With Him by our side, we can face challenges head-on, always reminded that He is our salvation.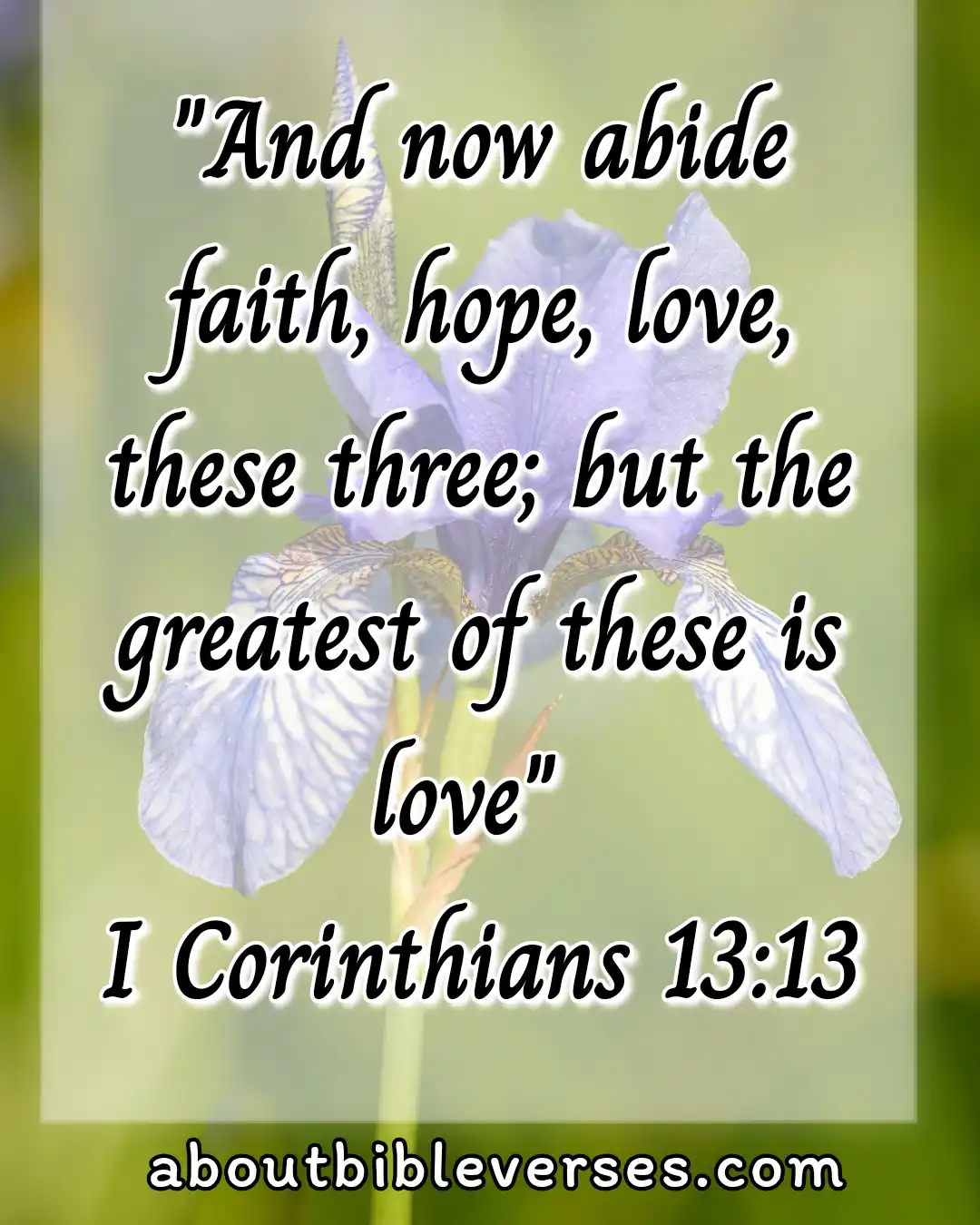 1 Corinthians 13:13(KJV) "And now abideth faith, hope, charity, these three; but the greatest of these is charity"
Explanation: Being a child of God brings a sense of purpose and hope. While faith connects us to God, hope keeps us anchored during trying times. Yet, amidst these virtues, charity stands out as the greatest. Why? Because by showing love and compassion to others, especially those in need, we mirror God's love for us. When we uplift those around us, we not only make the world a better place but also bring glory to God and strengthen our bond with Him.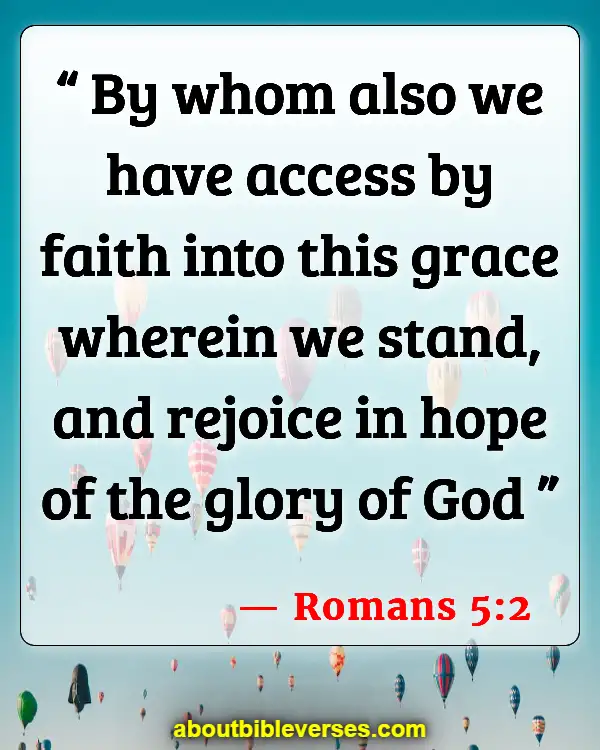 Romans 5:2(KJV) "By whom also we have access by faith into this grace wherein we stand, and rejoice in hope of the glory of God"
Explanation: God's grace is immeasurable. Even in our imperfections, He reached out to us. Jesus' sacrifice on the cross is the ultimate testament to God's love for humanity. It paved a path for us, once lost, to find our way back to Him. When we embrace faith, we are not just accepting a belief but entering a relationship bathed in God's grace. Through faith, we are invited to stand in His presence and rejoice, anticipating the magnificent glory of God that awaits us.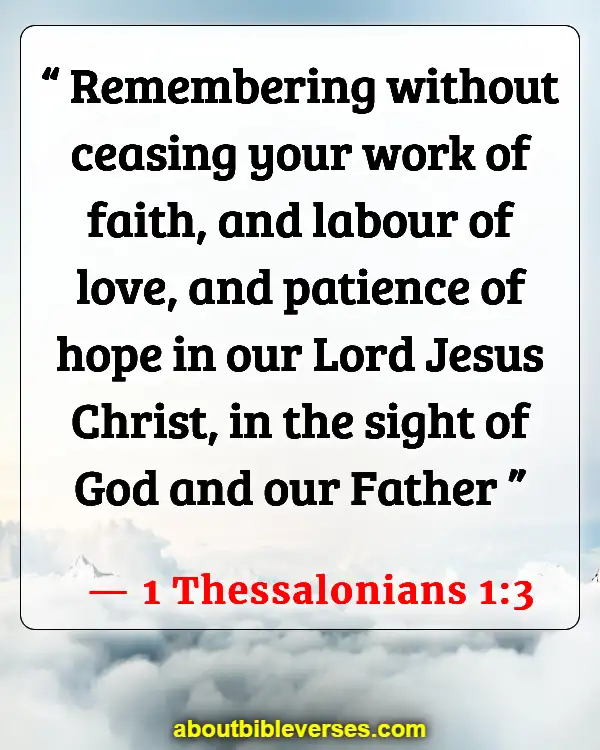 1 Thessalonians 1:3(KJV) "Remembering without ceasing your work of faith, and labor of love, and patience of hope in our Lord Jesus Christ, in the sight of God and our Father"
Explanation: Our journey with Christ doesn't end the moment we accept Him; it's only the beginning. We are called to live lives that reflect His teachings and love. This scripture emphasizes the essence of a faith-driven life – work that stems from belief, acts of love, and enduring hope. Just as a lamp shines bright in the darkness, our actions and character should shine the light of Jesus in a world that so desperately needs it. By embodying His teachings, we become beacons of God's love, drawing others closer to Him.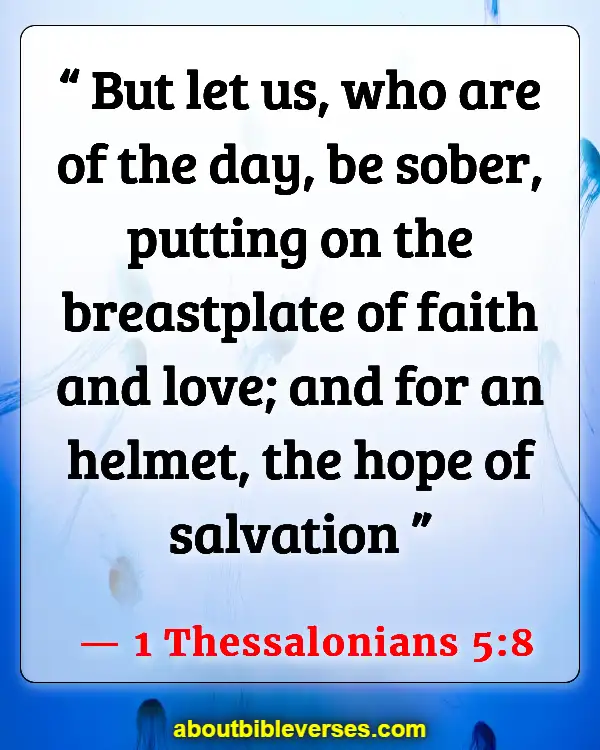 1 Thessalonians 5:8(KJV) "But let us, who are of the day, be sober, putting on the breastplate of faith and love; and for a helmet, the hope of salvation"
Explanation: To truly honor Jesus, we must embrace both faith and love. Just as a soldier dons a breastplate for protection, we too must shield our hearts with faith. Yet, love is equally essential, acting as the glue that binds our faith together. And through this combined strength of faith and love, we are reminded of our hope for eternal salvation – the promise that we will one day bask in the glorious presence of our Savior in heaven.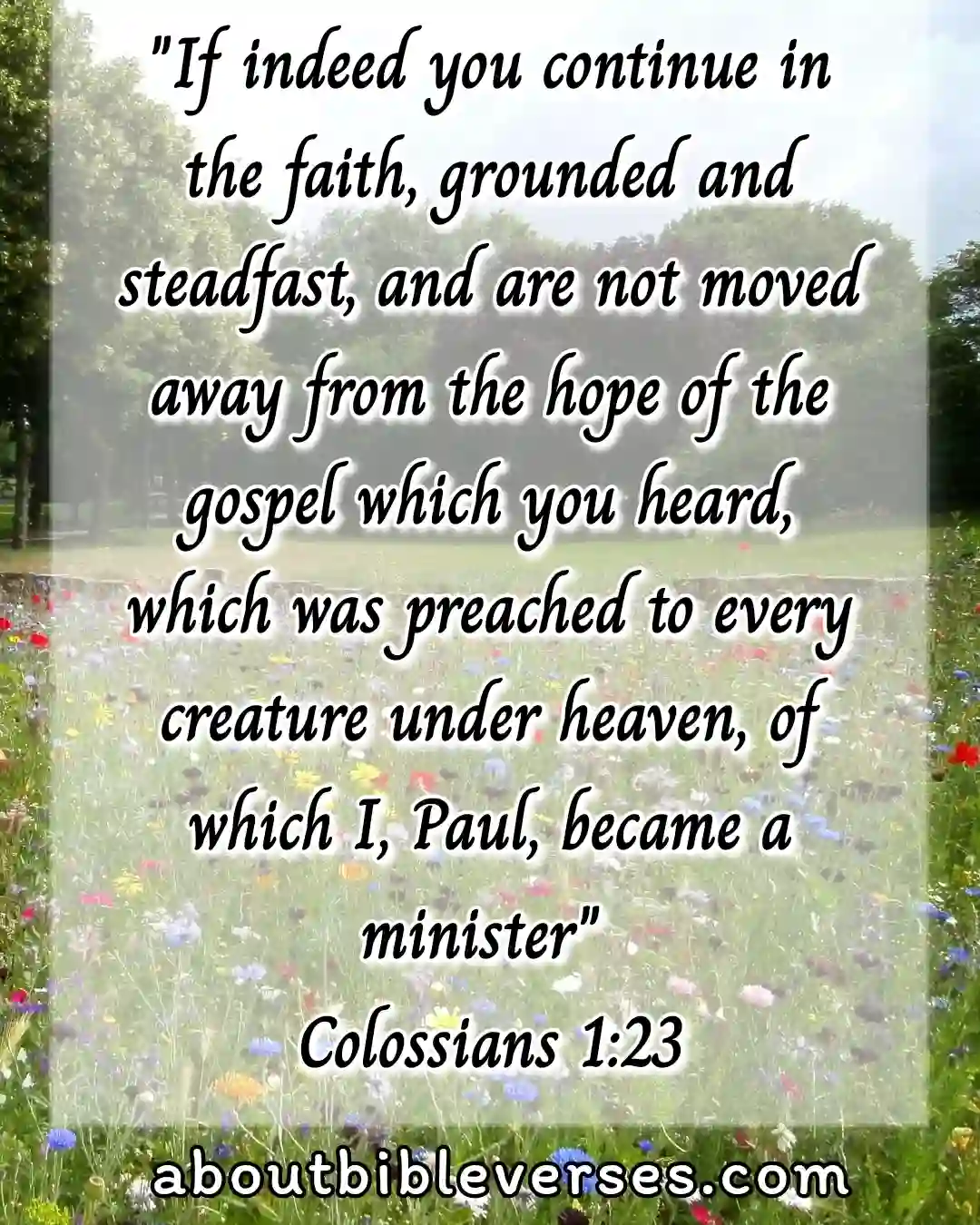 Colossians 1:23(KJV) "If ye continue in the faith grounded and settled, and be not moved away from the hope of the gospel, which ye have heard, and which was preached to every creature which is under heaven; whereof I Paul am made a minister"
Explanation: Paul's words to the Colossians remind us of the importance of staying firmly rooted in Jesus' teachings. Salvation isn't something we can buy or earn—it's a precious gift from God. Just as a tree thrives when its roots are deep and healthy, our spiritual well-being grows when we immerse ourselves in Christ's wisdom. While on Earth, our actions and choices reflect our commitment to these teachings, guiding our journey toward eternal grace.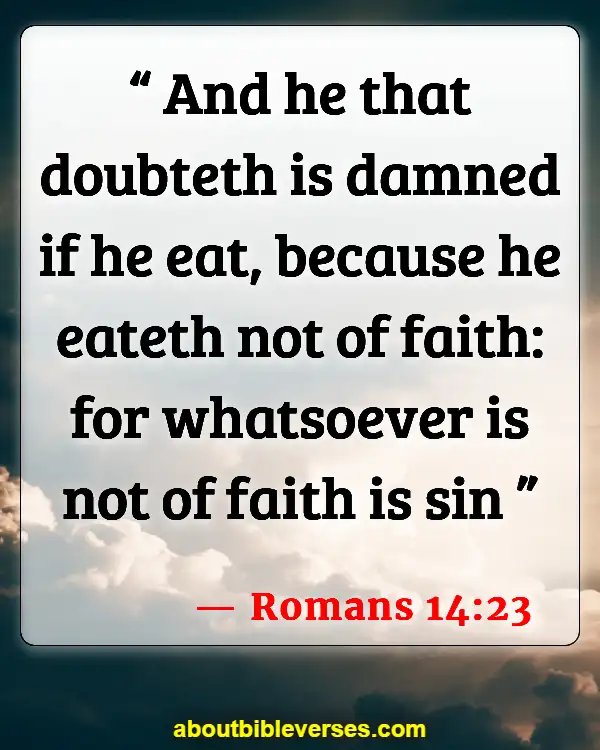 Romans 14:23(KJV) "And he that doubteth is damned if he eat, because he eateth not of faith: for whatsoever is not of faith is sin"
Explanation: Placing our faith in Jesus is paramount, as He is truly deserving of our trust. Challenges and temptations might waver our trust, but our faith should remain unshaken. Every decision, every action, must be guided by our unwavering faith in Him, trusting that He walks beside us in every step we take.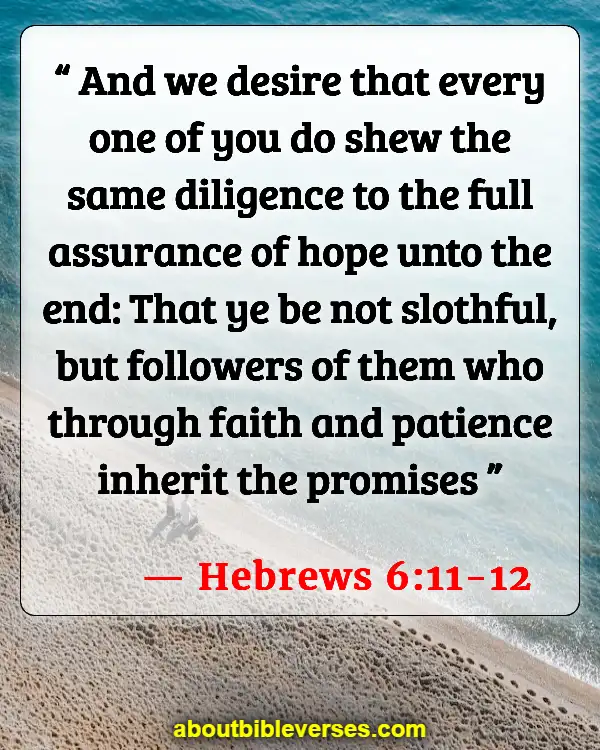 Hebrews 6:11-12(KJV) "And we desire that every one of you do shew the same diligence to the full assurance of hope unto the end:That ye be not slothful, but followers of them who through faith and patience inherit the promises"
Explanation: Unfortunately, some people come to know Jesus, only to drift away later. Embracing Him requires a lifelong commitment. Holding onto our faith until the very end is the key to inheriting the Kingdom of God. Eternal rest and the promise of dwelling in the Lord's house is granted to those who remain steadfast, patient, and consistently faithful to His word. Believing in the sacrifice Jesus made for us is the foundation of our faith, and with that trust, we eagerly await His eternal promise.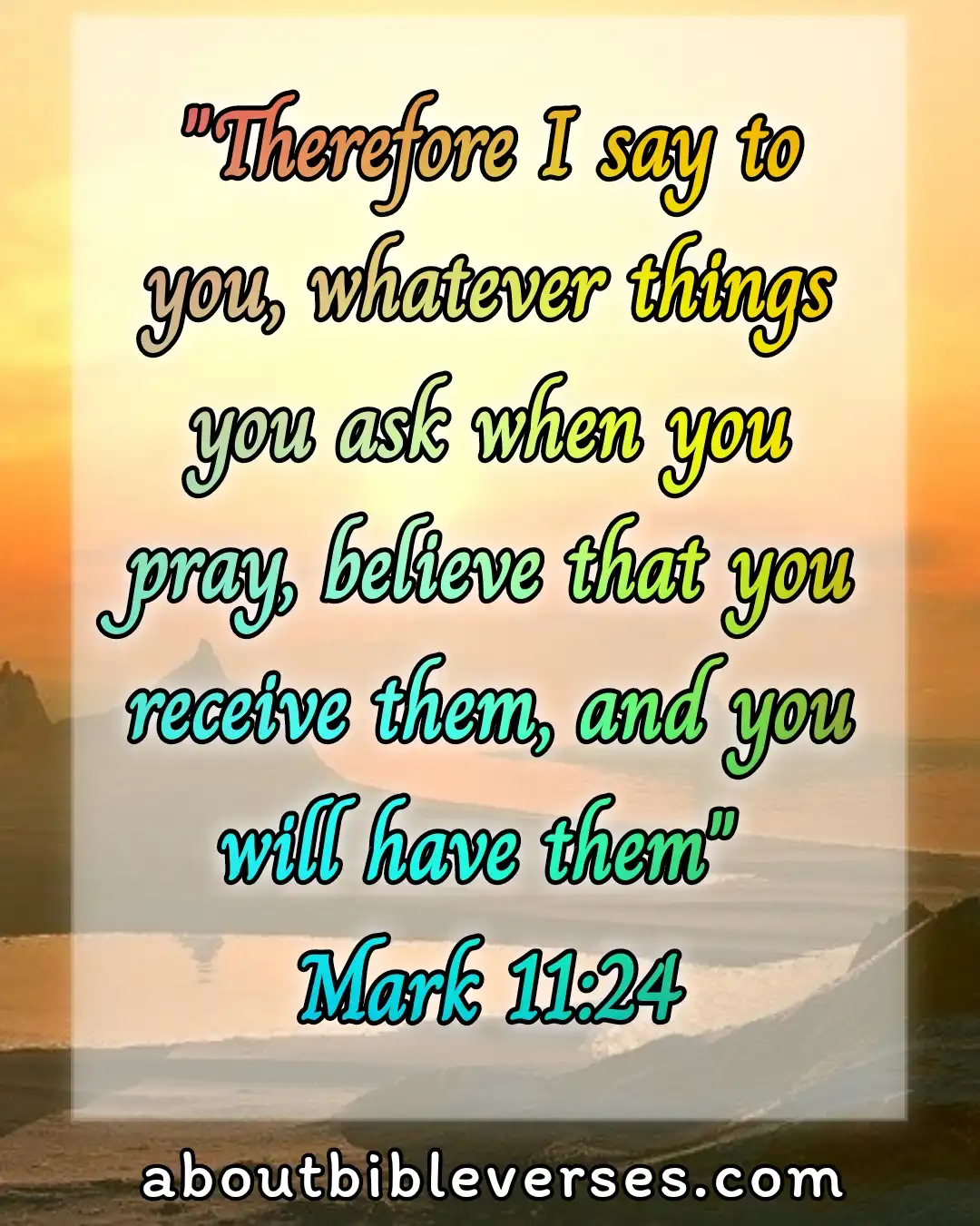 Mark 11:24(KJV) "Therefore I say unto you, What things soever ye desire, when ye pray, believe that ye receive them, and ye shall have them"
Explanation: True prayer goes beyond just uttering words—it requires deep faith. Many Christians pray daily, yet sometimes doubt lingers in their hearts. The Scriptures, however, assure us that when we pray with genuine belief, our petitions are heard. When we approach God in prayer, let's do so with unwavering confidence, trusting that He listens and will answer in His perfect time and way.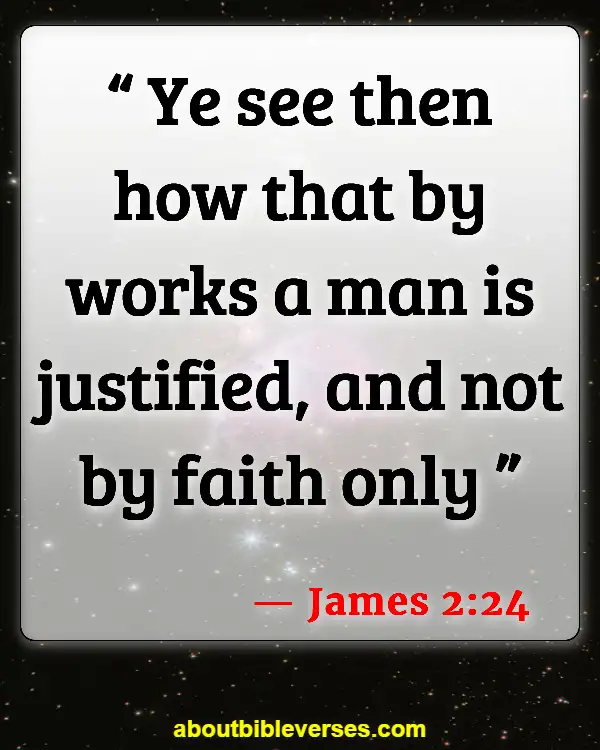 James 2:24(KJV) "Ye see then how that by works a man is justified, and not by faith only"
Explanation: James underscores a crucial aspect of our Christian walk: faith and actions go hand in hand. Believing in God's word is fundamental, but if we don't follow through with actions that mirror His teachings, our faith feels hollow. It's through our deeds and choices that we truly express our faith, demonstrating to the world our commitment to the path Jesus has set before us.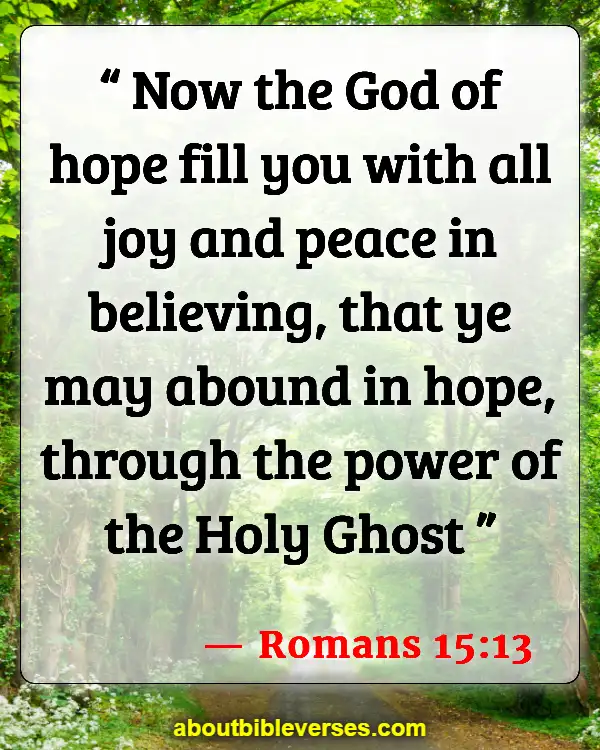 Romans 15:13(KJV) "Now the God of hope fill you with all joy and peace in believing, that ye may abound in hope, through the power of the Holy Ghost"
Explanation: Our journey as Christians is a blend of hope and challenges. While our time on this Earth might be filled with trials, our enduring hope reminds us of the glorious future waiting with Lord Jesus in heaven. Every day, many lose hope and feel defeated. But God's promise shines a light, offering us a beacon of hope to cling to amidst the storms.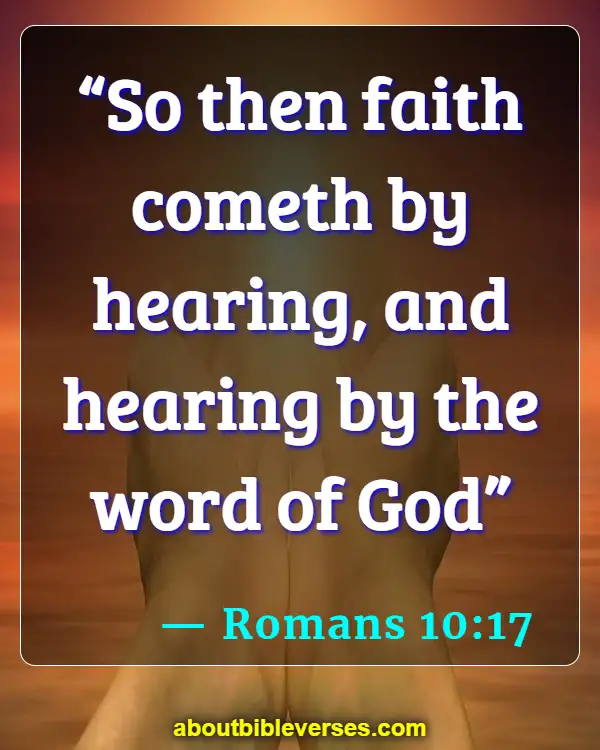 Romans 10:17(KJV) "So then faith cometh by hearing, and hearing by the word of God"
Explanation: Gaining faith can sometimes feel puzzling. However, the answer lies in immersing ourselves in God's word. The more we listen to and meditate upon His teachings, the deeper our faith roots itself in our hearts. Think of faith as a flame that keeps our Christian journey illuminated, and it's the word of God that fans this flame, keeping it alive till our very last moment.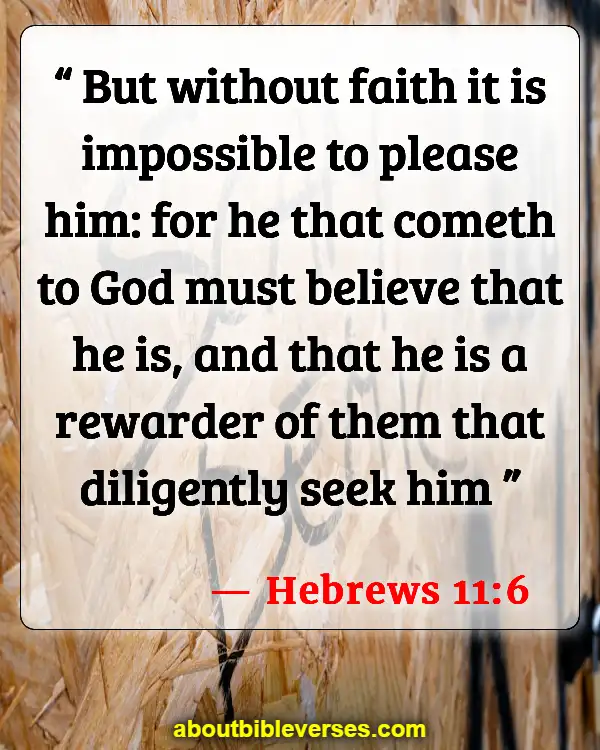 Hebrews 11:6(KJV) "But without faith it is impossible to please him: for he that cometh to God must believe that he is, and that he is a rewarder of them that diligently seek him"
Explanation: Jesus assures us that if we genuinely believe in Him, we will witness His divine power. This belief, this faith, is the key. The stories from the Old Testament bear testimony to this. Men of God who placed their unwavering faith in Him were rewarded with victories and blessings. This passage teaches us that when we earnestly seek and trust God, He graciously rewards our faith.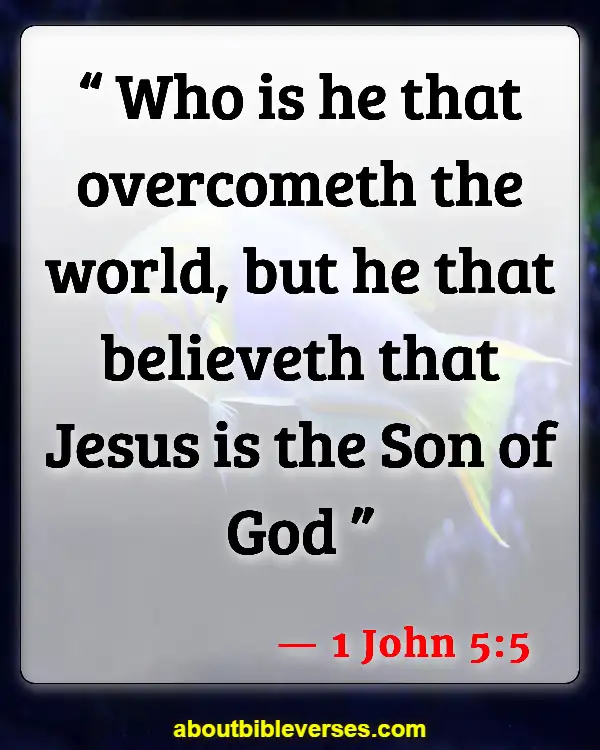 1 John 5:5(KJV) "Who is he that overcometh the world, but he that believeth that Jesus is the Son of God?"
Explanation: As God's beloved children, we're not immune to temptations or challenges from the world. Remember, even our Savior, Jesus, faced persecution. Yet, He overcame the world with His love and power. Likewise, with faith in Jesus Christ, we too can triumph over worldly trials and tribulations.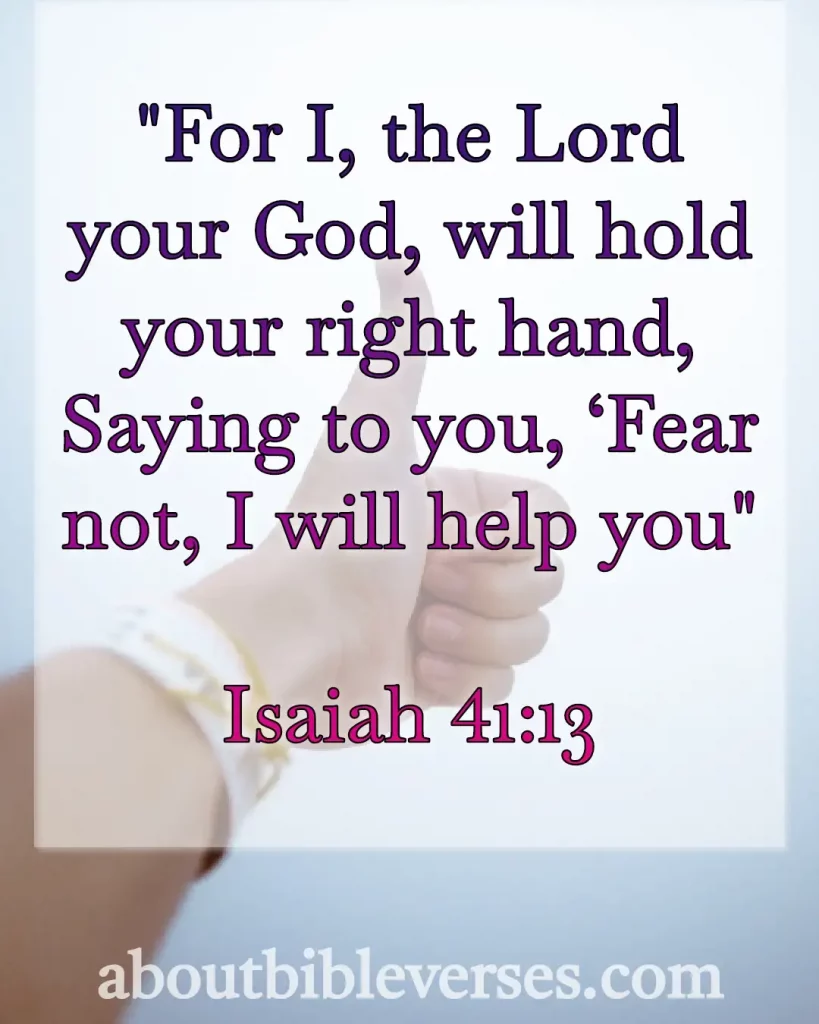 Isaiah 41:13(KJV) "For I the Lord thy God will hold thy right hand, saying unto thee, Fear not; I will help thee"
Explanation: Scripture after scripture reminds us to cast aside our fears. Our omnipotent God stands ready to rescue us from any adversity. When we truly believe in Him and foster a deep, personal relationship, we feel His comforting presence in every step of our lives. Being "protected by the right hand of the Lord" signifies that God's immense power is always shielding us, guiding our way.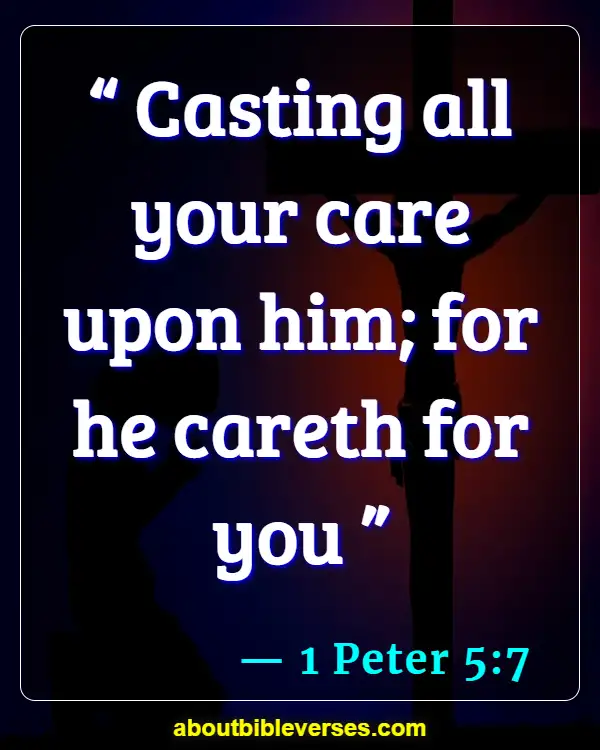 1 Peter 5:7(KJV) "Casting all your care upon him; for he careth for you"
Explanation: This verse is like a soothing balm for our weary souls. God's word encourages us to lay our burdens at His feet, for He genuinely cares about every aspect of our lives. His boundless love means He wishes to shoulder our worries, giving us the peace we yearn for. When we grasp the depth of His care, our anxieties melt away, replaced with tranquility and trust.
---
What is the Difference Between Faith and Hope In Christianity?
Faith and hope are two words we often hear in conversations about spirituality, especially in Christianity. Both are deeply woven into the fabric of a believer's life, but they aren't quite the same thing. Let's explore these two beautiful concepts and see how they differ.
Imagine you're planting a garden. Faith is like knowing deep in your heart that the seeds you plant will grow. Even if you can't see the sprouts yet, you trust they're coming. The Bible often talks about faith in this way, as being sure of what we hope for and certain of what we do not see. It's a bit like believing in the sun, even when it's hidden behind the clouds.
On the other hand, hope is the feeling of expectation. Using our garden analogy, hope is the joy and anticipation you feel, imagining the blossoms that will soon appear and the fruits they'll bear. Hope keeps us looking forward, dreaming of better days and the promises that lie ahead. The Bible paints a picture of hope as an anchor for the soul, something steady and sure that keeps us grounded when life's storms roll in.
While both faith and hope involve looking forward to the future, faith is more about trust, while hope is about expectation. Faith is trusting that God's promises are true and will come to pass. It's like a strong foundation we can build our lives upon. Hope, meanwhile, is the dream of what's to come, the vision of a brighter tomorrow that keeps us moving forward.
Think of it this way: If you're on a journey, faith is the trust that you'll reach your destination, and hope is the excitement you feel about what you'll find when you get there. Both are essential for the journey. Without faith, we might not start the journey at all, doubting whether the path leads anywhere. Without hope, the journey might feel too long or too hard, and we might be tempted to give up.
It's wonderful to think about how God has given us both faith and hope to guide and uplift us. When times are tough, and our faith might waver, hope steps in, reminding us of the good things to come. And when our hope dims, faith reassures us that there's a plan in place, even if we can't see it yet.
In Christianity, these twin pillars of faith and hope remind us of God's love and the beautiful plans He has for each of us. As we journey through life, let's cherish both the trust that keeps us grounded and the dreams that lift our spirits high. Both are gifts from above, helping light our way.
Last Updated: October 17, 2023