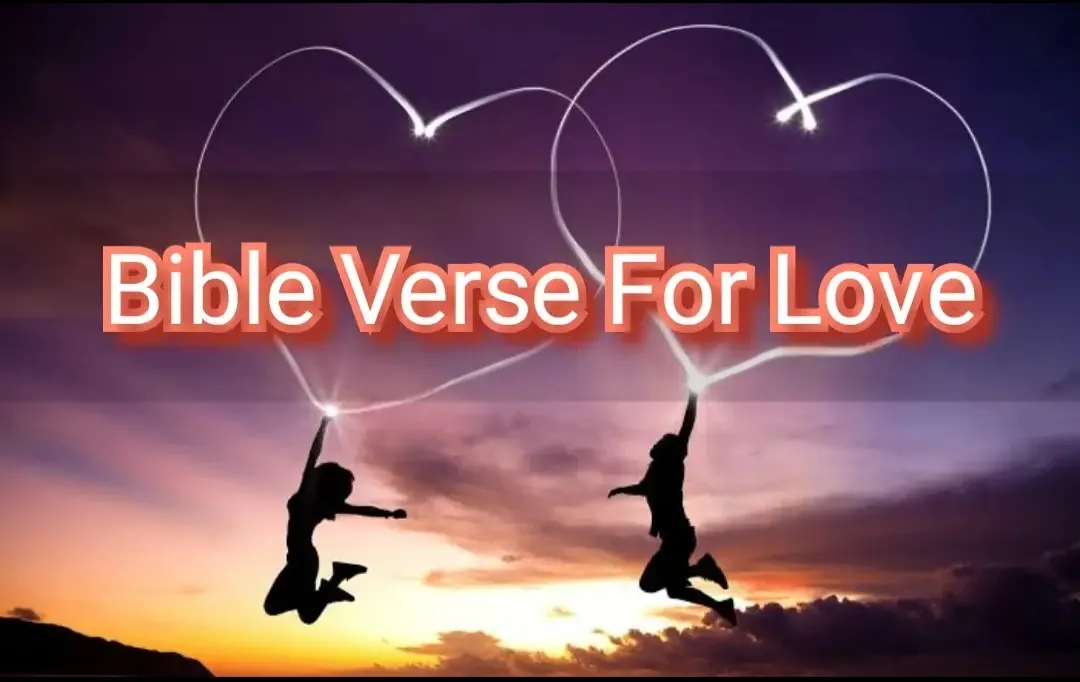 What Is Love Quotes From The Bible?
Love bears the fruits of love, joy, peace, longsuffering, kindness, Faithfulness, and goodness. Love can endure all types of persecutions. It helps to keep the heart cool even when things go wrong.
Christians should show such nature of Jesus that can please God. This world needs to learn the importance of love. If the mighty creature can love us so we should love others too.
Bible Verses About Love
In Bible, we can see the greatest love of God displayed at the cross. When someone reads the Bible, it tells what is actual love. It makes the reader to
understand the love that God has shown for the sake of human beings. While men were sinners, they were God's enemy but because of love, He came to suffer and die.
The Bible will help a sinner to understand the meaning of love and eventually that
will force him to love others. Bible says God is love and those who come before He will obtain a heart to love others.
Love makes to forget all enmity among the people. The love of God changes the mind of the criminals too.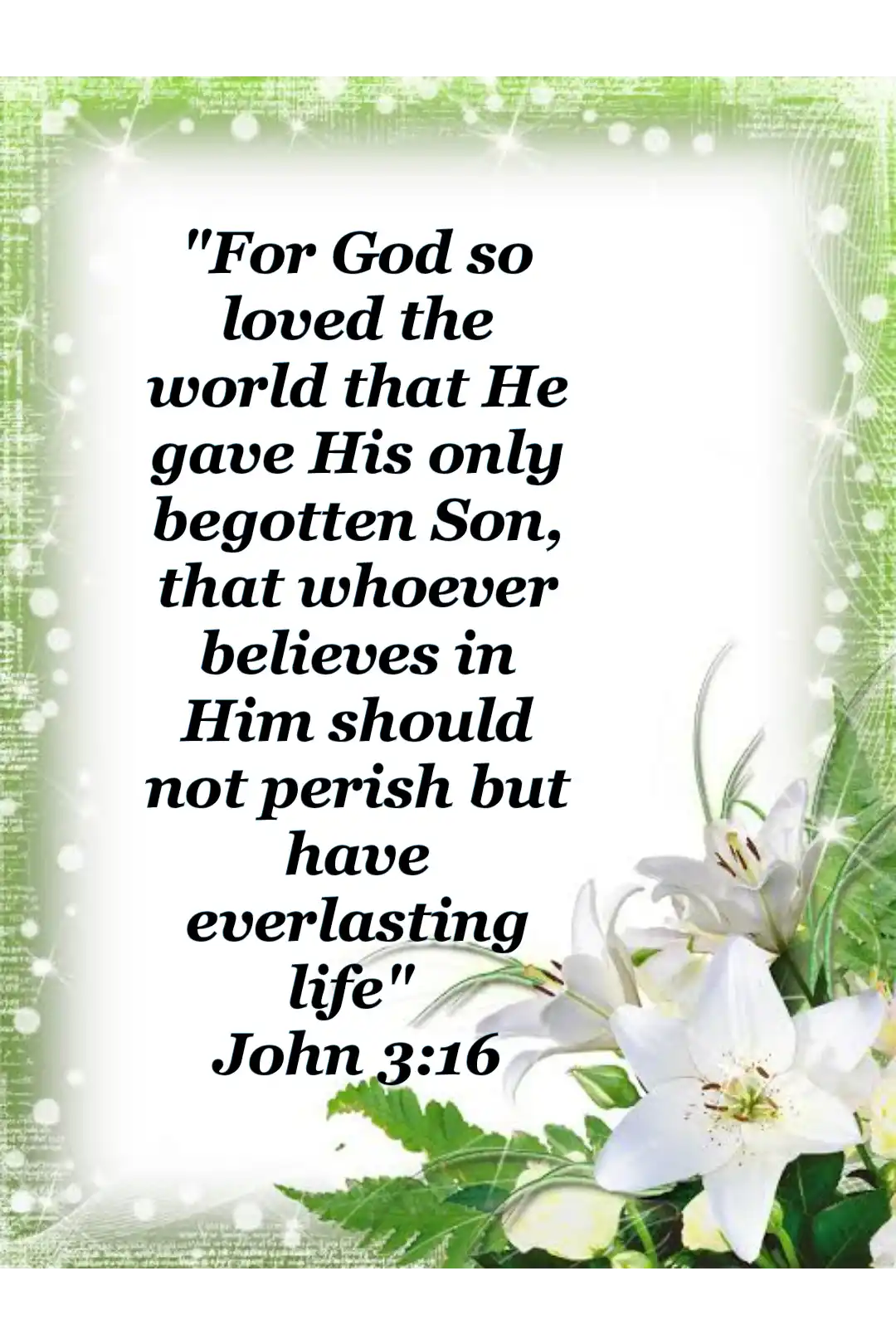 John 3:16(NRSV)"For God so loved the world that he gave his only Son so that everyone who believes in him may not perish but may have eternal life"

Explanation:-The love of God is displayed by Jesus. To save the entire human being Jesus came on earth to give us salvation. It is because of God's unconditional love that He expressed on the cross. There is none who died for the human being except Jesus.
1 John 3:1(NRSV) "See what love the Father has given us, that we should be called children of God; and that is what we are. The reason the world does not know us is that it did not know him"

Explanation:-As the world does not know one true God, so they don't have love in them. But God Himself is love and whoever will follow Him, will have love in their hearts.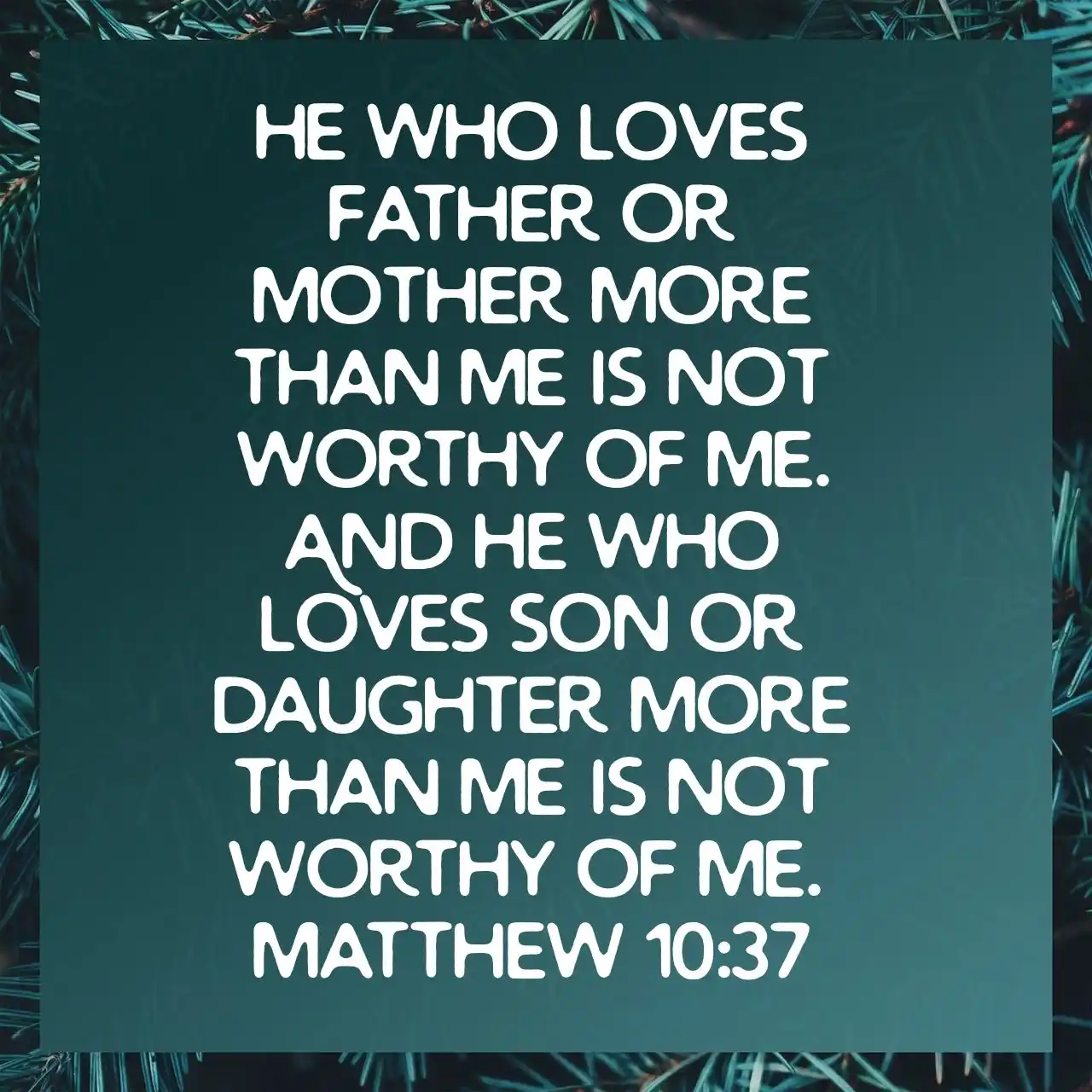 Matthew 10:37(NRSV)"Whoever loves father or mother more than me is not worthy of me; and whoever loves son or daughter more than me is not worthy of me"

Explanation:-Here Lord wants us to love Him most. Christians should not love the world or the things in the world. They should do their duties to their family members but in heart, God must be there. God must be given priority in every moment of life.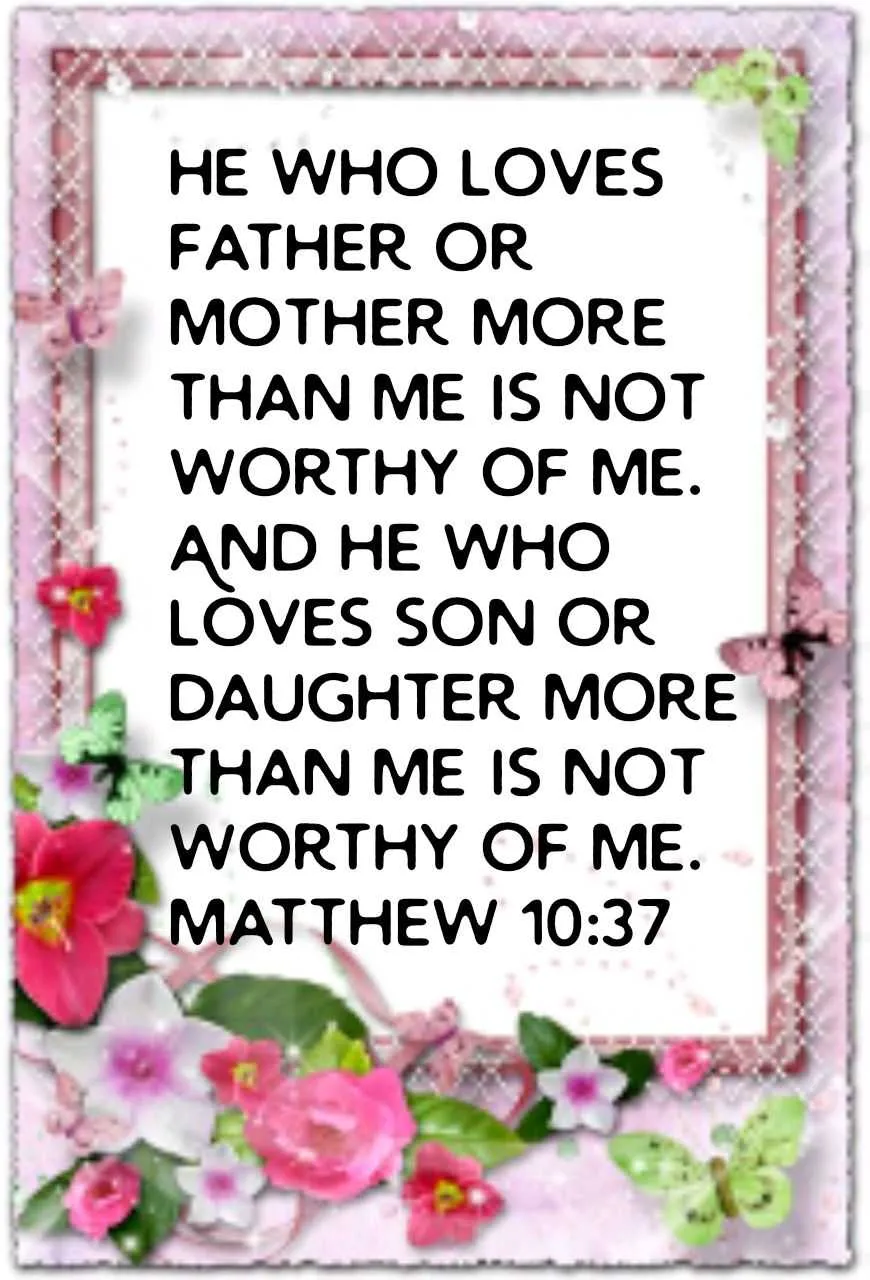 Ephesians 3:19(NRSV)"and to know the love of Christ that surpasses knowledge, so that you may be filled with all the fullness of God"

Explanation:-Believers must have a mind like Jesus. Jesus taught His disciples to love each other, if they do not love themselves everything in vain. Christ shows the highest love at the cross. The love of Christ enriches the member's hearts with love.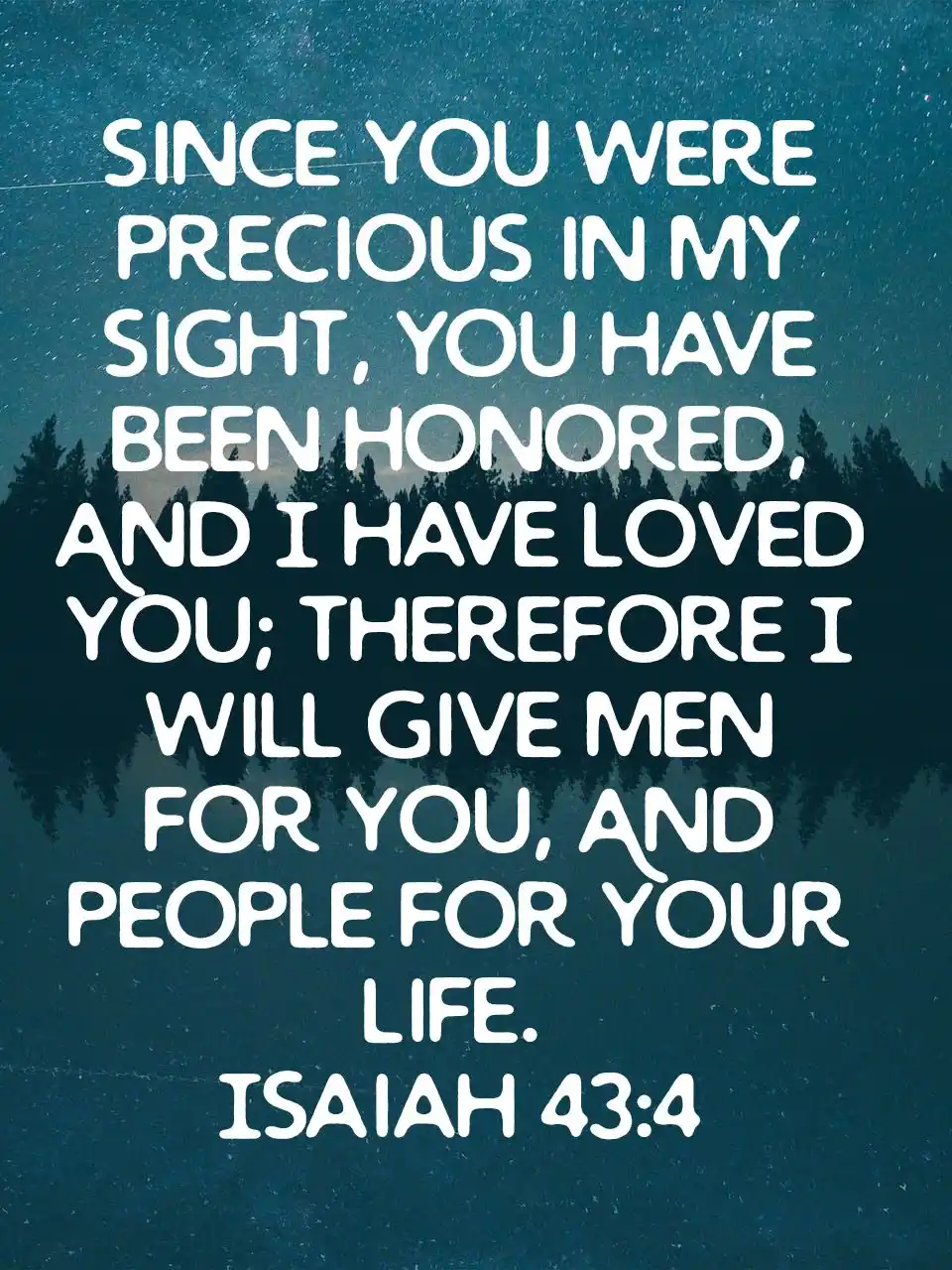 Isaiah 43:4(NRSV)"Because you are precious in my sight, and honored, and I love you,I give people in return for you, nations in exchange for your life"

Explanation:-The Lord said how much He loved Israel even though they forget their redeemer who brought them out from Egypt. In spite of their all misbehaviors still God loves them. God separated them from other nations as He has chosen them.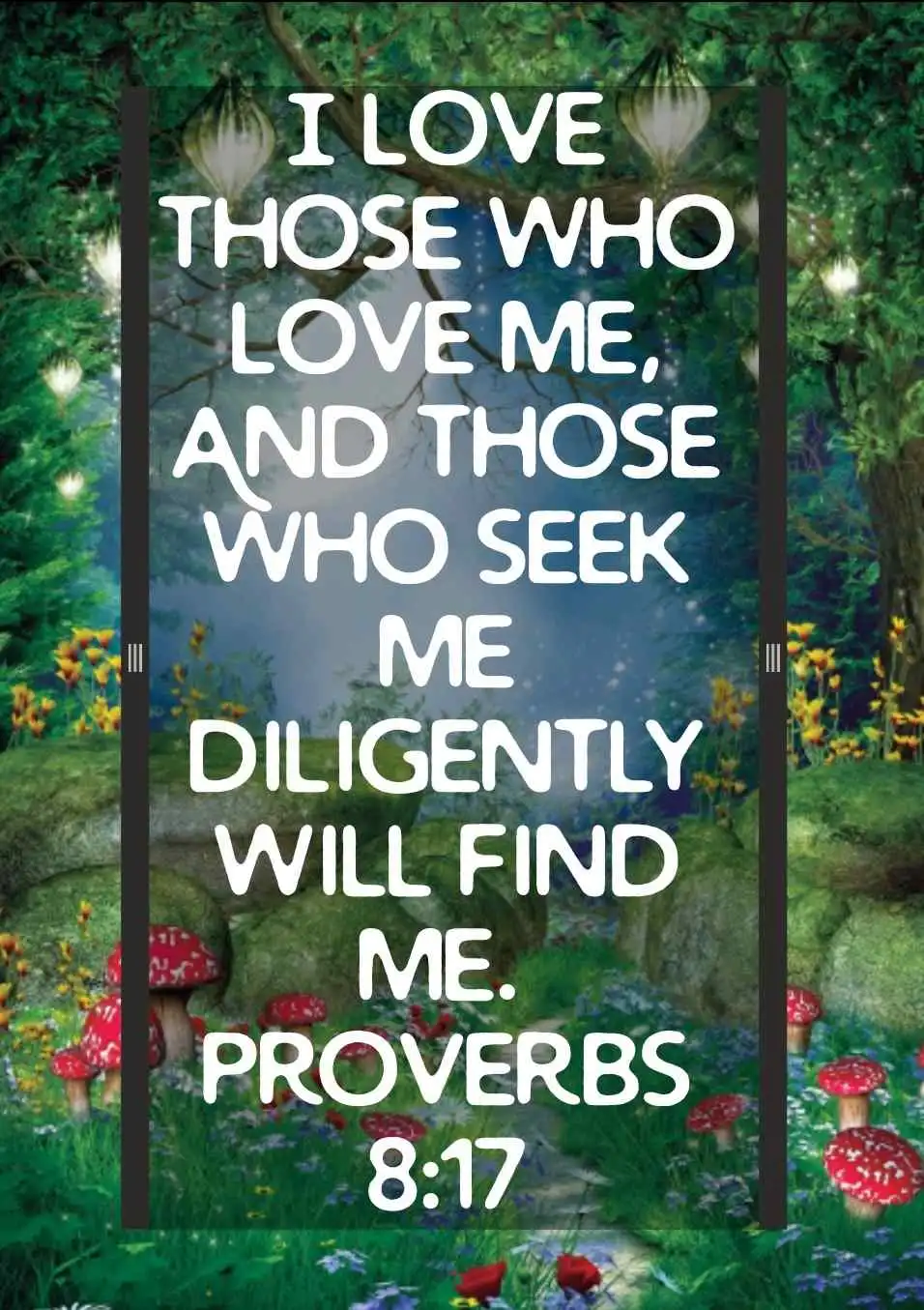 Proverbs 8:17(NRSV)"I love those who love me, and those who seek me diligently find me"

Explanation:-God loves everyone that is why He gives all the natural things free of cost. This is His general love for everyone. When someone seeks Him from the deepest heart, God will reveal Himself. The more we will come closer to Him, to more He will bless us.
Philippians 2:2(NRSV)"For the love of Christ urges us on, because we are convinced that one has died for all; therefore all have died"

Explanation:-Jesus has completed us by giving His life on the cross. He bought us from the gate of hell shedding His blood. Satan has no power over us. Nothing can be compared with the love of Christ.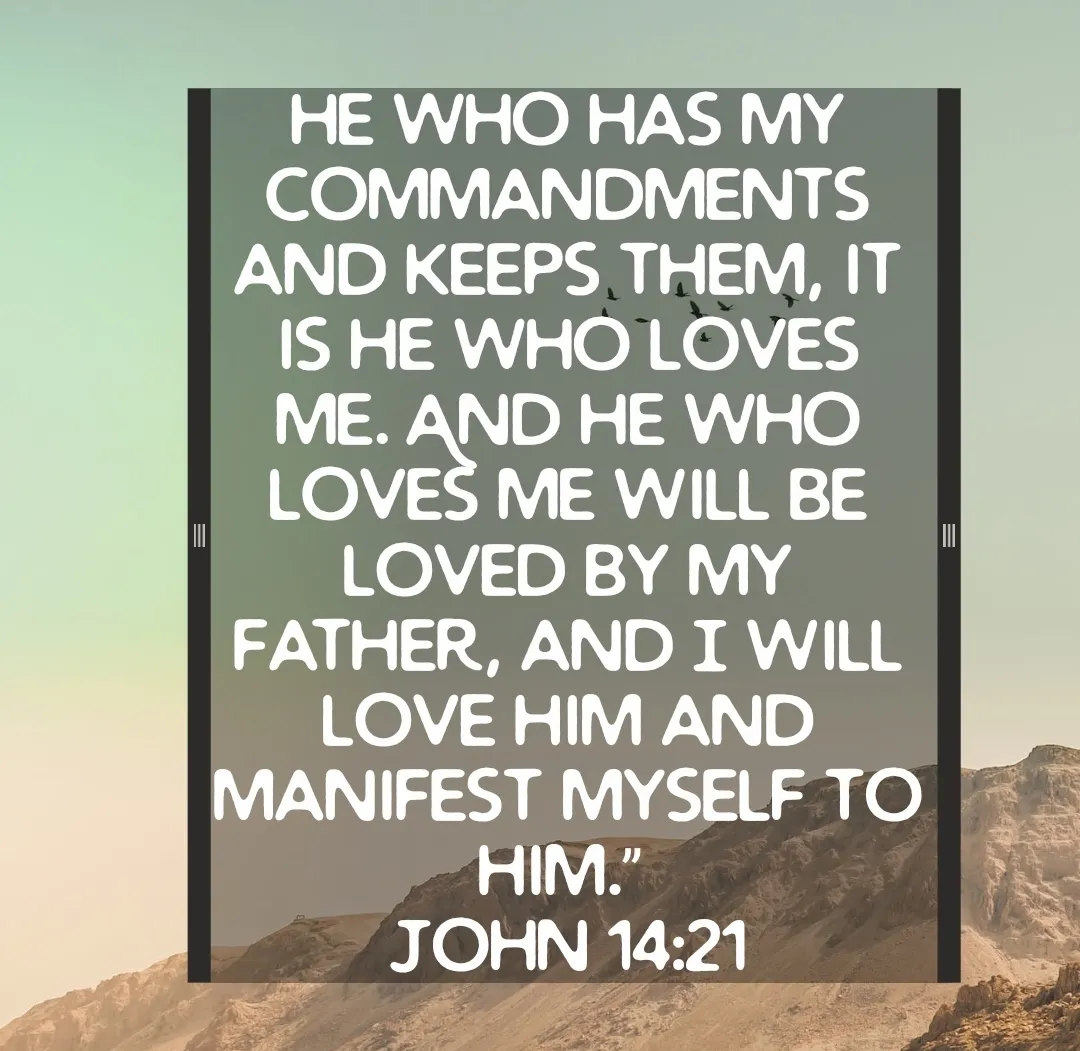 John 14:21(NRSV)"They who have my commandments and keep them are those who love me; and those who love me will be loved by my Father, and I will love them and reveal myself to them"

Explanation:-Jesus wants His people to love Him if they really obey His commandments. if believers love Jesus then the Father also will love them. Jesus will love those who will live according to His teachings and He will bless their ways.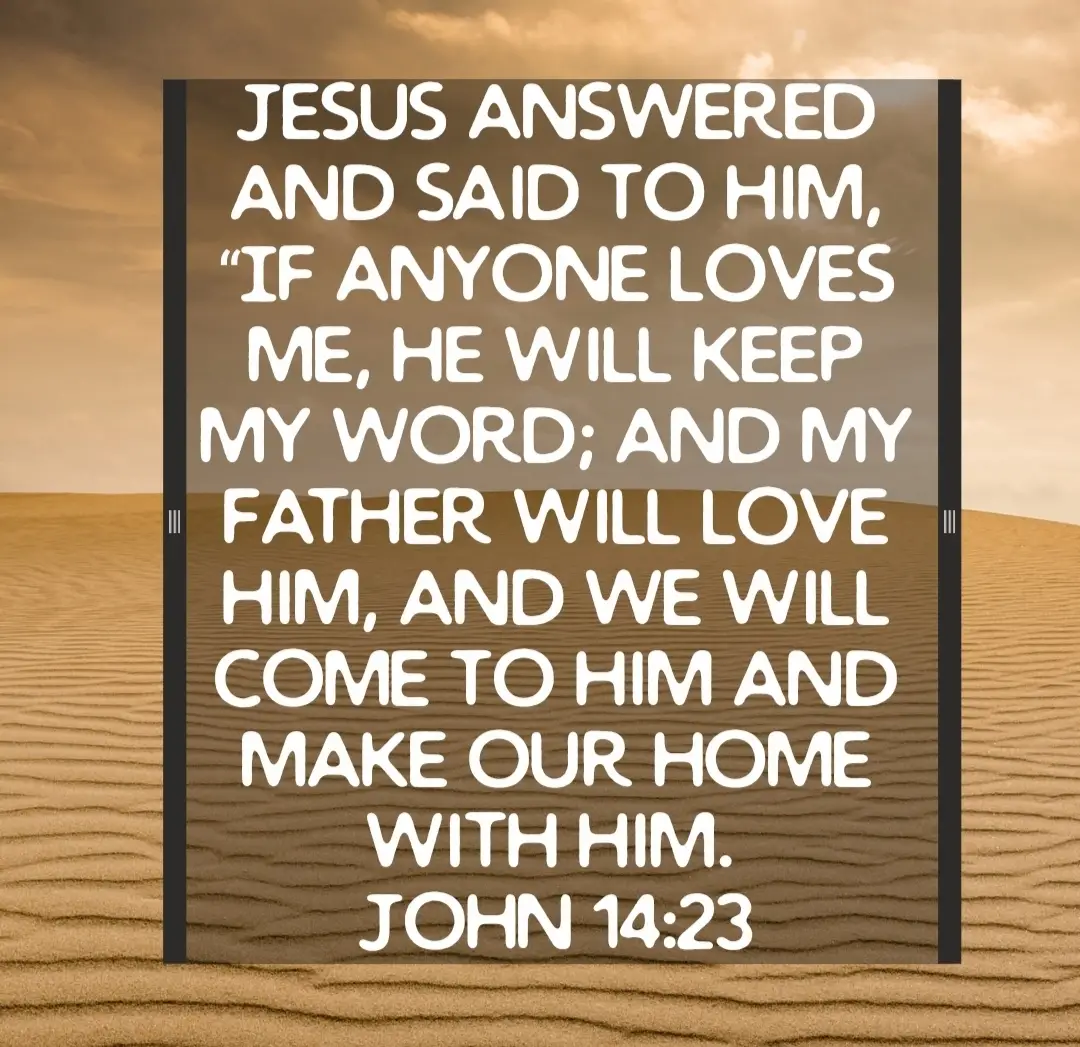 John 14:23(NRSV)"Jesus answered him, "Those who love me will keep my word, and my Father will love them, and we will come to them and make our home with them"

Explanation:-A true follower will always keep the commandments of God. Jesus said if one follows Him in every aspect of his life then the Lord will reveal to him.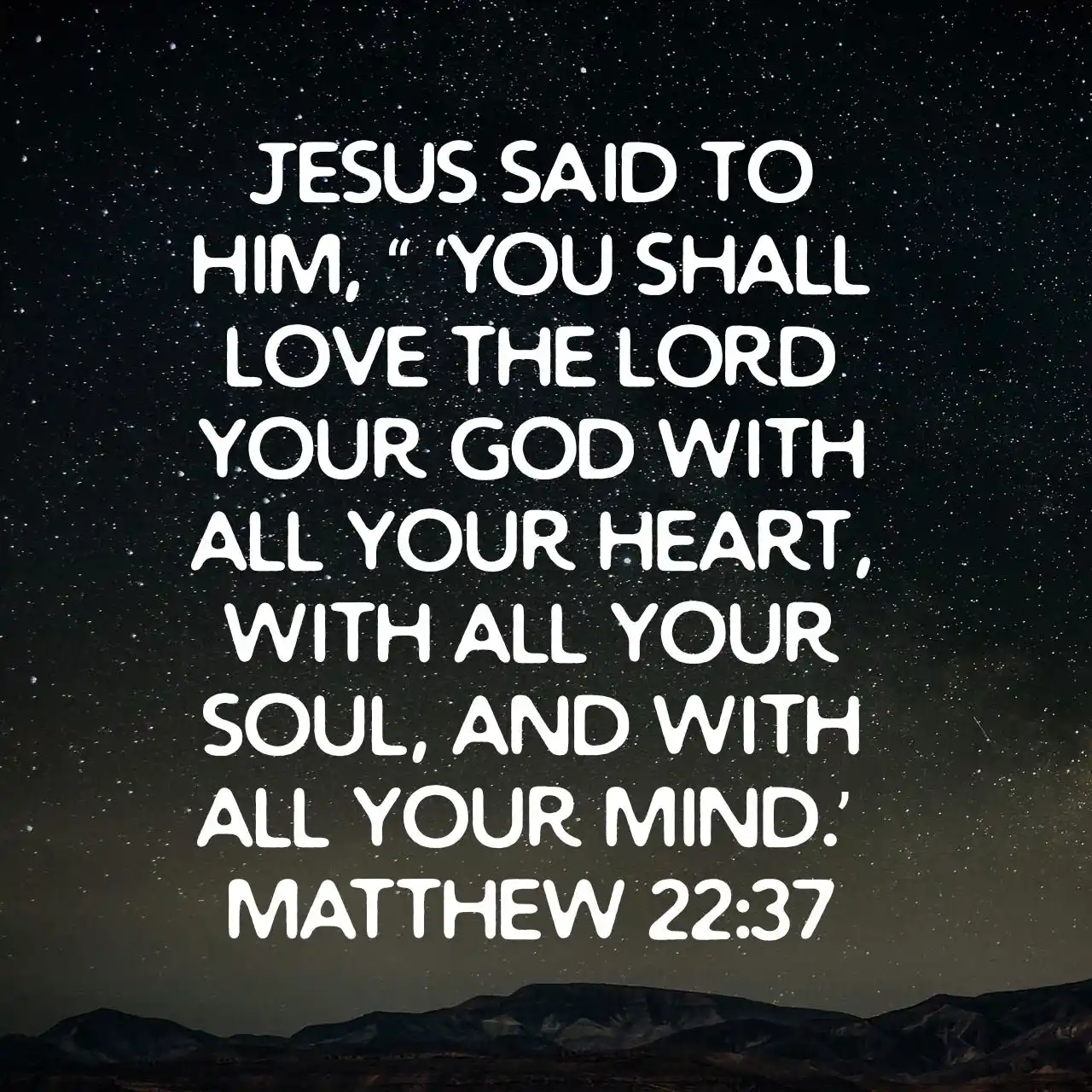 Matthew 22:37(NRSV)"He said to him, "'You shall love the Lord your God with all your heart, and with all your soul, and with all your mind"

Explanation:-The greatest commandment is to love God with a whole heart. The Lord deserves it, as He created everything for the sake of human beings.
Romans 8:28(NRSV)"We know that all things work together for good for those who love God, who are called according to his purpose"

Explanation:-Everything happens god for the one who seeks God. when the Lord is with us, He will change our enemy's hearts too. He will bless us and lead us into glorious life.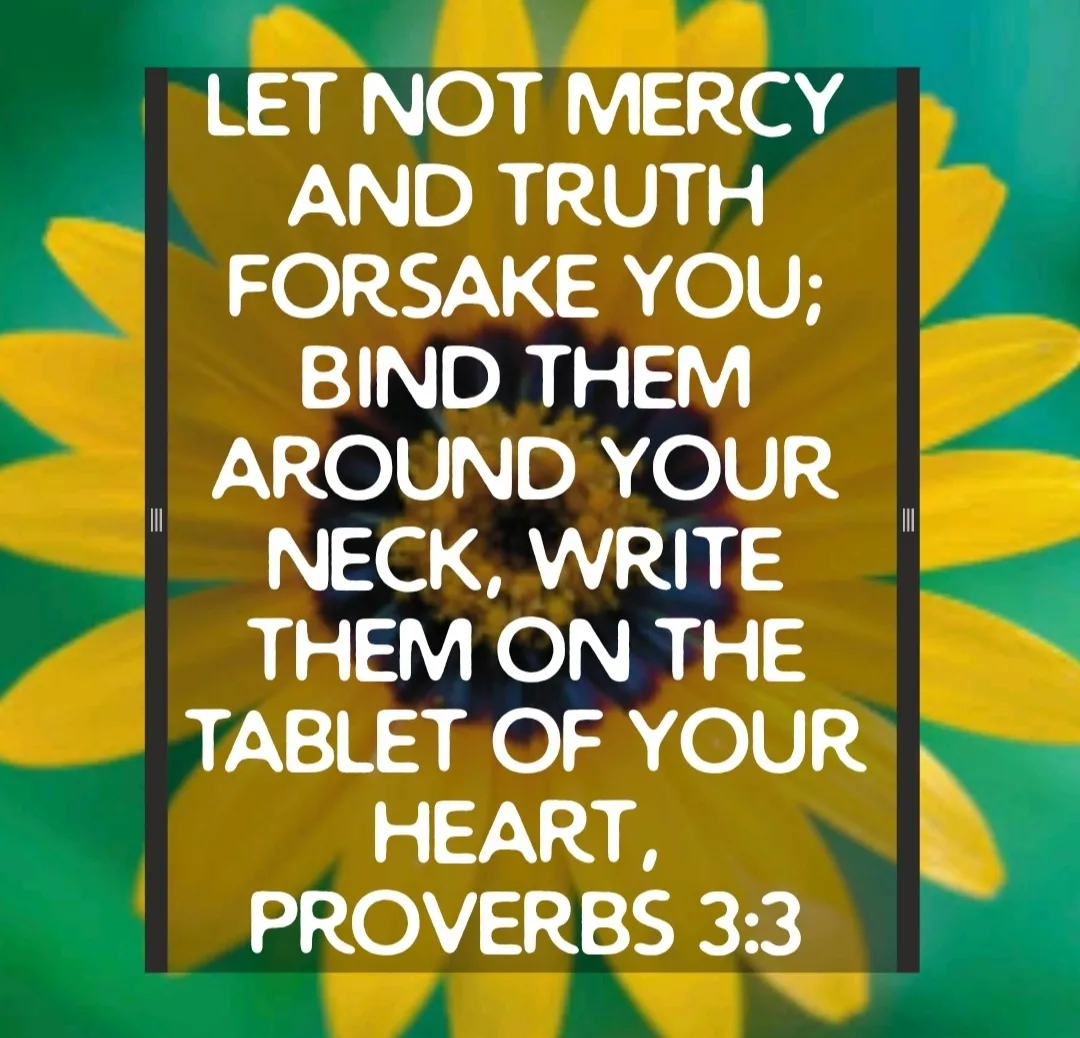 Proverbs 3:3(NRSV)"Do not let loyalty and faithfulness forsake you; bind them around your neck, write them on the tablet of your heart"

Explanation:-To get a peaceful and joyful life everyone must be loyal and faithful to God. That will make him righteous in the sight of the Lord. These must be written in the hearts so when the temptations will come the words of God will help to get rid of them.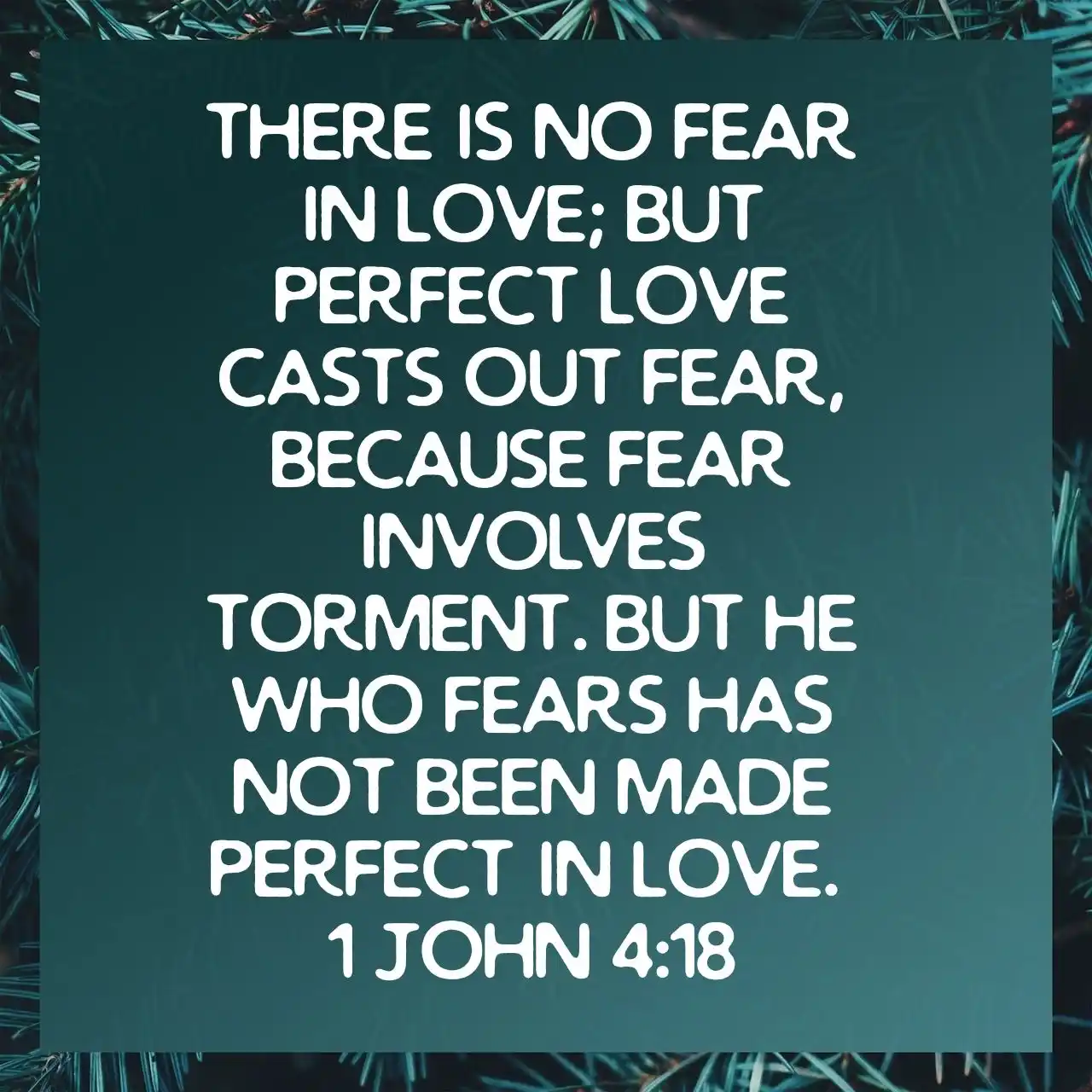 1 John 4:18(NRSV)"There is no fear in love, but perfect love casts out fear; for fear has to do with punishment, and whoever fears has not reached perfection in love"

Explanation:-Love can bring perfections in relations with everyone. Fear cannot take place where love fills the area. Love removes fears from the hearts.
Bible Verses About Loving Your Self
Bible teaches a unique thought that Christians should not love themselves. To be a true follower of Jesus Christ one must deny himself and need to take the cross upon his shoulder.
Instead of loving himself, it would be wise to love others. Jesus is the perfect example of that.
He could have born in a palace but He chooses a stable. Thus He taught us that not to think for our own.
The path to heaven is always required sacrifice so to reach there we must deny ourselves. The word of God says to humble in the sight of men and God and the Lord will lift up.
1 Corinthians 13:3(NRSV)"If I give away all my possessions, and if I hand over my body so that I may boast,but do not have love, I gain nothing."

Explanation:-Here Paul said love is the most important thing that a man can give to others. If we help the poor with our possessions but do not have a love for them in our heart that Is meaningless.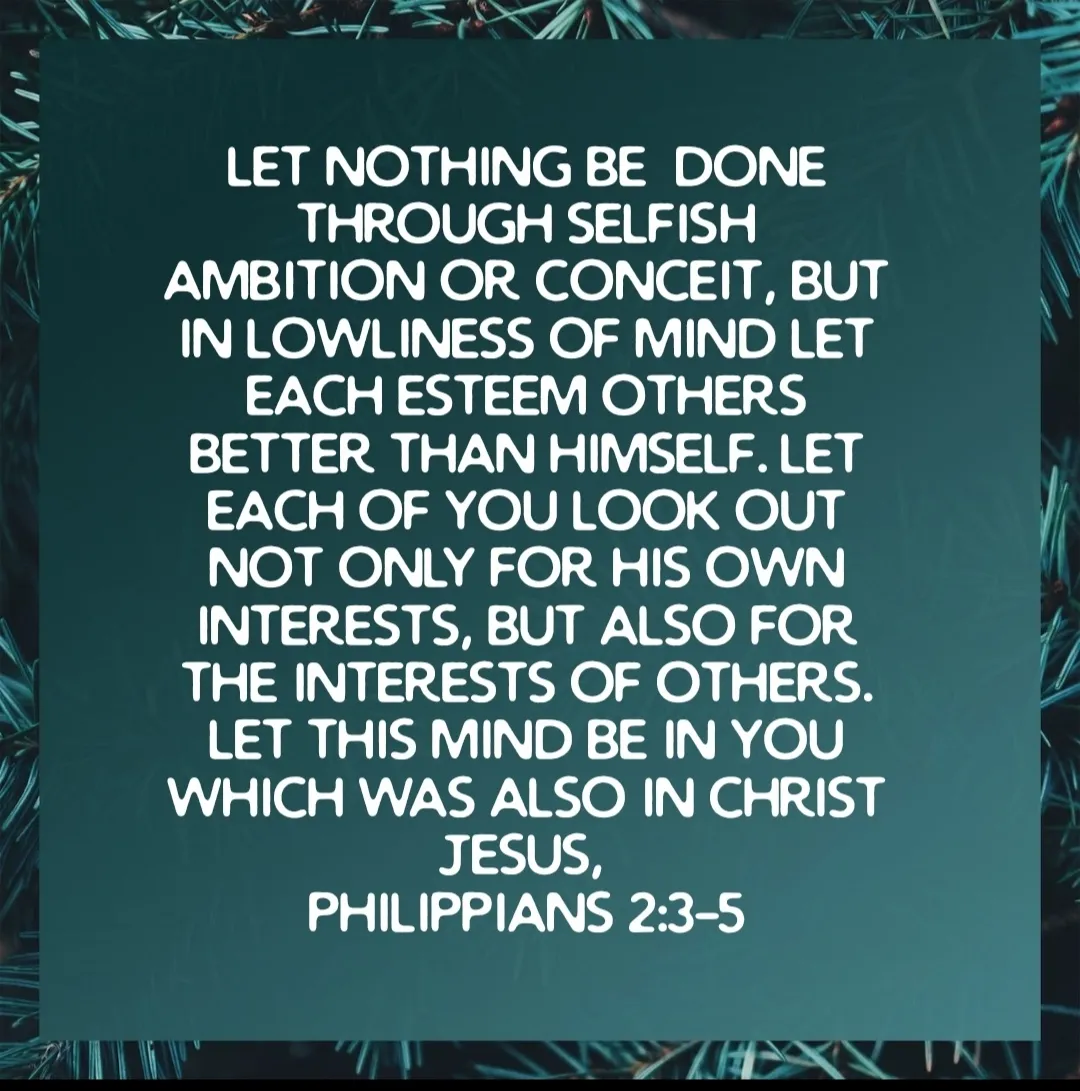 Philippians 2:3-5(NRSV)"3 Do nothing from selfish ambition or conceit, but in humility regard others as better than yourselves. 4 Let each of you look not to your own interests, but to the interests of others. 5 Let the same mind be in you that was in Christ Jesus"

Explanation:-Scriptures tell us to be humble in the sight of others. We should not seek our own profits rather we need to think for others who are in need of help.
Jesus never thought for His own, but He sacrificed Himself for the world. We should have the same mind as Jesus to help like Him.
Bible Verse About Love Of Money
The man of God must flee from the love of money. It is important to know that loving money will bring a lot of problems in life.
Judah was with Jesus and he experienced the wonderful works and miracles. Even he heard all the teachings from Jesus but he loved money more than Jesus and that made him commit suicide.
Every Christian should learn a lesson from the life of Judah. This is not our permanent home so we must be careful in our deeds especially, in the field of handling money.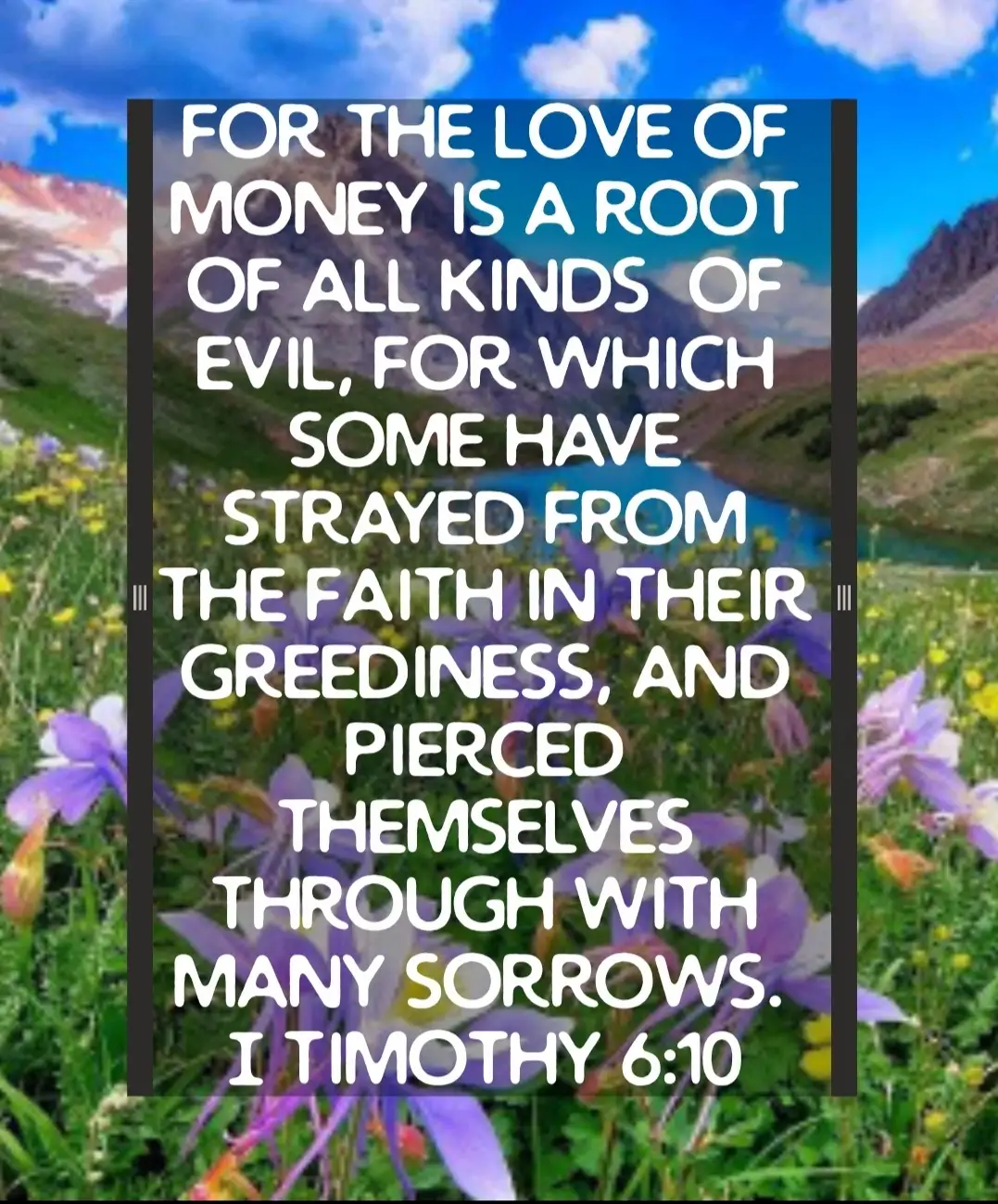 1 Timothy 6:10(NRSV)"For the love of money is a root of all kinds of evil, and in their eagerness to be rich some have wandered away from the faith and pierced themselves with many pains"

Explanation:-We all need money to survive ourselves but at the same time, we must use our brain about earning money. Bible never tells us that we do not need money, it warns us not to fall into the temptation of loving money. The world is getting worse day by day due to the love of money.
Satan uses this trap to separate the people of God from their aim. It diverts many Christians from their faith.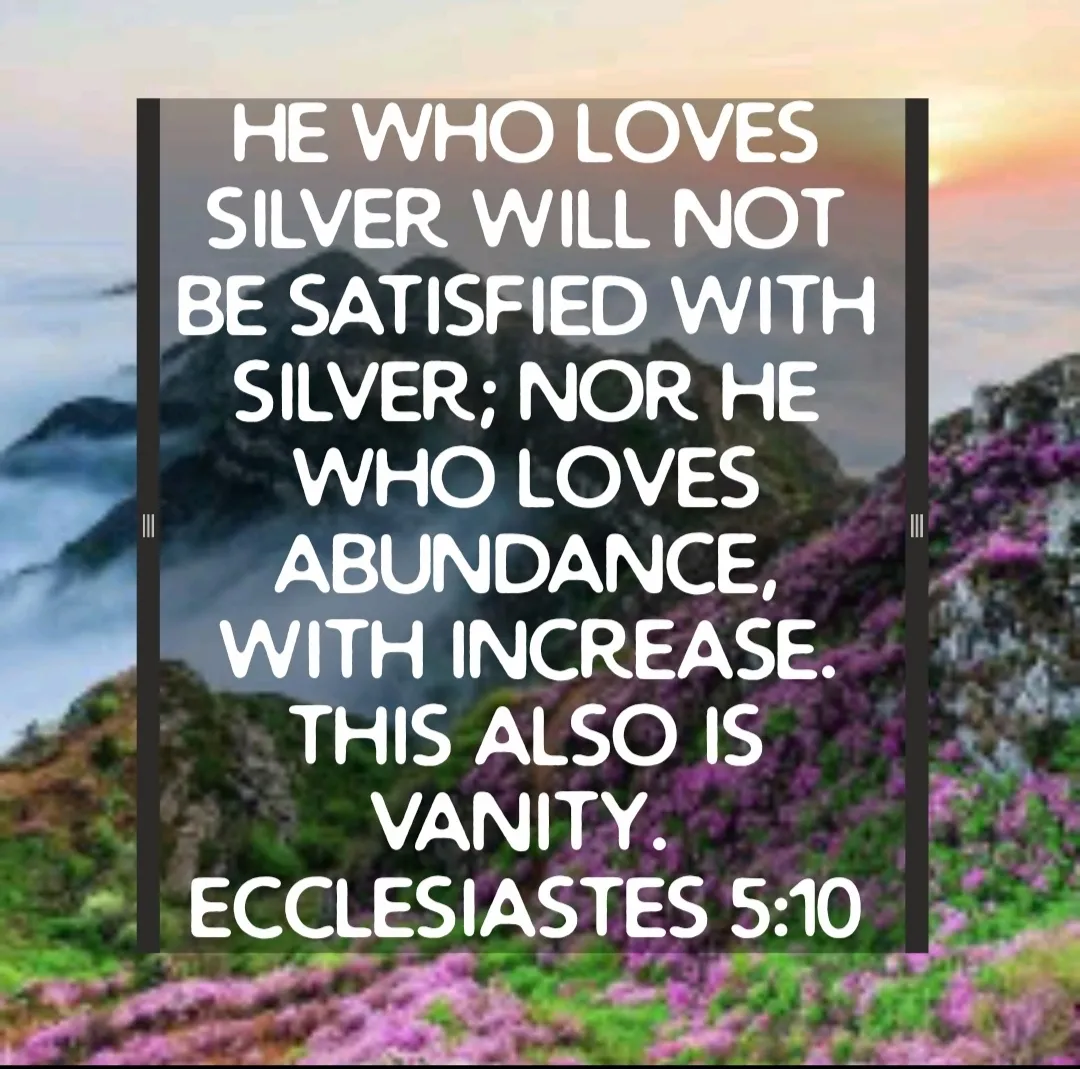 Ecclesiastes 5:10(NRSV)"The lover of money will not be satisfied with money; nor the lover of wealth, with gain. This also is vanity"

Explanation:-Nothing can satisfy a man. Those who seek money will never be satisfied with money. The more they will gain, the more passion will drive them to gain more. All types of worldly wreaths are not beneficial for Christians. They must be content with whatever they have.
Proverbs 13:11(NRSV)"Wealth hastily gotten will dwindle, but those who gather little by little will increase it"

Explanation:-The death that gained in an evil way will not stay long. It will be away very soon as it came in hurry. But the money or wealth that comes slowly also will help to increase.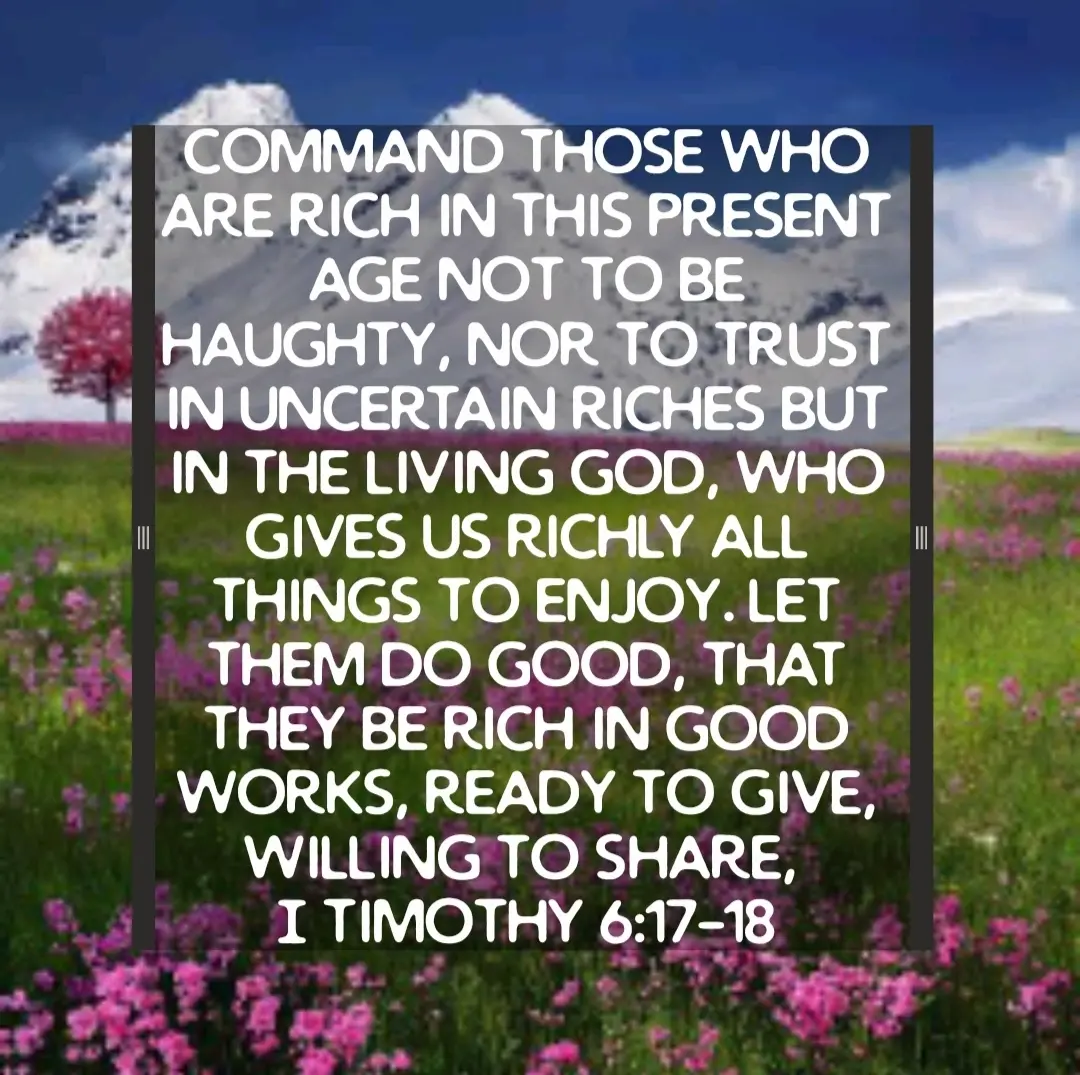 1 Timothy 6:17-18(NRSV)"17 As for those who in the present age are rich, command them not to be haughty, or to set their hopes on the uncertainty of riches, but rather on God who richly provides us with everything for our enjoyment. 18 They are to do good, to be rich in good works, generous, and ready to share"

Explanation:-Those who are rich must not be rich for their wealth. They must bring glory to God bor the blessing they had received. All the resources need to be used for the extension of God's kingdom.
At the same time, people should not rely on money but must depend on God.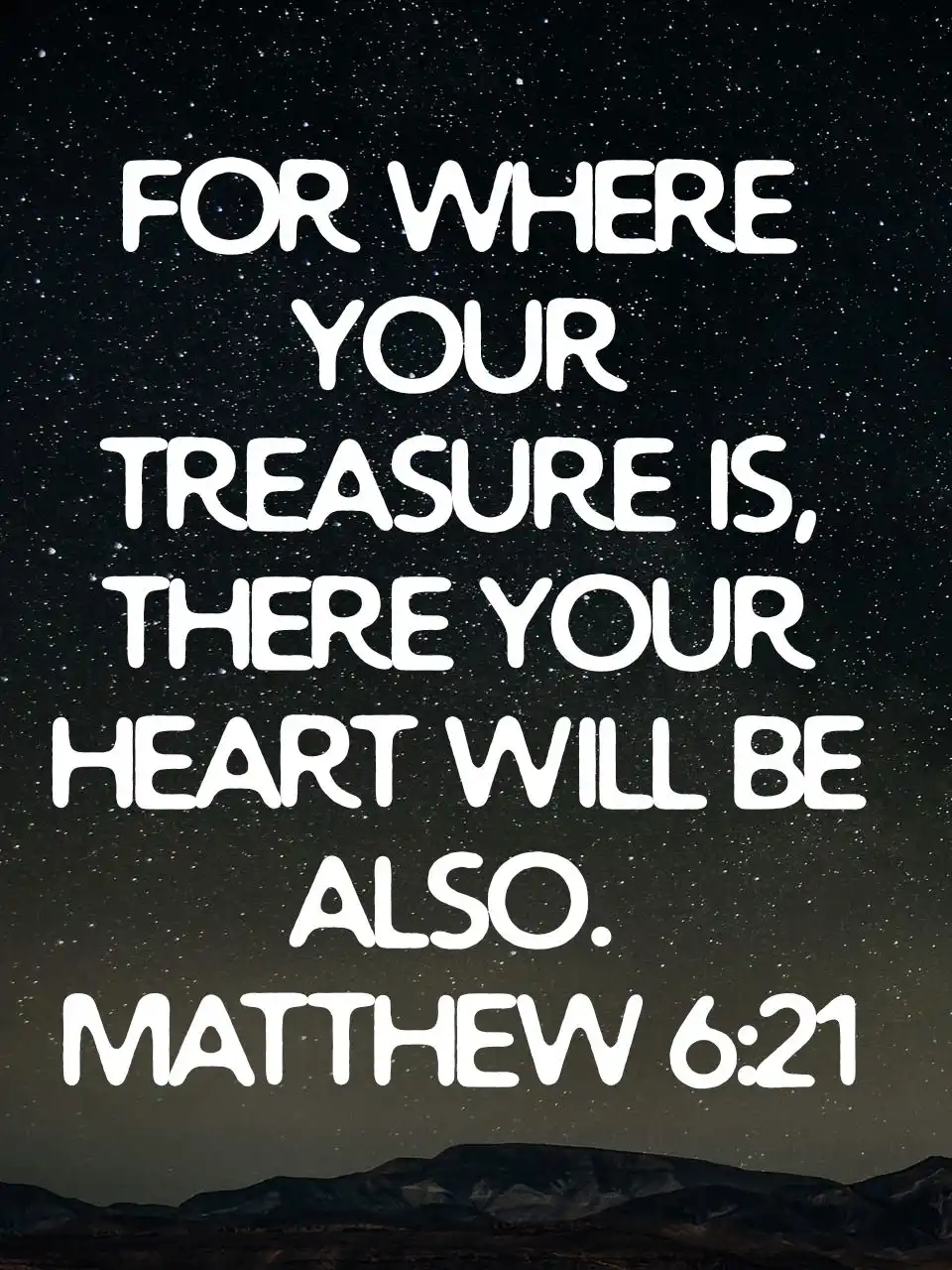 Matthew 6:21(NRSV)" For where your treasure is, there your heart will be also"

Explanation:-Money is needed for our daily expenses but we must not desire to have wealth beyond our need. Because our money will be there where our money comes from. But Bible says to guard our heart by the wisdom of God so as not to fall into temptation.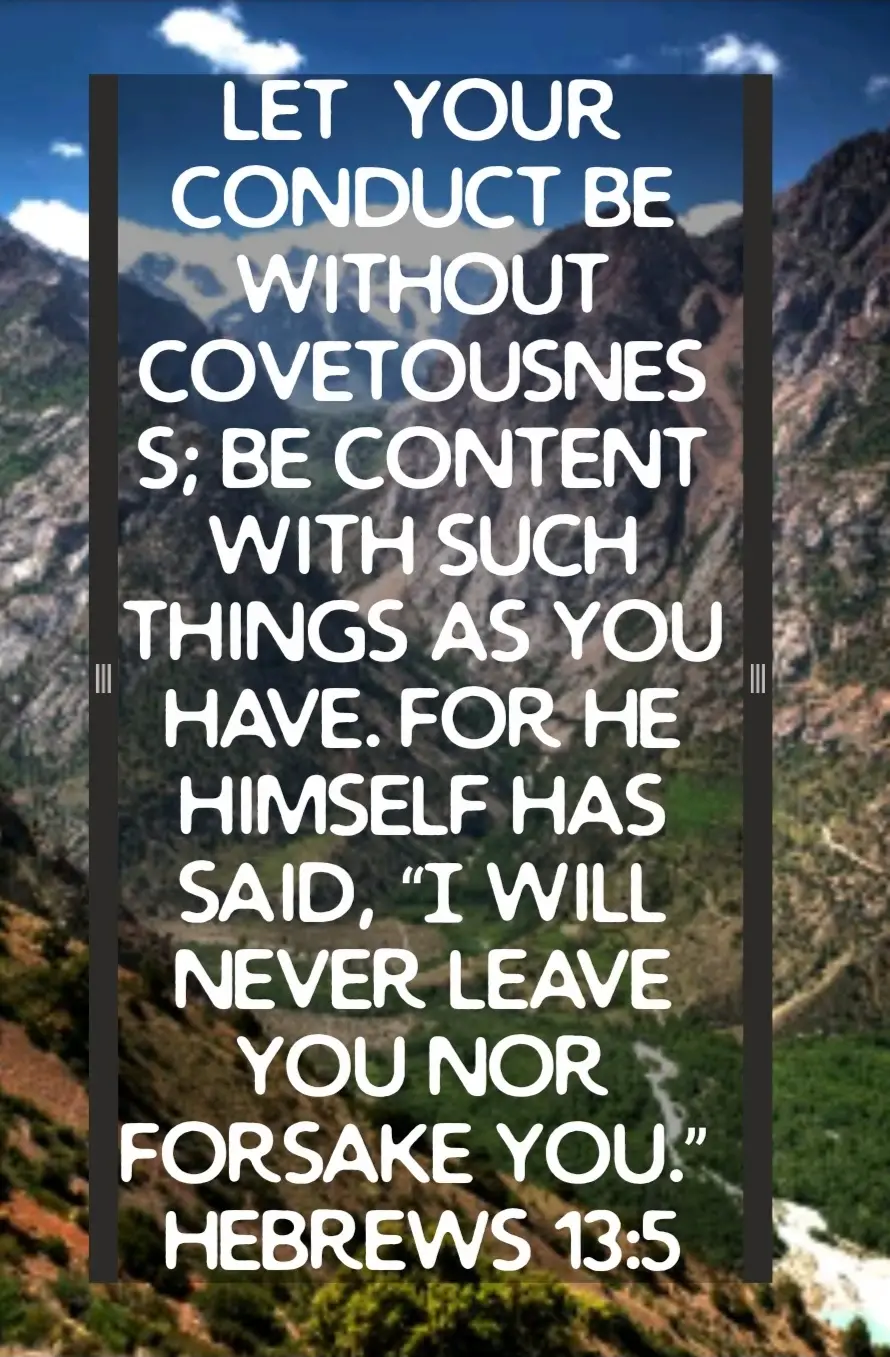 Hebrews 13:5(NRSV)"Keep your lives free from the love of money, and be content with what you have; for he has said, "I will never leave you or forsake you"

Explanation:-God promised that He will never forsake us if we stick to Him. Whatever we have we must be pleased with that. Running after money will eventually lead us far away from God's presence.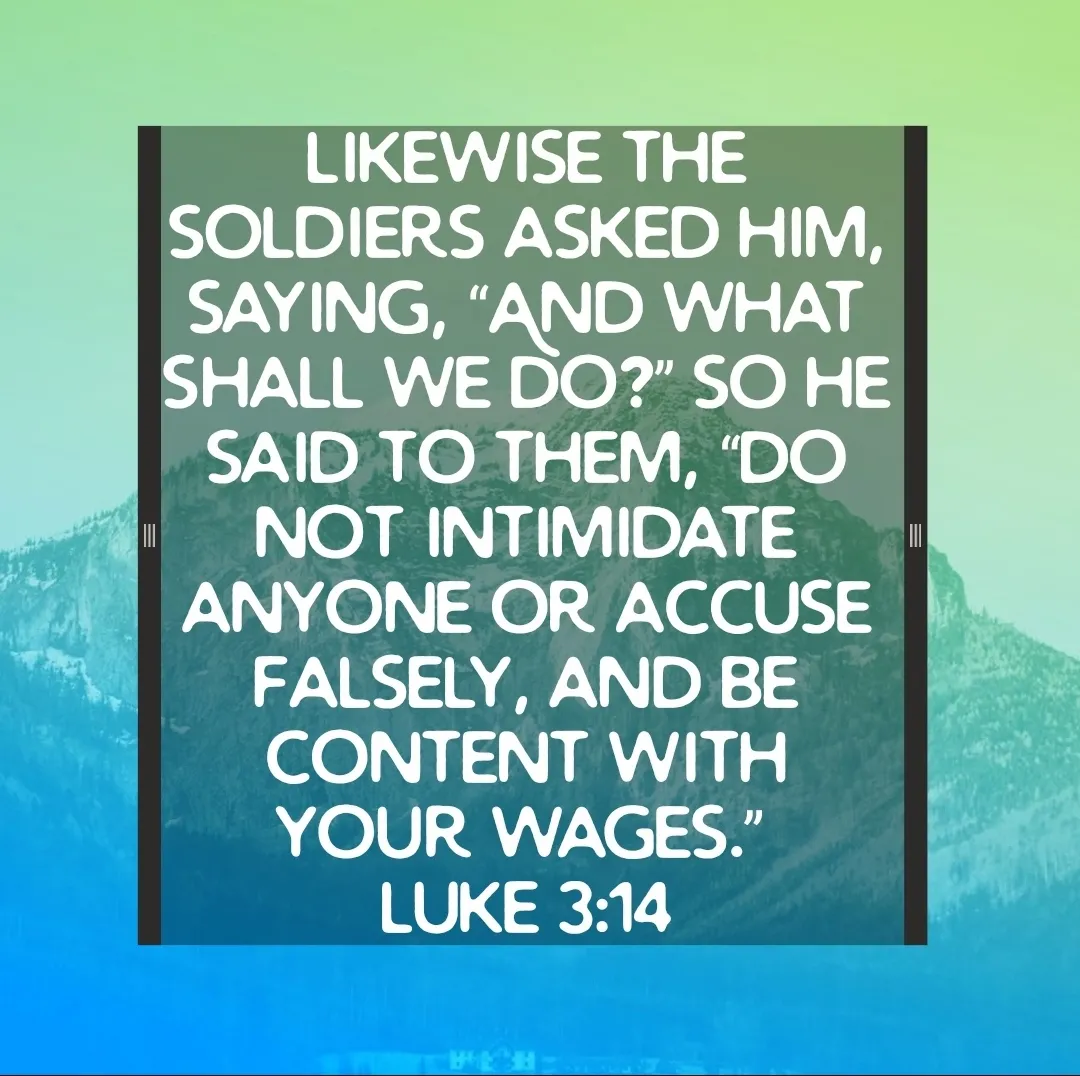 Luke 3:14(NRSV)" Soldiers also asked him, "And we, what should we do?" He said to them, "Do not extort money from anyone by threats or false accusation, and be satisfied with your wages"

Explanation:-Soldiers should be content with their salaries, to earn more they must not commit crimes. Taking bribes will eventually fall into temptation.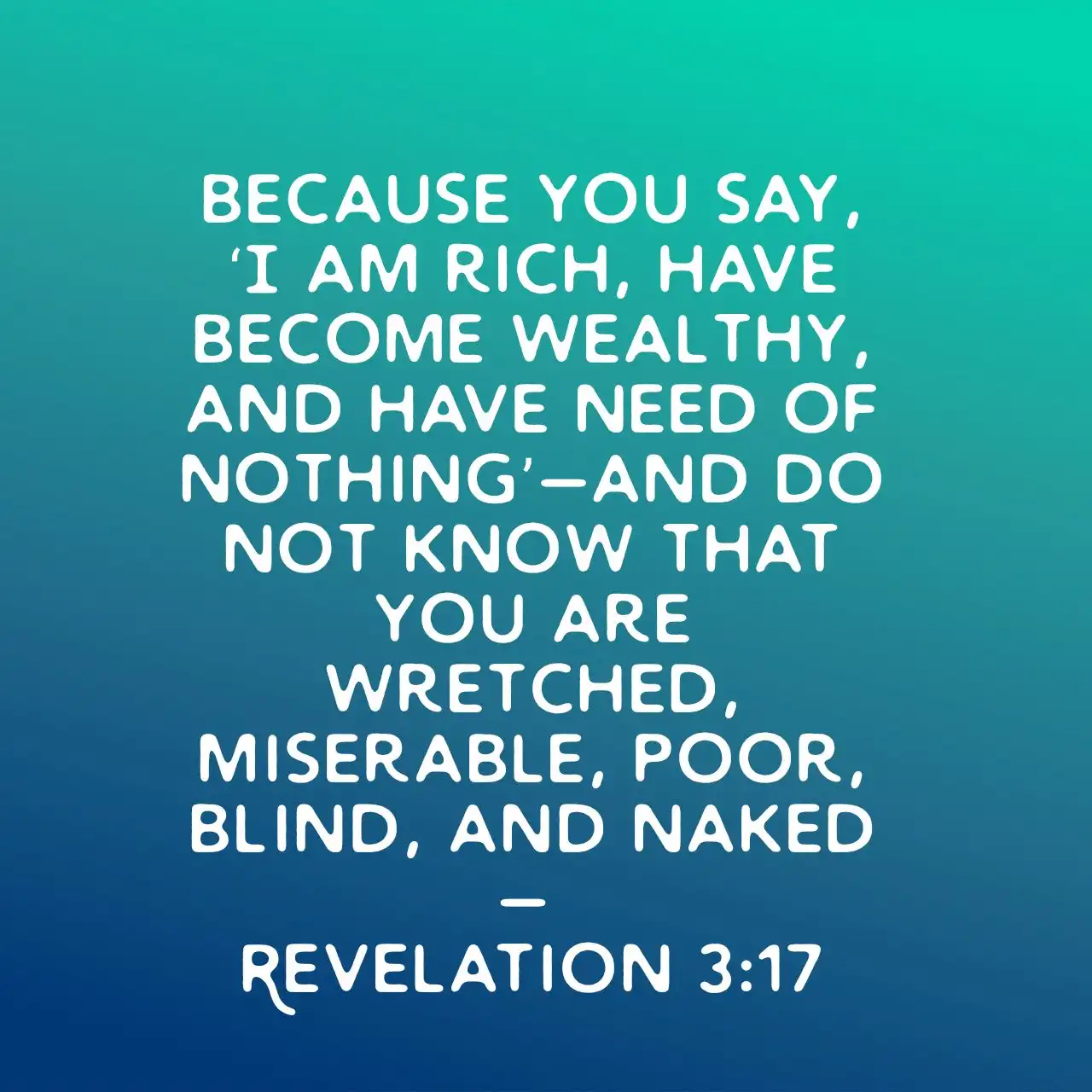 Revelation 3:17(NRSV)"For you say, 'I am rich, I have prospered, and I need nothing.' You do not realize that you are wretched, pitiable, poor, blind, and naked"

Explanation:-People might view themselves as rich, wealthy, and powerful but God knows how much poor they are. God's perspective is different from human beings about the success of life.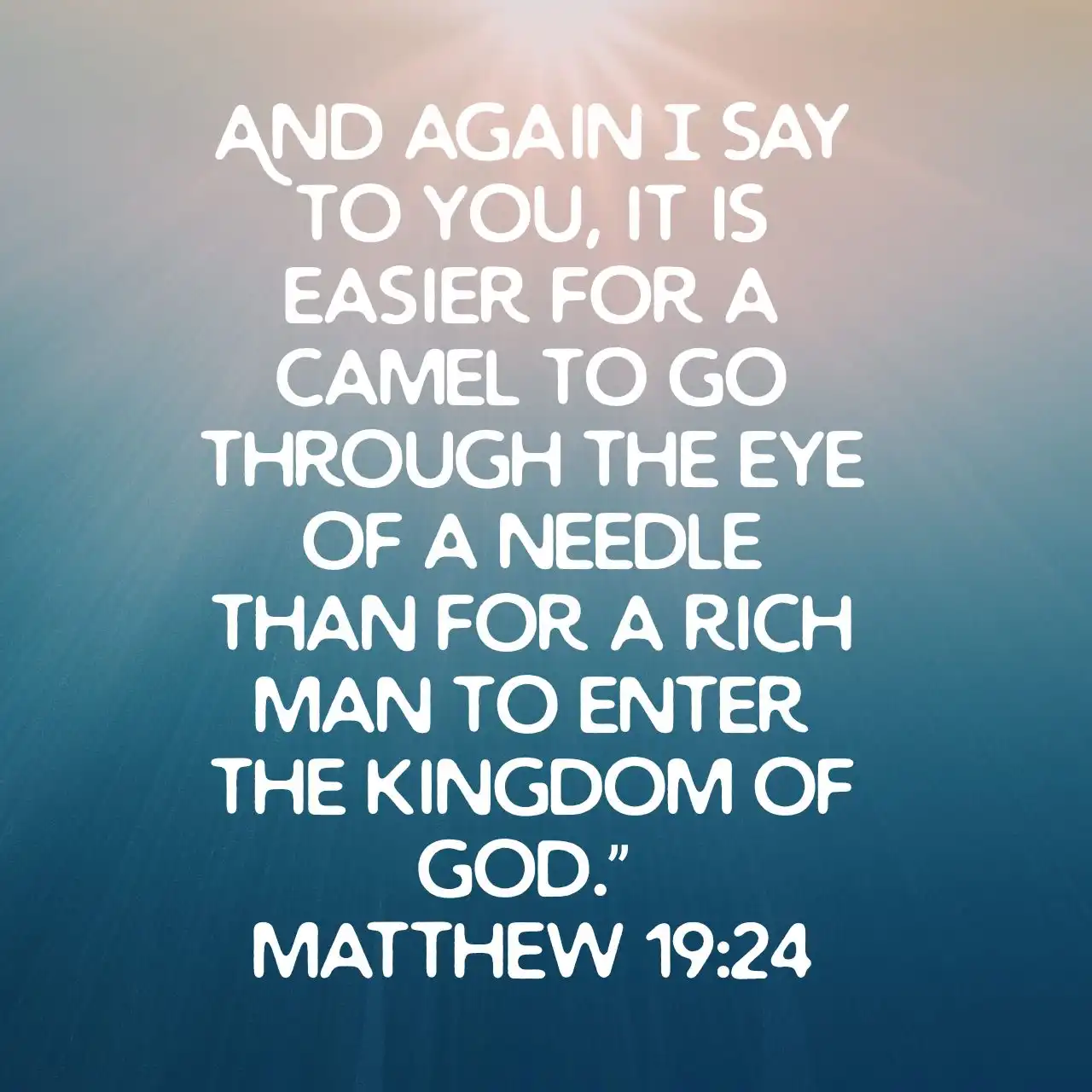 Matthew 19:24(NRSV)"Again I tell you, it is easier for a camel to go through the eye of a needle than for someone who is rich to enter the kingdom of God"

Explanation:-When Jesus advised a rich man to give away his wealth to the poor he was extremely unhappy and left Jesus. Here Jesus said, to reach in His kingdom poor can easily get in but for those who are rich, then it would be very hard to enter.