As we are living in the Grace period so we need to be serious enough in our faith to reach our final destination. Bible verses about grace will help you to have a deeper knowledge of Grace.
Once upon a time, we were sinners in the eyes of the Lord and we had no way to connect with him. The man tried many ways to connect with him but it was impossible to get in touch with him. But the Lord himself sent his son Jesus to deliver the entire human being from eternal death to give eternal life.
The word of God encourages us to remain faithful and righteous till our death. Though we may face so many temptations and trials in this world we have to be loyal to Jesus Christ. We have to give up all our fleshly desires and we have to follow the teachings of Jesus Christ to enter heaven. If you More Details
Because permanently we will live there so we should take care in our actions and speech as long as we will be on this earth. We may find that it is very hard to live righteously on this sinful earth but we have to remember that the glorious days are waiting for us where we will live with our creator Lord Jesus Christ forever.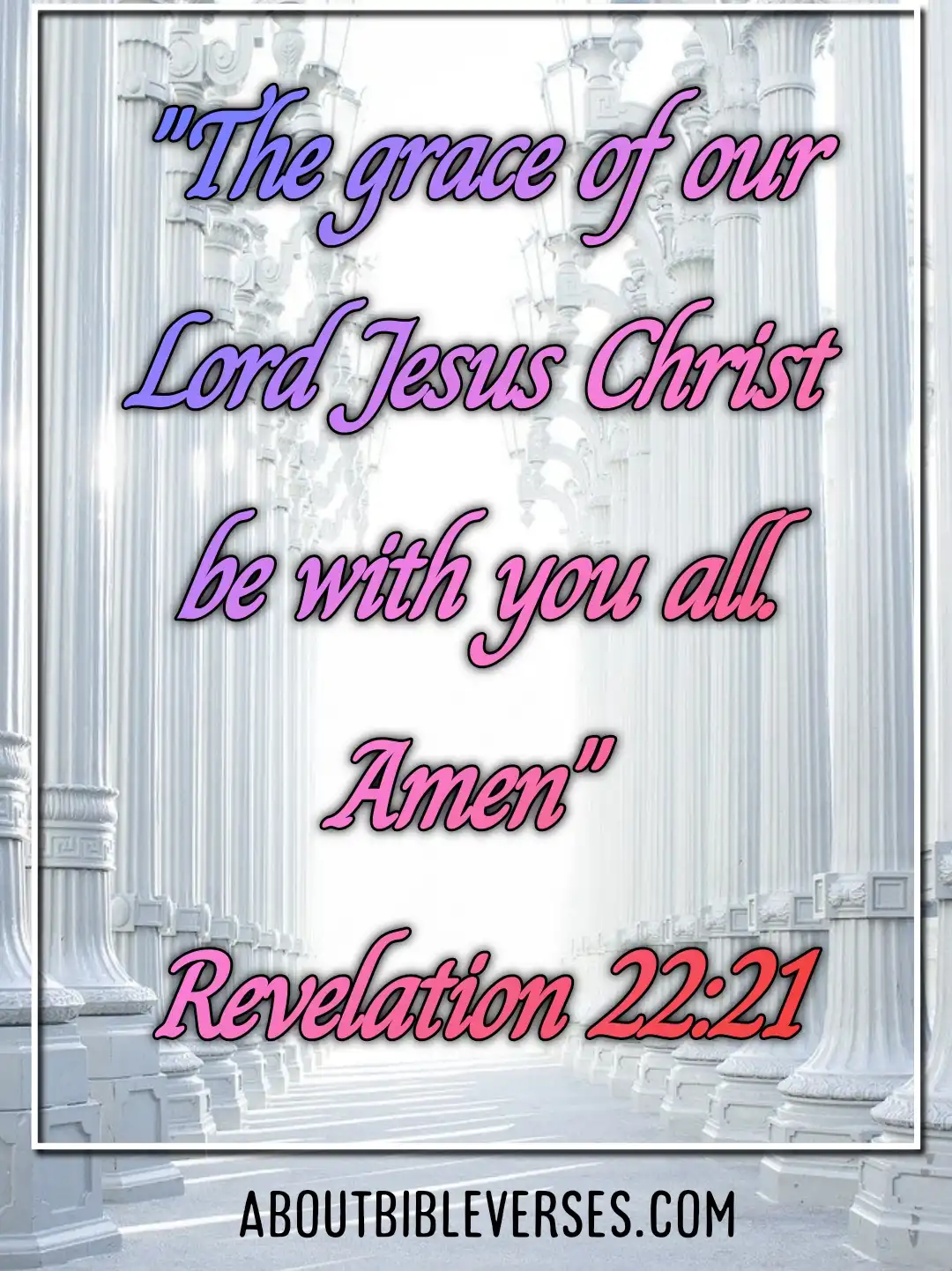 Revelation 22:21(KJV)"The grace of our Lord Jesus Christ be with you all. Amen"
Explanation:- To live on this earth we should have the grace of Jesus Christ. In this world, we have to go through so many problems and hardships because we are separated from the world. To live a righteous life we must need the grace of Lord Jesus Christ.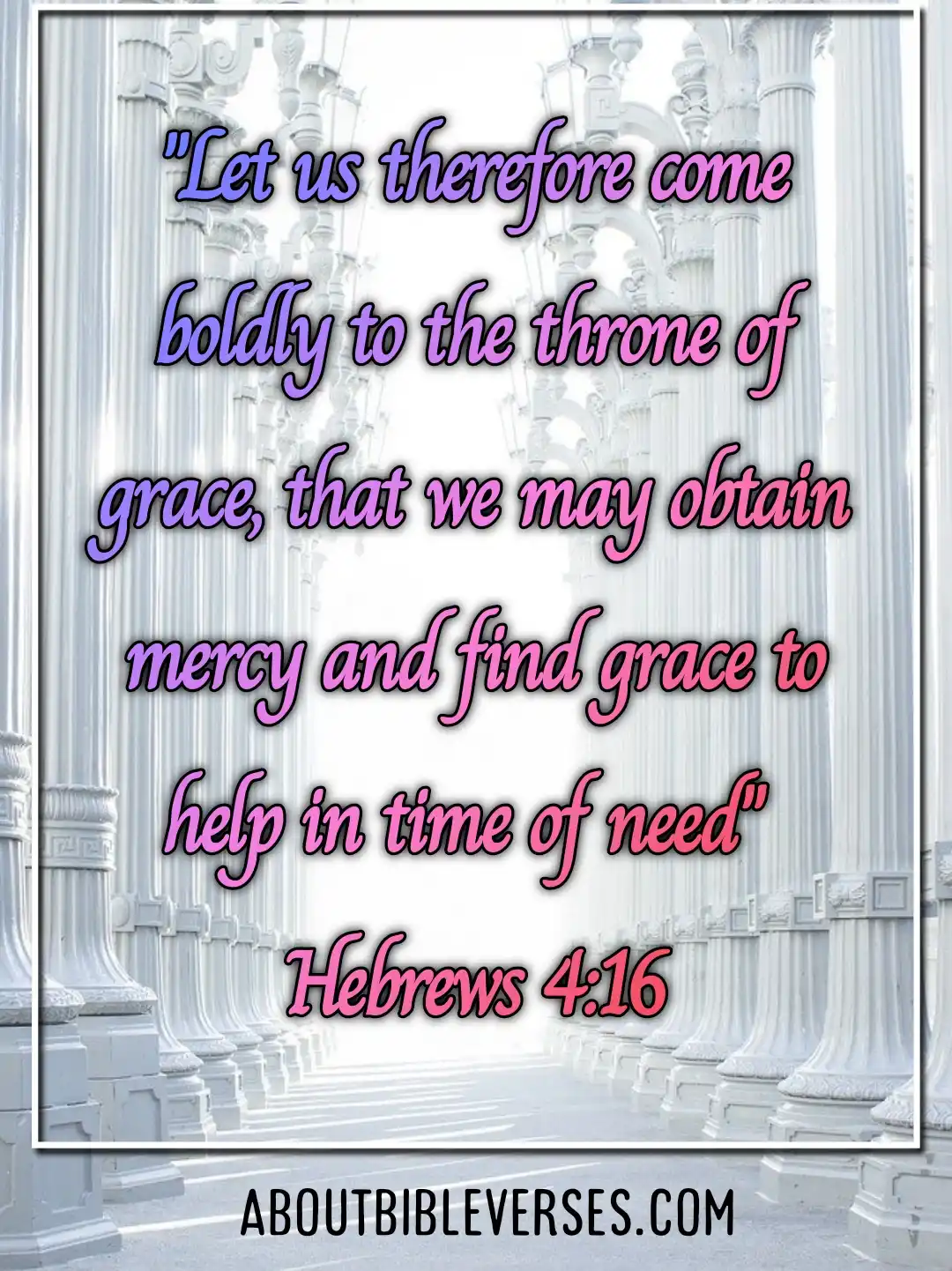 Hebrews 4:16(KJV)"Let us therefore come boldly unto the throne of Grace, that we may obtain mercy, and find Grace to help in time of need"
Explanation:- We all are accountable to the Lord because in his sight all of our actions are visible. We cannot escape from his eyes but we have to stand before the judgment. Now, this is the grace period where the Lord is showing his grace to us so that we can accept him and walk in his ways to obtain salvation.
Ephesians 2:8(KJV)"For by grace are ye saved through faith; and that not of yourselves: it is the gift of God"
Explanation:- The salvation that we get from Jesus is a free gift from the Lord. One will be able to buy salvation with worldly wealth. The Bible tells us that we all are sinners and we deserve death as the wages of sin is death. But the Lord is gracious and he sent forth his Son to deliver us from his wrath. By putting our faith in Jesus Christ alone we can salvation.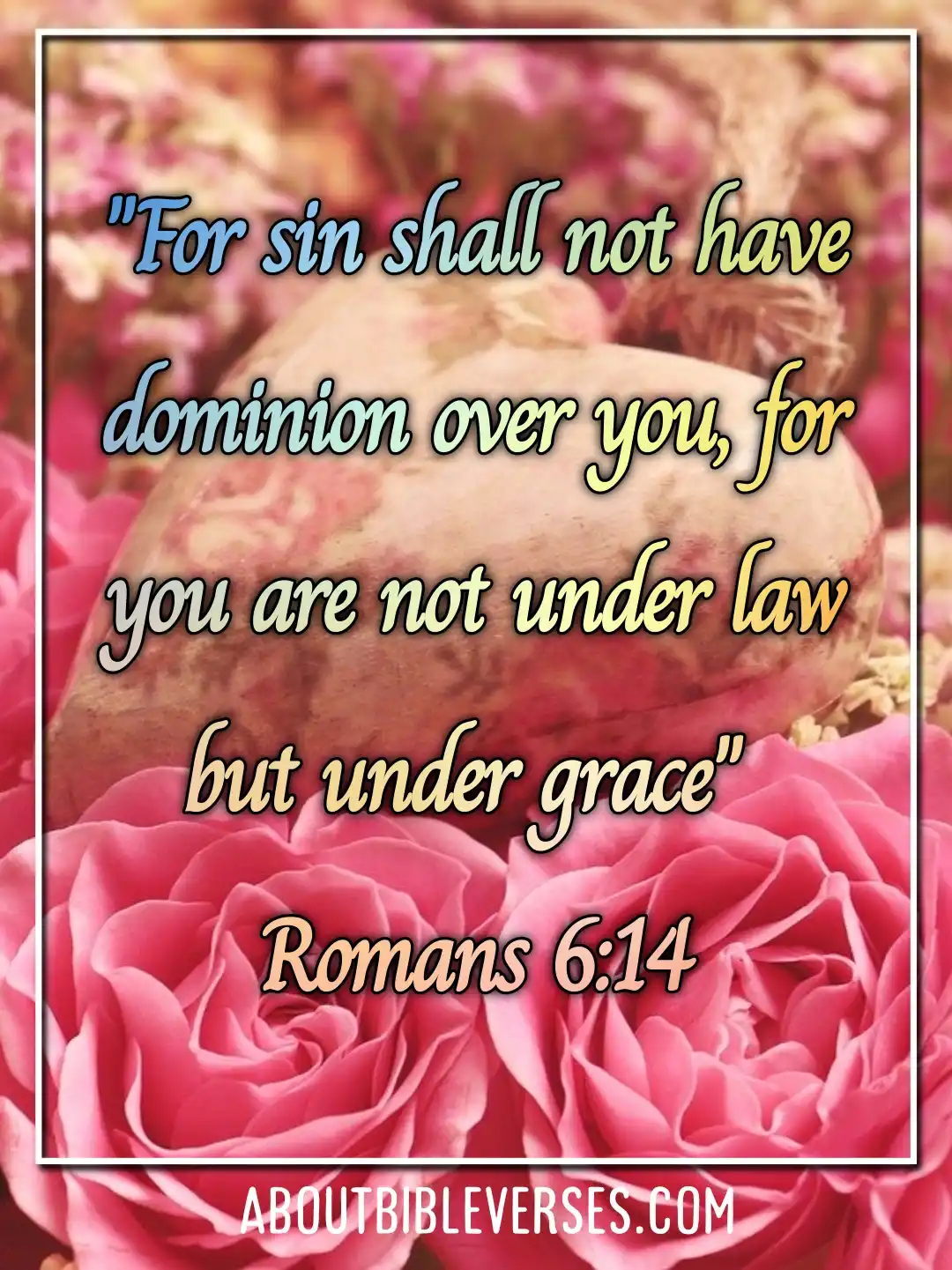 Romans 6:14(KJV)"For sin shall not have dominion over you: for ye are not under the law, but under grace"
Explanation:- The Lord gave laws to Moses for the nation Israel. These were given to them to obey and live according to that. But they failed to obey all these teachings. So, when Jesus came on this earth he gave us grace for our salvation. Because in the old testament to get salvation they had to fulfill all the rituals and those rituals were quite difficult but Jesus made it simple for us and he gave us some teachings to obey so that we can get salvation.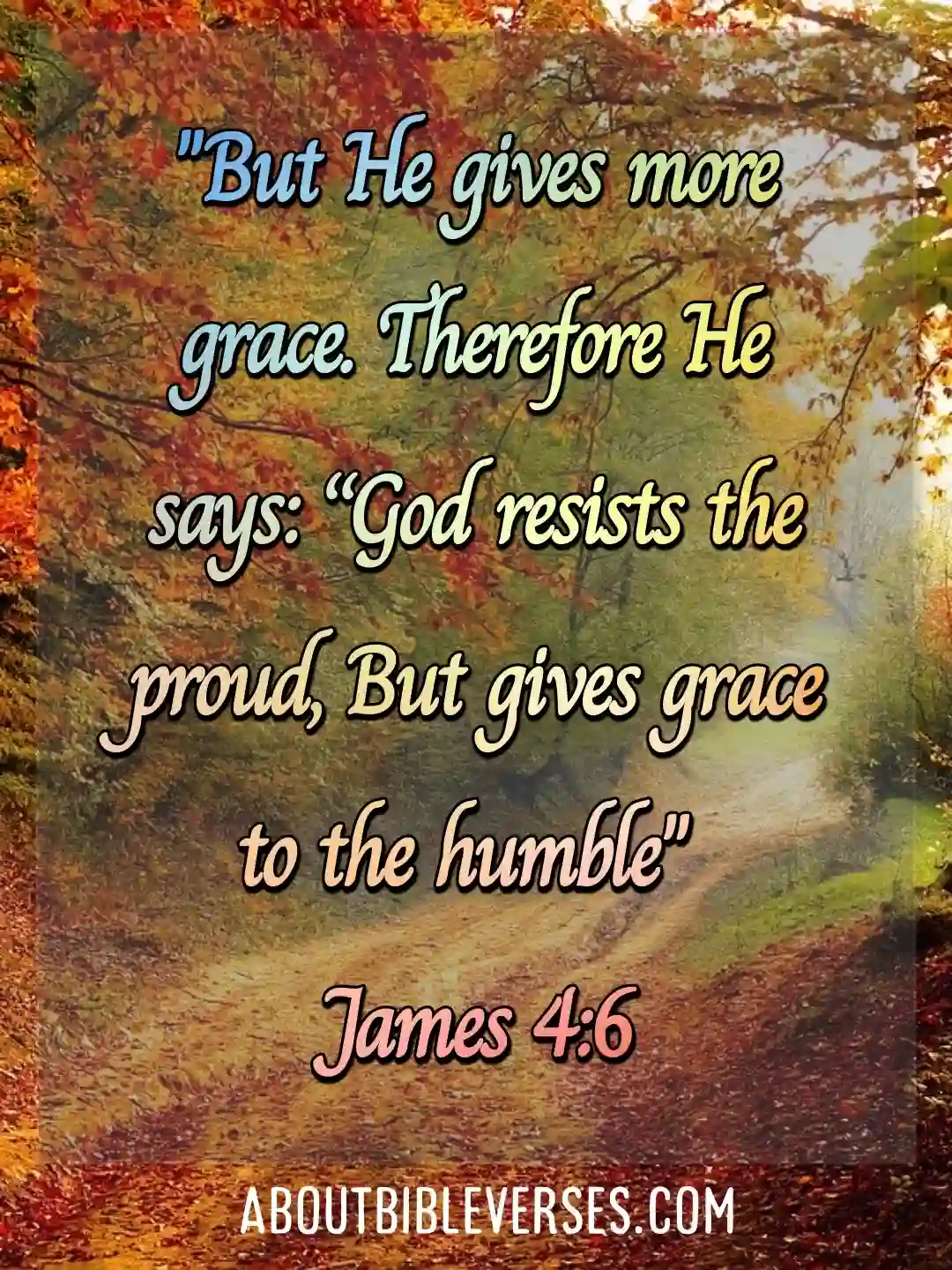 James 4:6(KJV)"But he giveth more grace. Wherefore he saith, God resisteth the proud, but giveth grace unto the humble"
Explanation:- The Bible teaches us that the Lord is gracious. Because of his grace, he made the way to salvation. We cannot approach the Lord by our good deeds. But it is his grace by which we can be called righteous. The Lord himself shows mercy to us so that we can repent and we can understand his sufferings and death by which we will be able to enter into his Kingdom. The Lord hates those who are proud in their hearts, but he loves the gentle and meek.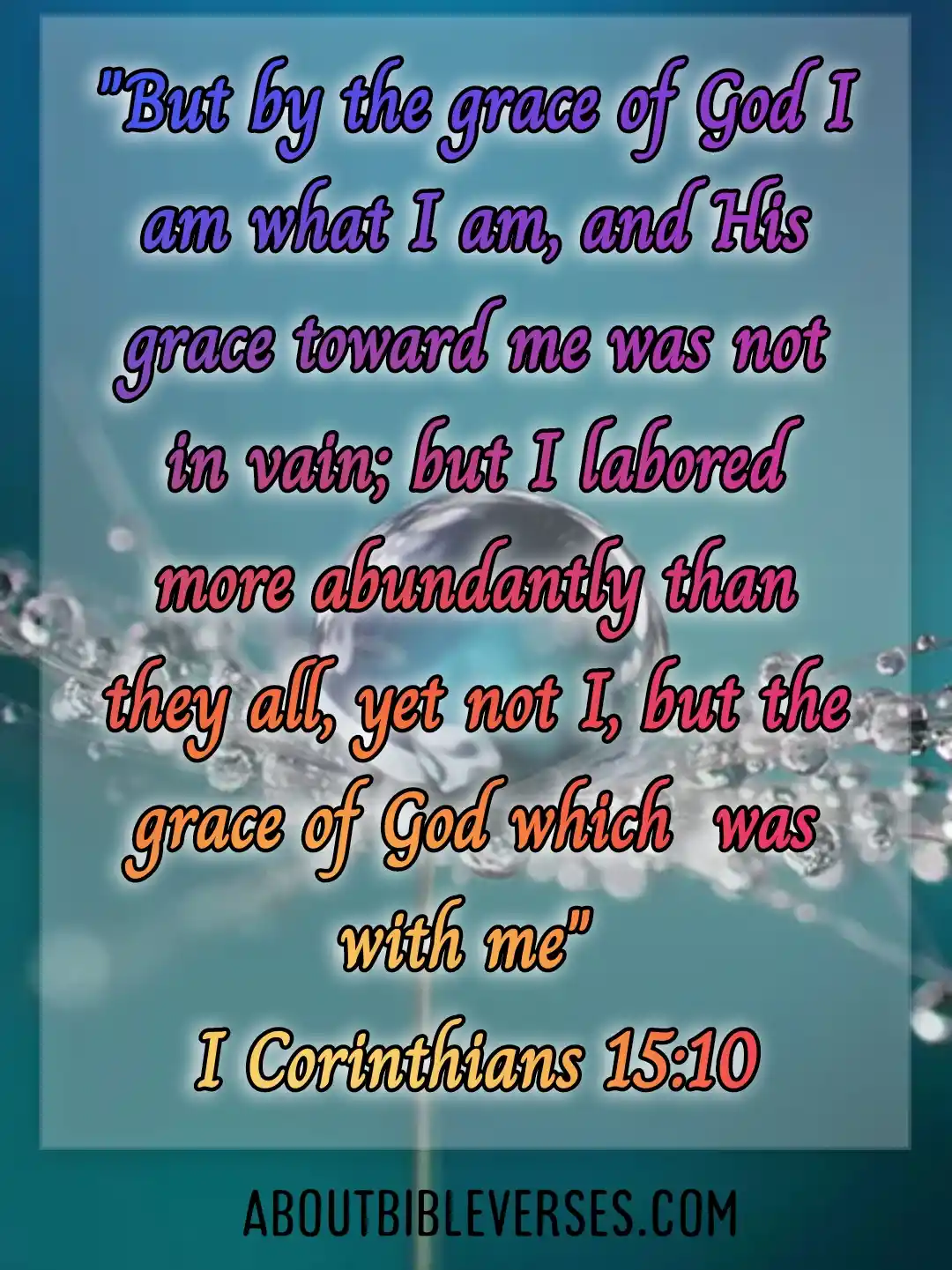 1 Corinthians 15:10(KJV)"But by the grace of God I am what I am: and his grace which was bestowed upon me was not in vain; but I laboured more abundantly than they all: yet not I, but the grace of God which was with me"
Explanation:- Once upon a time, Paul was a persecutor. He used to torture the Christians as he was a law teacher from the Jews. But when he met with Jesus, he experienced that Jesus is the God of his forefathers. He received the grace of Jesus. His sins were forgiven as he did everything unknowingly. That is why he said that in this age God has given us his grace to turn toward him to get eternal life.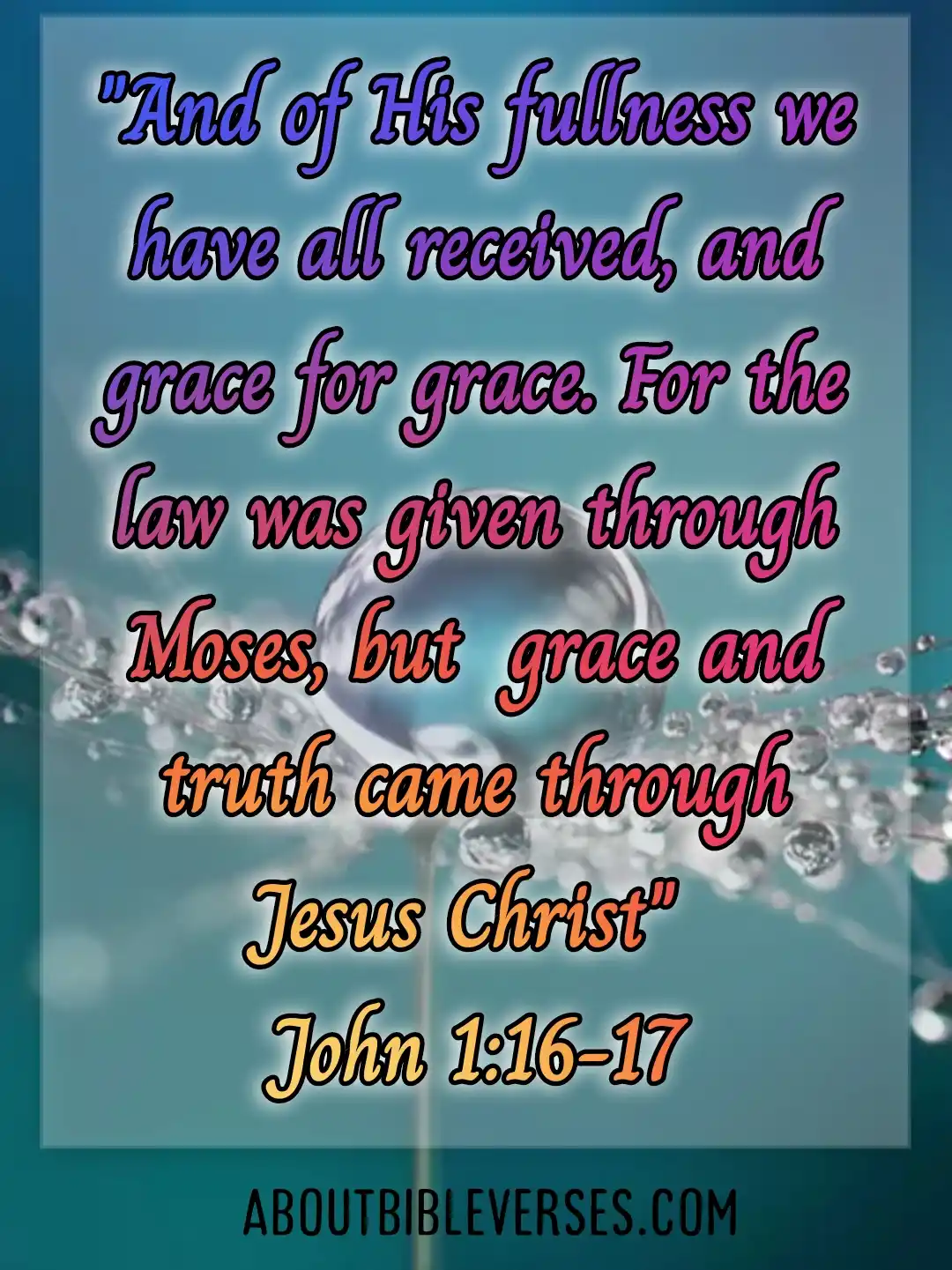 John 1:16-17(KJV)"And of his fulness have all we received, and grace for grace. For the law was given by Moses, but grace and truth came by Jesus Christ"
Explanation:- The Jews were given the laws by Moses to walk with the Lord. They had to obey those laws to satisfy the Lord. But God had a bigger plan in his mind which was revealed by Jesus. Jesus gave his life for the whole world to give salvation. Now the Lord has shown us his mercy by Jesus. If we surrender our life before him, we will find our life in him.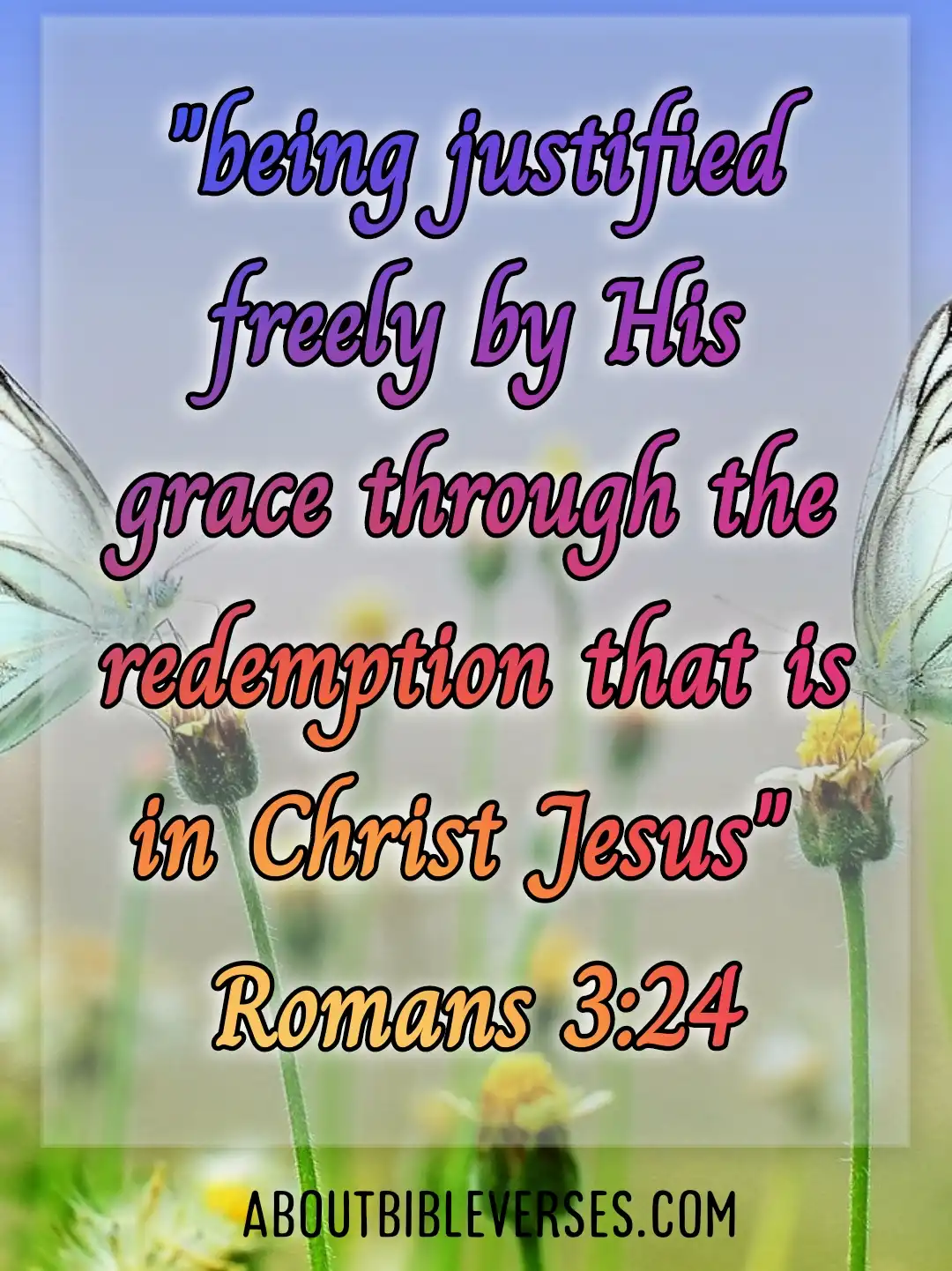 Romans 3:24(KJV)"Being justified freely by his grace through the redemption that is in Christ Jesus"
Explanation:- Jesus came on this earth to redeem us from the power of sin. We all are born sinners by nature. We cannot reach God by our righteous deeds. To meet the Lord we have to wash away our sins. But we cannot be holy, as we all are sinners. Jesus manifested as a man and grew up and did many miracles and finally, he died on the cross. After three days he was resurrected from the grave and lived with his disciples for forty days. Thus God expressed his grace upon the human being.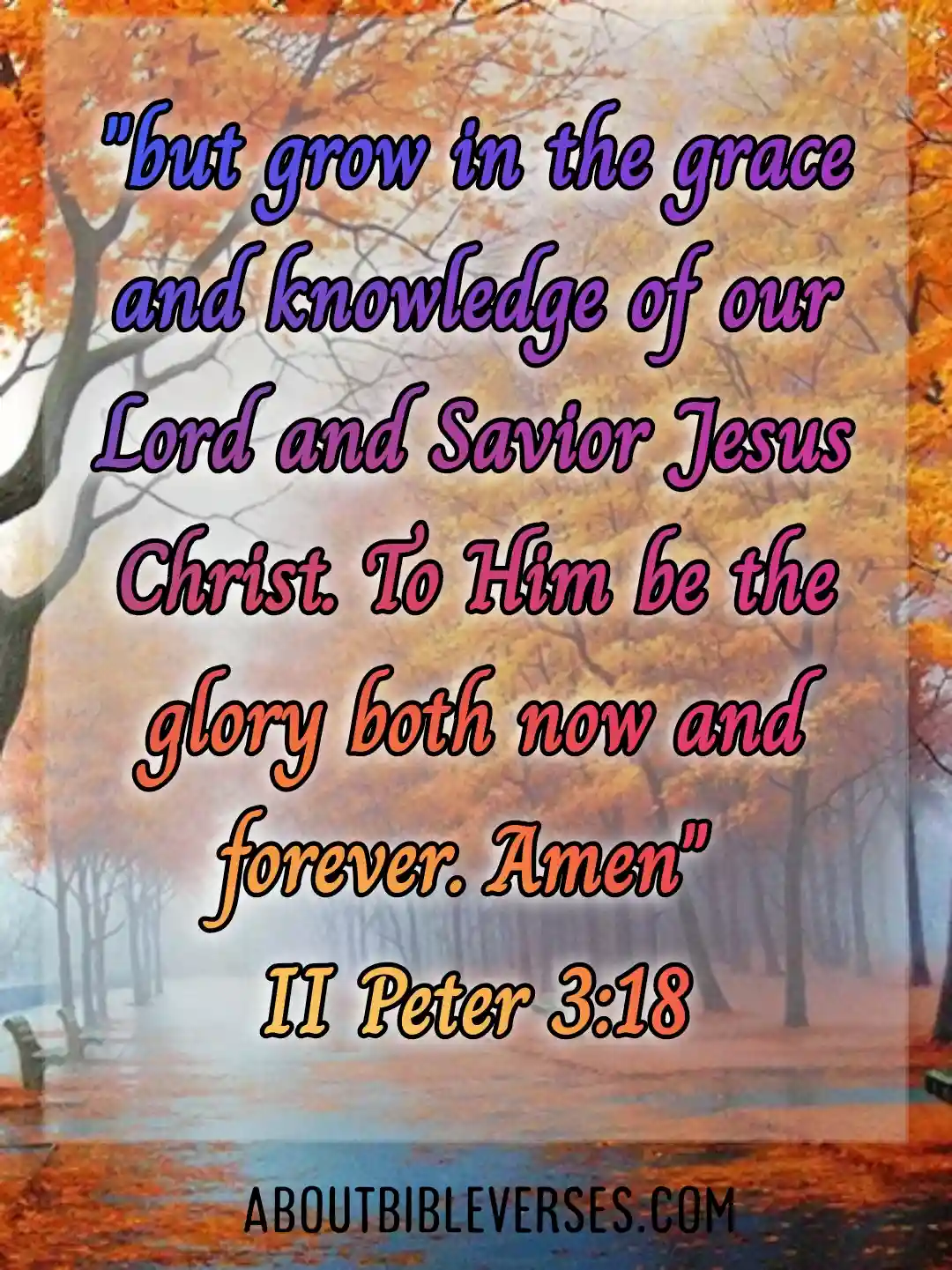 2 Peter 3:18(KJV)"But grow in grace, and in the knowledge of our Lord and Saviour Jesus Christ. To him be glory both now and forever. Amen"
Explanation:- We the Christian should understand the grace of the Lord because we are now living in a grace period. In this time God has shown his mercy but when he will come again to take his children at that time he will not show his mercy to us anymore. So this is a high time for each of us to understand Jesus and at the same time, we have to grow in him because he is the only way to salvation.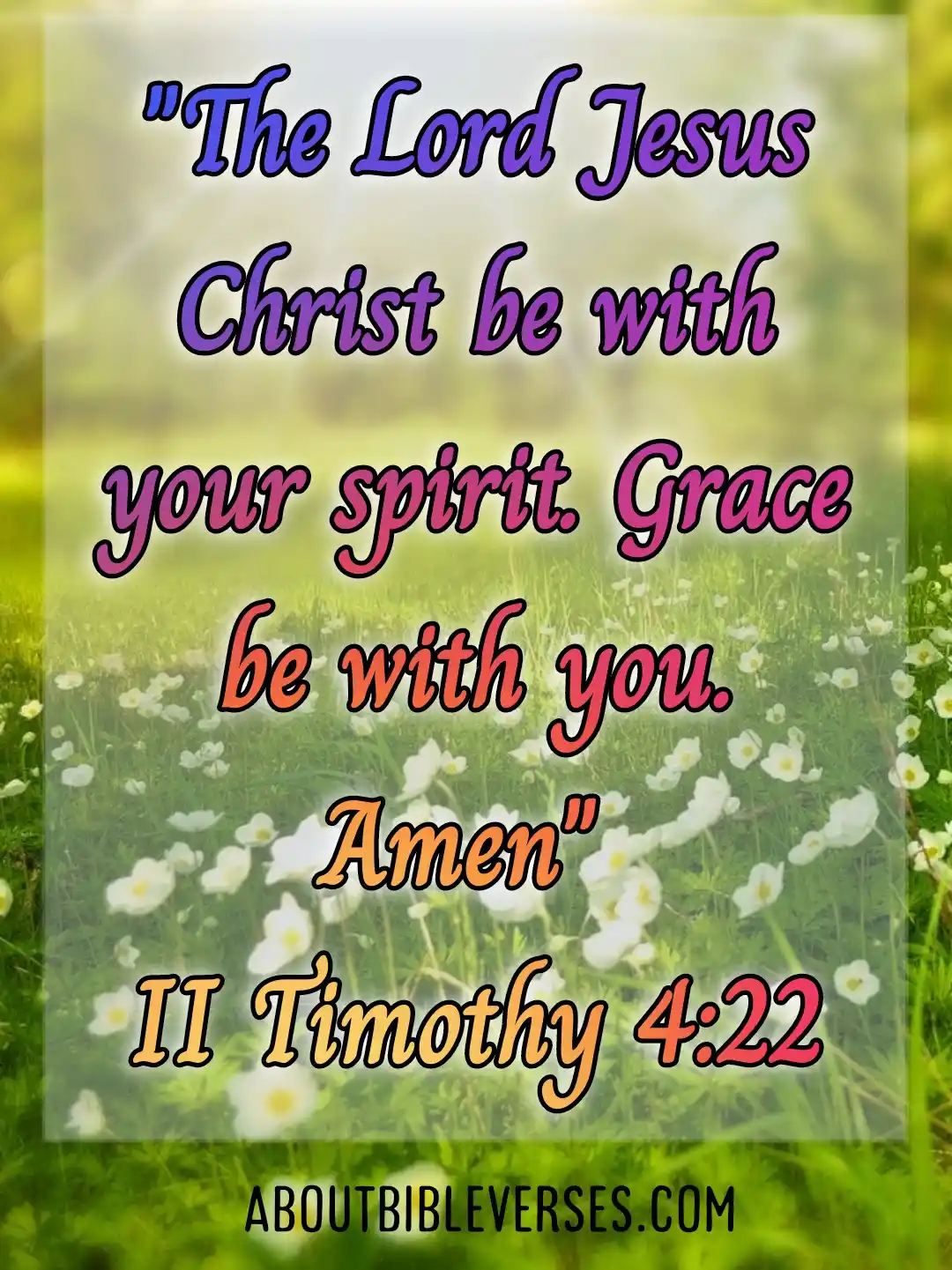 2 Timothy 4:22(KJV)"The Lord Jesus Christ be with thy spirit. Grace be with you. Amen"
Explanation:- Timothy was a young man and Paul found that he should preach the gospel so that the people can get salvation by the word of God. At that time traveling from one place to another was not like the present day. So Paul used to write letters to encourage Timothy and other churches to grow in faith and to understand the burden of the gospel to proclaim to the world.
The Grace Of God upon us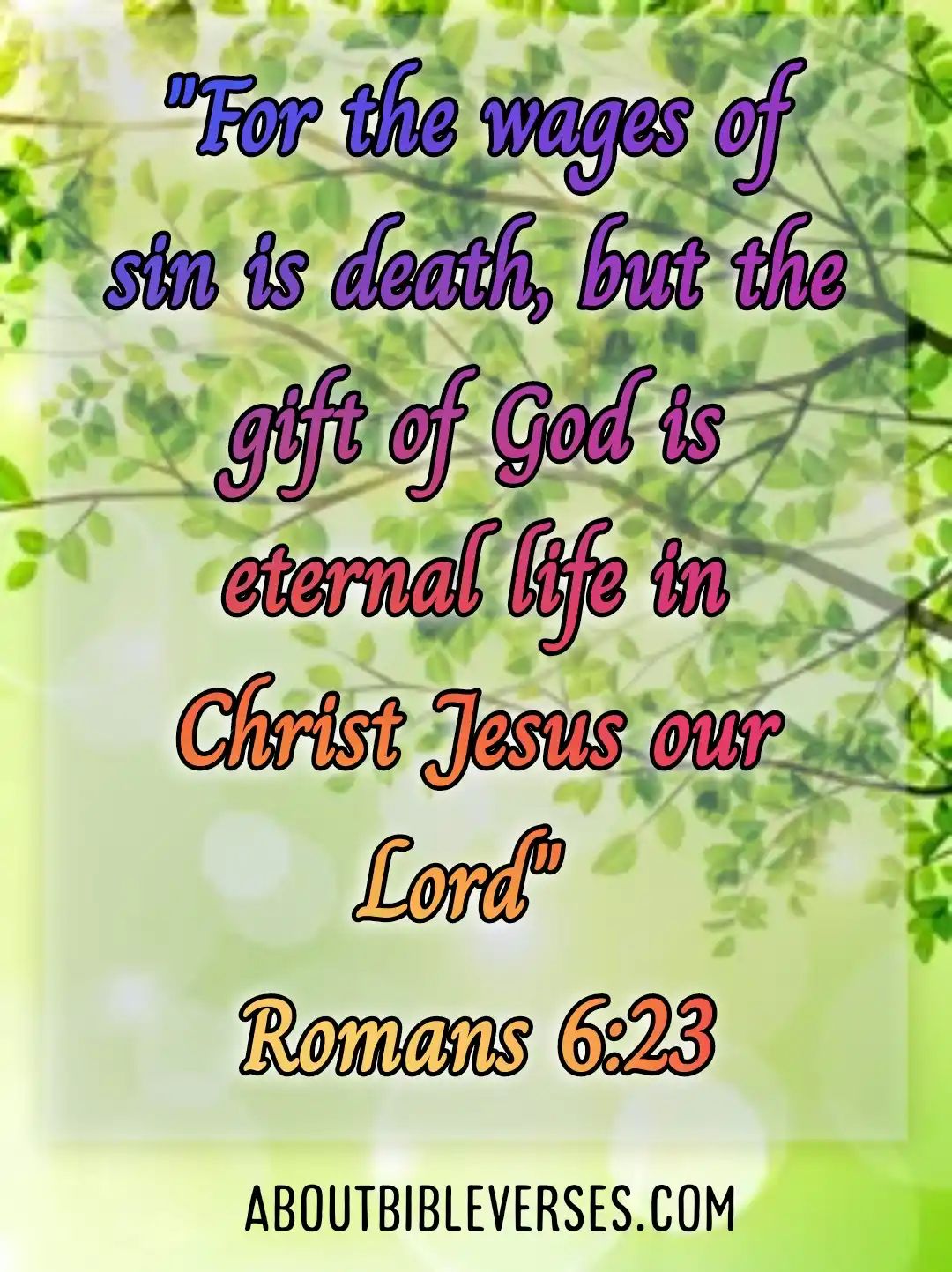 Romans 6:23(KJV)"For the wages of sin is death; but the gift of God is eternal life through Jesus Christ our Lord"
Explanation:- We were destined to be in hell because we are the descendants of Adam and Eve. So we are sinners by birth. On the other hand, the Bible tells us that the Lord is holy, we will not meet the Lord because we are unholy. And the Bible tells us that until we receive Jesus Christ as our Lord, we will remain sinners, and with that seen we cannot reach into heaven. That is why the Bible strictly reminds us the wages of sin is death but if we believe in Jesus Christ we will get eternal life.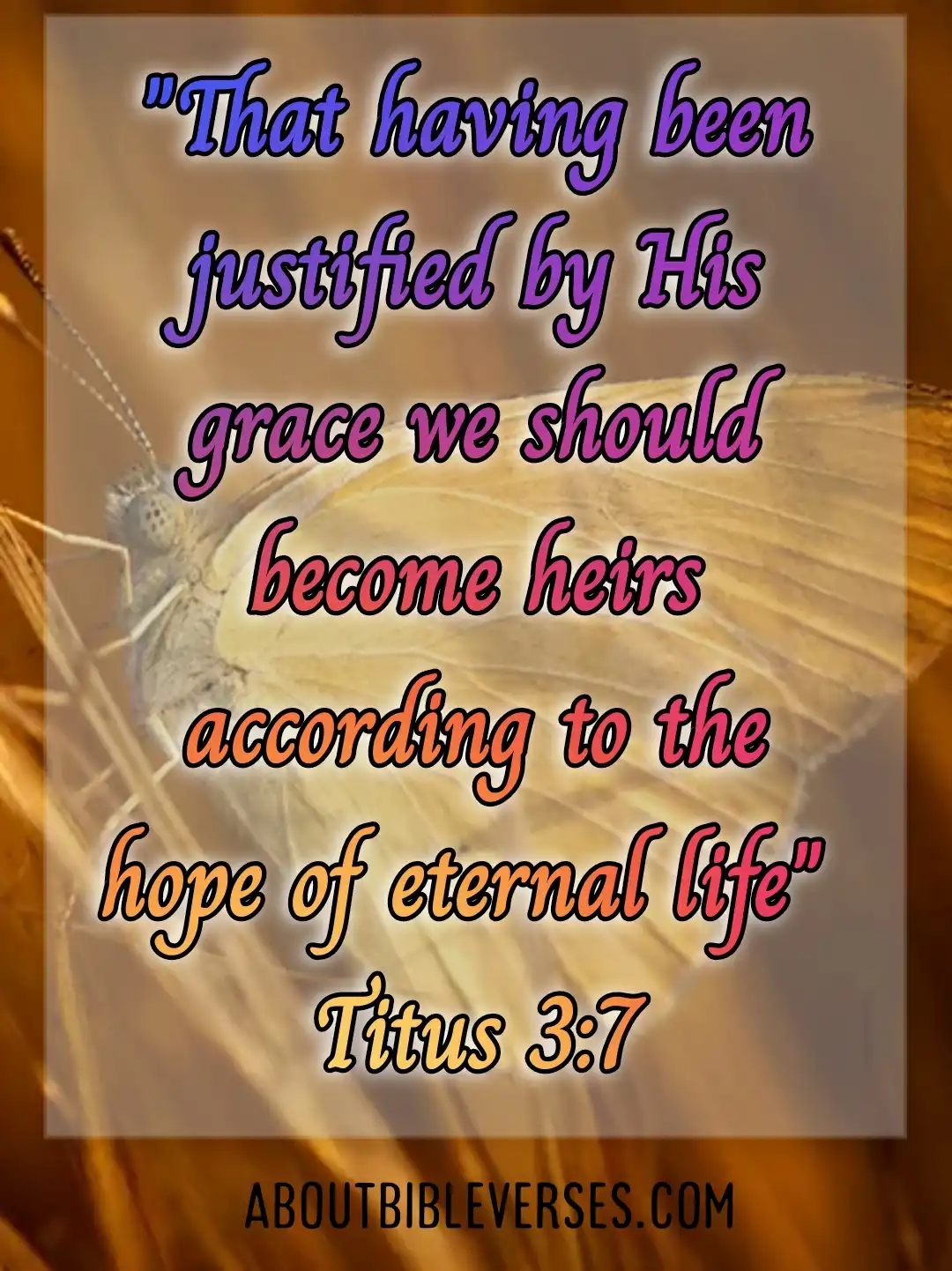 Titus 3:7(KJV)"That being justified by his grace, we should be made heirs according to the hope of eternal life"
Explanation:- We are the citizens of heaven. We will live on this earth just for a few years but when we reach 70 years or 80 years we have to leave this physical earth. But we need to ask the question of where our soul will go. In this matter, the Bible warns us that heaven and hell is our permanent destination where we will be. we have to take care of our soul because once we lose it we will not be able to get it anymore. To reach heaven we have to accept the grace of Lord Jesus Christ which is displayed on the cross.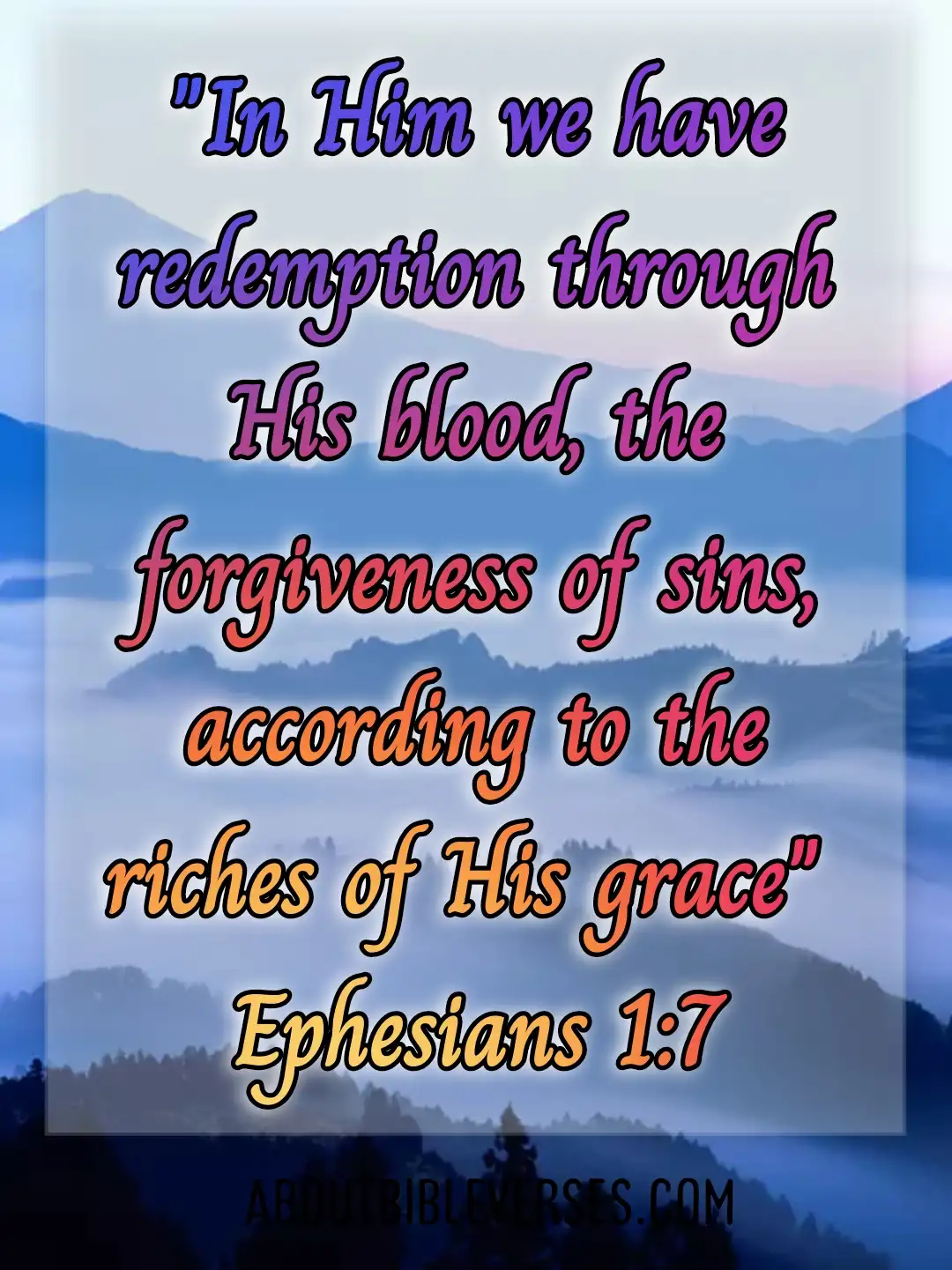 Ephesians 1:7(KJV)"In whom we have redemption through his blood, the forgiveness of sins, according to the riches of his grace"
Explanation:- We cannot buy our righteousness. One day when we will die we will stand before the Lord for the judgment where Jesus will judge us according to the deeds that we had done on earth. Jesus gave his life on the cross to redeem us from eternal hell. We can approach Jesus with a humble heart and we have to confess the sins that we have done in our life. If you do so we will instantly receive the grace of the Lord which will help us to become his children.
2 Corinthians 8:9(KJV)"For ye know the grace of our Lord Jesus Christ, that, though he was rich, yet for your sakes he became poor, that ye through his poverty might be rich"
Explanation:- Jesus made himself empty and took the form of a human being and suffered for our sake. He could have shown his heavenly glory but instead of that he humbled himself and placed himself in poverty so that we can be righteous by him. Jesus made the way out from the bondage of sins and which led us into the path of heaven.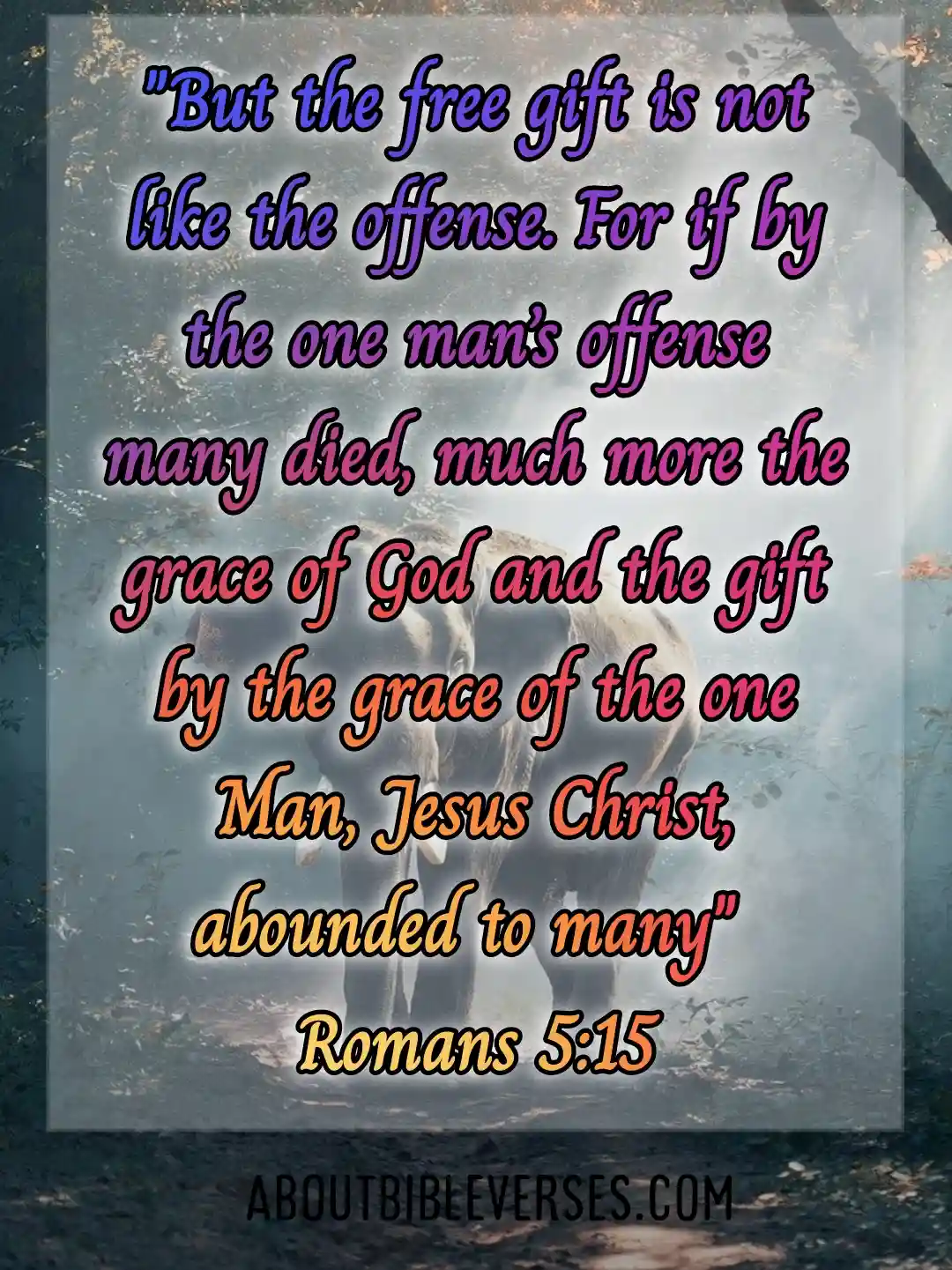 Romans 5:15(KJV)"But not as the offence, so also is the free gift. For if through the offence of one many be dead, much more the grace of God, and the gift by grace, which is by one man, Jesus Christ, hath abounded unto many"
Explanation:- Sin entered into the world by one man and that is Adam. The entire human being watched is corrupted because of his disobedience. All the people of the world became sinners in the eyes of the Lord. In the same way salvation also came to human beings by one man called Jesus. Jesus was born from a virgin woman and grew up and did so many miracles and wonders and finally sacrificed his life for us to give us eternal life.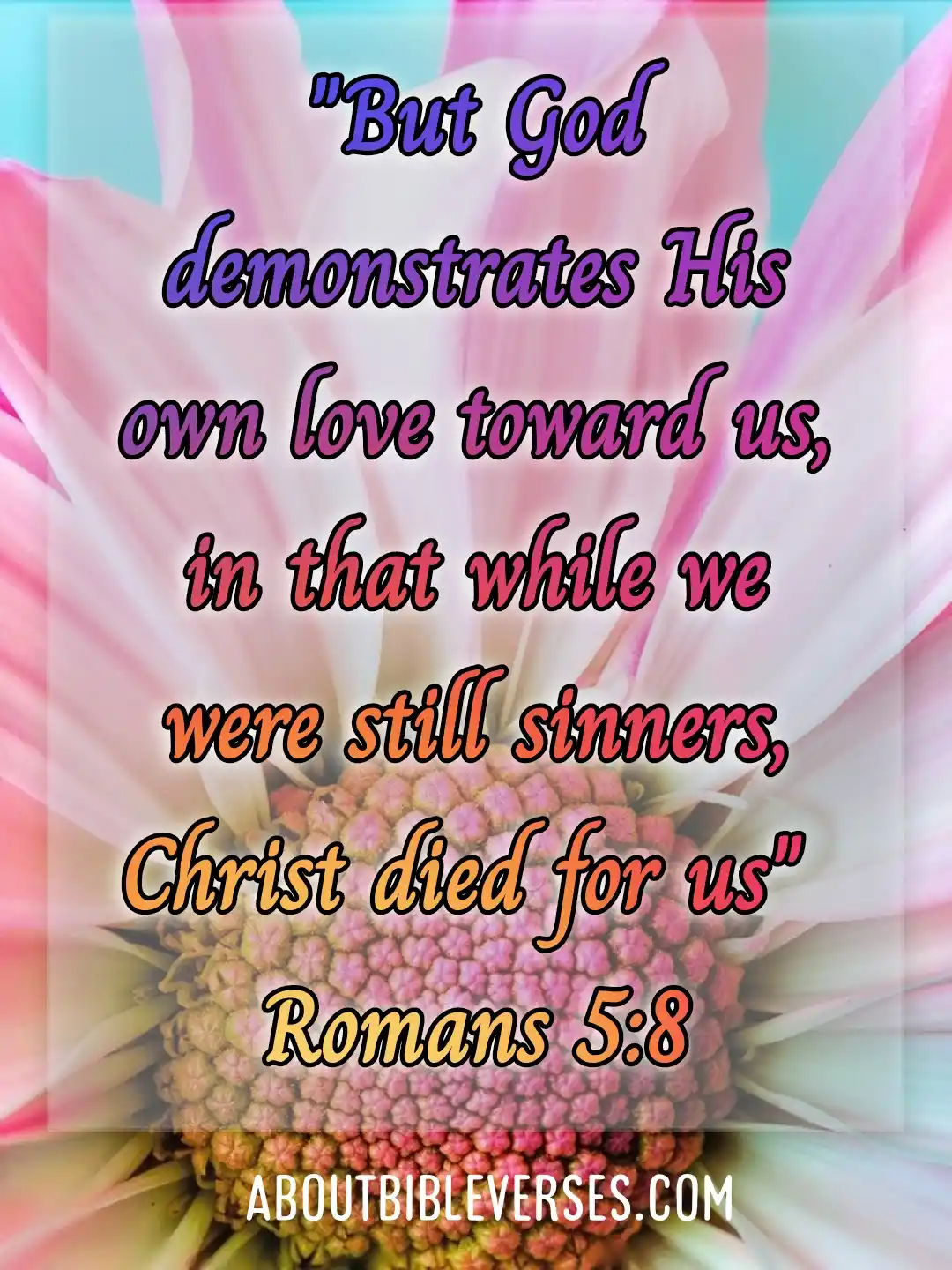 Romans 5:8(KJV)"But God commendeth his love toward us, in that, while we were yet sinners, Christ died for us"
Explanation:- When the Lord created man and woman in the garden of Eden they were sinless. But Satan tempted them and made them enemies of the Lord. Show the entire human being were separated from the presence of the Lord. But the Lord had another plan to save us from eternal death. He made himself empty and took the form of a man and he lived with us and died on the cross to give us eternal life.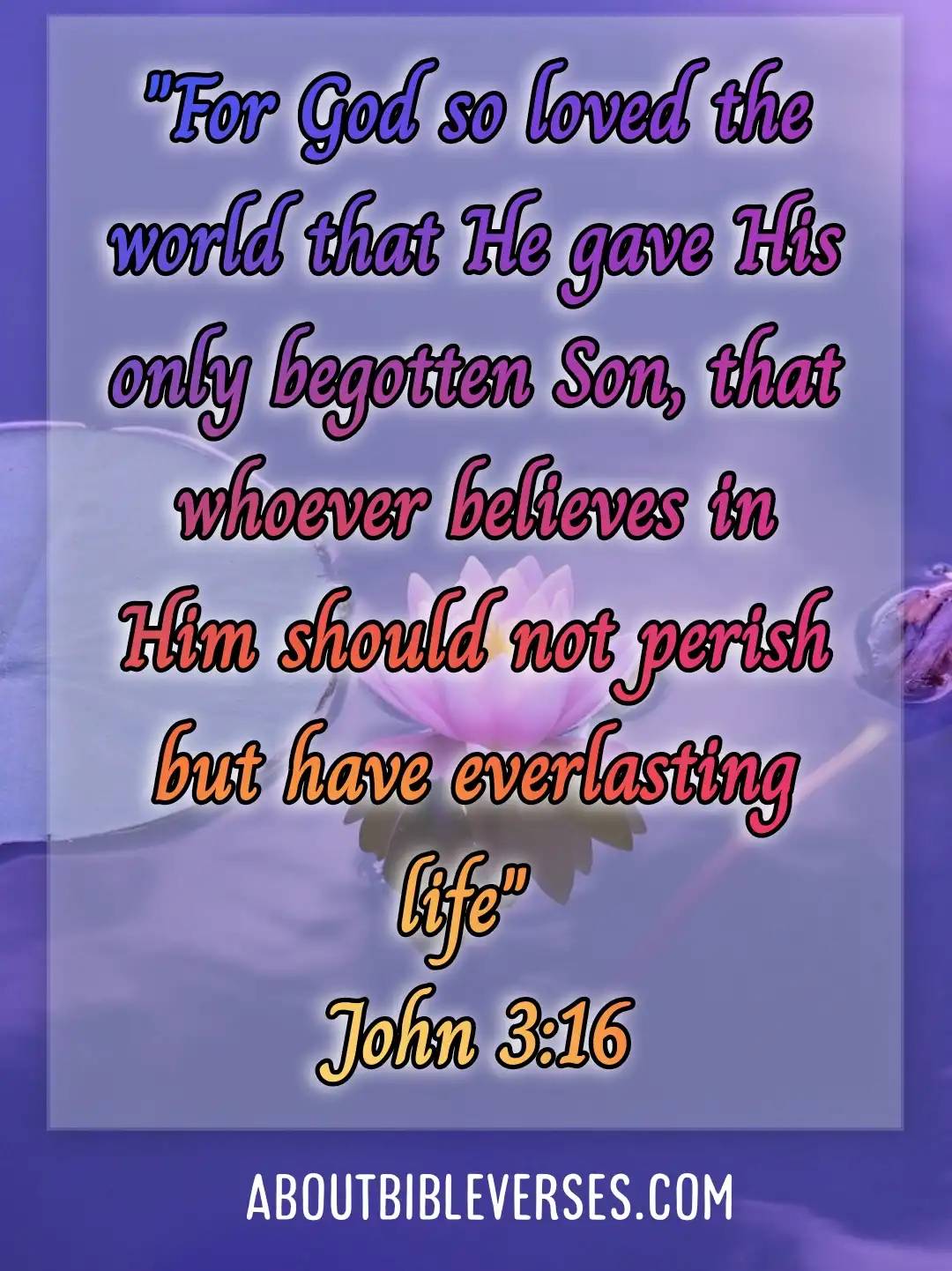 John 3:16(KJV)"For God so loved the world, that he gave his only begotten Son, that whosoever believeth in him should not perish, but have everlasting life"
Explanation:- Once upon a time we all were sinners in the eyes of the Lord and we were designed to enter into hell. But the Lord loved us that is why he gave his only begotten son so that we can get life in him. He died on the cross in our place and was resurrected from the grave to prove that he was God. He wants us to repent from our sins and to walk along with him to receive salvation which is free of cost.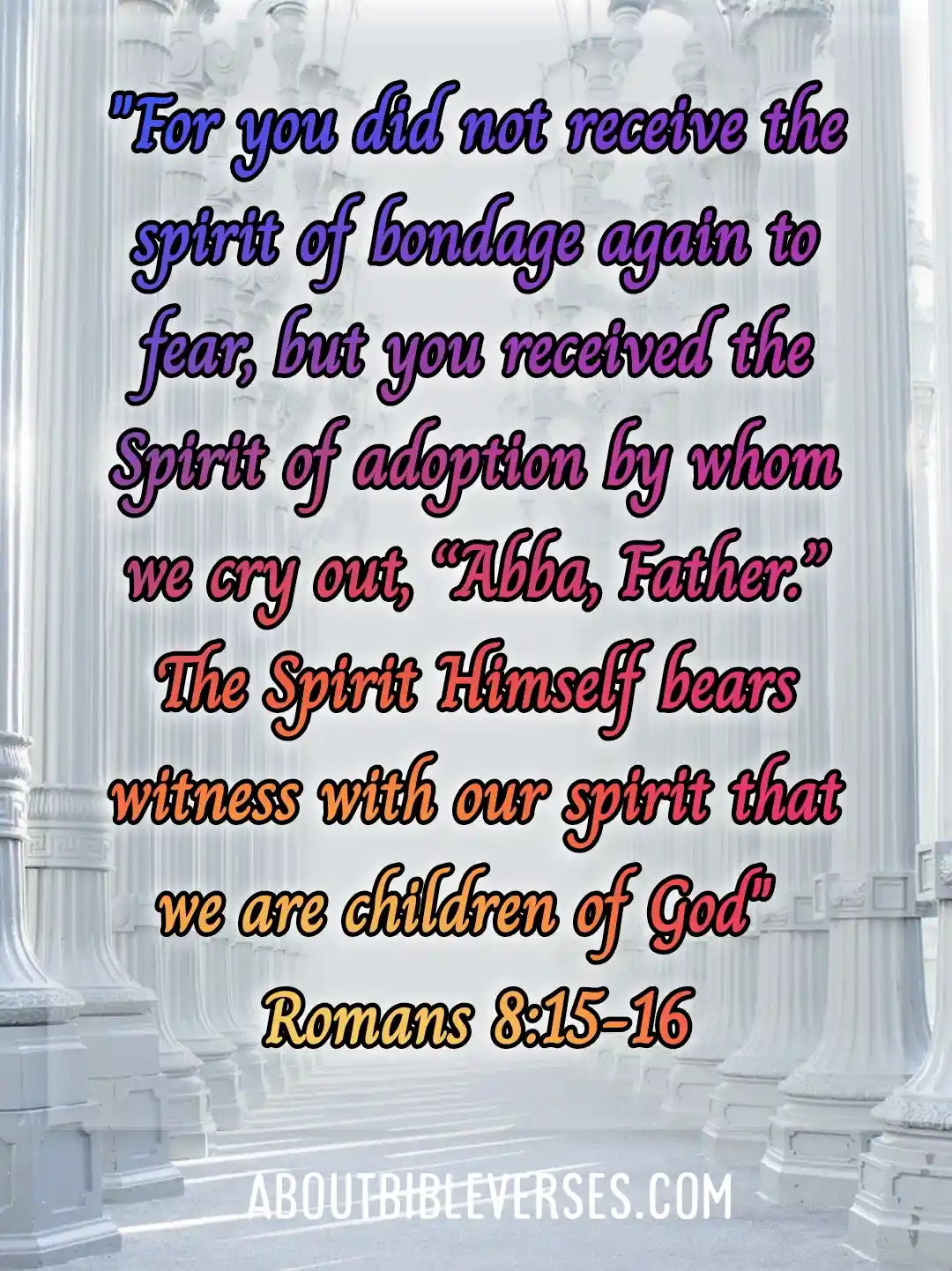 Romans 8:15-16(KJV)"For ye have not received the spirit of bondage again to fear; but ye have received the Spirit of adoption, whereby we cry, Abba, Father. The Spirit itself beareth witness with our spirit, that we are the children of God"
Explanation:- The Lord has given us the spirit of freedom because where the Holy Spirit resides freedoms also bring joy and happiness. One will understand God more clearly when he will receive the Holy Spirit. Because the holy spirit will tell him all the hidden things of the Lord.
1 John 4:10(KJV)"Herein is love, not that we loved God, but that he loved us, and sent his Son to be the propitiation for our sins"
Explanation:- When we were enemies of the Lord, he gave life for us to have life. He sent his only son into the sinful world to take the sin from human beings. By doing so so the Lord had given us a way to reach into heaven.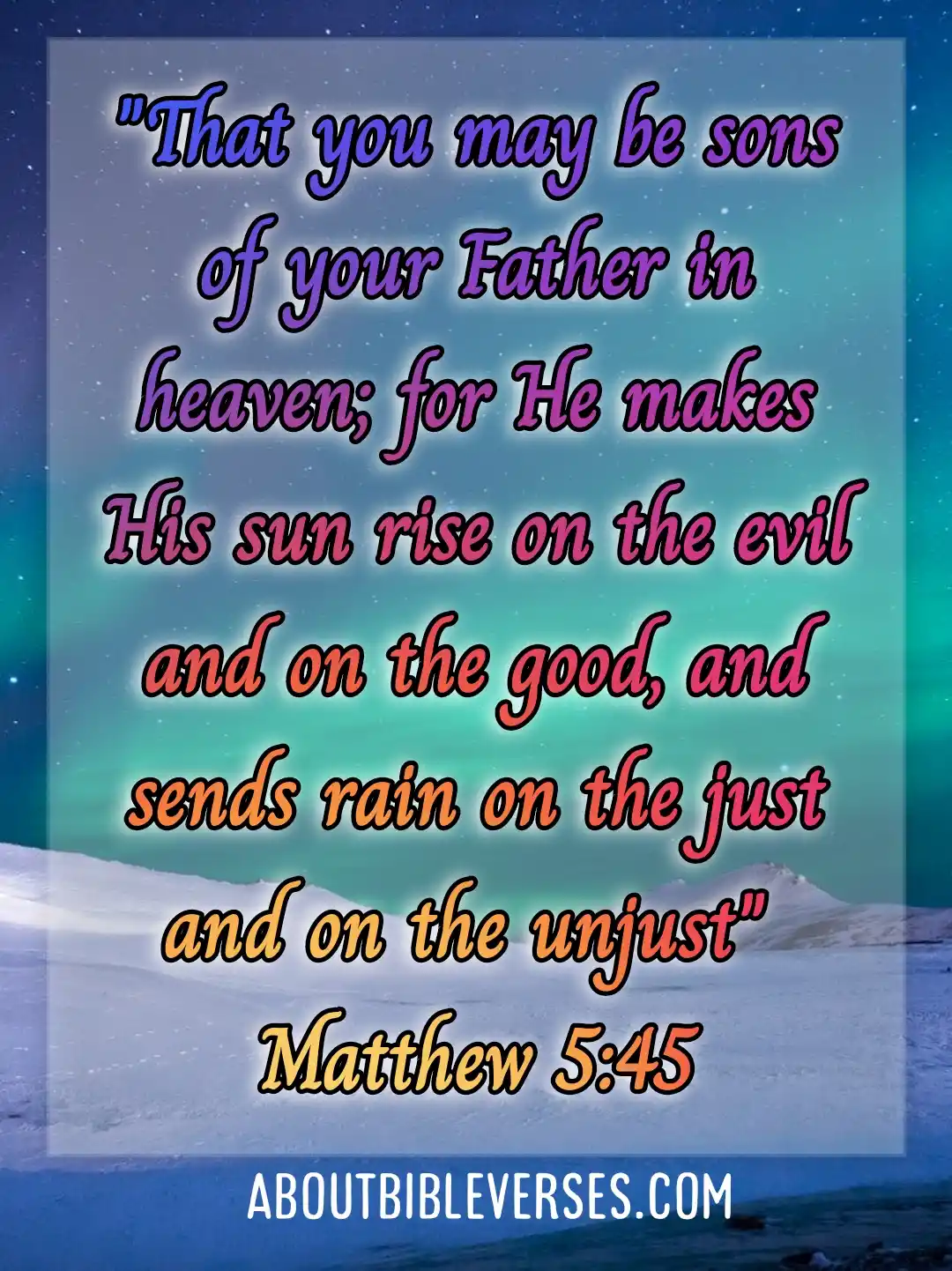 Matthew 5:45(KJV)"That ye may be the children of your Father which is in heaven: for he maketh his sun to rise on the evil and on the good, and sendeth rain on the just and on the unjust"
Explanation:- The Lord has shown his grace enough upon the human being. In this world, righteous and unrighteous are living together and the Lord provides sunlight, rain, and all the natural resources to everyone without any discrimination.  He loves us and he wants us to surrender ourselves before him to gain the special blessings along with eternal life.