Dear brothers and sisters in Christ, I welcome you in the name of our Lord Jesus Christ. I hope you are well in the grace and mercy of our Lord. Today we will know what the Bible says about wealth and prosperity.
Dear brothers and sisters, each of us needs wealth but excessive wealth harms our spiritual life. If we look at the Bible (Proverbs 30: 7-9) we will see King Solomon sought God's help in his life especially in the matter of wealth and prosperity. He prayed to the Lord not to make him rich out of his necessities so that he forget him. And he also requested God not to t make him poor out of his necessities so that he may steal and bring shame to God's name by committing a sin against him.
We must pray to God to provide us with the things we need because God knows us better than we know ourselves. We must rely on God and think about expanding His kingdom if we do what pleases God. We will gain wealth and prosperity in this world as well as life from God too. "Be humble and honor the Lord. Then you will have riches, honor and life" (Proverbs 22:4).
Not only that, God tells us in 1 Samuel 2: 8 that if we honor him, fear him, and stick to his word, he will take away all our misery and increase our wealth and prosperity and give us that honor in this world. He will put us in such a place that we can never imagine for example we see the success of Joseph.
Let us now look at some verses in the Bible where God tells us that He will give us everything we need.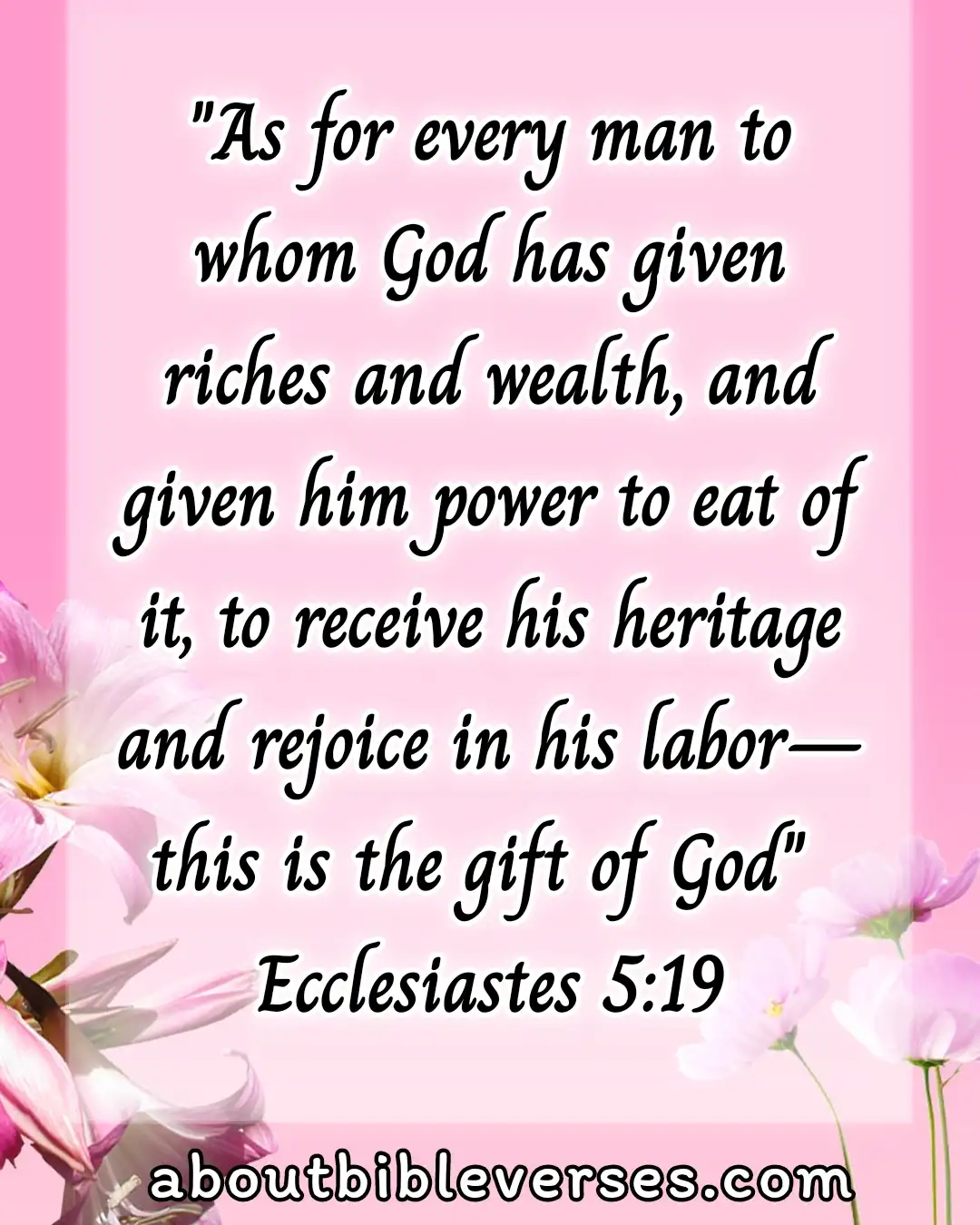 Ecclesiastes 5:19(KJV)"Every man also to whom God hath given riches and wealth, and hath given him power to eat thereof, and to take his portion, and to rejoice in his labour; this is the gift of God"
Explanation:- God gives honor, fame, wealth, and health who constantly seek him and obey his commandments. The wicked will not be prosperous like the righteous. They will grow first but will be destroyed suddenly.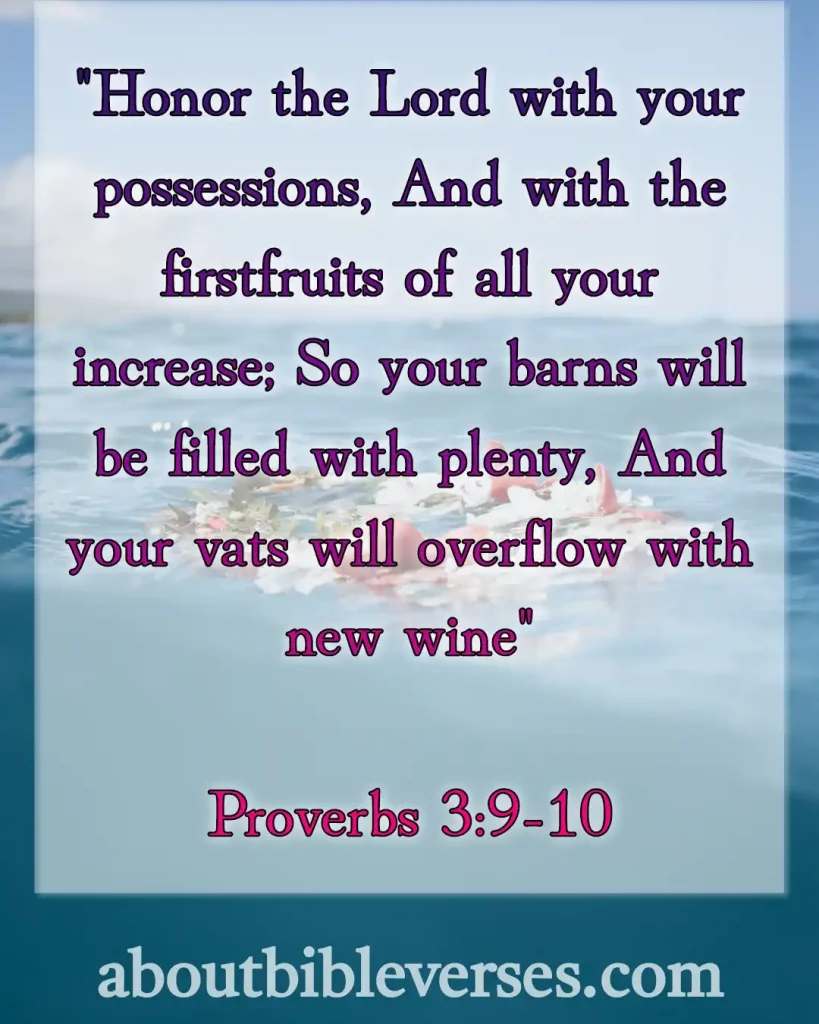 Proverbs 3:9-10(KJV)"Honour the Lord with thy substance, and with the firstfruits of all thine increase: So shall thy barns be filled with plenty, and thy presses shall burst out with new wine"
Explanation:- God is the owner of all the things that we see and use here. We must give him thank for our belongings as he gives us for our uses and wellbeing. We are his people and it is our greatest job to glorify him with our wealth.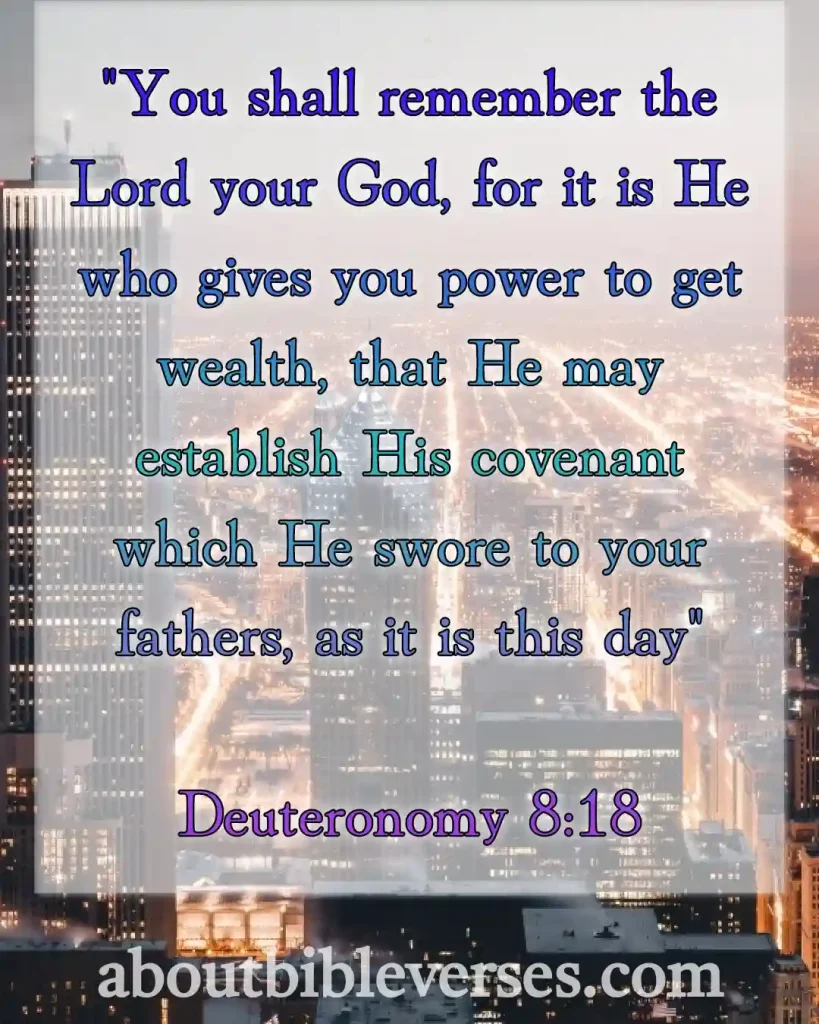 Deuteronomy 8:18(KJV)"But thou shalt remember the Lord thy God: for it is he that giveth thee power to get wealth, that he may establish his covenant which he sware unto thy fathers, as it is this day"
Explanation:- The Lord has made a covenant to Abraham where he promised to bless his seed. And throughout the old testament, we can find how God blessed his children whom he revealed himself. At the last age, he came to deliver all of us by his Son Jesus. We can be blessed and rich in his glory if we seek him in our everyday prayer.
1 Timothy 6:17-19(KJV)"Charge them that are rich in this world, that they be not highminded, nor trust in uncertain riches, but in the living God, who giveth us richly all things to enjoy; That they do good, that they be rich in good works, ready to distribute, willing to communicate; Laying up in store for themselves a good foundation against the time to come, that they may lay hold on eternal life"
Explanation:- The promises of the Lord are with us so we have the courage to stand before him in prayer. We must humble ourselves when God blesses us and we grow spiritually. It is our job to thank him in our prayers and he will bless us more.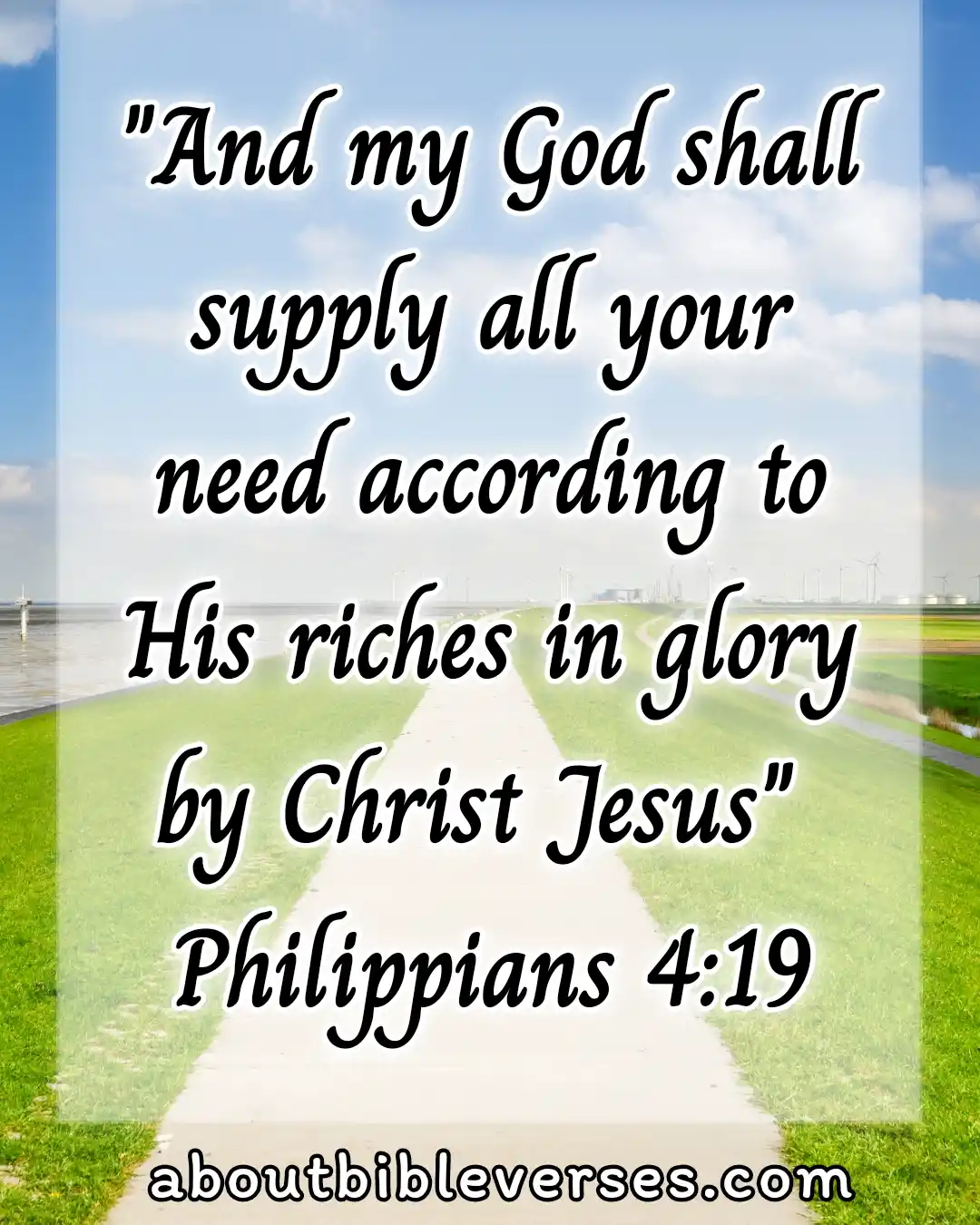 Philippians 4:19(KJV)"But my God shall supply all your need according to his riches in glory by Christ Jesus"
Explanation:- The miraculous works of the Lord make us believe that he is almighty. His grace is sufficient for us. And we should have confidence in him that he can deliver us from all the troubles that we may face in the days to come.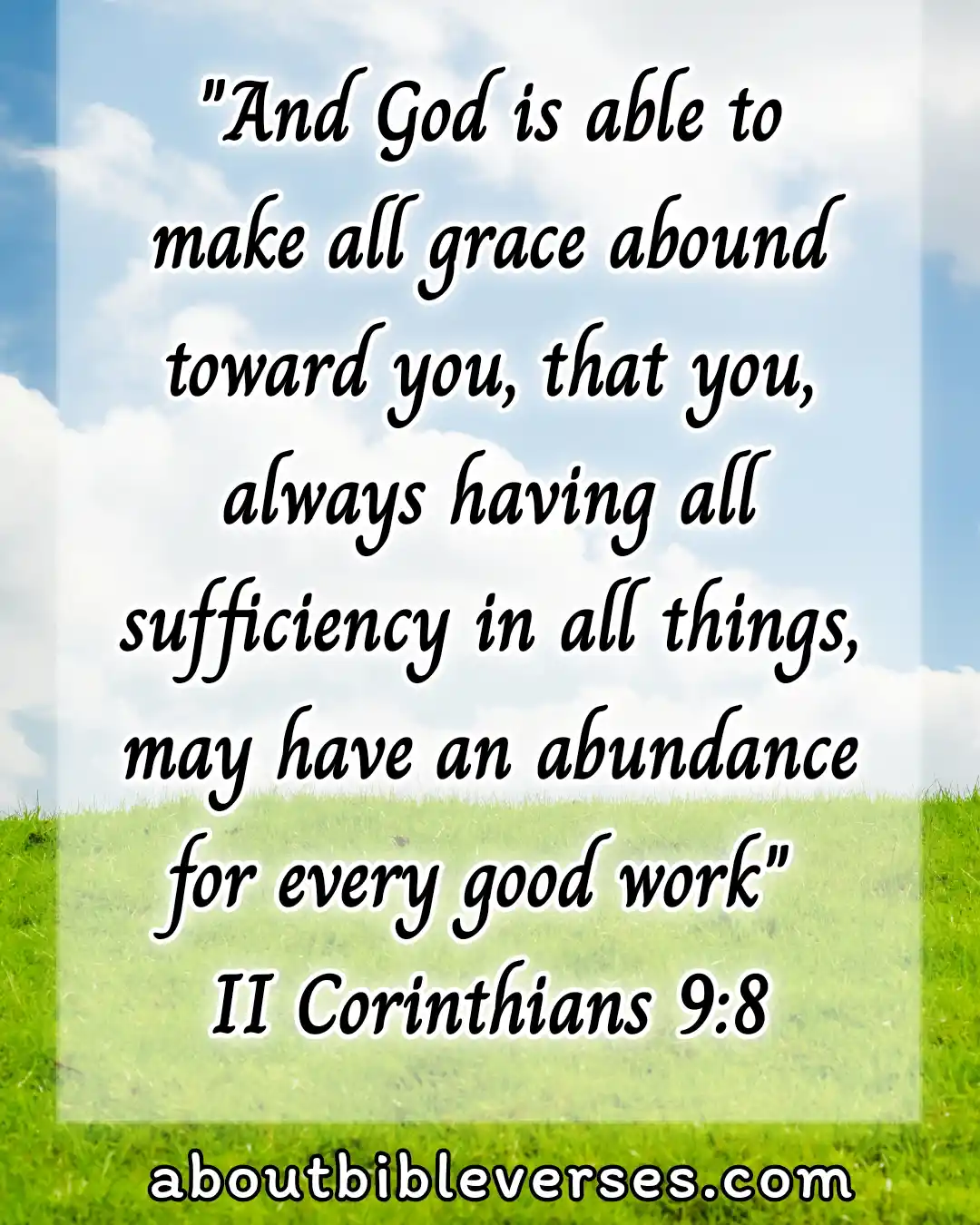 2 Corinthians 9:8(KJV)"And God is able to make all grace abound toward you; that ye, always having all sufficiency in all things, may abound to every good work"
Explanation:- Blessings and God's presence will be seen while we walk in his ways and follow his teachings. There will be no lack if we love him and maintain a holy life. The loving father will always be with us as we decided to follow him.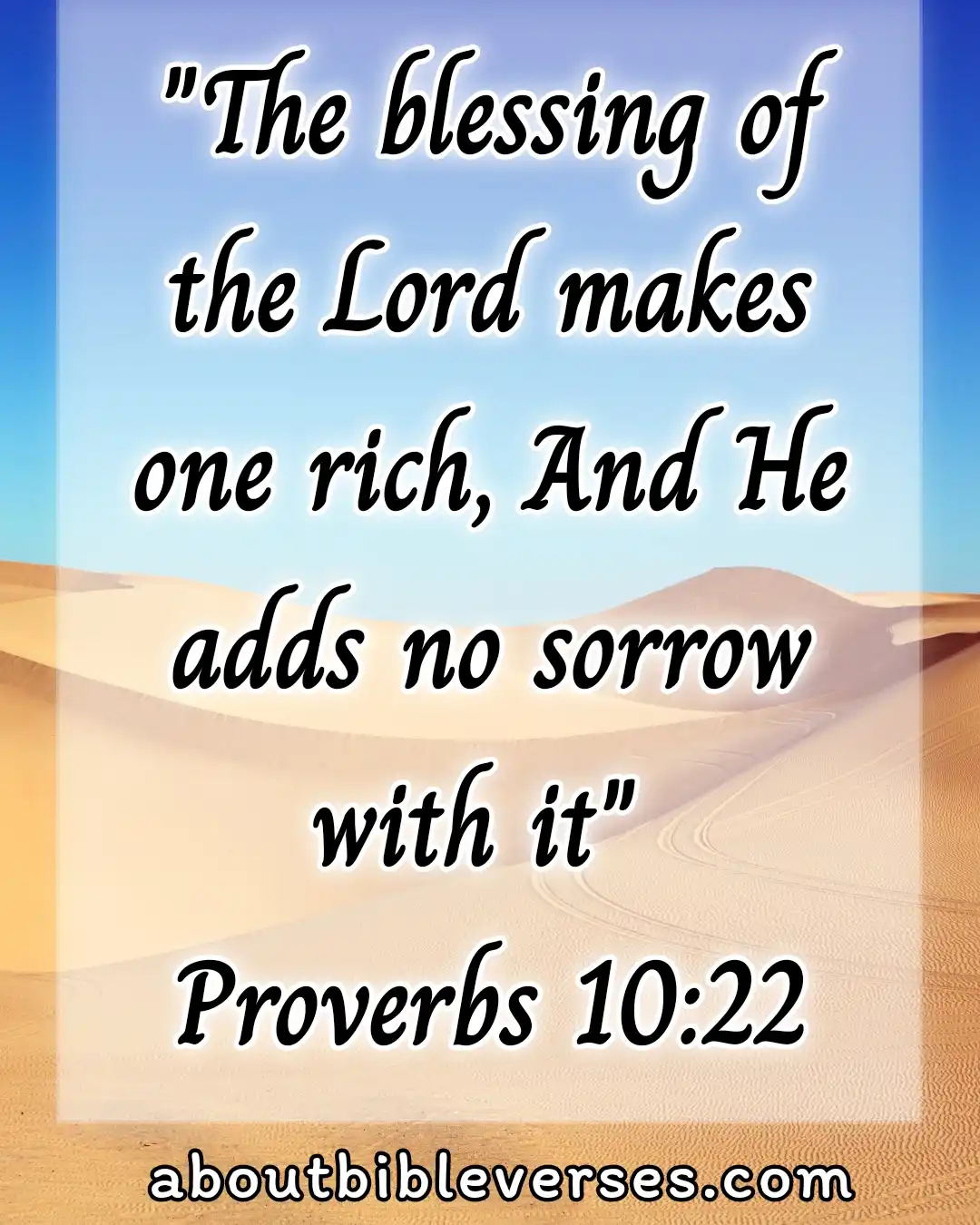 Proverbs 10:22(KJV)"The blessing of the Lord, it maketh rich, and he addeth no sorrow with it"
Explanation:- The Lord loves his children who obey him and honor him. There will be no sorrow in God's people as long as they will remain faithful to him. In every way of their life, The Lod himself will guide them and bless them in their works.
If one is addicted to wealth or if one loves wealth then he cannot love God. God says in His Word Matthew 6:24 "No man can be a slave of two Lords. He may hate the first and love the second, or he may be loyal to the first and despise the second. You cannot be both slaves to God and to wealth"
Dear friends, you may be able to increase your wealth in this world by forsaking God but think a little and read the next word of God, will you find there any kind of life that God has promised to give us.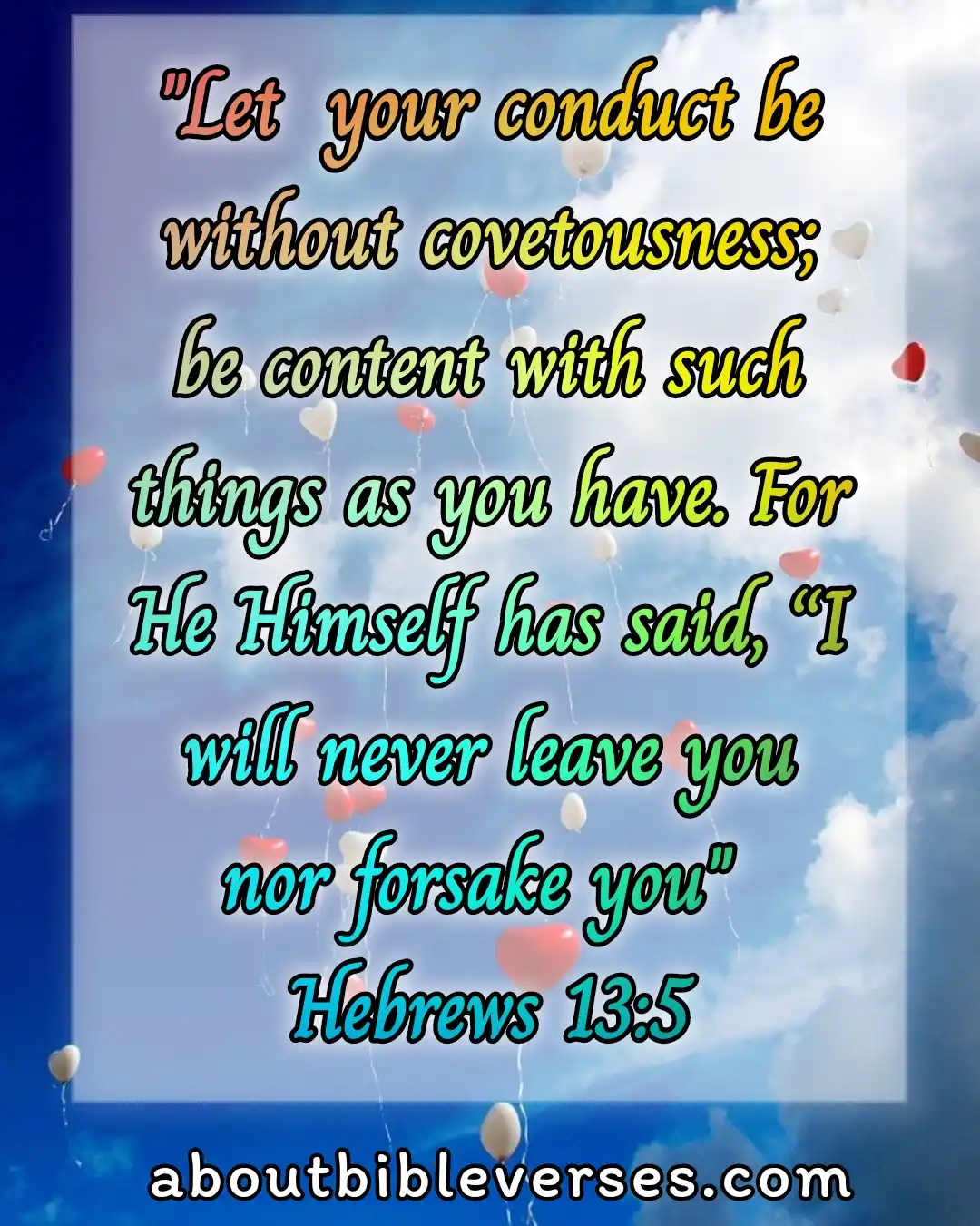 Hebrews 13:5(KJV)"Let your conversation be without covetousness; and be content with such things as ye have: for he hath said, I will never leave thee, nor forsake thee"
Explanation:- Christians are to be free from the carnal mind. They are to live with their belongings happily. As Jesus has separated us from the world so we are not to make friends with the things that belong to this earth.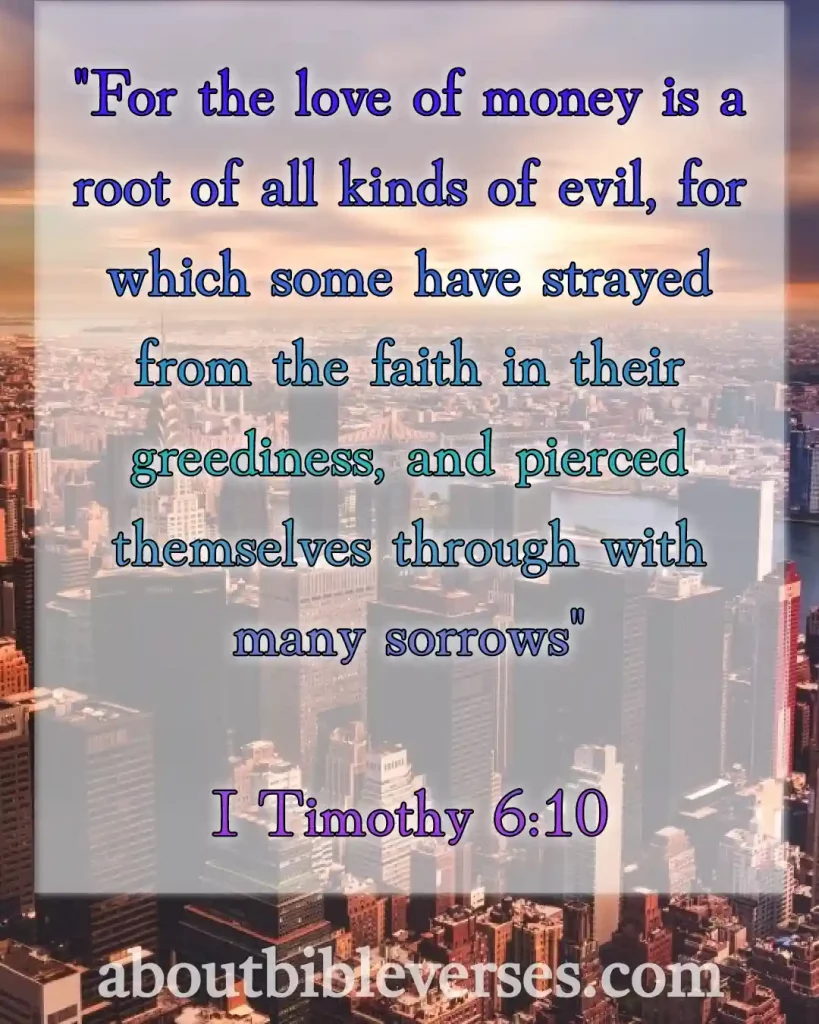 1 Timothy 6:10(KJV)"For the love of money is the root of all evil: which while some coveted after, they have erred from the faith, and pierced themselves through with many sorrows"
Explanation:- Many believers gave up their spiritual journey right after they confronted temptation especially in the case of money and wealth. The children of God must be aware of money and all kinds of greed which can separate them from the race that they set in Jesus to achieve salvation.
Matthew 6:19-21(KJV)"Lay not up for yourselves treasures upon earth, where moth and rust doth corrupt, and where thieves break through and steal:But lay up for yourselves treasures in heaven, where neither moth nor rust doth corrupt, and where thieves do not break through nor steal:For where your treasure is, there will your heart be also"
Explanation:- Jesus gave one wonderful teaching where he says us to gather our wealth in heaven by doing righteous works. Here our wealth may be stolen or destroyed but in heaven, it will remain safe and sound.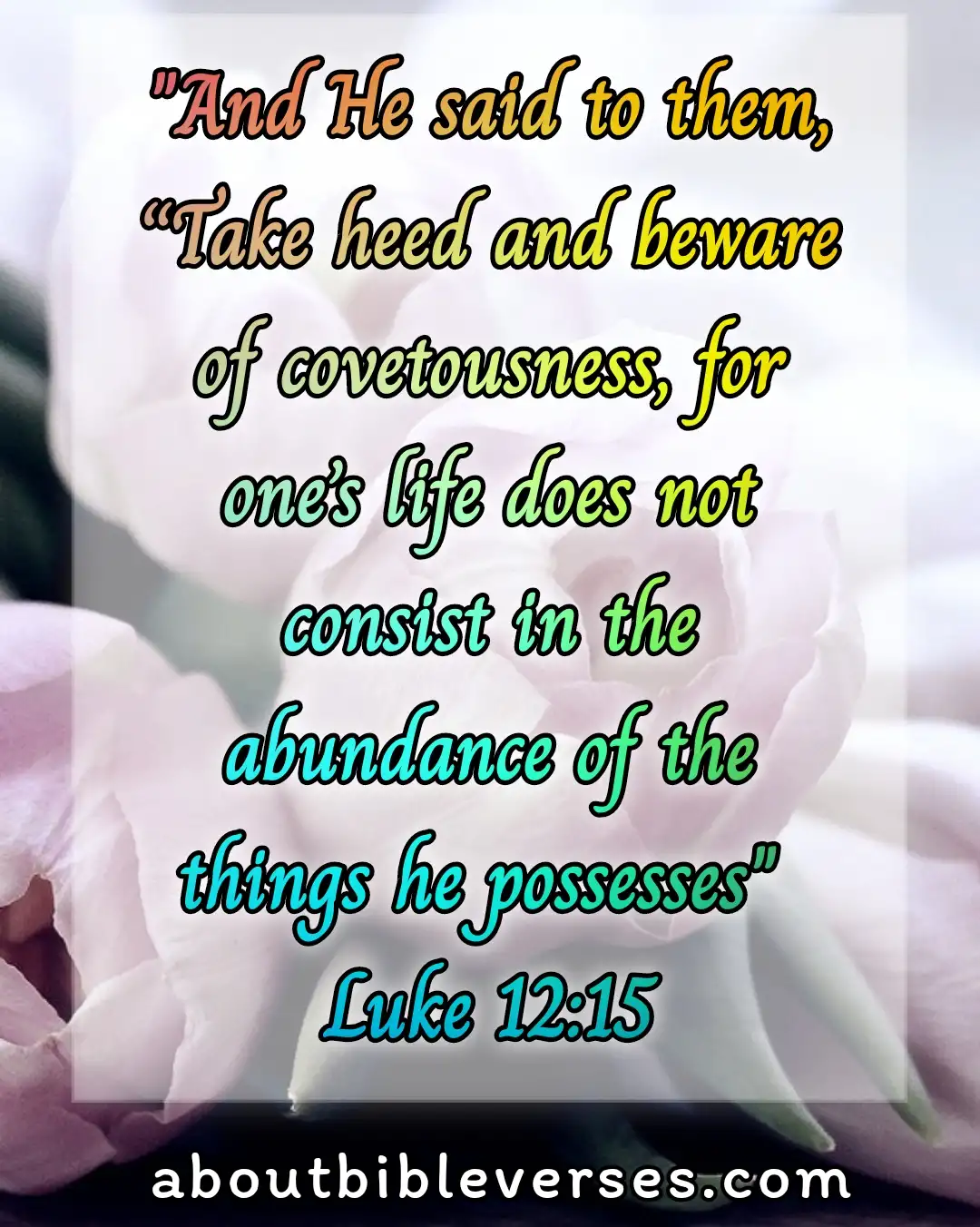 Luke 12:15(KJV)"And he said unto them, Take heed, and beware of covetousness: for a man's life consisteth not in the abundance of the things which he possesseth"
Explanation:- The things of this world are needed for our survival but they have no power to save us from judgment. So we must walk wisely in order to be free from judgment.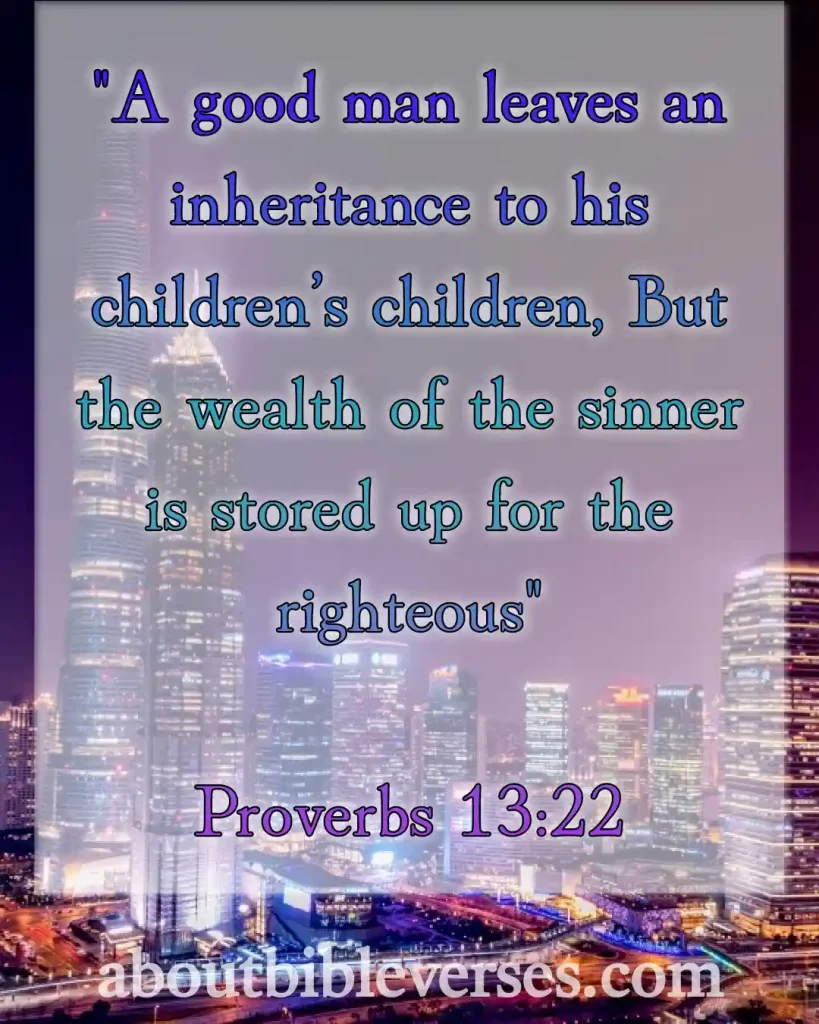 Proverbs 13:22(KJV)"A good man leaveth an inheritance to his children's children: and the wealth of the sinner is laid up for the just"
Explanation:- A man who stores his wealth for the next generations will be put to shame. The wicked store their things for the righteous. They will work hard to have the things to enjoy but they will not make use of their wealth and at last righteous will inherit that wealth.
Luke 12:33-34(KJV)"Sell that ye have, and give alms; provide yourselves bags which wax not old, a treasure in the heavens that faileth not, where no thief approacheth, neither moth corrupteth. For where your treasure is, there will your heart be also"
Explanation:- We should not worry about our life. The Lord God is our source of everything if he can give us all the things freely then he is able to save us. We must think about how to store our wealth in heaven by doing good deeds such as sharing our things with the poor and needy. This will help us to be in heaven as a result of our righteousness.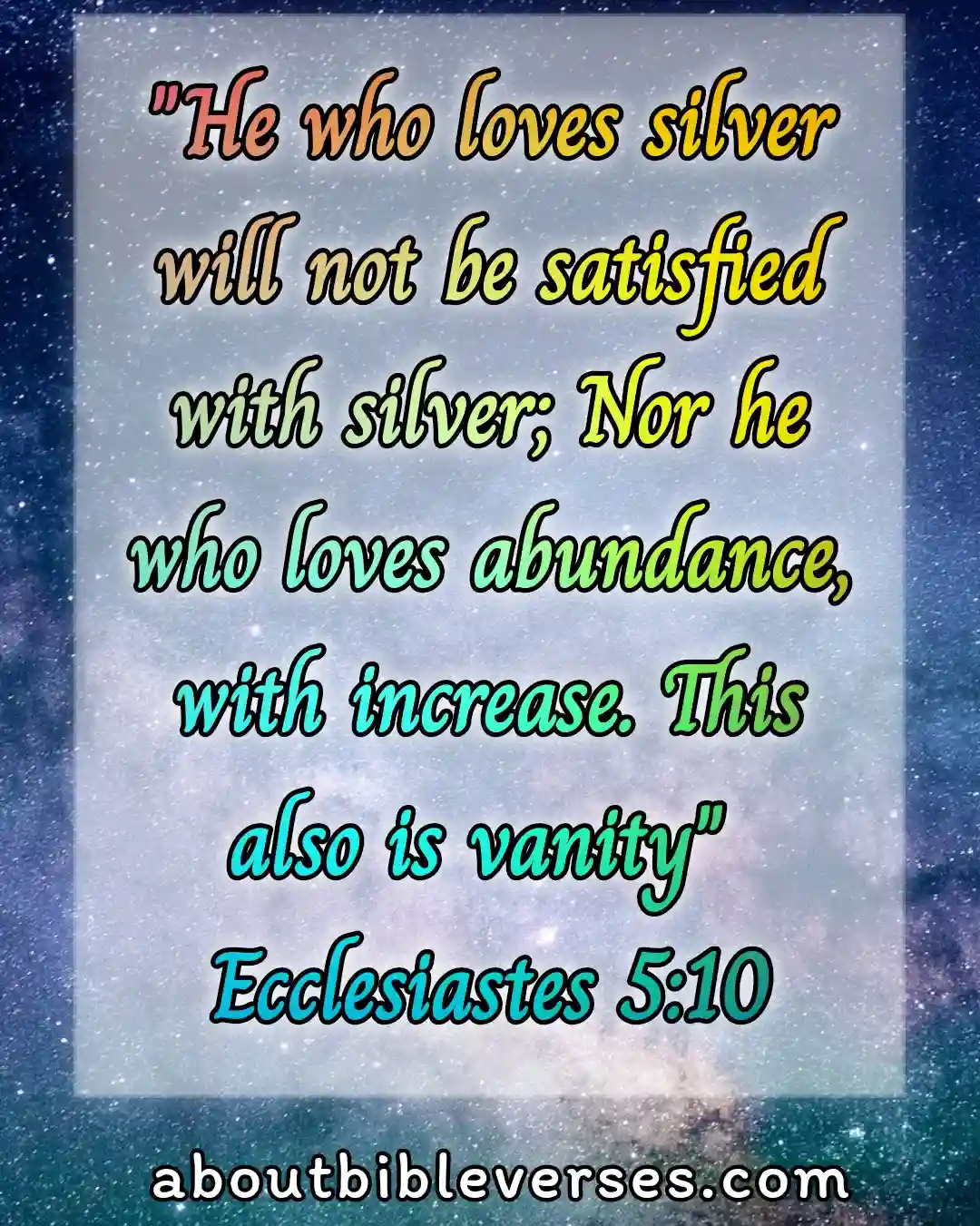 Ecclesiastes 5:10(KJV)"He that loveth silver shall not be satisfied with silver; nor he that loveth abundance with increase: this is also vanity"
Explanation:- The word of God makes us know the real desire of man. It teaches us if a person loves something of this world then he will never be content with that. So we need to be aware of loving something as that will not satisfy ever.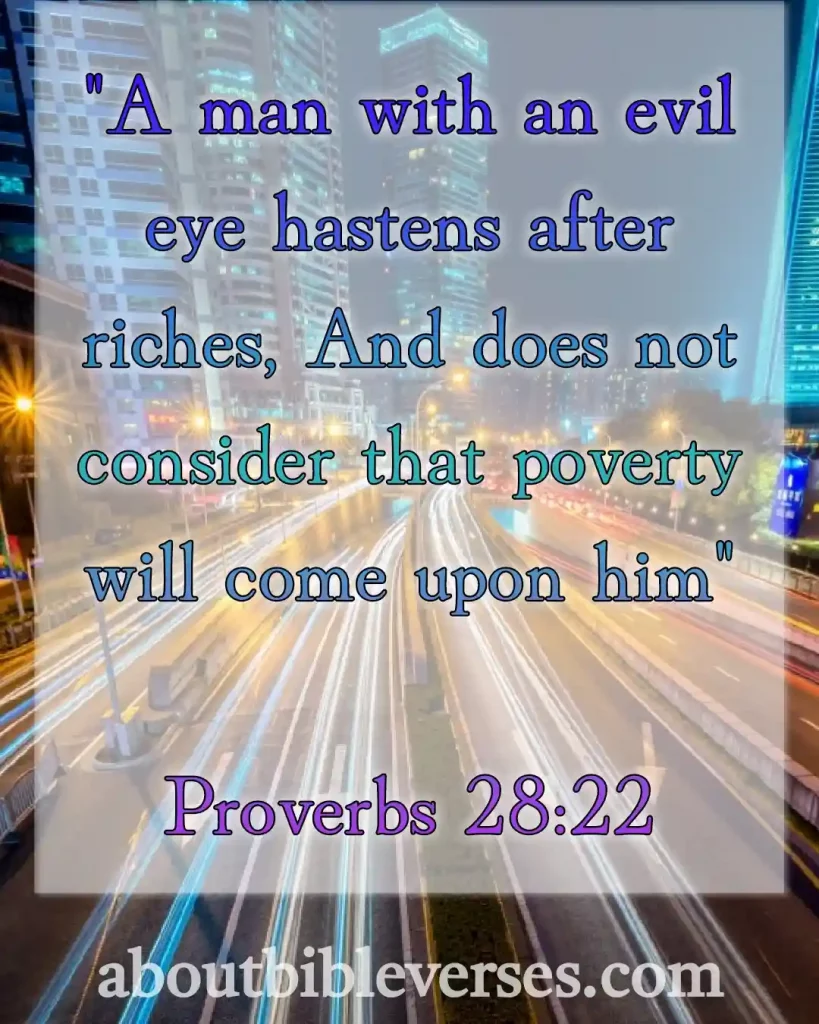 Proverbs 28:22(KJV)"He that hasteth to be rich hath an evil eye, and considereth not that poverty shall come upon him"
Explanation:- Those who seek to be rich will surely become poor in spirituality. We must not be greedy as it leads to destruction. We should cleanse ourselves from all kinds of evil works.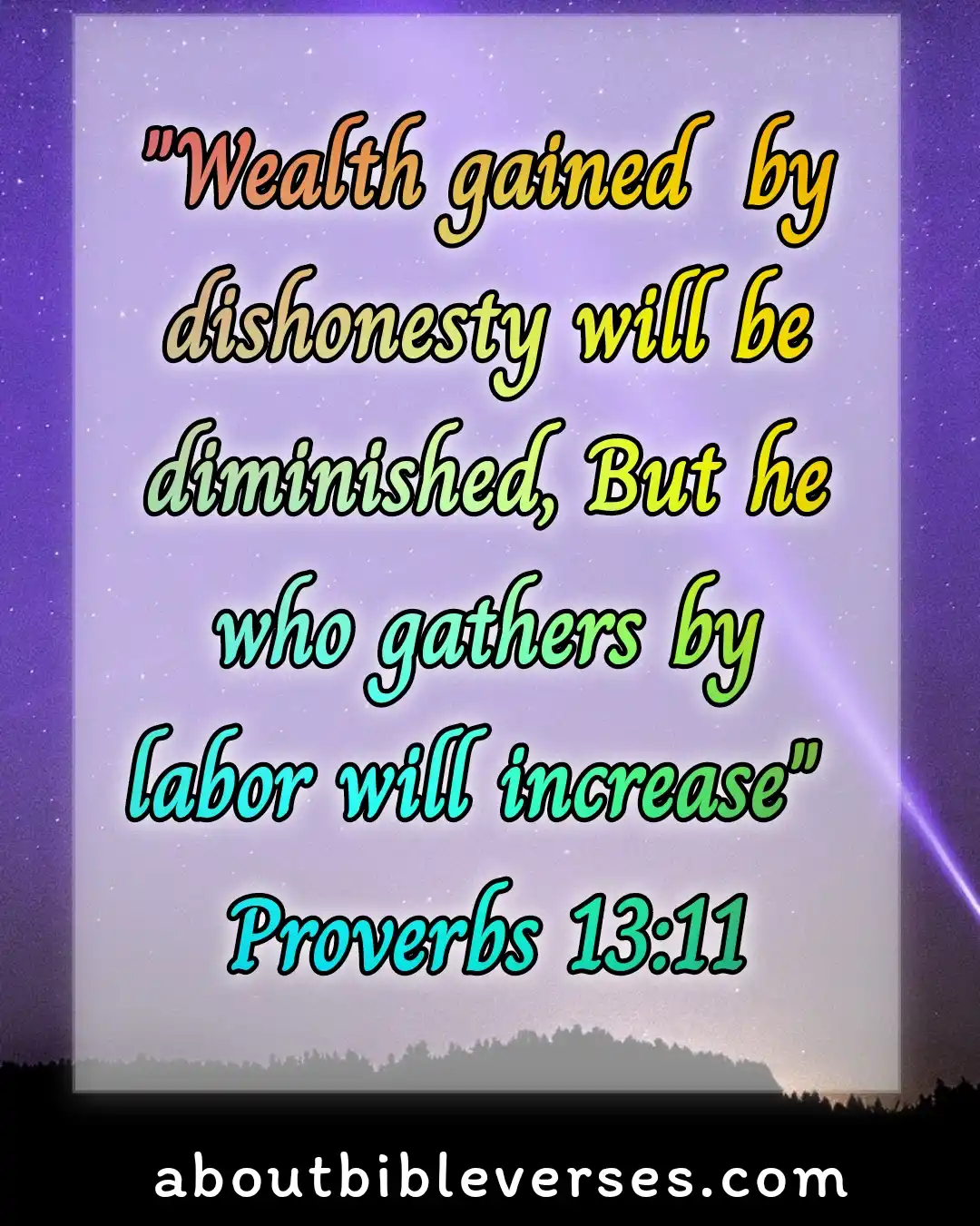 Proverbs 13:11(KJV)"Wealth gotten by vanity shall be diminished: but he that gathereth by labour shall increase"
Explanation:- Property that we earn by labor will increase. But if we gather wealth by walking on the wrong track then surely we will perish soon.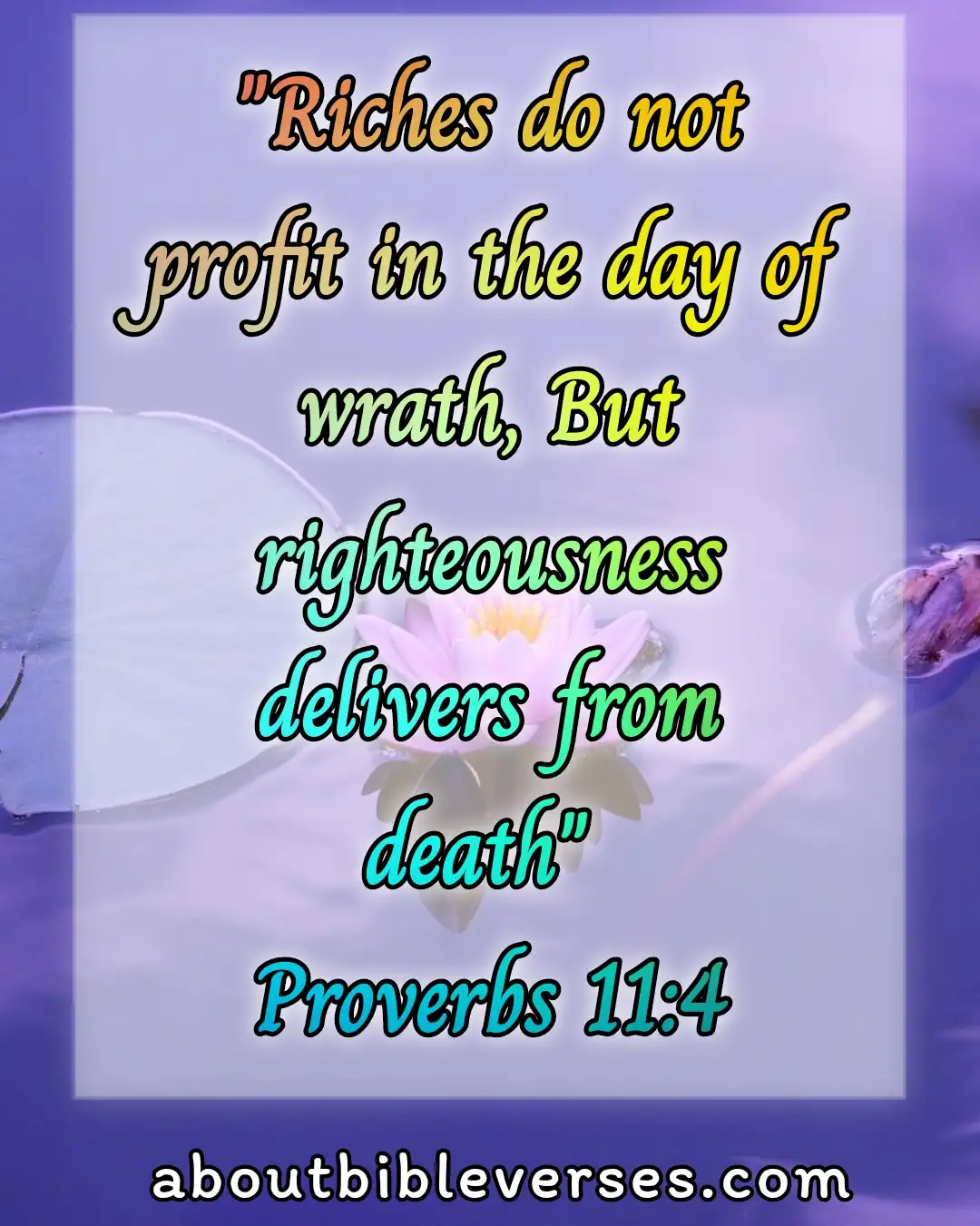 Proverbs 11:4(KJV)"Riches profit not in the day of wrath: but righteousness delivereth from death"
Explanation:- All our property and finance will not save us from the final judgment. But the righteousness that we earn by doing good works will give us eternal life.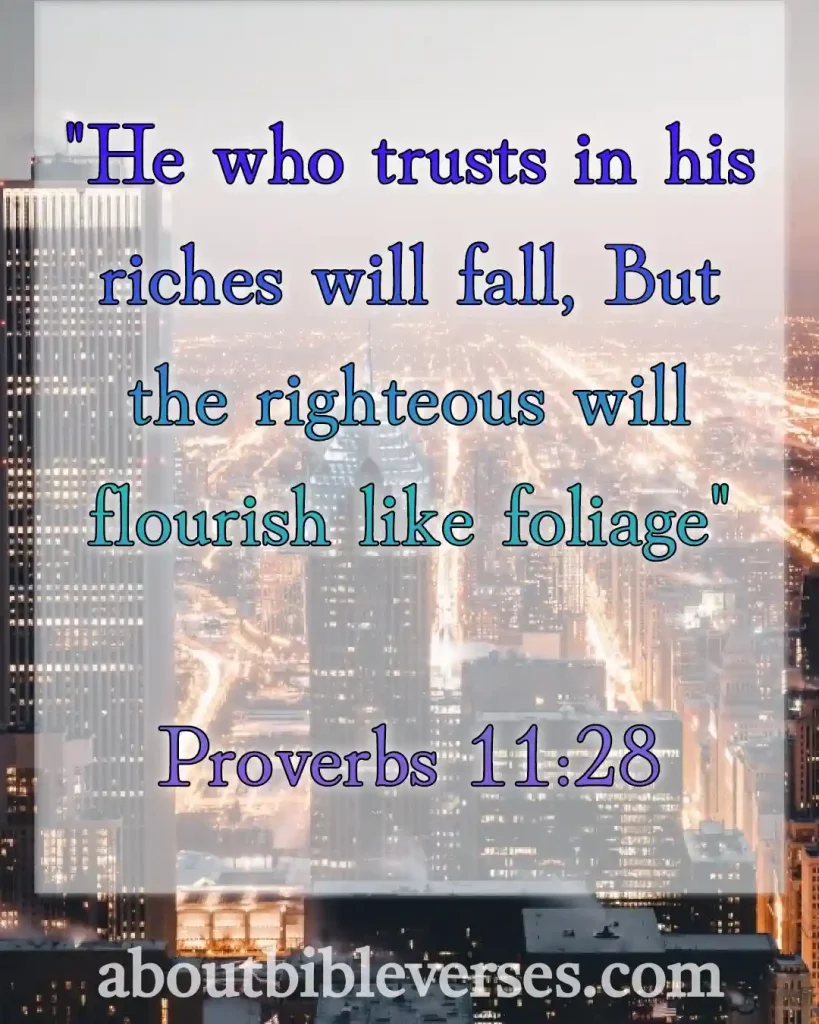 Proverbs 11:28(KJV)"He that trusteth in his riches shall fall; but the righteous shall flourish as a branch"
Explanation:- Those who are rich and wealthy must not depend on their wealth. God is in control of everything so they will be saved if they trust and rely on the Lord.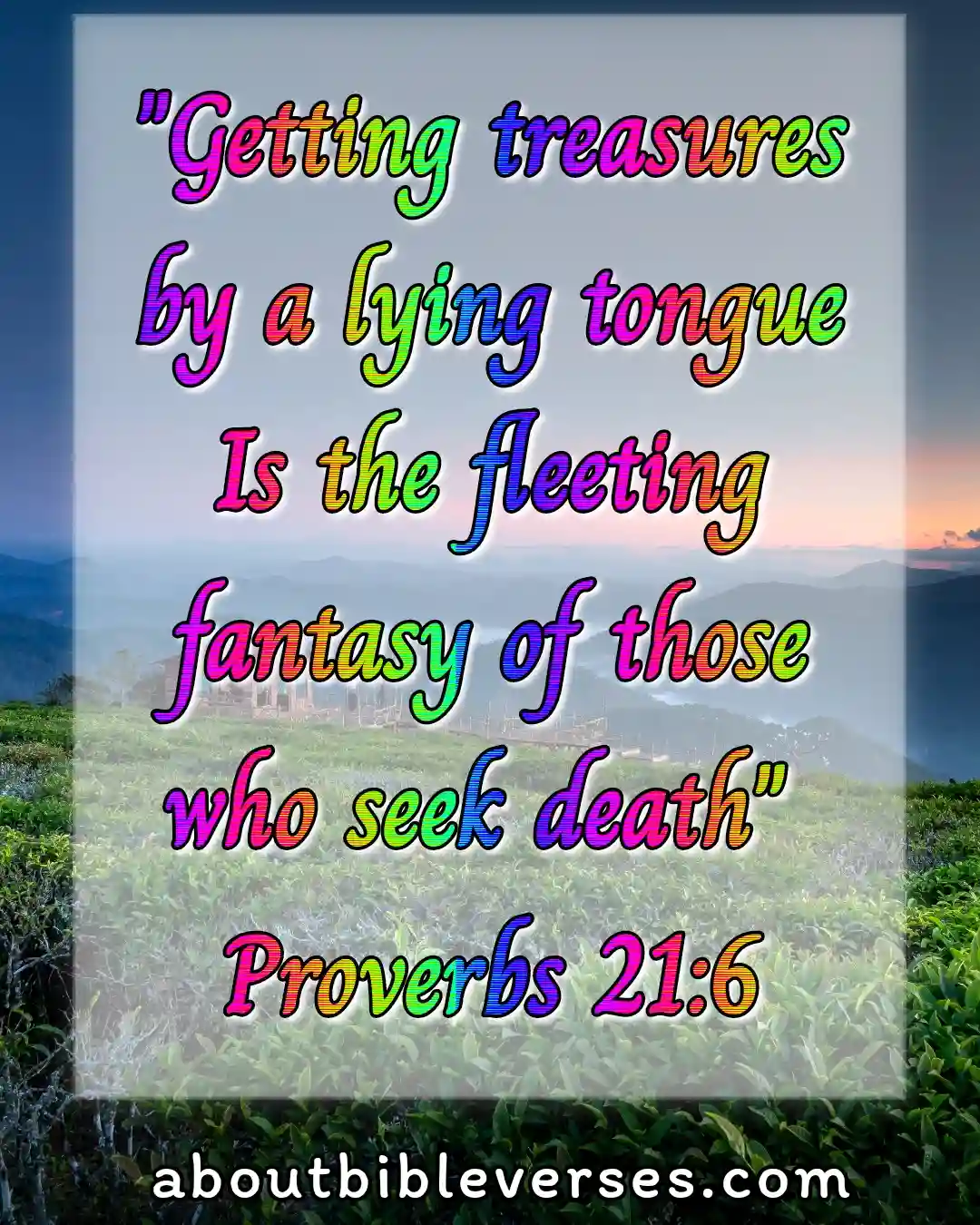 Proverbs 21:6(KJV)"The getting of treasures by a lying tongue is a vanity tossed to and fro of them that seek death"
Explanation:- The wicked may seem rich and wealthy but their existence is for a while. They will not last long and their wealth will lead them towards destruction.
More Bible Topics
[Best] 10+Bible Verses About Tithes And Offerings
[Best] 25+ Memorize Bible Verses About Jesus Christ
[Best] 19+Bible Verses About Joy And Happiness In Life
[Best] 20+Bible Verses About Revenge
[Best]16+Bible Verses About Acknowledging God In All Your Ways
[Best] 20+Bible Verses About Generosity
[Best] 15+Bible Verses About Wishing Good Luck For Success