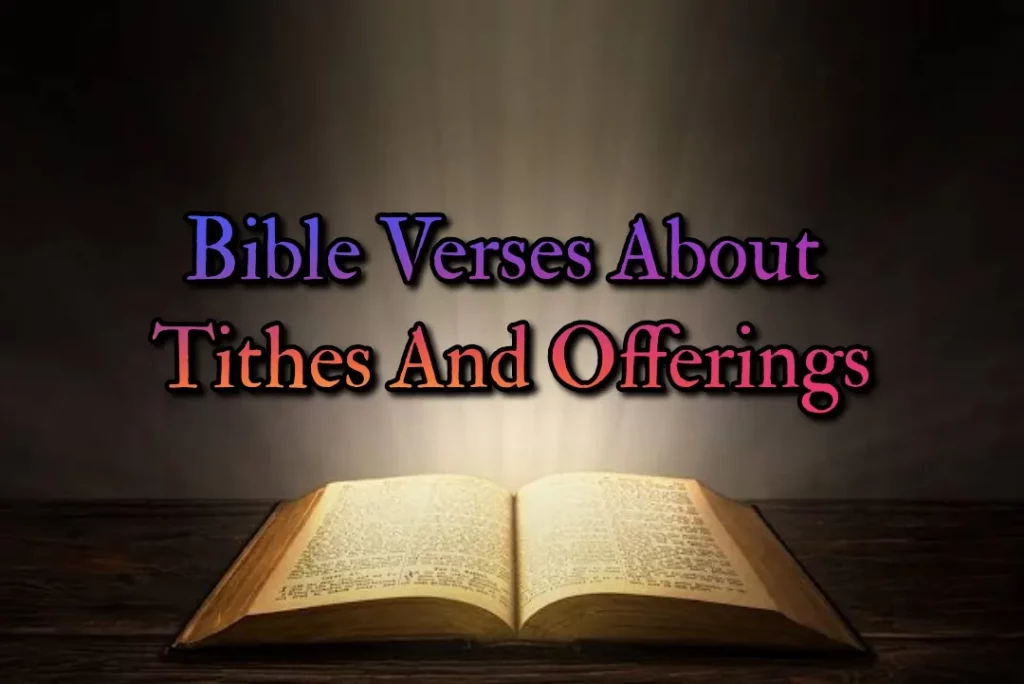 Dear brothers and sisters in Christ, I welcome you in the name of our Lord Jesus Christ. The topic we will discuss today and see God's Word is tithes and offerings.
My dear friends, we must first understand what is tithe and offering? The tithe is the tenth percent of your income, that we give to the house of God and the offering is to share with God when you get something new in life like the first fruit of what you planted or your first income of life or when you come in the church and give something to the house of God is called offering. It is entirely up to you how much you will give.
Now you can understand whether you should share these tithes or offerings to the Lord or not from the word of God which we have given below. Let us look at the Word of God from the Old Testament and New Testament.
Bible Verses About Giving Tithes And Offering – (Old Testament)
The Lord guided the entire Israel from their bondage and blessed them by placing in the promised land. He was their father and provided them with all their needs.
In times of sorrow and hardships, he became their stronghold. The children of Israel were blessed in the midst of other nations.
The Lord gave them some instructions where they were asked to bring the tithes and offerings in his house. Though few generations obeyed the Lord and were blessed and later on the children of Israel forgot what God told them about the tithe and offerings. Their disobedience brought the wrath of God into their lives. Let us read the following scriptures which talk about tithes and offerings belongs to the Lord.
Malachi 3:8-10(KJV)"Will a man rob God? Yet ye have robbed me. But ye say, Wherein have we robbed thee? In tithes and offerings. Ye are cursed with a curse: for ye have robbed me, even this whole nation. Bring ye all the tithes into the storehouse, that there may be meat in mine house, and prove me now herewith, saith the Lord of hosts, if I will not open you the windows of heaven, and pour you out a blessing, that there shall not be room enough to receive it"
Explanation:- The result of robbing God will lead us to experience calamities in our lives. We are his people and he is our king, so we need to give our tithe, offering, and all the first fruits that the Lord gives us. His blessings are beyond our imagination and we cannot give him anything except our little offerings and tithes. To be blessed by the Lord we must pay his sharing and that will make him happy as his eyes are always upon us.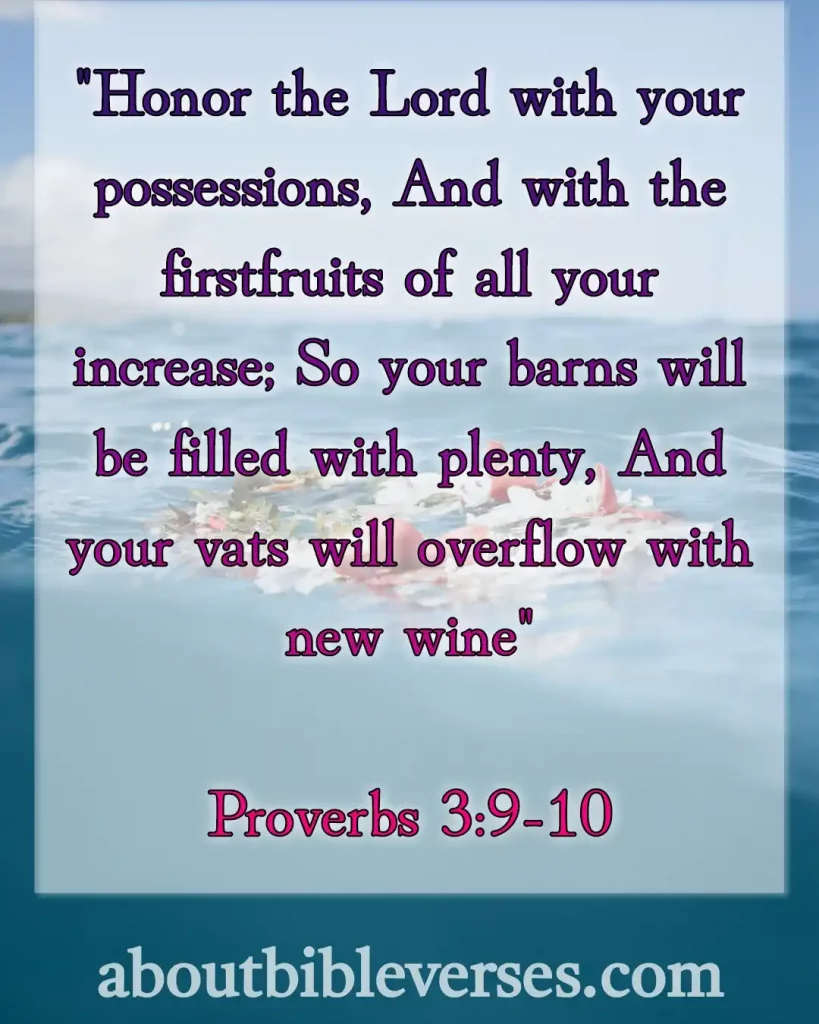 Proverbs 3:9-10(KJV)"Honour the Lord with thy substance, and with the firstfruits of all thine increase: So shall thy barns be filled with plenty, and thy presses shall burst out with new wine"
Explanation:- We should serve our Lord with our wealth. He has blessed us with all our needs so we are to thank him by bringing our tithes and offerings in his house. Our charitable deeds will please him and allow him to give us our needs abundantly.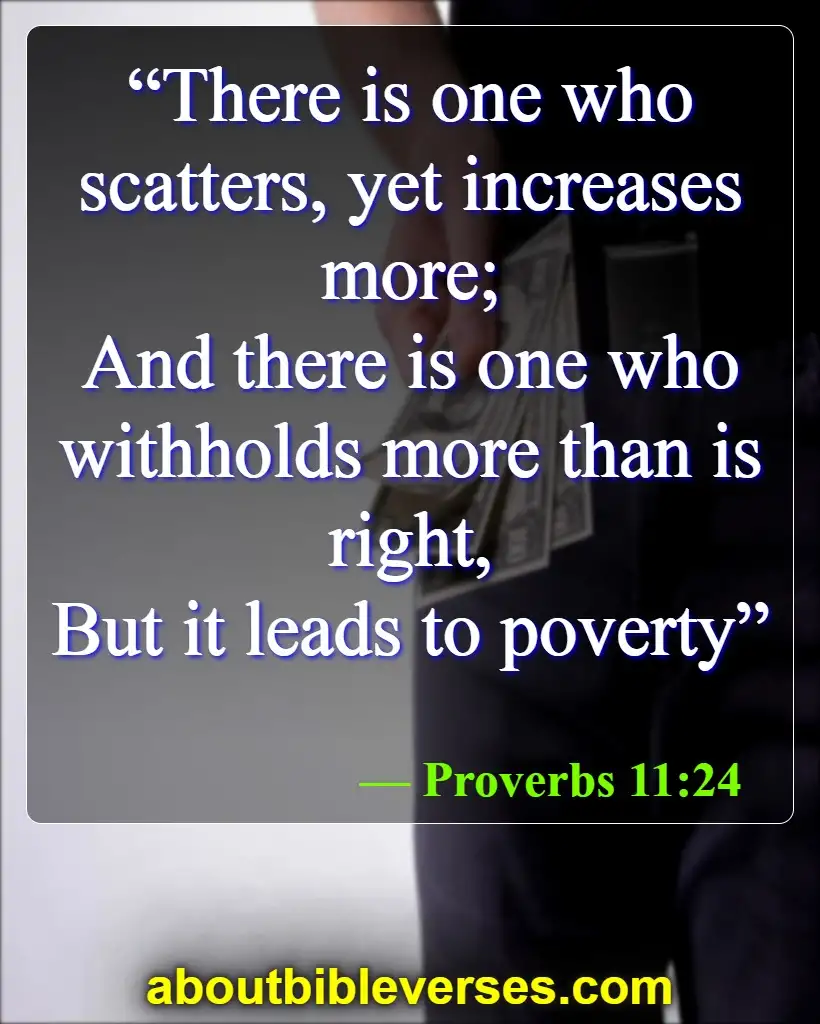 Proverbs 11:24(KJV)"There is that scattereth, and yet increaseth, and there is that withholdeth more than is meet, but it tendeth to poverty"
Explanation:- One of the most interesting facts is that those who give become rich and increased their wealth. But people who do not spend what is important and save money, become poor. Here, we can know the benefits of giving as it helps us to increase our wealth and property.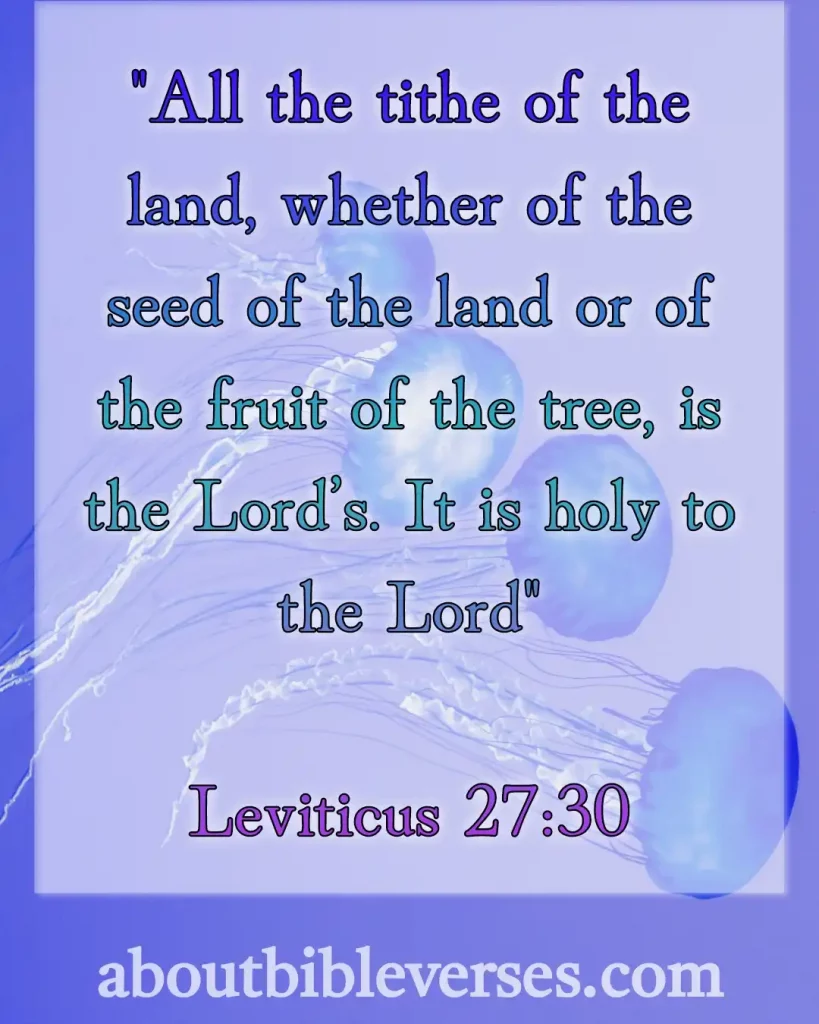 Leviticus 27:30(KJV)"And all the tithe of the land, whether of the seed of the land, or of the fruit of the tree, is the Lord's: it is holy unto the Lord"
Explanation:- The Lord showed his grace and mercy upon the nation of Israel in the midst of other nations. He fought on behalf of his people, he gave them the promised land and he did so many miracles for them. The Lord asked his people to give tithe and the first fruit of their trees to him. The children of Israel were prosperous and blessed by obeying the instruction of the Lord. In this grace period, we are to follow this in order to receive blessings and grace from the Lord.
Numbers 18:28(KJV)"Thus ye also shall offer an heave offering unto the Lord of all your tithes, which ye receive of the children of Israel; and ye shall give thereof the Lord'S heave offering to Aaron the priest"
Explanation:- The children of Israel were commanded to bring their offerings into God's house so the priests can run their families. God's intention was to support those who kept on serving him. As the Lord blessed the entire nation of Israel he sought the heave offering from them as a token of thanksgiving from his people.
Bible Verses About Giving Tithes And Offering – (New Testament)
The New Testament does not have a direct word that requires tithes, but some verses encourage us to give tithe and offering to the Lord such as (Matthew 23:23).
In today's time, many believers believe that tithing and offerings can forgive our sins. But it is a false teaching that many churches are preaching. All our offerings and tithes do not save us from our sins.
If you are involved in such a church, then you should pray to God and ask him to guide you so the right person of God would come to you because such a thing is not leading you in God's way. Our sins cannot be forgiven with our tithes. I will not say here how you can get forgiveness if you want to know about forgiveness click here. 15+Bible Verses About Forgiveness of sins by God And Forgiving others
In the Bible (Luke 18:12) Jesus explained to us that two men went to the temple to pray. One was a Pharisee and the other was a tax collector. The Pharisee stood up and prayed for himself. I am not like the tax collector, I fast two days a week and I give tithe too, but the tax collector did not dare to stand and look at the sky, but he patted his chest and said, O God, I am a sinner, have mercy on me. There Jesus said that the tax collector proved to be righteous but not the Pharisee, meaning that only one-tenth is not pleasing to God. God wants more from us as we see in (Matthew 23:23).
Matthew 23:23(KJV)"Woe unto you, scribes and Pharisees, hypocrites! for ye pay tithe of mint and anise and cummin, and have omitted the weightier matters of the law, judgment, mercy, and faith: these ought ye to have done, and not to leave the other undone"
Explanation:- Jesus was extremely angry with the behaviors of the jews religious leaders who were stubborn with their rituals. They did not change their minds but were stick to the laws. Jesus warns them to follow first God's righteousness and then all the remaining things. So, we see Jesus also encourages us to give the tithes and offerings to the Lord.
2 Corinthians 9:6-7(KJV)"But this I say, He which soweth sparingly shall reap also sparingly; and he which soweth bountifully shall reap also bountifully. Every man according as he purposeth in his heart, so let him give; not grudgingly, or of necessity: for God loveth a cheerful giver"
Explanation:- When the Lord blesses one, he needs to give the Lord back too. Actually, we cannot give anything to the Lord but we can help in extending his kingdom on this earth by sharing our money, strength, and time. Apart from this, we must look at who is in need of food, cloth, and shelter. Our small help can change their lives and thus we can bring them into the light of Jesus.
Acts 4:34-35(KJV)"Neither was there any among them that lacked: for as many as were possessors of lands or houses sold them, and brought the prices of the things that were sold, And laid them down at the apostles' feet: and distribution was made unto every man according as he had need"
Explanation:- The followers of Jesus left a wonderful example for the believers by selling their houses and lands. They brought all the money before the apostles and they divided among the poor equally and they taught how to live together while our heavenly father is one.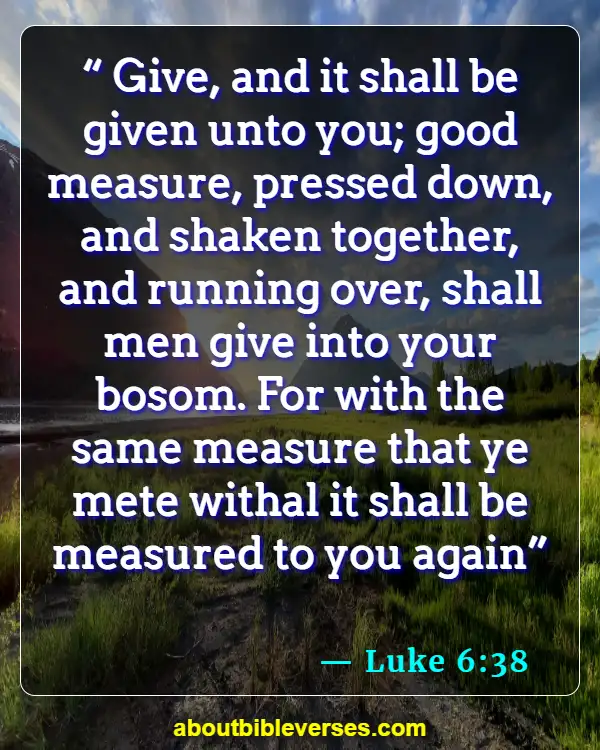 Luke 6:38(KJV)"Give, and it shall be given unto you; good measure, pressed down, and shaken together, and running over, shall men give into your bosom. For with the same measure that ye mete withal it shall be measured to you again"
Explanation:- We are to open our minds and heart especially when we deal with the Lord. we must not be narrow-minded to keep our things with us. If we give freely and happily to the Lord then we shall be blessed as the Lord rewards his children who joyfully give their portion for his kingdom's expansion.
Mark 12:41-44(KJV)"And Jesus sat over against the treasury and beheld how the people cast money into the treasury: and many that were rich cast in much. And there came a certain poor widow, and she threw in two mites, which make a farthing. And he called unto him his disciples, and saith unto them, Verily I say unto you, That this poor widow hath cast more in, than all they which have cast into the treasury: For all, they did cast in of their abundance; but she of her want did cast in all that she had, even all her living"
Explanation:- One day Jesus gave a nice lesson to his disciples who were always with him during his earthly ministry. Once Jesus noticed a widow who had nothing to give to the temple but she did not hesitate two cast two mites which she had. There were others who gave some portion of their wealth but that widow gave everything that she had. Jesus told his disciples that she will be more blessed than others.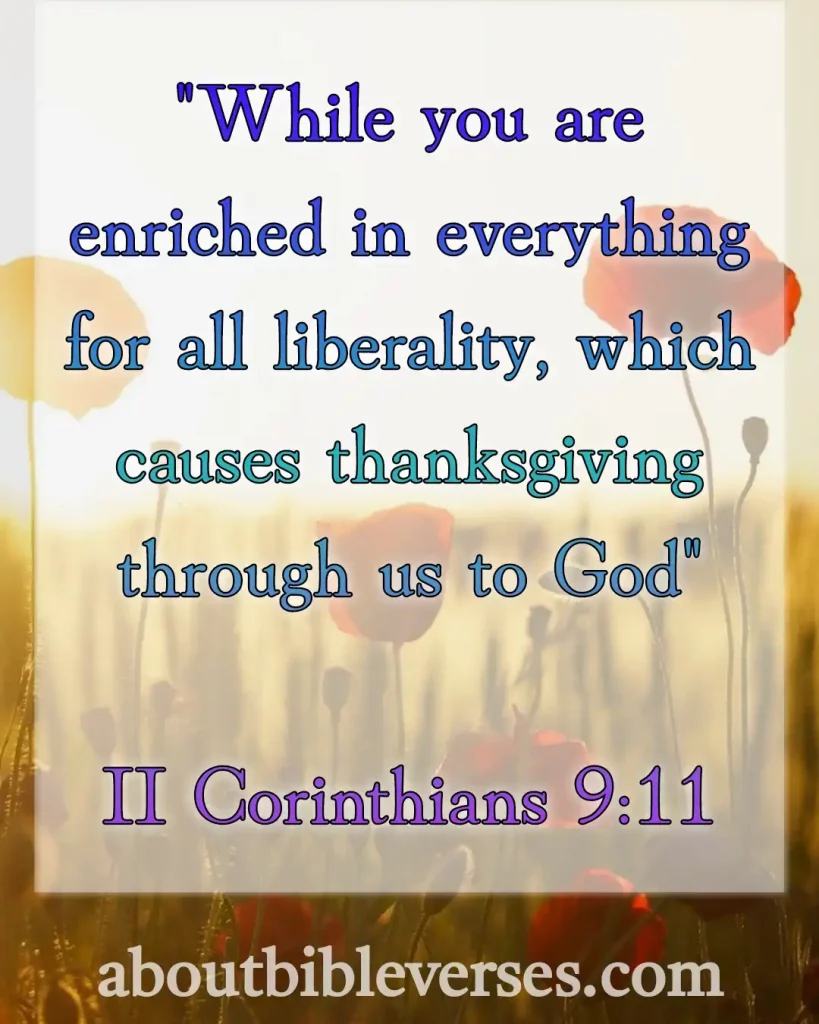 2 Corinthians 9:11(KJV)"Being enriched in everything to all bountifulness, which causeth through us thanksgiving to God"
Explanation:- The Lord is always good to us and he listens to our prayers and answers us in our times of need. Thus he is a loving father who provides for our essential needs. So we must be thankful to him through serving the poor and needy who seek our support.
Conclusion :- Children of God, I want to tell you a little bit about the tithe you give. You need to know how the tithe you give is being used in God's house or for God's kingdom.
You will see how your church is using that tithe you pay, if they do not use your tithe properly which is for the glory of God, then you pay tithe in vain in your church.
The word of God guides us to give tithes but that does not teach u to give blindly where the tithes are not being used for God's glory.
If our tithes do not glorify God then it is not actually tithing that the Lord seeks from us. You must ask God to direct you according to his wisdom so he may lead you to the appropriate place where your tithe will be used for his glory.