There are millions of people in the world suffering every day from some sort of struggling, it can be physical or mental. Healing is a crying need for many individuals.
But there is also good news of healing from all the sickness of the body or mind by the power of God. When Jesus was walking on this earth, he healed many people to manifest the truth that our God is the healer. The Bible says, there is nothing impossible with God.
So, relying on the Word of God, we can say that we can surely experience healing in Jesus name. There is amazing power in the name of Jesus, I have experienced it personally and you can too, you just need to surrender yourself to God by accepting Jesus Christ in your heart as your Lord and savior, Repent of your sins and seek God with your whole heart.
Healing Scriptures From The Bible
Jeremiah 33:6(KJV)"Behold, I will bring it health and cure, and I will cure them, and will reveal unto them the abundance of peace and truth"

explanation:-God knows all our needs. It is possible with Him to restore his people from the sicknesses. God's presence will bring healing along with blessings of prosperity and protection. If one seeks about healing and strength, he must build a personal relationship with Jesus.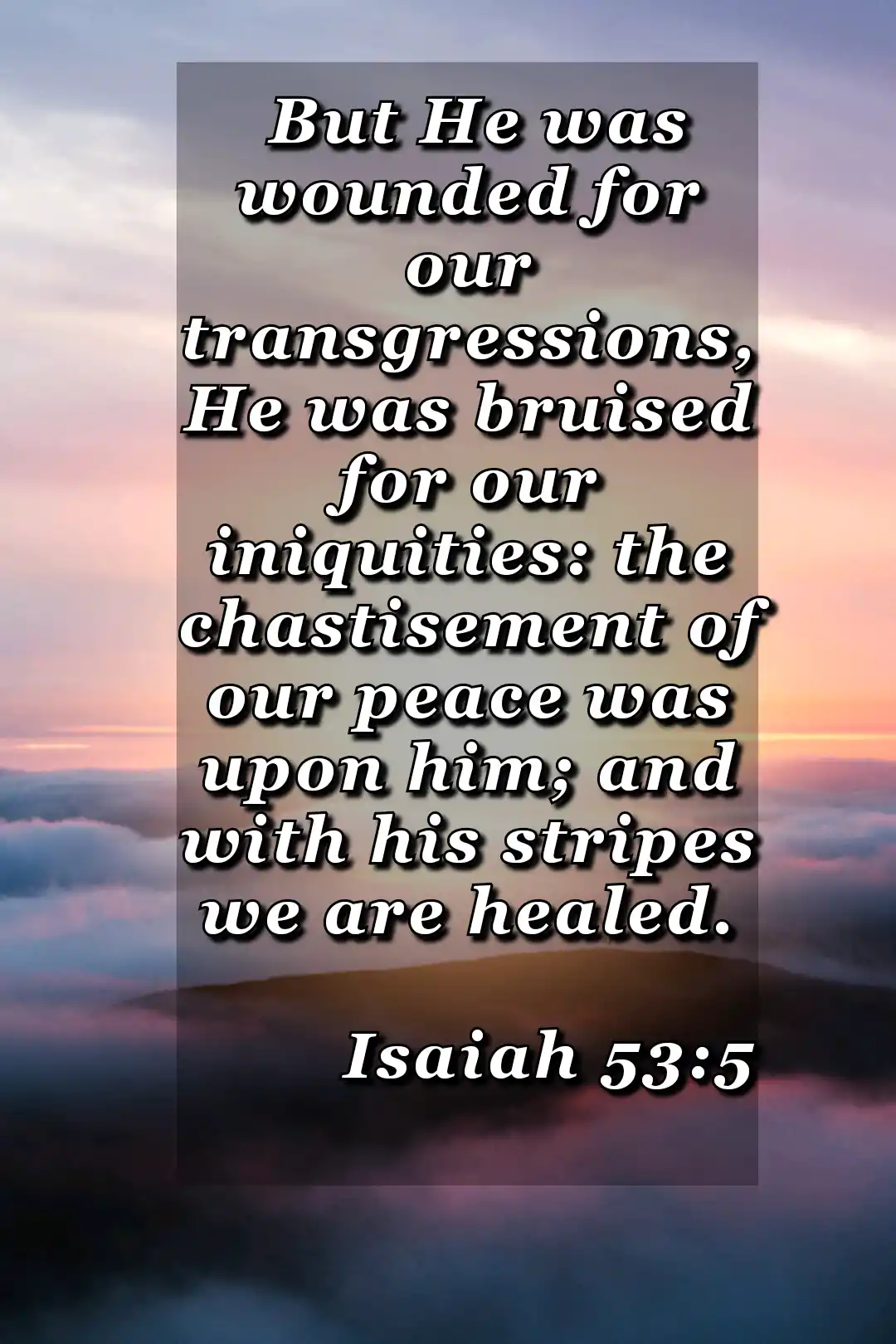 Isaiah 53:5(KJV)"But he was wounded for our transgressions, he was bruised for our iniquities: the chastisement of our peace was upon him; and with his stripes we are healed"

explanation:- This is prophesied about the sufferings and death of Jesus Christ. Jesus did not commit a single sin yet, he has gone through the sufferings and humiliation to take away our sins. We can be healed from all our physical illnesses and spiritual weaknesses as He paid His life on the Cross.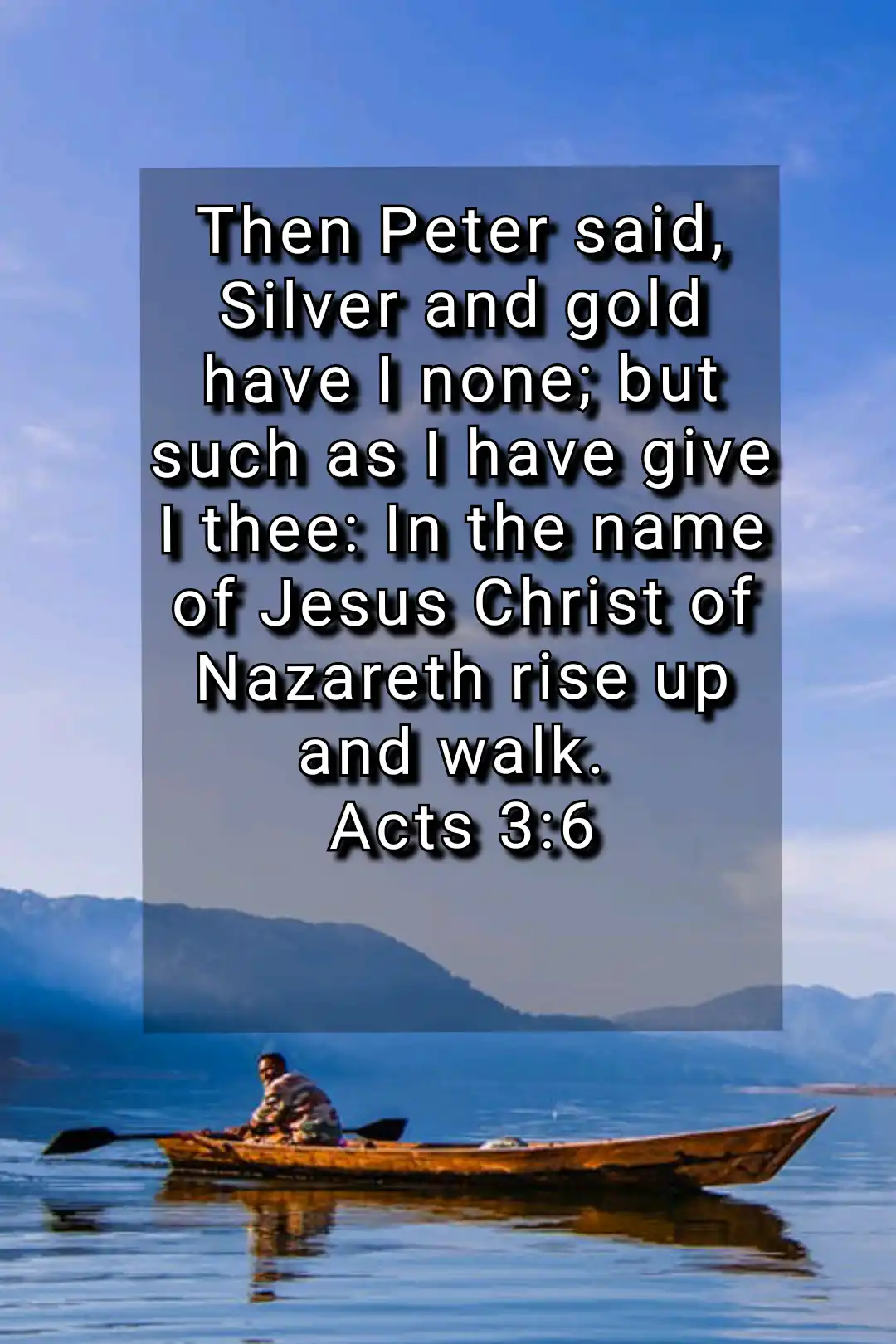 Acts 3:6(KJV)"Then Peter said, Silver and gold have I none; but such as I have give I thee: In the name of Jesus Christ of Nazareth rise up and walk"

explanation:-At the beautiful temple's gate the lame man was expecting some money from Peter and John. Since his birth he could not walk but while Peter and John prayed for him by pronouncing the name of Jesus, immediately he got the strength to stand on his own feet.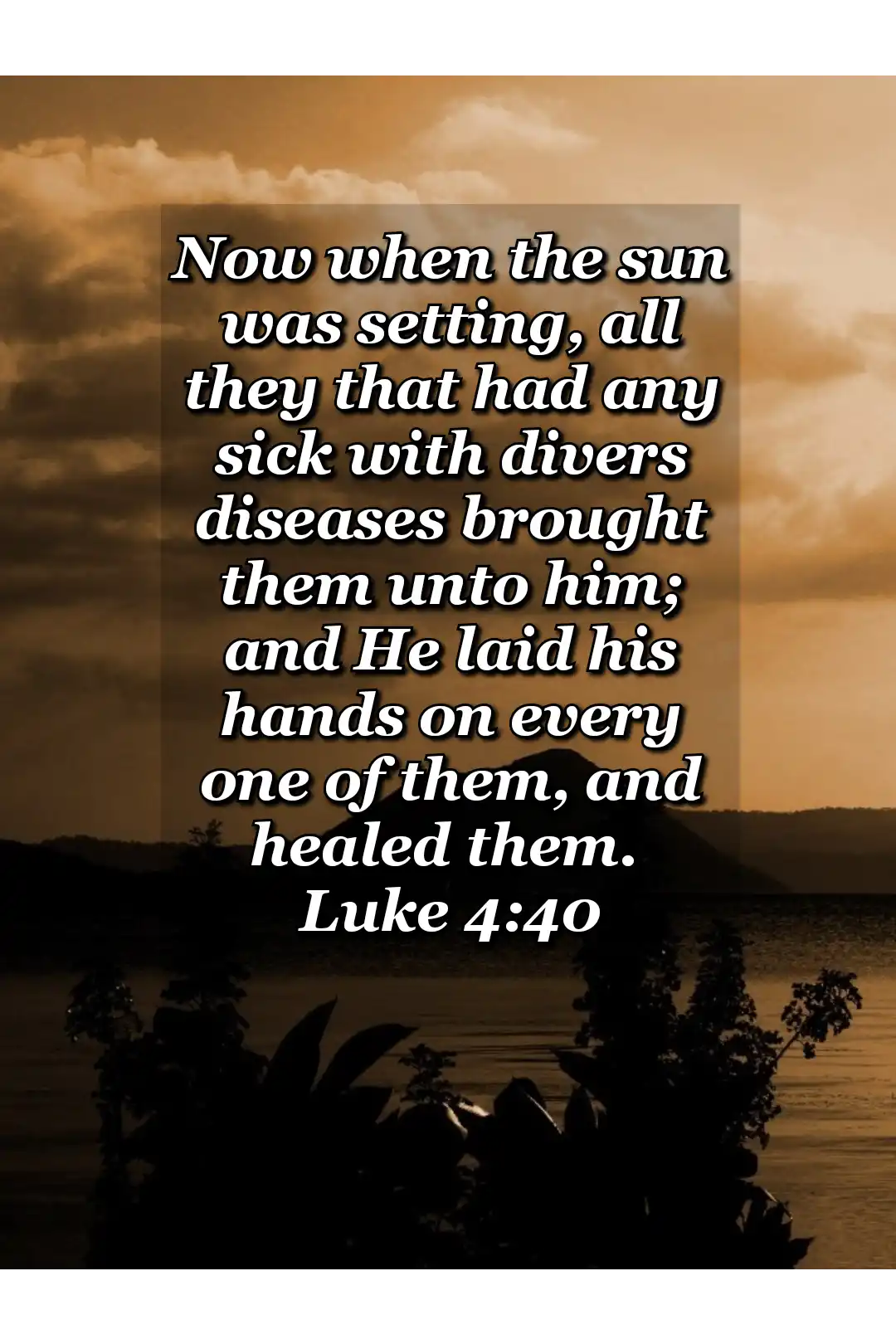 Luke 4:40(KJV)"Now when the sun was setting, all they that had any sick with divers diseases brought them unto him; and he laid his hands on every one of them, and healed them"

explanation:-Jesus has done many miracles in His earthly ministry. The people have experienced the mighty touch of the Lord and got healing from their sicknesses. God healed the pain through Jesus.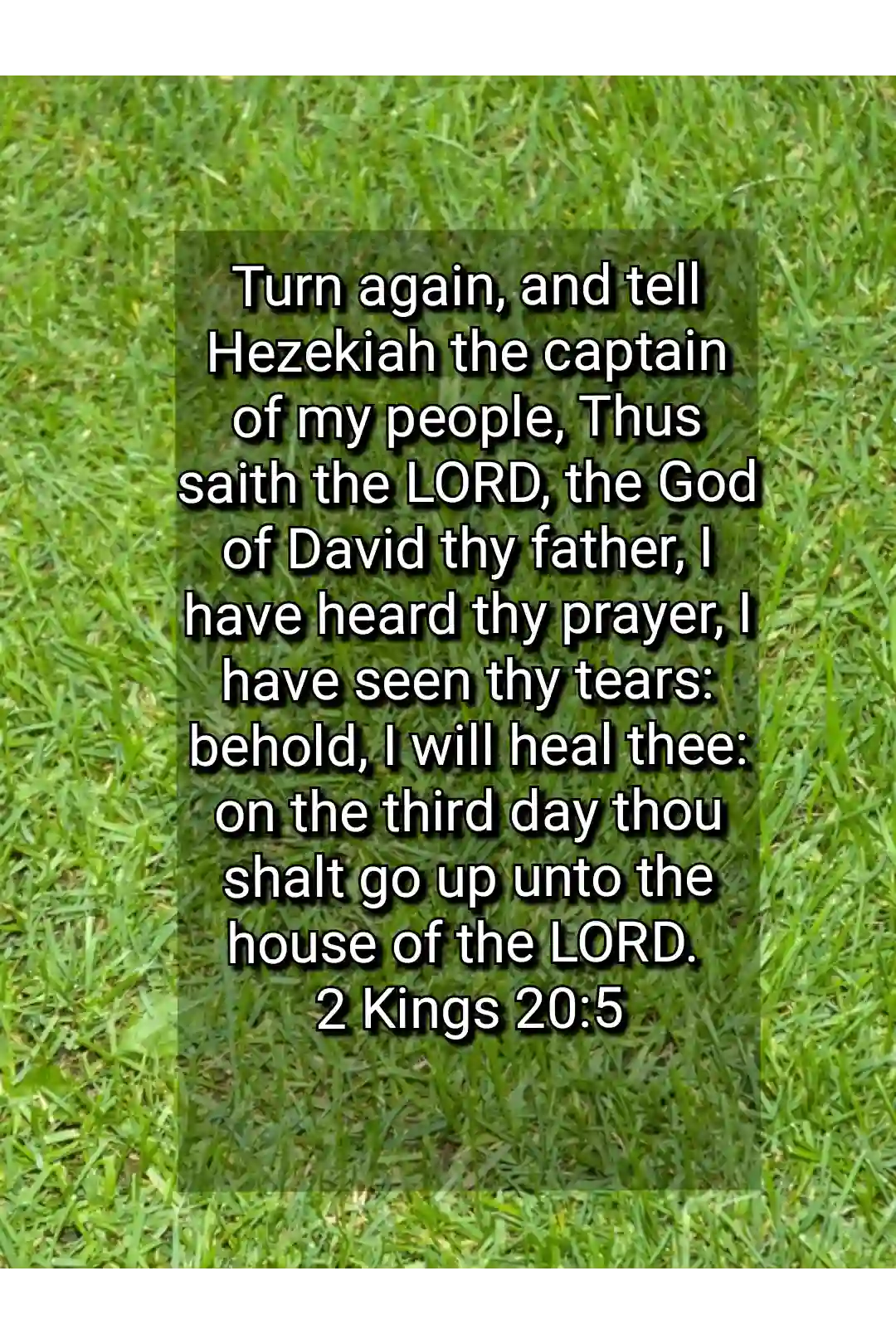 2Kings 20:5(KJV)"Turn again, and tell Hezekiah the captain of my people, Thus saith the Lord, the God of David thy father, I have heard thy prayer, I have seen thy tears: behold, I will heal thee: on the third-day thou shalt go up unto the house of the Lord"

explanation:-Hezekiah was sick and about to die but he prayed to God for the extension of his life with tears. The Lord spoke through the prophet Isaiah that He heard his prayer and extended his life.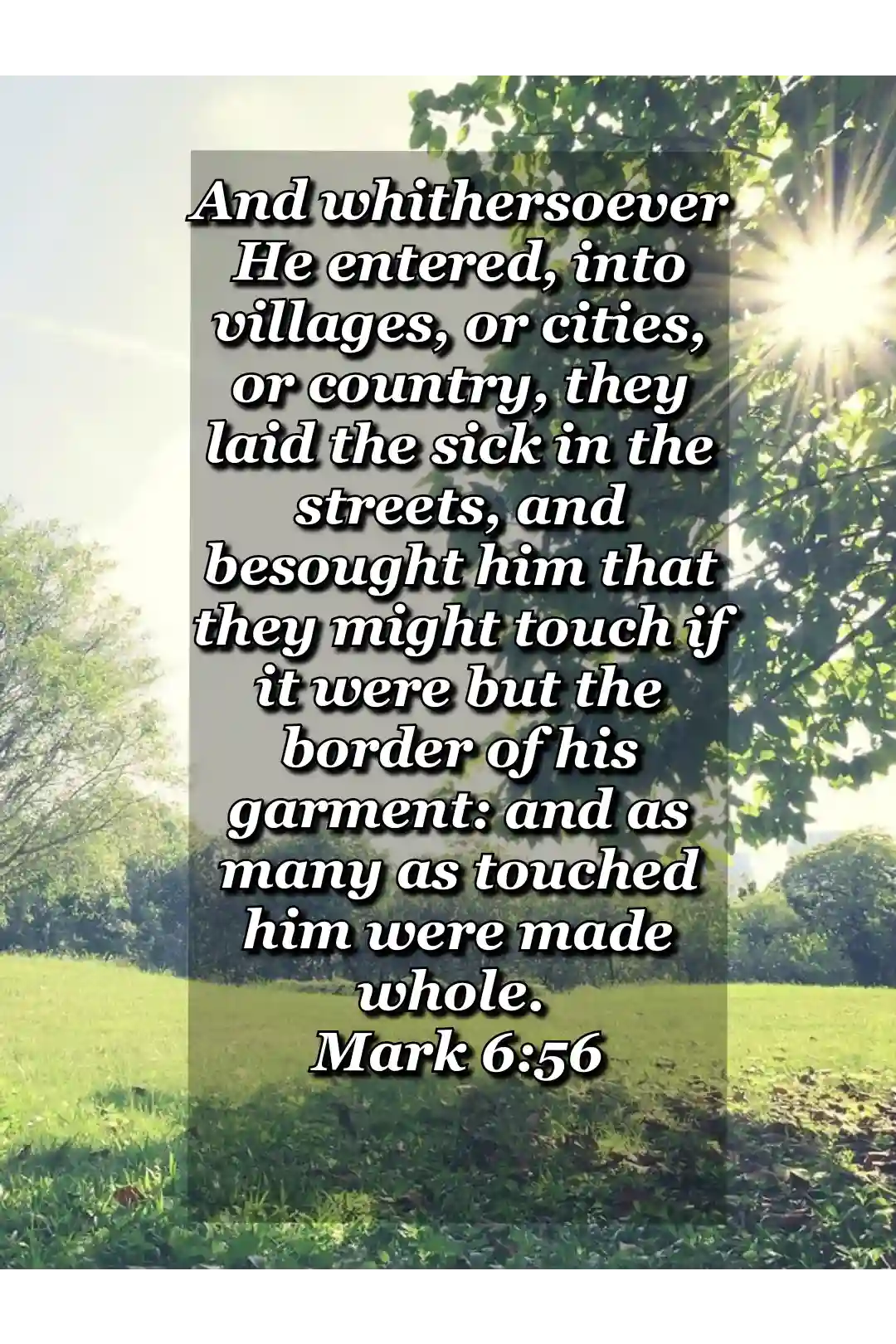 Mark 6:56(KJV)"And whithersoever he entered, into villages, or cities, or country, they laid the sick in the streets, and besought him that they might touch if it were but the border of his garment: and as many as touched him were made whole"

explanation:-Whenever Jesus walked on , the people were always gathering Him. They knew that He can heal them inside out. The mob tried to touch His cloth so that they could be healed from their diseases. He gave them healing and hope.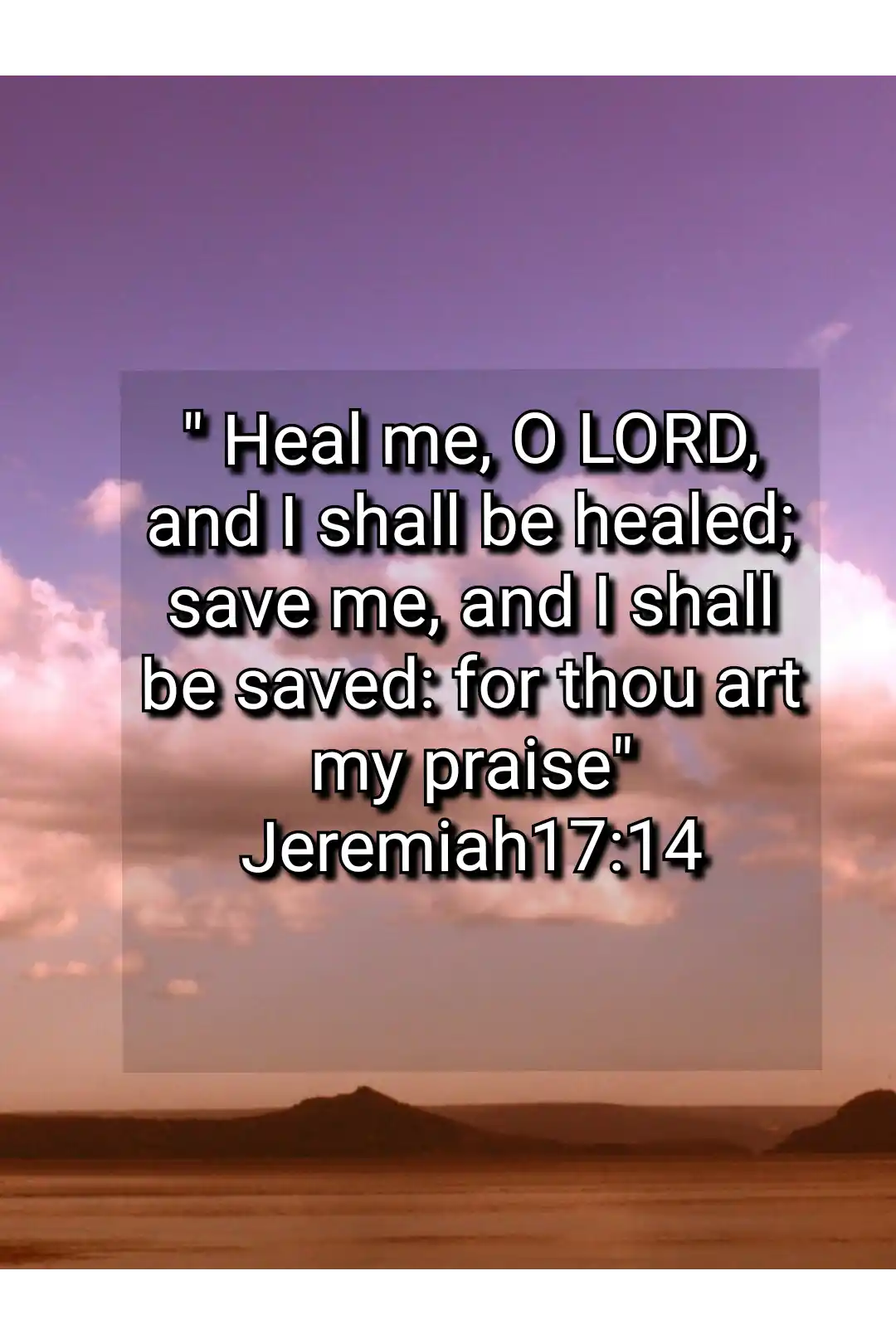 Jeremiah 17:14(KJV)"Heal me, O Lord, and I shall be healed; save me, and I shall be saved: for thou art my praise"

explanation:-Prophet Jeremiah expected the mighty healing hand upon him so that he might experience his good health again.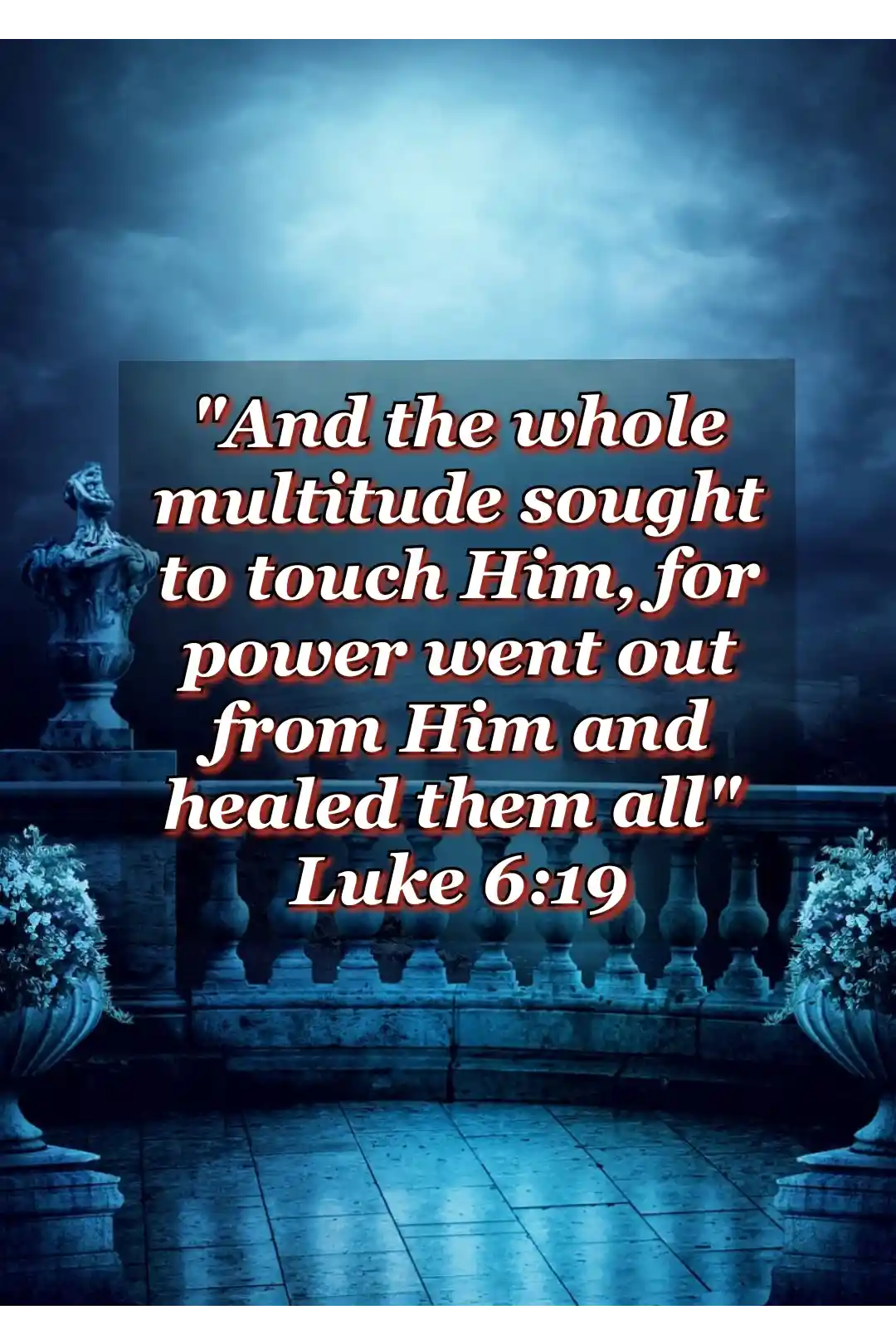 Luke 6:19(KJV)"And the whole multitude sought to touch him: for there went virtue out of him, and healed them all"

explanation:-Jesus was the God in flesh so his power came out through Him . The sick people tried to get his touch to get healing. They have received restoration from the bondage of their sickness. The news reached far and wide to everyone, that is why when Jesus used to walk on the road people used to gather to meet Him.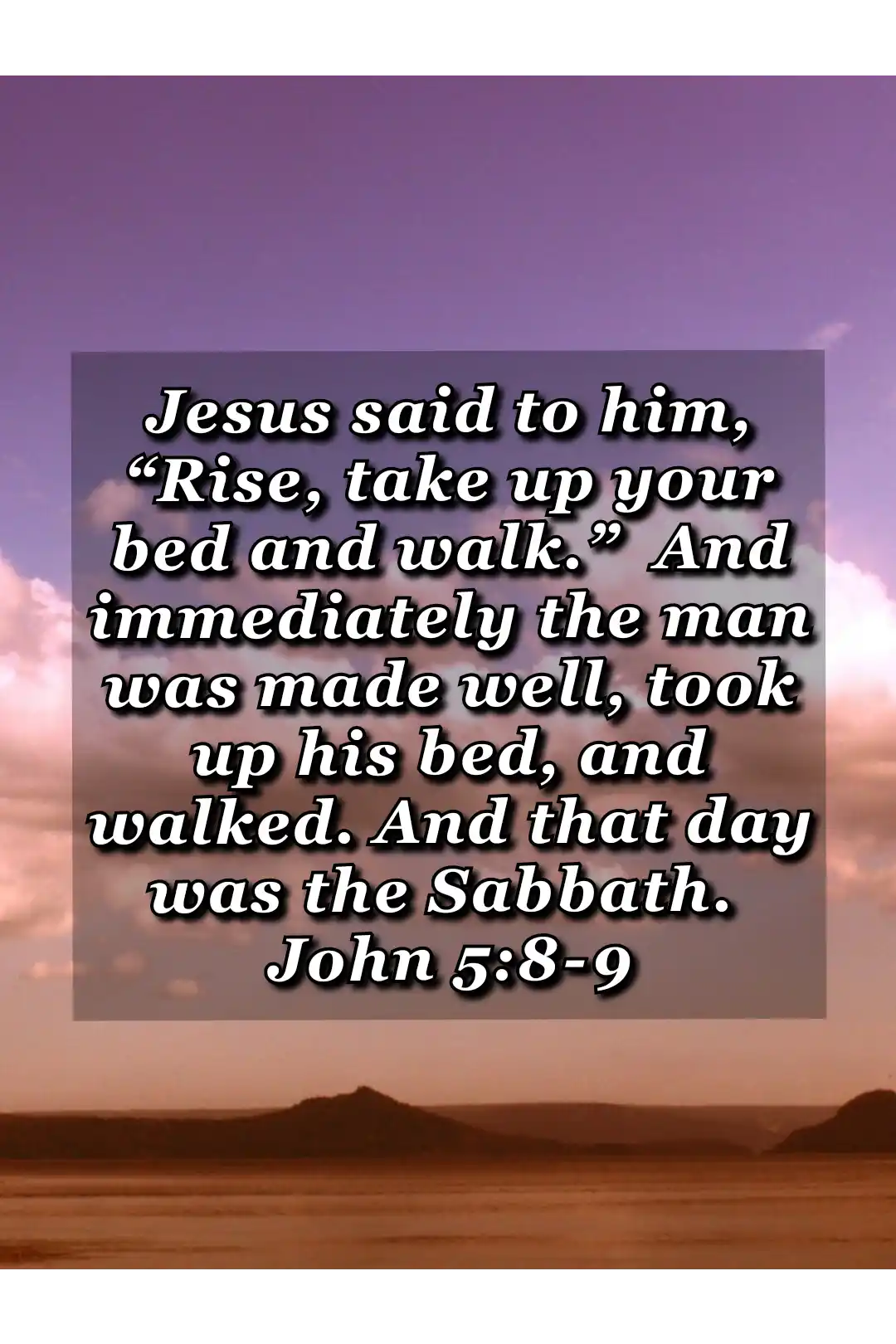 John 5:8-9(KJV)"8 Jesus saith unto him, Rise, take up thy bed, and walk.9 And immediately the man was made whole, and took up his bed, and walked: and on the same day was the sabbath"

explanation:-At the pool of Bethesda, an angel used to go down and stirred up the water, then who stepped into the pool ,was healed from his sickness. A man who had an infirmity for thirty-eight years seeked to receive healing from the pool but he did not get a chance to touch the water first. While Jesus came to him and asked him whether he wanted to be healed or not , then he said yes I need the healing touch. Jesus commanded him to stand and up with his bed and walk. Immediately he was cured and it was the Sabbath day.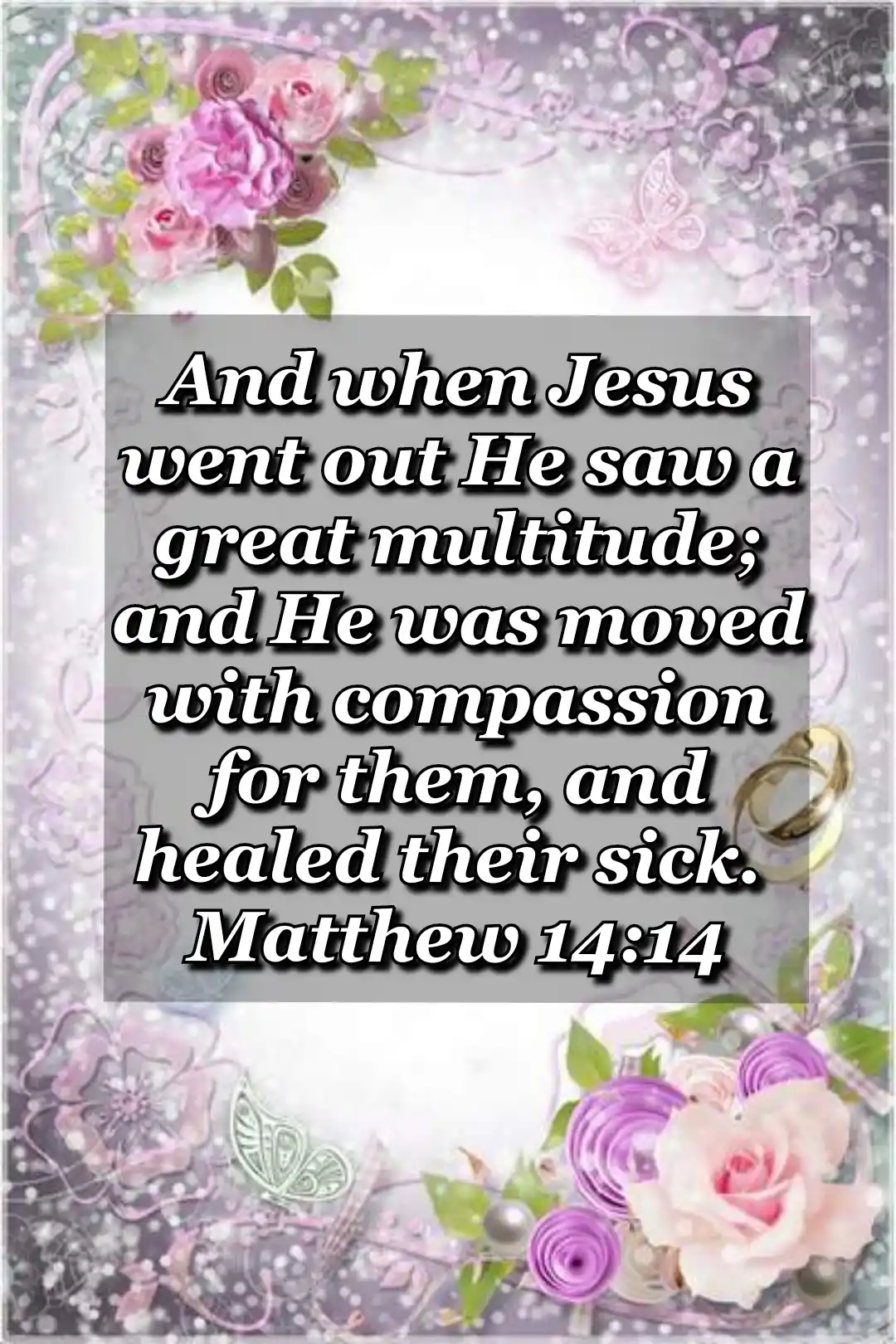 Matthew 14:14(KJV)"And Jesus went forth, and saw a great multitude, and was moved with compassion toward them, and he healed their sick"

explanation:- After the death of John the Baptist, Jesus moved from the place to a deserted place. They came to know the Arrival of Jesus and they gathered before him and Jesus healed all the sick who came to Him.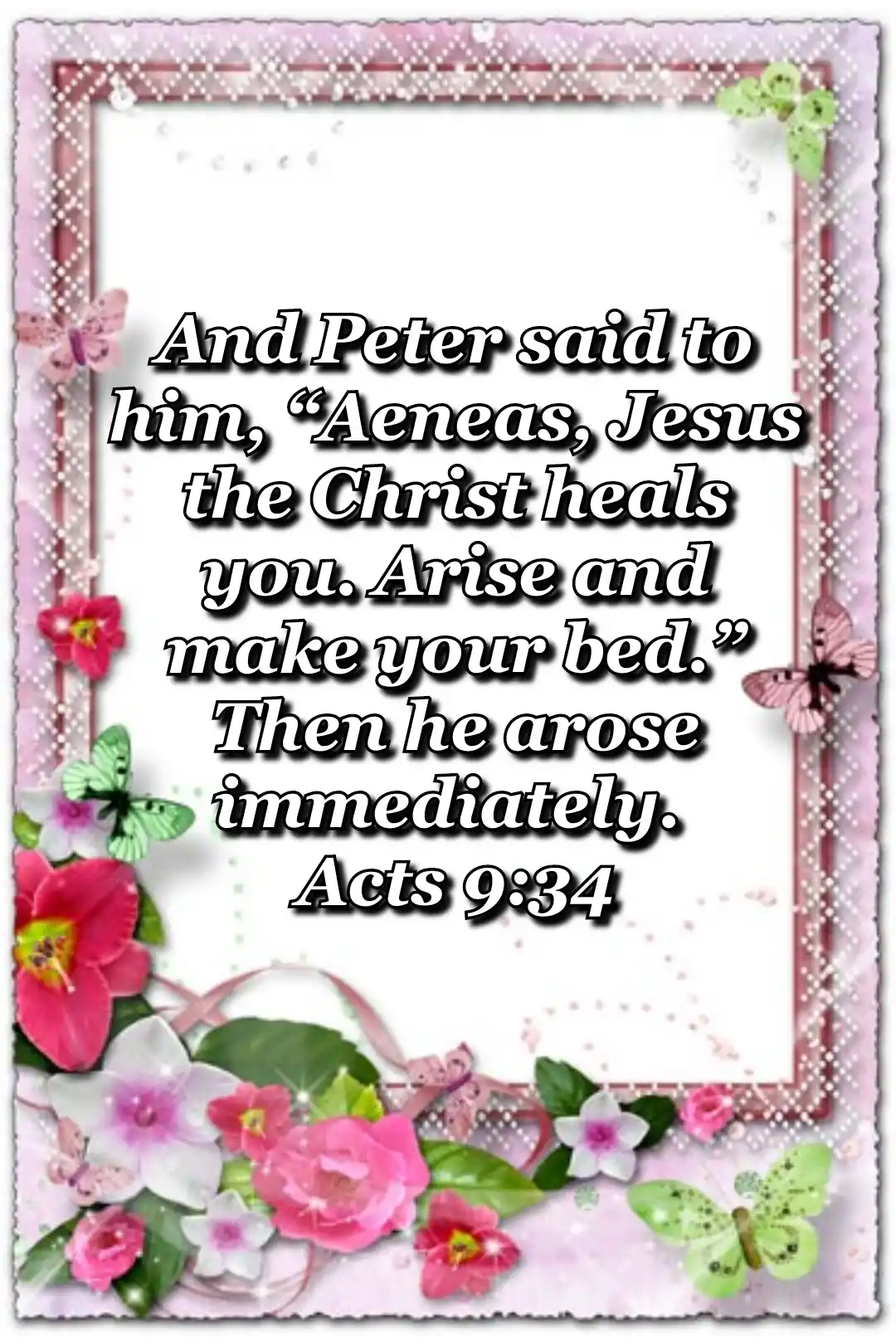 Acts 9:34(KJV)"And Peter said unto him, Aeneas, Jesus Christ maketh thee whole: arise, and make thy bed. And he arose immediately"

explanation:-When Paul reached Lydda, he met Aeneas who was paralyzed for eight years. Paul prayed for him by the name of Jesus and instantly he received healing and comfort.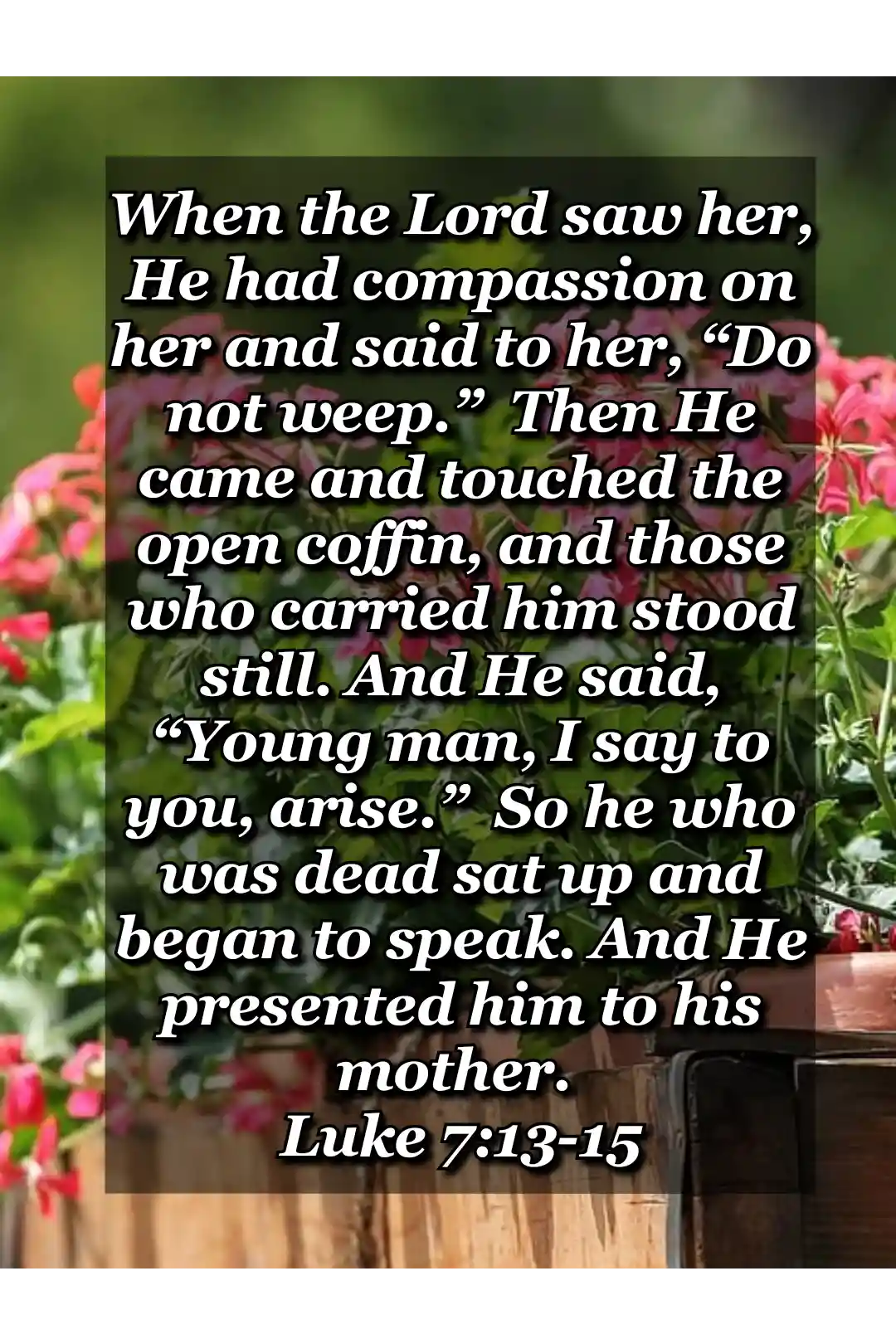 Luke 7:13-15(KJV)"13 And when the Lord saw her, he had compassion on her, and said unto her, Weep not.14 And he came and touched the bier: and they that bare him stood still. And he said, Young man, I say unto thee, Arise.15 And he that was dead sat up, and began to speak. And he delivered him to his mother"

explanation:-In the city of Nain,a window lost her son. Jesus and His disciples saw that the people were carrying the dead body of that widow's son, Jesus moved with compassion and asked the son to arise . immediately the son sat up and started talking. Healing the mind and broken heart of the widow was done by Jesus.
Everyone was surprised by seeing the mighty work of God.
Bible verses about faith and healing
According to the word of Jesus, our faith can make a lot of change; our faith can move the mountain meaning the sickness and hopelessness that stands as a mountain in our lives can be moved by our faith. Our faith leads us ahead towards the experience of healing.
If you are struggling with faith then I would encourage you to read the story of heroes of faith in the Bible like Abraham, Moses, Noah, Joseph and the list goes on. Read about their faith in God, and I am sure it will help you. Moreover seek the help of God to be strong in faith and the Holy Spirit will surely help you.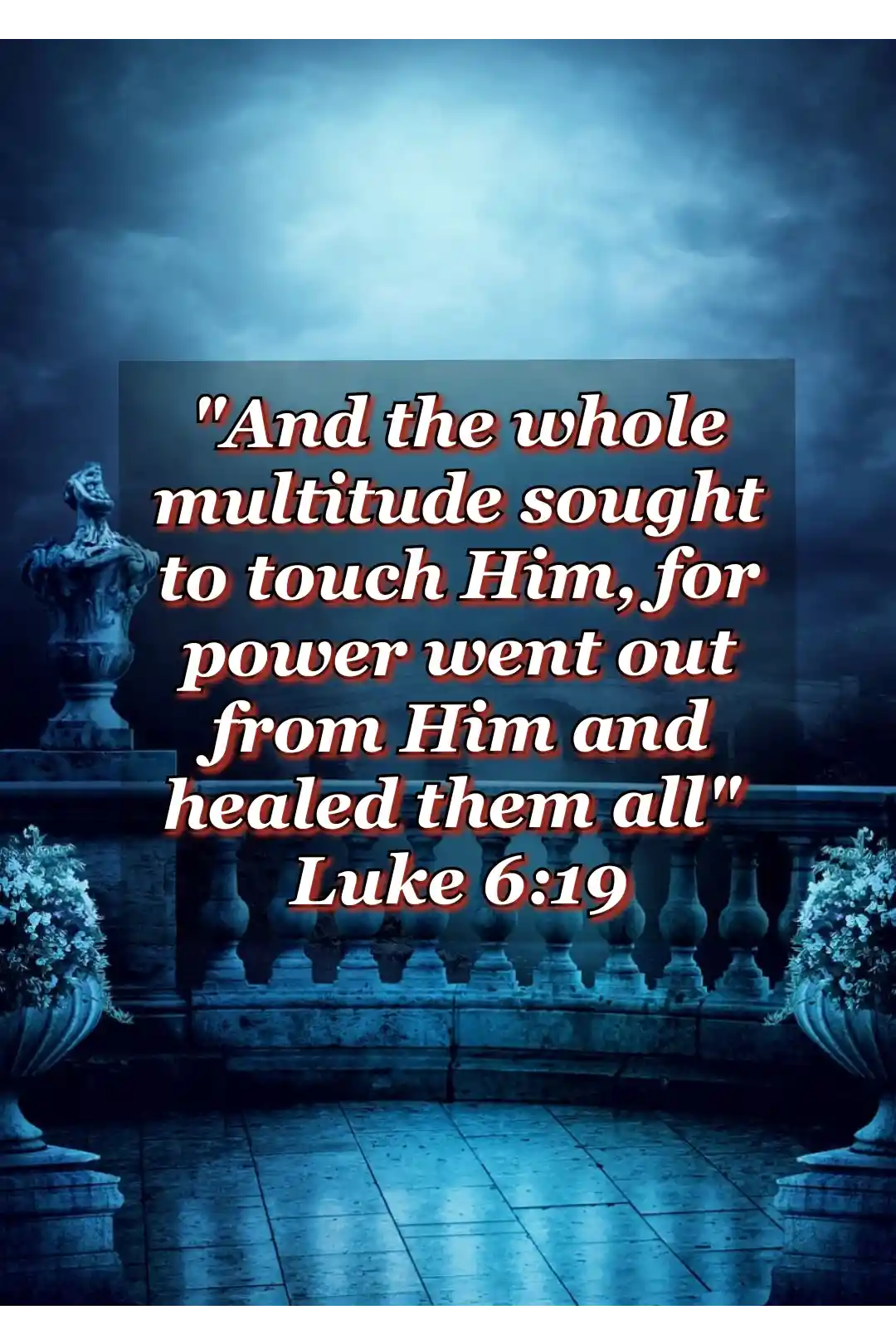 Luke 6:19(KJV)"And the whole multitude sought to touch him: for there went virtue out of him, and healed them all"

explanation:-Jesus knew the need of the people so He healed many without any condition. Just by touching Him so many sick people got restored from the power of sickness.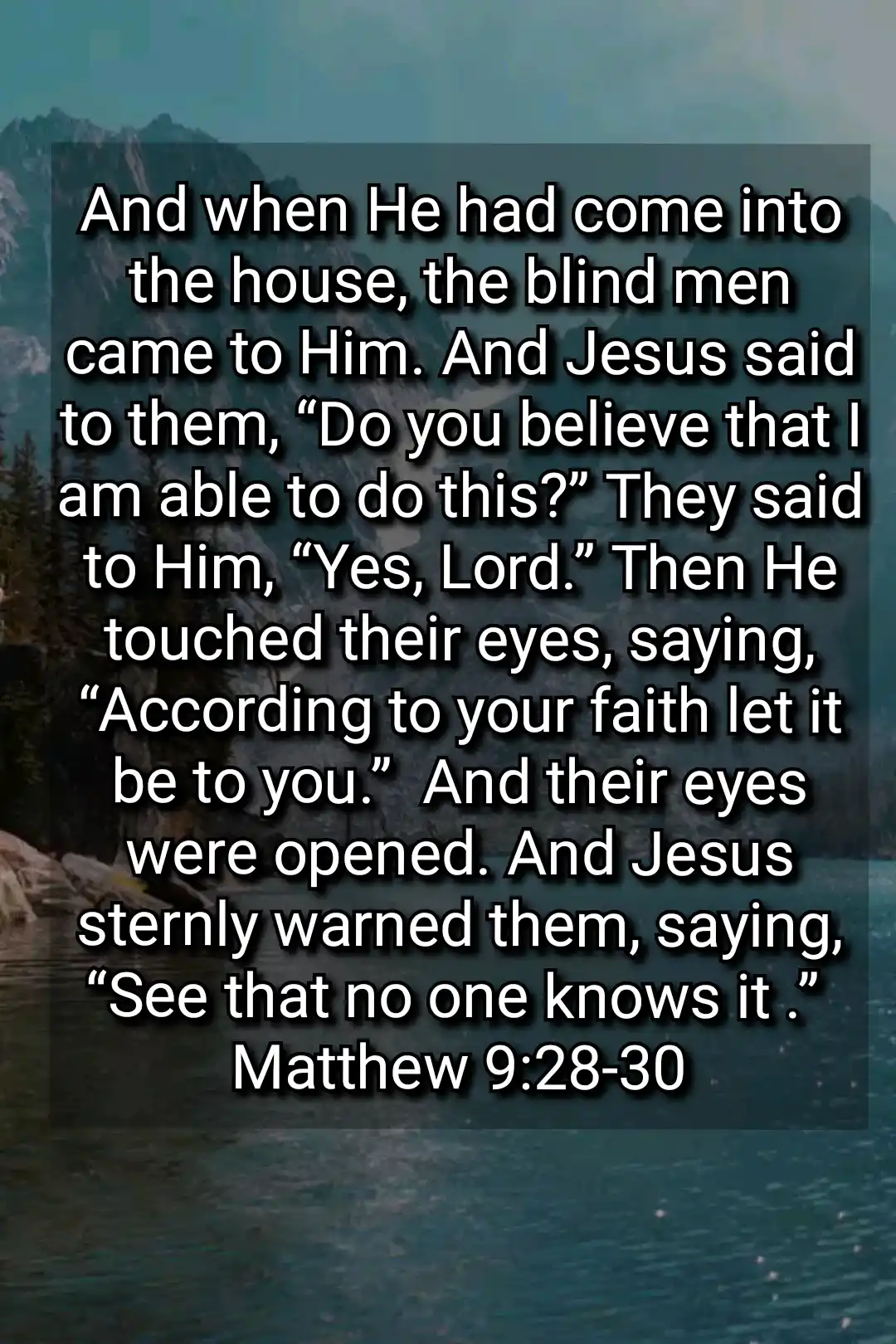 Matthew 9: 28–30(KJV)"28 And when he was come into the house, the blind men came to him: and Jesus saith unto them, Believe ye that I am able to do this? They said unto him, Yea, Lord.29 Then touched he their eyes, saying, According to your faith be it unto you.30 And their eyes were opened; and Jesus straitly charged them, saying, See that no man know it"

explanation:-Jesus brought back sight to the blind men who were born blind since their birth. Jesus viewed their faith and healed them on that very moment. It was surprising to many but for Him it was so simple.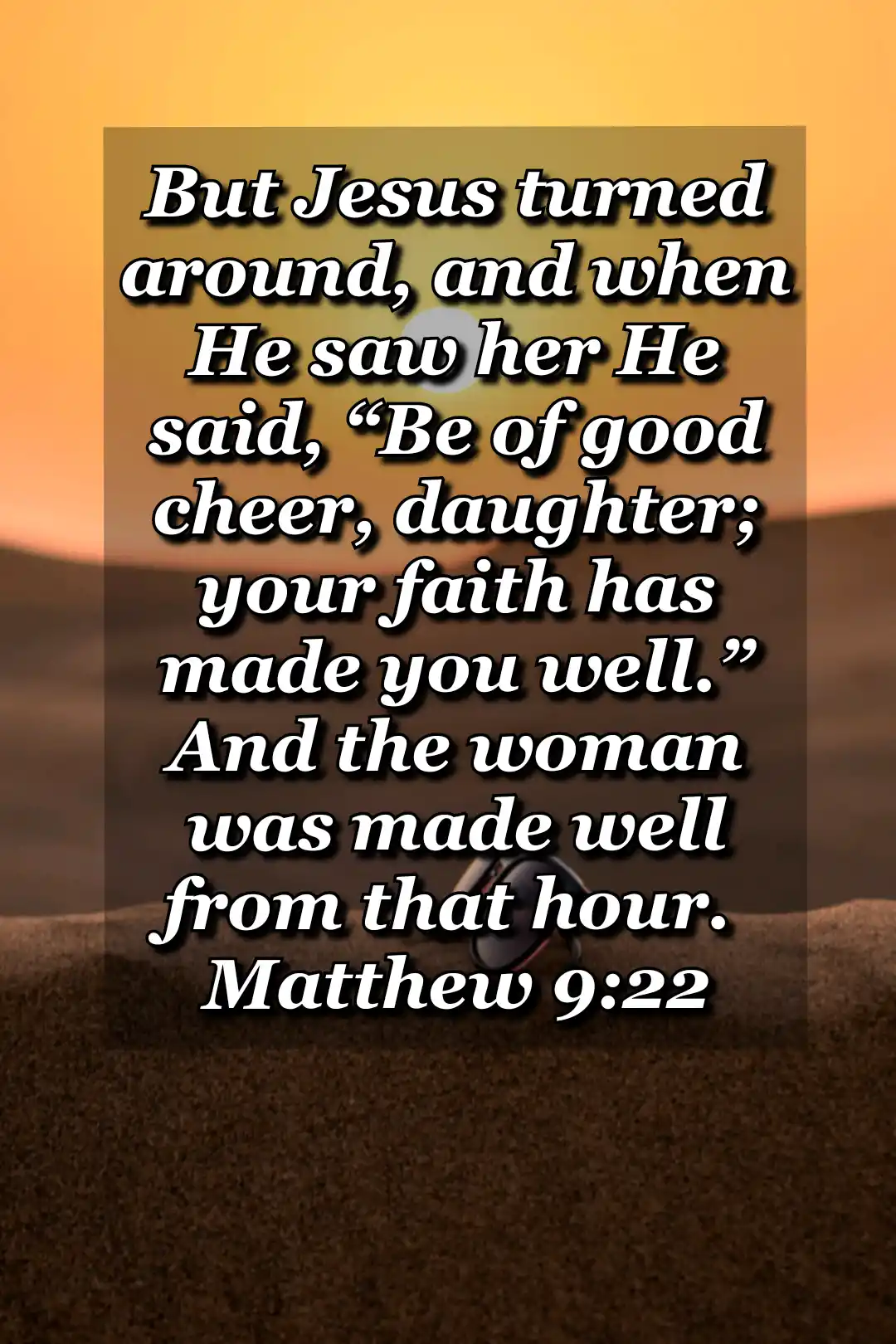 Matthew 9:22(KJV)"But Jesus turned him about, and when he saw her, he said, Daughter, be of good comfort; thy faith hath made thee whole. And the woman was made whole from that hour"

explanation:-A woman who was suffering from the flow of blood got healed after touching Jesus's cloth. Jesus got to know and told her that her faith made her well.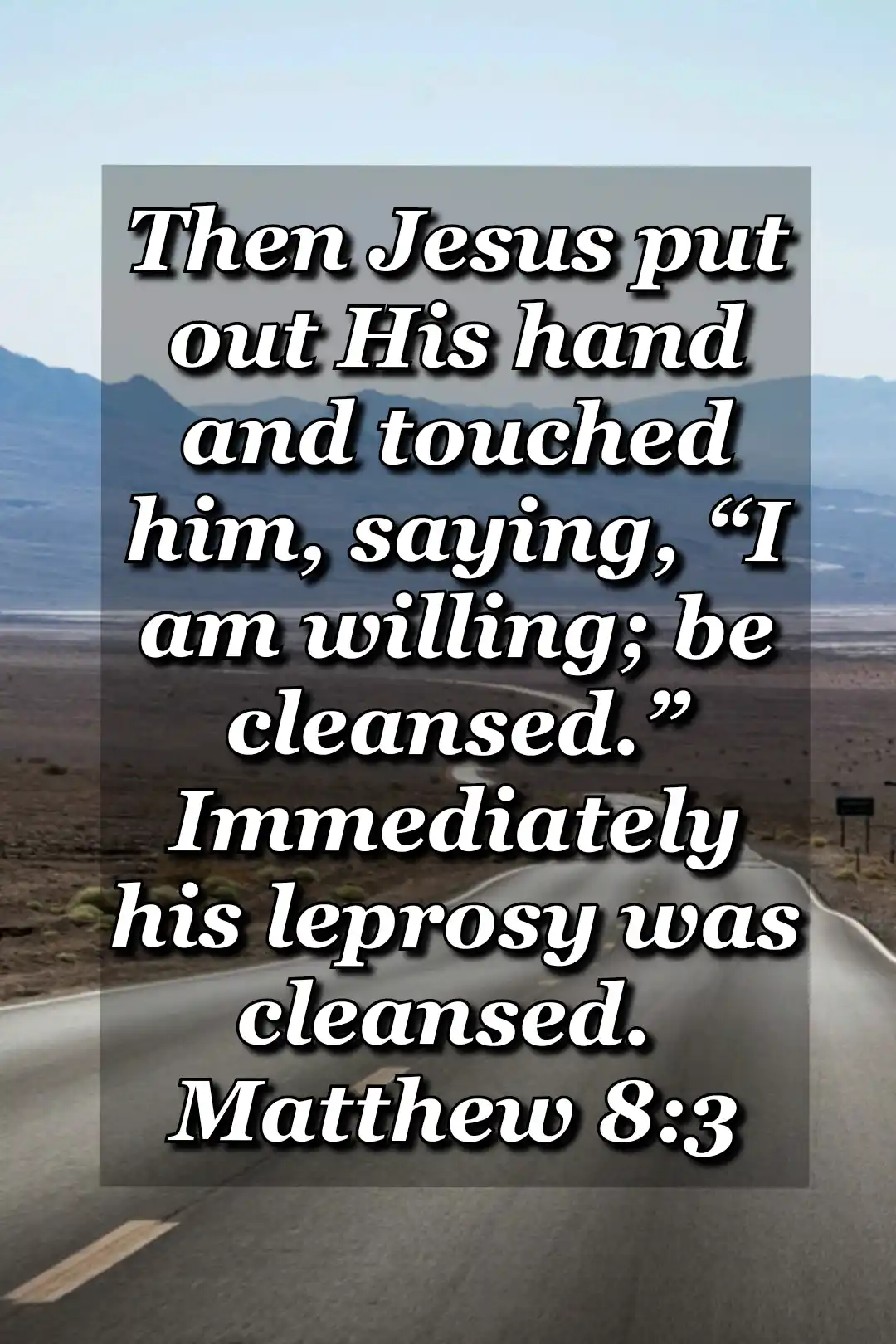 Matthew 8:3(KJV)"And Jesus put forth his hand, and touched him, saying, I will; be thou clean. And immediately his leprosy was cleansed"

explanation:-When Jesus was coming down from the mountain a great number of multitude accompanied Him. At that time, a leper came to Him and worshipped Him and requested Him to set him free from the disease. Jesus extended His upon him and immediately he was cleansed from leprosy.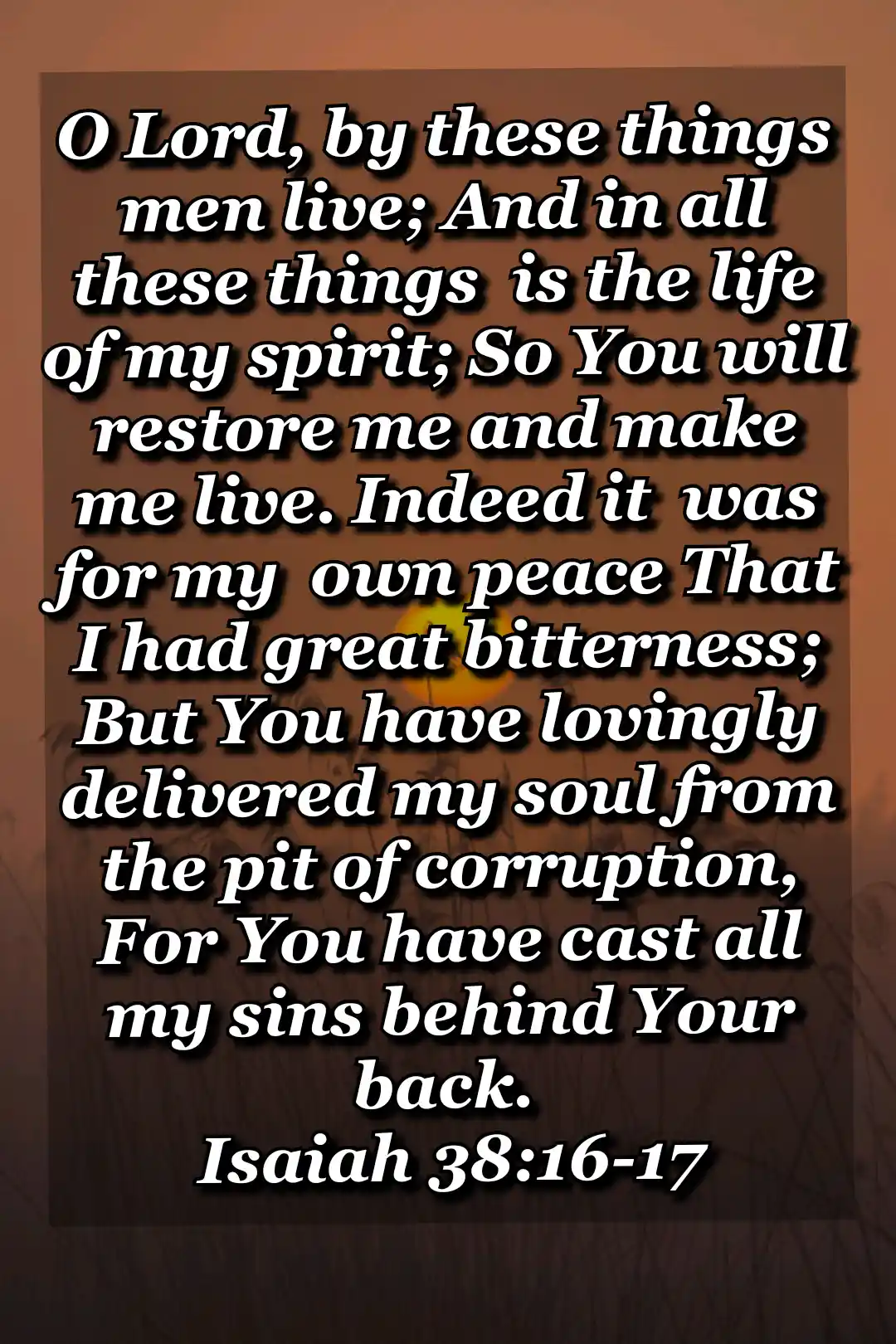 Isaiah 38:16-17(KJV)"16 O Lord, by these things men live, and in all these things is the life of my spirit: so wilt thou recover me, and make me to live.17 Behold, for peace I had great bitterness: but thou hast in love to my soul delivered it from the pit of corruption: for thou hast cast all my sins behind thy back"

explanation:-Here,Hezekiah was praising God as his life span was extended fifteen years by the Lord. Once he was about to die but he prayed to God with tears and their Lord showed His upon him. Thus he got his life back.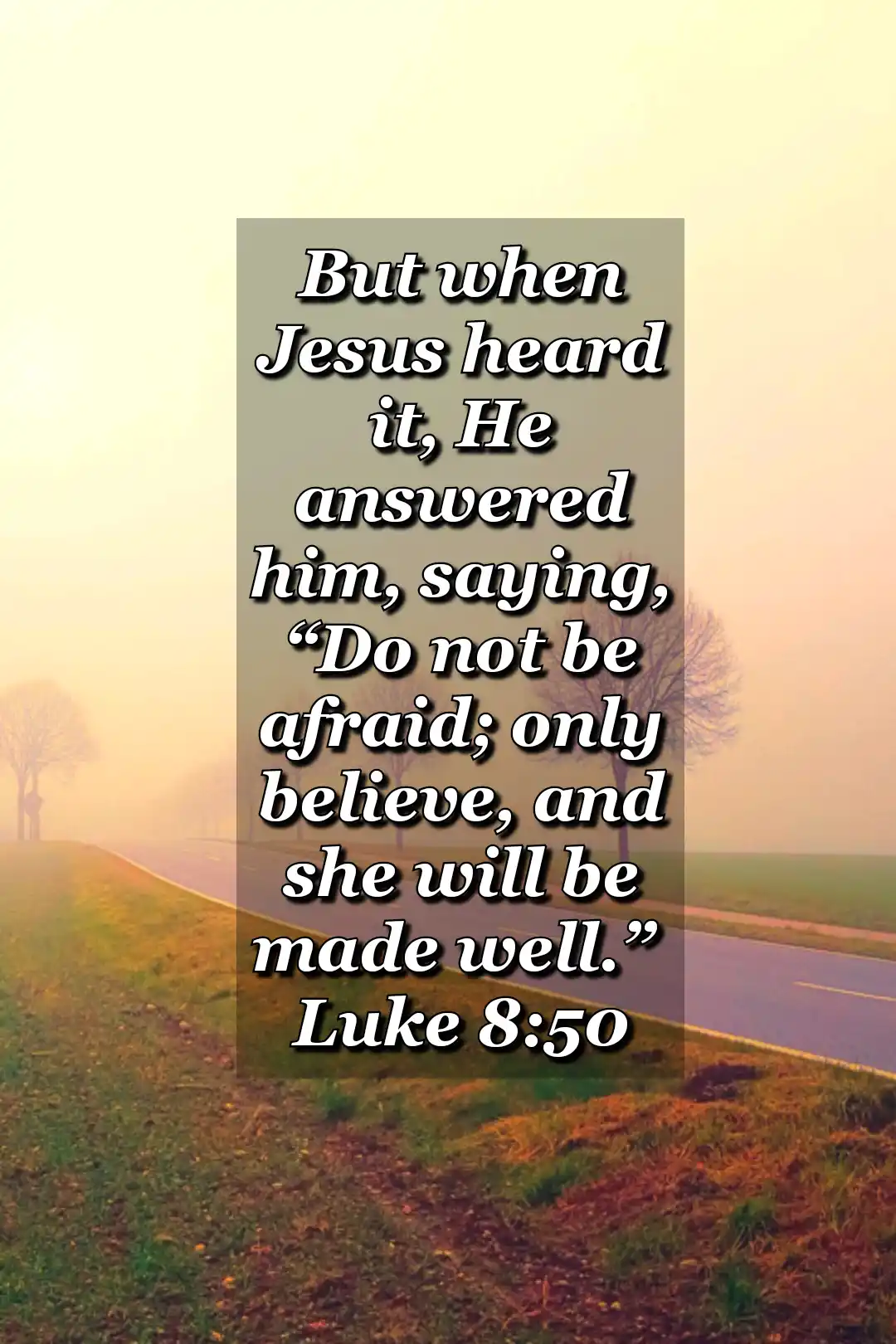 Luke 8:50(KJV)"But when Jesus heard it, he answered him, saying, Fear not: believe only, and she shall be made whole"

explanation:-The daughter of Jairus who was a ruler of the synagogue was dead but Jesus told them not to be afraid but to believe in God. When Jesus reached the house everyone was crying for that girl. The people made fun of Jesus as the girl was dead. But Jesus asked the girl to arise and she got back her life again. Everybody was shocked to see them alive.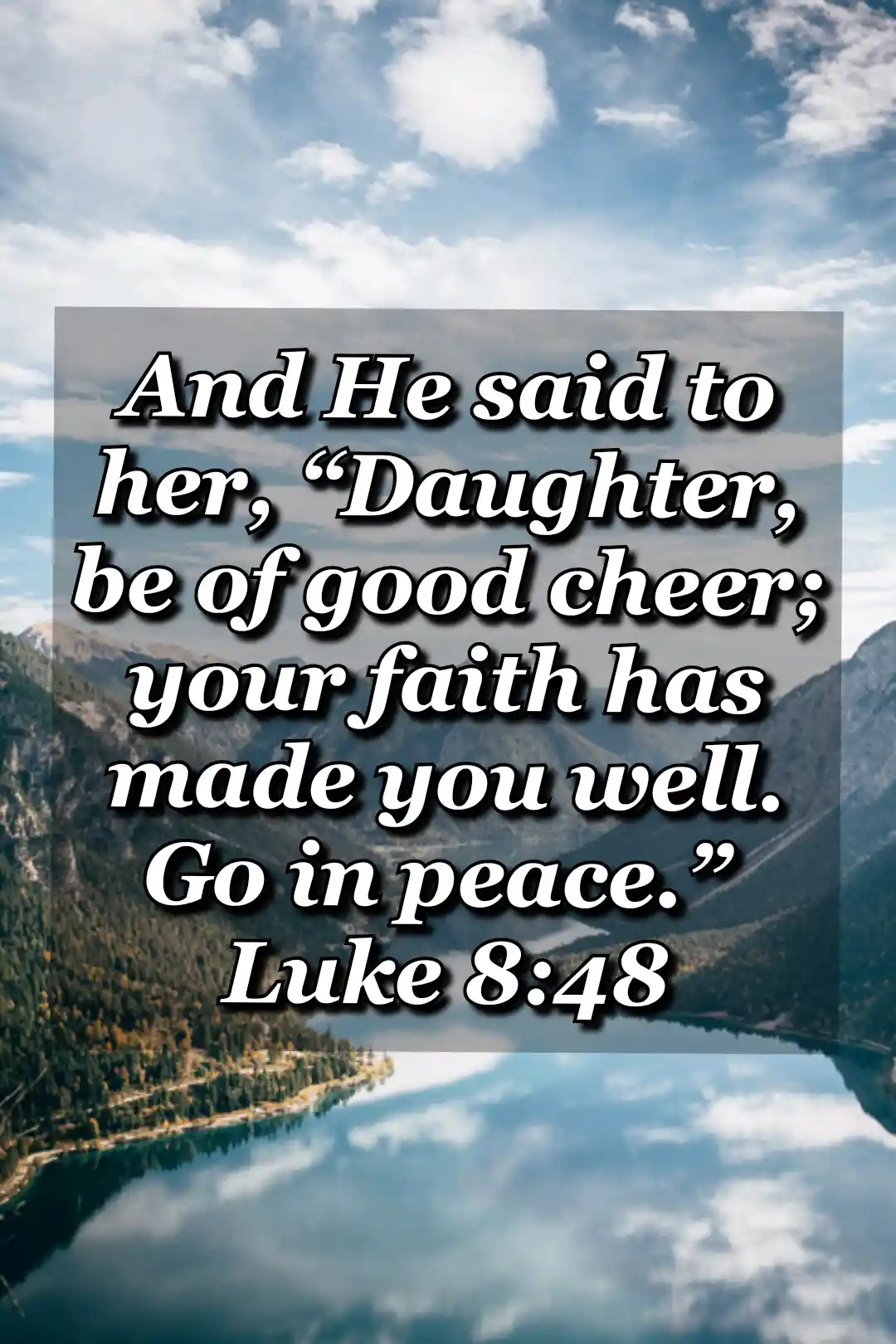 Luke 8:48(KJV)"And he said unto her, Daughter, be of good comfort: thy faith hath made thee whole; go in peace"

explanation:-There was a woman who had a flow of blood for the last twelve years. Since her childhood she had consulted many doctors but they did nothing. When she touched the border of Jesus's garment she was healed instantly. Jesus realized the power moved from Him and searched for the reason and finally the woman came before Him and explained the reason. Jesus told her that your faith has cured you.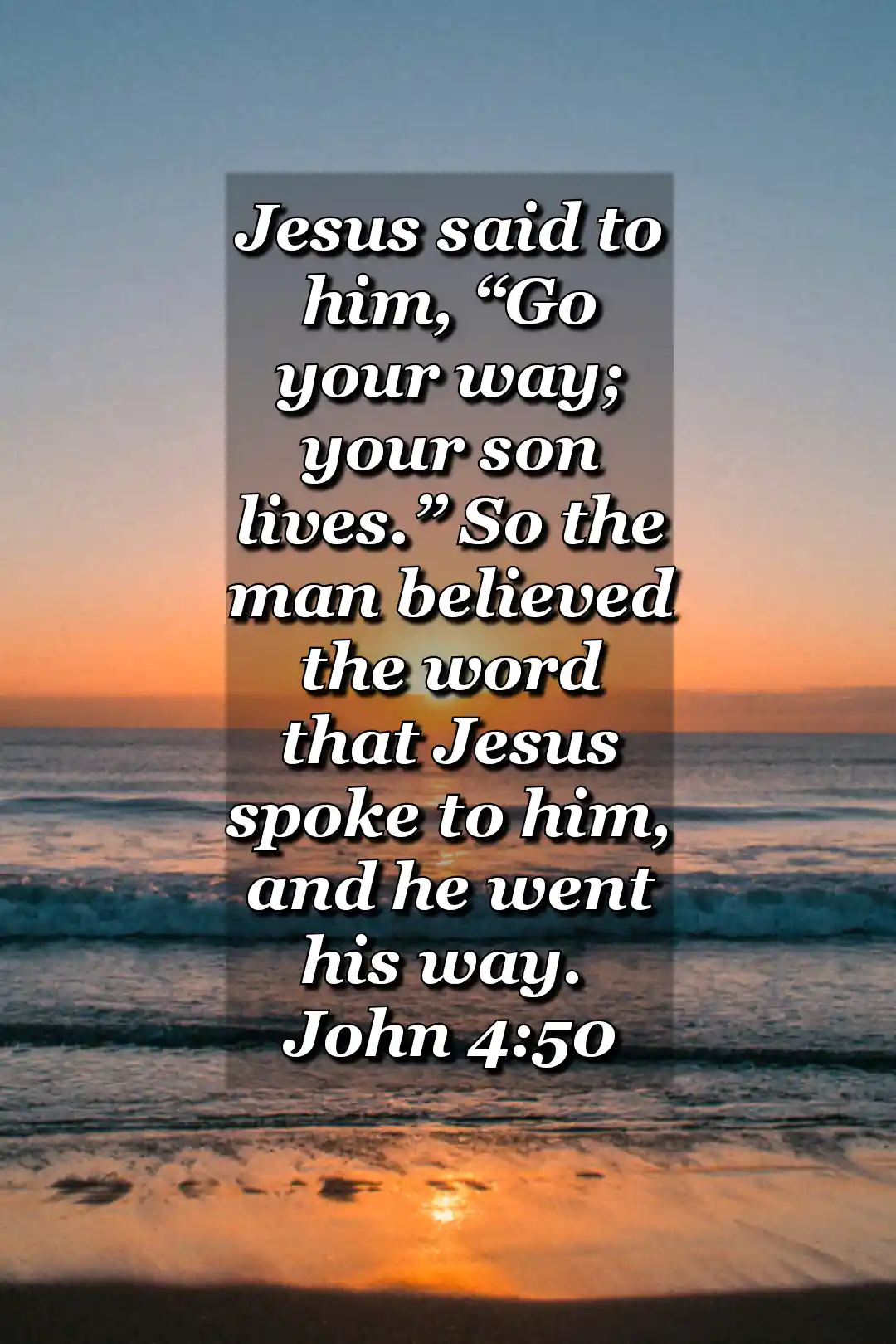 John 4:50(KJV)"Jesus saith unto him, Go thy way; thy son liveth. And the man believed the word that Jesus had spoken unto him, and he went his way"

explanation:-When Jesus returned to Galilee,a nobleman approached Him by requesting to heal his son who was at the point of death. Jesus told him to go to his house and he believed that . on the way his servants met him and told him that you're healed. Then inquired his servants about the time when his son was cured. So, he realized that it was the seventh hour when he met Jesus.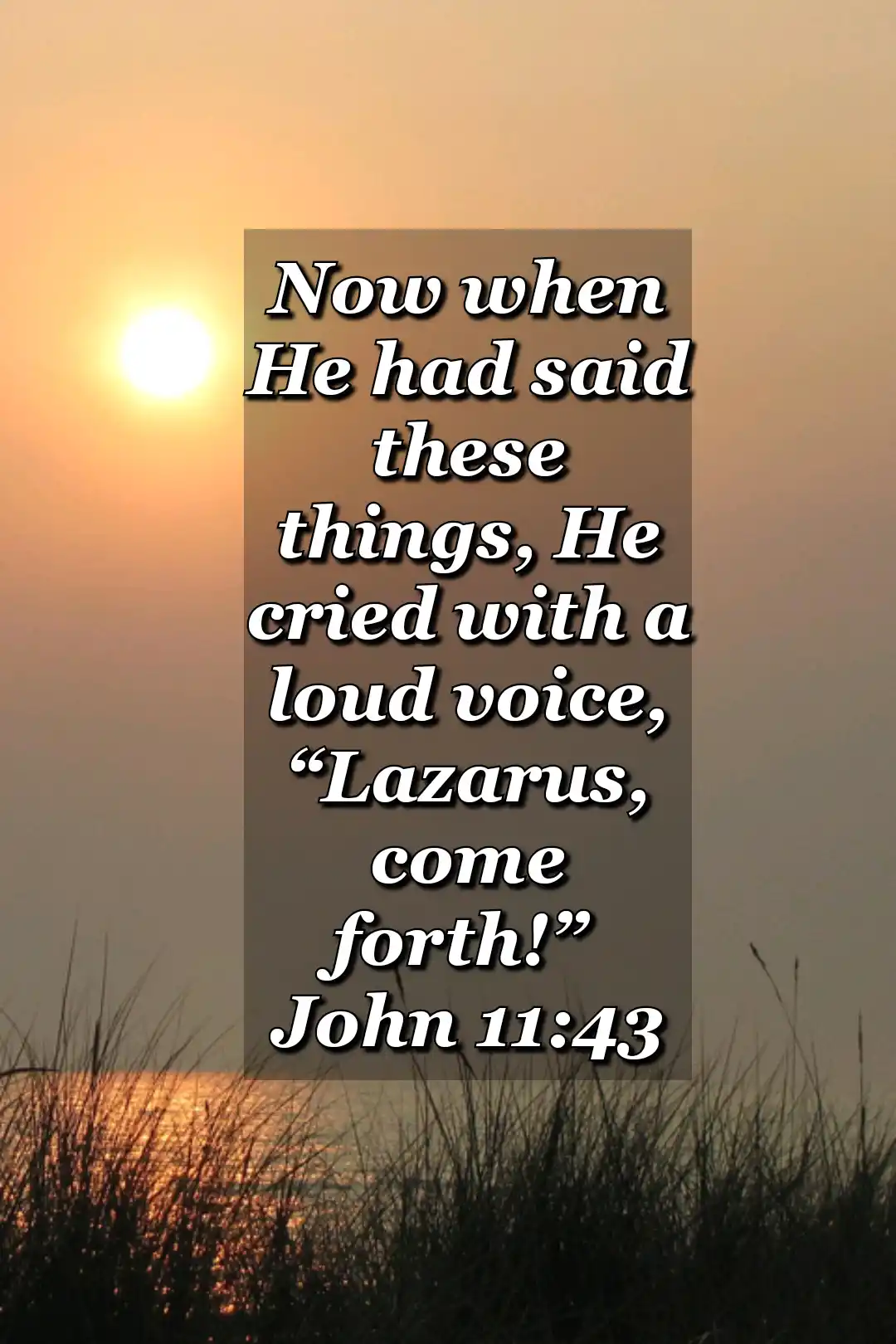 John 11.43(KJV)"And when he thus had spoken, he cried with a loud voice, Lazarus, come forth"

explanation:-Jesusa expressed His sorrow due to the unexpected demise of his friend Lazarus. He prayed for him and he got out of the grave.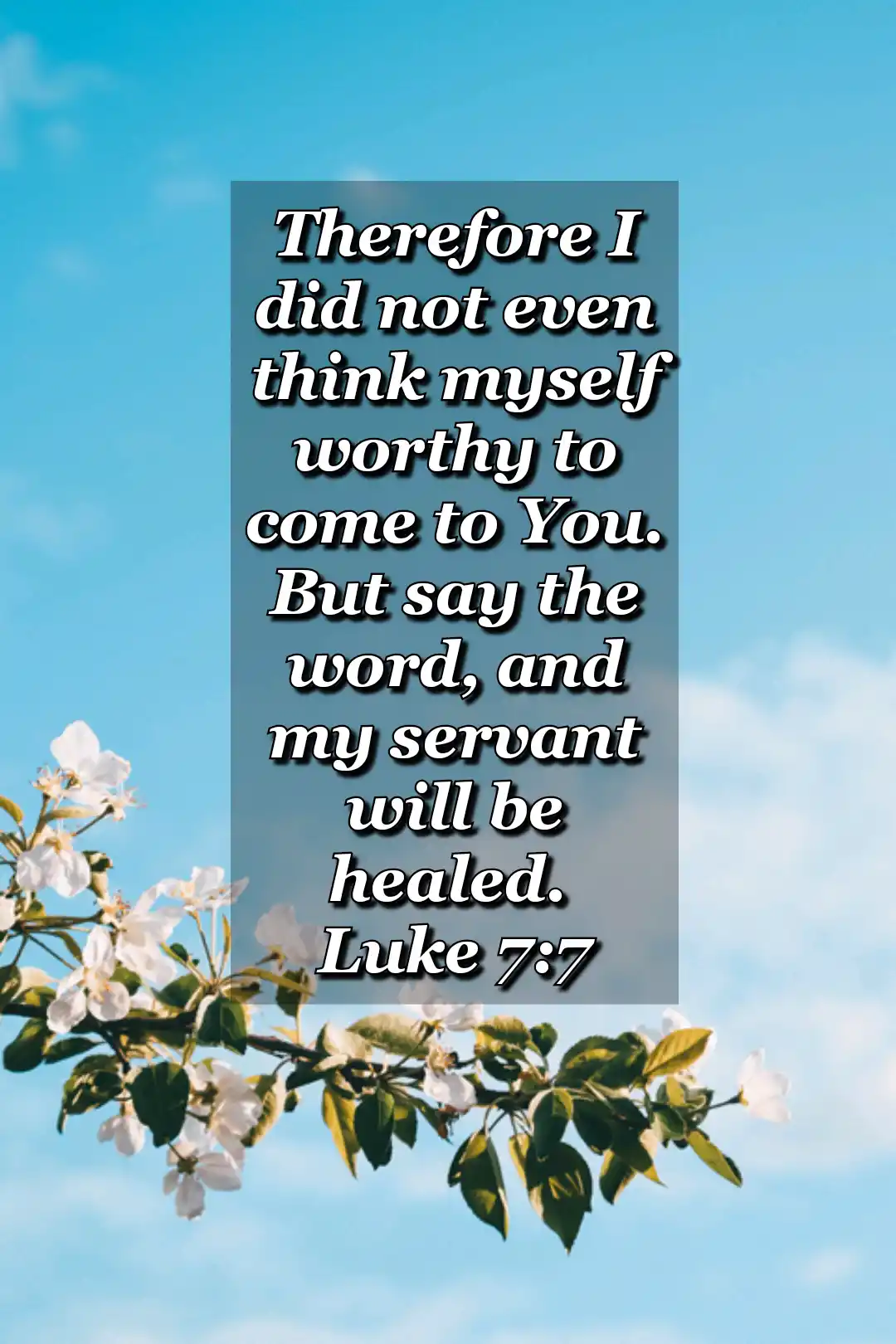 Luke 7:7(KJV)"Wherefore neither thought I myself worthy to come unto thee: but say in a word, and my servant shall be healed"

explanation:-In Capernaum, a centurion's servant was nearly to die so, he requested Jesus to command the disease, so that his servant could be healed. By seeing his great faith Jesus was marveled and He rebuked the disease to leave the servant and he was restored.
Bible verses about healing sickness
There are plenty of Bible verses that talk about healing from sickness. All these confirm that healing from sickness is real and we can experience it, if our ways are right in the sight of God.
Healing is a real processor instant work that can be experienced by real people.
When we read the Bible, we find that many people came to Jesus and later to his disciples with various sicknesses and problems but they did not go back in the same way, they have gone back with healing touch of God. Even in Old Testament, we find that many people have experienced healing just because of their faith and whole hearted prayer.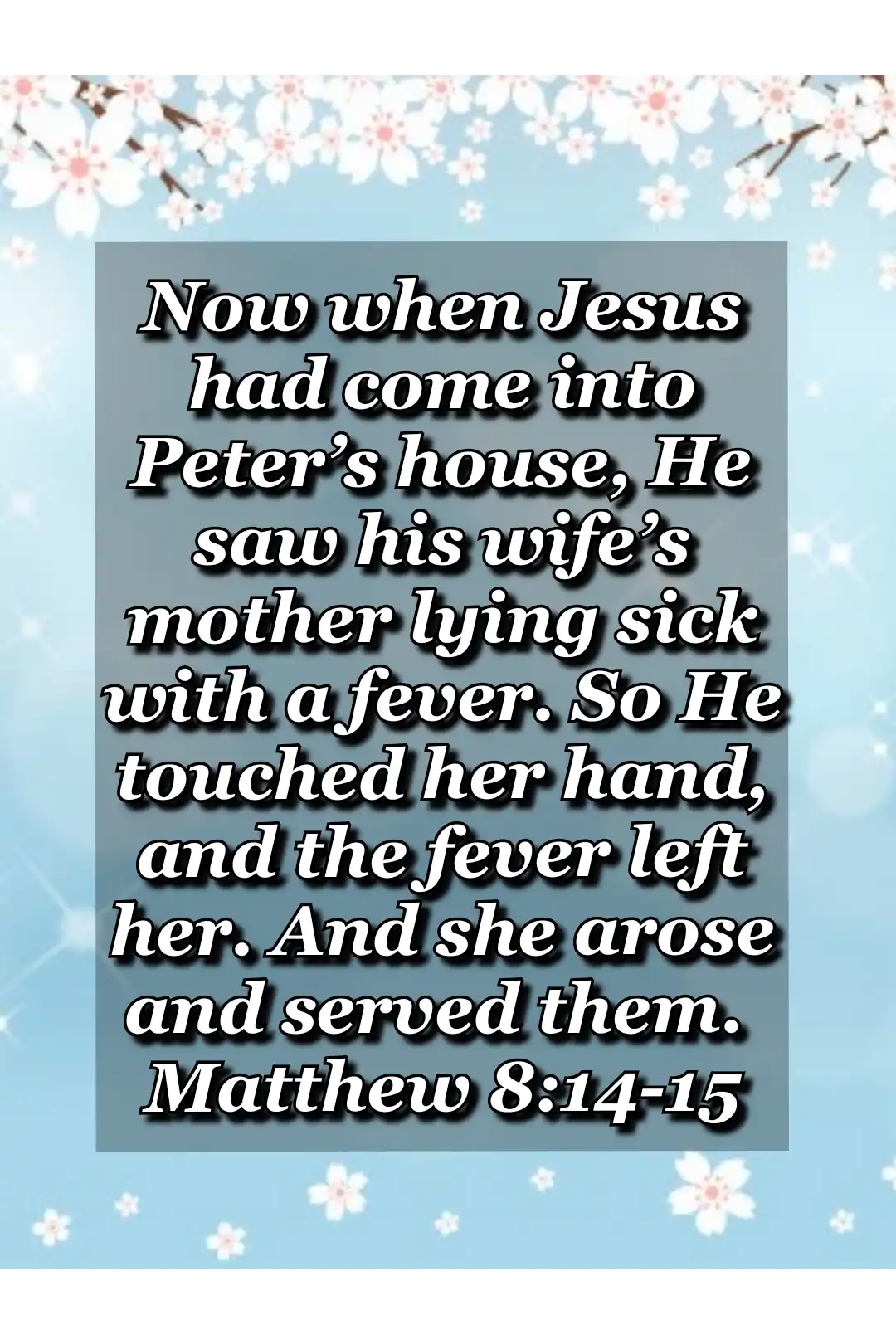 Matthew 8:14–15(KJV)"14 And when Jesus was come into Peter's house, he saw his wife's mother laid, and sick of a fever.15 And he touched her hand, and the fever left her: and she arose, and ministered unto them"

explanation:-Peter's mother-in-was sick due to fever but as soon as Jesus touched her hand , she was healed. How amazing it is to get sudden recovery.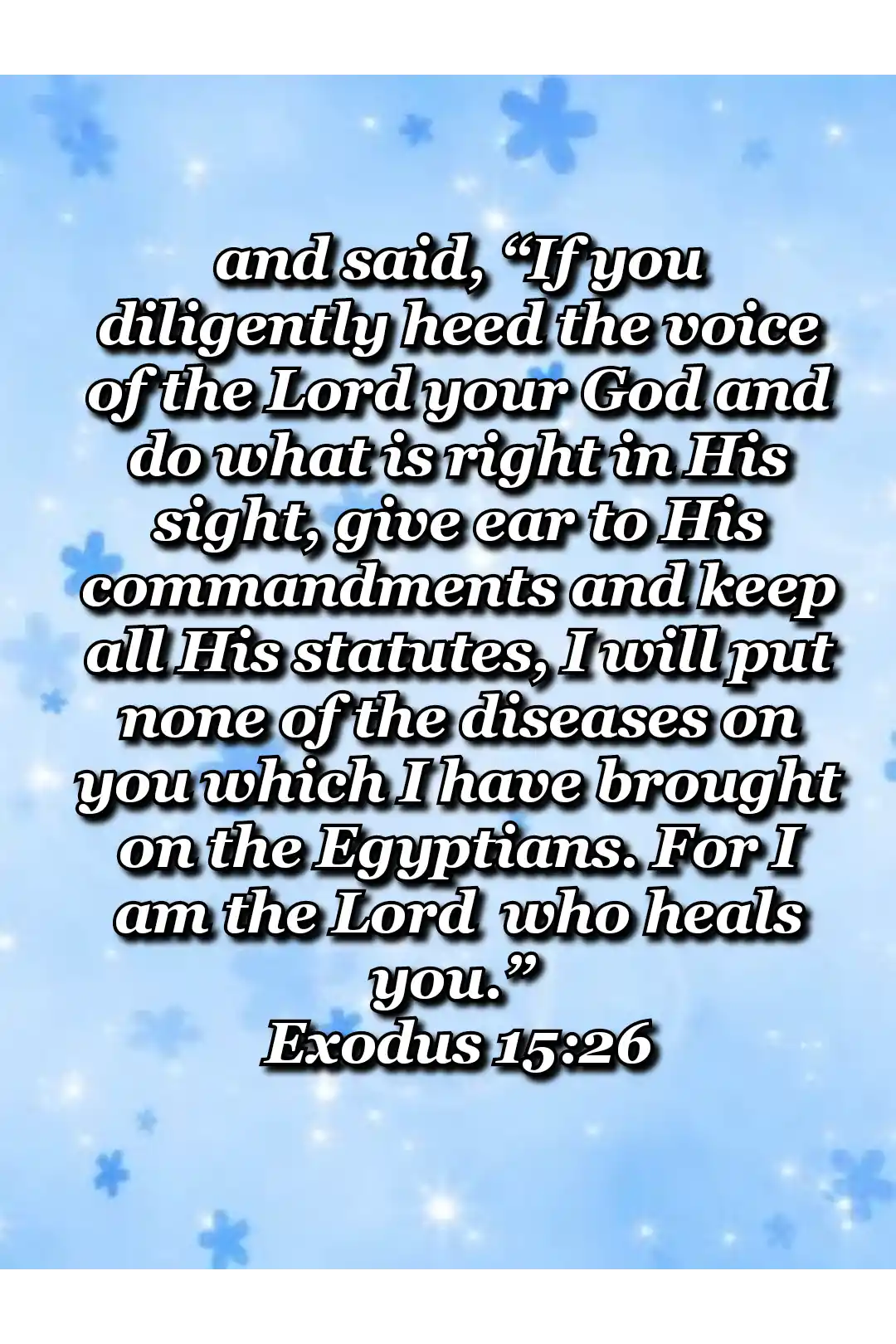 Exodus 15:26(KJV)"And said, If thou wilt diligently hearken to the voice of the Lord thy God, and wilt do that which is right in his sight, and wilt give ear to his commandments, and keep all his statutes, I will put none of these diseases upon thee, which I have brought upon the Egyptians: for I am the Lord that healeth thee"

explanation:-The Lord had promised to His chosen people that He will never bring diseases until they stick to His rules. The Israelites had experienced the might hand of the Lord. They knew how much affliction came upon the land of Egypt.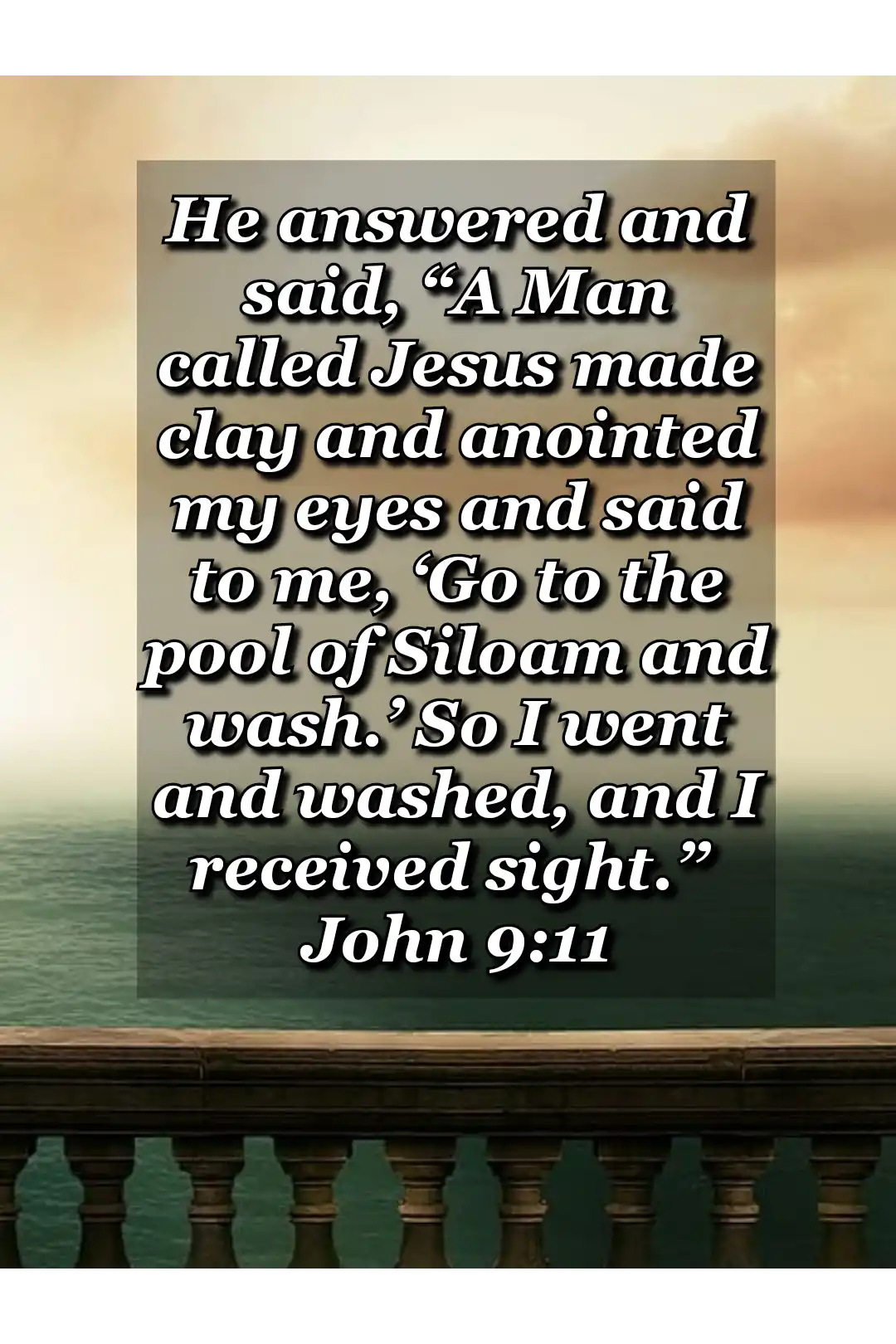 John 9.11(KJV)"He answered and said, A man that is called Jesus made clay, and anointed mine eyes, and said unto me, Go to the pool of Siloam, and wash: and I went and washed, and I received sight"

explanation:-A blind man got healing from Jesus and he expressed his joy by praising the Lord. From human perspective it was impossible. But healing the sick was not tough for Jesus.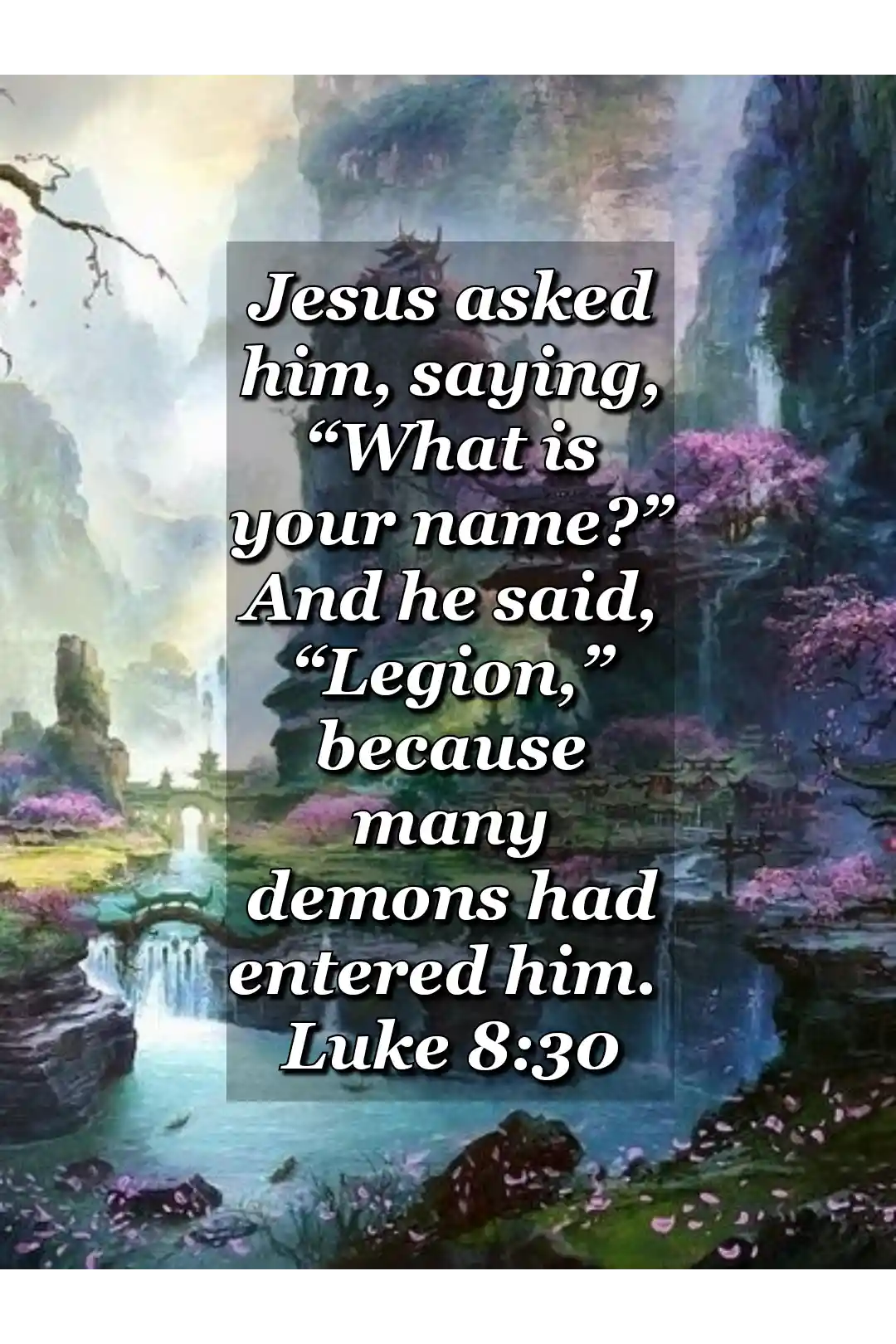 Luke 8:30(KJV)"And Jesus asked him, saying, What is thy name? And he said, Legion: because many devils were entered into him"

explanation:-Jesus had cast out demons from a man. Even the demons trembled by seeing Jesus. As they know their future that they are going to be tortured in the hell forever.
Bible verses about healing and strength
It is true that healing brings strength to us. Sickness, depression, frustration or worldly burden can steal our strength and make us weak but the healing that comes from God takes away all the weakness and gives us back the strength that was stolen.
The Bible promises that God will renew your strength like an eagle. There are several verses in the Bible that talk about God's giving strength to the weak human.
So, if you need strength and healing that remain forever, then only Jesus is the source to experience a new life full of strength and mind healed from hurt.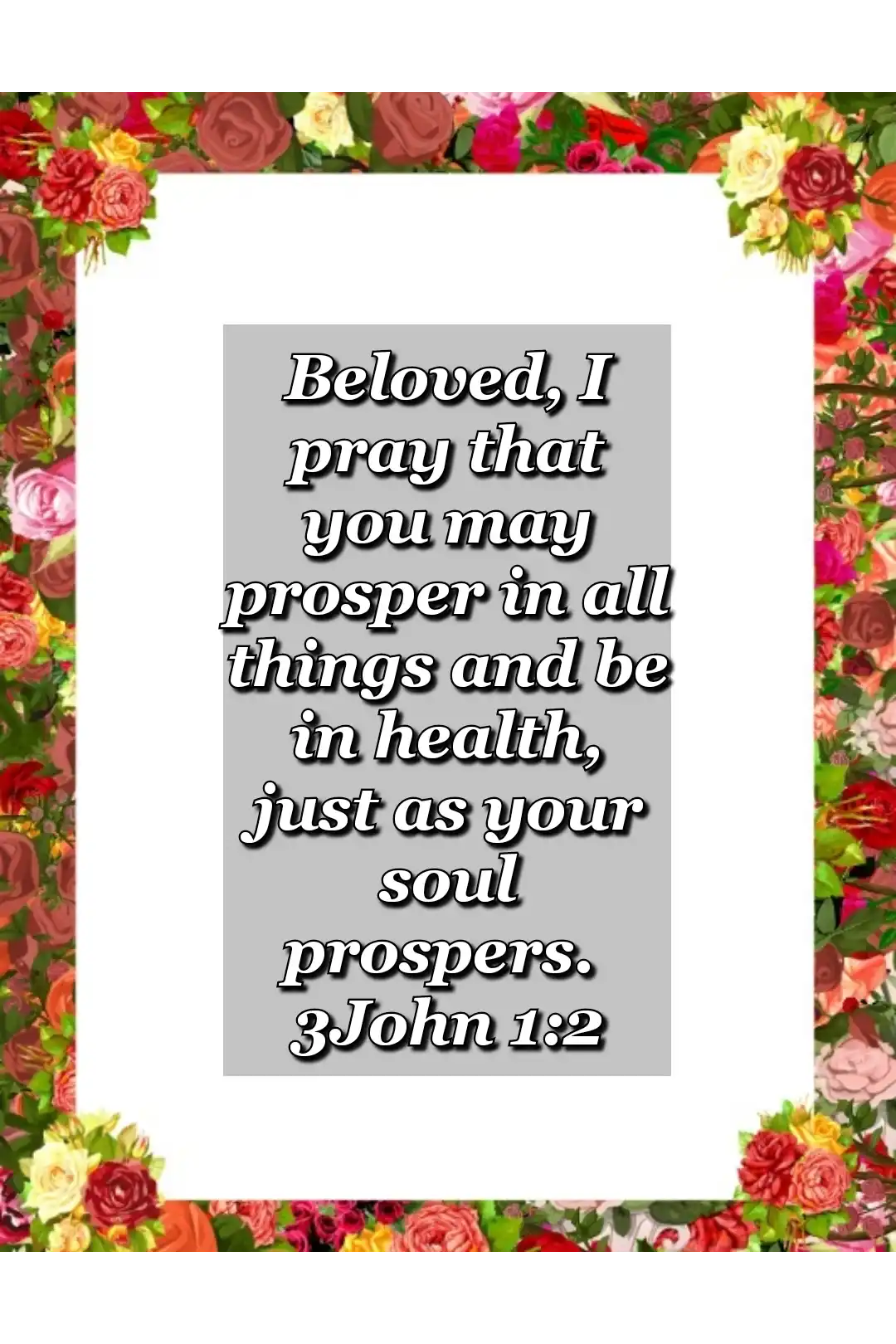 3John 1:2(KJV)"Beloved, I wish above all things that thou mayest prosper and be in health, even as thy soul prospereth"

explanation:-Here, John prayed to the Lord for Gaius so that God bless him with good health. Being a Christian we need to pray for each other.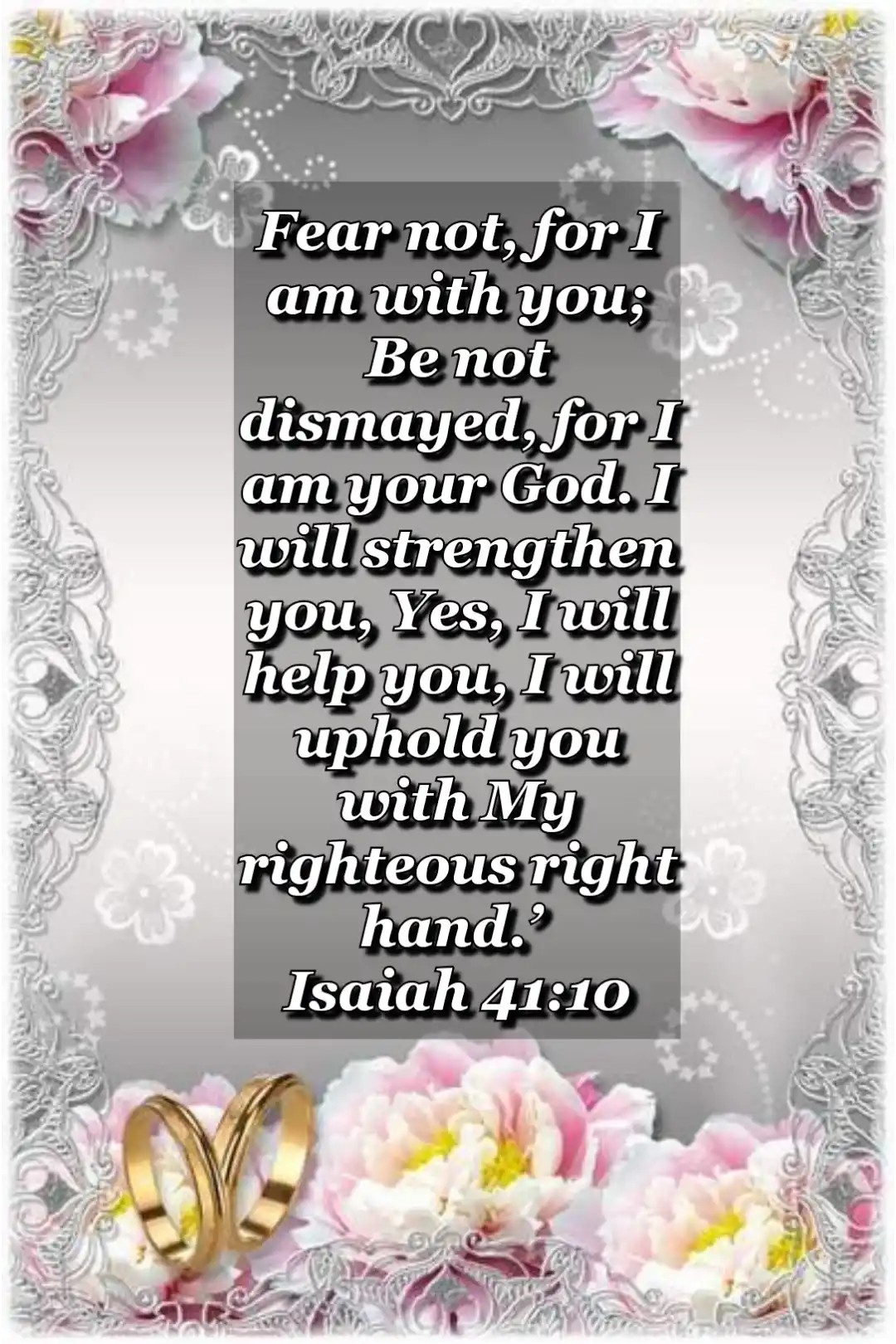 Isaiah 41:10(KJV)"Fear thou not; for I am with thee: be not dismayed; for I am thy God: I will strengthen thee; yea, I will help thee; yea, I will uphold thee with the right hand of my righteousness"

explanation:-God commanded Isaiah not to be timid rather to have faith on Him.At the required time God will provide the strength to him. The Lord is mighty and He promised to help while His people will be in need of help. Healing cancer patients gives strength.
Bible verses about forgiveness and healing
Forgiving others does work as healing balm in our life. When we hold unforgiving attitude, grudge and revengeful thoughts against others, it actually hurt our mind and eventually makes us unrest, by forgiving others we can get rid of these hurt and receive healing from our Lord and Savior Jesus Christ.
Permanent healing for our mind can happen only by receiving heavenly peace from Jesus.
Jesus commanded to forgive our enemies and love them. And when we practice this, he will fill our mind with peace.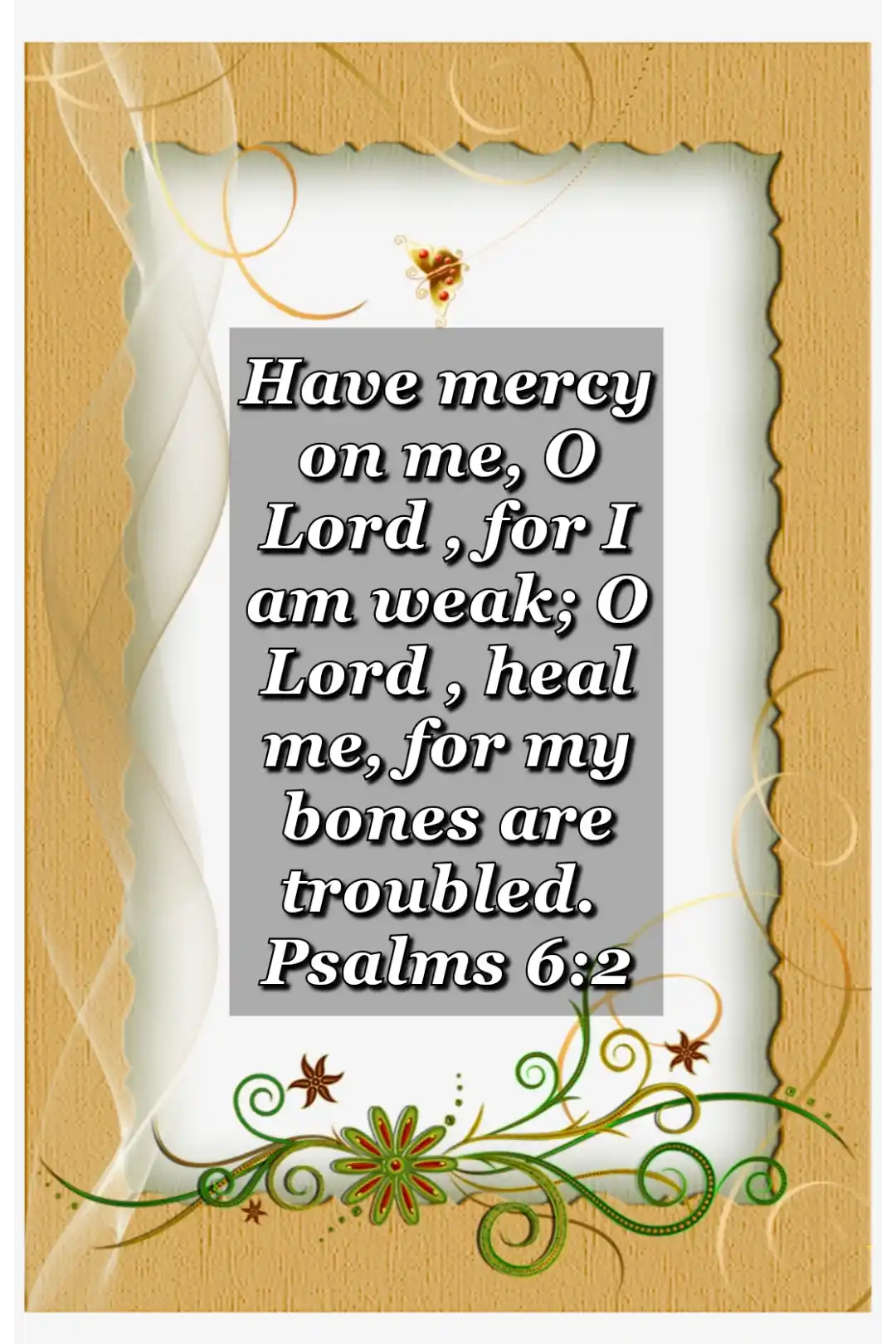 Psalm 6:2(KJV)"Have mercy upon me, O Lord; for I am weak: O Lord, heal me; for my bones are vexed"

explanation:-Here the psalmist asked the Lord to heal him from his sufferings as it is painful for him. God is gracious and understands us very well. He will not give us the pain that we can not bear.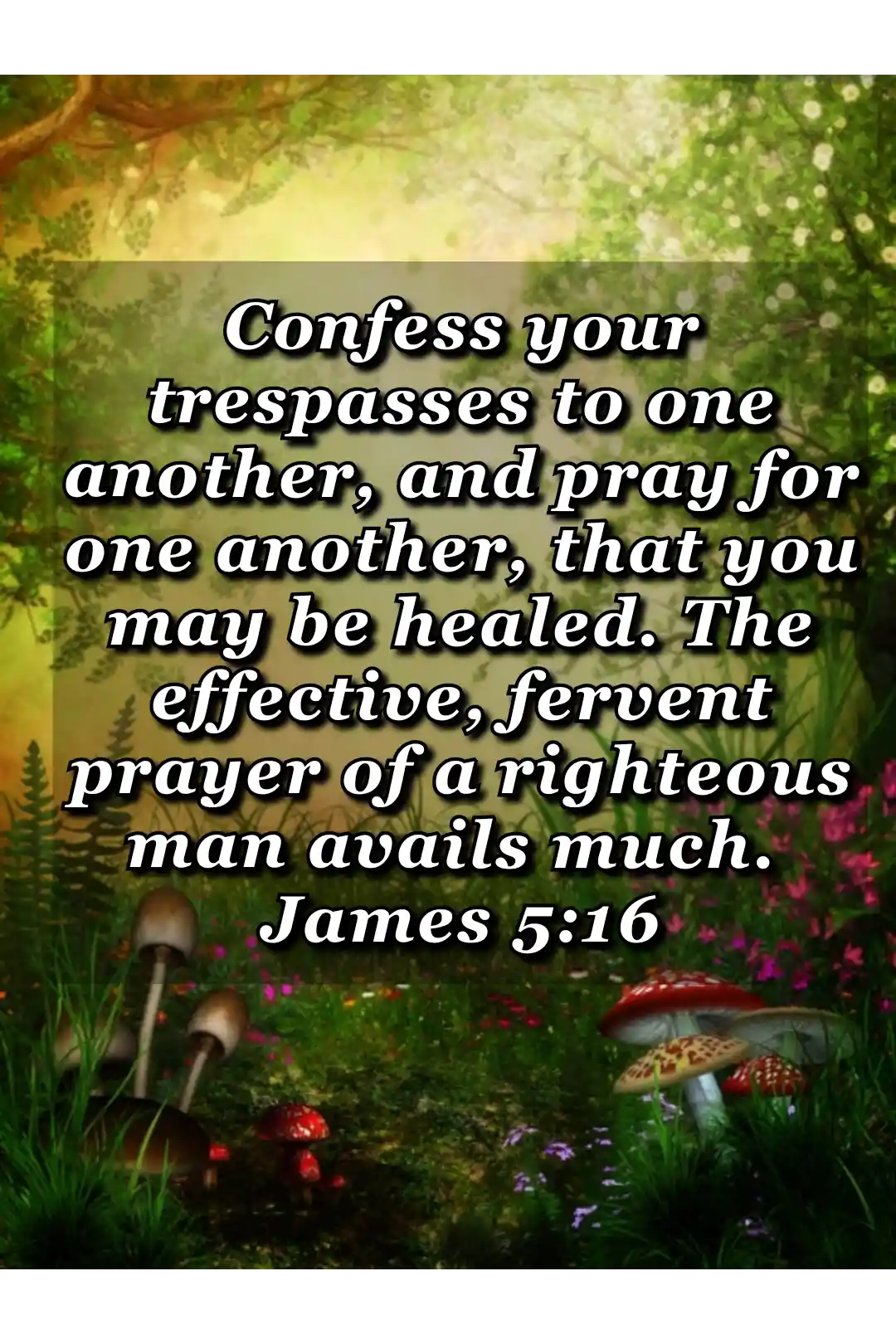 James 5:16(KJV)"Confess your faults one to another, and pray one for another, that ye may be healed. The effectual fervent prayer of a righteous man availeth much"

explanation:-When a righteous person will pray , it is effective. His prayer reaches to God and He answered it quickly. By his prayer God allows healing upon us. Believers should confess their sins to each other with prayers.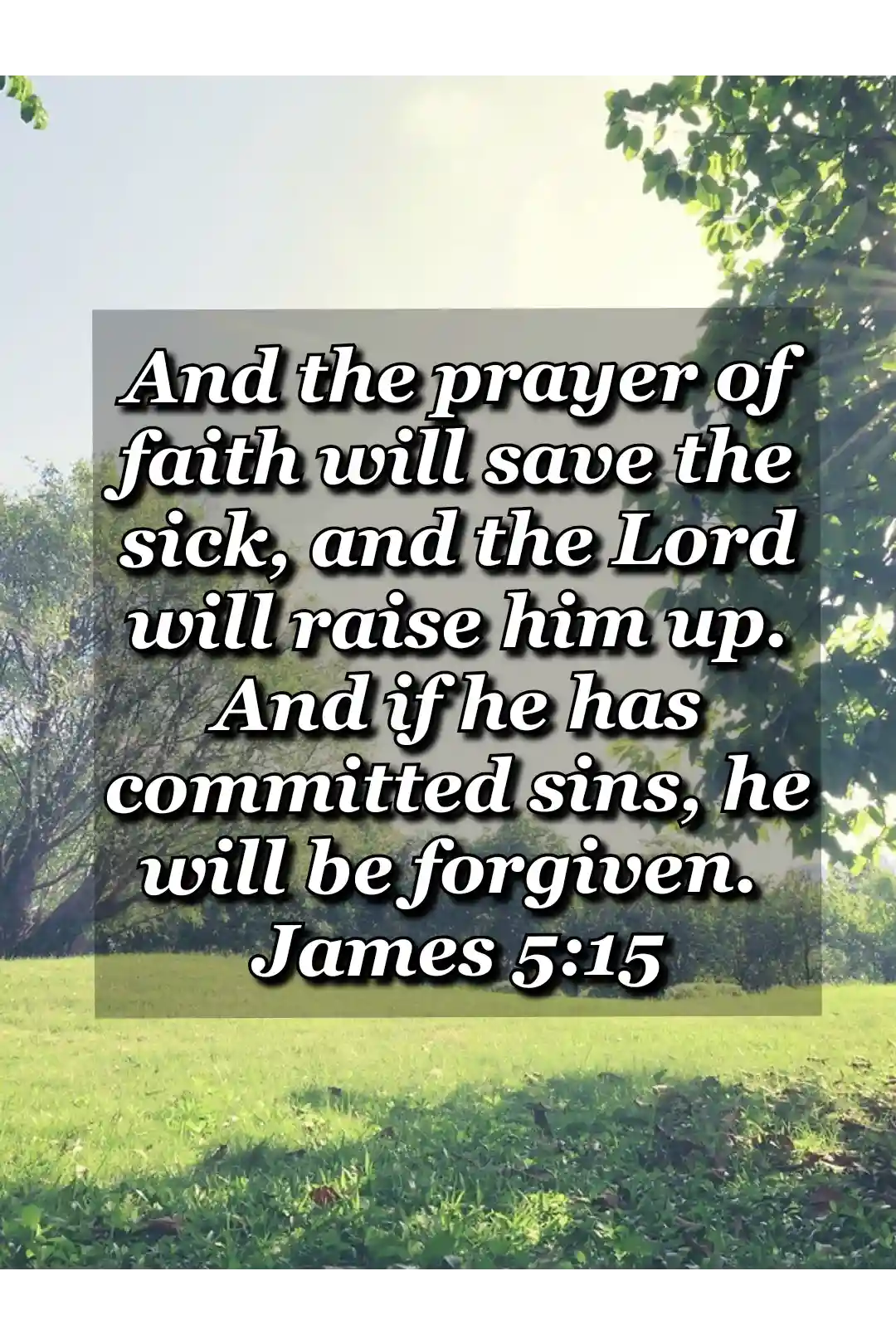 James 5:15(KJV)"And the prayer of faith shall save the sick, and the Lord shall raise him up; and if he have committed sins, they shall be forgiven him"

explanation:-A prayer without faith is powerless but with faith great things will take place. Lord knows our hearts and He wants us to pray with faith. For healing and good health we need to ask God in our prayer.
In Summary, When we look around the world, we find a wounded world that desperately needs healing. The healing that can heal us permanently comes only from Jesus.
It does not matter how much hurt we are, and what kind of wound we are suffering with, the hand of God is strong enough to heal our wound and give us a new life of joy and peace.
If you need the healing for your physical body or the mind disturbed with unrest, Jesus is the ultimate solution, if you are willing to come to him. There is real amazing power in Jesus' name; you just need to experience it.