Jesus loves all who come before him. As we receive Jesus in our lives we become his children spiritually. Nothing can separate us from the love of God.
There are so many people on this earth who are spending many sleepless nights because they are extremely worried about their lives. They do not know what will happen in the days to come.
But the children of God can sleep well at night as they know that their God is watching them and protecting them from all kinds of evil.
Jesus says he came on this earth to give us peace and complete life. So we can make the decision right now to have a sound sleep at night by receiving Jesus in our lives.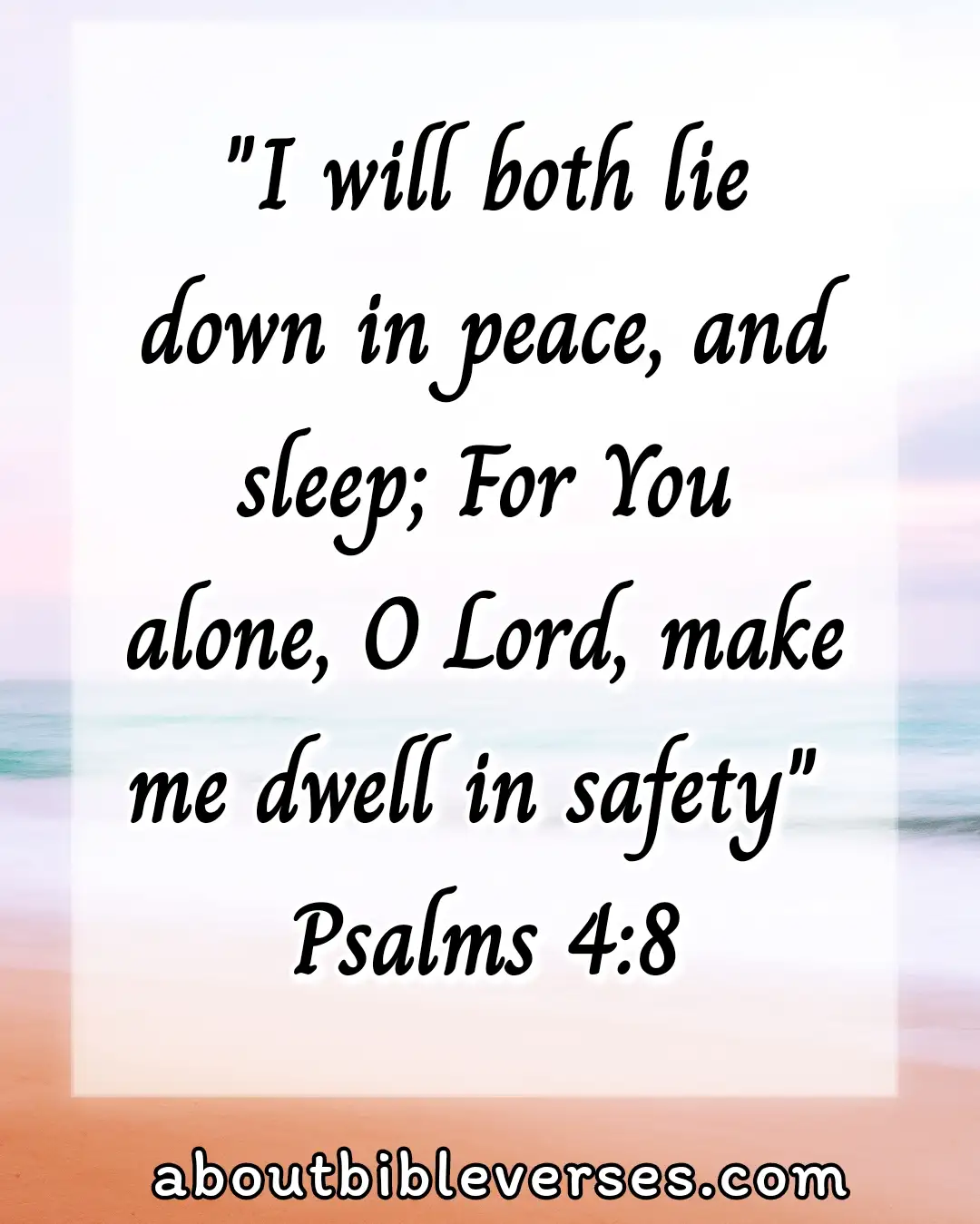 Psalm 4:8(KJV)"I will both lay me down in peace, and sleep: for thou, Lord, only makest me dwell in safety"
Explanation:- King David said that as he walked with God so he is confident enough that he can sleep peacefully because God's protection was with him.
He can enjoy the night while he sleeps as the Lord guards him. We must put God first always in our lives in order to have a sound sleep.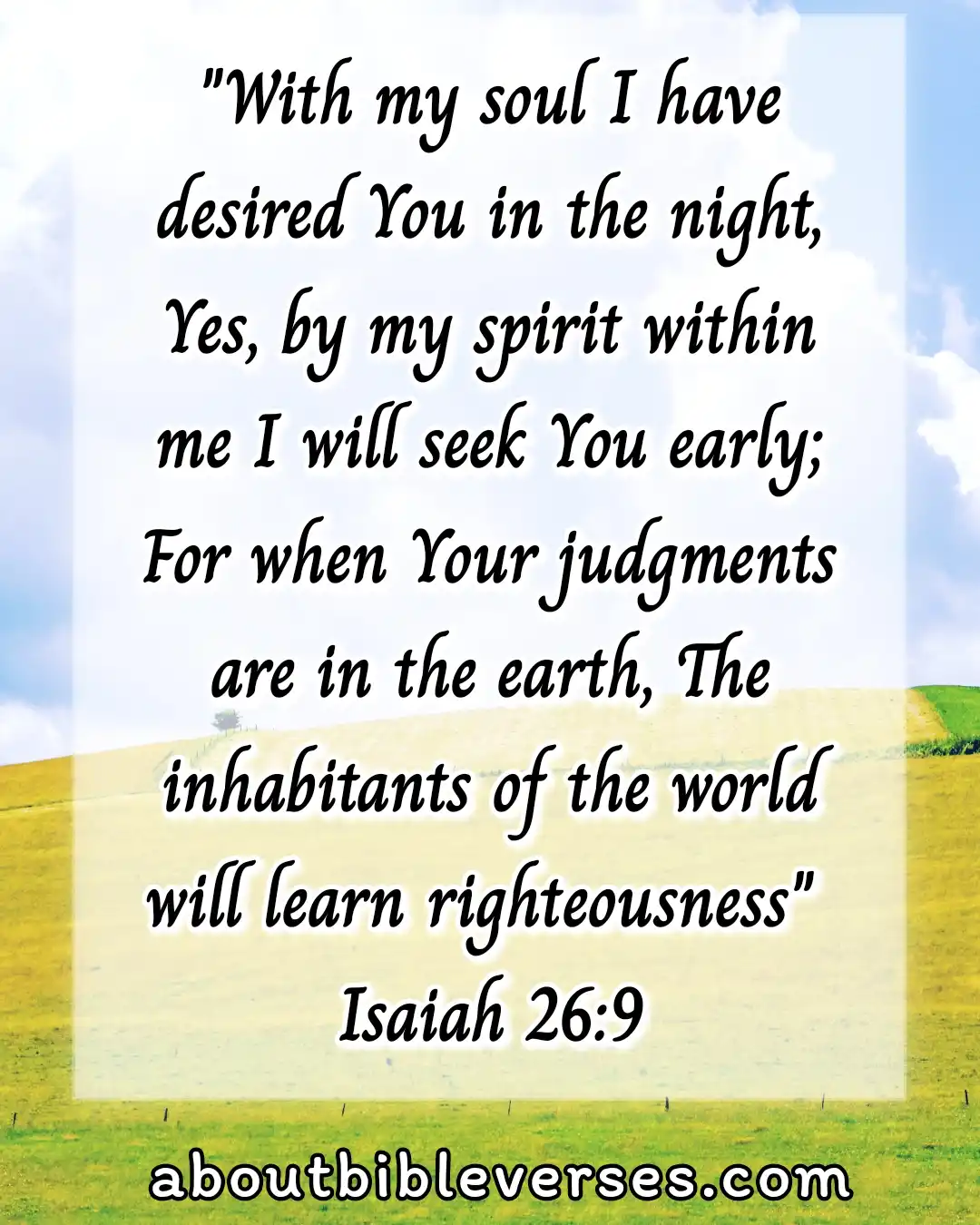 Isaiah 26:9(KJV)"With my soul have I desired thee in the night; yea, with my spirit within me will I seek thee early: for when thy judgments are in the earth, the inhabitants of the world will learn righteousness"
Explanation:- The Lord has created this wonderful universe and he also placed the stars in the midst of the sky. All the created things of God are working perfectly in harmony to glorify the name of God.
The Lord has promised that his children will enjoy the night while they will sleep because he is their protector and guide.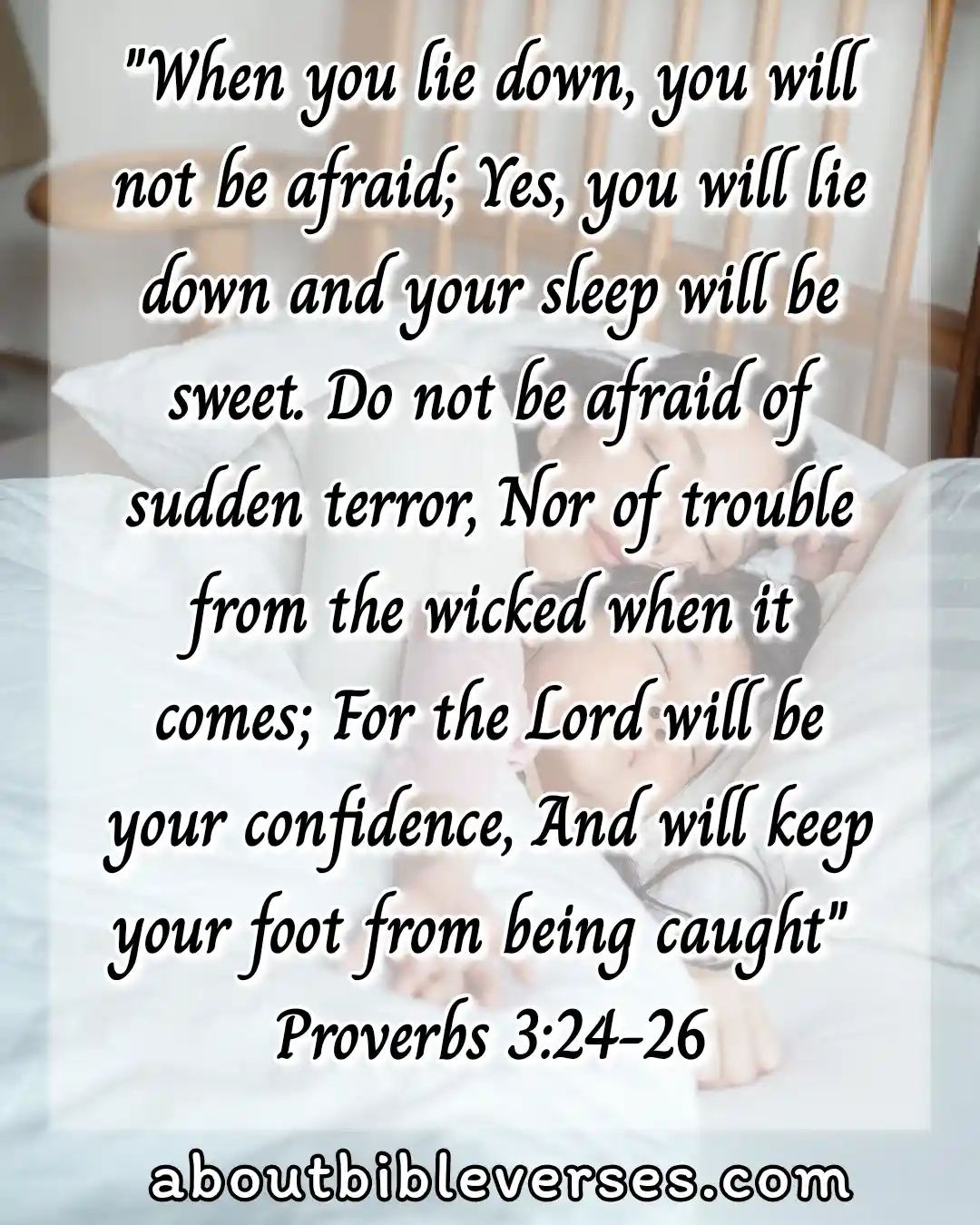 Proverbs 3:24- 26(KJV)"When thou liest down, thou shalt not be afraid: yea, thou shalt lie down, and thy sleep shall be sweet.Be not afraid of sudden fear, neither of the desolation of the wicked, when it cometh. For the Lord shall be thy confidence, and shall keep thy foot from being taken"
Explanation:- A man of God will not fear anything because he knows very well that the Lord is with him and he has been protecting him since his birth.
We should rely on God and we need to follow all of his ways which will help us to have godly peace in our hearts. Finally, peace will lead us to have proper sleep at night.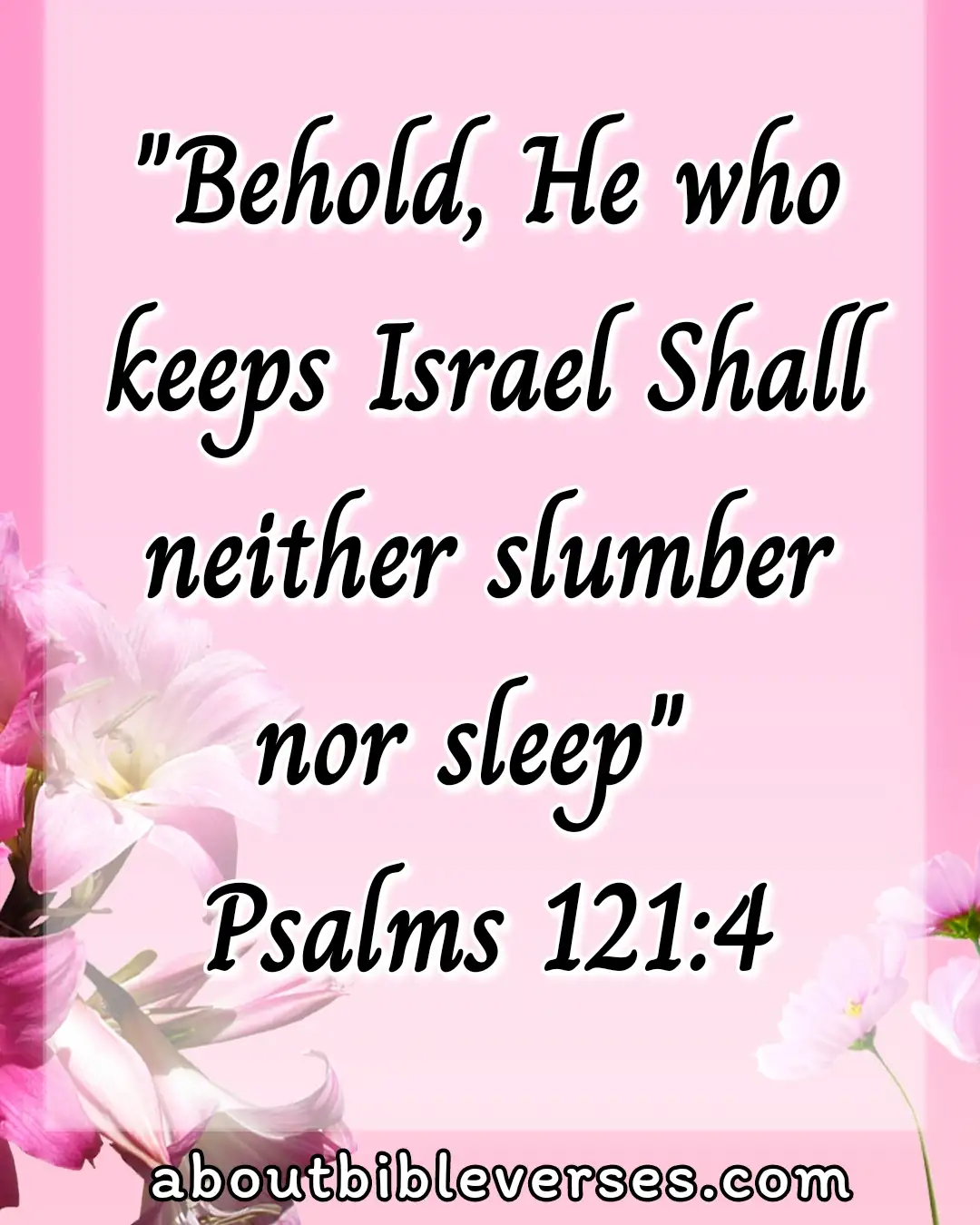 Psalm 121:4(KJV)"Behold, he that keepeth Israel shall neither slumber nor sleep"
Explanation:- The Lord of Israel always keeps his children away from all evil. He is not a man who sleeps at night but he is the Lord Of Lords and he is the king of Kings and his eyes always upon his children so that they can sleep peacefully at night.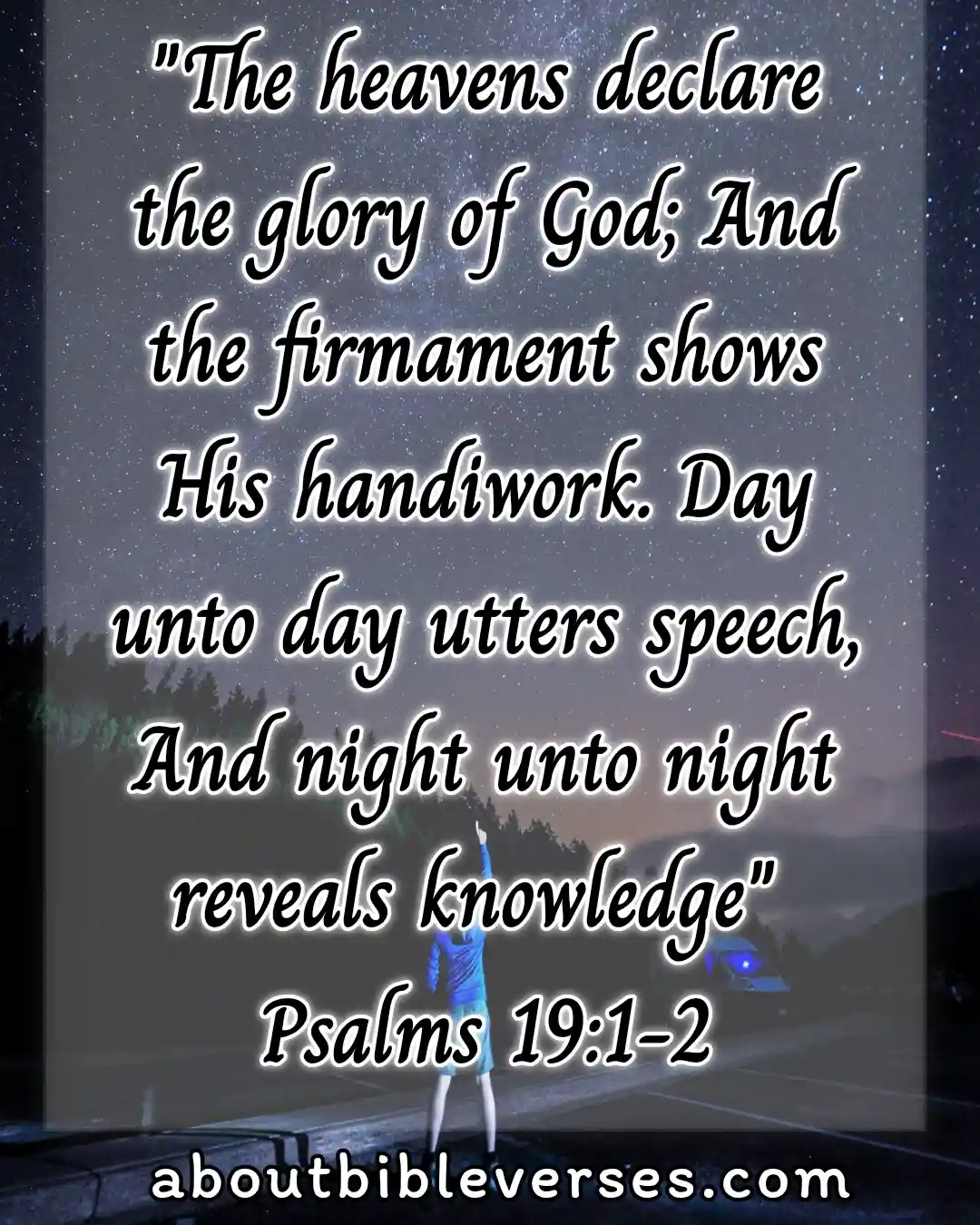 Psalm 19:1-2(KJV)"The heavens declare the glory of God; and the firmament sheweth his handywork. Day unto day uttereth speech, and night unto night sheweth knowledge"
Explanation:- It was evident that all the natural objects are directly created by God. They glorify the Lord by their wonderful works on this earth. All these beautiful natural things clearly demonstrate that they have a wonderful and mighty creator who created them perfectly beautifully.
Job 33:15-17(KJV)"In a dream, in a vision of the night, when deep sleep falleth upon men, in slumberings upon the bed; Then he openeth the ears of men, and sealeth their instruction, That he may withdraw man from his purpose, and hide pride from man"
Explanation:- Men should not show their pride because they are nothing compared to the strength of God. They should live a humble life and they must glorify God because they are the creation of God. The Lord says that whosoever will live under his protection will sleep peacefully at night.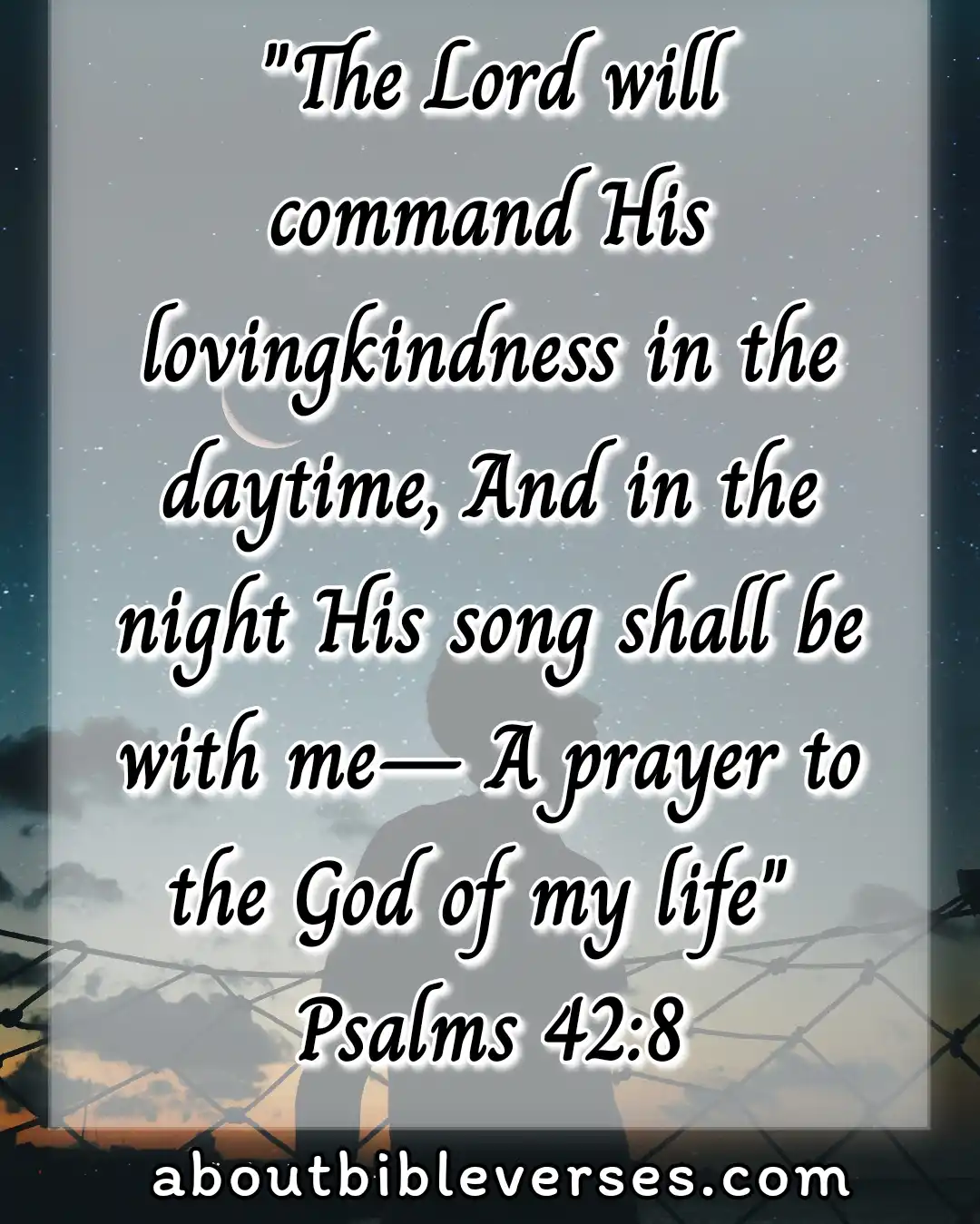 Psalm 42:8(KJV) "Yet the Lord will command his lovingkindness in the day time, and in the night his song shall be with me, and my prayer unto the God of my life"
Explanation:- In the beginning, God had created this wonderful earth and heavens and he had a beautiful plan to work with his creation so he created man by his own image. He also established nights and days on this earth so that his children can sleep well and every day they can enjoy the wonderful creation that he made for them.
Psalm 8:3(KJV)"When I consider thy heavens, the work of thy fingers, the moon and the stars, which thou hast ordained"
Explanation:- It is wonderful to imagine how Great is Our God who created this beautiful sky and all the things in it because he's so wise that is why it is possible for him to make such things for us. He deserves our praise and worship because he has done a great thing for mankind.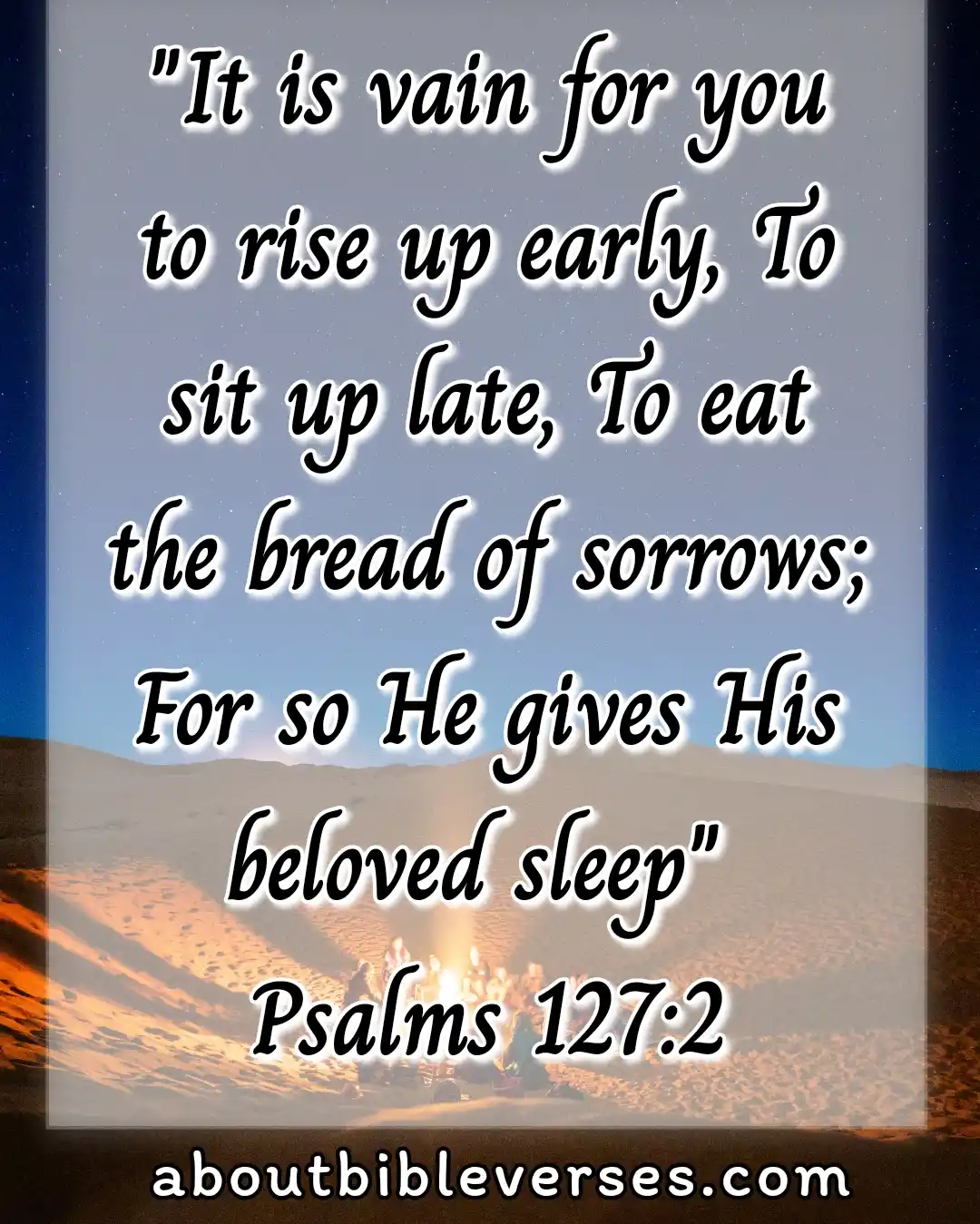 Psalm 127:2(KJV)"It is vain for you to rise up early, to sit up late, to eat the bread of sorrows: for so he giveth his beloved sleep"
Explanation:- If you work hard and do all the work that is set before us but if you fail to give glory to the Lord then everything will be in vain.
As we do work to meet the needs of our flesh in the same way we need to do some works for our spirit because through our spirits we connect with the Lord.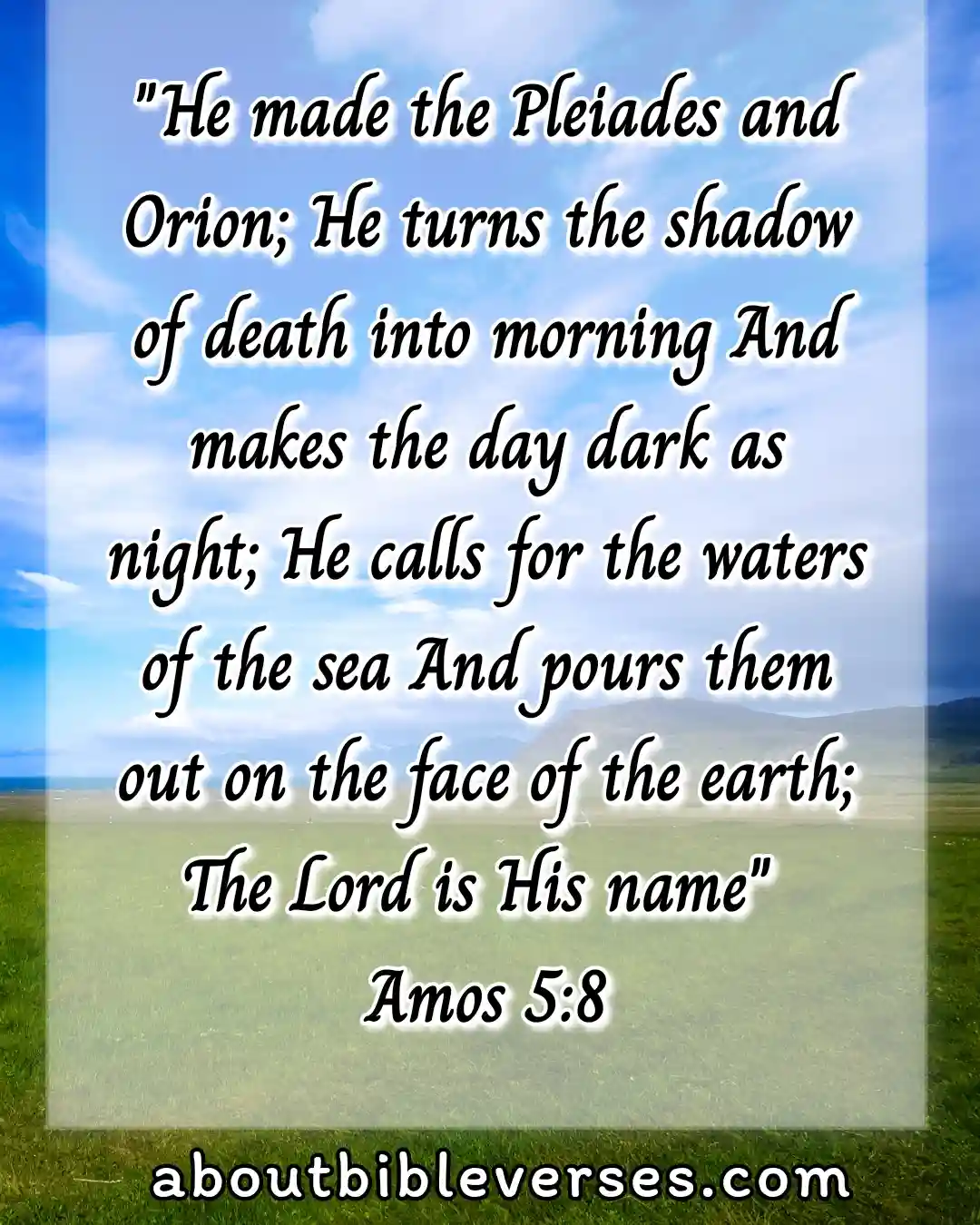 Amos 5:8(KJV)"Seek him that maketh the seven stars and Orion, and turneth the shadow of death into the morning, and maketh the day dark with night: that calleth for the waters of the sea, and poureth them out upon the face of the earth: The Lord is his name"
Explanation:- The scripture encourages us to thank God because he has created all the stars and the beautiful sea for our sake.
We cannot deny the fact that God has made all this for us so that we can walk and enjoy life on this earth. In return for that, we must be thankful to him.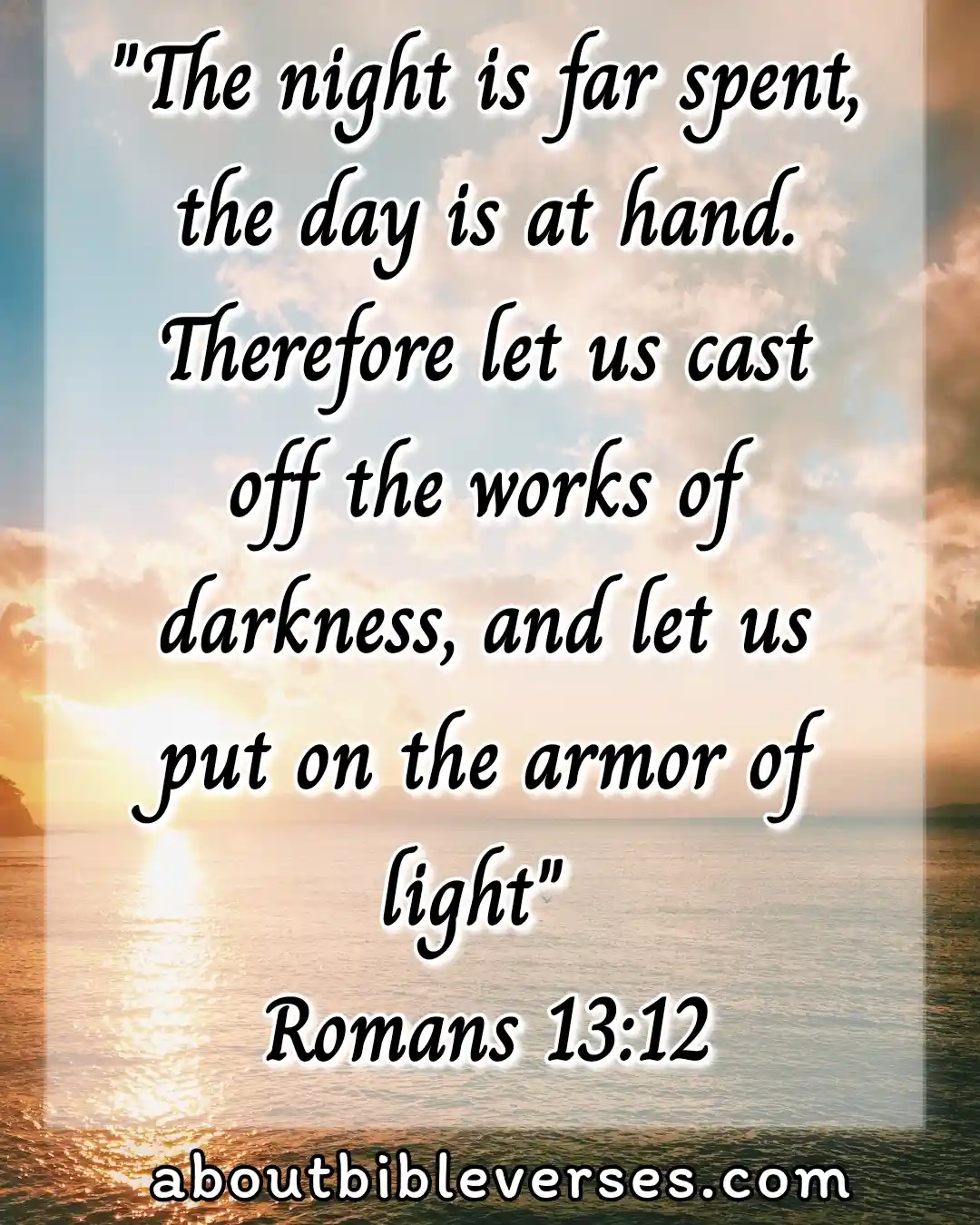 Romans 13:12(KJV)"The night is far spent, the day is at hand: let us therefore cast off the works of darkness, and let us put on the armour of light"
Explanation:- Jesus has come down on this earth so when we received him that means we are no longer walking in the darkness we are in the daylight. We must remove all our evil practices and bad nature that hurts God.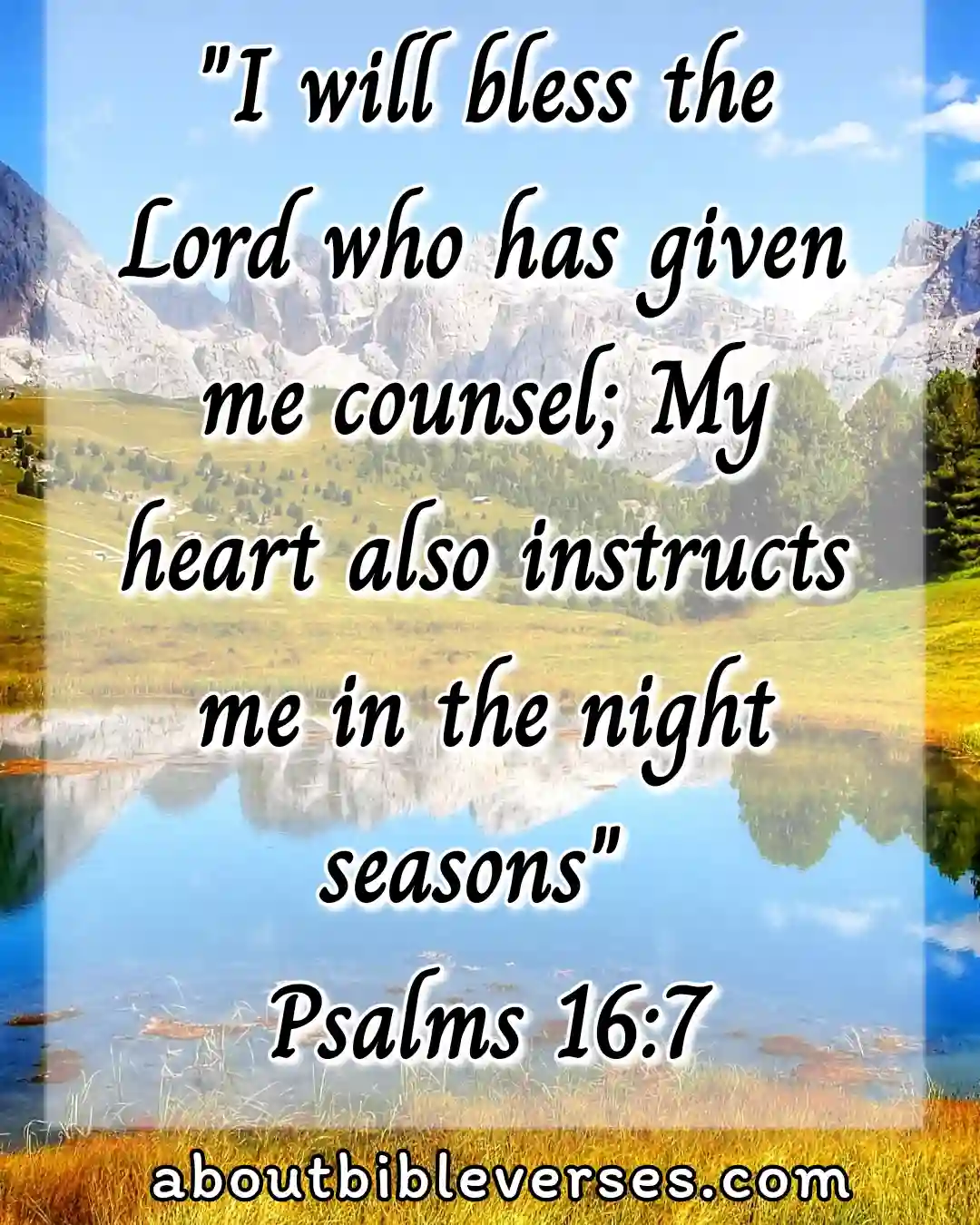 Psalm 16:7(KJV)"I will bless the Lord, who hath given me counsel: my reins also instruct me in the night seasons"
Explanation:- King David says that he will praise God because God has given him the wonderful councils by which he is walking on his life.
He also praises God because of his greatness and guidance that made him sleep peacefully in the night.
Psalm 17:3(KJV)"Thou hast proved mine heart; thou hast visited me in the night; thou hast tried me, and shalt find nothing; I am purposed that my mouth shall not transgress"
Explanation:- If we work in the directions of the Lord then we can be victorious in all our steps of our life.
We will have eternal peace in our minds and heart that will lead us to have a deep sleep at night.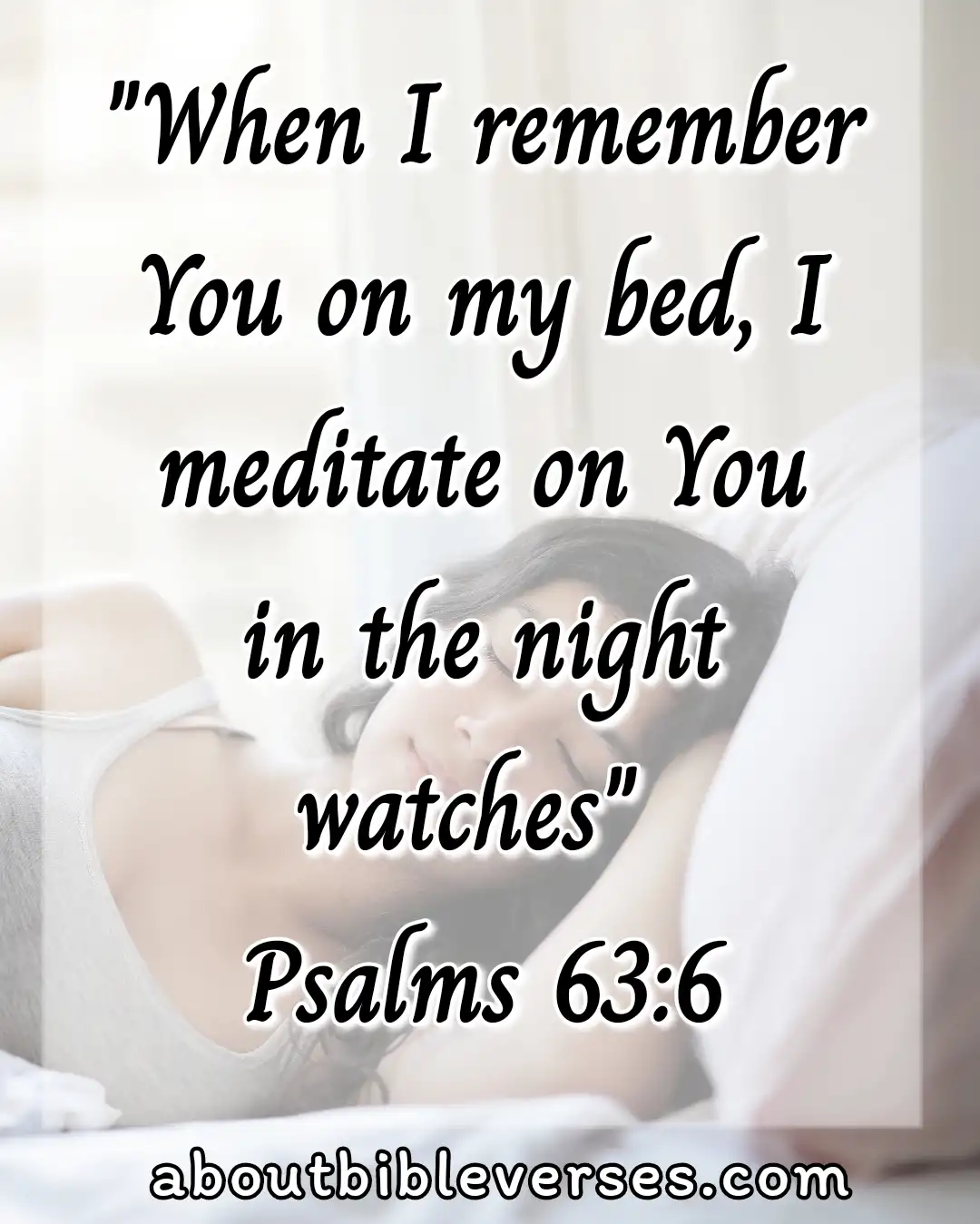 Psalm 63:6(KJV)"When I remember thee upon my bed, and meditate on thee in the night watches"
Explanation:- At night we should also think about all the wonderful works of God that he has done in our life.
We must bring glory to him because of his goodness and kindness we have got the privilege to come before Him with a repentant heart.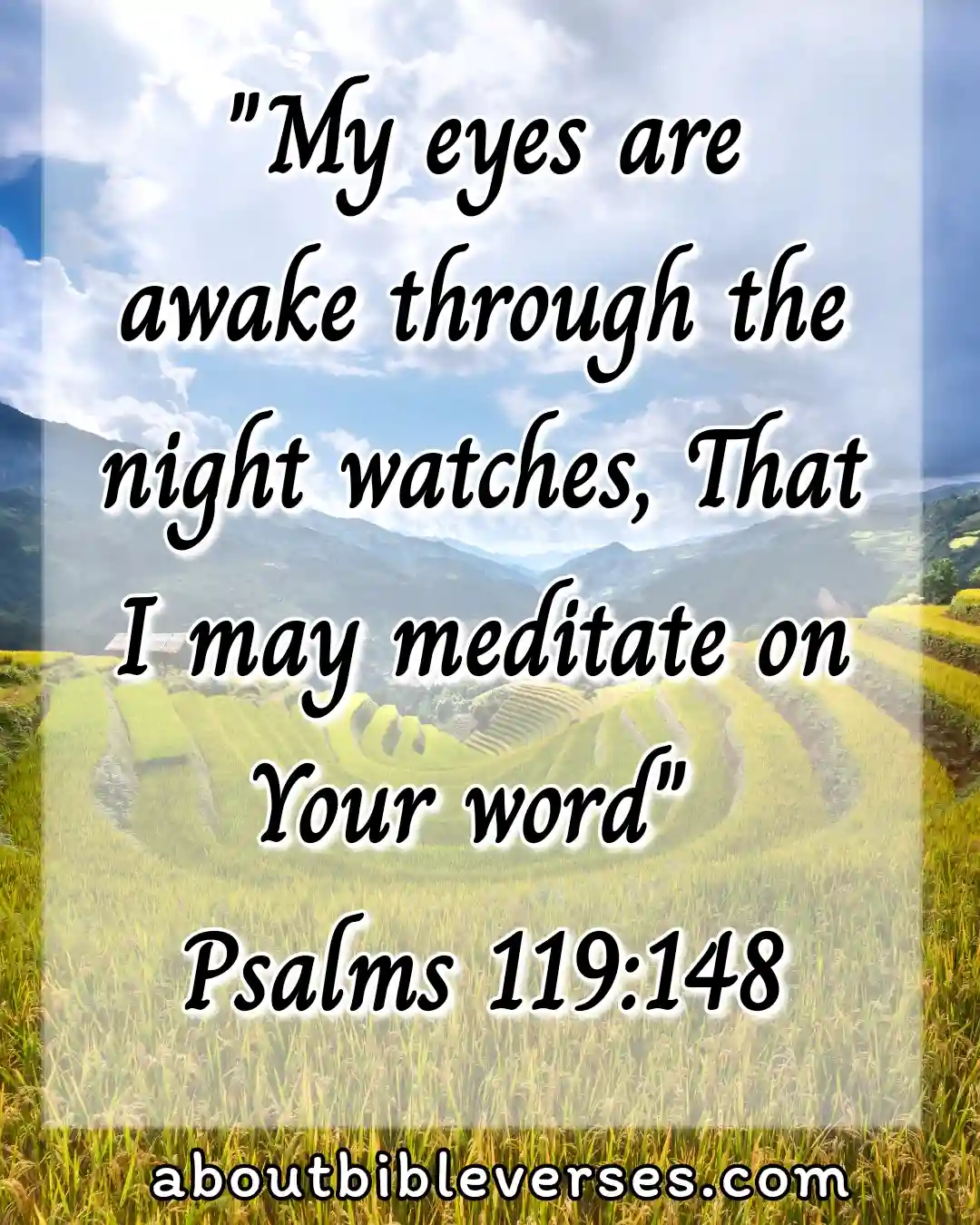 Psalm 119:148(KJV)"Mine eyes prevent the night watches, that I might meditate in thy word"
Explanation:- Though our eyes may prevent us from having fellowship with the Lord as we feel sleepy, we need to think of our spirit and soul for its salvation.
We cannot deny that the Lord will judge us after our death so we must prepare ourselves as long as we will be on this earth to enter into his Kingdom. We must spend the night praying.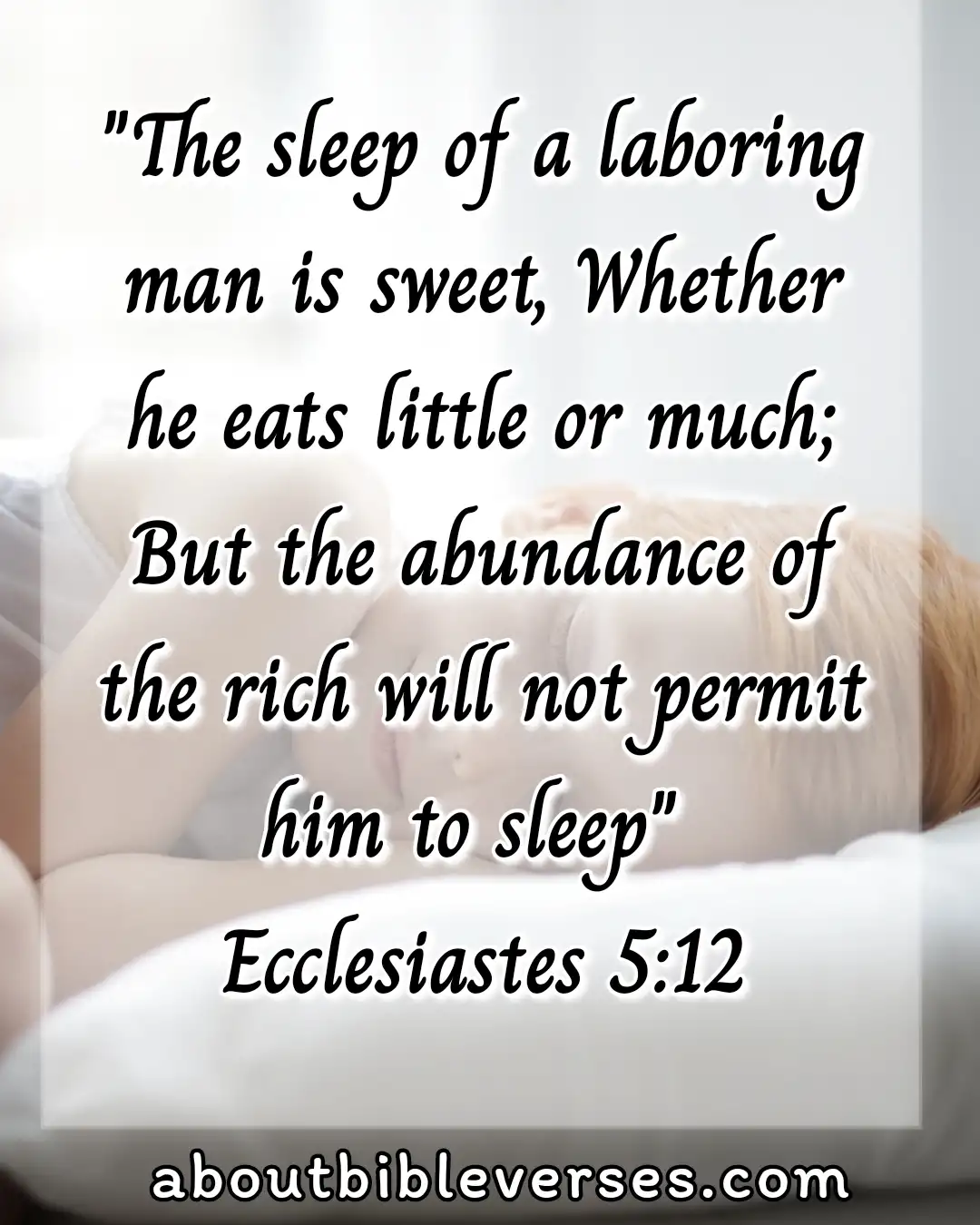 Ecclesiastes 5:12(KJV)"The sleep of a labouring man is sweet, whether he eat little or much: but the abundance of the rich will not suffer him to sleep"
Explanation:- A man who works and earns by righteousness will sleep peacefully on his bed. But a man who does not walk in the way of God will suffer in bed while he will sleep.
So remembering these words in mind we need to work in God's way so that we can achieve the righteousness of God which will eventually force us to have a relationship with the Lord.