Hello dear friends, welcome to our site in the name of Jesus Christ. Today we will look at the Bible Scriptures About Peace Of Mind In KJV. If you like today's post then definitely comment and share.
As we are living in a turmoil world where people are fighting with each other. It is impossible to get peace from this world. The bible says that God has formed us by his own image so he wants to talk to us every day.
The reason we do not get peace is we are far from the Lord. we will be blessed by the heavenly peace if we come closer to him. The more we will step forward to God the more he will come towards us.
Without peace in mind, we cannot enjoy our life completely. To gain a peaceful life we must look at the scripture which will guide us to have a completely peaceful life.
Dear friends now let's see the Bible scriptures below that talk about Dear friends now let's see the Bible scriptures below that talk about Peace Of Mind.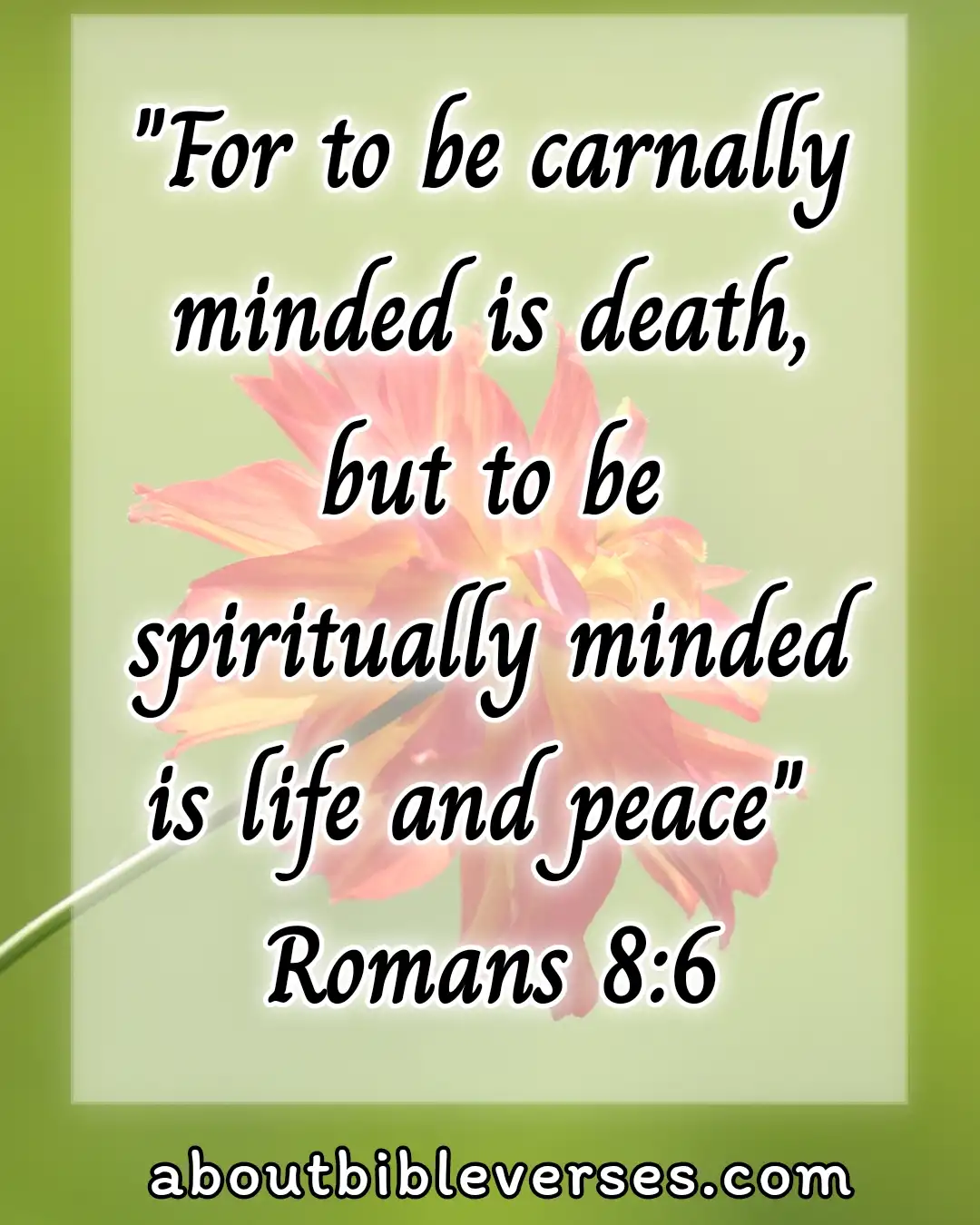 Romans 8:6(KJV)"For to be carnally minded is death; but to be spiritually minded is life and peace"
Explanation:- As Christian, we must live spiritually to fulfill the will of God. If we live to satisfy our flesh then we will see eternal death. The scripture reminds us to live spiritually to gain inner peace in our hearts.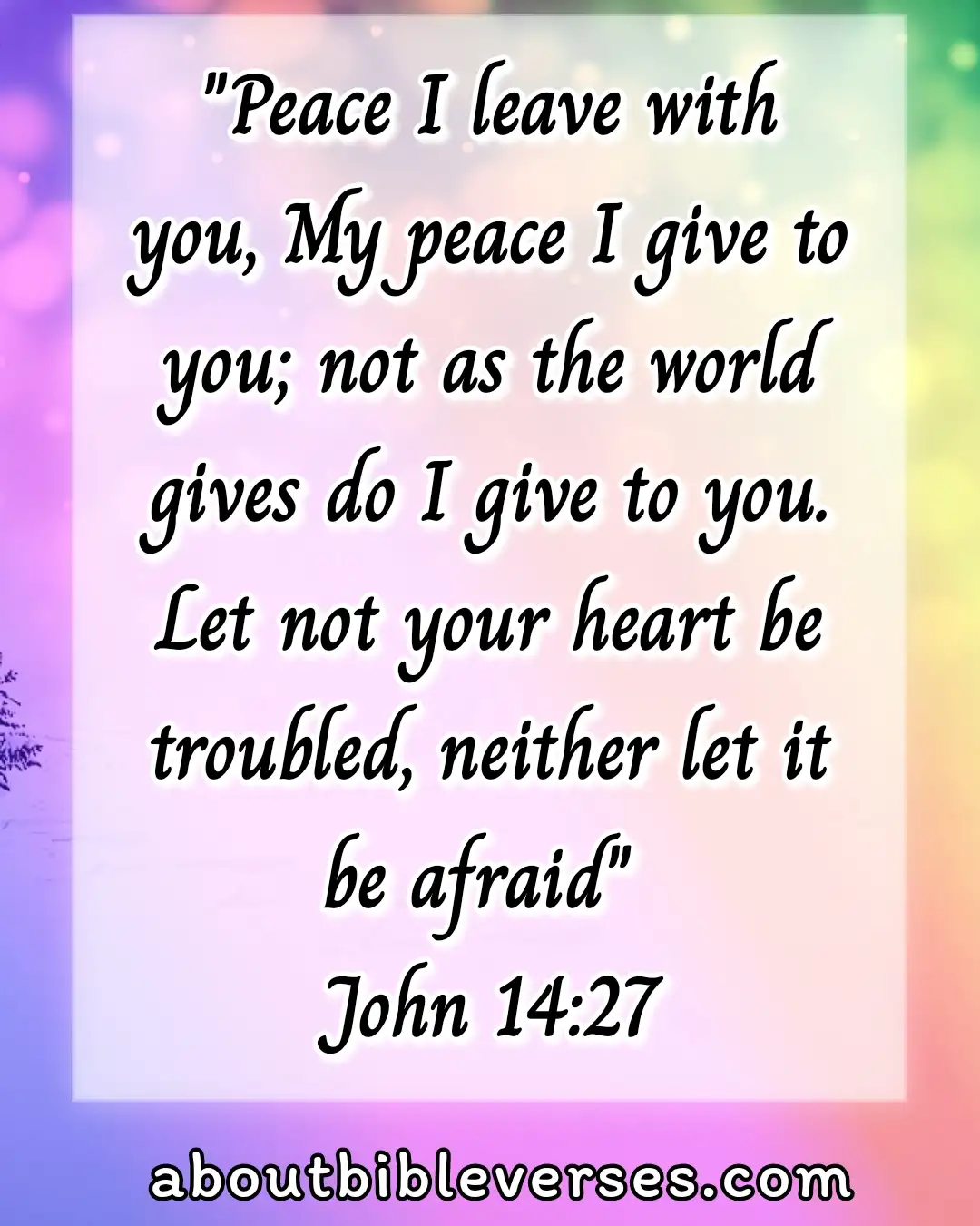 John 14:27(KJV)"Peace I leave with you, my peace I give unto you: not as the world giveth, give I unto you. Let not your heart be troubled, neither let it be afraid"
Explanation:- Jesus comforted his disciples that he has left the peace on this earth. One can get that peace by following the footsteps of Jesus. This world can only give us trouble but to get peace one needs to bow down before Jesus.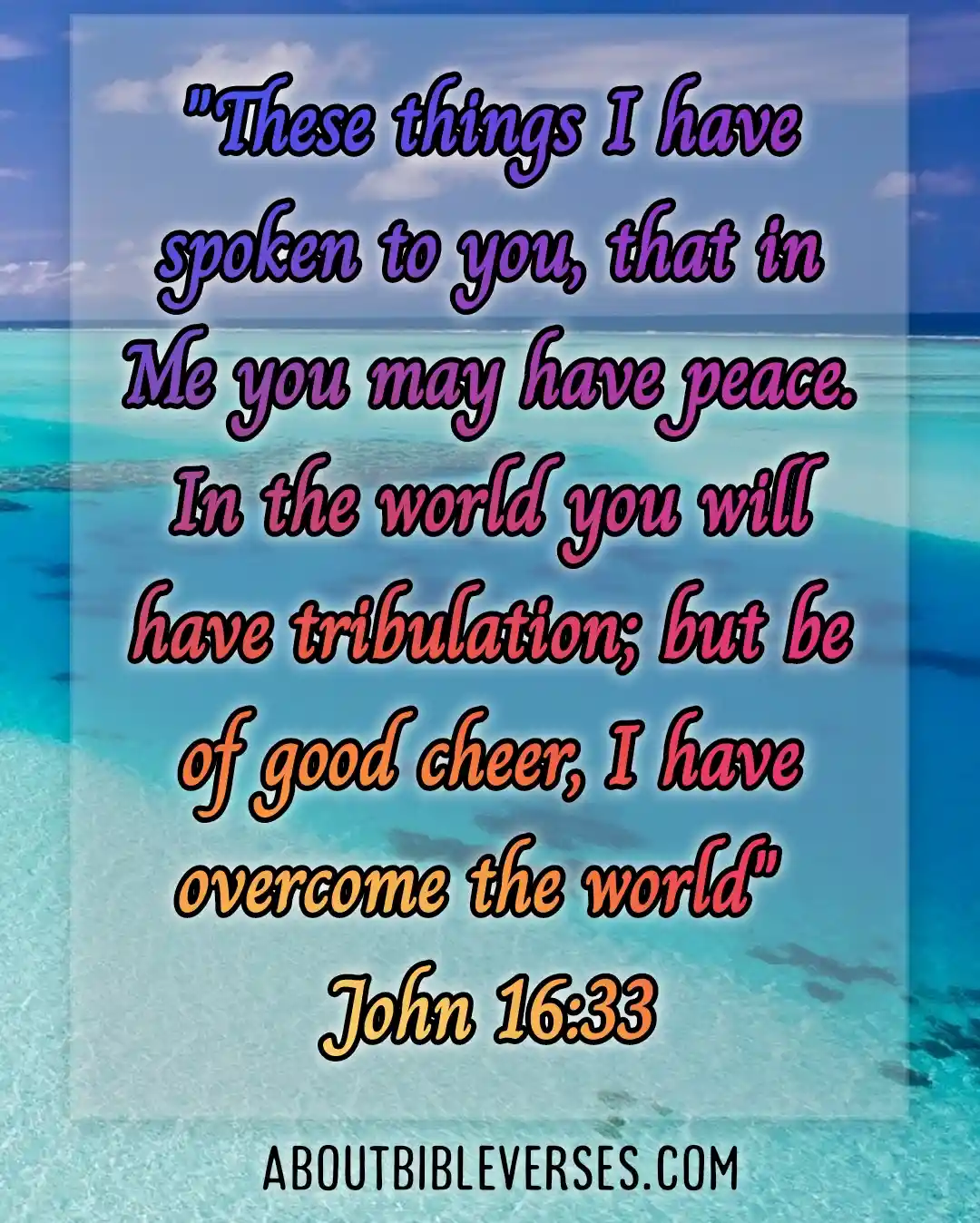 John 16:33(KJV)"These things I have spoken unto you, that in me ye might have peace. In the world ye shall have tribulation: but be of good cheer; I have overcome the world"
Explanation:- Jesus knows that this world will torture his children that is why he says that if anyone really seeks Him and walks according to his ways then he will find peace in his mind.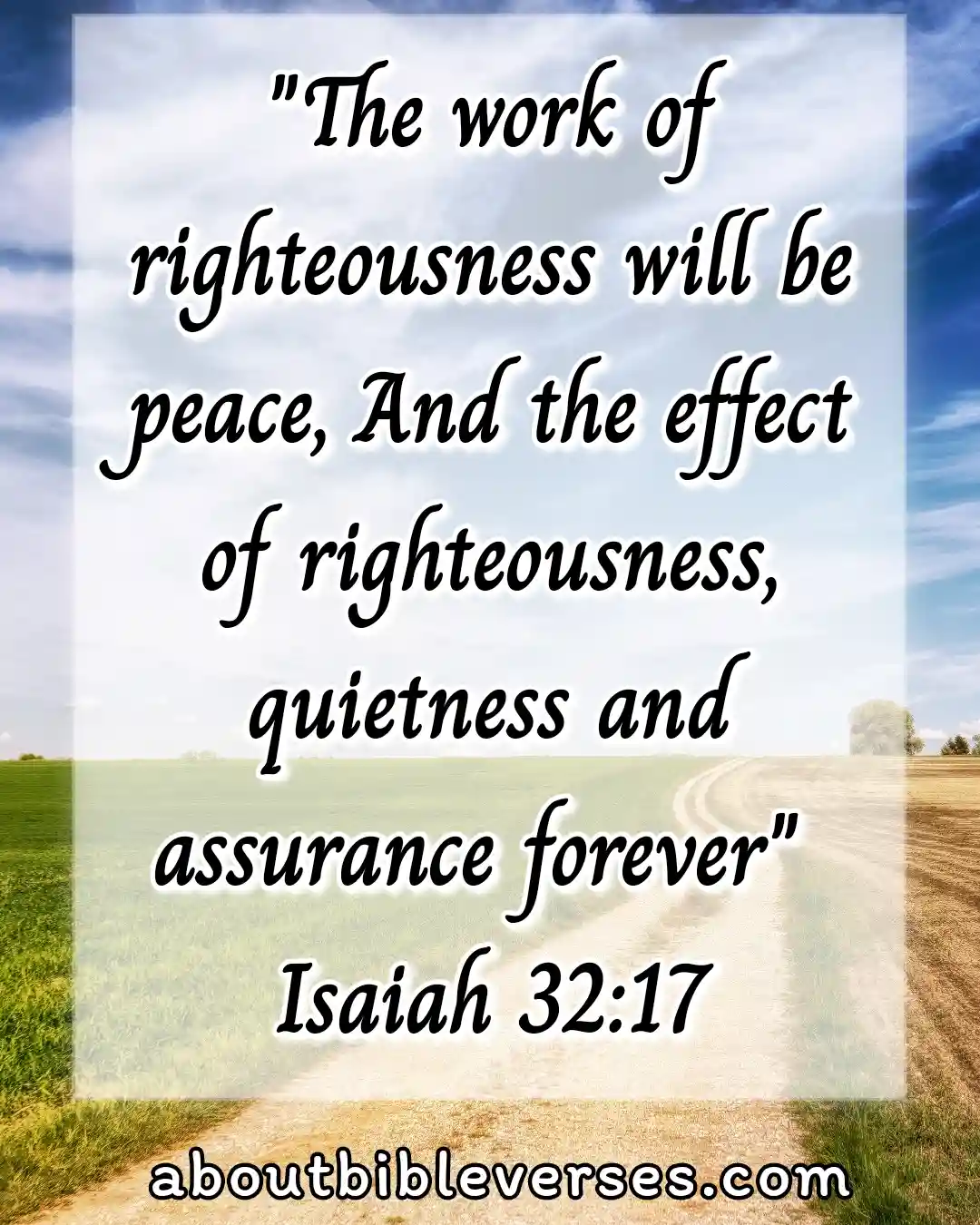 Isaiah 32:17(KJV)"And the work of righteousness shall be peace; and the effect of righteousness quietness and assurance forever"
Explanation:- If a man walks in the righteousness of God then he will find peace but on the other hand a man who lives unrighteously will live with troubles and chaos.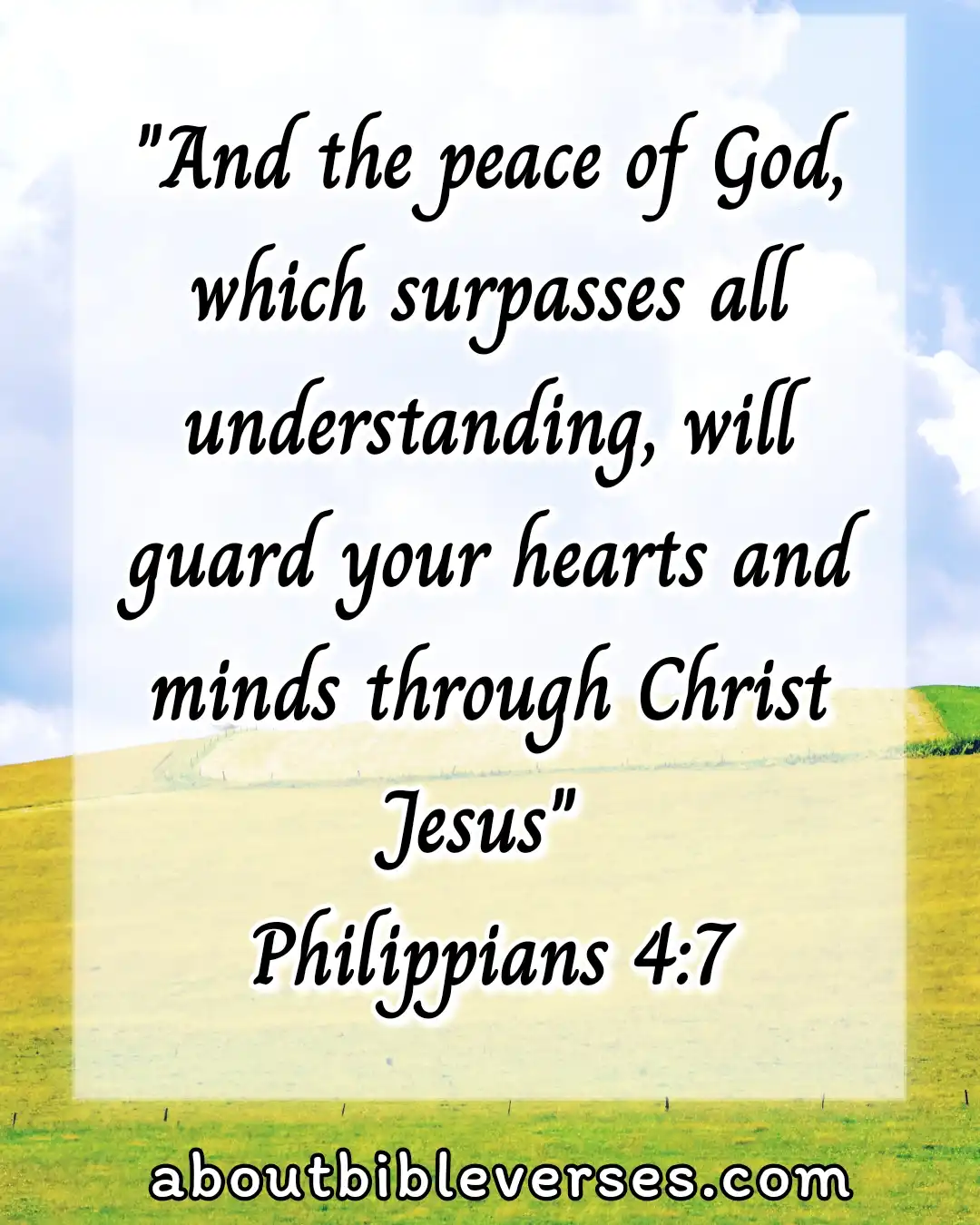 Philippians 4:7(KJV)"And the peace of God, which passeth all understanding, shall keep your hearts and minds through Christ Jesus"
Explanation:- In Jesus one can enjoy heavenly peace and he will feel the difference after obeying all the commandments of God. Jesus came to us to give us the real-life which we were created for.
James 3:18(KJV)"And the fruit of righteousness is sown in peace of them that make peace"
Explanation:- One will be blessed by the gift of God that is the godly peace. People around us are trying to get peace from this world but they have failed to achieve that.
The peace that we can enjoy is derived from the Lord. Jesus is called the Prince of Peace so we can receive peace by accepting him in our life.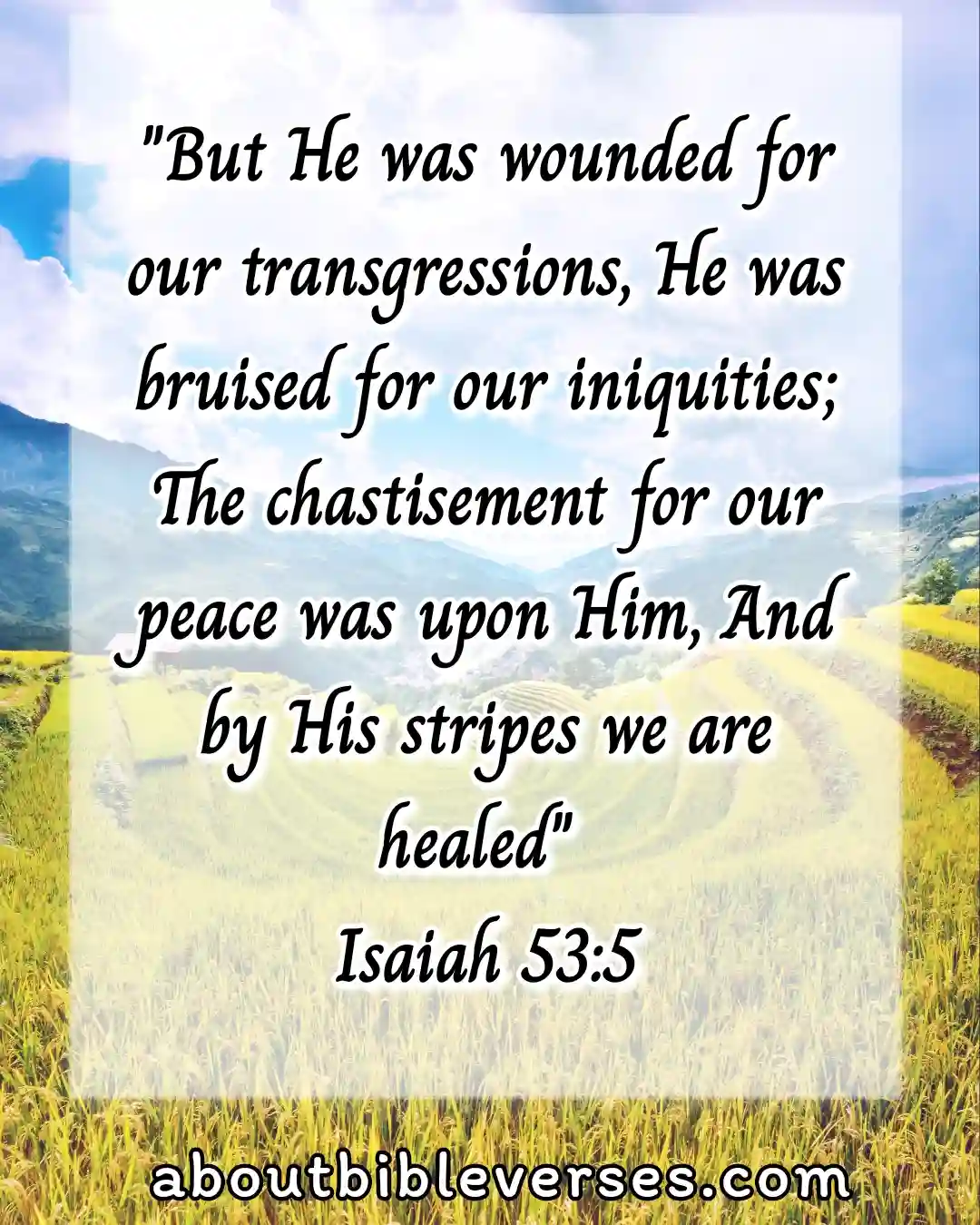 Isaiah 53:5(KJV)"But he was wounded for our transgressions, he was bruised for our iniquities: the chastisement of our peace was upon him; and with his stripes we are healed"
Explanation:- Jesus died for our place and now we can enjoy our life. He gave his life to have the peaceful life that we desire for. We can only achieve peace from the Lord. Nothing in this world can satisfy our hearts until we meet Jesus in our life.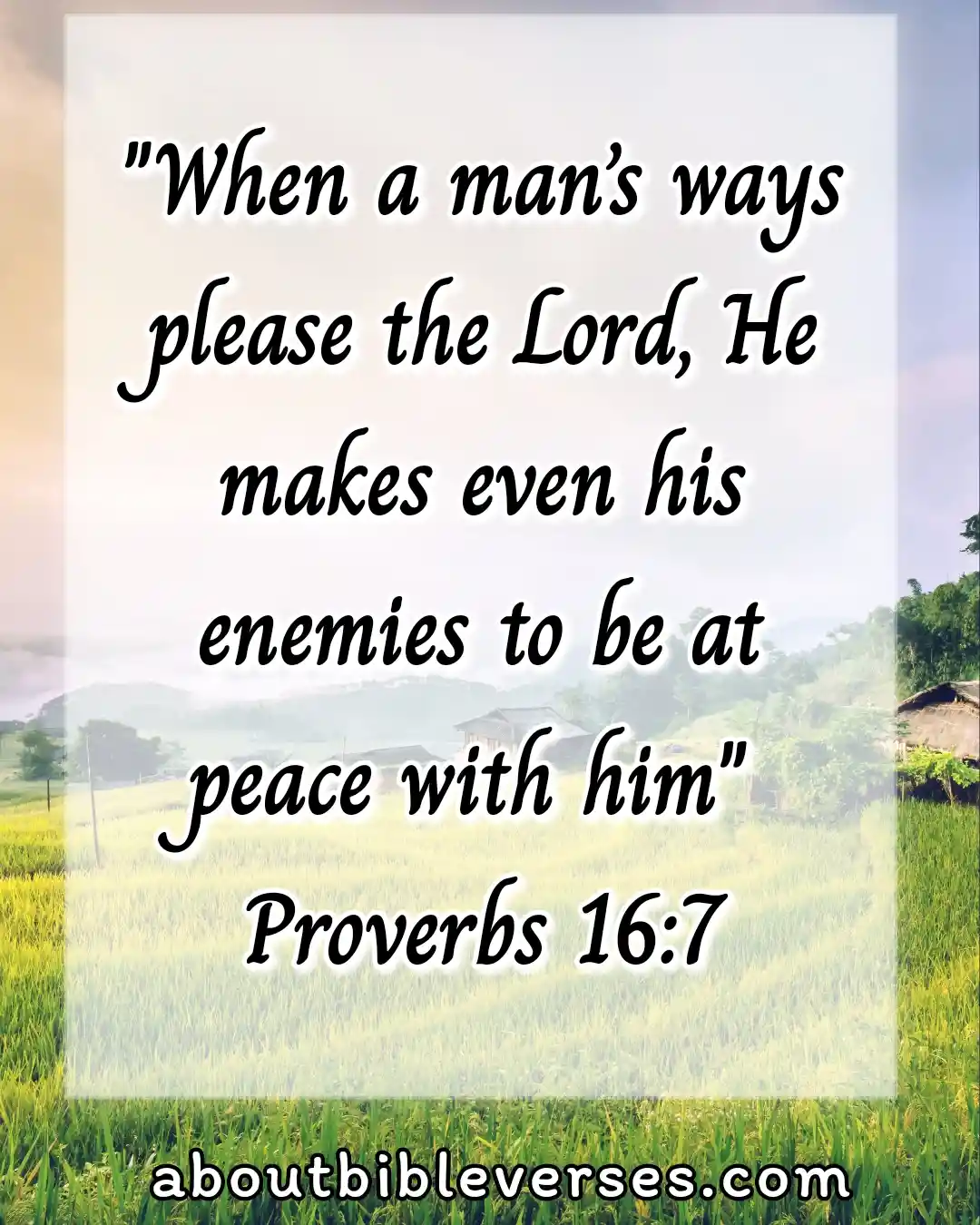 Proverbs 16:7(KJV)"When a man's ways please the Lord, he maketh even his enemies to be at peace with him"
Explanation:- The Bible says that God looks at our heart and he knows us very well. He saves us from all kinds of evil and he will make our enemies if we walk in his directions. He will fill our hearts with joy and peace. What we cannot do by our strength that God can do by his mighty hand.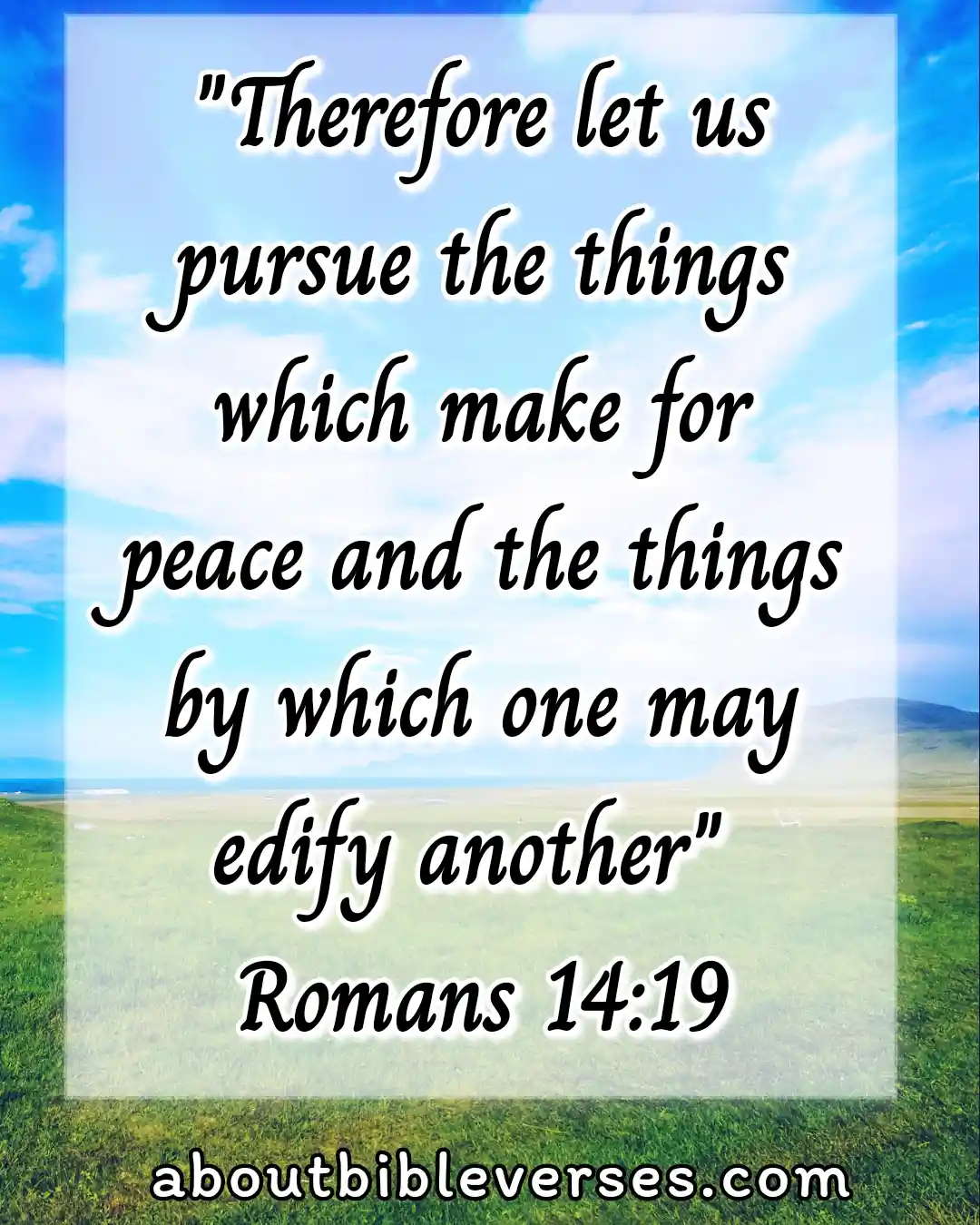 Romans 14:19(KJV)"Let us therefore follow after the things which make for peace, and things wherewith one may edify another"
Explanation:- In church the believers should walk in harmony to achieve Christ in their life. The goal that every Christian should have is eternal life. To attain that goal we all need to live peacefully on this earth. So that we can edify each other by our kind and soft behavior.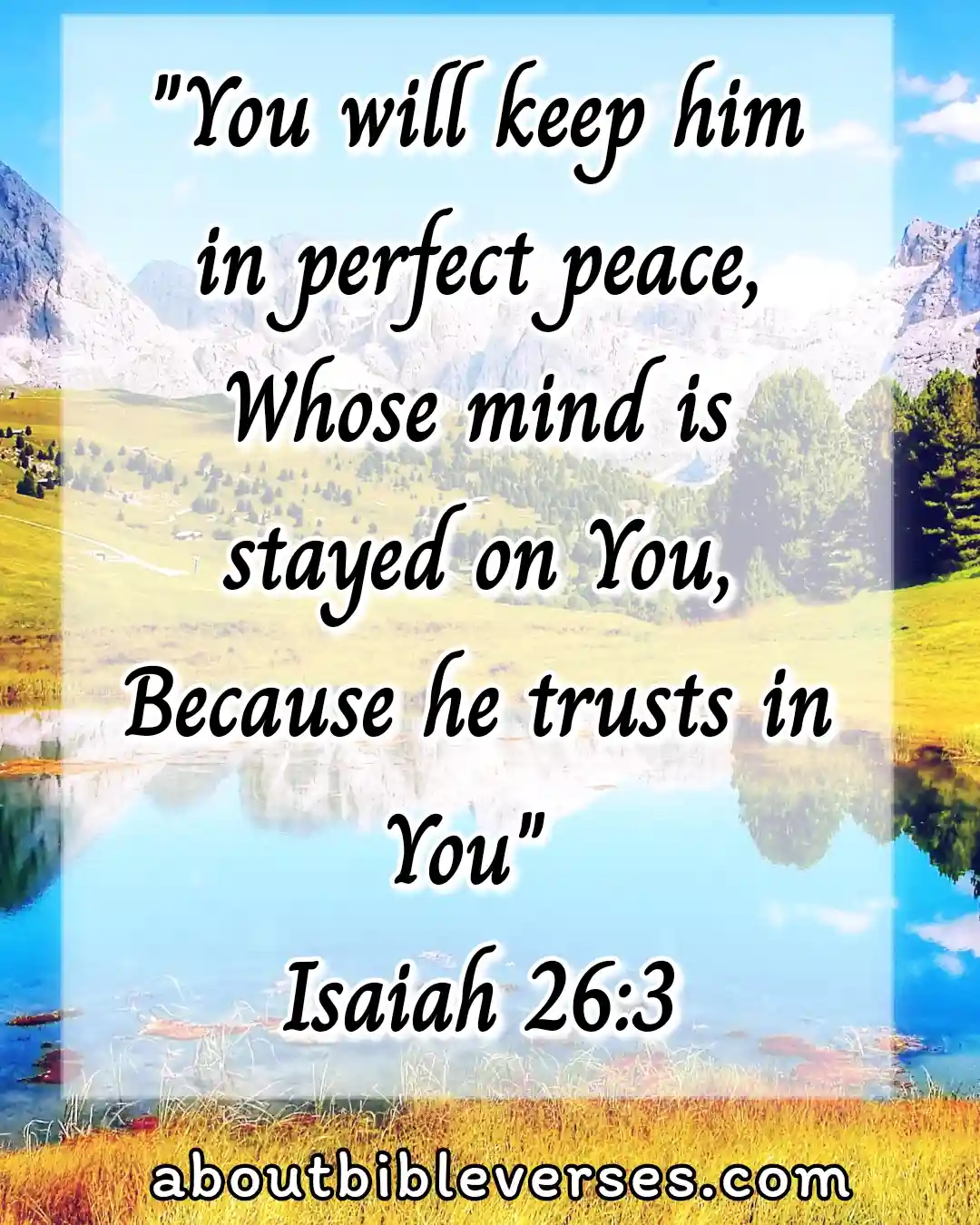 Isaiah 26:3(KJV)"Thou wilt keep him in perfect peace, whose mind is stayed on thee: because he trusteth in thee"
Explanation:- A man of God will get peace in his life as he trusted the Lord and will enjoy his life till death. This verse encourages us to put out faith in Jesus to gain peace in our life.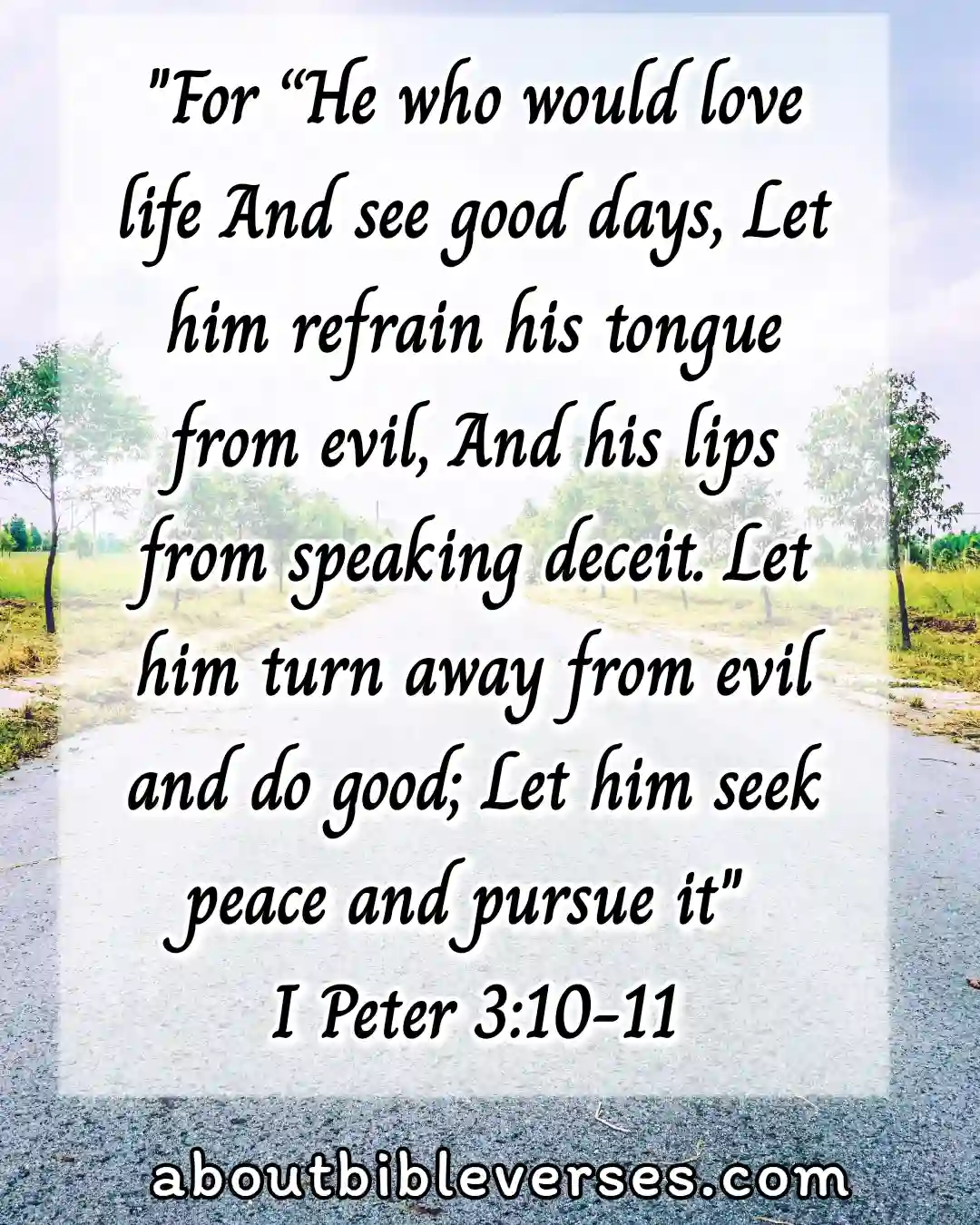 1 Peter 3:10-11(KJV)"For he that will love life, and see good days, let him refrain his tongue from evil, and his lips that they speak no guile: Let him eschew evil, and do good; let him seek peace, and ensue it"
Explanation:- A person who knows how to use his tongue will see good things in his life. He will save himself from the wrath of God. He must seek peace in his life in order to reach the final destination of his life.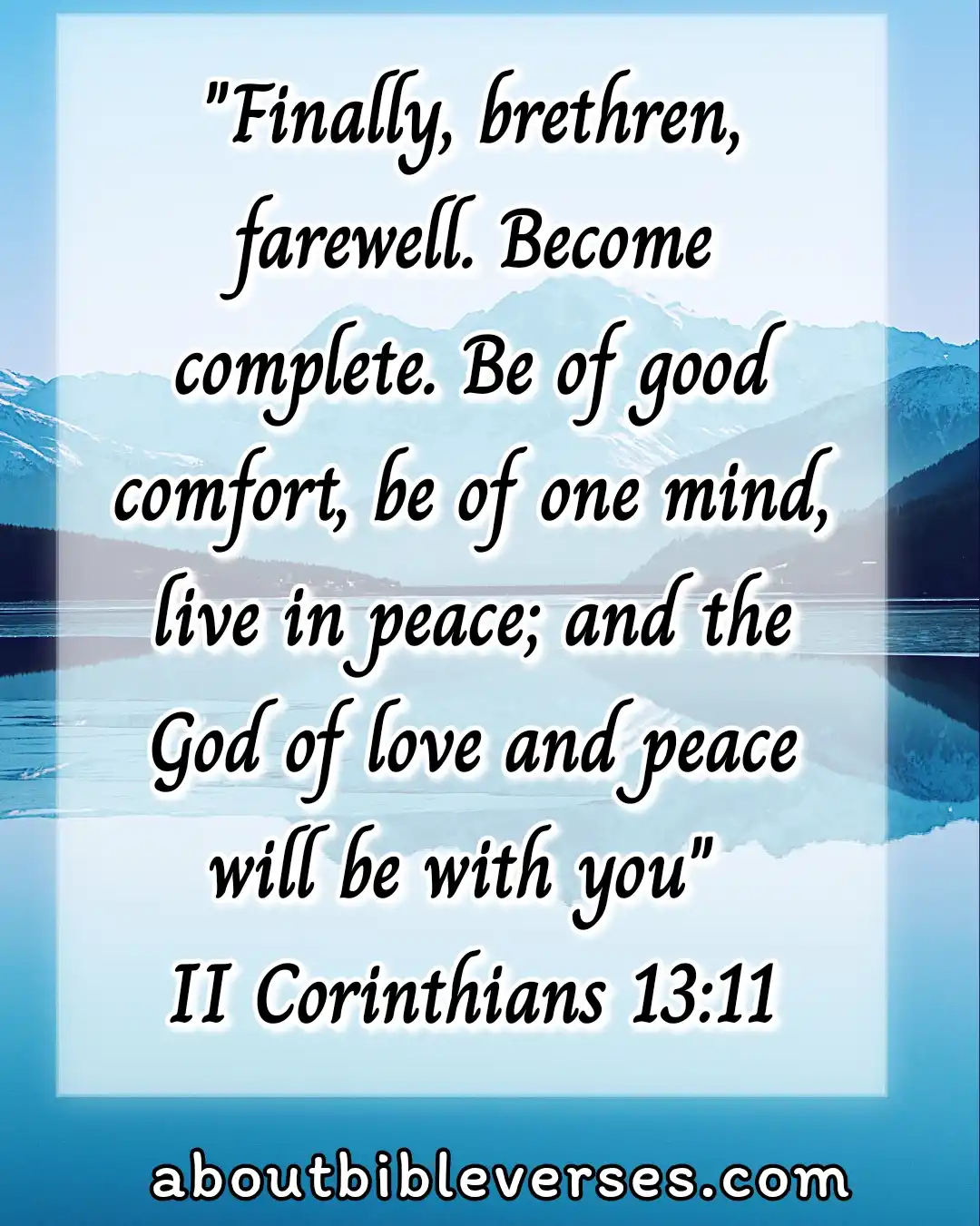 2 Corinthians 13:11(KJV)"Finally, brethren, farewell. Be perfect, be of good comfort, be of one mind, live in peace; and the God of love and peace shall be with you"
Explanation:- The Lord wants us to live a godly life under his guidance. He will provide all our needs on time if we believe him. To live here on this earth we need the peace that will give us the joy to live. There are so many people who have everything but they do not have peace in their minds.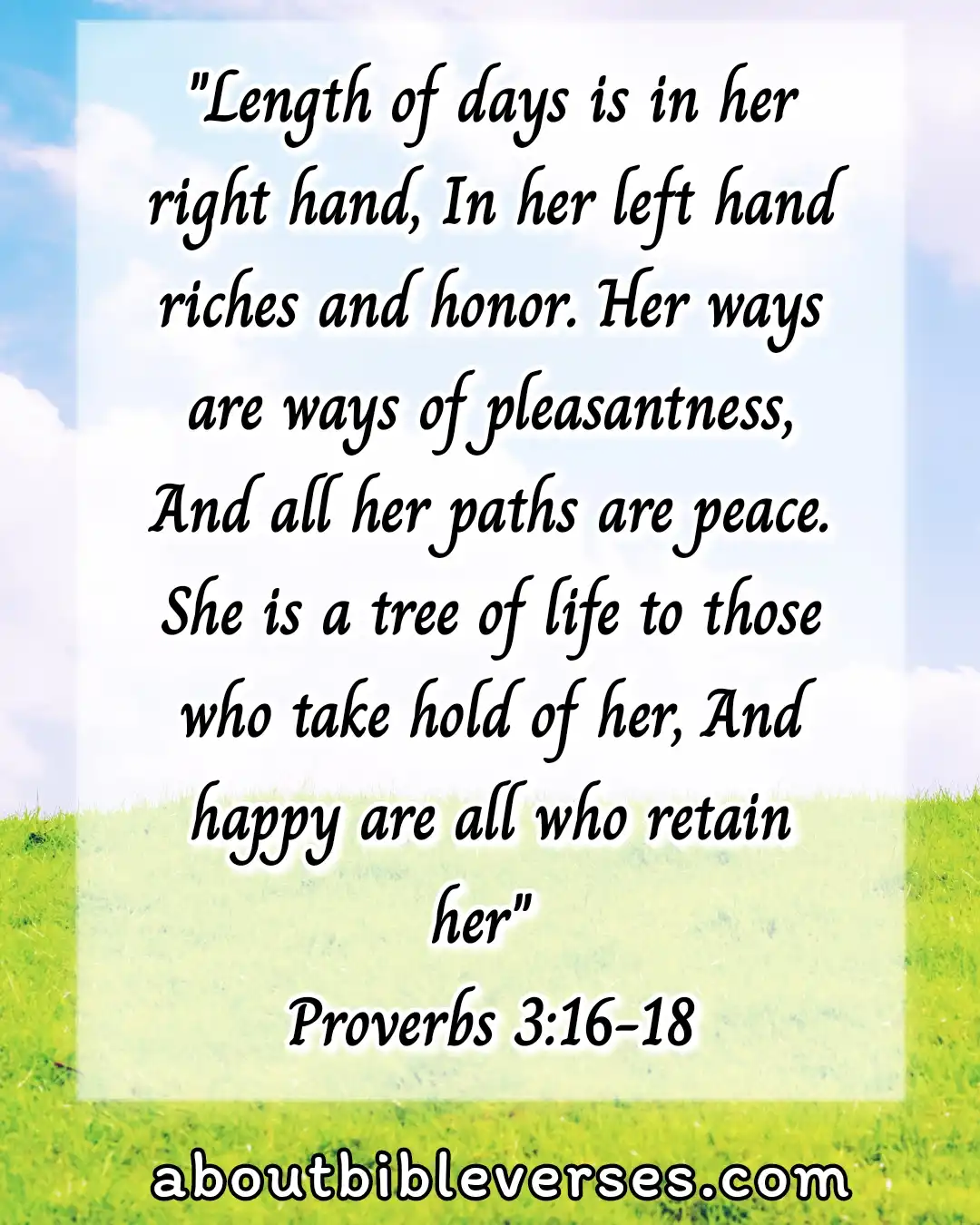 Proverbs 3:16-18(KJV)" Length of days is in her right hand; and in her left hand riches and honour. Her ways are ways of pleasantness, and all her paths are peace. She is a tree of life to them that lay hold upon her: and happy is every one that retaineth her"
Explanation:- Our life span in God's hand. We cannot extend our age by our earthly wealth. Only God can give us more days on the earth to live.
God alone can save us from all types of harmful things. The Lord wants us to depend on his ways and if we do so we will live peacefully on this earth.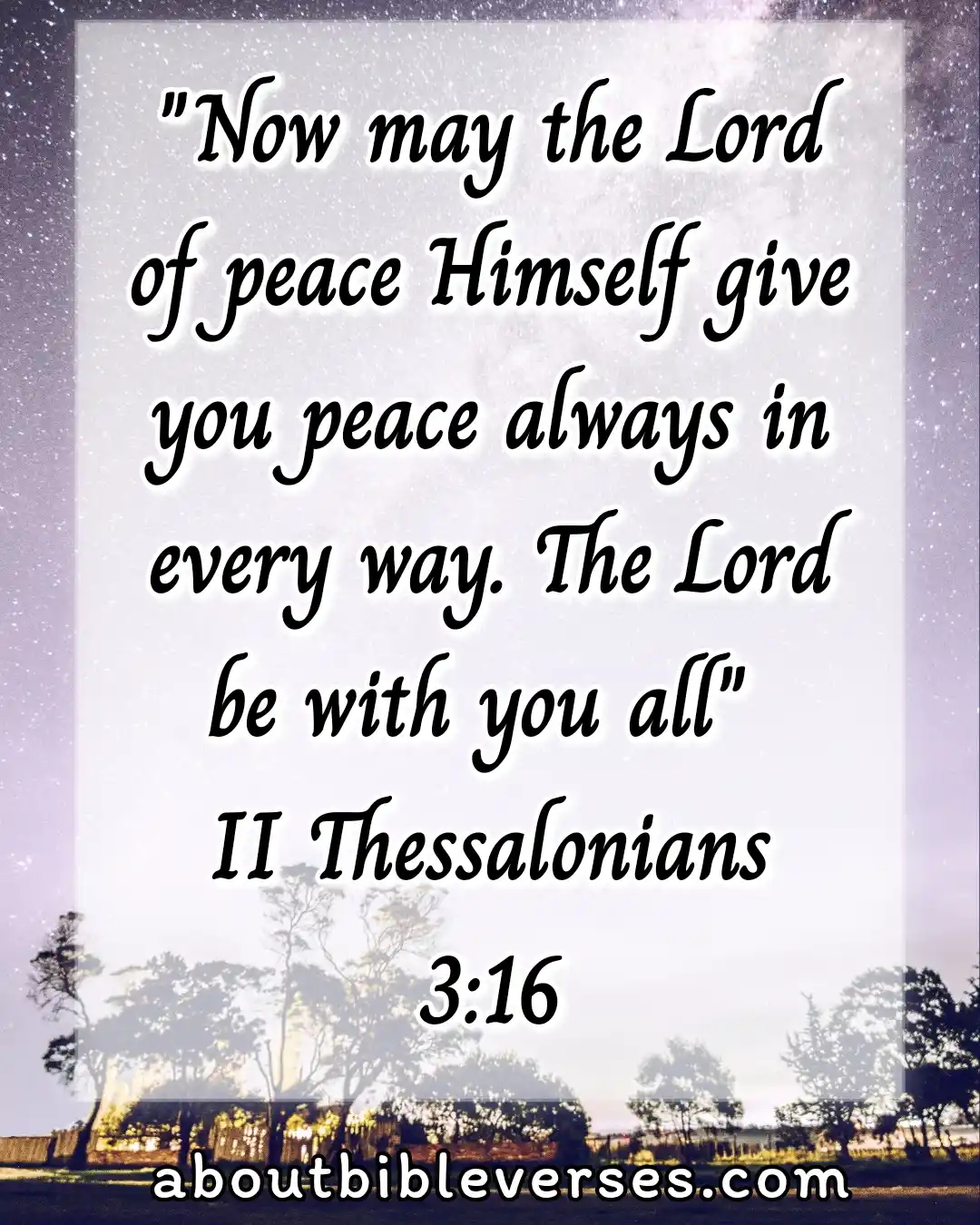 2 Thessalonians 3:16(KJV)"Now the Lord of peace himself give you peace always by all means. The Lord be with you all"
Explanation:- The Lord gives peace to his followers and if we run after it, definitely we will get it at the right time.
God always listens to our prayers and he wants us to have a fellowship with him throughout our life.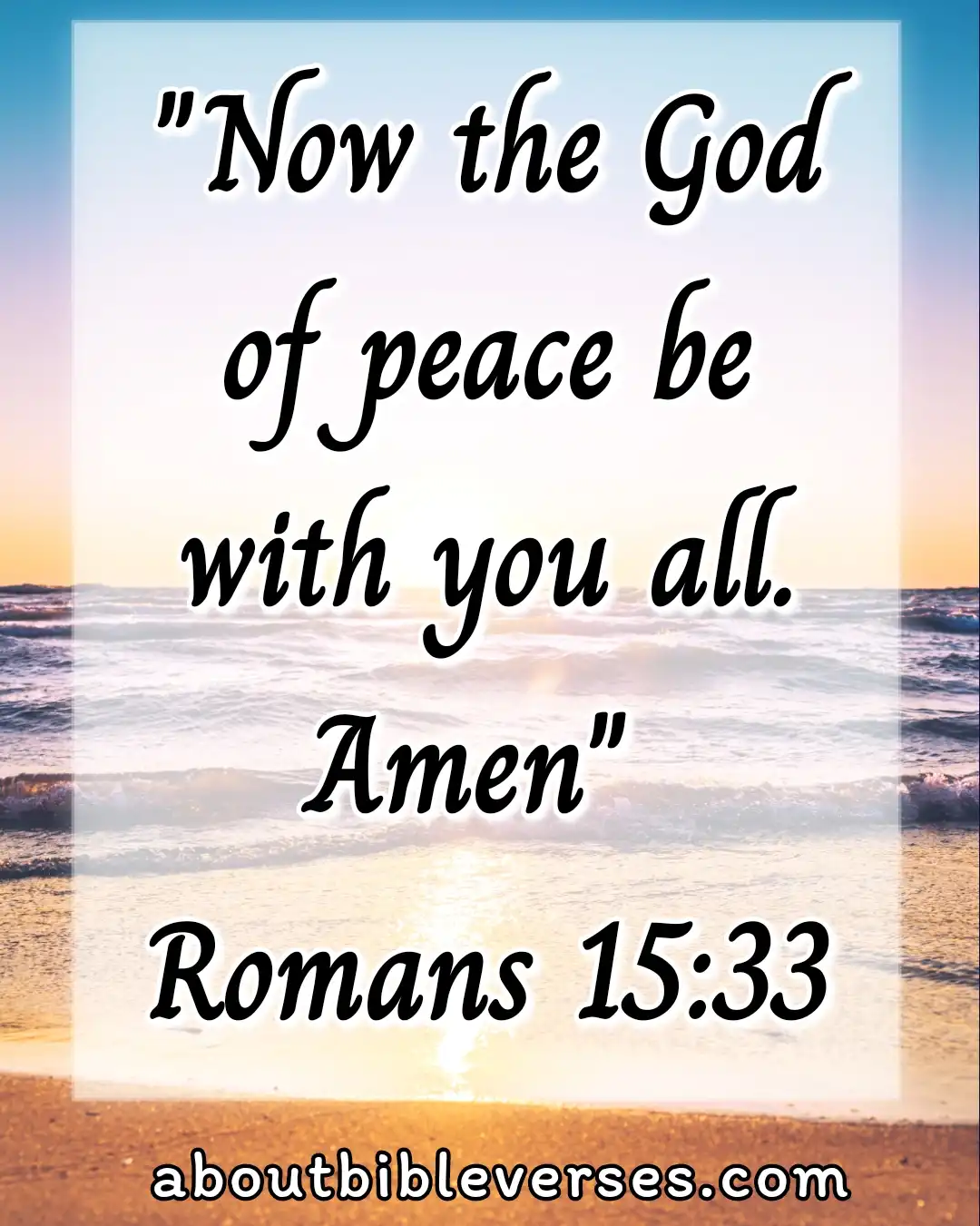 Romans 15:33(KJV)"Now the God of peace be with you all. Amen"
Explanation:- The Lord says that we are the children of the light who came to save us from eternal death. We have hope for our life even when we die.
We will live with the Lord in heaven where nothing will disturb us anymore. To enter that land we must need peace in our mind so that we can worship the Lord faithfully.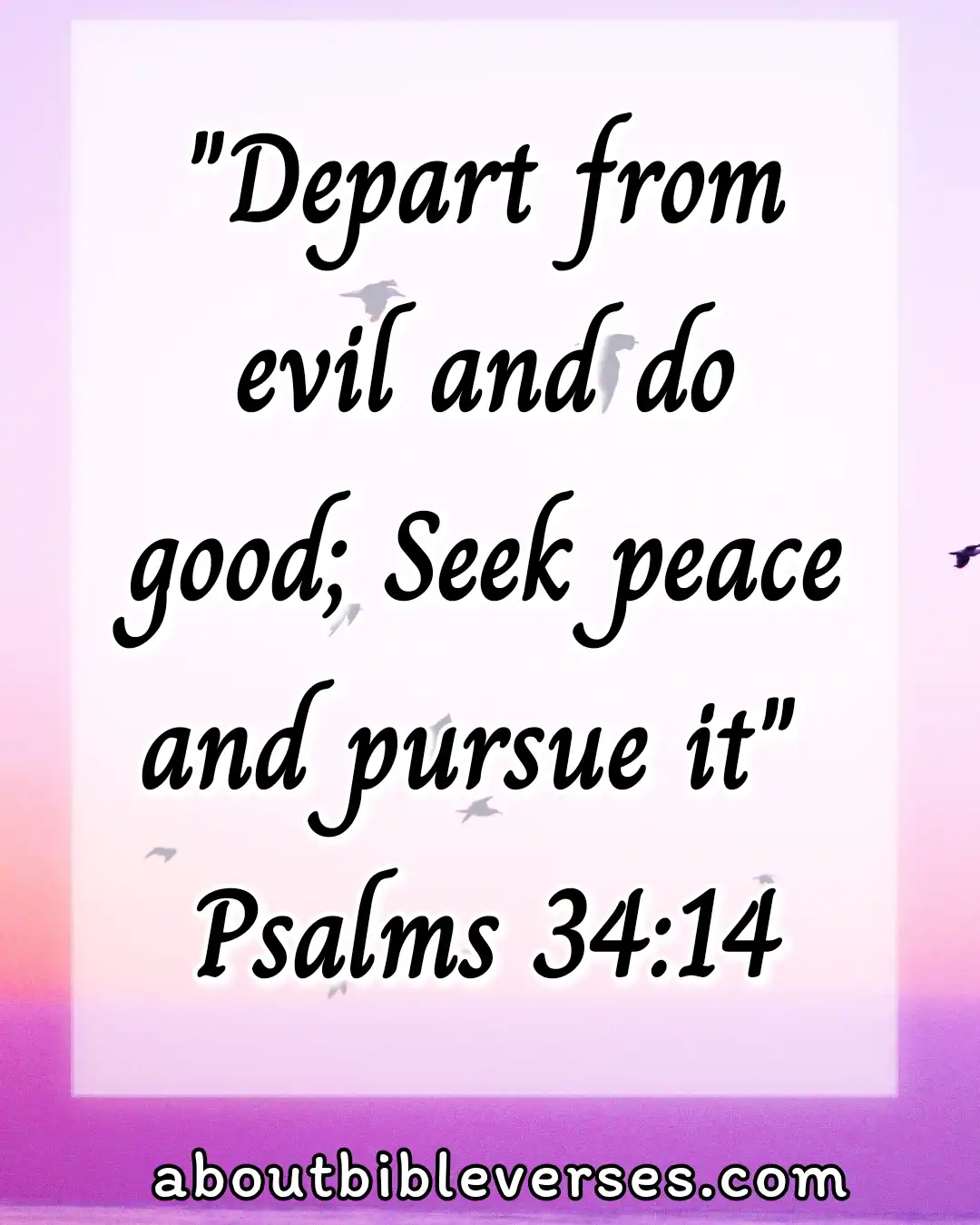 Psalm 34:14(KJV)"Depart from evil, and do good; seek peace, and pursue it"
Explanation:- The people of God must seek peace from the Lord and they should also live peacefully with their surrounding neighbors.
The Lord is holy so he demands holiness from his children. That is why he commanded his people to be free from all evil.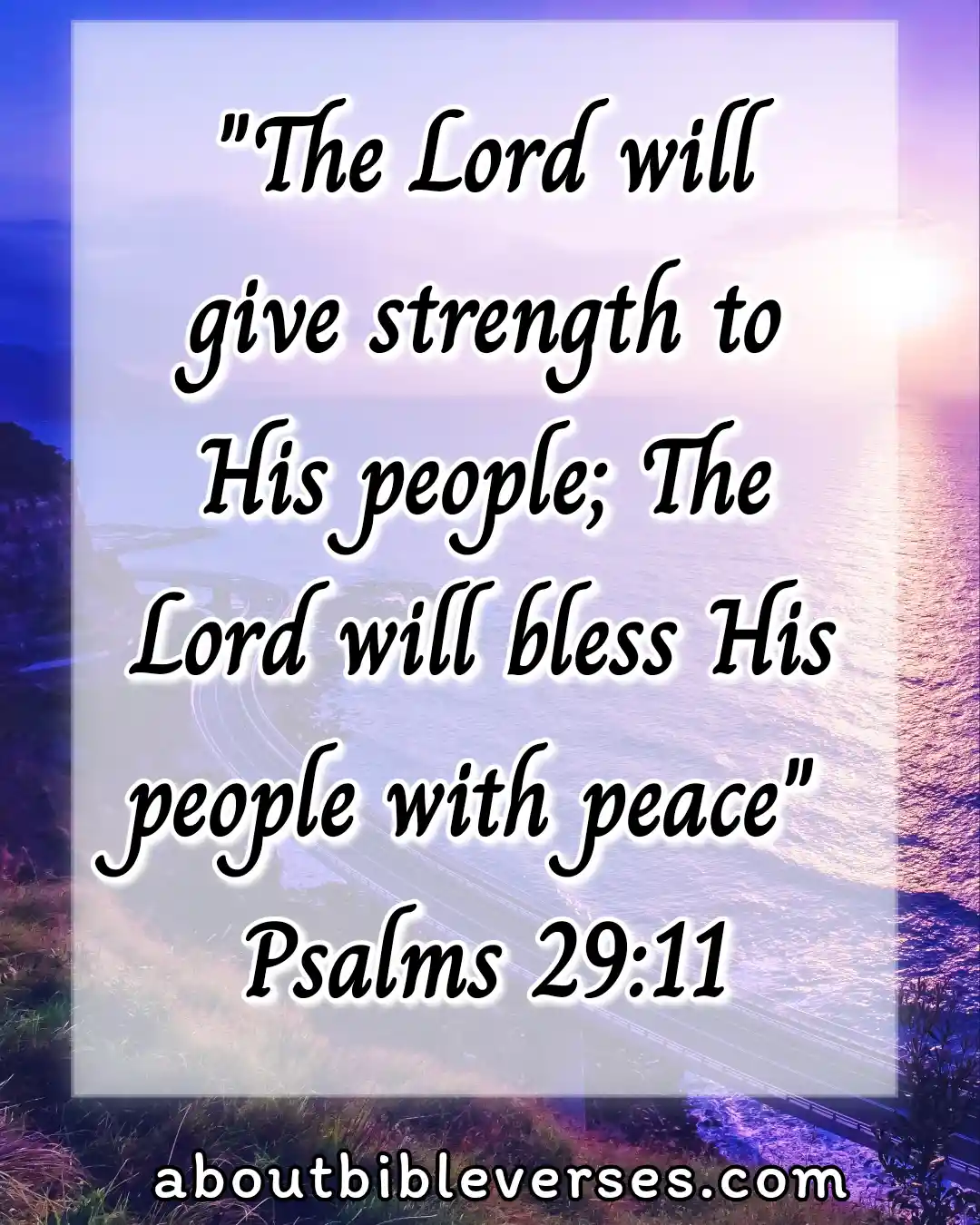 Psalm 29:11(KJV)"The Lord will give strength unto his people; the Lord will bless his people with peace"
Explanation:- The Lord is the source of everything. He gives the essential things to his people at the right time.
He gives strength to the weak and blesses those who seek his face in their life. Believers who come before the Lord with a gentle heart get the hope of their life and peace in their hearts.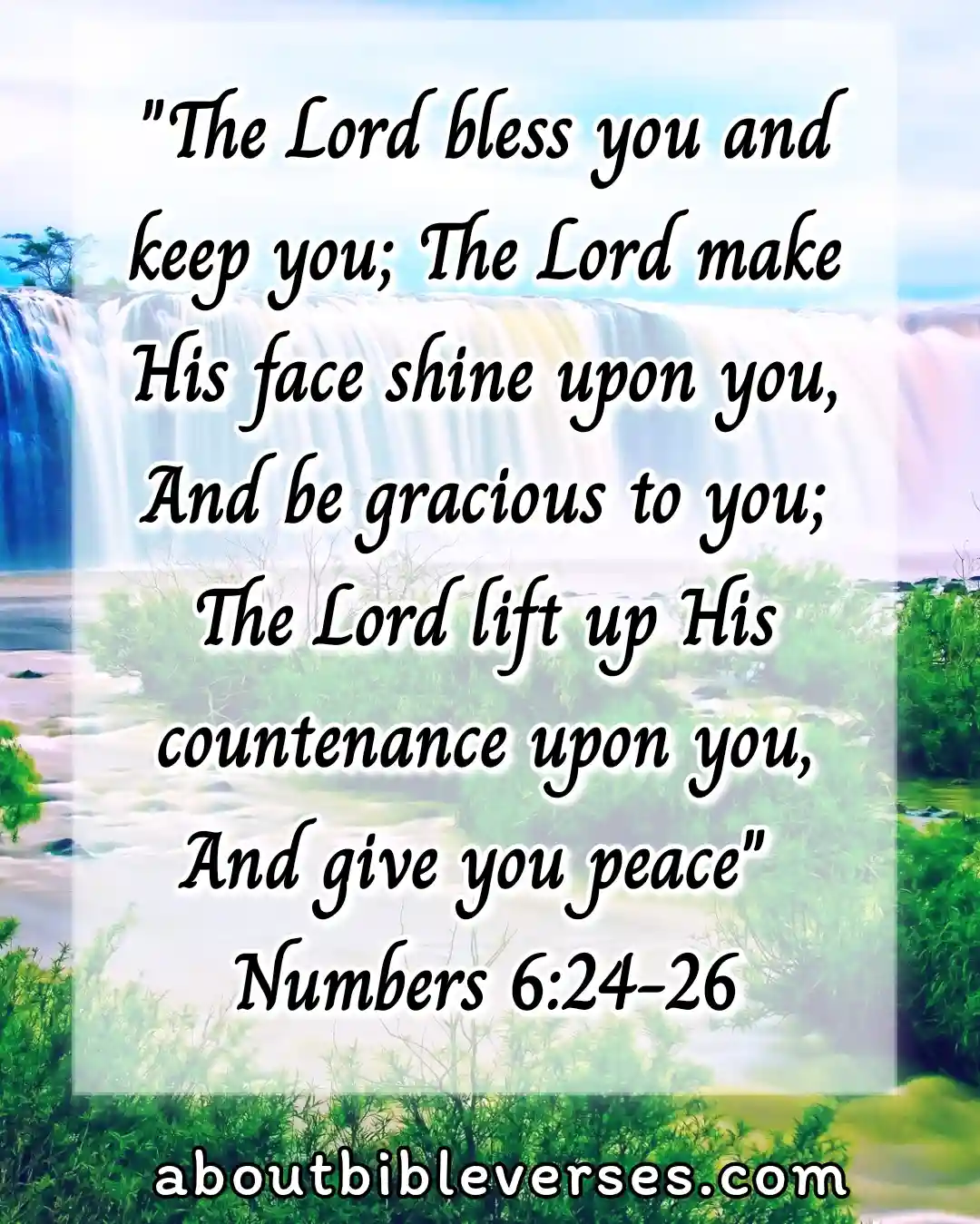 Numbers 6:24-26(KJV)"The Lord bless thee, and keep thee:The Lord make his face shine upon thee, and be gracious unto thee: The Lord lift up his countenance upon thee, and give thee peace"
Explanation:- The Lord has shown his tremendous love upon the children of Israel. So, he made them special in the sight of the other Nations.
The Lord says that if they always obey his words and keep his commandments then they will live in their land peacefully forever.
More Bible Verses About peace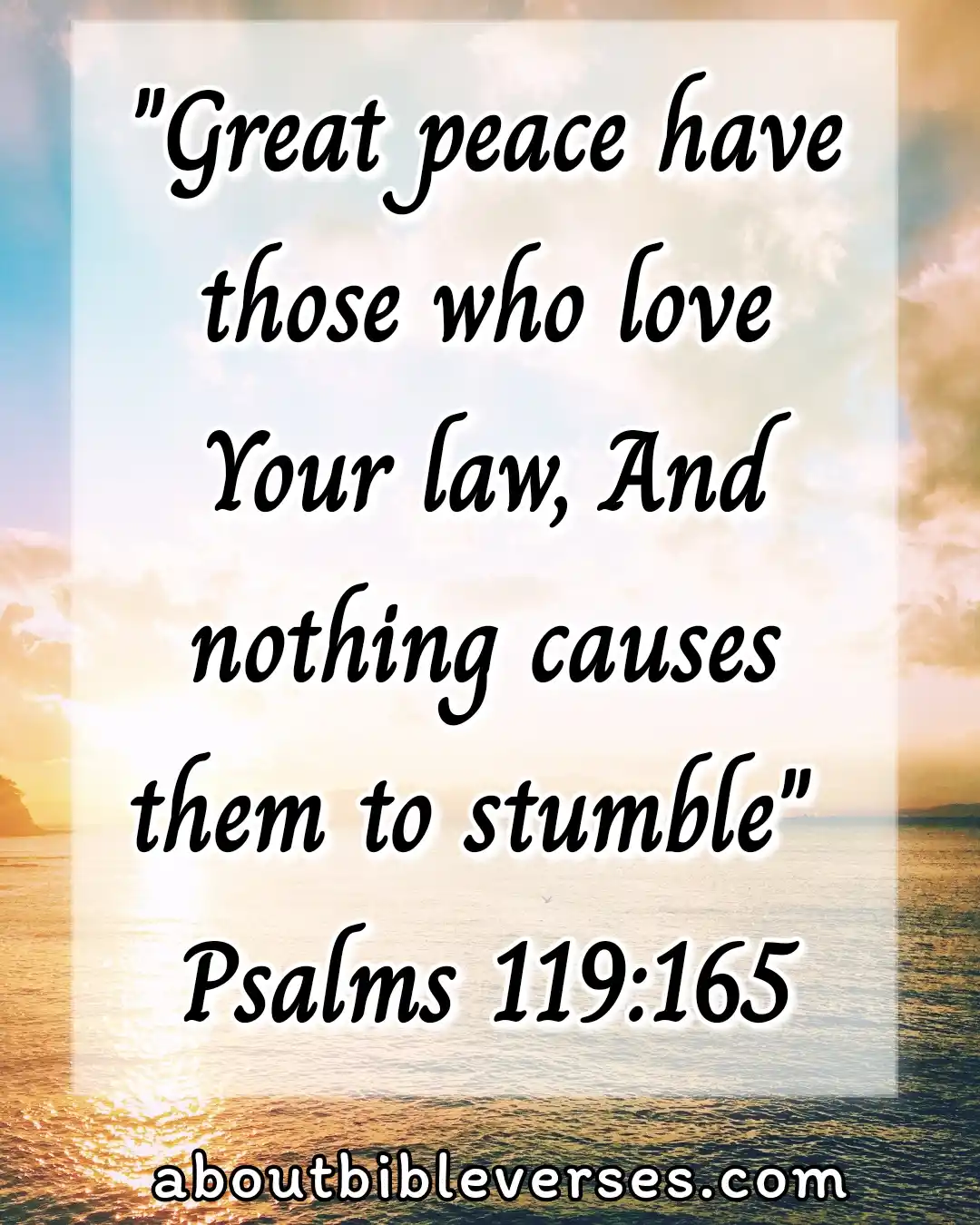 Psalm 119:165(KJV)"Great peace have they which love thy law: and nothing shall offend them"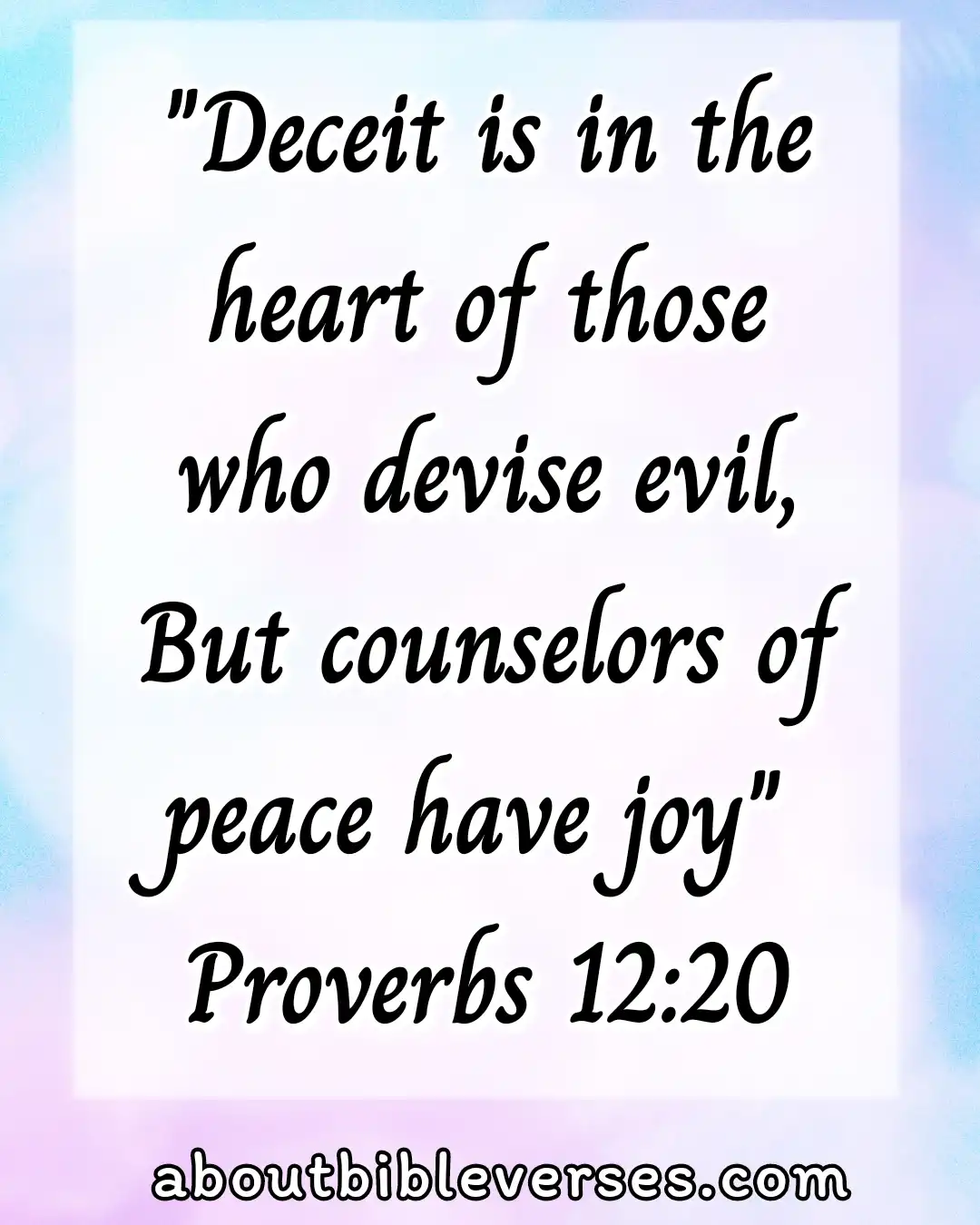 Proverbs 12:20(KJV)"Deceit is in the heart of them that imagine evil: but to the counsellors of peace is joy"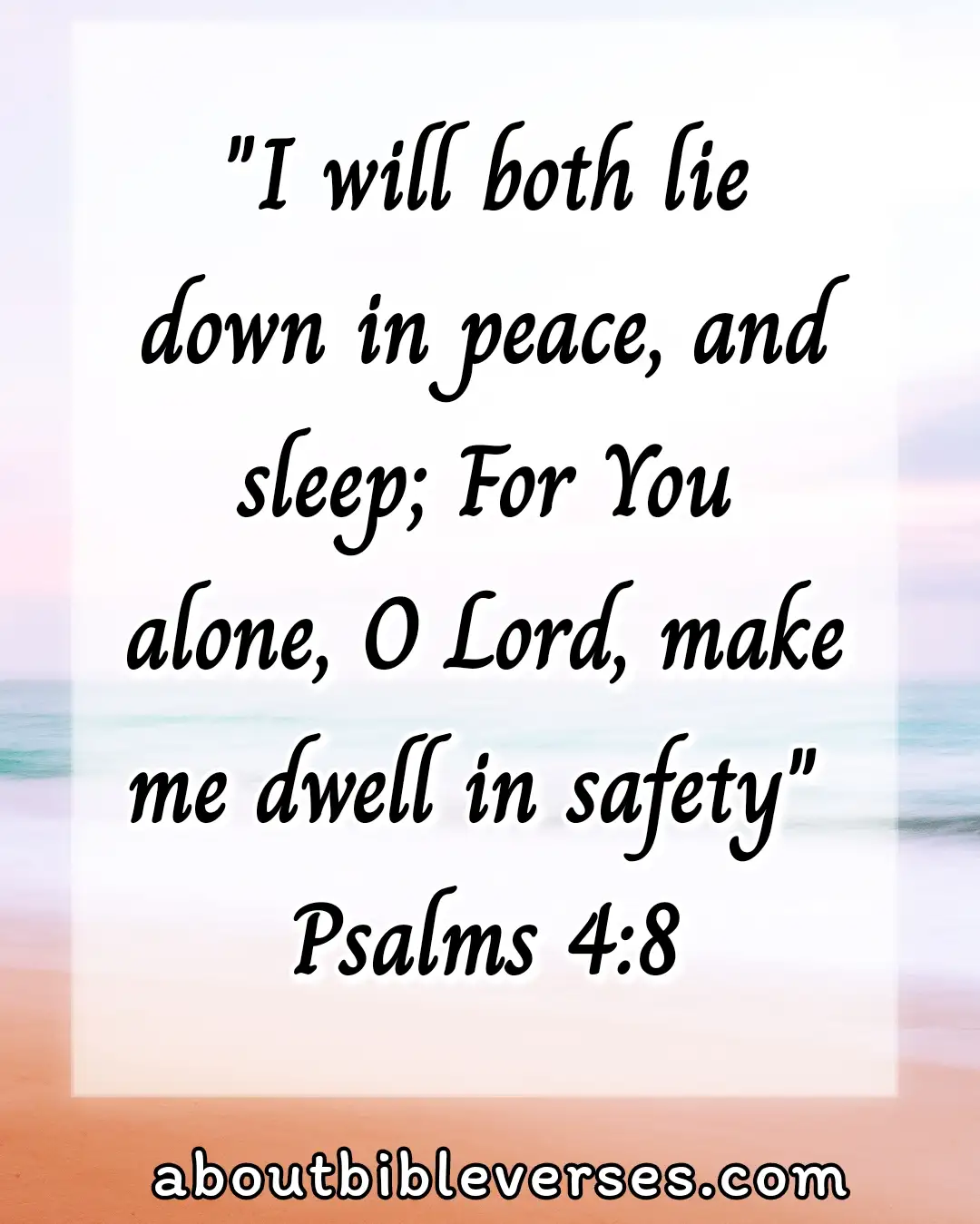 Psalm 4:8(KJV)"I will both lay me down in peace, and sleep: for thou, Lord, only makest me dwell in safety"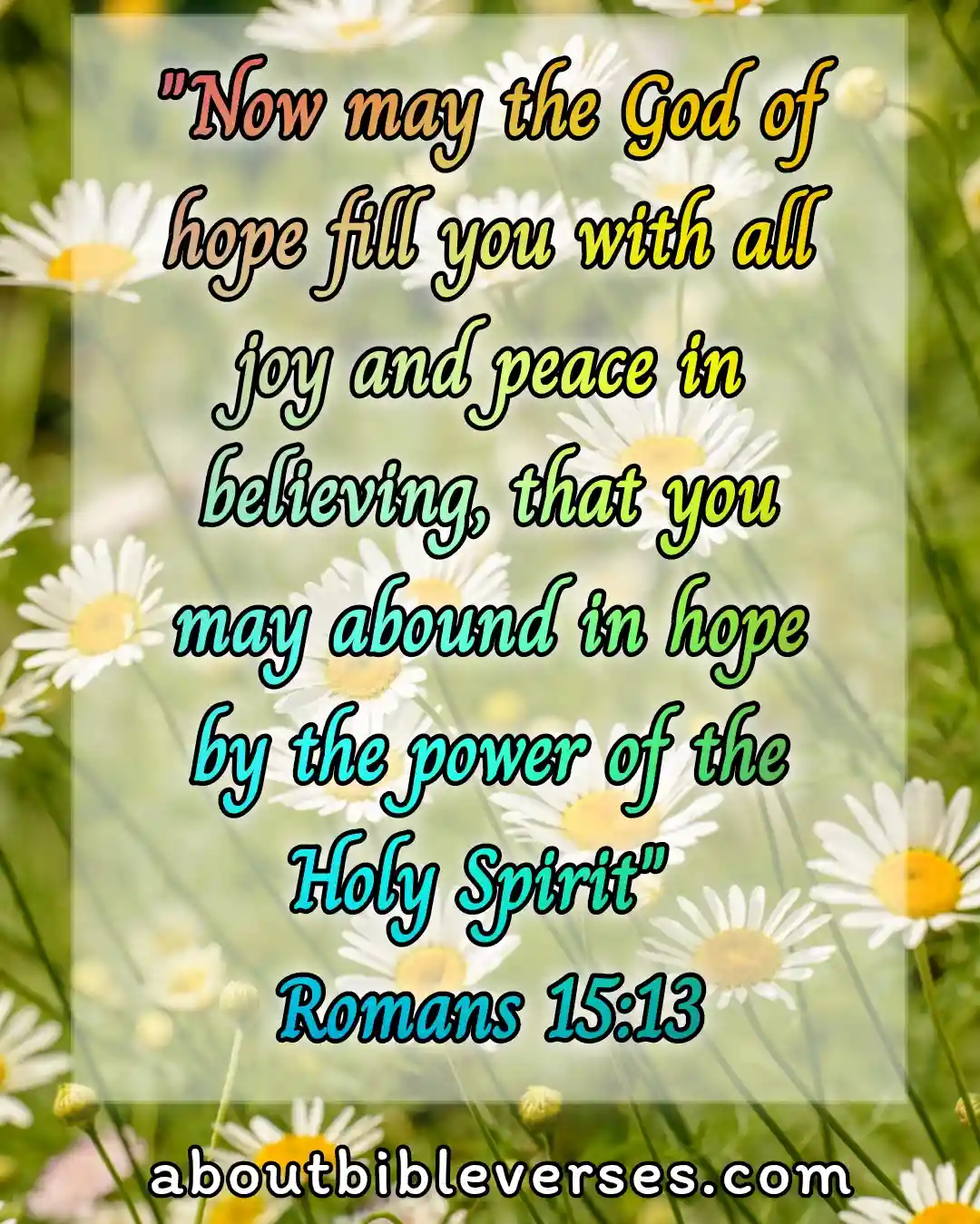 Romans 15:13(KJV)"Now the God of hope fill you with all joy and peace in believing, that ye may abound in hope, through the power of the Holy Ghost"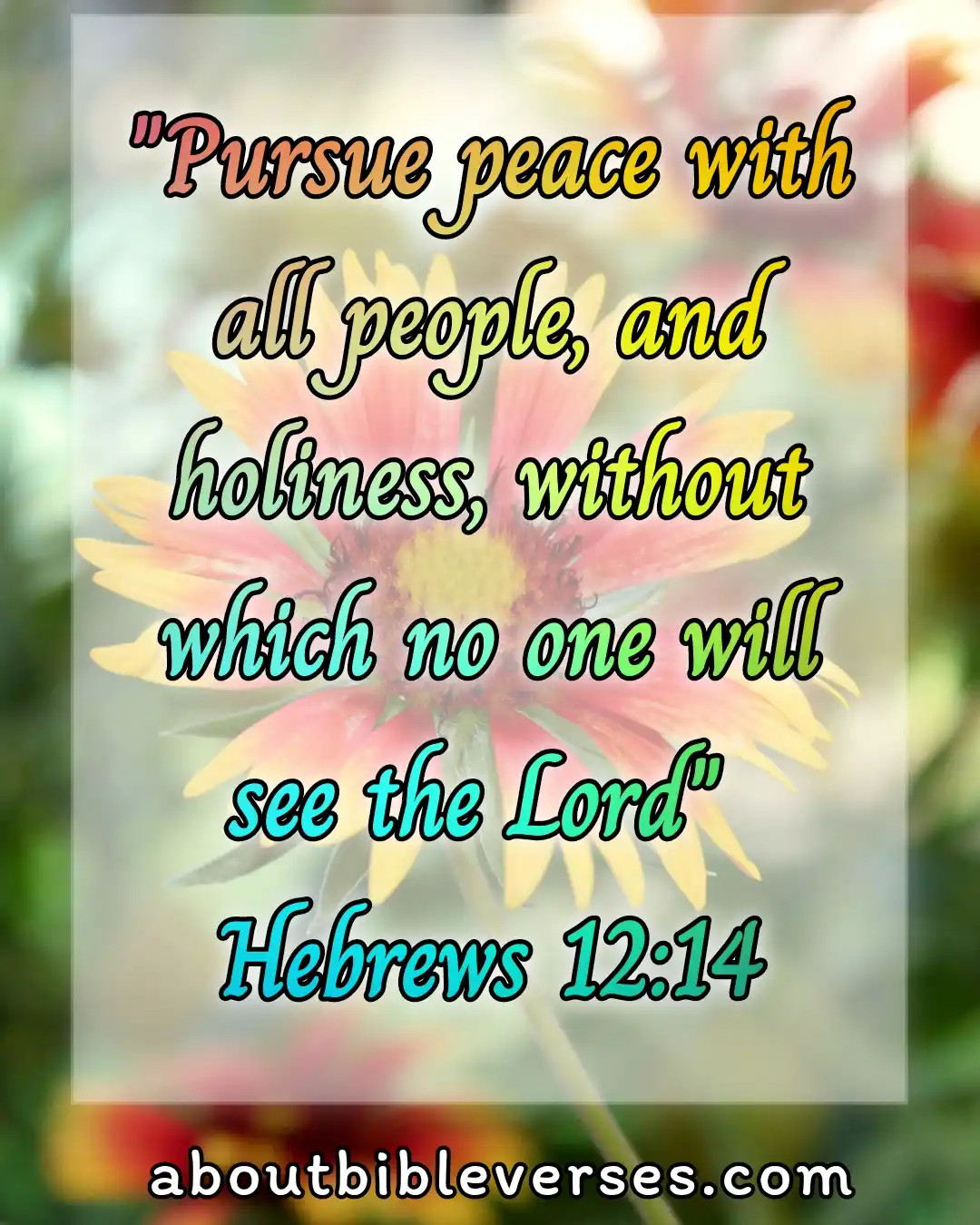 Hebrews 12:14(KJV)"Follow peace with all men, and holiness, without which no man shall see the Lord"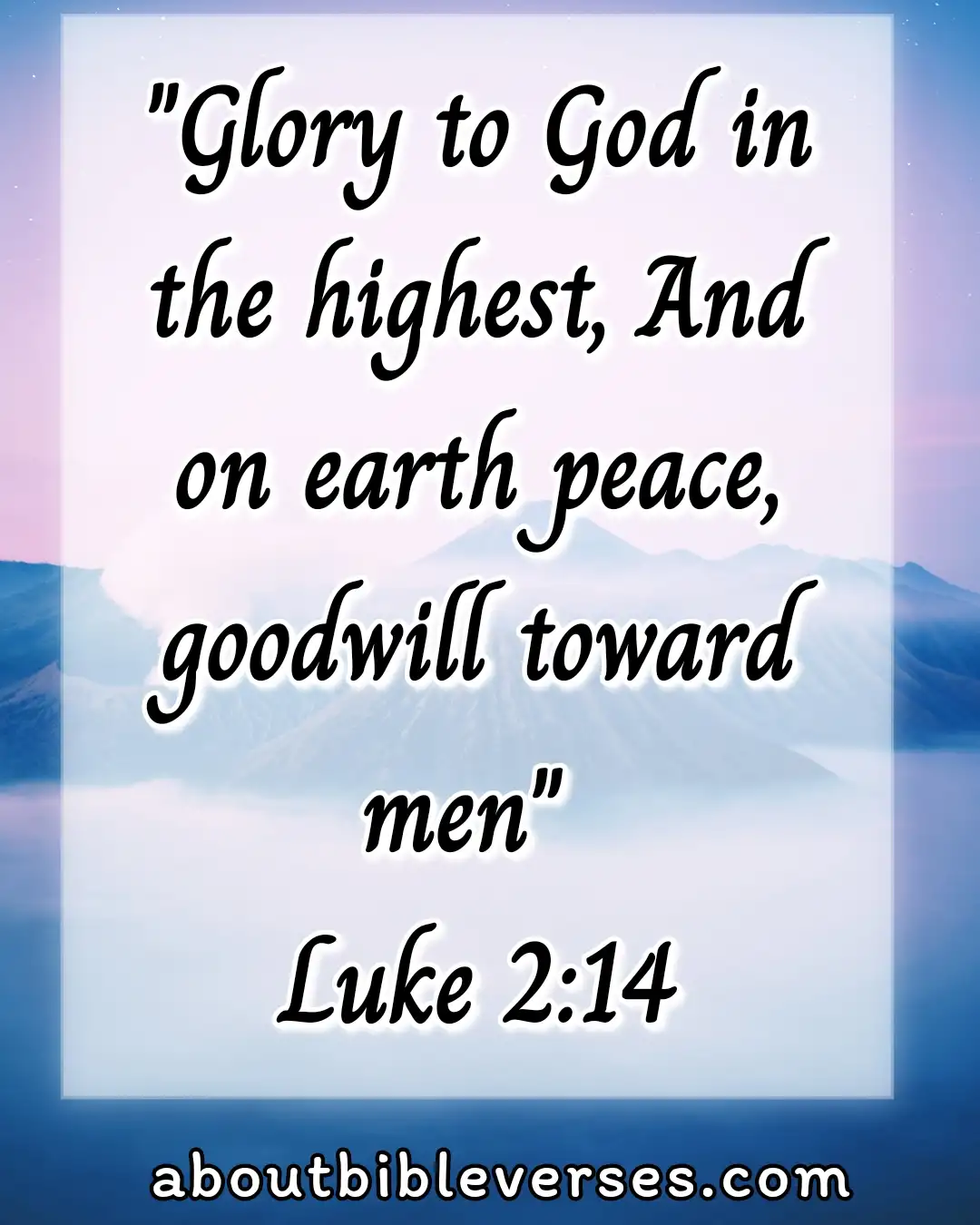 Luke 2:14(KJV)"Glory to God in the highest, and on earth peace, good will toward men"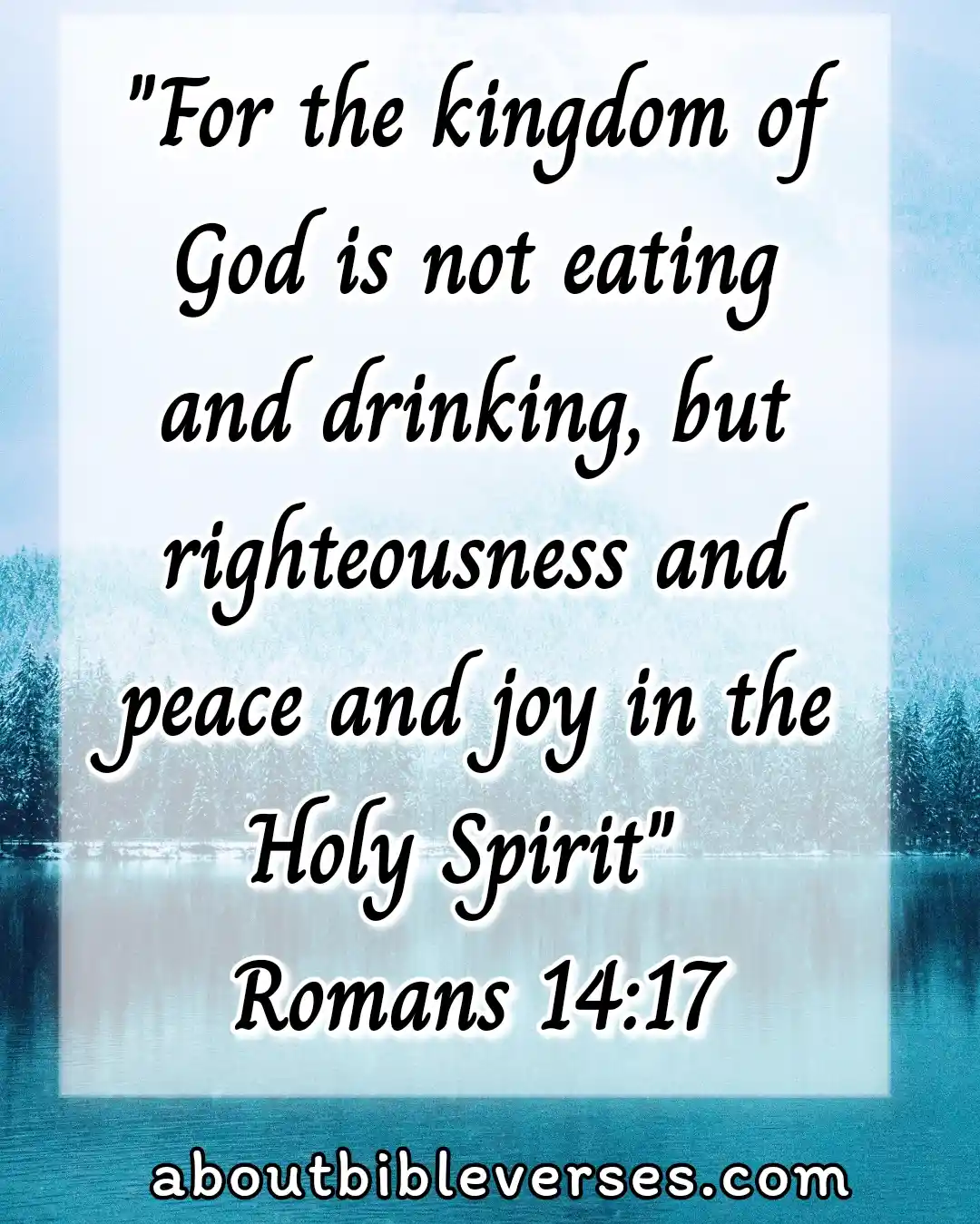 Romans 14:17(KJV)"For the kingdom of God is not meat and drink; but righteousness, and peace, and joy in the Holy Ghost"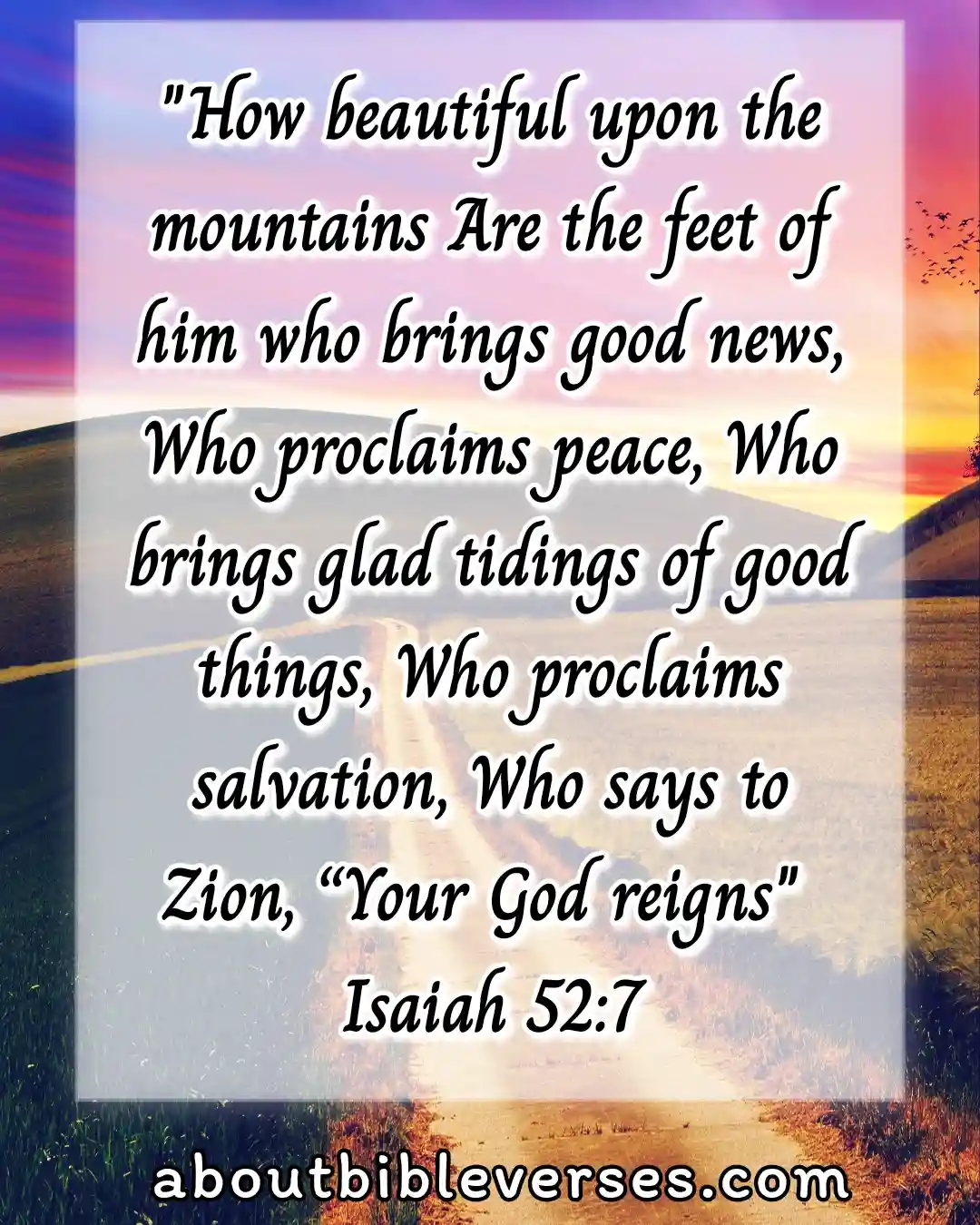 Isaiah 52:7(KJV)"How beautiful upon the mountains are the feet of him that bringeth good tidings, that publisheth peace; that bringeth good tidings of good, that published salvation; that saith unto Zion, Thy God reigneth"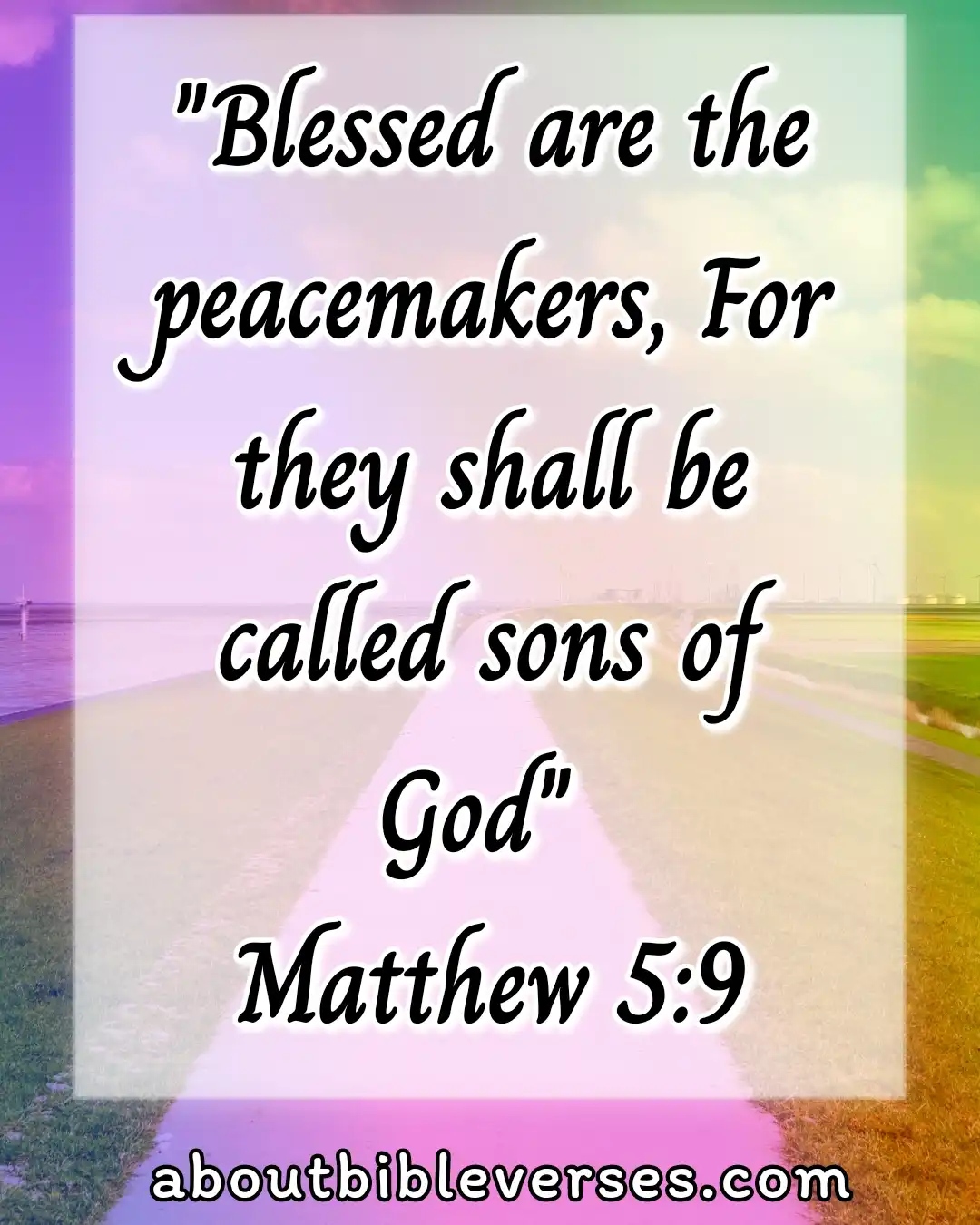 Matthew 5:9(KJV)"Blessed are the peacemakers: for they shall be called the children of God"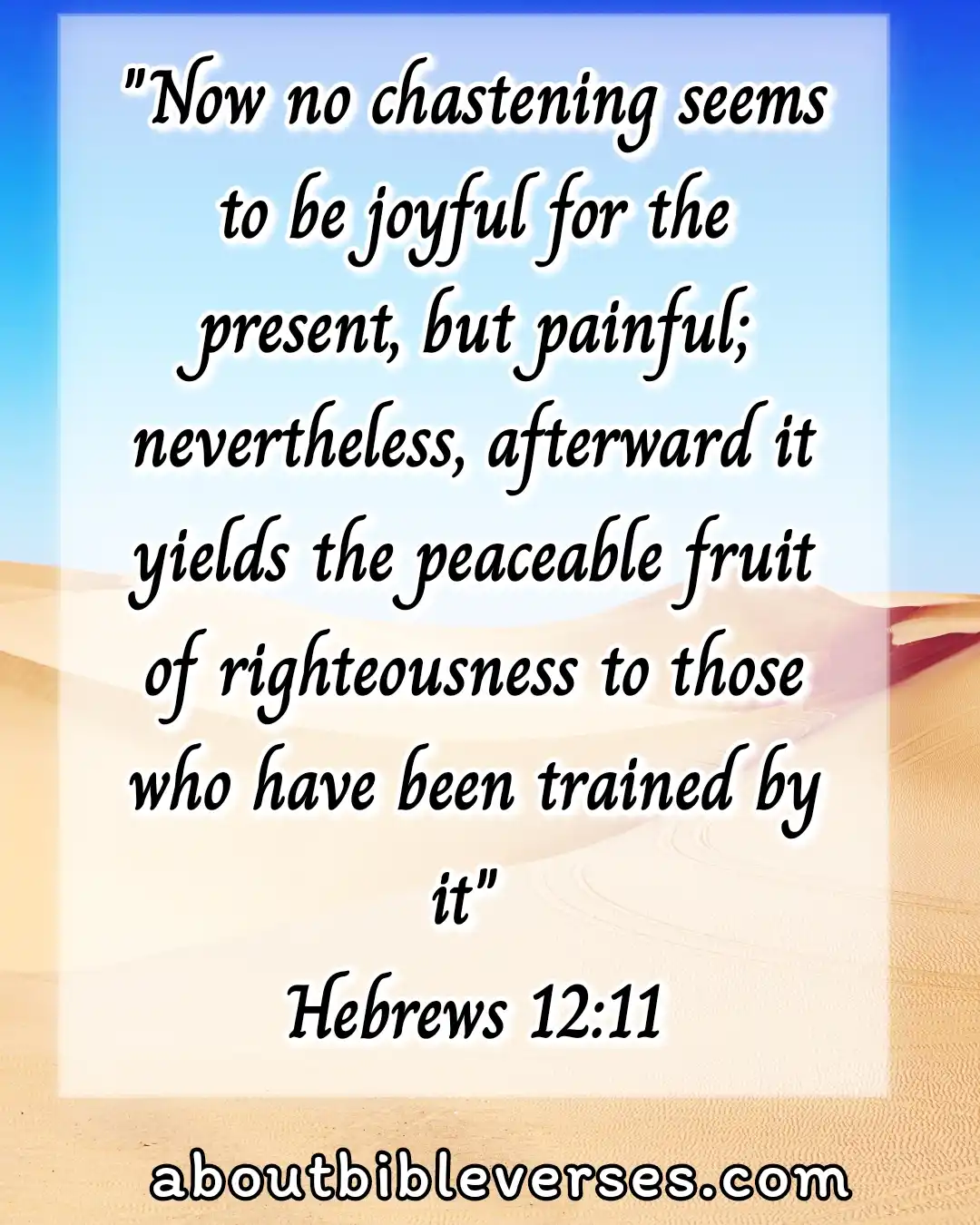 Hebrews 12:11(KJV)"Now no chastening for the present seemeth to be joyous, but grievous: nevertheless afterward it yieldeth the peaceable fruit of righteousness unto them which are exercised thereby"