When we read the creation story we find that the Lord created us by his own image and because of the Great Love he had created this wonderful universe for the human race.
He created Adam and Eve to fulfill the earth but they transgressed God and allowed sin to enter into the world. From that time people became corrupted and started misbehaving and betraying others.
When the entire human race was dead in Sin, Jesus came to deliver them from God's anger. Again man betrayed him and sold him on the soldiers for thirty shekels. 
The Bible says that our sinful nature dominates us and it forces us to do evil. We must be aware of our actions so that we may not betray God.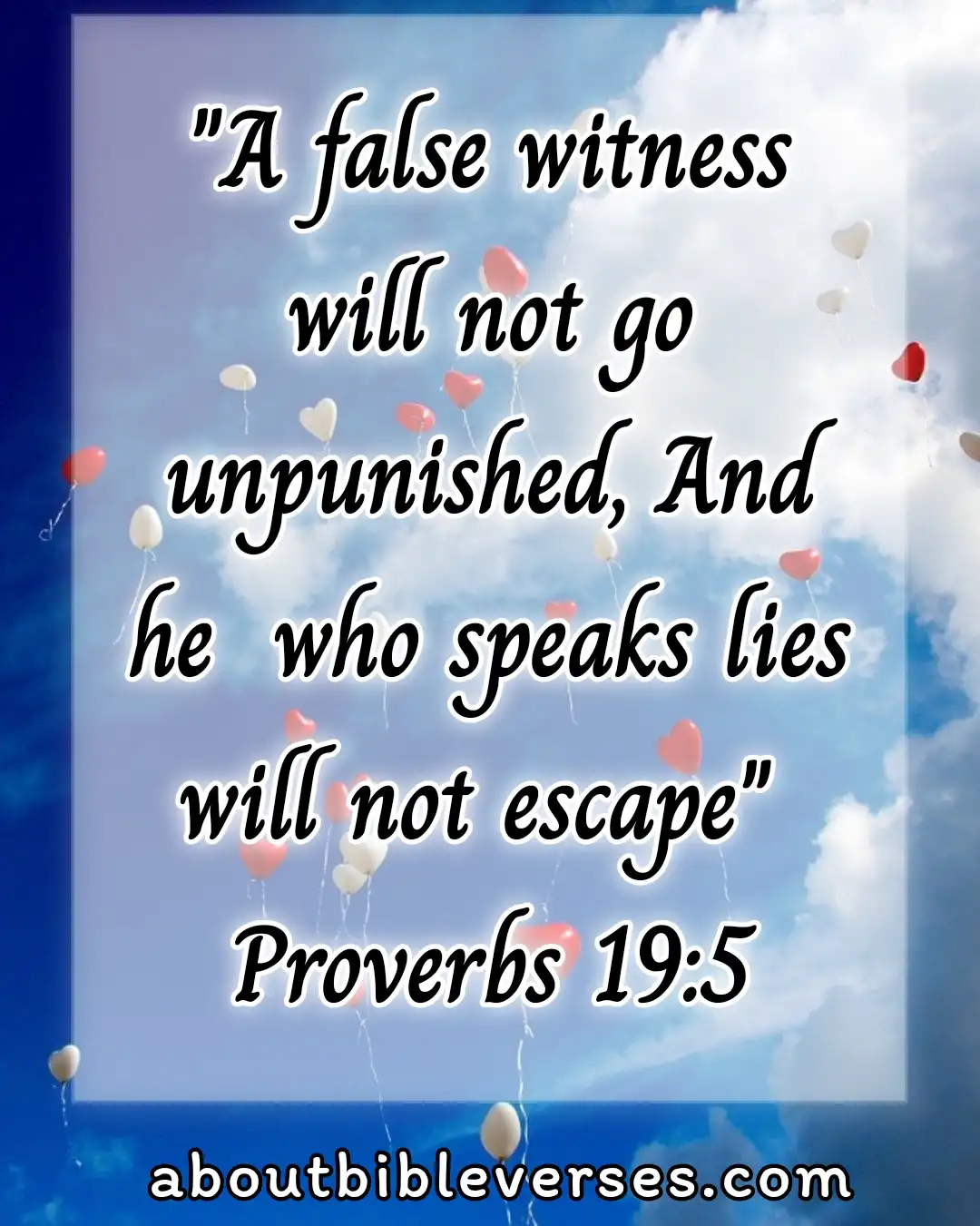 Proverbs 19:5(KJV)"A false witness shall not be unpunished, and he that speaketh lies shall not escape"
Explanation:- We should not give any false witness to our neighbors. Apart from this, we should avoid speaking lies to others. The Lord will bring us into the judgment and he will judge us according to the works that we have done on this earth.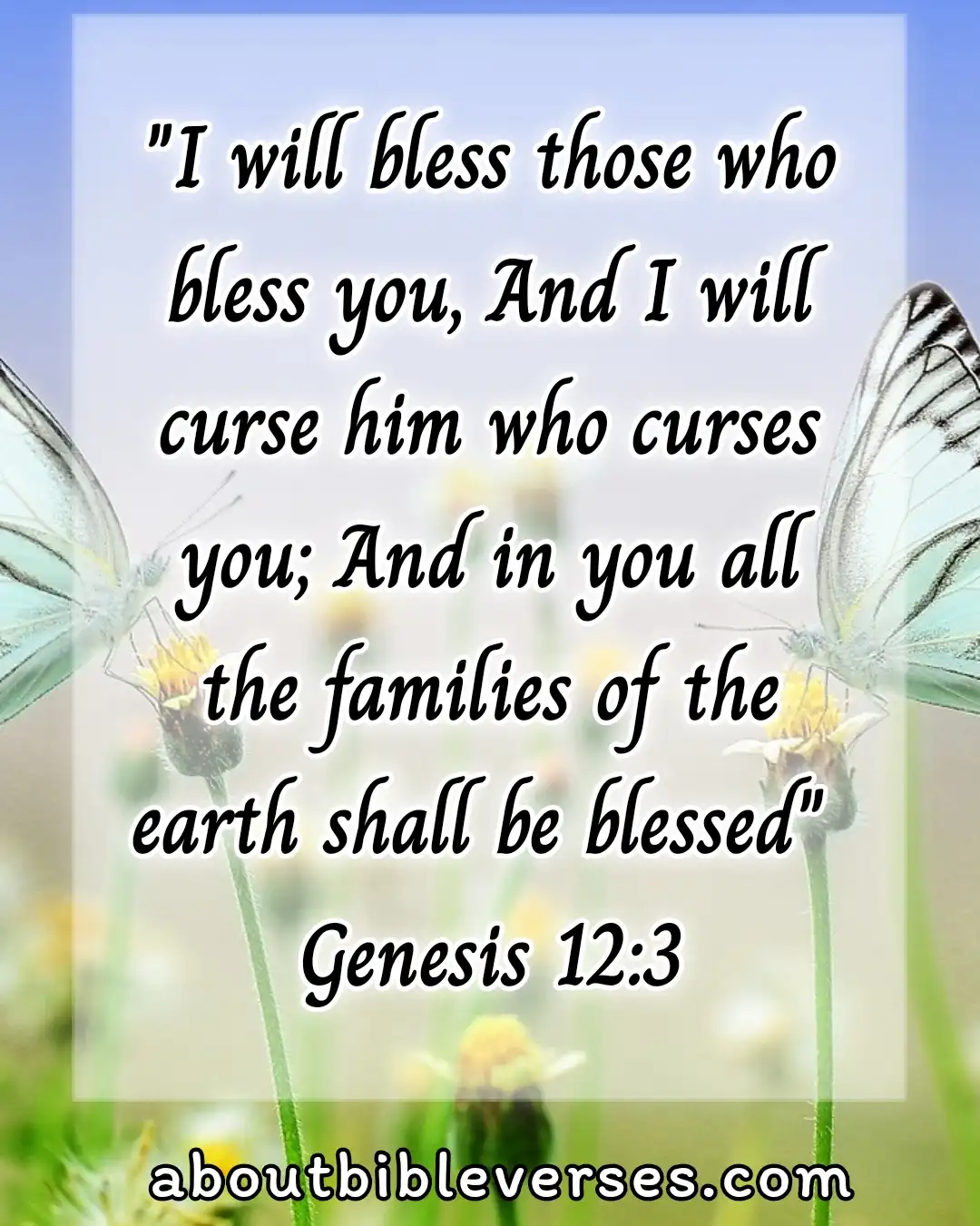 Genesis 12:3(KJV)"And I will bless them that bless thee, and curse him that curseth thee: and in thee shall all families of the earth be blessed"
Explanation:- When the Lord called Abraham he promised him that whosoever will bless him will receive blessings and that anyone who curses him will be cursed from the Lord. God told him that he will be the father of many nations. Every family on this earth will be blessed by him.
Psalm 41:9(KJV)"Yea, mine own familiar friend, in whom I trusted, which did eat of my bread, hath lifted up his heel against me"
Explanation:- King David has experienced many trials he had gone through in his days. Even his friend ate his bread and thus he betrayed him.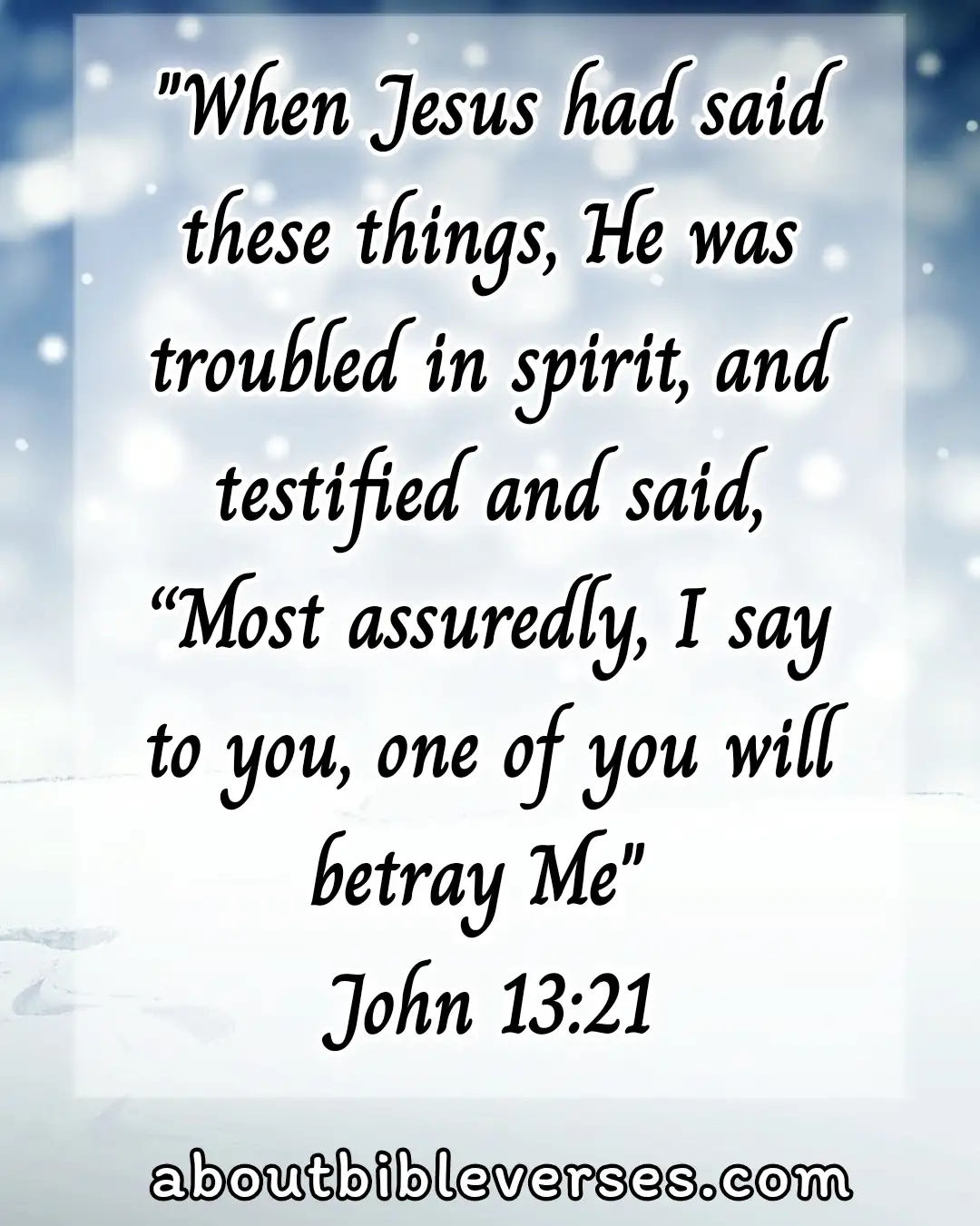 John 13:21(KJV)"When Jesus had thus said, he was troubled in spirit, and testified, and said, Verily, verily, I say unto you, that one of you shall betray me"
Explanation:- While Jesus was on this earth he made twelve disciples and out of them, one disciple betrayed him. Though Jesus knew him earlier he kept silent as it was to be done He was troubled as the immense suffering was to be faced. He knew that it would be extremely painful. But he accepted it, to deliver humanity from the bondage of sin.(Mark 14:10, Luke 22:3-6,48).
Matthew 27:3-5(KJV)"Then Judas, who had betrayed him, when he saw that he was condemned, repented himself, and brought again the thirty pieces of silver to the chief priests and elders, Saying, I have sinned in that I have betrayed the innocent blood. And they said, What is that to us? see thou to that. And he cast down the pieces of silver in the temple, and departed, and went and hanged himself"
Explanation:- Jesus made twelve disciples while he was on this earth.  All of them experienced him with their naked eyes. But out of them, Judas was different, he betrayed Jesus for only thirty silver coins. After selling Jesus, he understood that he made a great mistake. He hanged himself and breasted his last.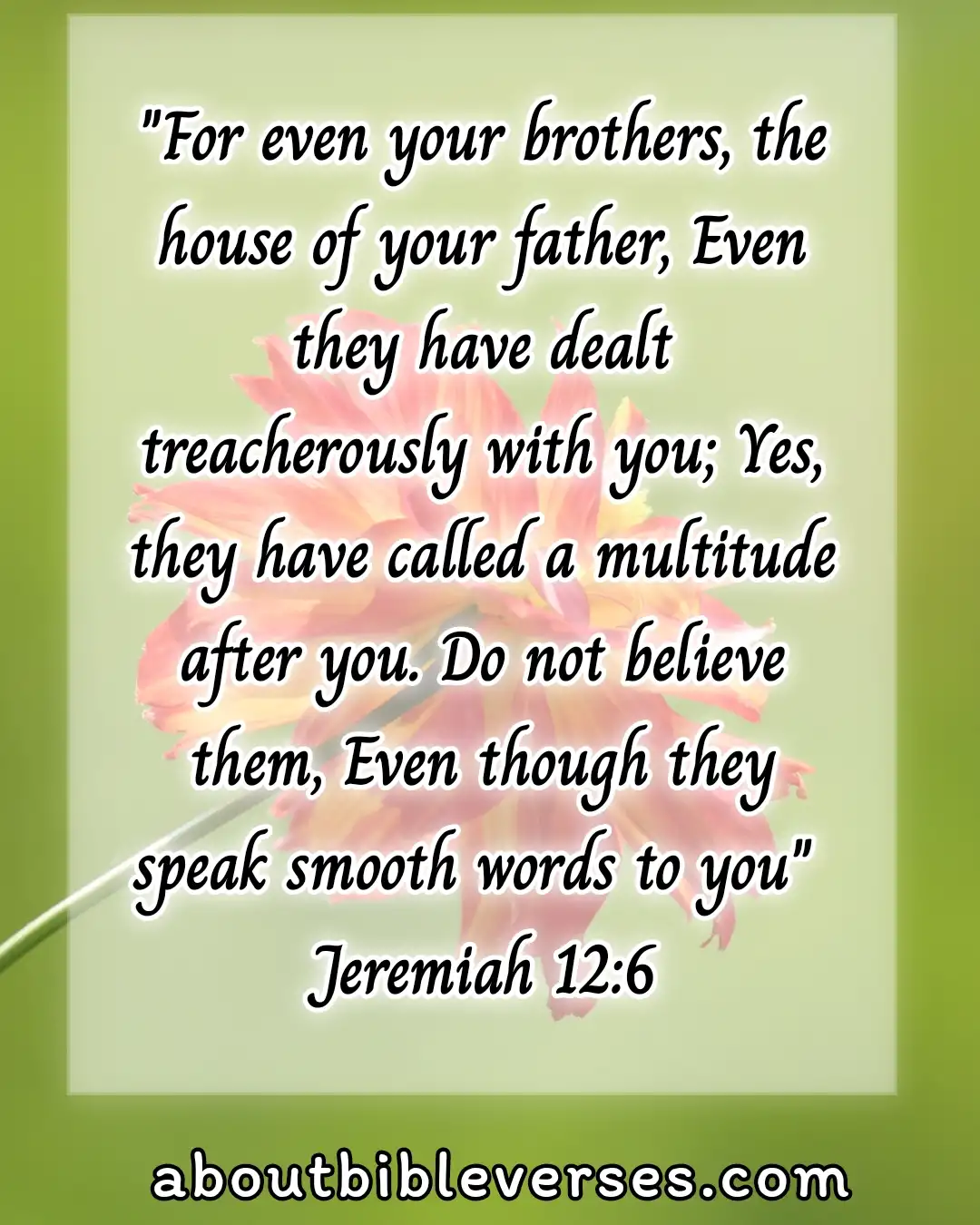 Jeremiah 12:6(KJV)"For even thy brethren, and the house of thy father, even they have dealt treacherously with thee; yea, they have called a multitude after thee: believe them not, though they speak fair words unto thee"
Explanation:- The children of Israel were sinners in the eyes of the Lord when they departed from him. But the Lord showed his mercy many times so that they may not perish. But every time they betrayed him. They walked with the idols and were separated from the Lord.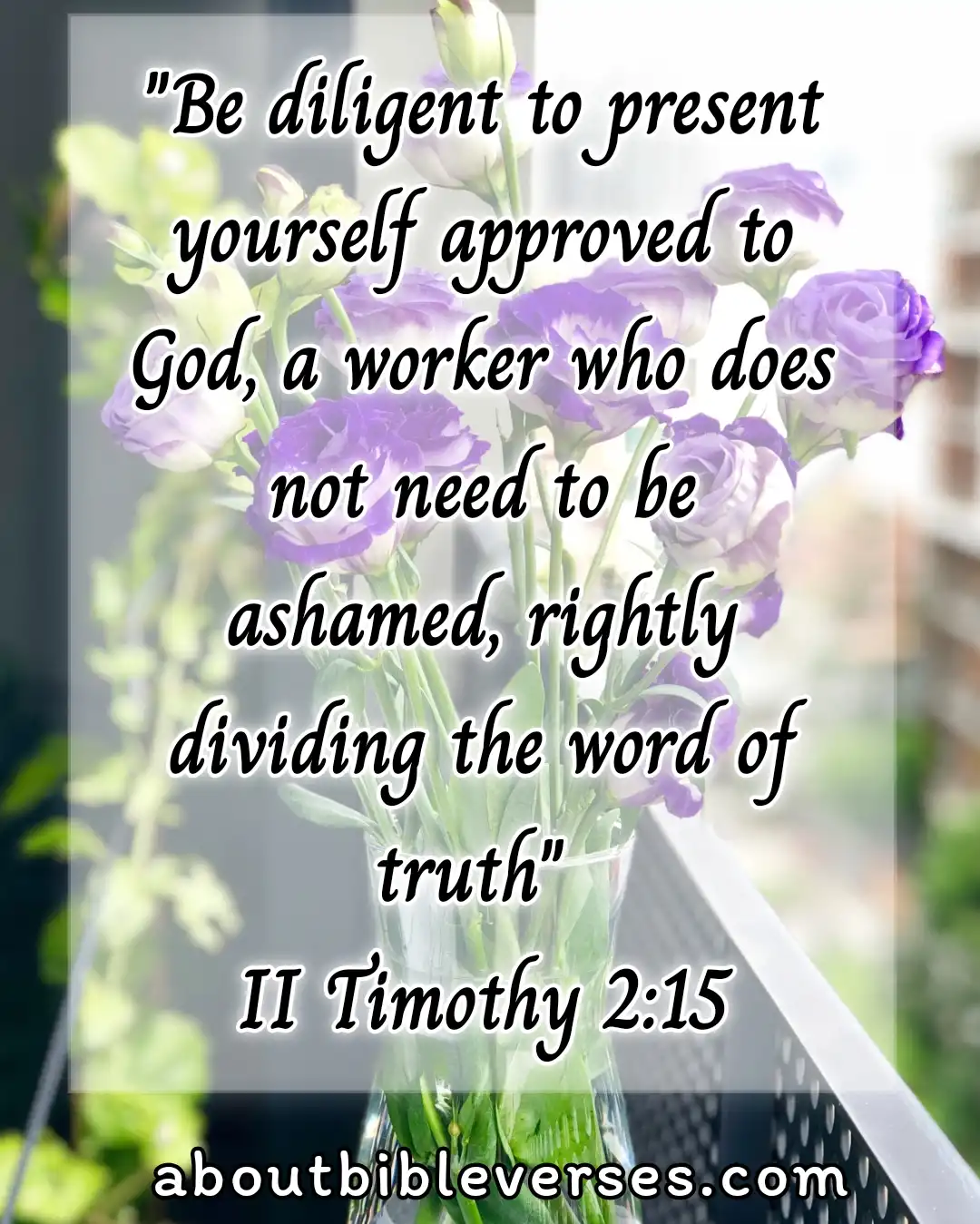 2 Timothy 2:15(KJV)"Study to shew thyself approved unto God, a workman that needeth not to be ashamed, rightly dividing the word of truth"
Explanation:- Paul advised Timothy to prepare himself for the mission of God's Kingdom. The Lord needs a holy man who will be not ashamed to preach the gospel into the world.
To serve God one must purify himself from ungodliness. He needs to be washed away from all the evil things from him so that he will be eligible to serve the Lord.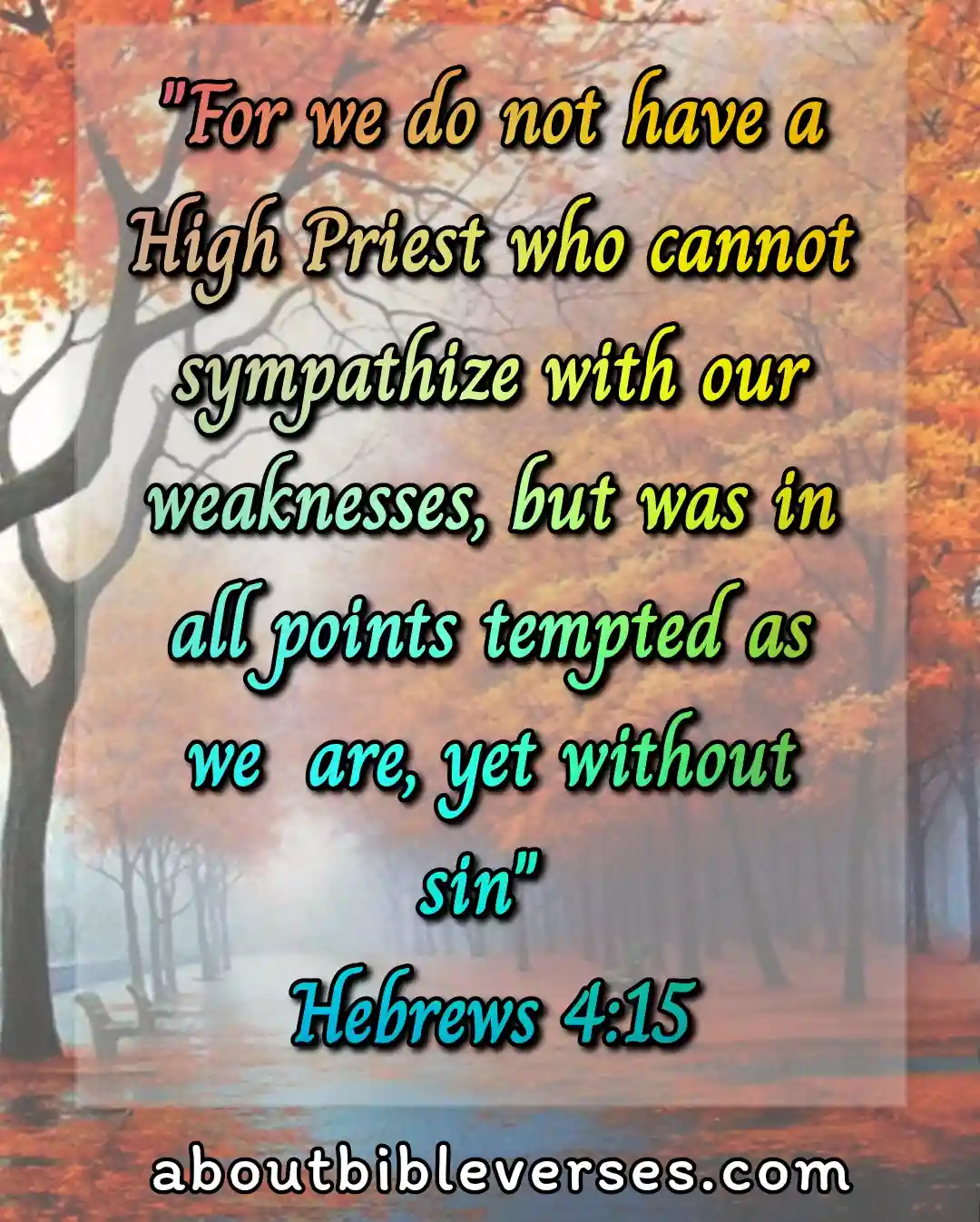 Hebrews 4:15(KJV)"For we have not an high priest which cannot be touched with the feeling of our infirmities; but was in all points tempted like as we are, yet without sin"
Explanation:- Jesus is our high priest and he took our burden upon his shoulder and paid the cost on the cross. Nothing is impossible with him and we have a hope that we can overcome every situation with his strength.
It is true that we are weak in the flesh but we should remember that our God is not small or unable to do what we expect from him.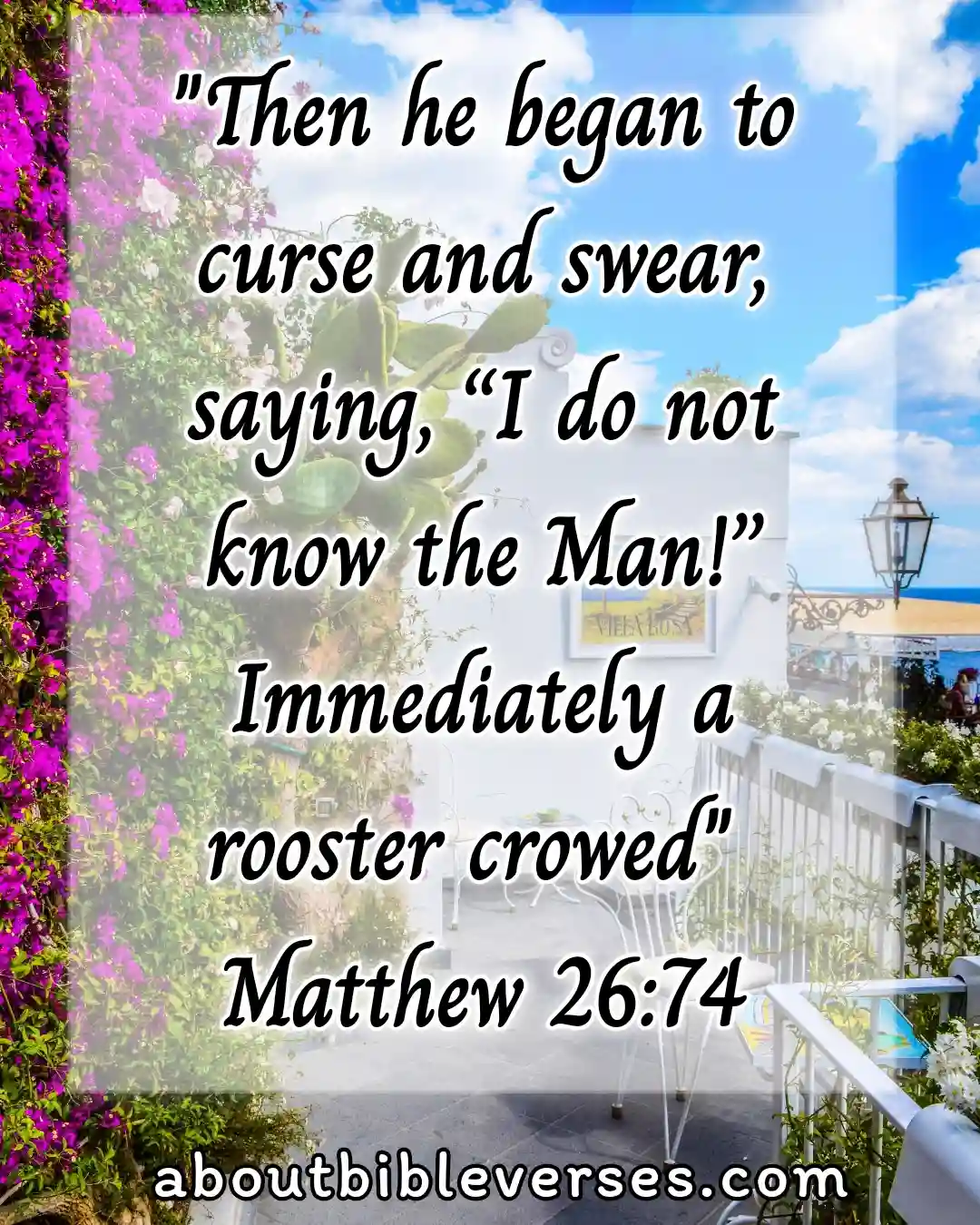 Matthew 26:74(KJV)"Then began to curse and to swear, saying, I know not the man. And immediately the cock crew"
Explanation:- Peter loves Jesus and he once said that he will never forsake him. But Jesus rebuked him and informed him that he would reject him three times.
When Jesus was caught by the Roman soldiers at that time Peter followed him and three times he rejected Jesus that he did not know him.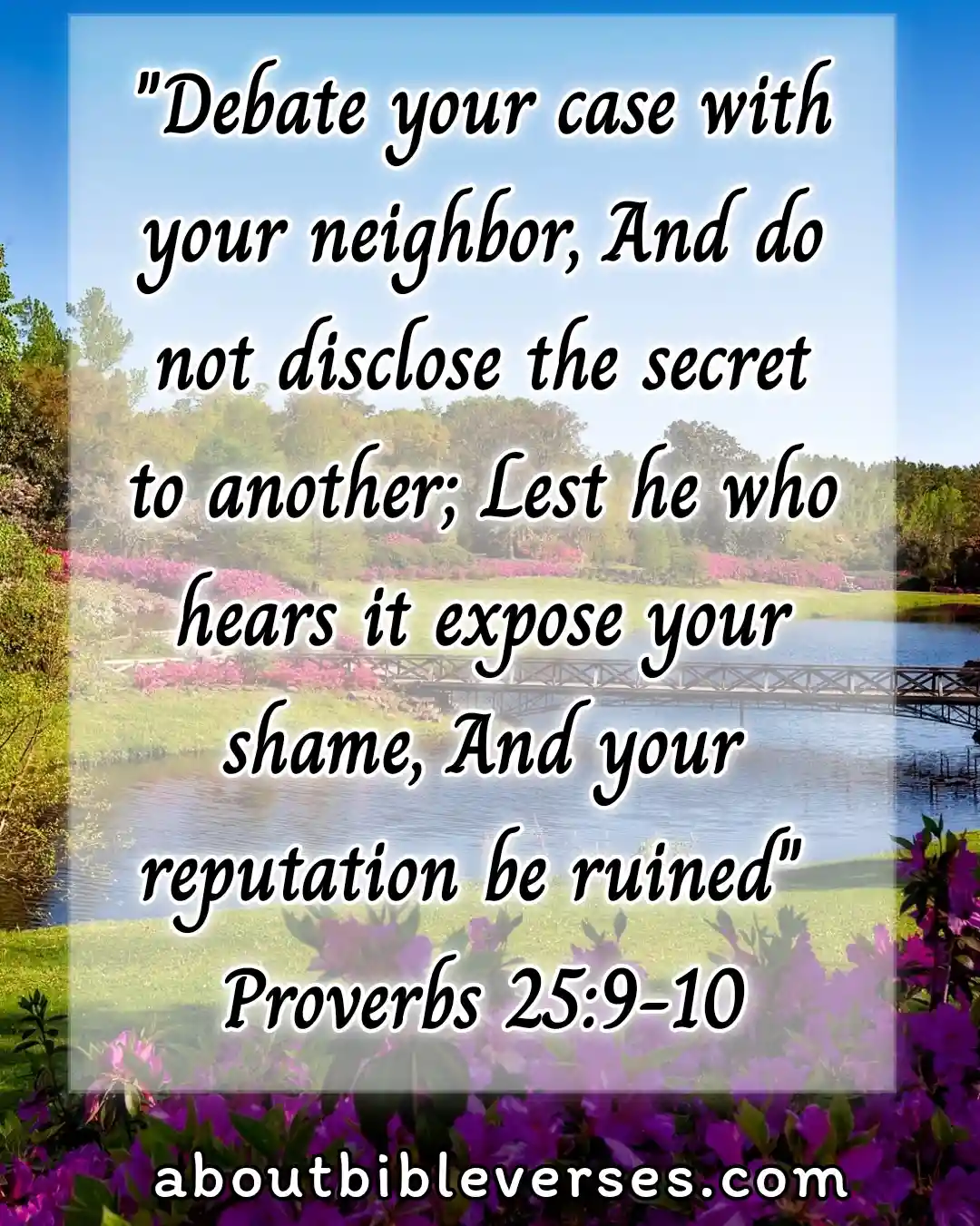 Proverbs 25:9-10(KJV)"Debate thy cause with thy neighbour himself; and discover not a secret to another"
Explanation:- We should not reveal hidden things to our neighbors. When we are entrusted with anything we must keep it hidden from others.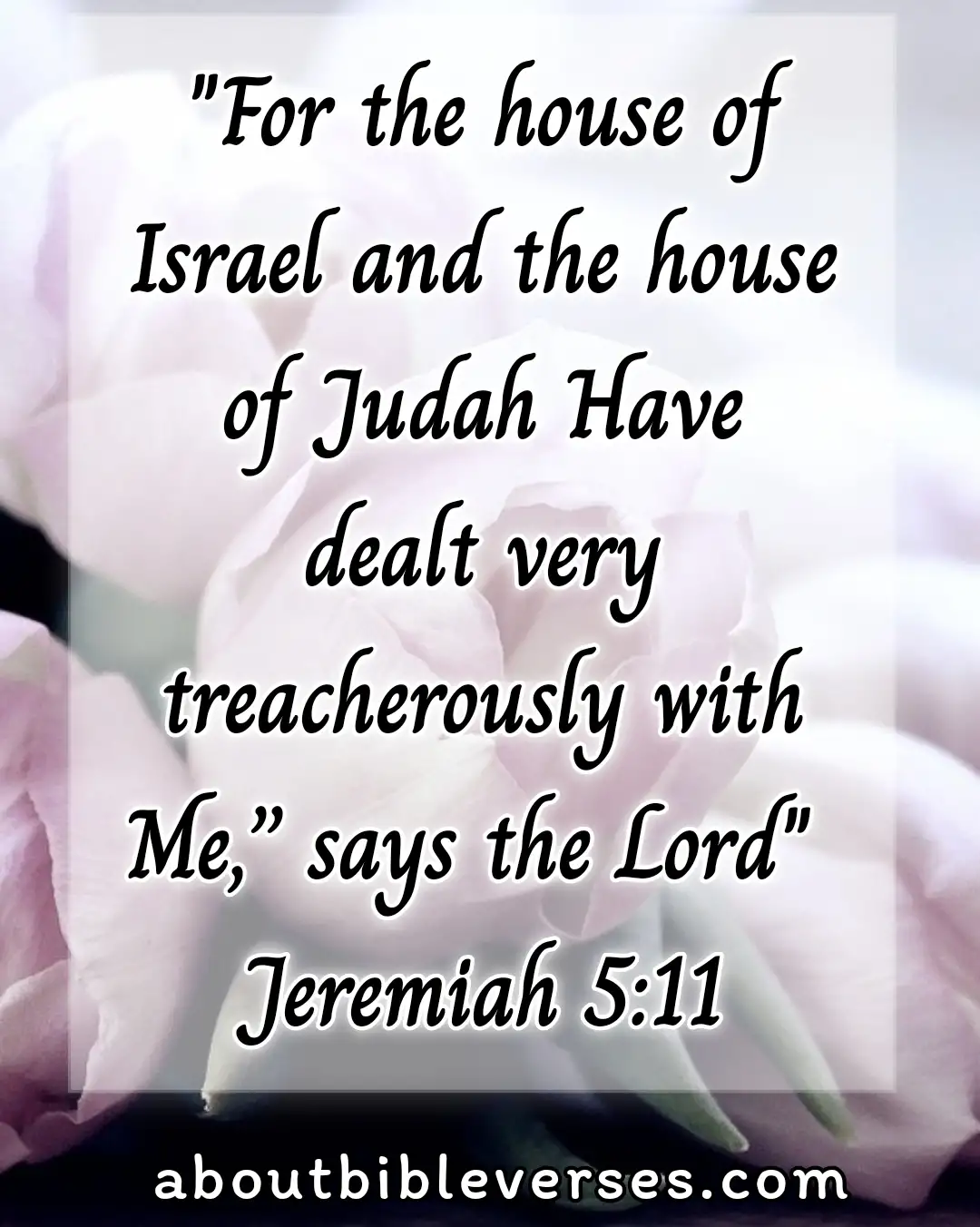 Jeremiah 5:11(KJV)"For the house of Israel and the house of Judah have dealt very treacherously against me, saith the Lord"
Explanation:- When the children of God betrayed the Lord at that time he called prophet Jeremiah to speak on behalf of him. Many times they departed from his presence and they started worshipping the idols but the Lord had a great love upon his chosen nation, so he always called them to turn back to him so that they would be blessed from him.
To admonish them the Lord called Jeremiah warns them so that they will not face persecution by other Nations.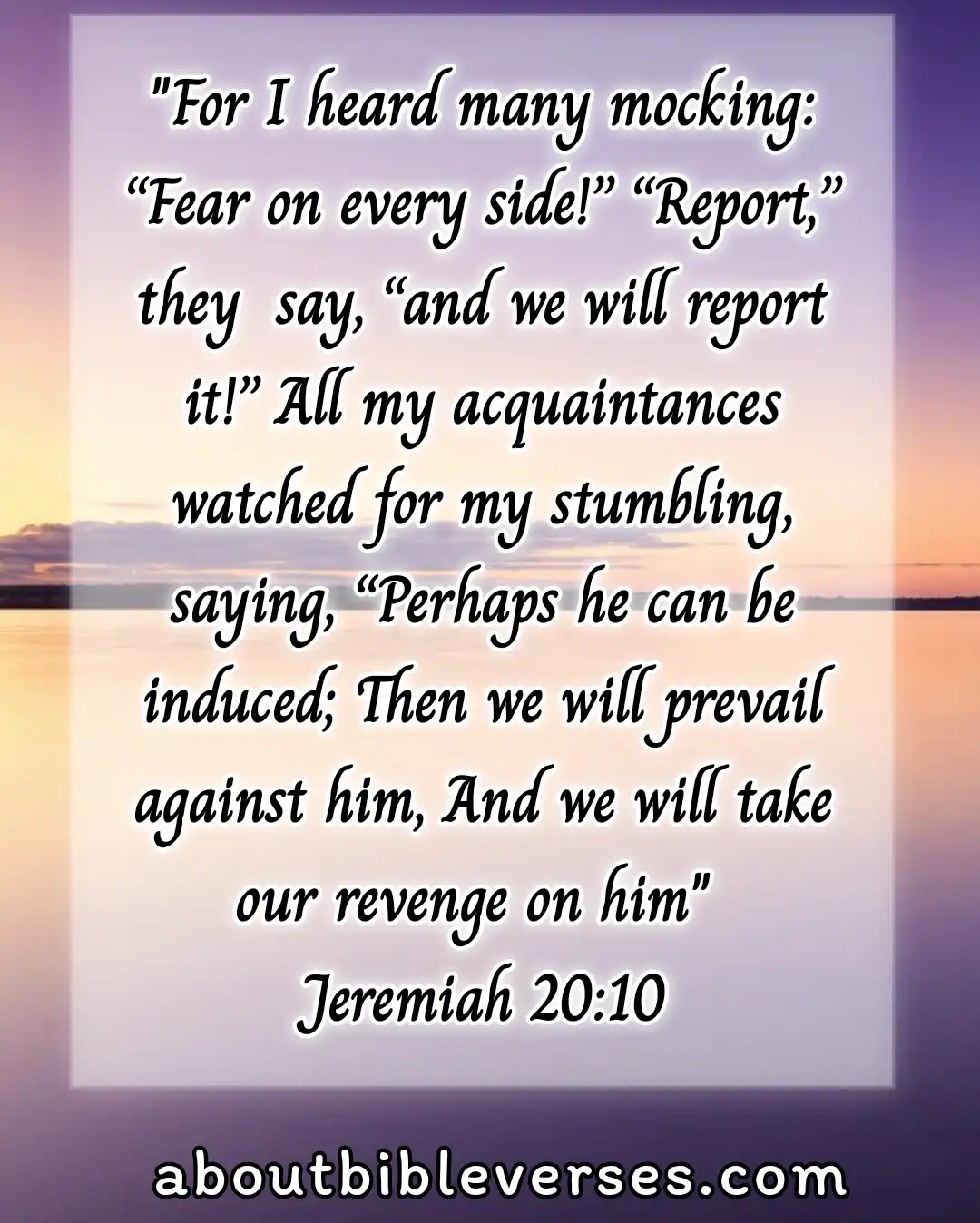 Jeremiah 20:10(KJV)"For I heard the defaming of many, fear on every side. Report, say they, and we will report it. All my familiars watched for my halting, saying, Peradventure he will be enticed, and we shall prevail against him, and we shall take our revenge on him"
Explanation:- The Jews people were very stubborn at that time and they did not pay heed to the prophet Jeremiah. They forget what the Lord had done to their forefathers. They forget that they were delivered from the hands of Egypt by the mighty hand of the Lord. They betrayed their God and followed the idols of their surrounding Nations.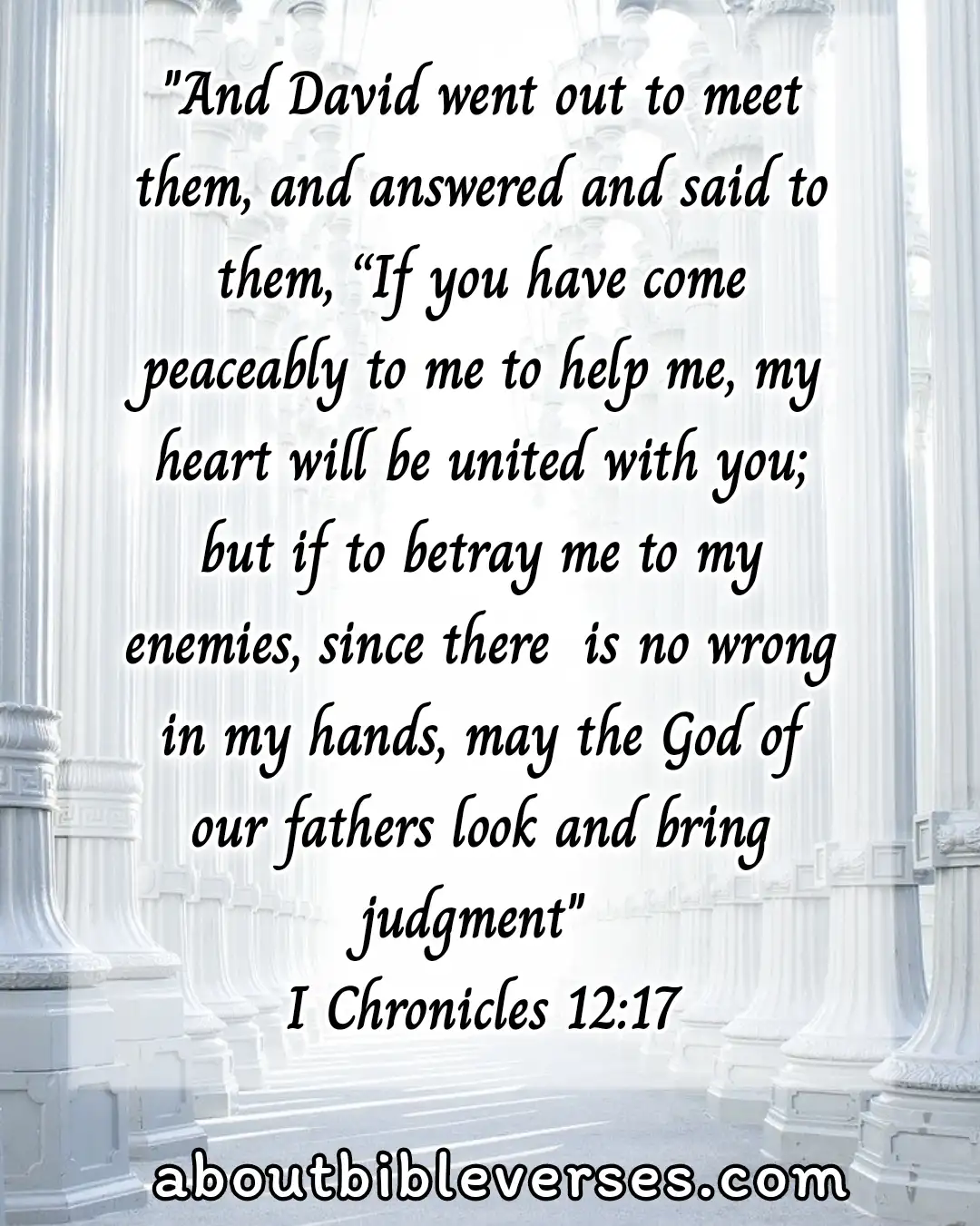 1 Chronicles 12:17(KJV)"And David went out to meet them, and answered and said unto them, If ye be come peaceably unto me to help me, mine heart shall be knit unto you: but if ye be come to betray me to mine enemies, seeing there is no wrong in mine hands, the God of our fathers look thereon, and rebuke it"
Explanation:- In his time David was a great king and he used to indulge himself in the expansion of the kingdom of Israel. He fought many battles and defeated the kings who were against him and occupied their lands.
In the midst of the battles, he made many covenants with his surrounding Kings. He was very aware that they might betray him so he always asked them clearly whether they would be on his side or not.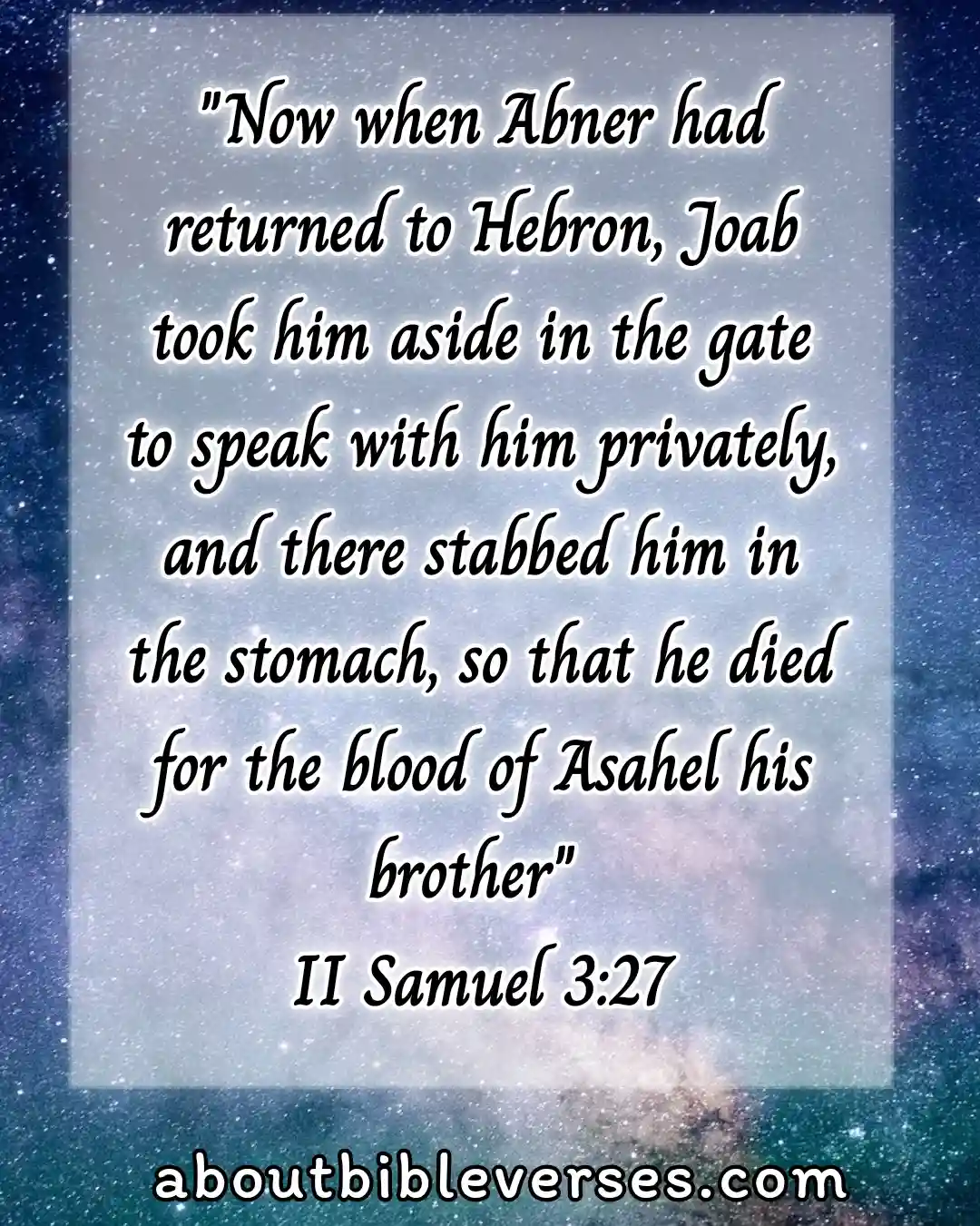 2 Samuel 3:27(KJV)"And when Abner was returned to Hebron, Joab took him aside in the gate to speak with him quietly, and smote him there under the fifth rib, that he died, for the blood of Asahel his brother"
Explanation:- When David became more powerful, Saul became weaker and David was trying to defeat Saul so that he could become the king over entire Israel.
During that period, Abner strengthens himself by staying in the house of Saul. He made a covenant with David to help him to defeat Saul. Thus he prepared to hand over the kingdom into David's hand.
When David made a feast for Abner, at that time Joab came to meet him. But David sent Abner away and Joab met him and betrayed him by stabbing his stomach to death.
Bible warning Us For betrayal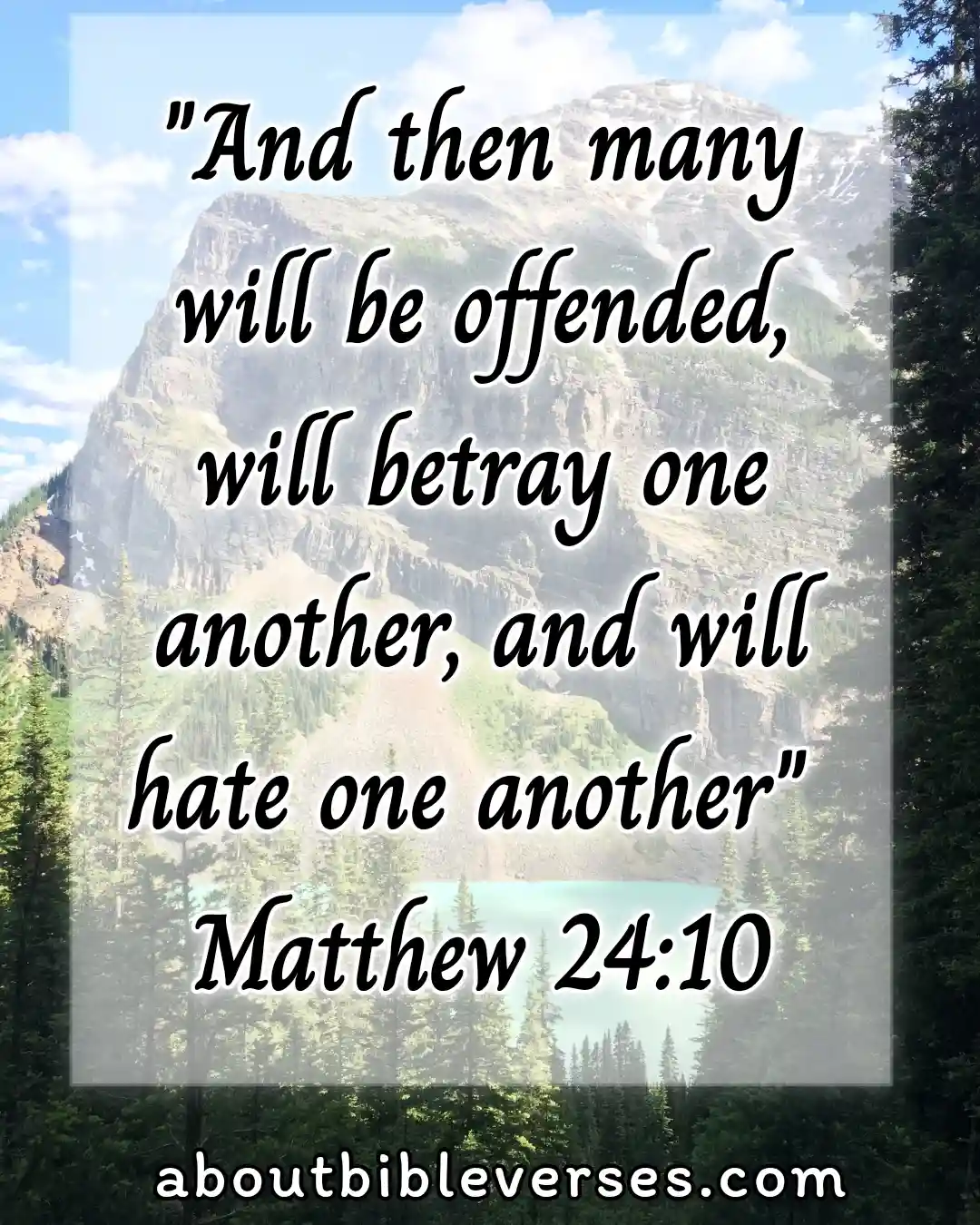 Matthew 24:10(KJV)"And then shall many be offended, and shall betray one another, and shall hate one another"
Explanation:- Before the end of this earth, there will be many signs which will indicate its ending. At that time people will have no fear of God and they will misbehave with each other. 
There will be no morality among the man at the time of Jesus' coming. People will lie to each other and they will cause trouble among themselves.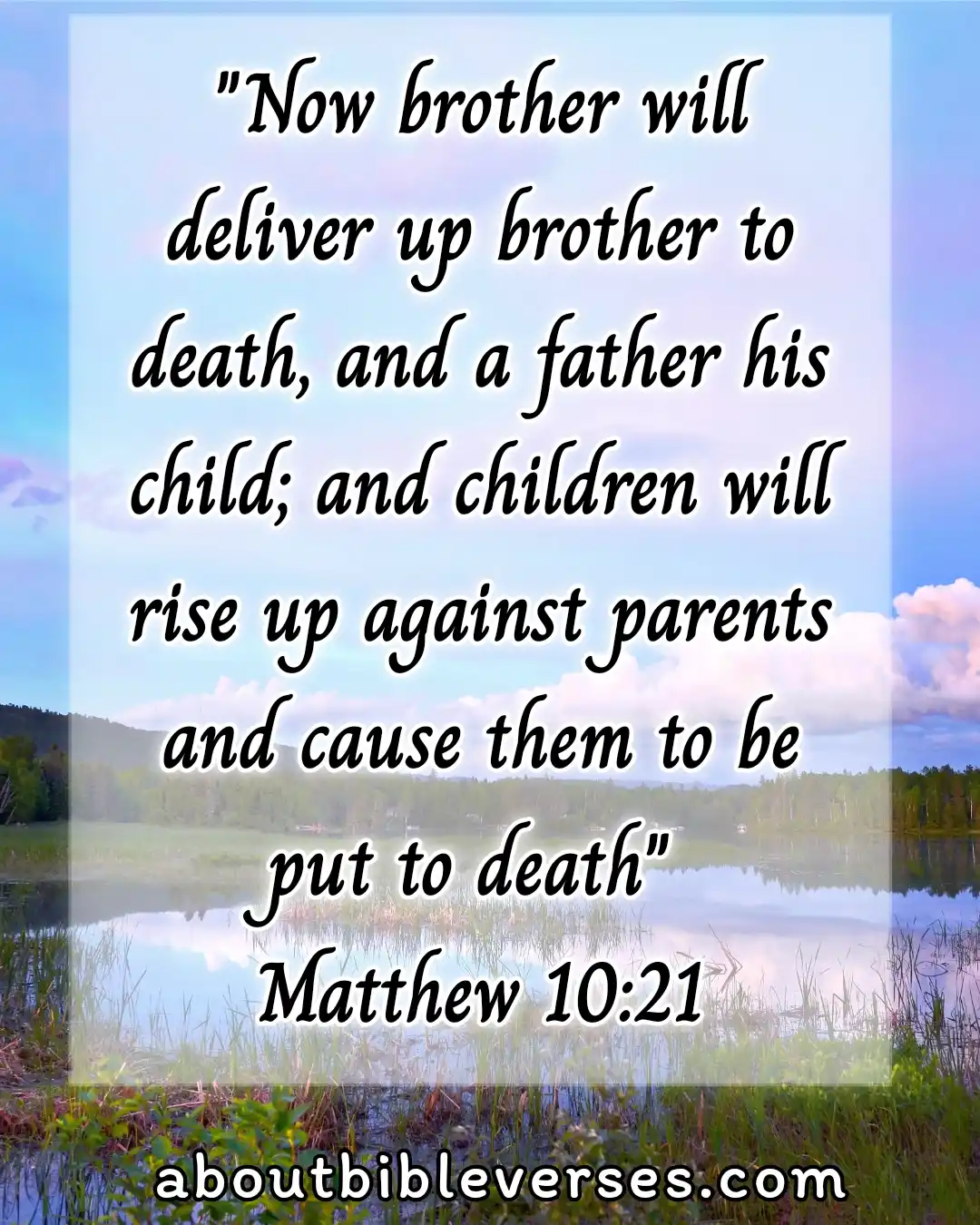 Matthew 10:21(KJV)"And the brother shall deliver up the brother to death, and the father the child: and the children shall rise up against their parents, and cause them to be put to death"
Explanation:- At the second coming up, Jesus' people will lose their moral teachings.  Christians will be tortured throughout the world. Own family members will bring their people into death for the sake of Christ. This sign will tell us that it is the high time of Jesus's coming.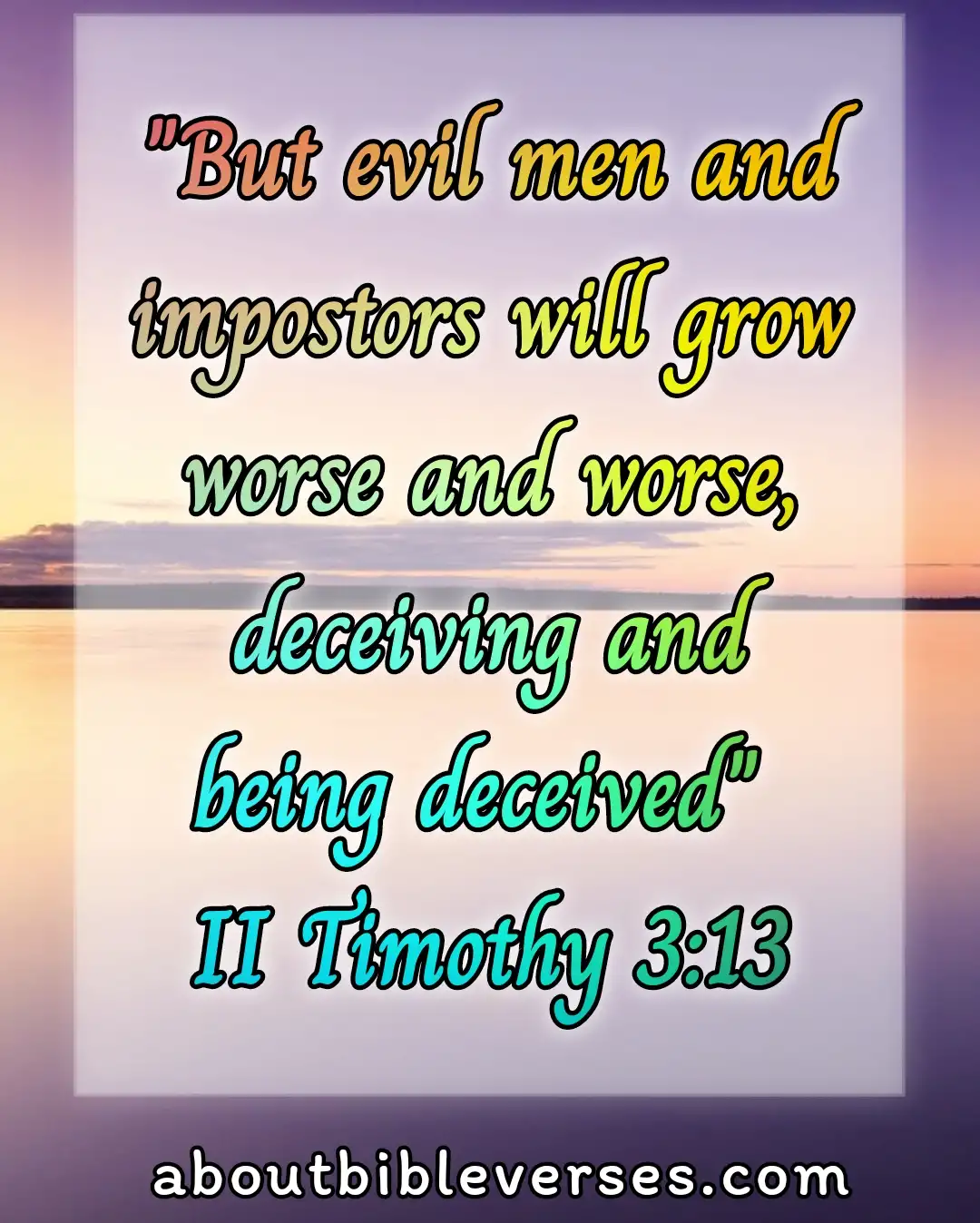 2 Timothy 3:13(KJV)"But evil men and seducers shall wax worse and worse, deceiving, and being deceived"
Explanation:- The Wicked people will receive righteous people; they will be the children of God. But the Lord knows the heart of the righteous and he will protect them from the hands of such wicked people.
The Lord says that he will protect his children from every harmful action. Do we find helplessness sometimes when we walk in the path of God but we should remember that the Lord will be our guard at the times of hardships and trials?