Today we will look at the Bible Scriptures About Working Hard And Not Giving Up In KJV. This is a wonderful opportunity for us to explore together the profound wisdom found in the scriptures, particularly those that inspire us to persevere in our efforts and remain steadfast in our commitments. If you like today's post then definitely comment and share.
Friends, the Bible teaches that working hard and not giving up is important in all areas of life. It teaches the key to success and the key ingredients to fulfilling God's purpose for our lives. This principle is not just a mere suggestion, but a divine guideline that can lead us to a life of fulfillment and purpose. By embracing this teaching, we align ourselves with God's plan and find true satisfaction in our endeavors.
Throughout the Bible, there are stories of people who faced challenges and obstacles but persevered through hard work and determination. These narratives serve as powerful examples and sources of encouragement for us, reminding us that with faith and tenacity, we can overcome even the toughest challenges.
An example is the story of Joseph in the book of Genesis. Joseph was sold into slavery by his jealous brothers but worked hard and rose to a position of power in Egypt. He faced many difficult situations but never gave up on his dream. His journey from the depths of despair to the heights of authority is a testament to the value of persistence and faith in God's plan.
The book of Proverbs in the Old Testament of the Bible gives us a clear idea. Proverbs 10:4 says that "a lazy hand makes for poverty, but a diligent hand brings wealth." Similarly, Proverbs 14:23 teaches that "all hard work brings profit, but mere talk leads only to poverty." These verses not only highlight the practical benefits of hard work but also underline the spiritual and moral significance of diligence and perseverance.
Even in the New Testament where the apostle Paul encourages believers to press on toward their goals, even in the face of obstacles. He told us to work hard and help others. Also (1 Corinthians 9:24) this verse encourages us not to give up in our spiritual life and to keep working hard. Paul's teachings inspire us to strive for excellence, not just in our personal lives but also in our service to others and our commitment to our faith.
Dear friends now let's see the Bible scriptures below that talk about Working Hard And Not Giving Up. As we delve into these scriptures, let us open our hearts and minds to the lessons they hold. They are more than just words; they are guides to living a life enriched with purpose, dedication, and the joy of achieving through perseverance.
---
Bible Verses For Working Hard and Not Giving Up – With Explanations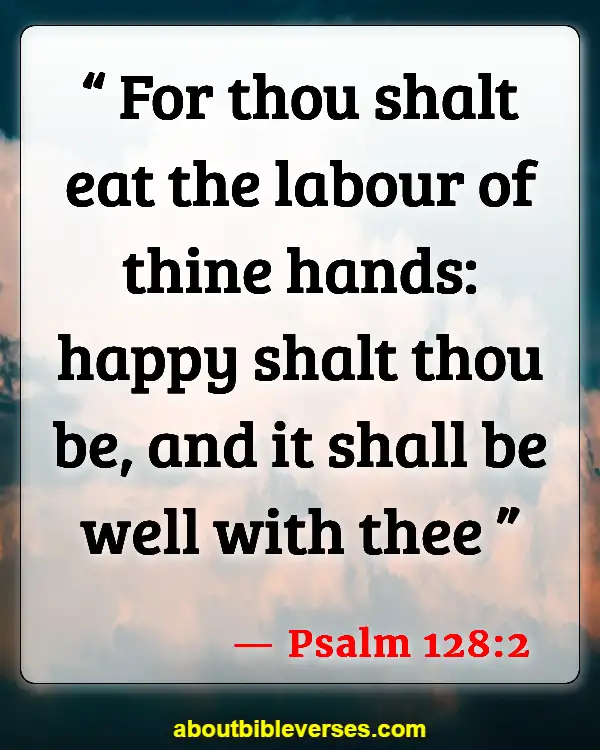 Psalm 128:2
"For thou shalt eat the labour of thine hands: happy shalt thou be, and it shall be well with thee"
Explanation:
Psalm 128:2 speaks to the rewards of hard work and the fulfillment that comes from it. It suggests that when you work with your own hands, you not only sustain yourself but also find happiness and well-being. This verse encourages believers to take pride in their efforts and assures them that their hard work is not just a means of survival, but a path to true contentment.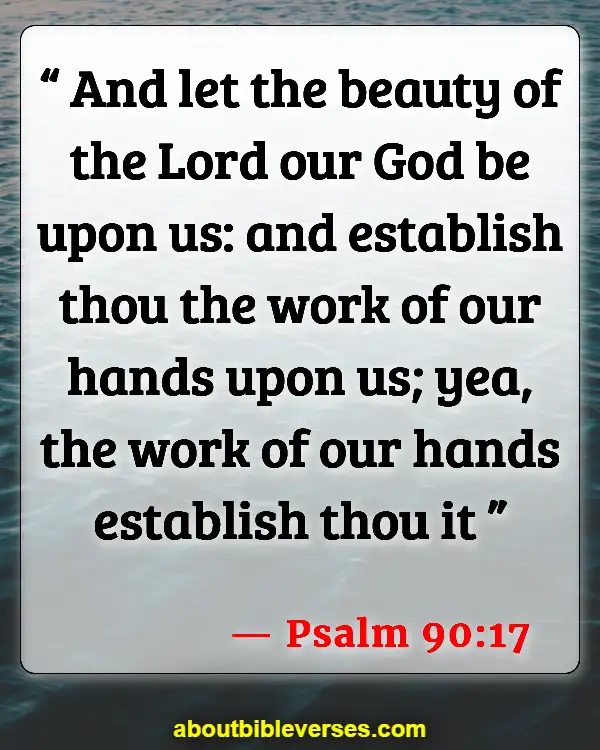 Psalm 90:17
"And let the beauty of the Lord our God be upon us: and establish thou the work of our hands upon us; yea, the work of our hands establish thou it"
Explanation:
This verse from Psalm 90:17 is a prayer for God's favor and blessing on our endeavors. It reflects a desire for the beauty and grace of God to be evident in our lives, particularly in the work we do. The verse emphasizes the importance of seeking God's guidance and approval in all our actions, as a way to ensure that our efforts are fruitful and aligned with His divine plan.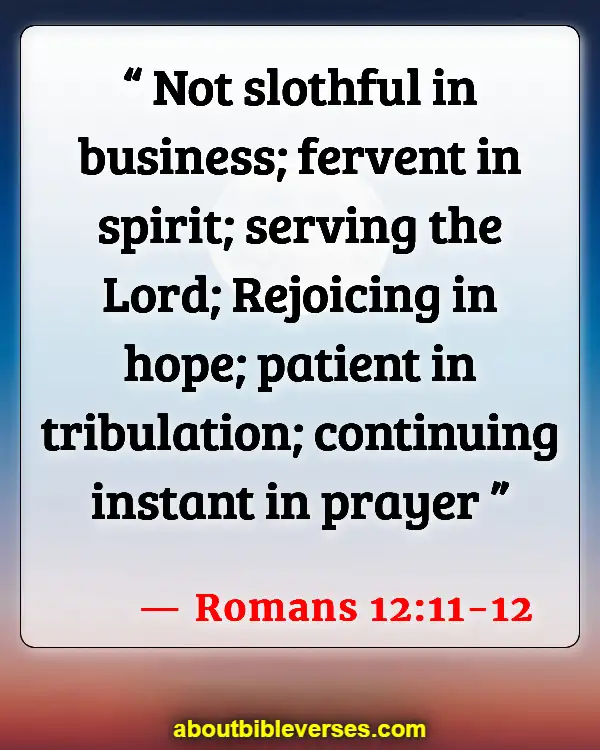 Romans 12:11-12
"Not slothful in business; fervent in spirit; serving the LordRejoicing in hope; patient in tribulation; continuing instant in prayer"
Explanation:
In Romans 12:11-12, believers are encouraged to be industrious and passionate in their work, especially in serving the Lord. This passage teaches the value of hope, patience in difficult times, and the importance of prayer. It's a call to stay spiritually zealous, to face challenges with a hopeful spirit, and to continually seek God's presence and guidance through prayer.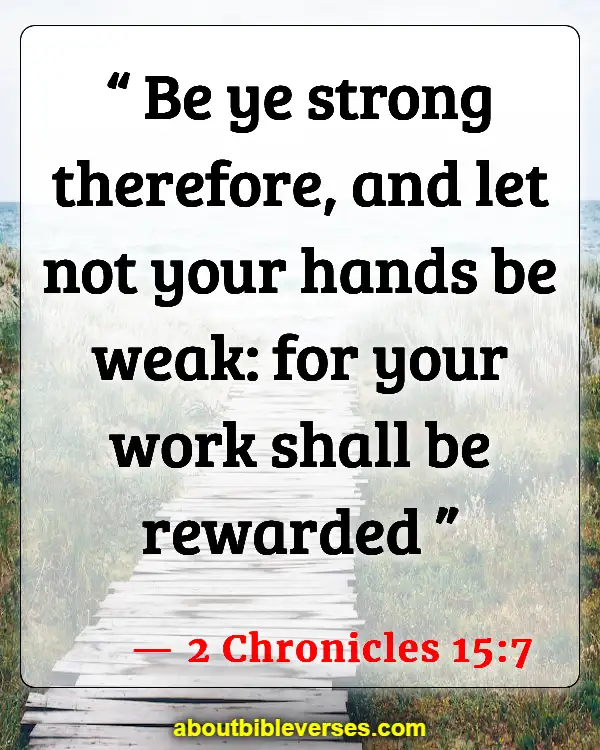 2 Chronicles 15:7
"Be ye strong therefore, and let not your hands be weak: for your work shall be rewarded"
Explanation:
2 Chronicles 15:7 is a motivational verse, urging believers to be strong and not to let their efforts falter. It reassures that persistence in our endeavors will ultimately be rewarded. This verse is a reminder that even when the outcome of our work isn't immediately visible, we should keep going, trusting in God's promise that our hard work will not be in vain.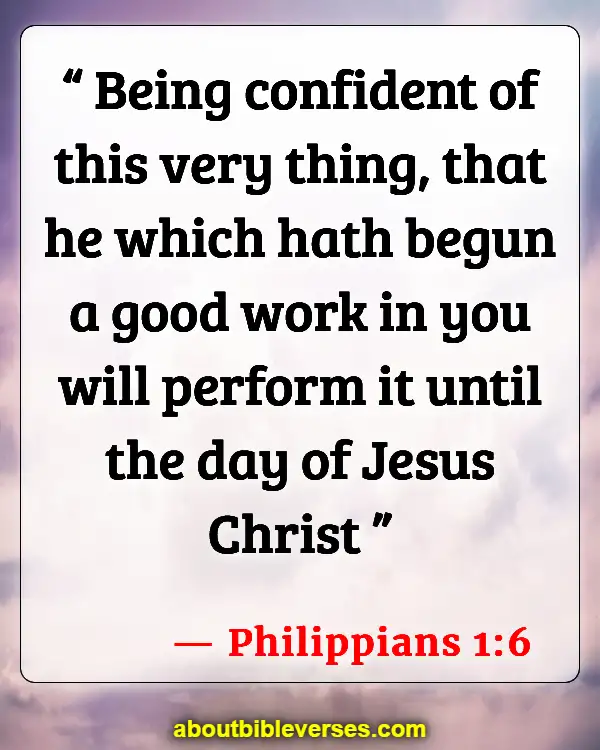 Philippians 1:6
"Being confident of this very thing, that he which hath begun a good work in you will perform it until the day of Jesus Christ"
Explanation:
Philippians 1:6 offers reassurance to believers that the good work God has started within them will be brought to completion. It speaks of God's faithfulness and the ongoing process of spiritual growth. This verse encourages believers to have confidence in God's plan and work in their lives, trusting that He will continue to shape and guide them until the return of Jesus Christ.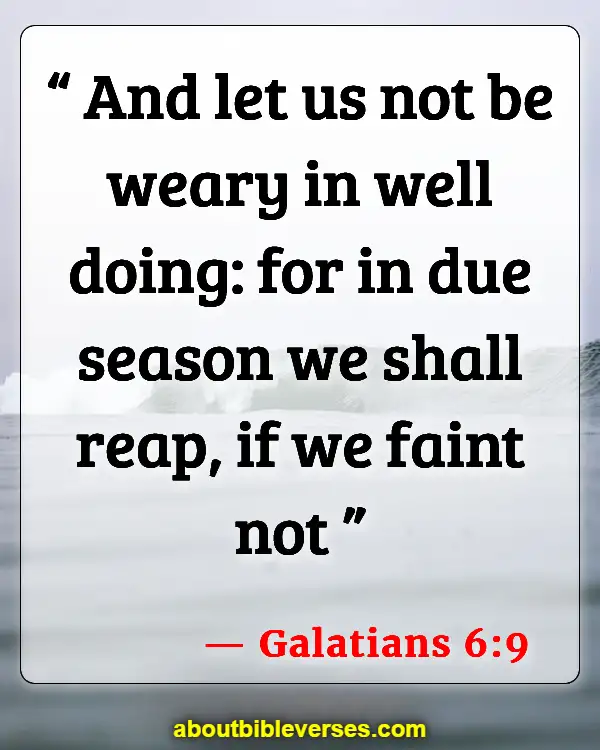 Galatians 6:9
"And let us not be weary in well doing: for in due season we shall reap, if we faint not"
Explanation:
Galatians 6:9 encourages perseverance in doing good, with the promise of a future reward. It acknowledges that while doing good can sometimes be tiring, we should not lose heart or give up. The verse instills hope that in due time, the efforts put into doing good will bear fruit, as long as we remain steadfast and don't give in to weariness or discouragement.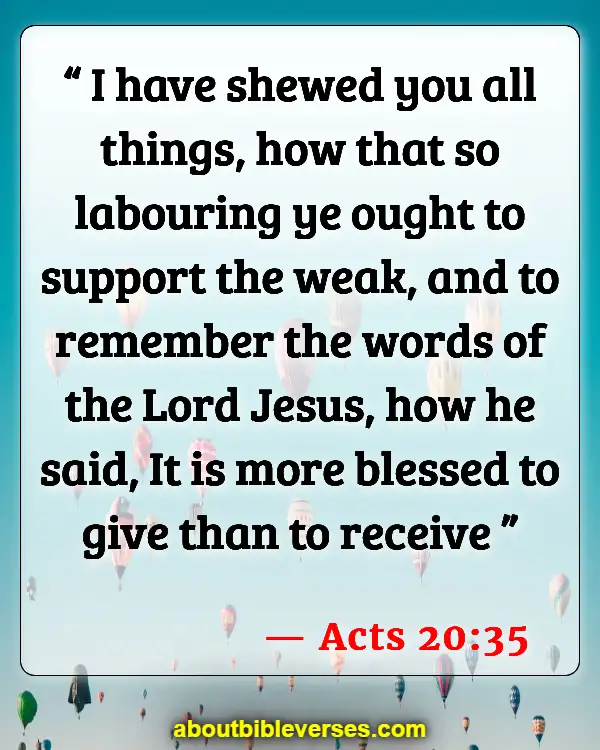 Acts 20:35
"I have shewed you all things, how that so labouring ye ought to support the weak, and to remember the words of the Lord Jesus, how he said, It is more blessed to give than to receive"
Explanation:
Acts 20:35 teaches the joy and blessing of giving, emphasizing how it's more rewarding to give than to receive. This verse encourages believers to support those who are weak and in need, reflecting the teachings of Jesus Christ. It's a call to selflessness and generosity, highlighting that true happiness comes not from what we get, but from what we give to others in love and kindness.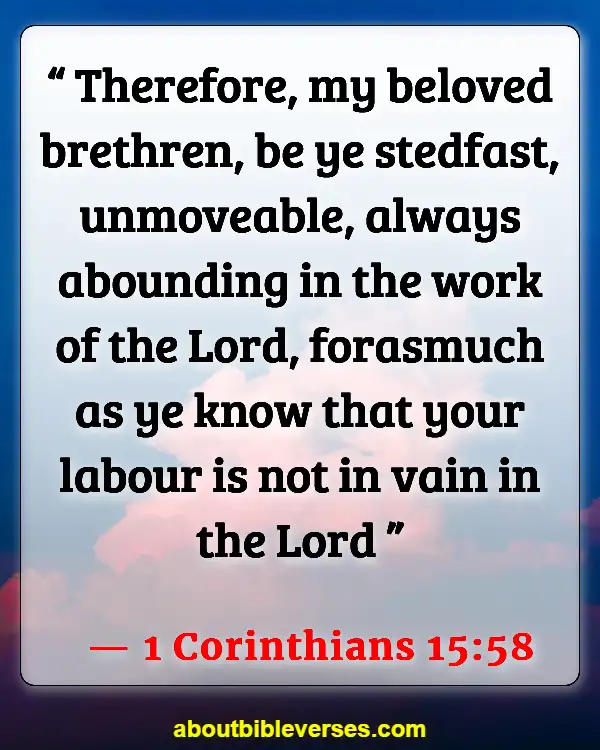 1 Corinthians 15:58
"Therefore, my beloved brethren, be ye stedfast, unmoveable, always abounding in the work of the Lord, forasmuch as ye know that your labour is not in vain in the Lord"
Explanation:
1 Corinthians 15:58 urges believers to remain steadfast and unshakable in their faith, constantly doing God's work. It reassures that their efforts in the Lord are never pointless or wasted. This verse is a powerful reminder to Christians to keep moving forward in their spiritual journey, knowing that their dedication and labor for God's kingdom have eternal significance and will be rewarded.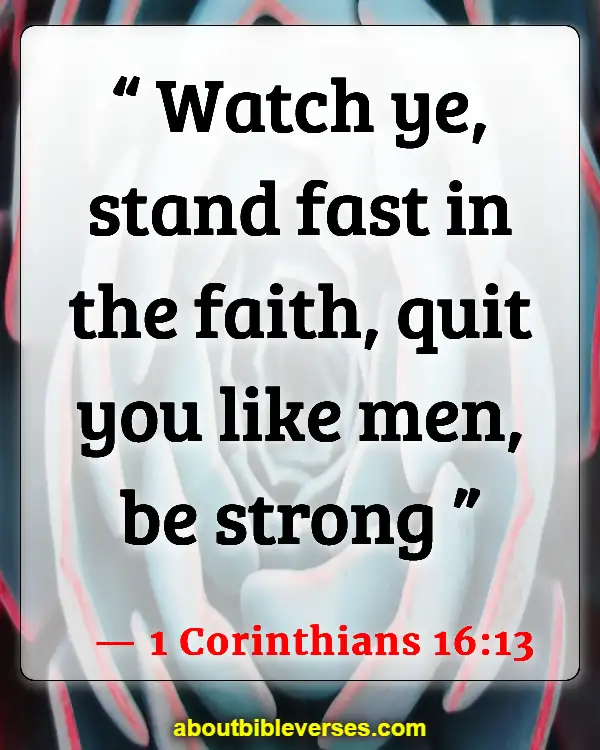 1 Corinthians 16:13
"Watch ye, stand fast in the faith, quit you like men, be strong"
Explanation:
1 Corinthians 16:13 is a call to vigilance and strength in faith. It encourages believers to be alert, stand firm in their beliefs, act courageously, and be strong. This verse serves as a reminder to uphold Christian values and to face challenges with bravery and unwavering faith, trusting in God's guidance and strength in all circumstances.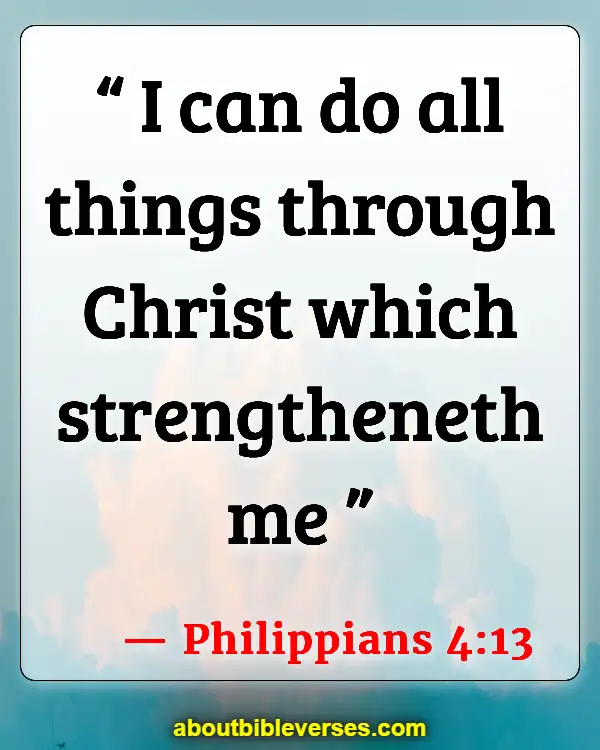 Philippians 4:13
"I can do all things through Christ which strengtheneth me"
Explanation:
Philippians 4:13 is a source of great encouragement, reminding believers that they can overcome any challenge through the strength provided by Christ. It speaks to the boundless ability and resilience that come from relying on Jesus. This verse reassures Christians that with faith in Christ, there are no limits to what they can achieve in their spiritual and daily lives.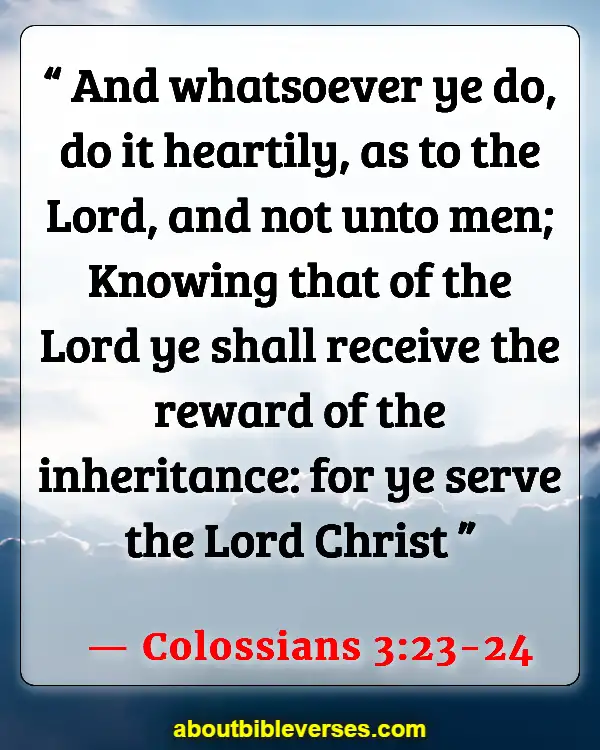 Colossians 3:23-24
"And whatsoever ye do, do it heartily, as to the Lord, and not unto menKnowing that of the Lord ye shall receive the reward of the inheritance: for ye serve the Lord Christ"
Colossians 3:23-24 instructs believers to do everything wholeheartedly as if doing it for the Lord rather than for people. It emphasizes that the ultimate reward for our work comes from God. This passage encourages Christians to approach all tasks with enthusiasm and dedication, keeping in mind that serving Christ is the highest purpose and reward in any endeavor.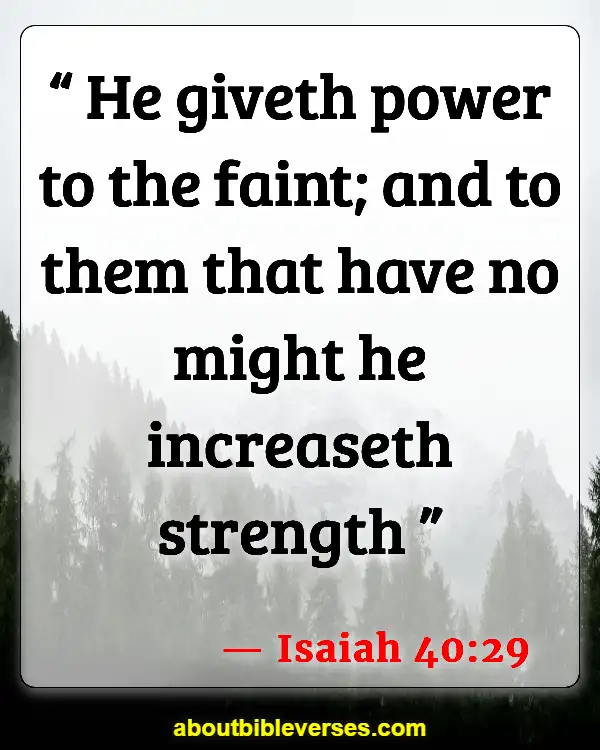 Isaiah 40:29
"He giveth power to the faint; and to them that have no might he increaseth strength"
Explanation:
Isaiah 40:29 offers comfort by reminding believers that God provides strength to the weary and increases the power of the weak. This verse assures us that in times of exhaustion or weakness, God is a source of strength and support. It encourages Christians to rely on God's power in challenging times, trusting that He will provide the necessary strength to persevere.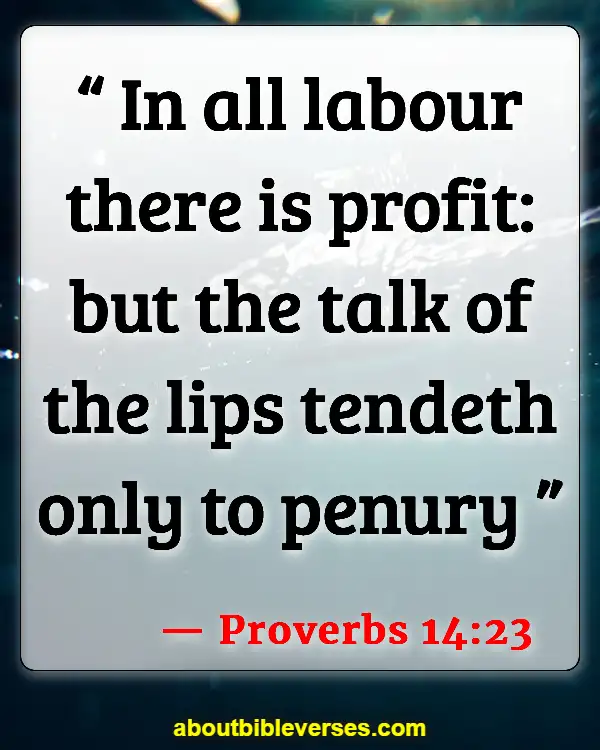 Proverbs 14:23
"In all labour there is profit: but the talk of the lips tendeth only to penury"
Explanation:
Proverbs 14:23 highlights the value of hard work, contrasting it with mere talk. It teaches that hard work leads to gain, while just talking about plans without action leads to lack. This verse encourages believers to be proactive and diligent, emphasizing that real achievements come from effort and labor, not just from discussing or planning them.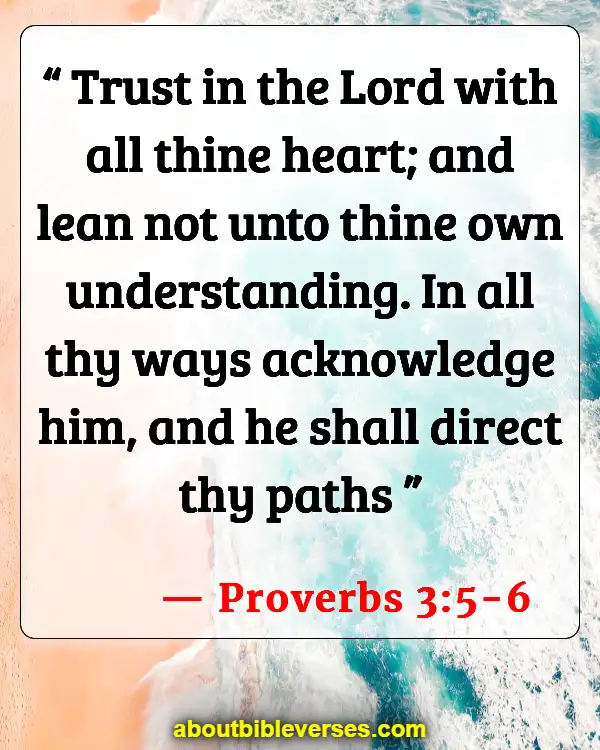 Proverbs 3:5-6
"Trust in the Lord with all thine heart; and lean not unto thine own understandingIn all thy ways acknowledge him, and he shall direct thy paths"
Explanation:
Proverbs 3:5-6 instructs believers to trust in the Lord wholeheartedly and not to rely solely on their own understanding. It assures that when we acknowledge God in all our ways, He will guide our paths. This verse is a reminder to lean on God's wisdom and guidance in every aspect of life, trusting that He will lead us in the right direction.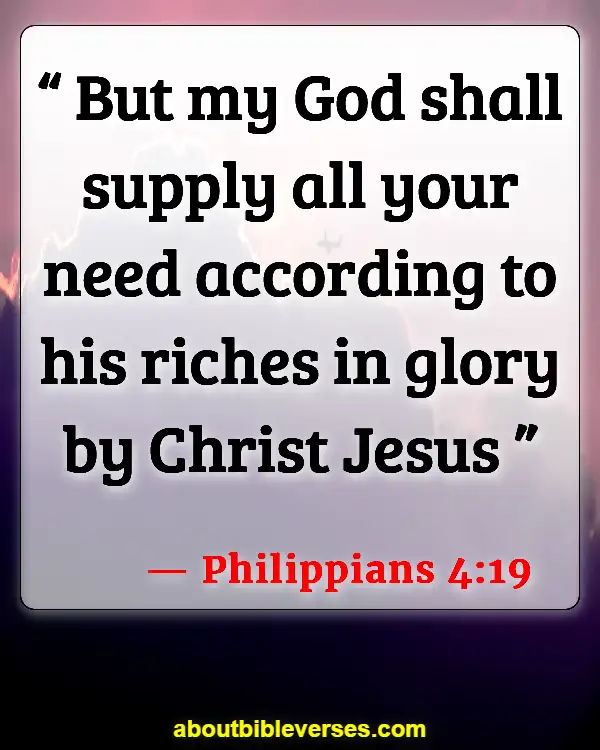 Philippians 4:19
"But my God shall supply all your need according to his riches in glory by Christ Jesus"
Explanation:
Philippians 4:19 assures believers that God will provide for their needs according to His glorious riches in Christ Jesus. This verse offers comfort and reassurance that God is aware of our needs and is faithful to provide. It encourages believers to have faith in God's provision and to trust that He will take care of them in every situation.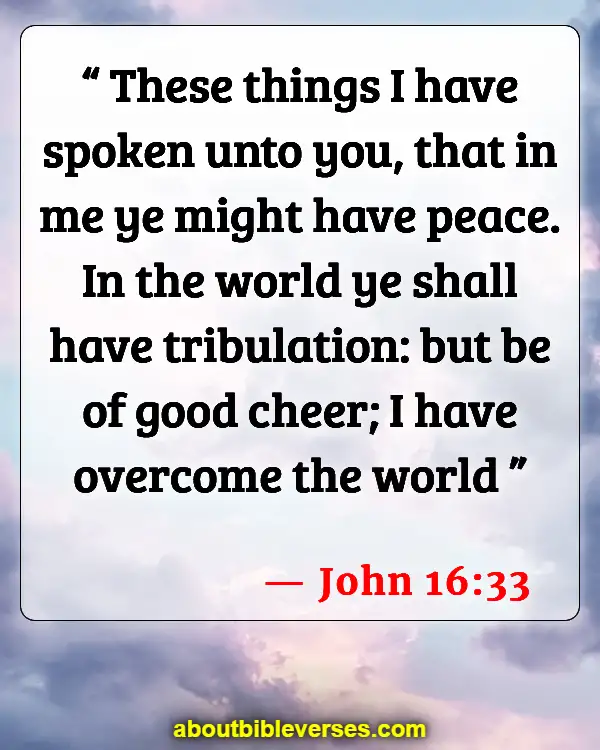 John 16:33
"These things I have spoken unto you, that in me ye might have peace. In the world ye shall have tribulation: but be of good cheer; I have overcome the world"
Explanation:
John 16:33 offers reassurance of peace and victory in Jesus, despite the tribulations faced in the world. Jesus tells believers that they can find peace in Him, and though they will face challenges, they can be encouraged because He has overcome the world. This verse is a source of hope and strength, reminding believers of the ultimate victory in Christ.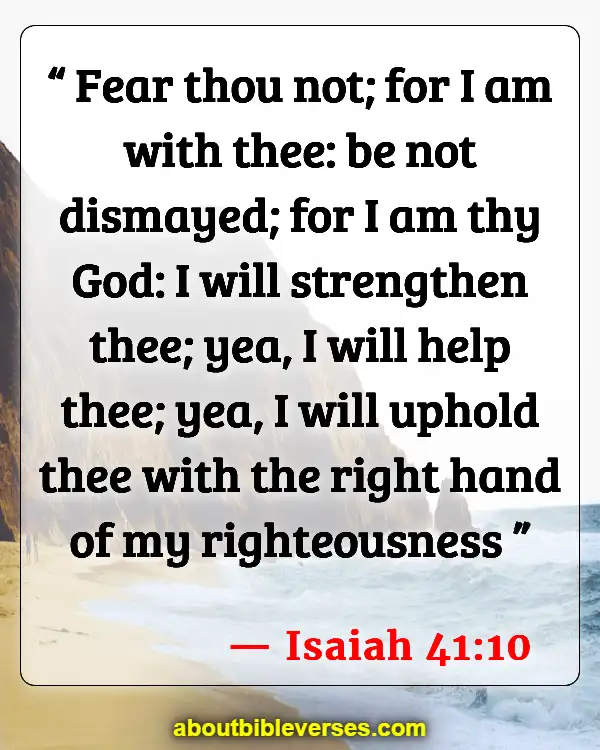 Isaiah 41:10
"Fear thou not; for I am with thee: be not dismayed; for I am thy God: I will strengthen thee; yea, I will help thee; yea, I will uphold thee with the right hand of my righteousness"
Explanation:
Isaiah 41:10 is a powerful assurance from God to not fear or be dismayed because He is with us. It promises God's strength, help, and support, symbolized by His righteous right hand. This verse encourages believers to trust in God's presence and protection, reminding them that they are not alone and that God is their constant source of strength and support.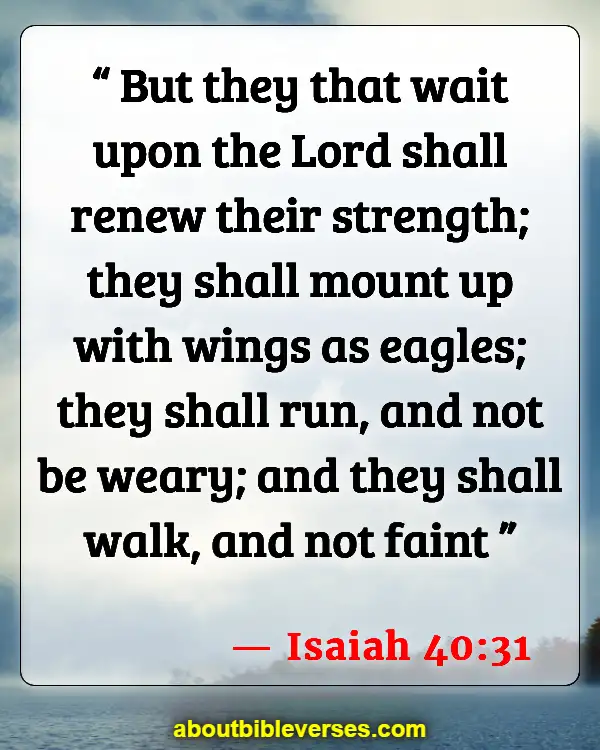 Isaiah 40:31
"But they that wait upon the Lord shall renew their strength; they shall mount up with wings as eagles; they shall run, and not be weary; and they shall walk, and not faint"
Explanation:
Isaiah 40:31 offers hope and strength to those who wait on the Lord. It promises that they will renew their strength, soar like eagles, run without growing weary, and walk without fainting. This verse encourages believers to patiently trust in God, assuring that He will provide the strength and endurance they need to face life's challenges.
---
Using Your Faith To Work Hard and Not Give Up
Faith is like a bright lantern in our lives, guiding our steps when the path gets a bit rocky. It's a source of strength, not just when things are going well, but especially when we face challenges. Sometimes, we might be tempted to give up when things get tough, but that's exactly when our faith matters the most. It's like having a good friend by our side, cheering us on, saying, "You can do it!"
Think about the stories from the Bible where people showed incredible persistence. They didn't have it easy, but they kept going because they trusted in a bigger plan and a stronger force at work. It's not always about the big miracles, but also the small, everyday victories that add up when we don't give up.
When we work hard, fueled by our faith, we're tapping into a power much greater than ourselves. It's like planting a seed in the ground. At first, it doesn't look like much, but with constant care, water, and sunlight – which in our lives can be prayer, good works, and hope – that little seed can grow into something amazing.
Remember, faith doesn't make things easy; it makes them possible. It encourages us to push through, even when the finish line seems miles away. It whispers to us in those quiet moments of doubt, "Keep going. You're not alone." And this is something that people of faith have believed for centuries – that through perseverance and trust, mountains can be moved, even if it's one stone at a time.
But let's be real – sometimes, we just feel like giving up. It happens to everyone. What's important is what we choose to do with that feeling. Do we let it win, or do we stand up, dust ourselves off, and look up with determination? Our faith can be the hand that pulls us back to our feet, the voice that tells us we are stronger than we think.
The Bible talks about running the race set before us, keeping our eyes on the prize. It's not just about speed; it's about endurance – the ability to keep going even when we're tired, scared, or unsure. It's about not letting the hurdles trip us up for good. Because with faith, even the hurdles have a purpose, teaching us something valuable or making us stronger.
So, as you go through your day, your week, your life, remember to lean on your faith. Let it be the strength that helps you work hard and not give up. And remember, it's okay to rest, to catch your breath, and to prepare for the next push. Because faith isn't just about the sprint; it's about the marathon – the long, sometimes difficult, but ultimately rewarding journey of life. Keep that faith close, let it light your way, and you'll be amazed at what you can accomplish.
Last Updated: November 18, 2023