Jesus says that he is the light of this world. And in him, there is no darkness. When we receive Jesus we understand the difference. Jesus came on this earth to make the way for heaven.
As long as we will be on this earth we need to prepare ourselves to enter into the promised land. We cannot enter into heaven by speaking lies, deceiving people, and doing evil.
To enter heaven we have to cleanse all our evil works. As the Lord hates sin so we must put away sin from us. Let us prepare our hearts so that we may not commit any kinds of works that hinder us to reach the Lord.
The following bible verses with explanations will help us to understand more about profanity.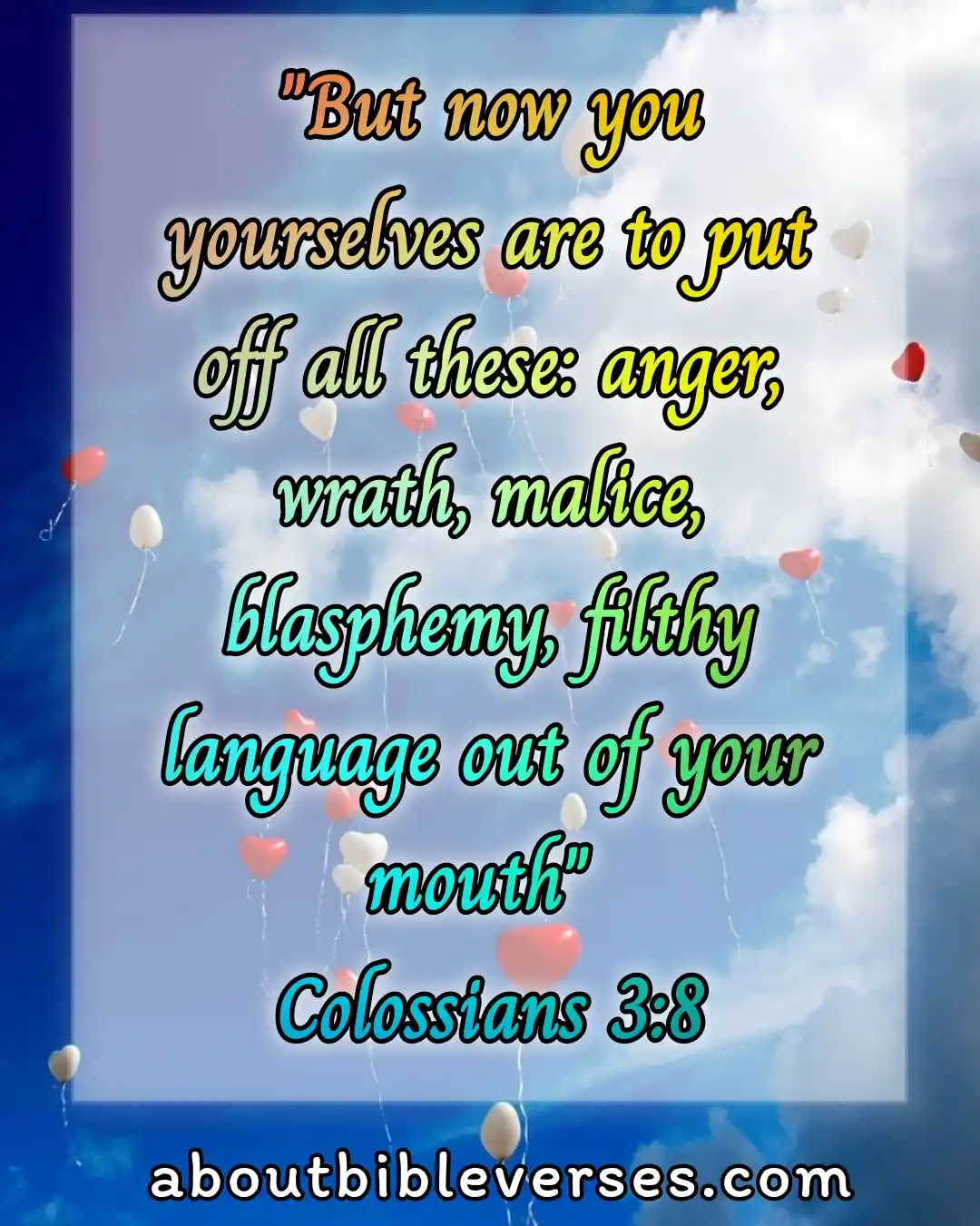 Colossians 3:8(KJV)"But now ye also put off all these; anger, wrath, malice, blasphemy, filthy communication out of your mouth"
Explanation:- As we are the children of God we must live a righteous life where our sinful man should not be positioned who once died with Christ at baptism.
All kinds of evil practices such as anger, backbiting, gossiping, and discriminating should be avoided.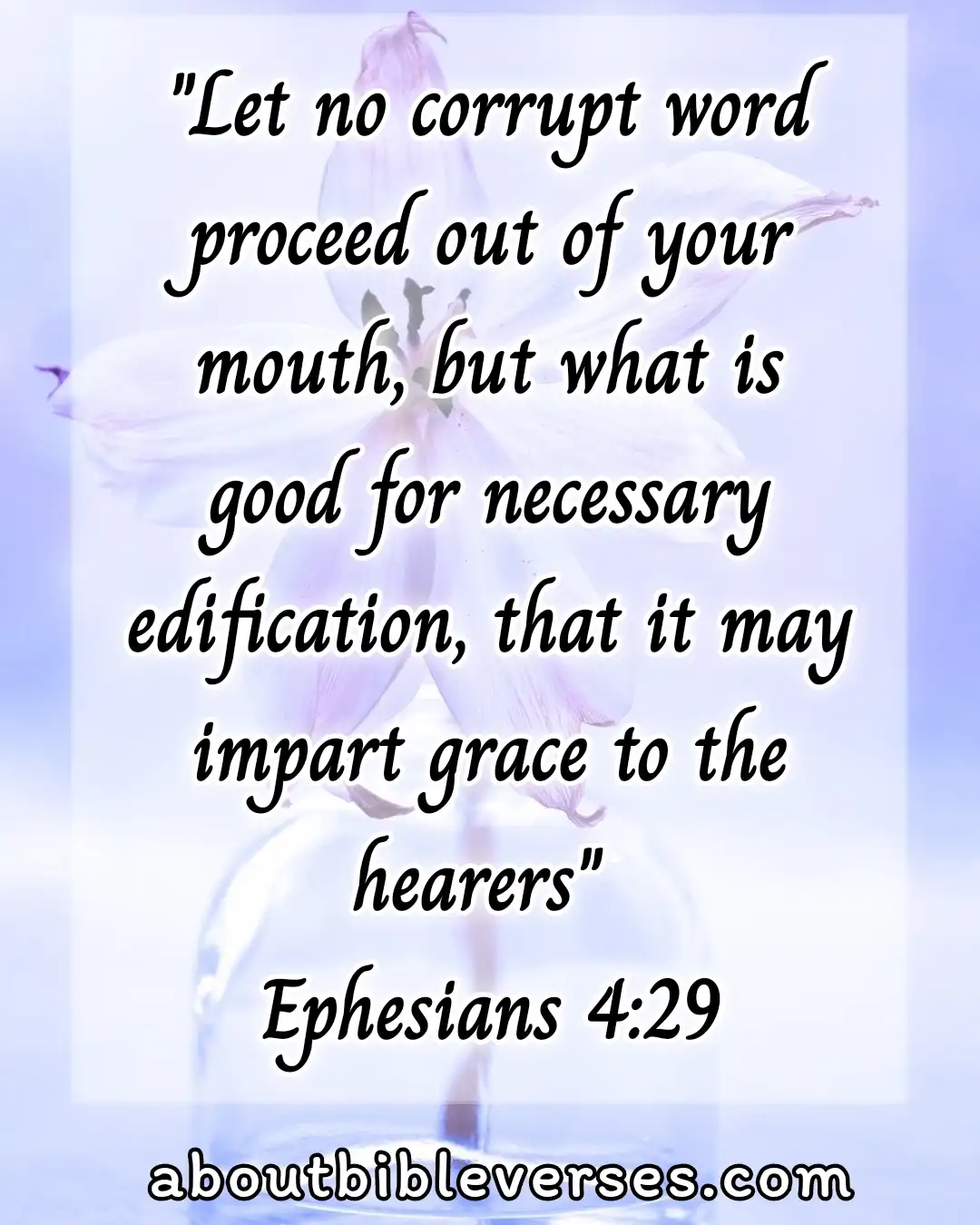 Ephesians 4:29(KJV)"Let no corrupt communication proceed out of your mouth, but that which is good to the use of edifying, that it may minister grace unto the hearers"
Explanation:- For the edification of the church, every believer should walk in harmony. They must be careful concerning their words that proceed from their mouth.
Because people around us are watching our actions so we must present ourselves holly in their sight.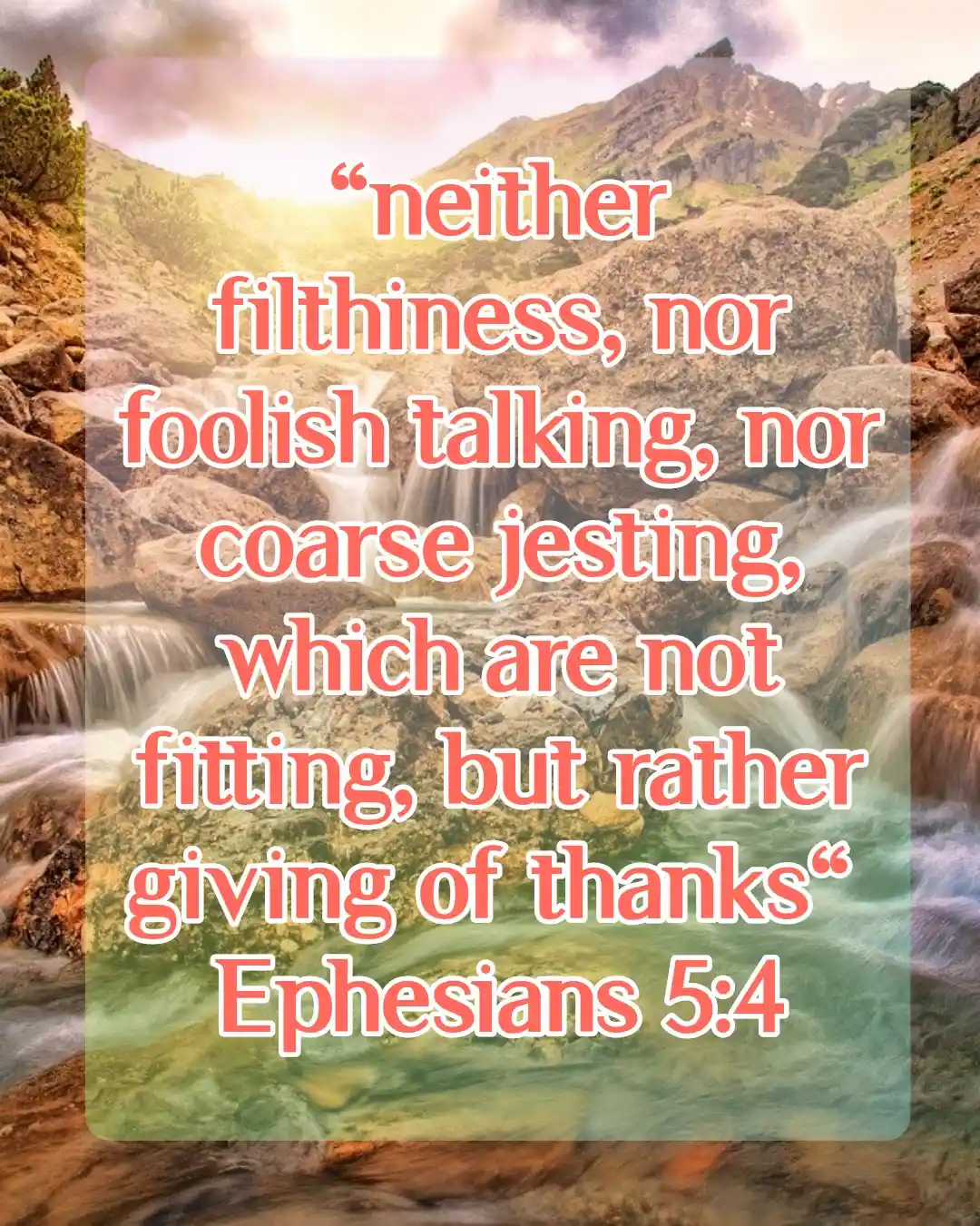 Ephesians 5:4(KJV)"Neither filthiness, nor foolish talking, nor jesting, which are not convenient: but rather giving of thanks"
Explanation:- Before receiving Jesus we all lived a sinful life where we did lots of evil deeds. We did all those out of our knowledge of God but now we have the words of Jesus so we need to think before we speak. 
The Lord will put us into the great judgment according to our words that we have speaking here.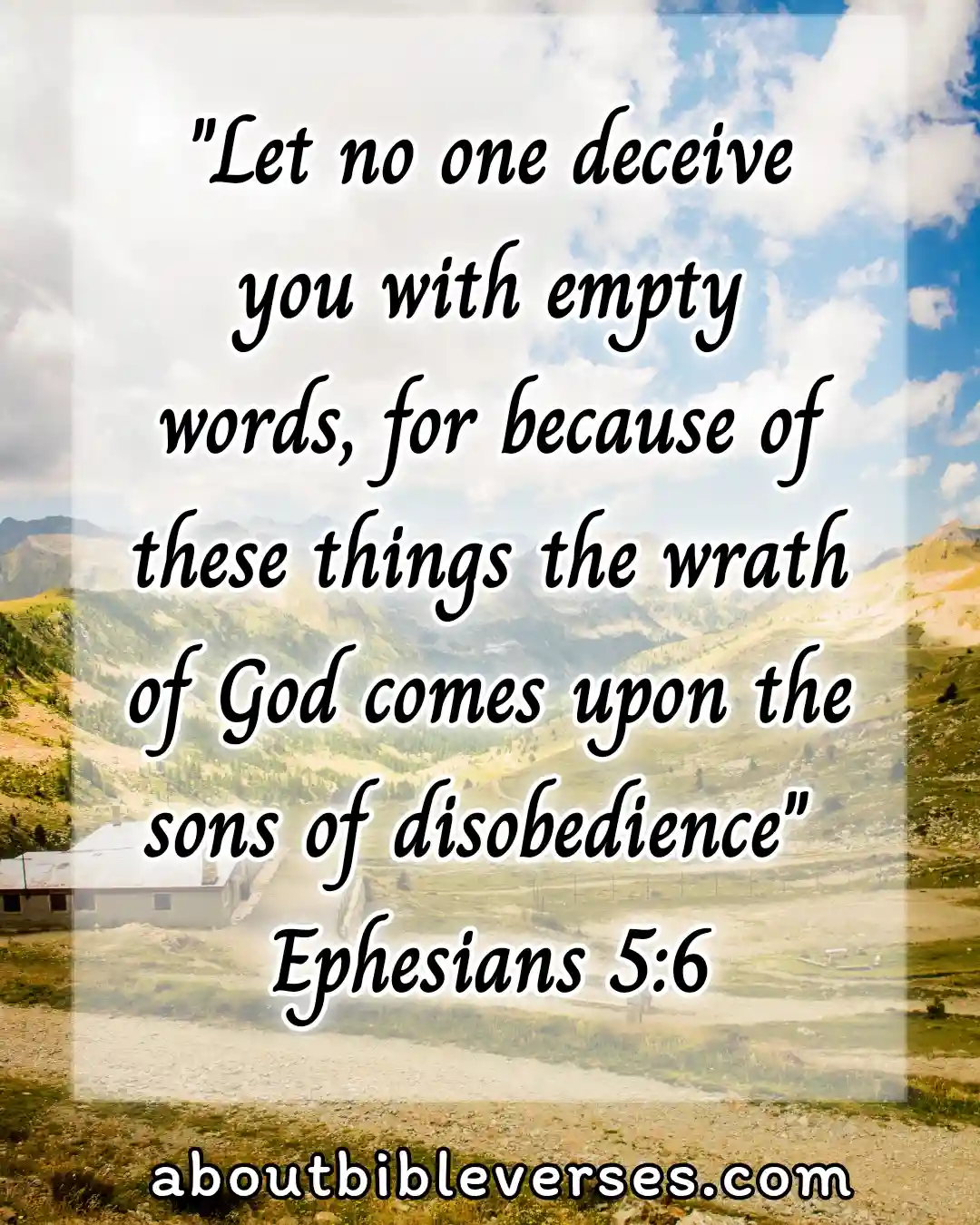 Ephesians 5:6(KJV)"Let no man deceive you with vain words: for because of these things cometh the wrath of God upon the children of disobedience"
Explanation:- We should not deceive people for our own benefits. We have the truth that warns us about the consequence of cheating others. Those who will disobey the Lord will see the wrath of God in the last days.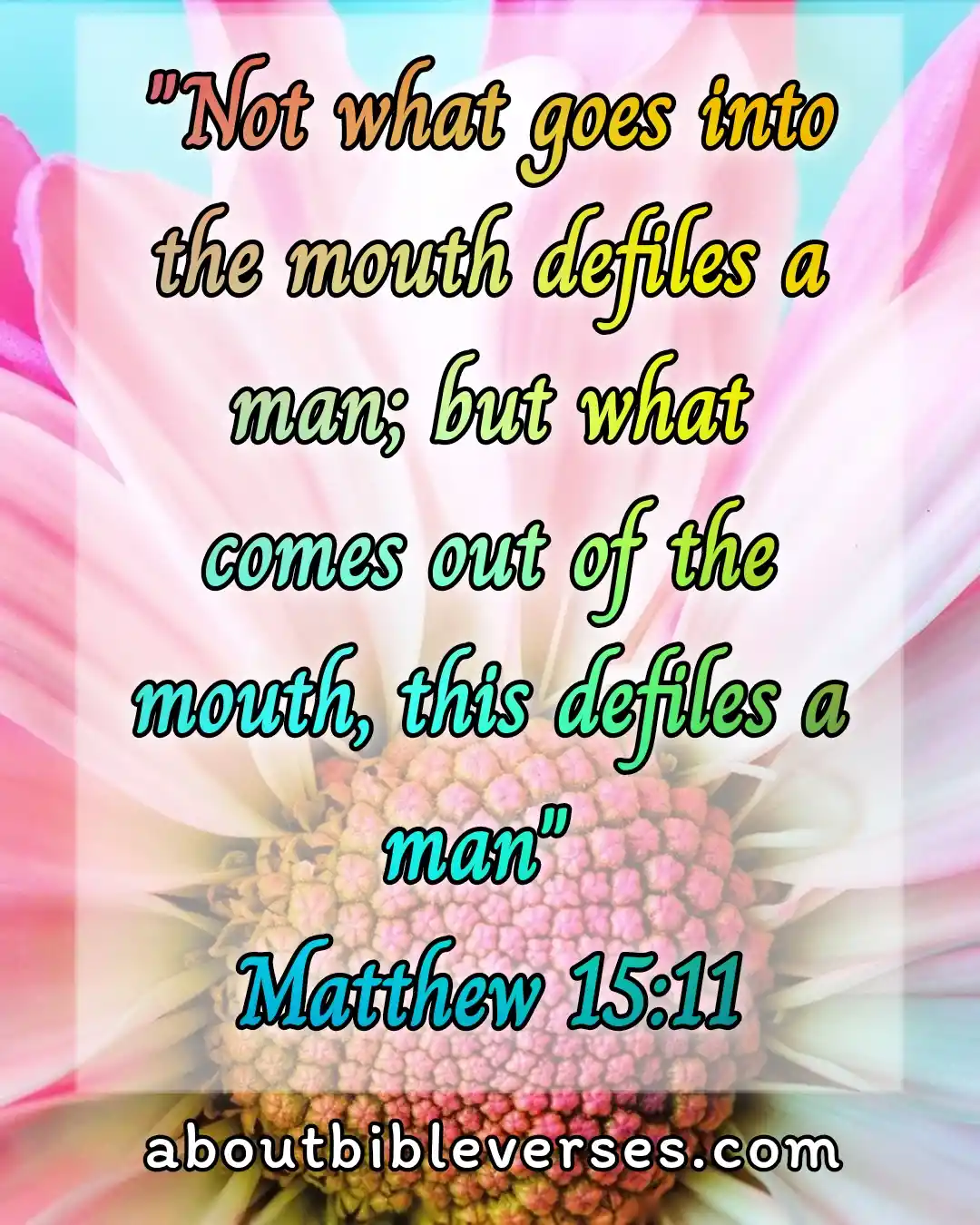 Matthew 15:11(KJV)"Not that which goeth into the mouth defileth a man; but that which cometh out of the mouth, this defileth a man"
Explanation:- What we eat does not affect us but the things which come out from our mouths bring problems in our midst.
Here Jesus says that all the edible stuff does not harm us but our words cause trouble to others. We need to judge our words before we speak.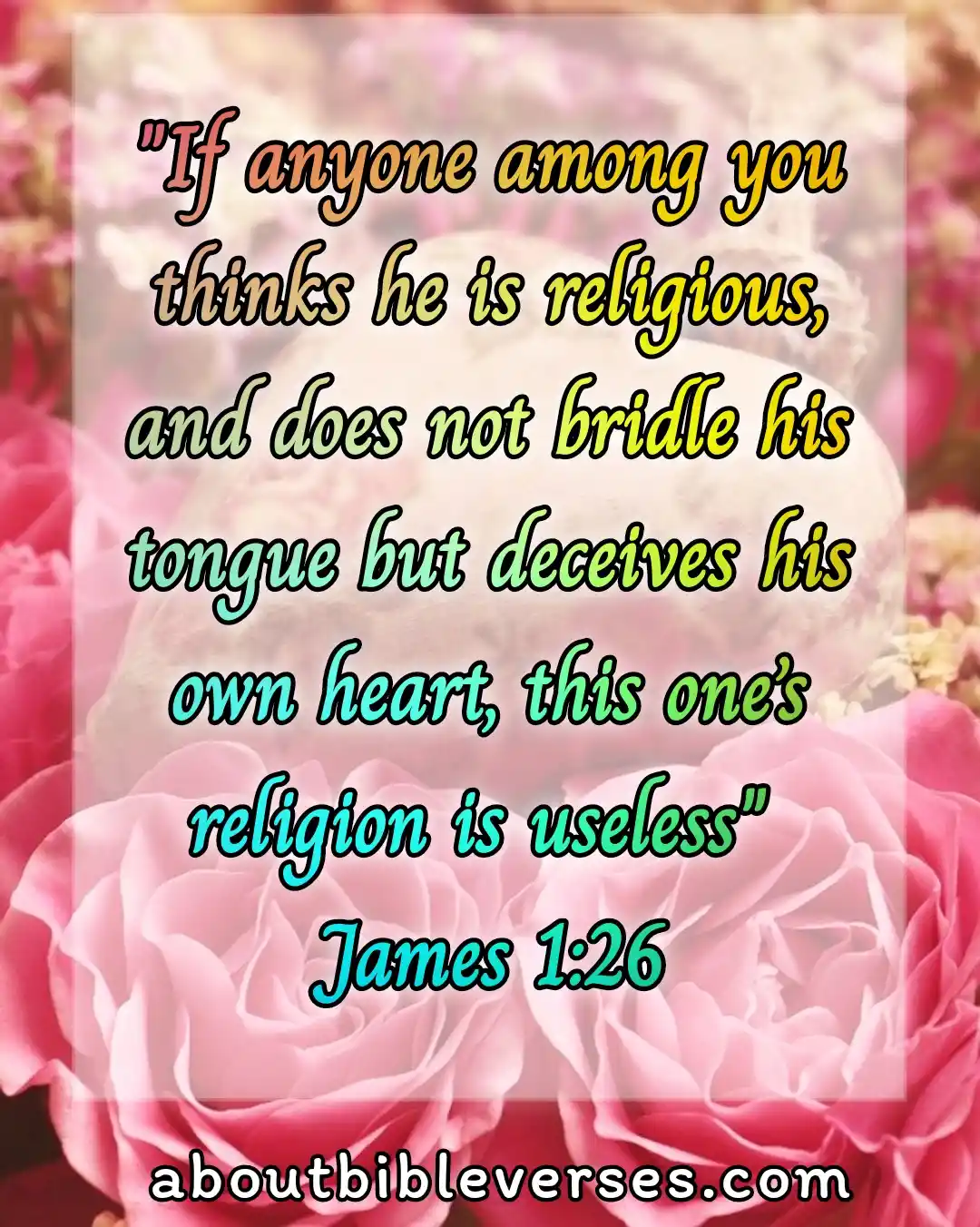 James 1:26(KJV)"If any man among you seem to be religious, and bridleth not his tongue, but deceiveth his own heart, this man's religion is vain"
Explanation:- If we found a man who seems to be religious but does not control his tongue then we must know that all of his deeds are in vain.
Actually, he is deceiving his own heart as he cannot control his tongue. This verse teaches us to know where to speak and where to remain silent.
James 3:10(KJV)"Out of the same mouth proceedeth blessing and cursing. My brethren, these things ought not so to be"
Explanation:- The Book of James teaches us how to live a faithful Christian life fearing the Lord. Most of the time we forget who we are. We bless and pray for people and when we get angry we start to curse them from the same mouth. We should not do that as the Lord is keeping his eyes upon us.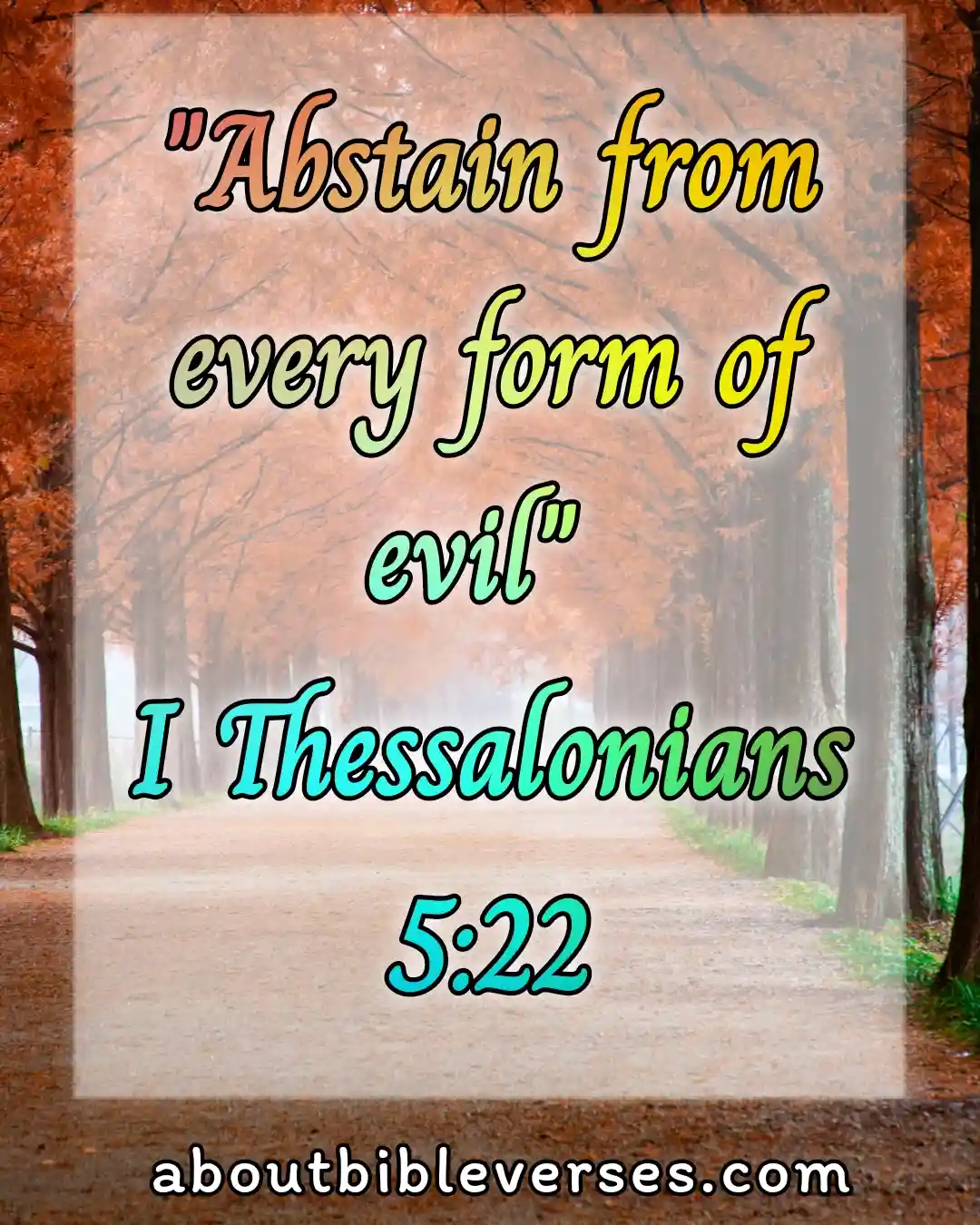 1 Thessalonians 5:22(KJV)"Abstain from all appearance of evil"
Explanation:- We must remain detached from all kinds of evil activity. If we worship the Lord and at the same time we do evil deeds then we will receive more punishment from the Lord.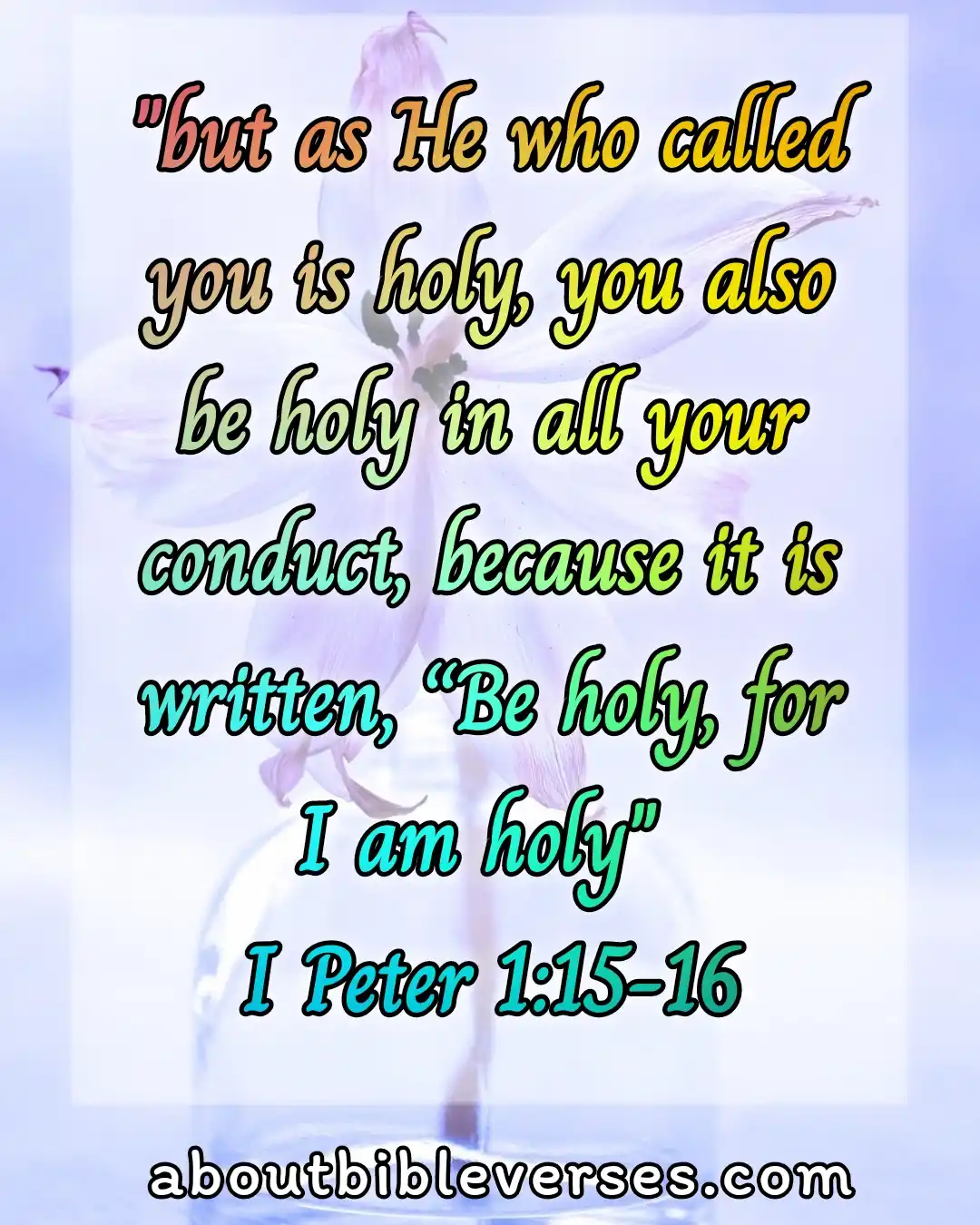 1 Peter 1:15(KJV)"But as he which hath called you is holy, so be ye holy in all manner of conversation"
Explanation:- We worship the Lord who is holy. He demanded us to be holy. To have a fellowship with him we must wash away our sins by his precious blood.
Because of holiness, the Lord separated his presence from the human race. We must give all types of works that hinder us to come before the Lord.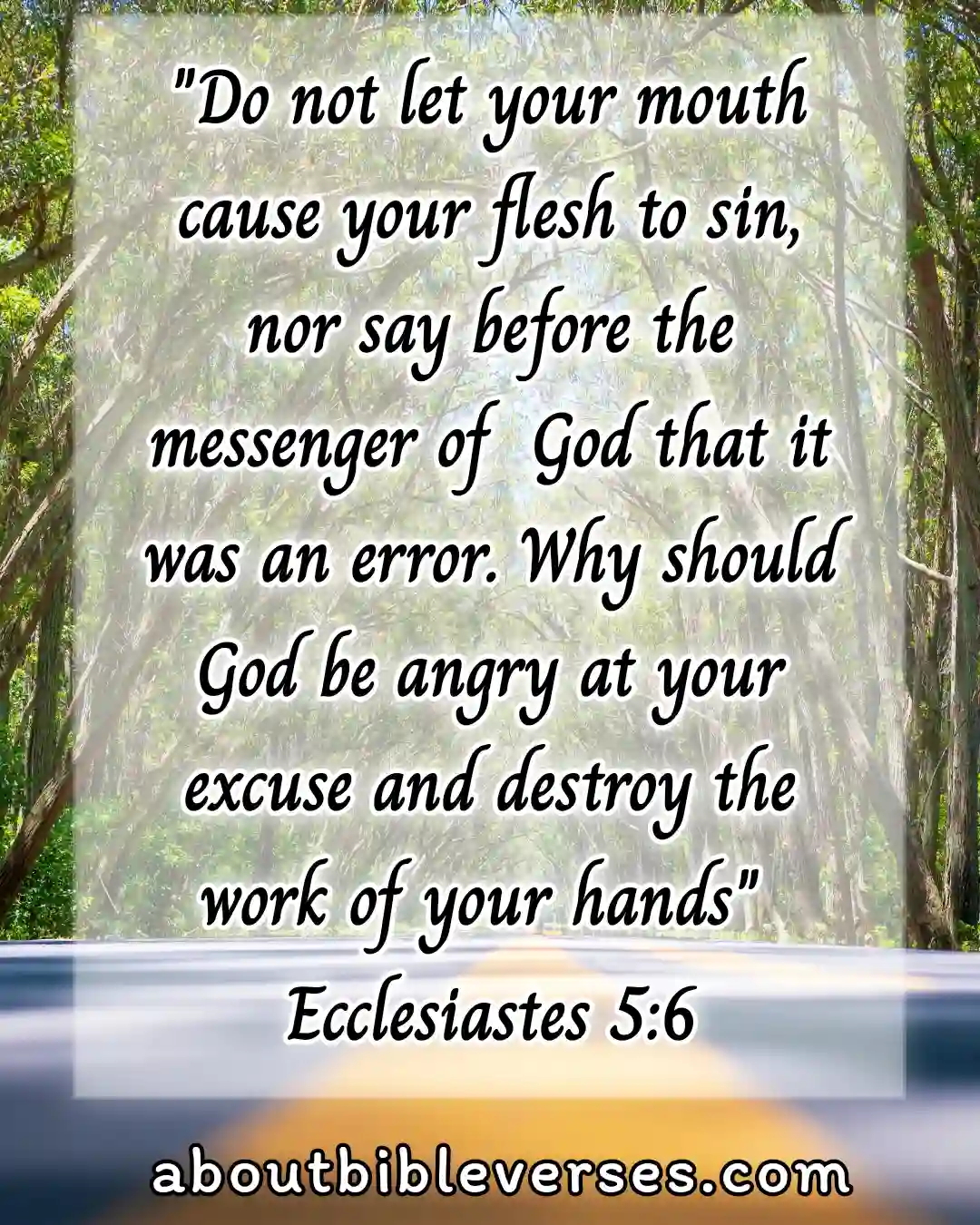 Ecclesiastes 5:6(KJV)"Suffer not thy mouth to cause thy flesh to sin; neither say thou before the angel, that it was an error: wherefore should God be angry at thy voice, and destroy the work of thine hands?"
Explanation:- We must use our tongue according to the needs. If we use unnecessary words then we suffer for it. All our words will be counted and we have to its cost before the Lord. Let us prepare ourselves so that we can overcome God's wrath.
Philippians 2:14-15(KJV)"Do all things without murmurings and disputings: That ye may be blameless and harmless, the sons of God, without rebuke, in the midst of a crooked and perverse nation, among whom ye shine as lights in the world"
Explanation:- We should not complain against the Lord. in the church we must maintain our humble behaviors. We need to remember that we are called to be separated from the evil practices of this world. Our works and words will be judged at the second coming of Jesus.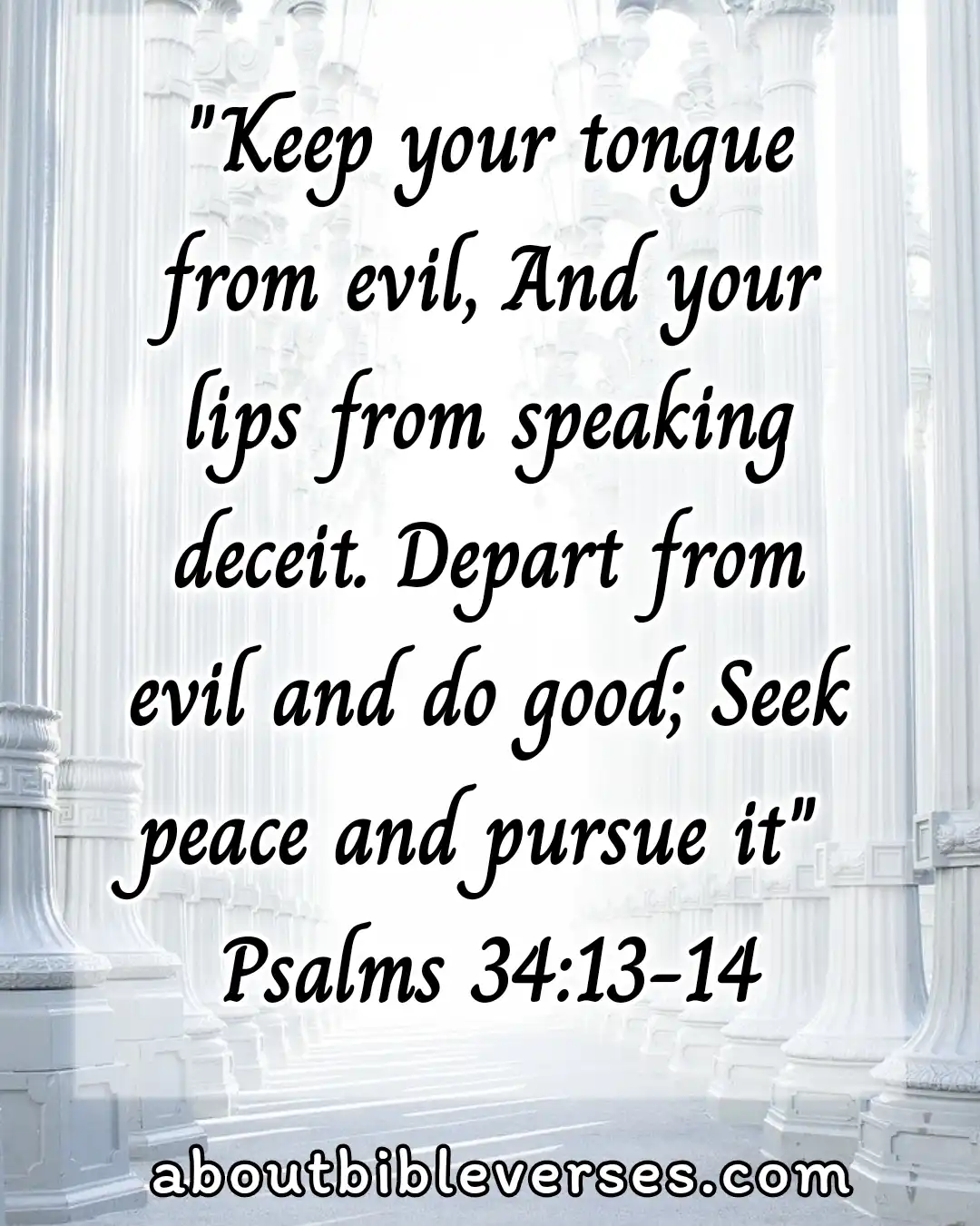 Psalm 34:13-14(KJV)"Keep thy tongue from evil, and thy lips from speaking guile. Depart from evil, and do good; seek peace, and pursue it"
Explanation:- Without peace and holiness we cannot serve God. To come before him we need to wash away all our evil works. When we purify our evil works only then we will be able to see the Lord.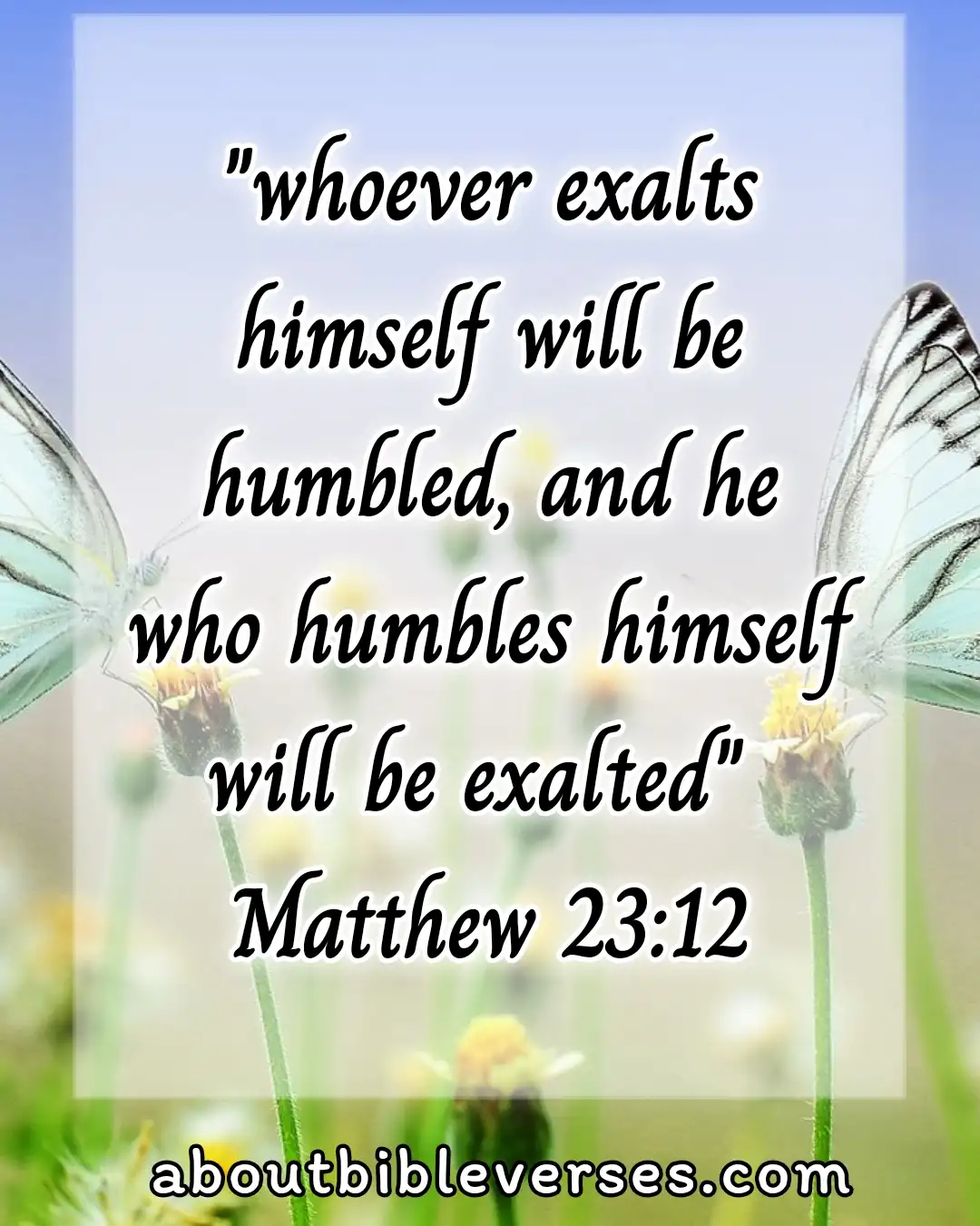 Matthew 23:12(KJV)"And whosoever shall exalt himself shall be abased; and he that shall humble himself shall be exalted"
Explanation:- We should live a humble life as our Lord has left an example of humble life. If we show our pride then we will definitely fall into temptation.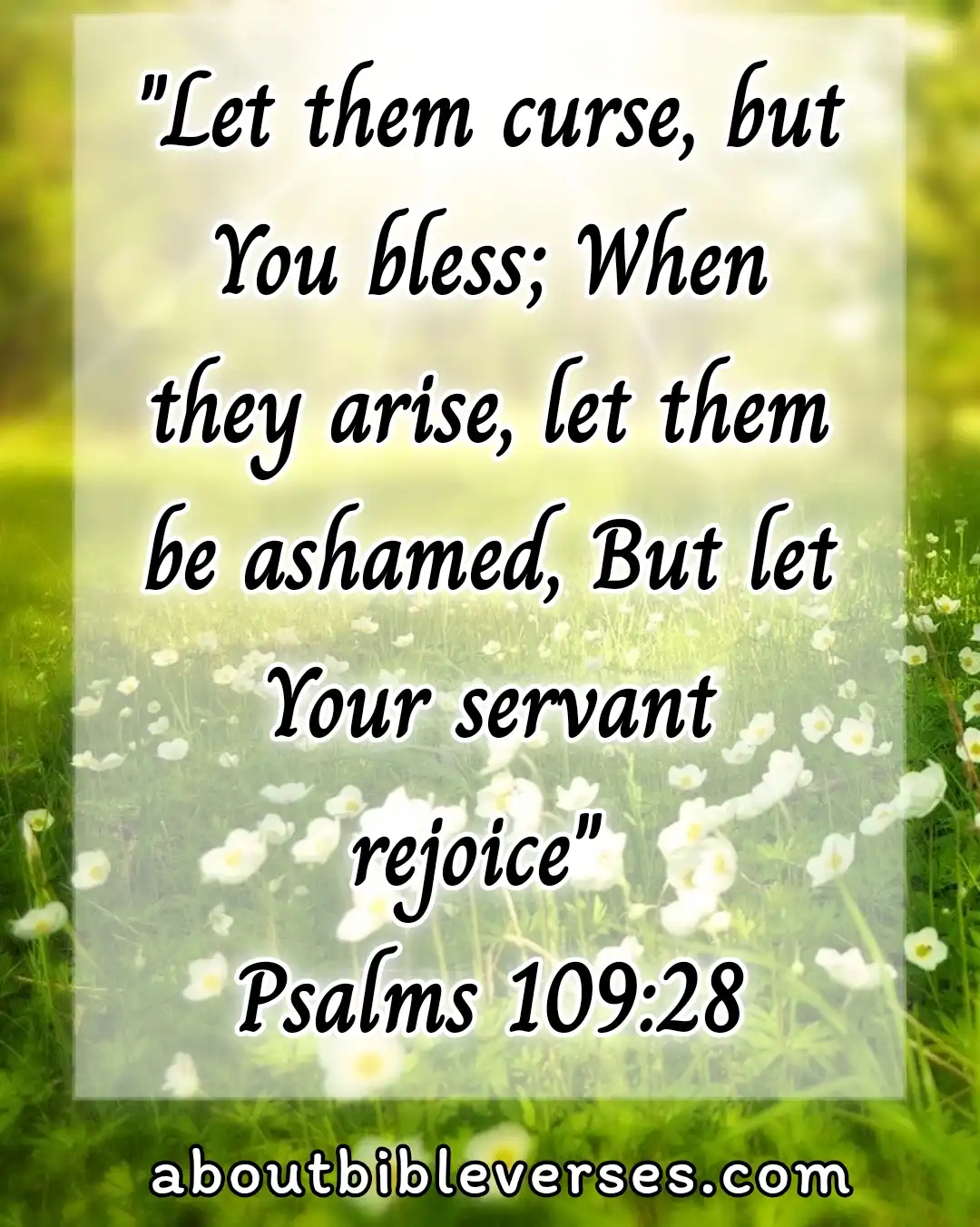 Psalm 109:28(KJV)"Let them curse, but bless thou: when they arise, let them be ashamed; but let thy servant rejoice"
Explanation:- We should pray for our enemies. They may curse us but we need to remember that the Lord wants us to forgive the sins of our enemies.
If we keep their actions in our minds then we will not be able to forgive them. It would be wise for us to forgive and forget.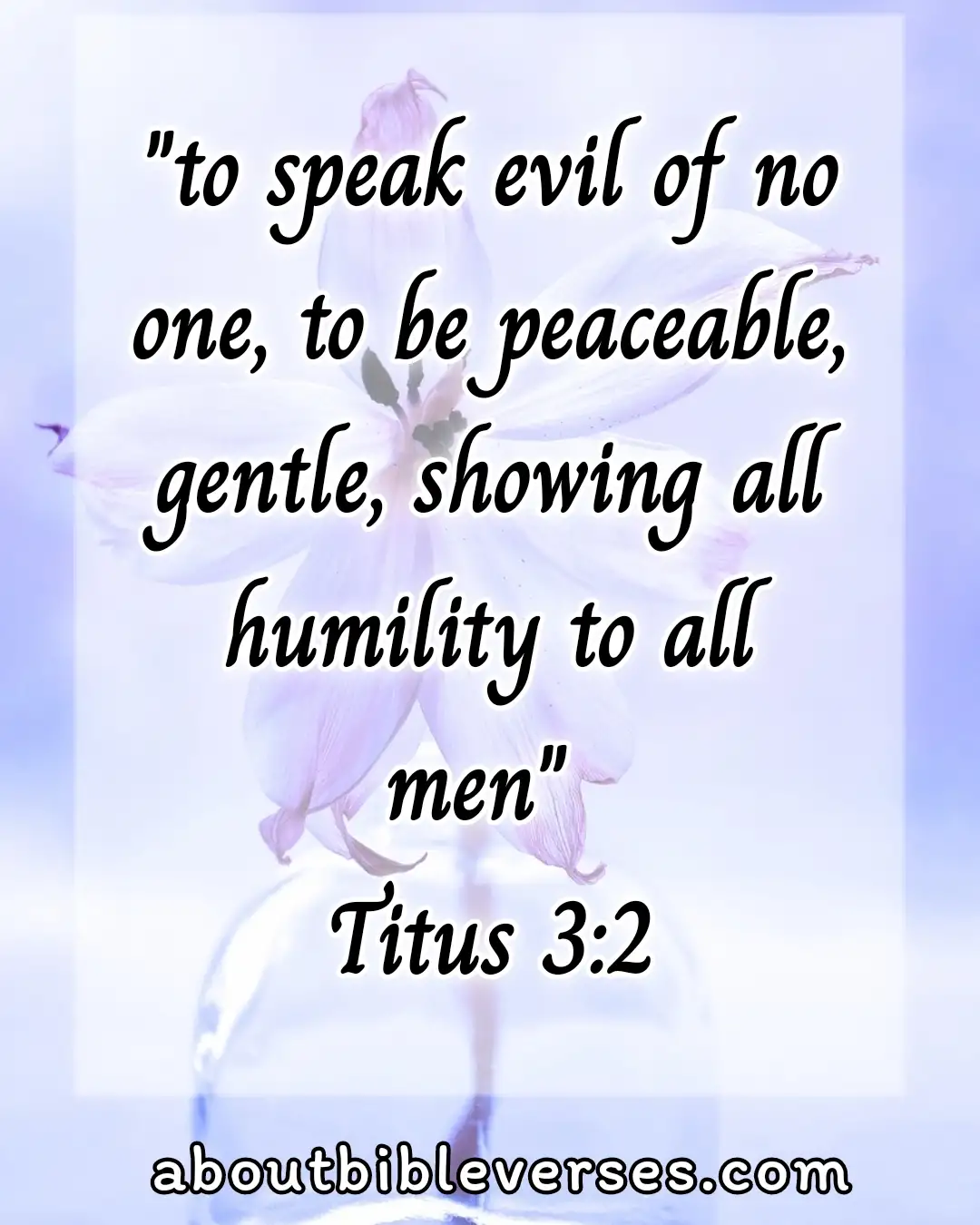 Titus 3:2(KJV)"To speak evil of no man, to be no brawlers, but gentle, shewing all meekness unto all men"
Explanation:- We must not criticize others because if we do so then people will not learn any good lessons from us. We are here not to find the faults of others. we have to be determined in our works. To fulfill the desires of God we must walk;k with him to understand his will.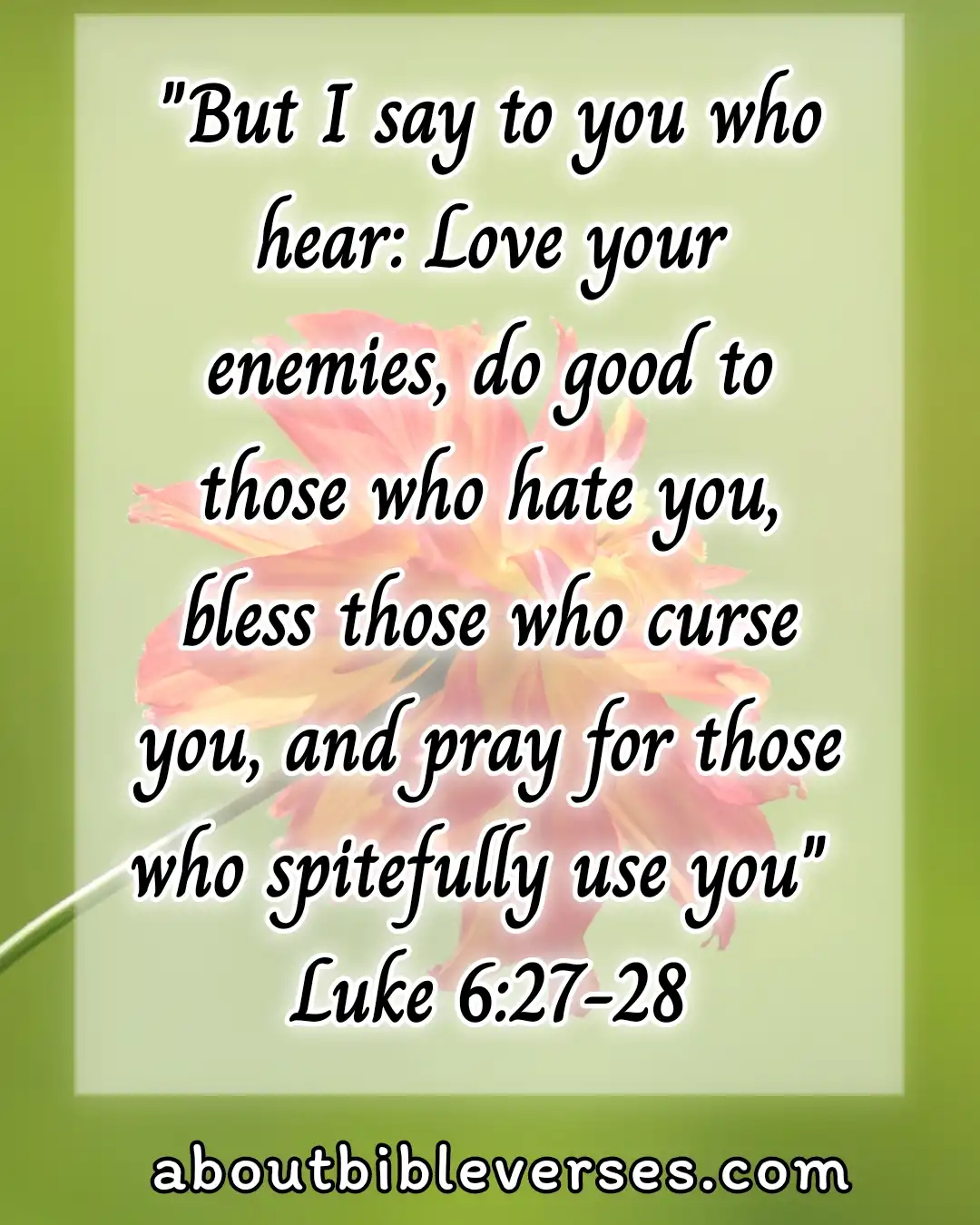 Luke 6:27-28(KJV)"But I say unto you which hear, Love your enemies, do good to them which hate you, Bless them that curse you, and pray for them which despitefully use you"
Explanation:- We need to love our rivals so that they will be changed by the love of God that we have gained from him. The teachings of Jesus are amazing. If we view them from our human perspective then we will find it impossible but we need to see it with the eyes of God.
We need to pray for our enemies. When we will not harm them, they will be changed and thus we will fulfill the will of God.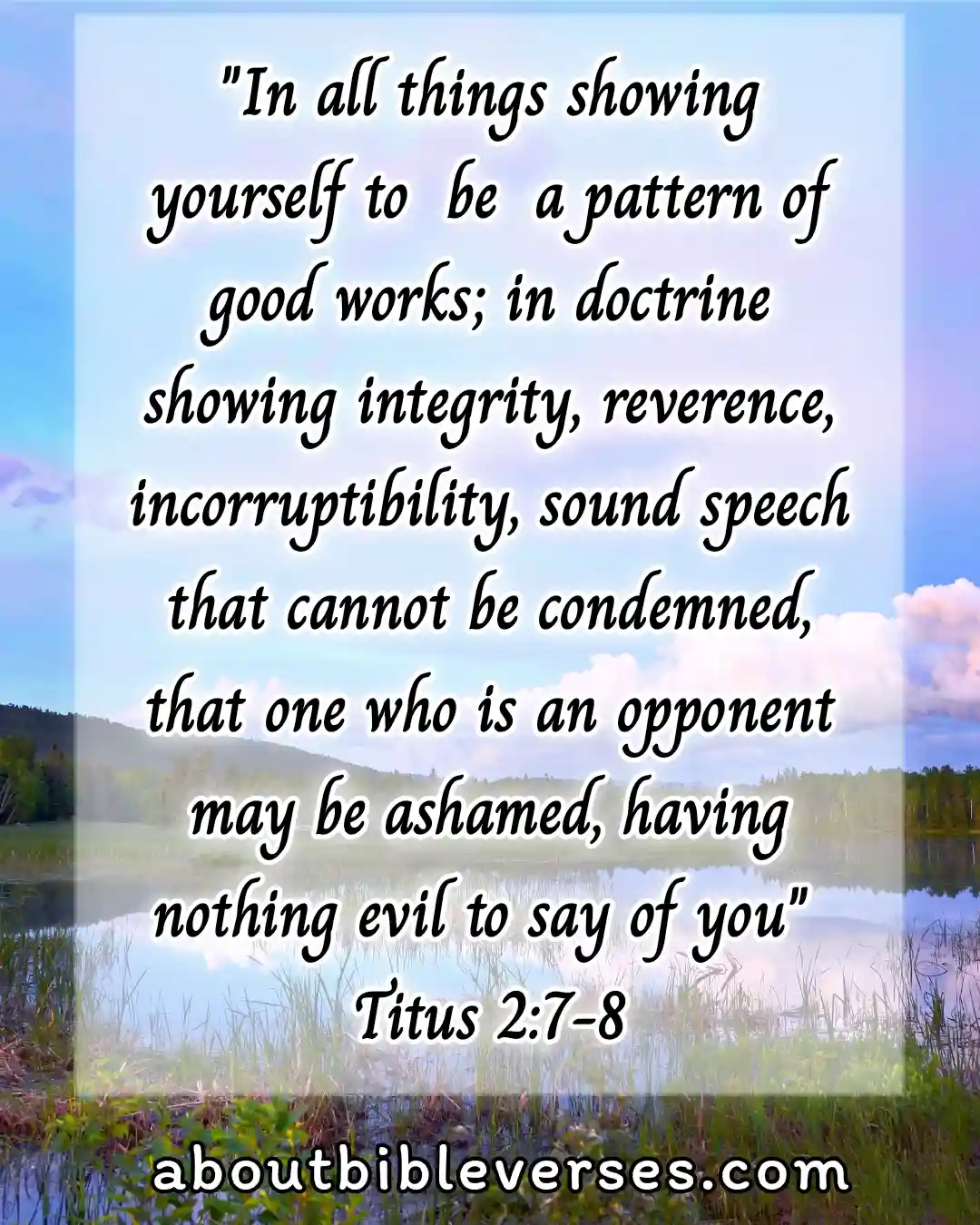 Titus 2:7-8(KJV)"In all things shewing thyself a pattern of good works: in doctrine shewing uncorruptness, gravity, sincerity, Sound speech, that cannot be condemned; that he that is of the contrary part may be ashamed, having no evil thing to say of you"
Explanation:- In every work we must prove that we do not belong to this world. We need to show the world our great God by our words and actions.
We have to learn all the good things that bring unity among the believers. People who do not the blood will get to know him by our righteous works.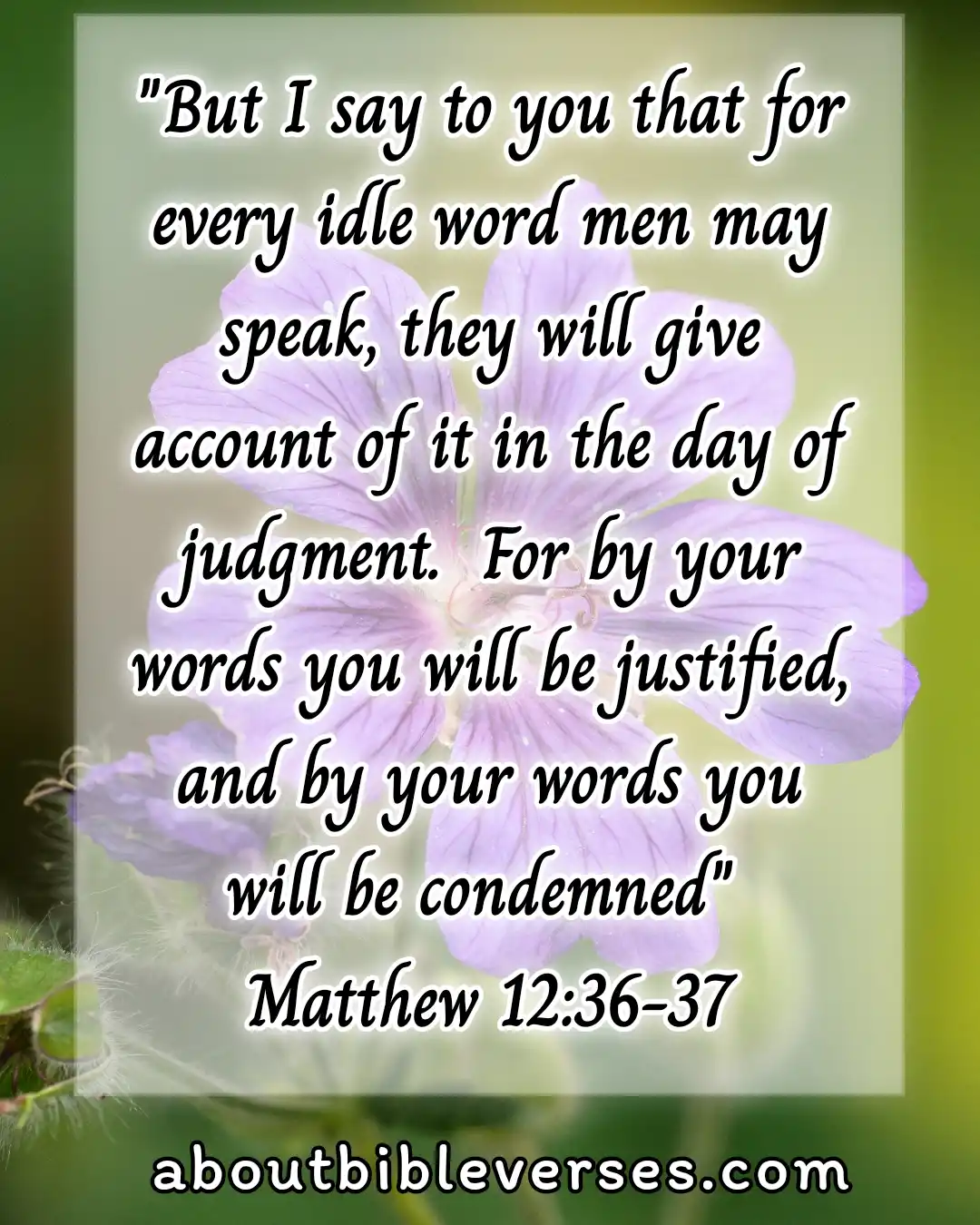 Matthew 12:36-37(KJV)"But I say unto you, That every idle word that men shall speak, they shall give account thereof in the day of judgment. For by thy words thou shalt be justified, and by thy words thou shalt be condemned"
Explanation:- Jesus has clearly said that all our evil words that we are speaking today will be judged. We have the time to change our behavior because yet the time has not come. 
To protect our souls from the anger of God we must stop speaking lies, slang words, and unwanted words that do not bring any glory to the Lord.