Which should have a positive mindset and we can get it only by reading the Bible and meditating upon it.
The Bible is the inspired word of God and it has been given to us for our spiritual upliftment so that we can have a deep knowledge of God's plan.
We must think about everything positively because we worship the Lord who is the true God and he himself sacrificed his heavenly position and came down on this earth to give us salvation.
If we do not have positive thinking in our midst then we will lose our hope and we will be back-slide when the temptations will come into our life.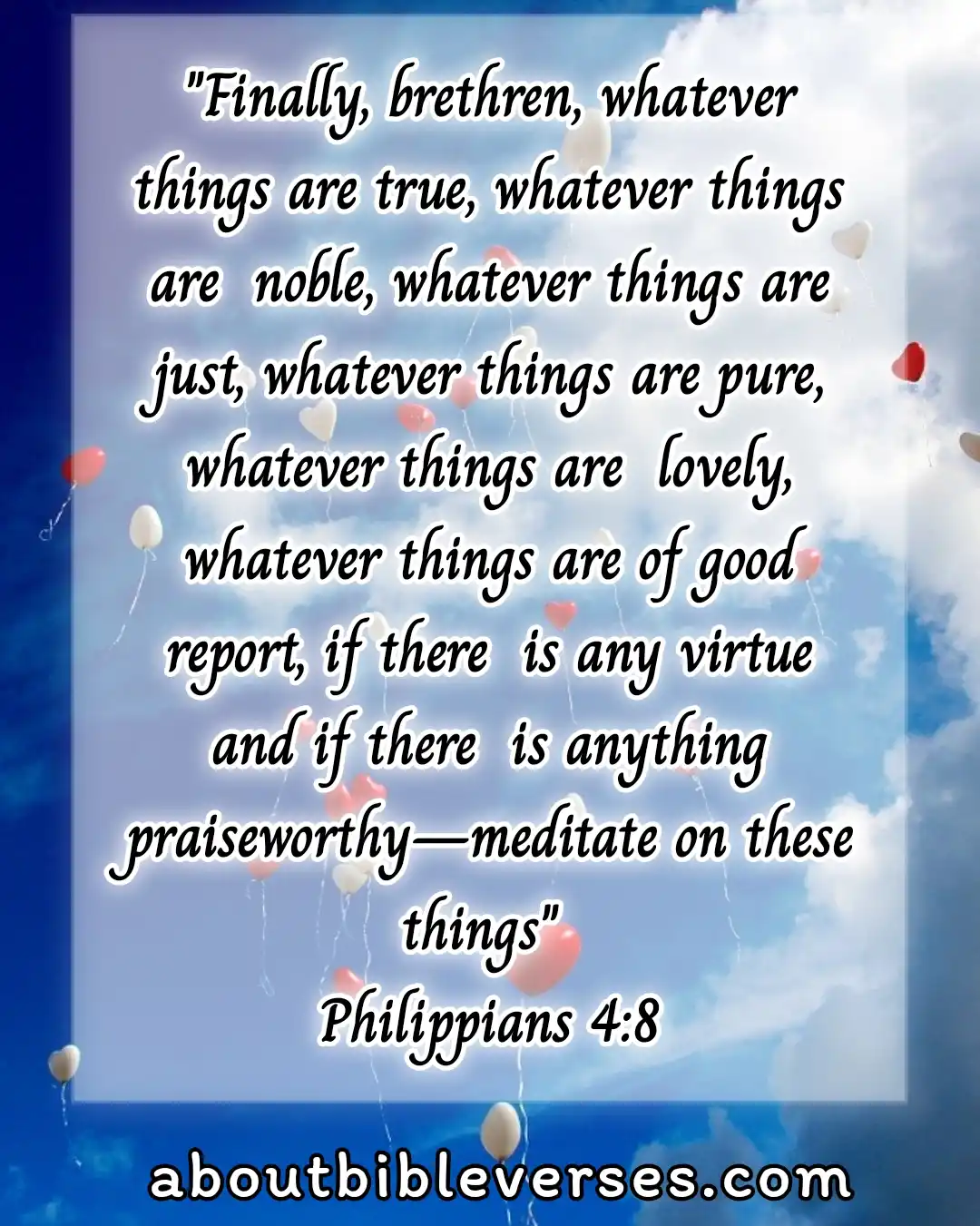 Philippians 4:8(KJV)"Finally, brethren, whatsoever things are true, whatsoever things are honest, whatsoever things are just, whatsoever things are pure, whatsoever things are lovely, whatsoever things are of good report; if there be any virtue, and if there be any praise, think on these things"
Explanation:- We must live Happily in this world as we are going to meet our Lord after our physical death on this earth. We will not live permanently here so we must have the hope of heaven. This verse teaches us to think about good things all the time.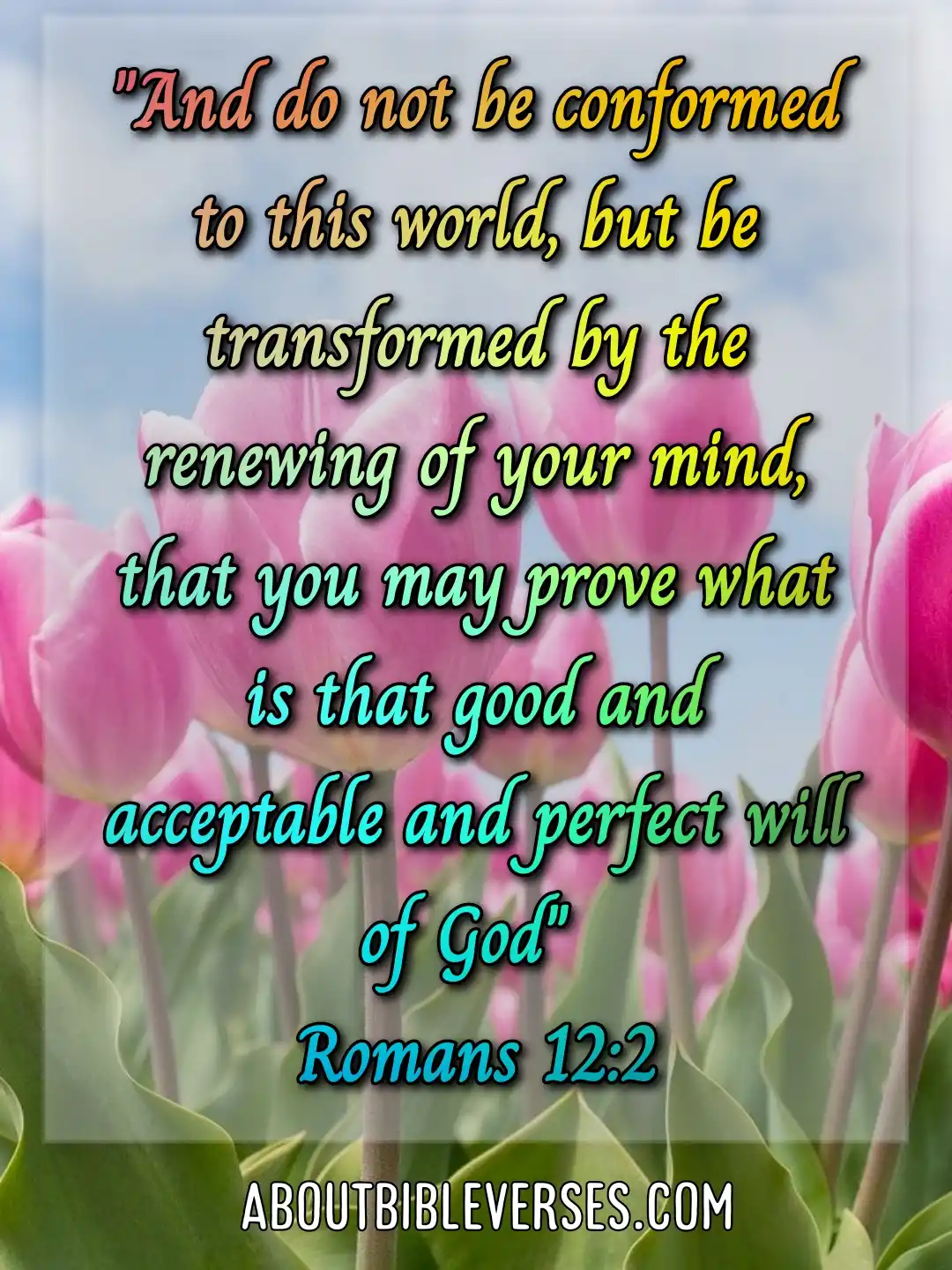 Romans 12:2(KJV)"And be not conformed to this world: but be ye transformed by the renewing of your mind, that ye may prove what is that good, and acceptable, and perfect, will of God"
Explanation:- Christians should not imitate the worldly culture and lifestyle rather they should live a separate holy life that satisfies God.
The Bible says that this world is temporary and the followers of Jesus must renew their minds to walk with God. They should test everything and should always follow the good things always.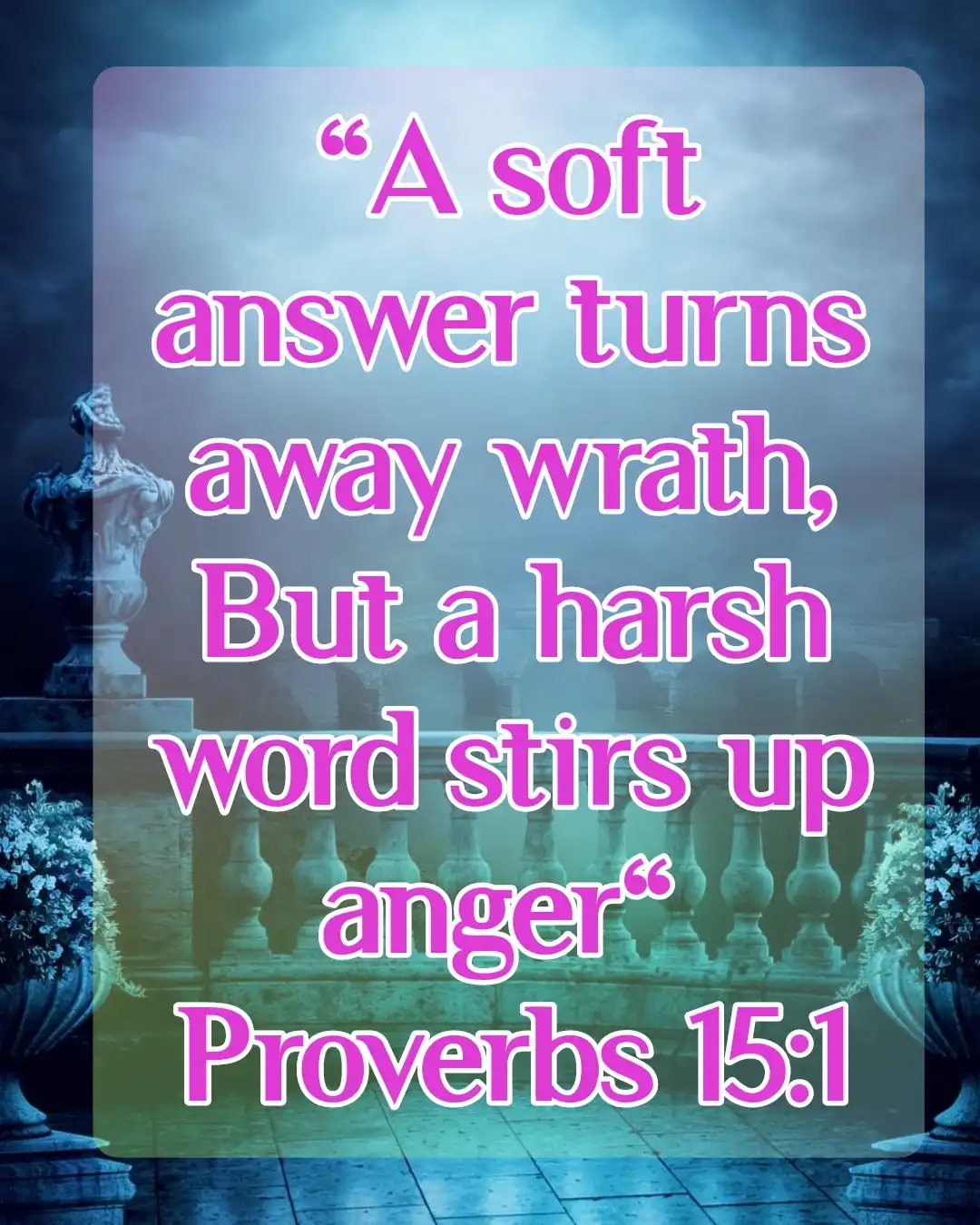 Proverbs 15:1(KJV)"A soft answer turneth away wrath: but grievous words stir up anger"
Explanation:- Christians should talk softly when they encounter people of the world. Jesus also used to speak gently and softly to everyone. When we talk harshly with people, it affects their minds and hearts.
It would be wise for Christians to behave with the people gently and by doing so they will be able to win the hearts of other people.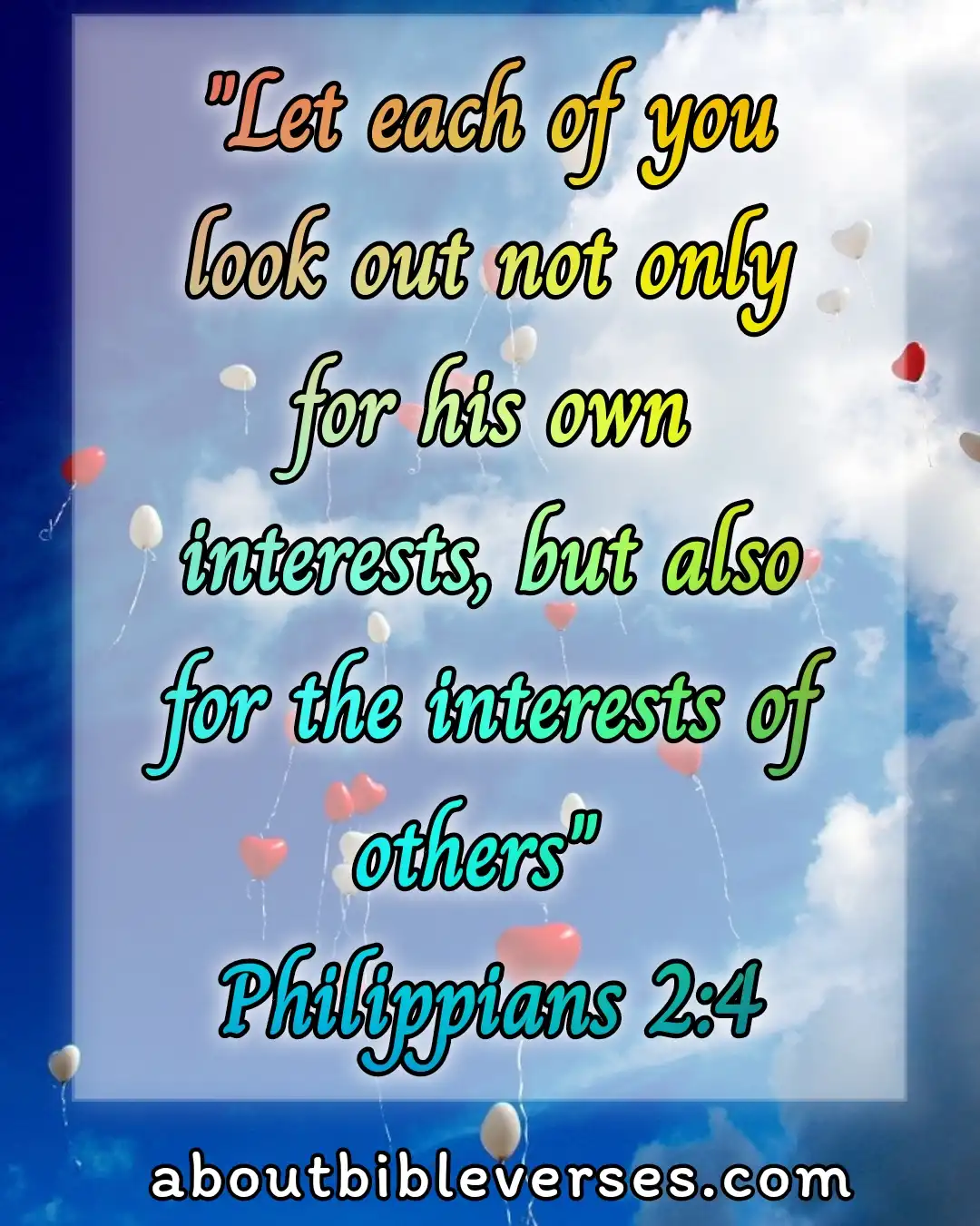 Philippians 2:4(KJV)"Look not every man on his own things, but every man also on the things of others"
Explanation:- Everyone should think for others as it is the will of the Lord. If we only think for our own benefits then we will gain a curse from the Lord.
We must care for our neighbors who dwell beside us. We need to extend our help hand when they are in trouble.
Jesus always helped others when he was on this earth and we should learn from him to help others.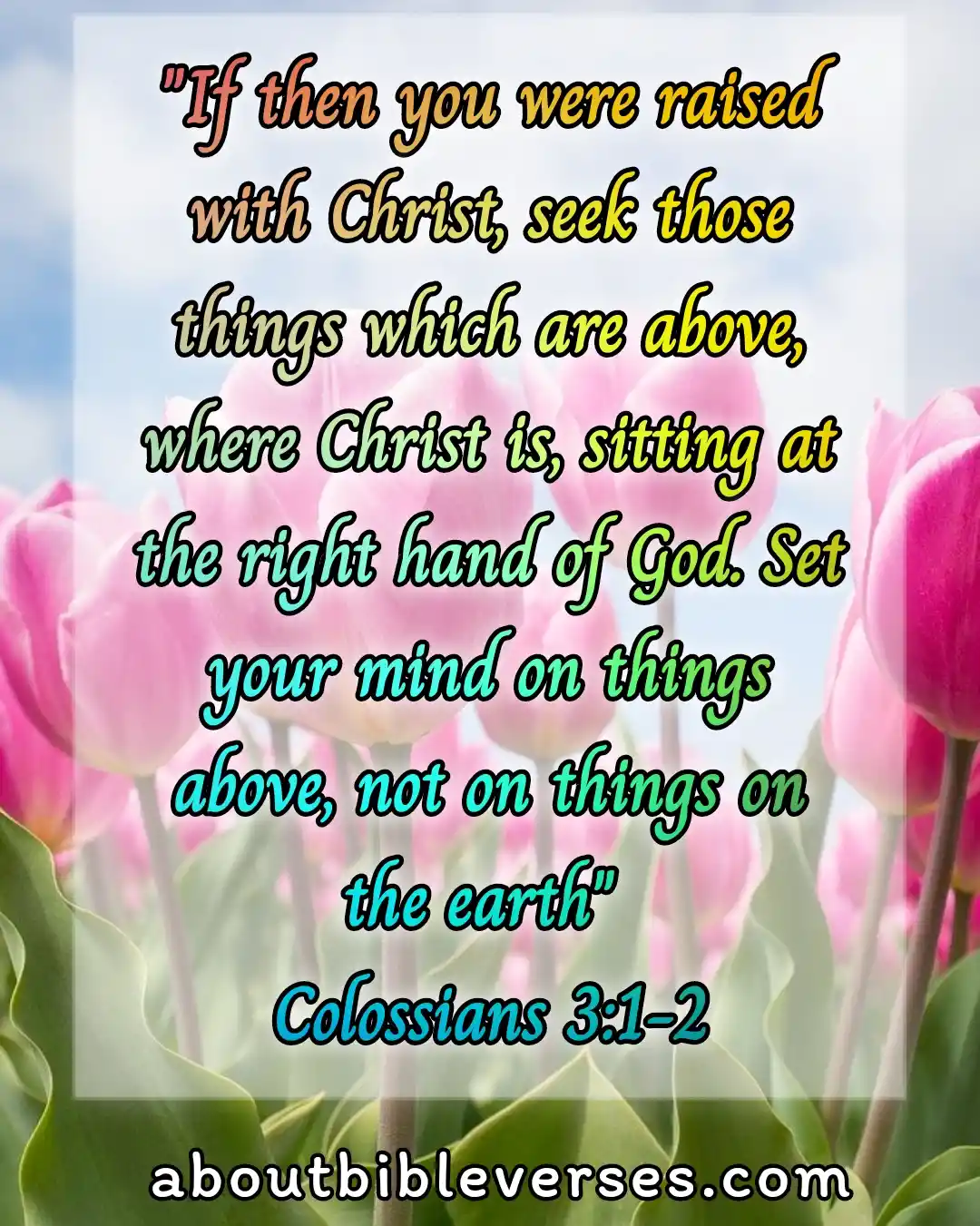 Colossians 3:1-2(KJV)"If ye then be risen with Christ, seek those things which are above, where Christ sitteth on the right hand of God.Set your affection on things above, not on things on the earth"
Explanation:- We have risen with Jesus Christ and we belong to him. That is why we no longer have authority over our will but we are submitted to the Lord.
We must glorify Lord Jesus Christ through our works so that people will get to know who Jesus is. All our thoughts will be based on heaven where we will dwell permanently.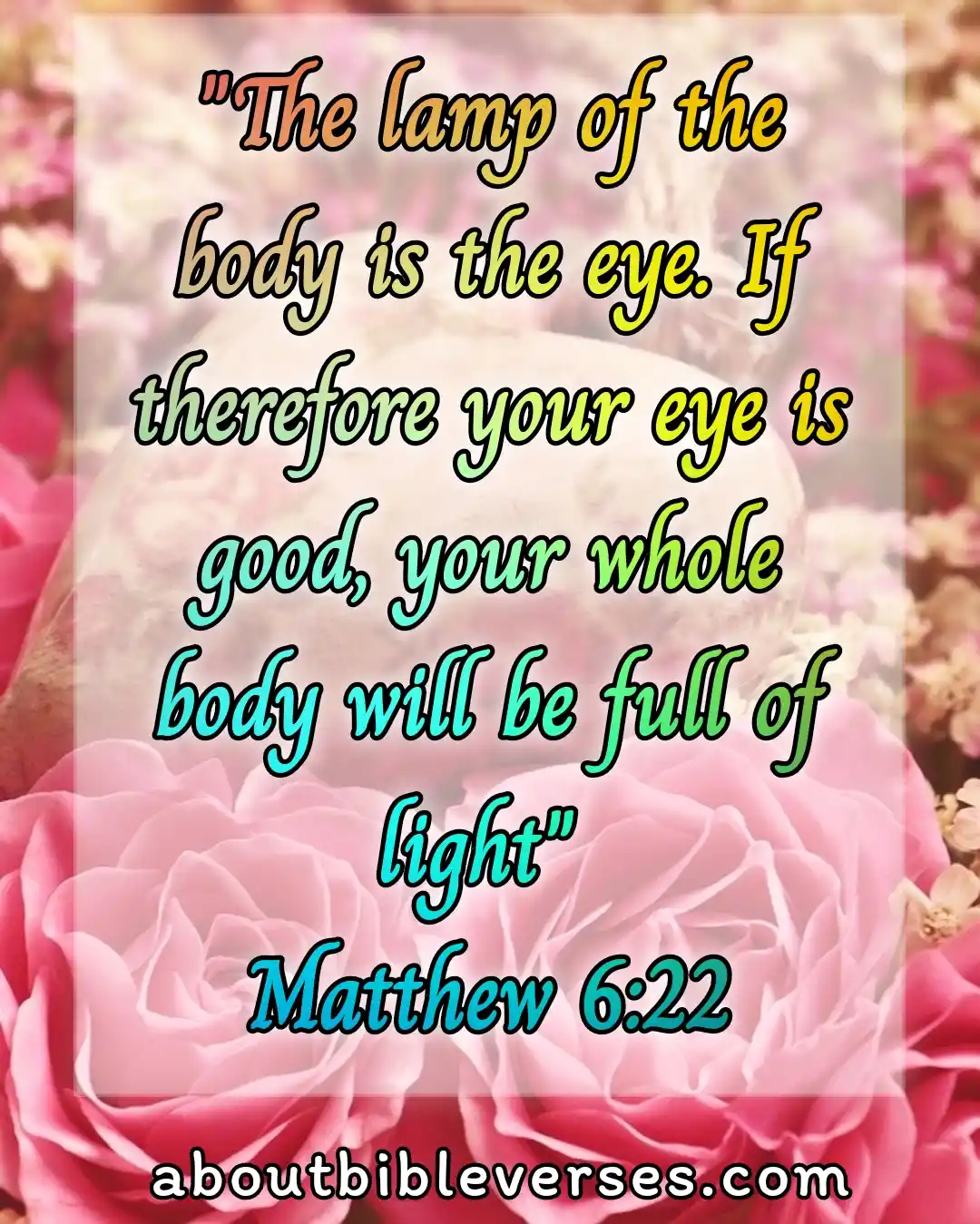 Matthew 6:22(KJV)"The light of the body is the eye: if therefore thine eye be single, thy whole body shall be full of light"
Explanation:- We need to control our desires and it will help us to be righteous. If we neglect it then we have to suffer for it
We need to see everything positively with our eyes. If we view any negative side then we will have different concepts concerning that topic.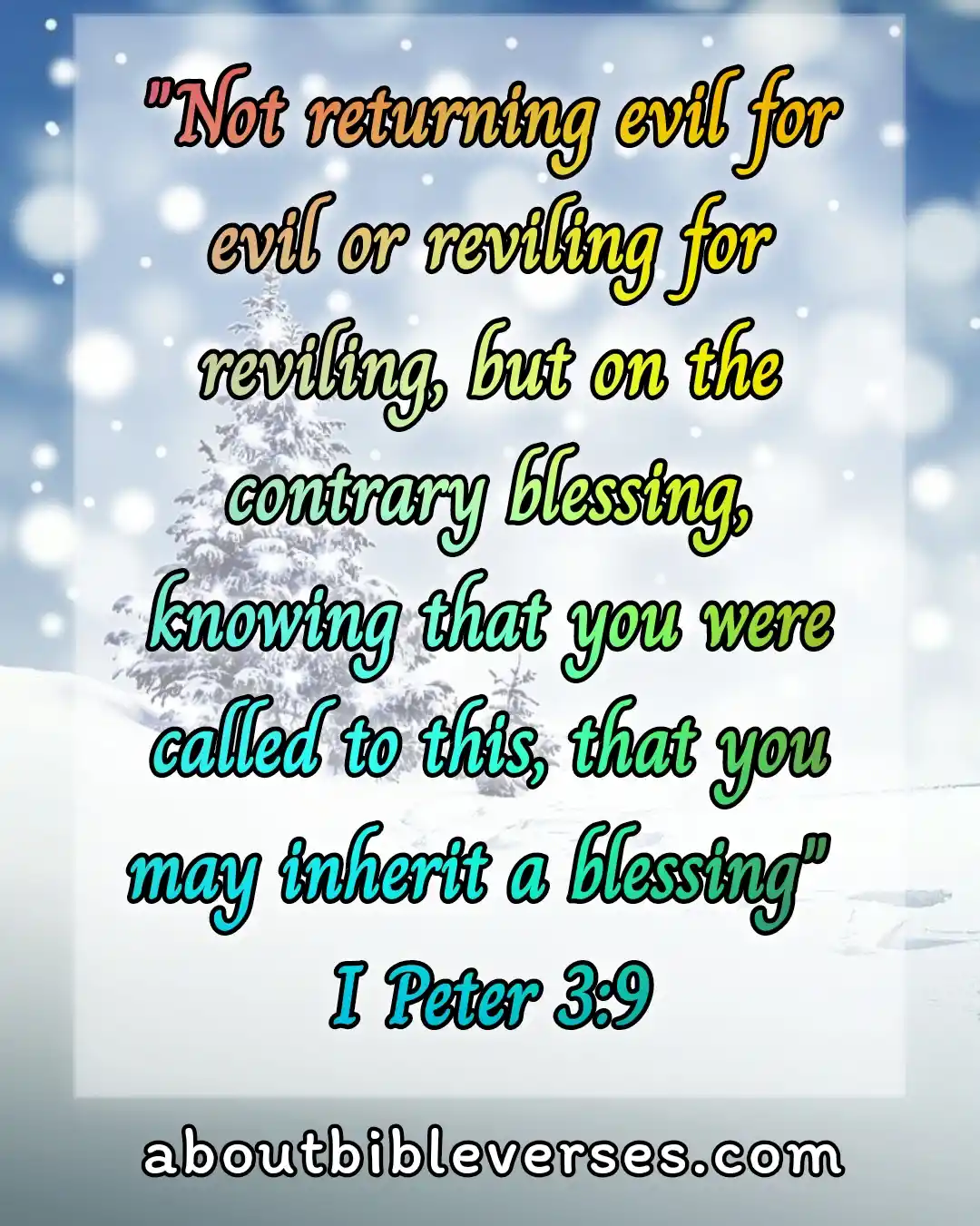 1 Peter 3:9(KJV)"Not rendering evil for evil, or railing for railing: but contrariwise blessing; knowing that ye are thereunto called, that ye should inherit a blessing"
Explanation:- we should not take any revenge when people will harm us. The Lord wants us to show them Grace and mercy as we have received which qualities from the Lord.
After receiving Jesus we must live a holy life where we will only glorify and put him in our every work.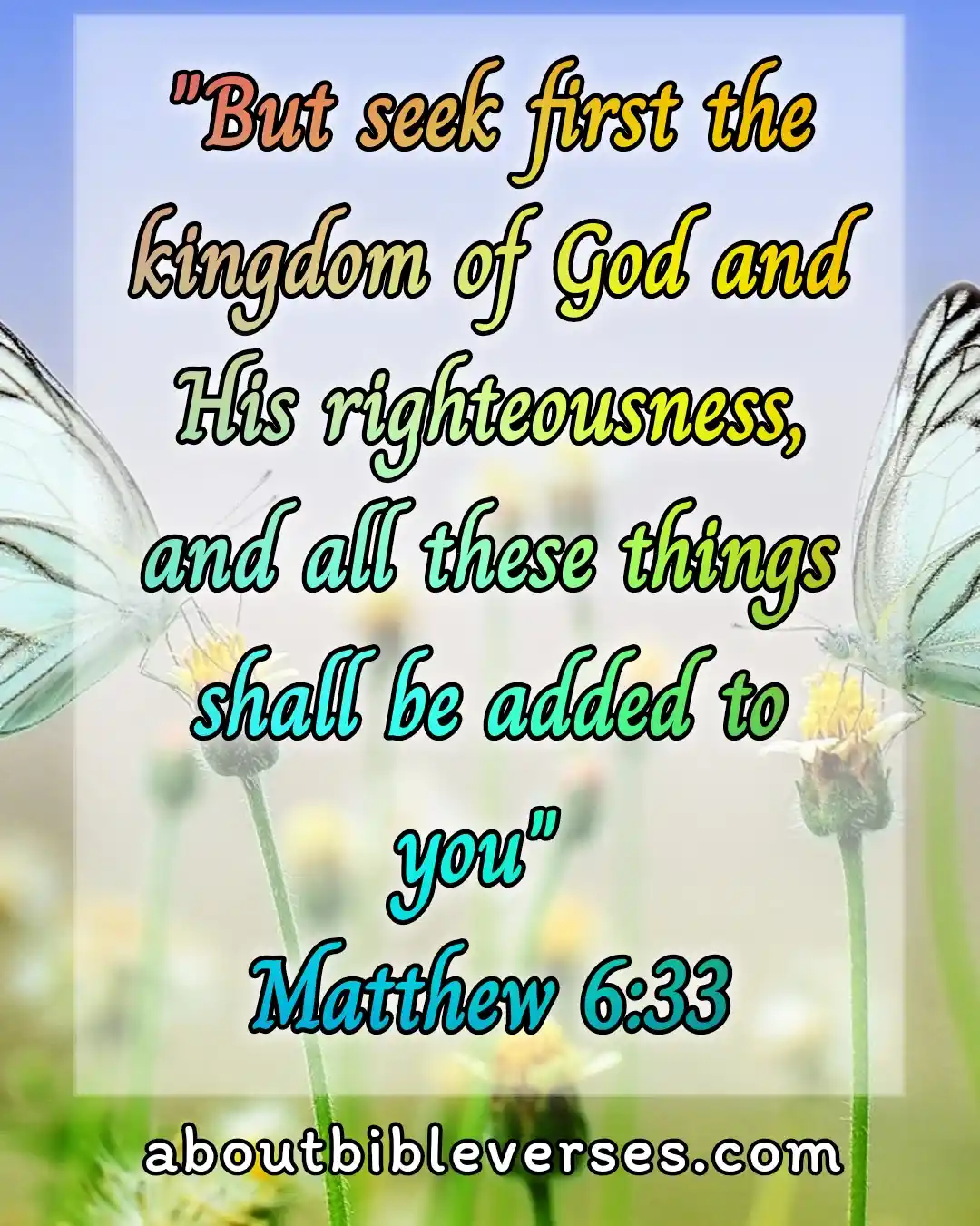 Matthew 6:33(KJV)"But seek ye first the kingdom of God, and his righteousness; and all these things shall be added unto you"
Explanation:- There are many people in this world who are always seeking advantage from churches and from Christian ministers but they don't understand the wonderful message of Lord Jesus Christ.
Jesus said that we will get what we need at the right time if we think for his Kingdom. As Christian, we must do something for the extension of God's Kingdom on this earth so that people will be saved from the ultimate death.
People are facing lots of problems and suffering due to indifference by neglecting Christ in their lives.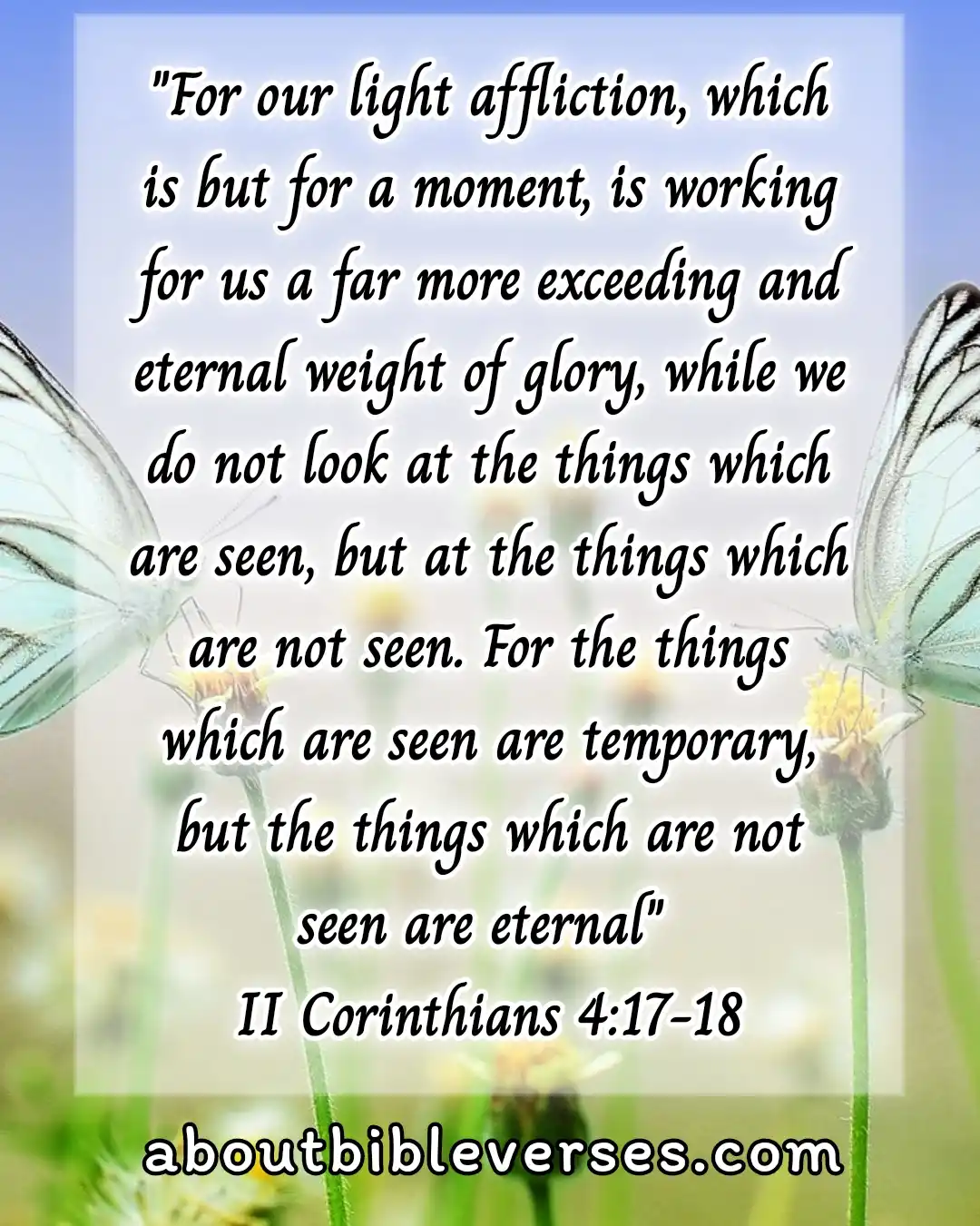 2 Corinthians 4:17-18(KJV)"For our light affliction, which is but for a moment, worketh for us a far more exceeding and eternal weight of glory; While we look not at the things which are seen, but at the things which are not seen: for the things which are seen are temporal; but the things which are not seen are eternal"
Explanation:- Our goal in this life is to reach heaven because Jesus made the way for us to reach there.
if we miss that golden opportunity then we have to pay the cost at hell forever. You should be thankful to the Lord because he has sacrificed himself on the cross for our deliverance.
Though we can't see Heaven and hell with our naked eyes, we still have to believe them because Jesus has told them about them and he has risen again from the dead on the third day of his crucifixion.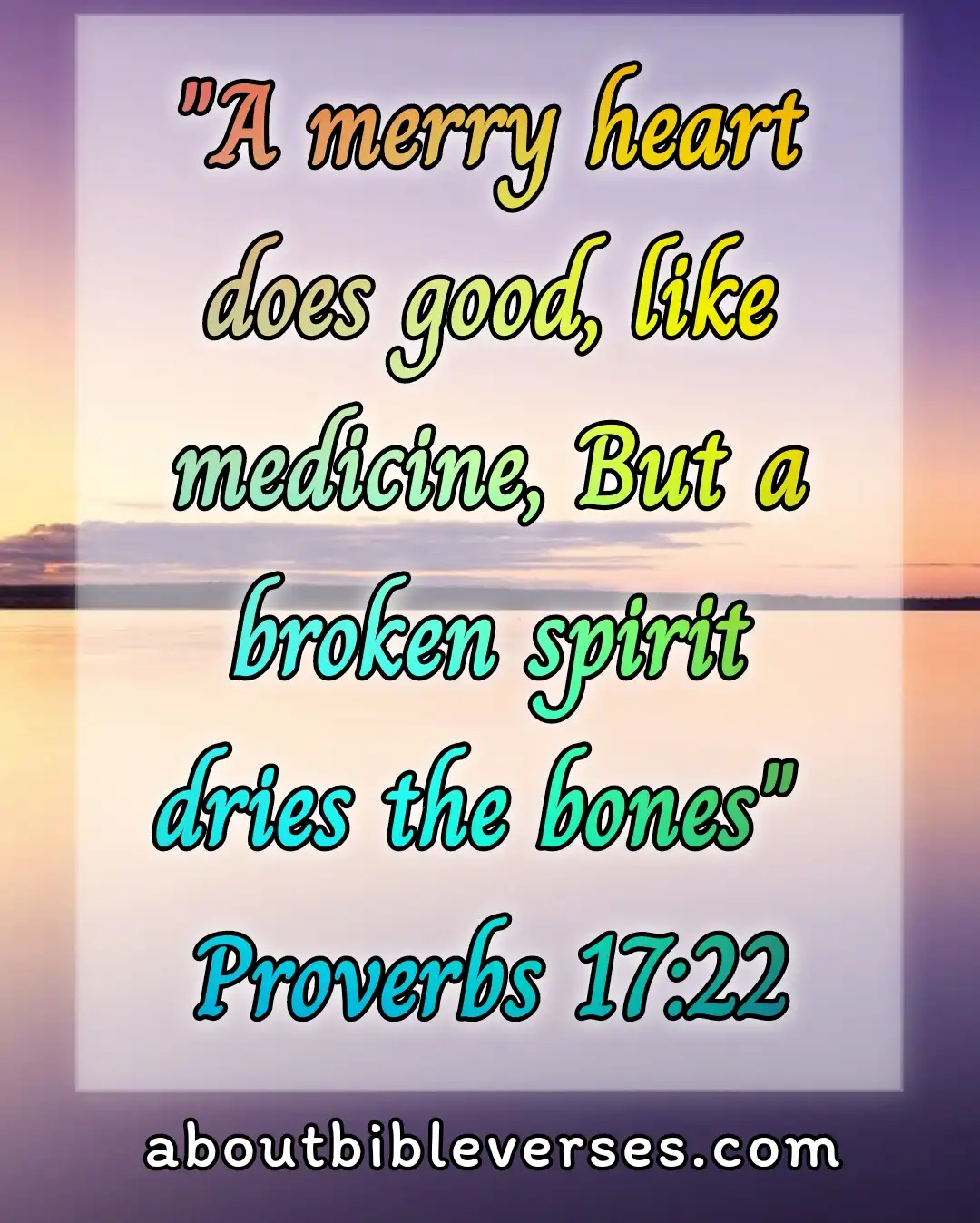 Proverbs 17:22(KJV)"A merry heart doeth good like a medicine: but a broken spirit drieth the bones"
Explanation:- we should keep our hearts clean and they should be filled with the word of God so that in times of sorrow and hardships it can produce good fruits by which we will be vital in our faith. The scripture also reminds us that we must guard our heart because from it our life gets directions.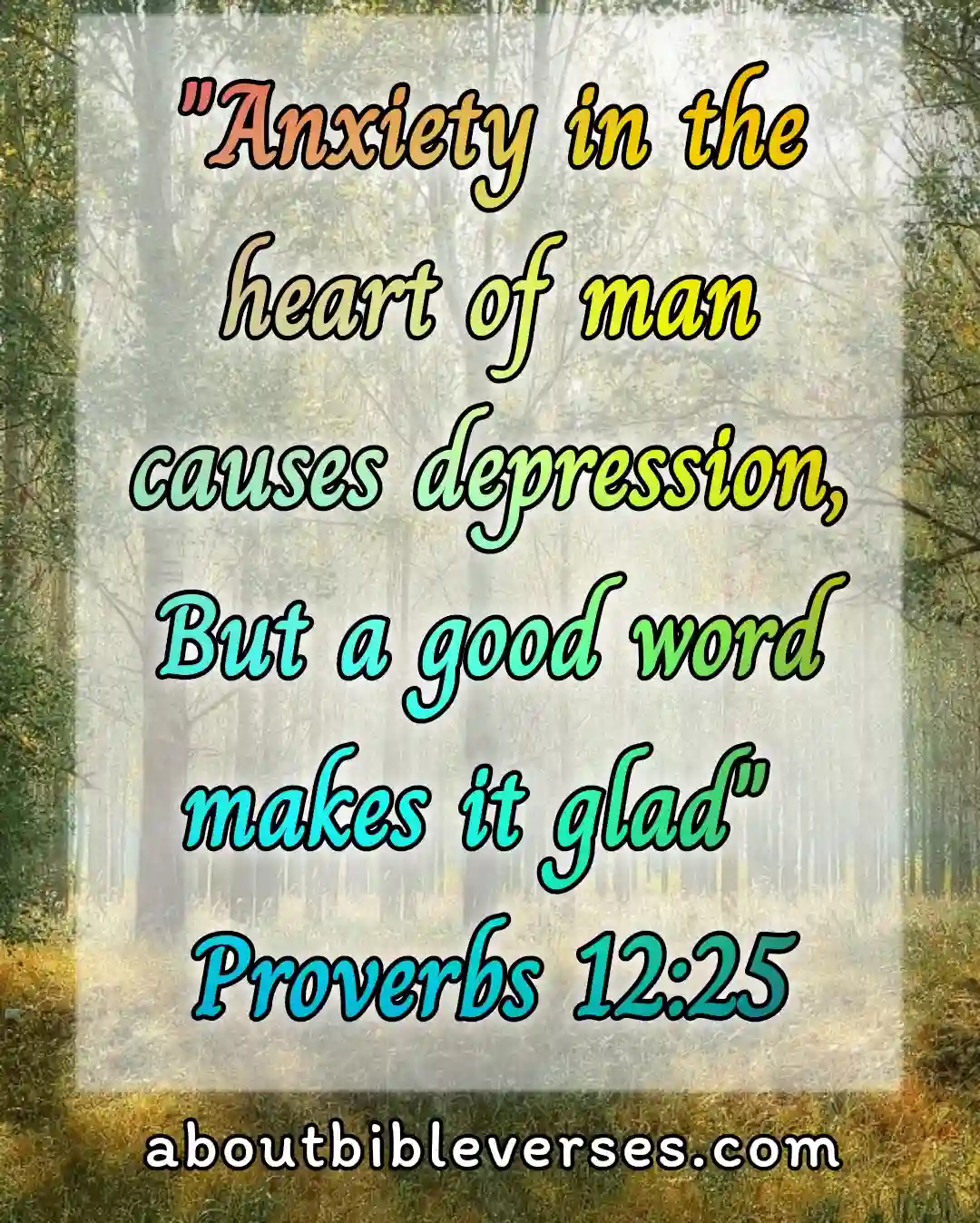 Proverbs 12:25(KJV)"Heaviness in the heart of man maketh it stoop: but a good word maketh it glad"
Explanation:- We need to speak positive words so that others will be inspired and by doing so we will help others to have hope in their lives.
We should respect everyone who is living around us as they also need the gospel by which they will understand the value of their life and they will submit themselves before the Lord.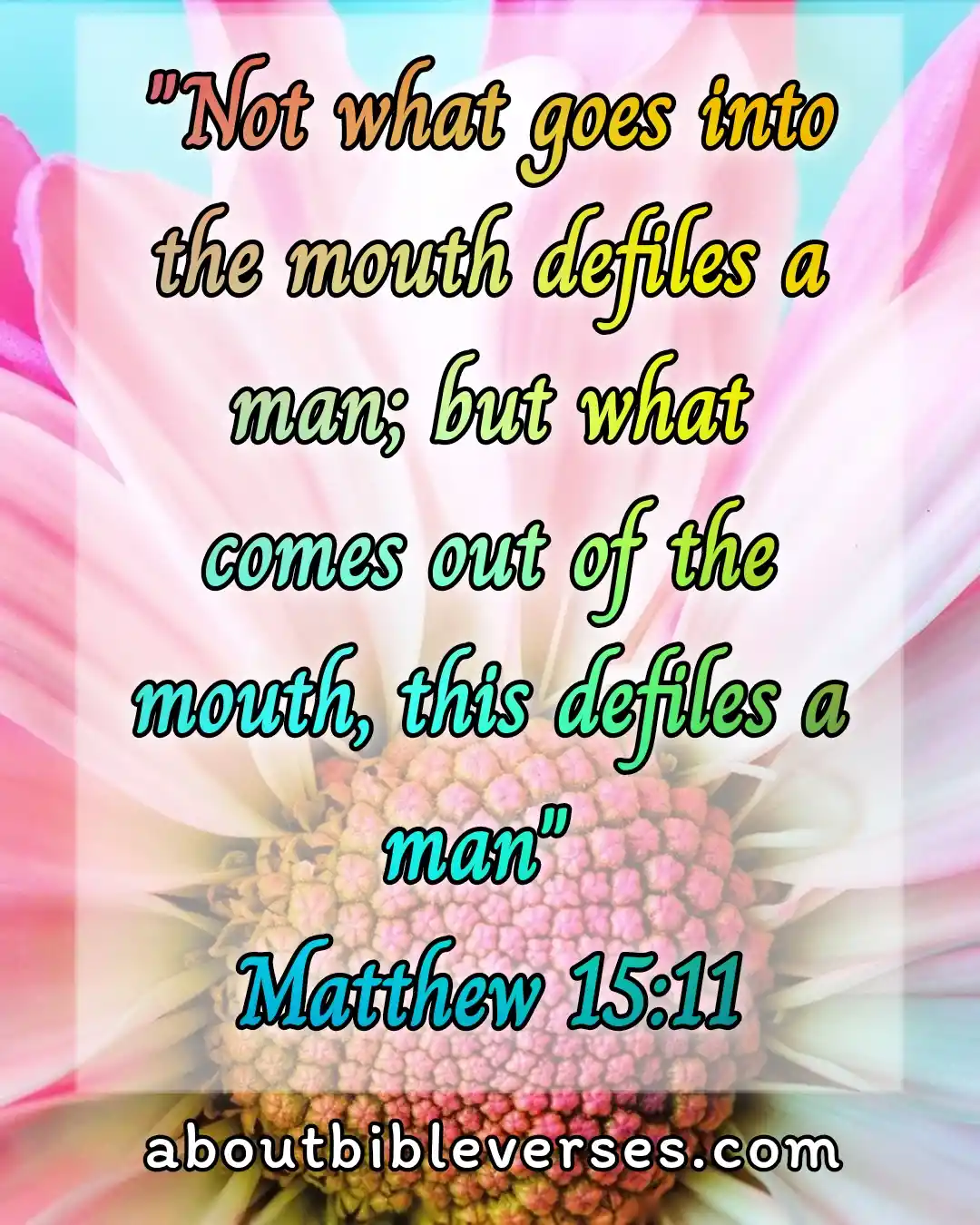 Matthew 15:11(KJV)"Not that which goeth into the mouth defileth a man; but that which cometh out of the mouth, this defileth a man"
Explanation:- Things that go inside will not affect us but the things which come out from our inner man defile others.
We need to take care of our souls so that they can lead us into God's ways. Most of us only think about our outer man but we need to mold our soul because at the end of our life journey we will be in heaven or hell.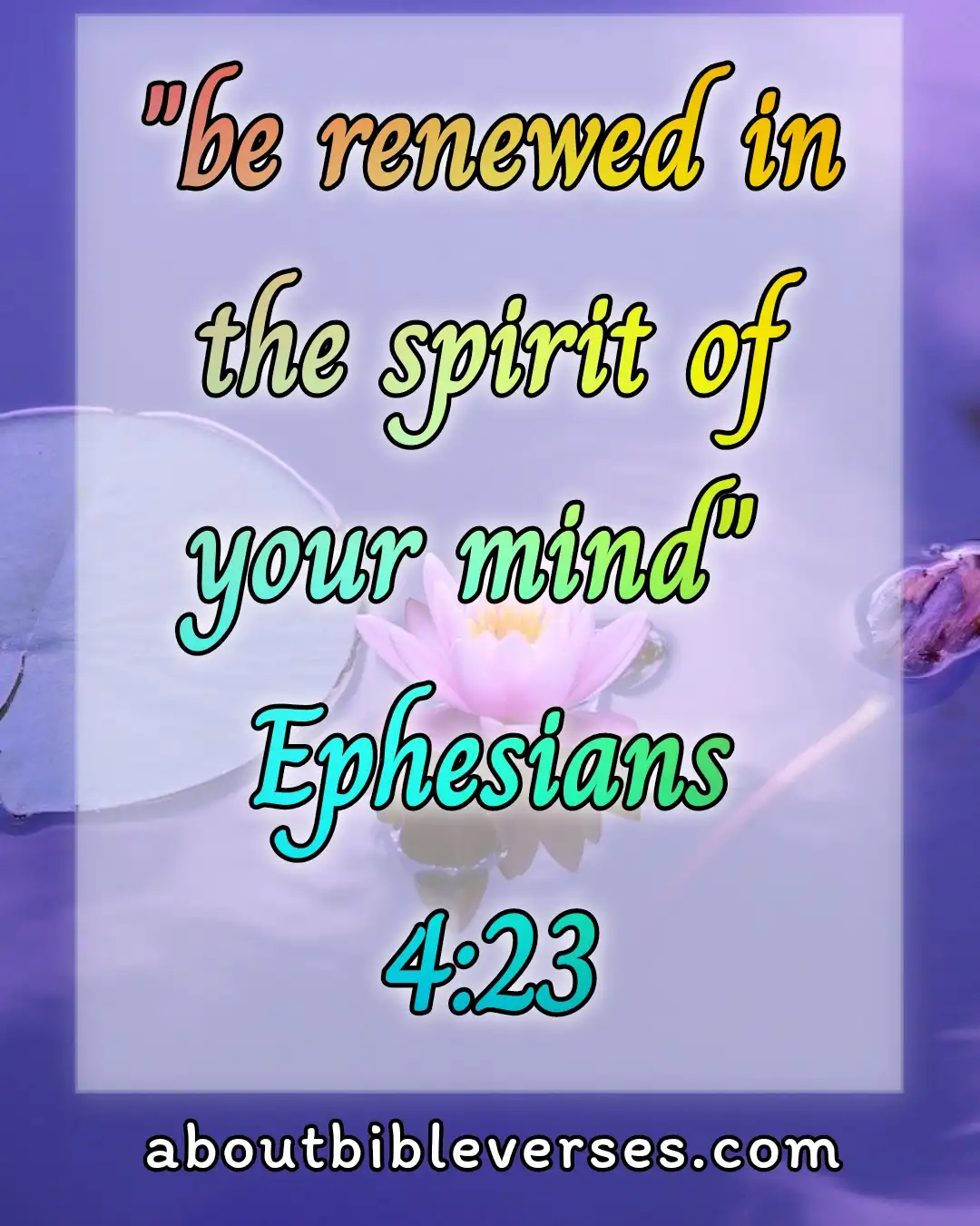 Ephesians 4:23(KJV)"And be renewed in the spirit of your mind"
Explanation:- We need to put on Christ and we need to think the way he used to think while he was on this earth.
we must renew our heart and mind with the spirit of the lot so that we will do everything according to the intention of God.
Many Christians often make mistakes by making wrong decisions in life as they are moved by the world.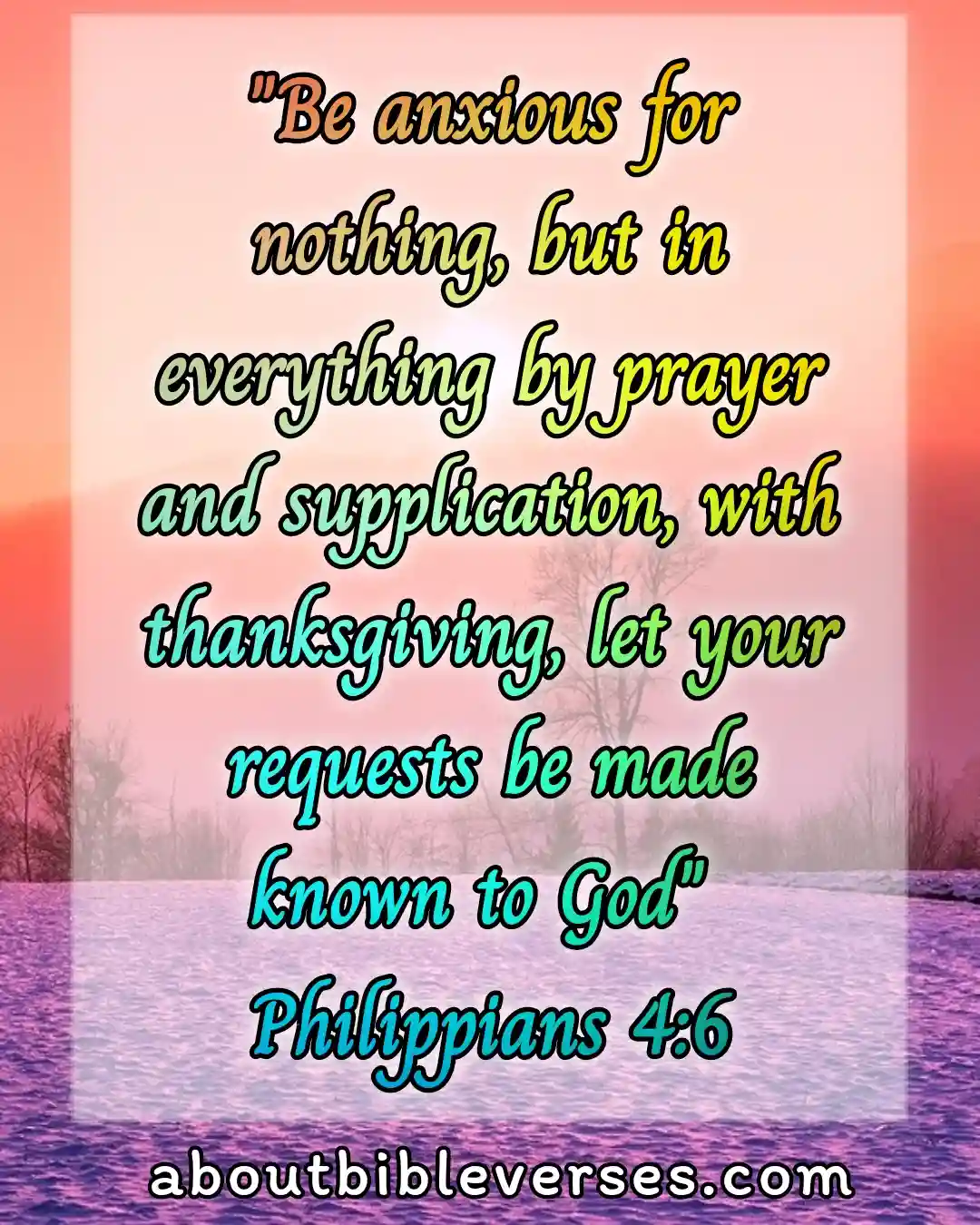 Philippians 4:6(KJV)"Be careful for nothing; but in every thing by prayer and supplication with thanksgiving let your requests be made known unto God"
Explanation:- As we are living in this temporary world where everything is uncertain but we have to look for the Lord and we have to have the hope of our eternity where we will live forever and we will live there peacefully.
Keeping heaven in our mind we should not wear anything on this world because this world will give us no profit but the Lord will judge us according to our work on this earth so we have to be careful regarding our actions.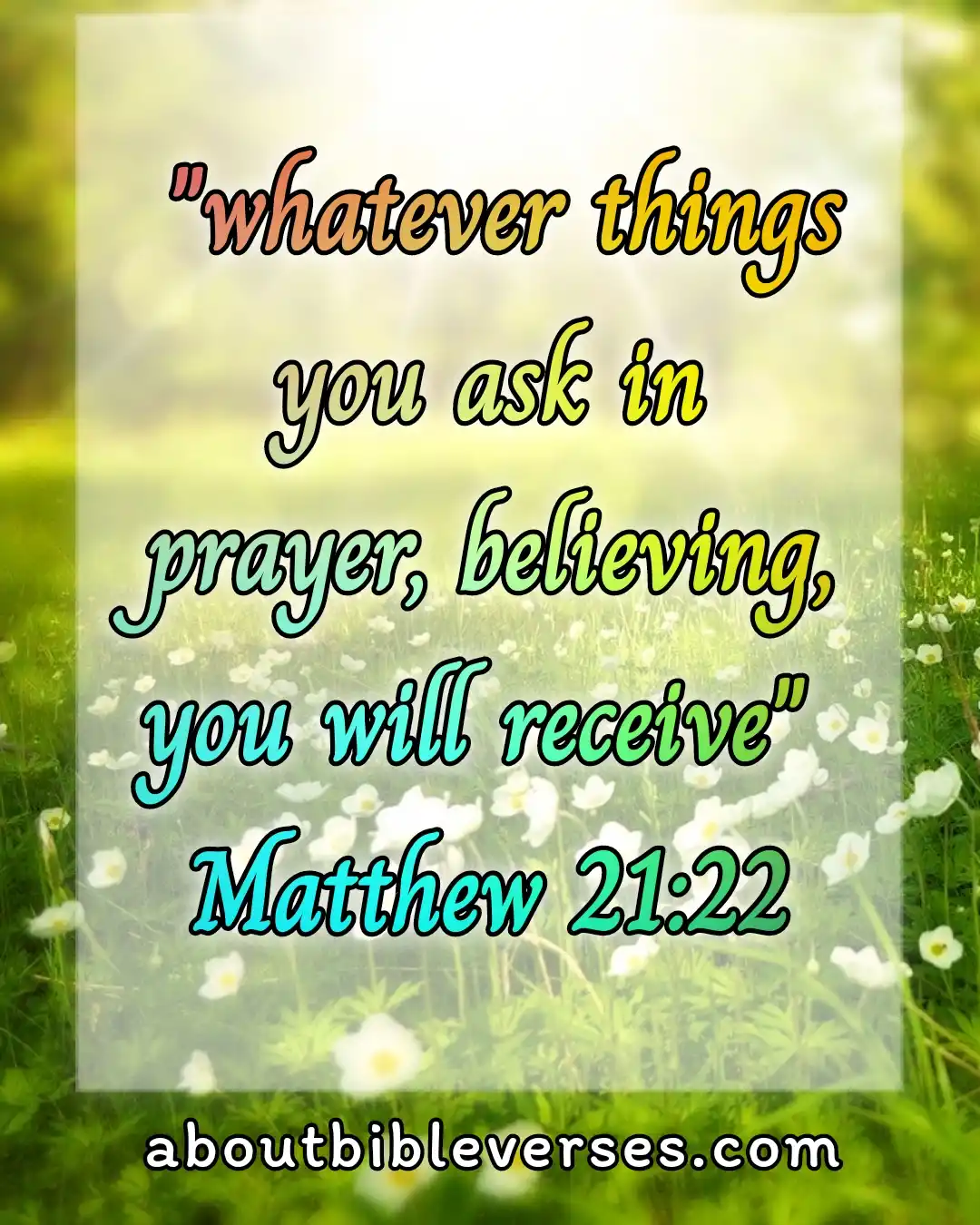 Matthew 21:22(KJV)" And all things, whatsoever ye shall ask in prayer, believing, ye shall receive"
Explanation:- We need to have a heart of faith because many Christians simply pray to the Lord but they do not have sufficient faith in him. Jesus says that if we ask anything from the Lord we should have a positive mindset that we will definitely receive the things which we are asking for.
If we doubt the lot then it is sure that we will not get that. Jesus teaches us that we must believe God because he is faithful and he listens to our prayers and if we earnestly pray for our required things then he will give us at the right time.