Meaning Of Salvation
Salvation means deliverance of life from the wrath of God. After our physical death we will live in heaven with the Lord Jesus Christ forever if we get salvation in this world. Some can ask the question how can we live even after our physical death.
Jesus said to her, "Jesus said to her, "I am the resurrection and the life.Those who believe in me, even though they die, will live, and everyone who lives and believes in me will never die. Do you believe this?" (John 11:25-26)
Here, Jesus said that he is the rejection and life those who will believe in him will never die. it means if we believe him as our saviour then by his precious blood our sins will be forgiven and we will have the authority to to live with him in eternal life.
The Bible says the second date is spiritual death which is much more dangerous than the physical death. When we physically die we all will reject and we will get a spiritual body and we will stand before the Lord for the judgement.
Jesus came on this earth to give his life show that by his life we can get our life back in the eyes of the Lord.Our body is composed of two parts. 1. Flesh and 2. Spirit.
Jesus said spirit is life and the flesh will give us nothing."It is the spirit that gives life; the flesh is useless. The words that I have spoken to you are spirit and life "(John 6:63)
That is why Jesus taught us if someone wins the whole world but if you lose his own soul so what would be the profit for him. We need to understand that there is life after this world, once we die and we will resurrect again with a glorified body.
Jesus said that heaven and hell are made for the righteous and unrighteous people. If you walk in the faith of righteousness and obey all the commandments that the Lord has given to us then we will obviously enter into heaven. On the other hand if we walk according to our will and deny to obey the words of God , then definitely we will be in hell.
The Bible says salvation is free for everyone. If we change our mind from the sinful world and walk in the path of righteousness then we shall live forever with Jesus.
There are some steps which will lead us into the way to gain salvation. Let us see them.
This world is not for the children of God. Here, righteous and unrighteous are living together but one day the time will come when God will separate his children from the unrighteous.
When Jesus was on the earth he used to preach about the kingdom of God where we will live forever. To enter in his Kingdom we have to separate ourselves from the world and at the same time we have to dedicate our hearts to Jesus.
Faith In Jesus
Salvation belongs to Jesus Christ alone. Apart from Jesus Christ we will never get salvation. Only Jesus alone gave his life on the cross for our sake so that we can live with him.
"Believe on the Lord Jesus, and you will be saved, you and your household."(Acts 16:31)
"the righteousness of God through faith in Jesus Christ for all who believe. For there is no distinction" (Romans 3:22)
"For we hold that a person is justified by faith apart from works prescribed by the law" (Romans 3:28)
You have to believe that Jesus died on the cross for my sins and he took my sins away on the cross.
So they said, "Believe on the Lord Jesus Christ, and you will be saved, you and your household." (Acts 16:31)
It is God who came in the flesh to deliver us from the power of sins. We were destined to go to hell but God shows his mercy upon us, so that we can enter into his Kingdom.
Repentance For Your Sins
When we come before Jesus Christ we have to have a humble heart with repentance for the sins that we have done in our lives. By nature we all are sinners and throughout our lives we all commit sins. When we submit our lives in the hands of the Lord confessing our sins we get a chance to build a fellowship with him.
Jesus is kind and gracious. He loves the US and he wants us to surrender ourselves in his hand so that he can rule our lives. Until we acknowledge ourselves that we are seen as we have done sins and we need a savior we will never approach salvation.
The Bible says that no one can claim that he is holi or he did not commit a single sin.
"Since all have sinned and fall short of the glory of God"(Romans 3:23)
"Surely there is no one on earth so righteous as to do good without ever sinning"(Ecclesiastes 7:20)
"as it is written:"There is no one who is righteous, not even one"(Romans 3:10)
Bible clearly says that we all are sinners and we need to surrender our lives in the hands of the Lord Jesus Christ show that our sins can be forgiven by his precious blood.
Adam was the first man by whom the sins entered into the world whereas Jesus is the second Adam by whom we gain life.We have to repent for our sins and submit our life before Jesus.Repentance means turning away from the sinful world to God's world.
Water Baptism For The New Birth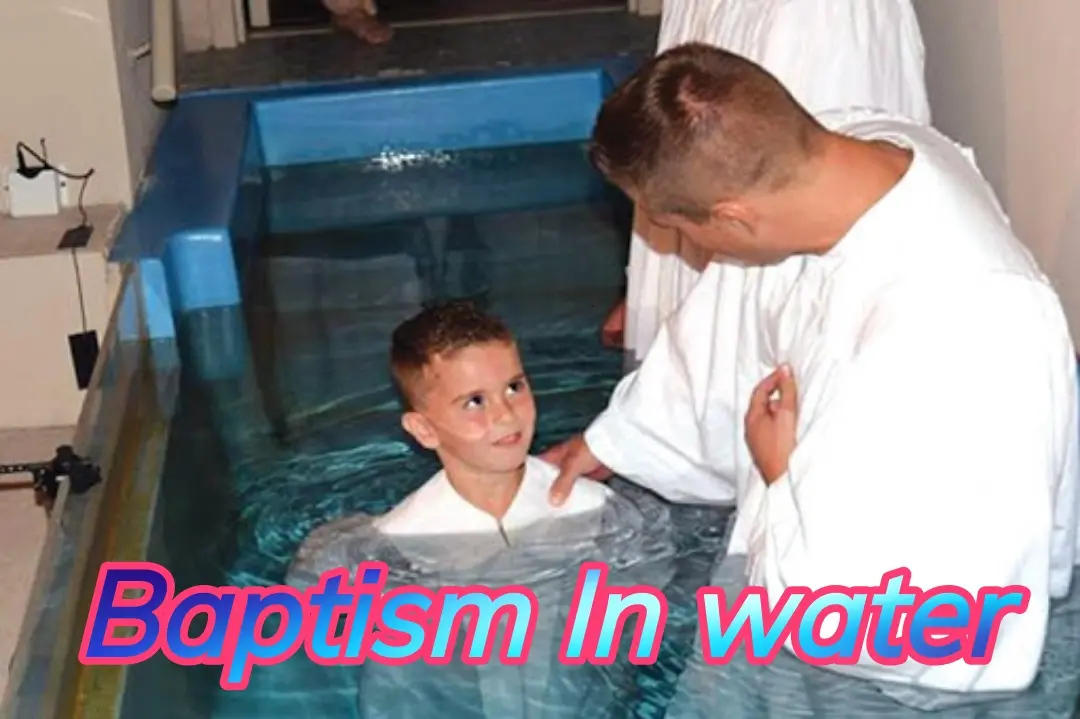 The third process to get salvation is taking water baptism. When Nicodemus asked Jesus how one can enter into the kingdom of God then Jesus told him that until one is born again he will not deserve to enter into the kingdom of God. Jesus also told him that without the birth of water and spirit no one will enter into the kingdom of God.
"Jesus answered him, "Very truly, I tell you, no one can see the kingdom of God without being born from above." Nicodemus said to him, "How can anyone be born after having grown old? Can one enter a second time into the mother's womb and be born?" Jesus answered, "Very truly, I tell you, no one can enter the kingdom of God without being born of water and Spirit" (John 3:3-5)

It is compulsory for each and every believer to take water baptism in order to live with Jesus in heaven forever.
When one takes water baptism it signifies that he is dying with Jesus and resurrects with Him with a new life. It also tells us that we are no longer of this world but we belong to Jesus.
Jesus also commanded to His disciples to preach the gospel throughout the world and baptise them in the name of father,Son and holy spirit.
"Go therefore and make disciples of all nations, baptizing them in the name of the Father and of the Son and of the Holy Spirit"(Matthew 28:19)
Receiving The Holy Spirit
Without receiving the Holy Spirit we will not get any chance to enter into God's Kingdom. Even when Jesus was talking with Nicodemus we can understand that he told him to receive only spirit in baptism. In the book of Romans we can see that if we do not receive the speed we will have no connection with the Lord Jesus Christ.
"But you are not in the flesh; you are in the Spirit, since the Spirit of God dwells in you. Anyone who does not have the Spirit of Christ does not belong to him" (Romans 8:9)
It is important to receive the holy spirit for each and every believer to reach into heaven.
" If you then, who are evil, know how to give good gifts to your children, how much more will the heavenly Father give the Holy Spirit to those who ask him" (Luke 11:13)
If we seek His spirit ,he will give us. We have to pray for it and God will give us.
Walk With Jesus Till Death
After completing all the above steps , we have to stick to Jesus till our last breath. We can lose our salvation, if we forsake Jesus even after water and spirit baptism.
We need to live a holy life till our death. The Bible says without holiness no one can see the Lord. So, it is important for each of us to walk along with the Lord Jesus , we need to live a holy life.
"Pursue peace with everyone, and the holiness without which no one will see the Lord"( Hebrews 12:14)
We all are in a race where many will fail to attain their goal but those who will remain faithful to the Lord Jesus, till the end of their life will be rewarded.
Jesus also warned us that the way to life is narrow and few will reach there.
"For the gate is narrow and the road is hard that leads to life, and there are few who find it" (Matthew 7:14)