Death is a word that makes us afraid. Those who have not heard the Gospel, always try to avoid death. But for the Christians, death does not timid us rather it is the end of the material world and the beginning of the spiritual world which will never end.
Death came on this earth by Adam's sin and eternal life we obtained by the blood of Jesus. Jesus offered His life on the cross so that we can be saved by his death.
Paul stated that we who received Jesus will be resurrected after death and we will also get a glorified body. Death will not hold us anymore.
After Jesus's resurrection, He was forty days on this earth and He met with His disciples. This tells us that even we will also be like Him. Death will have no power over us. The word of God gives us comfort in times of loss.
Bible Verses On Death
Death is unpredictable, we can avoid many certain things in our lives but death is unavoidable. Both the poor and rich, have to experience the dead.
For the believers, death is not actual death rather it's the beginning of new life that will have no end.
The word of God encourages believers not to worry about death, but to be happy for the life after death.
Bible says the problems, sickness, and trials that we are going through are nothing if we compare them with life in heaven. Jesus taught us not to be afraid of our physical death, instead of that, we should fear our spiritual death. Like Jesus, we will be resurrected again with a glorified body.
Bible teaches that there are two ways for men in this world. One is narrow which leads to eternal life and the other one is wide which leads to hell. We must be careful about choosing our roads.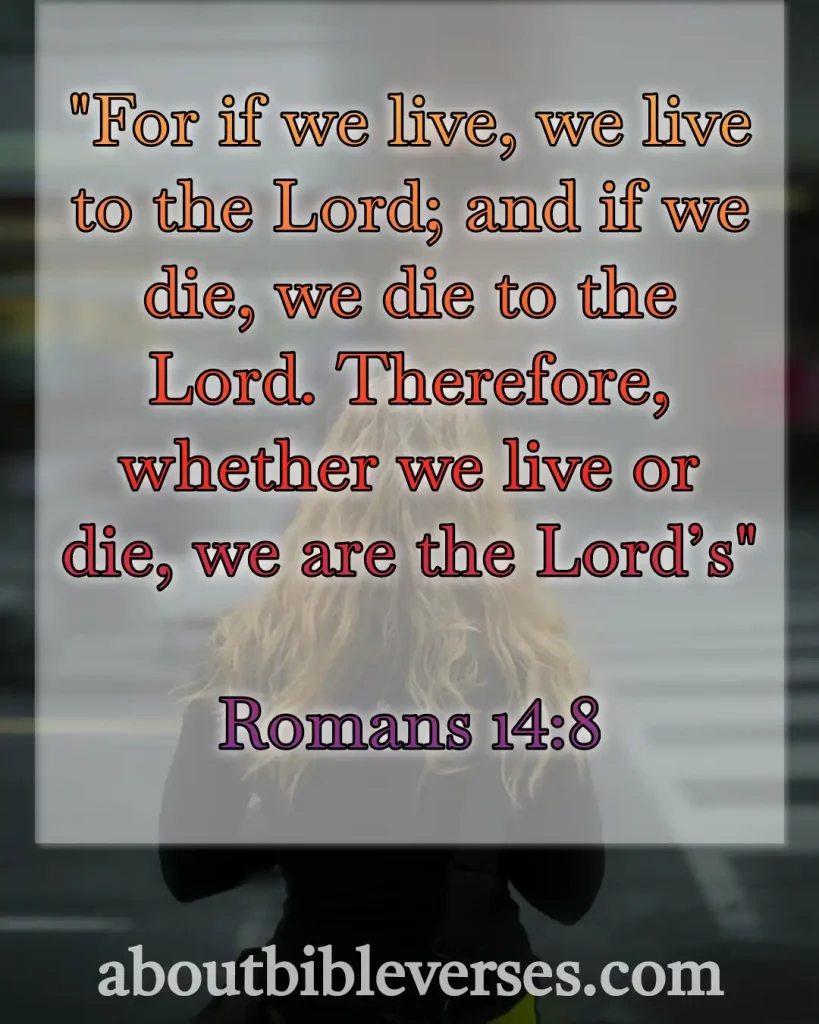 Romans 14:8 "For whether we live, we live unto the Lord; and whether we die, we die unto the Lord: whether we live therefore, or die, we are the Lord's"
Explanation:- Christians are here informed that their lives are not of their own. Whether they live or die they belong to the Lord. This world is not for them, as Jesus will give them eternal life. They must be careful in their deeds because the Lord will judge according to their works on earth.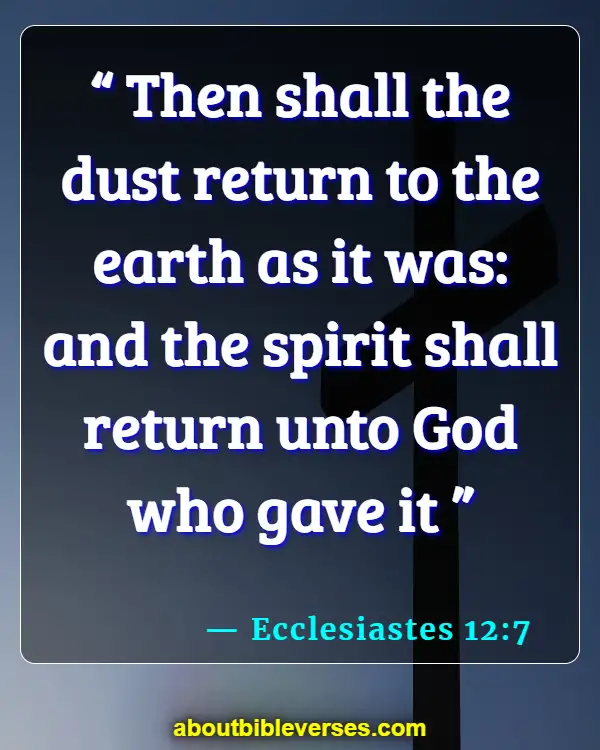 Ecclesiastes 12:7 "Then shall the dust return to the earth as it was: and the spirit shall return unto God who gave it"
Explanation:-In Genesis, God created man from the dust of the ground and He gave breath in man's nostril, thus he became alive. So man has no authority over his body. When he dies his physical body goes to the ground that is in the dust and his soul returns to its giver.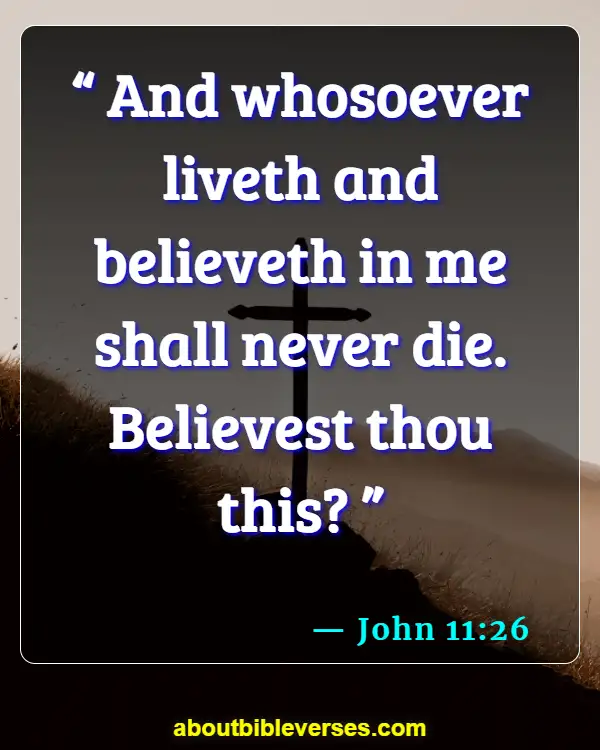 John 11:26"and everyone who lives and believes in me will never die. Do you believe this"
Explanation:-Jesus knows that death frightens us. He came to give victory over death. So, He wants us to believe in Him to obtain eternal life. He came to give us salvation by sacrificing His life.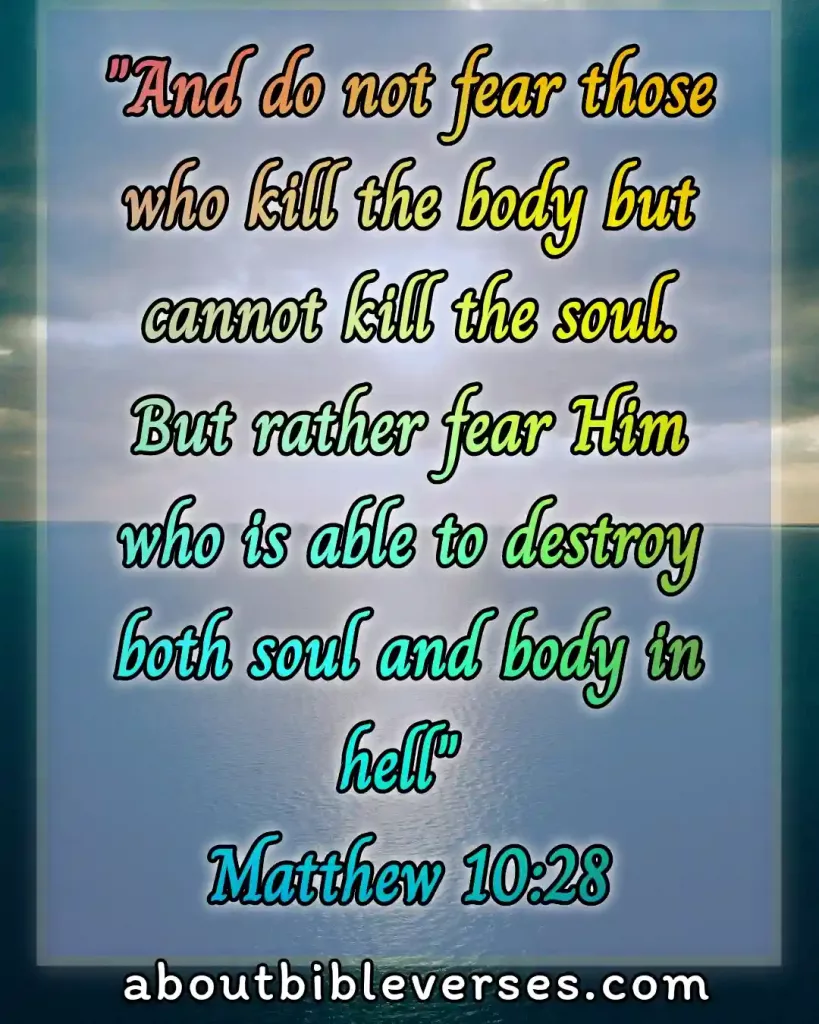 Matthew 10:28"And fear not them which kill the body, but are not able to kill the soul: but rather fear him which is able to destroy both soul and body in hell"
Explanation:-When one accepts Jesus he has to face many trials and persecutions. Sometimes he might be put to death for the sake of Jesus. Bible says as the world persecuted Jesus, they will also attack His followers. Here Jesus warned Christians not to worry about this physical body but rather worry about spiritual death. We all have to leave this earth once and then we will enter into God's kingdom.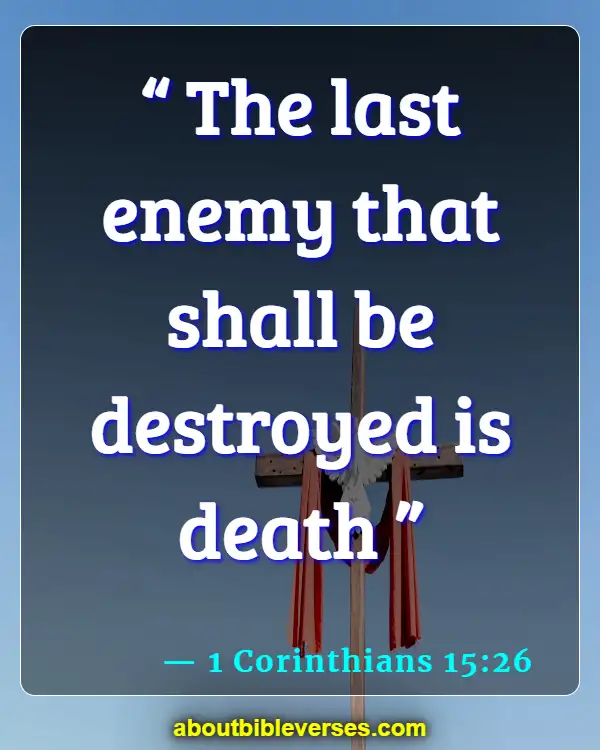 1 Corinthians 15:26"The last enemy that shall be destroyed is death"
Explanation:- Due to Adam's disobedience death entered the world and ruled over us. We all fear death, but Jesus conquered death at the cross. By His sacrifice, death was defeated and it cannot rule us. Through Jesus, eternal life is available for us.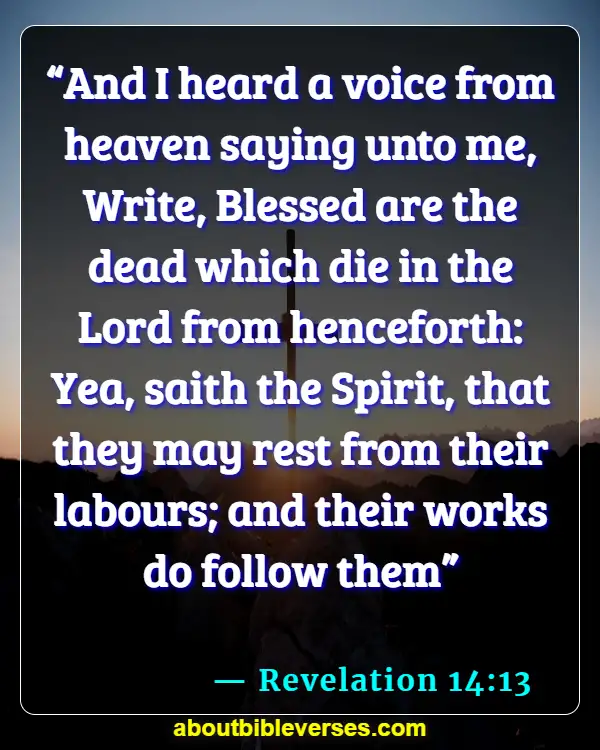 Revelation 14:13"And I heard a voice from heaven saying unto me, Write, Blessed are the dead which die in the Lord from henceforth: Yea, saith the Spirit, that they may rest from their labours; and their works do follow them"
Explanation:-Here, the author said he heard a voice from heaven that those who die in the Lord are blessed. They will be rested from their work. They will live with the Lord forever.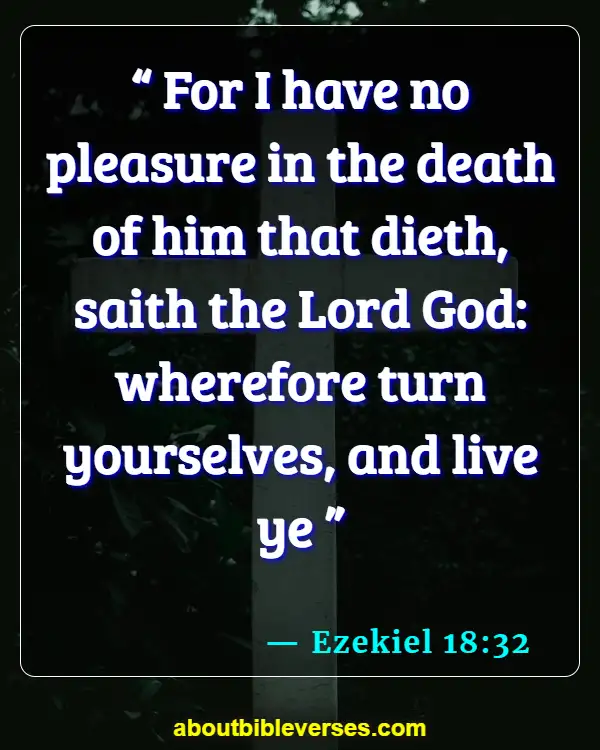 Ezekiel 18:32"For I have no pleasure in the death of him that dieth, saith the Lord God: wherefore turn yourselves, and live ye"
Explanation:-The nation Israel had gone away many times from God. But due to his love, He always forgave them. Here the Lord said He did not find joy in the demise of His people. He warned His chosen people to turn back to Him so that they can live peacefully.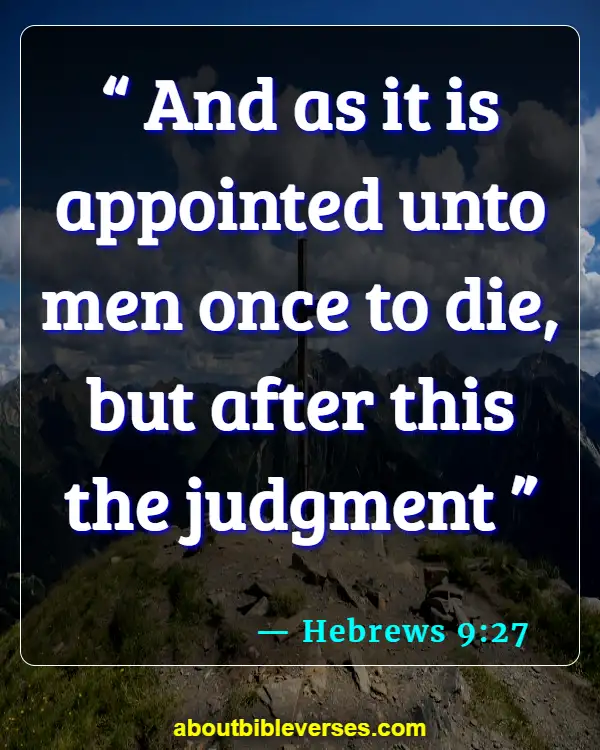 Hebrews 9:27"And as it is appointed unto men once to die, but after this the judgment"
Explanation:-Human beings are very proud but there is physical death that everyone has to go through. People can do whatever they like to do, but there is a judgment that all have to face. We are free to choose to do things on earth but judgment is in the hands of God. We must be careful in our every single deed as we are accountable to God.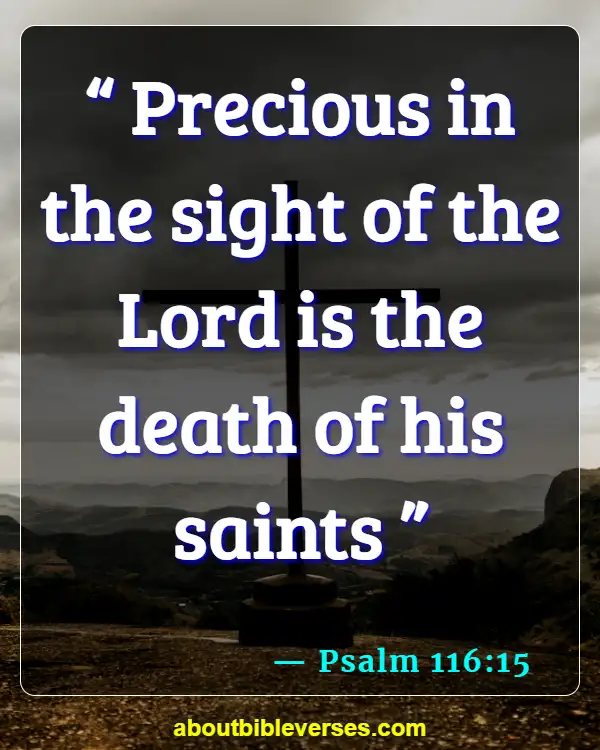 Psalm 116:15"Precious in the sight of the Lord is the death of his saints"
Explanation:-Evil and righteous both live on earth and throughout their lives they commit many works. God's eyes are on both. When the righteous depart from the earth its value in the sight of the Lord.
Ecclesiastes 7:1"A good name is better than precious ointment; and the day of death than the day of one's birth"
Explanation:-When one is born on this sinful earth he has to face many trials and temptations in his life. But after death, he will never face such temptations.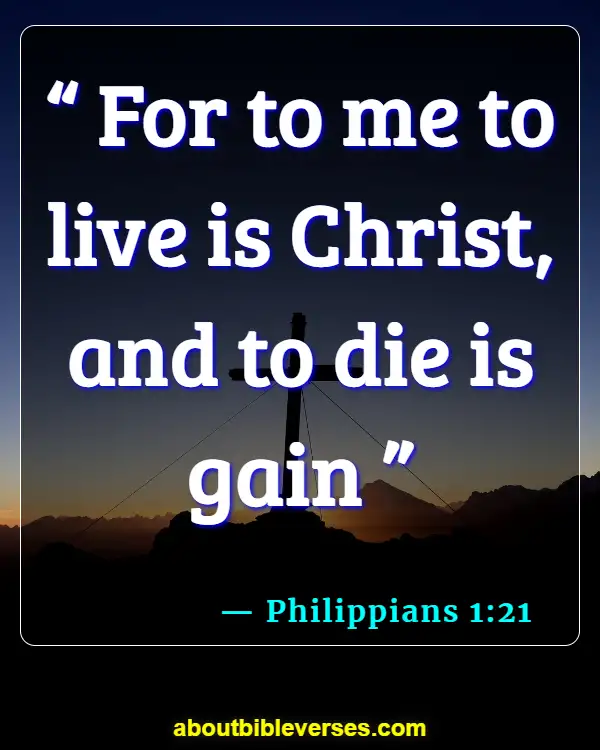 Philippians 1:21 " For to me to live is Christ, and to die is gain"
Explanation:-Paul encourages Christians to live for the sake of Christ. He claimed that he is living for Jesus to extend His kingdom. As long as he will be on earth, he belongs to Jesus even after death he will live for Jesus.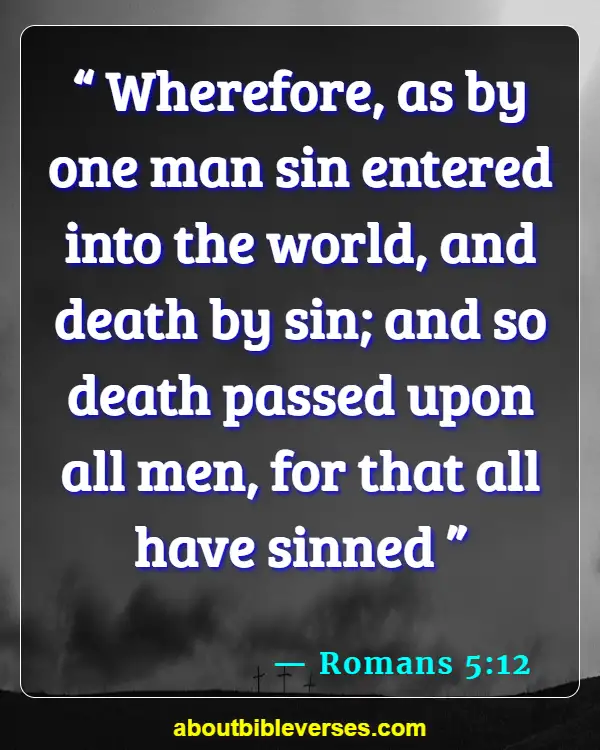 Romans 5:12 " Wherefore, as by one man sin entered into the world, and death by sin; and so death passed upon all men, for that all have sinned"
Explanation:-Before Adam and Eve committed sin there was no death, the moment they disobeyed the word of God, death entered the world. All human beings were affected because of Adam's sin.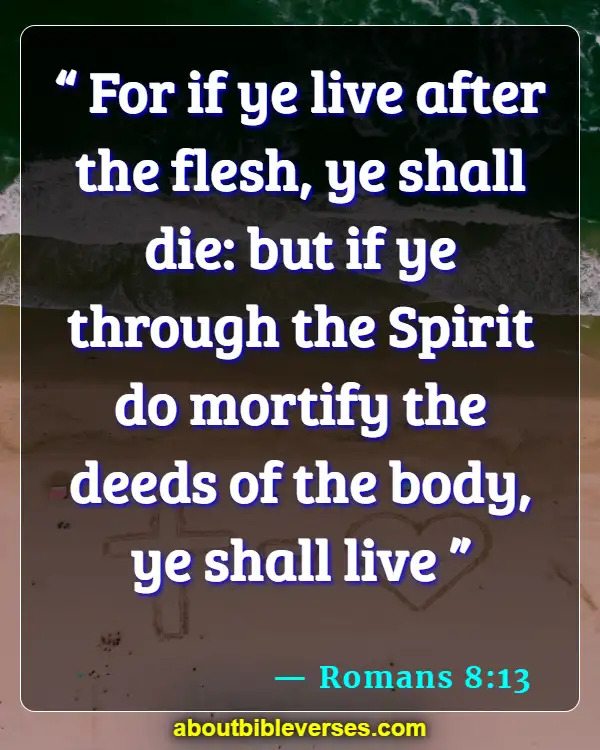 Romans 8:13 "For if ye live after the flesh, ye shall die: but if ye through the Spirit do mortify the deeds of the body, ye shall live"
Explanation:-Christians should live on spirit. If they desire to fulfill their fleshly desires then they will lose their life. The word of God says Spirit is against the flesh. To act fleshly deeds man has to commit sins and that will lead him to destruction but Spirit will give eternal life.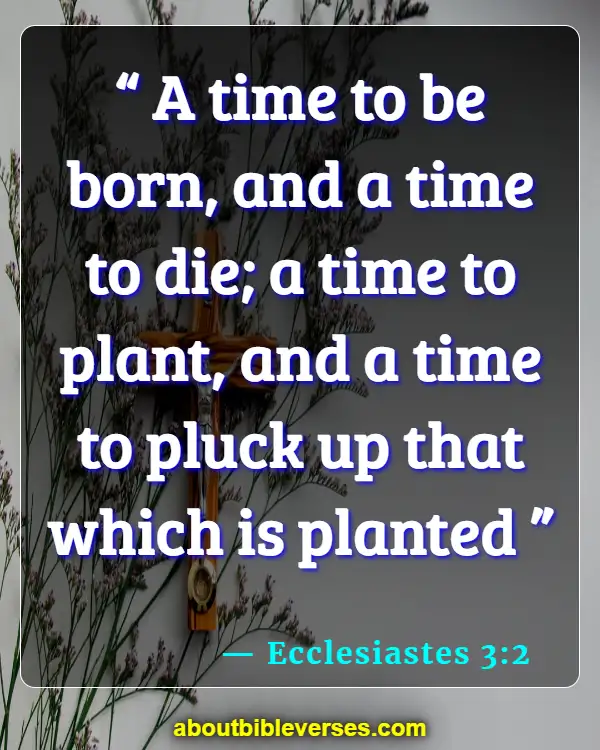 Ecclesiastes 3:2"A time to be born, and a time to die; a time to plant, and a time to pluck up that which is planted"
Explanation:-God is in control of everything, He knows the right time for us. We must have the patience to wait and watch. There is a season for everything. Death and birth are not in the hands of man, all these have their own time.
Revelation 20:6 "Blessed and holy is he that hath part in the first resurrection: on such the second death hath no power, but they shall be priests of God and of Christ, and shall reign with him a thousand years"
Bible Verses About The Death Of Jesus
Jesus was not only a mere human but He was a man in the flesh. Jesus did not come on earth without a reason. His main purpose was to dedicate His life to the cross for the sake of the salvation of entire human beings.
While the world was immersed in sin, it badly needed a savior who can save it from the bondage of Satan. The birth and death of Jesus were not sudden, it was foretold long ago by the prophets.
Prophet Isaiah wrote about the birth, suffering, and death of Jesus. Jesus was sinless and by His blood, the world got the way to get salvation. Jesus took our sins on His cross so that we can get rid of God's wrath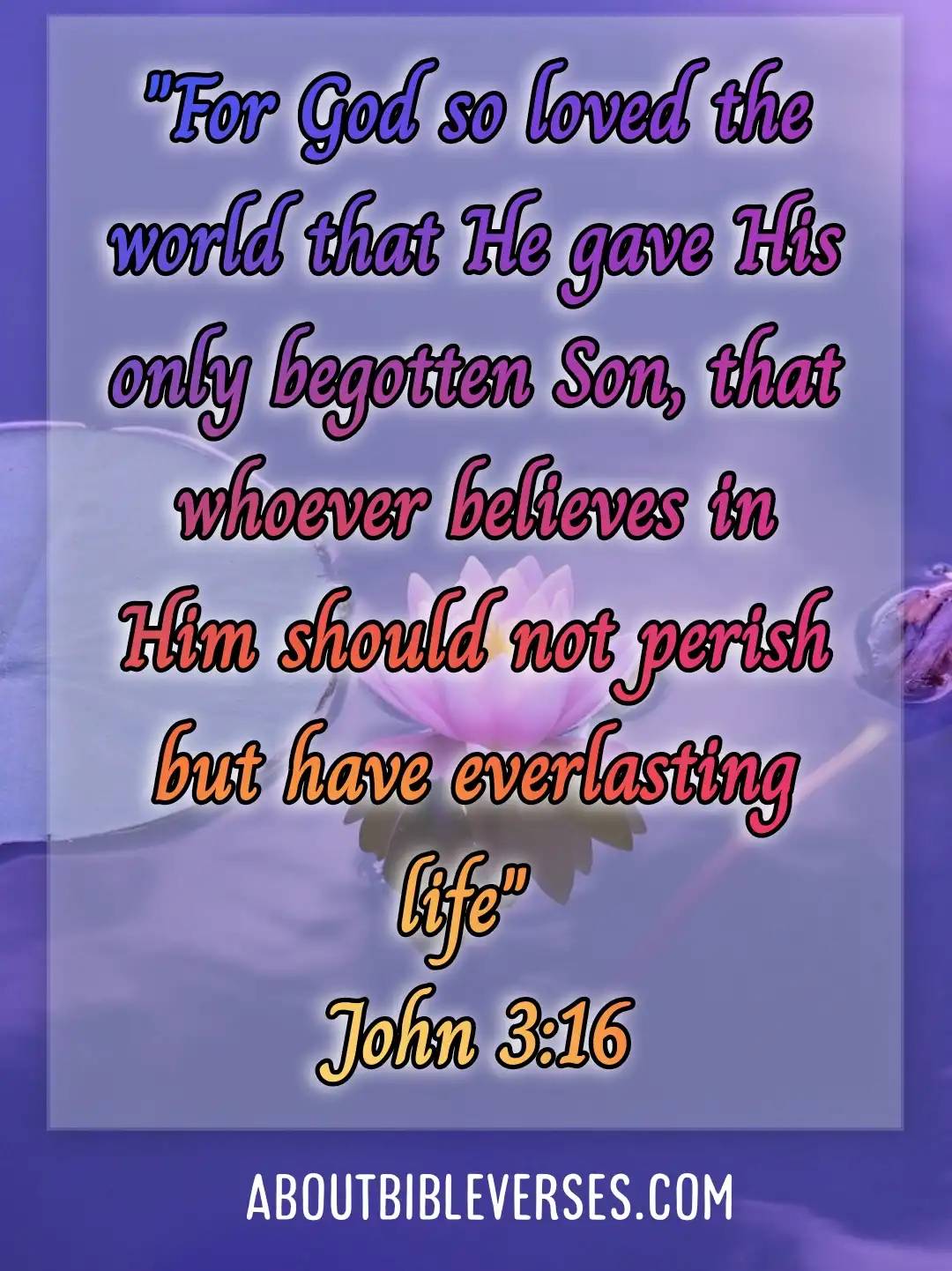 John 3:16"For God so loved the world, that he gave his only begotten Son, that whosoever believeth in him should not perish, but have everlasting life"
Explanation:-Jesus was God in flesh, He came to save His people from the anger of God. There is no one who can claim that he is righteous and did not commit even a single sin. Because of sin entire human beings became God's enemy but God loves us that is why He gave His life to give us everlasting life.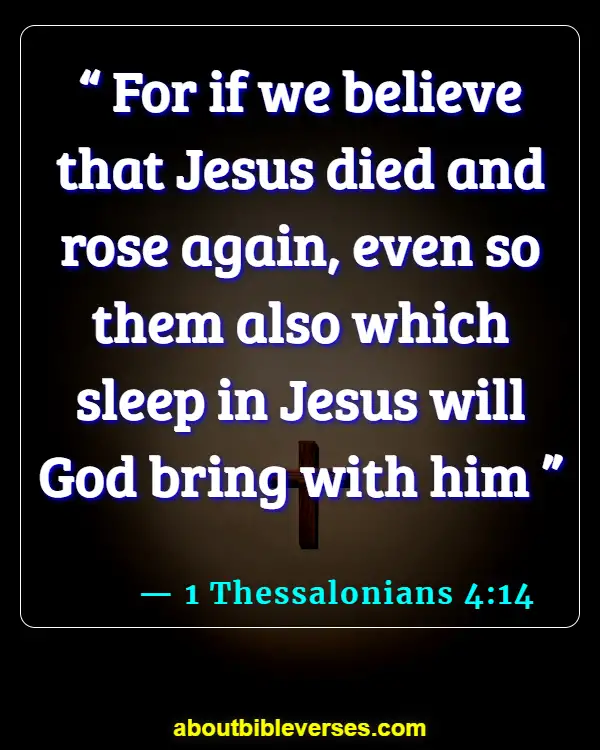 1 Thessalonians 4:14 "For if we believe that Jesus died and rose again, even so them also which sleep in Jesus will God bring with him"
Explanation:-Jesus died at the cross and was resurrected after three days. His disciples did not believe Him first until they touched Him and ate with Him. They had no experience about resurrection. Through water and Spirit baptism we died and rose again with Jesus. At His second coming we will be with Him forever.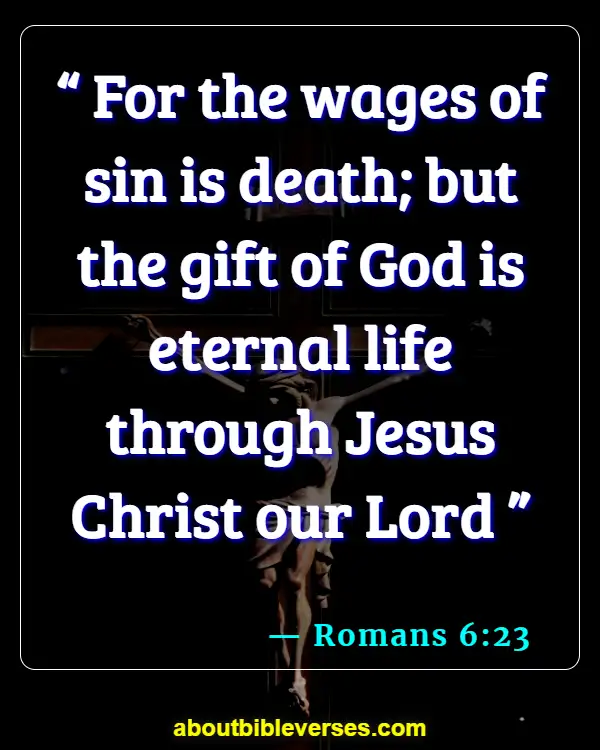 Romans 6:23 "For the wages of sin is death; but the gift of God is eternal life through Jesus Christ our Lord"
Explanation:-We are born to live and die on this earth. Here, death refers to spiritual death which will be occurred after our physical death. Due to Adm's sin, we all became sinners, we are separated from God. Jesus came on earth to connect a human being with God. Through Him, we are now connected with God. Those who will accept Jesus after repentance will inherit the kingdom of God.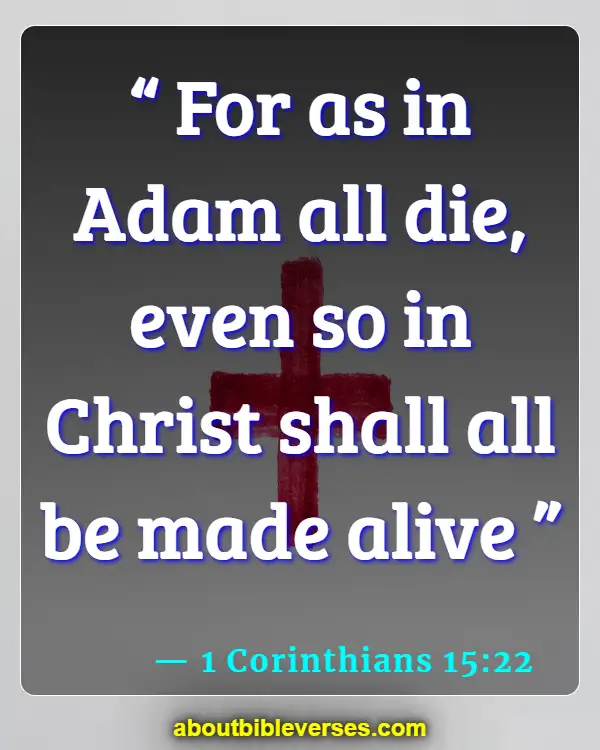 1 Corinthians 15:22 "For as in Adam all die, even so in Christ shall all be made alive"
Explanation:-Death is uncertain, a child can lose his father and mother at any time. It is painful but still heavy to accept. As we are living in a cursed world. Because of Adam, we all are to die and deserve hell but because of Jesus, we got the privilege to get our life back after death. We all will be alive with Jesus after our resurrection.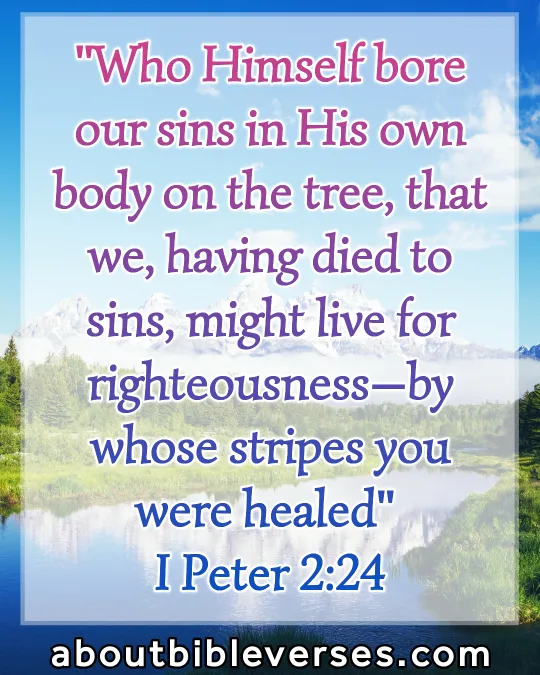 1 Peter 2:24 "Who his own self bare our sins in his own body on the tree, that we, being dead to sins, should live unto righteousness: by whose stripes ye were healed"
Explanation:-Jesus did not commit any sin. He died with our sins on the cross. By His body, we are to be set free from the bondage of sins. Jesus is the head of the church, when we accept Him as our savior, our sins are forgiven by His blood. The words of God are scary Those who will pay heed.
Bible Verses About Life After Death
An atheist can deny the existence of God, but the children of God know Him. Many views are there about what happens after death. Bible is very clear for those who believe in it.
Hindus believe that there is rebirth after death, whereas others believe life ceases at death, but Jesus taught that there is life after death. Bible says there will be a judgment afterlife and that will determine the destination.
Because of that Bible says to think of the above as we will live there forever. In Philippians 3:20 we can see that we will not live here, but our citizenship is in heaven where we will live with Lord Jesus Christ.
It is obvious that we will have life after death where no evil will get a chance to take place. Because the Lord will destroy this world with fire and rebuild it.
John 14:1-4"Do not let your hearts be troubled. Believe in God, believe also in me. In my Father's house, there are many dwelling places. If it were not so, would I have told you that I go to prepare a place for you? And if I go and prepare a place for you, I will come again and will take you to myself, so that where I am, there you may be also. And you know the way to the place where I am going"
Explanation:-Jesus said not to be afraid of this world. Here people may not respect us, they might ridicule us, and persecute us, but finally, we will be in heaven. Jesus told here that He will prepare a place for us and He will come again to take us.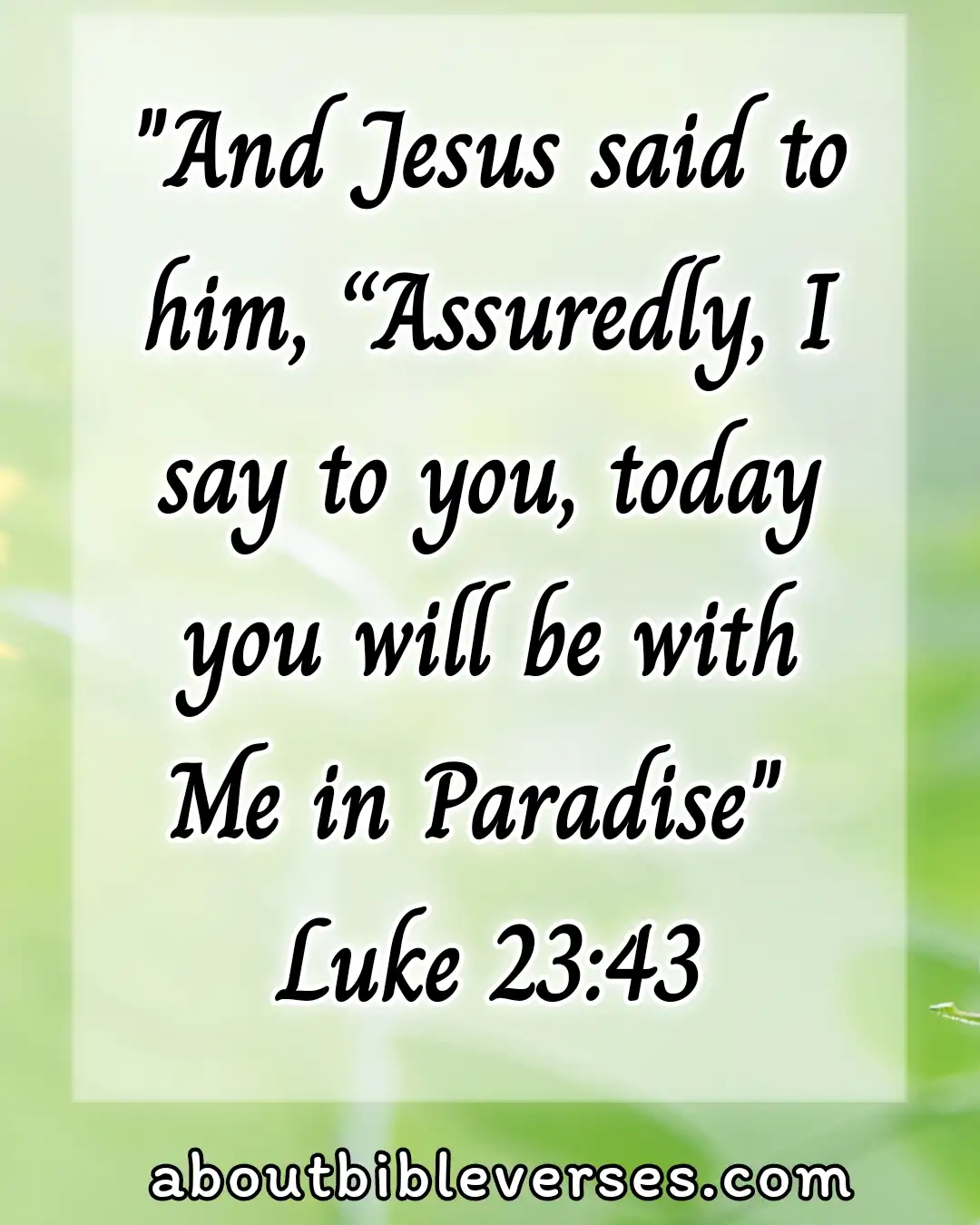 Luke 23:43 "And Jesus said unto him, Verily I say unto thee, Today shalt thou be with me in paradise"
Explanation:- While the soldiers mocked Jesus at that time there were two persons besides Jesus. One of them made fun of Him and asked Jesus if He is God then He should save him. But the other one rebuked him concerning his misbehavior toward Jesus. Jesus told him that he will be in heaven with Him.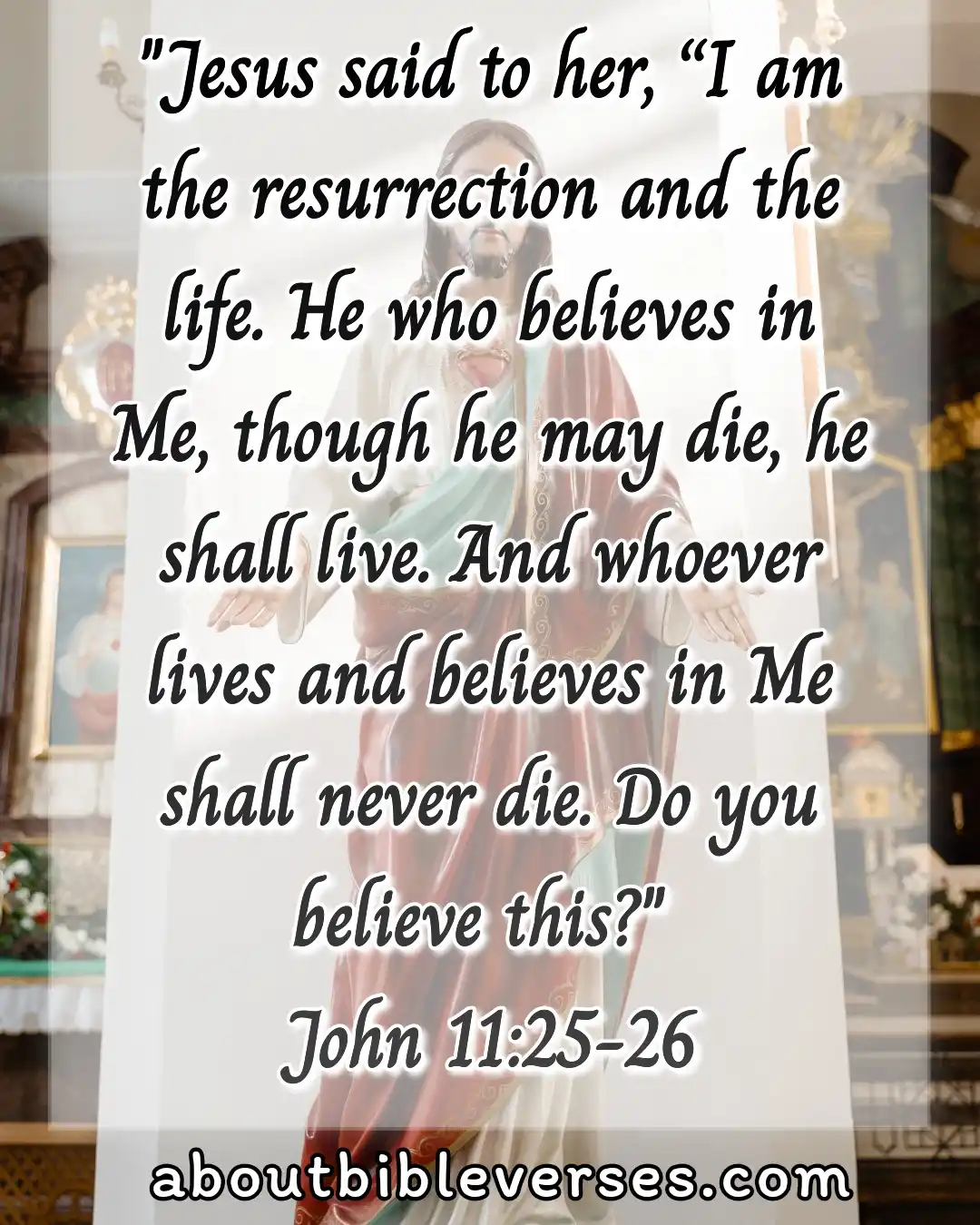 John 11:25-26"Jesus said unto her, I am the resurrection, and the life: he that believeth in me, though he were dead, yet shall he live: And whosoever liveth and believeth in me shall never die. Believest thou this?"
Explanation:- Sudden unexpected death of a loved one in the family makes us deep sorrow. At the death of Lazarus, Jesus was not there. Four days later He came while Lazarus was buried in the ground.
All the women comfort Martha and Mary concerning their brother. Martha went along with Jesus but Mary stayed at home. Jesus told her that her brother will rise again.
Martha thought that he will rise on the last day but Jesus told her that He will rise on that day. As He is the resurrection and who will follow Him, will never experience death.
What Bible Verses For Death Of A Loved One?
We all live in a family where we are connected in our hearts. Our relationships with parents, siblings, and relatives give us an inner joy that leads us to be happy.
In our lives, things happen without any prior information. Most of the time death attacks us suddenly. Being not prepared, it seems difficult to accept the truth. At this point we get shocked.
Our creator knows every pain that we face. He also comforted us by His words which gives us peace. The words of God say this is not our home, rather we will live eternally with our loved ones in heaven.
As death rules over us on this earth, it would end at our death. After our death, we shall be resurrected with a glorified body at the second coming of Jesus.
As long as we are on this earth, it would be our best job to bring our loved ones to the feet of Jesus for his salvation to inherit the kingdom of God. If our loved one accepts Jesus and repents for his or her sins, asks for forgiveness, and also takes baptism in Jesus' name then definitely he or she will meet in heaven.
What Bible Verses About Death In The Family?
The most fearful thing that man is scared of is death. No one like to get the news of the death of his family member. This physical death entered this world by Adam. God did not want his people to die, but He wants a relationship.
Death means separation, when it occurs in the family, it makes unhappy to all the family members. This death does not mean everything ruins, the physical death welcomes eternal life in heaven.
The death of our family member teaches a lesson that this world is not permanent. Bible says we are here for seventy years, some can live eighty to ninety years. But one day we all have to leave this world.
God has already told us not to love this world or the things in the world. We are here to praise God and walk along with Him. Obviously, we will love our family but we have to put God first.
When we will place Him first in our every deed, He will also bless us. From the life of Abraham, we can learn, how Abraham placed God in his life, and in return God also blessed him in every aspect of his life.
What Does The Bible Say For Unexpected Death?
Our lives on this earth are just like vapor. We do not know how long we shall be here. We should completely rely on God's hand instead of depending on our own choices.
We cannot deny the cruel and unexpected arrival of death in our family. From the very beginning of this earth, death made us frightened.
If we focus on God we shall get a beautiful world where death will have no power. Jesus came to give us salvation so we can live with Him peacefully forever.
We must not desire worldly things. If we make friends with the world, we will never obtain that spiritual world that God has designed for us since the very beginning.
What Does Bible Say About The Death Of A Child?
Children are so precious in the family. Parents get joy when they beget their baby. In the lives of Abraham and Sarah, we can see their desire for Isaac.
Once Abraham questioned God You have given me everything except my son, and the Lord gave them Isaac at their old age. They were extremely happy to get their son.
Everyone finds joy when they become a father or mother. But sometimes the death of a child made us upset and also compel us to ask the reason behind it.
Bible did not claim what would happen to the children at their death. But we know that God is gracious and He loves Children so He would not punish them.
When David lost his son, he wept and showed his love for his son but finally, he said he knows where his son will go. That means he was pretty sure that one day he will meet him again.
What Bible Says About Life In Heaven?
There are so many people who do not believe in heaven and hell. But Christians know very well about heaven. Jesus proved that there is life after death. His disciples did not understand resurrection completely so they returned to their previous works after His death.
Bible teaches us that we will live in a spiritual world with our glorified body. Life in heaven will be awesome, no sickness will take place there.
In the garden of Eden, we see that The Lord used to visit Adam and Eve every day but due to their sin, God separated Himself from them. Sin made us miserable and brought temptations. Through Jesus God made the bridge with man to connect with us.
God wants to live with us, but because of our sins, He is not with us. But after our death, we shall be connected with Him forever. We will live in the presence of God.