Our hopes and dreams should be based on the teachings of Jesus Christ to inherit in his Kingdom. If we forsake his commandments then we have to pay the consequence in hell.
What does the Bible say about hopes and dreams?
Almost every person lives with hope and dreams. We hope for something that will bring more joy and peace to our lives. We dream of a successful life. But what is this success, all success is meaningless if there is no hope of our eternal existence with God.
What can mortal human hope upon with the uncertain life and on this perishable Earth?
Many times, the fulfillment of a dream brings hope to people's lives, But all the hope on Earthly things is temporary.
Hope and dreams are part of human life but actual hope is found only in Jesus, only through Jesus our sins can be forgiven and we can become the son of the living God.
Is there better hope anywhere than hoping upon God, is there a better dream than being the son of the living God?
Bible Verses About Hopes And Dreams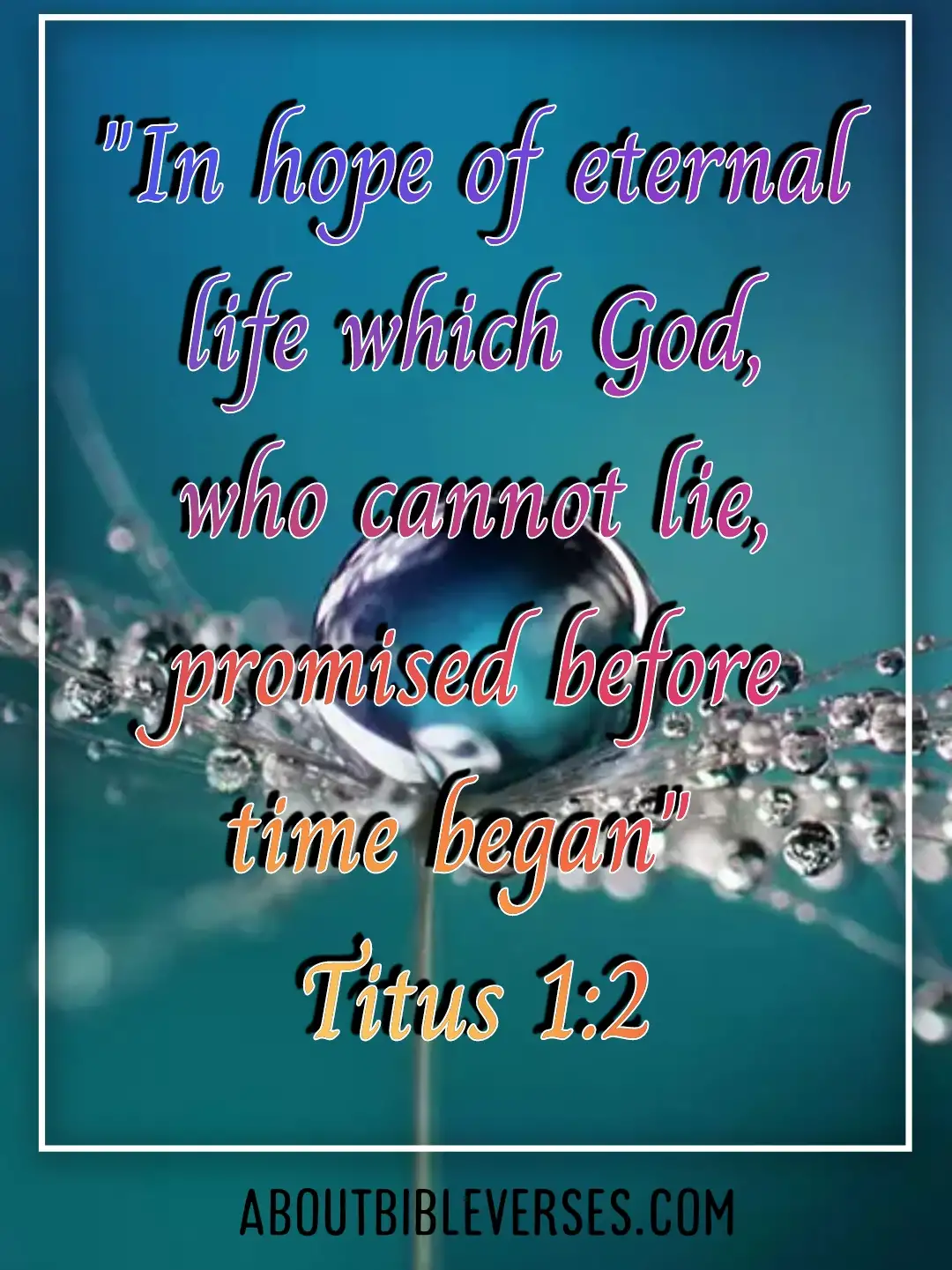 Titus 1:2(KJV)"In hope of eternal life, which God, that cannot lie, promised before the world began"
Explanation:- We all have hopes and dreams in our life to become successful people. The way we measure success in a person's life is different from God's perspective. When we grow up we try to make so many plans and hopes for our future but fail to get those things which we have planned before we become disappointed.
The Bible tells us to think of the heavenly things because we are not going to stay forever on this earth. Those who have received Jesus Christ will inherit the kingdom of God where they will live with the Lord Jesus Christ. The Lord promised us that he will give us eternal life and to get that we have to work hard and we have to live righteously.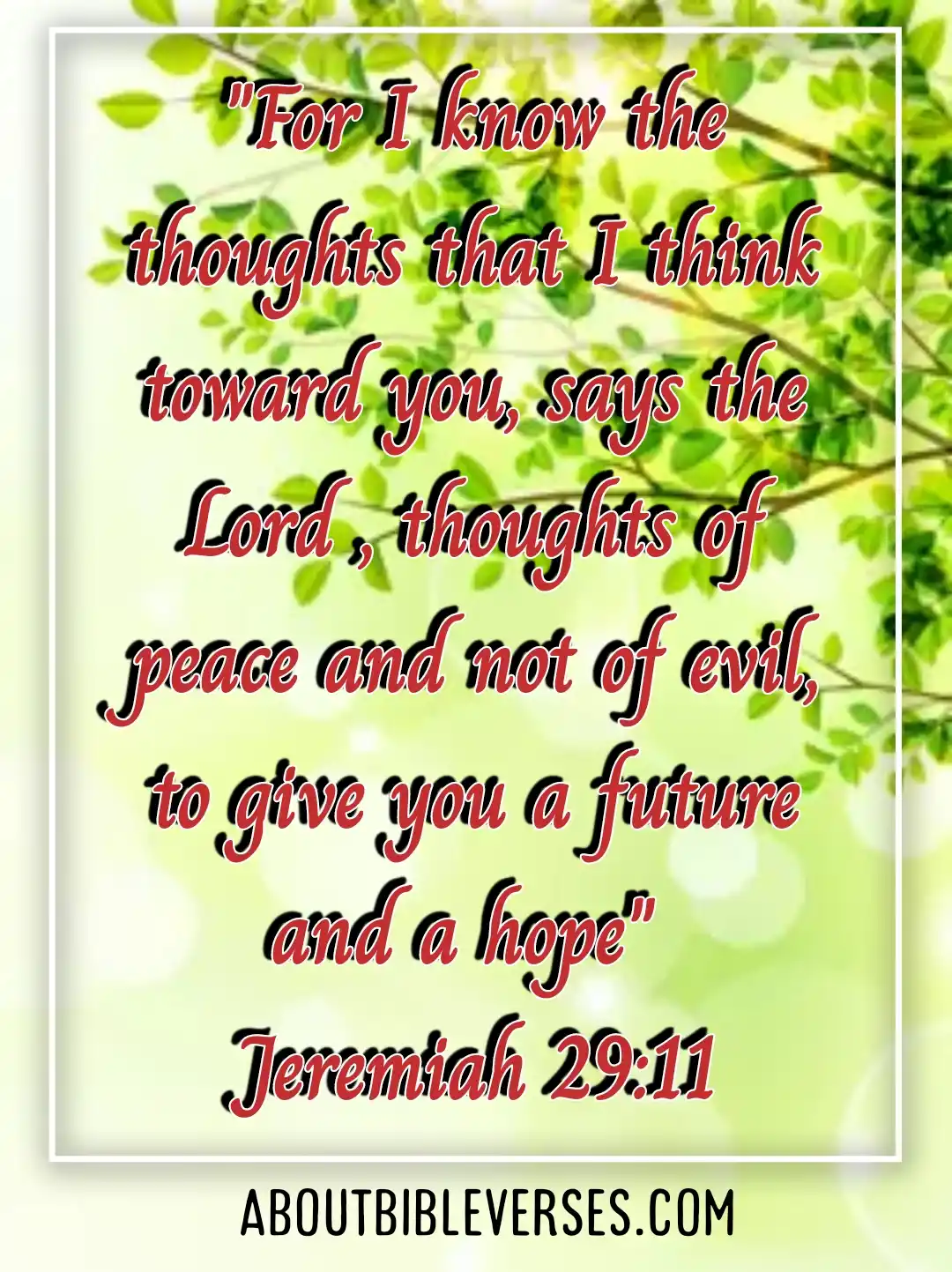 Jeremiah 29:11(KJV)"For I know the thoughts that I think toward you, saith the Lord, thoughts of peace, and not of evil, to give you an expected end."
Explanation:- The Bible says the Lord is good all the time and all office ways are best for us. All of us have hopes in our life to enjoy ourselves. We also dream of so many things to have a pleasant life. But often those dreams never come true as we are not the ruler of life.
The lot knows what tomorrow holds so that is why it would be best for us to rely on the Lord. Because of the thoughts that the Lord has been best for us. The Lord created this universe for us and when we were in our mother's home he made plans for us, so if we completely depend on him then we will find our life fruitful and we will be blessed by his guidance.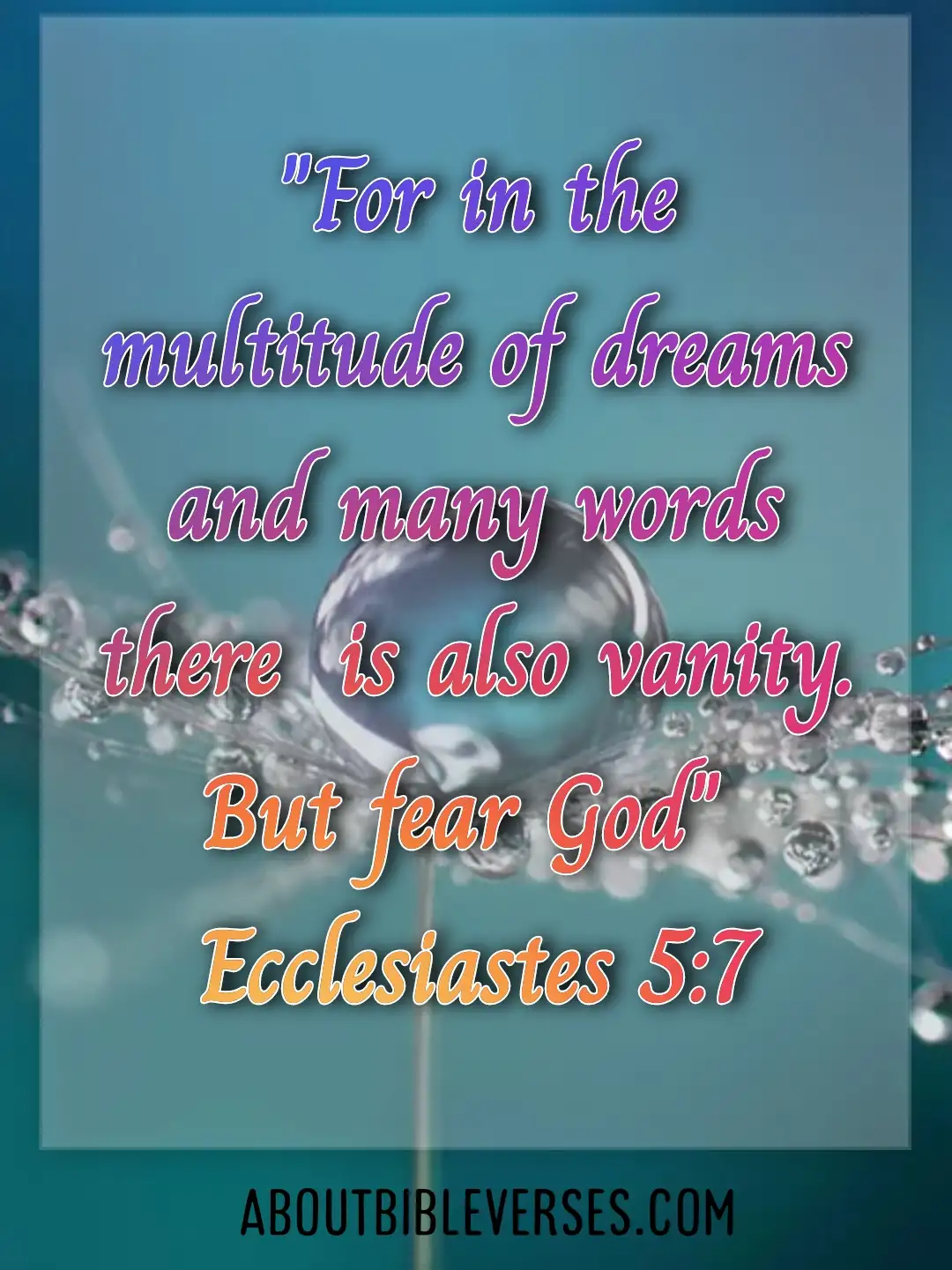 Ecclesiastes 5:7(KJV)"For in the multitude of dreams and many words there are also divers vanities: but fear thou, God."
Explanation:- If we try to lead our life by our own understanding to fulfill our hopes and dreams then one day we will be tired and we will get nothing.  The Bible says not to love the world and the things of the world because all the things of the world will not help us to live righteous life. If you love the world then the love of the Lord will not be in our hearts.
It would be wise for us to deny worldly things like fame, money, and wealth because we are the children of God to inherit heaven. We have to completely follow Jesus Christ to enter his Kingdom and we will live there forever.
Instead of dreaming and hoping for so many things in our life, it would be best for us to ask Lord Jesus Christ to guide us according to his will because all of his plans are the best for our future. So, let us dedicate our lives to the hands of the Lord to obtain a godly life.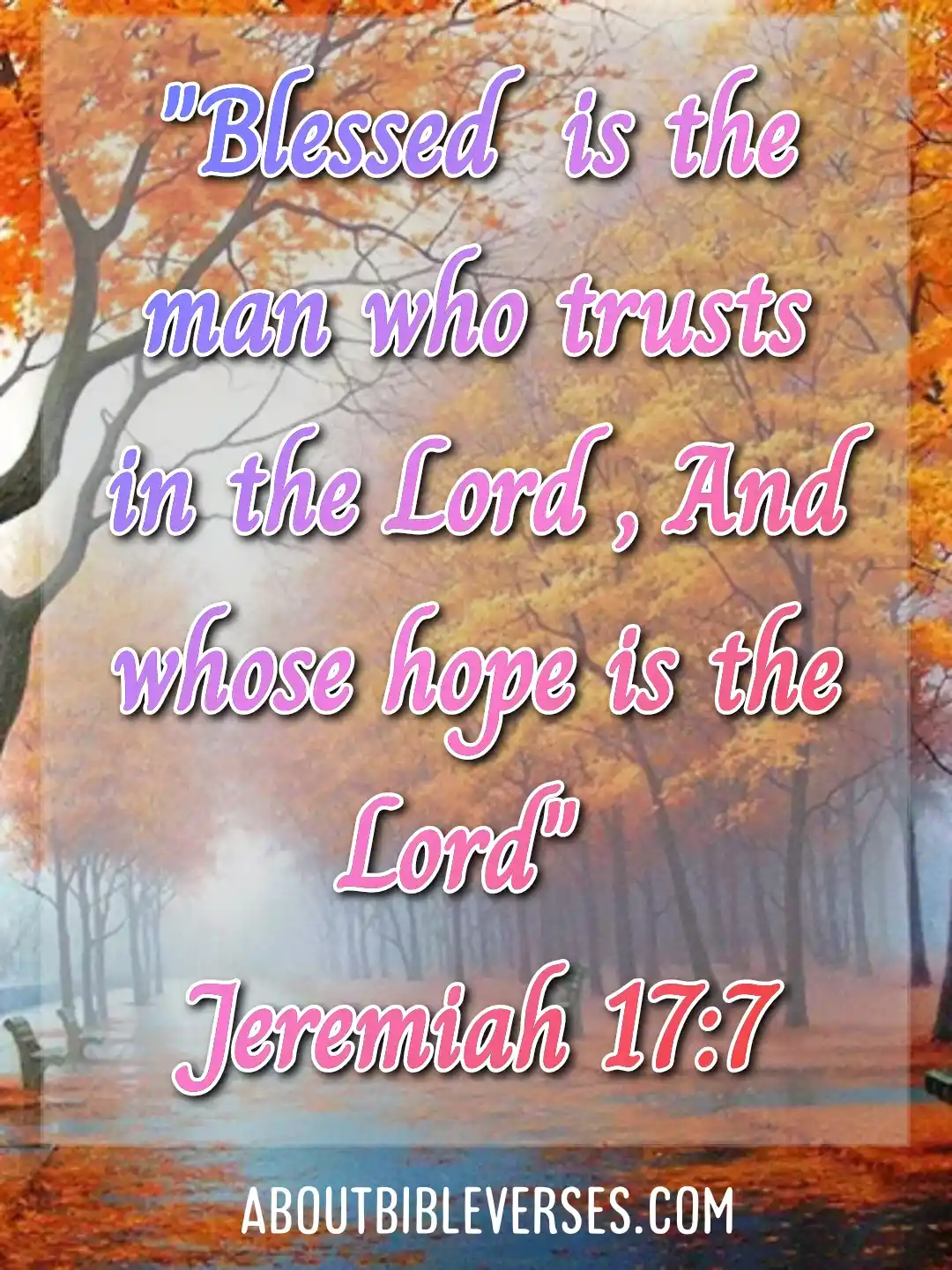 Jeremiah 17:7(KJV)"Blessed is the man that trusteth in the Lord, and whose hope the Lord is."
Explanation:- We are the creation of the Lord and we do not know about our future. But often we are so proud and we consider ourselves that we can do so many things.
One thing we need to remember is that we are limited in power and the Lord is our God who will judge us according to our works. We should not hope for many things in our life because we do not know what will be tomorrow.
Apart from this, there are so many people who dream about their future that we need to remember that we have a mighty God who knows us and he will bring everything in time.
This verse teaches that man will be blessed if he put his life in the hands of the Lord by trusting his ways. We should not depend on our understanding but we have to depend on the plans of the Lord to achieve a successful life.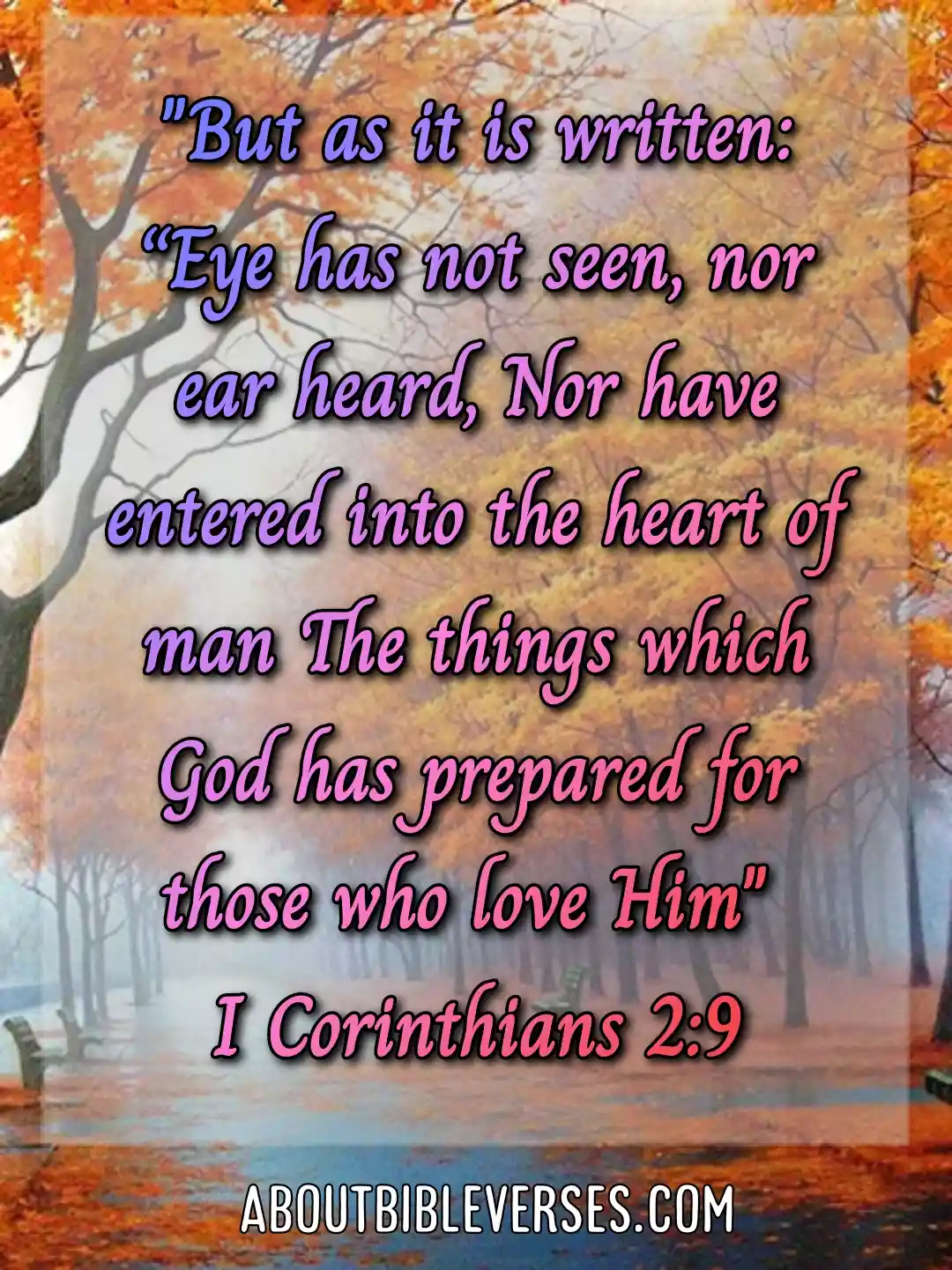 1 Corinthians 2:9(KJV)"But as it is written, Eye hath not seen, nor ear heard, neither have entered into the heart of man, the things which God hath prepared for them that love him"
Explanation:- We are called to obey the word of God and to walk along with him to enter into the kingdom of God. To inherit eternal life we have to give up all our fleshly desires and we have to deny ourselves so that we can be identified as the children of God.
We should not have so many hopes and dreams in our life because we do not know what tomorrow will bring for us. Instead of thinking too much about our future, it would be best for us to seek the Lord in your prayers to understand his will for us.
The world will always invite us to commit sin but being a child of God we have to separate ourselves from worldly traditions and practices.  By doing so we can please God and we can walk in his ways to be a righteous people in his eyes.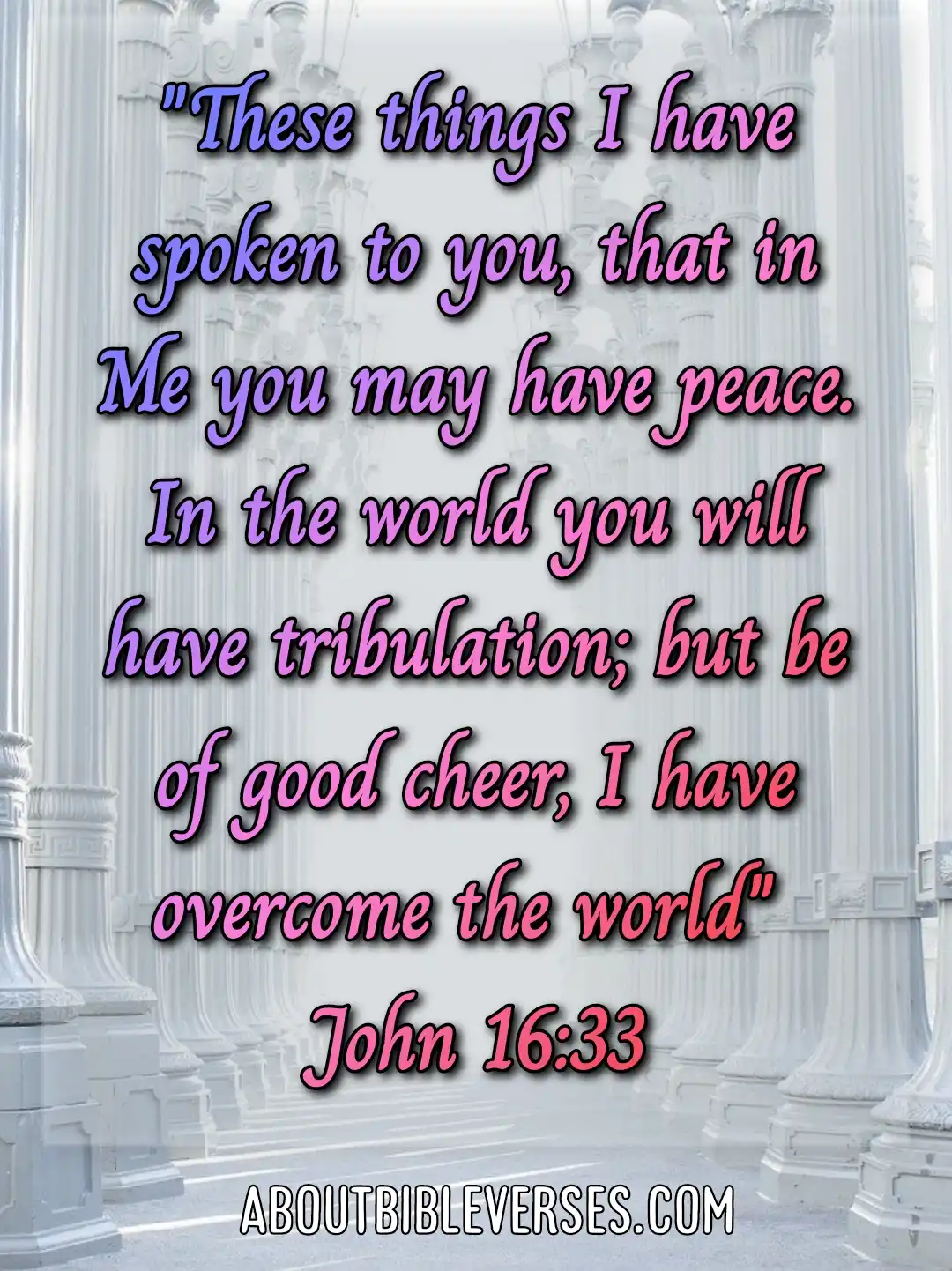 John 16:33(KJV)"These things I have spoken unto you, that in me ye might have peace. In the world ye shall have tribulation: but be of good cheer; I have overcome the world."
Explanation:- Jesus has warned us to be wise to keep ourselves away from worldly things.  When we become his follower our society or our neighbors will torture us and persecute us because we have abandoned their traditions.
But we need to keep in mind that even our Lord Jesus Christ also had gone through tortures and sufferings and finally he died on the cross for our sake to give us salvation. We should not have many hopes in our life but we have to commit our lives to the hand of the Lord to understand his ways. As we are the citizens of heaven we have to be careful regarding our thoughts and actions in this physical world.
None of us will live here permanently but one day we all have to leave this temporary world to inherit the eternal destination. So let us be wise in our every single action and word to glorify the Lord Jesus Christ.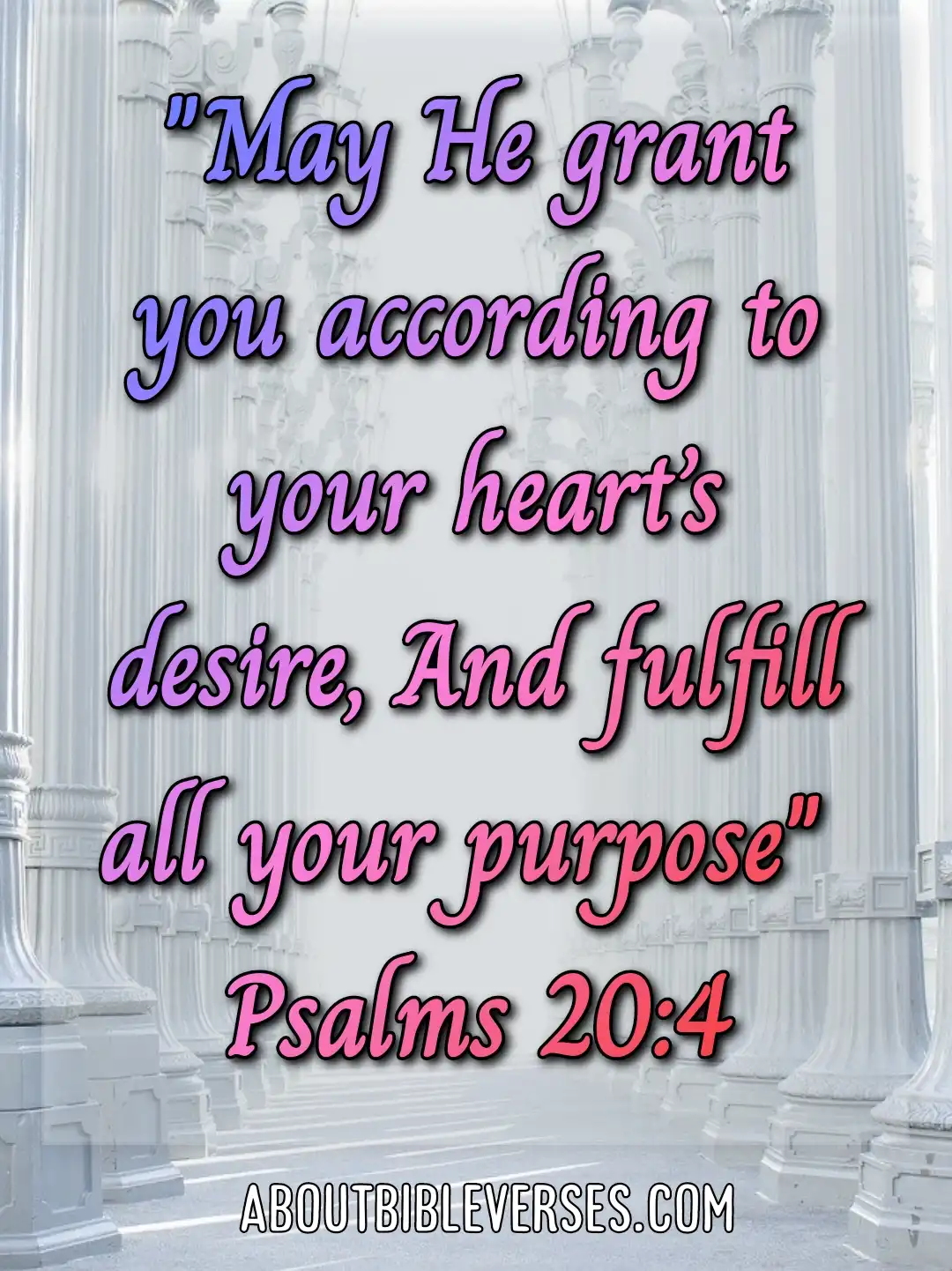 Psalm 20:4(KJV)"Grant thee according to thine own heart, and fulfil all thy counsel"
Explanation:- We have to depend on the Lord and we have to wait for his plans. Sometimes we might think that God is going to answer very late but we need to understand that he knows a perfect time that's why he is making a delay. We should not be in a hurry to fulfill our dreams as we are called by him not to gain everything in this world.
We should ask the Lord to guide us and to give us the wisdom to choose the best way for our life. If we allow the Lord to control our life then we will find all our hopes and we will get a joyful life. This world will tell us to run after its traditions and its teachings
but we should be very careful regarding the decisions that we are going to take in our life because that might be harmful to our spiritual life as the Lord knows our hearts. we need to remember that one day we are going to stand before his judgment so we must prepare our hearts to please him.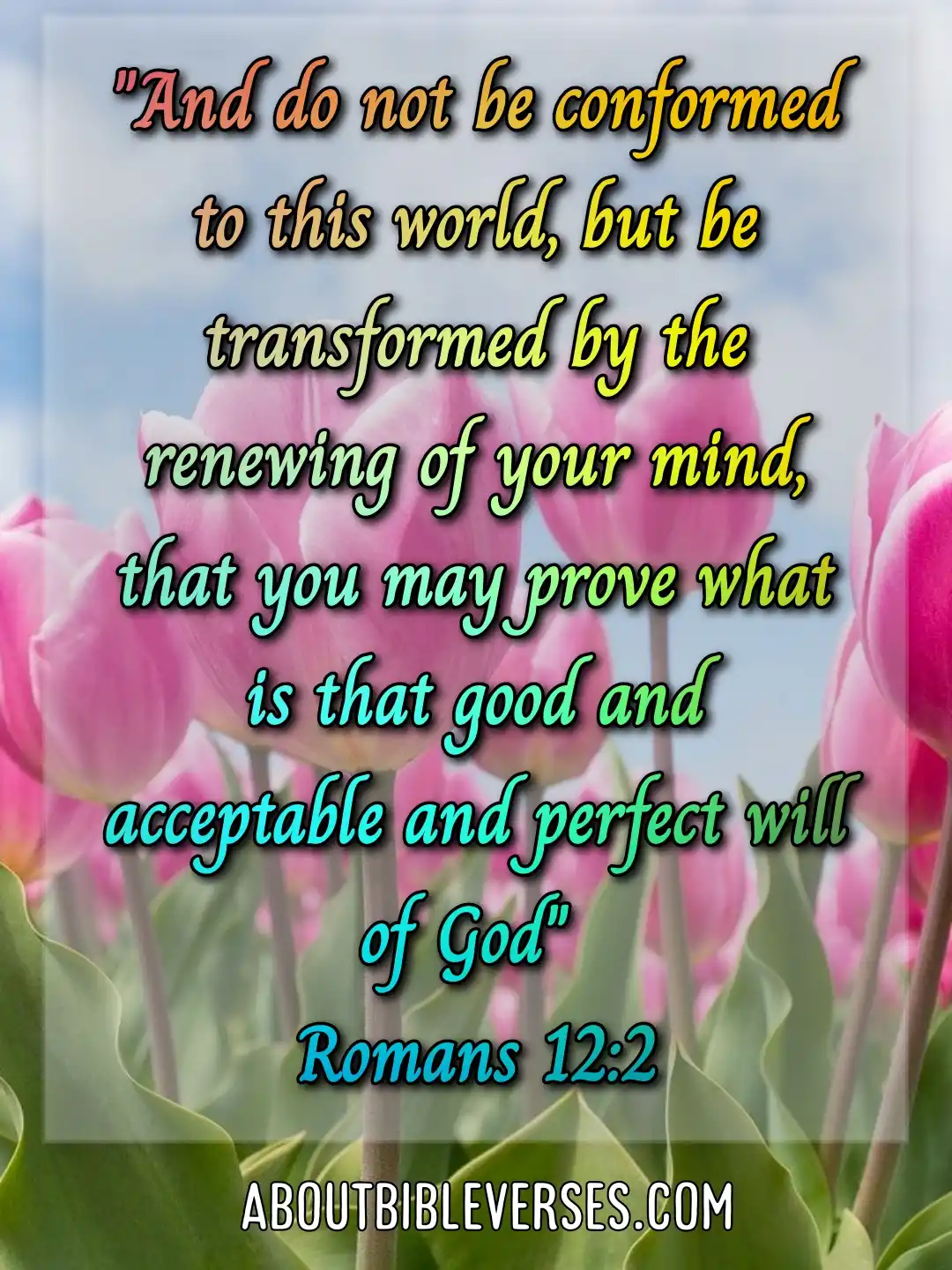 Romans 12:2(KJV)"And be not conformed to this world: but be ye transformed by the renewing of your mind, that ye may prove what is that good, and acceptable, and perfect, will of God."
Explanation:- We are the children of most high God so we should not follow the world rather we should follow the teachings of Lord Jesus Christ. We need to change our attitudes toward the world because we are the citizens of heaven.
So, we must live a life that satisfies the Lord. If we wish to please the men then we will face temptation and finally, we will miss our destination. There are so many Christians who have received Jesus joyfully and they also walked with him but after a few years, they left him and followed worldly traditions. That is why the word of God warns us not to confront the world or its cultures.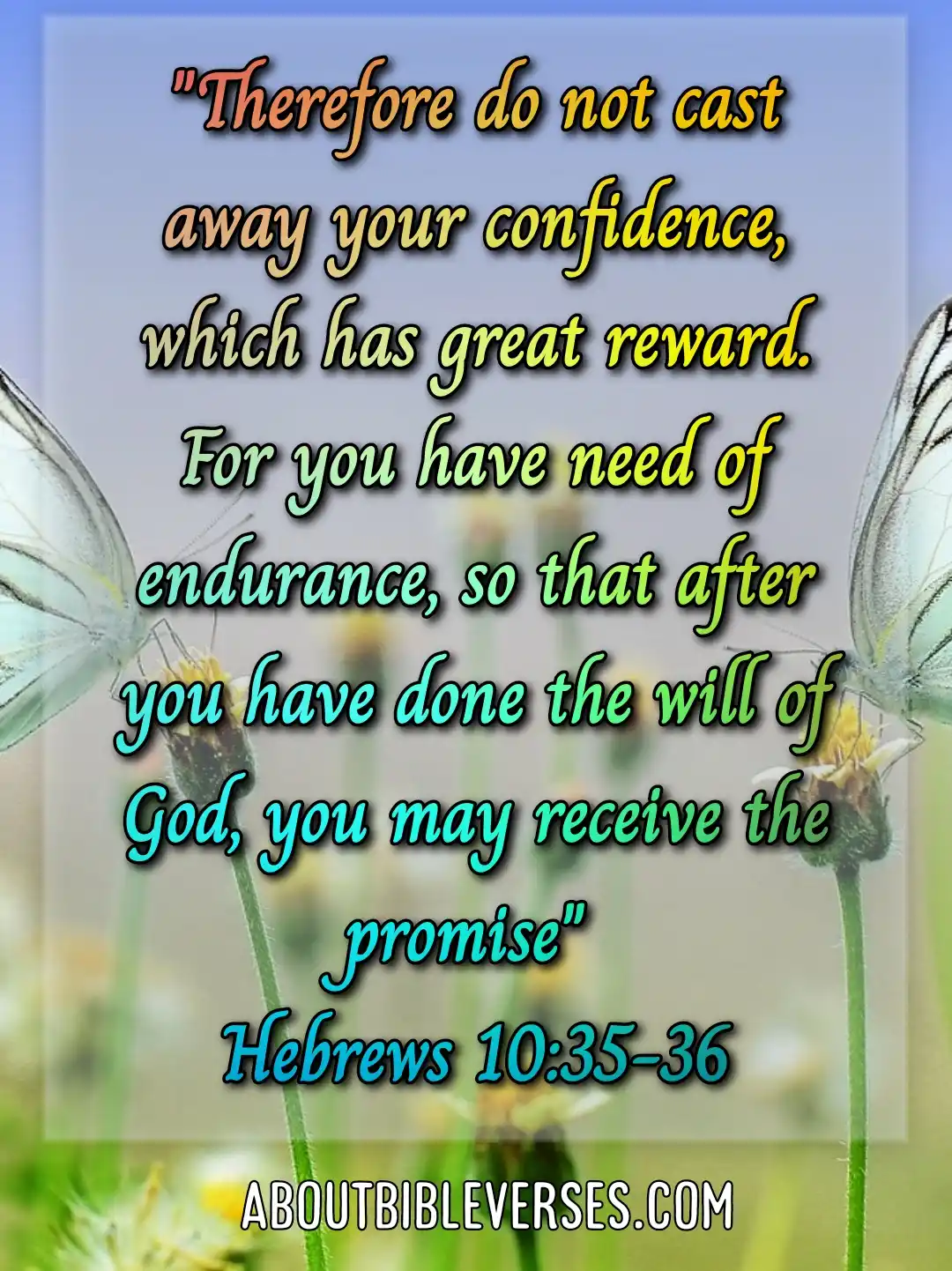 Hebrews 10:35-36(KJV)"Cast not away therefore your confidence, which hath great recompence of reward.For ye have need of patience, that, after ye have done the will of God, ye might receive the promise"
Explanation:- As we have decided to follow Jesus and to walk along with him then we should have strong faith that one day we will live with him and enjoy the beauty in heaven. If you do anything for the extension of his Kingdom then we should believe that the Lord will reward us for that.
Because the Lord has invited us to work for his ministry to reach those people who have never heard the gospel. There are so many people in today's time who have not heard about Jesus and they are still living under the bondage of sin. If you preach the gospel then they all will be blessed by hearing the words of God.
Being a true follower of Jesus Christ it is our first duty to preach the gospel to our people to help them to get salvation. If you do so patiently and happily then we are sure that one day we will be rewarded in heaven.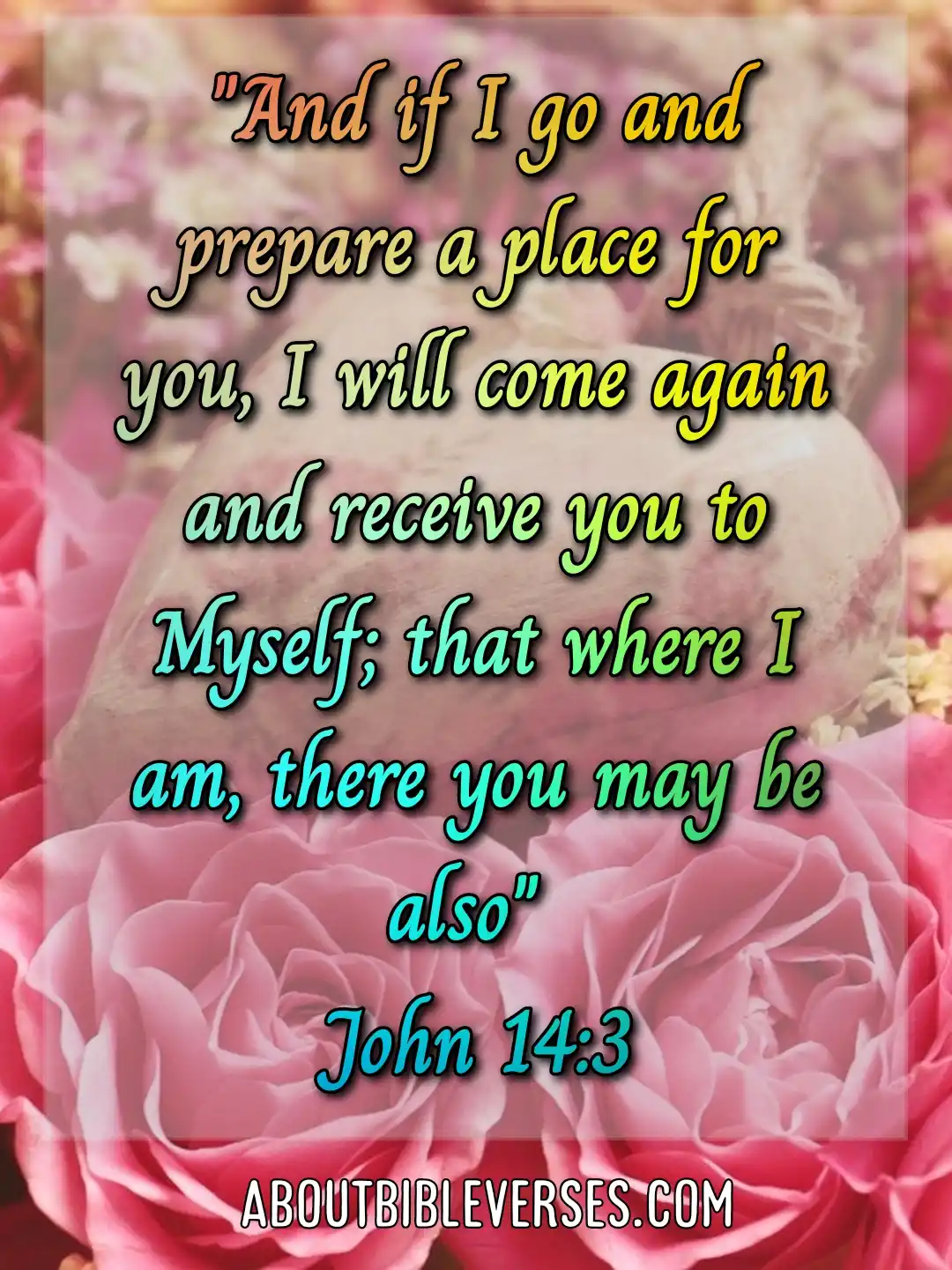 John 14:3(KJV)"And if I go and prepare a place for you, I will come again, and receive you unto myself; that where I am, there ye may be also"
Explanation:- Jesus has promised us that he will come back again on this earth to take us to heaven. Until his second coming we all have to live faithfully and we have to obey all of his teachings to enter into his Kingdom. We have to put our hope on his commandments that one day we will inherit the Kingdom and on that day our dreams will come true.
If we believe him then we will understand that he will definitely come on this earth again to take his saints. What we can do is that we have to believe him and we have to walk along with him and we have to fulfill all of his teachings in our lives.