Hello dear friends, welcome to our site in the name of Jesus Christ. Today we will look at the Bible Scriptures About God's Mercy In KJV. If you like today's post then definitely comment and share.
The bible is an amazing book and describes a God who is merciful. We can learn all about God from the Bible. Apart from it, we cannot know the truth about God. God is merciful and he is personal. He wants to communicate with us. He created man to glorify him. But sin has destroyed all the plans of God. 
God's mercy revealed another way where he came in the form of a man and gave his life upon the cross. By doing such great sacrifice he proved that he is merciful and he loves his people. We must know him well so we can understand his great love for mankind. Let us see the scriptures which talk about God's mercy for sinful men.
Dear friends now let's see the Bible scriptures below that talk about God's Mercy.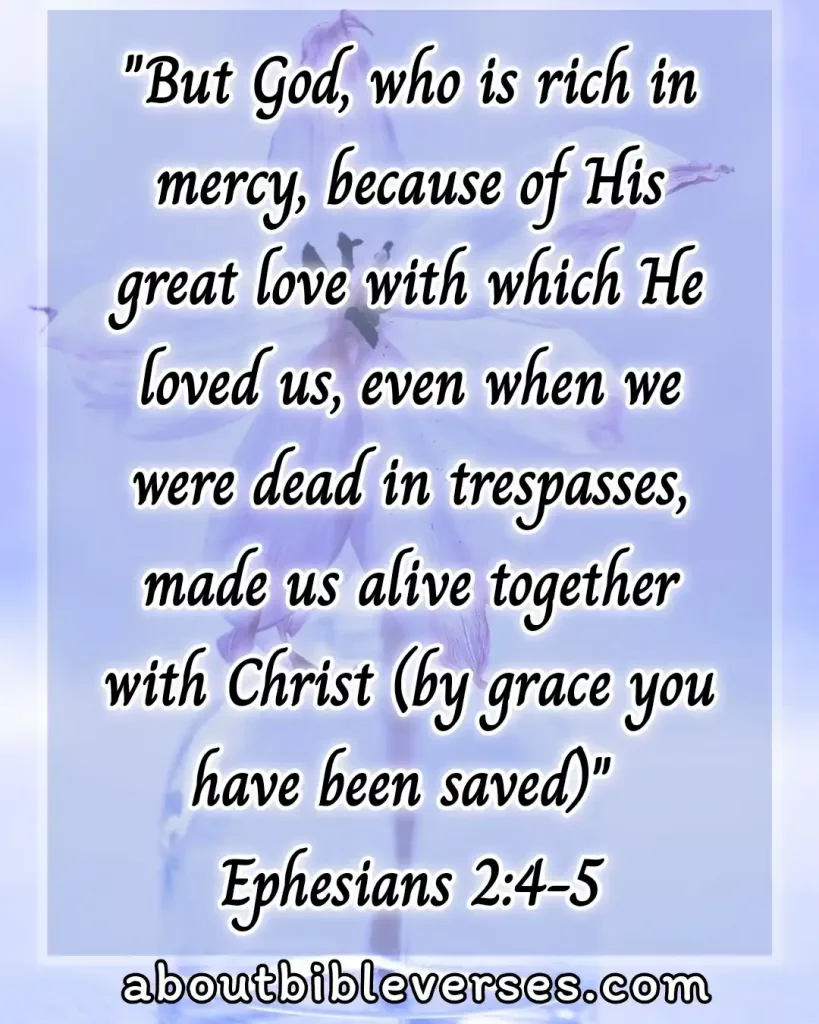 Ephesians 2:4-5(KJV)"But God, who is rich in mercy, for his great love wherewith he loved us, Even when we were dead in sins, hath quickened us together with Christ, (by grace ye are saved;)"
Explanation:- Once we were dead in sin and we were separated from the presence of the Lord. We had no hope and we were lost but Christ redeemed us by his grace.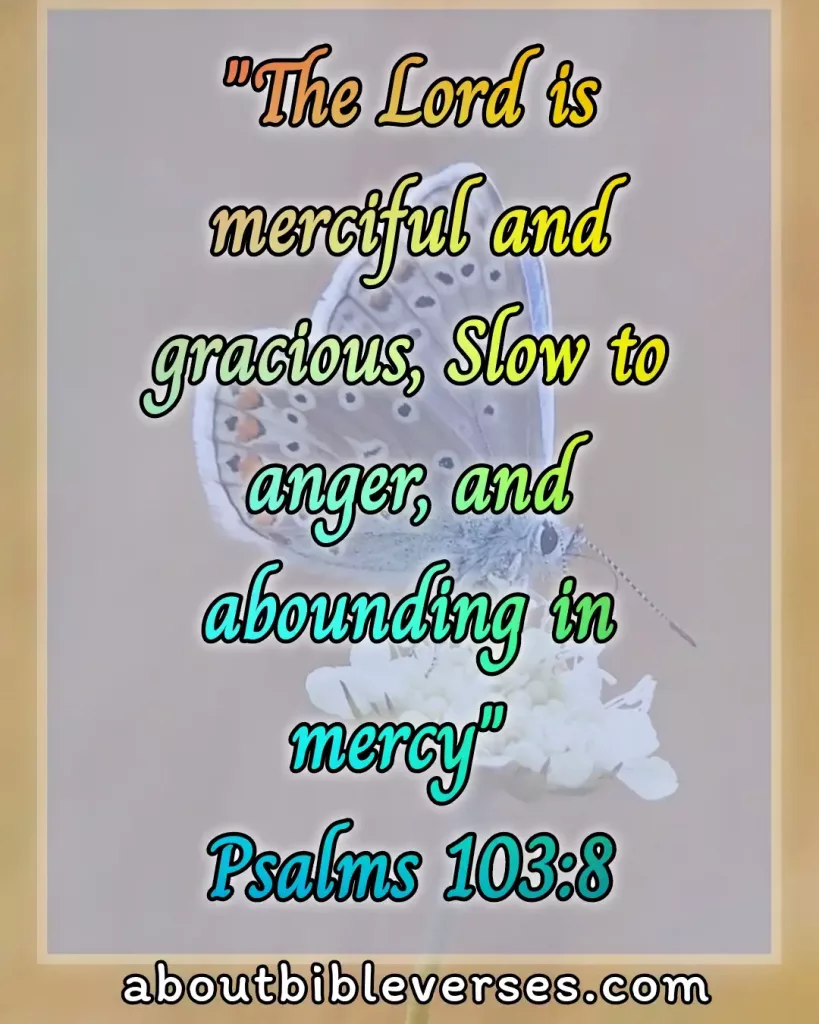 Psalm 103:8(KJV)"The Lord is merciful and gracious, slow to anger, and plenteous in mercy"
Explanation:- God loves us and he cares for us. He is slow to anger and his grace is sufficient for all of us. God's eyes are upon his children. He knows their strengths and weaknesses well. He will respond to them at the right time when they are in need of help.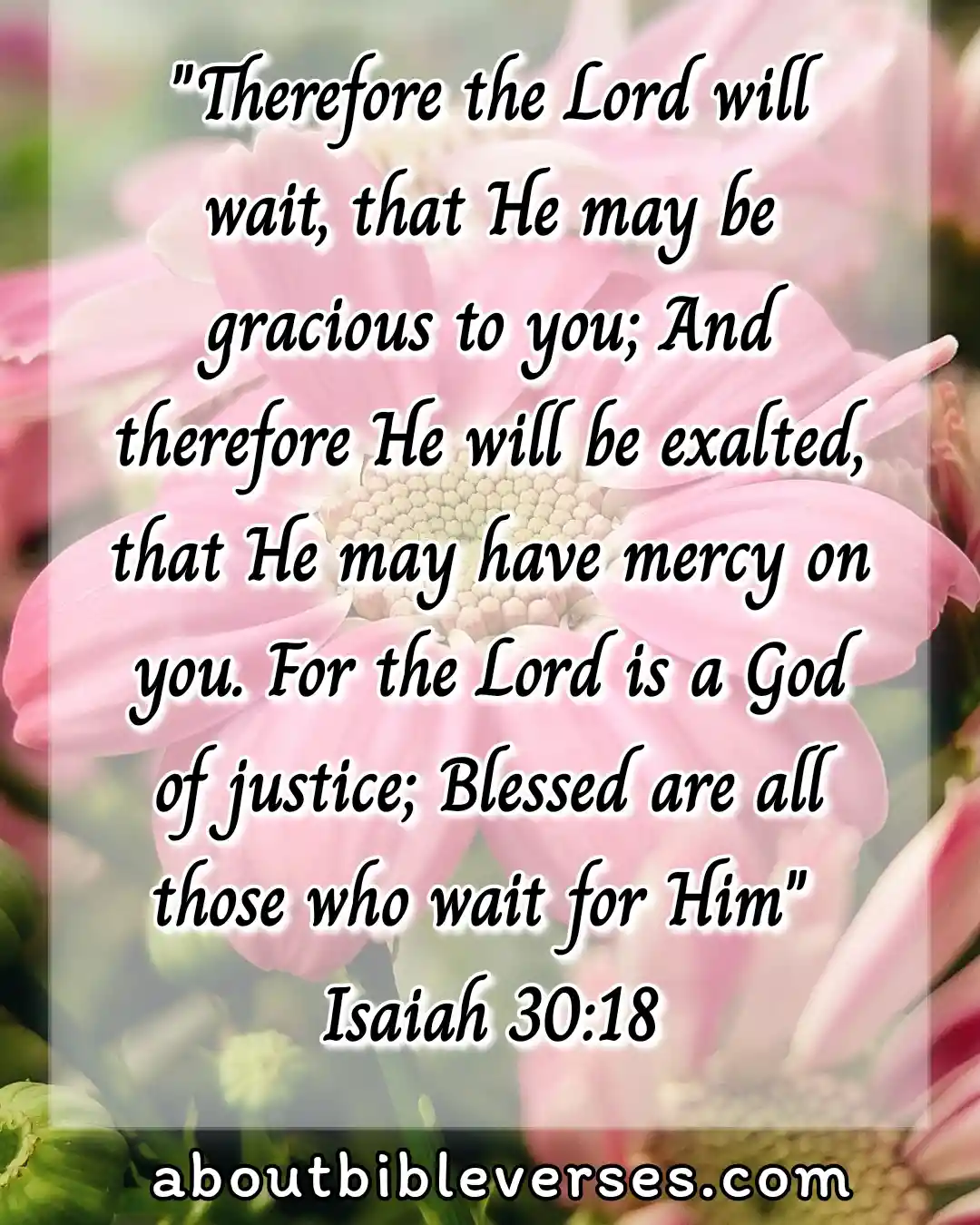 Isaiah 30:18(KJV)"And therefore will the Lord wait, that he may be gracious unto you, and therefore will he be exalted, that he may have mercy upon you: for the Lord is a God of judgment: blessed are all they that wait for him"
Explanation:- God is gracious and he has given us a time where we can decide to choose him or deny. We will have no authority to protect ourselves from judgment. He loves us and he wants us to be free from his wrath.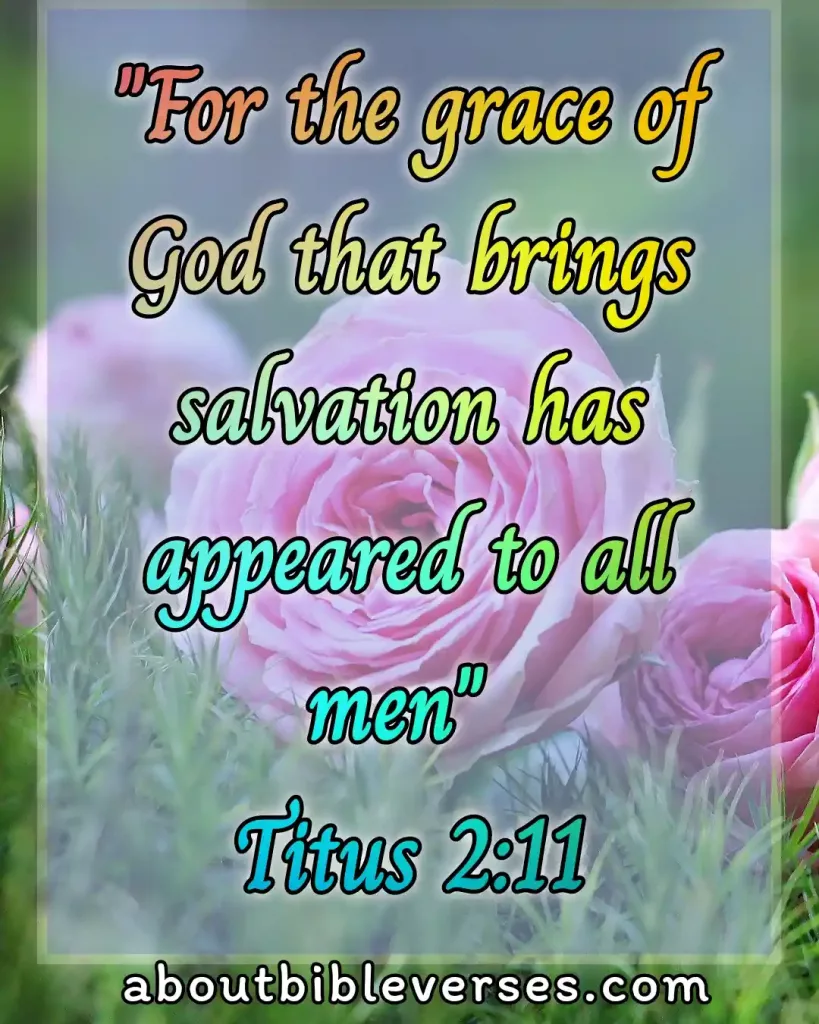 Titus 2:11(KJV)"For the grace of God that bringeth salvation hath appeared to all men"
Explanation:- Before the birth of Jesus and his sacrifice God was only for the Jews nation. But Jesus made a way for everyone to get connected with the Lord by receiving him as the one true living God.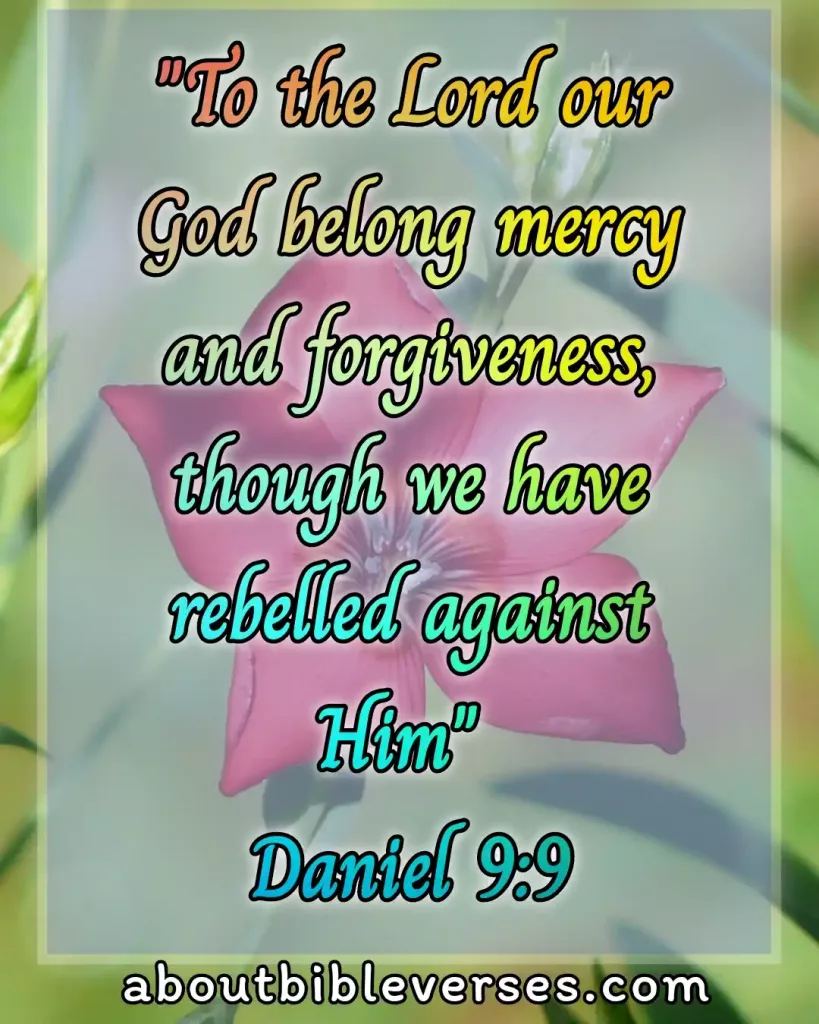 Daniel 9:9(KJV)"To the Lord our God belong mercies and forgiveness, though we have rebelled against him"
Explanation:- God is merciful and he forgives all our iniquities when we seek His face and ask forgiveness for our sins. He wants us to repent for the sins that we committed. If we come closer to him, then he also comes nearer to us.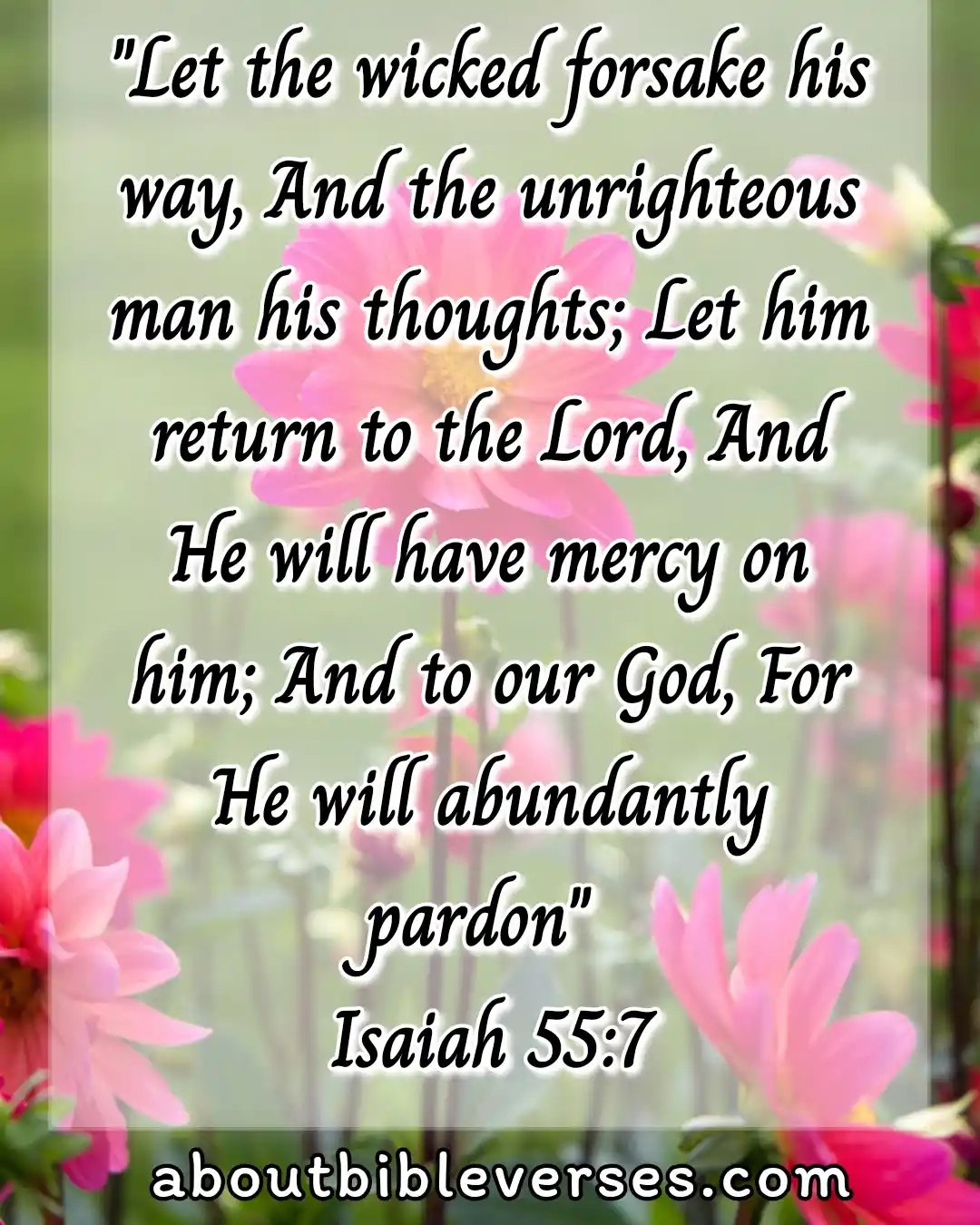 Isaiah 55:7(KJV) "Let the wicked forsake his way, and the unrighteous man his thoughts: and let him return unto the Lord, and he will have mercy upon him; and to our God, for he will abundantly pardon"
Explanation:- God is holy and just so he demands his children to be like him. Believers should become holy in order to live with their creator in heaven. They must follow the teachings of Jesus so they can become righteous in the sight of God.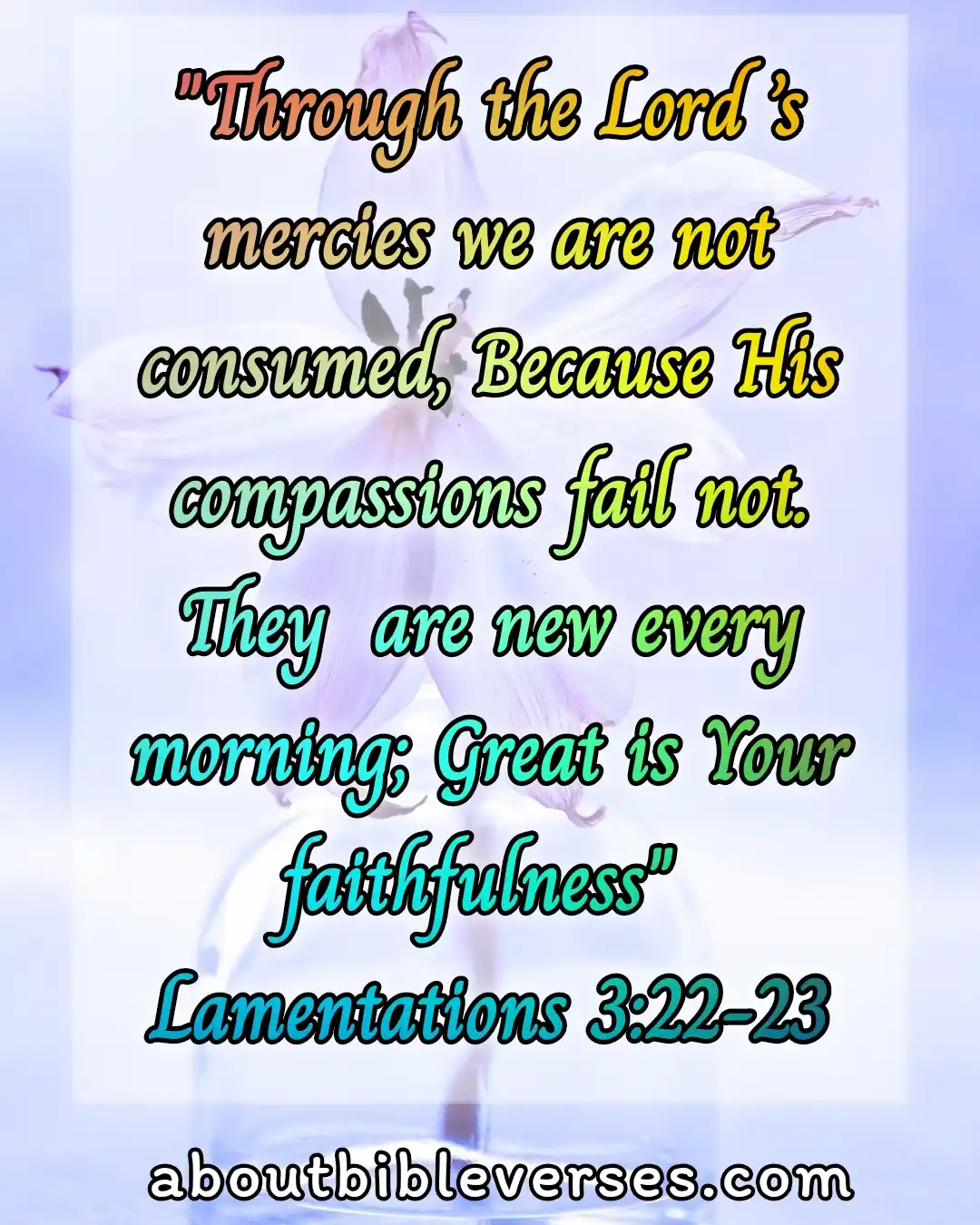 Lamentations 3:22-23(KJV)"It is of the Lord's mercies that we are not consumed, because his compassions fail not. They are new every morning: great is thy faithfulness"
Explanation:- We all are sinners and we are enemies of God. but God's mercy is upon us which helps us to stay on this earth. We are not worthy to stand before him due to our sinful works. Jesus loves us and died on the cross for our sake. His grace has set us free from the upcoming wrath of God.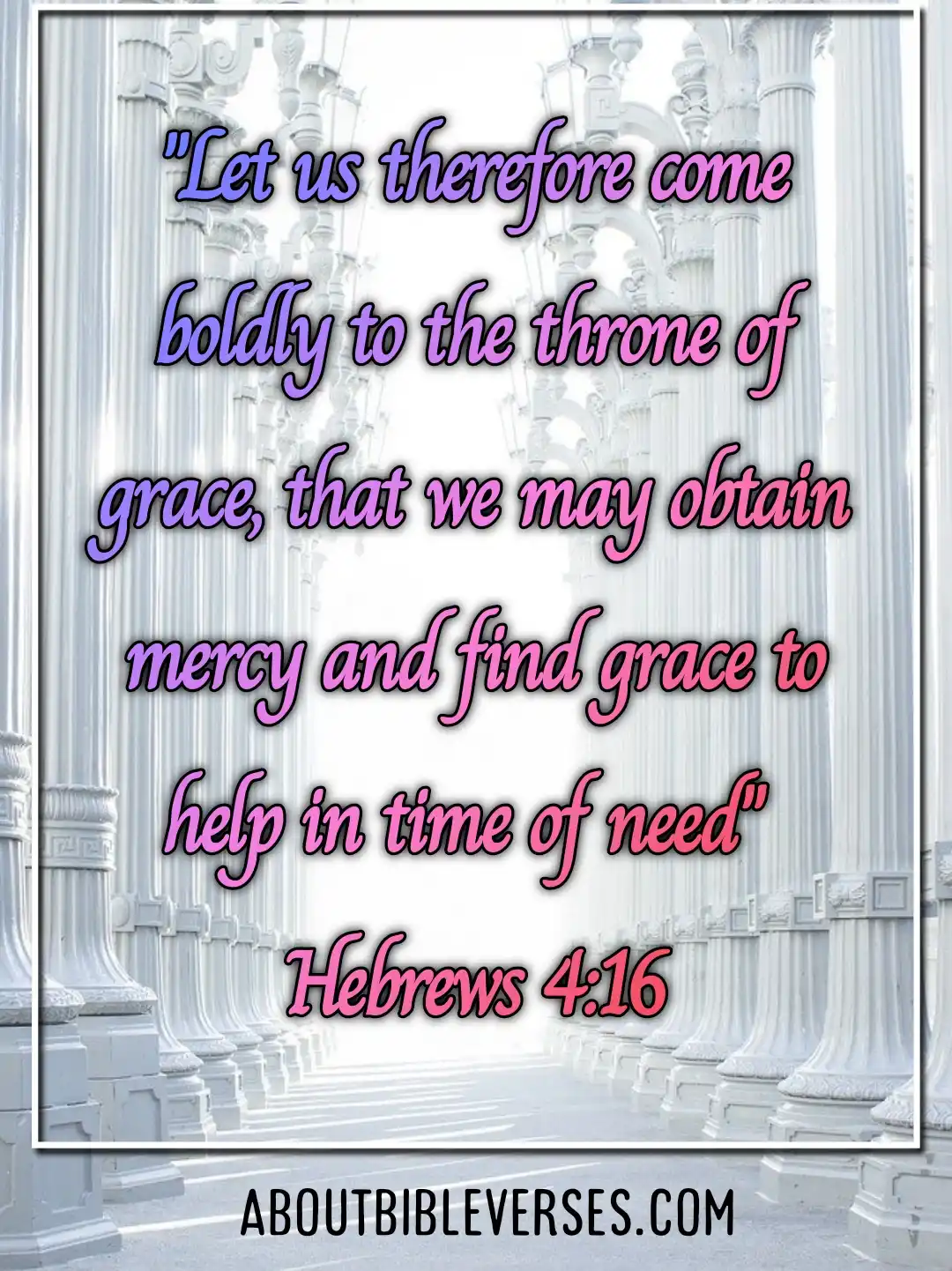 Hebrews 4:16(KJV)"Let us therefore come boldly unto the throne of grace, that we may obtain mercy, and find grace to help in time of need"
Explanation:- We have the privilege to receive God's grace. We should come before him with a lowly heart and we should ask for his guidance in our life. We cannot get his grace until we surrender our lives before him.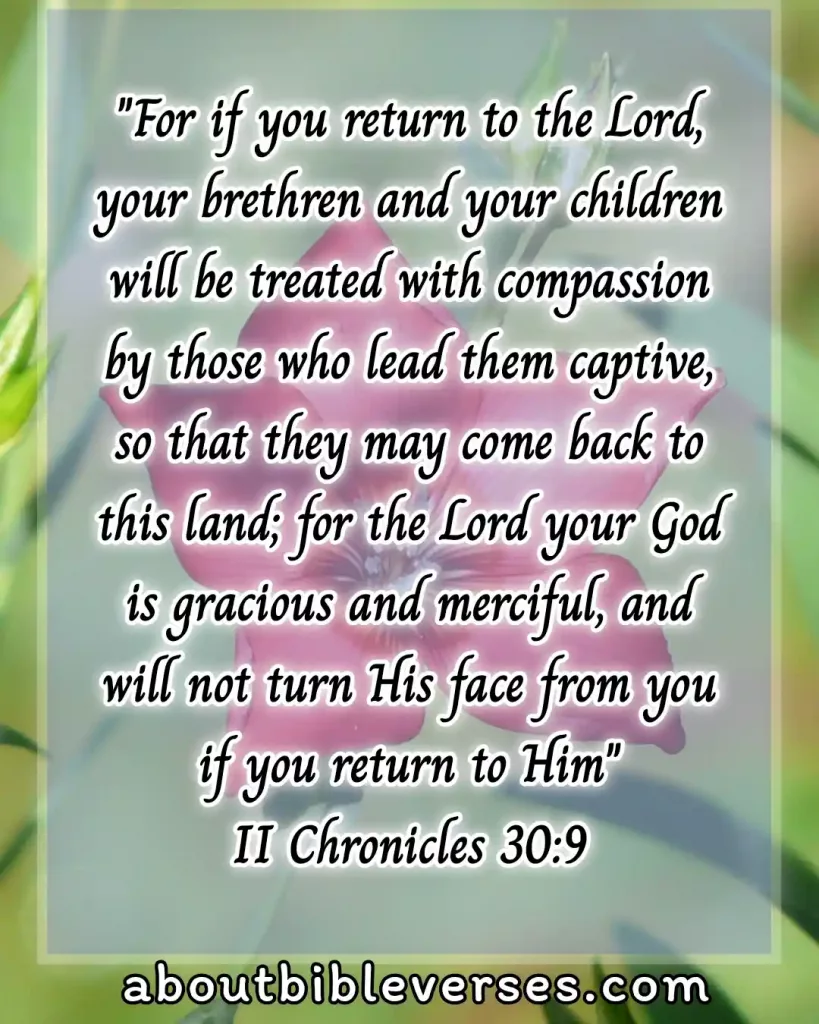 2 Chronicles 30:9(KJV)"For if ye turn again unto the Lord, your brethren and your children shall find compassion before them that lead them captive, so that they shall come again into this land: for the Lord your God is gracious and merciful, and will not turn away his face from you, if ye return unto him"
Explanation:- God warns Israel not to forsake him. if they forsake him they will experience dire consequences. God has special blessings for his chosen nation Israel. He urged them to turn towards him leaving all kinds of filthiness that defiled them.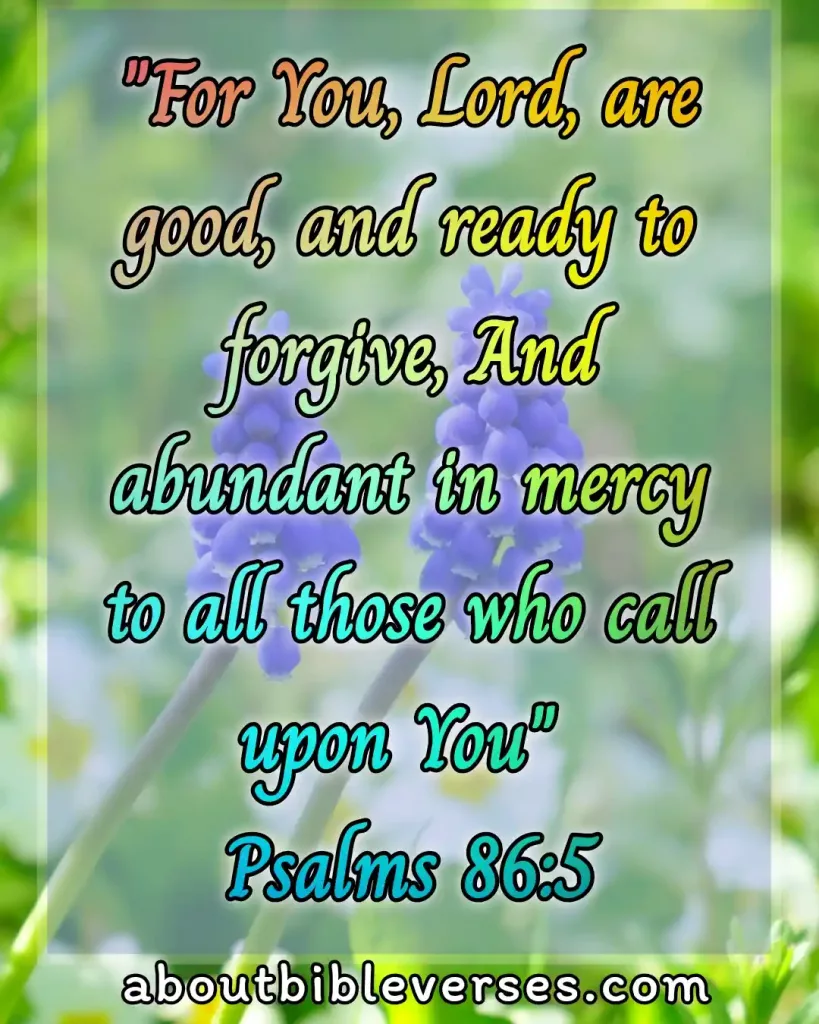 Psalm 86:5(KJV)"For thou, Lord, art good, and ready to forgive; and plenteous in mercy unto all them that call upon thee"
Explanation:- In the Old Testament we could see God's wrath upon his chosen nation Israel. Still, we can see God is merciful when his people returned to him and repented for their sins. God is good all the time and his mercy is upon his followers who obey his ways.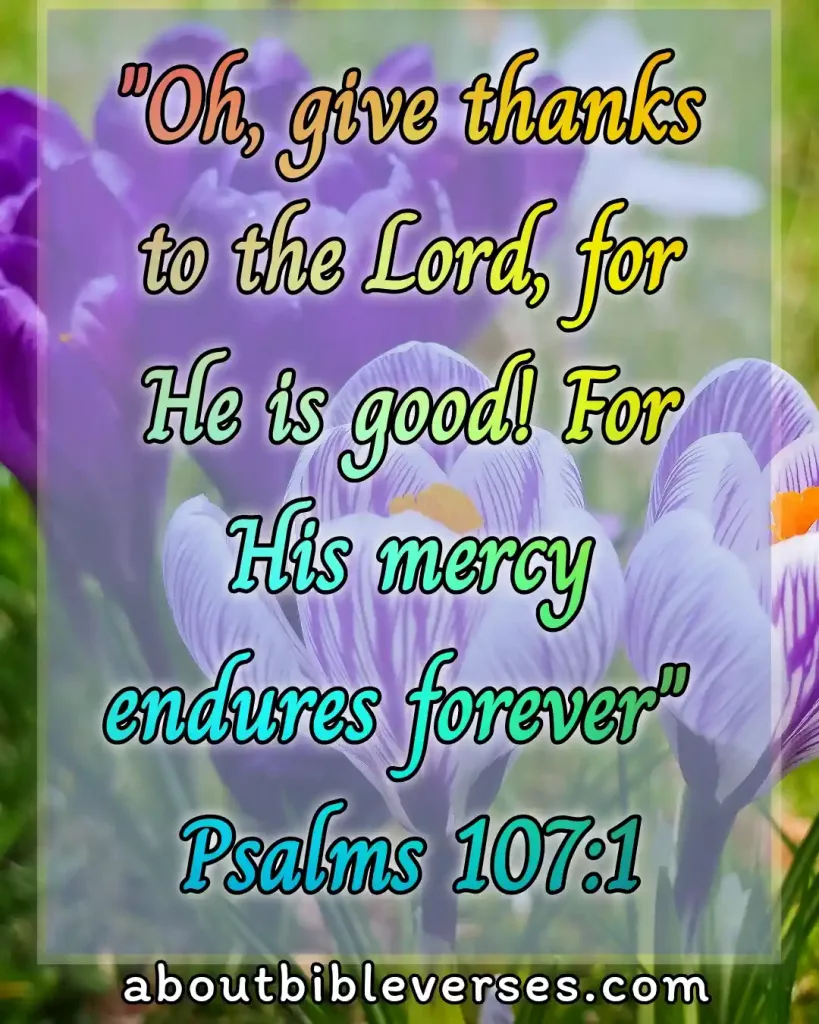 Psalm 107:1(KJV) "O give thanks unto the Lord, for he is good: for his mercy endureth forever"
Explanation:- King David has experienced God's mercy in his life. He was called a man after God's own heart. Though he obeyed God still he failed to keep all the words of God and sometimes he committed some great sins against the Lord. but when he repented for his sins he got forgiveness.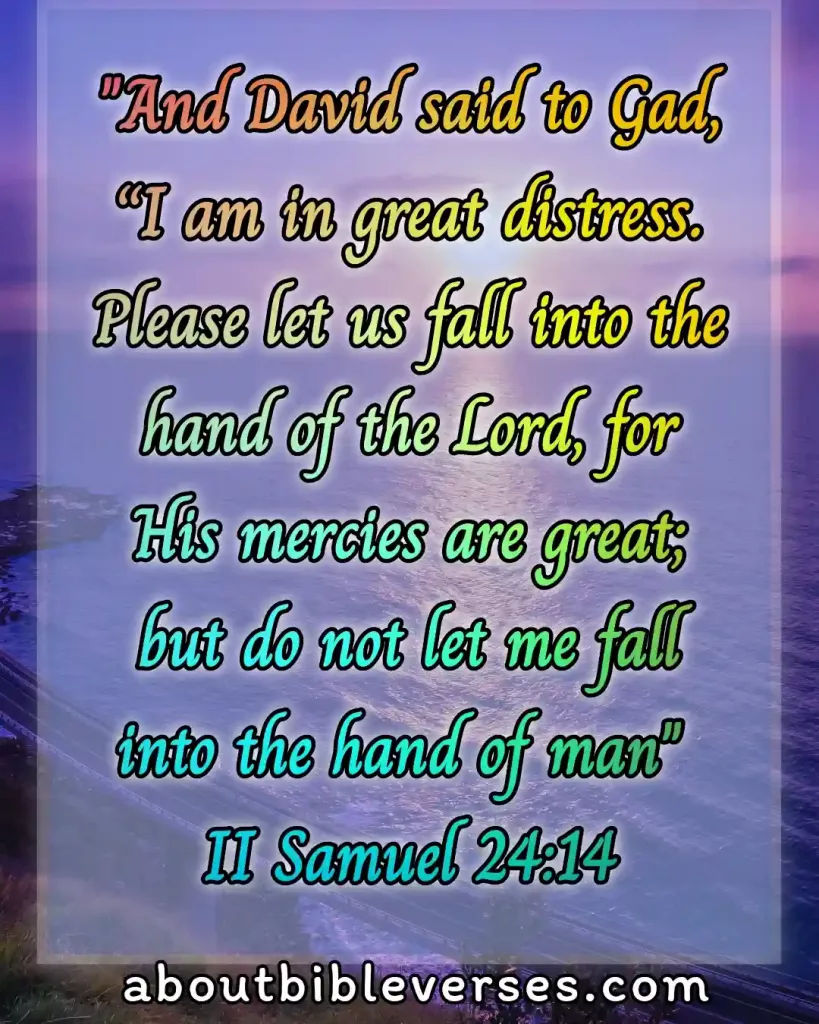 2 Samuel 24:14(KJV)"And David said unto Gad, I am in a great strait: let us fall now into the hand of the Lord; for his mercies are great: and let me not fall into the hand of man"
Explanation:- When David was in danger he sought God's mercy as he knew that God is merciful. He realized that God can redeem him from all the problems which surrounded him.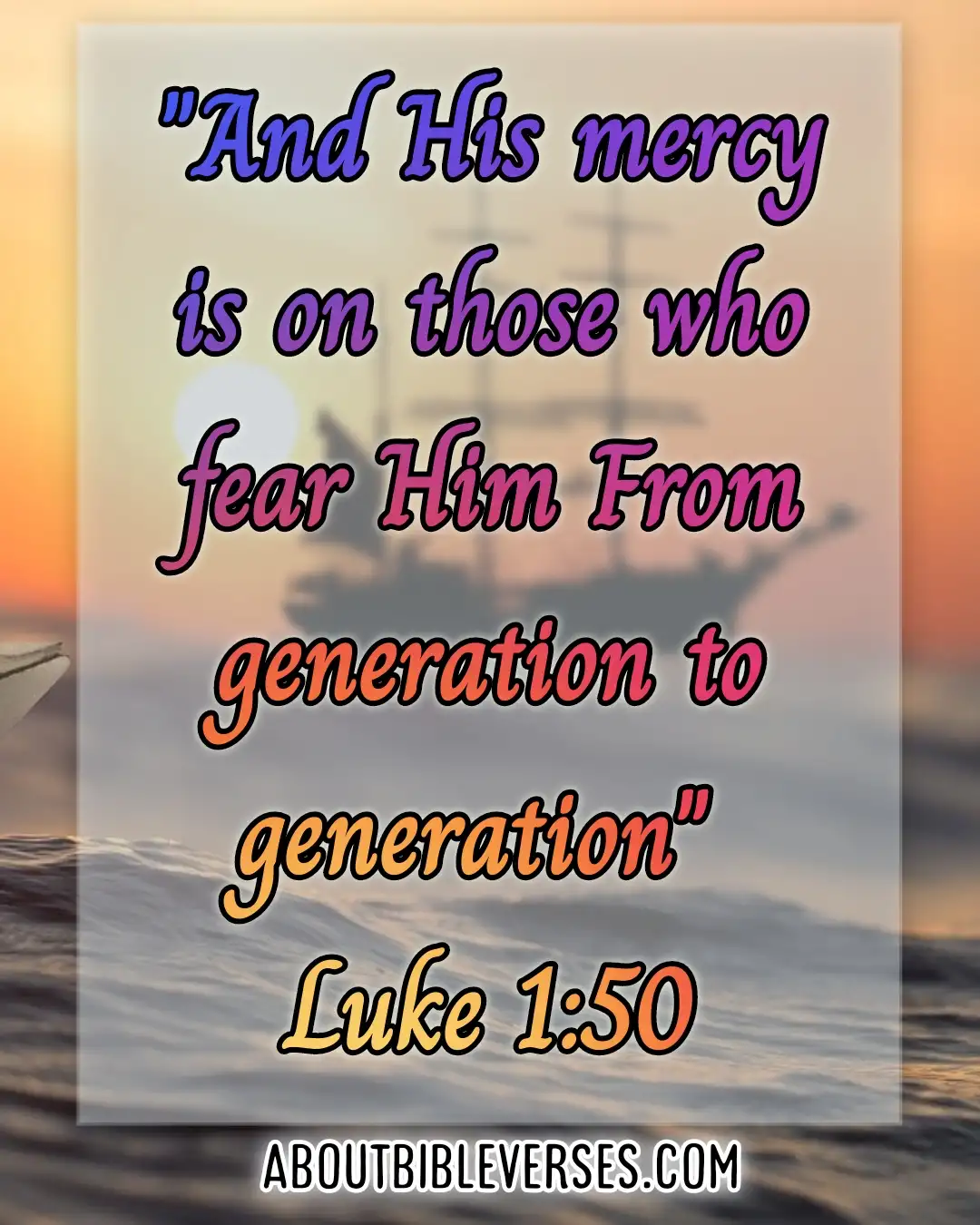 Luke 1:50(KJV)"And his mercy is on them that fear him from generation to generation"
Explanation:- God wants his people to fear him. Those who will fear him will receive mercy and blessings from generation after generation.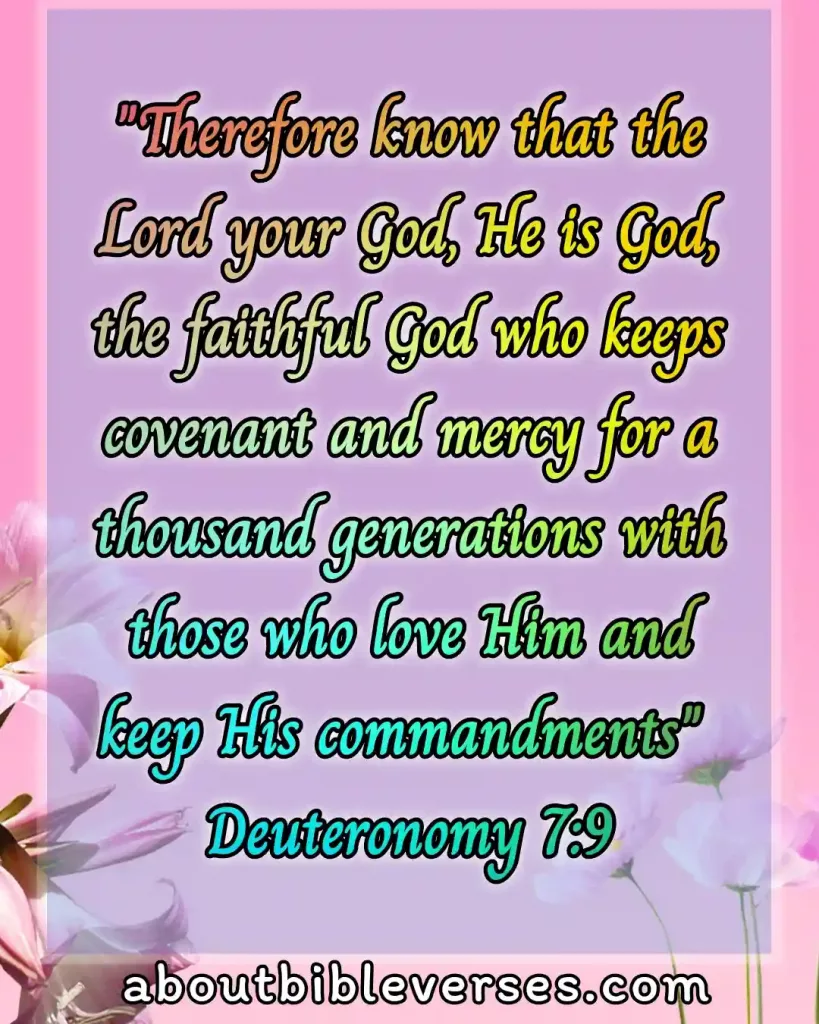 Deuteronomy 7:9(KJV)"Know therefore that the Lord thy God, he is God, the faithful God, which keepeth covenant and mercy with them that love him and keep his commandments to a thousand generations"
Explanation:- Throughout the Old Testament we can see many covenants that God made with his people and he also fulfilled them. God is faithful and we can rely on him to have a blessed life.
Bible Verses About Showing Mercy One Another
Jesus teaches his disciples to follow the father and he also asks them to become perfect like the heavenly Father. It is important for believers to show their gentle behavior to others.
People who do not know Jesus will be able to know by the meekness of believers. As Jesus is merciful to us so we should show mercy to others.
We need to love others the way Christ loves us and forgives all our sins. When we have love in our hearts for our neighbors then automatically we will be able to show them mercy.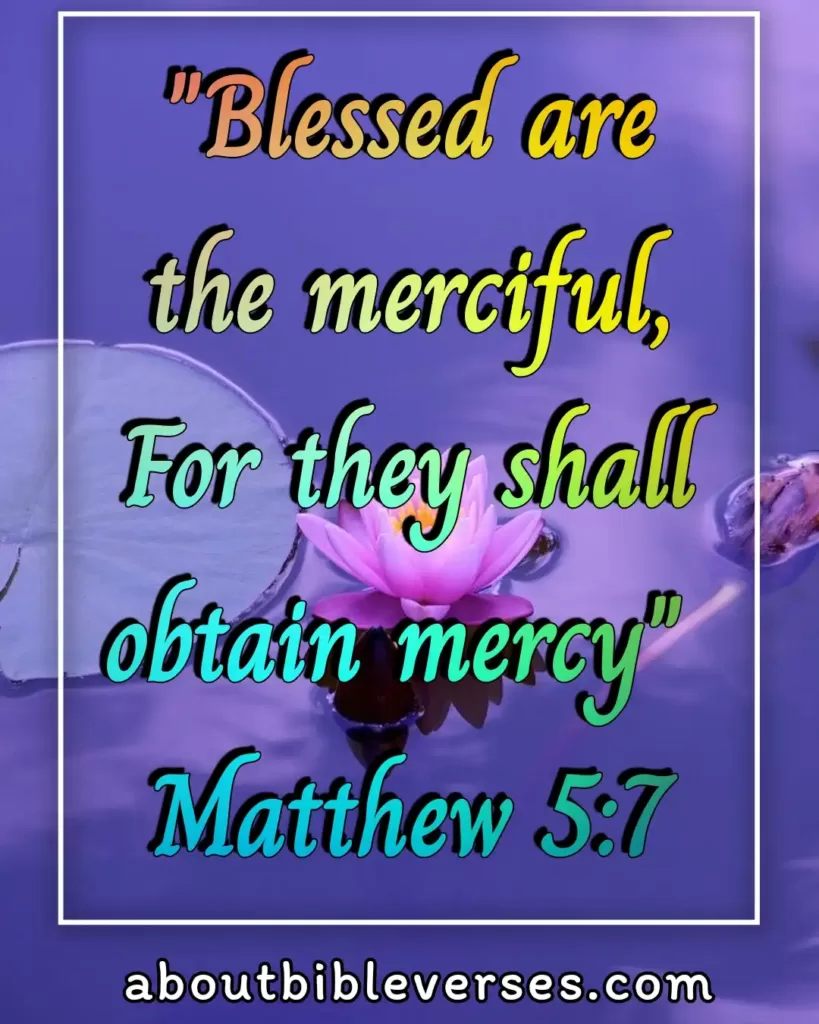 Matthew 5:7(KJV)"Blessed are the merciful: for they shall obtain mercy"
Explanation:- Jesus says that believers should have a nature of mercy as their God is merciful. They must forgive others' mistakes. If they do so then they will obtain mercy and blessings from above.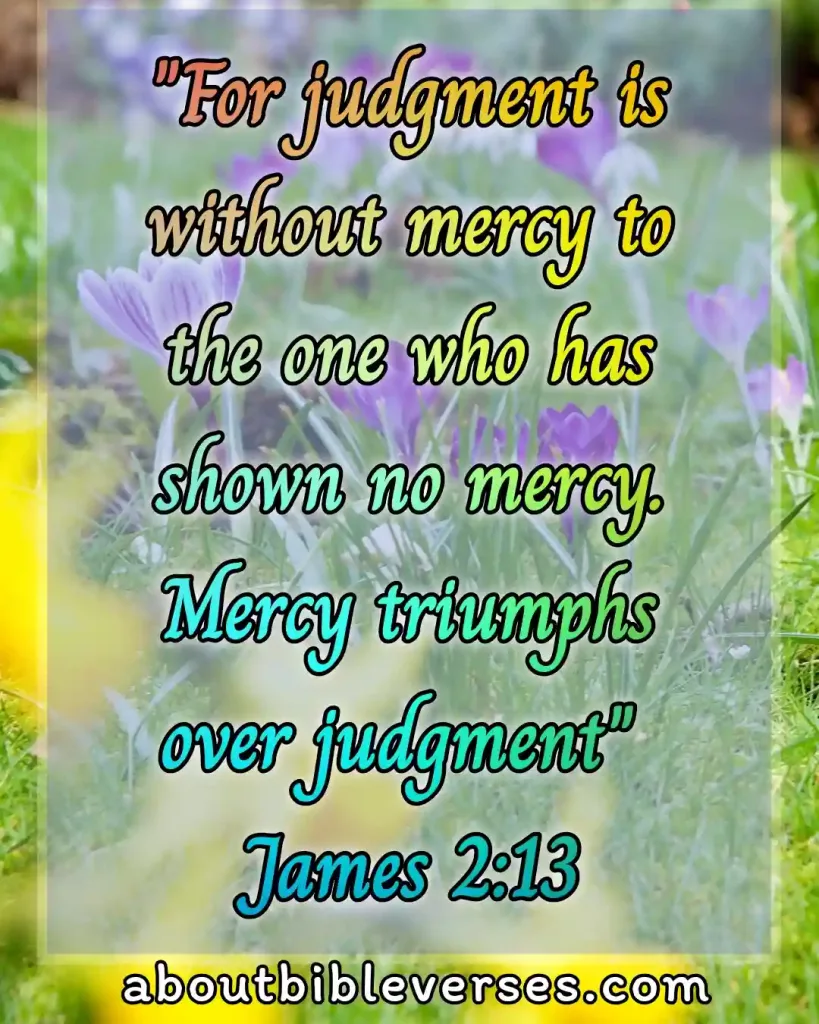 James 2:13(KJV)"For he shall have judgment without mercy, that hath shewed no mercy; and mercy rejoiceth against judgment"
Explanation:- In the times of judgment God will not show mercy. His mercy will be upon the righteous men. He will bless them by providing an everlasting life which is in heaven.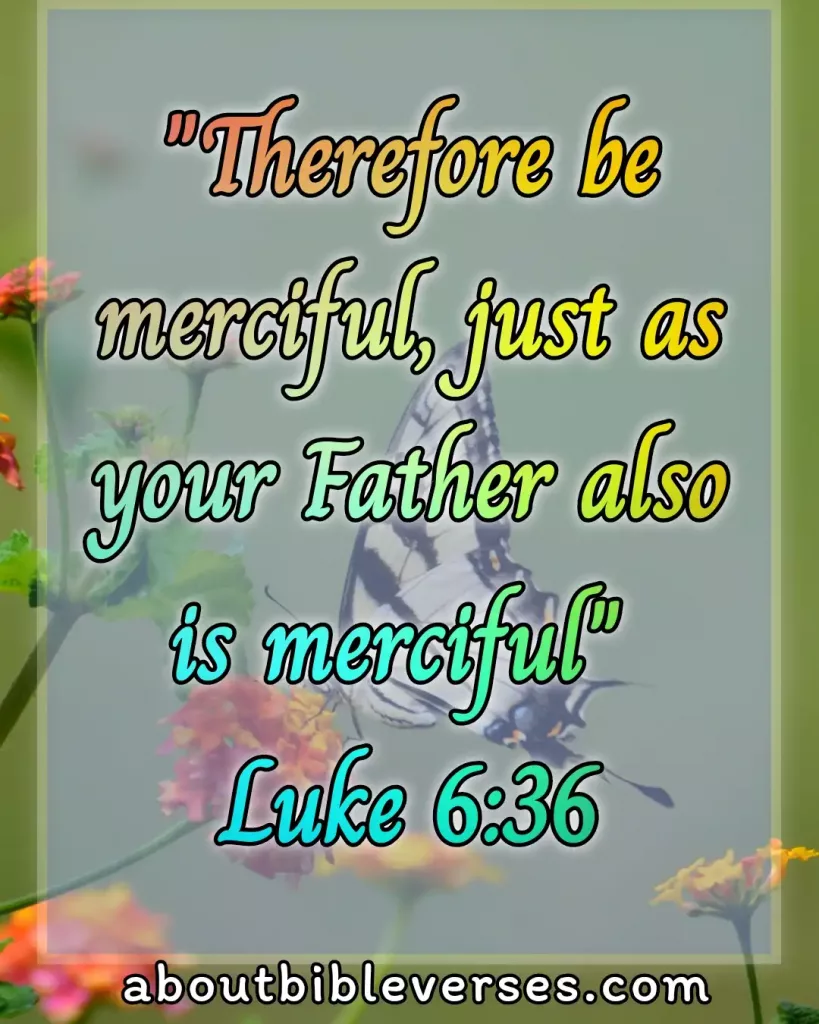 Luke 6:36(KJV)"Be ye therefore merciful, as your Father also is merciful"
Explanation:- God wants us to show kindness to others. When we show mercy to others God gives us reward in various forms of blessings. Our heavenly Father is merciful and he wants us to become like him.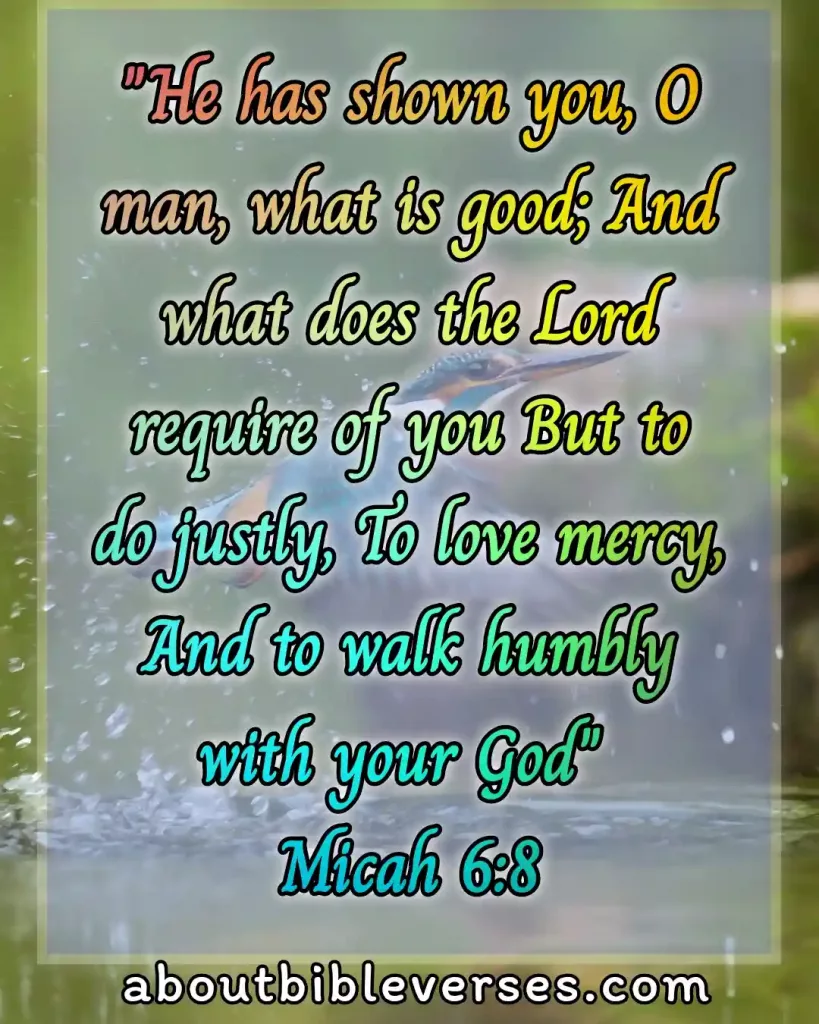 Micah 6:8(KJV)"He hath shewed thee, O man, what is good; and what doth the Lord require of thee, but to do justly, and to love mercy, and to walk humbly with thy God"
Explanation:- God is just and righteous. He requires men to be like him in order to spend their eternity with them. Every Christian should follow God's moral nature so they will be worthy to live with Him in heaven.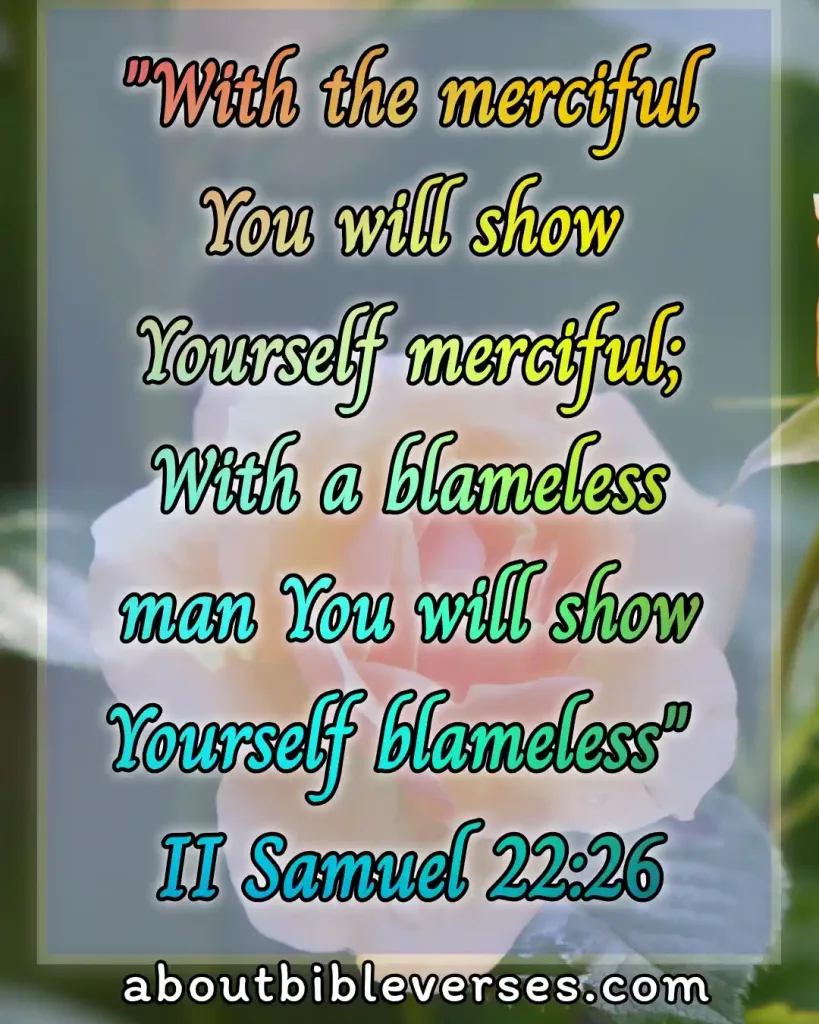 2 Samuel 22:26(KJV)"With the merciful thou wilt shew thyself merciful, and with the upright man thou wilt shew thyself upright"
Explanation:- God is merciful as he is holy and gracious. He wishes his children to show mercy upon others. Believers should learn God's nature so they can become like him.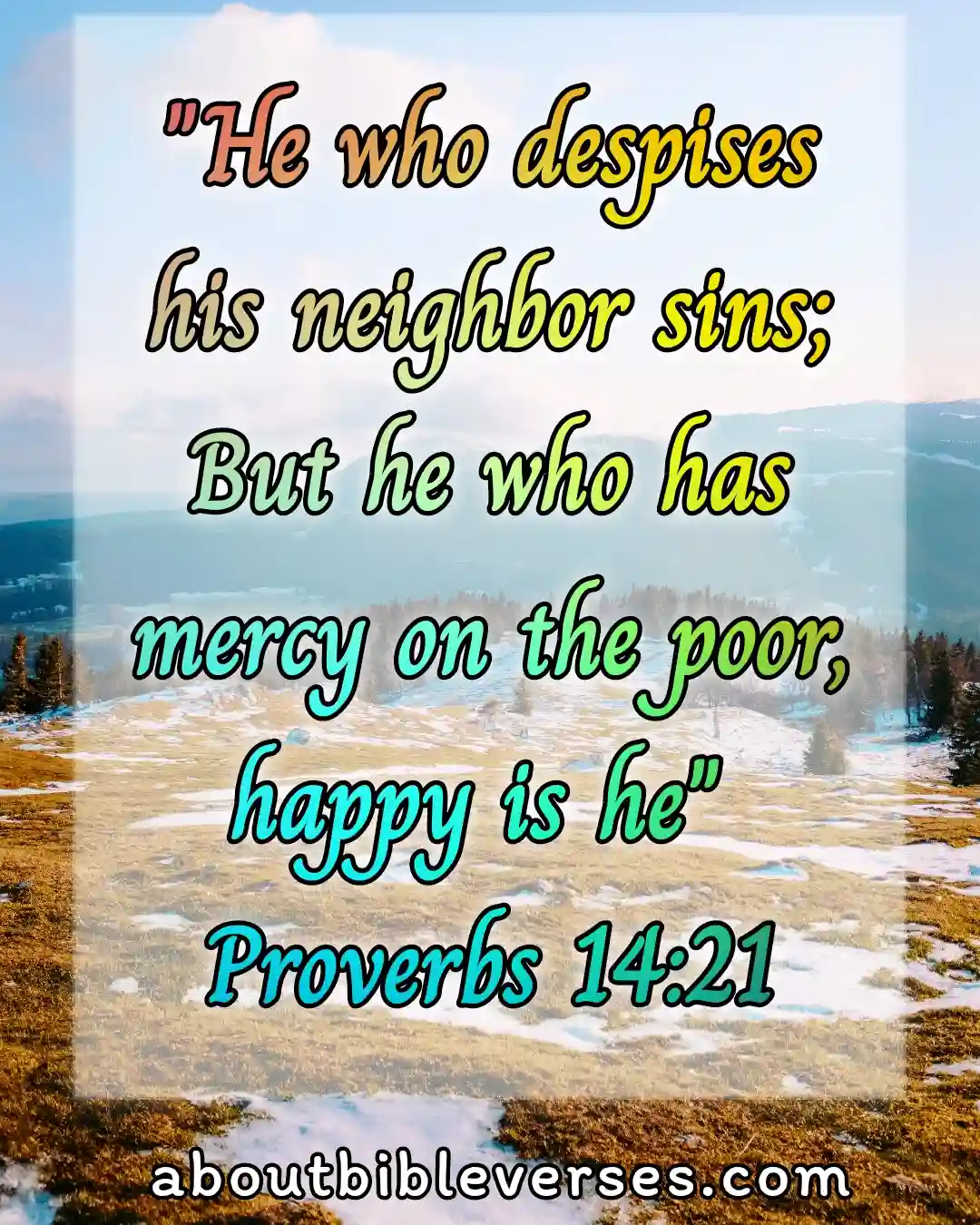 Proverbs 14:21(KJV)"He that despiseth his neighbour sinneth: but he that hath mercy on the poor, happy is he"
Explanation:- God commanded his children to love his neighbors like his own. Believers should take care of their neighbors. If they step forward to help them then God will be pleased with them and he will reward them at the time of judgment.