A fool does not listen to what God says but he always listens to his heart. This is dangerous because our heart does not give us the right information. As we are contaminated by sin so our sinful nature always inspires us to commit evil things.
We must be careful because we are accountable to God after our physical death on this earth. The Bible says that we can cheat people and we can hide our evil works from them but we cannot hide our unrighteous works before the Lord.
The Lord has given us the freedom to take any decision but we are not given the freedom to choose our destination. King Solomon says that everything in this world is useless but God will judge us according to the works that we have been doing here.
We can enrich ourselves with heavenly wisdom if we ask the Lord to give us his wisdom to live on this earth to fulfill his will.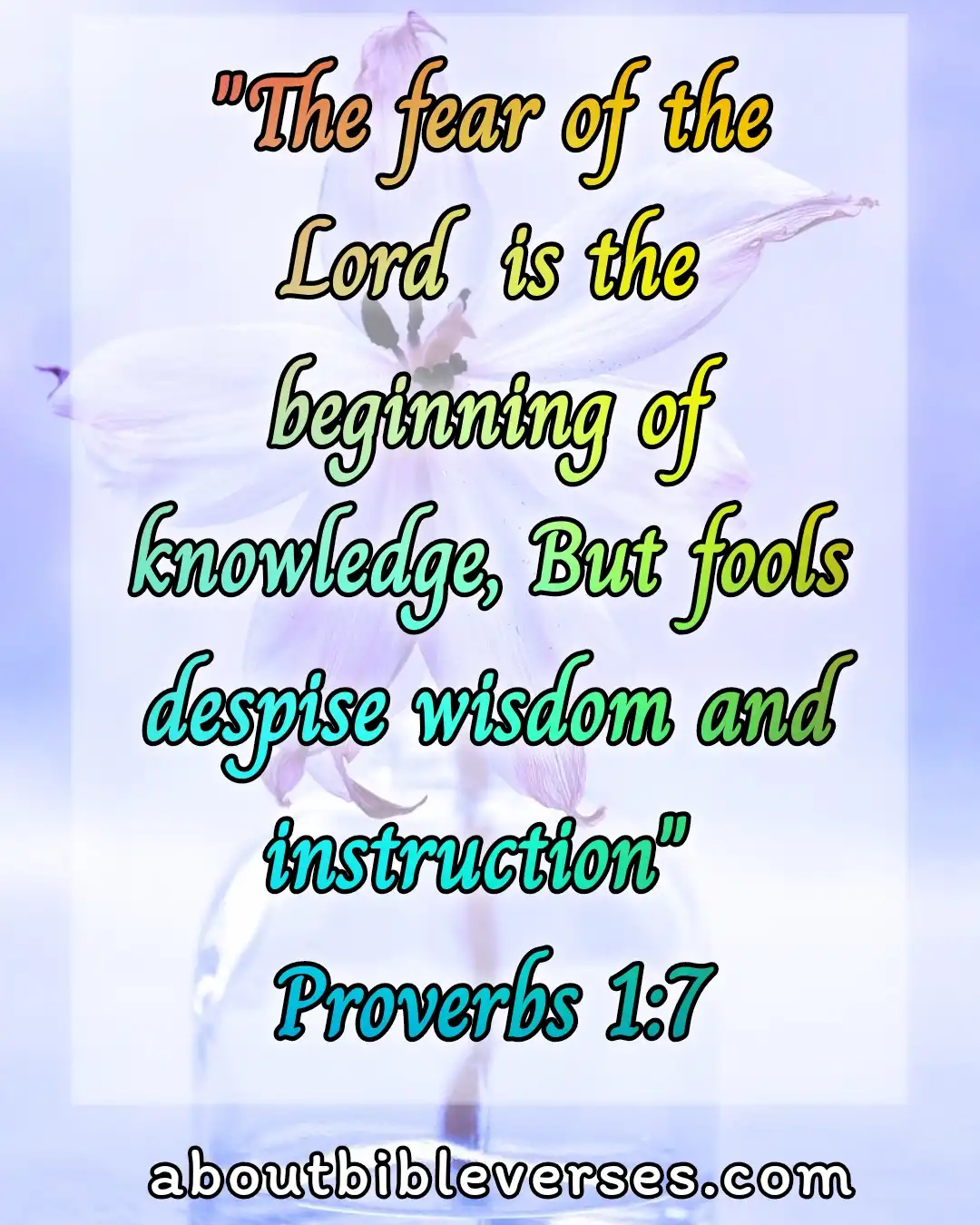 Proverbs 1:7(KJV)"The fear of the Lord is the beginning of knowledge: but fools despise wisdom and instruction"
Explanation:- Every child of God must fear the Lord the creator of this universe. One who pays heed to the wisdom of the Lord will get a life but the foolish person will abstain from God's fear and he will perish for it.
The Lord wants us to fear him so that we can obey all of His commandments in our life. Jesus also teaches us to fear the Lord because it is the commandment so we must apply it in our Christian life so that we can please God.
Our intention not to satisfy ourselves but to glorify Lord Jesus Christ by living a holy life in this world.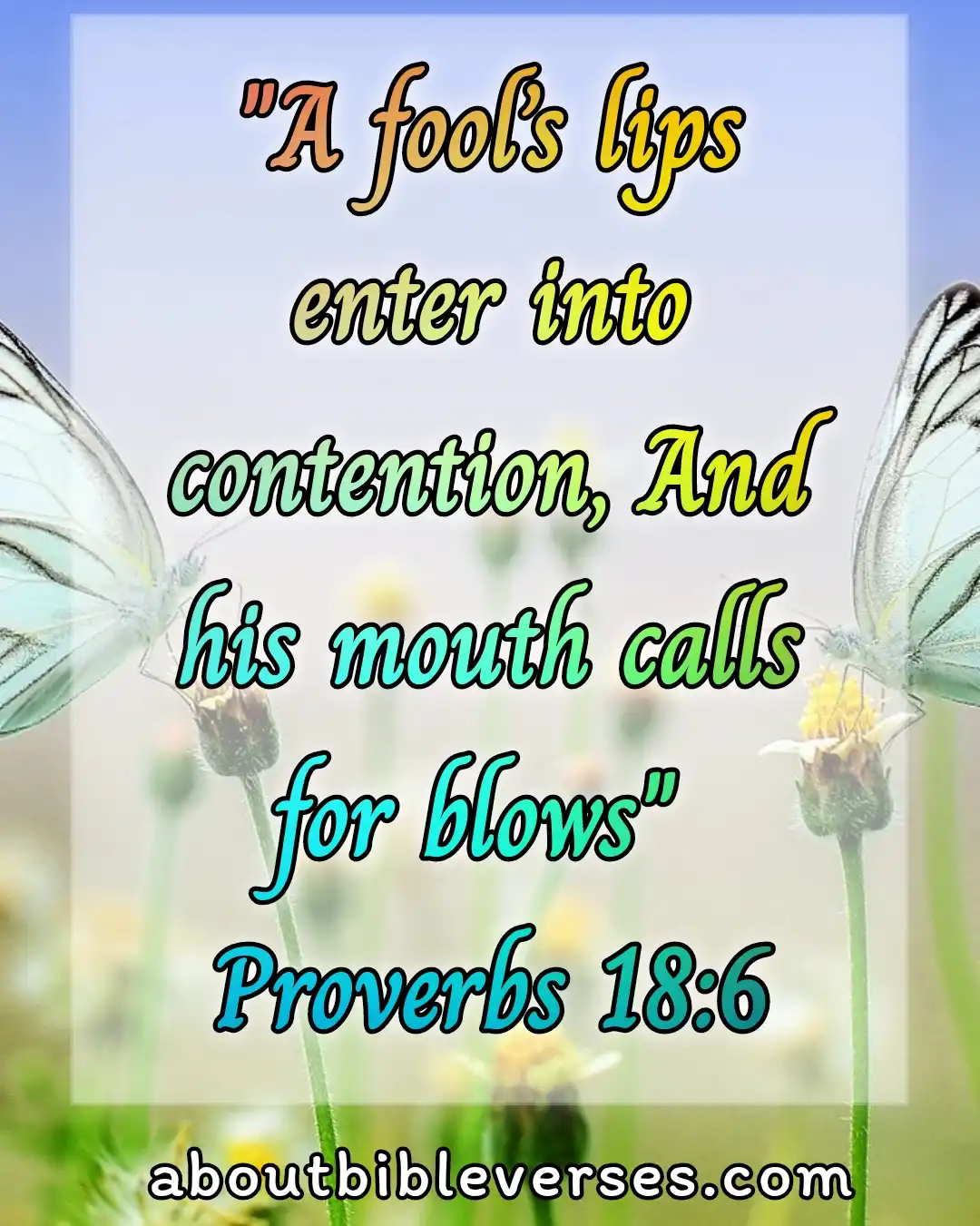 Proverbs 18:6(KJV)"A fool's lips enter into contention, and his mouth calleth for strokes"
Explanation:- A foolish will not fear the Lord and it will lead him to destruction. His lips will always praise himself and he will never praise God. In order to get a life, he forsakes God's laws. God hates who ignores his ways and teachings. God wants us to be wise so that we can get a life.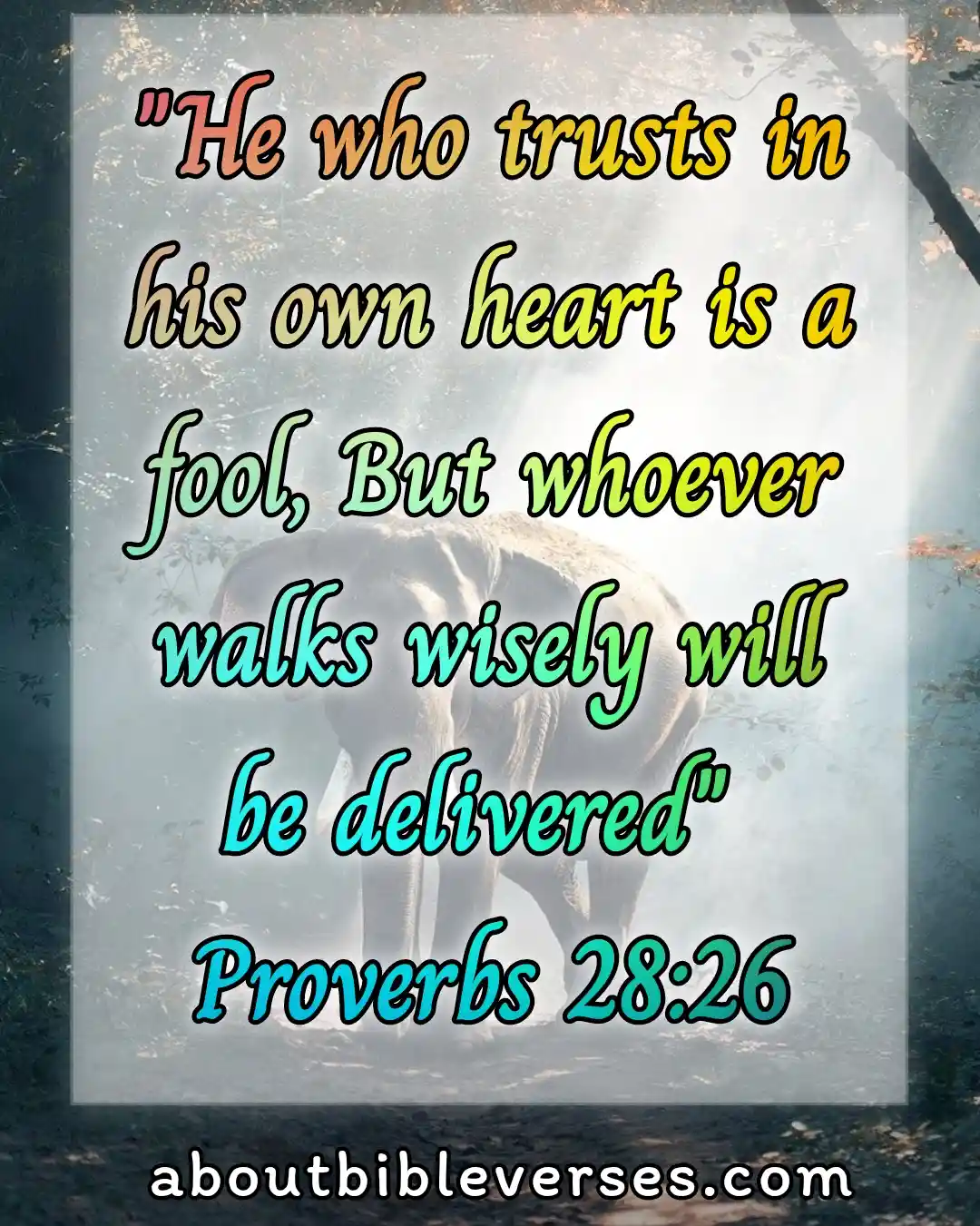 Proverbs 28:26(KJV)"He that trusteth in his own heart is a fool: but whoso walketh wisely, he shall be delivered"
Explanation:- We should not trust our own hearts because it sometimes deceives us. We should completely rely on the hands of the Lord so that we will be directed by his instructions and get eternal life.
We do not know what the future holds but the Lord knows our every single thought and he also knows what will happen tomorrow. The best thing we can do is that we should rely on him so that we can be moved according to his plans.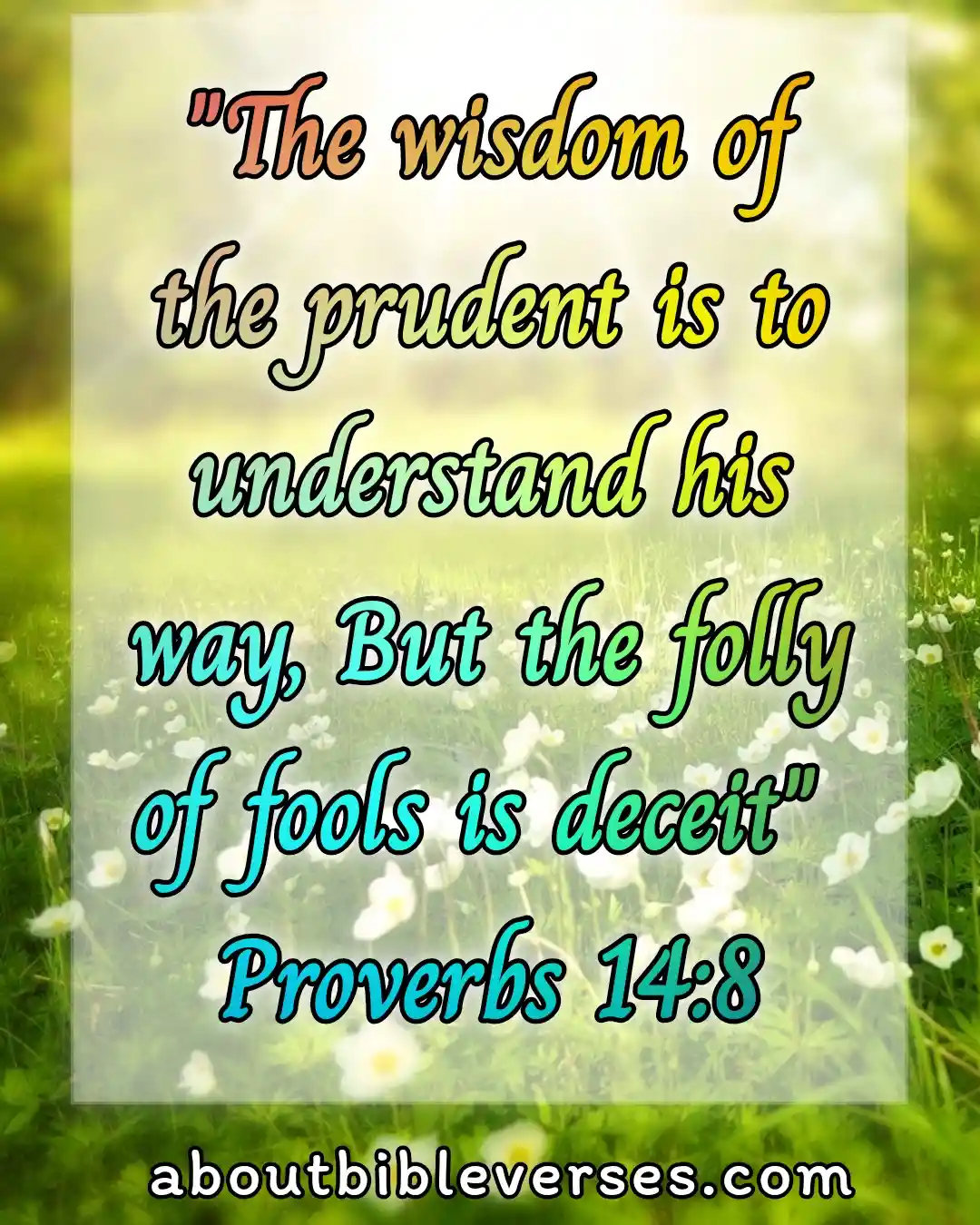 Proverbs 14:8(KJV)"The wisdom of the prudent is to understand his way: but the folly of fools is deceit"
Explanation:- A stupid will never honor God and he will always walk in his ways which will destroy him. But a wise man will never rely on his own understanding rather he will depend on God. God will make the ways smooth of a wise man and he will be blessed.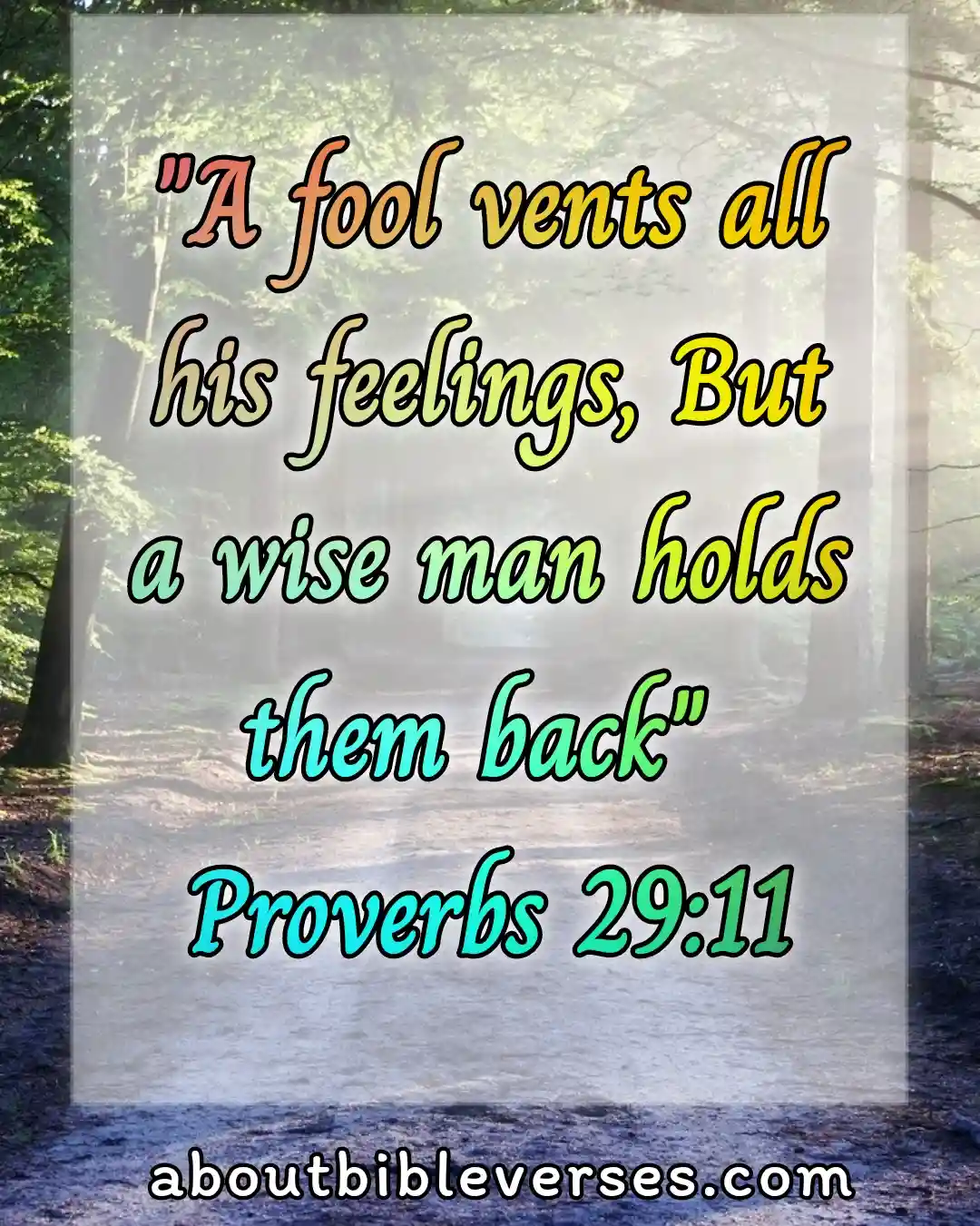 Proverbs 29:11(KJV)"A fool uttereth all his mind: but a wise man keepeth it in till afterwards"
Explanation:- A man would be called wise only when he will keep the laws in his heart. A fool will not follow God in his life. He will do whatever he likes.
A fool does not know where to speak and what to speak before everyone. it is mandatory to keep our tongue in control before the people. If we fail to control it then we will fall into trouble by our own words.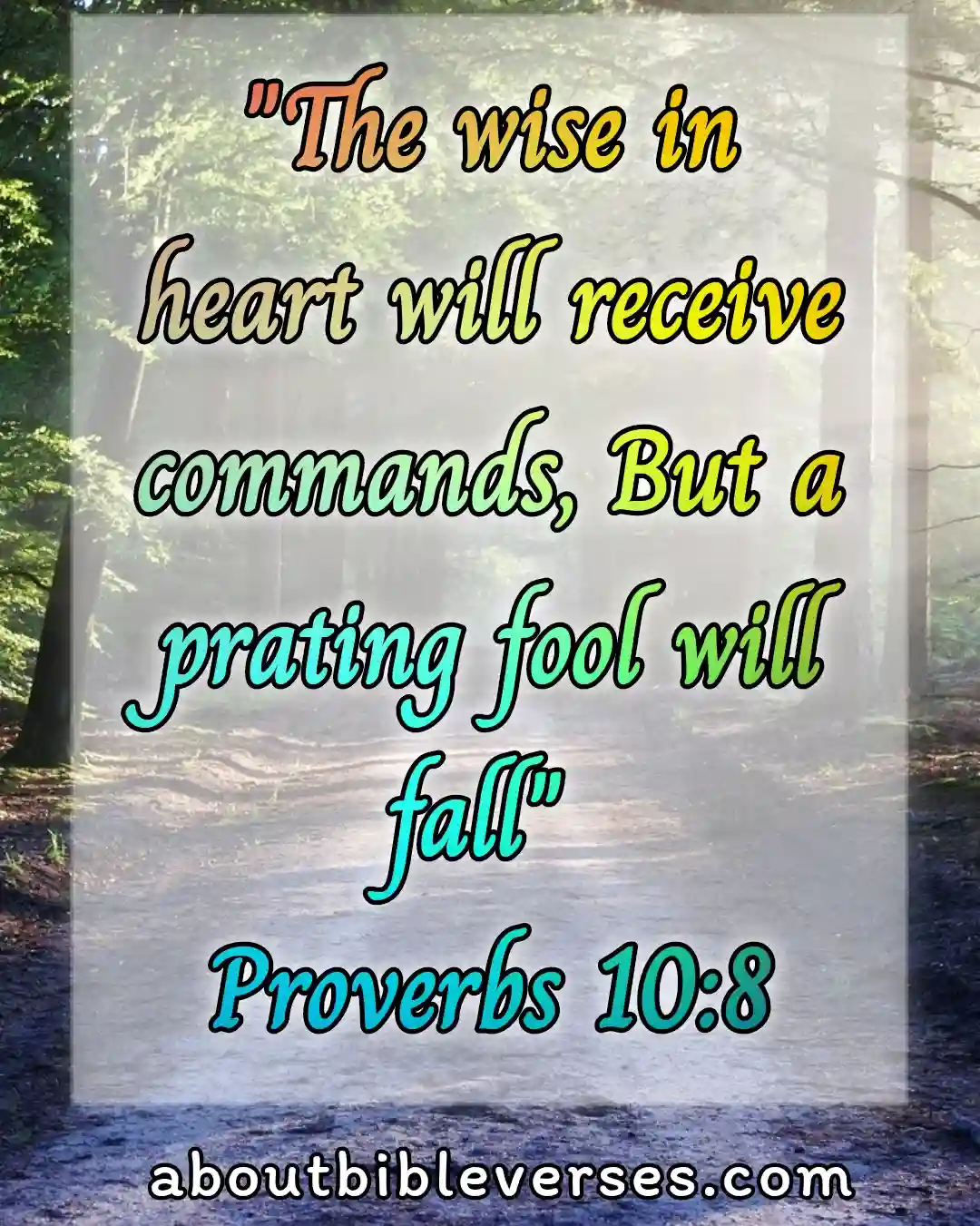 Proverbs 10:8(KJV)"The wise in heart will receive commandments: but a prating fool shall fall"
Explanation:- A man of God will follow his creator through his life and he will store all the words in his heart. But the fool will not listen to the words of God and he will be happy in his ways. He considers himself wise in his own eyes.
We must learn what is true and we have to pursue it so that we can achieve it. The Bible says that we must not accept everything but we have to verify before receiving it.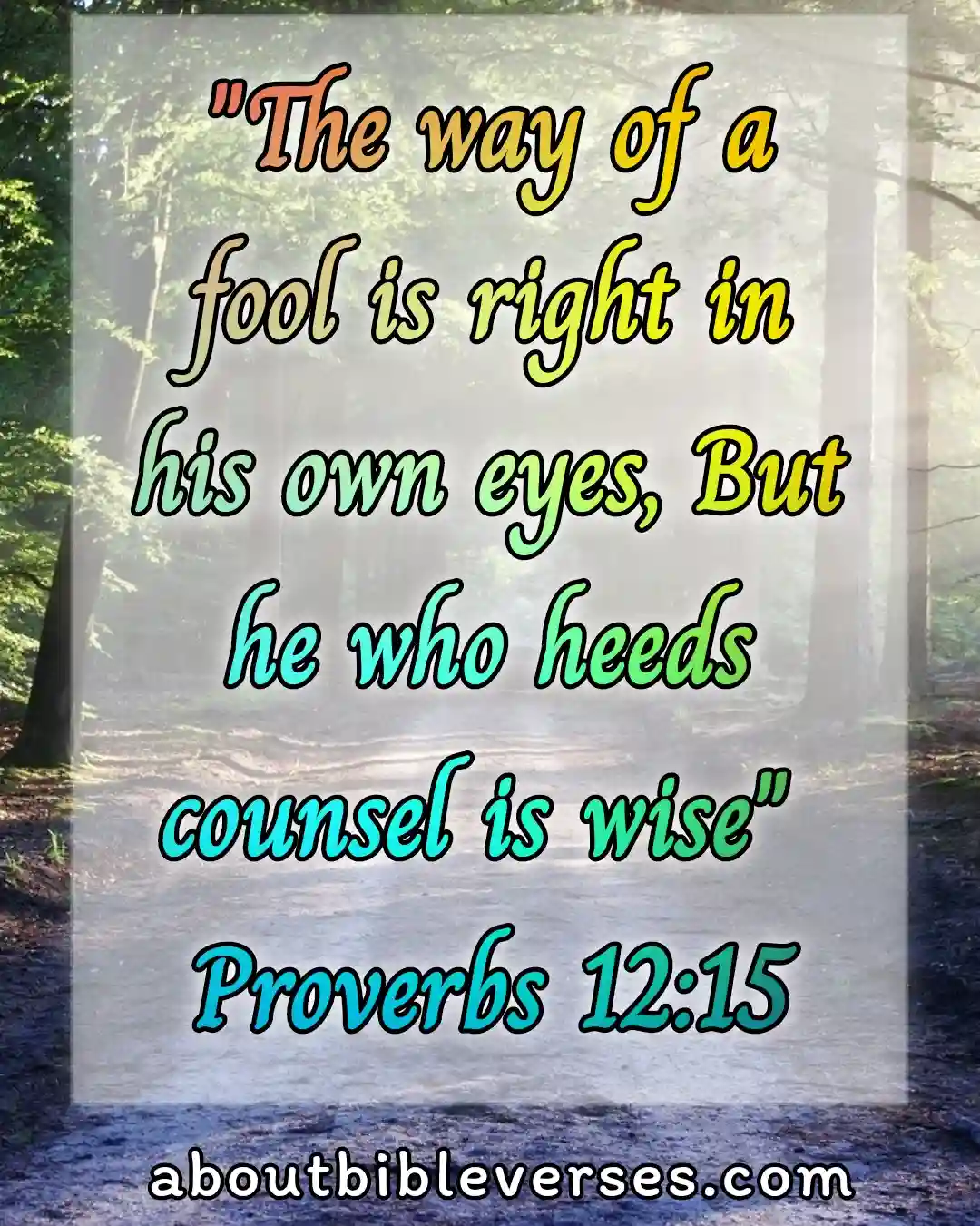 Proverbs 12:15(KJV)"The way of a fool is right in his own eyes: but he that hearkeneth unto counsel is wise"
Explanation:- A foolish thinks himself wise in his own knowledge and he does not pay attention to the Lord. He doesn't understand that he is on the wrong track. But a wise man depends on God's guidance and all of his steps directed by God's will.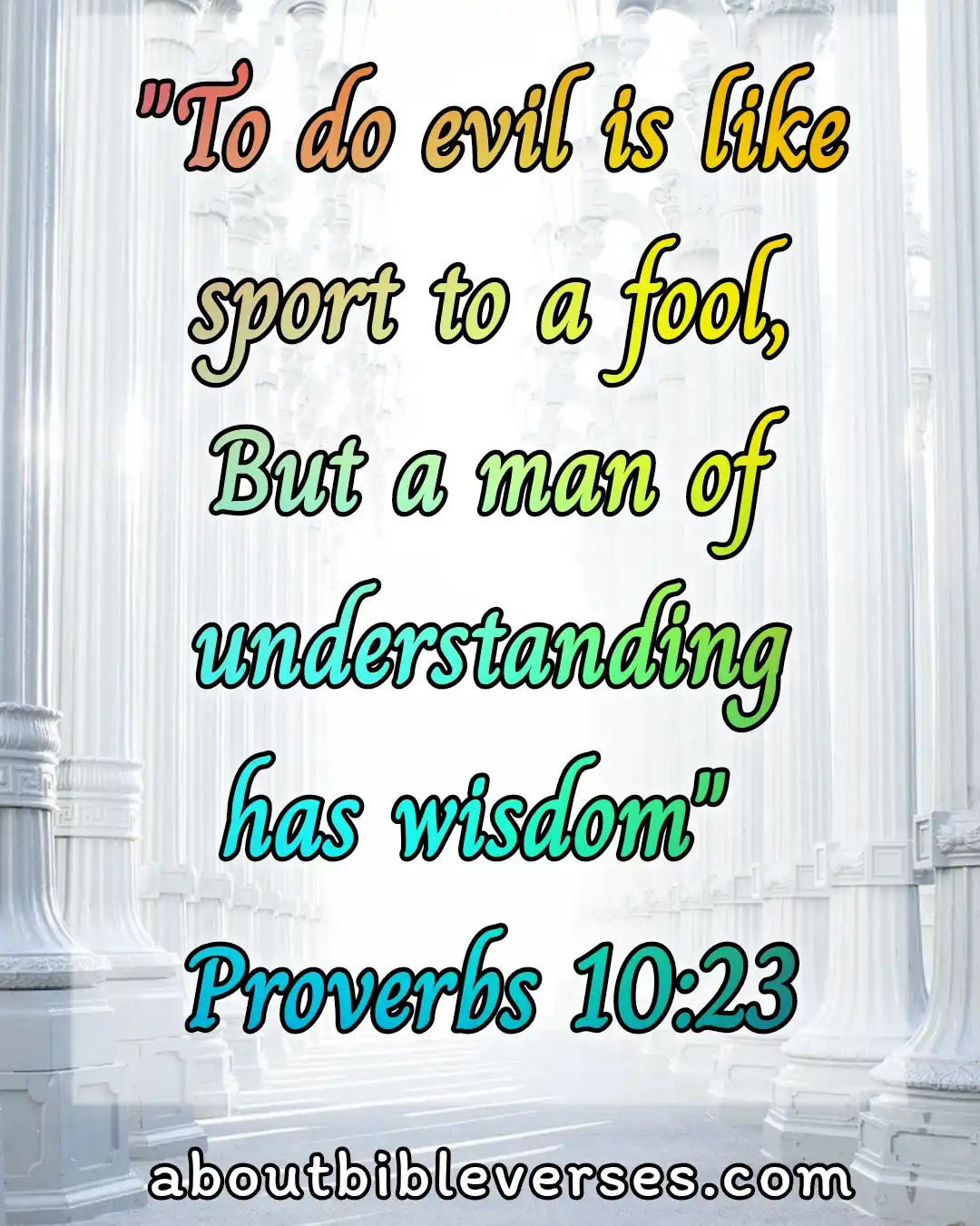 Proverbs 10:23(KJV)"It is as sport to a fool to do mischief: but a man of understanding hath wisdom"
Explanation:- it is easy to make a fool stupid because he does not have any wisdom in his heart that is why he will not understand what is truth and it is possible to make him fool.
But for Wiseman, it is not possible because they are wise and they know what is the truth that is why none can cheat or lie to a wise man.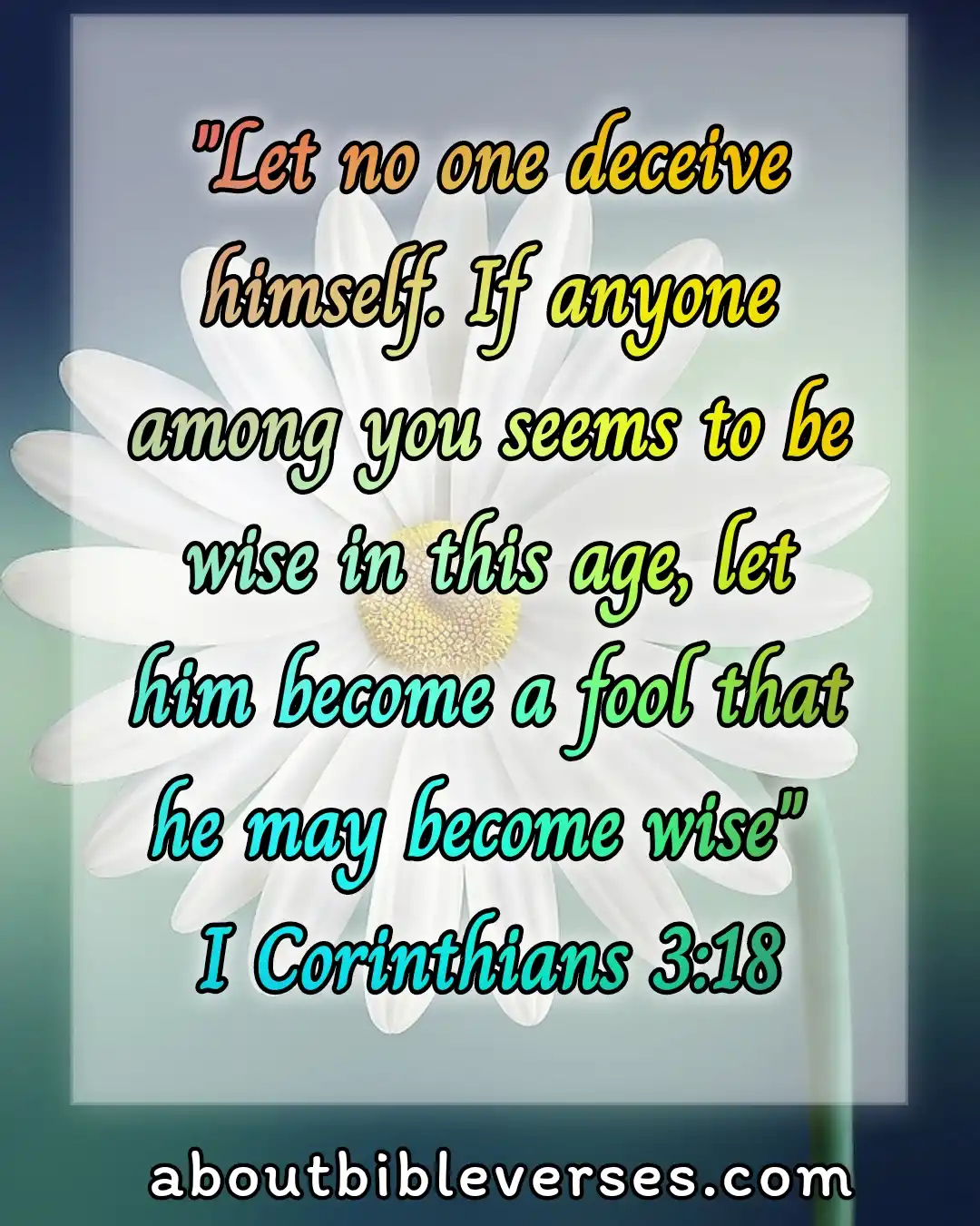 1 Corinthians 3:18(KJV)"Let no man deceive himself. If any man among you seemeth to be wise in this world, let him become a fool, that he may be wise"
Explanation:- A man who sees himself wise in this world must look himself a fool because those who are wise in this world are actually police in the eyes of the Lord.
People get knowledge from books that are inspired and written by the human brain but the Lord gives us the wisdom by which we get the truth and that leads us to eternal life.
Jesus also says that whosoever will keep his commandments in his heart will get the life and the one who will ignore him will find everlasting death.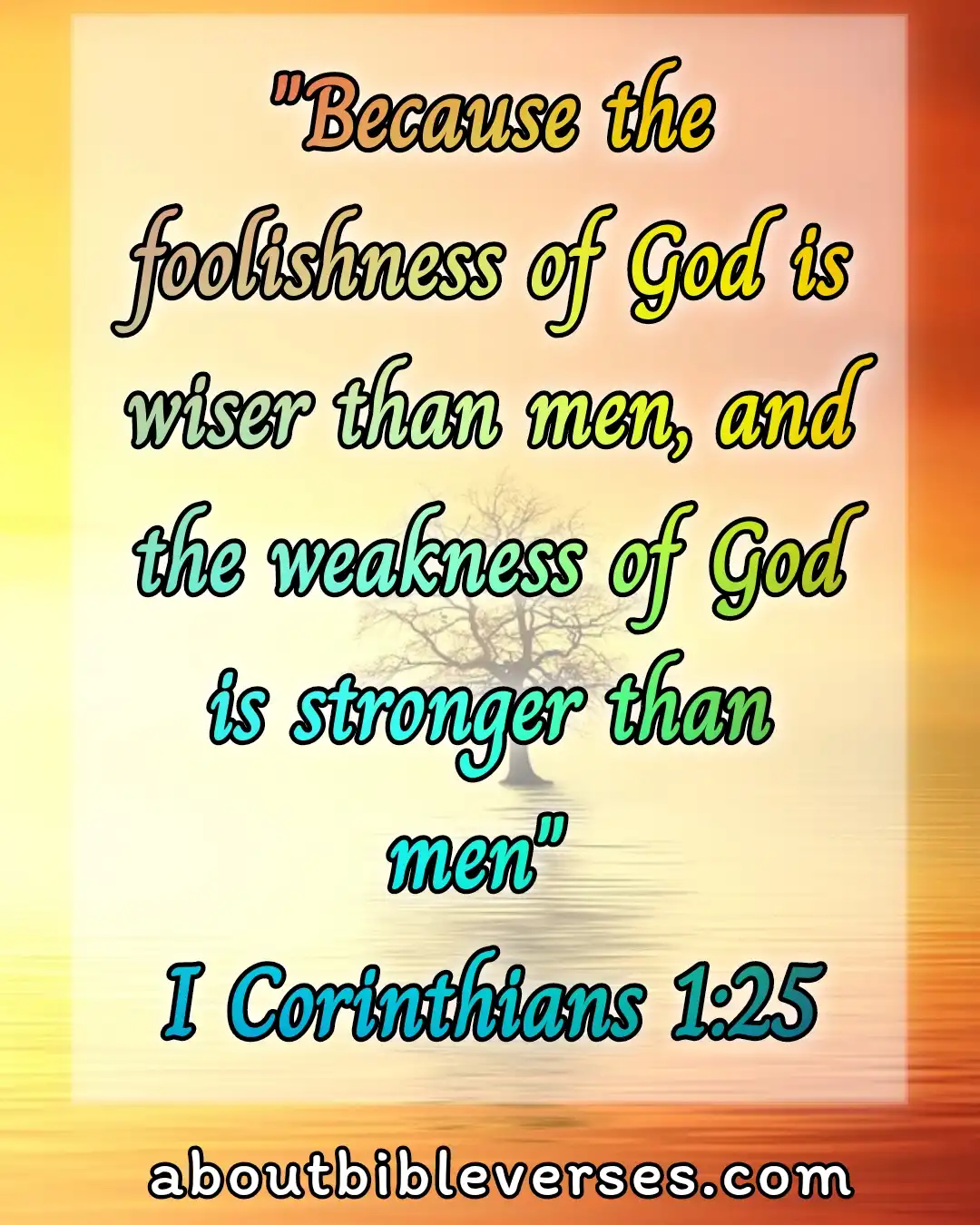 1 Corinthians 1:25(KJV)"Because the foolishness of God is wiser than men; and the weakness of God is stronger than men"
Explanation:- Sometimes we don't understand what's happening in our lives and we say that God is not wise,  he is a foolish God but we don't understand that he is wise because his ways are not the same as ours. What is best we see through our human perspective is not actually what God sees.
Everything we judge according to our past and present situations but the Lord knows the future that is why his decisions and actions are different from us. Due to his all-knowing nature, he guides us and leads us in such a way where we find life.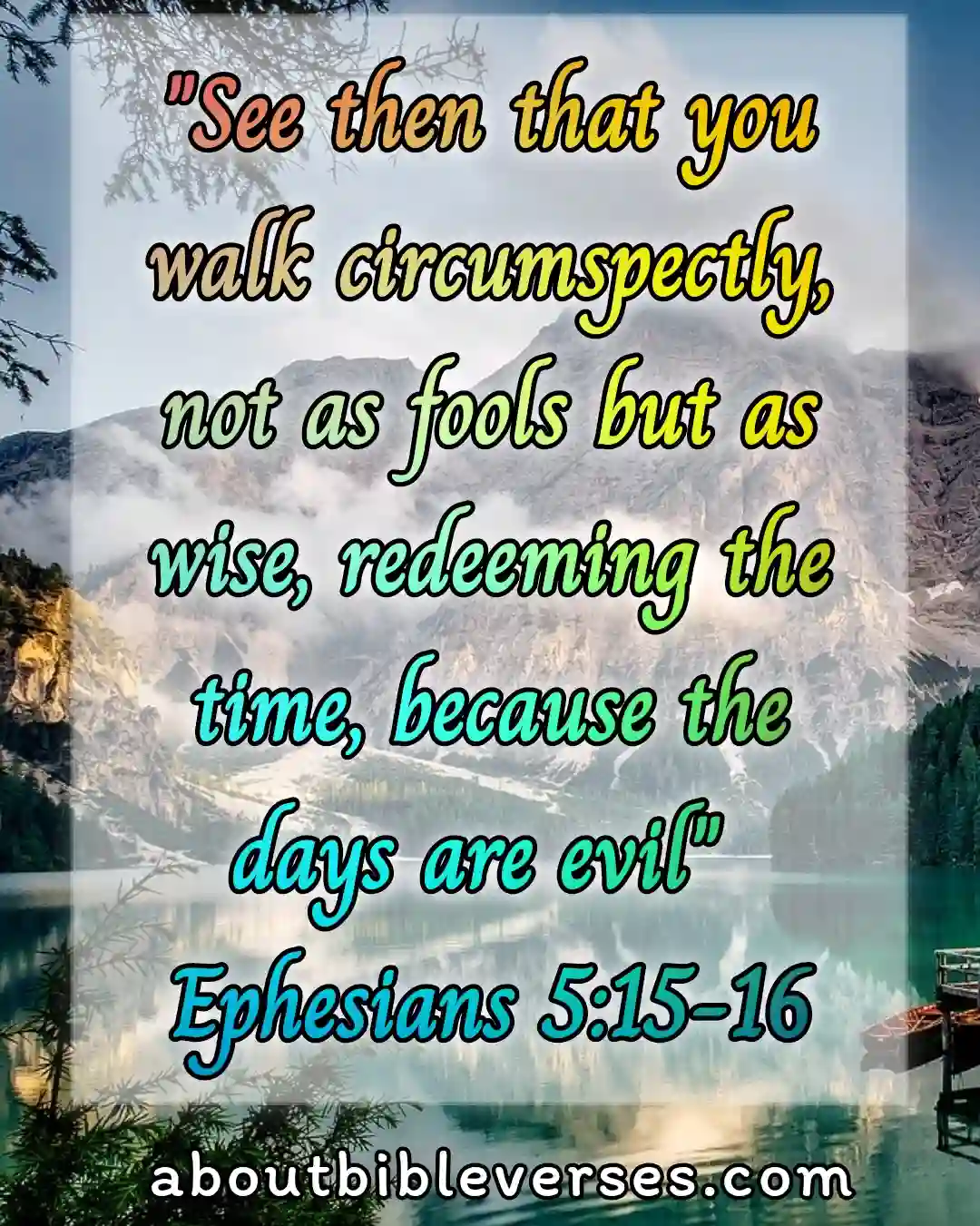 Ephesians 5:15-16(KJV)"See then that ye walk circumspectly, not as fools, but as wise, Redeeming the time, because the days are evil."
Explanation:- The word of God warns us to be alert as the days are evil. The fallen angels are ruling this world and they are controlling the mind of the people but the children of God are walking in God's ways which are different from worldly teachings.
the world will always motivate us to copy them so that we will commit sin and we will be separated from the presence of the Lord. That is the reason we must be wise in our every action and speech so that we can live a righteous life in the eyes of the Lord.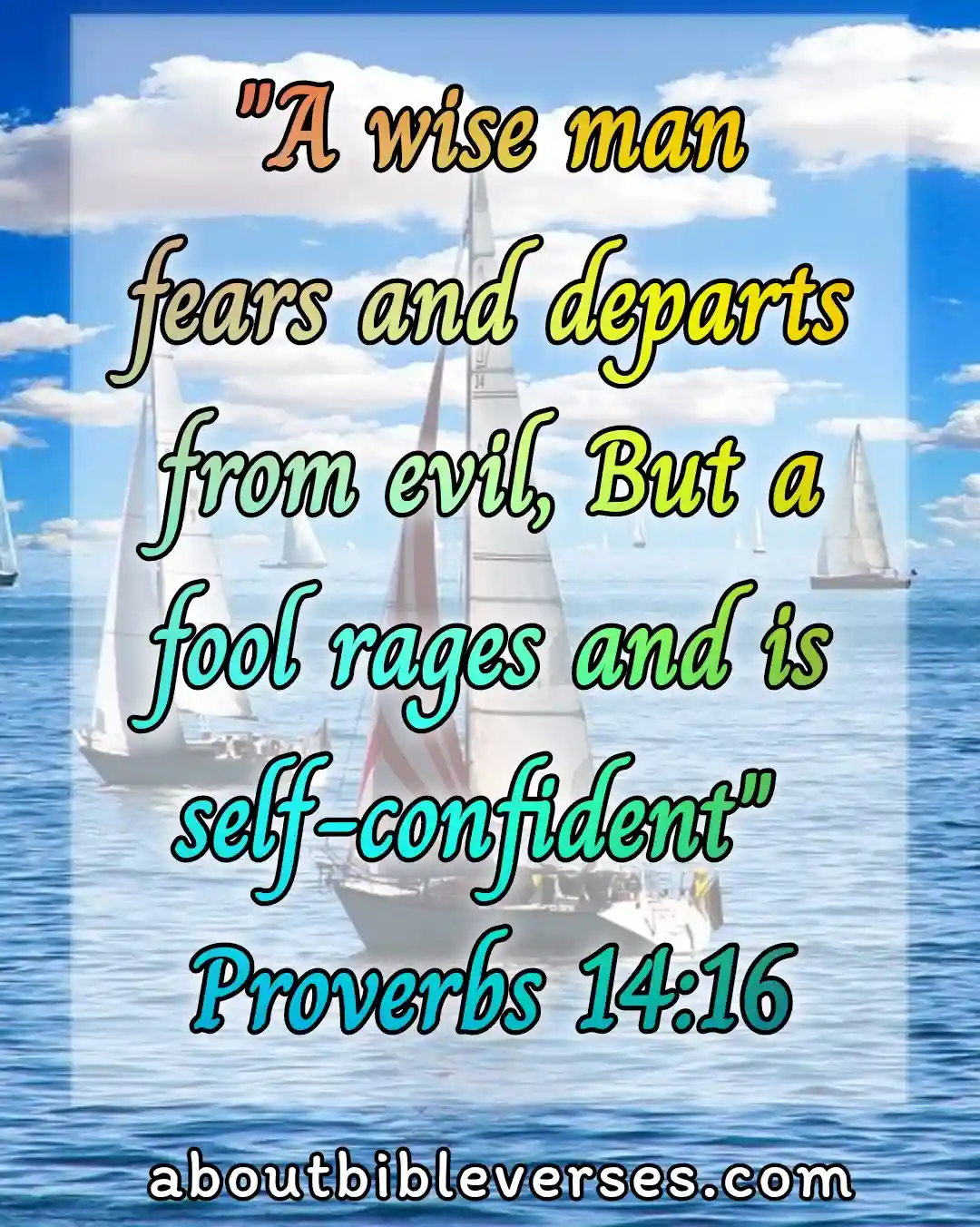 Proverbs 14:16(KJV)"A wise man feareth, and departeth from evil: but the fool rageth, and is confident"
Explanation:- A man of wisdom will fear to do any evil work because he knows that God is looking at him and that wisdom protects him from committing any kind of sin. The word of God says that we all have to stand before the judgment and we will be judged by our works that we have done on this earth.
But the foolish one will not work according to the teachings of God. Due to the lack of wisdom, he will commit evil and receive God's judgment.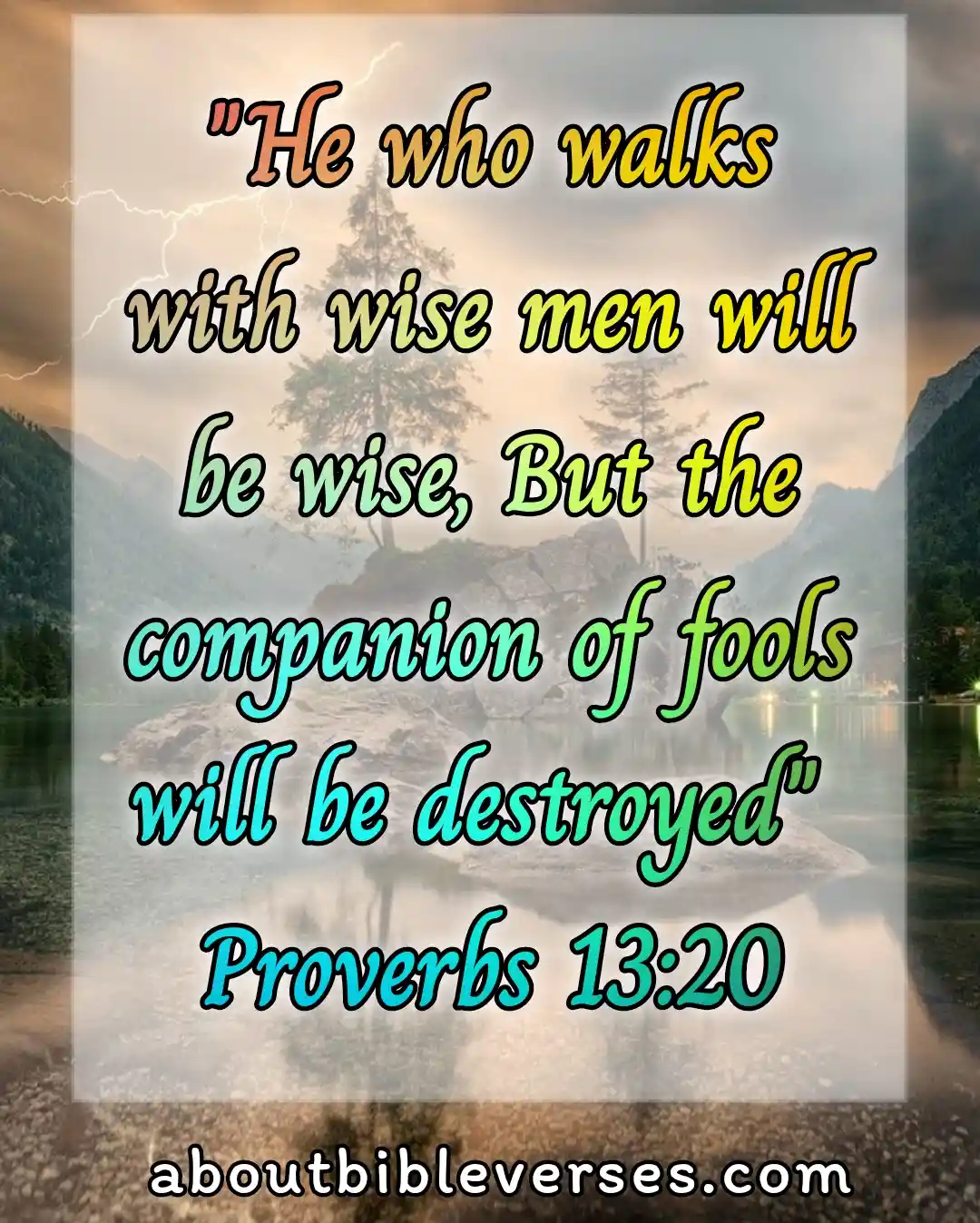 Proverbs 13:20(KJV)"He that walketh with wise men shall be wise: but a companion of fools shall be destroyed"
Explanation:- a wise man will always prefer to walk with a wise man like him. He knows that if you walk with them then he will obtain knowledge and wisdom from them but if he mingles with such people who do not have any wisdom then he will become like them.
On the other hand, a stupid man will always prefer to mingle people with his quality. Because he does not like wisdom, that is why he suffers in his life.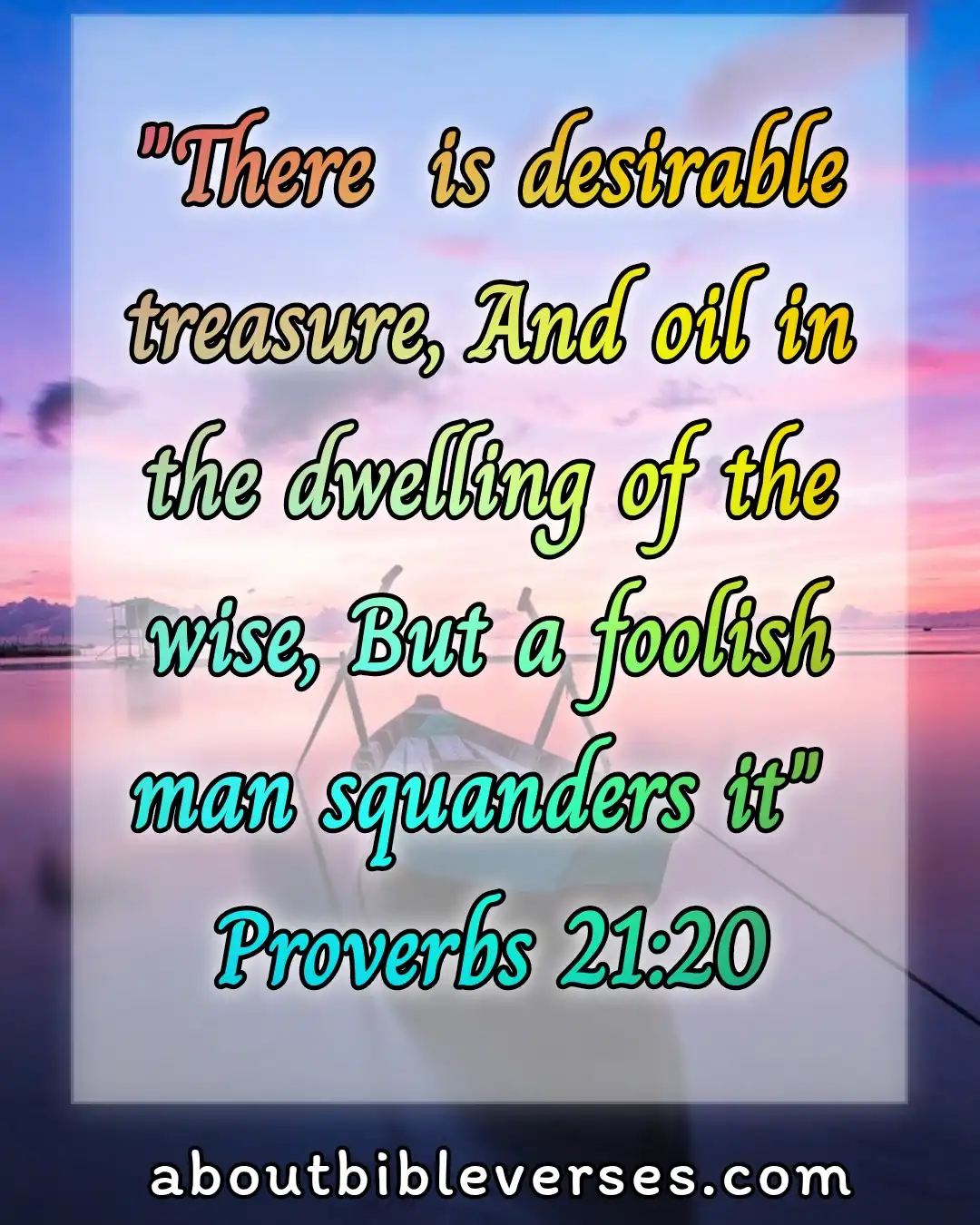 Proverbs 21:20(KJV)"There is treasure to be desired and oil in the dwelling of the wise; but a foolish man spendeth it up"
Explanation:- a true follower of Jesus Christ will live a humble and righteous life under the guidance of Jesus Christ. he will be able to control his anger in times of problems and difficulties.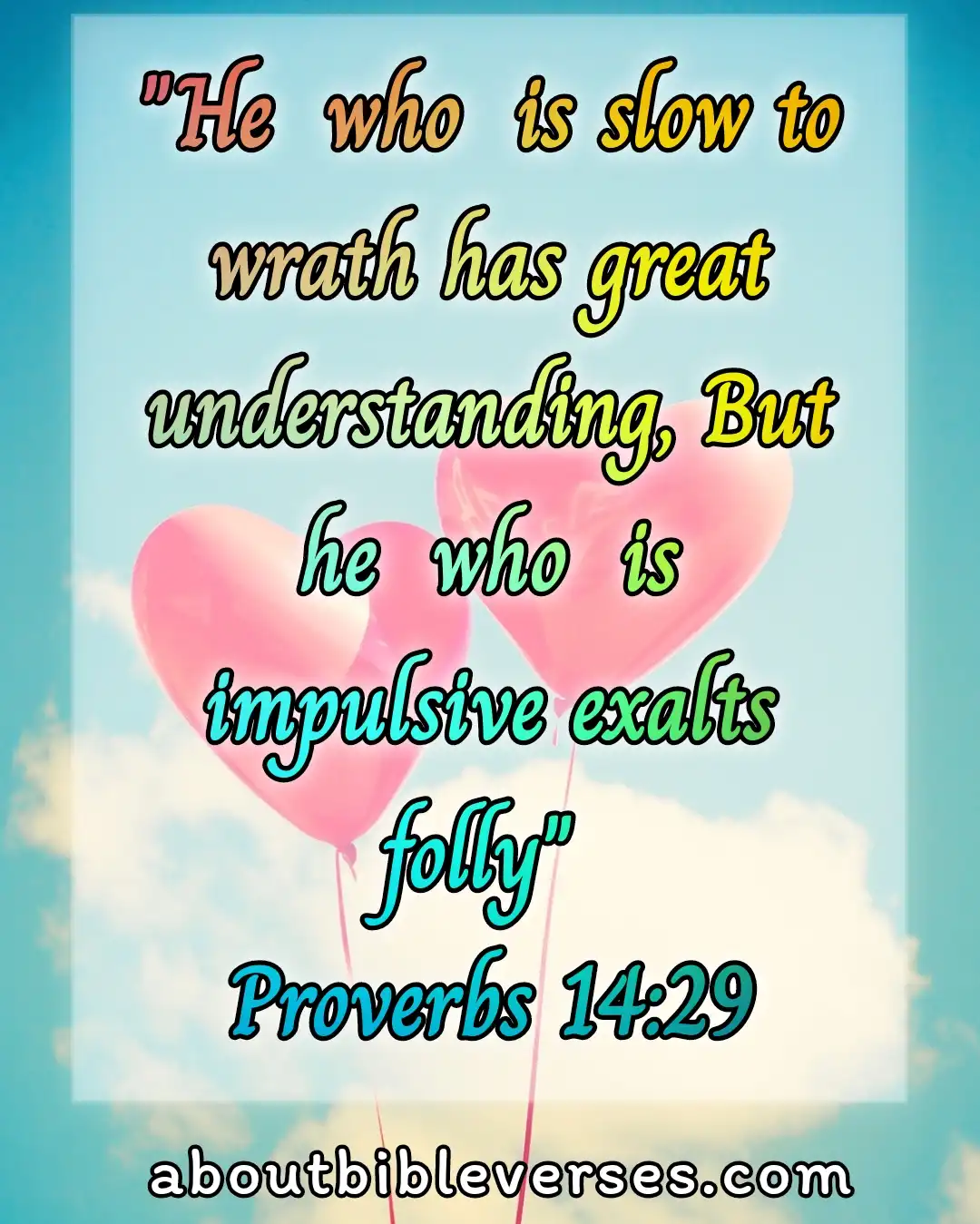 Proverbs 14:29(KJV)"He that is slow to wrath is of great understanding: but he that is hasty of spirit exalteth folly"
Explanation:- A stupid man will get angry easily and he will commit mistakes by his he will break the commandments of God. The bible teaches us to control our anger so that we can keep ourselves away from doing any sin.