If you look around you will find a world suffering from different sorts of troubles which trigger demotivation and distress.
You yourself also might have experienced that or are experiencing it now. You may have a question in your mind, Is there any remedy for it?
Let me tell you an everlasting truth, there is no better source of motivation than the Word of God.
The Bible is the ultimate and only place where you can find motivation and inspiration from the living God. Jesus said that in this world you will have trouble but you will always find peace in me. (John 16:33).
What you have to do is repent and start obeying His words. It does not matter how tough a time you are going through but one thing always stands still that Jesus loves you, you just need to remain in His love by obeying His commands. (John 15:9-10)
Here are some of the Scripture verses that you can read right now and get immense inspiration and motivation to face every challenge and difficulty with being courageous and fearless.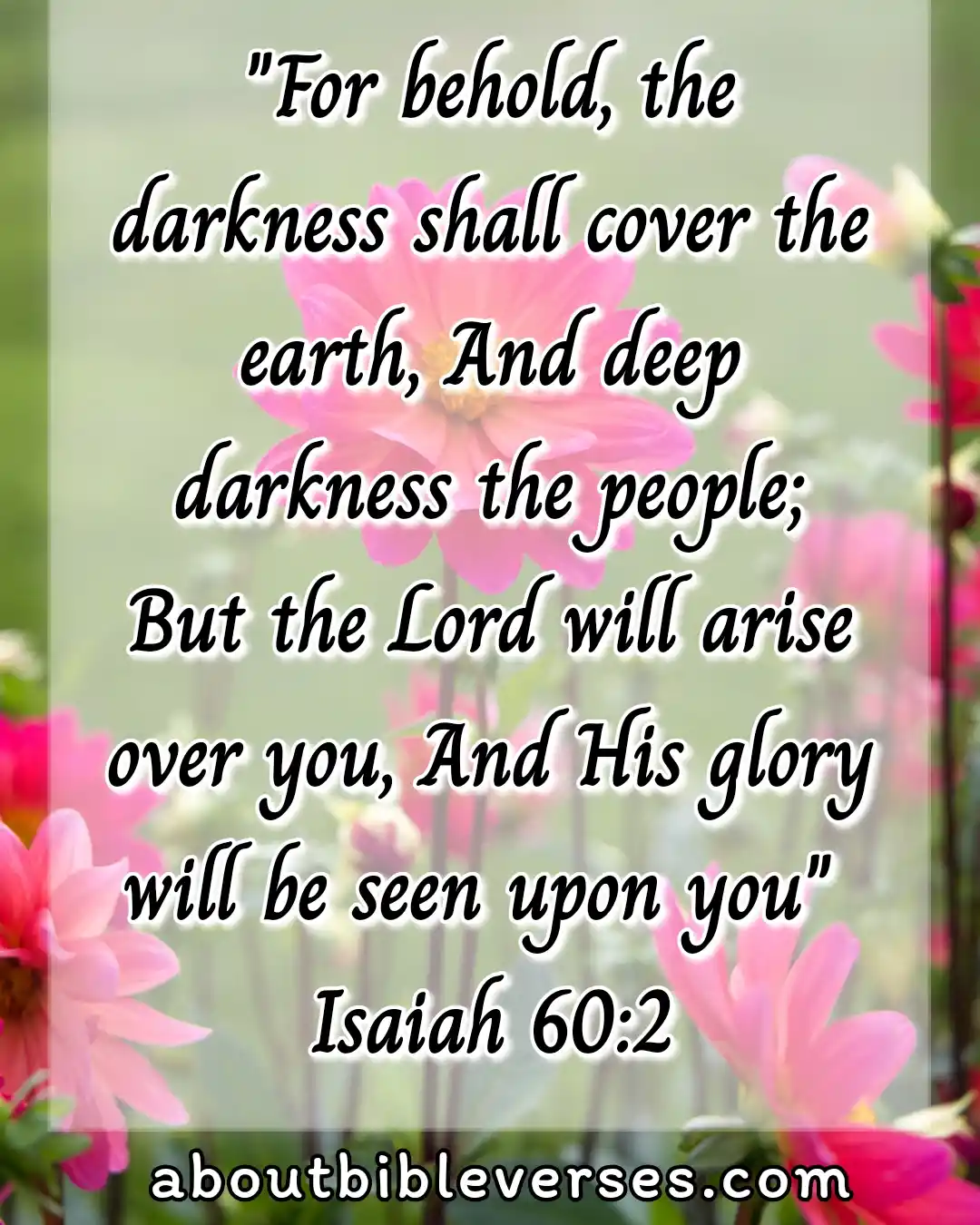 Isaiah 60:2(KJV)"For, behold, the darkness shall cover the earth, and gross darkness the people: but the Lord shall arise upon thee, and his glory shall be seen upon thee"
Explanation:- One day this earth will be destroyed with fire and God will restore the new earth where the righteous will live with him forever. This is the hope for all the believers.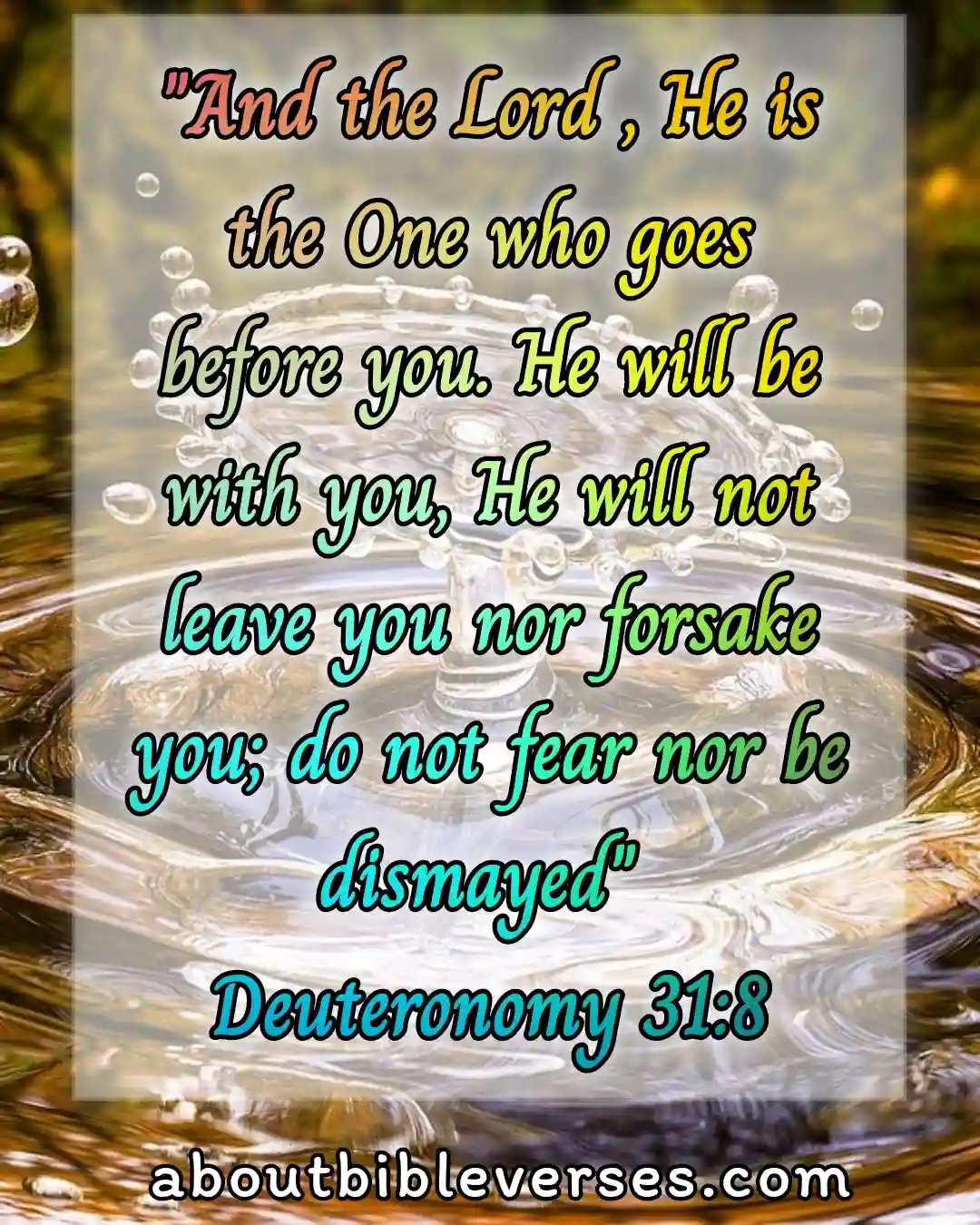 Deuteronomy 31:8(KJV)"And the Lord, he it is that doth go before thee; he will be with thee, he will not fail thee, neither forsake thee: fear not, neither be dismayed"
Explanation:- God is always with his people who follow him and keeps his commandments in their lives. He listens to their prayers and answers them at the right time.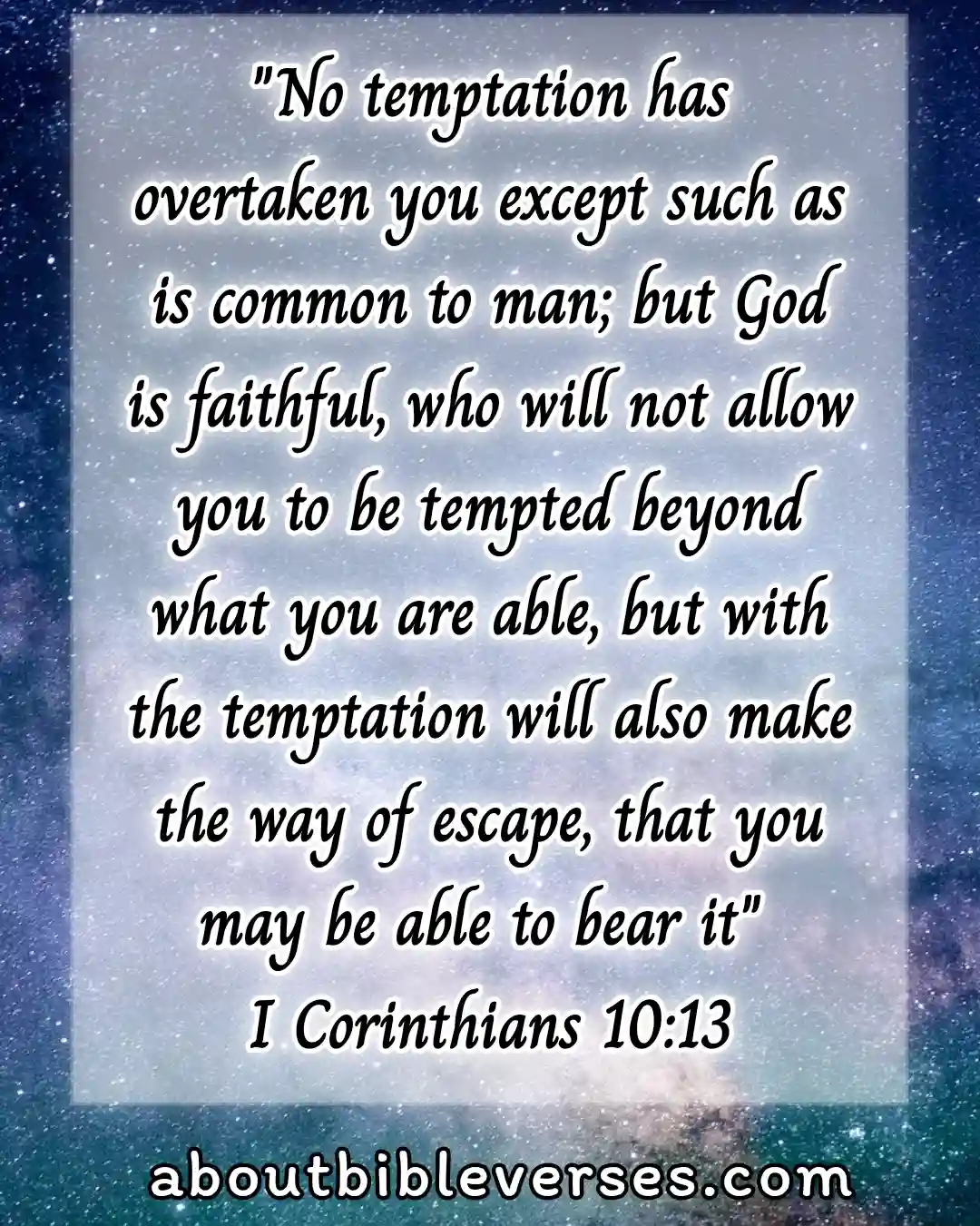 1 Corinthians 10:13(KJV)"There hath no temptation taken you but such as is common to man: but God is faithful, who will not suffer you to be tempted above that ye are able; but will with the temptation also make a way to escape, that ye may be able to bear it"
Explanation:- God is faithful and he knows our strength and abilities so he will not put us in such a test that seems beyond our endurance. Whenever we face problems he also makes the way out for us.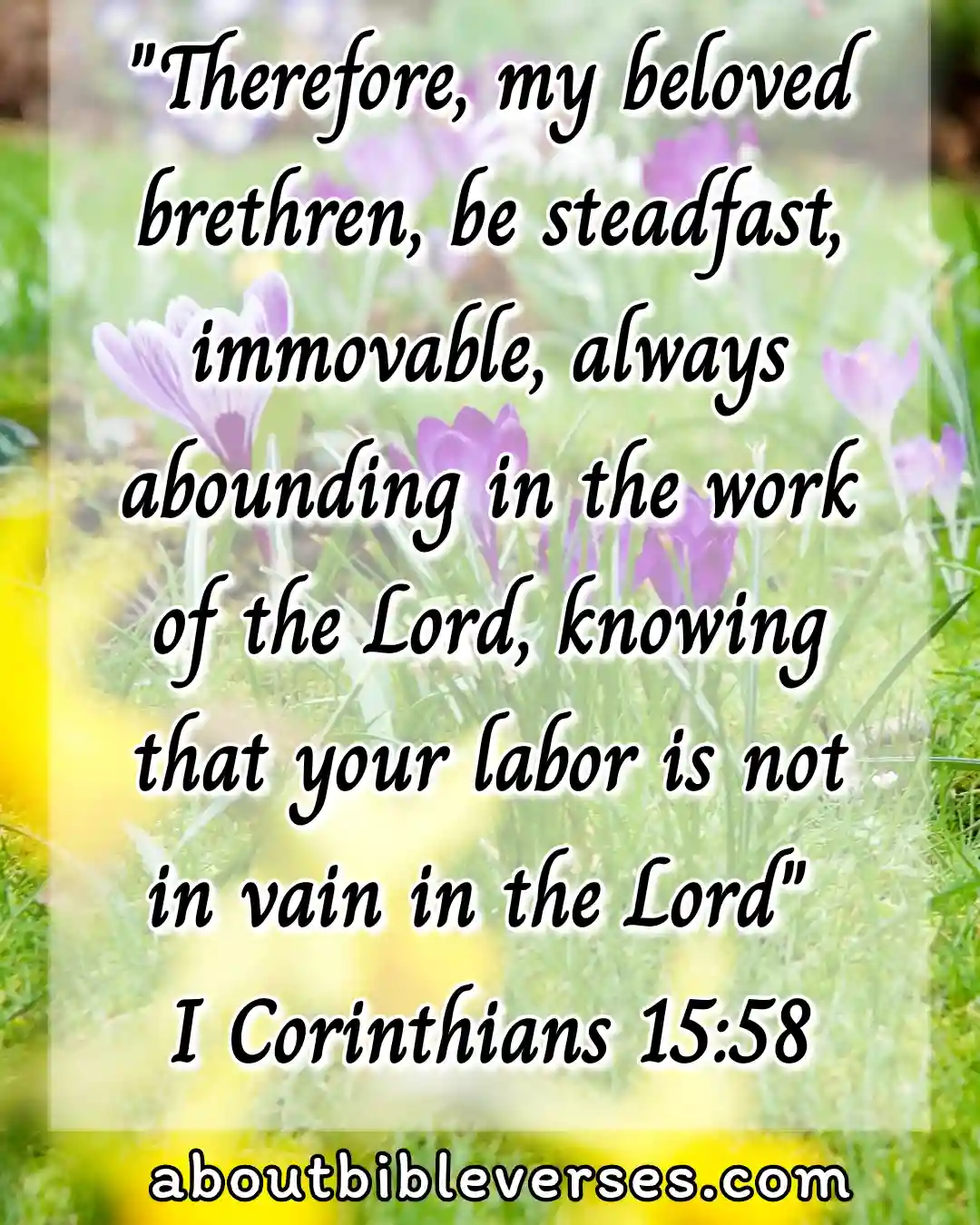 1 Corinthians 15:58(KJV)"Therefore, my beloved brethren, be ye stedfast, unmoveable, always abounding in the work of the Lord, forasmuch as ye know that your labour is not in vain in the Lord"
Explanation:- As we have the resurrection and new life which will begin after the second coming of Jesus Christ. If we give our precious time to the extension of God's Kingdom when we will be rewarded at the right time.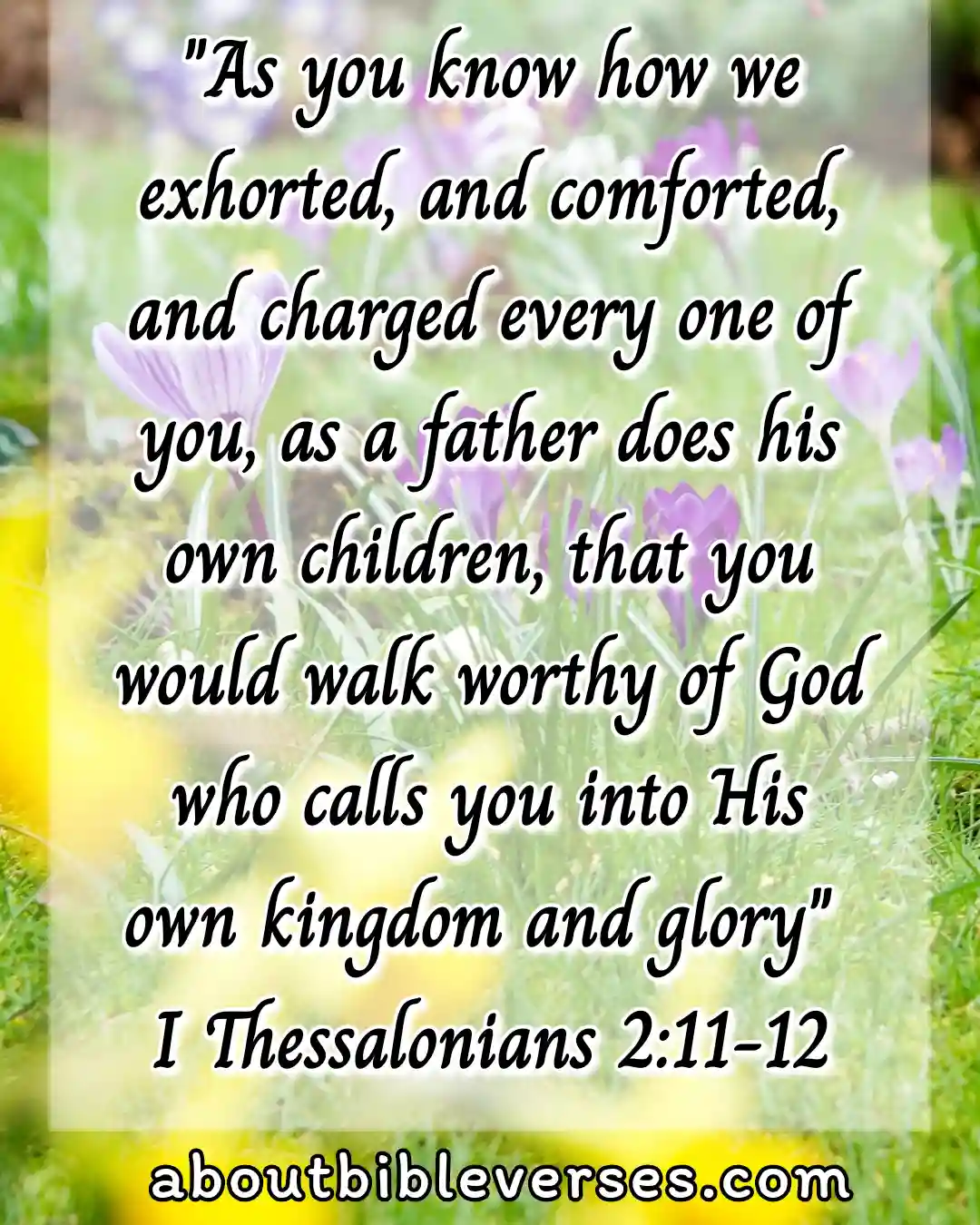 1 Thessalonians 2:11-12(KJV)"As ye know how we exhorted and comforted and charged every one of you, as a father doth his children,That ye would walk worthy of God, who hath called you unto his kingdom and glory"
Explanation:- God has called each of us for a special purpose and that is an eternal home. If we send your sufferings in this world then we will be glorified with Christ in heaven.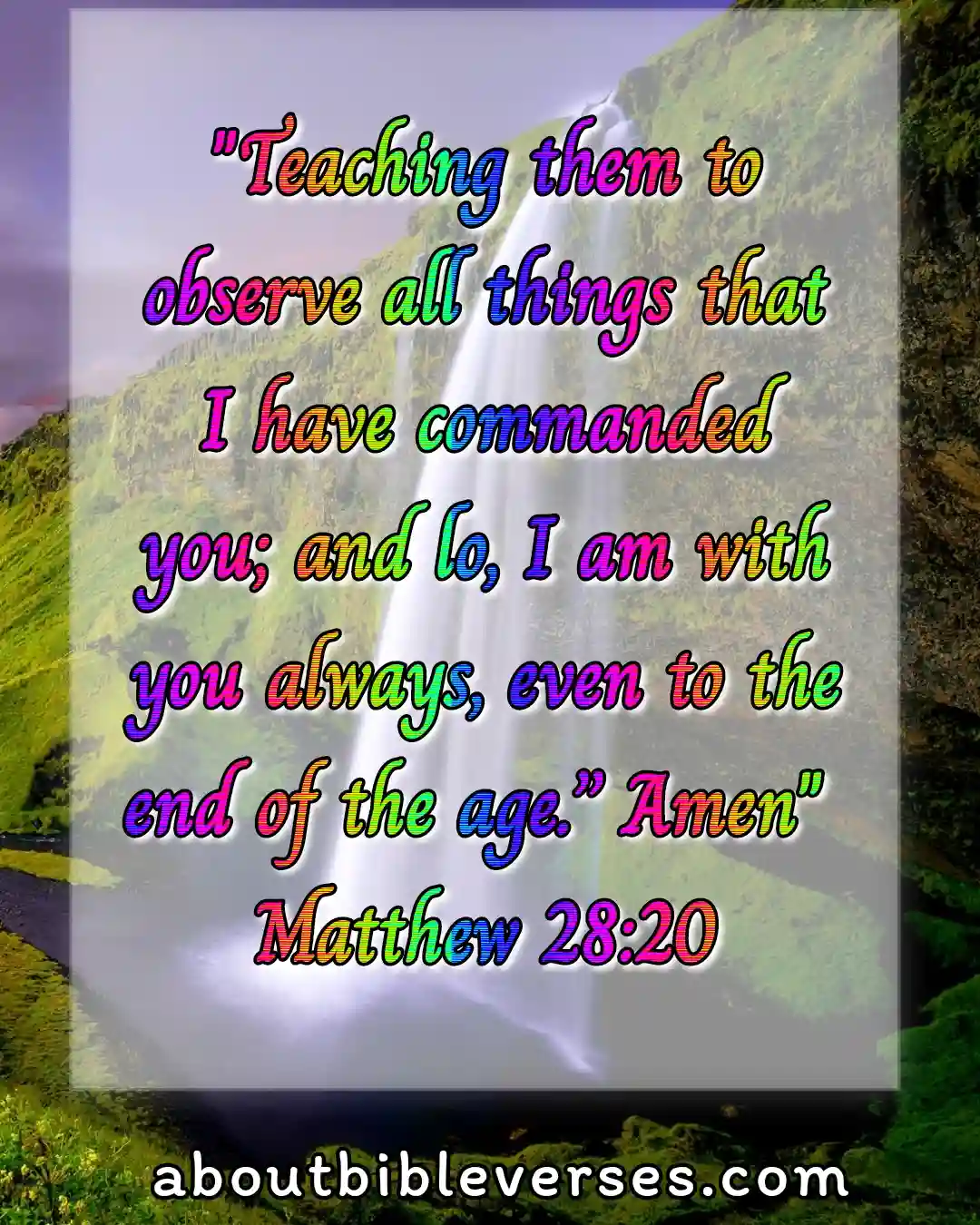 Matthew 28:20(KJV)"Teaching them to observe all things whatsoever I have commanded you: and, lo, I am with you always, even unto the end of the world. Amen"
Explanation:- Before the ascension into heaven Jesus has given some instructions to his disciples to follow. He assured them that he will never leave them orphans and he will send them the comforter who will guide them and teach them all the truth.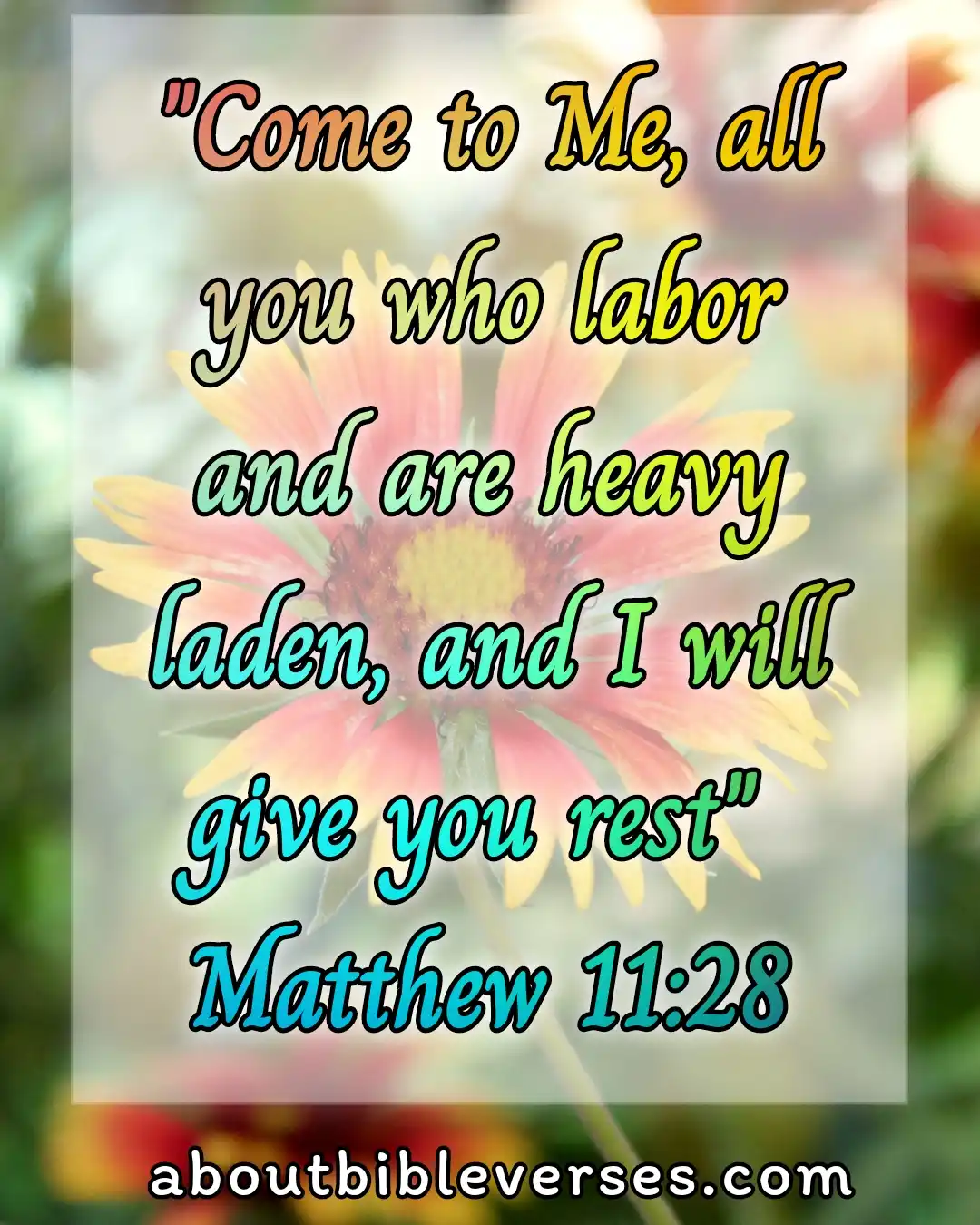 Matthew 11:28(KJV)"Come unto me, all ye that labour and are heavy laden, and I will give you rest"
Explanation:- If we are tired and helpless then we must see Jesus Christ in our life as he has welcomed us in his arms. If you submit our life before him and seek his face then we will be blessed.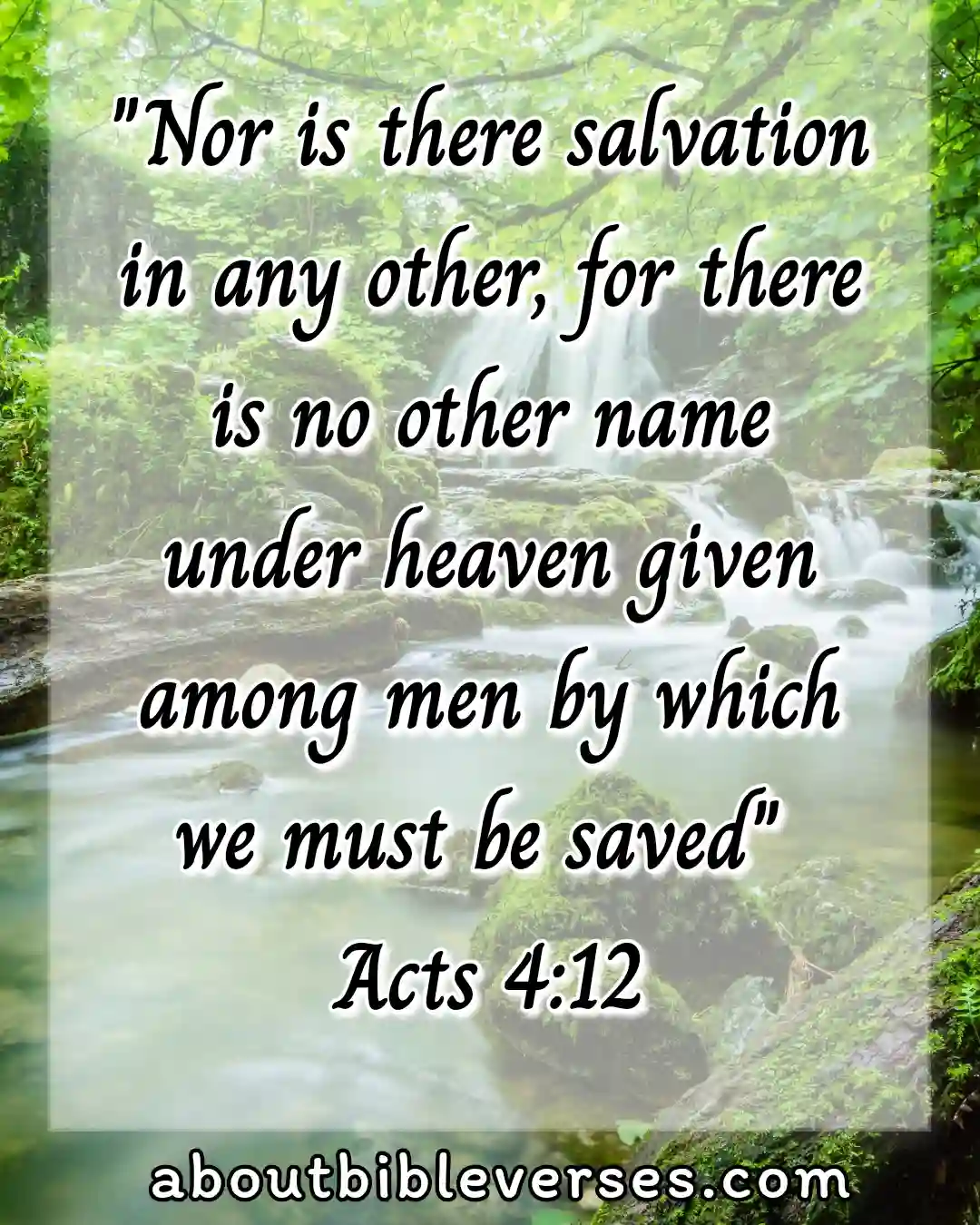 Acts 4:12(KJV)"Neither is there salvation in any other: for there is none other name under heaven given among men, whereby we must be saved"
Explanation:- For our salvation God has given us the name Jesus by which we all can be saved. The name Jesus means the one who saves his people from sin. We will be glorified and prospered if we run after him.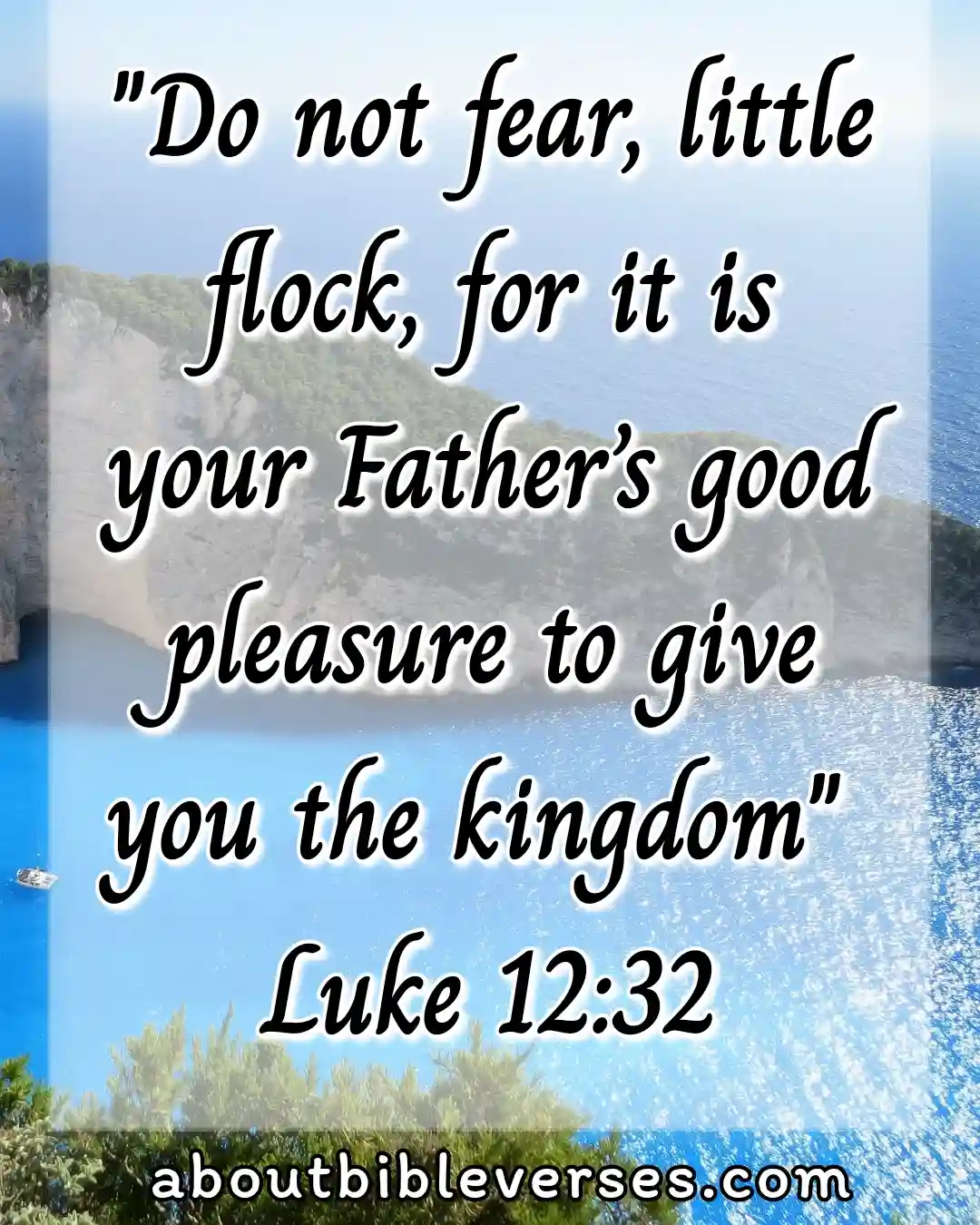 Luke 12:32(KJV)"Fear not, little flock; for it is your Father's good pleasure to give you the kingdom"
Explanation:- God has asked us not to fear anything because he is our protector and healer. He can remove all our sorrows and trials with his mighty hand.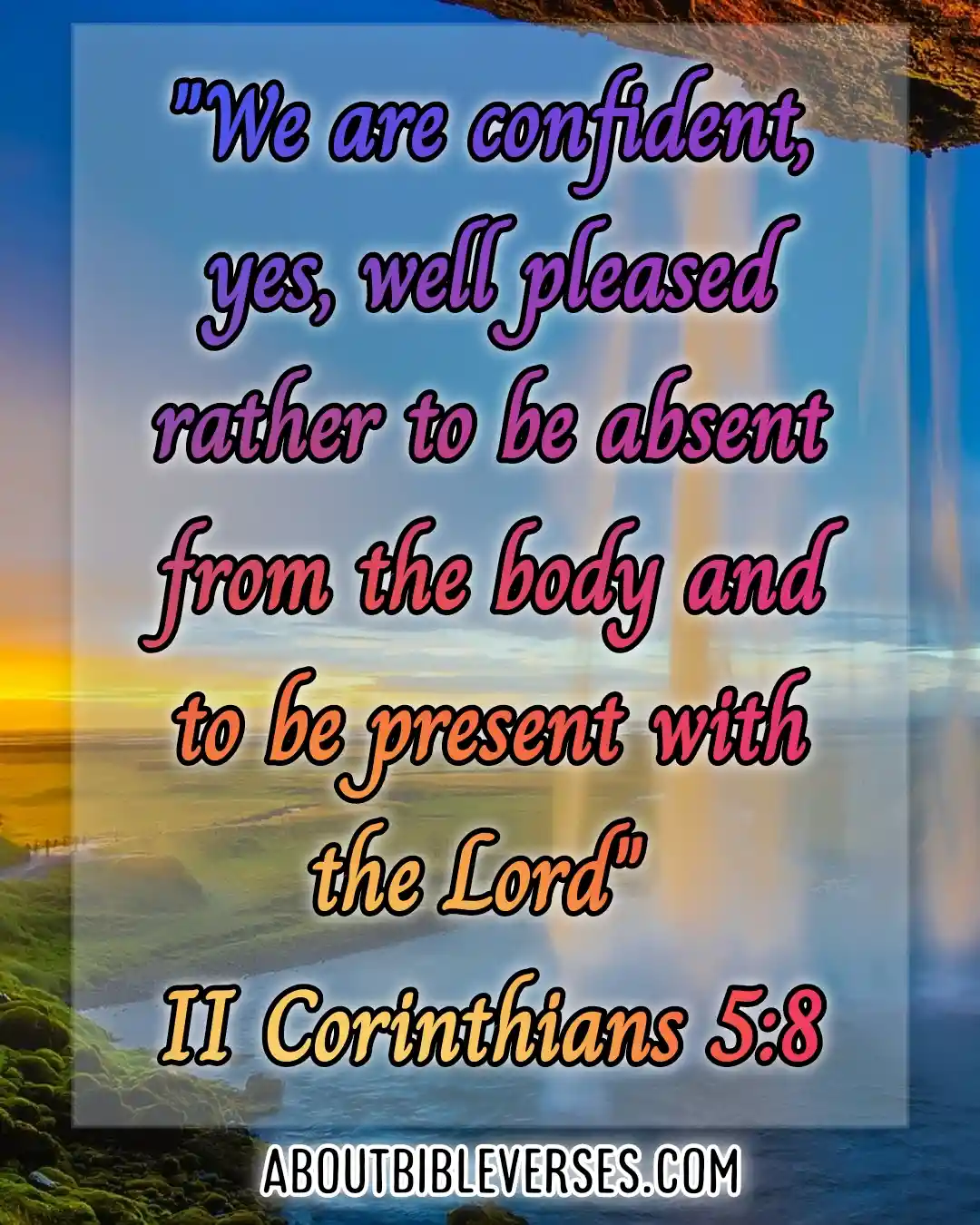 2 Corinthians 5:8(KJV)"We are confident, I say, and willing rather to be absent from the body, and to be present with the Lord"
Explanation:- We should have the confidence to leave this earth because this earth is not permanent but we have the eternal home where we will live with Christ forever.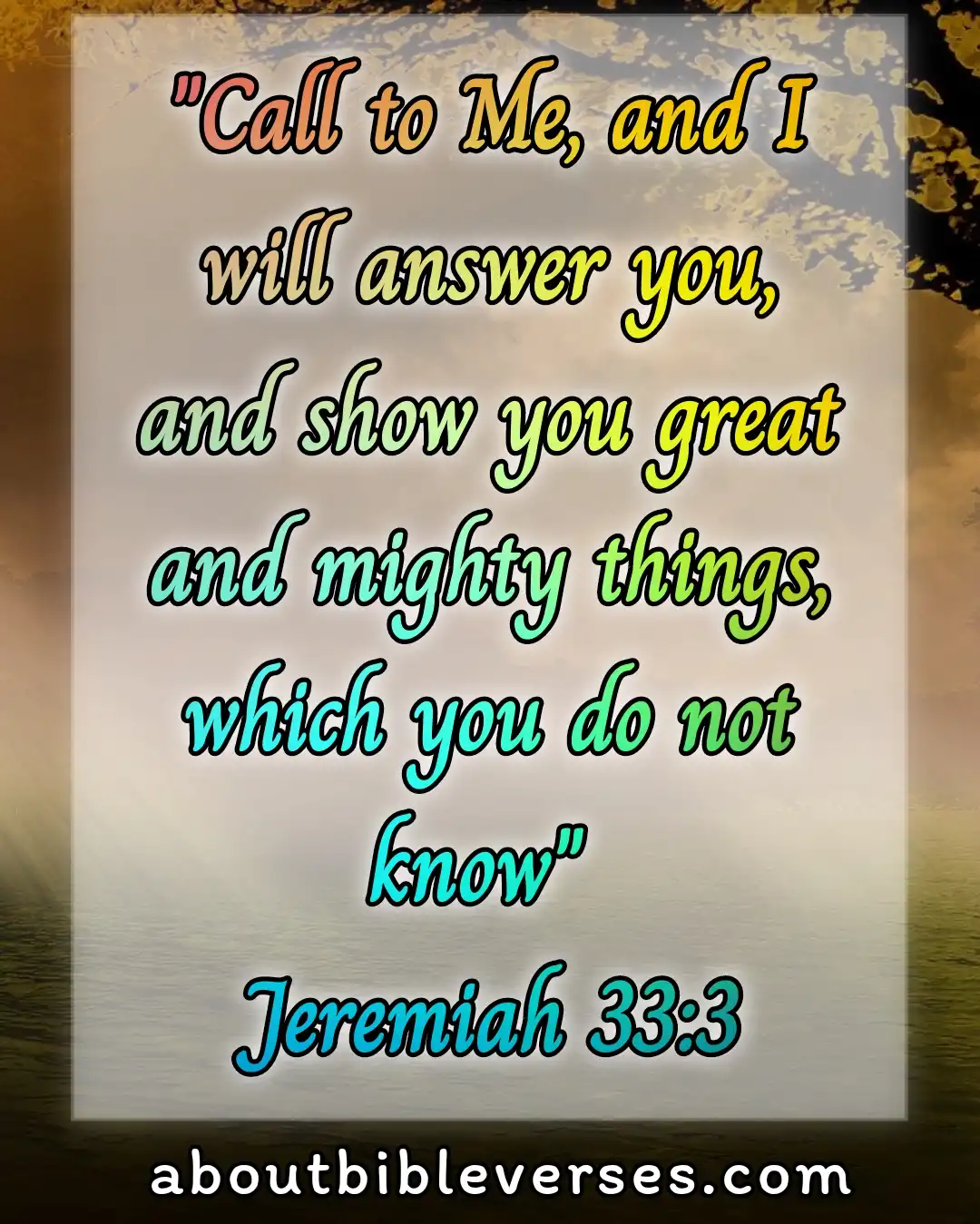 Jeremiah 33:3(KJV)"Call unto me, and I will answer thee, and show thee great and mighty things, which thou knowest not"
Explanation:- God has asked us to call him in our difficult times and he says that he will answer us and help us to overcome such problems.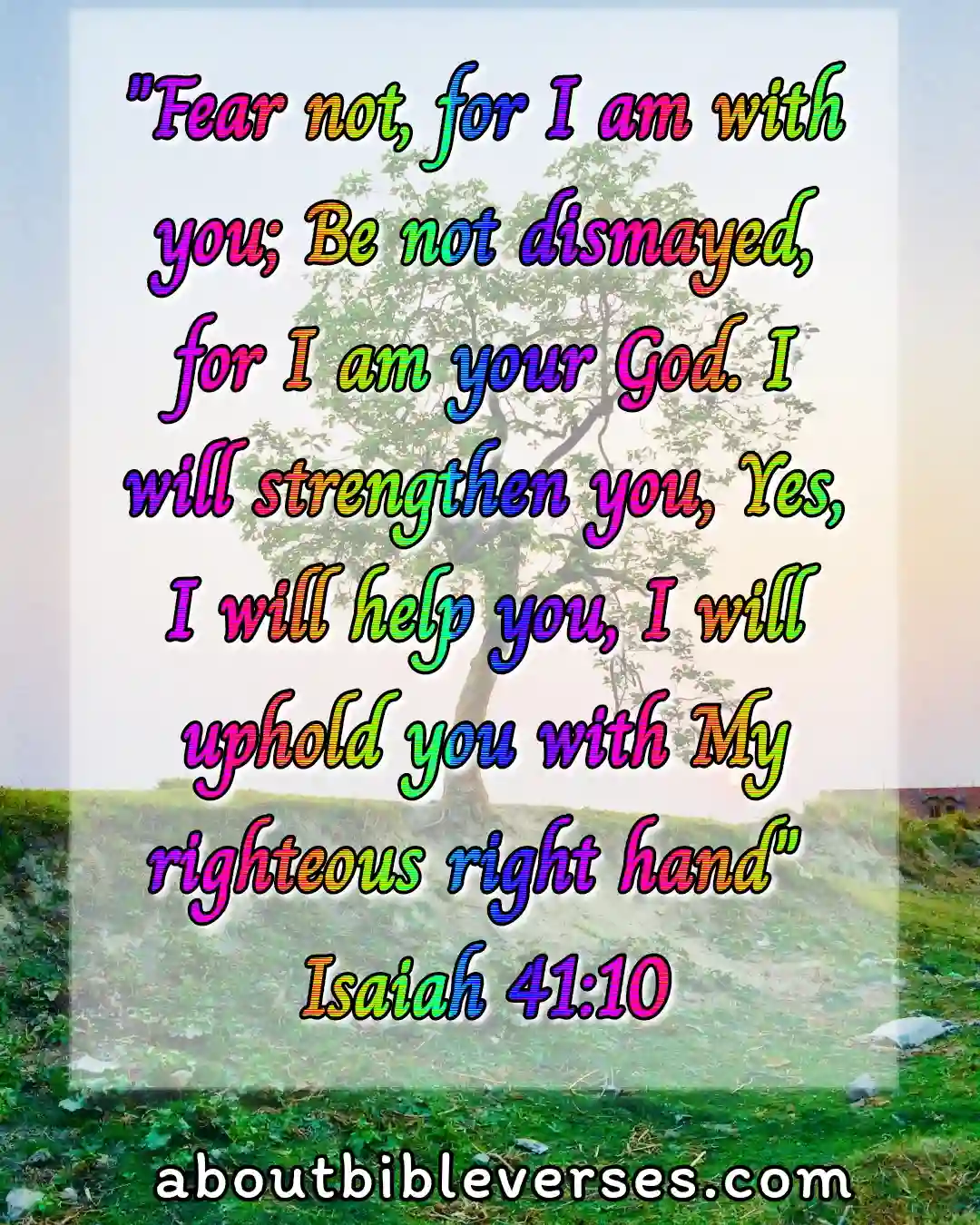 Isaiah 41:10(KJV)"Fear thou not; for I am with thee: be not dismayed; for I am thy God: I will strengthen thee; yea, I will help thee; yea, I will uphold thee with the right hand of my righteousness."
Explanation:- God has made us with a specific plan to prosper in our life so we can glorify him in our life. If we surrender ourselves to Him and walk in his teachings then we will be blessed.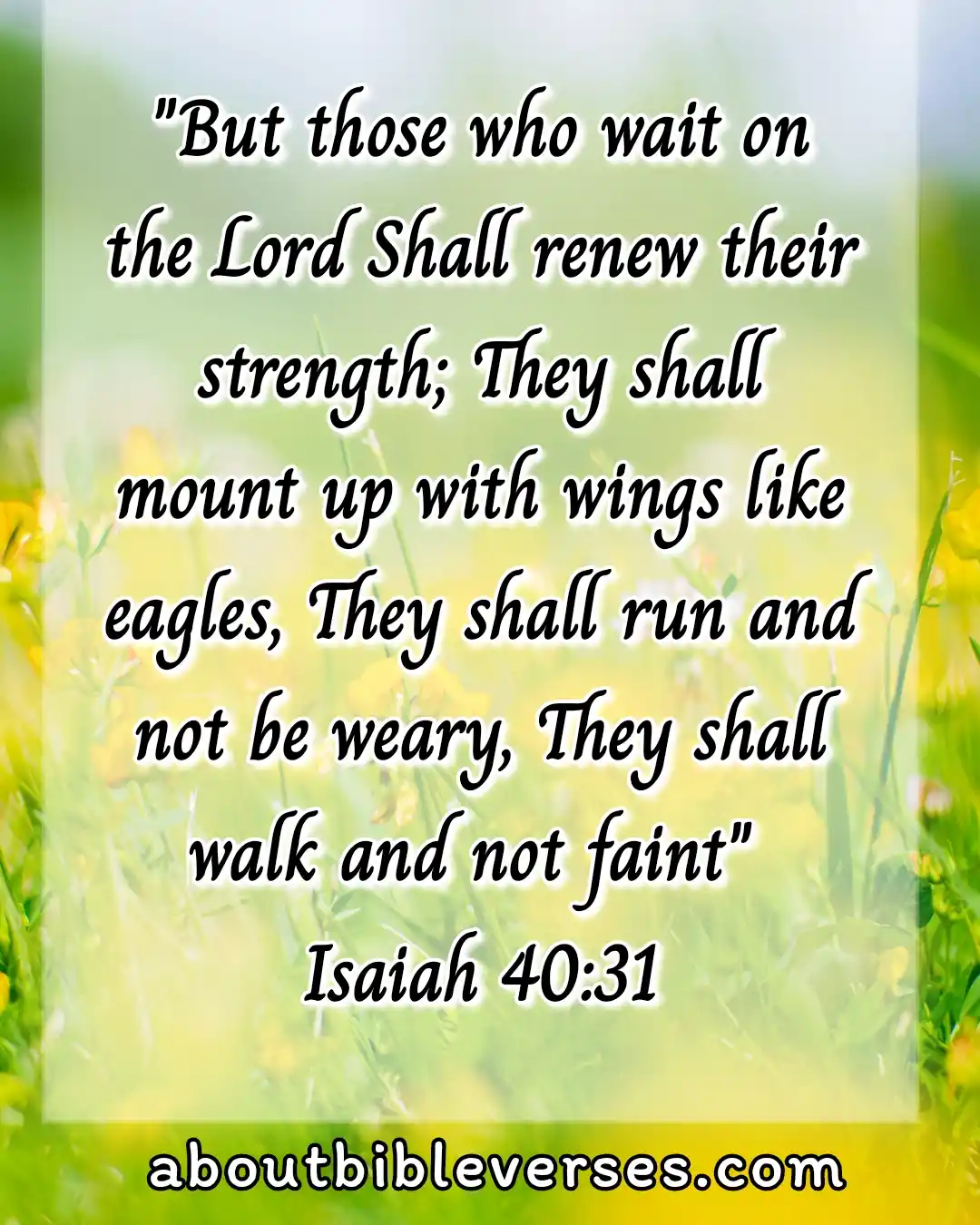 Isaiah 40:31(KJV)"But they that wait upon the Lord shall renew their strength; they shall mount up with wings as eagles; they shall run, and not be weary; and they shall walk, and not faint"
Explanation:- In our life we will sometimes become weak and weary. We had the strength from the Lord to overcome such weaknesses that we go through in our life. We need to see the strange from the lot and it will help us to fly again like an eagle.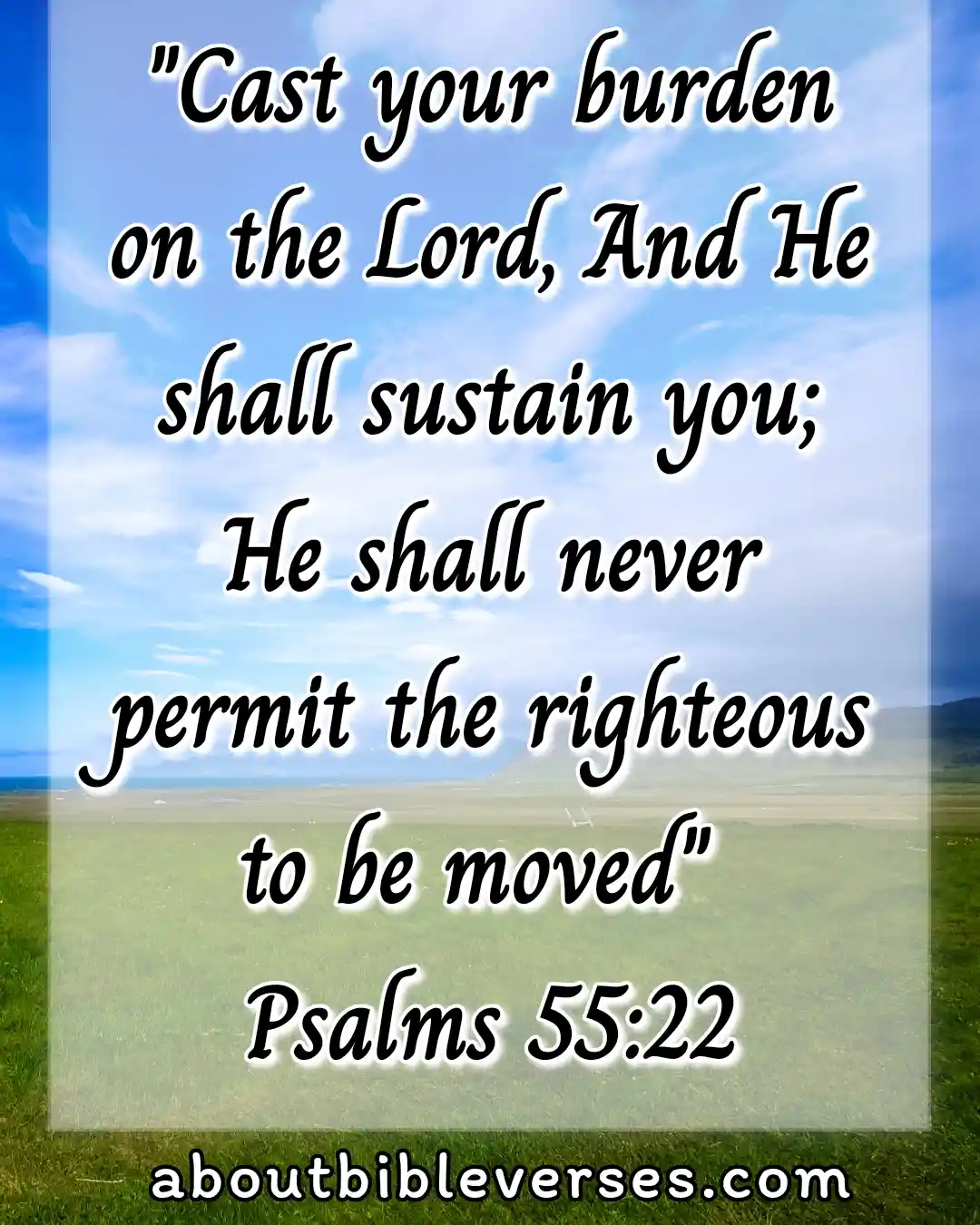 Psalm 55:22(KJV)"Cast thy burden upon the Lord, and he shall sustain thee: he shall never suffer the righteous to be moved"
Explanation:- The Lord wants us to depend on him completely. If you rely on our own understanding then we will face lots of problems but it would be best for us to rely on him.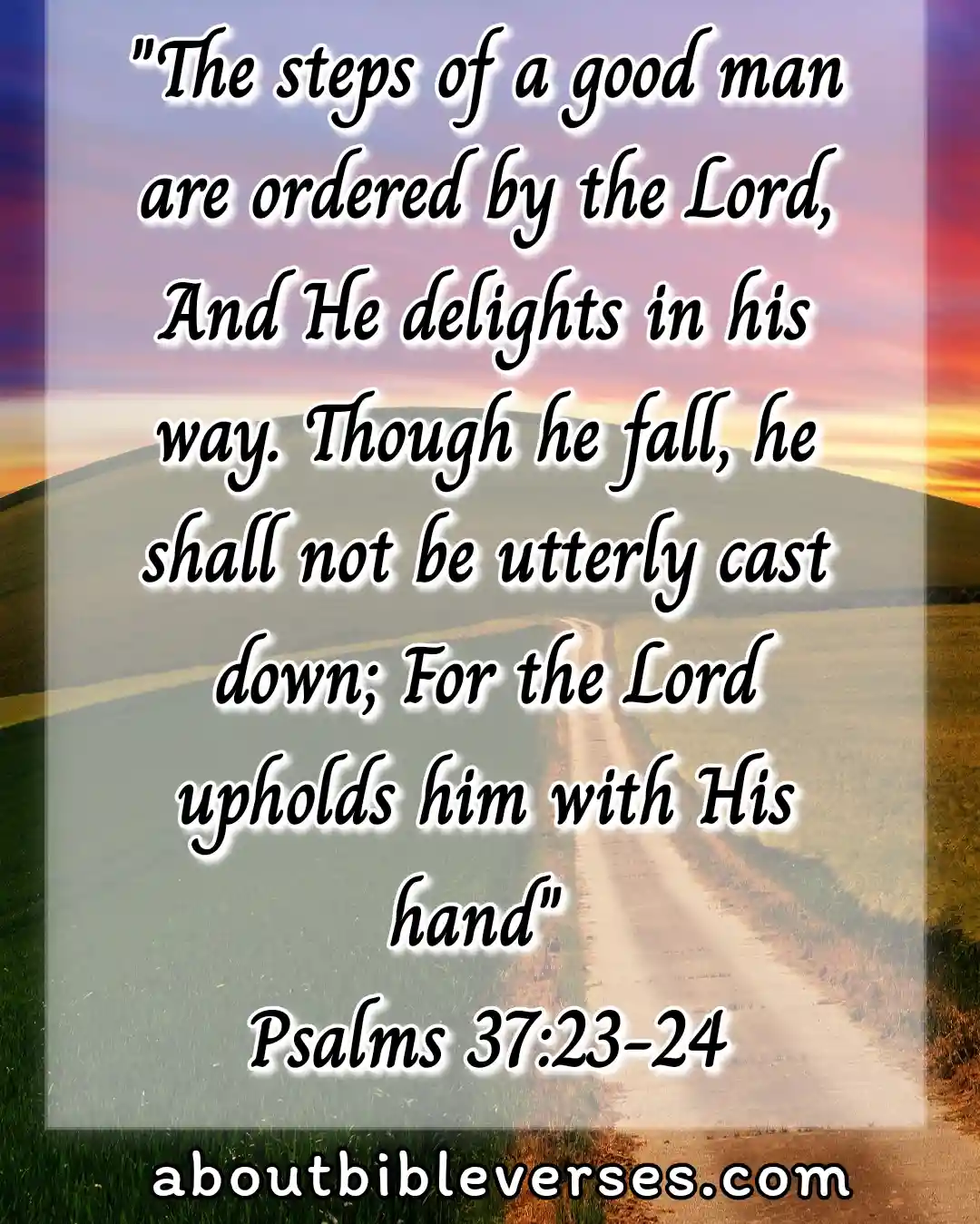 Psalm 37:23-24(KJV)"The steps of a good man are ordered by the Lord: and he delighteth in his way. Though he fall, he shall not be utterly cast down: for the Lord upholdeth him with his hand"
Explanation:- God guides us to become a good man and he wants us to follow his ways by which man will become righteous before his sight. A man cannot become righteous and holy by his own understanding and weak but he will know the truth by reading the scripture which leads him in the voice that wants him to move.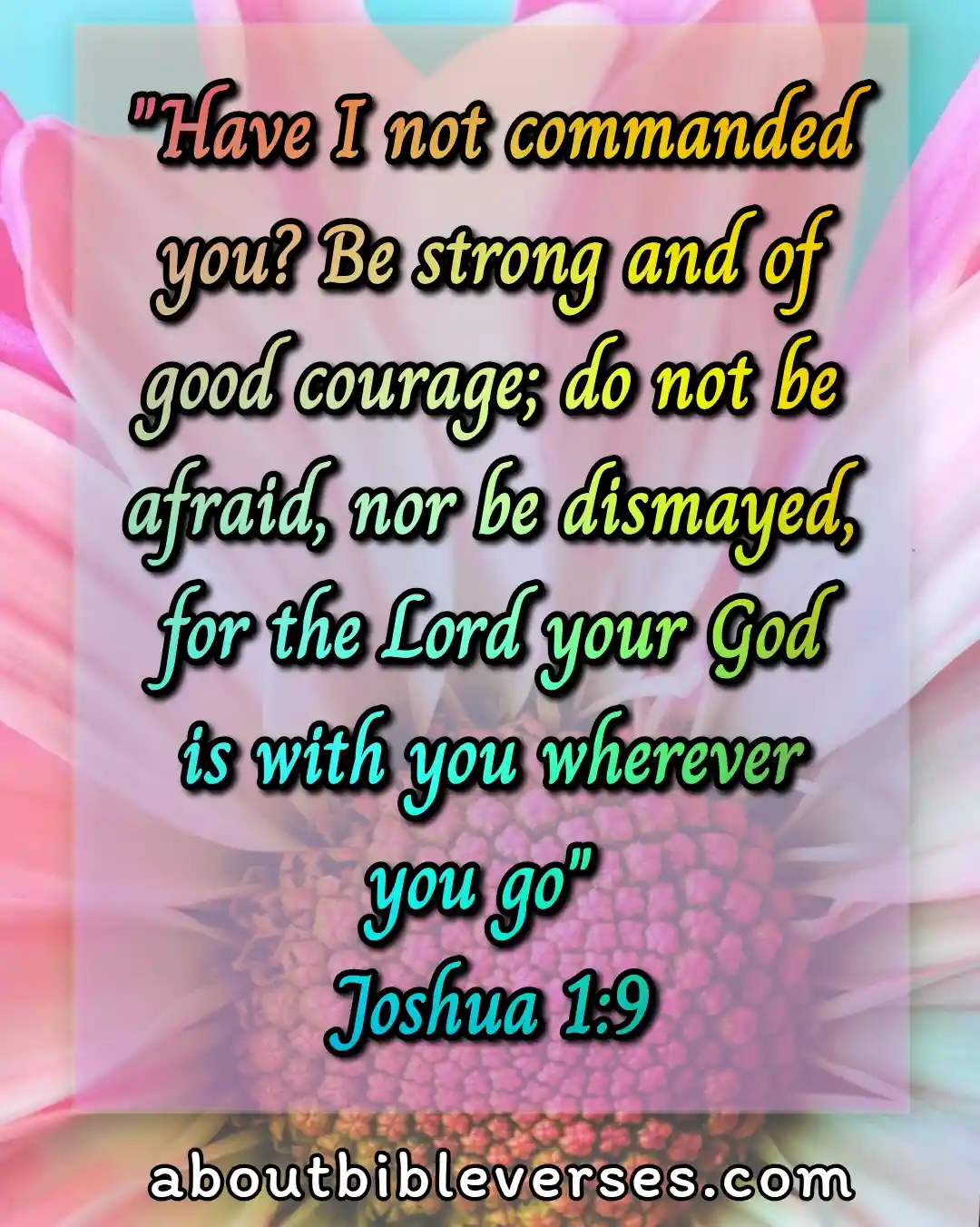 Joshua 1:9(KJV)"Have not I commanded thee? Be strong and of a good courage; be not afraid, neither be thou dismayed: for the Lord thy God is with thee whithersoever thou goest"
Explanation:- God has asked Joshua to be courageous as he became the new leader of Israel. He needs to depend on the Lord to get the strength so that he will be able to lead God's people in the right direction.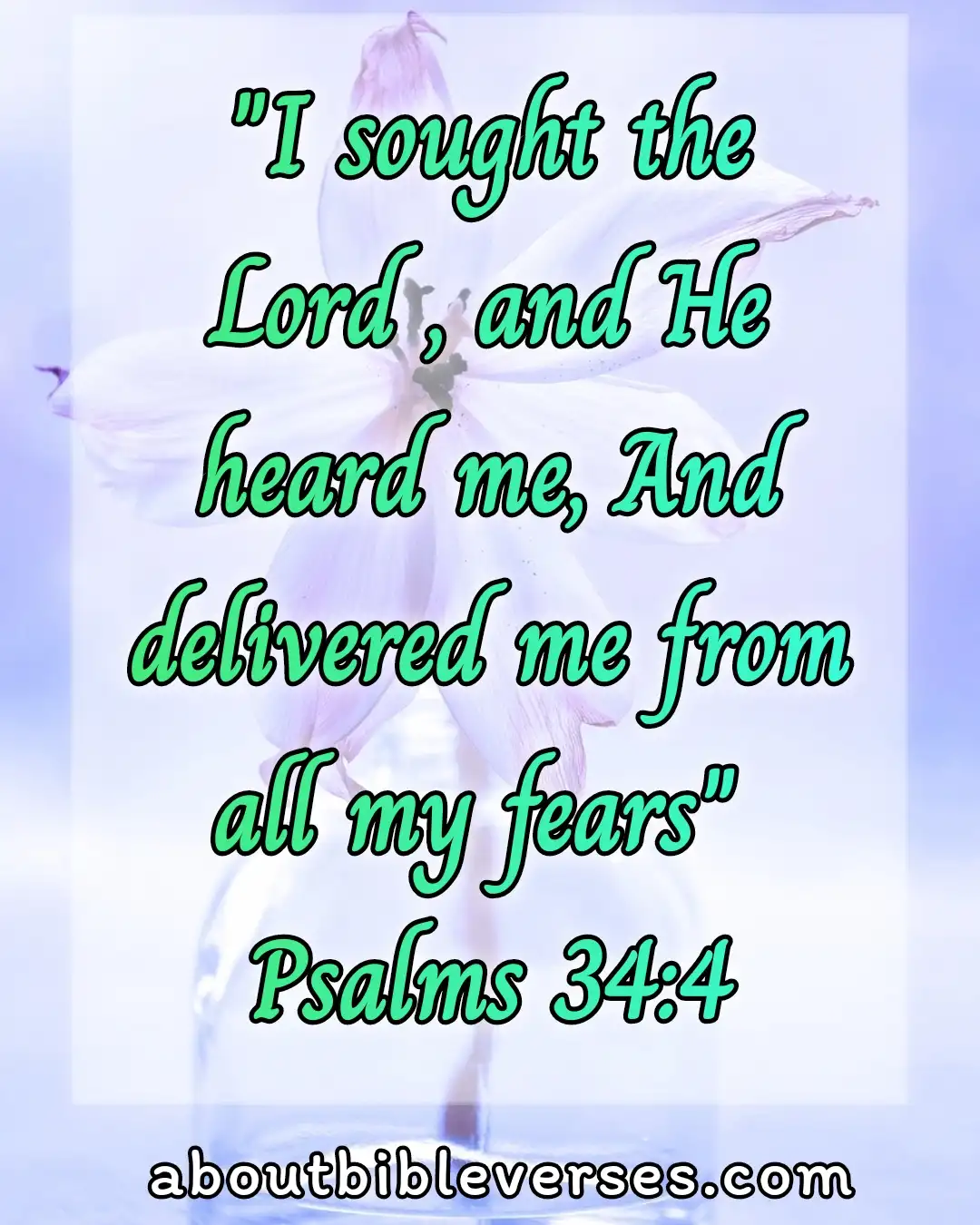 Psalm 34:4(KJV)"I sought the Lord, and he heard me, and delivered me from all my fears"
Explanation:- David had said that when he faced the problems and shortcuts for help he always received help from him. We should also follow David's footprints to get blessings from the Lord.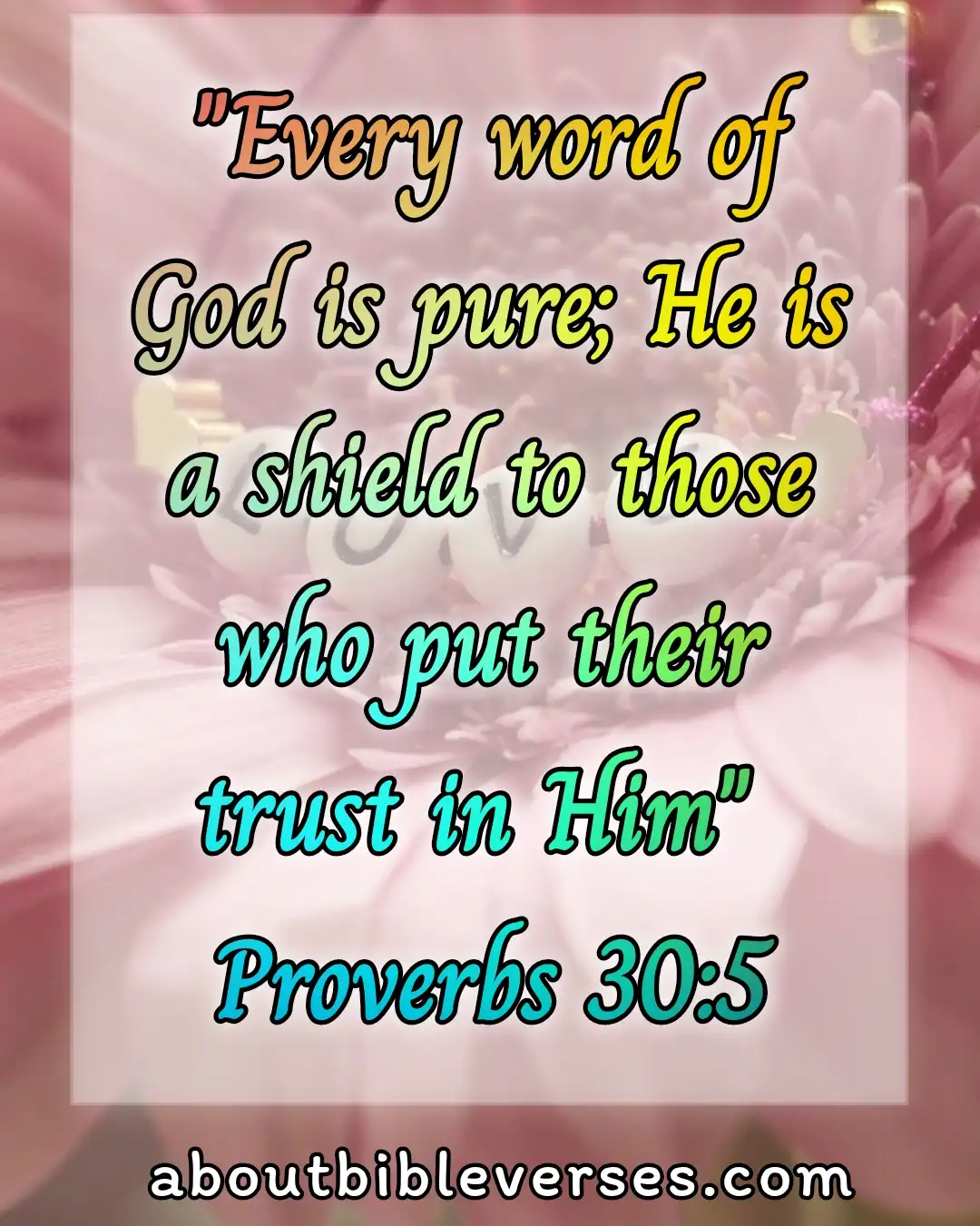 Proverbs 30:5(KJV)"Every word of God is pure: he is a shield unto them that put their trust in him"
Explanation:- God's words are pure for heart and it works as a shield to protect us from our enemies' attack. We need to use the word of God to protect our souls from eternal destruction.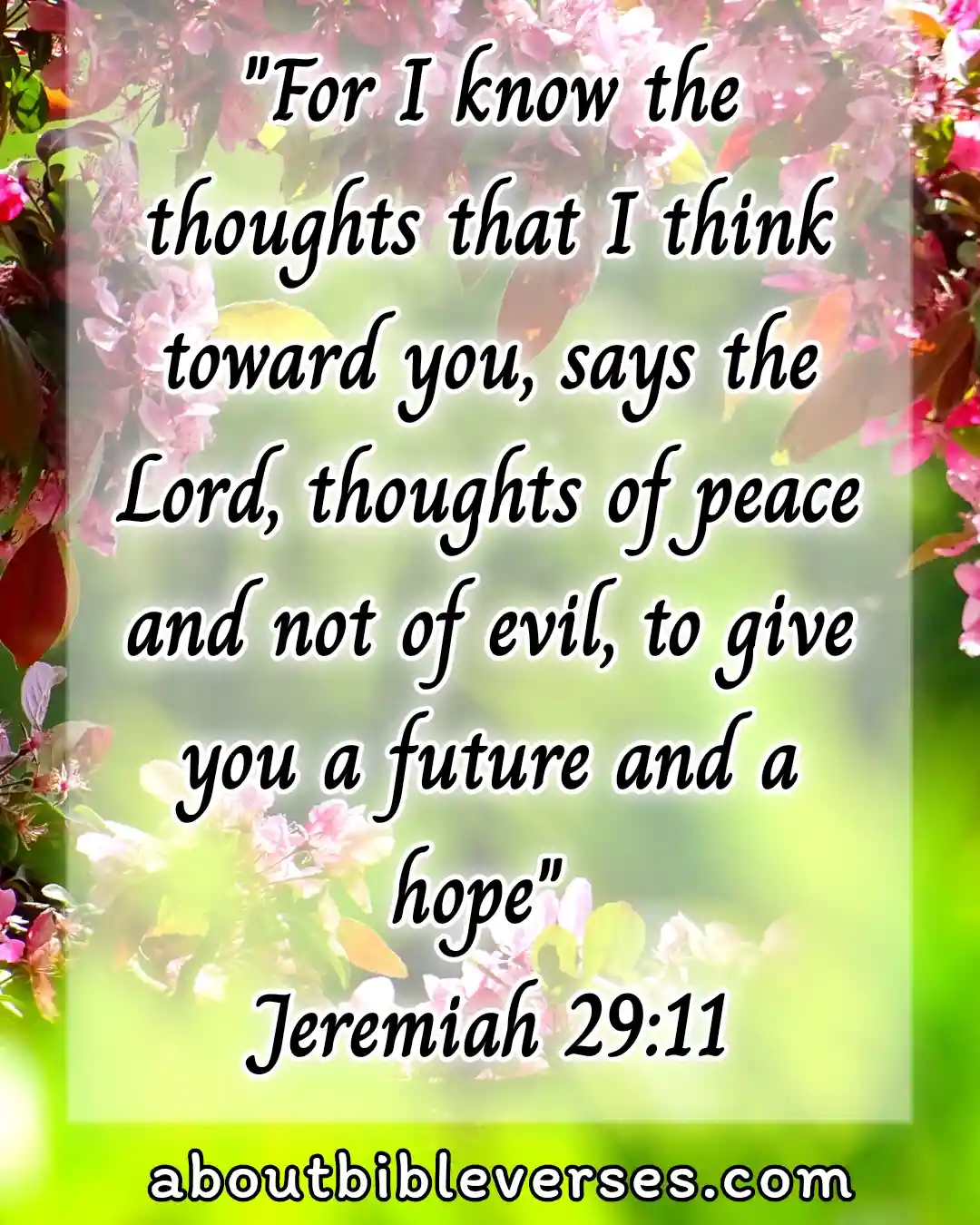 Jeremiah 29:11(KJV)"For I know the thoughts that I think toward you, saith the Lord, thoughts of peace, and not of evil, to give you an expected end"
Explanation:- God knows all our thoughts and he loves us so much that he wants us to dictate our life according to which will so we can reach and to our destination. We must obey him in order to understand the real meaning of all life.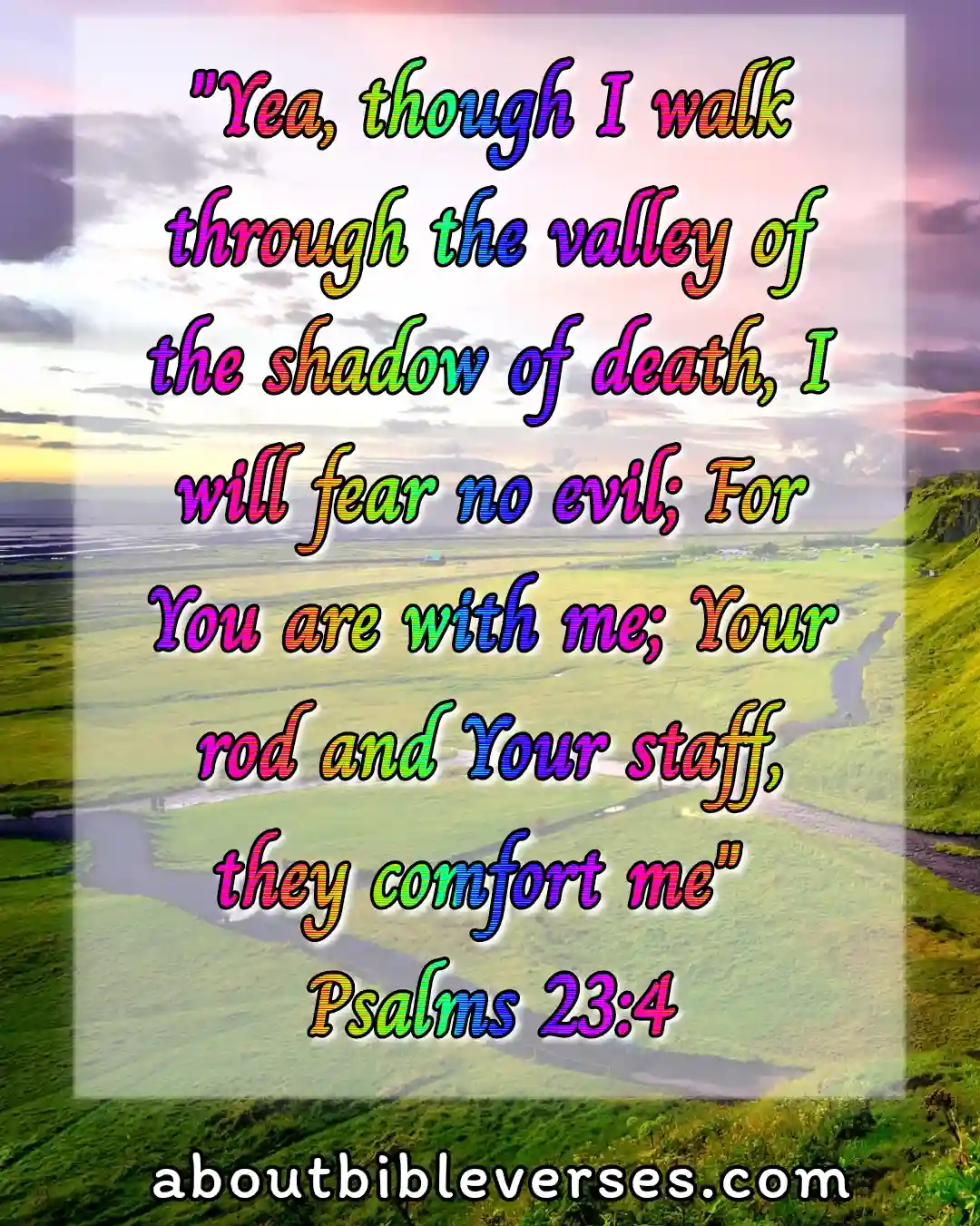 Psalm 23:4(KJV)"Yea, though I walk through the valley of the shadow of death, I will fear no evil: for thou art with me; thy rod and thy staff they comfort me"
Explanation:- We should have a strong faith in God which will help us to understand that even when we will walk through the shadow, we will not fear anyone because we will have the encouragement of God's word.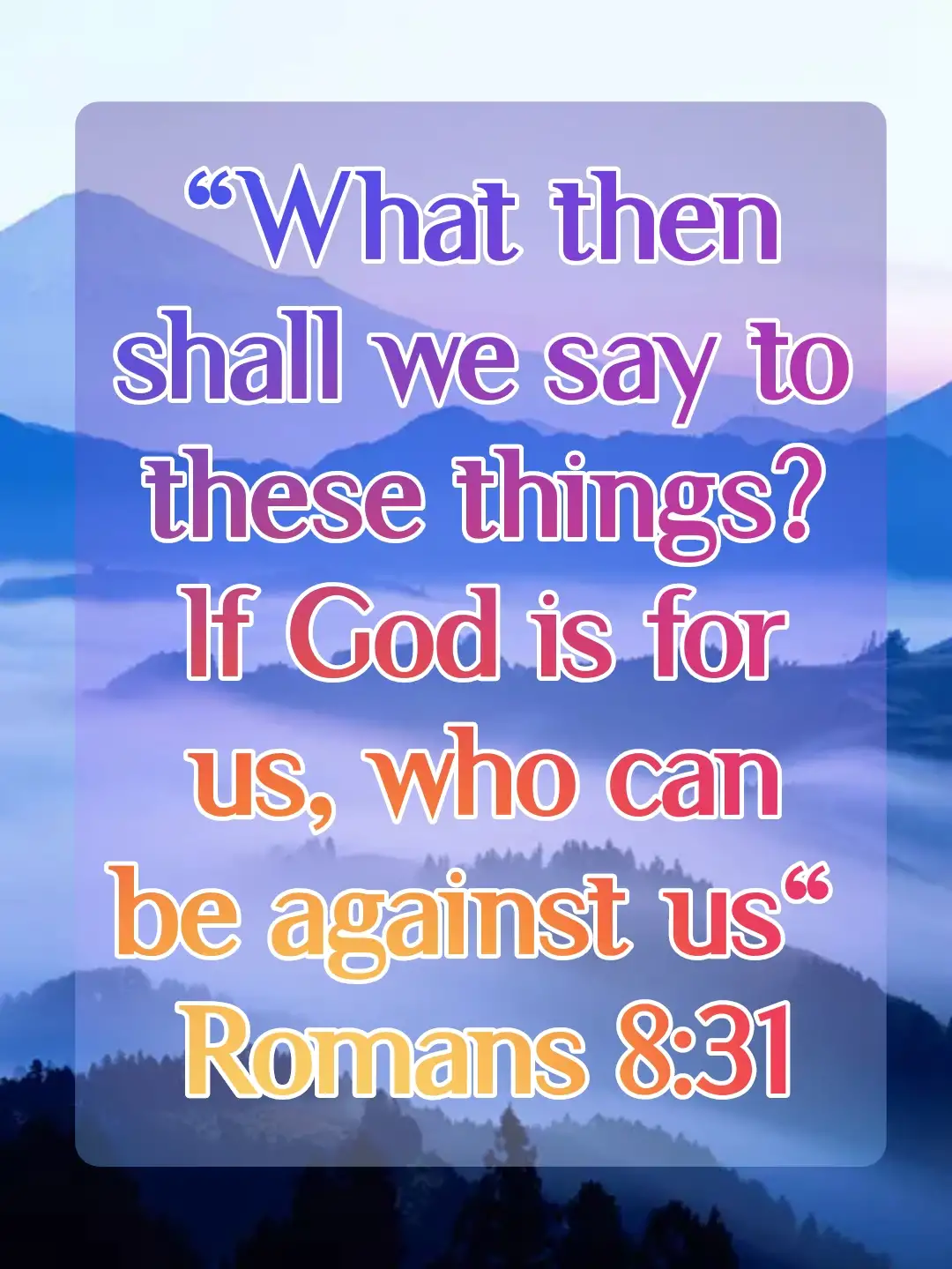 Romans 8:31(KJV)"What shall we then say to these things? If God be for us, who can be against us"
Explanation:- God has promised us that he will never leave us or forsake us. Which might have and will always be with us and he will protect us from all our enemies.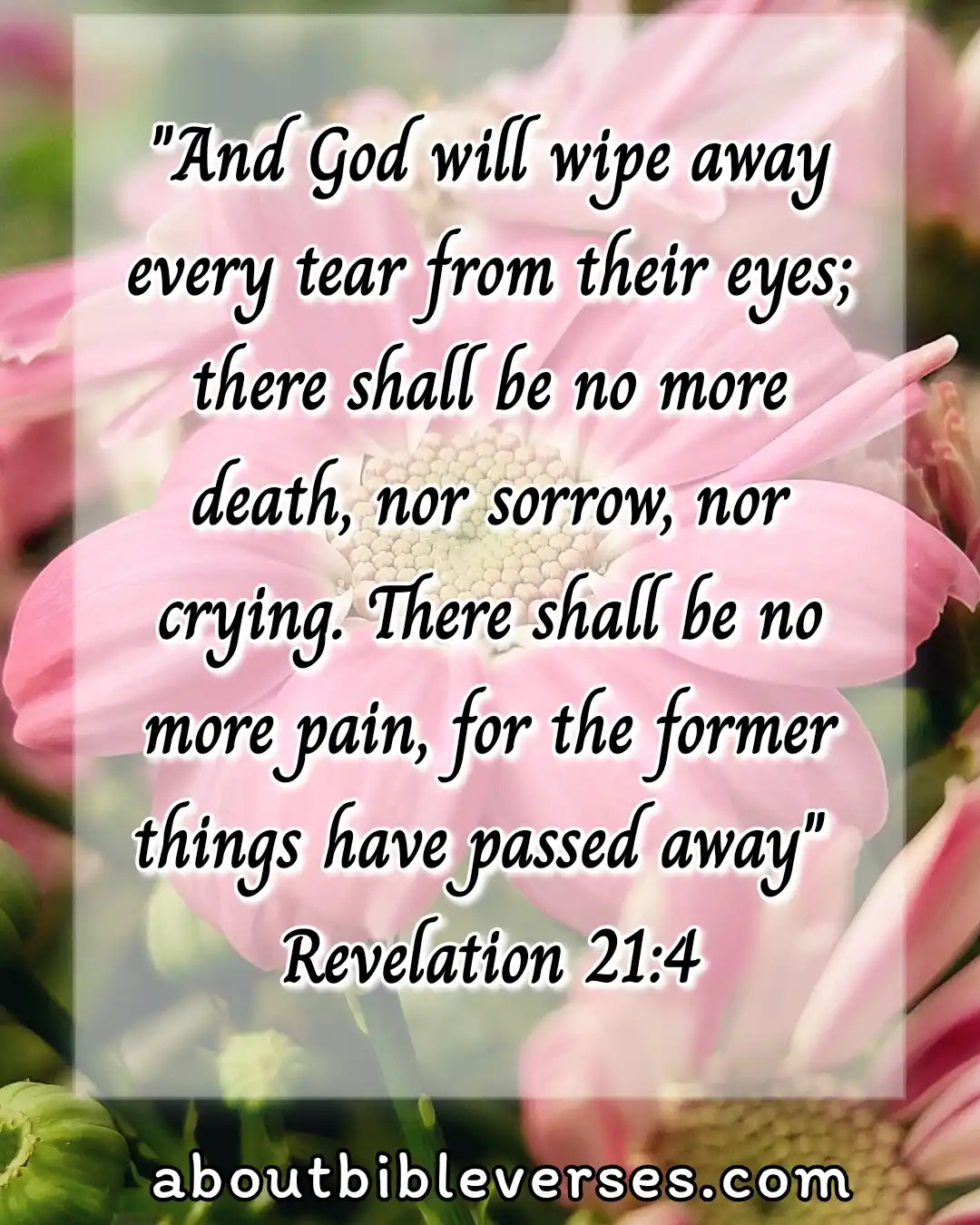 Revelation 21:4(KJV)"And God shall wipe away all tears from their eyes; and there shall be no more death, neither sorrow, nor crying, neither shall there be any more pain: for the former things are passed away"
Explanation:- In the New earth where Christ in rule with his children forever and there will be no more sorrow and pain anymore because that is the final destination for the righteous people who walked with God on this earth during their earthly life.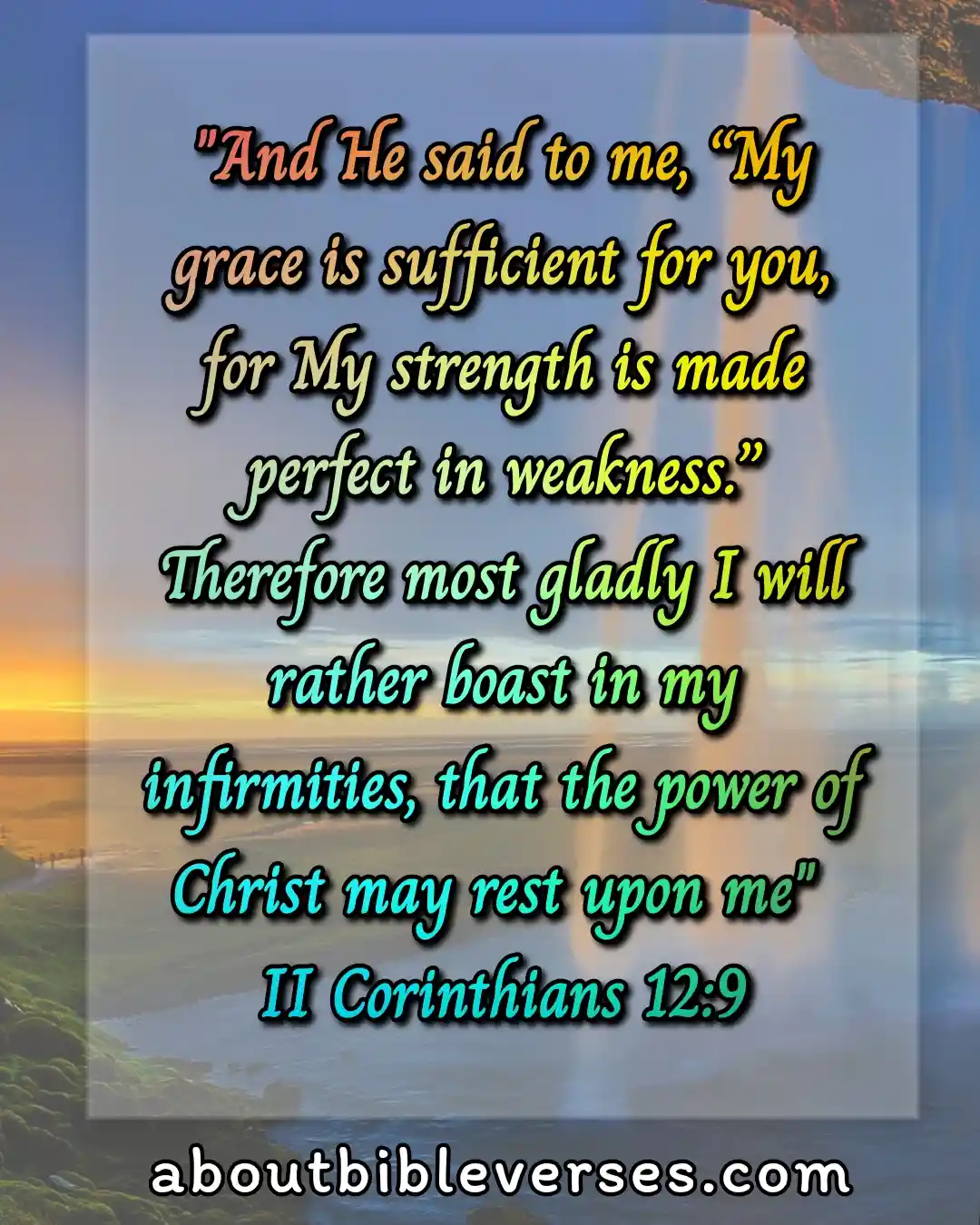 2 Corinthians 12:9(KJV)"And he said unto me, My grace is sufficient for thee: for my strength is made perfect in weakness. Most gladly therefore will I rather glory in my infirmities, that the power of Christ may rest upon me"
Explanation:- We must remember that God has shown his mercy upon the cross and we have the power over the evil as Jesus paid the cost on the cross. His Grace is sufficient for us to overcome any kind of temptations and her shapes that we face in our life.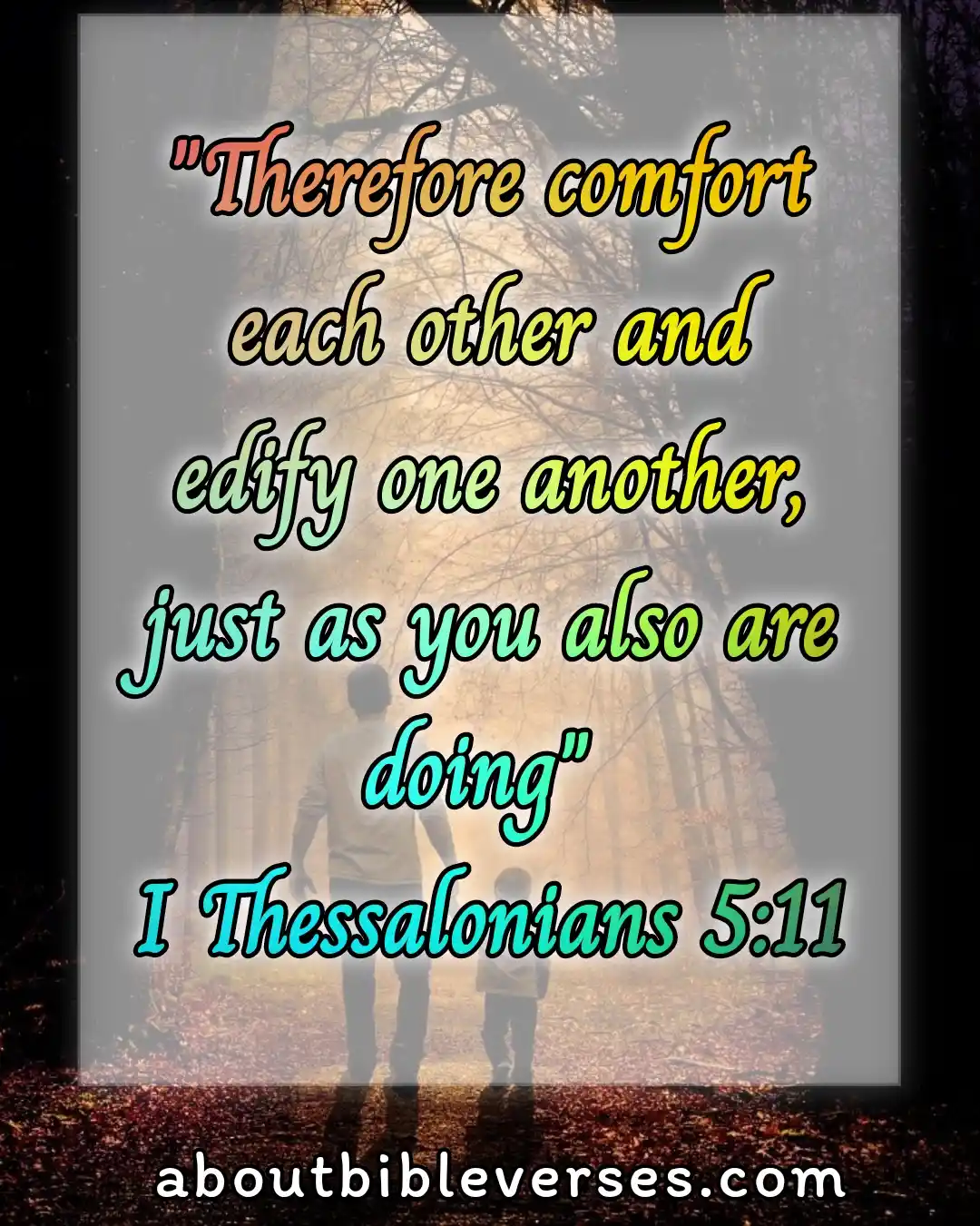 1 Thessalonians 5:11(KJV)"Wherefore comfort yourselves together, and edify one another, even as also ye do"
Explanation:- Jesus has taught many lessons to his disciples and he also asked them to teach others so the children of God will be equipped with heavenly teachings which will help them to reach their final destination.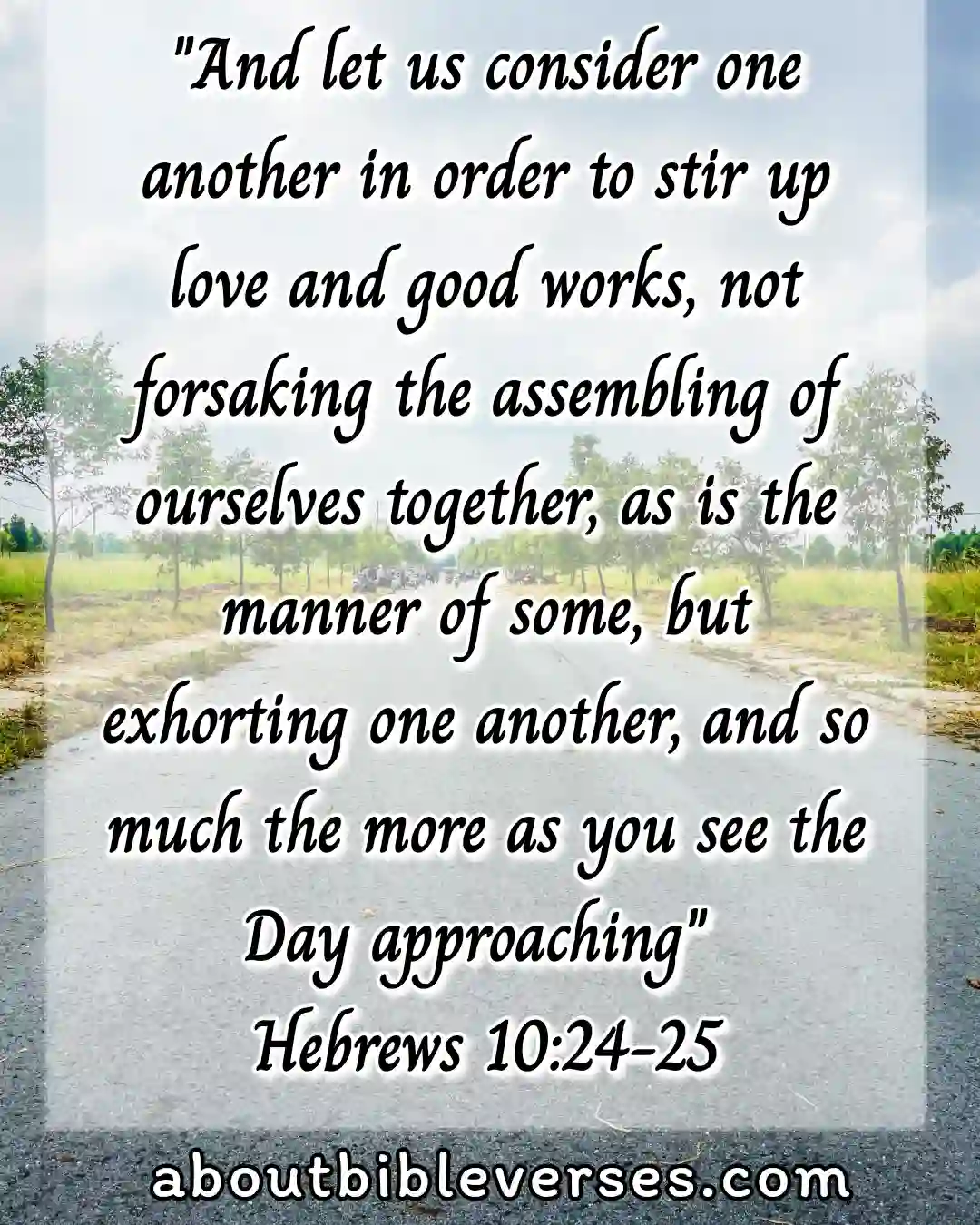 Hebrews 10:24-25(KJV)"And let us consider one another to provoke unto love and to good works:Not forsaking the assembling of ourselves together, as the manner of some is; but exhorting one another: and so much the more, as ye see the day approaching"
Explanation:- The children of God should work together in harmony for the extension of God's Kingdom. The main purpose of Jesus's sacrifice on the cross was to establish the eternal Kingdom in the hearts of the people. So it would be best for the believers to seek God's Kingdom first in their lives.