Since the beginning, God has made fellowship with mankind. In the book of Genesis, we can see that God used to walk with Adam and Eve on a regular basis in the garden of Eden. But the sin destroyed that direct relationship between man and God.
Though we are lost in the sight of God still his love made us a way to come before him. Now we have the privilege to access God's kingdom by obeying him. The Lord Jesus died in our place and made us free from our sin. He has promised us to deliver from the wrath of God.
Before the ascension, Jesus told his disciples that he will never leave us. But he will always be with us in the form of the Holy Spirit. Now we can boldly say that if our God is with us, who can harm us?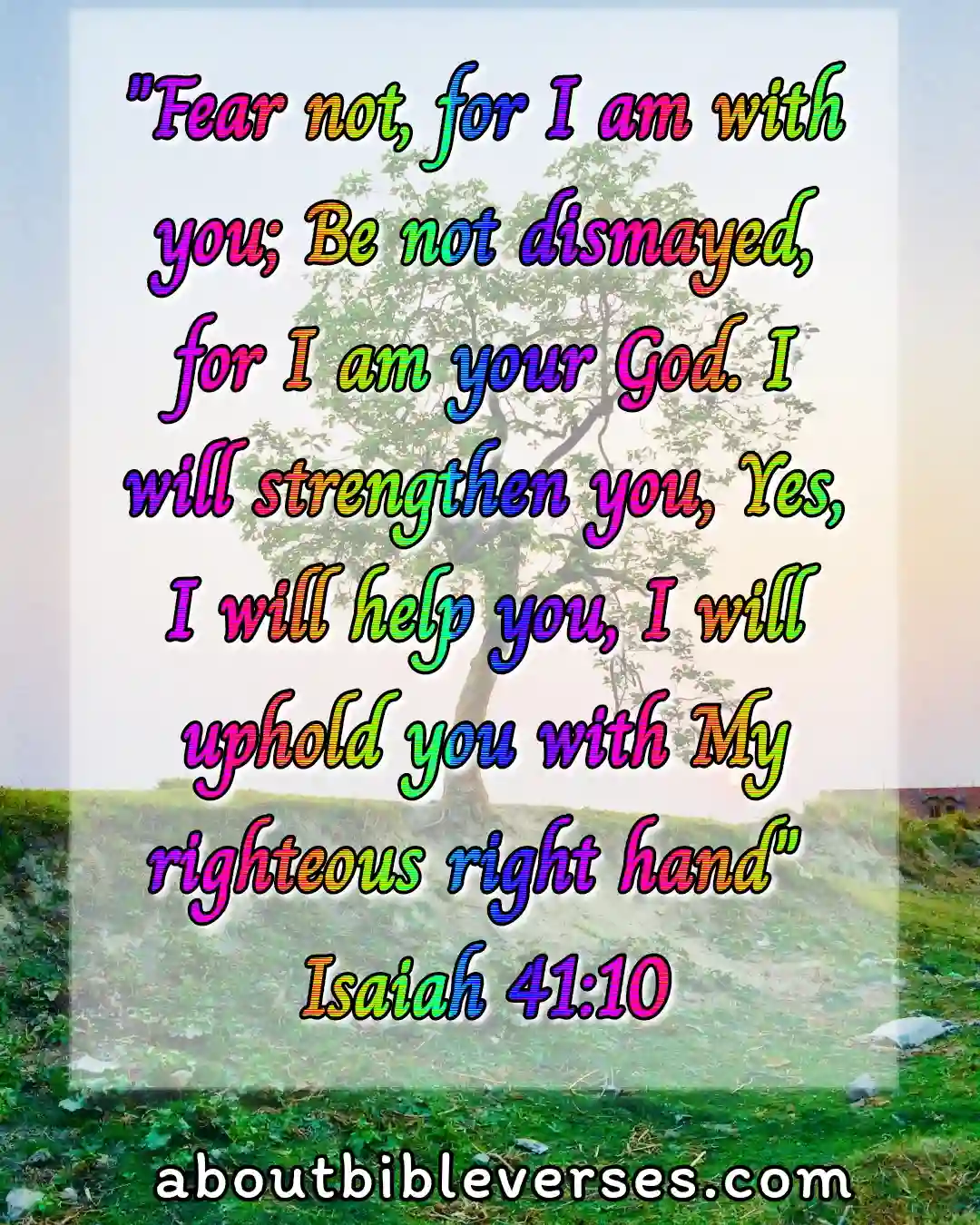 Isaiah 41:10(KJV)"Fear thou not; for I am with thee: be not dismayed; for I am thy God: I will strengthen thee; yea, I will help thee; yea, I will uphold thee with the right hand of my righteousness"
Explanation:- As long as we will obey the Lord we have the power of God with us. Because he is faithful and he keeps his words. We are powerful as the Lord is with us. Nothing can make us separate from the love of God.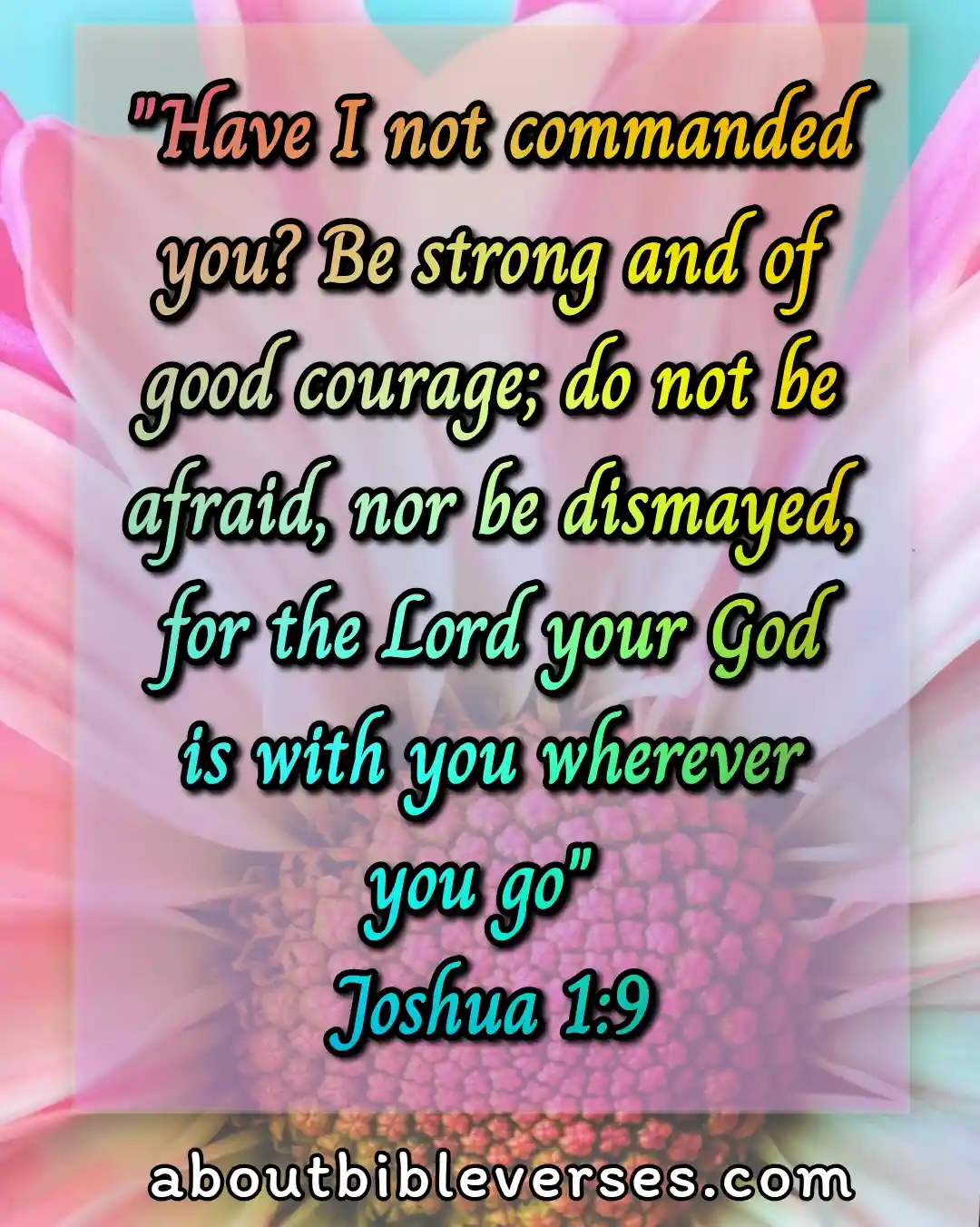 Joshua 1:9(KJV)"Have not I commanded thee? Be strong and of good courage; be not afraid, neither be thou dismayed: for the Lord thy God is with thee whithersoever thou goest"
Explanation:- When Joshua got the leadership to lead the people of God into the promised land he was quite nervous. But the Lord told him to be courageous in order to perform his duty correctly. In today's time also we can rely upon the promises of God and overcome the problems that are ahead in our lives.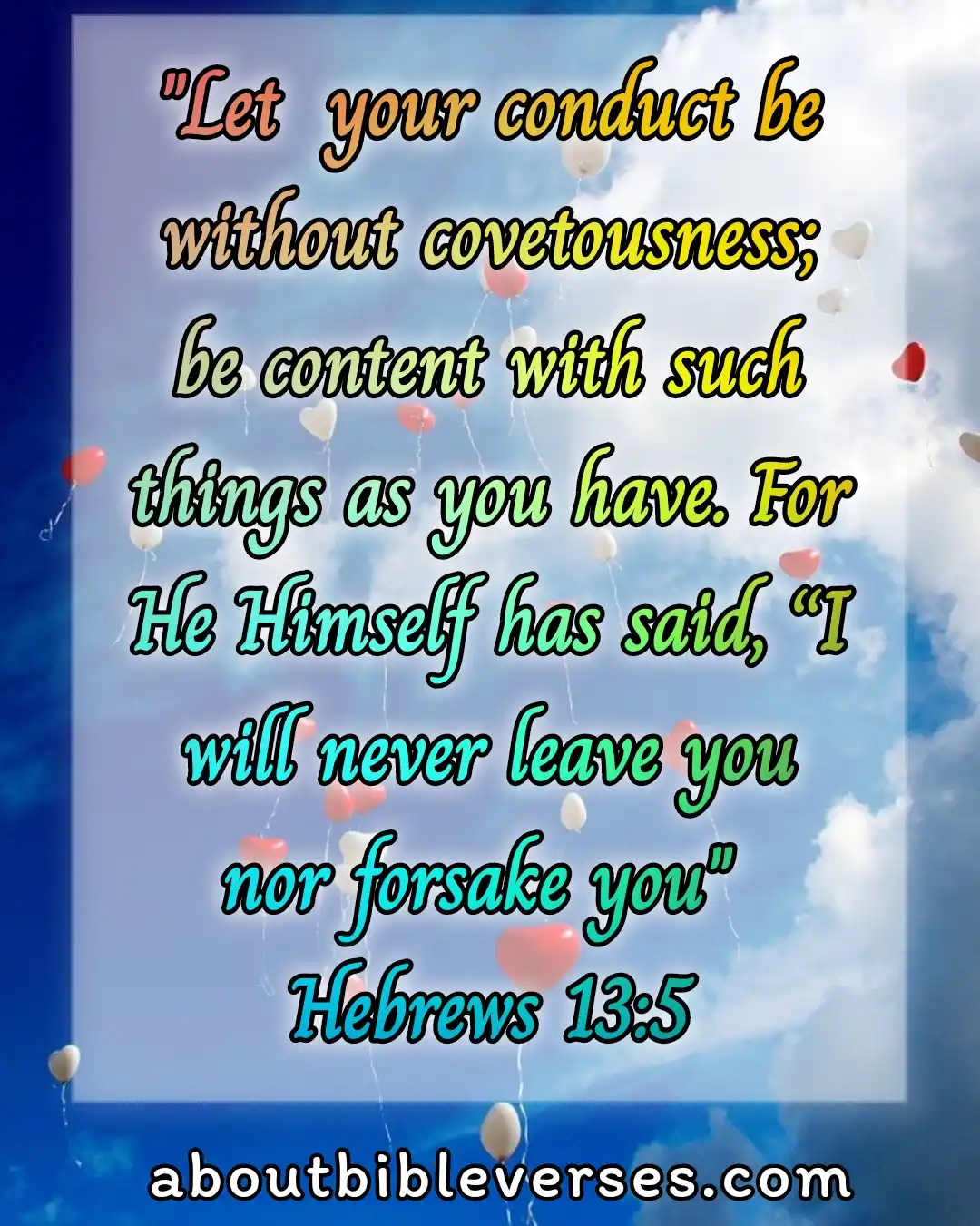 Hebrews 13:5(KJV)"Let your conversation be without covetousness; and be content with such things as ye have: for he hath said, I will never leave thee, nor forsake thee"
Explanation:- We must speak well with everyone and we can form a friendly relationship with the people who don't know God. God is faithful and he keeps his promises. We can strongly believe that he will help us with every small problem.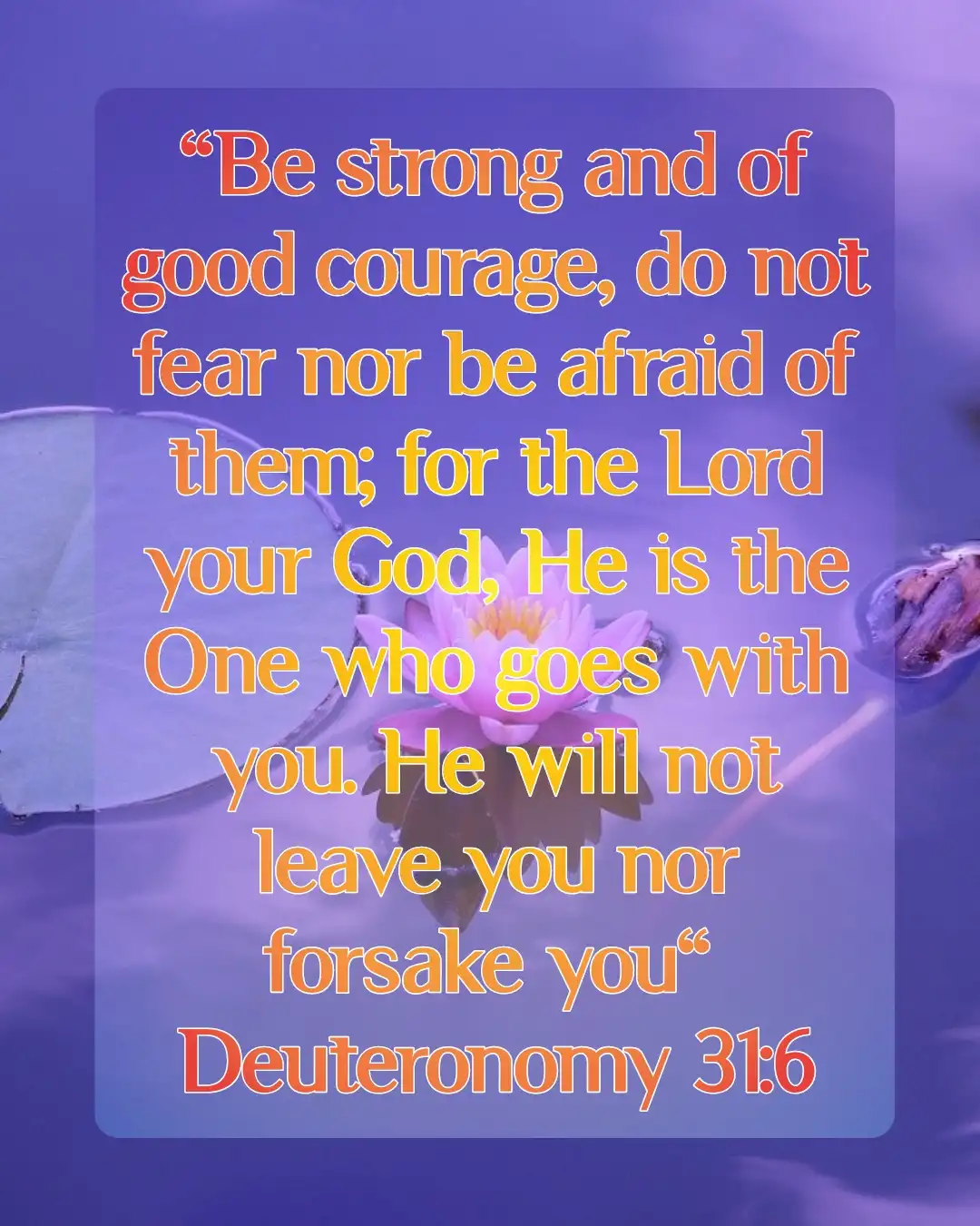 Deuteronomy 31:6(KJV)"Be strong and of a good courage, fear not, nor be afraid of them: for the Lord thy God, he it is that doth go with thee; he will not fail thee, nor forsake thee"
Explanation:- We should trust in the Lord and we must have the courage in our hearts so we can overcome this world. As our God is almighty, it is possible for him to give us victory even when we are hopeless and we don't find any way out from the situation.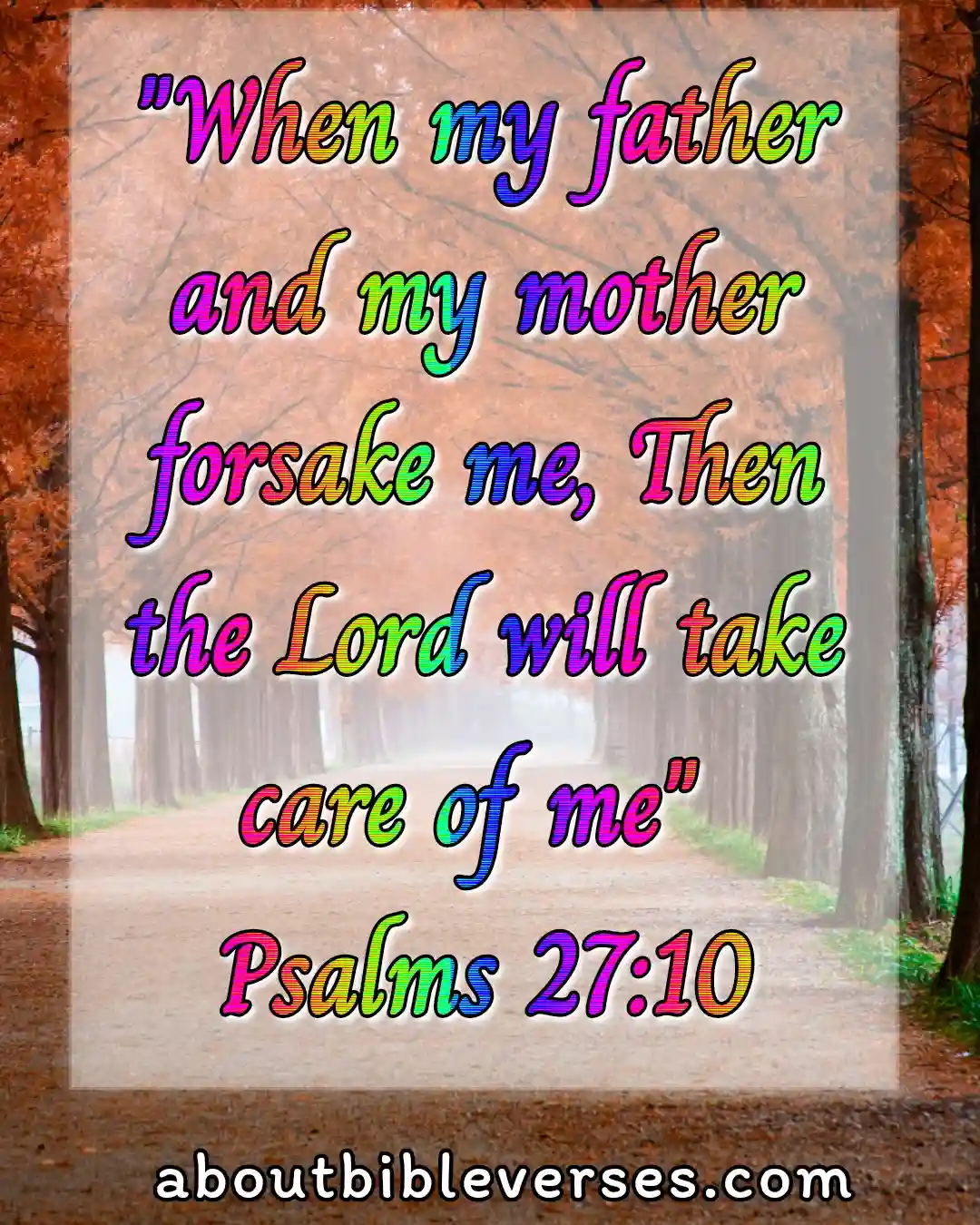 Psalm 27:10(KJV)"When my father and my mother forsake me, then the Lord will take me up"
Explanation:- When our parents forsake us we should not despair because we have a hope that Jesus is with us; he is our spiritual father. We are the lost sheep and he is our shepherd who gave his life on the cross to redeem us from the power of death.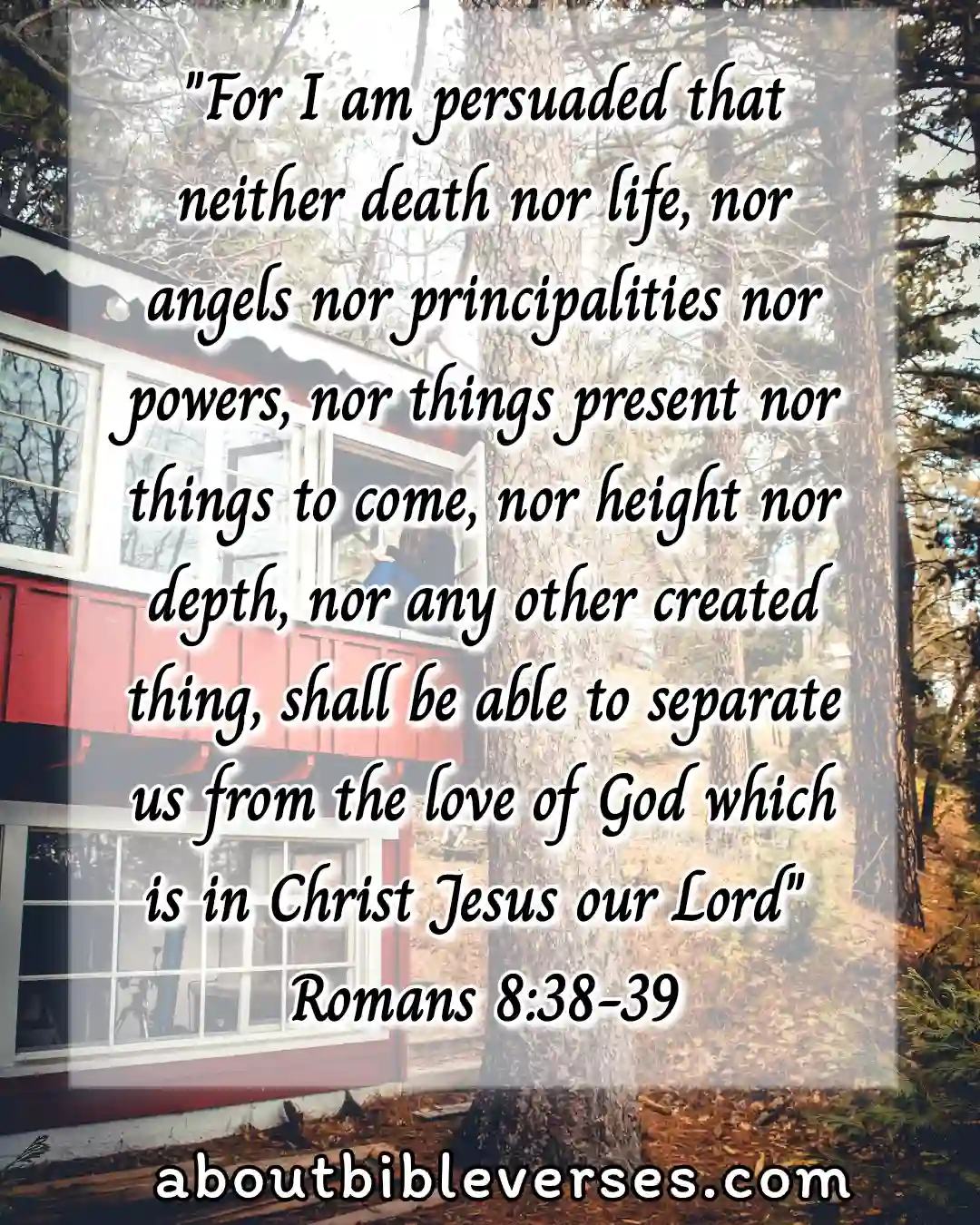 Romans 8:38-39(KJV)"For I am persuaded, that neither death, nor life, nor angels, nor principalities, nor powers, nor things present, nor things to come, Nor height, nor depth, nor any other creature, shall be able to separate us from the love of God, which is in Christ Jesus our Lord"
Explanation:- Nothing in this world has the power to destroy us. The moment we decide to receive Jesus and walk in his promises something starts to change in our spiritual realm. The Lord Jesus Christ takes the responsibility for our lives and he starts to control us from all of our thoughts and he leads us into the way of eternal life.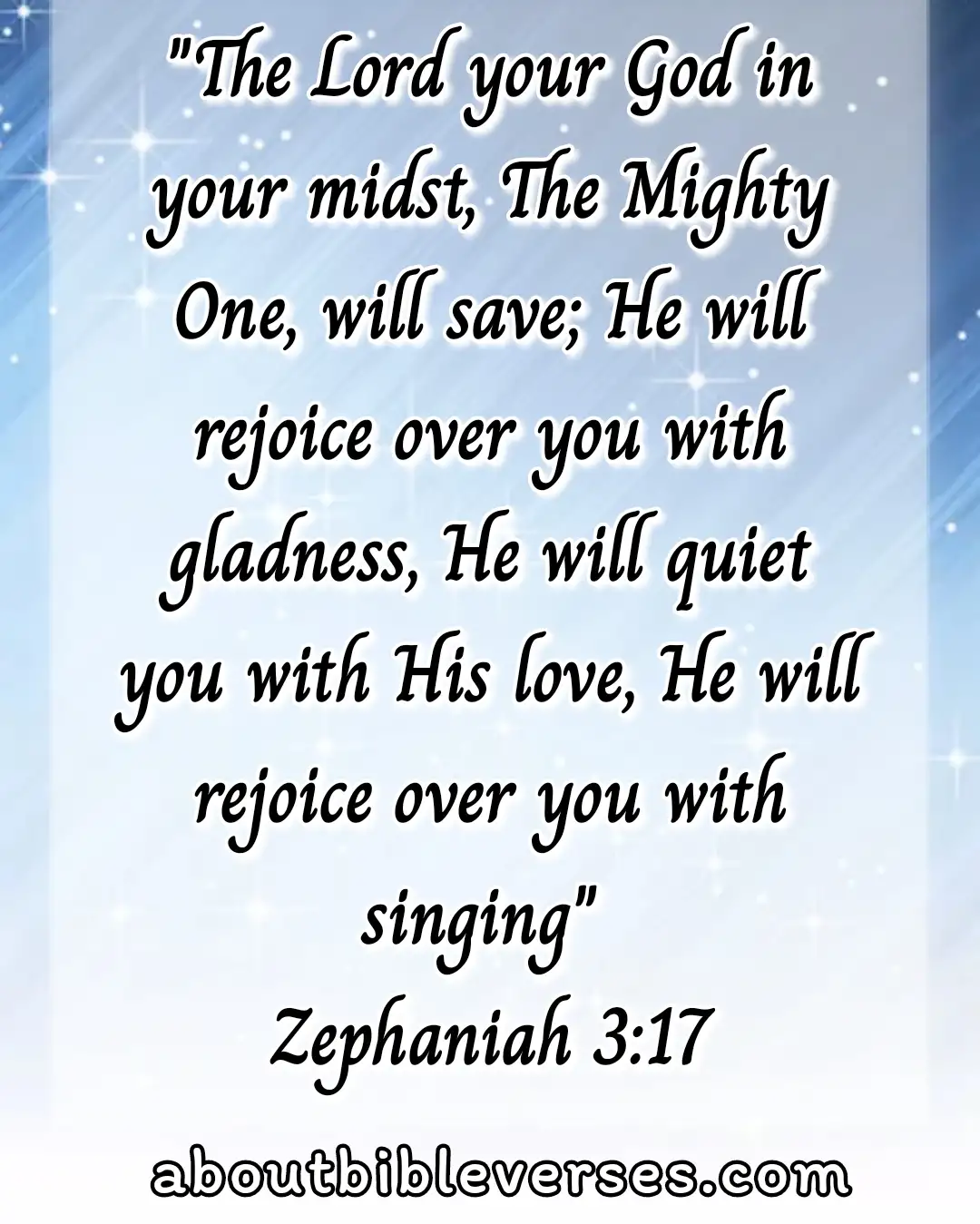 Zephaniah 3:17(KJV)"The Lord thy God in the midst of thee is mighty; he will save, he will rejoice over thee with joy; he will rest in his love, he will joy over thee with singing"
Explanation:- God is our protector and he is always ahead of us. He knows all our weaknesses and he will save us from all our harmful enemies. We need to live a life of happiness because our God is with us and he is able to deliver us from all our problems.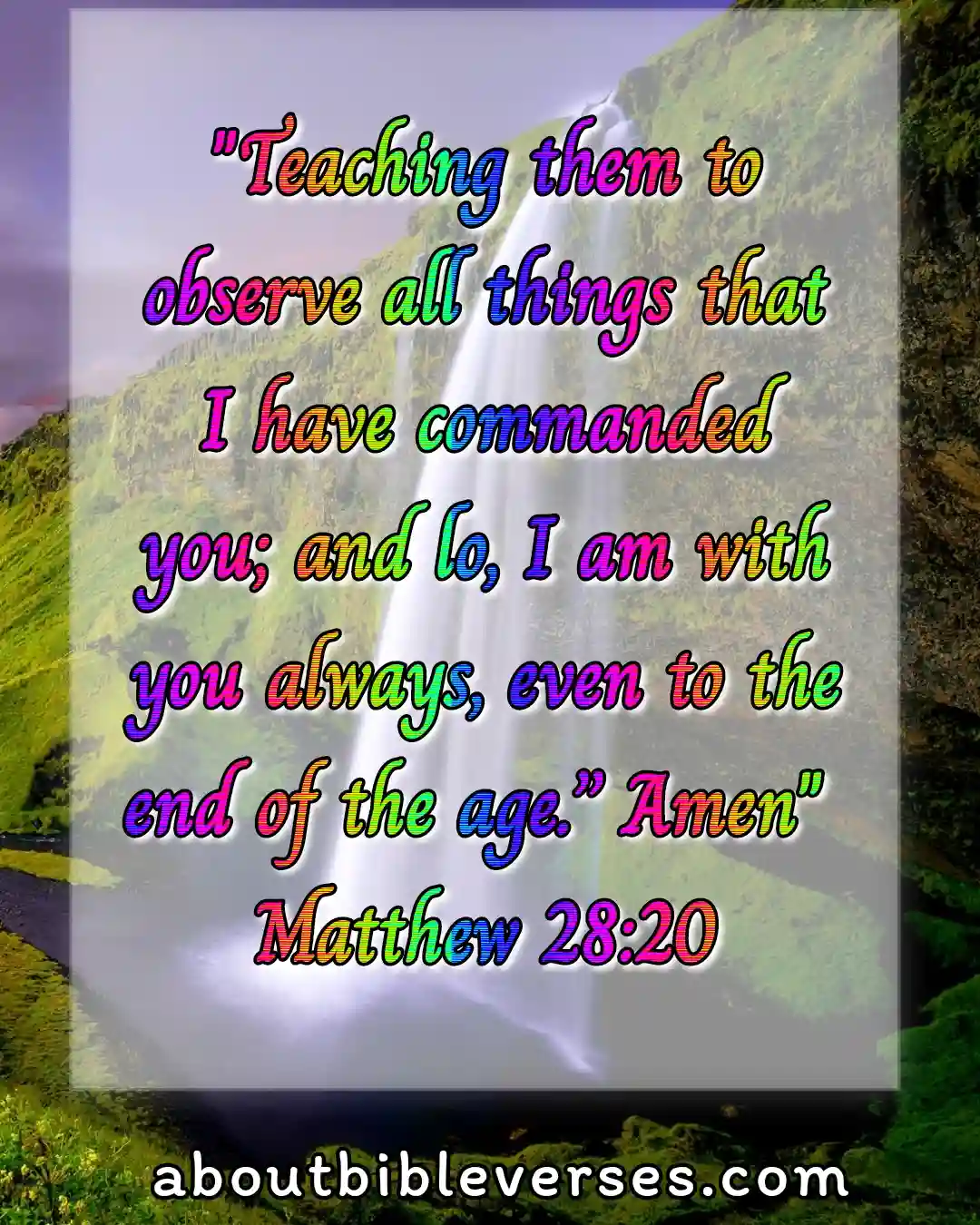 Matthew 28:20(KJV)"Teaching them to observe all things whatsoever I have commanded you: and, lo, I am with you always, even unto the end of the world. Amen"
Explanation:- Jesus commanded his disciples to teach all the things that he told them. In today's time as a believer, we all should obey all the words of Jesus to inherit the kingdom of God which will be revealed to us after the second coming of Jesus.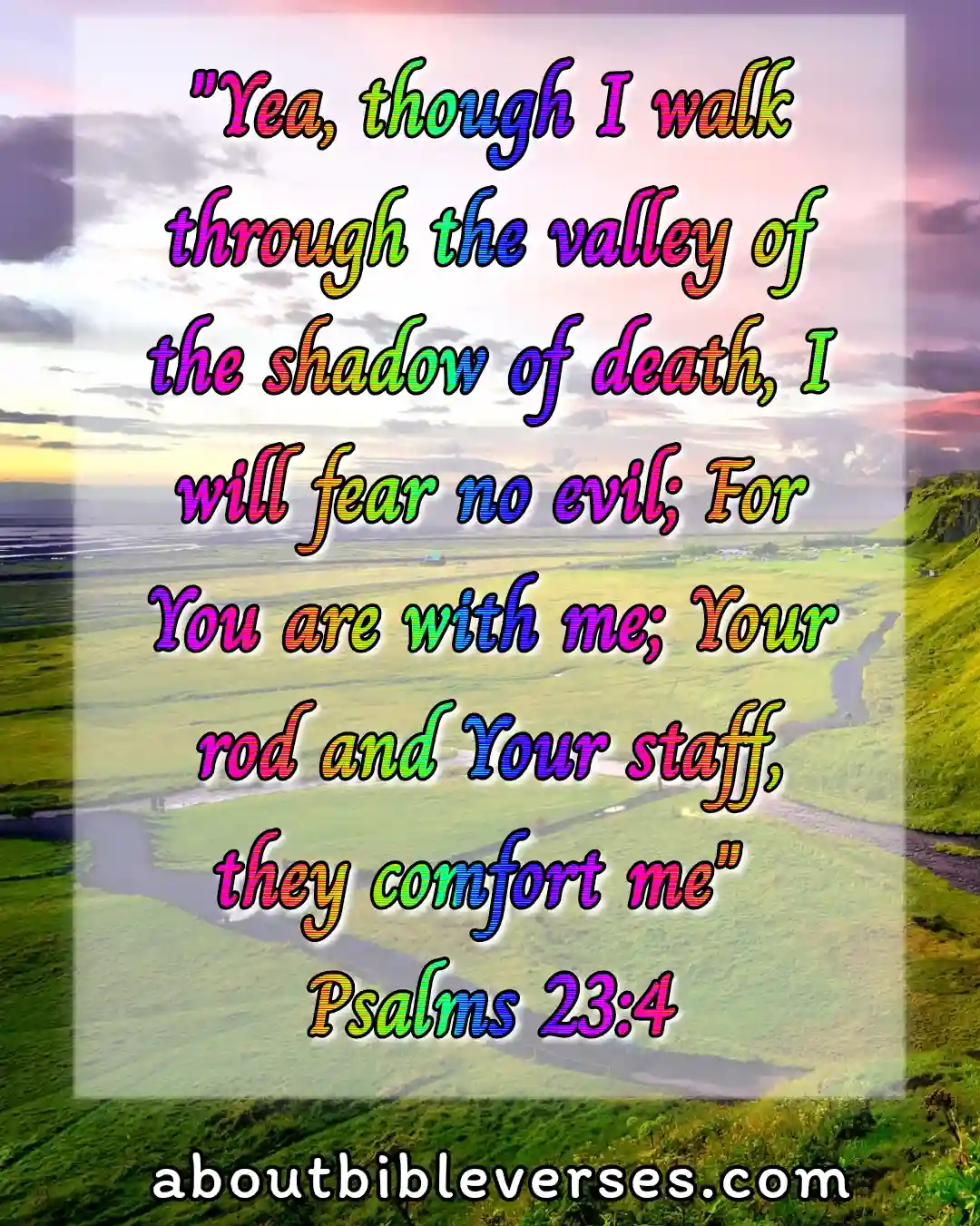 Psalm 23:4(KJV)"Yea, though I walk through the valley of the shadow of death, I will fear no evil: for thou art with me; thy rod and thy staff they comfort me"
Explanation:- We should have the courage that our God is with us even when we walk in the valley of death. He is our mighty God who has bought us from the power of Satan. We belong to him and nothing can snatch us out of his hand. We are his children and he is a loving father who always cares for us even when we are in great danger.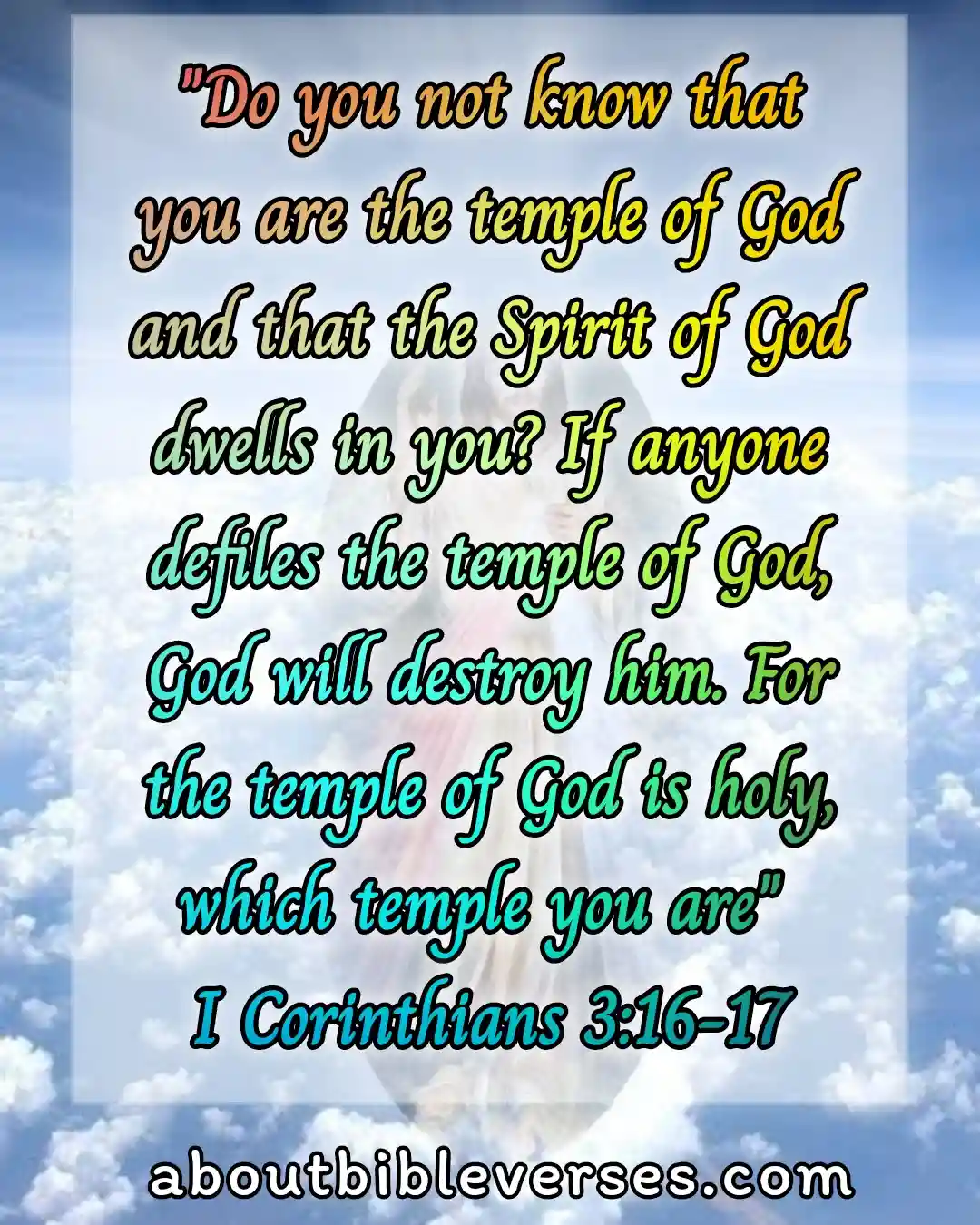 1 Corinthians 3:16(KJV)"Know ye not that ye are the temple of God, and that the Spirit of God dwelleth in you?"
Explanation:- The scripture says that we are the children of God so we must consider all our ways as we are the temple of the living God. We must present ourselves holy before God as he wants us to live a holy life that pleases him.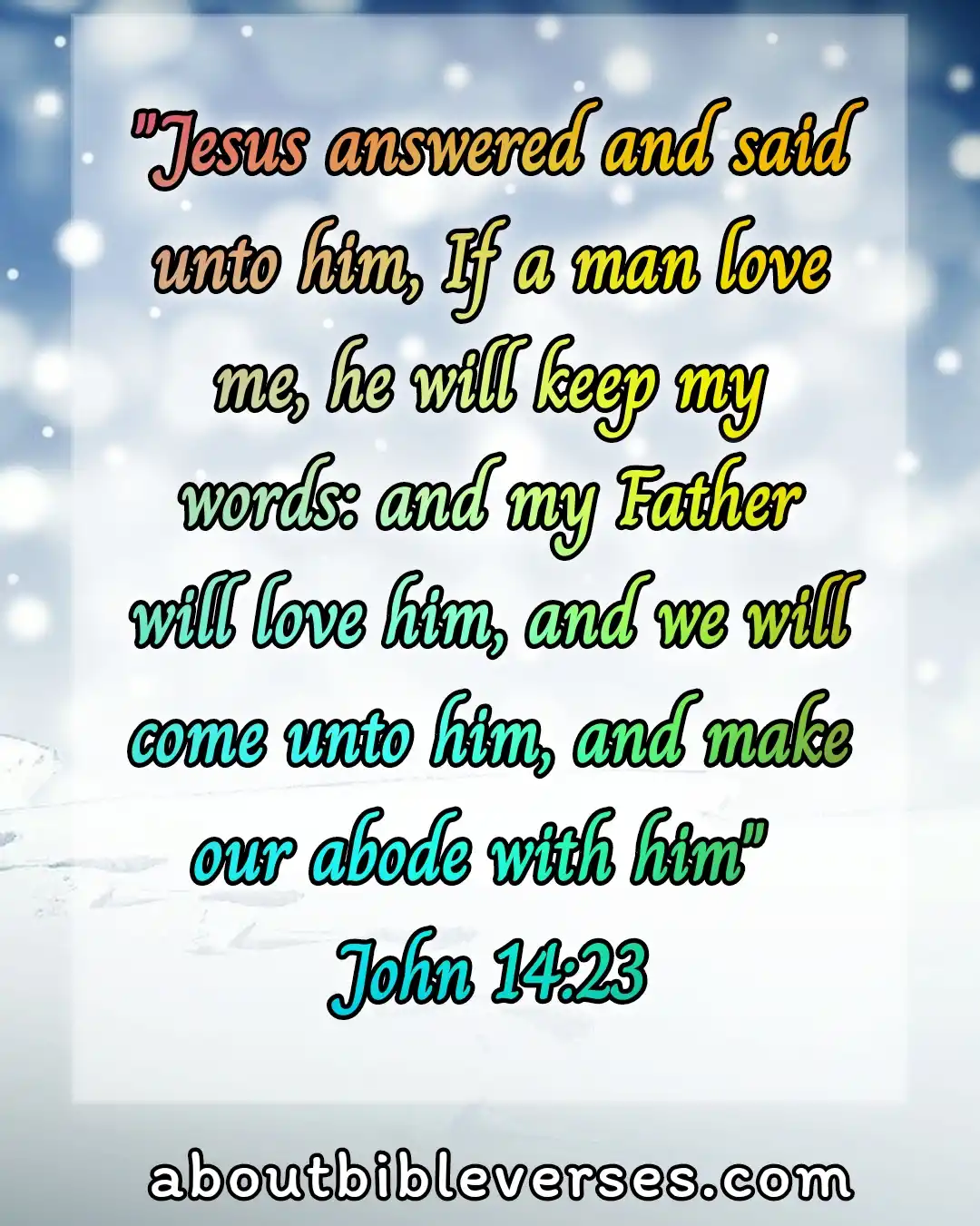 John 14:23(KJV)"Jesus answered and said unto him, If a man love me, he will keep my words: and my Father will love him, and we will come unto him, and make our abode with him"
Explanation:- If we follow all the teachings of Jesus and keep his words in our hearts and live a life that he desires then he will always be with us and the Father will also reveal himself before us.