Jesus has called us to live a holy life because He demands us to be equal with his standards. Most of the time we don't understand what the holidays mean. We need to remember that we have to give up all kinds of evil practices.
We live on this earth not to satisfy our physical desires but we have to please God. To fulfill the will of God we must leave holy and at the same time, we have to receive the Holy Spirit which will help us to live a godly life in this sinful world.
Let us see the following verses which will help us to live a holy life under the guidance of the Holy Spirit.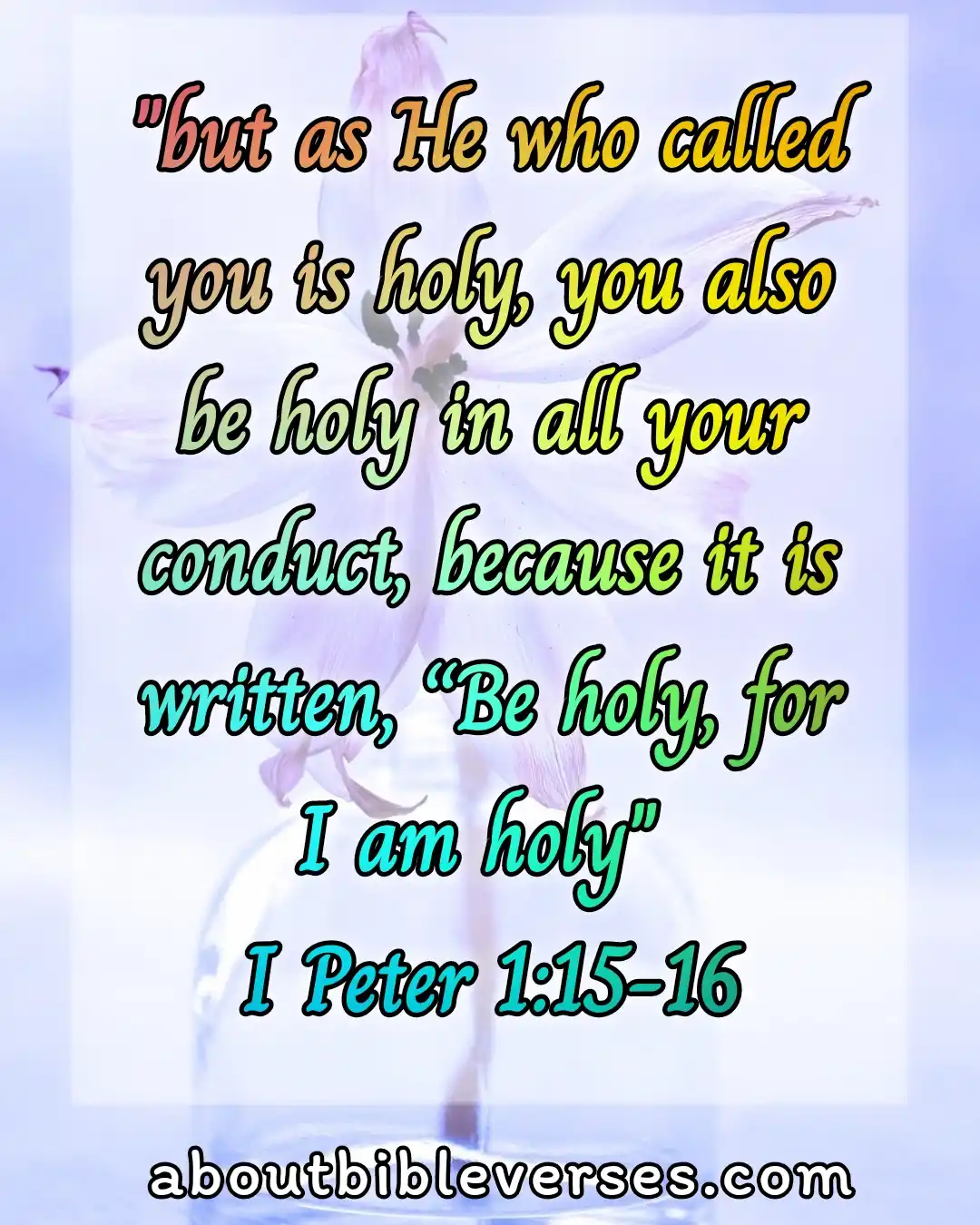 1 Peter 1:15-16(KJV)" But as he which hath called you is holy, so be ye holy in all manner of conversation; Because it is written, Be ye holy; for I am holy"
Explanation:- We need to live a holy life so that God can dwell in our hearts. As Jesus Christ is holy so we must maintain holiness in our everyday life.
In our words and works, we have to show our holiness by which we will prove that we are the children of God.
When Adam and Eve disobeyed the Lord, they were separated from the presence of God. Jesus is the second Adam who made the way of salvation by shedding his blood on the cross.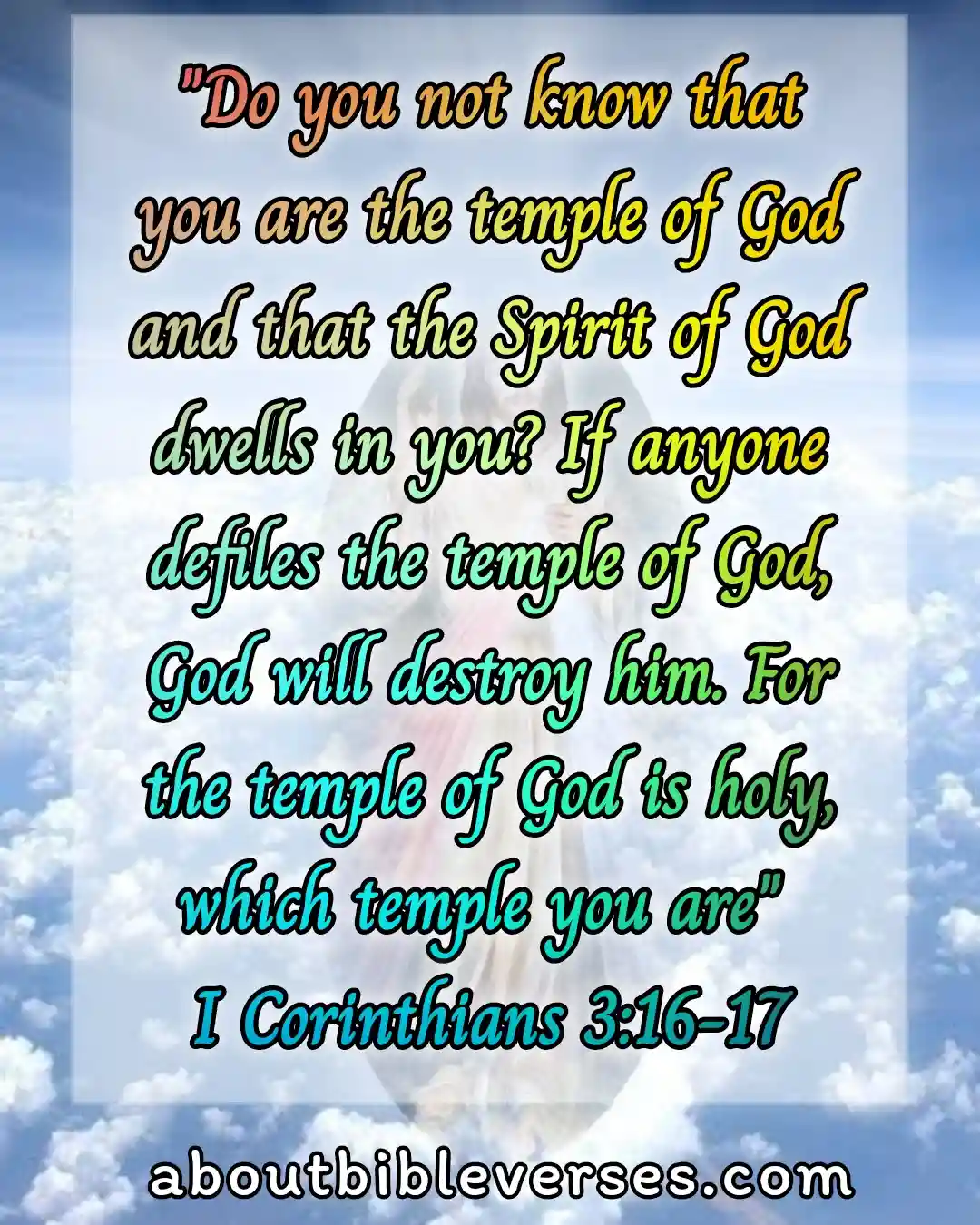 1 Corinthians 3:16-17(KJV)"Know ye not that ye are the temple of God, and that the Spirit of God dwelleth in you? If any man defile the temple of God, him shall God destroy; for the temple of God is holy, which temple ye are"
Explanation:- We are the temple of the highest God. We must keep ourselves Holi from all kinds of evil things.
If we live an unholy life then God himself will destroy us. God wants us to be equal with his standard of holiness. We cannot see God until we wash away our sins with the precious blood of Jesus.
We are called to be holy and separated from our sins so that we can reach the Father who is in heaven.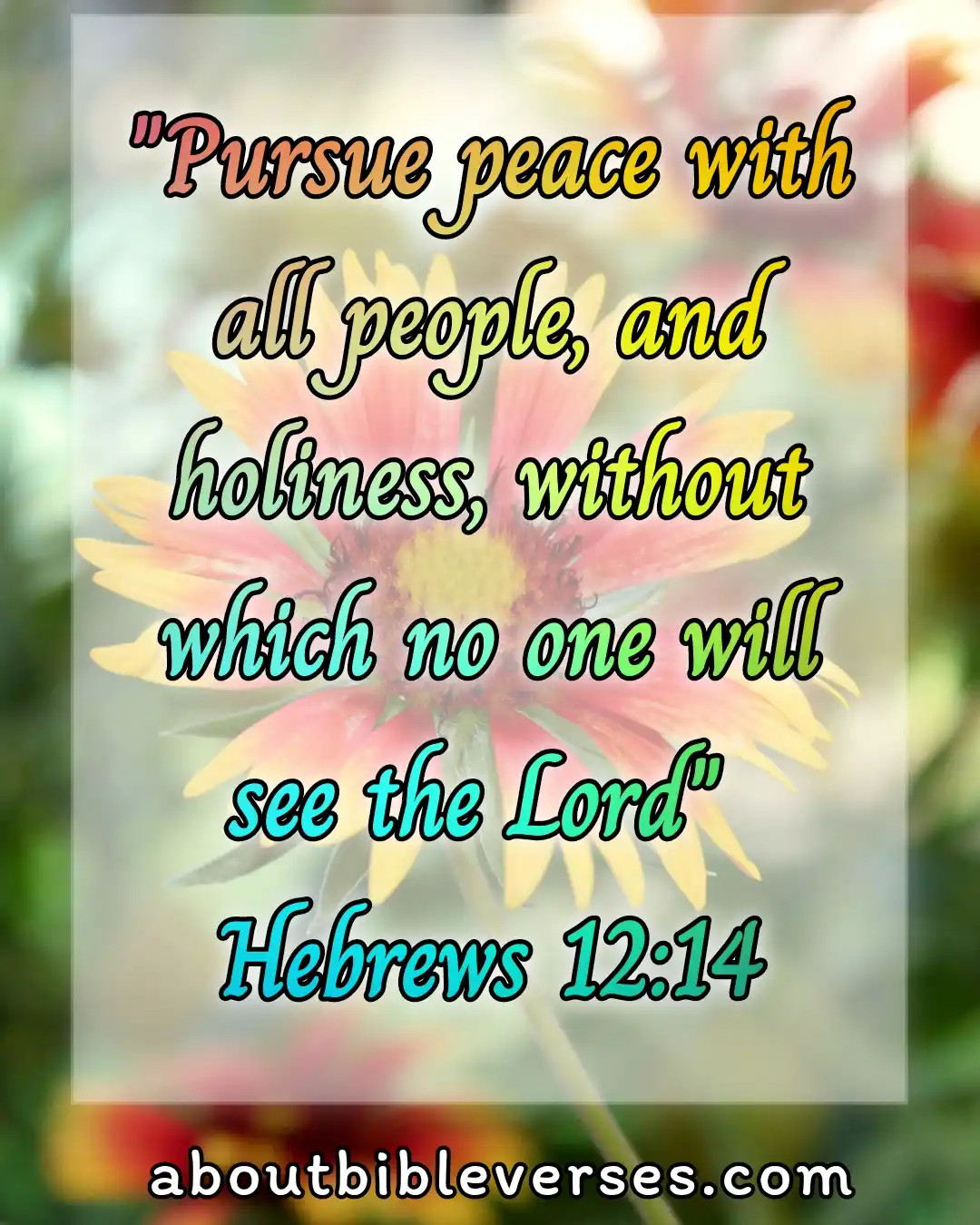 Hebrews 12:14(KJV)"Follow peace with all men, and holiness, without which no man shall see the Lord"
Explanation:- If a person obeys all the commandments of Lord Jesus Christ but does not walk in holiness then it is true that he hasn't seen God.
Without holiness, none can please God. The holiness of God separated man from his presence. But his love makes another way to be connected with him again. Jesus is the only way that has given to us by which we can receive forgiveness from the Lord.
Psalm 99:9(KJV)"Exalt the Lord our God, and worship at his holy hill; for the Lord our God is holy"
Explanation:- The Lord claims that he is the Holy God and he wants us to be holy while we come before him. 
We should remember that we have to please God at any cost because he is the source of everything in our life.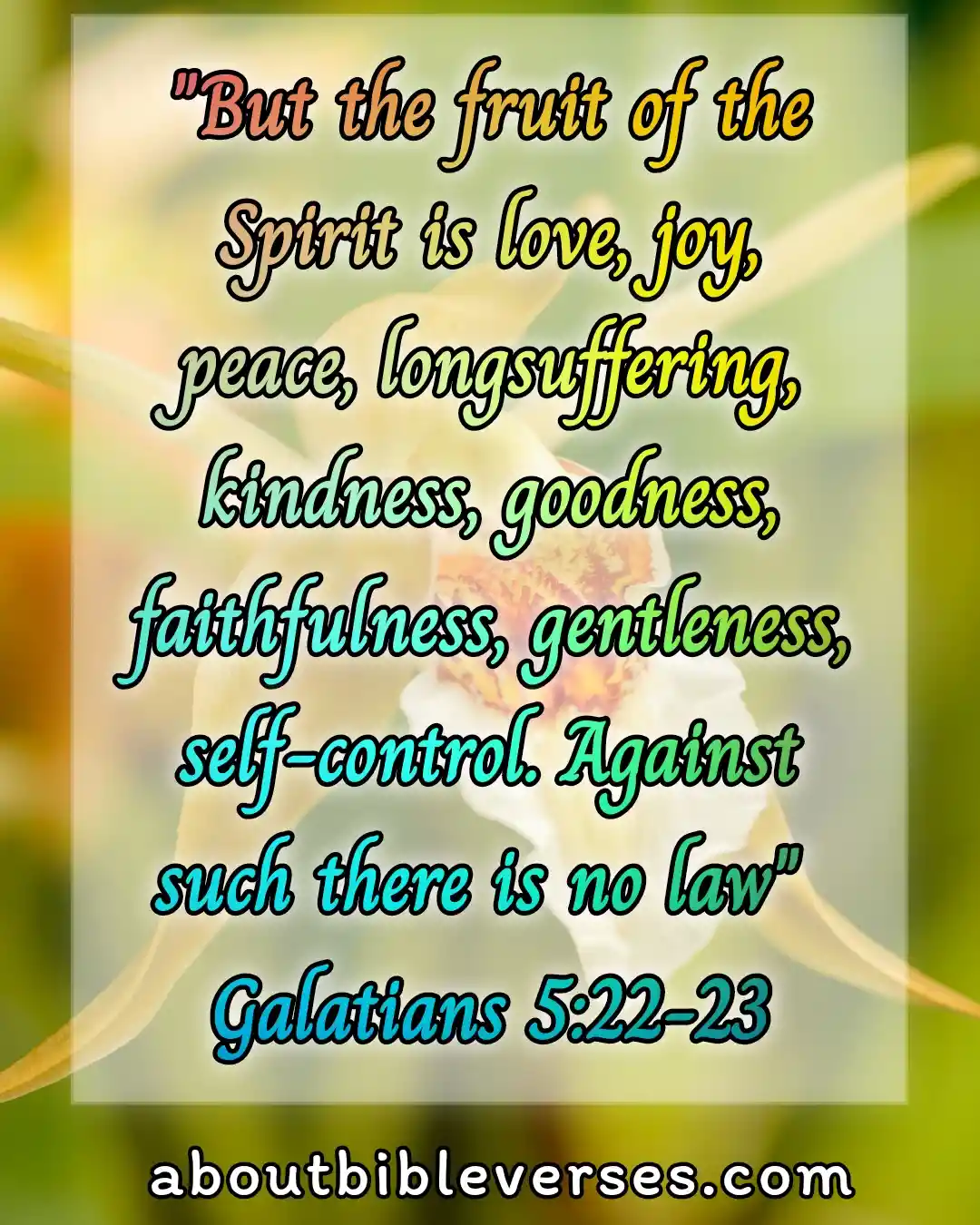 Galatians 5:22-23(KJV) "But the fruit of the Spirit is love, joy, peace, longsuffering, gentleness, goodness, faith, Meekness, temperance: against such there is no law"
Explanation:- When we receive the Holy Spirit we get love, joy, peace, and long-suffering. When we work according to the will abort at that time God gives us his spirit and we become his children. By his spirit, we get the power and it helps us to overcome this world.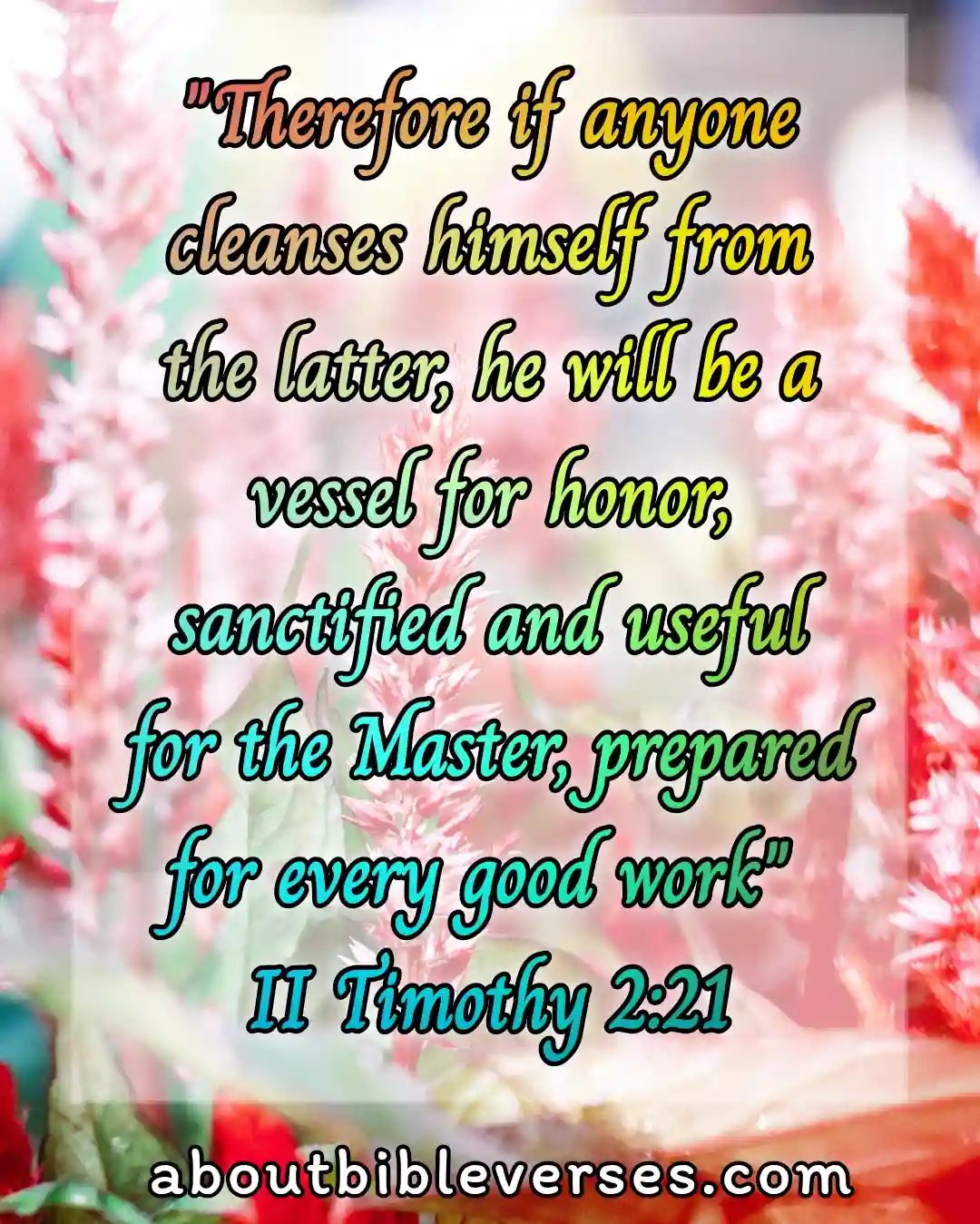 2 Timothy 2:21(KJV)"If a man therefore purge himself from these, he shall be a vessel unto honour, sanctified, and meet for the master's use, and prepared unto every good work"
Explanation:- If we indulge ourselves in the works of God and live by the guidance of his spirit then we will have a different life from others. We can boldly say that we are the children of God and we have the power of God in us.
None can snatch the power of God from us because it is God who desires us to pour out his spirit upon us.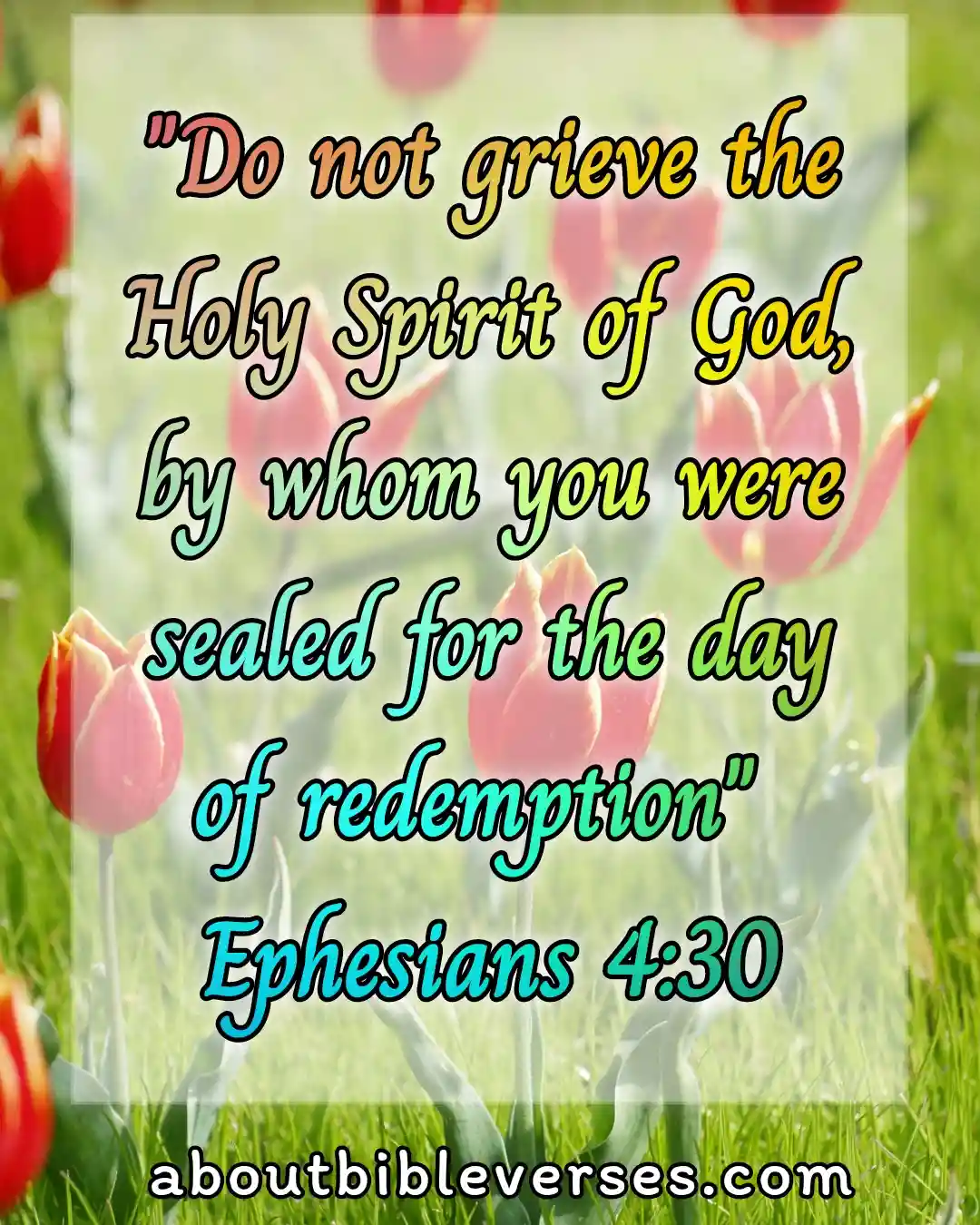 Ephesians 4:30(KJV)"And grieve not the holy Spirit of God, whereby ye are sealed unto the day of redemption"
Explanation:- When we receive the Holy Spirit it seals us and we need to live a holy life by which we can be able to please God.
We need to remember that God is dwelling in us so we must not do such works which grieve him.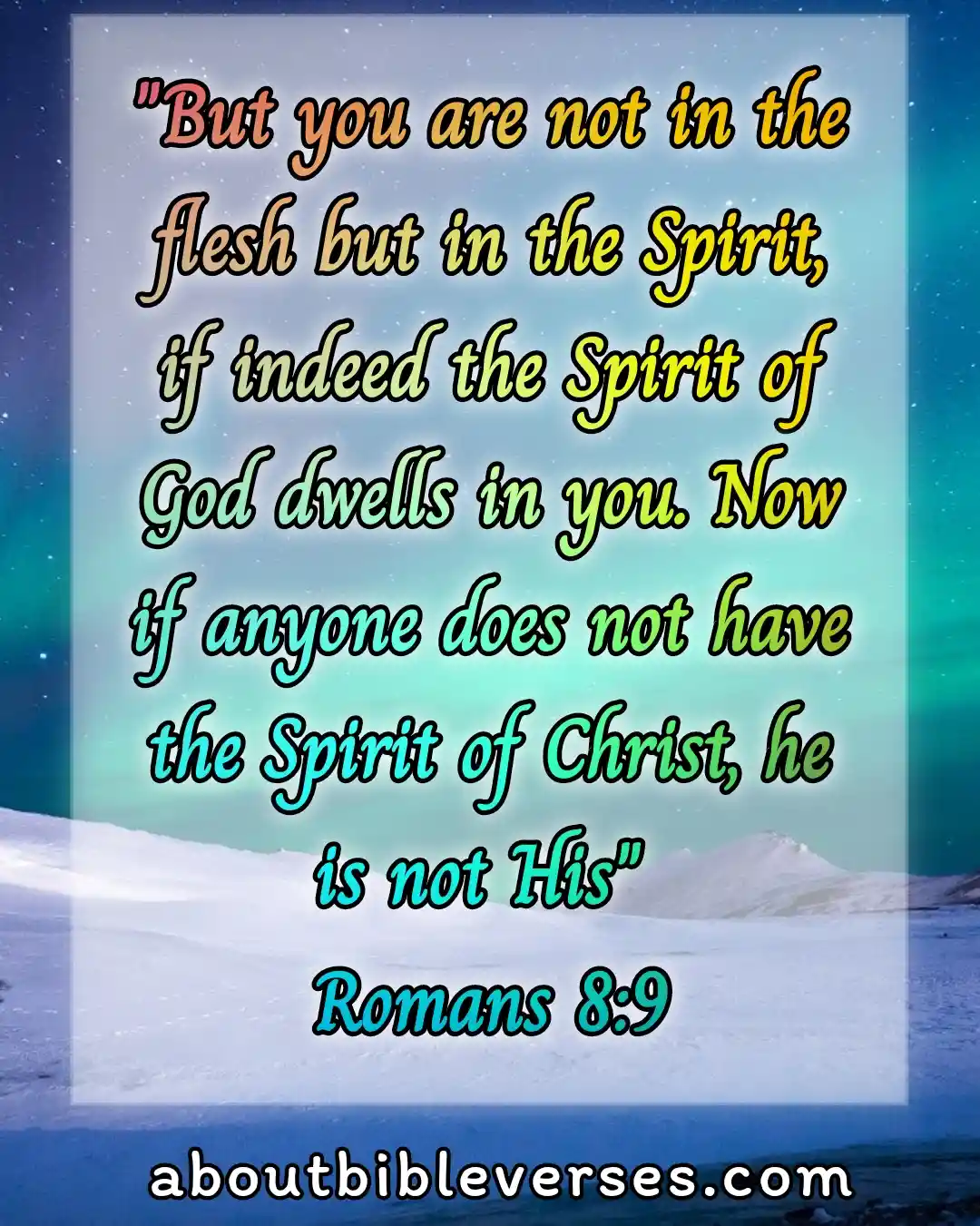 Romans 8:9(KJV)"But ye are not in the flesh, but in the Spirit, if so be that the Spirit of God dwell in you. Now if any man have not the Spirit of Christ, he is none of his"
Explanation:- When we receive Jesus we become his children and we have to receive his spirit as well so that we will have an internal connection with him.
If we do not receive His holy spirit then you will have no relation with him and in the time of the judgment, he will refuse us to enter his Kingdom.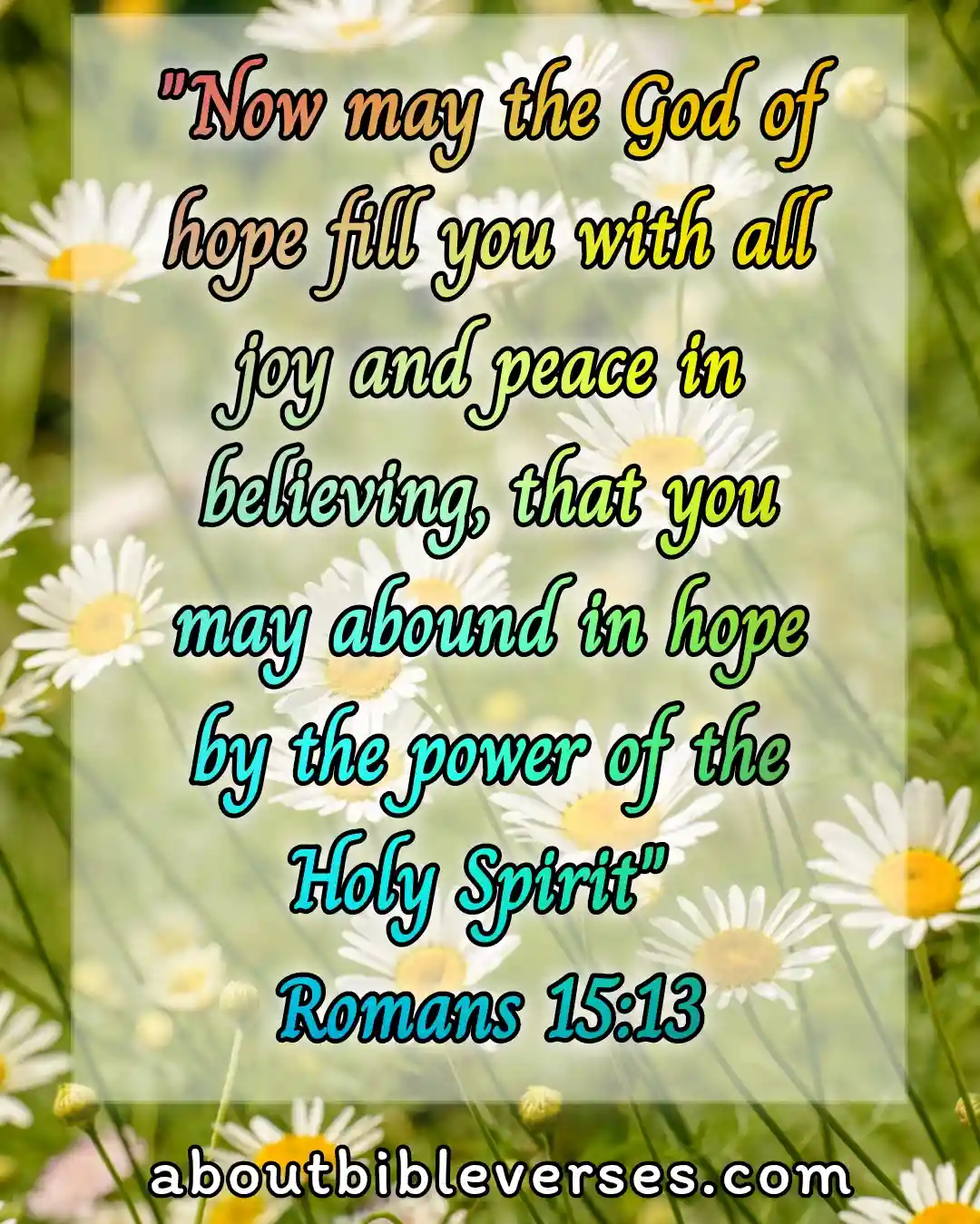 Romans 15:13(KJV)"Now the God of hope fill you with all joy and peace in believing, that ye may abound in hope, through the power of the Holy Ghost"
Explanation:- The Lord wants us to be filled with its speed so that we will have joy and peace in our hearts. In this world, we will not find peace in the midst of people but if we ask God to give us His holy spirit then we will be able to fight the fallen world.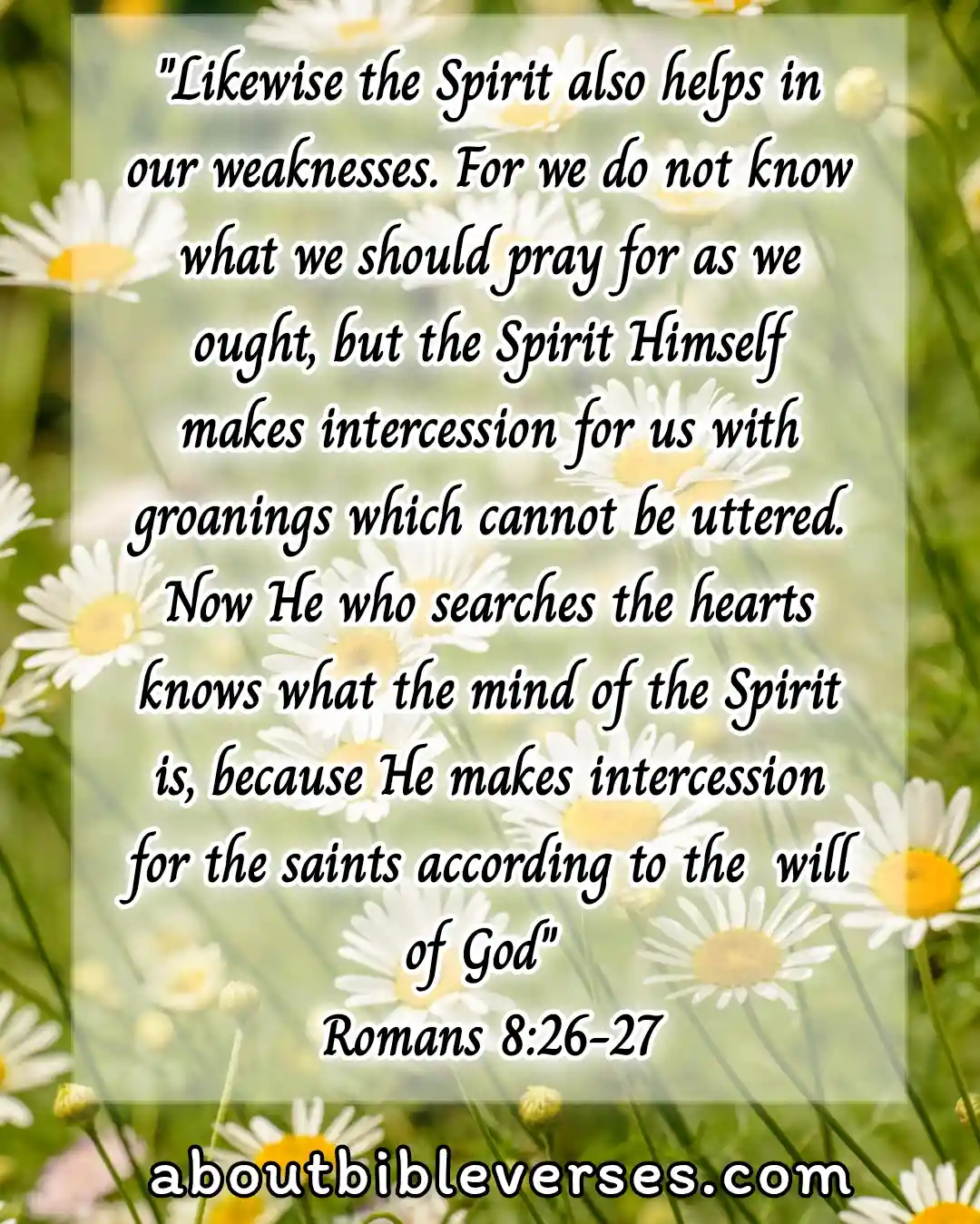 Romans 8:26-27(KJV)" Likewise the Spirit also helpeth our infirmities: for we know not what we should pray for as we ought: but the Spirit itself maketh intercession for us with groanings which cannot be uttered. And he that searcheth the hearts knoweth what is the mind of the Spirit, because he maketh intercession for the saints according to the will of God"
Explanation:- When we receive the spirit of God it guides the Us into our Christian life. The Holy Spirit teaches us how to pray and what to ask the Lord. It seeks the presence of God in our hearts.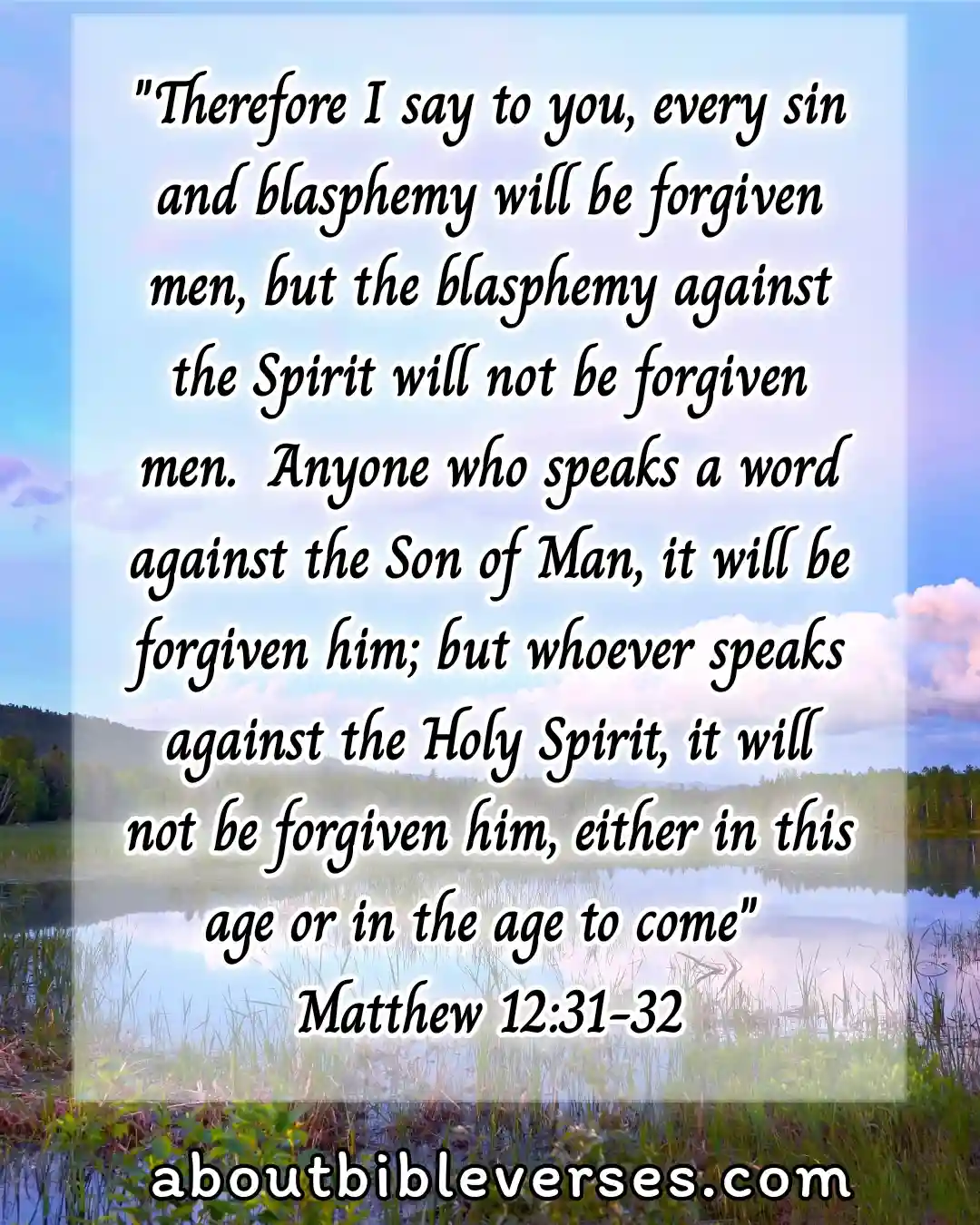 Matthew 12:31-32(KJV) "Wherefore I say unto you, All manner of sin and blasphemy shall be forgiven unto men: but the blasphemy against the Holy Ghost shall not be forgiven unto men. And whosoever speaketh a word against the Son of man, it shall be forgiven him: but whosoever speaketh against the Holy Ghost, it shall not be forgiven him, neither in this world, neither in the world to come"
Explanation:- God has told us in his scripture not to speak against the Holy Spirit. If a person is a thief or committed great sin will be forgiven in the sight of the Lord but if he spoke against the spirit of god will not be forgiven.
The person who worships the idols also be forgiven by the Lord if he confesses his sin.
But one who speaks against the spirit god will be condemned to death.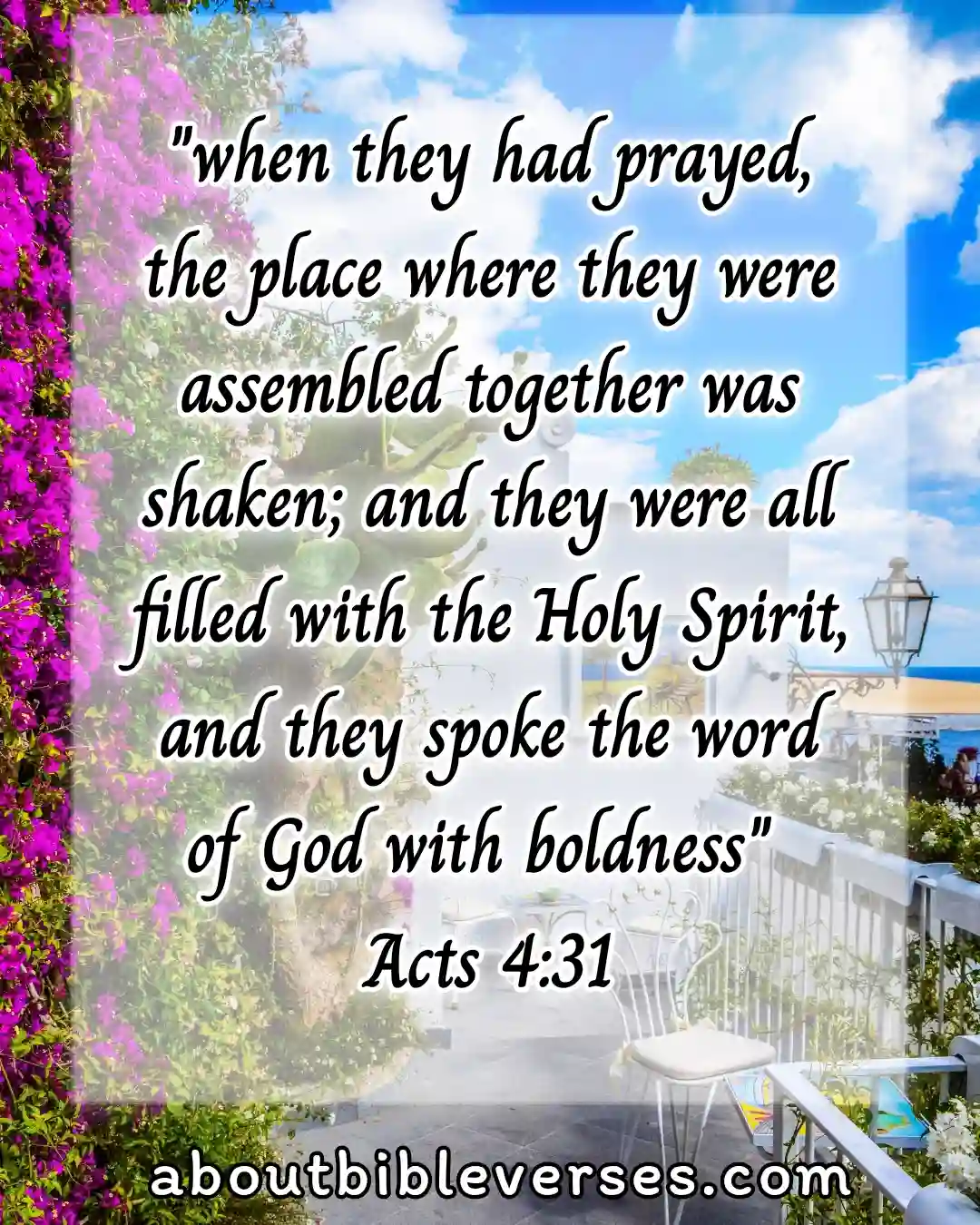 Acts 4:31(KJV)"And when they had prayed, the place was shaken where they were assembled together; and they were all filled with the Holy Ghost, and they spake the word of God with boldness"
Explanation:- The Lord has promised that he will send his spirit on the day of Pentecost. According to his promise, the Lord gave the spirit and everyone was surprised to see the unexpected incidents among them.
When the disciples were gathered together at that time the Spirit came upon them and they experienced a new thing in their lives.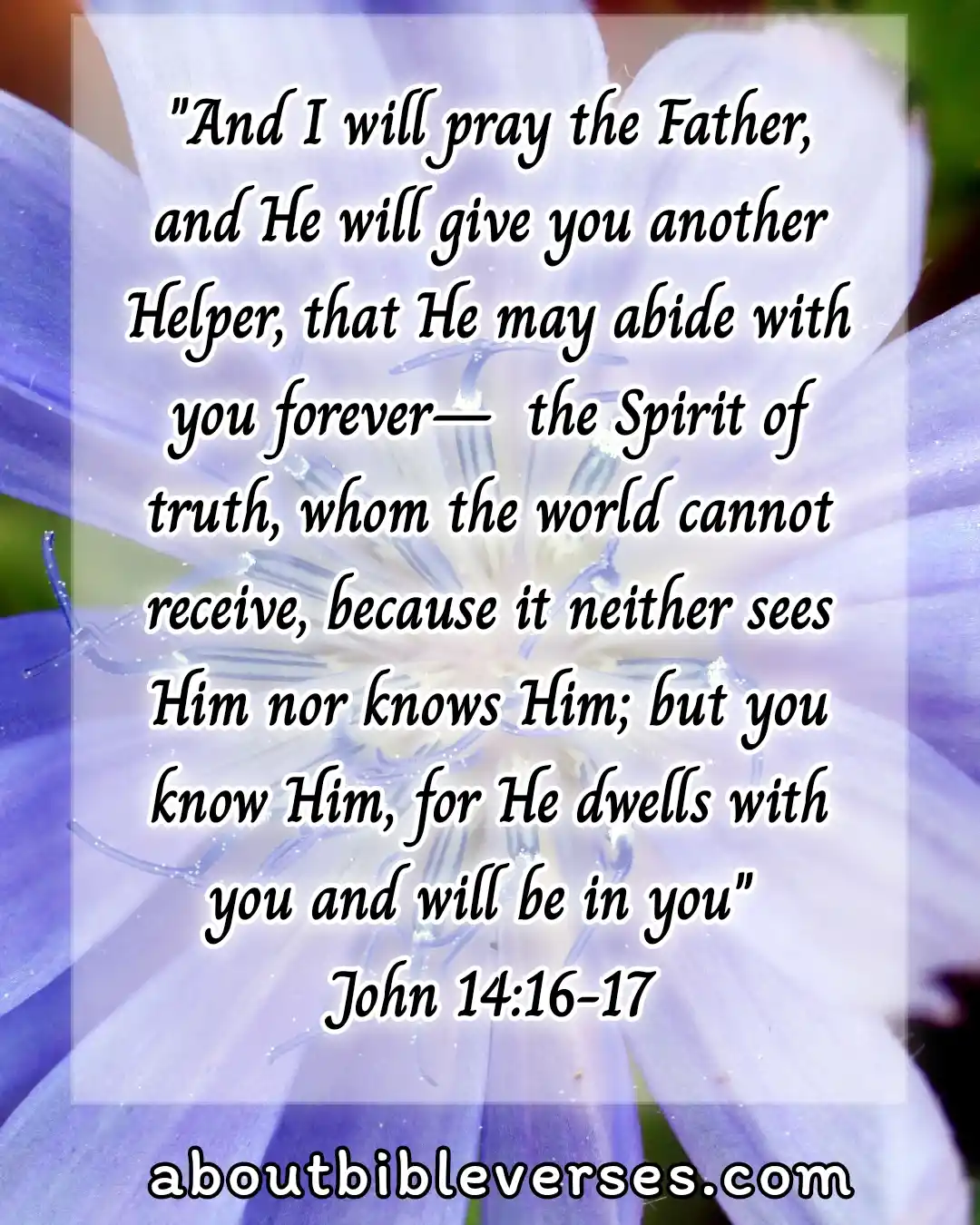 John 14:16-17(KJV)"And I will pray the Father, and he shall give you another Comforter, that he may abide with you forever; Even the Spirit of truth; whom the world cannot receive, because it seeth him not, neither knoweth him: but ye know him; for he dwelleth with you, and shall be in you"
Explanation:- Jesus is that he will send the Holy Spirit to his disciples after his ascension to heaven. The Holy Spirit will teach them what to do and how to begin their evangelism into the world.
We must pay to heed to what the holy spirit speaks in our hearts. We need to be faithful and loyal to the Lord as he will judge us after our death.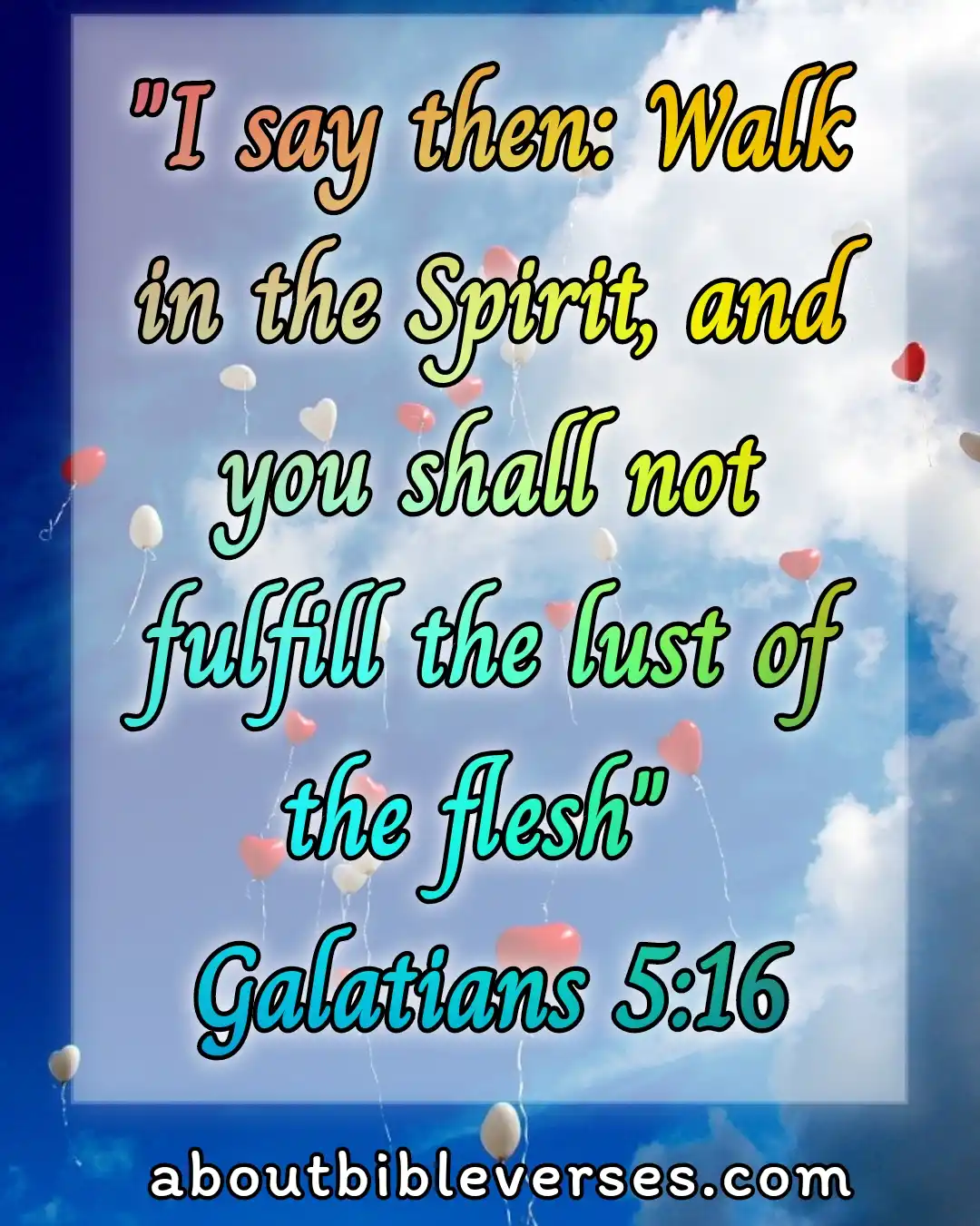 Galatians 5:16(KJV)"This I say then, Walk in the Spirit, and ye shall not fulfil the lust of the flesh"
Explanation:- We have to live in the spirit so that we will be able to get the strength to overcome our fleshly desires. We need the Holy Spirit's guidance as long as we are here on this earth.
Man tempts to live by flesh but it will lead to everlasting destruction. The words of God encourage us to live by the instruction of God's spirit which gives us eternal life.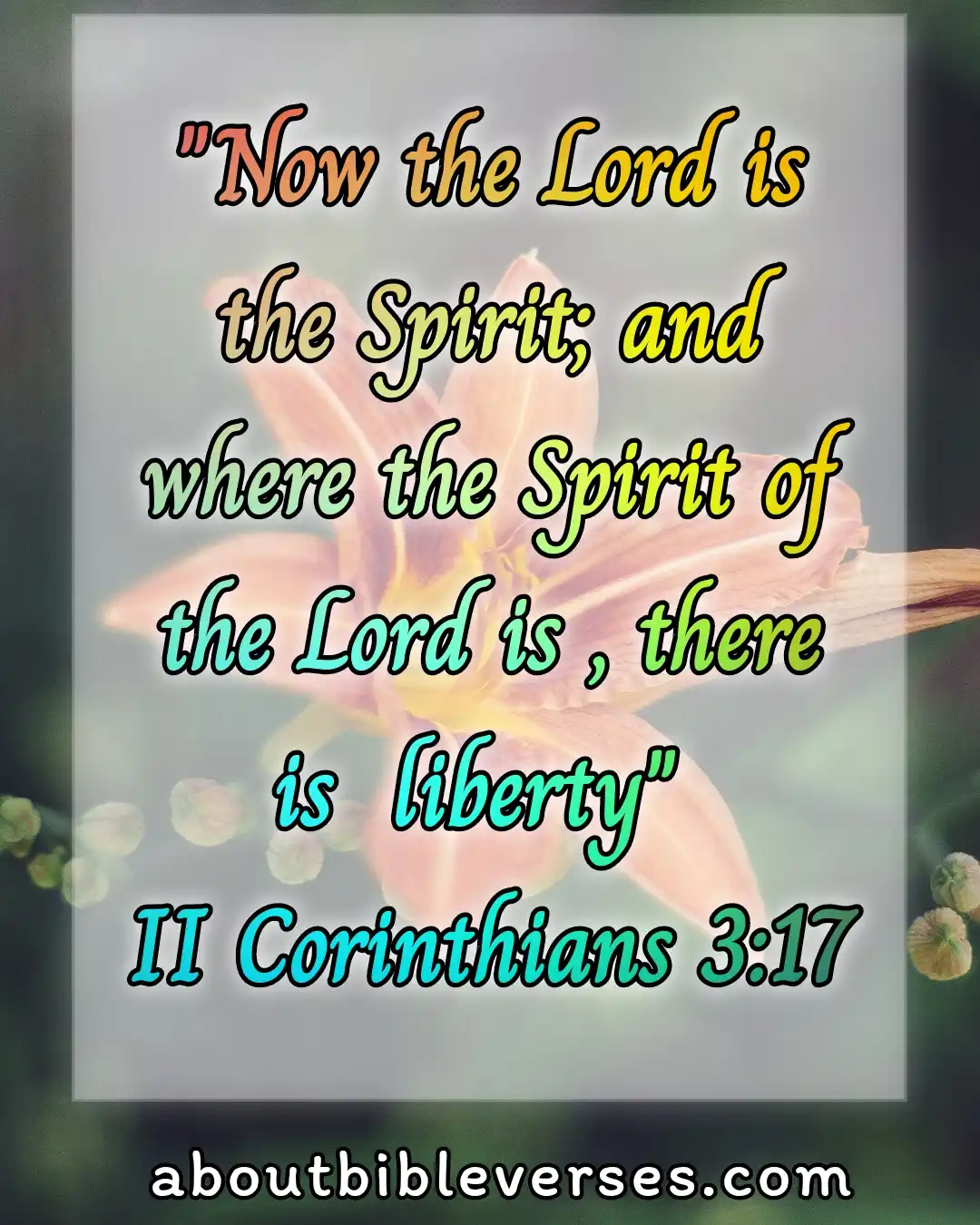 2 Corinthians 3:17(KJV)"Now the Lord is that Spirit: and where the Spirit of the Lord is, there is liberty"
Explanation:- God is a spirit and where God's spirit dwells liberty comes. In the world, we can find chaos and problems in the midst of the people but if they allow the spirit of the Lord in their midst then they will see a different picture in their lives.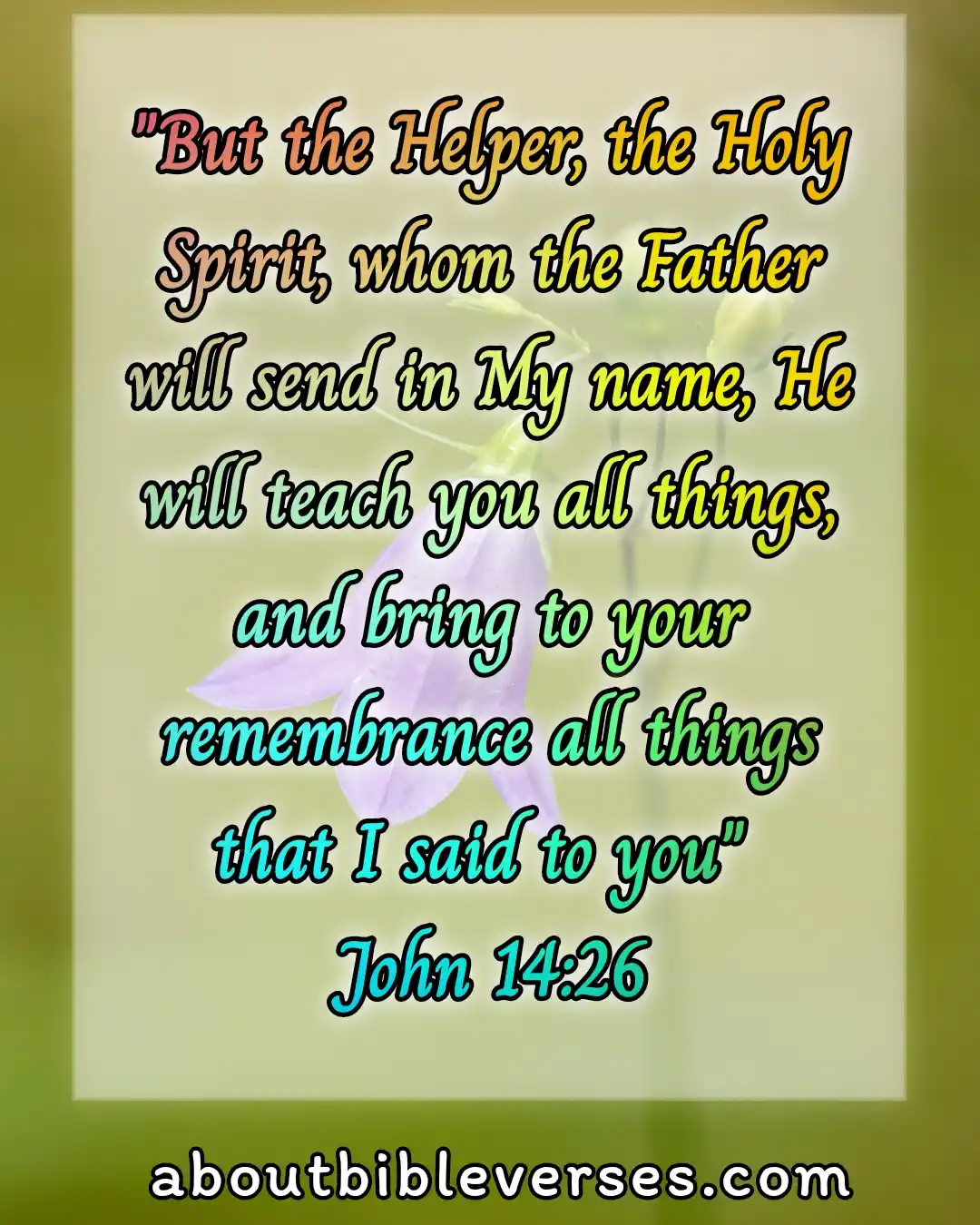 John 14:26(KJV)"But the Comforter, which is the Holy Ghost, whom the Father will send in my name, he shall teach you all things, and bring all things to your remembrance, whatsoever I have said unto you"
Explanation:- Jesus says that the Holy Spirit will teach us what we need to know about God. He also says that the spirit will come in his name.
Believing Jesus is not enough but we have to grow in him. To know much more about him we need the Holy Spirit which helps us to get more knowledge about him.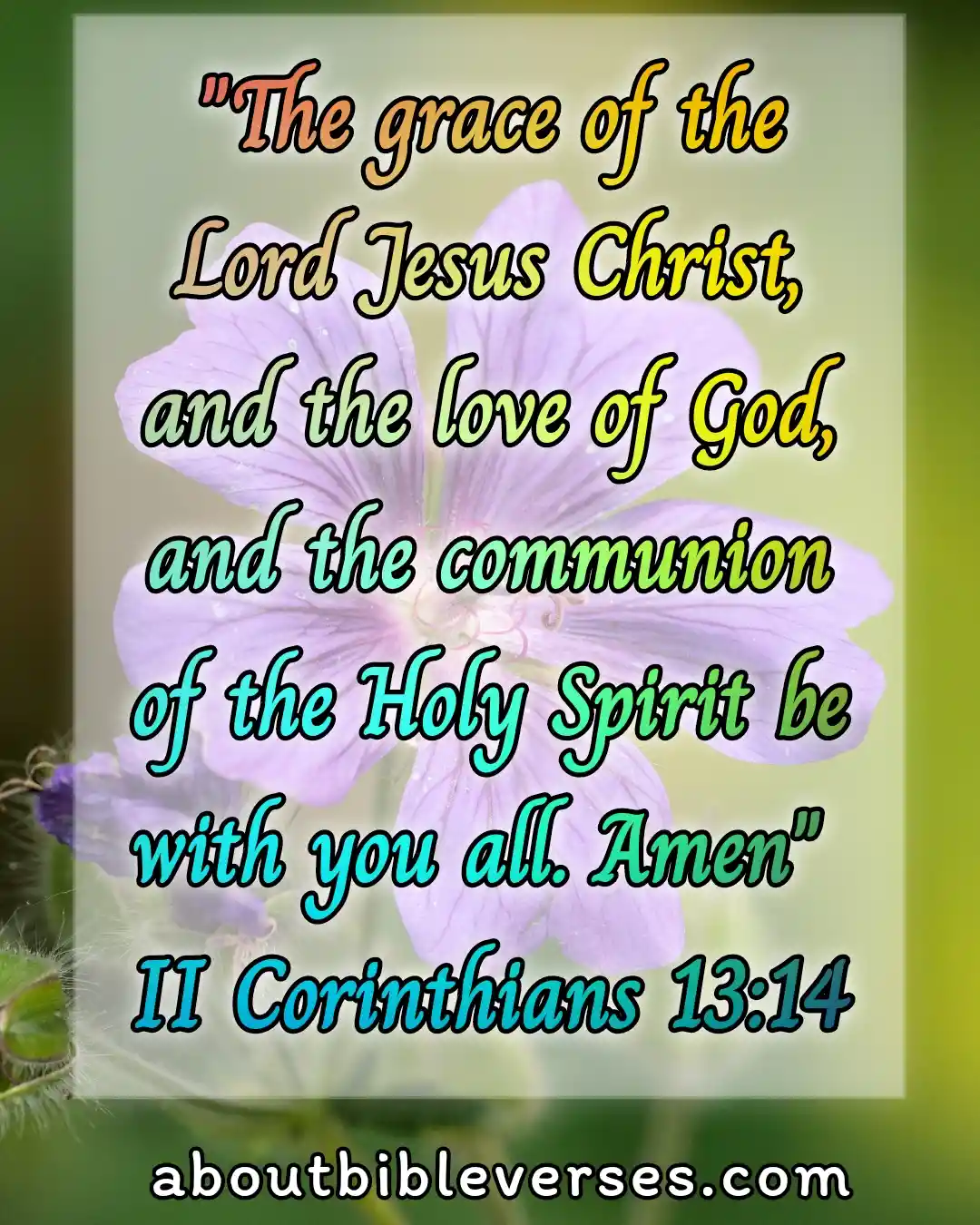 2 Corinthians 13:14(KJV)"The grace of the Lord Jesus Christ, and the love of God, and the communion of the Holy Ghost, be with you all. Amen"
Explanation:- In his letter, Paul says that the love of God and his grace will be upon us and the communion of the Holy Spirit will be with us forever.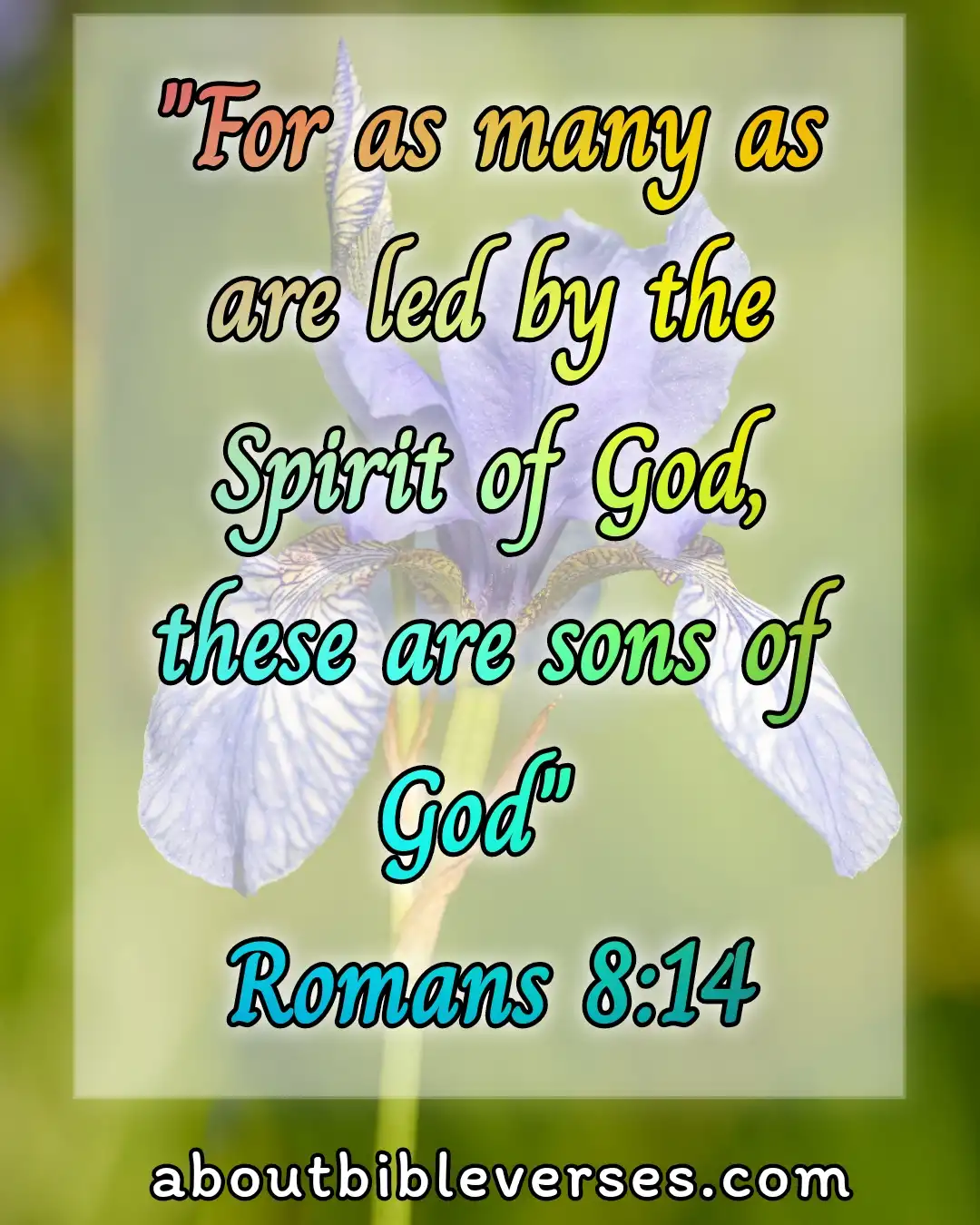 Romans 8:14(KJV)"For as many as are led by the Spirit of God, they are the sons of God"
Explanation:- If we do not get the spirit of God then we still remain far from his kingdom. We cannot claim that we are the sons of God. To be the sons of God we must possess his spirit.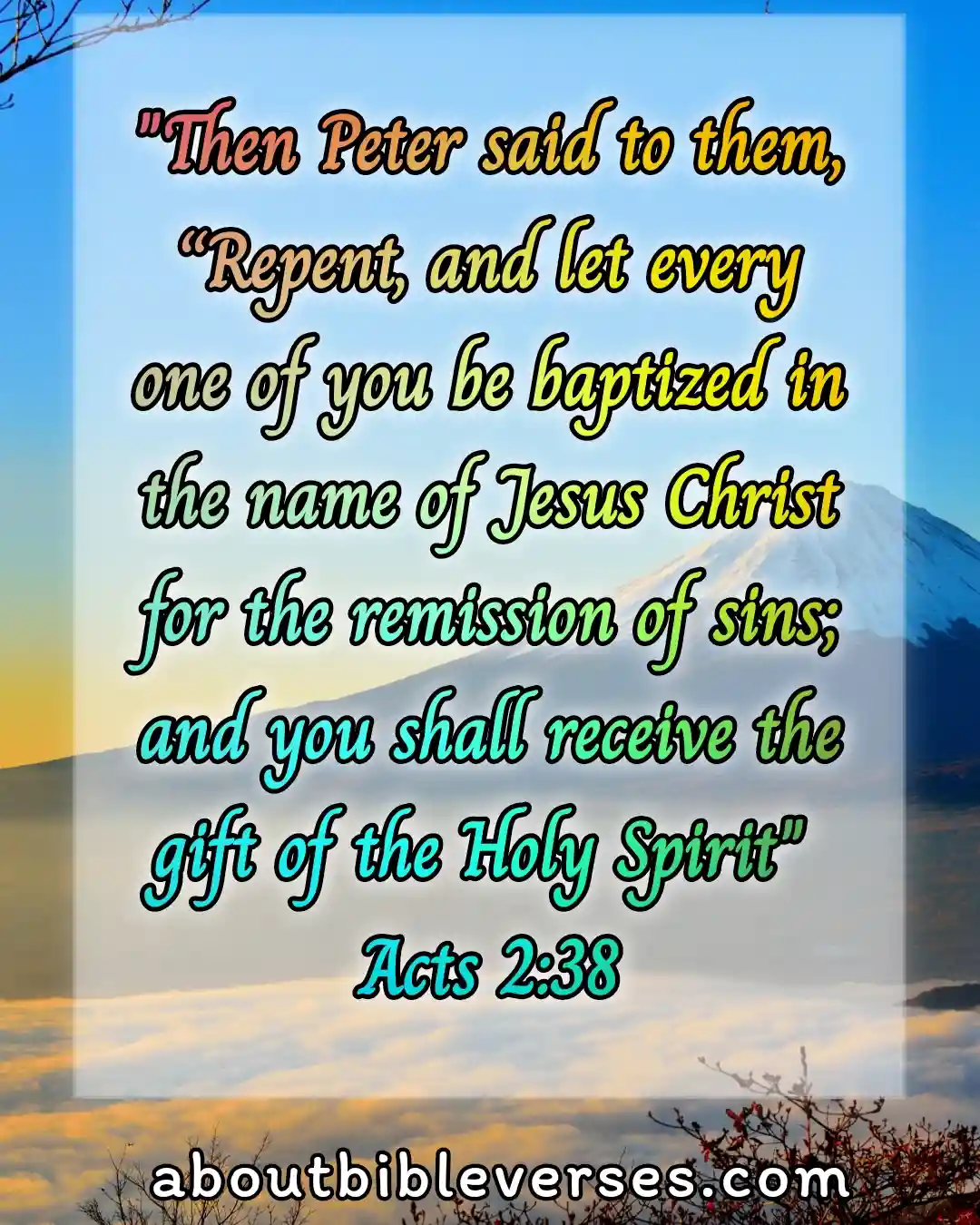 Acts 2:38(KJV)"Then Peter said unto them, Repent, and be baptized every one of you in the name of Jesus Christ for the remission of sins, and ye shall receive the gift of the Holy Ghost"
Explanation:- On the day of Pentecost when the spirit of God came down everyone was frightened. Peter stood up and he said that to be saved from the wrath ofGod we all need to repent for our sins and we have to take baptism in the name of Jesus for the remission of our sins.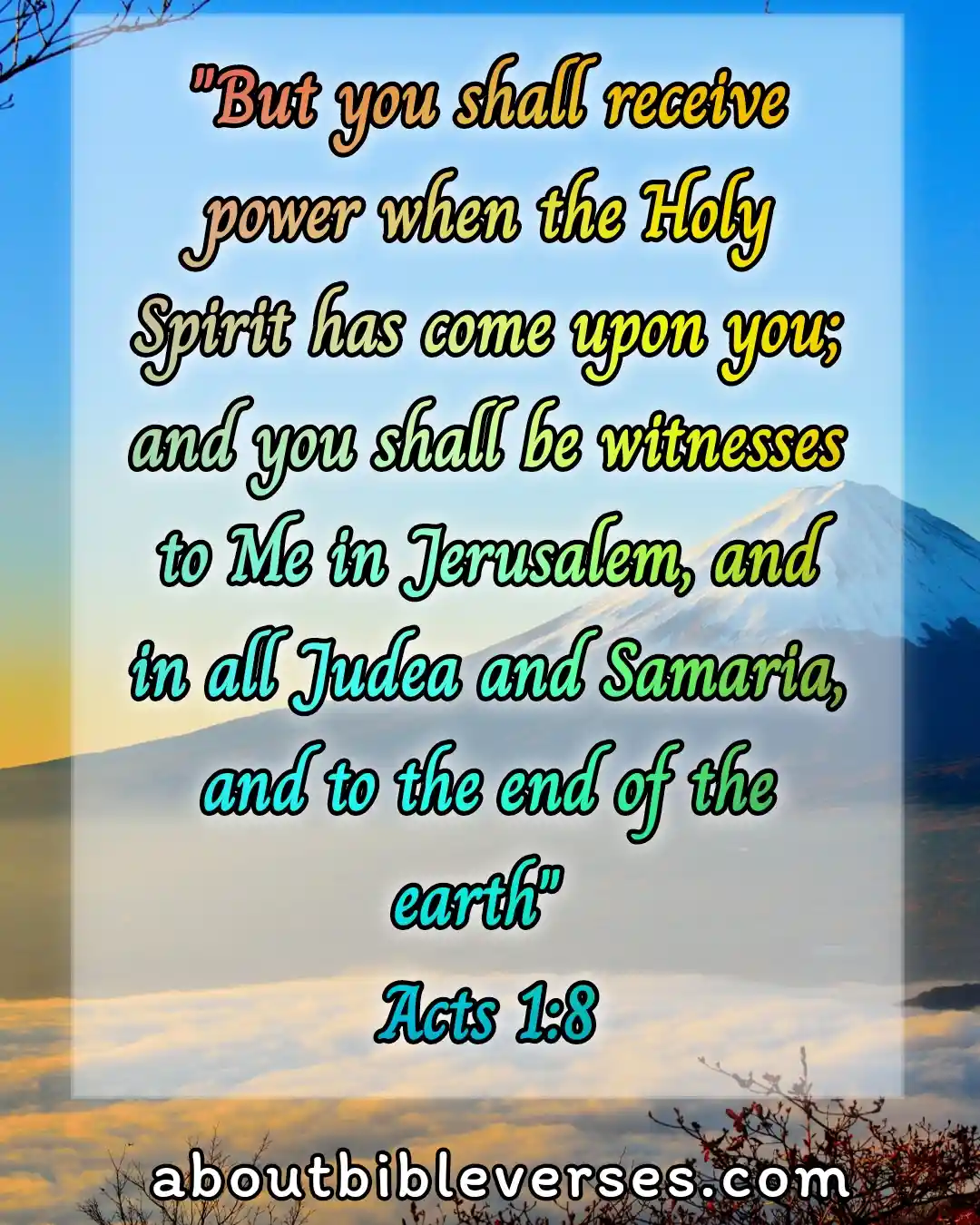 Acts 1:8(KJV)"But ye shall receive power, after that the Holy Ghost is come upon you: and ye shall be witnesses unto me both in Jerusalem, and in all Judaea, and in Samaria, and unto the uttermost part of the earth"
Explanation:- Jesus told his disciples to wait until they receive the Holy Spirit. When the spirit of God will come upon them they will get the power to begin their ministry which will begin at Jerusalem and from there they will go to Judea,  Samaria, and till the end of the world.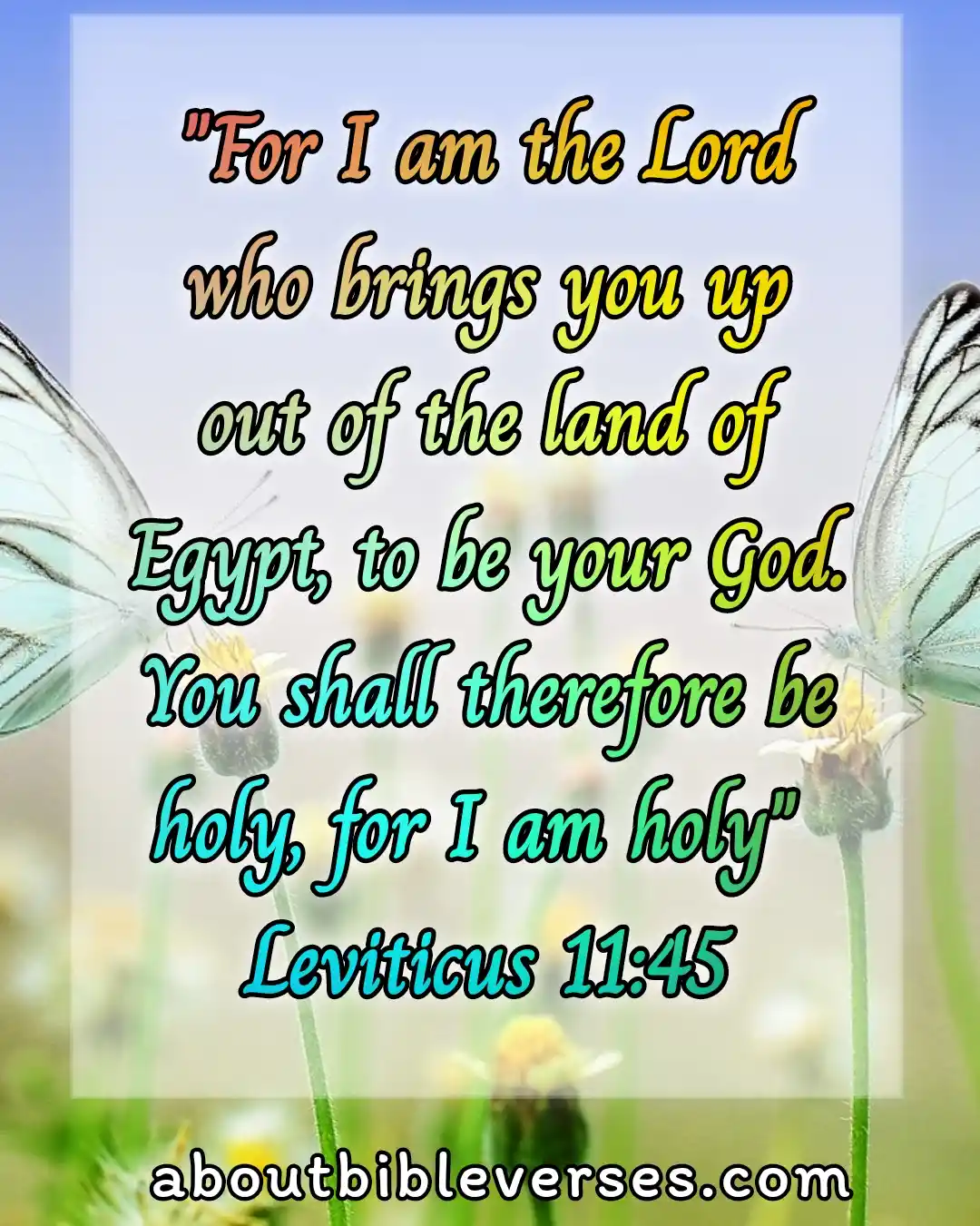 Leviticus 11:45(KJV)"For I am the Lord that bringeth you up out of the land of Egypt, to be your God: ye shall therefore be holy, for I am holy",
Explanation:- The Lord delivered Israel from Egypt. He had shown his power to them and we experienced how Great is Our God.
He wants us to be Holy so that we can walk in his guidance. We must live holy inwardly and outwardly.