Hello dear friends, welcome to our site in the name of Jesus Christ. Today we will look at the Bible Scriptures About Depression And How To Overcome It In KJV. If you like today's post then definitely comment and share.
The Bible is a guideline for Christians as it tells its readers how to live life to avoid the harmful effects of this sinful world. God reveals Himself in the Bible and when we read it, we get to know all the issues of our life.
Jesus said he came on this earth to give us a full life. We all have our personal problems which make us depressed. Jesus is the only solution to get rid of all kinds of spiritual depression.
Jesus wants us to rely on Him because He thinks for us. It would be wise for us to rely on him to lighten our burden by His shoulder. The word of God encourages us to pray and submit all our sorrows before Him.
The moment we deny ourselves, God rules our hearts and when the mighty creator touches our hearts, everything gets changed.
Let's friends now let's see below the Bible scriptures that God has given us to keep us away from all Depression.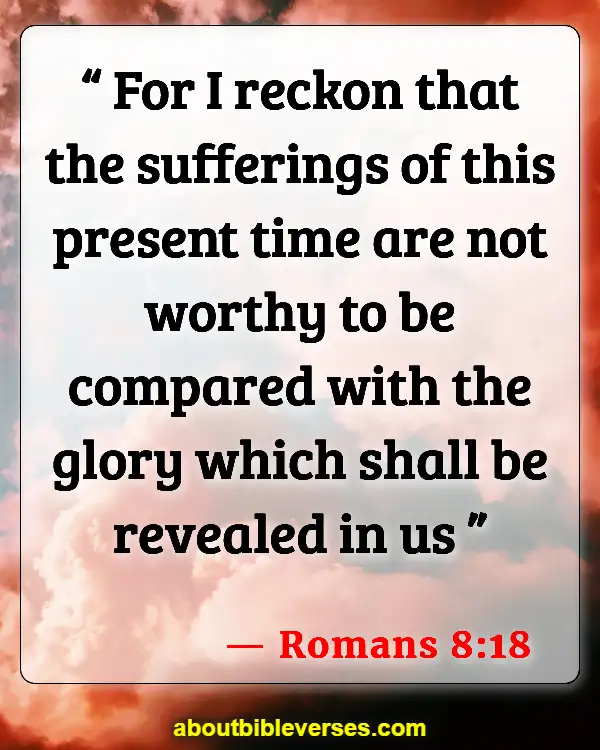 Romans 8:18(KJV)"For I reckon that the sufferings of this present time are not worthy to be compared with the glory which shall be revealed in us"
Explanation:-Paul told a beautiful message in his letter regarding the suffering of Christians. He reminded them by saying that Jesus will reward everyone according to their actions. Being a follower of Jesus seems very hard because of this sinful world.
Paul said that though we face problems and hardships in our lives, we need to remember that we will enjoy a glorious life in the presence of the Lord Jesus in heaven. There will be no more pain, suffering, and trials.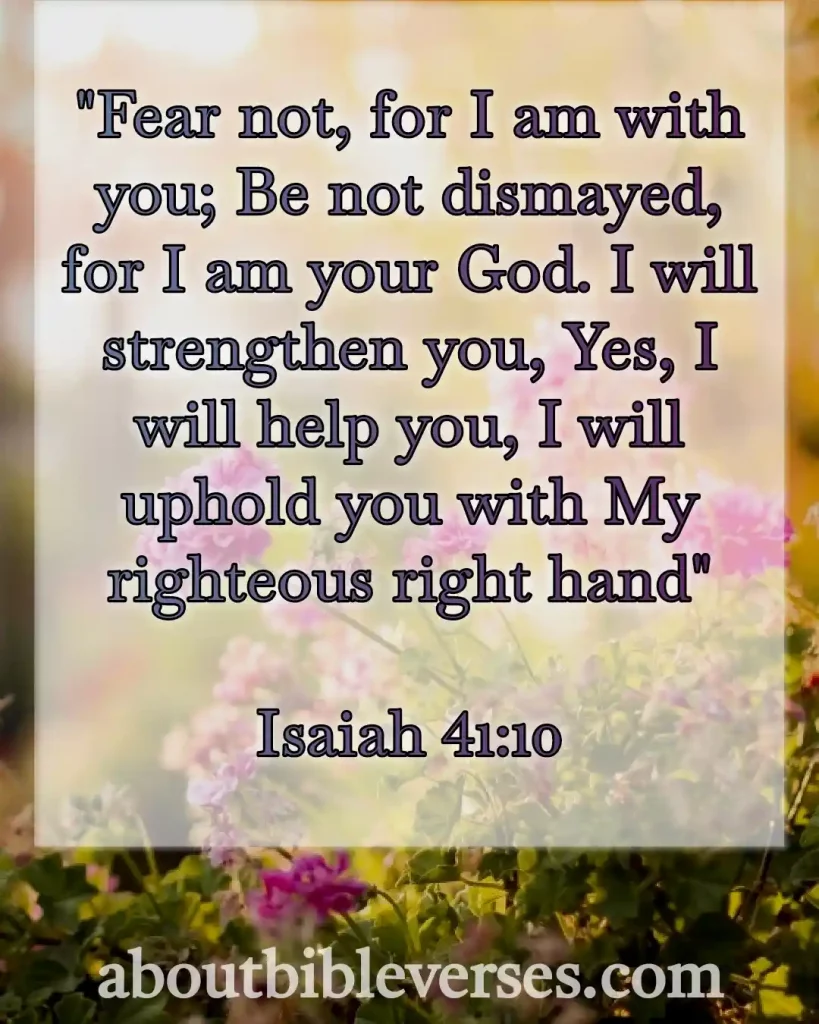 Isaiah 41:10(KJV)"Fear thou not; for I am with thee: be not dismayed; for I am thy God: I will strengthen thee; yea, I will help thee; yea, I will uphold thee with the right hand of my righteousness"
Explanation:-The Lord promised Abraham to make a nation from him so he created the nation Israel from his seed. He guided Israel from the very beginning and provided them with all their needs but from time to time His chosen nation left him due to their fleshly desires.
God asked them not to worship any idols like the pagans but the influences of their surrounding nations dragged them to dishonor their God by turning their faces from Him.
At that moment God called up the prophet Isaiah to proclaim the message to Israel to return from their evil practices. God promised Isaiah not to fear anyone because He would be with him.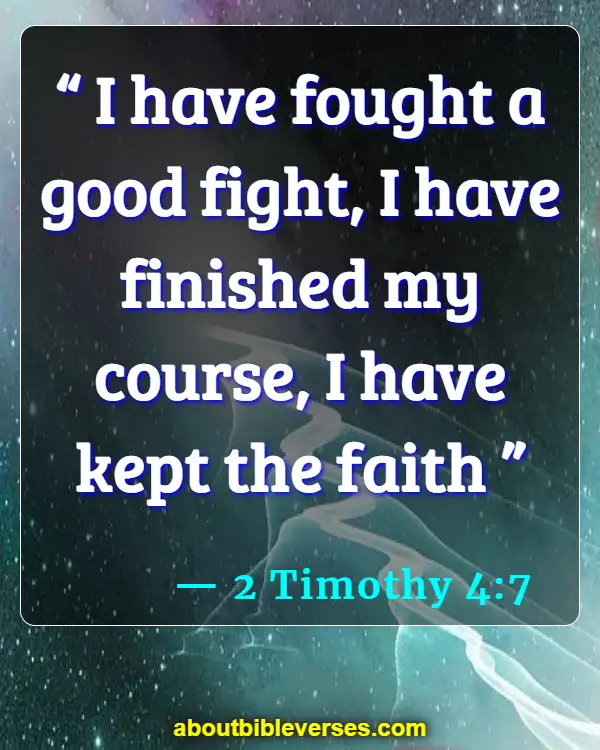 2 Timothy 4:7(KJV)"I have fought a good fight, I have finished my course, I have kept the faith"
Explanation:-Paul found Timothy as a faithful follower of Lord Jesus Christ. So, he taught him many important guidelines concerning the Christian life.
Every Christian should follow the life of Paul. As we all are in a race to reach heaven which is our permanent destination. We are on a battlefield where we are continuously fighting with Satan who is the ruler of this earth. To be a good fighter like Paul, we must be diligent in our Christian lives.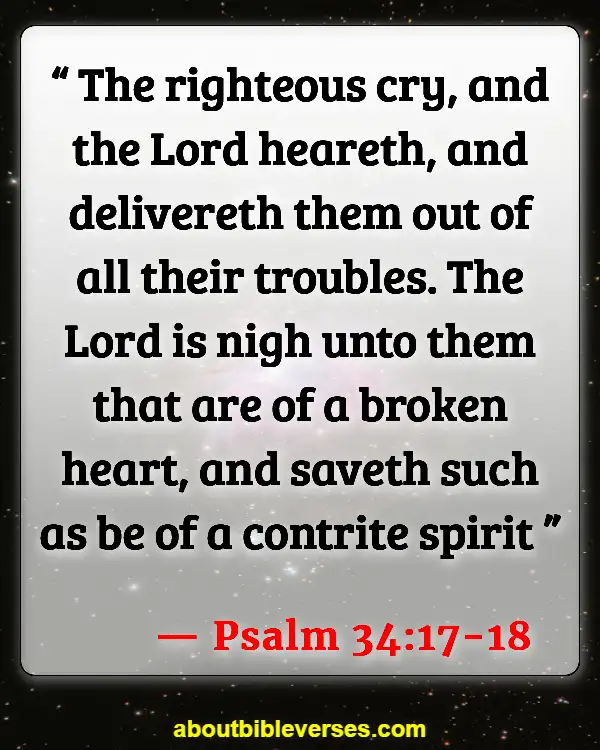 Psalm 34:17-18(KJV)"The righteous cry, and the Lord heareth, and delivereth them out of all their troubles. The Lord is nigh unto them that are of a broken heart, and saveth such as be of a contrite spirit"
Explanation:-The Lord is faithful and hears the prayer of righteous people. The word of God inspires us to pray all the time, in every circumstance so that we can completely depend on Him and we will receive blessings from Him. When we go through trials, God knows that and His mighty hands comfort us to overtake the situation.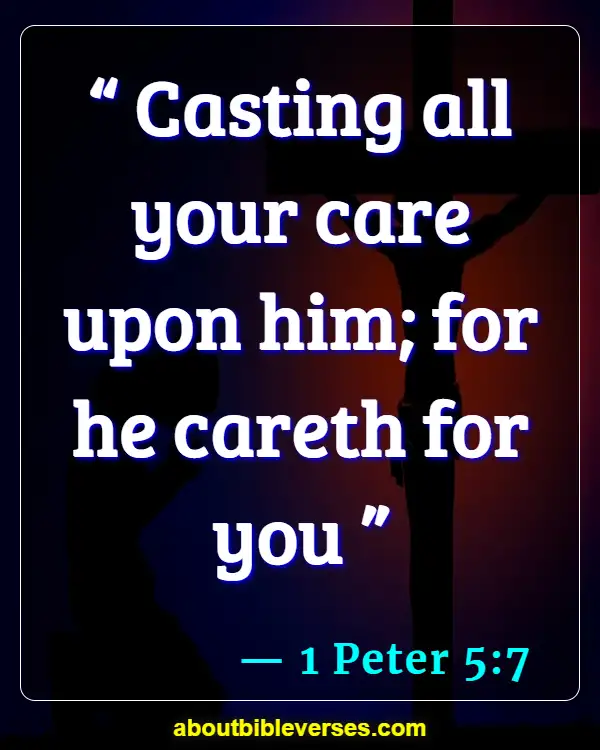 1 Peter 5:7(KJV)"Casting all your care upon him; for he careth for you"
Explanation:-Life is not a bed of roses. No one can ever say that I have never faced problems in my life. We all face various types of trials in our lives. We need to understand that our creator who loved us most, knows everything.
Most of the time we try to fight our battle with our own strength but when we lose it, we get depressed. But the Lord says to hand over our problems in His hands as He cares for us. A faithful child of God should always depend on God to receive blessings from Him.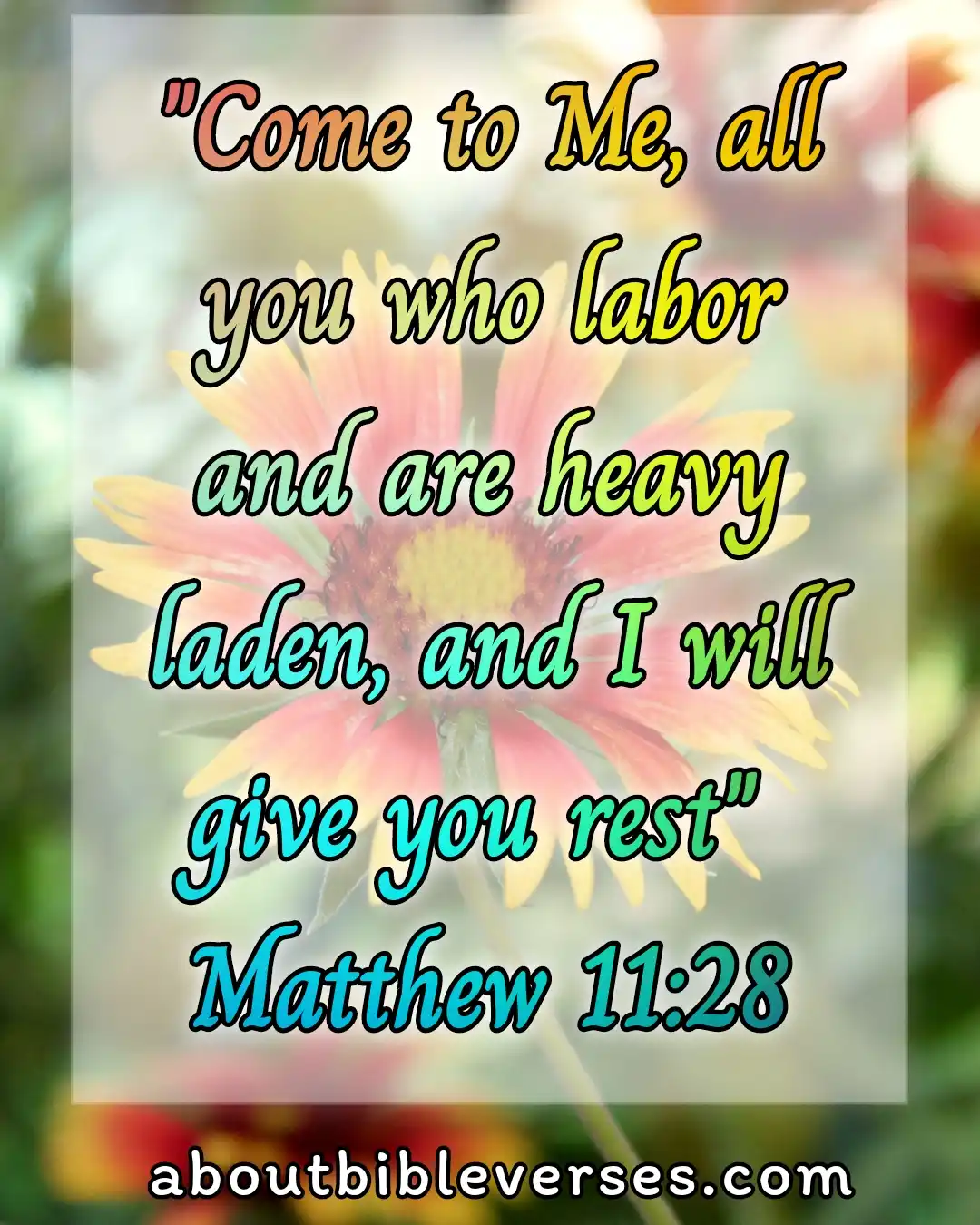 Matthew 11:28(KJV)"Come unto me, all ye that labor and are heavily laden, and I will give you rest"
Explanation:-Jesus came on earth to give us physical and spiritual blessings along with salvation which is the free gift from God. He knows all our pains and weaknesses so He invited us to submit our lives before Him to get His blessings in our lives.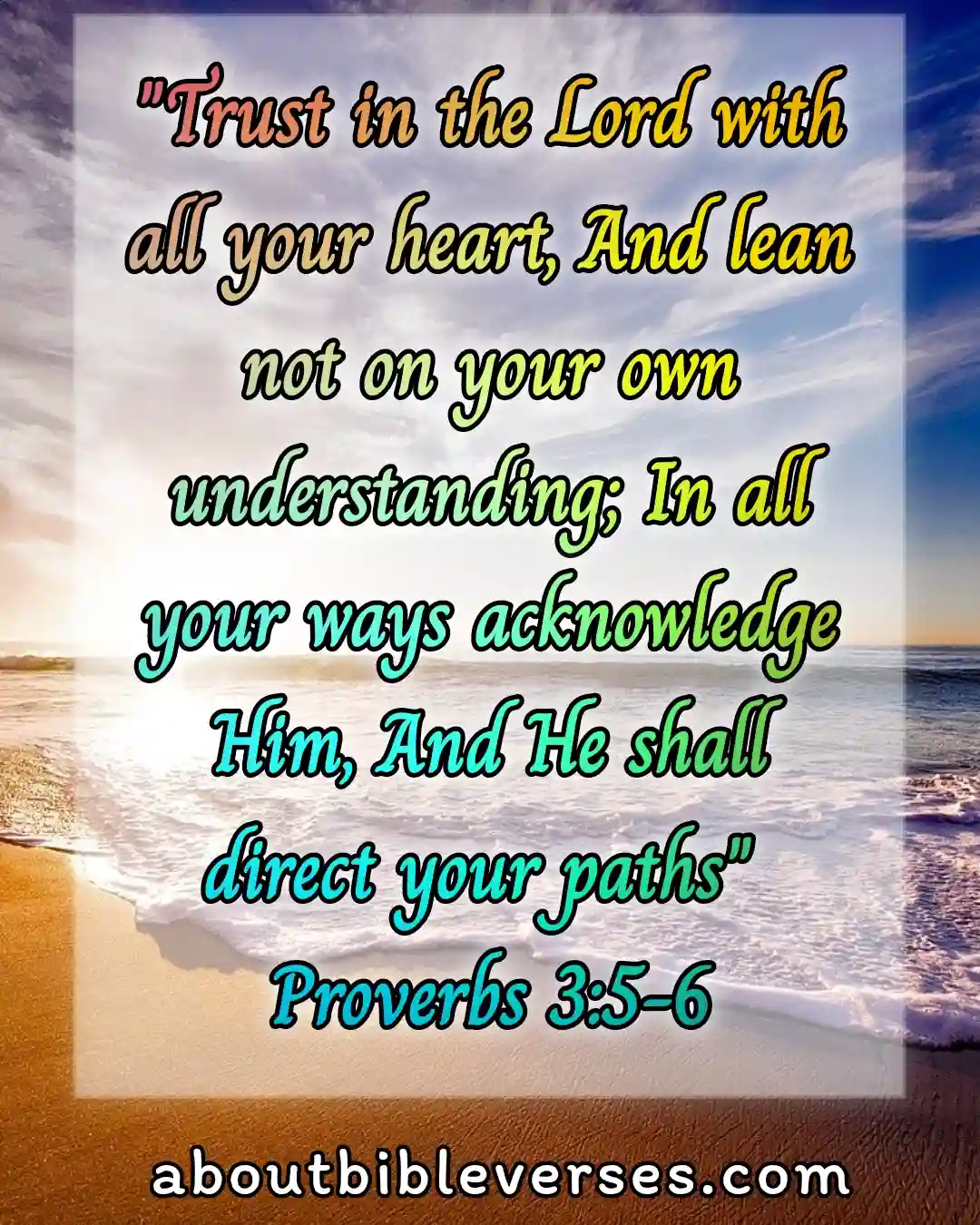 Proverbs 3:5-6(KJV)"Trust in the Lord with all thine heart, and lean not unto thine own understanding. In all thy ways acknowledge him, and he shall direct thy paths"
Explanation:-The word of God says to depend on the Lord completely. When we put our faith in Him, our lives get controlled by His mighty hand. We should place Him in all our activities.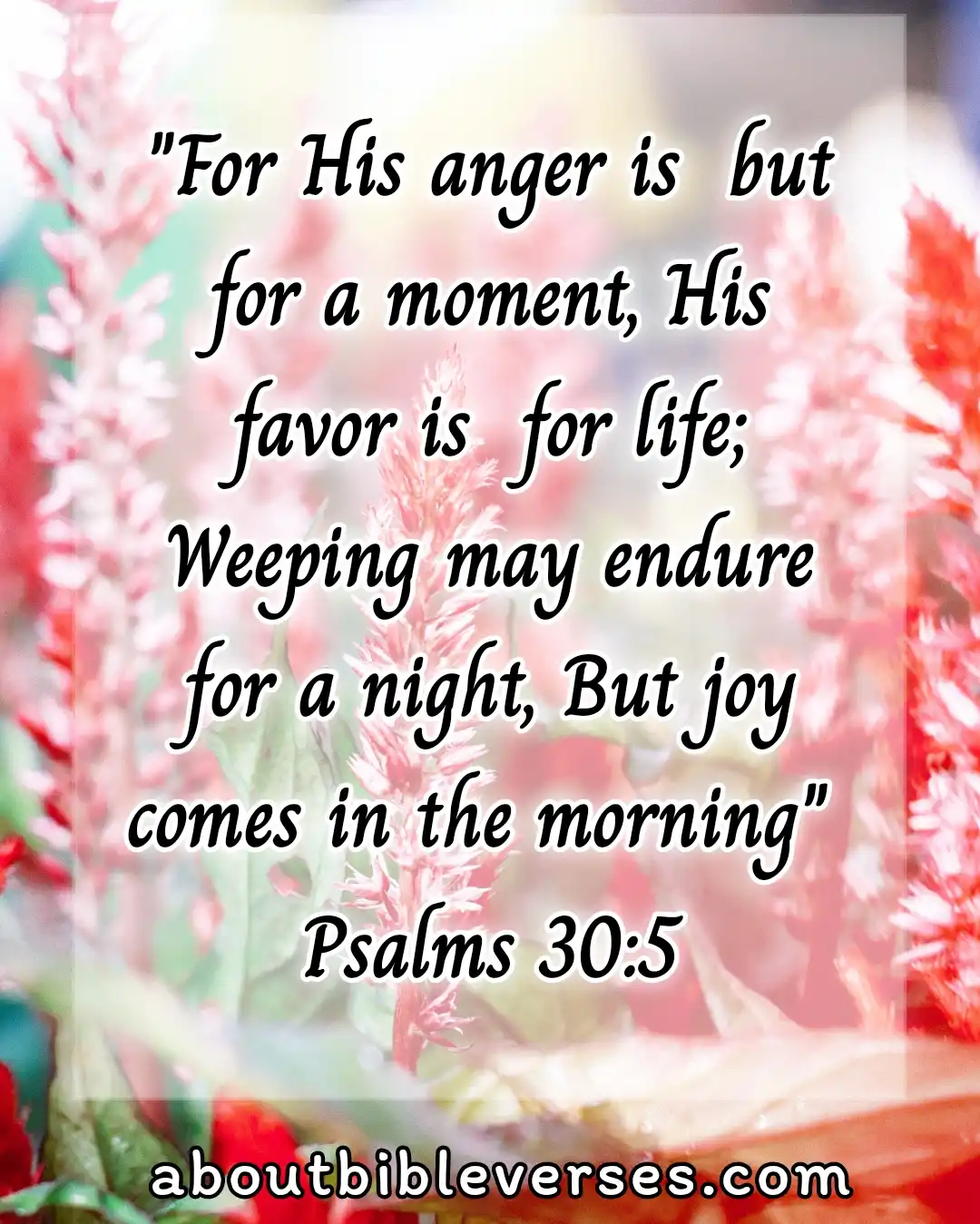 Psalm 30:5(KJV)"For his anger endureth but a moment; in his favour is life: weeping may endure for a night, but joy cometh in the morning"
Explanation:-God loves us and sometimes He puts us into hardship to check our faith. When we forsake Him for our fleshly desires, He gets angry as He is the jealous God. Without Jesus, we cannot enjoy our life. It would be impossible for us to live a holy life without His presence in our life.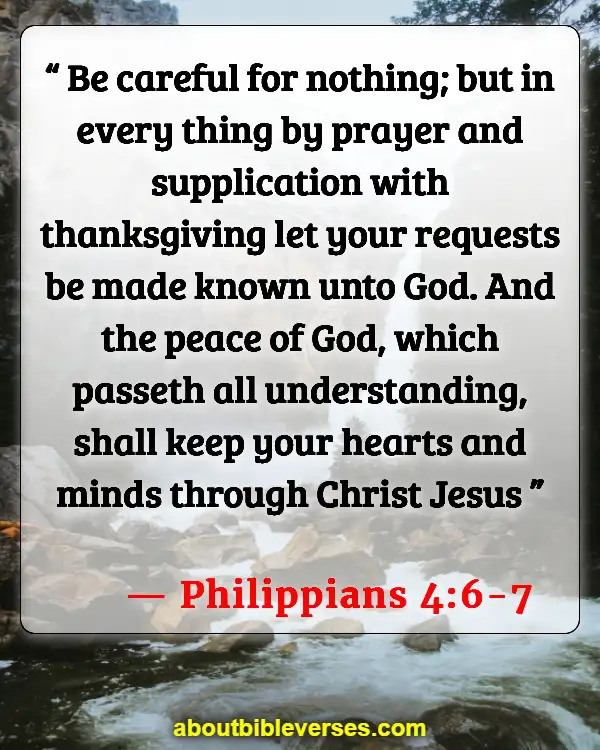 Philippians 4:6-7(KJV)"Be careful for nothing; but in every thing by prayer and supplication with thanksgiving let your requests be made known unto God.And the peace of God, which passeth all understanding, shall keep your hearts and minds through Christ Jesus"
Explanation:-Paul said to the believers that this world will give us worry in our life's journey. But we should not be afraid of that rather we must bring everything before God through prayer and thanksgiving. If we try to fight the battle alone we will be depressed, but with God's presence, we will be victorious. And God's peace will reign over us.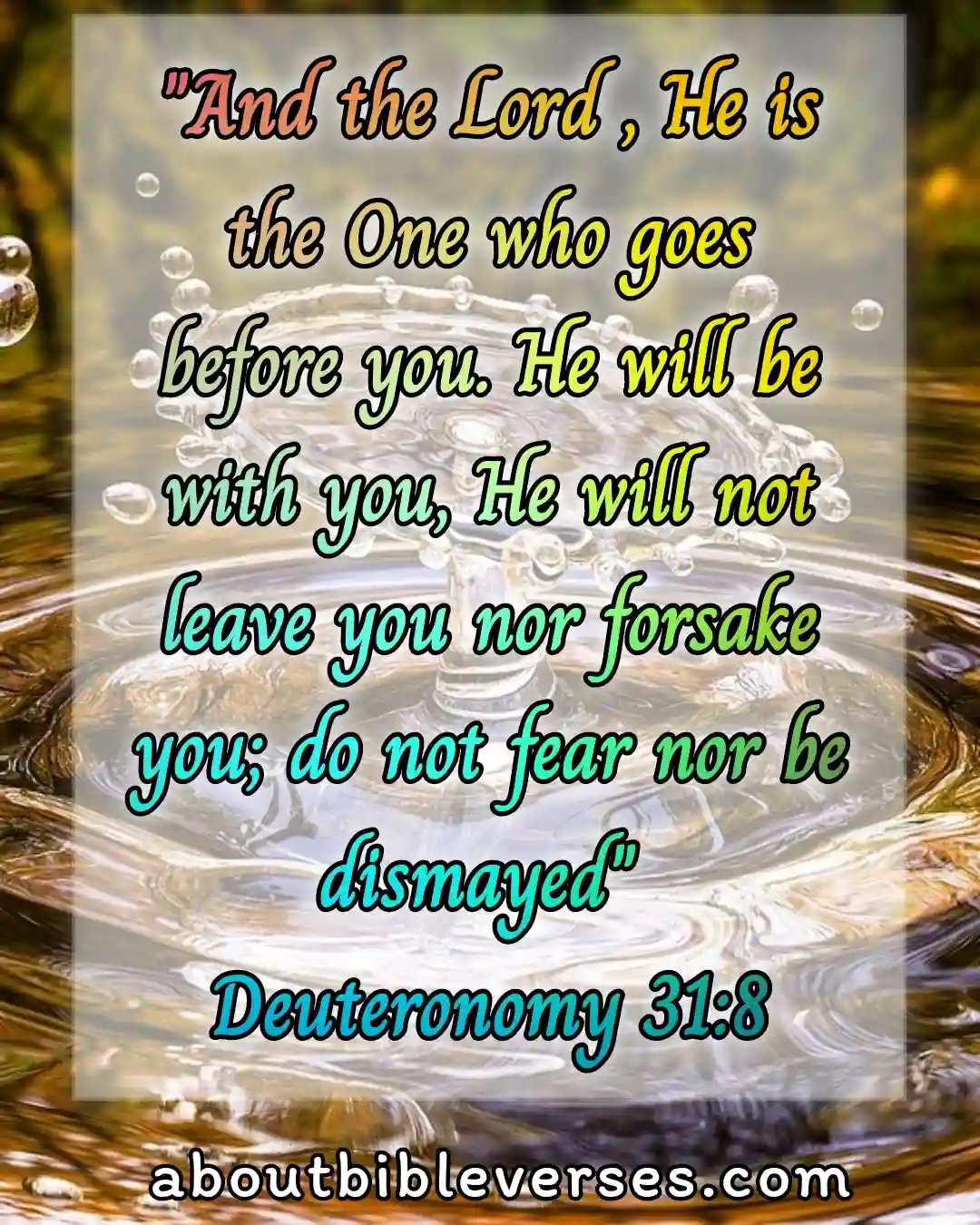 Deuteronomy 31:8(KJV)"And the Lord, he it is that doth go before thee; he will be with thee, he will not fail thee, neither forsake thee: fear not, neither be dismayed"
Explanation:-The Lord used Moses as a leader to bring His people out of Egypt to give them the promised land. When Moses was old, the Lord called Joshua to guide Israel into the promised land. Moses was the spiritual mentor of Joshua who encouraged him to be a good fighter for God's mission. Joshua was very young and he found it hard for him to lead such obstinate people. Moses reminded him how God helped him throughout his journey.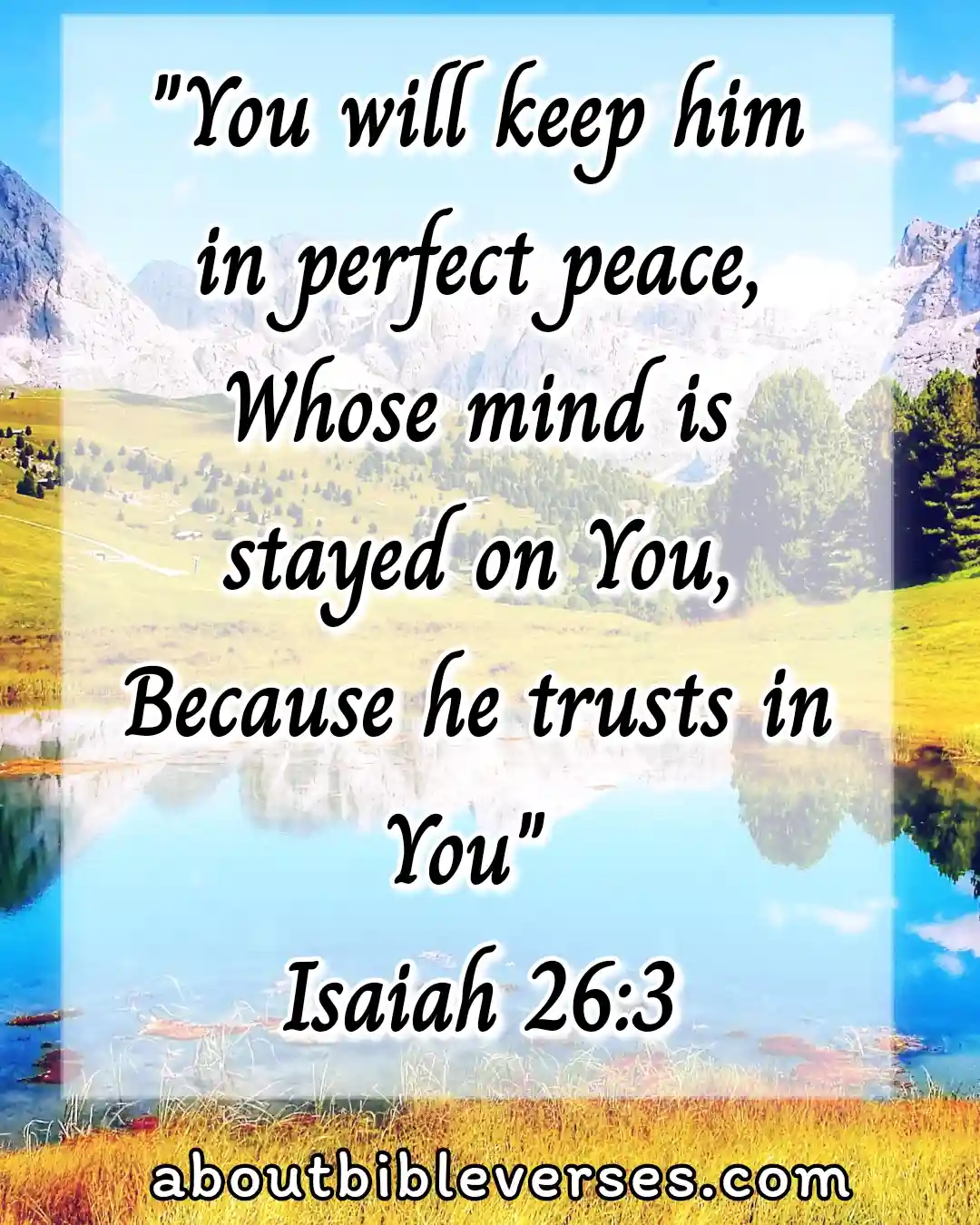 Isaiah 26:3(KJV)"Thou wilt keep him in perfect peace, whose mind is stayed on thee: because he trusteth in thee"
Explanation:-Israel moved so many times from the Lord, but God did not forget them. Every time He asked them to repent and when they obeyed Him, he accepted them.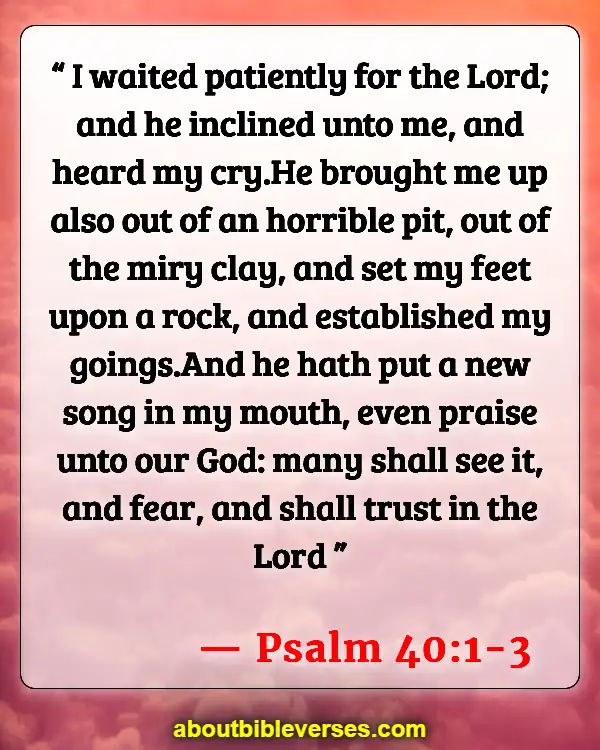 Psalm 40:1-3(KJV)"I waited patiently for the Lord; and he inclined unto me, and heard my cry.He brought me up also out of an horrible pit, out of the miry clay, and set my feet upon a rock, and established my goings.And he hath put a new song in my mouth, even praise unto our God: many shall see it, and fear, and shall trust in the Lord"
Explanation:-The Lord hears our cry and he loves us very much. When we submit our lives in His hands, He cares for us. Bible when one receives Jesus, he becomes a new creation. With Jesus, we see the same world in a different way.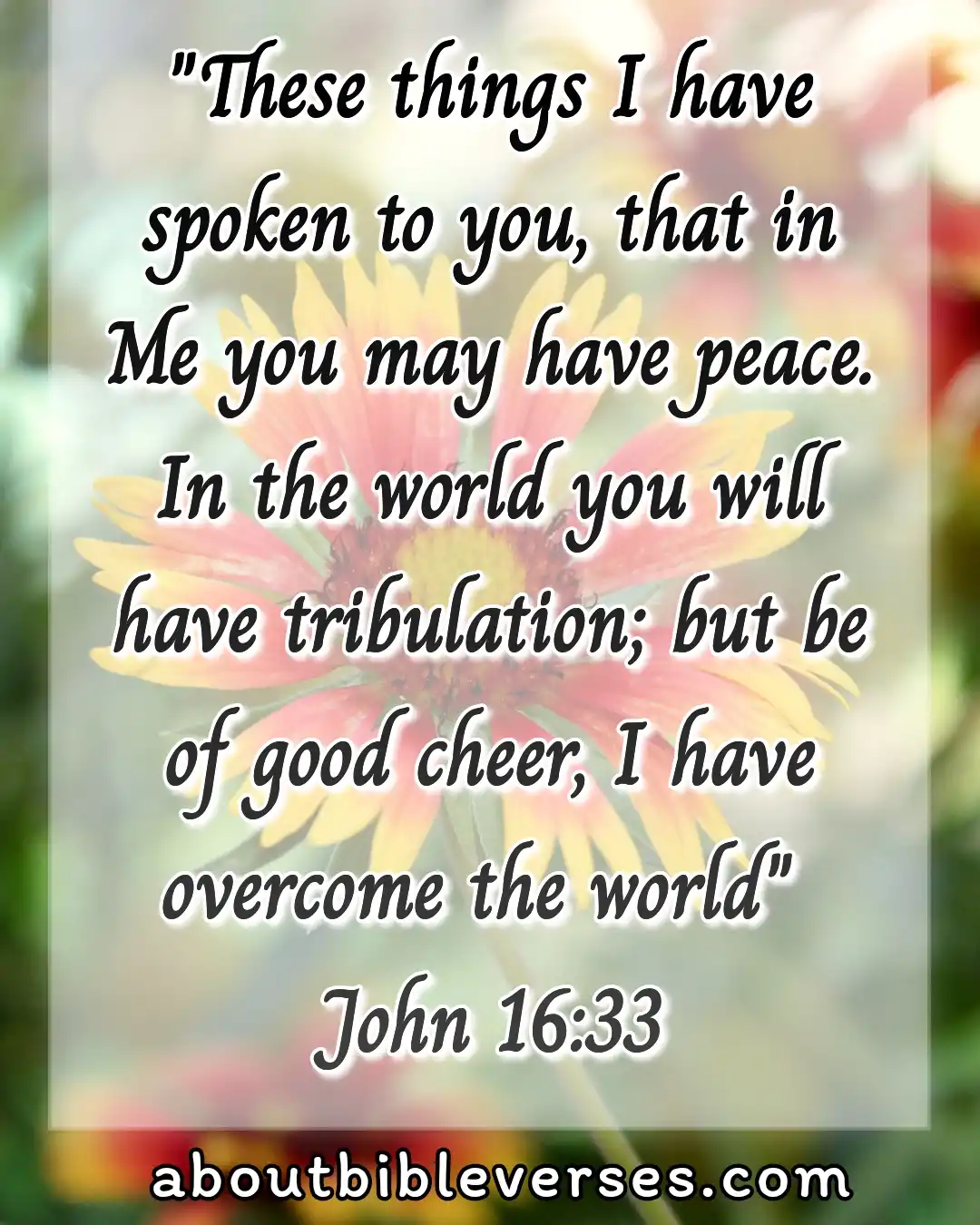 John 16:33(KJV)"These things I have spoken unto you, that in me ye might have peace. In the world ye shall have tribulation: but be of good cheer; I have overcome the world"
Explanation:-Jesus told his disciples not to worry about anything. He foretold them about the problems and hardships that the world would give them. He warned them to rely on Him to get heavenly peace.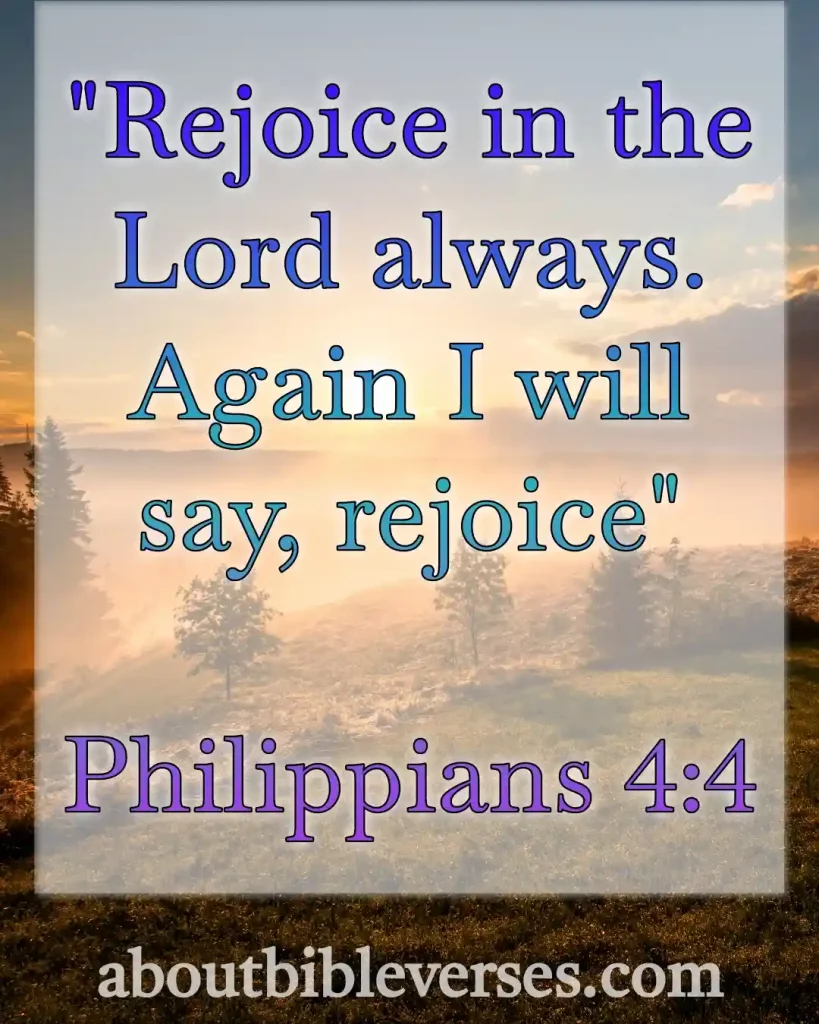 Philippians 4:4(KJV)"Rejoice in the Lord always: and again I say, Rejoice"
Explanation:-Though we may face trials and temptations in this world still we should praise the Lord. When we will confront persecution at that moment we must rejoice in Him because we will receive rewards in heaven.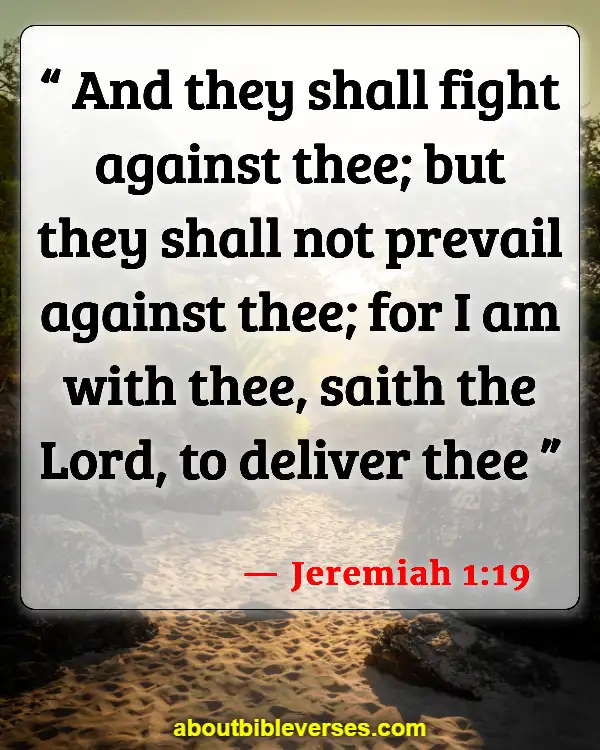 Jeremiah 1:19(KJV)"And they shall fight against thee; but they shall not prevail against thee; for I am with thee, saith the Lord, to deliver thee"
Explanation:-The Lord told Jeremiah to be brave as He will be with him. When we are away from God, fear reigns over us. If we come closer to Him, we will get courage.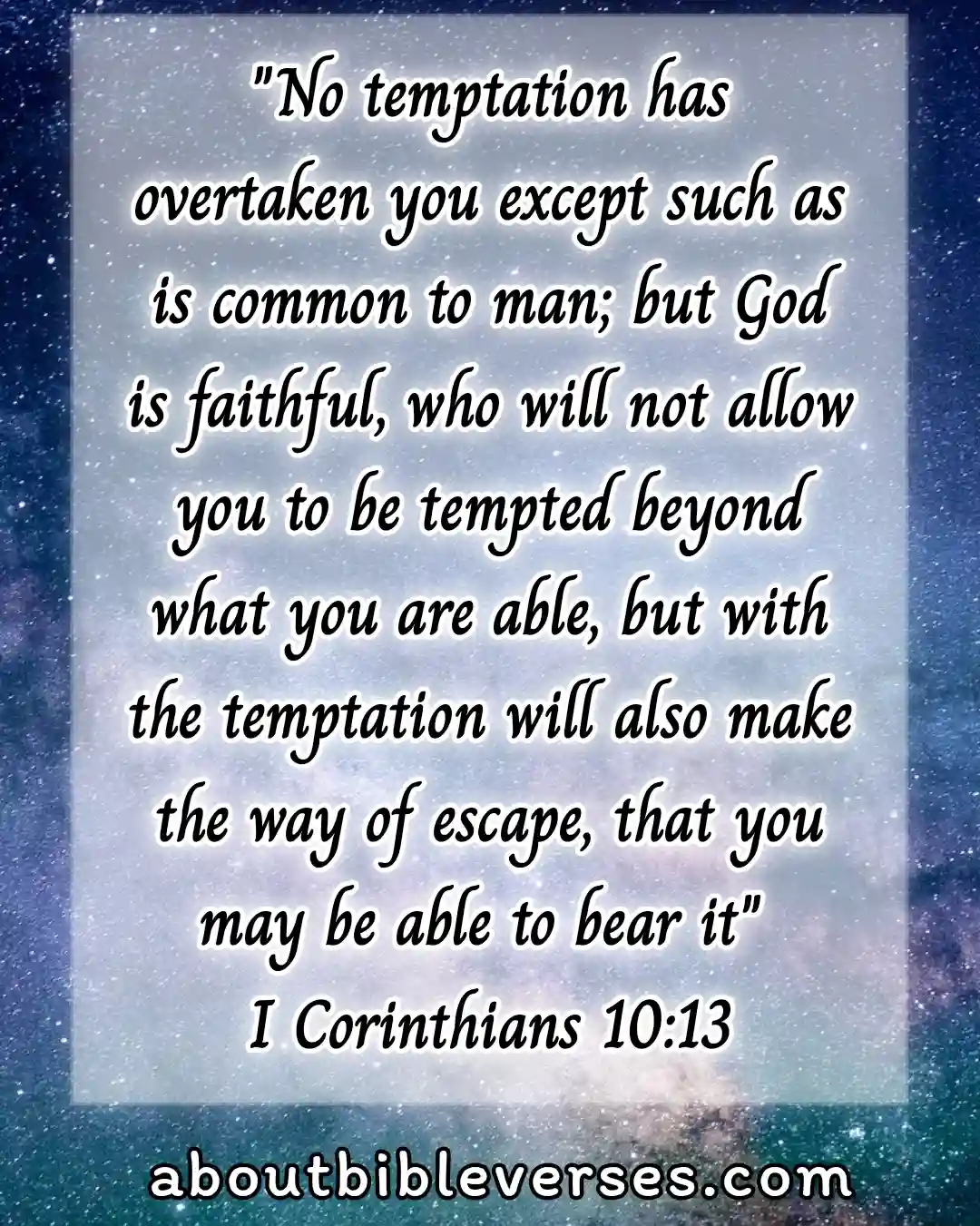 1 Corinthians 10:13(KJV)"There hath no temptation taken you but such as is common to man: but God is faithful, who will not suffer you to be tempted above that ye are able; but will with the temptation also make a way to escape, that ye may be able to bear it"
Explanation:-God loves us and He knows very well about us. He will never give such burdens which we can't bear. He knows all our weaknesses and abilities so according to our strengths, He will provide us with the burden. When hardship comes into our lives, we must look forward to searching for a way to get rid of the situation, Because He also brings along with temptations.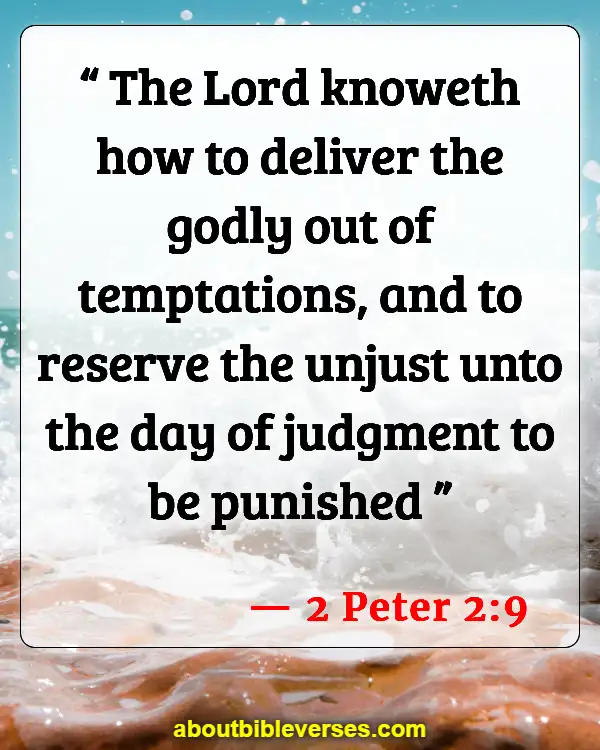 2 Peter 2:9(KJV)"The Lord knoweth how to deliver the godly out of temptations, and to reserve the unjust unto the day of judgment to be punished"
Explanation:-Even Jesus encountered temptations in His earthly life, so it is evident that we are to face temptations. God tests our faith through these temptations to verify our faith in Him. The word of God tells us that the Lord will deliver his faithful children from temptations. He will bring everyone into judgment according to our every single action.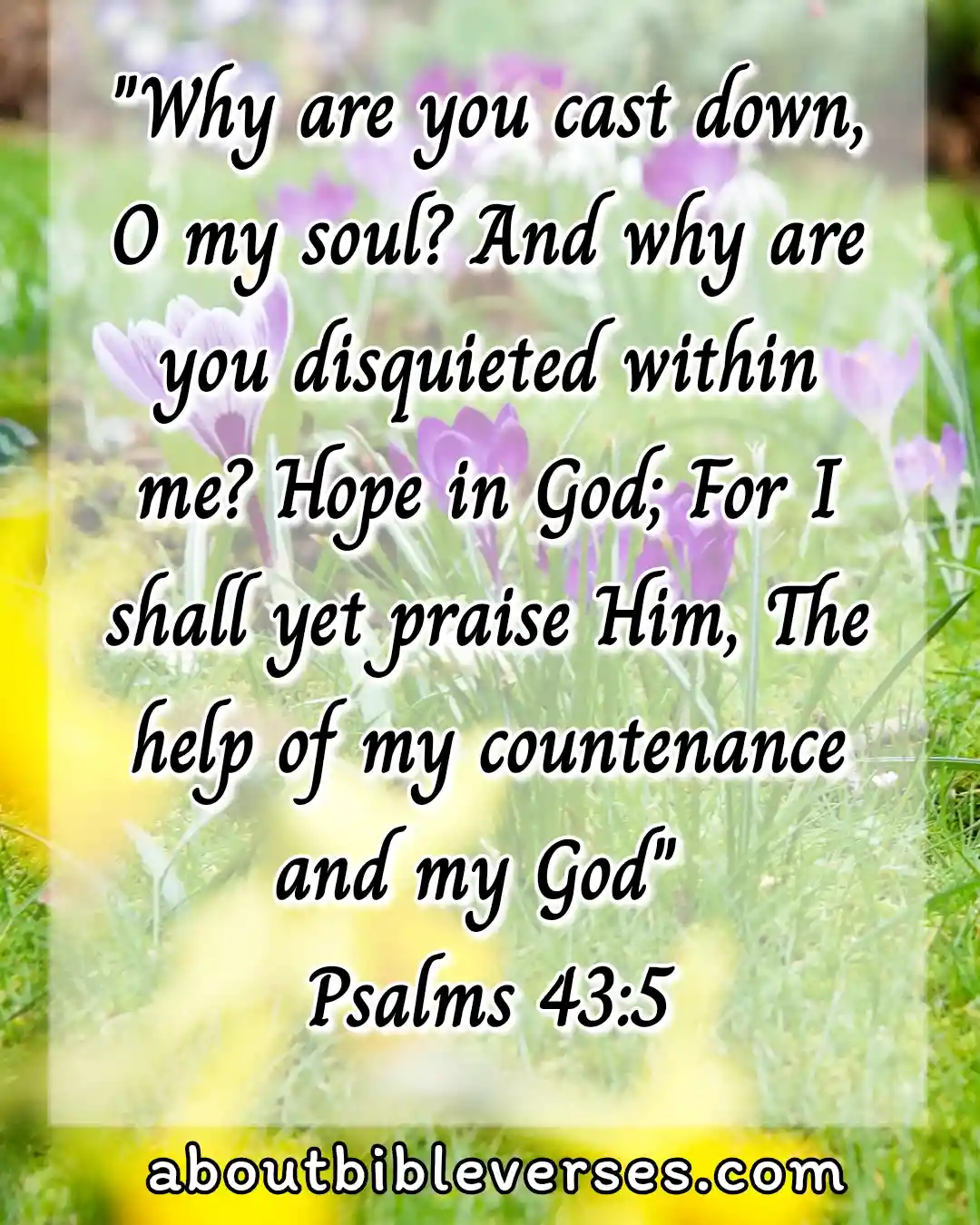 Psalm 43:5(KJV)"Why art thou cast down, O my soul? and why art thou disquieted within me? hope in God: for I shall yet praise him, who is the health of my countenance, and my God"
Explanation:-We are living in a sinful world where we are separated from God due to our sins. This makes us miserable and upset. We need to bow down before God and He will lift us up. He knows all our sorrows and sufferings.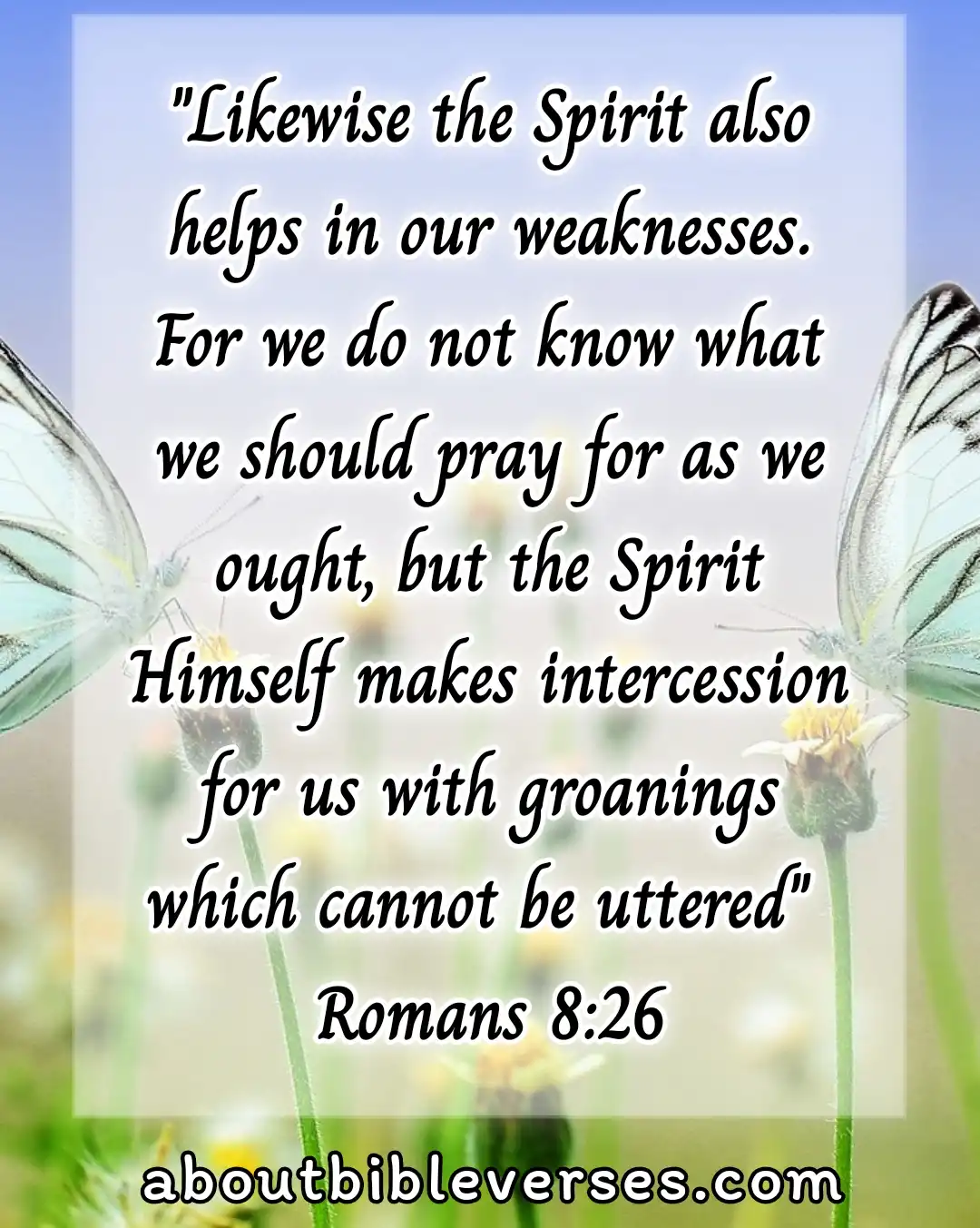 Romans 8:26(KJV)"Likewise the Spirit also helpeth our infirmities: for we know not what we should pray for as we ought: but the Spirit itself maketh intercession for us with groanings which cannot be uttered"
Explanation:-When the spirit of God moves in us, we become powerful. We will obtain unknown things from the Holy Spirit. The Spirit will guide us and direct our ways to Lord Jesus. Jesus said without water and Holy Spirit baptism no one will ever enter heaven. So to be a part of God's kingdom we all have to receive His spirit.
What does the Bible say about grief and depression?
The Bible is a complete guidebook for us that tells us how to live and act on this earth. We expect many things in our lives, sometimes we get depressed when our dreams remain unachieved. Apart from this sometimes we feel weak mentally when someone hurts us.
The Bible says not to rely on a man. Instead of that, we should depend on God as He is faithful and loyal. The Lord is omniscient which means He knows the present, past, and future whereas man only knows the past and present. That is why only God can fulfill the promise that He makes.
Jesus told us to come before Him to enjoy our life as He is the door of life. He loves us and gave us life so we can gain our lives by Him.
When we surrender our lives to God, it brings a huge change in our lives. From that moment of time, He begins to control our lives. In Him, we will find hope of our life. The more we will get problems, afflictions, and depression the more we should come near to Him and He will lighten up our burdens.
What does the bible say about spiritual depression?
We all are in a family where we face our own problems. The Bible says not to love the world or the things in the world. When we love worldly things we become God's enemy.
The more we expect from the world the more pain we will gain. When we do not meet our wishes we get depressed. 
Sometimes we get everything we desired but still, we fill the emptiness in our hearts. This world cannot give satisfaction to us, only Jesus can make us happy. To overcome spiritual depression we need to give our hearts to God to get peace.
Is depression a result of sin?
When Adam and Eve were in the Eden garden with God they had no issues there, but the moment they disobeyed God, everything changed.
Because of their transgression, sin entered into the world and it affected the entire human being. Sin brought adultery, fornication, lewdness, idolatry, sorcery, hatred, etc. All these changed our thoughts, apart from that God separated Himself from the sinful man as He is the holy one.
When we are away from our creator so it is evident that we are afraid of our life as we do not know our future. We can understand that depression is an indirect result of sin.