Though the world seems to be unknown to each of us we need to remember that we are not alone, God is with us. Many times Jesus comforted his disciples not to fear the world because nothing can harm them as he is their God.
He can protect them from any danger. We need to trust God and we will be awarded at the final judgment when Jesus himself will judge us according to our works. If we believe him then we will have fears upon God which will help us to understand that God is with us and he is ahead of us to lead us into the path of righteousness.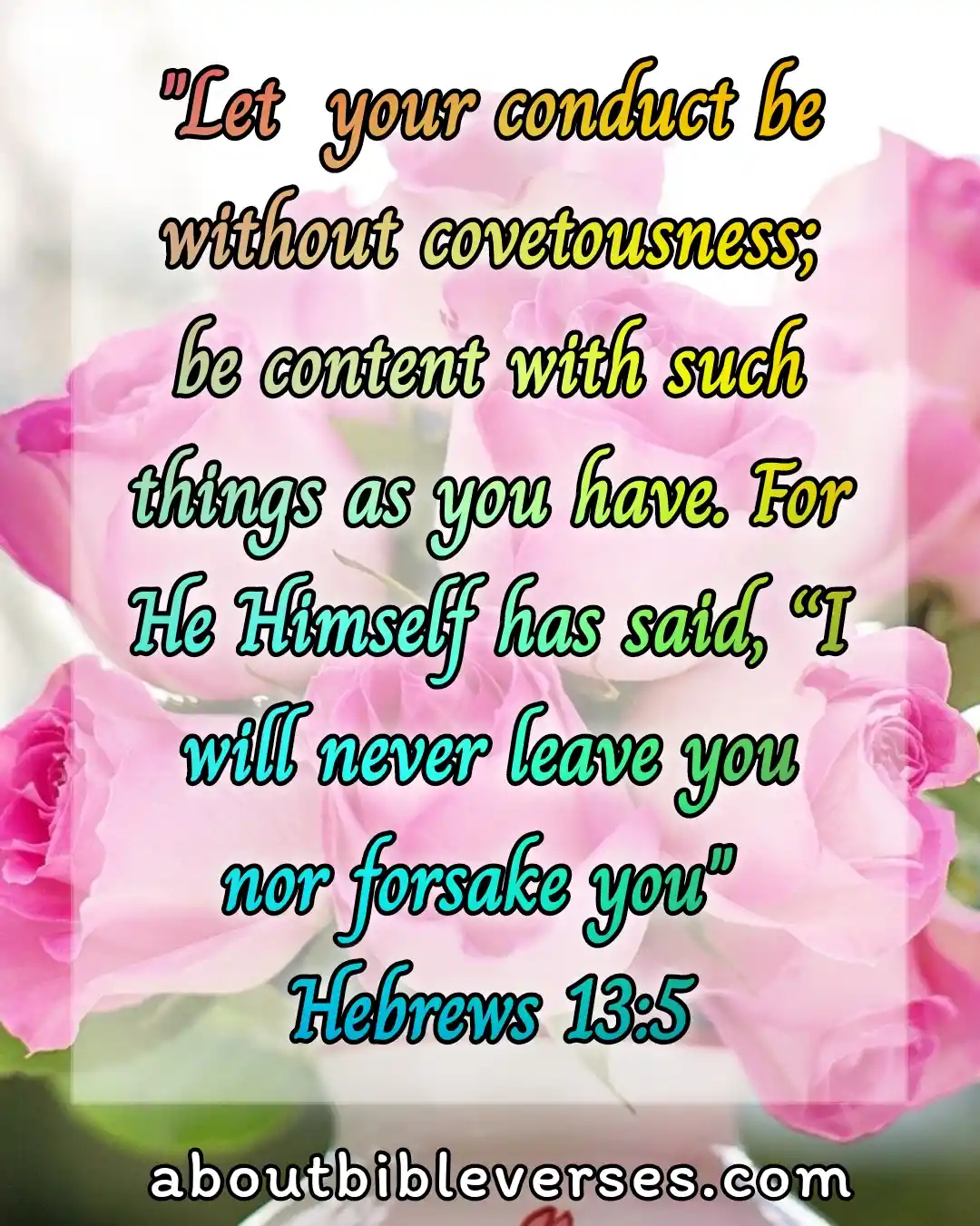 Hebrews 13:5(KJV)"Let your conversation be without covetousness; and be content with such things as ye have: for he hath said, I will never leave thee, nor forsake thee"
Explanation:- We should not place any covetousness in our hearts. We need to contend with what we have. Jesus says he will never forsake us or leave us alone. If we walk with him, then he will provide all our needs in time.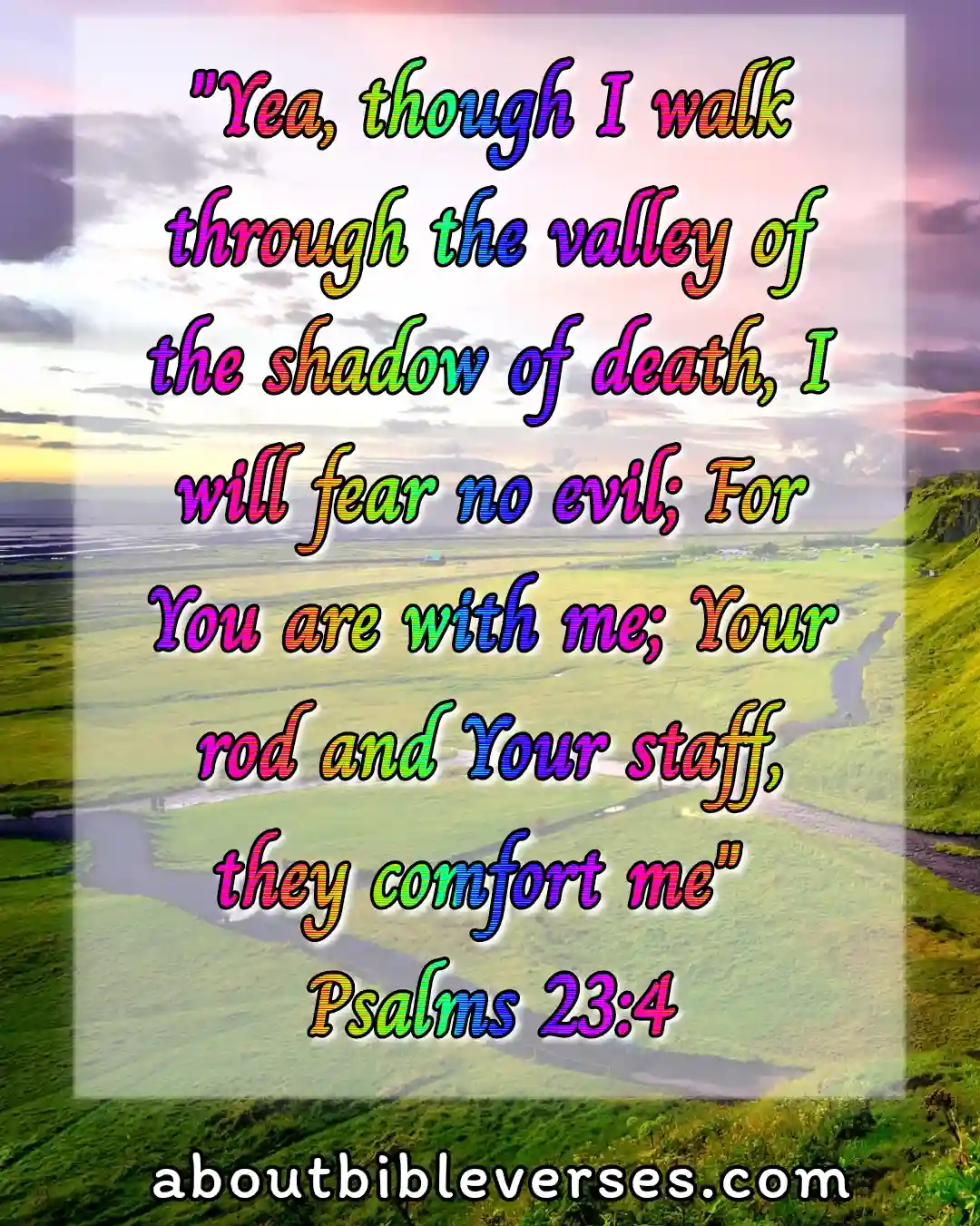 Psalm 23:4(KJV)"Yea, though I walk through the valley of the shadow of death, I will fear no evil: for thou art with me; thy rod and thy staff they comfort me"
Explanation:- We need to remember that we are not alone as the Lord is always with us. Even when we face hardships, we must rely on his words to help us be strong in such difficult times.  The Lord provides comfort and joy in our hearts.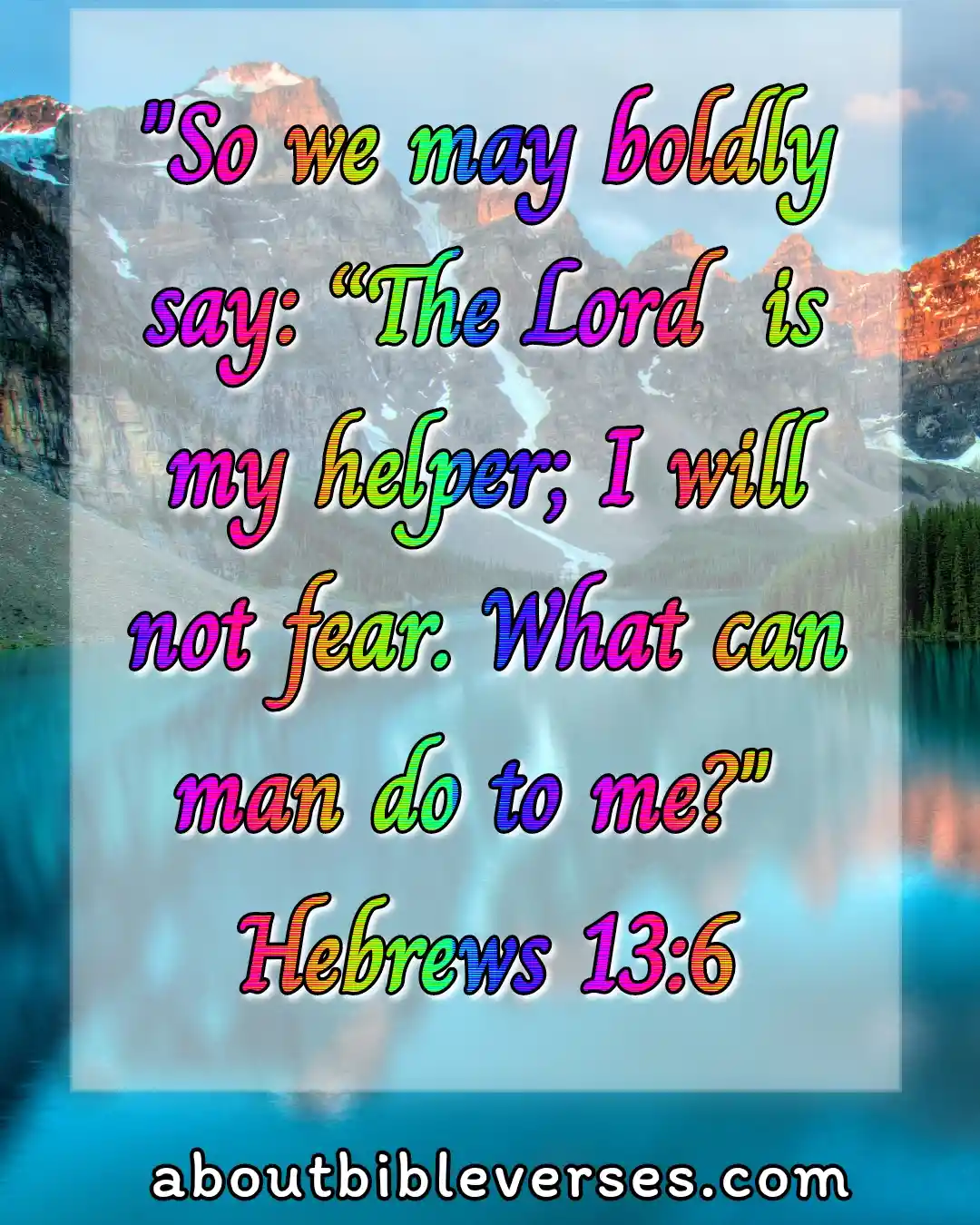 Hebrews 13:6(KJV)"So that we may boldly say, The Lord is my helper, and I will not fear what man shall do unto me"
Explanation:- The more we will draw closer to God the more strength we will receive from him. We can boldly proclaim that man can do nothing when God is with us.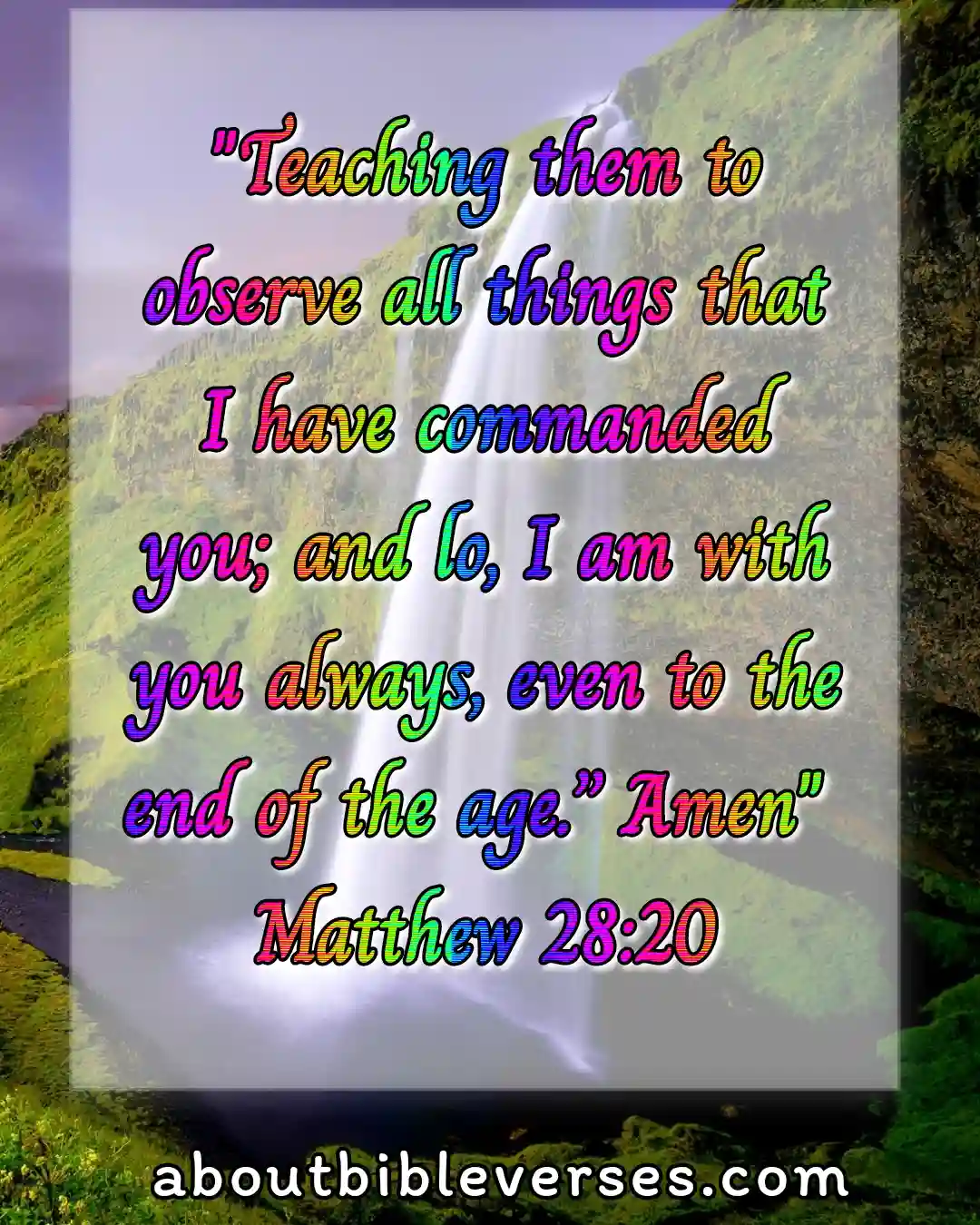 Matthew 28:20(KJV)"Teaching them to observe all things whatsoever I have commanded you: and, lo, I am with you always, even unto the end of the world. Amen"
Explanation:- Jesus taught his disciples to preach the gospel to the entire world as he will be with them till the end of this world. His followers must remember that they are not alone, mighty God is their guide and protector.
Psalm 145:18-19(KJV)"The Lord is nigh unto all them that call upon him, to all that call upon him in truth. He will fulfil the desire of them that fear him: he also will hear their cry, and will save them"
Explanation:- The children of God will be rewarded only if they obey all the commandments of God. In this world, many troubles will come but they should be faithful to God as he will never leave his children, orphans.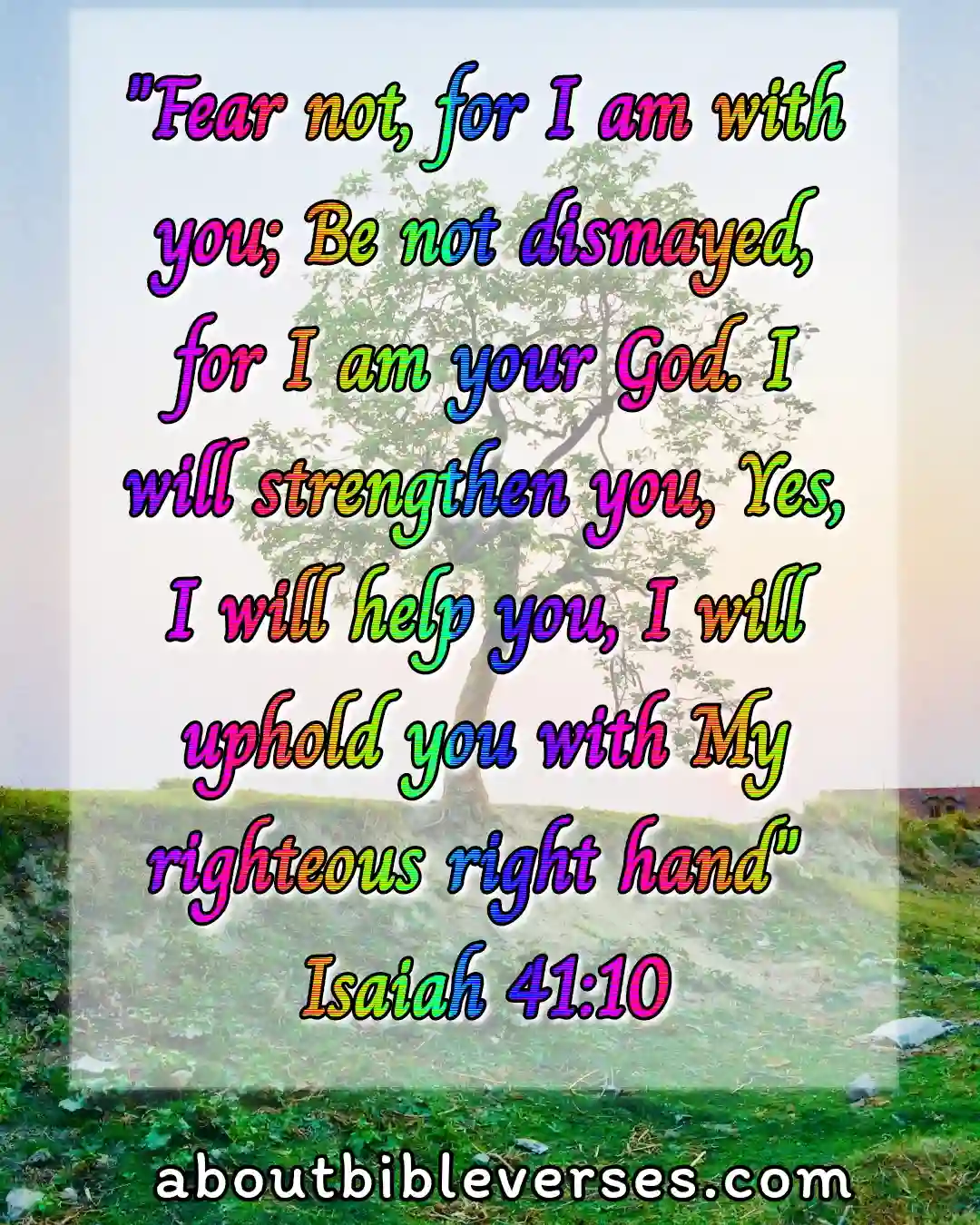 Isaiah 41:10(KJV)"Fear thou not; for I am with thee: be not dismayed; for I am thy God: I will strengthen thee; yea, I will help thee; yea, I will uphold thee with the right hand of my righteousness"
Explanation:- The Lord says not to fear because he is with us. He is God and nothing is impossible with him. He will cover us from all dangers and lead us in his ways.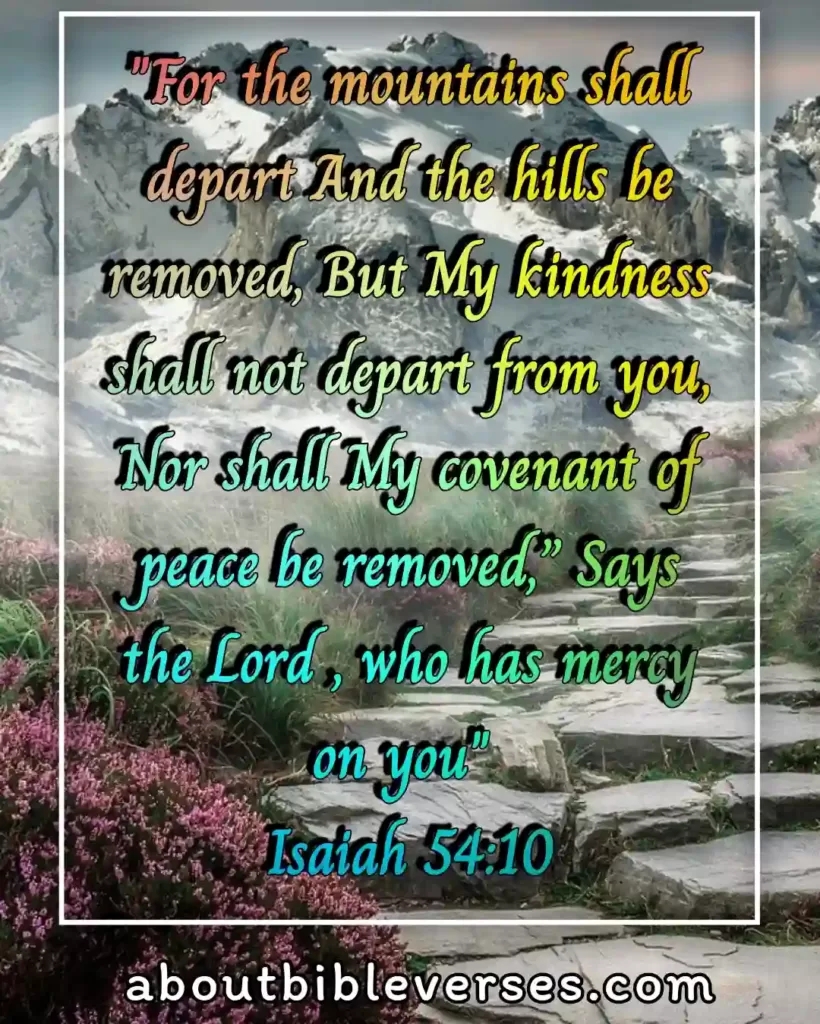 Isaiah 54:10(KJV)"For the mountains shall depart, and the hills be removed; but my kindness shall not depart from thee, neither shall the covenant of my peace be removed, saith the Lord that hath mercy on thee"
Explanation:- Everything will be put to an end but God's mercy will not come to an end. His covenant will come true at the right time. We are not alone in this world because his grace is upon us. We should not fear the world or the things in the world.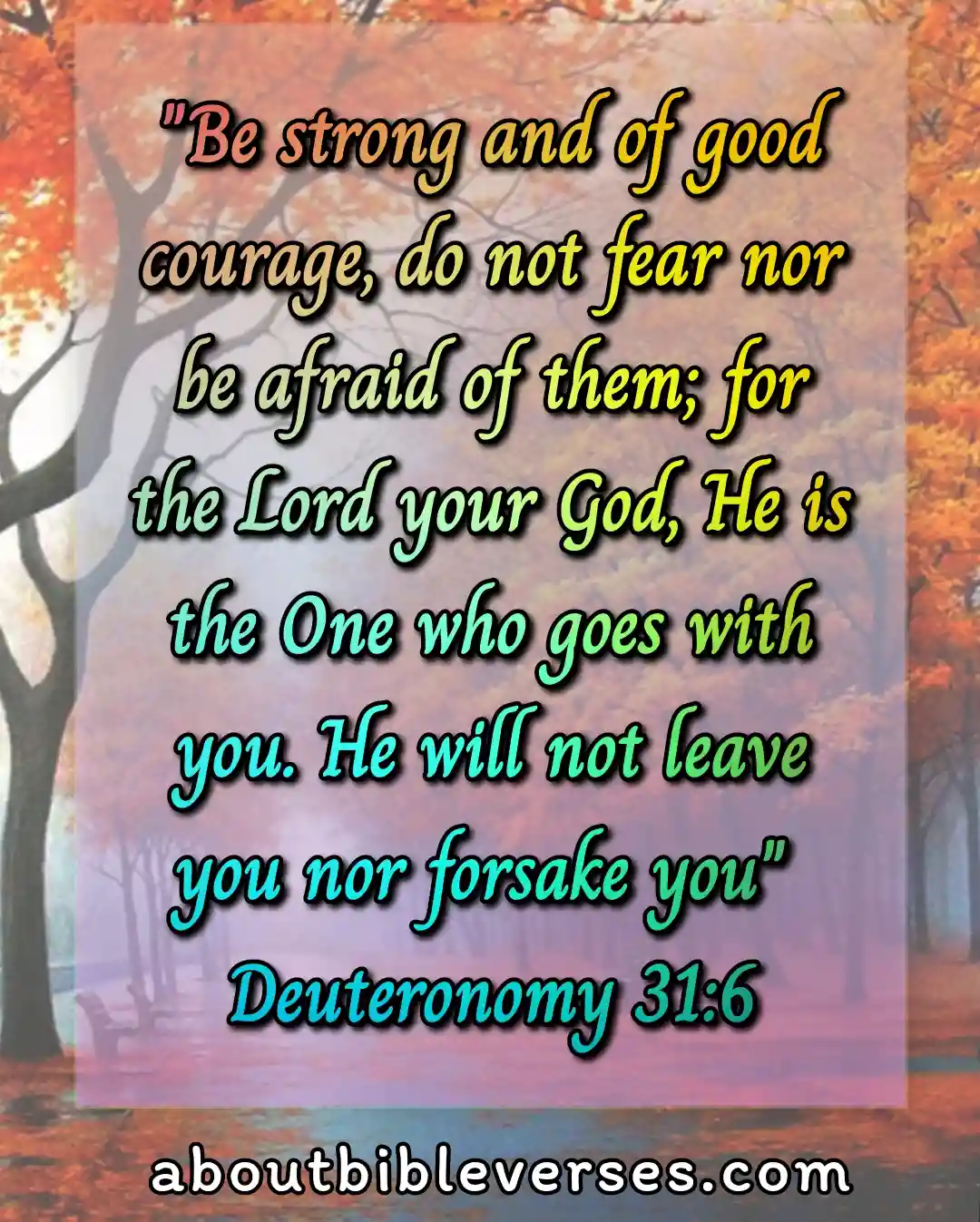 Deuteronomy 31:6(KJV)"Be strong and of a good courage, fear not, nor be afraid of them: for the Lord thy God, he it is that doth go with thee; he will not fail thee, nor forsake thee"
Explanation:- The Lord encouraged Joshua to be strong spiritually as he was assigned to lead the children of Israel. He was promised that God will be with him as he was with Moses. If he believes in him then he will prosper in his life.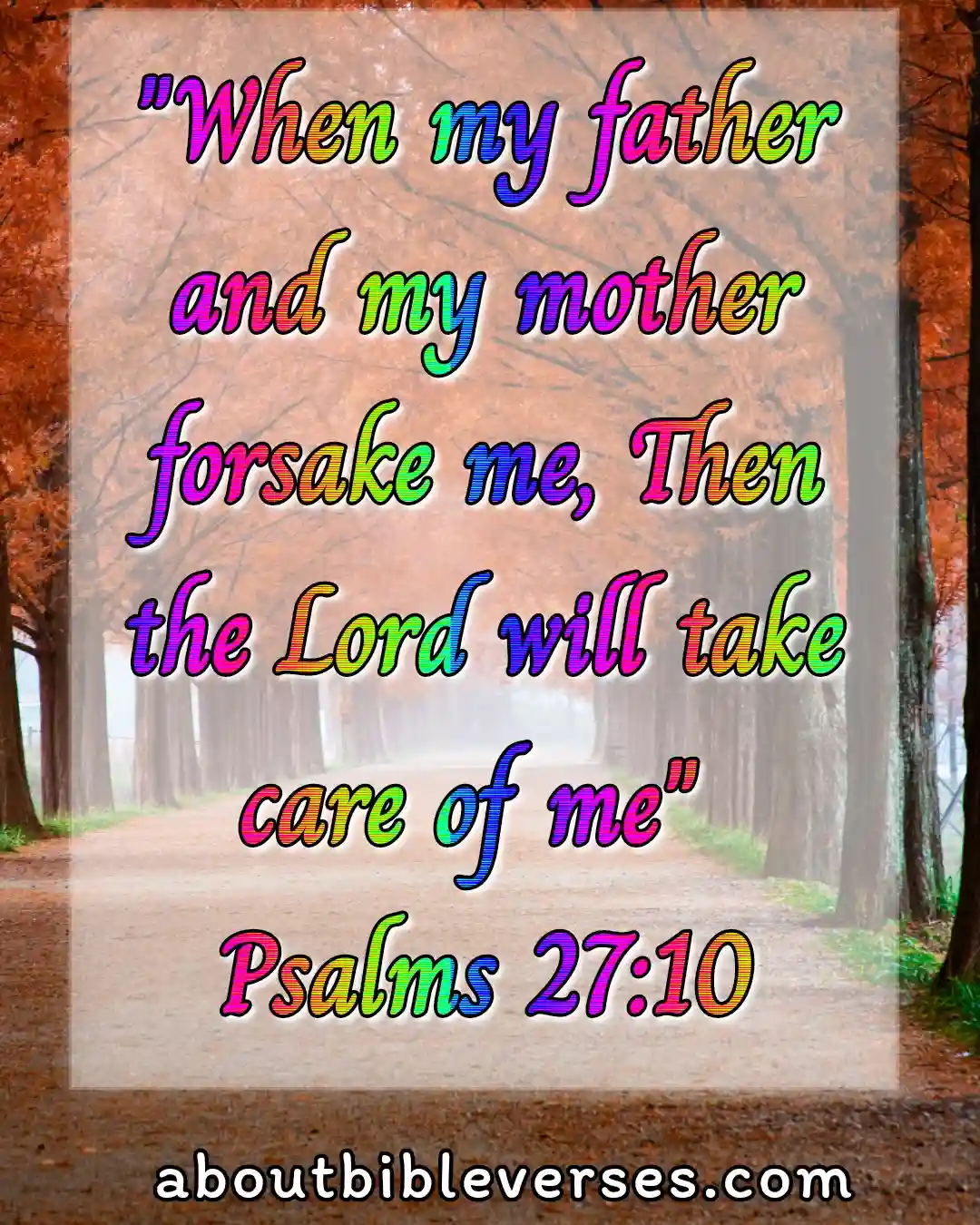 Psalm 27:10(KJV)"When my father and my mother forsake me, then the Lord will take me up"
Explanation:- King David says that when he will leave this physical earth at that time he will enter into God's land. The Lord is watching us and he will give us comfort and blessing if we believe his ways. He will not leave us on this earth which is full of unrighteousness. The Lord says that he will be with us and his desire is to live with us forever that is why he created us by his own image.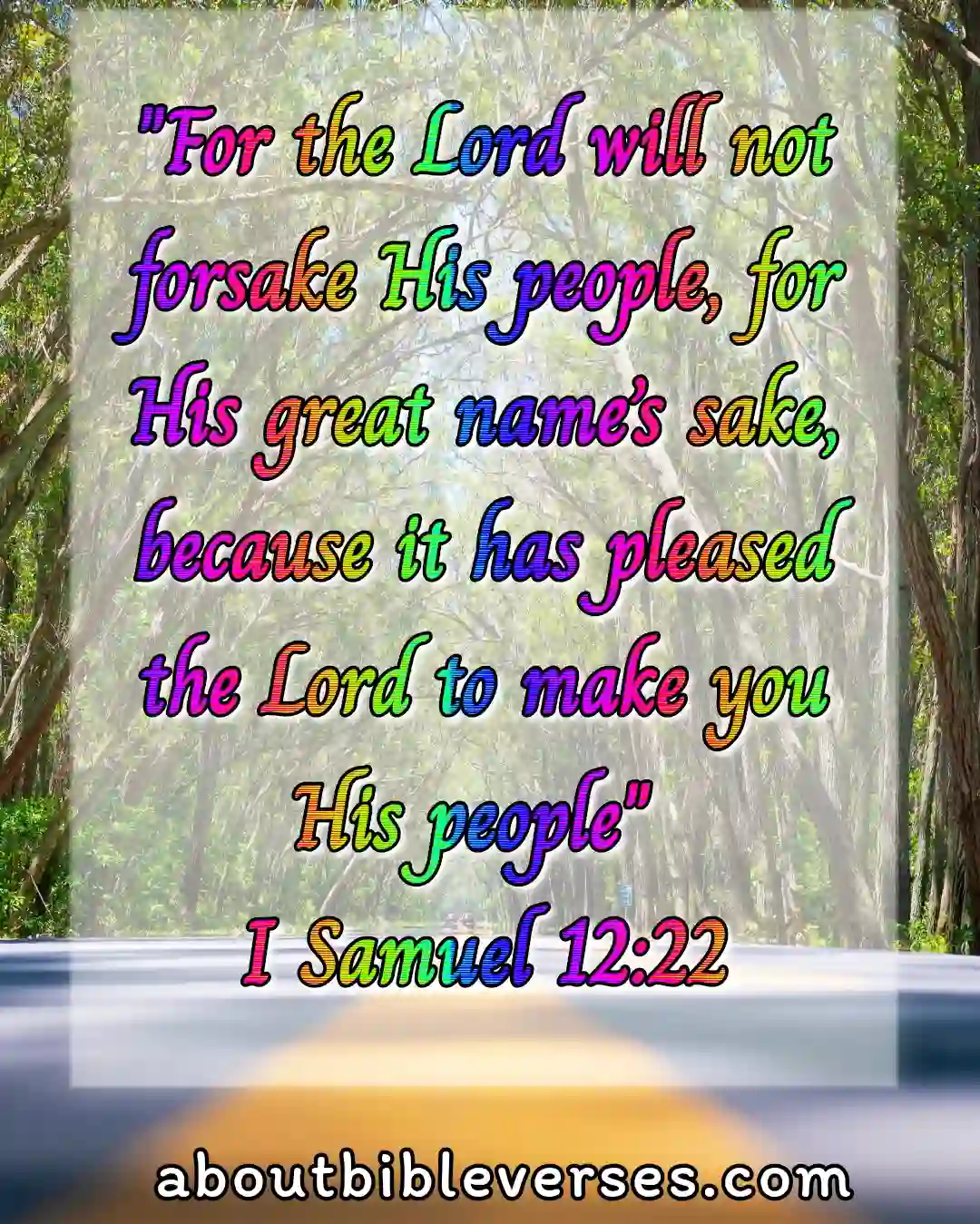 1 Samuel 12:22(KJV)"For the Lord will not forsake his people for his great name's sake: because it hath pleased the Lord to make you his people"
Explanation:- The Lord loved Israel as it was his chosen nation. But many times the children of Israel left him and worshipped idols. Still, God showed them his mercy and forgave their sins. The Lord says that he will not leave us alone in this sinful world.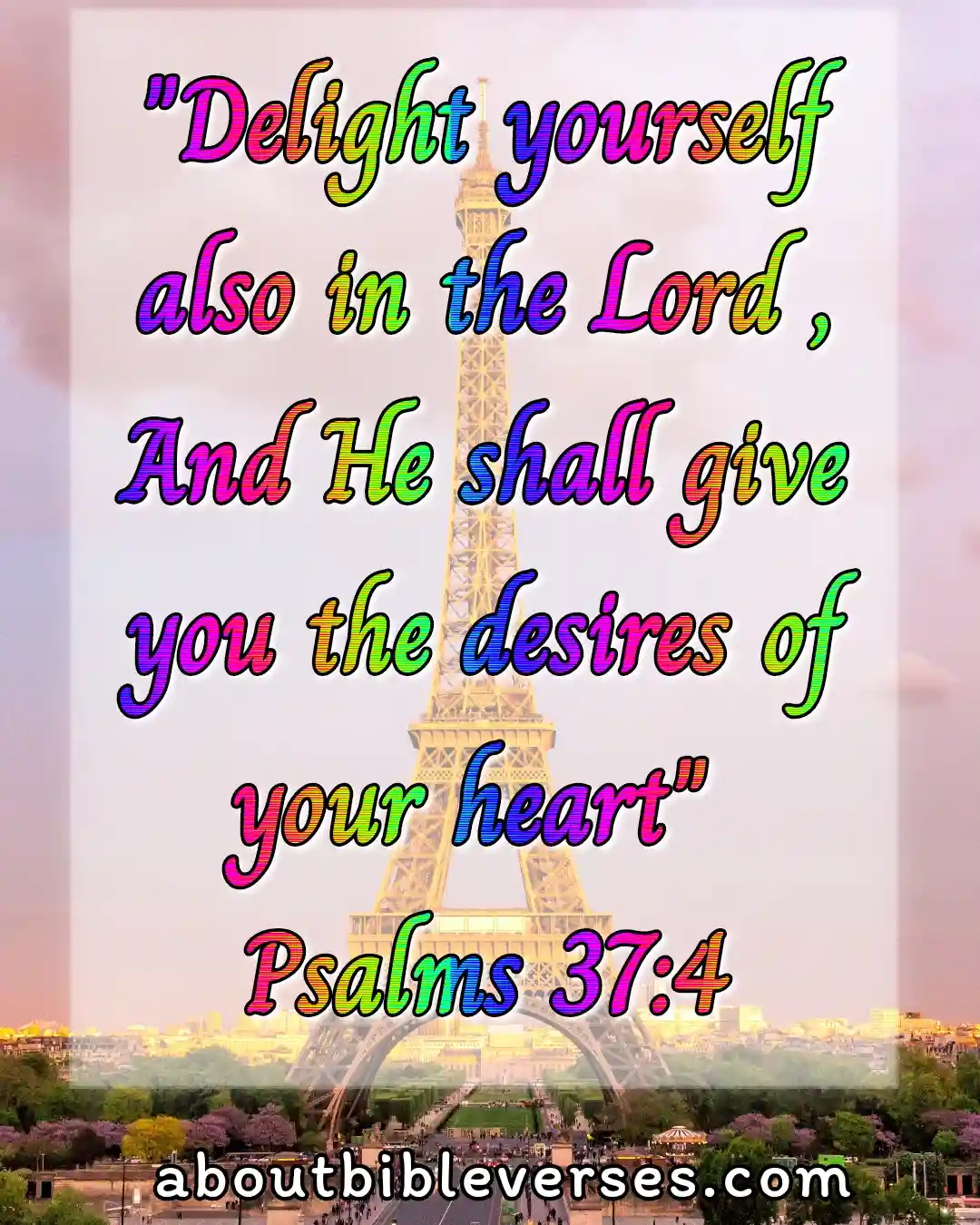 Psalm 37:4(KJV)"Delight thyself also in the Lord: and he shall give thee the desires of thine heart"
Explanation:- The word of God says to be happy in the Lord and he will give us strength to overcome all evil. He will be with us till his second coming and he will never leave us alone. If his children obey him then he will fulfill the desires of their hearts.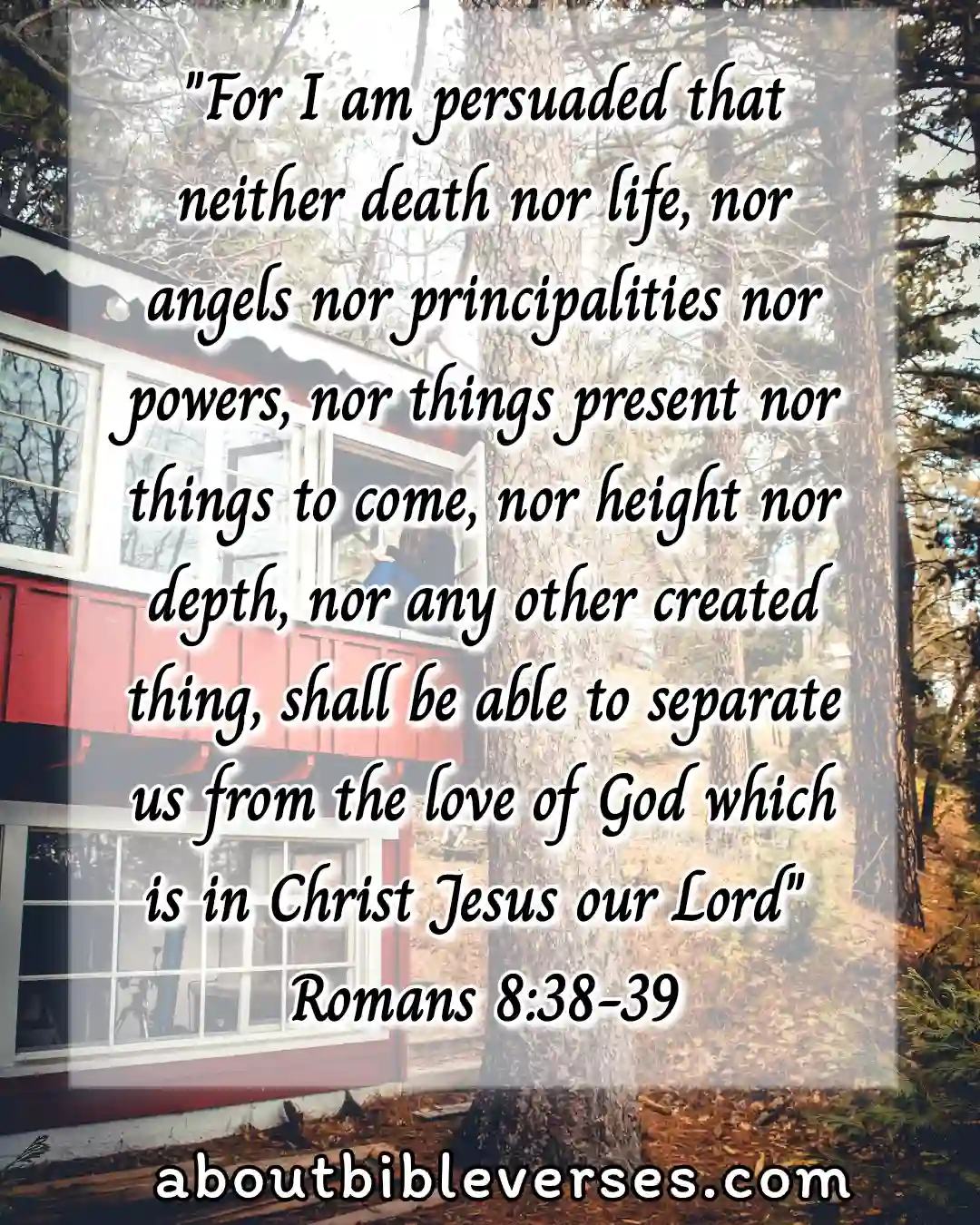 Romans 8:38-39(KJV)"For I am persuaded, that neither death, nor life, nor angels, nor principalities, nor powers, nor things present, nor things to come, Nor height, nor depth, nor any other creature, shall be able to separate us from the love of God, which is in Christ Jesus our Lord"
Explanation:- Death, angels, world power cannot stop the children of God to come before their creator. The Lord himself will protect his children from every kind of problem. He is the Lord of Lords and King of Kings. Nothing can snath his children from his hands. None can separate us from the presence of God.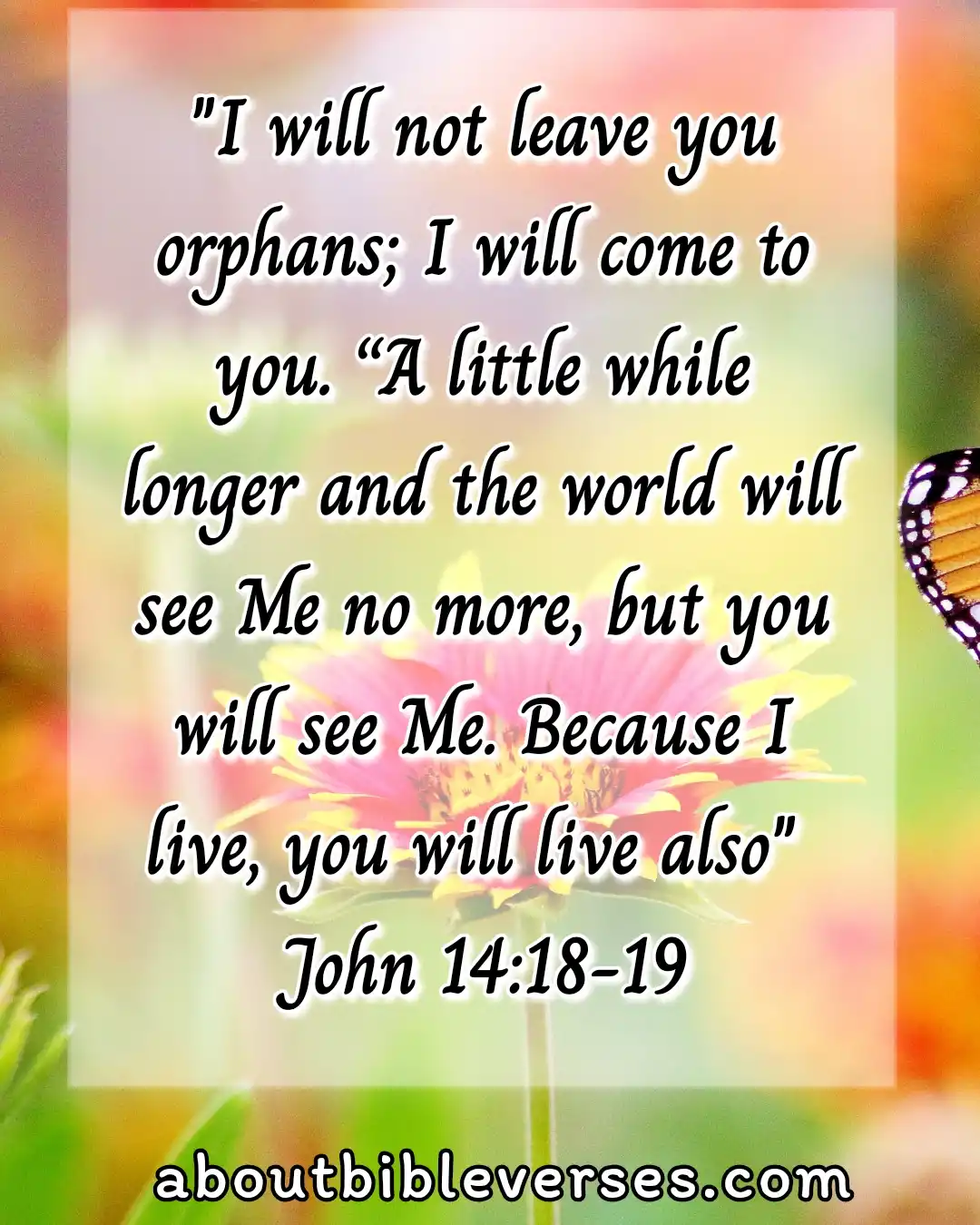 John 14:18-19(KJV)"I will not leave you comfortless: I will come to you. Yet a little while, and the world seeth me no more; but ye see me: because I live, ye shall live also"
Explanation:- Jesus says that he will come again on this earth to take the righteous. But at his second coming, he will not give any chance to the unrighteous people. 
Before he left the earth he assured his disciples that he will be with them every day and everywhere wherever they will go.