Today, we will explore some Bible verses that can offer encouragement as you seek a new job in the KJV.
However, my dear friends, remember that obtaining a new job should not lead you to forget God. Instead, let your prayer be, "O God, may I glorify You through this new job. If this job takes me away from You, then I don't want it. Guide me according to Your divine plan. If this new job aligns with Your will, grant me the strength to excel in it."
Friends, it's essential to understand that God expects us to work diligently. We can't simply sit at home and pray without putting in effort.
The Bible teaches us that we should actively seek new opportunities, and when we do, God will assist us. He observes our dedication and detests laziness. So, while you search for a new job, pray fervently and entrust your burden entirely to God. Only then will He bless you with the right job that suits your needs.
Now, let's turn to the Bible verses that provide guidance and inspiration for those seeking new job opportunities.
---
Bible Verses About Getting A New Job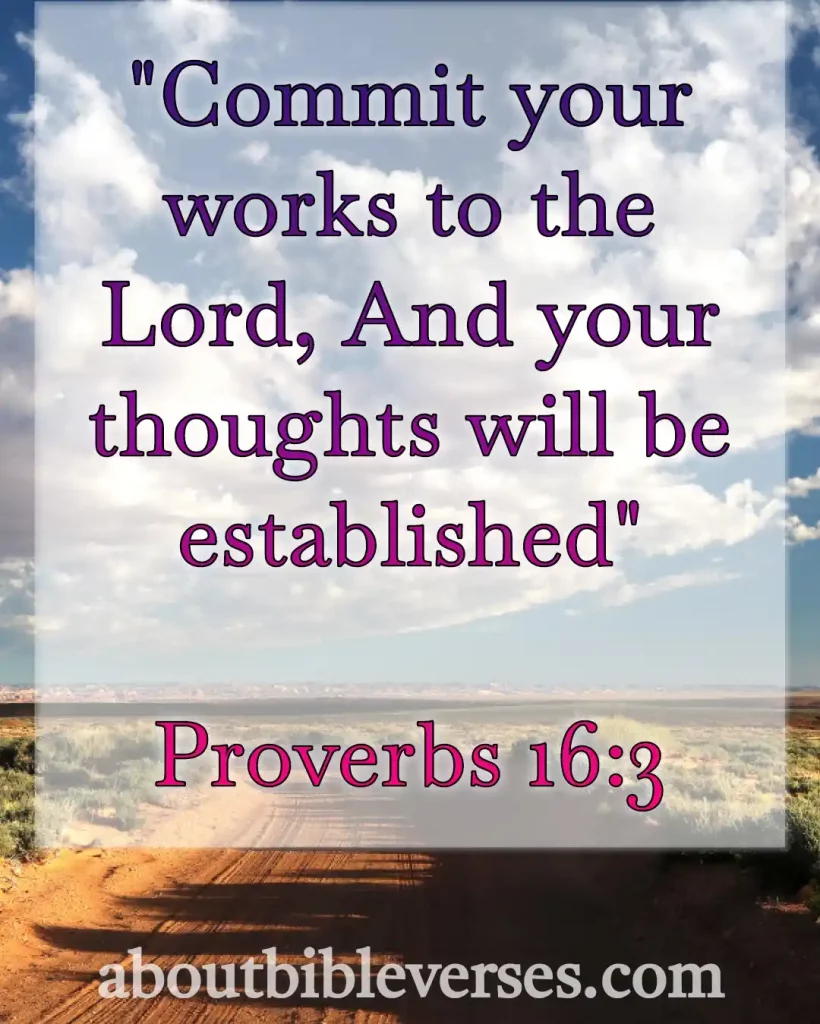 "Commit thy works unto the Lord, and thy thoughts shall be established"
Proverbs 16:3
Explanation: This verse reminds us to trust God with our actions and plans. When we commit our work to the Lord, our thoughts become aligned with His will, leading to better decisions and outcomes in our lives. It encourages us to seek His guidance in all we do, recognizing that He has a plan for us.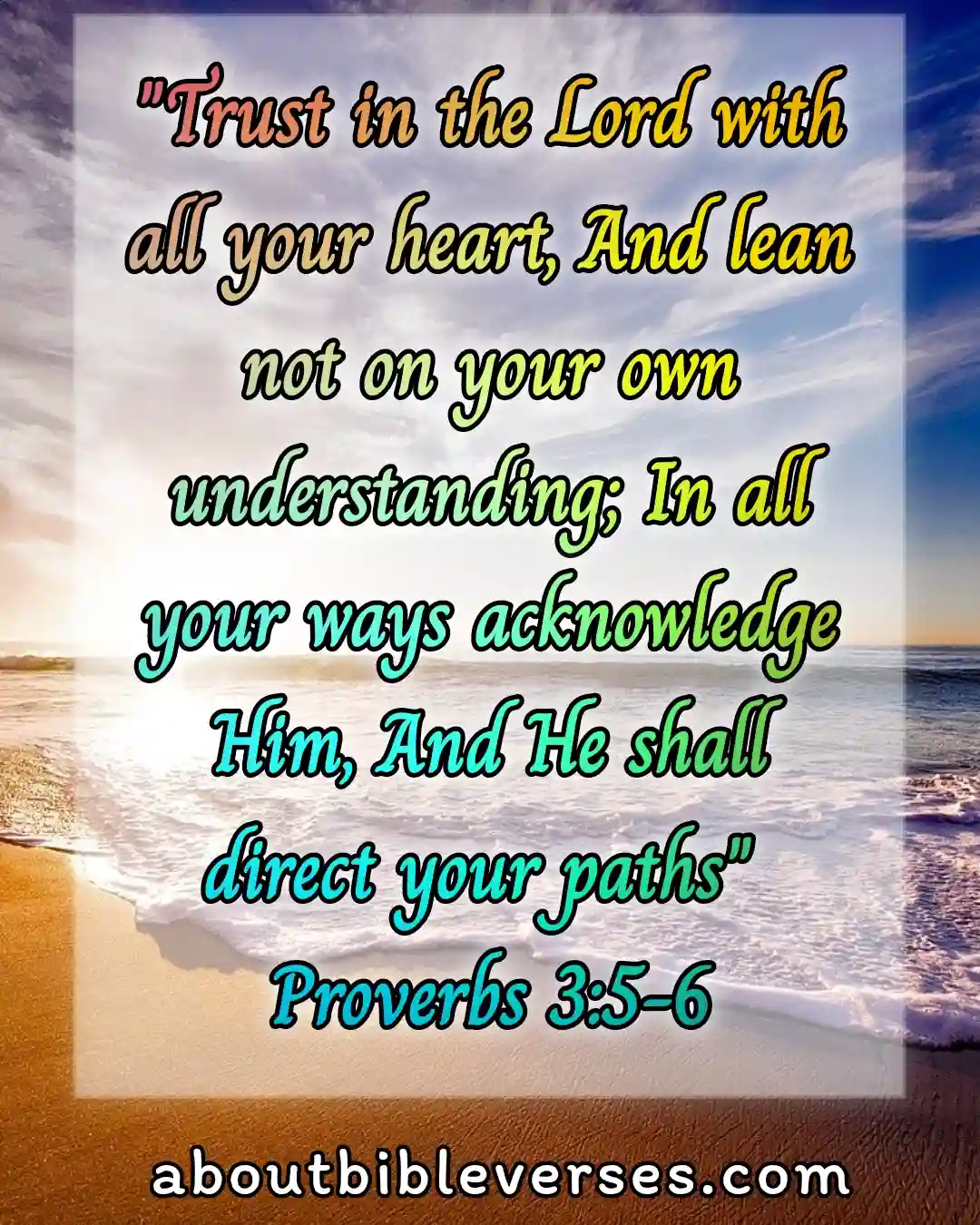 "Trust in the Lord with all thine heart; and lean not unto thine own understanding.In all thy ways acknowledge him, and he shall direct thy paths"
Proverbs 3:5-6
Explanation: This passage encourages us to have unwavering trust in God. It advises us not to rely solely on our own understanding but to acknowledge God in every aspect of our lives. When we do so, God promises to guide our paths and direct us toward His purpose for us. It's a reminder of the importance of faith and surrendering to God's wisdom.
"And whatsoever ye do, do it heartily, as to the Lord, and not unto men"
Colossians 3:23
Explanation: This verse reminds us to do our work with enthusiasm and dedication as if we are doing it for the Lord Himself. It emphasizes that our actions should reflect our faith and be done wholeheartedly. By working in this way, we honor God and live out our Christian values in our daily lives.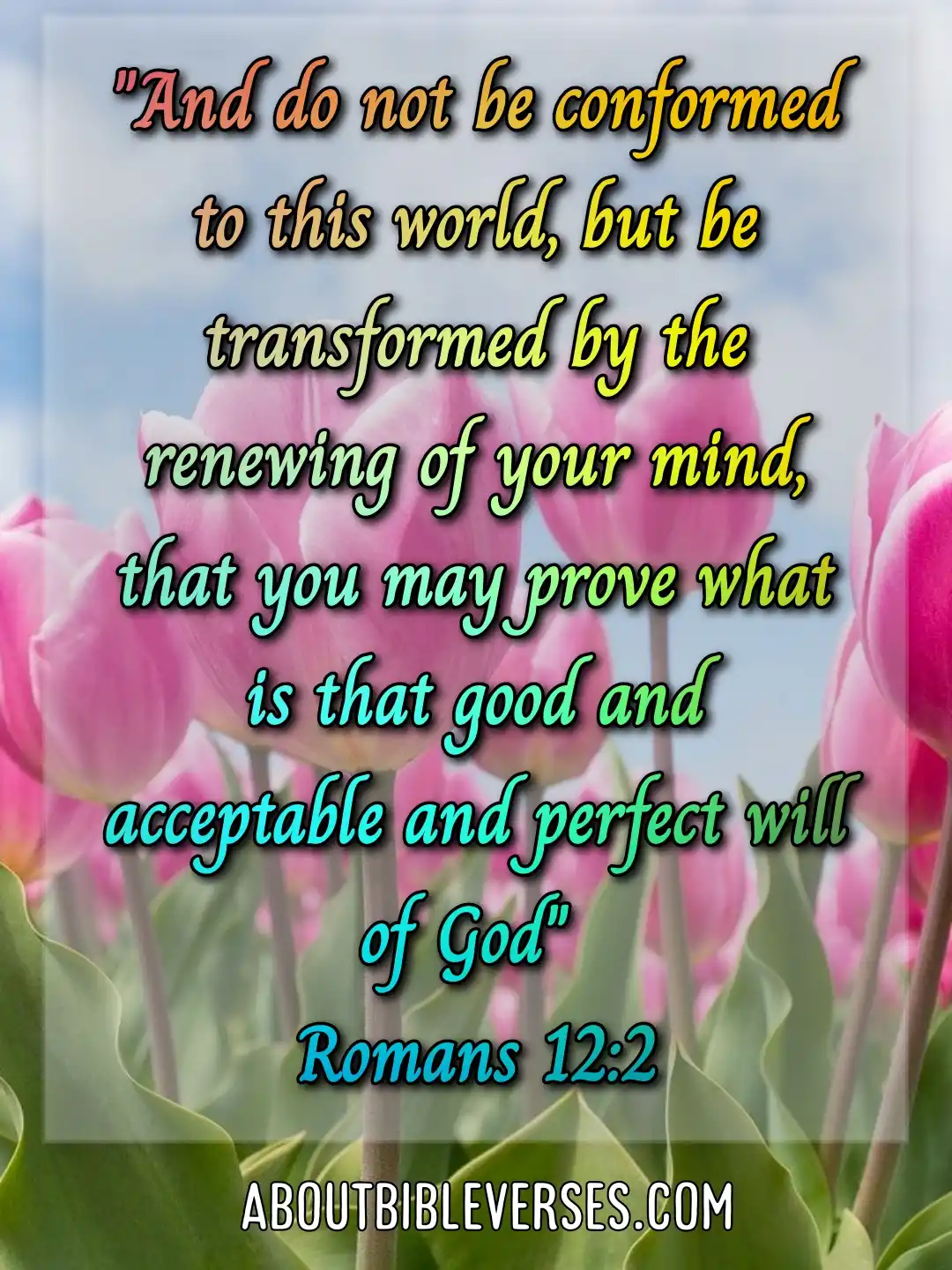 "And be not conformed to this world, but be ye transformed by the renewing of your mind, that ye may prove what is that good, and acceptable, and perfect, will of God"
Romans 12:2
Explanation: In this verse, we are encouraged not to conform to the ways of the world but to be transformed by renewing our minds through God's Word and guidance. By doing so, we can understand and live according to God's perfect will, making choices that are pleasing to Him. It reminds us to prioritize spiritual growth and discern God's plan for our lives.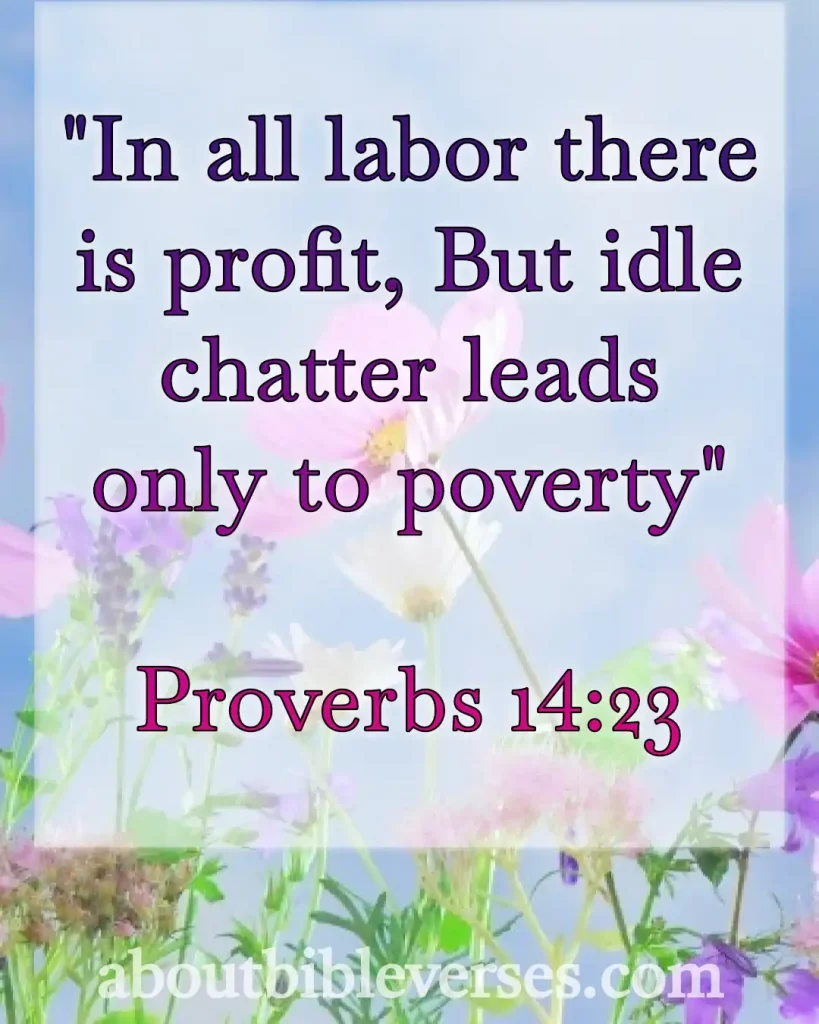 "In all labour there is profit, but the talk of the lips tendeth only to penury"
Proverbs 14:23
Explanation: This verse highlights the value of hard work and diligence. It suggests that our efforts in labor can lead to profit and success. However, it contrasts this with empty talk, which can lead to poverty. As Christians, we are encouraged to be diligent in our work and use our words wisely, ensuring that our actions align with our beliefs and contribute positively to our lives and the lives of others.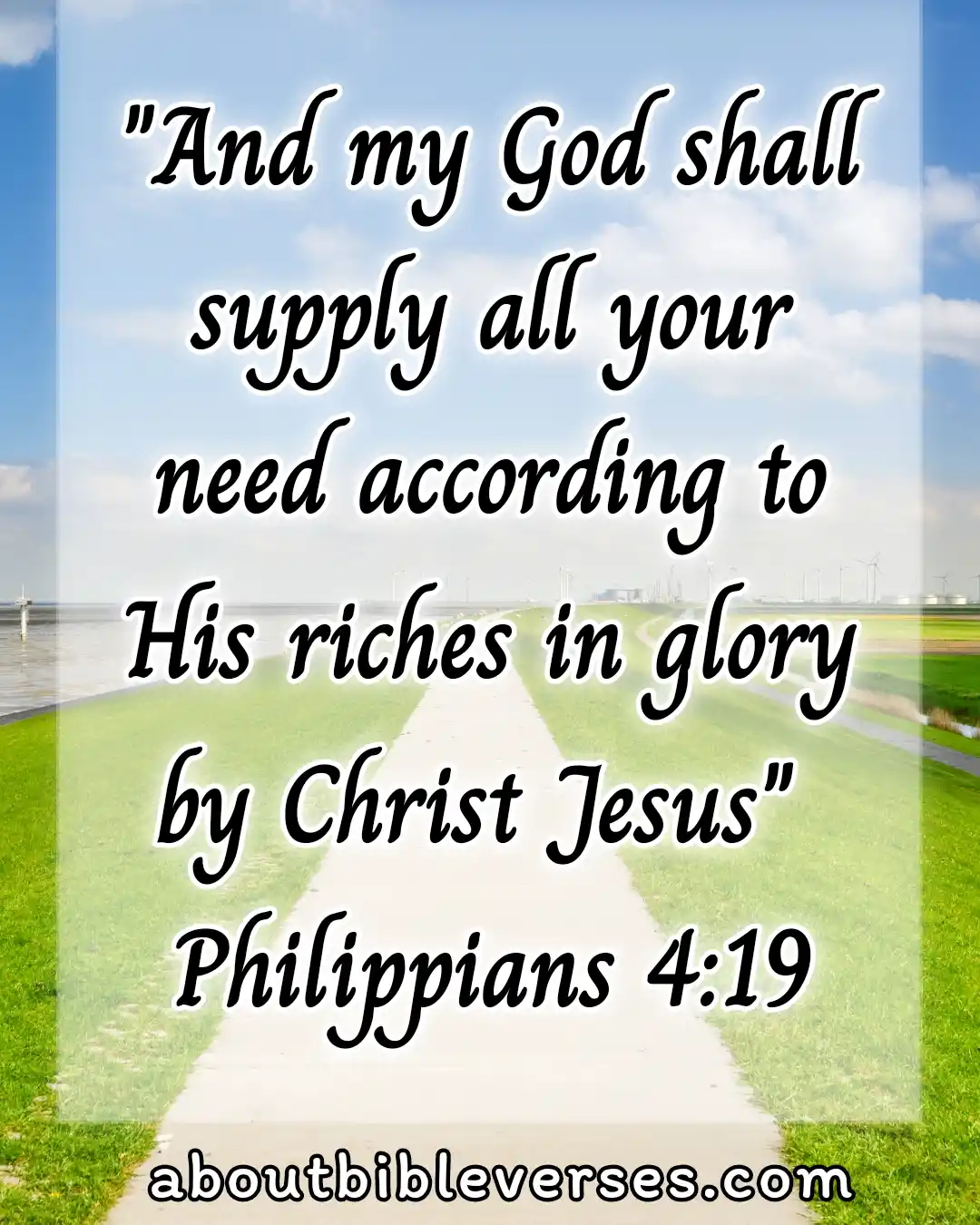 "But my God shall supply all your need according to his riches in glory by Christ Jesus"
Philippians 4:19
Explanation: Believer, this verse reassures us that our God is a generous provider. He promises to meet all our needs, not just barely, but according to His abundant riches through Christ Jesus. So, when you face challenges or worries about your needs, remember that God's supply is boundless, and He cares for you.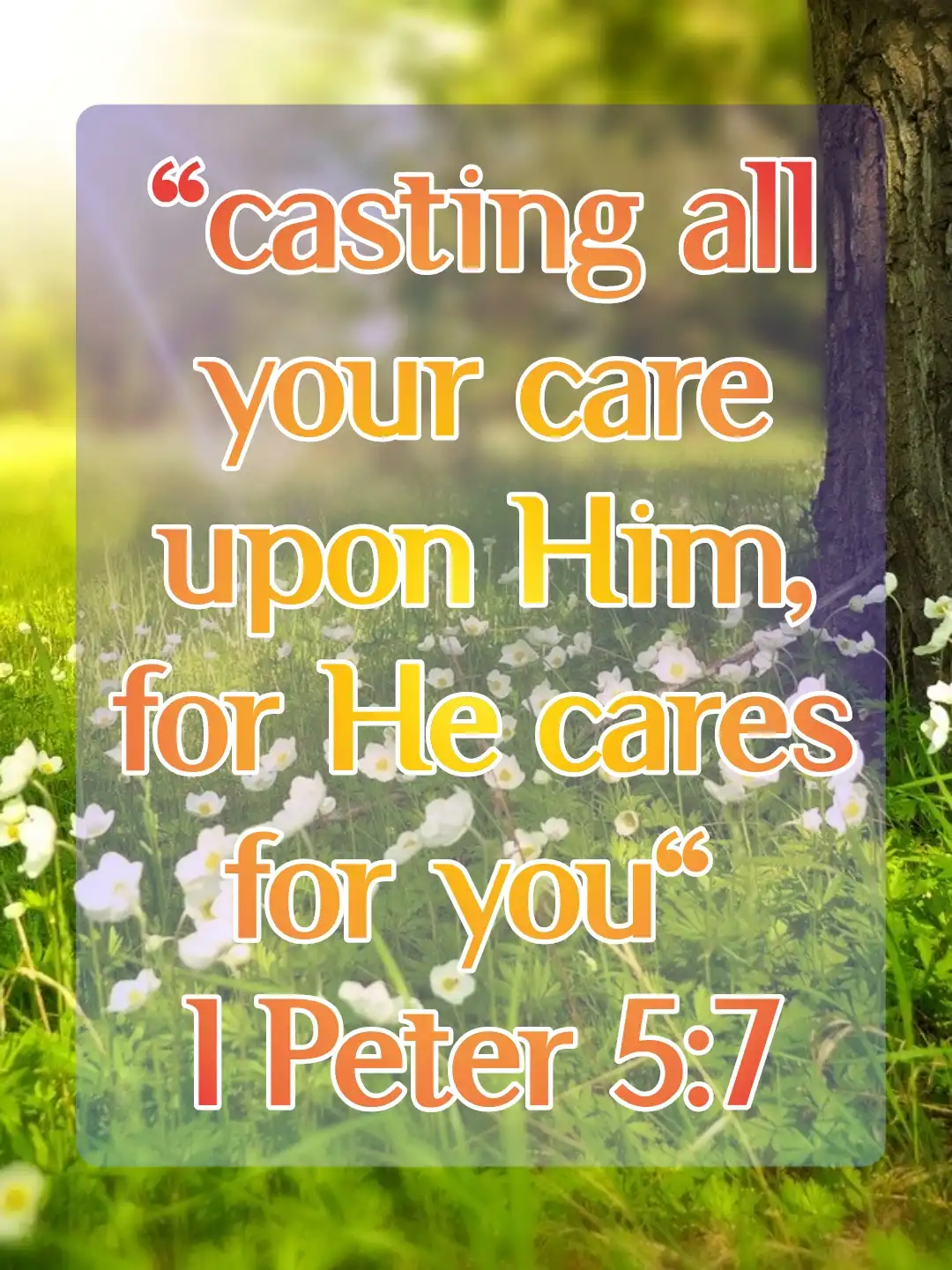 "Casting all your care upon him; for he careth for you"
1 Peter 5:7
Explanation: This verse reminds us to cast all our worries and cares upon the Lord. Why? Because He deeply cares for you. It's a comforting thought that in times of trouble or anxiety, you can lean on God's loving and caring nature. Trust Him with your concerns, and find peace in His care.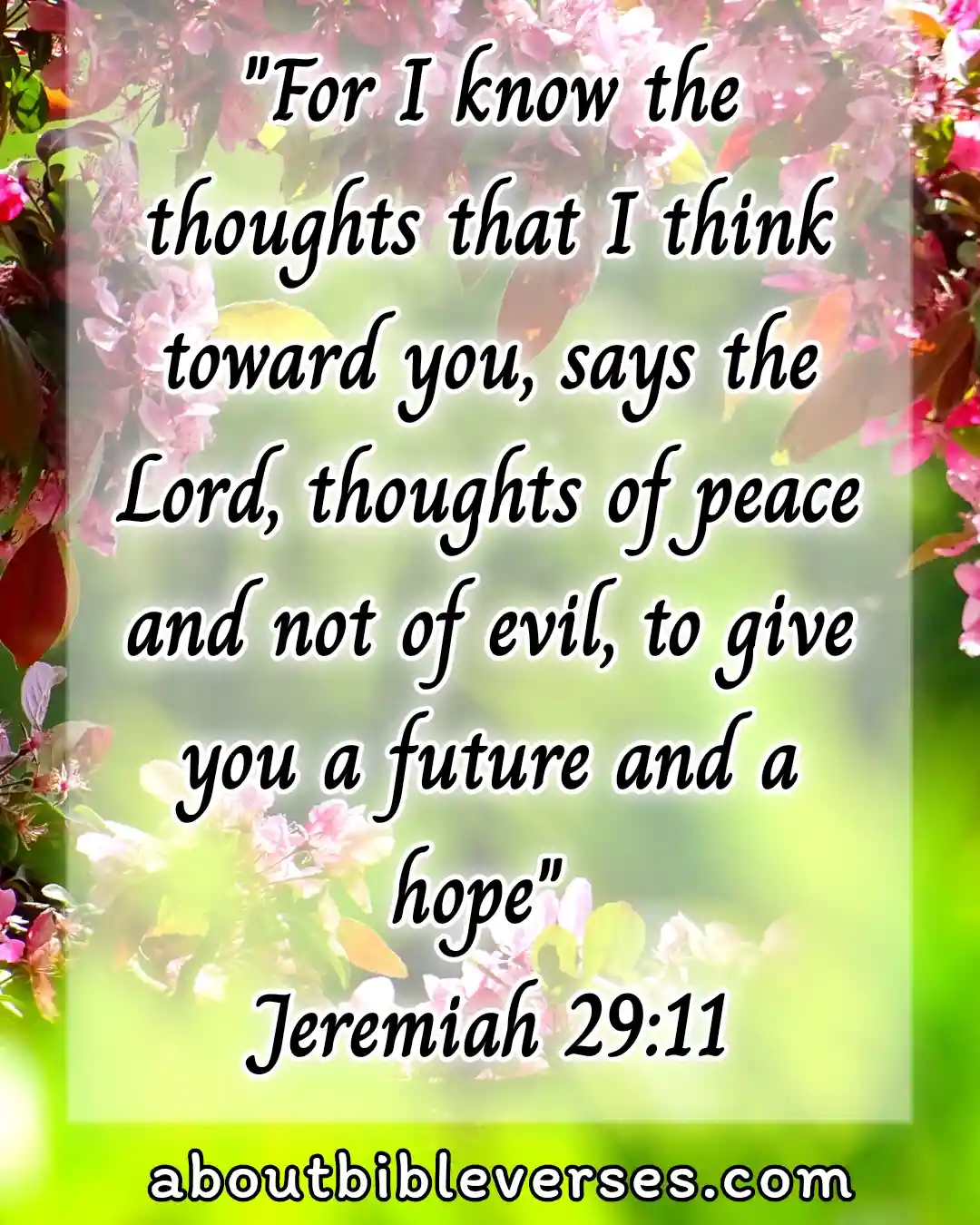 "For I know the thoughts that I think toward you, saith the Lord, thoughts of peace, and not of evil, to give you an expected end"
Jeremiah 29:11
Explanation: This beautiful verse from Jeremiah reveals God's loving intentions towards us. He thinks peaceful and hopeful thoughts for our future, not harmful ones. God desires to grant us a bright and promising future. Knowing this, we can approach life with confidence and trust in His loving plans.
" I the Lord search the heart, I try the reins, even to give every man according to his ways, and according to the fruit of his doings"
Jeremiah 17:10
Explanation: The Lord, who knows our hearts intimately, examines our innermost thoughts and intentions. He judges us not only by our actions but by the true nature of our hearts. This verse reminds us that our God is just and fair, and He rewards us according to our deeds. So, strive to live righteously and trust in His righteous judgment.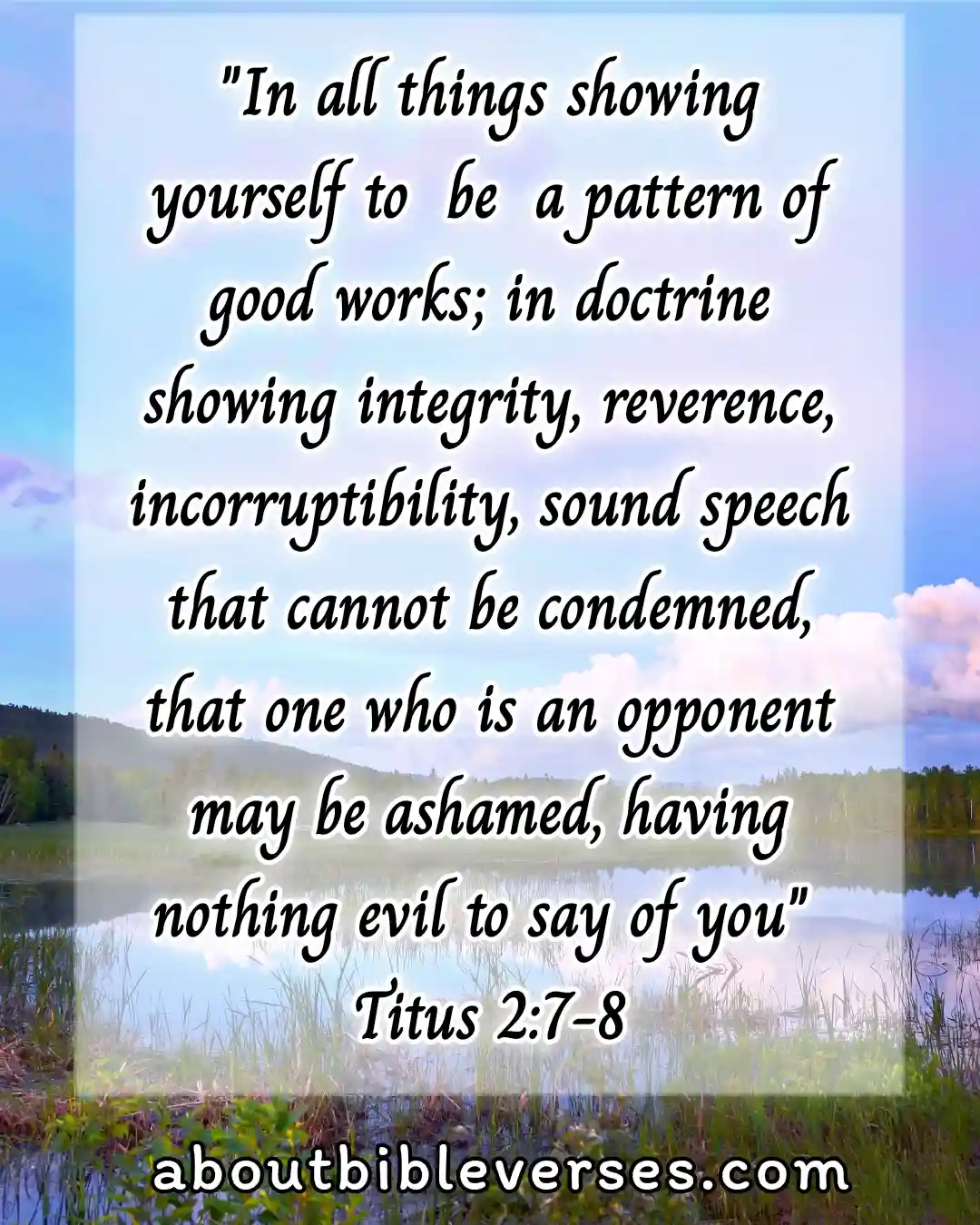 "In all things shewing thyself a pattern of good works, in doctrine shewing uncorruptness, gravity, sincerity, Sound speech, that cannot be condemned; that he that is of the contrary part may be ashamed, having no evil thing to say of you"
Titus 2:7-8
Explanation: In Titus 2:7-8, we're reminded to be role models of good behavior and sincere teaching, using words that can't be criticized. This way, those who oppose us will have nothing negative to say. It encourages us to live with integrity, grace, and wisdom, reflecting the teachings of Jesus.
"And let the beauty of the Lord our God be upon us, and establish thou the work of our hands upon us; yea, the work of our hands establish thou it"
Psalm 90:17
Explanation: Psalm 90:17 encourages us to seek God's beauty in our lives and ask Him to bless our endeavors. It reminds us that the work we do should be established by God, and when we invite His presence, our efforts become meaningful and blessed.
"He becometh poor that dealeth with a slack hand, but the hand of the diligent maketh rich. He that gathereth in summer is a wise son, but he that sleepeth in harvest is a son that causeth shame"
Proverbs 10:4-5
Explanation: Proverbs 10:4-5 teaches us about the importance of diligence and wisdom. It contrasts laziness with diligence, highlighting that hard work leads to prosperity, while laziness brings shame. This verse encourages us to work diligently and seize opportunities.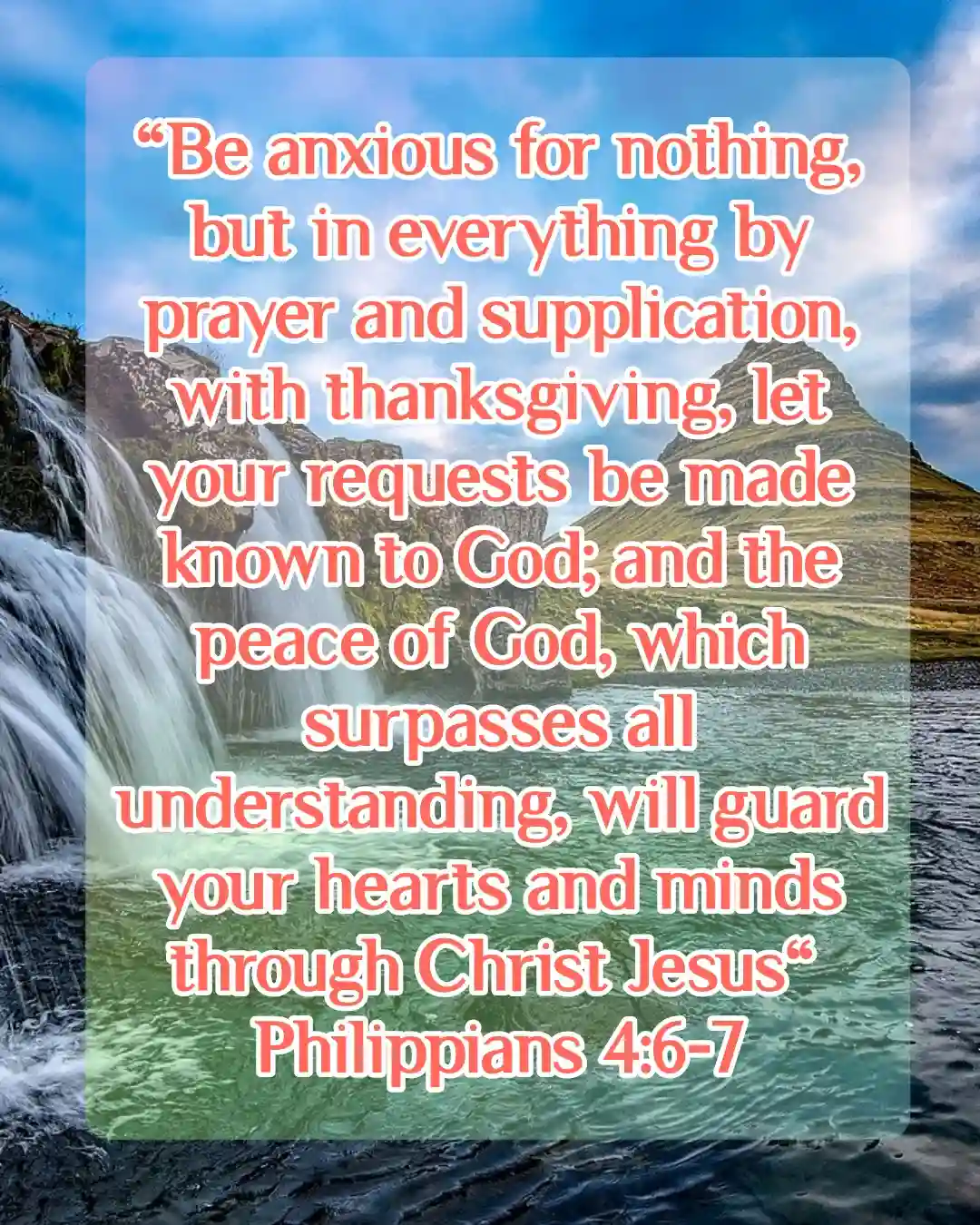 "Be careful for nothing; but in every thing by prayer and supplication with thanksgiving let your requests be made known unto God. And the peace of God, which passeth all understanding, shall keep your hearts and minds through Christ Jesus"
Philippians 4:6-7
Explanation: Philippians 4:6-7 encourages us not to worry but to pray about everything with thanksgiving. It assures us that when we bring our requests to God, His peace, beyond our understanding, will guard our hearts through Jesus Christ. This verse reminds us of the power of prayer and the peace it brings.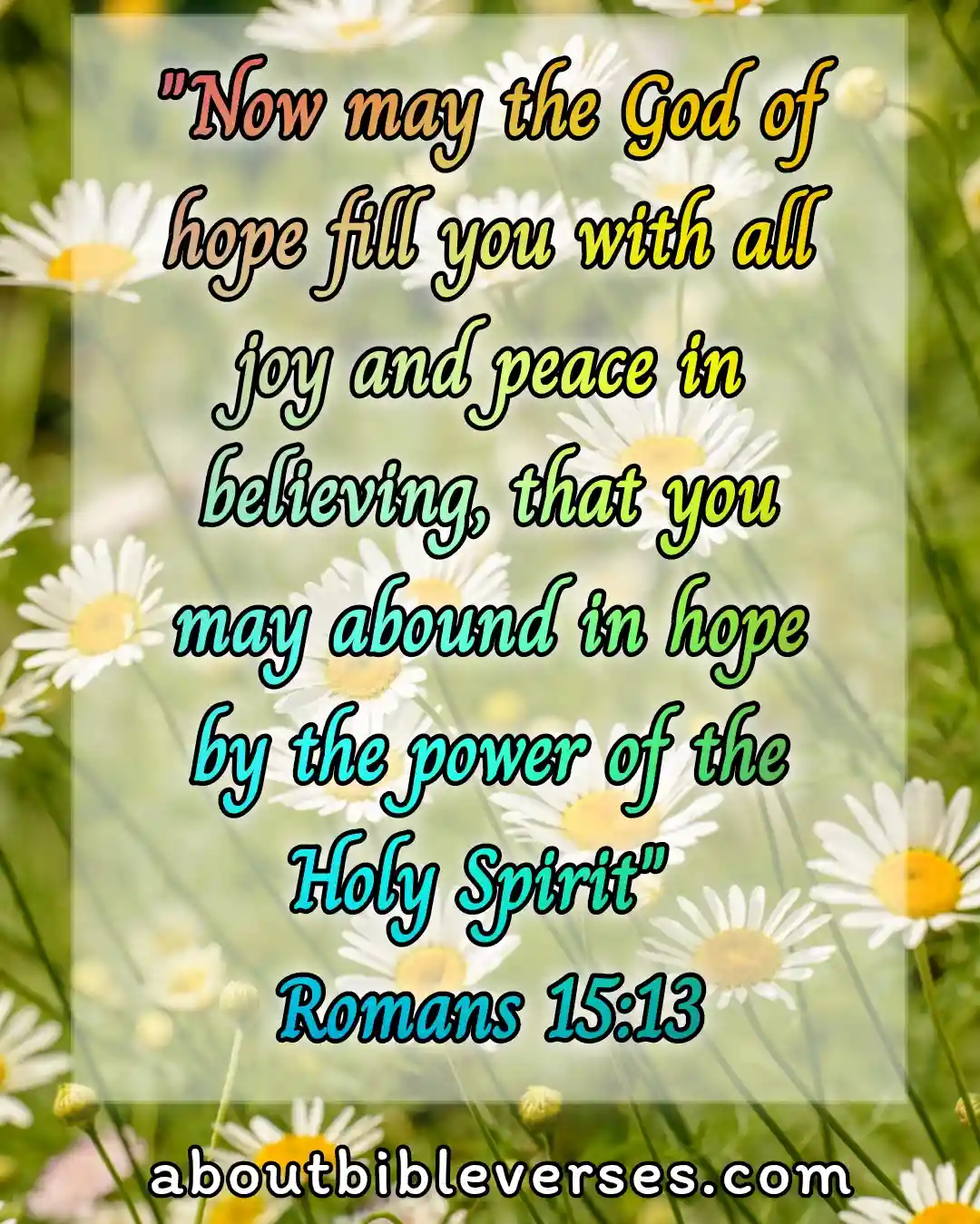 "Now the God of hope fill you with all joy and peace in believing, that ye may abound in hope, through the power of the Holy Ghost"
Romans 15:13
Explanation: Romans 15:13 reminds us that God is the source of hope, joy, and peace for believers. Through the Holy Spirit's power, we can abound in hope, experiencing joy and peace in our faith journey. It's a reassuring message of God's presence and support in our lives.
---
Spiritual Help When Getting A New Job
Getting a new job can be an exciting yet challenging journey in our lives. It's a time when we seek stability, growth, and fulfillment in our careers. During this period of change and transition, turning to spiritual help can provide us with the guidance and strength we need to navigate this important chapter in our lives.
One of the most comforting aspects of seeking spiritual help when getting a new job is the reminder of God's presence and guidance in our lives. In times of uncertainty, we can find solace in knowing that God has a plan for us and that He is always with us, guiding our steps. As the Bible reminds us, "For I know the plans I have for you, declares the Lord, plans for welfare and not for evil, to give you a future and a hope."
Prayer is a powerful tool when seeking spiritual help during the job search process. Through prayer, we can express our hopes, fears, and desires to God, trusting that He will listen and provide us with the wisdom and discernment we need to make the right decisions. In Philippians, we are encouraged to "do not be anxious about anything, but in everything by prayer and supplication with thanksgiving let your requests be made known to God."
Moreover, the Bible teaches us about the importance of patience and trust in God's timing. Sometimes, the process of finding the right job can be challenging, and it may take longer than we expect. However, as Psalm 37:7 reminds us, "Be still before the Lord and wait patiently for him." Trusting in God's timing can alleviate our anxieties and help us maintain a peaceful heart during the job search.
In addition to prayer and patience, seeking guidance from spiritual mentors or a supportive community can be a source of great comfort and wisdom. Proverbs 11:14 tells us, "Where there is no guidance, a people falls, but in an abundance of counselors, there is safety." Connecting with others who share our faith can provide us with valuable insights, encouragement, and a sense of belonging.
In conclusion, seeking spiritual help when getting a new job is a wonderful way to navigate this significant life transition. Through prayer, patience, and the support of a spiritual community, we can find comfort, guidance, and assurance in God's plan for our careers. Remember that God is always by our side, ready to provide us with the strength and wisdom we need to embark on this new chapter in our lives.
Last Updated: November 6, 2023