Hello dear friends, welcome to our site in the name of Jesus Christ. Today we will look at the Bible Scriptures About Friends, Friendship With God In KJV. If you like today's post then definitely comment and share.
We all have friends in our society or in our work areas with whom we share our thoughts and feelings. When we come closer to somebody else we discuss our problems and our happiness with them thus we form a relationship of friendship.
But sometimes those friends leave the earth and that makes us upset. As human beings are temporary in this universe, one day we all have to leave this earth. Apart from that human beings are not trustworthy because sin controls us.
Bible encourages us to make friends with others who are in the same direction as Jesus. Even Jesus claimed that he would be our friend if we completely obey him in every aspect of life. Jesus taught us to love each other the way He loves us. Our friendship will be sweet when will put Jesus first.
Sometimes we cannot tell our feelings to our parents and that makes us upset inside but when we share with our friends it helps us to get the joy out of that situation.
In this article, we have discussed friendship with God and the result of it which will give us eternal life.
Characteristics of a good friend according to the bible are God-fearing, holy and true followers of Jesus.
Dear friends now let's see the Bible scriptures below that talk about Friendship and How To be Friendship With God.
Job 6:14(KJV) "To him that is afflicted pity should be shewed from his friend; but he forsaketh the fear of the Almighty"
Explanation:- If someone is in trouble, his friend should be kind to him, even if someone turns away from Almighty God, his friend should be faithful to him.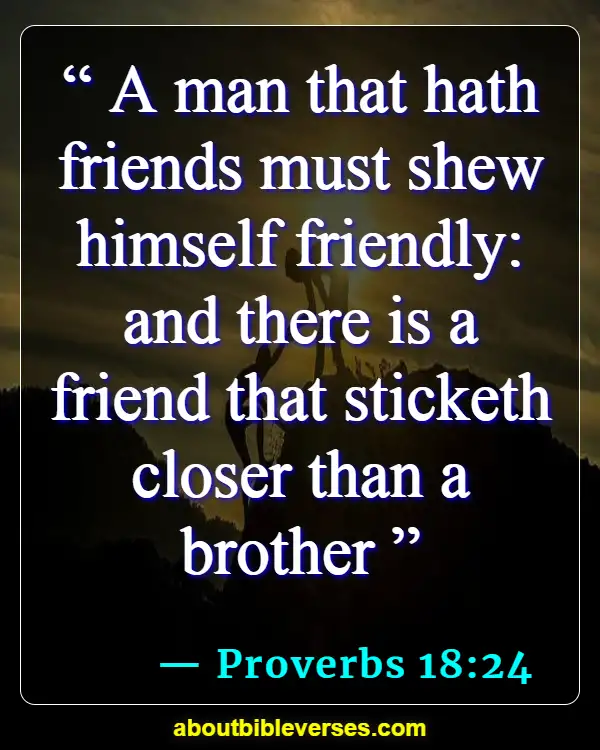 Proverbs 18:24(KJV)"A man that hath friends must shew himself friendly: and there is a friend that sticketh closer than a brother"
Explanation:-We all have friends but out of them, some might be free in the time of need. Some also will show sympathy but eventually, they will become useless when we need them. But a true friend can play a major role in our danger.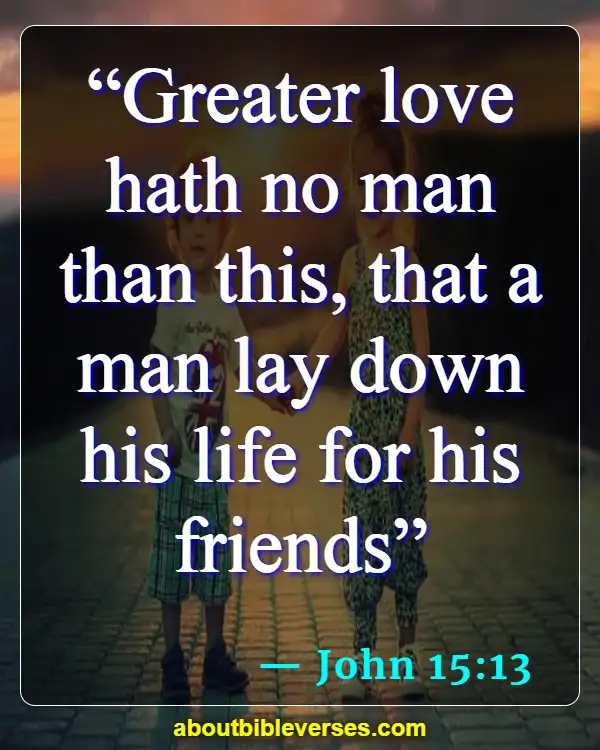 John 15:13(KJV)"Greater love hath no man than this, that a man lay down his life for his friends"
Explanation:-The greatest love was displayed by Jesus on the cross by giving his precious life for our sake. No friends will give their life for others but as Jesus loves us so only he gives his life for us.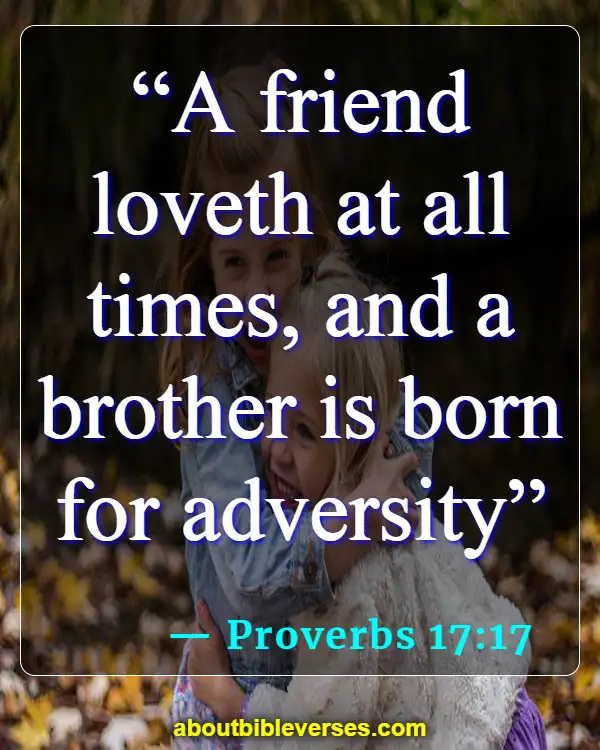 Proverbs 17:17(KJV)"A friend loveth at all times, and a brother is born for adversity"
Explanation:-In our family members and relatives have always guided us and helped us in every situation that we face. But sometimes they hide from us when we badly need them. We seek help from them but they remain silent. The friend who you love always will help without any condition at that sudden point in time.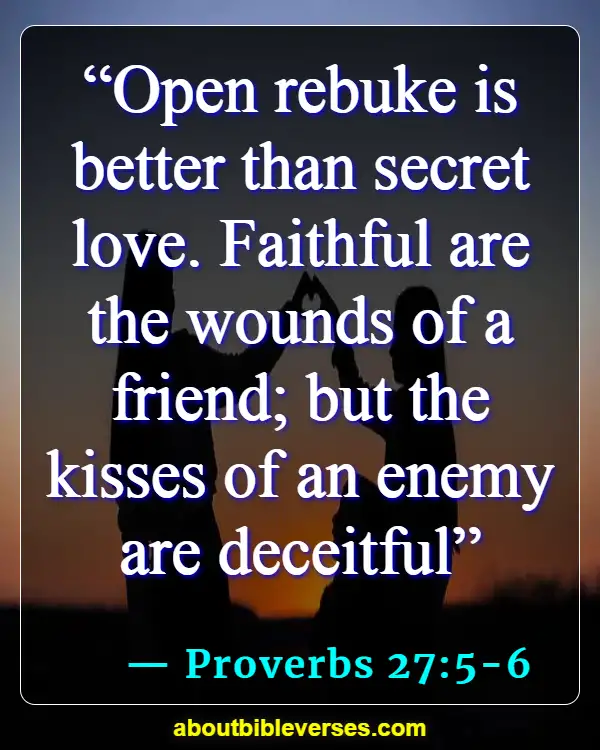 Proverbs 27:5-6(KJV)"Open rebuke is better than secret love. Faithful are the wounds of a friend; but the kisses of an enemy are deceitful"
Explanation:-It would be best if someone scolds him instead of hiding the truth and showing a gentle face before him. We commit mistakes but still, we should try to perform our best. When we fail to satisfy others, they get an advantage to rule over us by misbehavior.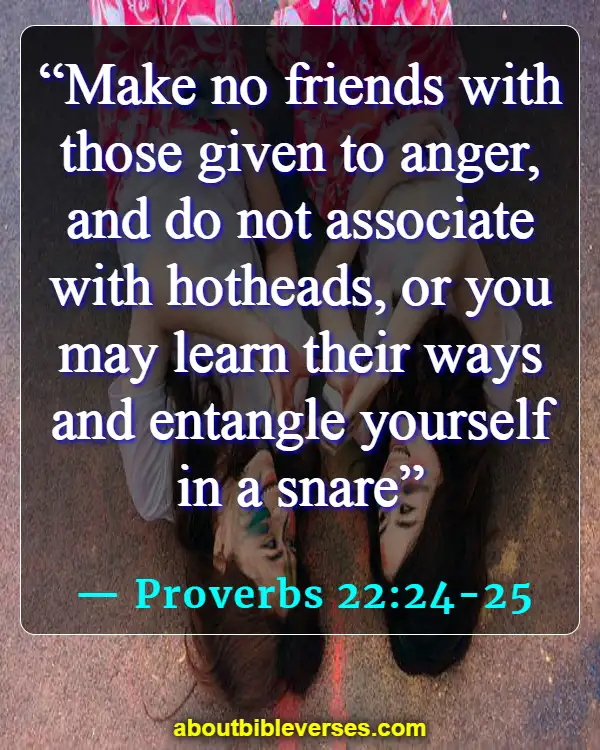 Proverbs 22:24-25(KJV) "Make no friends with those given to anger, and do not associate with hotheads, or you may learn their ways and entangle yourself in a snare"
Explanation:-Bible is the word of God that guides the children of God from destruction to construction in such a way that God places his words in the hearts of believers. It suggests not to mingle with people who are short-tempered and get angry easily because that nature would be practiced by us.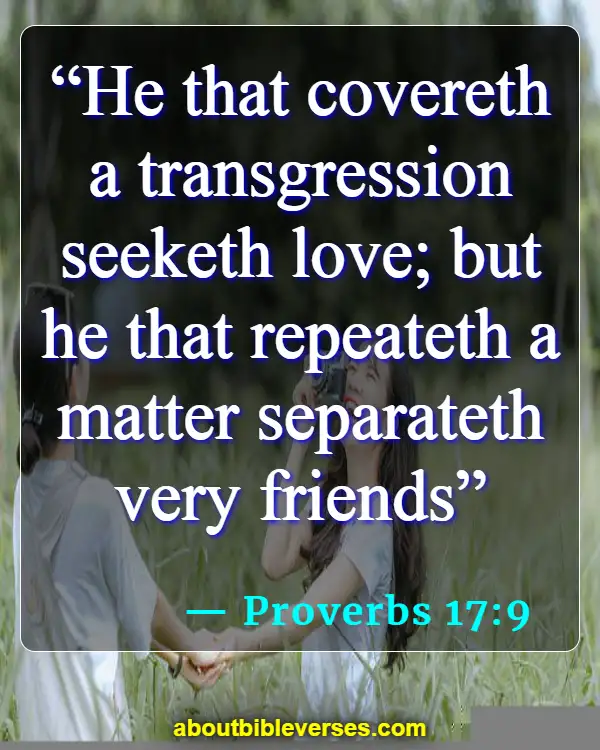 Proverbs 17:9(KJV) "He that covereth a transgression seeketh love; but he that repeateth a matter separateth very friends"
Explanation:-We should forget and forgive others. If we keep in mind their mistakes, God will not answer our prayers. Jesus wants His people to live in peace and encourage each other for the sake of righteousness.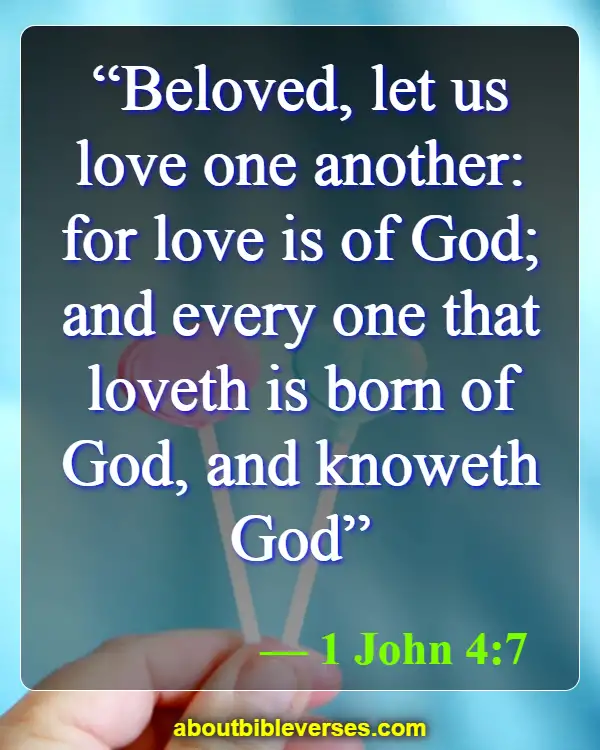 1 John 4:7(KJV) "Beloved, let us love one another: for love is of God, and every one that loveth is born of God and knoweth God"
Explanation:-Children of God should love each other as it's the commandment of God and at the same time it will help to form a better relationship among the disciples.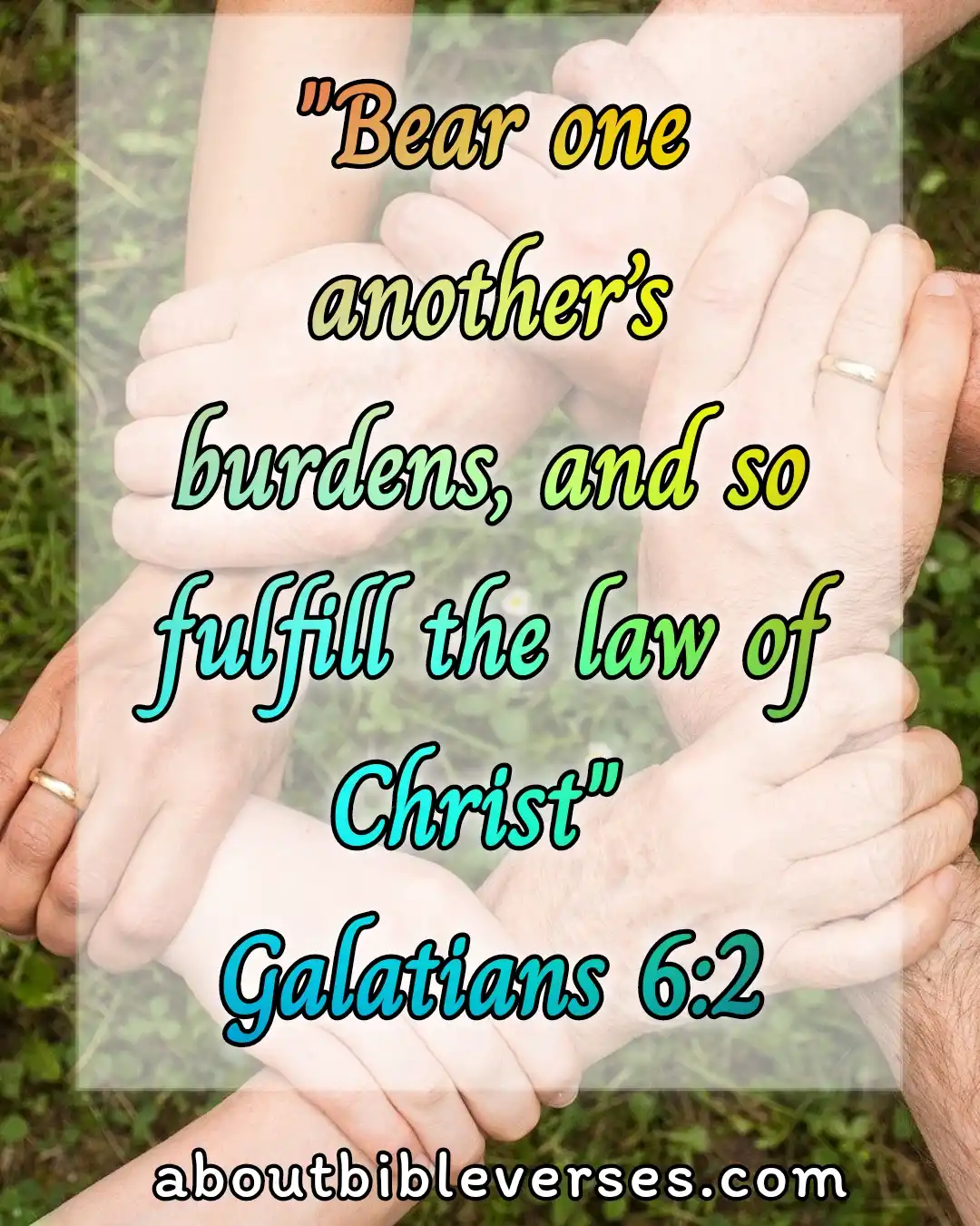 Galatians 6:2(KJV) "Bear ye one another's burdens, and so fulfill the law of Christ"
Explanation:-The believers should take care of others because it is the will of God. One should take the burden of others when the person needs help. This world is not for us, we are not going to live here permanently. As long as we are here we have to help others.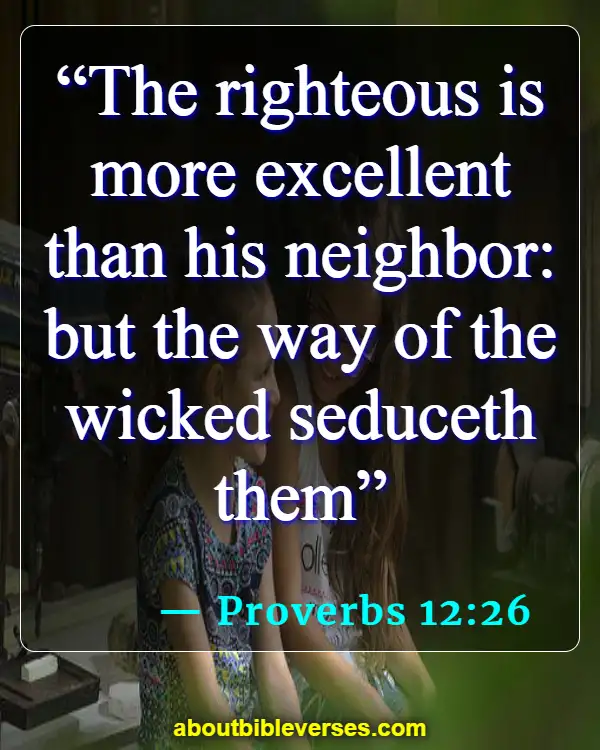 Proverbs 12:26(KJV) "The righteous is more excellent than his neighbor: but the way of the wicked seduceth them"
Explanation:- A man of God who is righteous will always guide a man in the path of righteousness but the one who has gone astray, will always lead you in the destruction. So it is important to make friends with a person who walks with God because that will affect your spiritual life.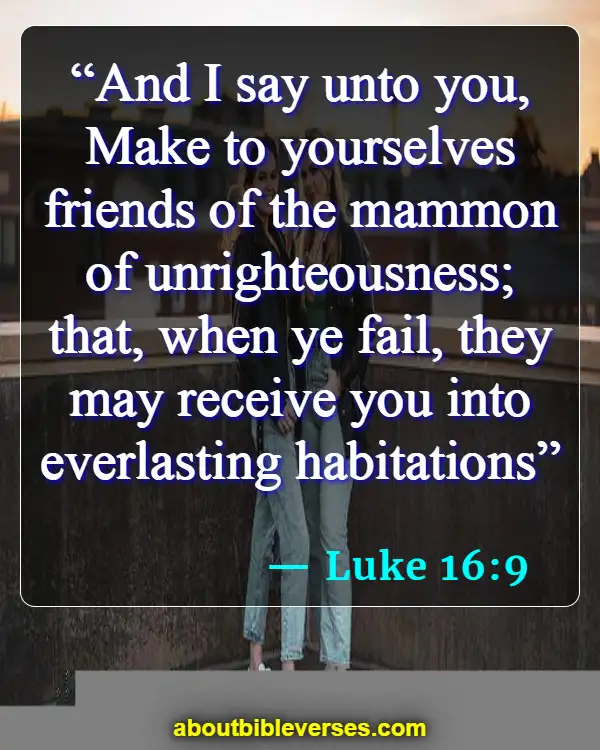 Luke 16:9(KJV) "And I say unto you, Make to yourselves friends of the mammon of unrighteousness; that, when ye fail, they may receive you into everlasting habitations"
Explanation:- We should only make friends with Jesus alone. Only He will take us into eternal life. Christians should not make friends with the world. Making friendships with the world will drag us toward death.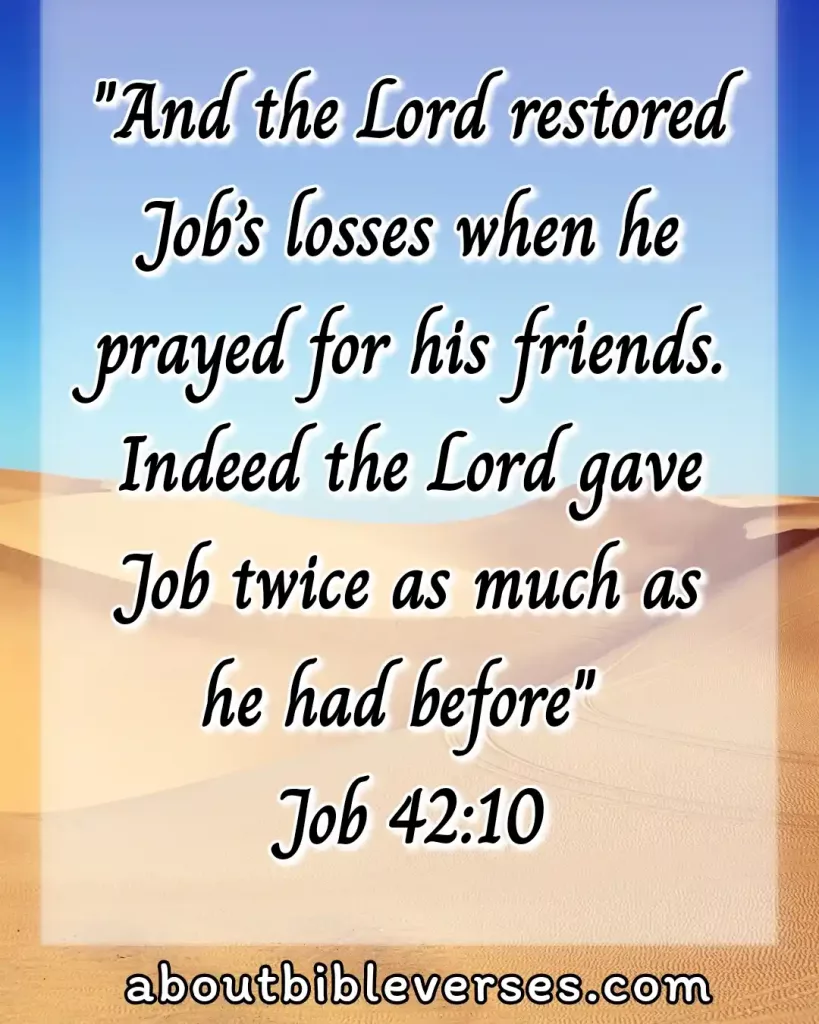 Job 42:10(KJV) "And the Lord turned the captivity of Job when he prayed for his friends: also the Lord gave Job twice as much as he had before"
Explanation:-While Job was sick his friends came to visit him and gave him so much advice. God was pleased with the prayer of Job. Instantly the Lord restored everything to Job. God blessed him and returned everything that he lost.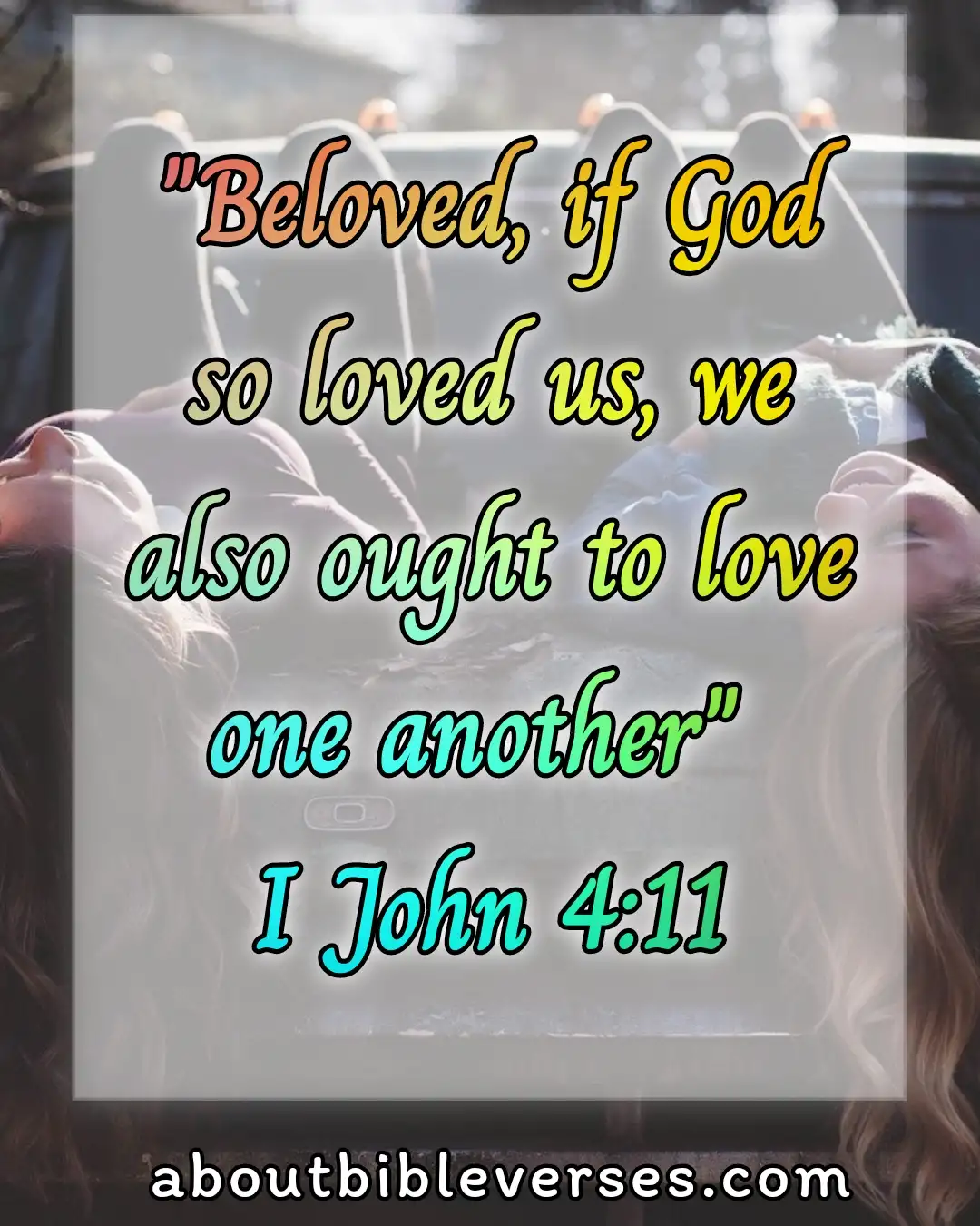 1 John 4:11(KJV) "Beloved, if God so loved us, we ought also to love one another"
Explanation:- God wants his children to love each other because they all would be his sons and daughters. To become a true friend it is important to forgive others and to love our enemies even though they might be against us. Yet, we should show our loving hearts toward them.
Bible Verses About Friendship With God(Jesus)
When we come near to Jesus we get feelings to share our deepest sorrows to Him. Jesus invited those who are weary and tired to come before him to lighten their burden by him. Here the Lord desires to build a friendship with us so that we can tell our things to him.
Jesus said that he came on this earth so that we can get our life fully. We all are living in this sinful world where we all have our own problems. To get rid of those problems we should come before Jesus and surrender our life to him and he will bless us.
It is very easy to make a closer relationship with Jesus and the more we will go near him the more he will come near us. Jesus is the perfect friend of each and every individual who is on this earth.
It would be wise for us to make a friendship with him so that we can get peace and joy. In our friendship and community Jesus must be established.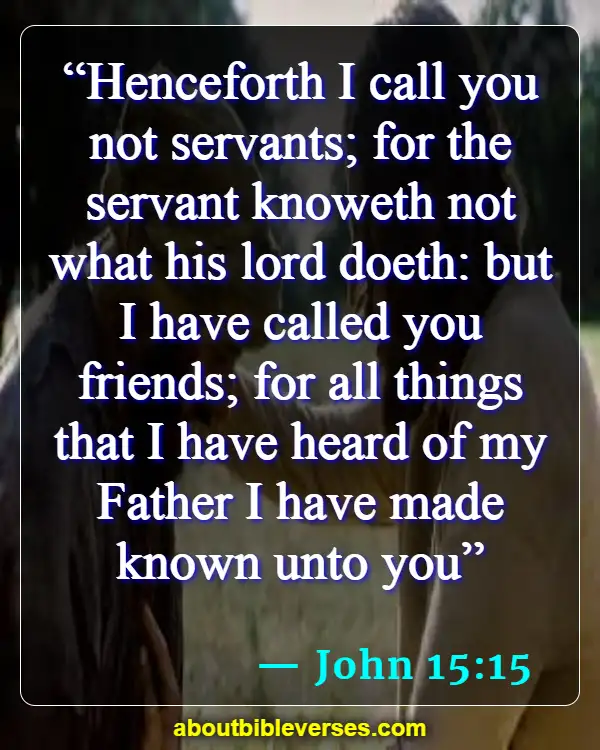 John 15:15(KJV) "Henceforth I call you not servants; for the servant knoweth not what his Lord doeth: but I have called you friends; for all things that I have heard of my Father I have made known unto you"
Explanation:-Here Jesus claimed that he did not call us slaves he called us His friends. A master will never tell what he will do next to his slaves but Jesus predicted everything that will happen in the future. He offered himself as a friend of his believers those who will seek him in the deepest heart and will follow all of His commandments.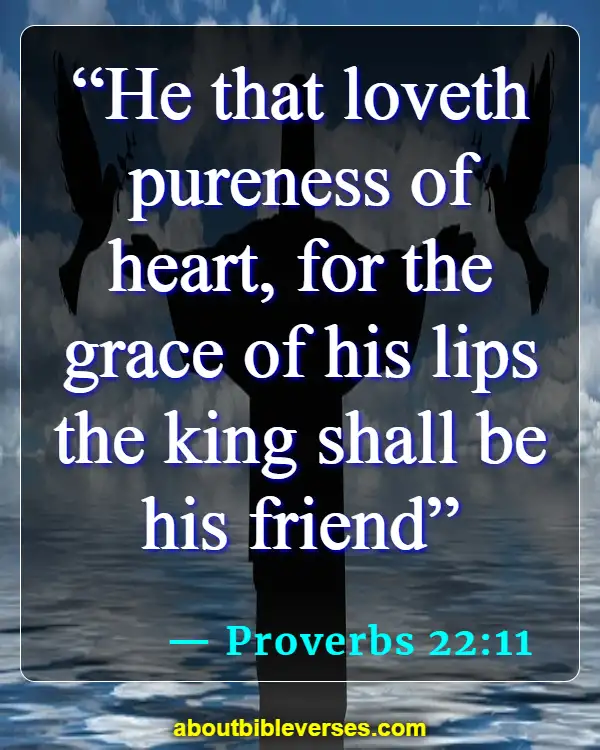 Proverbs 22:11(KJV) "He that loveth pureness of heart, for the grace of his lips the king shall be his friend"
Explanation:- A king always looks for a person who will be simple in heart and very good at speaking to rule the nation. King knows the need for a righteous man. To look after the nation the people must be loyal.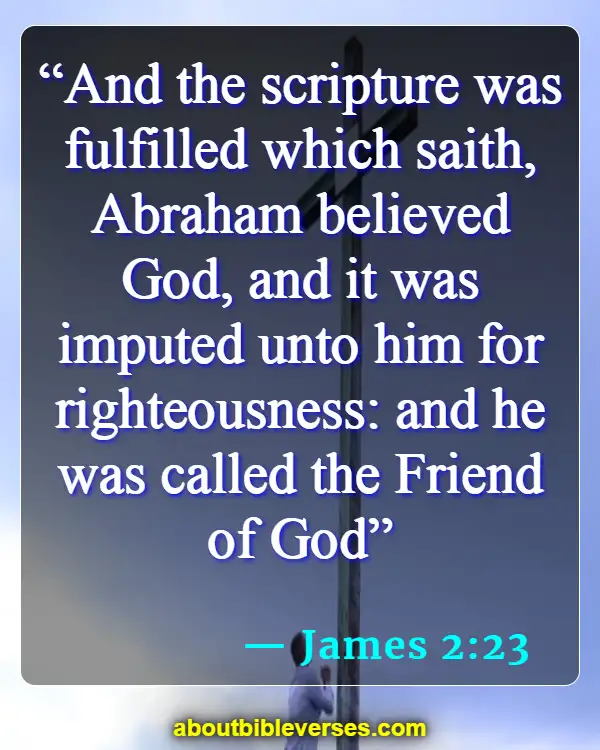 James 2:23(KJV)"And the scripture was fulfilled which saith, Abraham believed God, and it was imputed unto him for righteousness: and he was called the Friend of God"
Explanation:-The story of Abraham is very important for every Christians. Abraham was obedient to God and at the same time, he followed what the Lord brought before him and because of his obedience, he was a faithful man insight of the Lord. He believed what the Lord said and that made him to be the friend of God.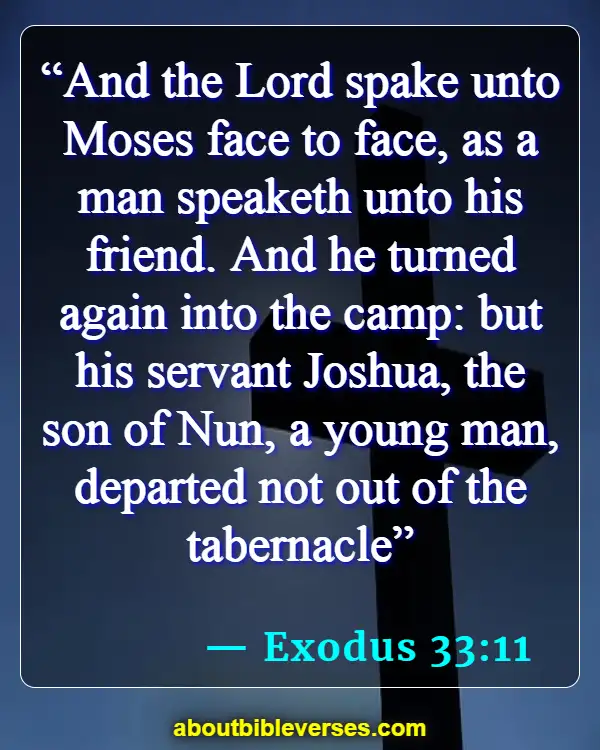 Exodus 33:11(KJV)"And the Lord spake unto Moses face to face, as a man speaketh unto his friend. And he turned again into the camp: but his servant Joshua, the son of Nun, a young man, departed not out of the tabernacle"
Explanation:-Moses was used by the Lord to bring out the nation Israel from the land of Egypt. The Lord spoke face to face with Moses in mount Sinai while he was meeting him to give some laws about how to live on the earth. God revealed himself in front of Moses so that he would know who the Lord is .

Job 29:4(KJV) "As I was in the days of my youth, when the secret of God was upon my tabernacle"
Explanation:-Job experienced that the Lord is so kind and is good when he was in times of need and extended his hand over him too. It was such a hard time for him but when the Lord was with him he got the strength to overcome that.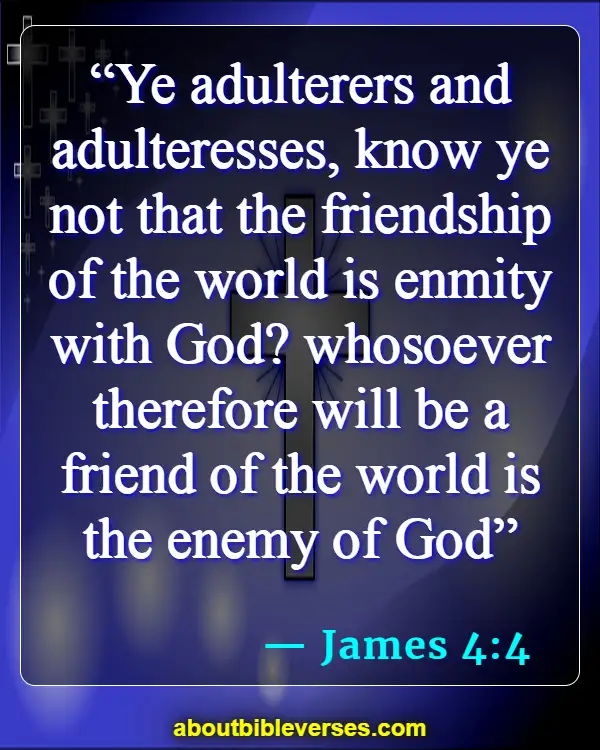 James 4:4(KJV)"Ye adulterers and adulteresses, know ye not that the friendship of the world is enmity with God? whosoever therefore will be a friend of the world is the enemy of God"
Explanation:-Believers should not make friendship with this sinful world because there is another world waiting for them to get in where the Lord will be with us forever and ever. The one who loves this world will bring temptation for him and eventually he will be separated from the presence of the Lord.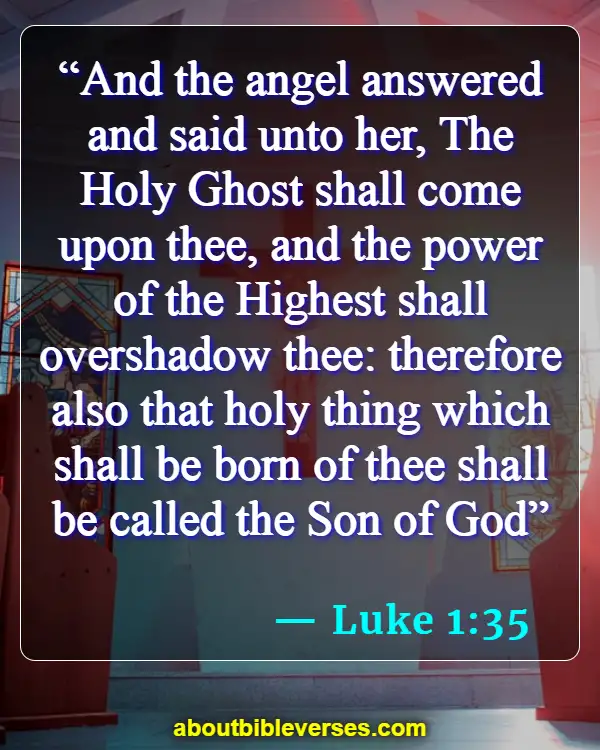 Luke 1:35(KJV)"And the angel answered and said unto her, The Holy Ghost shall come upon thee, and the power of the Highest shall overshadow thee: therefore also that holy thing which shall be born of thee shall be called the Son of God"
Explanation:-It is the prediction of Christ's birth. Jesus was born by the Holy Spirit and the name was given by the Lord.
What Does The Bible Say About Friendship?
Bible allows us to make friends but at the same time, it warns us to be careful. Friends play a vital role in our feelings so for choosing friends we must think about whether they deserve our company or not.
Our friendship will be Christ-centered. We need to scrutinize every thoughts and action that we do with our friends. The word of God tells us to leave all kinds of evil company.
What Is A True Friend?
When the Lord tested Job with the sickness he suffered a lot. But he did not complain against God about his sufferings. His pain was severe but he knew that God had a better plan for him though he is suffering today God will restore him again.

When Job's friends came to know that Job was suffering, they came to meet him. From afar they saw Job and they could not recognize him as the sickness changed his body appearance. For the seven days, they spent without a single word and they were extremely sad for their friend Job.
A good friend will always give the company when others are in need. From the life of Job's friends, we can get to know that they were helpful to him in such a way to give him mental strength at the time of his sickness.
A friend means the one who helped in times of need. Most people don't understand the real meaning of friendship.

Some people think that if we talk if we just mingle with my fellow workers or classmates they will be my friends. But in reality, they are actually not friends because we might have so many people with whom we talk regularly but out of them, only a few will help us when we are in need of them.
Those few will be our friends. A man of God should always so his loyalty to friends. A good friend is a blessing from the Lord.
Who Is A Bad Friend?
Bible warns us to give up the evil company as they will separate us from the holiness of God. Some friends of us might be only spiritual and active in the church but when we closely look at their personal life we can understand how far they are from the Lord.
The word of God tells us not to backbite our friends and gossip about our friends because this will bring separation and division among us.
Some friends of us will always discuss the worldly things that disturb our minds to concentrate on God. We should be very careful about choosing a friend because a friend will always encourage us to do the things which he does. Making friendships with an evil person will cause conflict in the future.
Who Was Jesus's Best Friend?
Jesus was God in the flesh so He talked with many people. He also performed many miracles as long as He was on earth. His humble nature tempted people to come near Him.
In the beginning, He had only twelve disciples but today many people running after Him. Out of the twelve disciples, Peter was favored by Him.
Jesus told him that upon this rock I will establish my church and the key of the heaven will be in your hands. Jesus loved him very much as he was obedient to Him.