Dear friend, Friendship is an endowment that the Almighty has bestowed upon humanity. In the Bible, the value of a true friend is often likened to a treasure. When you discover a true friend, you find a kindred spirit who stands with you, not just during times of joy, but also in moments of adversity.
In the Scriptures, Jonathan and David's friendship is a testament to the unbreakable bonds that can form between two souls. Their commitment to each other, even in the face of challenges, epitomizes what true friendship stands for. Brother and sister, remember, a good friend offers love at all times, and during trials, they emerge as a reliable refuge.
Dear brother and sister, the Bible also reminds us of the importance of wise counsel in friendship. Surrounding ourselves with righteous friends can lead us towards the path of virtue and away from sin. In contrast, choosing company without discernment might divert us from our spiritual path.
Jesus, too, exemplified friendship in its purest form. He referred to his disciples not just as followers, but as friends. He laid down his life for them, showing that there is no greater love than sacrificing for a friend.
Dear friends, always cherish the bond of friendship. Seek friends who uplift your spirit and guide you closer to the divine truth.
Dear friends now let's see the Bible scriptures below that talk about "Friendship".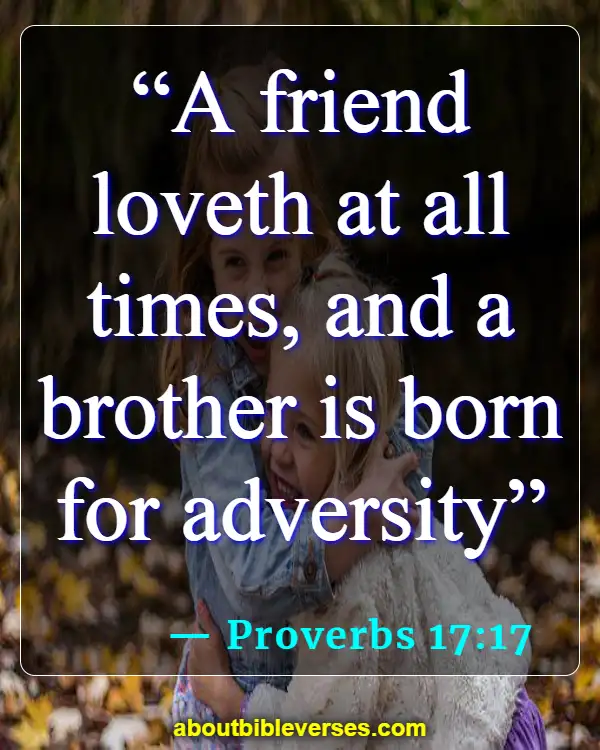 Proverbs 17:17
"A friend loveth at all times, and a brother is born for adversity"
1 Samuel 18:1-3
"And it came to pass, when he had made an end of speaking unto Saul, that the soul of Jonathan was knit with the soul of David, and Jonathan loved him as his own soul. And Saul took him that day, and would let him go no more home to his father's house. Then Jonathan and David made a covenant, because he loved him as his own soul"
Proverbs 27:6
"Faithful are the wounds of a friend; but the kisses of an enemy are deceitful"
Proverbs 27:9
"Ointment and perfume rejoice the heart: so doth the sweetness of a man's friend by hearty counsel"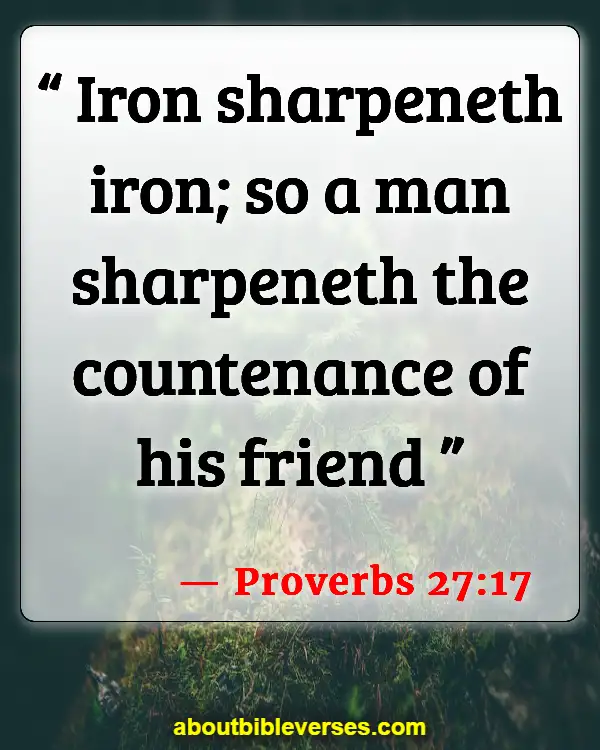 Proverbs 27:17
"Iron sharpeneth iron; so a man sharpeneth the countenance of his friend"
Proverbs 18:24
"A man that hath friends must shew himself friendly: and there is a friend that sticketh closer than a brother"
Ecclesiastes 4:9-10
"Two are better than one; because they have a good reward for their labour. For if they fall, the one will lift up his fellow: but woe to him that is alone when he falleth; for he hath not another to help him up"
John 15:13-15
"Greater love hath no man than this, that a man lay down his life for his friends. Ye are my friends, if ye do whatsoever I command you. Henceforth I call you not servants; for the servant knoweth not what his lord doeth: but I have called you friends; for all things that I have heard of my Father I have made known unto you"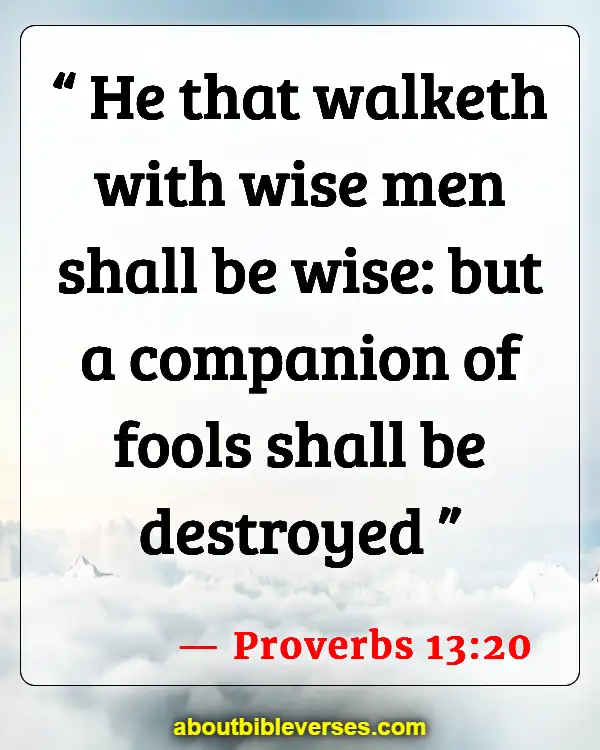 Proverbs 13:20
"He that walketh with wise men shall be wise: but a companion of fools shall be destroyed"
Proverbs 22:24-25
"Make no friendship with an angry man; and with a furious man thou shalt not go: Lest thou learn his ways, and get a snare to thy soul"
Job 2:11
"Now when Job's three friends heard of all this evil that was come upon him, they came every one from his own place; Eliphaz the Temanite, and Bildad the Shuhite, and Zophar the Naamathite: for they had made an appointment together to come to mourn with him and to comfort him"
Job 42:10
"And the Lord turned the captivity of Job, when he prayed for his friends: also the Lord gave Job twice as much as he had before"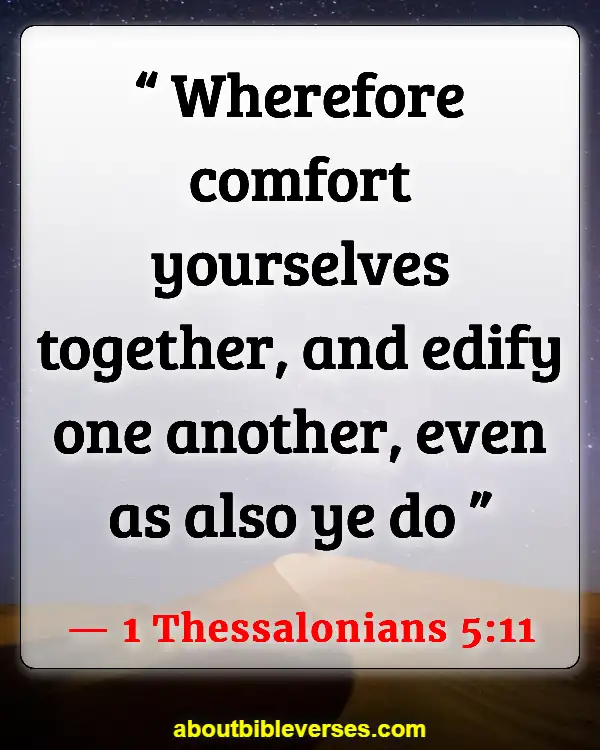 1 Thessalonians 5:11
"Wherefore comfort yourselves together, and edify one another, even as also ye do"
Luke 5:20
"And when he saw their faith, he said unto him, Man, thy sins are forgiven thee"
Colossians 3:12-14
"Put on therefore, as the elect of God, holy and beloved, bowels of mercies, kindness, humbleness of mind, meekness, longsuffering; Forbearing one another, and forgiving one another, if any man have a quarrel against any: even as Christ forgave you, so also do ye. And above all these things put on charity, which is the bond of perfectness"
Romans 1:12
"That is, that I may be comforted together with you by the mutual faith both of you and me"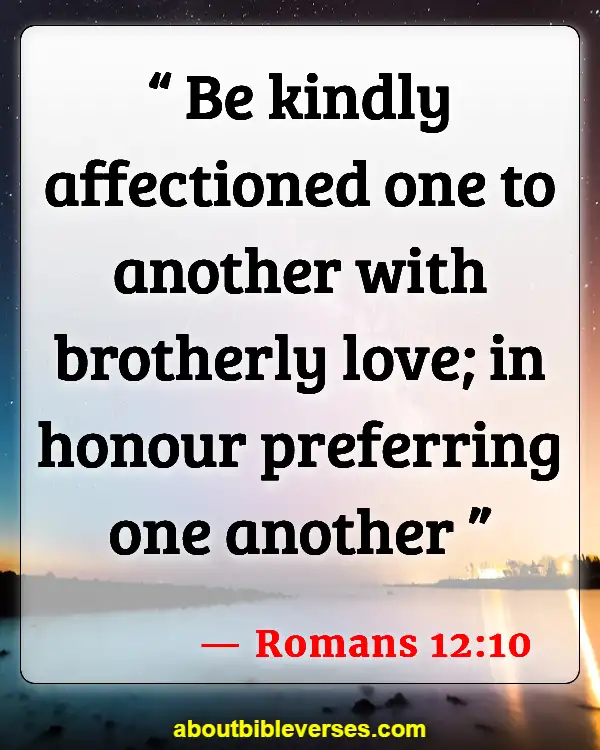 Romans 12:10
"Be kindly affectioned one to another with brotherly love; in honour preferring one another"
Romans 16:3-4
"Greet Priscilla and Aquila my helpers in Christ Jesus: Who have for my life laid down their own necks: unto whom not only I give thanks, but also all the churches of the Gentiles"
Philippians 2:25
"Yet I supposed it necessary to send to you Epaphroditus, my brother, and companion in labour, and fellowsoldier, but your messenger, and he that ministered to my wants"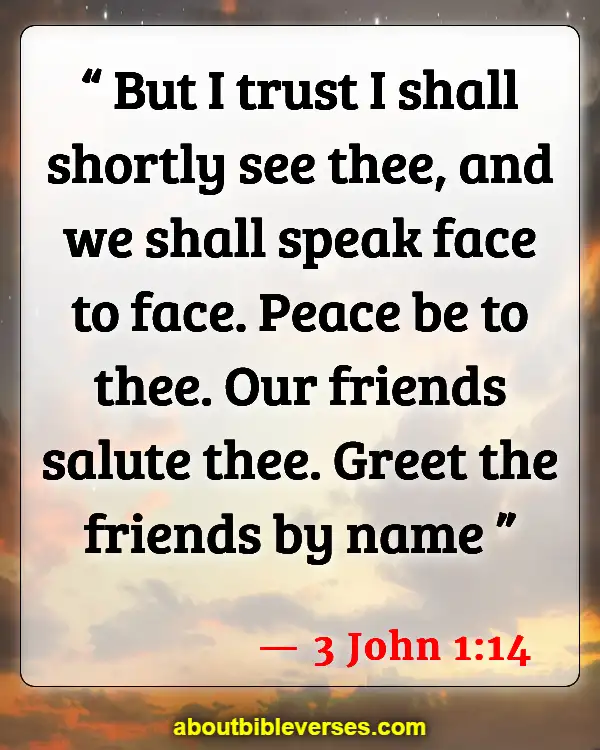 3 John 1:14
"But I trust I shall shortly see thee, and we shall speak face to face. Peace be to thee. Our friends salute thee. Greet the friends by name"
2 Corinthians 2:13
"I had no rest in my spirit, because I found not Titus my brother: but taking my leave of them, I went from thence into Macedonia"
2 Timothy 1:2-4
"To Timothy, my dearly beloved son: Grace, mercy, and peace, from God the Father and Christ Jesus our Lord. I thank God, whom I serve from my forefathers with pure conscience, that without ceasing I have remembrance of thee in my prayers night and day; Greatly desiring to see thee, being mindful of thy tears, that I may be filled with joy"
1 Peter 4:8-10
"And above all things have fervent charity among yourselves: for charity shall cover the multitude of sins. Use hospitality one to another without grudging. As every man hath received the gift, even so minister the same one to another, as good stewards of the manifold grace of God"
1 John 3:11
"For this is the message that ye heard from the beginning, that we should love one another"
1 John 3:14-16
"We know that we have passed from death unto life, because we love the brethren. He that loveth not his brother abideth in death. Whosoever hateth his brother is a murderer: and ye know that no murderer hath eternal life abiding in him. Hereby perceive we the love of God, because he laid down his life for us: and we ought to lay down our lives for the brethren"
James 2:23
"And the scripture was fulfilled which saith, Abraham believed God, and it was imputed unto him for righteousness: and he was called the Friend of God"
Galatians 5:13-15
"For, brethren, ye have been called unto liberty; only use not liberty for an occasion to the flesh, but by love serve one another. For all the law is fulfilled in one word, even in this; Thou shalt love thy neighbour as thyself. But if ye bite and devour one another, take heed that ye be not consumed one of another"
Ephesians 4:2-3
"With all lowliness and meekness, with longsuffering, forbearing one another in love; Endeavouring to keep the unity of the Spirit in the bond of peace"
Acts 9:26-28
"And when Saul was come to Jerusalem, he assayed to join himself to the disciples: but they were all afraid of him, and believed not that he was a disciple. But Barnabas took him, and brought him to the apostles, and declared unto them how he had seen the Lord in the way, and that he had spoken to him, and how he had preached boldly at Damascus in the name of Jesus. And he was with them coming in and going out at Jerusalem"
Conclusion:
Friendship, as portrayed in the Bible, is a divine gift that should be nurtured with love and care. True friends are those who stand by us during our highs and lows, just as David and Jonathan did for each other, or as Jesus did for his disciples. Surrounding oneself with virtuous friends not only enriches one's life but also strengthens one's spiritual journey. Let us appreciate our friends, seek righteousness in our bonds, and always remember the lessons the Bible imparts about these invaluable relationships.