Dear friends, youth is a precious time to dedicate ourselves to the Lord's work with enthusiasm and gladness. Though the world may try to draw us towards selfish pursuits, serving God in our early years brings lasting reward.
Scripture teaches that we are called to offer God the first fruits of our lives. Just as farmers joyfully present the initial harvest from their fields, we should eagerly give our Creator the bloom and vibrancy of our youth. Walking closely with God in the energy of our adolescence and young adulthood sets the lifetime of faithful service.
What does it mean to serve the Lord with gladness in our youth? It is volunteering in the children's ministry at church, singing His praises with abandon, and sharing our faith without fear of peers' opinions. It is reading His Word daily and saving it in our hearts. It is using our talents and gifts for His glory, whether through art, music, writing or acts of service.
When we serve God wholeheartedly in our youth, joy is the natural result. We experience the peace and purpose that comes from placing Him first in our lives. Hardships and trials need not steal our joy, for we trust Him who said "I will never leave you nor forsake you."
Dear friends, now let's see Bible Verses on how we can serve our Creator with joy and dedication in the days of our youth. If we do so, we will reap eternal rewards.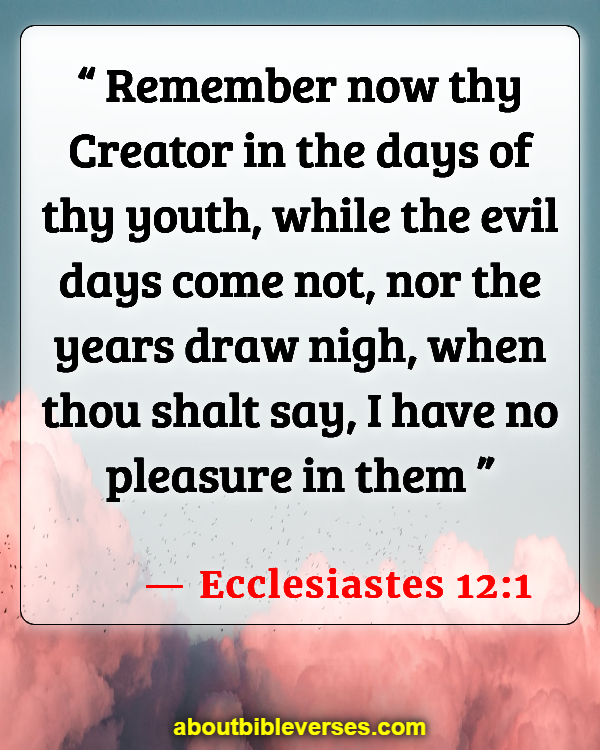 Ecclesiastes 12:1
"Remember now thy Creator in the days of thy youth, while the evil days come not, nor the years draw nigh, when thou shalt say, I have no pleasure in them"
1 Timothy 4:12
"Let no man despise thy youth; but be thou an example of the believers, in word, in conversation, in charity, in spirit, in faith, in purity"
Psalm 71:17
"O God, thou hast taught me from my youth: and hitherto have I declared thy wondrous works"
Proverbs 20:29
"The glory of young men is their strength: and the beauty of old men is the grey head"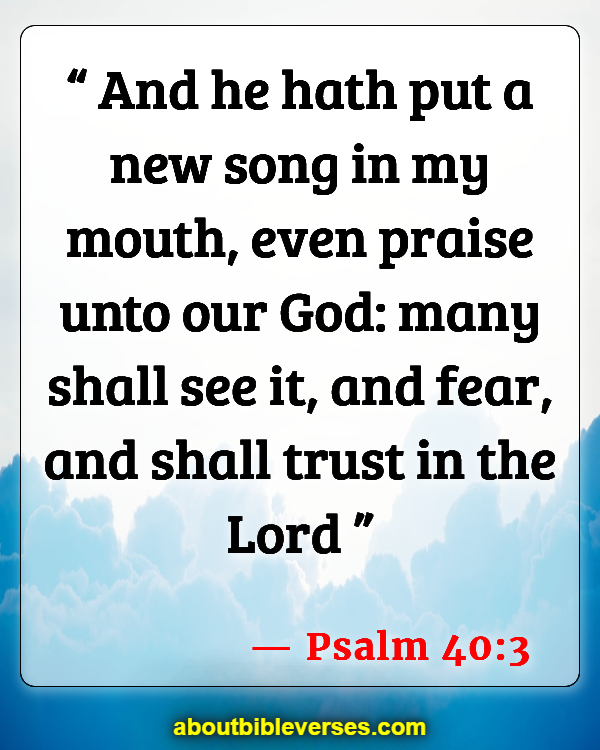 Psalm 40:3
"And he hath put a new song in my mouth, even praise unto our God: many shall see it, and fear, and shall trust in the Lord"
Matthew 19:14
"But Jesus said, Suffer little children, and forbid them not, to come unto me: for of such is the kingdom of heaven"
Psalm 119:9
"Wherewithal shall a young man cleanse his way? by taking heed thereto according to thy word"
Psalm 144:12
"That our sons may be as plants grown up in their youth; that our daughters may be as corner stones, polished after the similitude of a palace"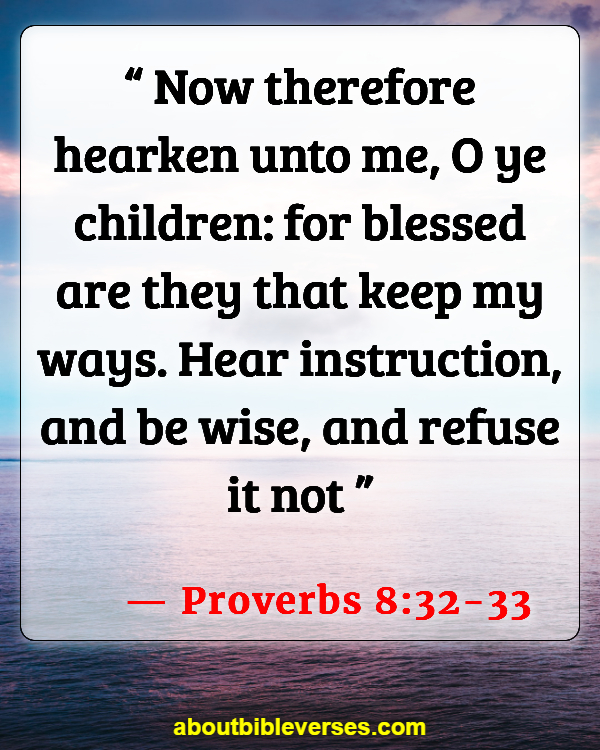 Proverbs 8:32-33
"Now therefore hearken unto me, O ye children: for blessed are they that keep my ways. Hear instruction, and be wise, and refuse it not"
Zephaniah 3:17
"The Lord thy God in the midst of thee is mighty; he will save, he will rejoice over thee with joy; he will rest in his love, he will joy over thee with singing"
Psalm 37:4
"Delight thyself also in the Lord : and he shall give thee the desires of thine heart"
Psalm 100:2
"Serve the Lord with gladness: come before his presence with singing"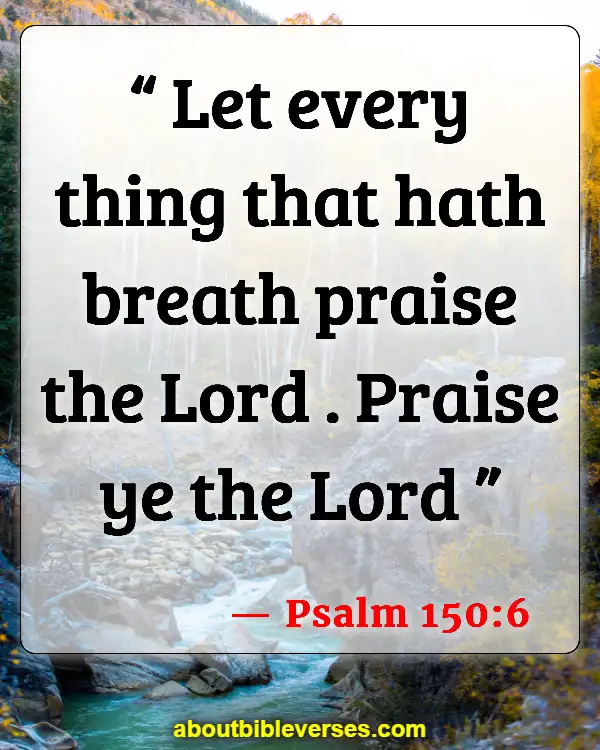 Psalm 150:6
"Let every thing that hath breath praise the Lord . Praise ye the Lord"
1 Chronicles 16:27
"Glory and honour are in his presence; strength and gladness are in his place"
Nehemiah 8:10
"Then he said unto them, Go your way, eat the fat, and drink the sweet, and send portions unto them for whom nothing is prepared: for this day is holy unto our Lord : neither be ye sorry; for the joy of the Lord is your strength"
Proverbs 3:5-6
"Trust in the Lord with all thine heart; and lean not unto thine own understanding. In all thy ways acknowledge him, and he shall direct thy paths"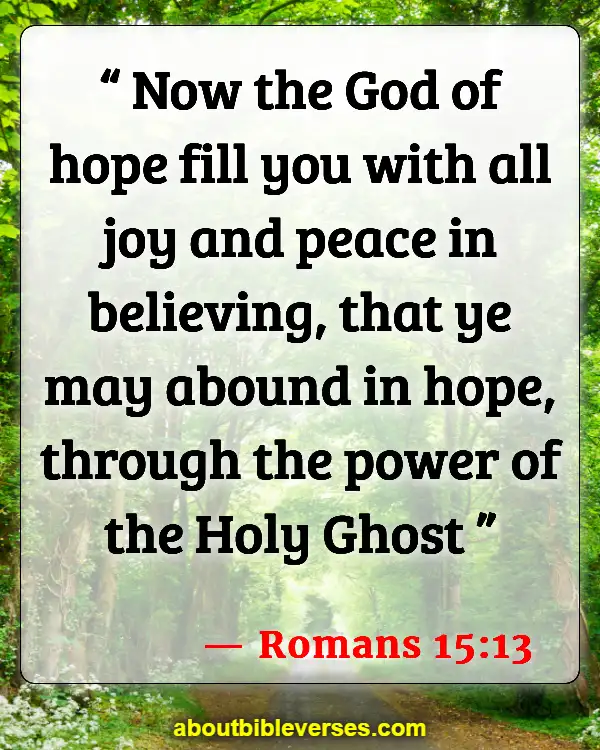 Romans 15:13
"Now the God of hope fill you with all joy and peace in believing, that ye may abound in hope, through the power of the Holy Ghost"
Galatians 5:22-23
"But the fruit of the Spirit is love, joy, peace, longsuffering, gentleness, goodness, faith, Meekness, temperance: against such there is no law"
Philippians 4:4
"Rejoice in the Lord always: and again I say, Rejoice"
Colossians 3:23-24
"And whatsoever ye do, do it heartily, as to the Lord, and not unto men; Knowing that of the Lord ye shall receive the reward of the inheritance: for ye serve the Lord Christ"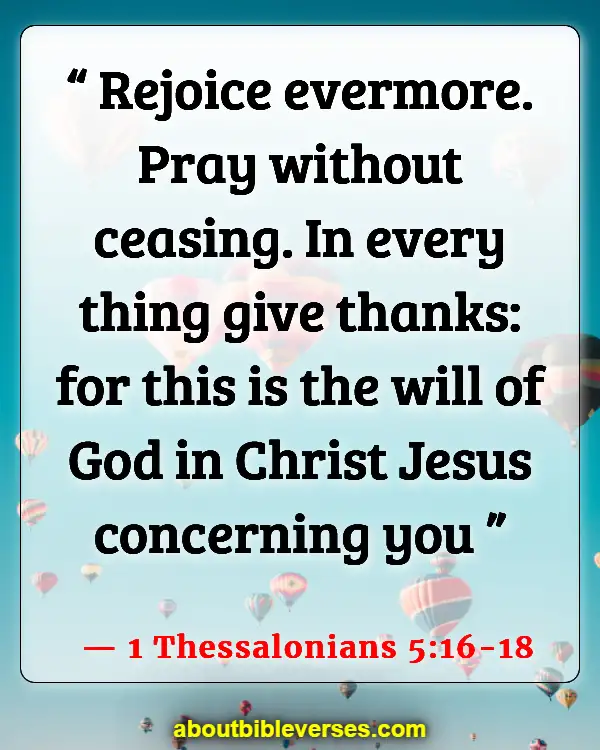 1 Thessalonians 5:16-18
"Rejoice evermore. Pray without ceasing. In every thing give thanks: for this is the will of God in Christ Jesus concerning you"
1 Peter 1:8-9
"Whom having not seen, ye love; in whom, though now ye see him not, yet believing, ye rejoice with joy unspeakable and full of glory: Receiving the end of your faith, even the salvation of your souls"
Psalm 16:11
"Thou wilt shew me the path of life: in thy presence is fulness of joy; at thy right hand there are pleasures for evermore"
Psalm 28:7
"The Lord is my strength and my shield; my heart trusted in him, and I am helped: therefore my heart greatly rejoiceth; and with my song will I praise him"
Psalm 63:7
"Because thou hast been my help, therefore in the shadow of thy wings will I rejoice"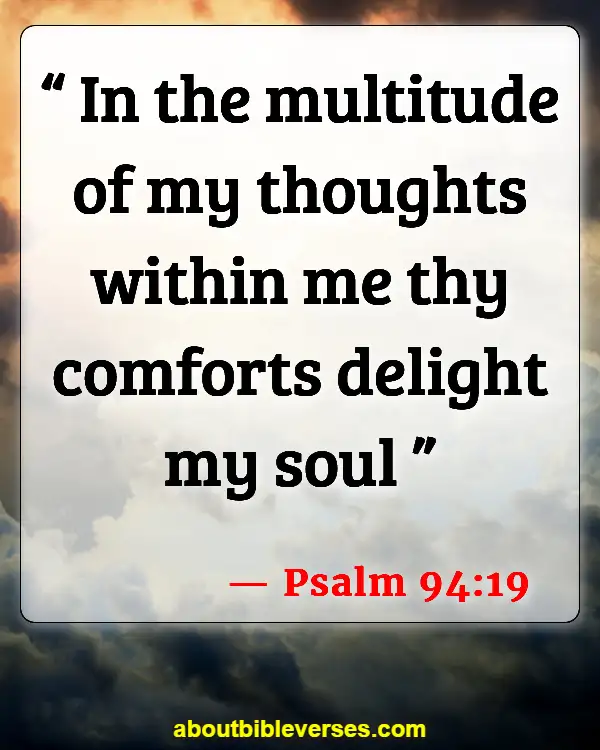 Psalm 94:19
"In the multitude of my thoughts within me thy comforts delight my soul"
Romans 12:12
"Rejoicing in hope; patient in tribulation; continuing instant in prayer"
Romans 14:17
"For the kingdom of God is not meat and drink; but righteousness, and peace, and joy in the Holy Ghost"
Galatians 5:16
"This I say then, Walk in the Spirit, and ye shall not fulfil the lust of the flesh"
James 1:2-3
"My brethren, count it all joy when ye fall into divers temptations; Knowing this, that the trying of your faith worketh patience"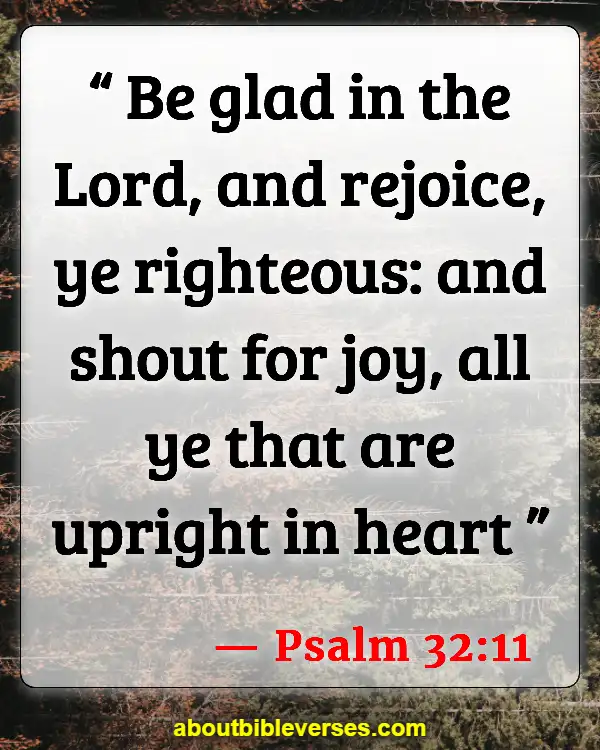 Psalm 32:11
"Be glad in the Lord , and rejoice, ye righteous: and shout for joy, all ye that are upright in heart"
Psalm 33:1
"Rejoice in the Lord , O ye righteous: for praise is comely for the upright"
Psalm 95:1
"O come, let us sing unto the Lord : let us make a joyful noise to the rock of our salvation"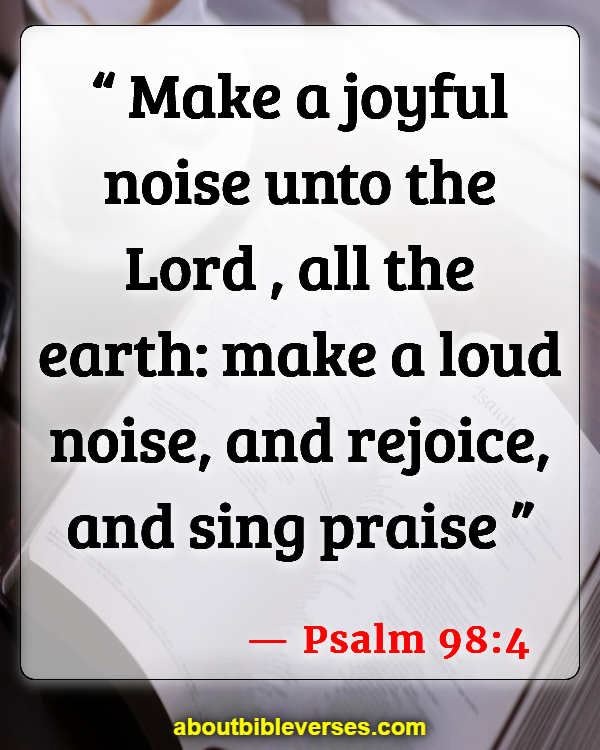 Psalm 98:4
"Make a joyful noise unto the Lord , all the earth: make a loud noise, and rejoice, and sing praise"
Isaiah 12:6
"Cry out and shout, thou inhabitant of Zion: for great is the Holy One of Israel in the midst of thee"
Isaiah 61:10
"I will greatly rejoice in the Lord , my soul shall be joyful in my God; for he hath clothed me with the garments of salvation, he hath covered me with the robe of righteousness, as a bridegroom decketh himself with ornaments, and as a bride adorneth herself with her jewels"
Habakkuk 3:18
"Yet I will rejoice in the Lord , I will joy in the God of my salvation"
Luke 10:21
"In that hour Jesus rejoiced in spirit, and said, I thank thee, O Father, Lord of heaven and earth, that thou hast hid these things from the wise and prudent, and hast revealed them unto babes: even so, Father; for so it seemed good in thy sight"
John 15:11
"These things have I spoken unto you, that my joy might remain in you, and that your joy might be full"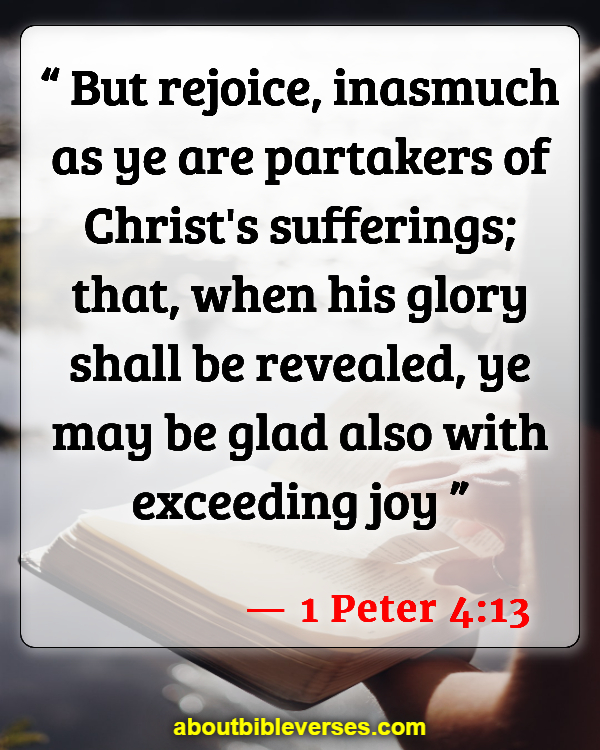 1 Peter 4:13
"But rejoice, inasmuch as ye are partakers of Christ's sufferings; that, when his glory shall be revealed, ye may be glad also with exceeding joy"
We must serve God but the Bible says we must also serve others if you want to know click here – Bible Verses About Serving Others