Hello dear friends, welcome to our site in the name of Jesus Christ. Today we will look at the Bible Scriptures: What the Bible Say About Disrespecting Others. If you like today's post then definitely comment and share.
The Bible is a guidebook filled with wisdom that teaches us about respecting and loving one another. It tells us that every person is God's creation, crafted with precision and purpose, and deserves to be treated with dignity and respect. When we disrespect others, we Directly disrespect the God who created us.
Firstly, we are reminded that each person is created in the image of God, deserving of dignity and respect. Just as God loves us unconditionally, we should also love and respect others, regardless of their age, background, or social status.
Furthermore, the Bible teaches us to be mindful of our words and actions towards others. We are urged to speak kindly, avoiding harsh and hurtful words that can damage relationships and cause pain. Instead, we should use our words to build others up and encourage them in their journey.
Moreover, Jesus sets a beautiful example of humility and respect. He treated everyone with kindness and compassion, regardless of their station in life. Jesus teaches us to serve one another humbly, considering others as more important than ourselves.
In addition to this, the Bible tells us to forgive one another when we have been wronged. Holding onto grudges and harboring bitterness disrespects both the person who has wronged us and ourselves. Forgiveness allows us to heal and restores broken relationships.
Lastly, we find the golden rule in the Bible: "Do to others as you would have them do to you." This principle reminds us to treat others as we would expect ourselves to be treated. It encourages us to be considerate, empathetic, and respectful in all our interactions.
Remember, God calls us to love and respect one another, for in doing so, we reflect His character and bring glory to His name.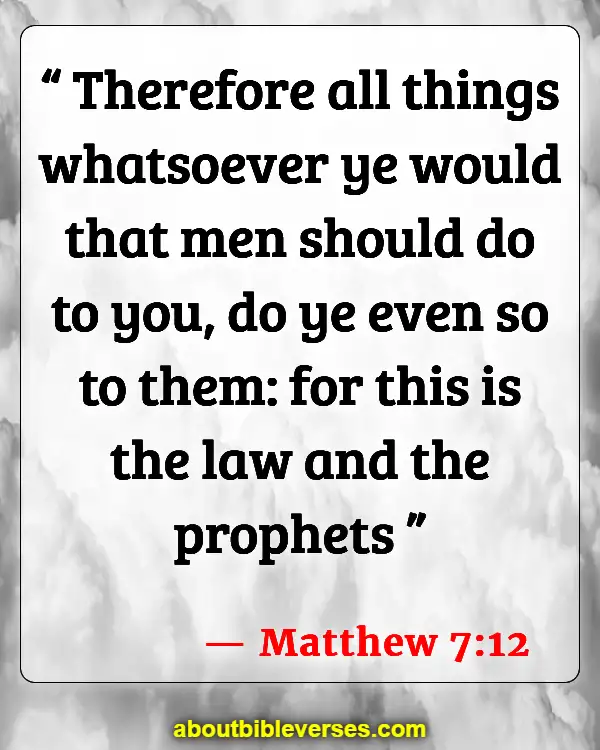 Matthew 7:12
"Therefore all things whatsoever ye would that men should do to you, do ye even so to them: for this is the law and the prophets"
Luke 6:31
"And as ye would that men should do to you, do ye also to them likewise"
Romans 12:10
"Be kindly affectioned one to another with brotherly love; in honour preferring one another"
Romans 14:13
"Let us not therefore judge one another any more: but judge this rather, that no man put a stumblingblock or an occasion to fall in his brother's way"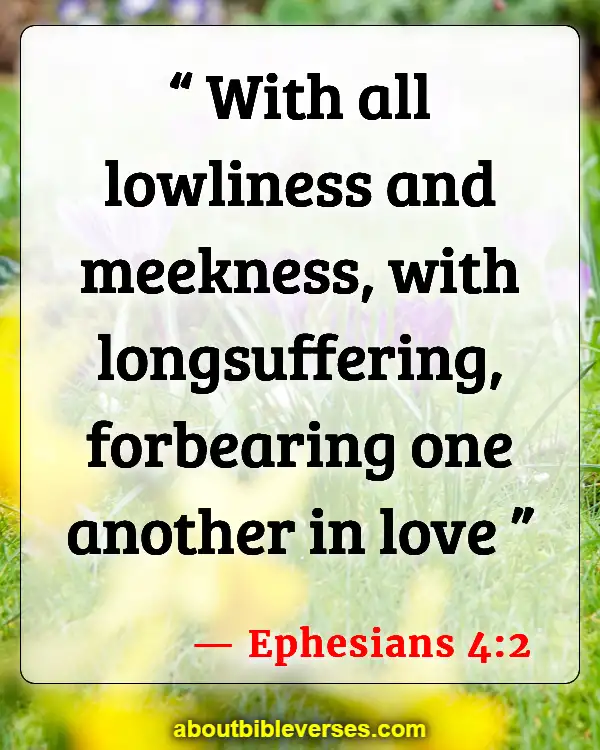 Ephesians 4:2
"With all lowliness and meekness, with longsuffering, forbearing one another in love"
Philippians 2:3
"Let nothing be done through strife or vainglory; but in lowliness of mind let each esteem other better than themselves"
Galatians 5:22-23
"But the fruit of the Spirit is love, joy, peace, longsuffering, gentleness, goodness, faith, Meekness, temperance: against such there is no law"
Ephesians 4:29
"Let no corrupt communication proceed out of your mouth, but that which is good to the use of edifying, that it may minister grace unto the hearers"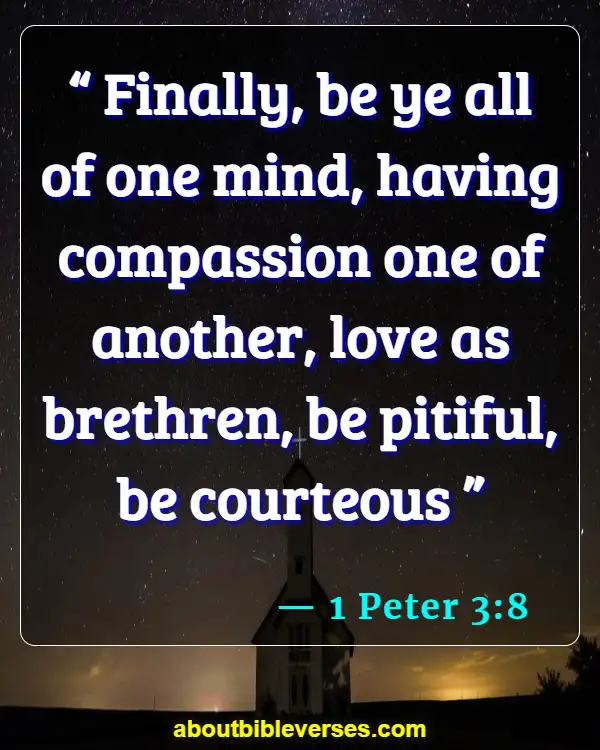 1 Peter 3:8
"Finally, be ye all of one mind, having compassion one of another, love as brethren, be pitiful, be courteous"
James 2:1
"My brethren, have not the faith of our Lord Jesus Christ, the Lord of glory, with respect of persons"
Proverbs 14:21
"He that despiseth his neighbour sinneth: but he that hath mercy on the poor, happy is he"
Romans 15:2
"Let every one of us please his neighbour for his good to edification"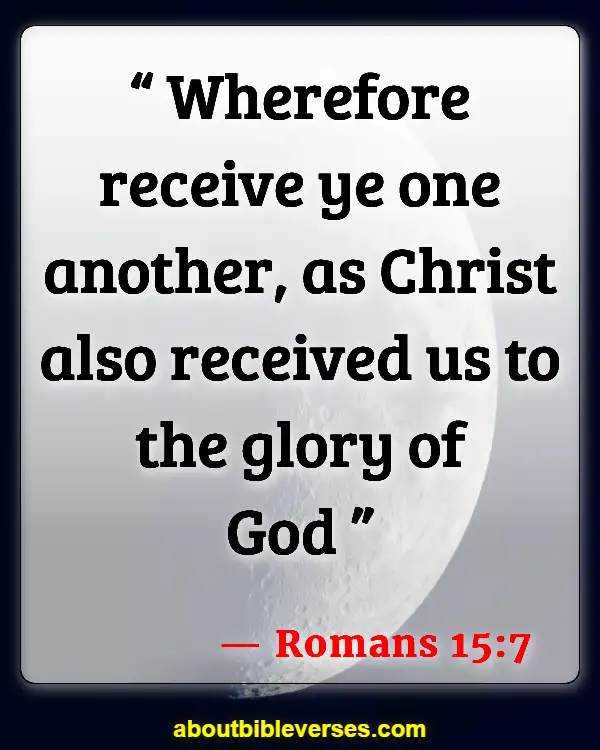 Romans 15:7
"Wherefore receive ye one another, as Christ also received us to the glory of God"
1 Corinthians 13:4-5
"Charity suffereth long, and is kind; charity envieth not; charity vaunteth not itself, is not puffed up, Doth not behave itself unseemly, seeketh not her own, is not easily provoked, thinketh no evil"
James 2:8
"If ye fulfil the royal law according to the scripture, Thou shalt love thy neighbour as thyself, ye do well"
Proverbs 19:11
"The discretion of a man deferreth his anger; and it is his glory to pass over a transgression"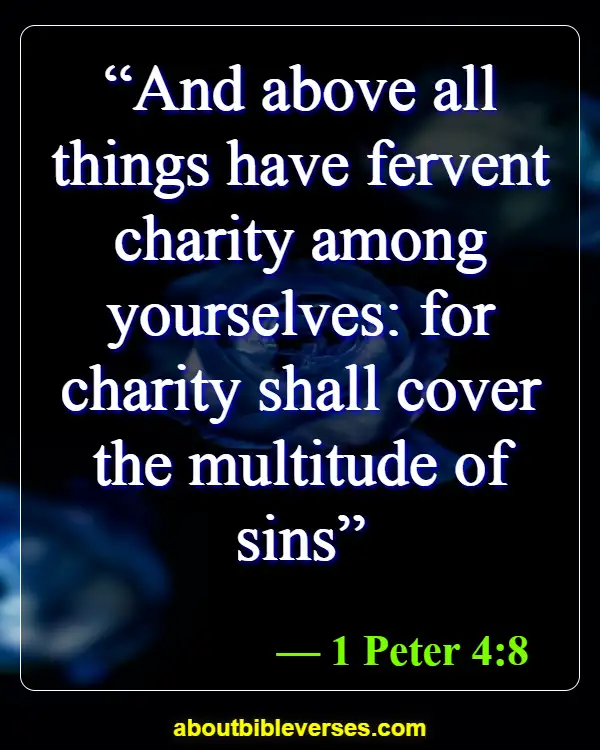 1 Peter 4:8
"And above all things have fervent charity among yourselves: for charity shall cover the multitude of sins"
Proverbs 15:1
"A soft answer turneth away wrath: but grievous words stir up anger"
1 Thessalonians 5:11
"Wherefore comfort yourselves together, and edify one another, even as also ye do"
Galatians 6:2
"Bear ye one another's burdens, and so fulfil the law of Christ"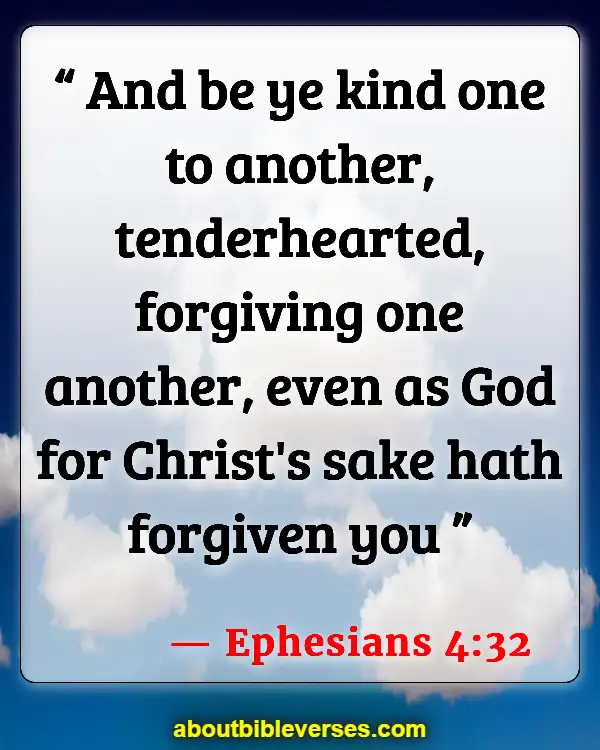 Ephesians 4:32
"And be ye kind one to another, tenderhearted, forgiving one another, even as God for Christ's sake hath forgiven you"
Colossians 3:12
"Put on therefore, as the elect of God, holy and beloved, bowels of mercies, kindness, humbleness of mind, meekness, longsuffering"
Colossians 3:13
"Forbearing one another, and forgiving one another, if any man have a quarrel against any: even as Christ forgave you, so also do ye"
Colossians 3:14
"And above all these things put on charity, which is the bond of perfectness"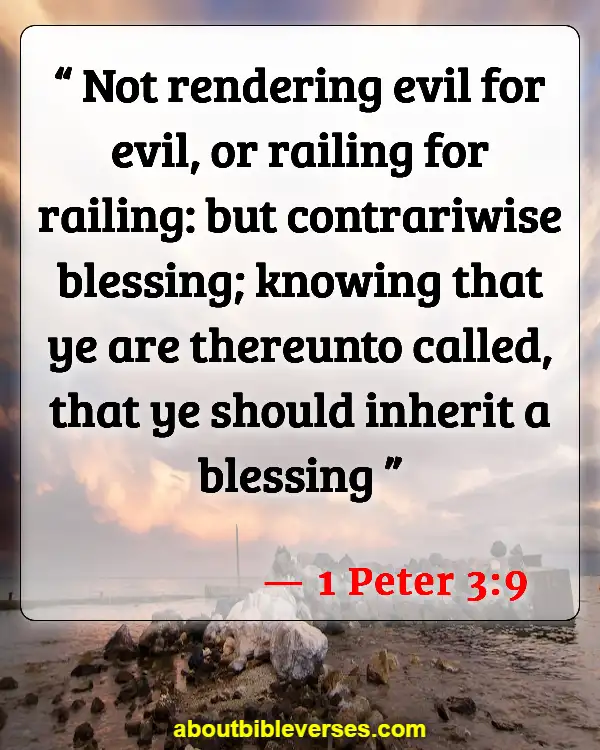 1 Peter 3:9
"Not rendering evil for evil, or railing for railing: but contrariwise blessing; knowing that ye are thereunto called, that ye should inherit a blessing"
1 Peter 2:17
"Honour all men. Love the brotherhood. Fear God. Honour the king"
Romans 12:16
"Be of the same mind one toward another. Mind not high things, but condescend to men of low estate. Be not wise in your own conceits"
2 Corinthians 13:11
"Finally, brethren, farewell. Be perfect, be of good comfort, be of one mind, live in peace; and the God of love and peace shall be with you"
Proverbs 24:29
"Say not, I will do so to him as he hath done to me: I will render to the man according to his work"
Proverbs 20:3
"It is an honour for a man to cease from strife: but every fool will be meddling"
James 3:17
"But the wisdom that is from above is first pure, then peaceable, gentle, and easy to be intreated, full of mercy and good fruits, without partiality, and without hypocrisy"
1 Timothy 5:1-2
"Rebuke not an elder, but intreat him as a father; and the younger men as brethren; The elder women as mothers; the younger as sisters, with all purity"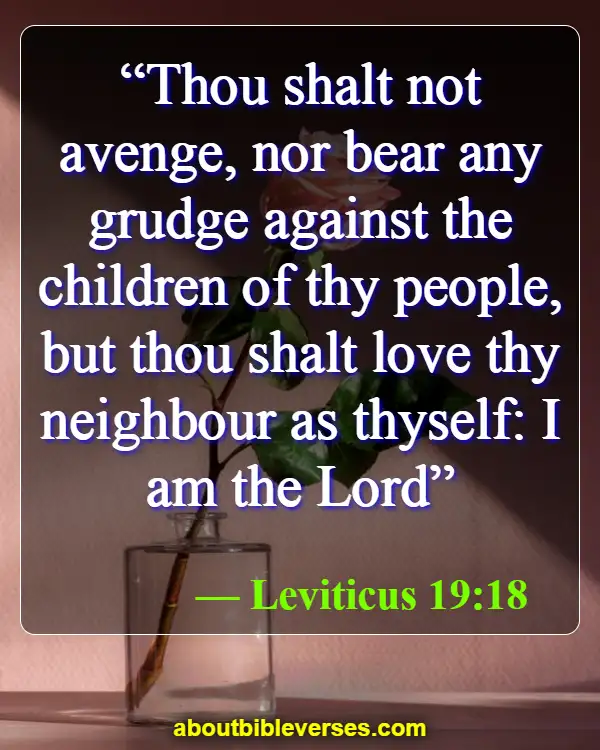 Leviticus 19:18
"Thou shalt not avenge, nor bear any grudge against the children of thy people, but thou shalt love thy neighbour as thyself: I am the Lord"
1 John 4:20-21
"If a man say, I love God, and hateth his brother, he is a liar: for he that loveth not his brother whom he hath seen, how can he love God whom he hath not seen? And this commandment have we from him, That he who loveth God love his brother also"
2 Timothy 2:24
"And the servant of the Lord must not strive; but be gentle unto all men, apt to teach, patient"
James 1:19
"Wherefore, my beloved brethren, let every man be swift to hear, slow to speak, slow to wrath"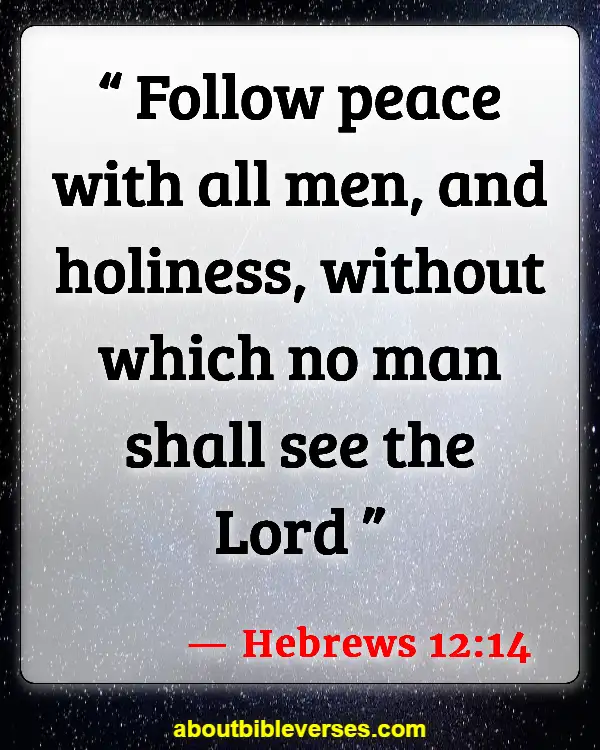 Hebrews 12:14
"Follow peace with all men, and holiness, without which no man shall see the Lord"
Mark 9:50
"Salt is good: but if the salt have lost his saltness, wherewith will ye season it? Have salt in yourselves, and have peace one with another"
2 Peter 1:5-7
"And beside this, giving all diligence, add to your faith virtue; and to virtue knowledge; And to knowledge temperance; and to temperance patience; and to patience godliness; And to godliness brotherly kindness; and to brotherly kindness charity"
Romans 12:18
"If it be possible, as much as lieth in you, live peaceably with all men"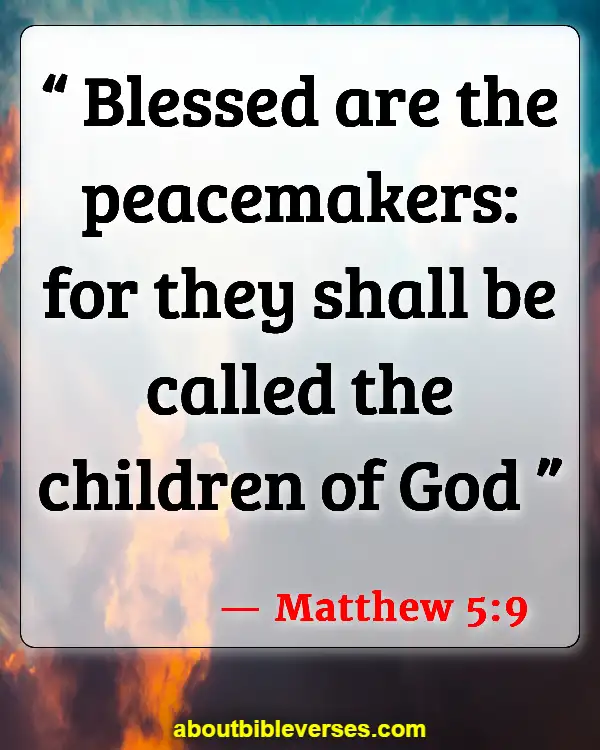 Matthew 5:9
"Blessed are the peacemakers: for they shall be called the children of God"