Marriage is a sacred covenant, yet no union is immune to challenges. When problems arise, it's easy to focus on flaws in our spouse. But God's Word tells us to consider yourself before looking at the faults of others
When conflict arises, God's Word offers guidance to strengthen and heal relationships. With prayer, humility, and faith, married couples can overcome difficult seasons.
With humility, ask God to reveal your own shortcomings. Where have you fallen short in loving your spouse selflessly and honoring your vows? Confess these failures and seek forgiveness. Pray for fresh eyes to see your spouse as God sees them.
Extend grace and grant forgiveness. We all fail at times but we are called to forgive as God forgives us. Let go of bitterness and make a fresh start. Rebuild trust through changed attitudes and loving actions.
Refuse to use harsh words. Speak gently and carefully, considering how your spouse may interpret your tone and phrasing. Season speech with patience and encouragement rather than anger or insult.
Pray together. Invite God's presence into your marriage. Pray for unity, seeking God's help to grow together. Uplift your spouse in prayer rather than focusing on flaws.
Every marriage faces challenges at times. With mutual care and respect, humility, forgiveness and faith, storms can be weathered. God's love and wisdom provide resources to strengthen even the most strained unions.
Dear friends, as we reflect on applying biblical principles in our marriages, let us pray for God's guidance and grace to walk in His ways. May our homes be filled with peace and joy.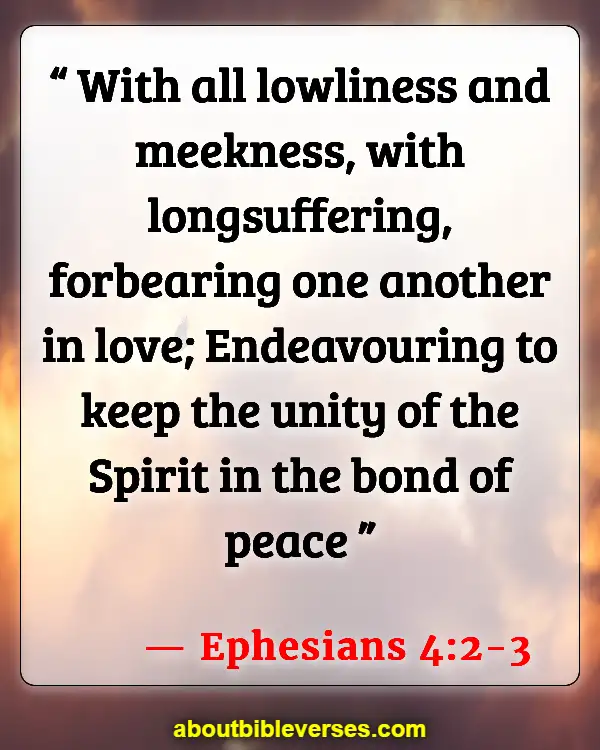 Ephesians 4:2-3
"With all lowliness and meekness, with longsuffering, forbearing one another in love; Endeavouring to keep the unity of the Spirit in the bond of peace"
Colossians 3:13
"Forbearing one another, and forgiving one another, if any man have a quarrel against any: even as Christ forgave you, so also do ye"
1 Corinthians 13:4-7
"Charity suffereth long, and is kind; charity envieth not; charity vaunteth not itself, is not puffed up, Doth not behave itself unseemly, seeketh not her own, is not easily provoked, thinketh no evil; Rejoiceth not in iniquity, but rejoiceth in the truth; Beareth all things, believeth all things, hopeth all things, endureth all things"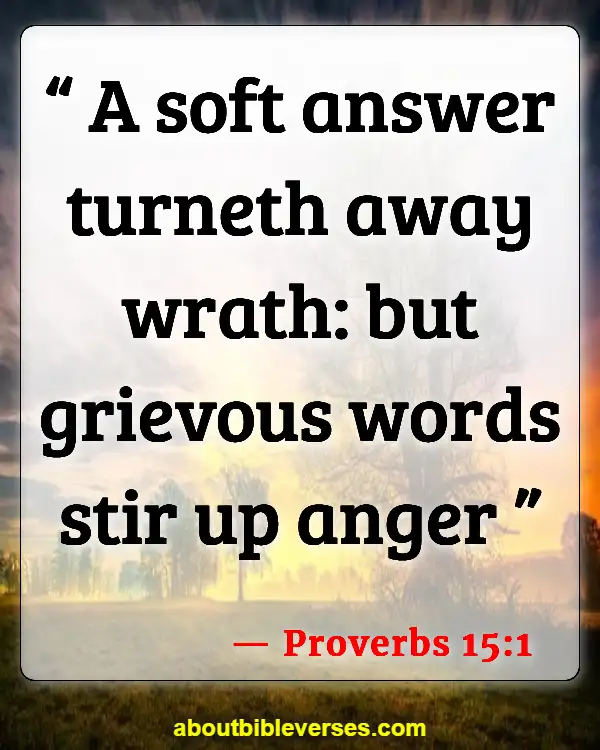 Proverbs 15:1
"A soft answer turneth away wrath: but grievous words stir up anger"
Ephesians 5:33
"Nevertheless let every one of you in particular so love his wife even as himself; and the wife see that she reverence her husband"
Matthew 19:6
"Wherefore they are no more twain, but one flesh. What therefore God hath joined together, let not man put asunder"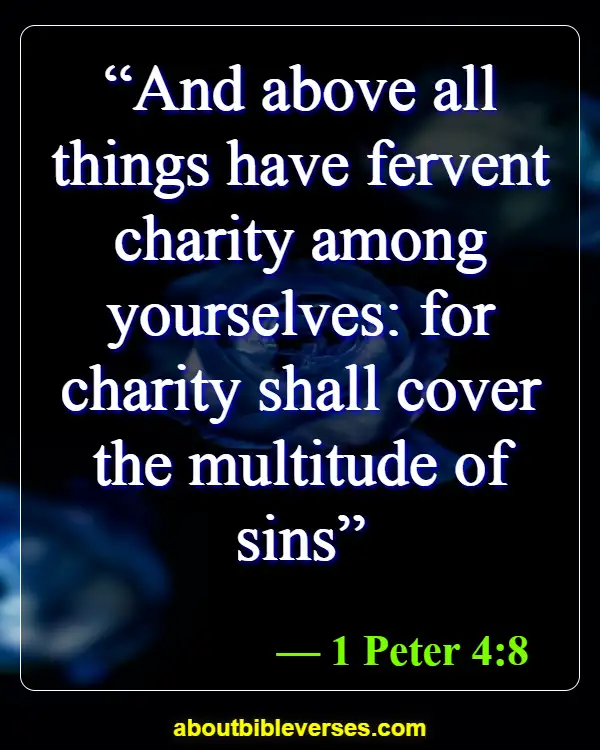 1 Peter 4:8
"And above all things have fervent charity among yourselves: for charity shall cover the multitude of sins"
Ephesians 5:21
"Submitting yourselves one to another in the fear of God"
1 Corinthians 7:3-5
"Let the husband render unto the wife due benevolence: and likewise also the wife unto the husband. The wife hath not power of her own body, but the husband: and likewise also the husband hath not power of his own body, but the wife. Defraud ye not one the other, except it be with consent for a time, that ye may give yourselves to fasting and prayer; and come together again, that Satan tempt you not for your incontinency"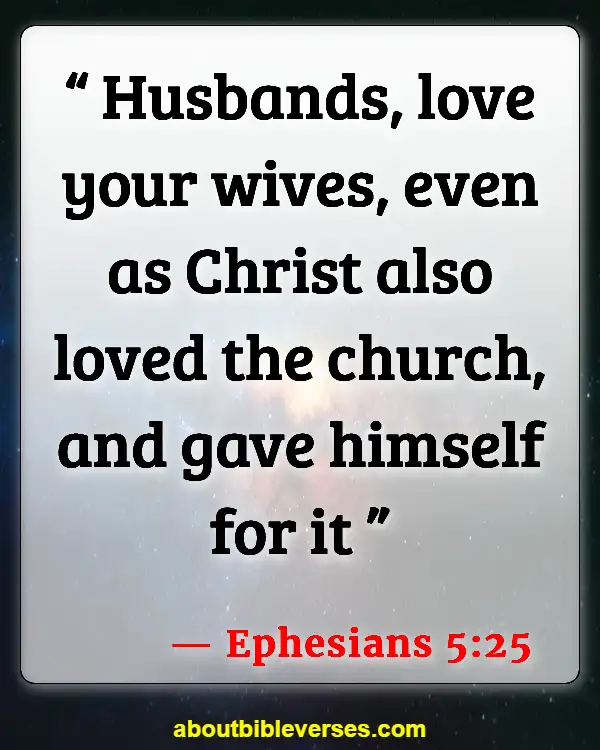 Ephesians 5:25
"Husbands, love your wives, even as Christ also loved the church, and gave himself for it"
Proverbs 18:22
"Whoso findeth a wife findeth a good thing, and obtaineth favour of the Lord"
Proverbs 31:10
"Who can find a virtuous woman? for her price is far above rubies"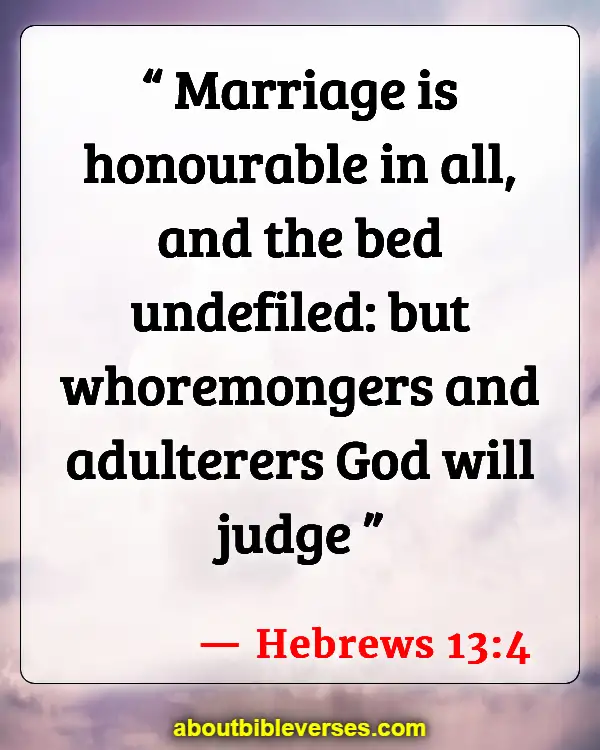 Hebrews 13:4
"Marriage is honourable in all, and the bed undefiled: but whoremongers and adulterers God will judge"
1 Peter 3:1
"Likewise, ye wives, be in subjection to your own husbands; that, if any obey not the word, they also may without the word be won by the conversation of the wives"
Ephesians 5:22-24
"Wives, submit yourselves unto your own husbands, as unto the Lord. For the husband is the head of the wife, even as Christ is the head of the church: and he is the saviour of the body. Therefore as the church is subject unto Christ, so let the wives be to their own husbands in every thing"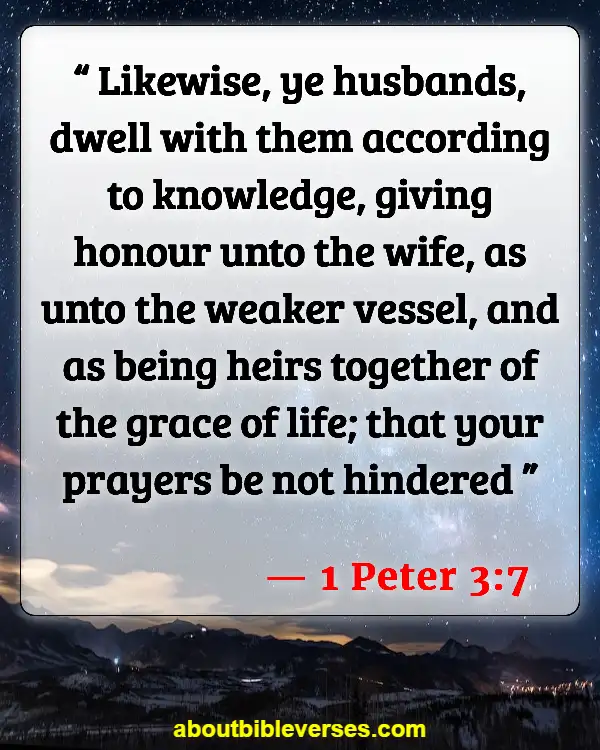 1 Peter 3:7
"Likewise, ye husbands, dwell with them according to knowledge, giving honour unto the wife, as unto the weaker vessel, and as being heirs together of the grace of life; that your prayers be not hindered"
Malachi 2:16
"For the Lord , the God of Israel, saith that he hateth putting away: for one covereth violence with his garment, saith the Lord of hosts: therefore take heed to your spirit, that ye deal not treacherously"
1 Corinthians 7:10-11
"And unto the married I command, yet not I, but the Lord, Let not the wife depart from her husband: But and if she depart, let her remain unmarried or be reconciled to her husband: and let not the husband put away his wife"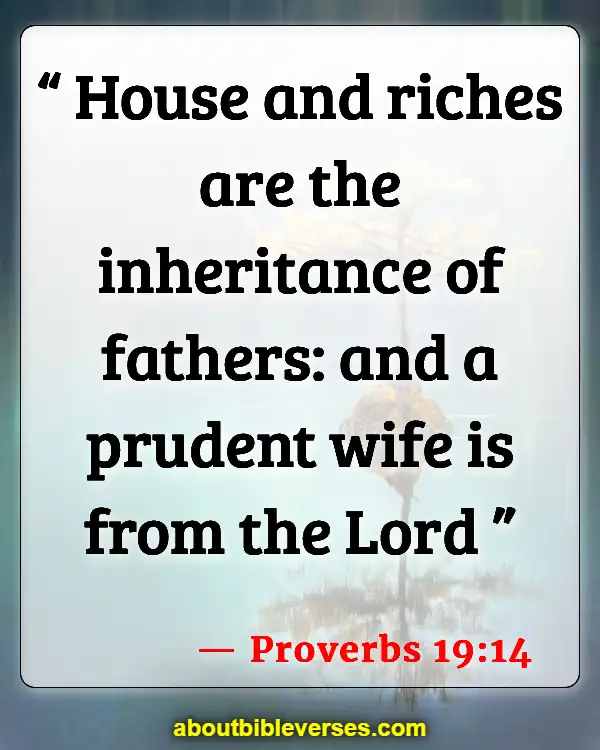 Proverbs 19:14
"House and riches are the inheritance of fathers: and a prudent wife is from the Lord"
Proverbs 20:6-7
"Most men will proclaim every one his own goodness: but a faithful man who can find? The just man walketh in his integrity: his children are blessed after him"
Proverbs 5:18-19
"Let thy fountain be blessed: and rejoice with the wife of thy youth. Let her be as the loving hind and pleasant roe; let her breasts satisfy thee at all times; and be thou ravished always with her love"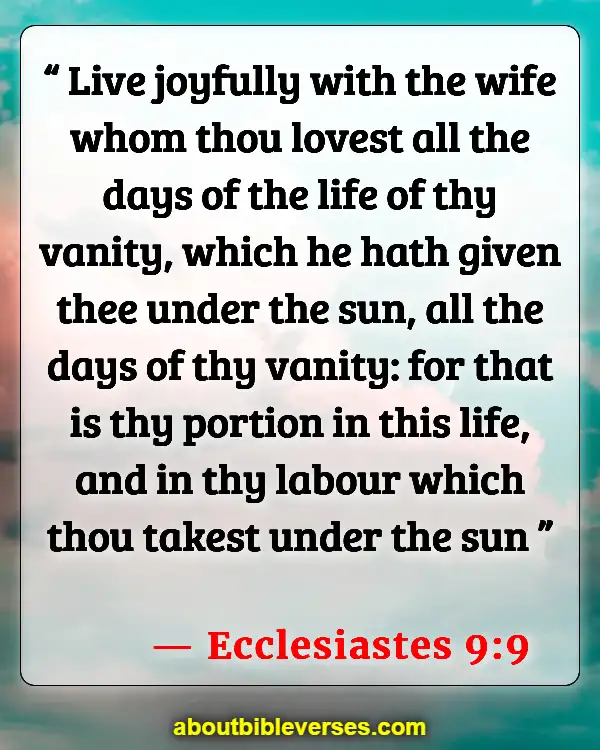 Ecclesiastes 9:9
"Live joyfully with the wife whom thou lovest all the days of the life of thy vanity, which he hath given thee under the sun, all the days of thy vanity: for that is thy portion in this life, and in thy labour which thou takest under the sun"
1 Corinthians 7:2
"Nevertheless, to avoid fornication, let every man have his own wife, and let every woman have her own husband"
1 Corinthians 7:12-13
"But to the rest speak I, not the Lord: If any brother hath a wife that believeth not, and she be pleased to dwell with him, let him not put her away. And the woman which hath an husband that believeth not, and if he be pleased to dwell with her, let her not leave him"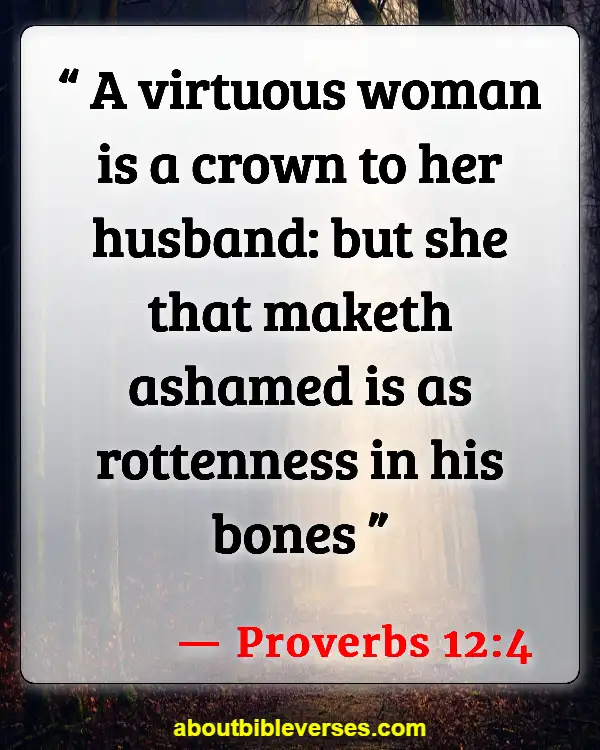 Proverbs 12:4
"A virtuous woman is a crown to her husband: but she that maketh ashamed is as rottenness in his bones"
Matthew 19:9
"And I say unto you, Whosoever shall put away his wife, except it be for fornication, and shall marry another, committeth adultery: and whoso marrieth her which is put away doth commit adultery"
Genesis 2:18
"And the Lord God said, It is not good that the man should be alone; I will make him an help meet for him"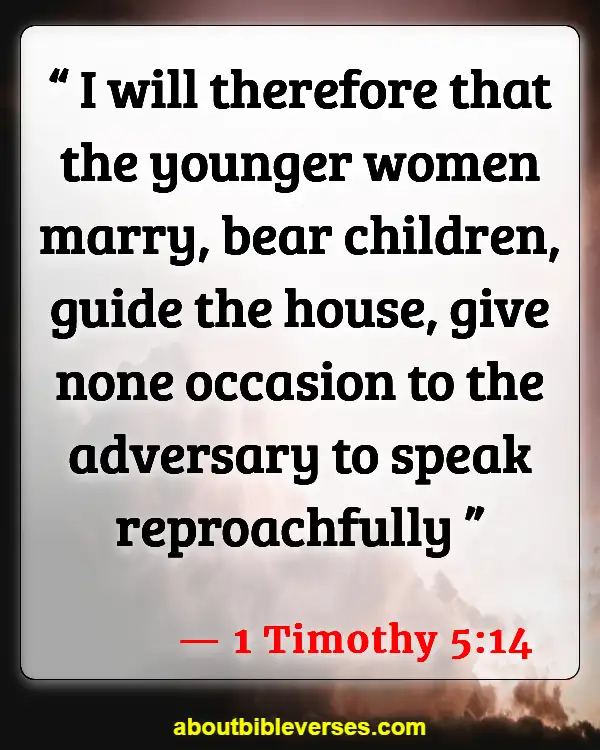 1 Timothy 5:14
"I will therefore that the younger women marry, bear children, guide the house, give none occasion to the adversary to speak reproachfully"
Romans 7:2-3
"For the woman which hath an husband is bound by the law to her husband so long as he liveth; but if the husband be dead, she is loosed from the law of her husband. So then if, while her husband liveth, she be married to another man, she shall be called an adulteress: but if her husband be dead, she is free from that law; so that she is no adulteress, though she be married to another man"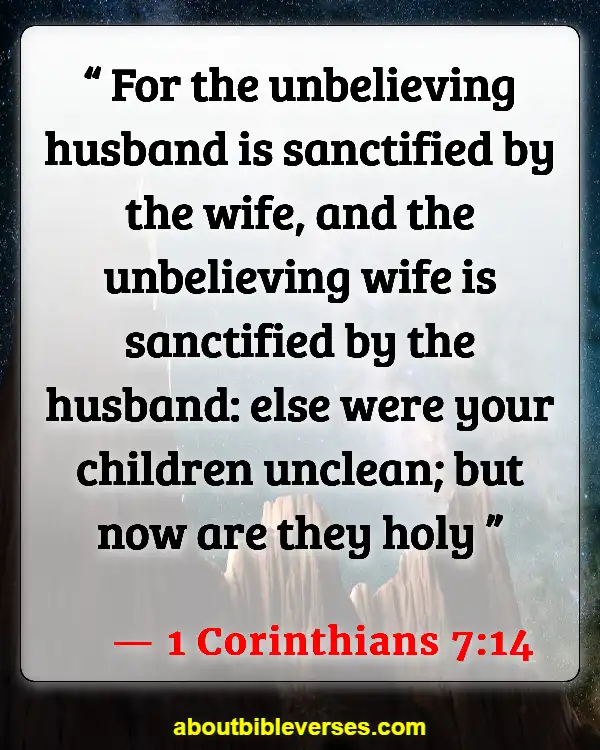 1 Corinthians 7:14
"For the unbelieving husband is sanctified by the wife, and the unbelieving wife is sanctified by the husband: else were your children unclean; but now are they holy"