Friends, today we will look at some terrible words of God from the last book of the Bible, Revelation, which really scares us. Friends, we know that putting on Christ means taking up the cross in this world, that is, carrying suffering daily.
But when we read about God's terrible day of judgment in the afterlife, I think that the suffering we were experiencing in this world was heaven instead.
Because of that, there is much more pain and suffering in the fire hell created by God, so I would say friends, it is better to endure pain and suffering in this world if we don't want to experience that pain and suffering in the afterlife.
Dear friends, now let's see the Bible scriptures below that talk about the scariest parts of Revelation.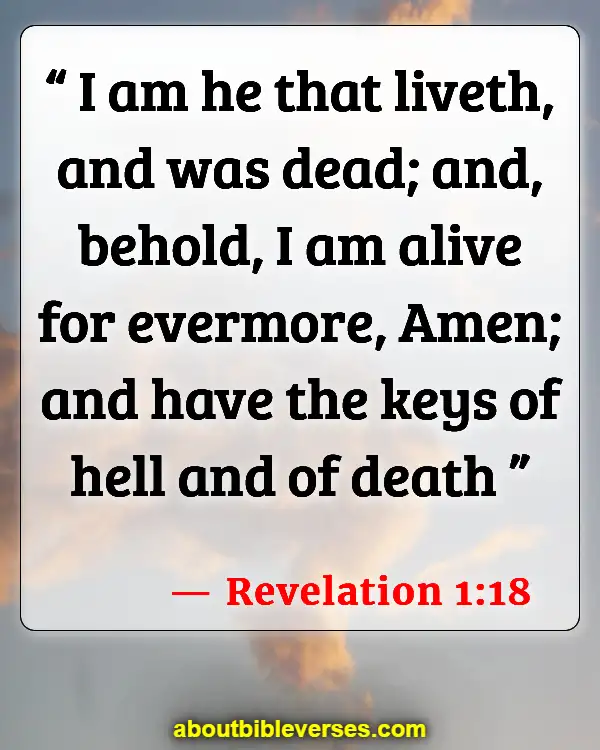 Revelation 1:18
"I am he that liveth, and was dead; and, behold, I am alive for evermore, Amen; and have the keys of hell and of death"
Revelation 6:2
"And I saw, and behold a white horse: and he that sat on him had a bow; and a crown was given unto him: and he went forth conquering, and to conquer"
Revelation 6:4
"And there went out another horse that was red: and power was given to him that sat thereon to take peace from the earth, and that they should kill one another: and there was given unto him a great sword"
Revelation 6:5
"And when he had opened the third seal, I heard the third beast say, Come and see. And I beheld, and lo a black horse; and he that sat on him had a pair of balances in his hand"
Revelation 6:8
"And I looked, and behold a pale horse: and his name that sat on him was Death, and Hell followed with him. And power was given unto them over the fourth part of the earth, to kill with sword, and with hunger, and with death, and with the beasts of the earth"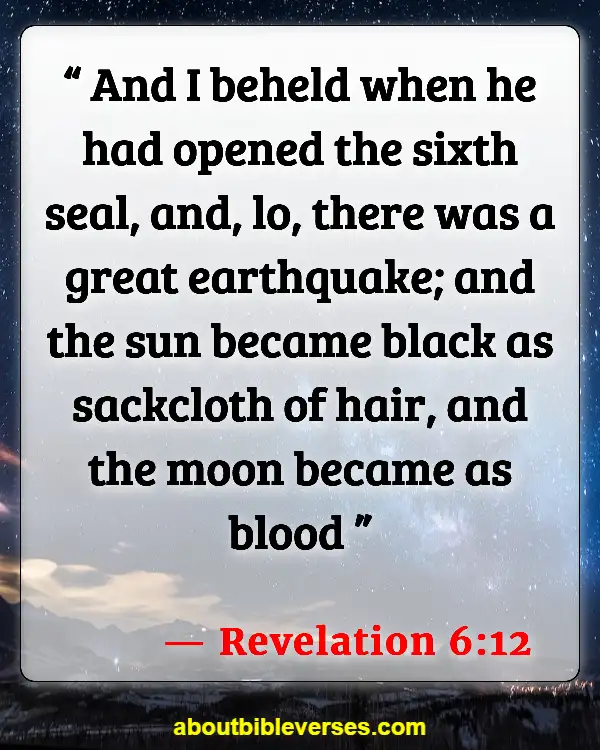 Revelation 6:12
"And I beheld when he had opened the sixth seal, and, lo, there was a great earthquake; and the sun became black as sackcloth of hair, and the moon became as blood"
Revelation 6:14
"And the heaven departed as a scroll when it is rolled together; and every mountain and island were moved out of their places"
Revelation 8:7
"The first angel sounded, and there followed hail and fire mingled with blood, and they were cast upon the earth: and the third part of trees was burnt up, and all green grass was burnt up"
Revelation 8:8
"And the second angel sounded, and as it were a great mountain burning with fire was cast into the sea: and the third part of the sea became blood"
Revelation 8:9
"And the third part of the creatures which were in the sea, and had life, died; and the third part of the ships were destroyed"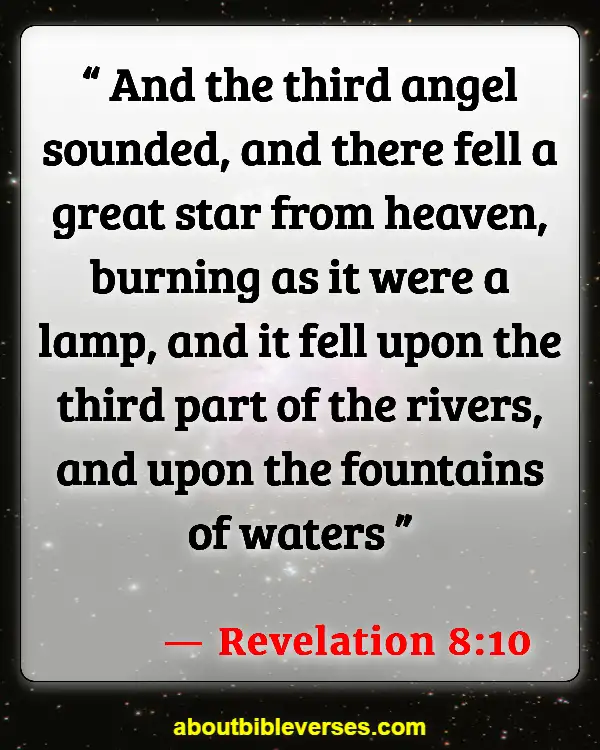 Revelation 8:10
"And the third angel sounded, and there fell a great star from heaven, burning as it were a lamp, and it fell upon the third part of the rivers, and upon the fountains of waters"
Revelation 8:12
"And the fourth angel sounded, and the third part of the sun was smitten, and the third part of the moon, and the third part of the stars; so as the third part of them was darkened, and the day shone not for a third part of it, and the night likewise"
Revelation 9:2
"And he opened the bottomless pit; and there arose a smoke out of the pit, as the smoke of a great furnace; and the sun and the air were darkened by reason of the smoke of the pit"
Revelation 9:3
"And there came out of the smoke locusts upon the earth: and unto them was given power, as the scorpions of the earth have power"
Revelation 9:5
"And to them it was given that they should not kill them, but that they should be tormented five months: and their torment was as the torment of a scorpion, when he striketh a man"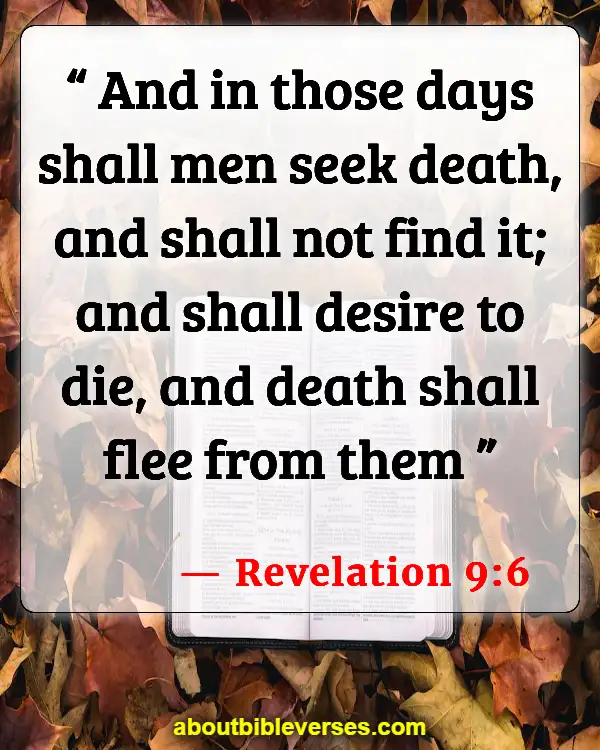 Revelation 9:6
"And in those days shall men seek death, and shall not find it; and shall desire to die, and death shall flee from them"
Revelation 9:7
"And the shapes of the locusts were like unto horses prepared unto battle; and on their heads were as it were crowns like gold, and their faces were as the faces of men"
Revelation 9:8
"And they had hair as the hair of women, and their teeth were as the teeth of lions"
Revelation 9:10
"And they had tails like unto scorpions, and there were stings in their tails: and their power was to hurt men five months"
Revelation 9:15
"And the four angels were loosed, which were prepared for an hour, and a day, and a month, and a year, for to slay the third part of men"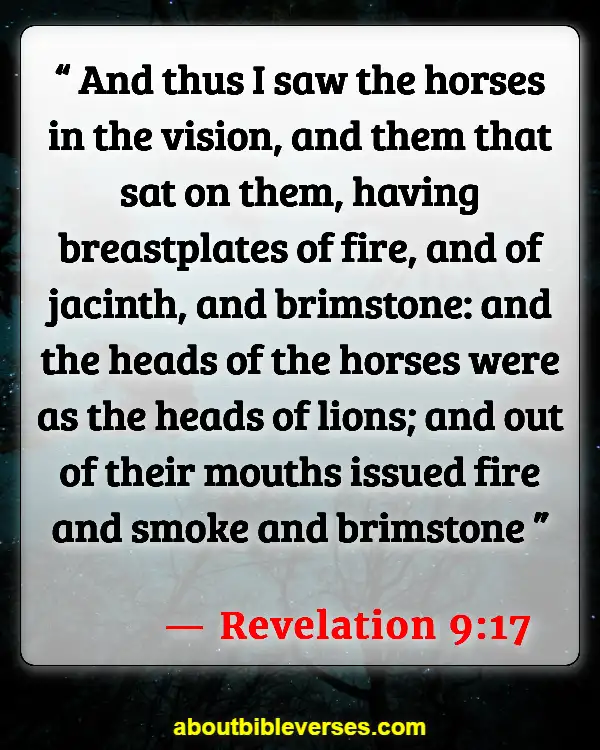 Revelation 9:17
"And thus I saw the horses in the vision, and them that sat on them, having breastplates of fire, and of jacinth, and brimstone: and the heads of the horses were as the heads of lions; and out of their mouths issued fire and smoke and brimstone"
Revelation 9:18
"By these three was the third part of men killed, by the fire, and by the smoke, and by the brimstone, which issued out of their mouths"
Revelation 9:19
"For their power is in their mouth, and in their tails: for their tails were like unto serpents, and had heads, and with them they do hurt"
Revelation 11:5
"And if any man will hurt them, fire proceedeth out of their mouth, and devoureth their enemies: and if any man will hurt them, he must in this manner be killed"
Revelation 11:6
"These have power to shut heaven, that it rain not in the days of their prophecy: and have power over waters to turn them to blood, and to smite the earth with all plagues, as often as they will"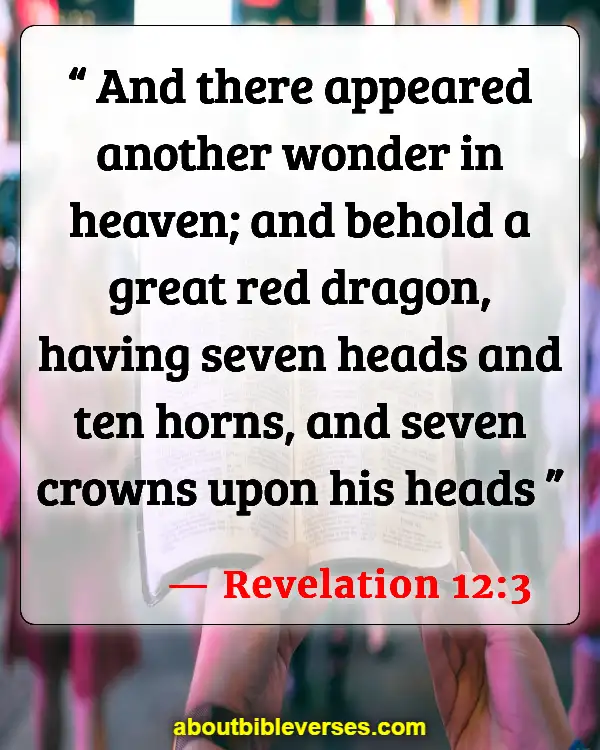 Revelation 12:3
"And there appeared another wonder in heaven; and behold a great red dragon, having seven heads and ten horns, and seven crowns upon his heads"
Revelation 12:4
"And his tail drew the third part of the stars of heaven, and did cast them to the earth: and the dragon stood before the woman which was ready to be delivered, for to devour her child as soon as it was born"
Revelation 12:7
"And there was war in heaven: Michael and his angels fought against the dragon; and the dragon fought and his angels"
Revelation 12:9
"And the great dragon was cast out, that old serpent, called the Devil, and Satan, which deceiveth the whole world: he was cast out into the earth, and his angels were cast out with him"
Revelation 13:1
"And I stood upon the sand of the sea, and saw a beast rise up out of the sea, having seven heads and ten horns, and upon his horns ten crowns, and upon his heads the name of blasphemy"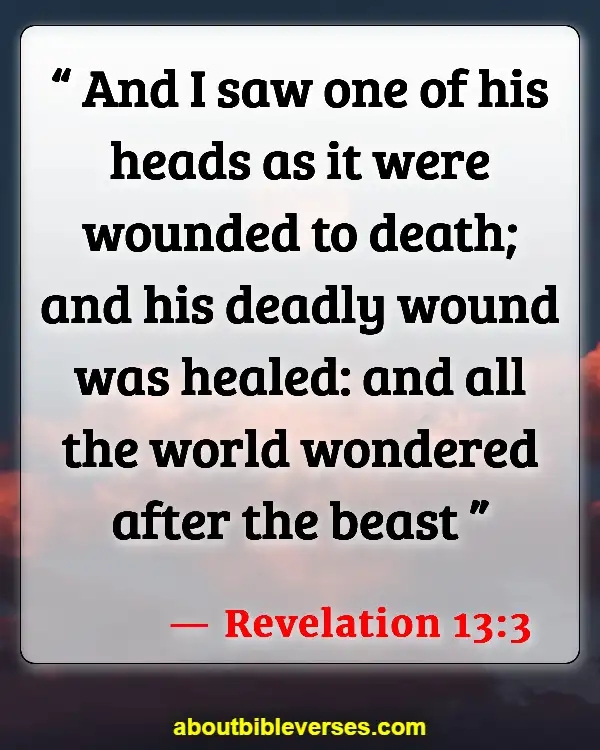 Revelation 13:3
"And I saw one of his heads as it were wounded to death; and his deadly wound was healed: and all the world wondered after the beast"
Revelation 13:5
"And there was given unto him a mouth speaking great things and blasphemies; and power was given unto him to continue forty and two months"
Revelation 13:7
"And it was given unto him to make war with the saints, and to overcome them: and power was given him over all kindreds, and tongues, and nations"
Revelation 13:15
"And he had power to give life unto the image of the beast, that the image of the beast should both speak, and cause that as many as would not worship the image of the beast should be killed"
Revelation 14:10
"The same shall drink of the wine of the wrath of God, which is poured out without mixture into the cup of his indignation; and he shall be tormented with fire and brimstone in the presence of the holy angels, and in the presence of the Lamb"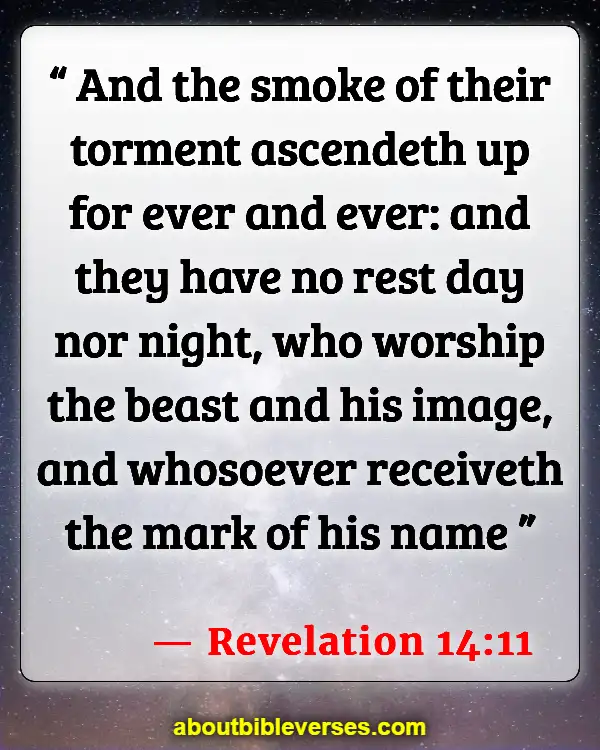 Revelation 14:11
"And the smoke of their torment ascendeth up for ever and ever: and they have no rest day nor night, who worship the beast and his image, and whosoever receiveth the mark of his name"
Revelation 15:1
"And I saw another sign in heaven, great and marvellous, seven angels having the seven last plagues; for in them is filled up the wrath of God"
Revelation 15:6
"And the seven angels came out of the temple, having the seven plagues, clothed in pure and white linen, and having their breasts girded with golden girdles"
Revelation 16:2
"And the first went, and poured out his vial upon the earth; and there fell a noisome and grievous sore upon the men which had the mark of the beast, and upon them which worshipped his image"
Revelation 16:3
"And the second angel poured out his vial upon the sea; and it became as the blood of a dead man: and every living soul died in the sea"
Revelation 16:8
"And the fourth angel poured out his vial upon the sun; and power was given unto him to scorch men with fire"
Revelation 16:9
"And men were scorched with great heat, and blasphemed the name of God, which hath power over these plagues: and they repented not to give him glory"
Revelation 16:10
"And the fifth angel poured out his vial upon the seat of the beast; and his kingdom was full of darkness; and they gnawed their tongues for pain"
Revelation 16:13
"And I saw three unclean spirits like frogs come out of the mouth of the dragon, and out of the mouth of the beast, and out of the mouth of the false prophet"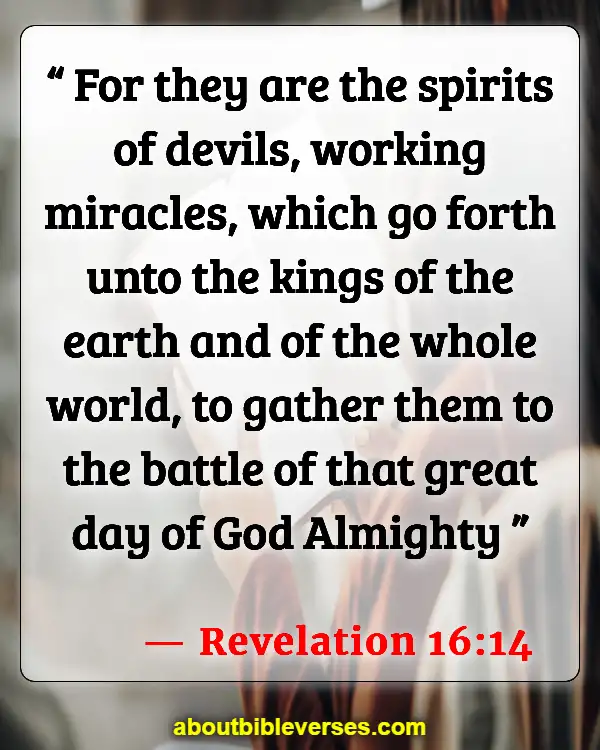 Revelation 16:14
"For they are the spirits of devils, working miracles, which go forth unto the kings of the earth and of the whole world, to gather them to the battle of that great day of God Almighty"
Revelation 19:20
"And the beast was taken, and with him the false prophet that wrought miracles before him, with which he deceived them that had received the mark of the beast, and them that worshipped his image. These both were cast alive into a lake of fire burning with brimstone"
Revelation 20:2
"And he laid hold on the dragon, that old serpent, which is the Devil, and Satan, and bound him a thousand years"
Revelation 20:3
"And cast him into the bottomless pit, and shut him up, and set a seal upon him, that he should deceive the nations no more, till the thousand years should be fulfilled: and after that he must be loosed a little season"
Revelation 20:10
"And the devil that deceived them was cast into the lake of fire and brimstone, where the beast and the false prophet are, and shall be tormented day and night for ever and ever"
Revelation 20:14
"And death and hell were cast into the lake of fire. This is the second death"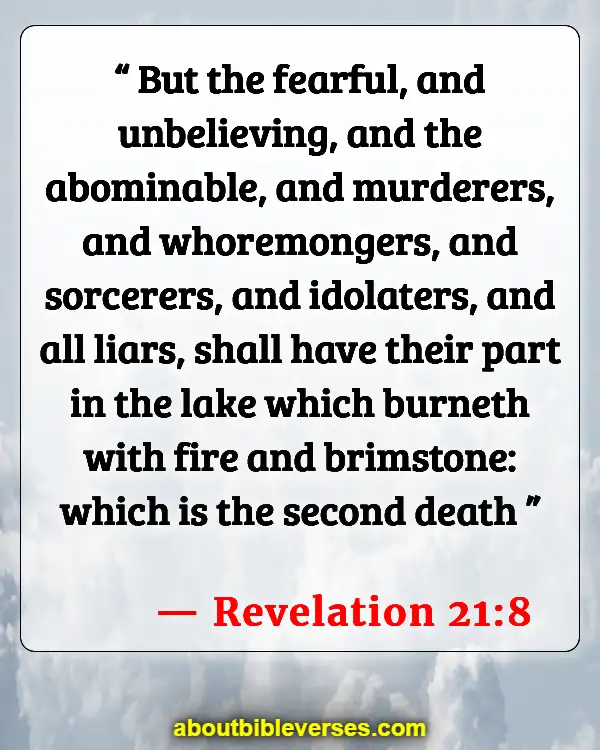 Revelation 21:8
"But the fearful, and unbelieving, and the abominable, and murderers, and whoremongers, and sorcerers, and idolaters, and all liars, shall have their part in the lake which burneth with fire and brimstone: which is the second death"