Dear friends, the Bible warns us of an eternal hell that awaits those who reject God's salvation. This hell is a place of utter darkness, intense fire, and immense suffering beyond our worst nightmares.
Hell is a place entirely separated from the light and love of God. There is no rest or relief from torment. The fire is never quenched. The worm never dies. There is weeping, wailing, and gnashing of teeth. The agony and despair are unimaginable.
In hell, the soul is tormented but never destroyed. The condemned experience everlasting destruction, shut out from the presence of God. There is no friend to comfort them or cool their tongues. Only the wicked inhabit this place of unquenchable fire.
Hell is the ultimate consequence for those who choose sin over salvation. It is a sentence handed down by a just and holy God who cannot allow wickedness in His presence. Tragically, many will follow the broad path that leads to destruction.
But dear friends, we do not have to face this dreadful destiny. Jesus Christ offers us an escape. By placing our faith in Him, we can avoid hell and inherit eternal life. Let us choose wisely while there is still time. Before it is too late, turn from sin and turn to the Savior.
Dear friends now let's see the Bible scriptures below that talk about Scariest Hell.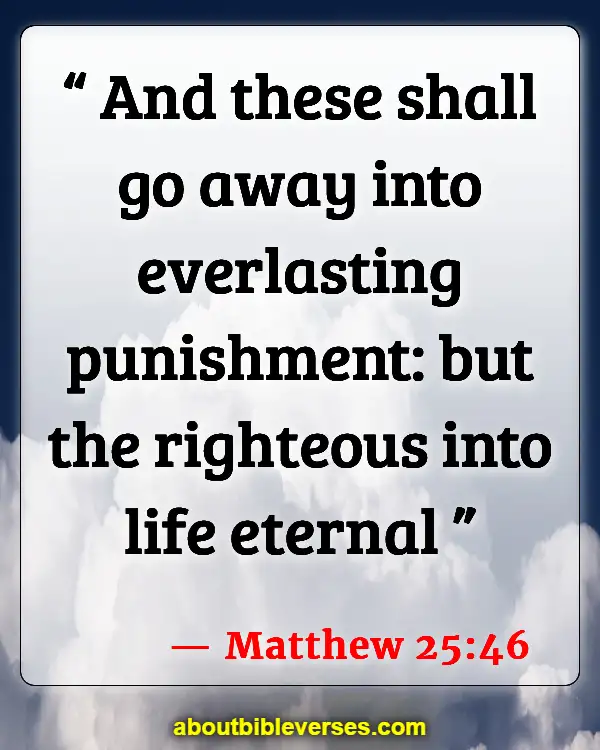 Matthew 25:46
"And these shall go away into everlasting punishment: but the righteous into life eternal"
Mark 9:43
"And if thy hand offend thee, cut it off: it is better for thee to enter into life maimed, than having two hands to go into hell, into the fire that never shall be quenched"
Mark 9:45
"And if thy foot offend thee, cut it off: it is better for thee to enter halt into life, than having two feet to be cast into hell, into the fire that never shall be quenched"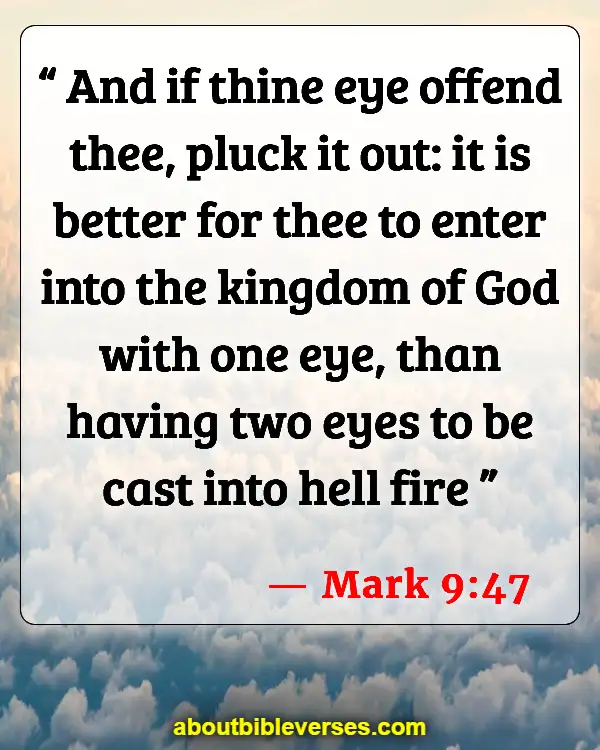 Mark 9:47
"And if thine eye offend thee, pluck it out: it is better for thee to enter into the kingdom of God with one eye, than having two eyes to be cast into hell fire"
Luke 16:23
"And in hell he lift up his eyes, being in torments, and seeth Abraham afar off, and Lazarus in his bosom"
Revelation 20:15
"And whosoever was not found written in the book of life was cast into the lake of fire"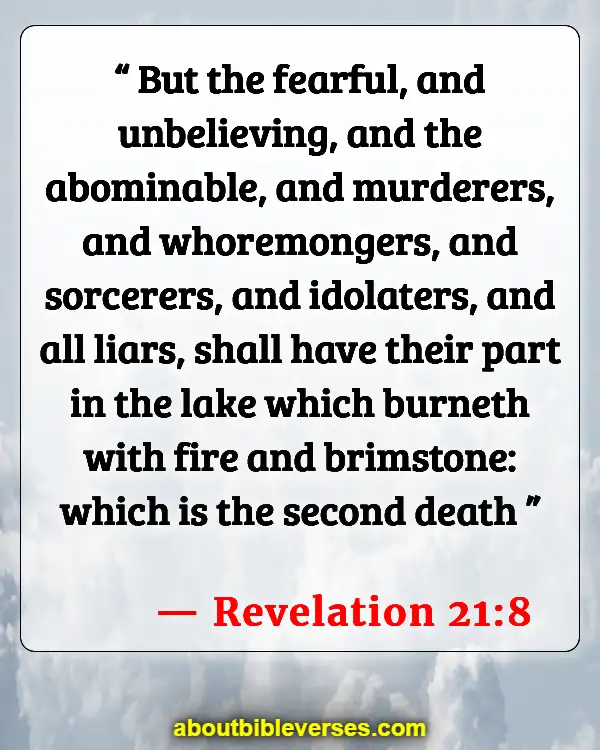 Revelation 21:8
"But the fearful, and unbelieving, and the abominable, and murderers, and whoremongers, and sorcerers, and idolaters, and all liars, shall have their part in the lake which burneth with fire and brimstone: which is the second death"
Matthew 13:49-50
"So shall it be at the end of the world: the angels shall come forth, and sever the wicked from among the just, And shall cast them into the furnace of fire: there shall be wailing and gnashing of teeth"
2 Thessalonians 1:9
"Who shall be punished with everlasting destruction from the presence of the Lord, and from the glory of his power"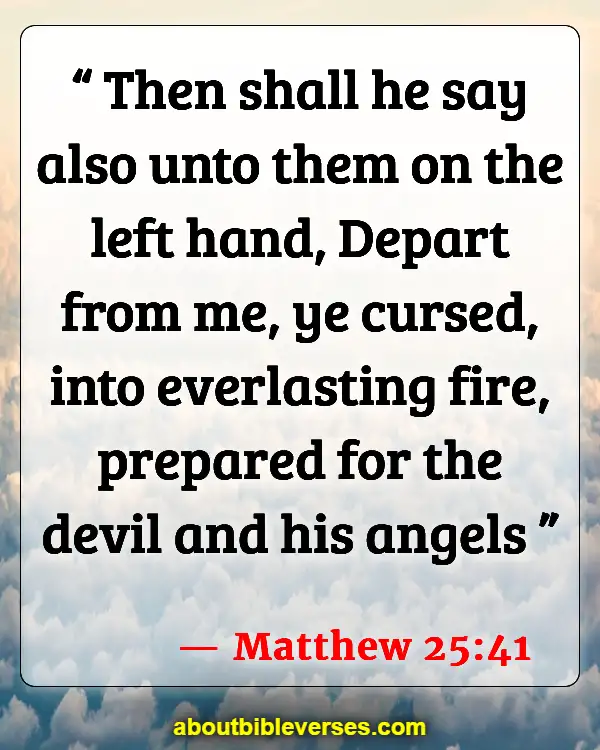 Matthew 25:41
"Then shall he say also unto them on the left hand, Depart from me, ye cursed, into everlasting fire, prepared for the devil and his angels"
Matthew 10:28
"And fear not them which kill the body, but are not able to kill the soul: but rather fear him which is able to destroy both soul and body in hell"
Revelation 14:11
"And the smoke of their torment ascendeth up for ever and ever: and they have no rest day nor night, who worship the beast and his image, and whosoever receiveth the mark of his name"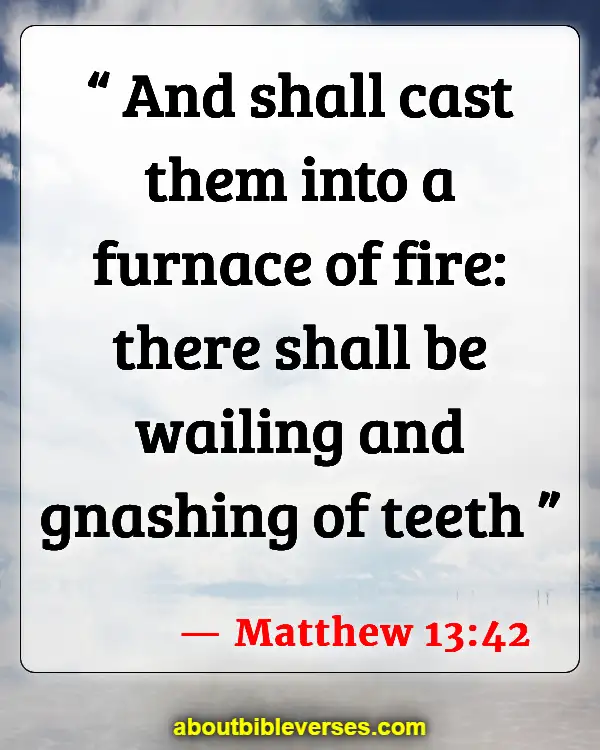 Matthew 13:42
"And shall cast them into a furnace of fire: there shall be wailing and gnashing of teeth"
Revelation 19:20
"And the beast was taken, and with him the false prophet that wrought miracles before him, with which he deceived them that had received the mark of the beast, and them that worshipped his image. These both were cast alive into a lake of fire burning with brimstone"
Matthew 18:9
"And if thine eye offend thee, pluck it out, and cast it from thee: it is better for thee to enter into life with one eye, rather than having two eyes to be cast into hell fire"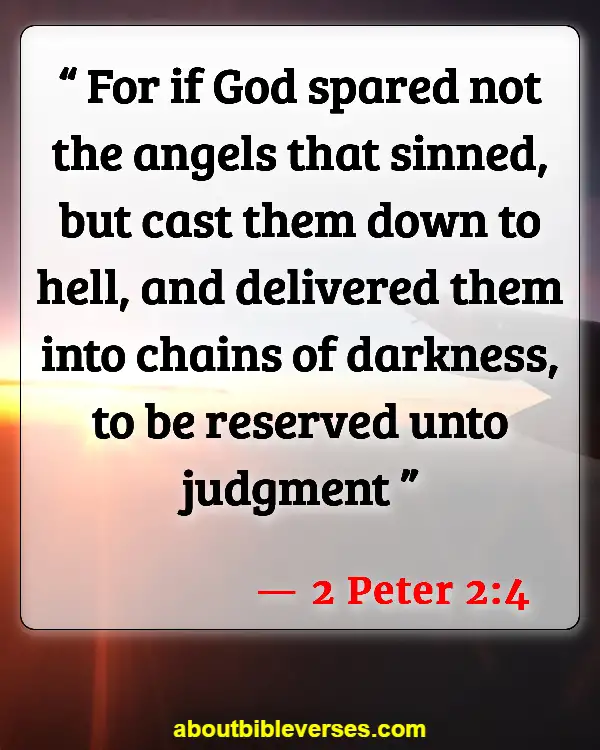 2 Peter 2:4
"For if God spared not the angels that sinned, but cast them down to hell, and delivered them into chains of darkness, to be reserved unto judgment"
Revelation 20:10
"And the devil that deceived them was cast into the lake of fire and brimstone, where the beast and the false prophet are, and shall be tormented day and night for ever and ever"
Revelation 20:14
"And death and hell were cast into the lake of fire. This is the second death"
Matthew 7:13-14
"Enter ye in at the strait gate: for wide is the gate, and broad is the way, that leadeth to destruction, and many there be which go in thereat: Because strait is the gate, and narrow is the way, which leadeth unto life, and few there be that find it"
Matthew 24:51
"And shall cut him asunder, and appoint him his portion with the hypocrites: there shall be weeping and gnashing of teeth"
Ephesians 5:6
"Let no man deceive you with vain words: for because of these things cometh the wrath of God upon the children of disobedience"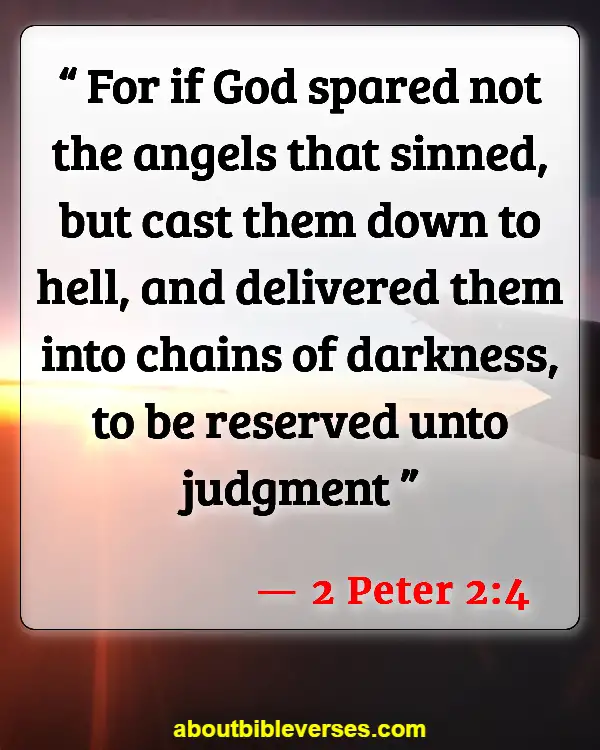 2 Peter 2:4
"For if God spared not the angels that sinned, but cast them down to hell, and delivered them into chains of darkness, to be reserved unto judgment"
Revelation 9:2
"And he opened the bottomless pit; and there arose a smoke out of the pit, as the smoke of a great furnace; and the sun and the air were darkened by reason of the smoke of the pit"
Proverbs 27:20
"Hell and destruction are never full; so the eyes of man are never satisfied"
Isaiah 5:14
"Therefore hell hath enlarged herself, and opened her mouth without measure: and their glory, and their multitude, and their pomp, and he that rejoiceth, shall descend into it"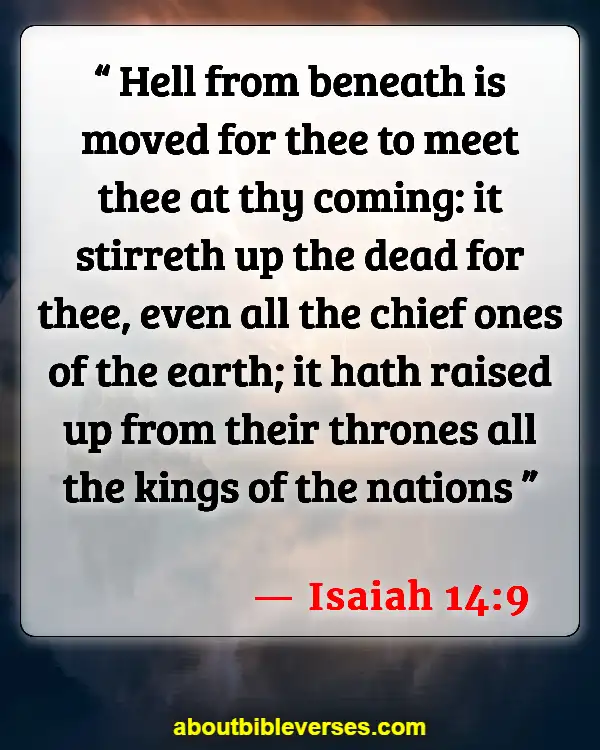 Isaiah 14:9
"Hell from beneath is moved for thee to meet thee at thy coming: it stirreth up the dead for thee, even all the chief ones of the earth; it hath raised up from their thrones all the kings of the nations"