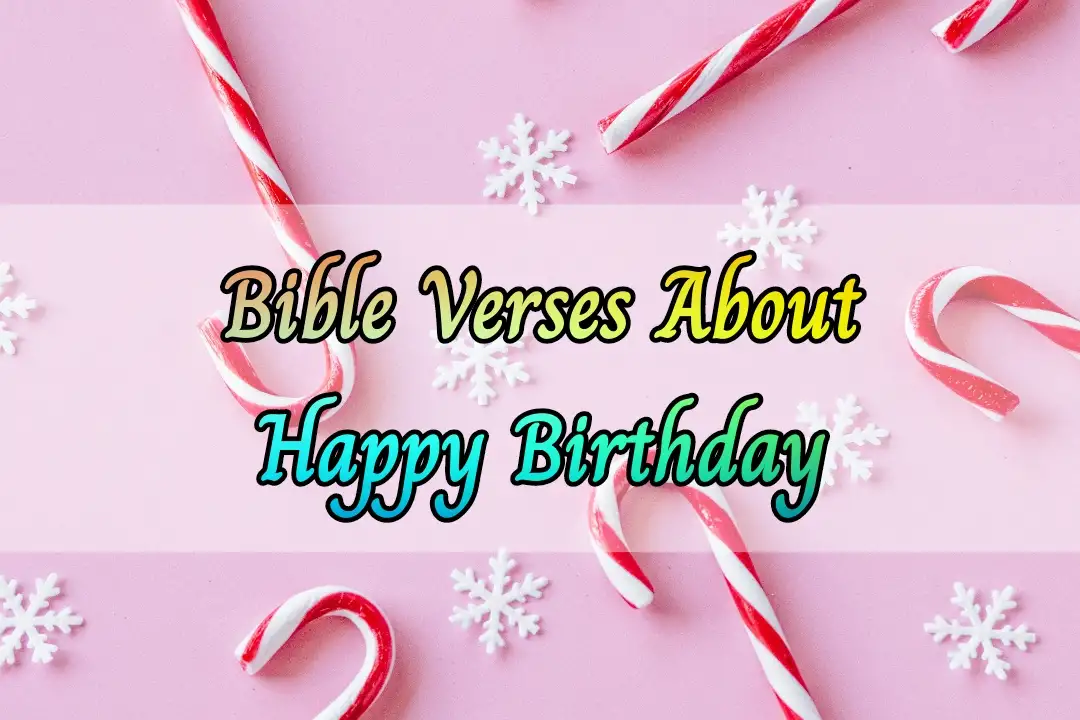 Birthdays are one of the most important days of our life. Let us thank God first for this day because God gave us more time to appreciate Him and to be His obedient child and we can do something for him.
God wants us to enjoy this day but keep God along with us. Praise God through songs and prayers on this day. We should not forget to share the joy of this day with each other. We all are his children and we must be humble before him.
We need to pray for our fellow brothers and sisters so God can give them good health and sound mind. As we know that God listens to our prayers, we can believe that he will bless the persons whom we pray on our birthday.
Birthday is a special day in everyone's life.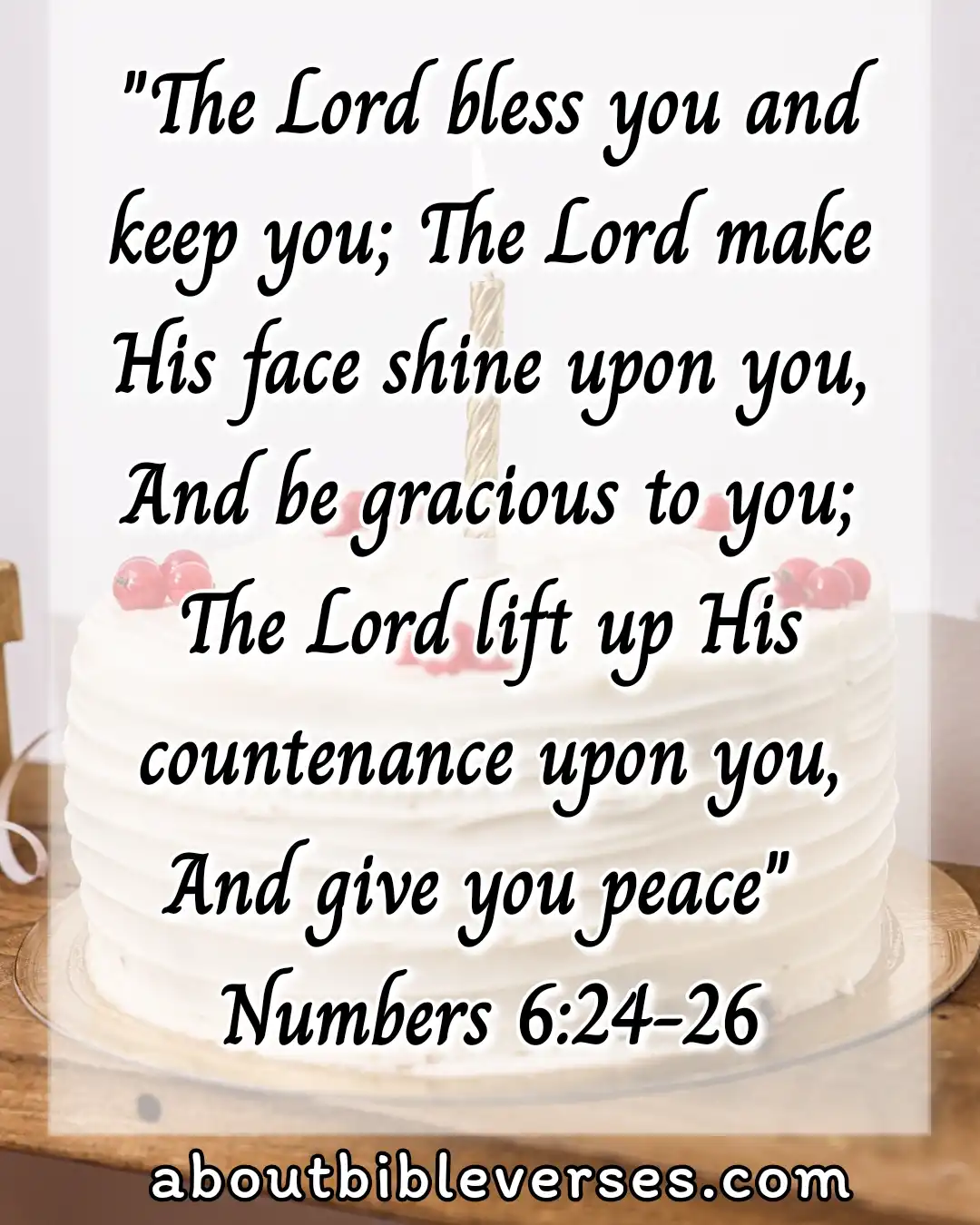 Numbers 6:24-26(KJV)"The Lord bless thee, and keep thee: The Lord make his face shine upon thee, and be gracious unto thee: The Lord lift up his countenance upon thee and give thee peace"
Explanation:- The Lord loves a man who keeps his commandments. God walks in them when his children obey him and live according to his instructions.
God increases our days of life when we serve God with our hearts and soul. God is faithful and desires to take care of us when we pay heed to his words.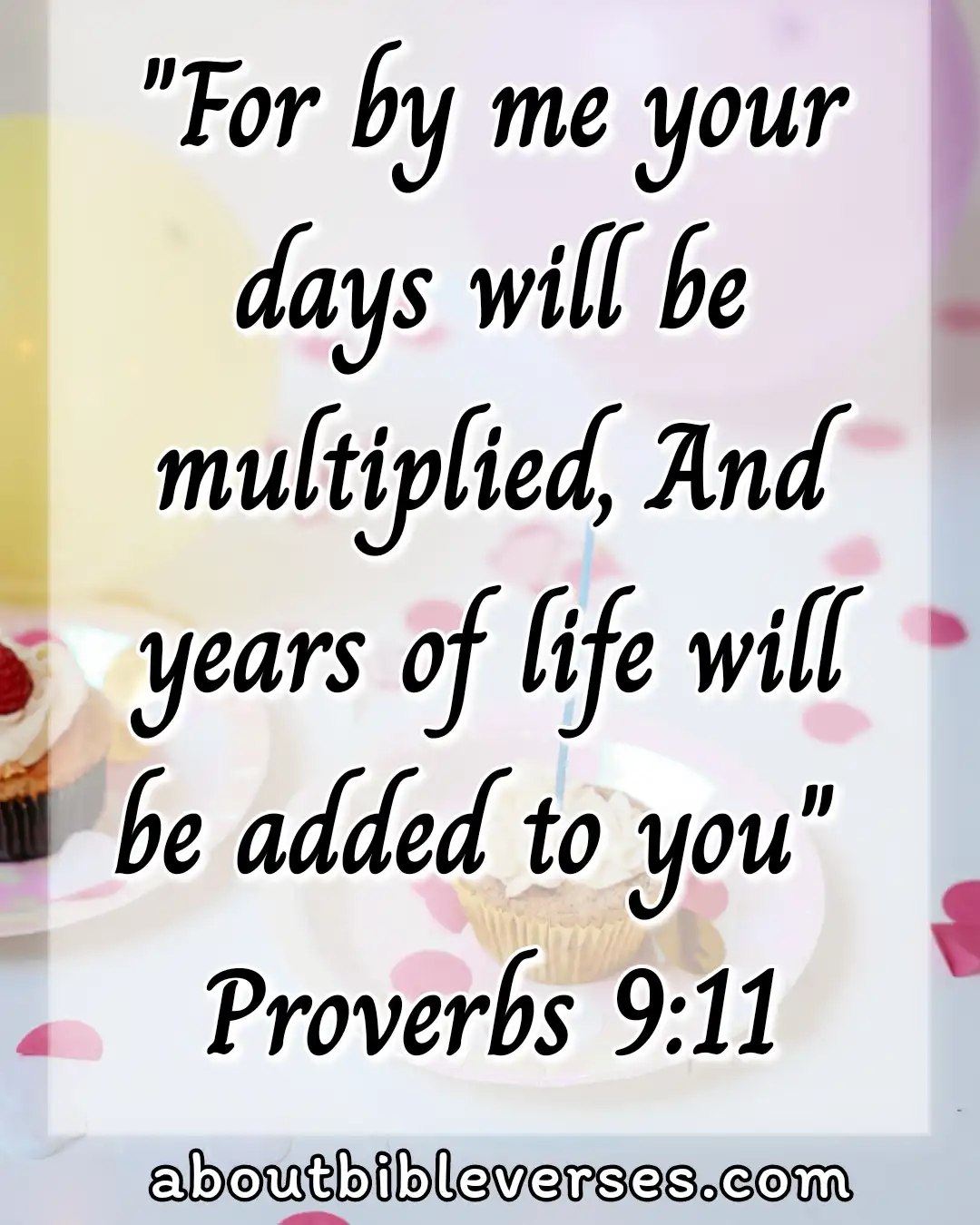 Proverbs 9:11(KJV)"For by me thy days shall be multiplied, and the years of thy life shall be increased"
Explanation:- A person who satisfies God will live long on this earth. The scripture says that God's grace and protection will be upon his children whom he desires to give many days.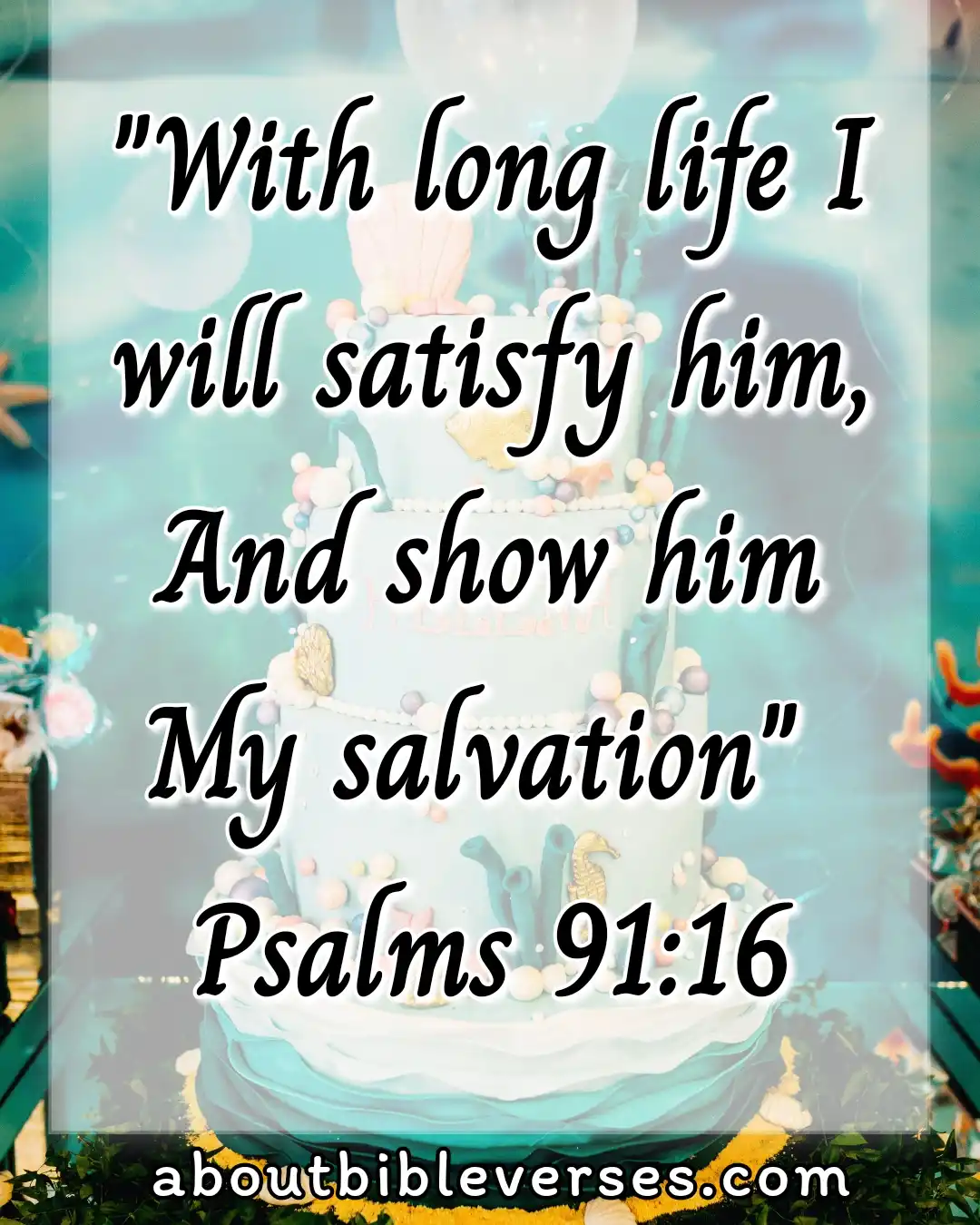 Psalm 91:16(KJV)"With long life will I satisfy him, and shew him my salvation"
Explanation:- We should pray for our beloved ones so Good can extend his lifespan on this earth. But we need to remember that our average life span is seventy years according to the scripture. It is quite enough for us to seek God within this period of time.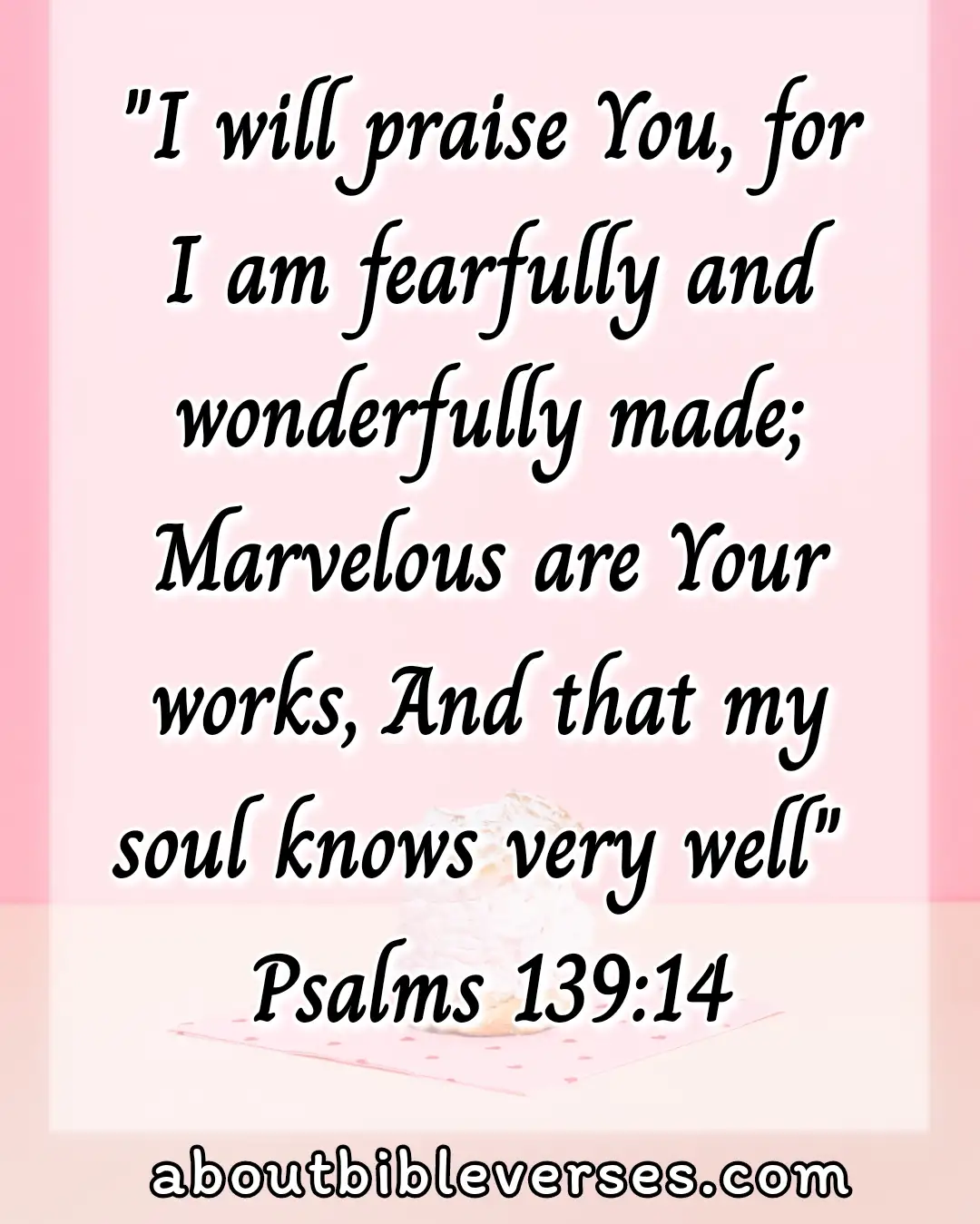 Psalm 139:14(KJV)"I will praise thee; for I am fearfully and wonderfully made: marvellous are thy works; and that my soul knoweth right well"
Explanation:- God created us in his own image and he loves us. So, we must seek his guidance in our life from our birth to our last breath. Often we think of our flesh but we don't think of our soul, we need to recall what Jesus says about our soul. Our soul is extremely precious and we cannot exchange anything with the soul.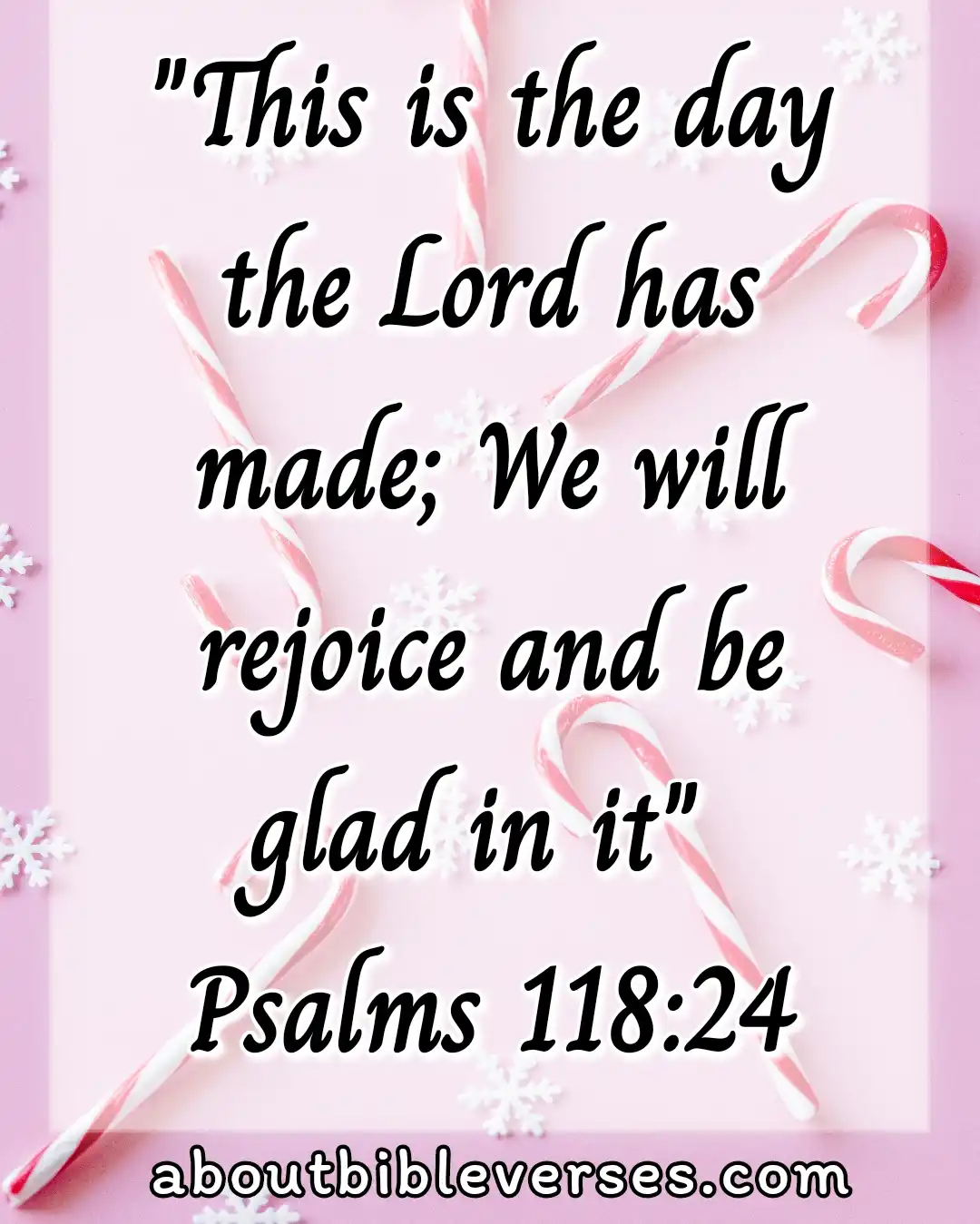 Psalm 118:24(KJV)"This is the day which the Lord hath made; we will rejoice and be glad in it"
Explanation:- God makes every new day for us. We must glorify him by our words and actions. If we praise him, we will obtain blessings from him.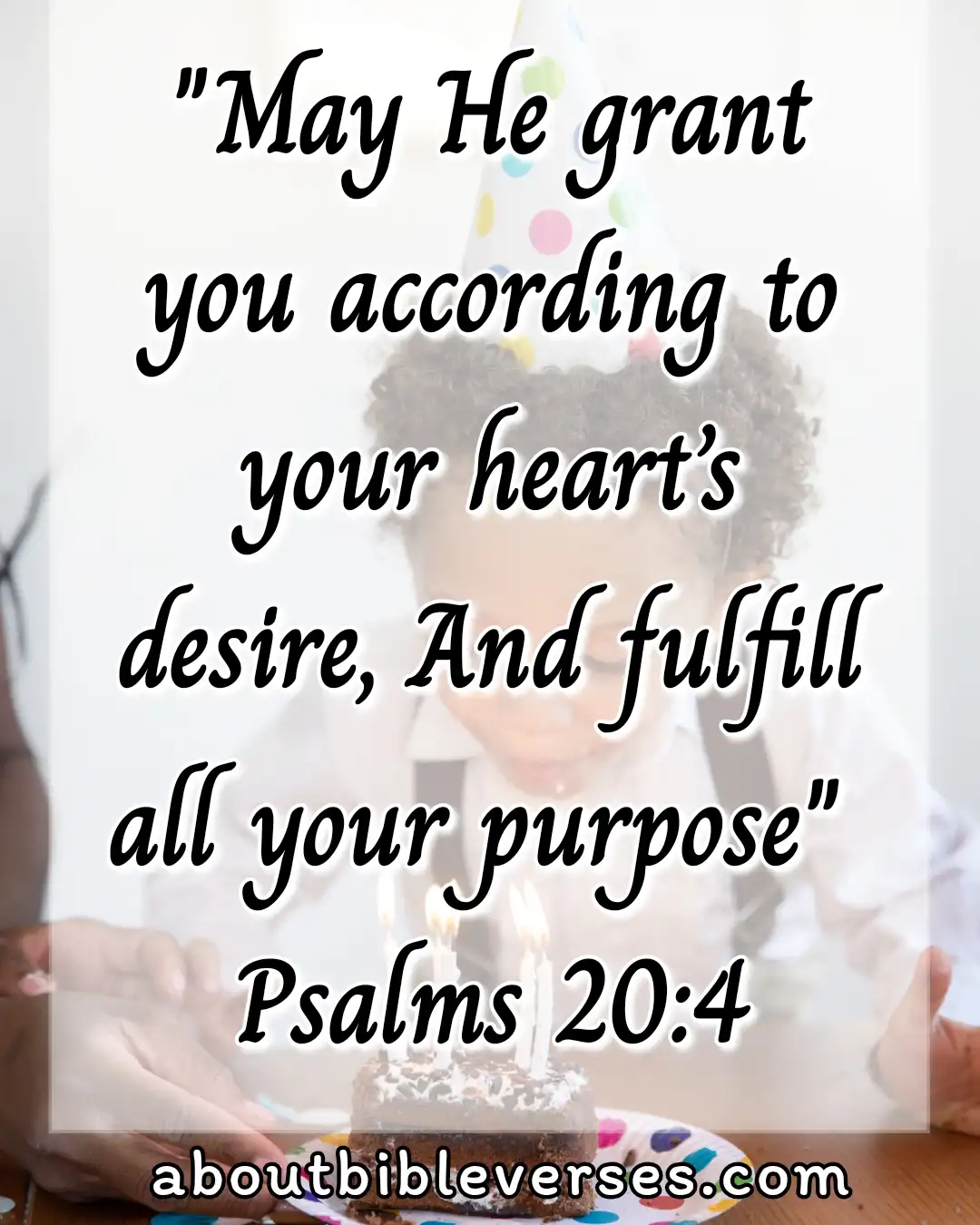 Psalm 20:4(KJV)"Grant thee according to thine own heart, and fulfil all thy counsel"
Explanation:- The Bible teaches us that we need to ask from the Lord what we need. Most of the things we fail to ask but the Lord knows our weaknesses. He will grant our petition if we diligently seek anything from him.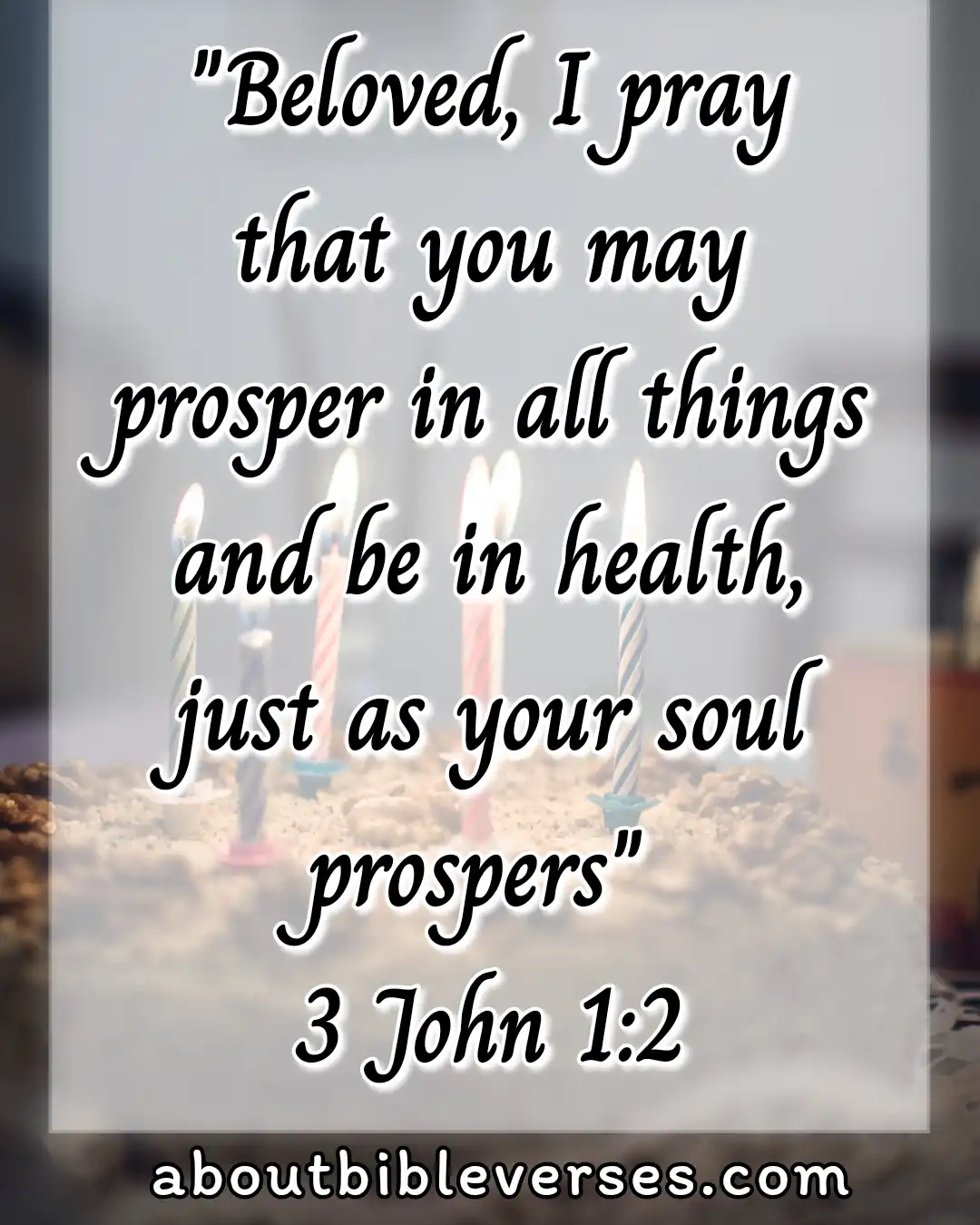 3 John 1:2(KJV)"Beloved, I wish above all things that thou mayest prosper and be in health, even as thy soul prospereth"
Explanation:- God wants us to be prosperous in our lives. He also wishes us to have good health. He cares and wants us to live according to his will in order to enjoy our life.
If we look at the Bible we can find many people who pleased God and were finally successful at the end of their lives.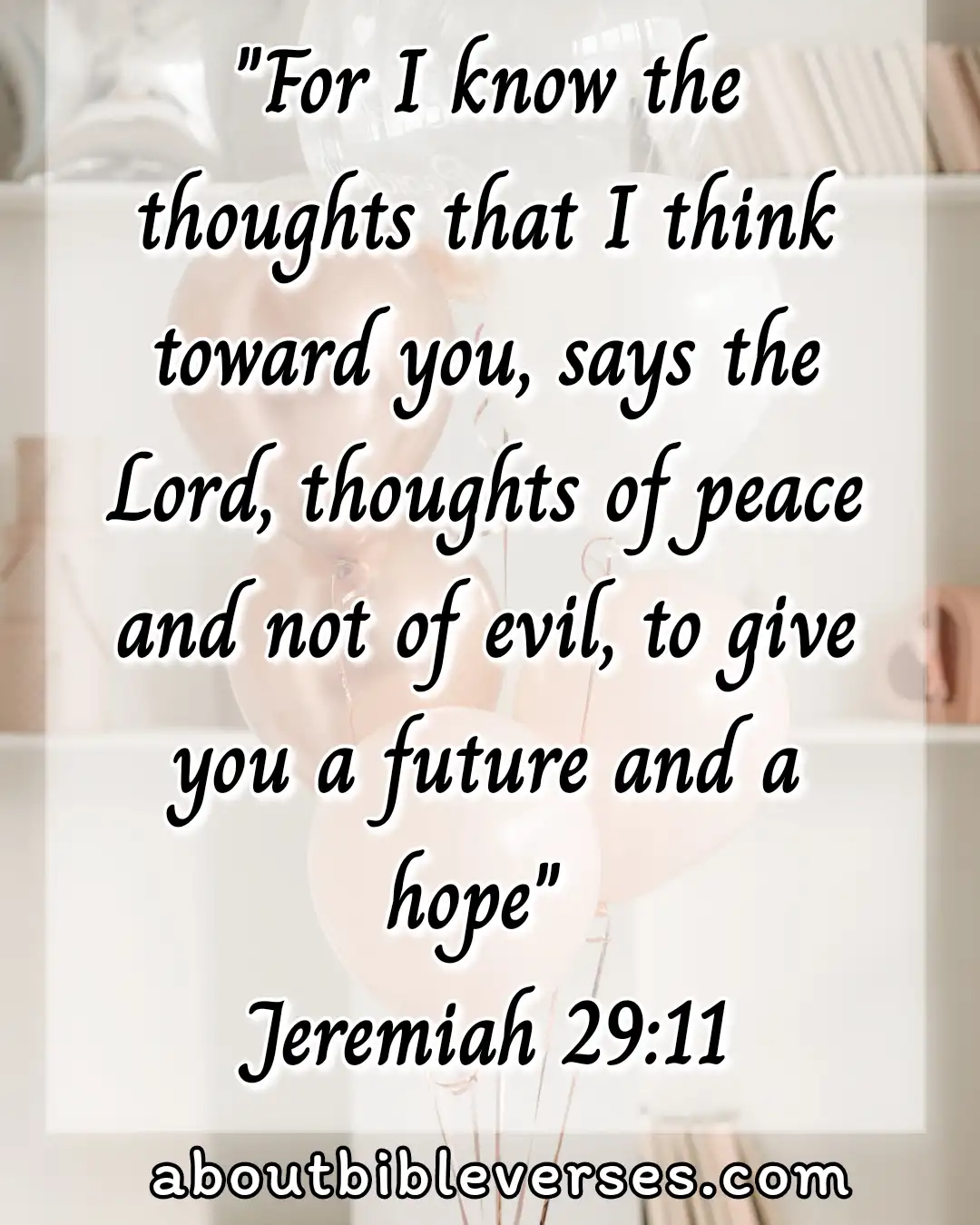 Jeremiah 29:11(KJV)"For I know the thoughts that I think toward you, saith the Lord, thoughts of peace, and not of evil, to give you an expected end"
Explanation:- Most of the time we give up when life brings some trouble to us. At that moment we must turn towards the scripture and we will notice that God has made a plan for each of us.
If we submit our lives in his hands then we will see a difference and will be able to get the full meaning of our life.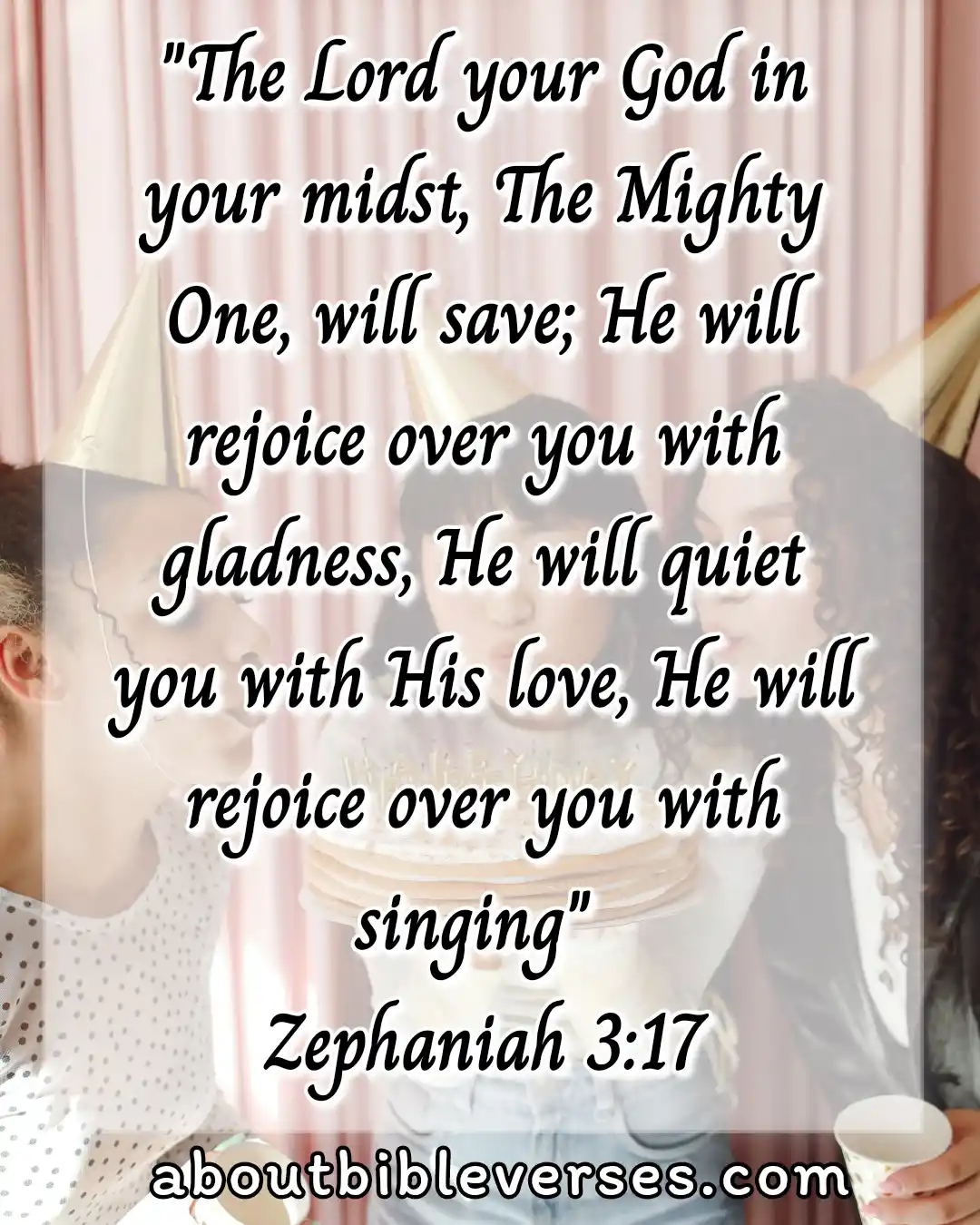 Zephaniah 3:17(KJV)"The Lord thy God in the midst of thee is mighty; he will save, he will rejoice over thee with joy; he will rest in his love, he will joy over thee with singing"
Explanation:- The Lord is mighty and he can remove all our sorrows if we come before him with a gentle heart. He will bless us with things that we cannot get from the world.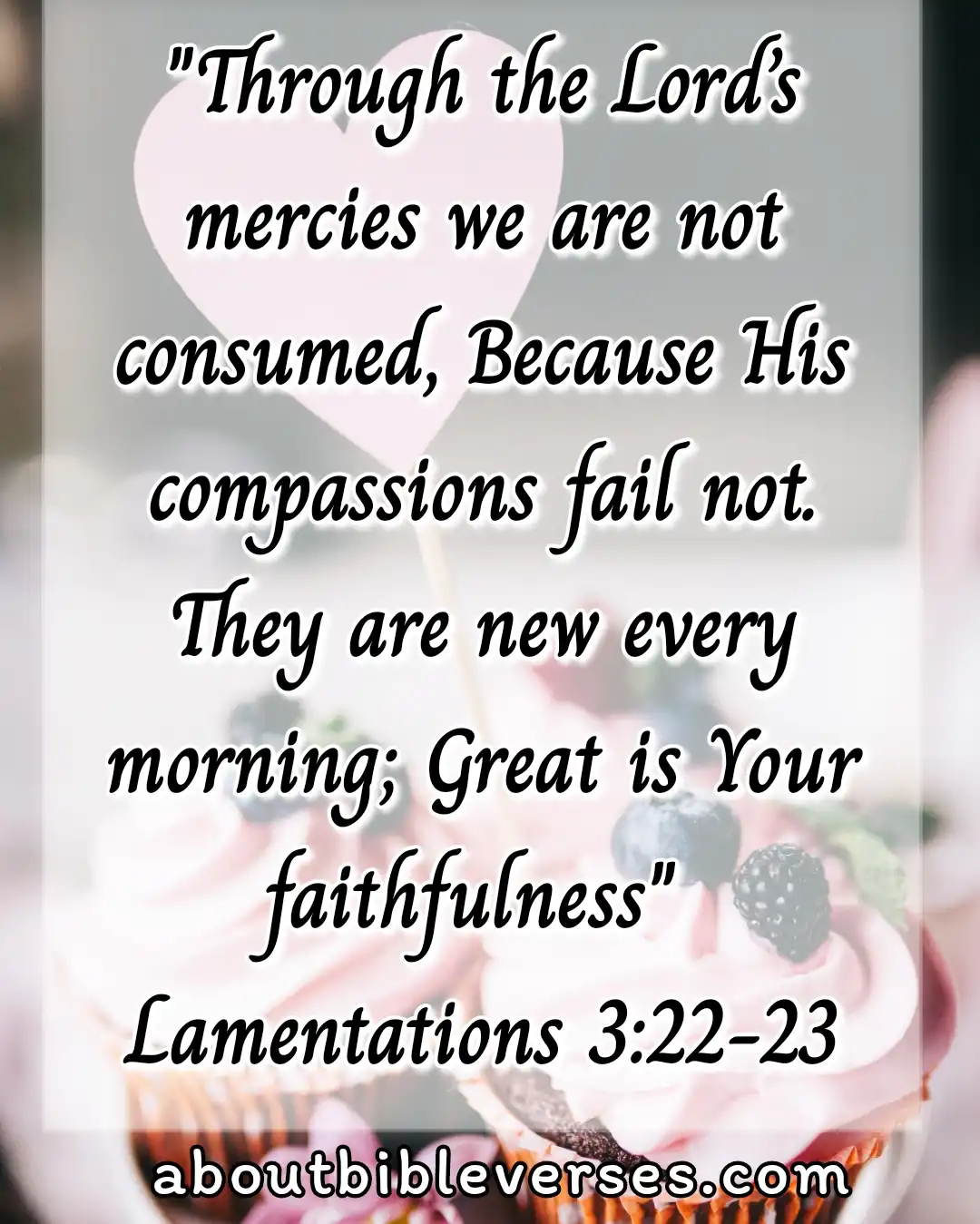 Lamentations 3:22-23(KJV)"It is of the Lord's mercies that we are not consumed, because his compassions fail not. They are new every morning: great is thy faithfulness"
Explanation:- God's mercy comes to us very fresh every morning. Though we may not do anything for him, he gives us blessings which we don't deserve. He is faithful and cares for us with his right hand.
Thank You God For This Day
God is the creator and sustainer of this world, he makes every new day for us. We need to thank God for the love and blessing that he bestows upon us.
When the birthday comes in our life, we must bring glory to him as he keeps us safe and sound from all the evils. That is why we see our birthdays every year.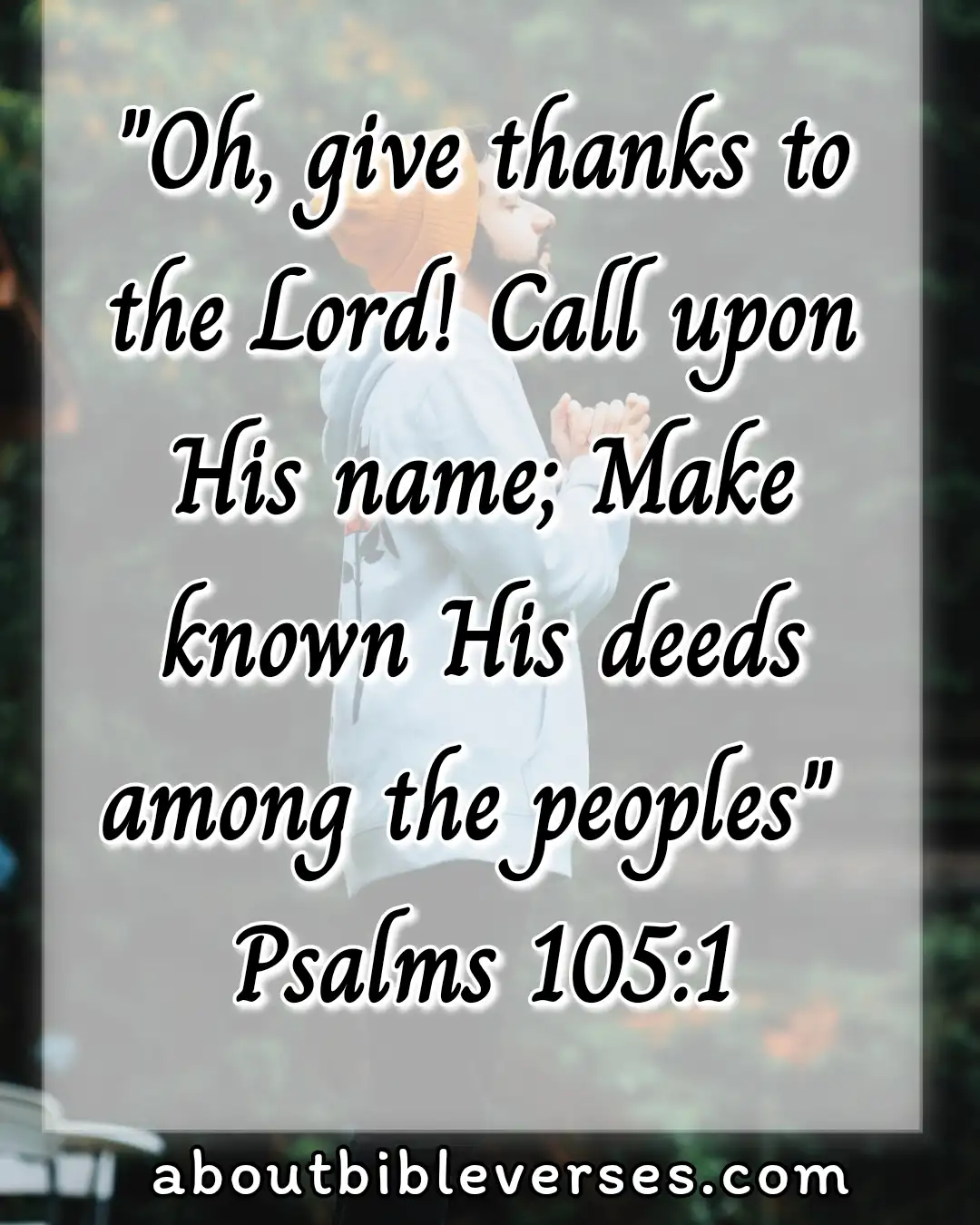 Psalm 105:1(KJV)"O give thanks unto the Lord; call upon his name: make known his deeds among the people"
Explanation:- We should be thankful to the Lord for his wonderful works in our lives. Because of his blessings we are able to enjoy our lives on this earth. We cannot be happy without his blessings. So, we have to honor him with our praise.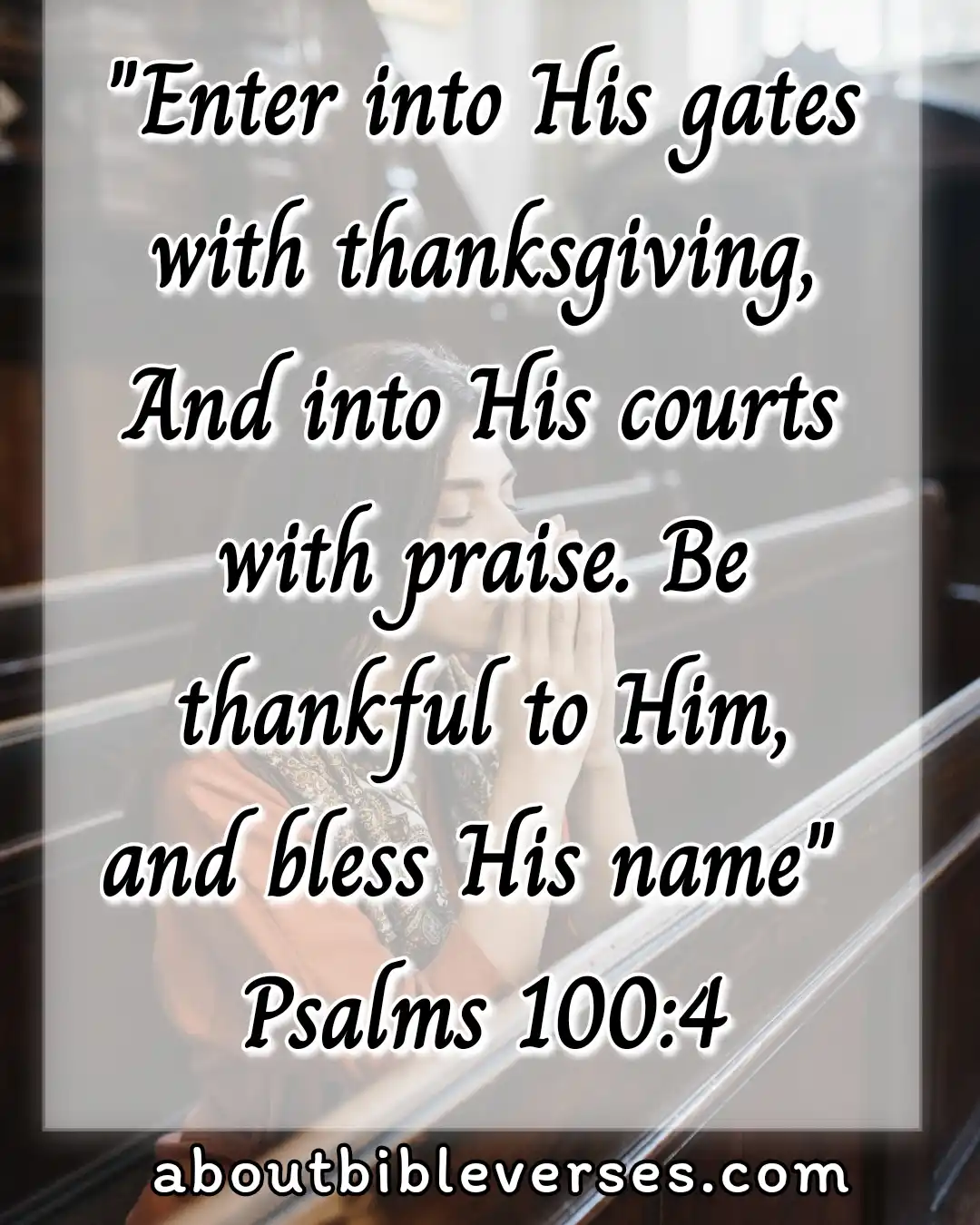 Psalm 100:4(KJV) "Enter into his gates with thanksgiving, and into his courts with praise: be thankful unto him, and bless his name"
Explanation:- Whenever we enter the Church we must thank him as he delivered us from the power of sin. We became a new creation by him so we need to submit our wills before him.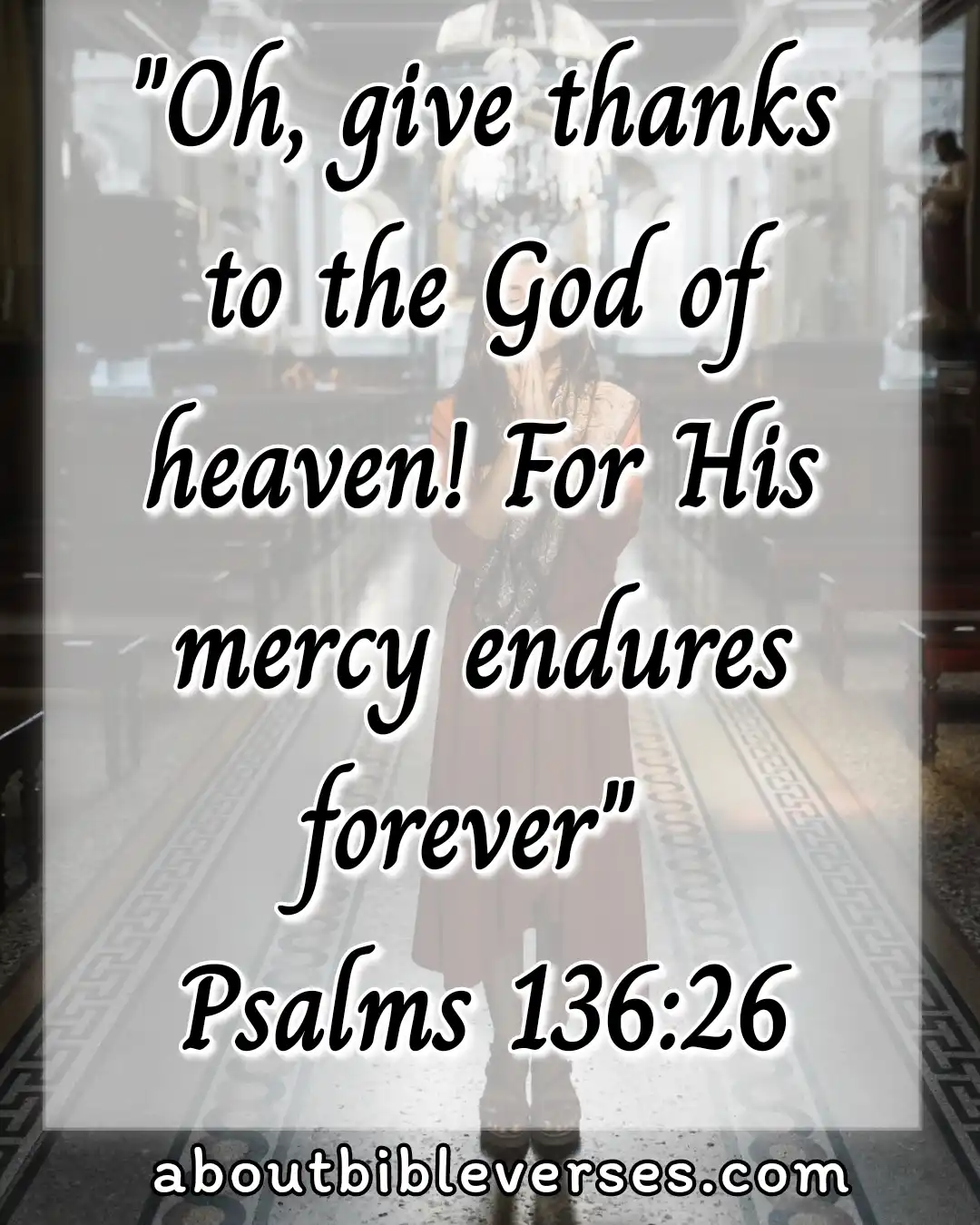 Psalm 136:26(KJV) "O give thanks unto the God of heaven: for his mercy endureth for ever"
Explanation:- God's mercy longed forever. We will be blessed only if we obey him and think of his words by which we will get the grace of the Lord which will help us to get his blessings. We will be able to understand the meaning of life when we begin praising him.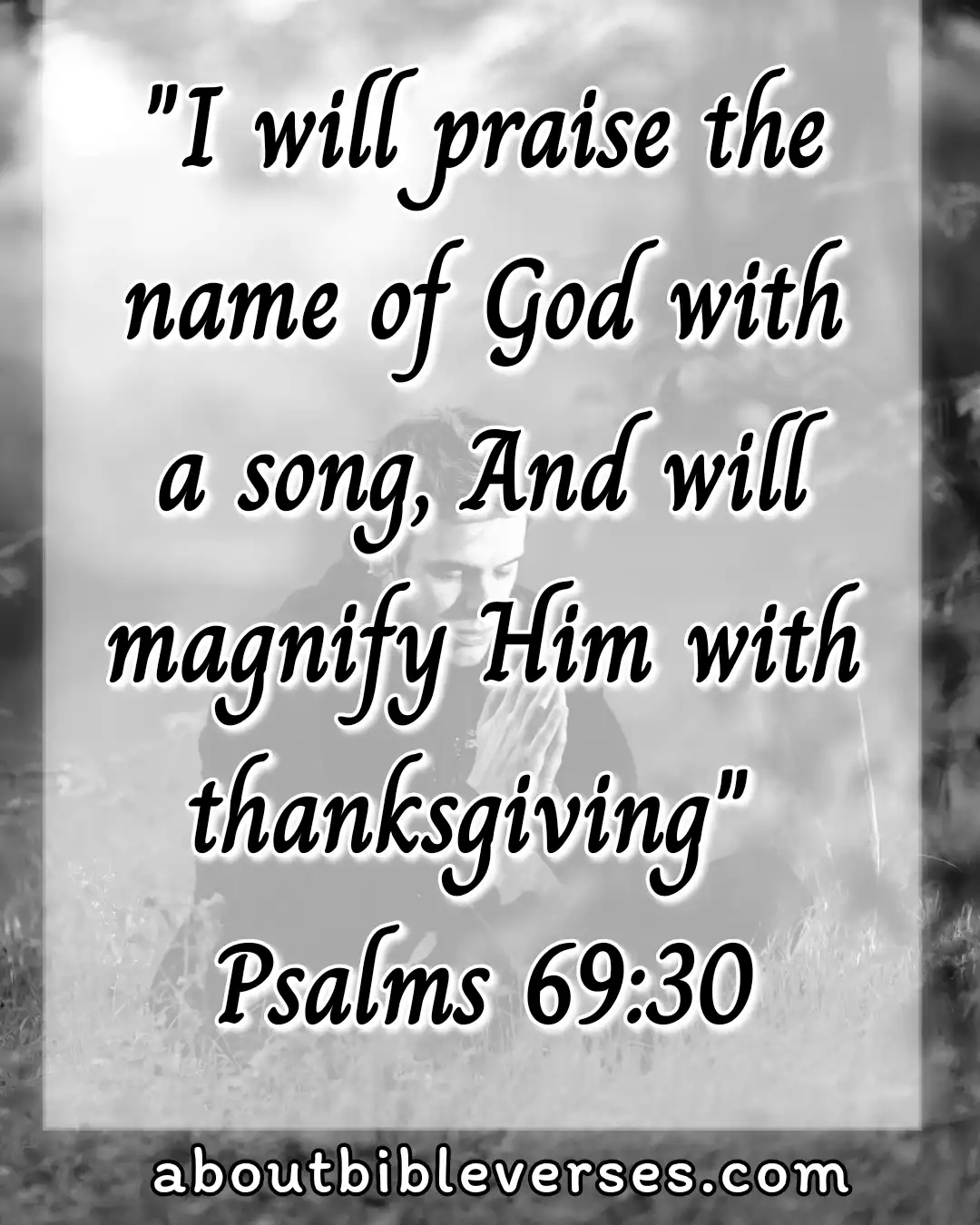 Psalm 69:30(KJV)"I will praise the name of God with a song, and will magnify him with thanksgiving"
Explanation:- We need to glorify the Lord by singing songs and thus we can make him happy. Our intention on this earth is not to fulfill our will but we must fulfill the plan that he made for us.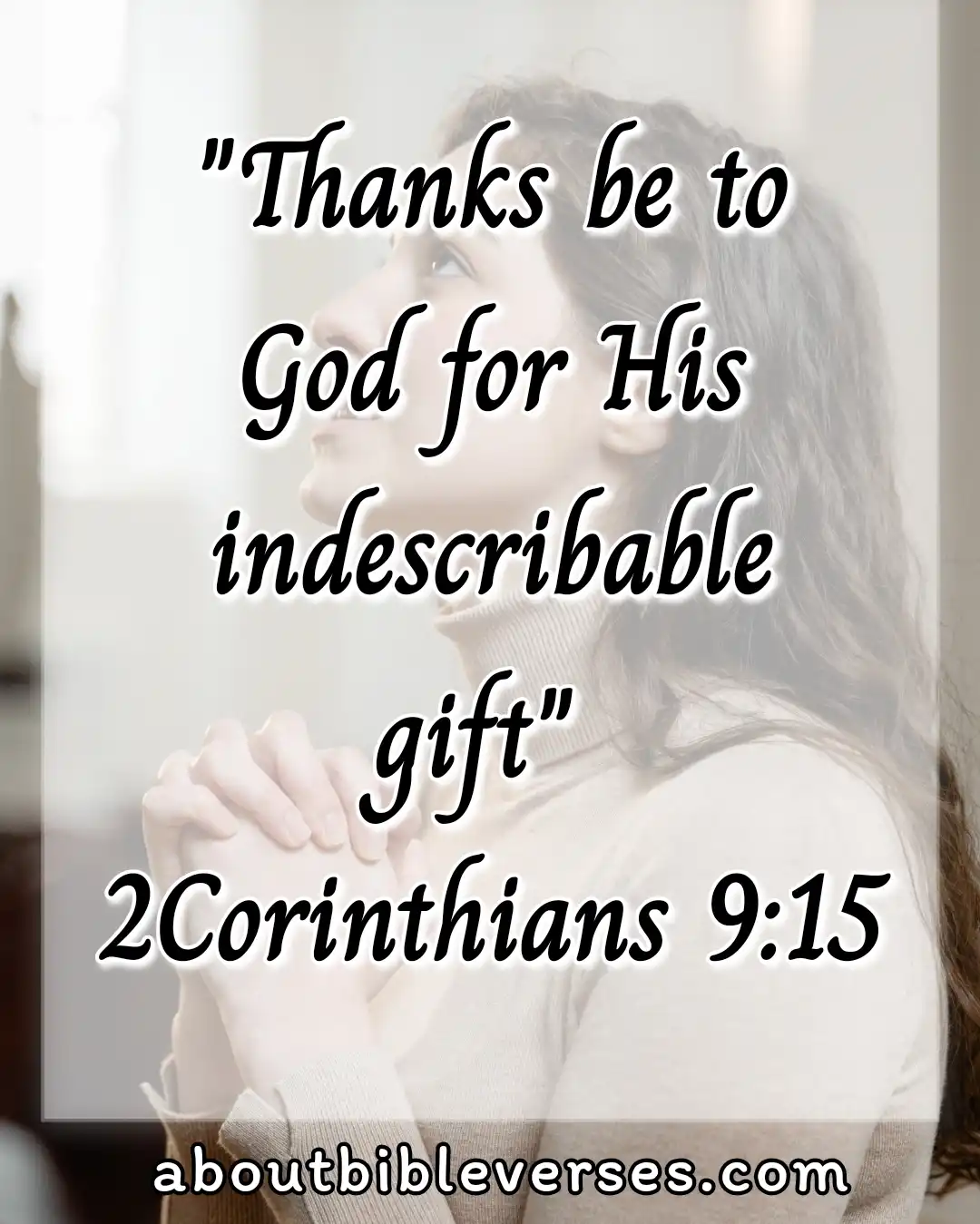 2 Corinthians 9:15(KJV)"Thanks be unto God for his unspeakable gift"
Explanation:- God has done many wonderful works for the sake of human beings. We cannot deny his goodness in our lives. We need to thank him every day and night so he will grant us more good gifts so that we can understand him well.
More Happy Birthday Quotes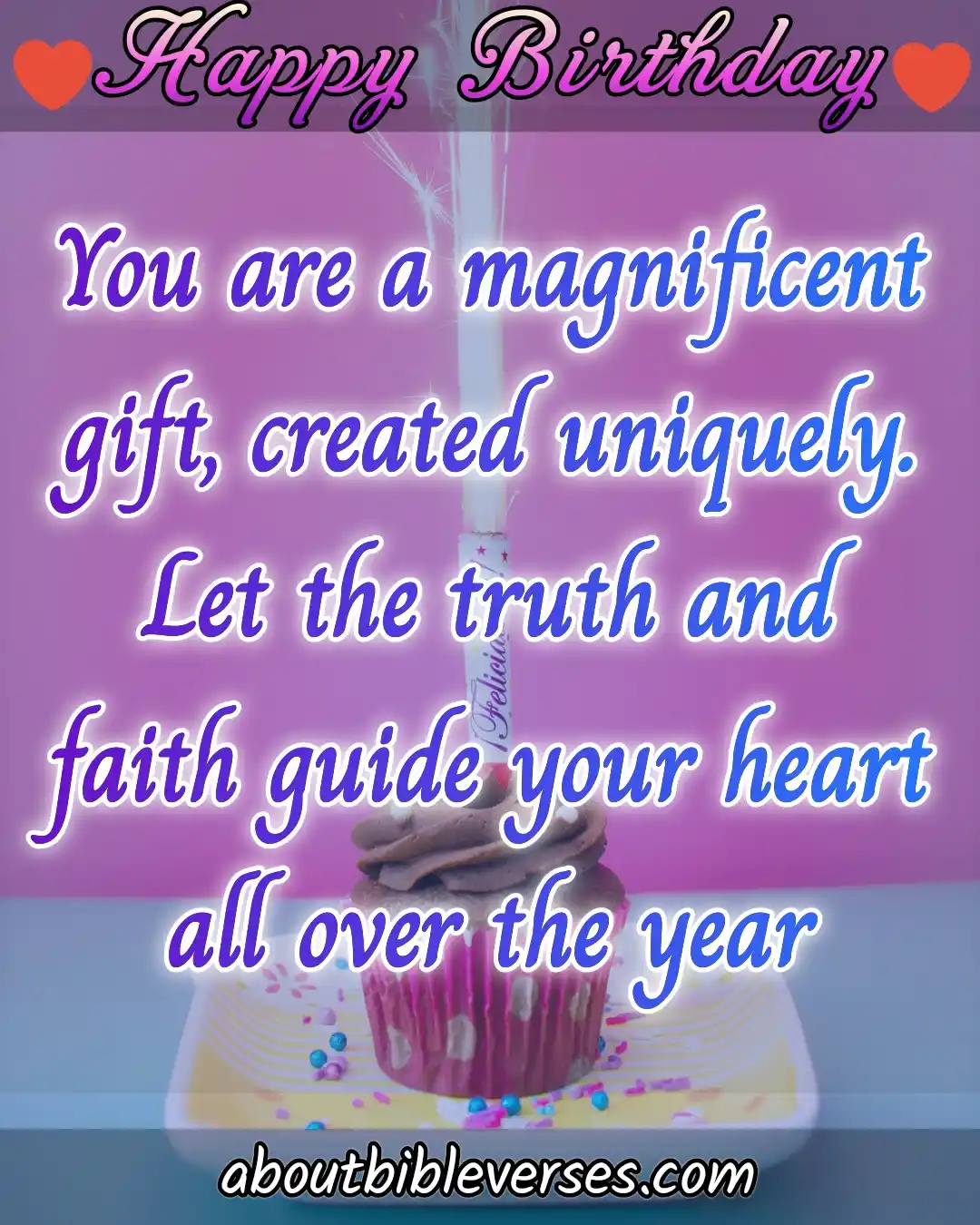 You are a magnificent gift, created uniquely. Let the truth and faith guide your heart all over the year.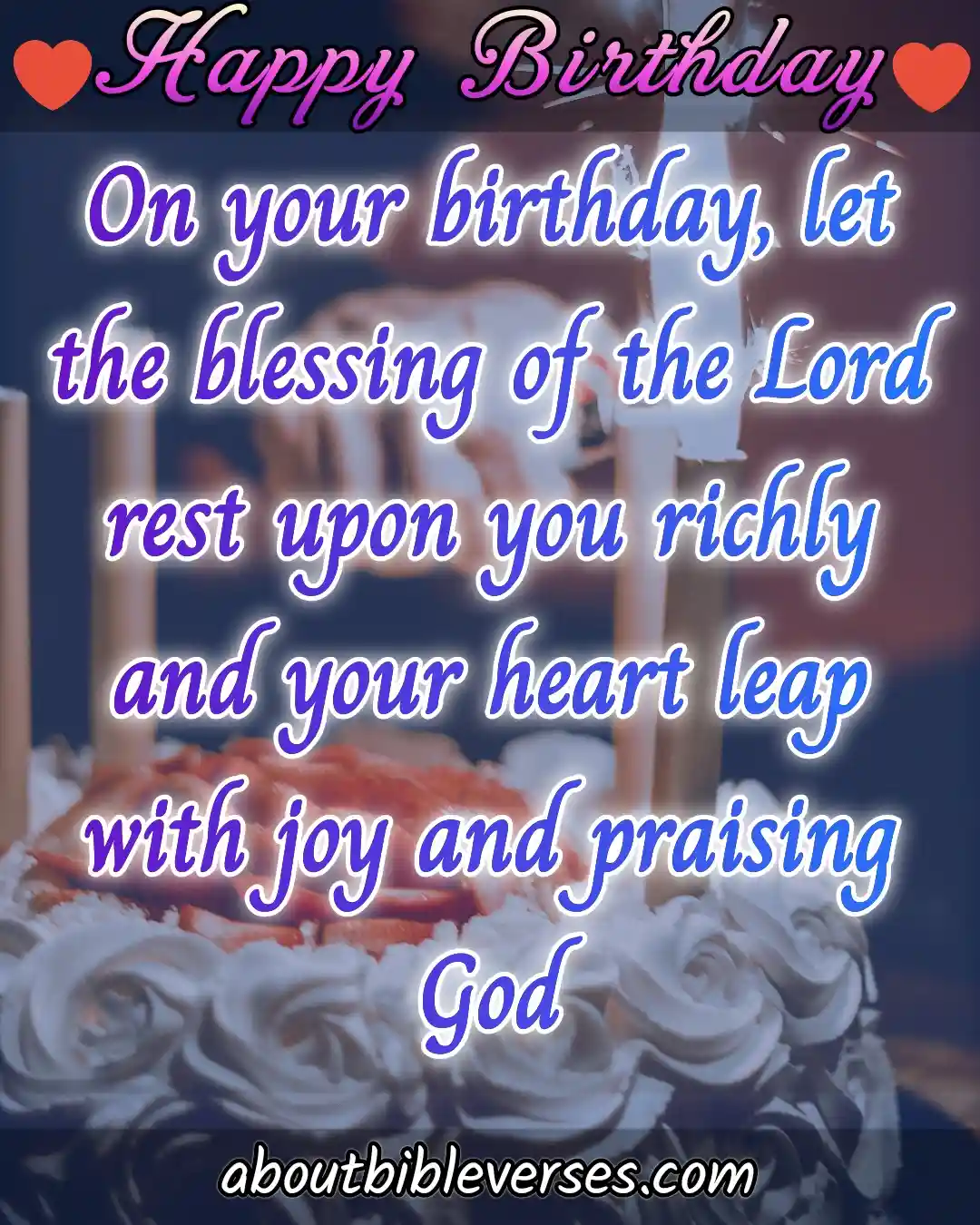 On your birthday, let the blessing of the Lord rest upon you richly and your heart leap with joy and praising God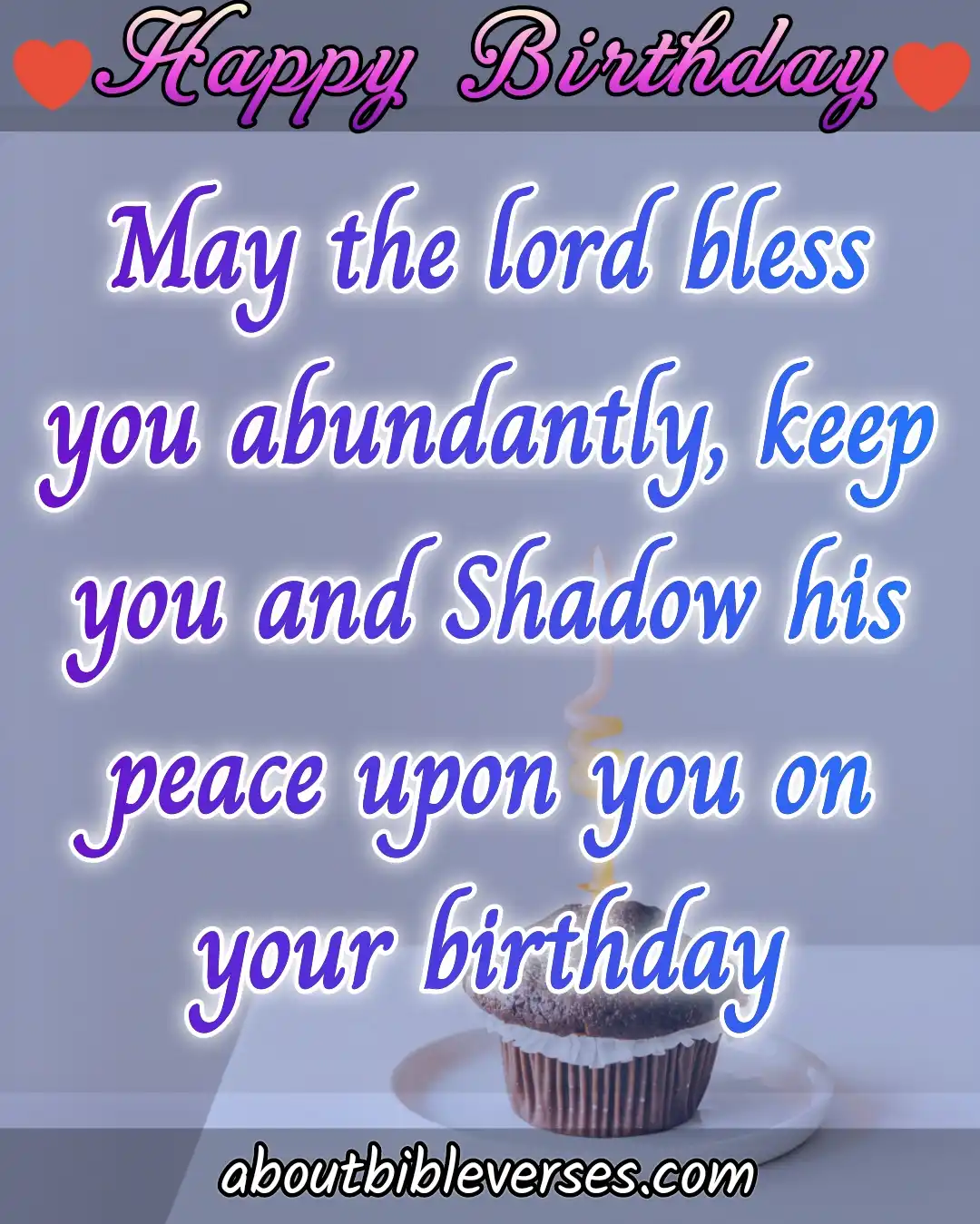 May the Lord bless you abundantly, keep you and Shadow his peace upon you on your birthday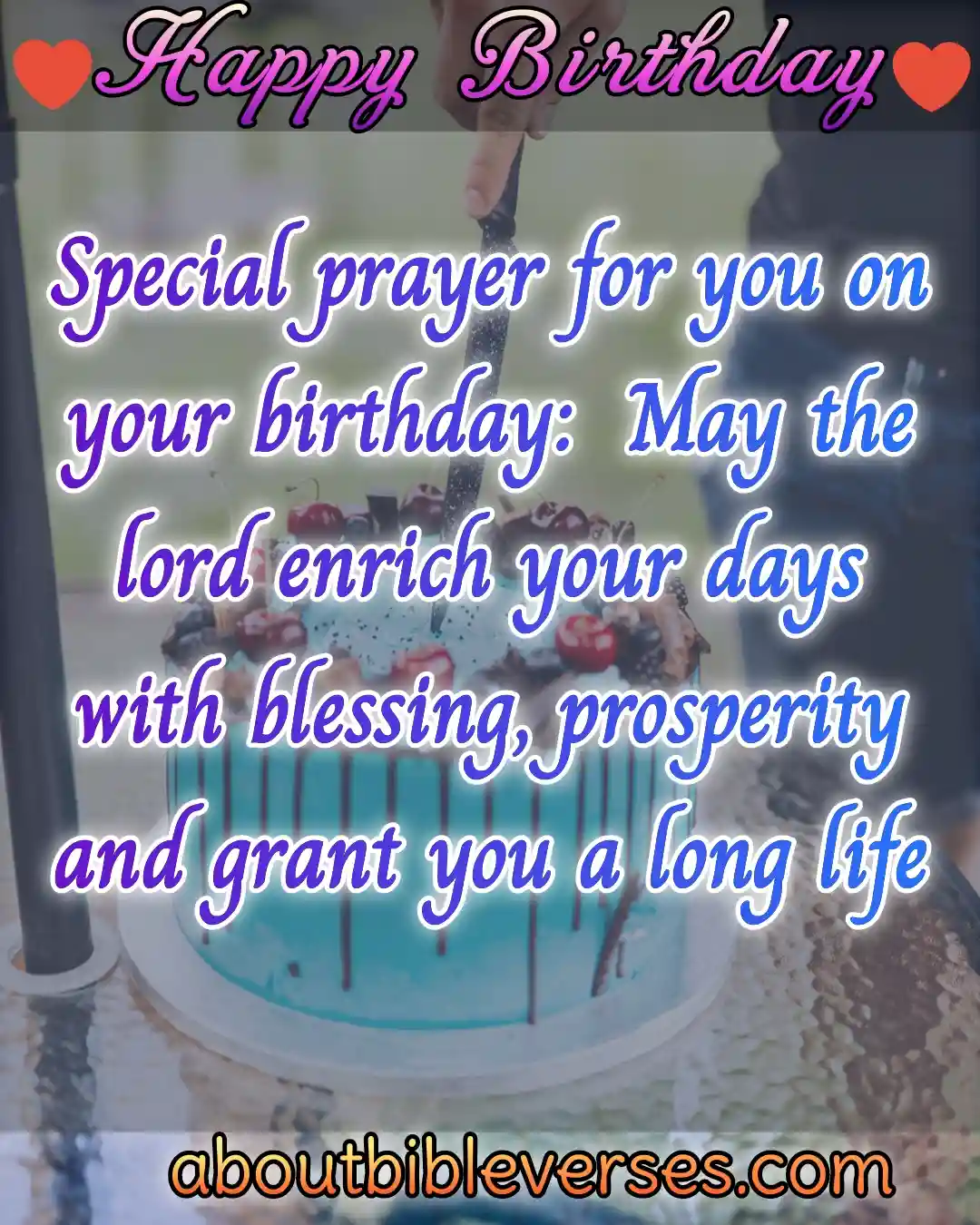 Special prayer for you on your birthday: May the Lord enrich your days with blessing, prosperity and grant you a long life
I thank the Lord the Creator of the heaven and earth for creating you on this day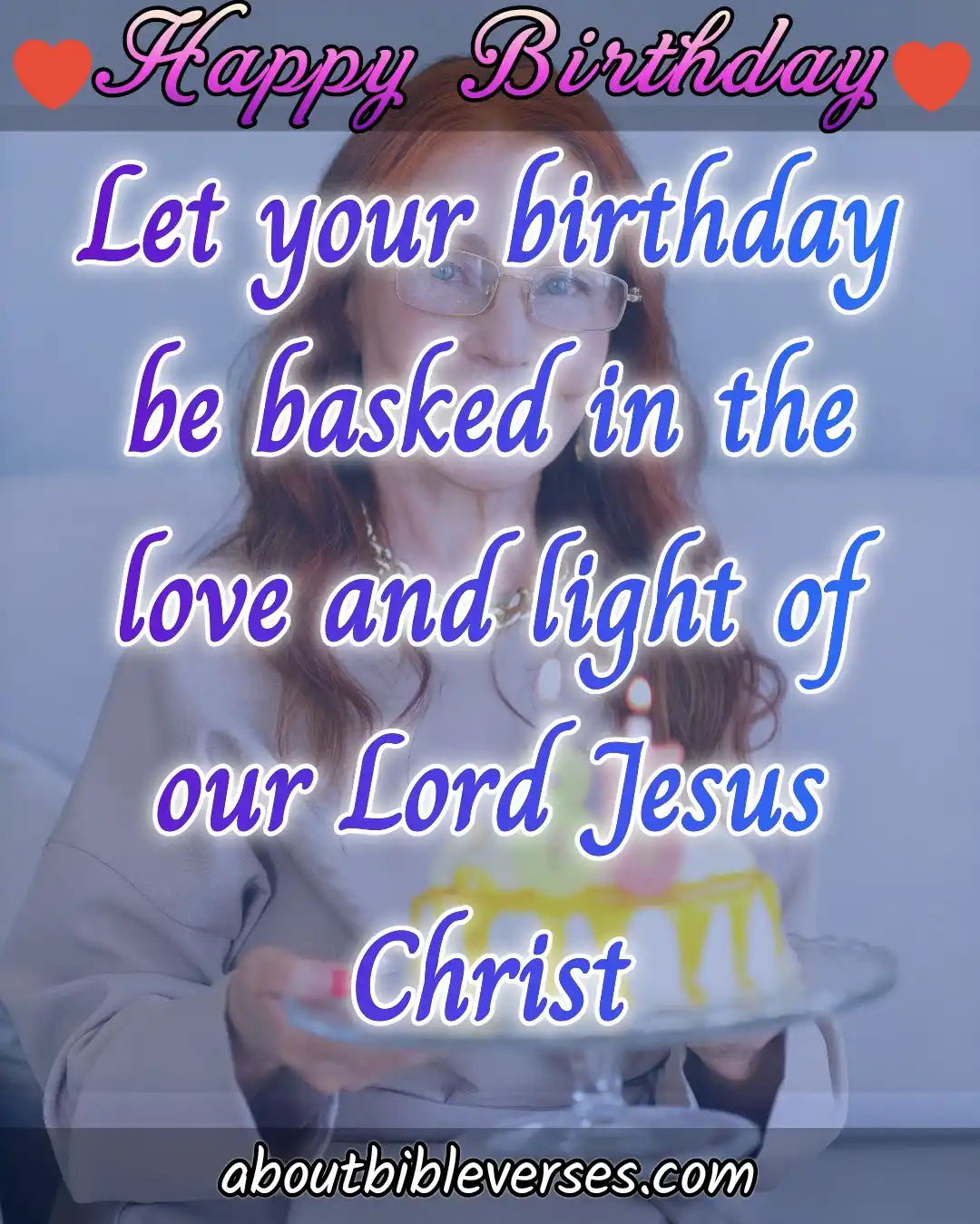 Let your birthday be basked in the love and light of our Lord Jesus Christ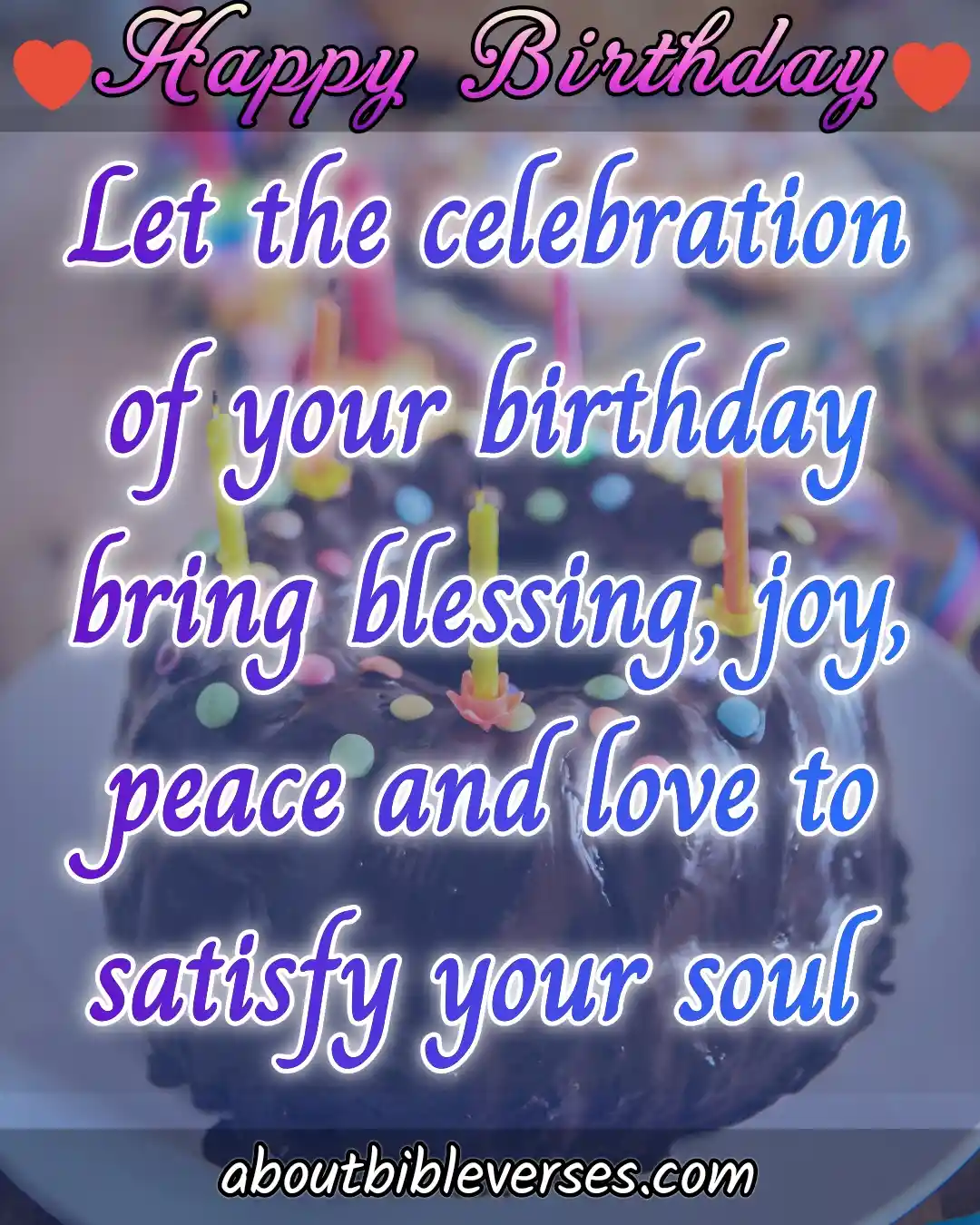 Let the celebration of your birthday bring blessing, joy, peace and love to satisfy your soul