Hello dear friends, welcome to our site in the name of Jesus Christ. Today we will look at the Bible Scriptures About Warning To The Rich In KJV Bible. If you like today's post then definitely comment and share.
Oh our dear children of God let us not run to become rich men like this world. Because when we become too attached to possessions, our attitudes and priorities become barriers to entering the kingdom of God.
God tells those who have acquired wealth through dishonest or immoral means that they will not escape the wrath that is coming upon them and that their wealth will be used as evidence against them at their judgment. God's Warning Those who have acquired wealth through dishonest means will be held accountable for their actions.
Dear friends God told us not to be obsessed with accumulating wealth. And be content with what we have. That is why God has promised to never leave us or forsake us.
The Bible also tells rich people not to be conceited or proud, because wealth can subtly harden the heart to greed and pride. Instead, we must obey God's will and put our hope in Him, who is the source of all blessings and provides everything we need. Because wealth is not a sure basis for hope or security.
Dear friends now let's see the Bible scriptures below that talk about Warning To The Rich.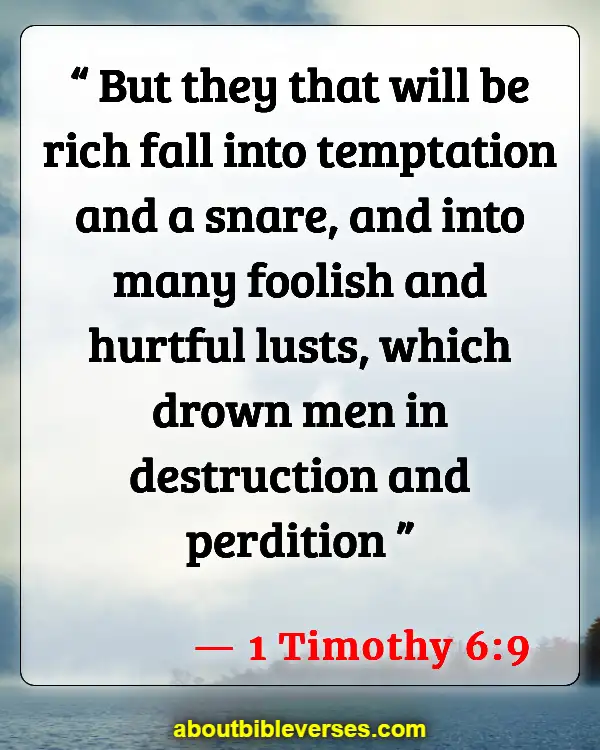 1 Timothy 6:9
"But they that will be rich fall into temptation and a snare, and into many foolish and hurtful lusts, which drown men in destruction and perdition"
James 5:1
"Go to now, ye rich men, weep and howl for your miseries that shall come upon you"
Luke 6:24
"But woe unto you that are rich! for ye have received your consolation"
Matthew 19:23
"Then said Jesus unto his disciples, Verily I say unto you, That a rich man shall hardly enter into the kingdom of heaven"
Mark 10:25
"It is easier for a camel to go through the eye of a needle, than for a rich man to enter into the kingdom of God"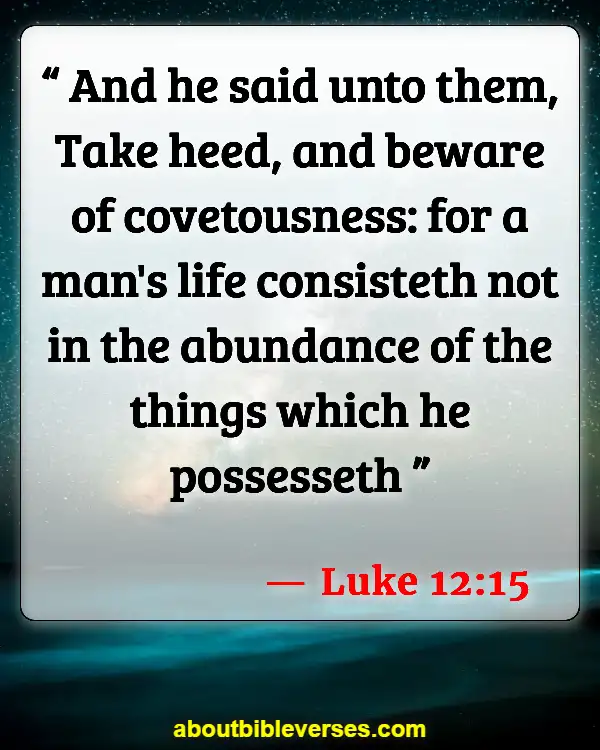 Luke 12:15
"And he said unto them, Take heed, and beware of covetousness: for a man's life consisteth not in the abundance of the things which he possesseth"
1 Timothy 6:17
"Charge them that are rich in this world, that they be not highminded, nor trust in uncertain riches, but in the living God, who giveth us richly all things to enjoy"
Proverbs 11:28
"He that trusteth in his riches shall fall; but the righteous shall flourish as a branch"
Proverbs 28:20
"A faithful man shall abound with blessings: but he that maketh haste to be rich shall not be innocent"
Matthew 6:24
"No man can serve two masters: for either he will hate the one, and love the other; or else he will hold to the one, and despise the other. Ye cannot serve God and mammon"
Ecclesiastes 5:10
"He that loveth silver shall not be satisfied with silver; nor he that loveth abundance with increase: this is also vanity"
Proverbs 23:4
"Labour not to be rich: cease from thine own wisdom"
James 2:6
"But ye have despised the poor. Do not rich men oppress you, and draw you before the judgment seats?"
Revelation 3:17
"Because thou sayest, I am rich, and increased with goods, and have need of nothing; and knowest not that thou art wretched, and miserable, and poor, and blind, and naked"
Proverbs 18:11
"The rich man's wealth is his strong city, and as an high wall in his own conceit"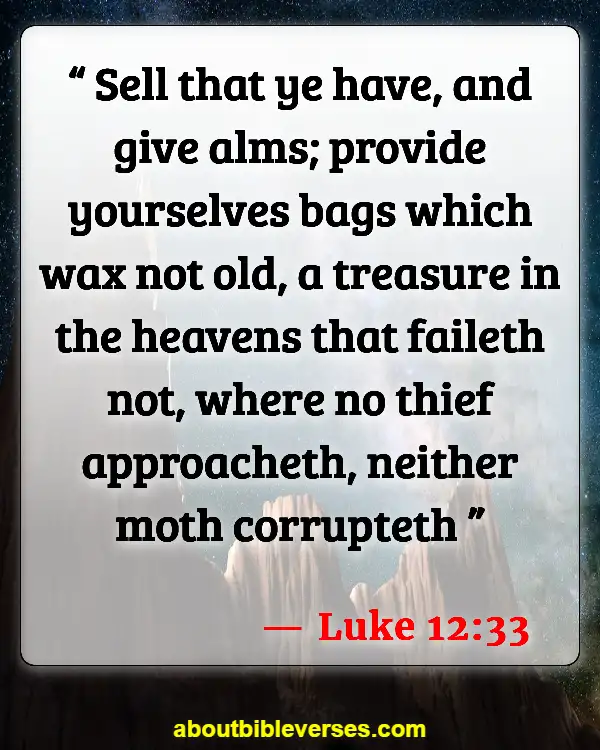 Luke 12:33
"Sell that ye have, and give alms; provide yourselves bags which wax not old, a treasure in the heavens that faileth not, where no thief approacheth, neither moth corrupteth"
1 Timothy 6:10
"For the love of money is the root of all evil: which while some coveted after, they have erred from the faith, and pierced themselves through with many sorrows"
Mark 4:19
"And the cares of this world, and the deceitfulness of riches, and the lusts of other things entering in, choke the word, and it becometh unfruitful"
Matthew 13:22
"He also that received seed among the thorns is he that heareth the word; and the care of this world, and the deceitfulness of riches, choke the word, and he becometh unfruitful"
Proverbs 28:22
"He that hasteth to be rich hath an evil eye, and considereth not that poverty shall come upon him"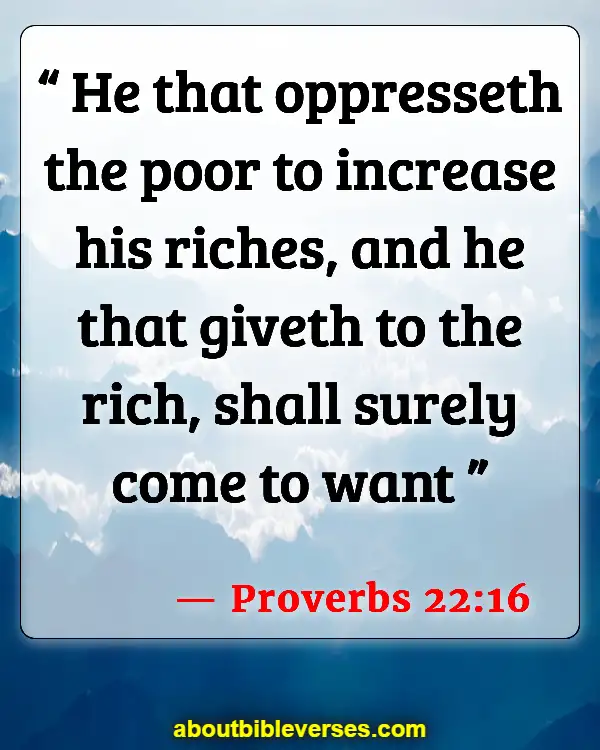 Proverbs 22:16
"He that oppresseth the poor to increase his riches, and he that giveth to the rich, shall surely come to want"
Jeremiah 9:23
"Thus saith the Lord , Let not the wise man glory in his wisdom, neither let the mighty man glory in his might, let not the rich man glory in his riches"
Zephaniah 1:18
"Neither their silver nor their gold shall be able to deliver them in the day of the Lord 's wrath; but the whole land shall be devoured by the fire of his jealousy: for he shall make even a speedy riddance of all them that dwell in the land"
Luke 1:53
"He hath filled the hungry with good things; and the rich he hath sent empty away"
James 1:11
"For the sun is no sooner risen with a burning heat, but it withereth the grass, and the flower thereof falleth, and the grace of the fashion of it perisheth: so also shall the rich man fade away in his ways"
James 2:5
"Hearken, my beloved brethren, Hath not God chosen the poor of this world rich in faith, and heirs of the kingdom which he hath promised to them that love him?"
Matthew 6:19
"Lay not up for yourselves treasures upon earth, where moth and rust doth corrupt, and where thieves break through and steal"
Proverbs 13:11
"Wealth gotten by vanity shall be diminished: but he that gathereth by labour shall increase"
Proverbs 30:8
"Remove far from me vanity and lies: give me neither poverty nor riches; feed me with food convenient for me"
Ecclesiastes 5:13
"There is a sore evil which I have seen under the sun, namely, riches kept for the owners thereof to their hurt"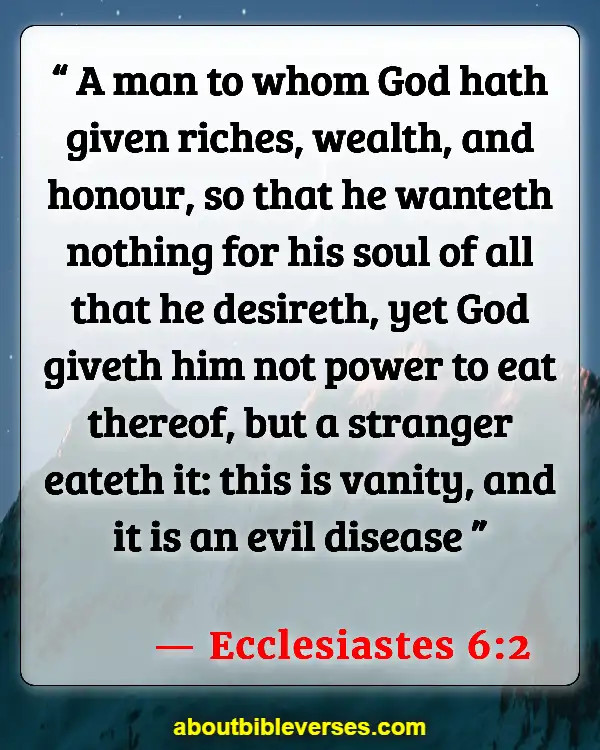 Ecclesiastes 6:2
"A man to whom God hath given riches, wealth, and honour, so that he wanteth nothing for his soul of all that he desireth, yet God giveth him not power to eat thereof, but a stranger eateth it: this is vanity, and it is an evil disease"
1 John 2:15-17
"Love not the world, neither the things that are in the world. If any man love the world, the love of the Father is not in him. For all that is in the world, the lust of the flesh, and the lust of the eyes, and the pride of life, is not of the Father, but is of the world. And the world passeth away, and the lust thereof: but he that doeth the will of God abideth for ever"
Psalm 52:7
"Lo, this is the man that made not God his strength; but trusted in the abundance of his riches, and strengthened himself in his wickedness"
Psalm 62:10
"Trust not in oppression, and become not vain in robbery: if riches increase, set not your heart upon them"
Proverbs 11:4
"Riches profit not in the day of wrath: but righteousness delivereth from death"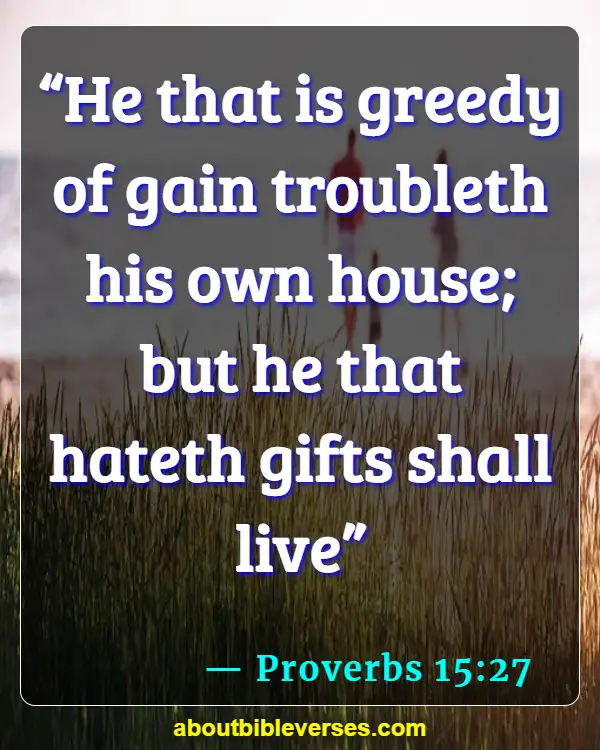 Proverbs 15:27
"He that is greedy of gain troubleth his own house; but he that hateth gifts shall live"
Isaiah 5:8
"Woe unto them that join house to house, that lay field to field, till there be no place, that they may be placed alone in the midst of the earth"
Ezekiel 7:19
"They shall cast their silver in the streets, and their gold shall be removed: their silver and their gold shall not be able to deliver them in the day of the wrath of the Lord : they shall not satisfy their souls, neither fill their bowels: because it is the stumblingblock of their iniquity"
Micah 6:10-12
"Are there yet the treasures of wickedness in the house of the wicked, and the scant measure that is abominable? Shall I count them pure with the wicked balances, and with the bag of deceitful weights? For the rich men thereof are full of violence, and the inhabitants thereof have spoken lies, and their tongue is deceitful in their mouth"
Matthew 6:21
"For where your treasure is, there will your heart be also"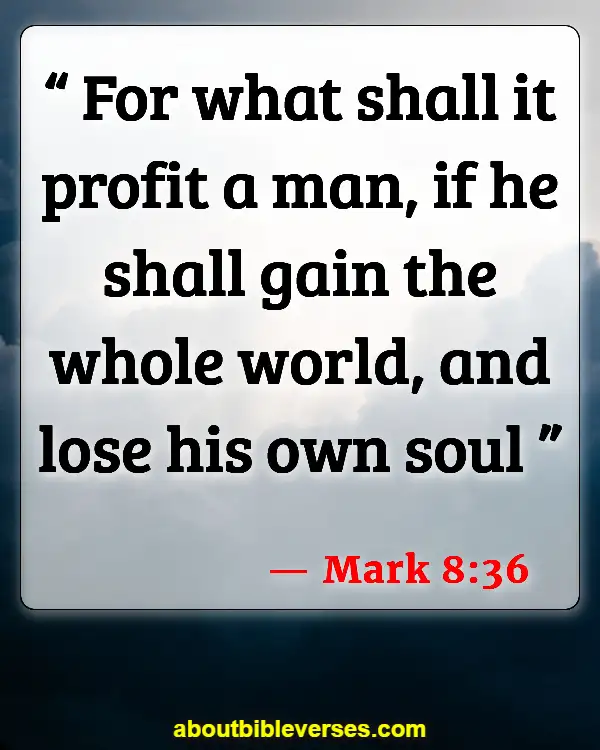 Mark 8:36
"For what shall it profit a man, if he shall gain the whole world, and lose his own soul?"
Luke 12:21
"So is he that layeth up treasure for himself, and is not rich toward God"
Luke 16:13
"No servant can serve two masters: for either he will hate the one, and love the other; or else he will hold to the one, and despise the other. Ye cannot serve God and mammon"
1 Timothy 3:3
"Not given to wine, no striker, not greedy of filthy lucre; but patient, not a brawler, not covetous"
James 4:13-16
"Go to now, ye that say, To day or to morrow we will go into such a city, and continue there a year, and buy and sell, and get gain: Whereas ye know not what shall be on the morrow. For what is your life? It is even a vapour, that appeareth for a little time, and then vanisheth away. For that ye ought to say, If the Lord will, we shall live, and do this, or that. But now ye rejoice in your boastings: all such rejoicing is evil"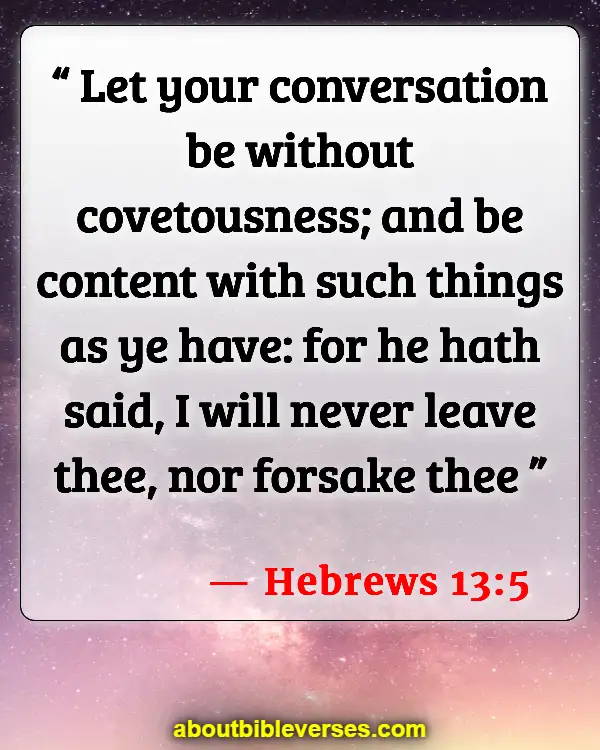 Hebrews 13:5
"Let your conversation be without covetousness; and be content with such things as ye have: for he hath said, I will never leave thee, nor forsake thee"