Hello dear friends, welcome to our site in the name of Jesus Christ. Today we will look at the Bible Scriptures About Warning Before Destruction In KJV. If you like today's post then definitely comment and share.
The Bible says that this world will be destroyed one day but no one knows when it will happen. But the word of God has given us some examples that we can understand that it is not too late for this world to be destroyed. This question is not only today but many years ago when Jesus Christ was on this earth, his disciples asked Jesus this question (Matthew 24:3).
We have given below some Bible verses that talk about what will happen during the destruction of this world. But I want to say here that it will definitely happen so our Bible tells us to always watch and prepare ourselves for that day (Luke 12:40, Luke 21:36). Because no one knows when our Lord Jesus Christ will come to this world so let us be awake (Matthew 24:42).
Friends, the Bible also warns us that the Son of Man will come as it was in the days of Noah. Because what we see in the Bible during  Noah's time when this earth was destroyed, people were still eating and drinking, weddings, ceremonies, everything was going on. Nobody believed in God except Noah. As a result only Noah and his family were saved and the rest died.
In the same way, many people will come at the end of this world and tell us where your Jesus Christ is coming and mock us about it. But let us believe God like Noah and prepare ourselves.
Dear friends now let's see the Bible scriptures below that talk about Warning Before Destruction.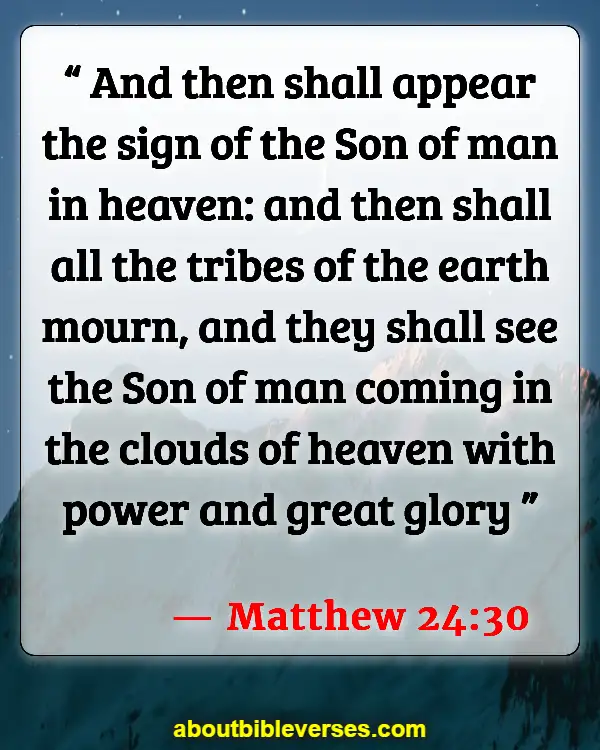 Matthew 24:30
"And then shall appear the sign of the Son of man in heaven: and then shall all the tribes of the earth mourn, and they shall see the Son of man coming in the clouds of heaven with power and great glory"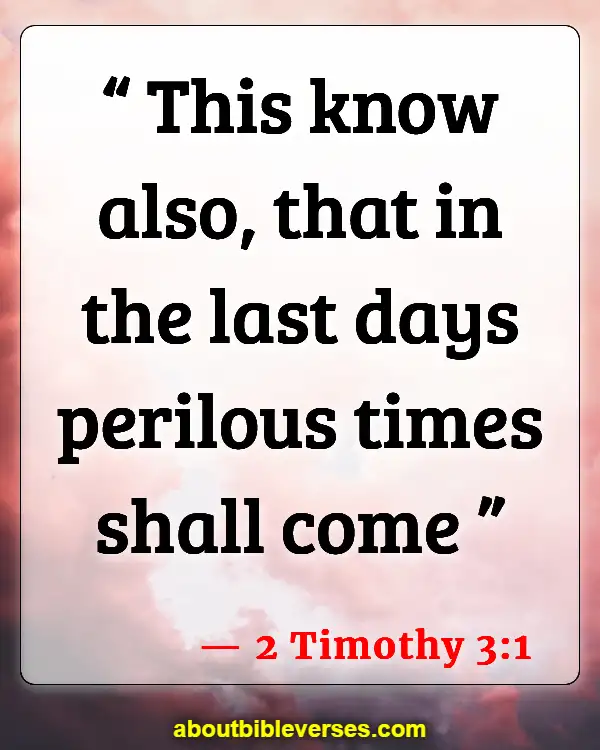 2 Timothy 3:1
"This know also, that in the last days perilous times shall come"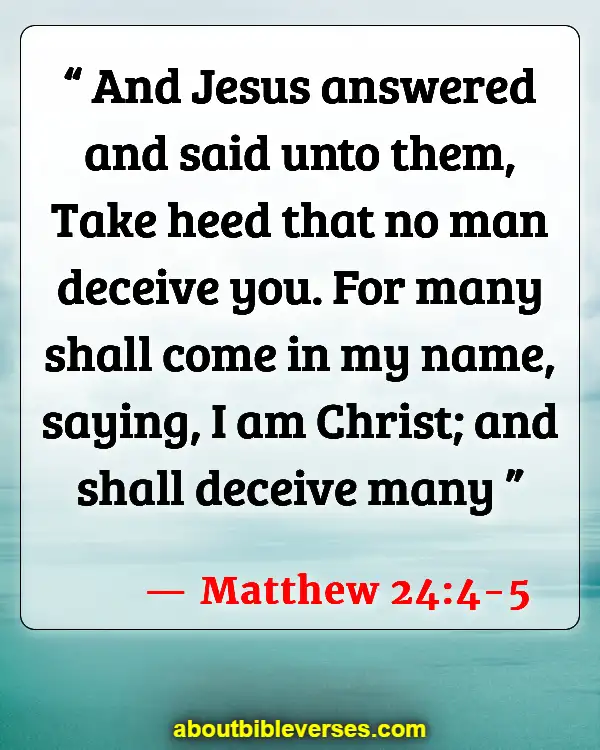 Matthew 24:4-5
"And Jesus answered and said unto them, Take heed that no man deceive you.For many shall come in my name, saying, I am Christ; and shall deceive many"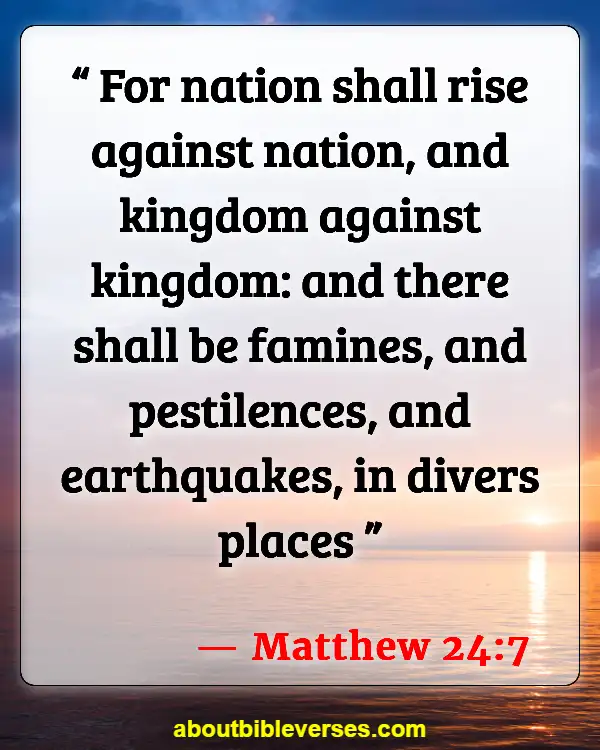 Matthew 24:7
"For nation shall rise against nation, and kingdom against kingdom: and there shall be famines, and pestilences, and earthquakes, in divers places"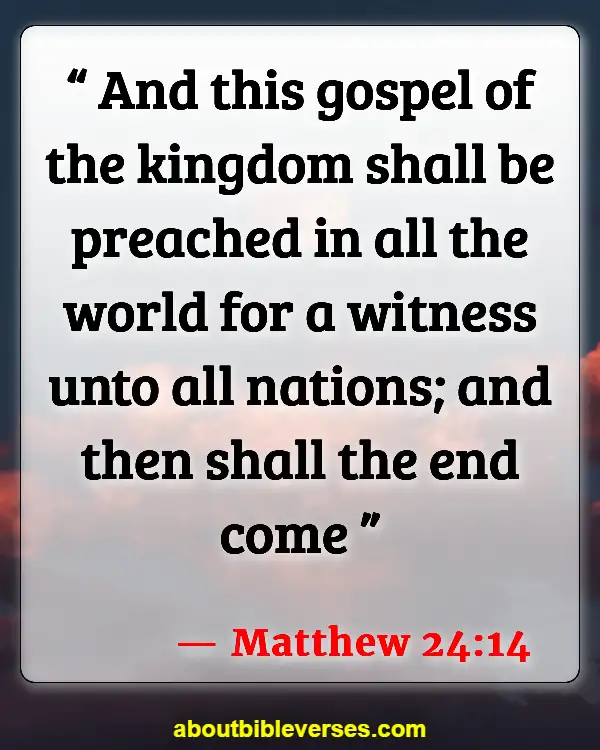 Matthew 24:14
"And this gospel of the kingdom shall be preached in all the world for a witness unto all nations; and then shall the end come"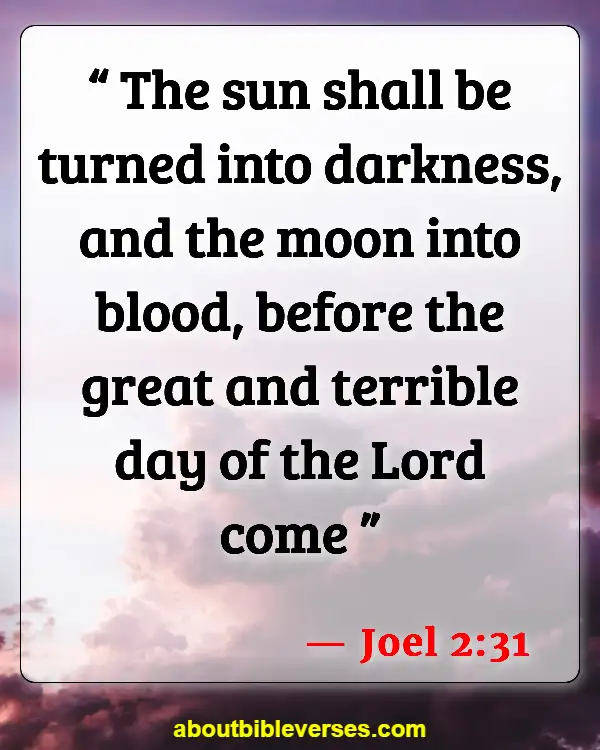 Joel 2:31
"The sun shall be turned into darkness, and the moon into blood, before the great and terrible day of the Lord come"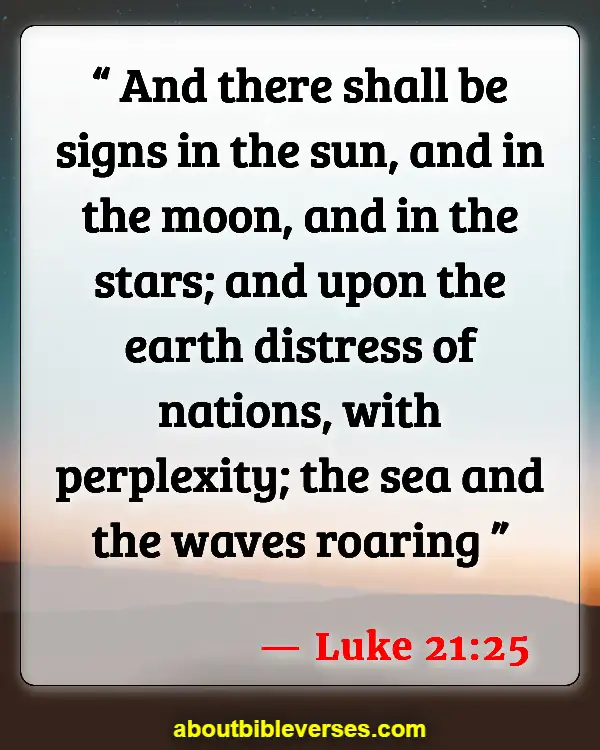 Luke 21:25
"And there shall be signs in the sun, and in the moon, and in the stars; and upon the earth distress of nations, with perplexity; the sea and the waves roaring"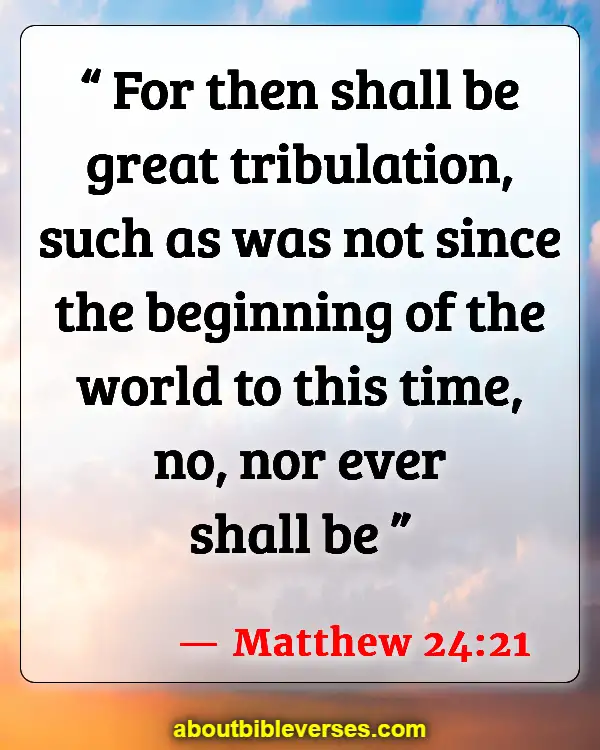 Matthew 24:21
"For then shall be great tribulation, such as was not since the beginning of the world to this time, no, nor ever shall be"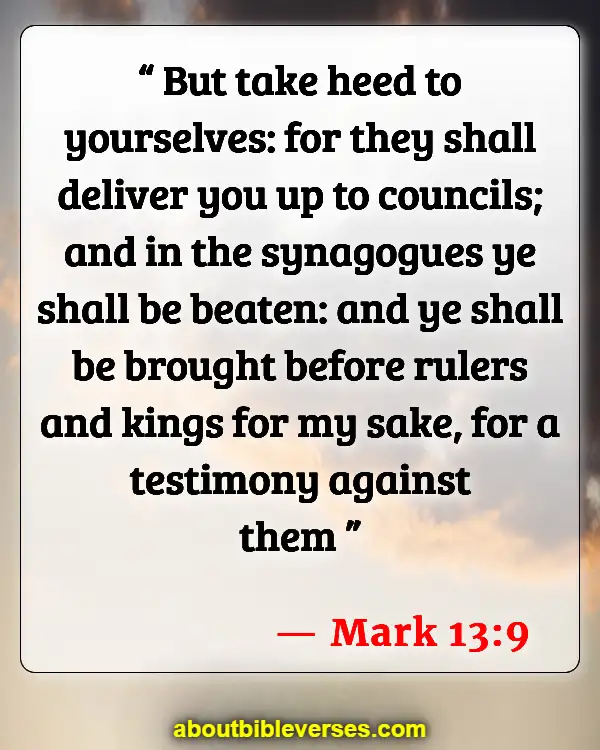 Mark 13:9
"But take heed to yourselves: for they shall deliver you up to councils; and in the synagogues ye shall be beaten: and ye shall be brought before rulers and kings for my sake, for a testimony against them"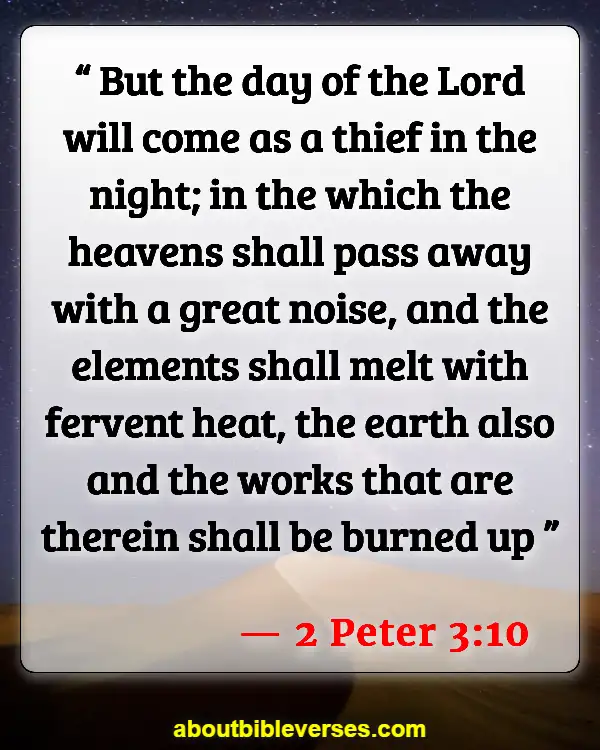 2 Peter 3:10
"But the day of the Lord will come as a thief in the night; in the which the heavens shall pass away with a great noise, and the elements shall melt with fervent heat, the earth also and the works that are therein shall be burned up"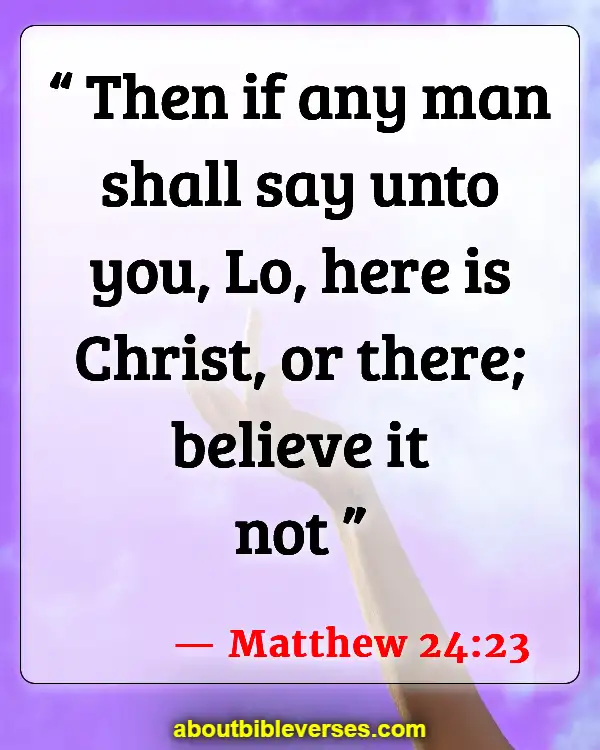 Matthew 24:23
"Then if any man shall say unto you, Lo, here is Christ, or there; believe it not"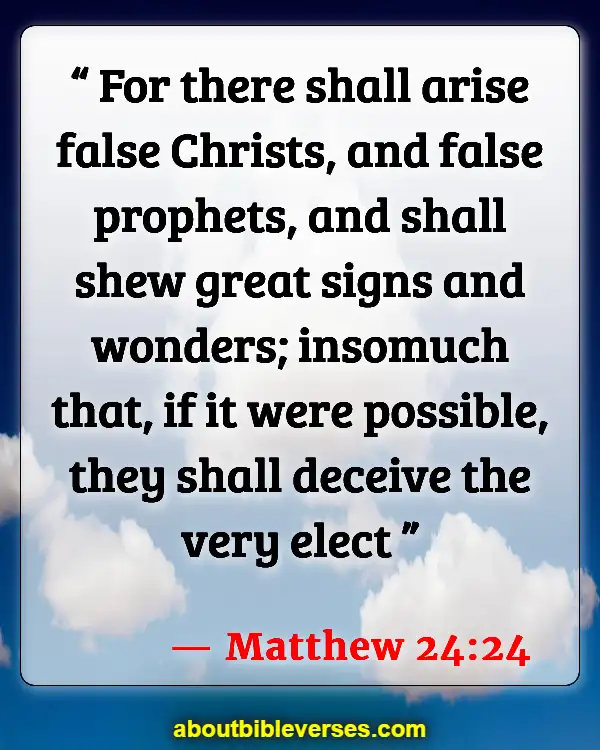 Matthew 24:24
"For there shall arise false Christs, and false prophets, and shall shew great signs and wonders; insomuch that, if it were possible, they shall deceive the very elect"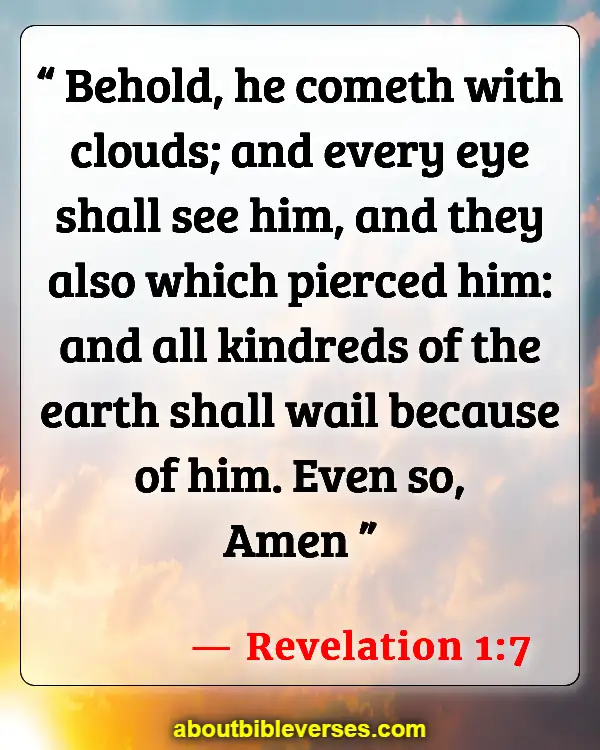 Revelation 1:7
"Behold, he cometh with clouds; and every eye shall see him, and they also which pierced him: and all kindreds of the earth shall wail because of him. Even so, Amen"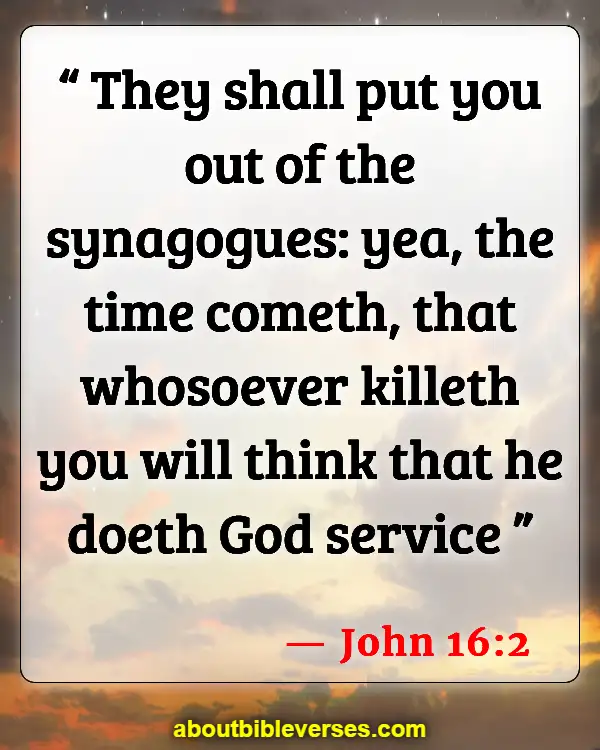 John 16:2
"They shall put you out of the synagogues: yea, the time cometh, that whosoever killeth you will think that he doeth God service"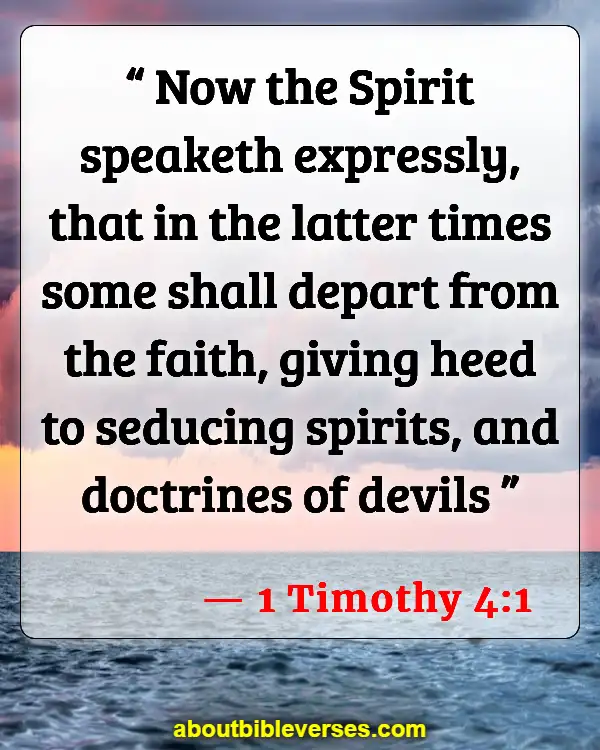 1 Timothy 4:1
"Now the Spirit speaketh expressly, that in the latter times some shall depart from the faith, giving heed to seducing spirits, and doctrines of devils"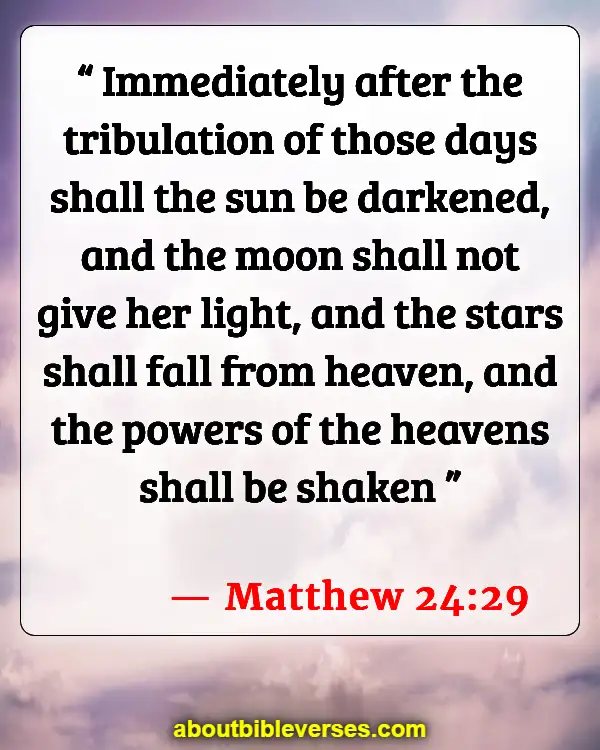 Matthew 24:29
"Immediately after the tribulation of those days shall the sun be darkened, and the moon shall not give her light, and the stars shall fall from heaven, and the powers of the heavens shall be shaken"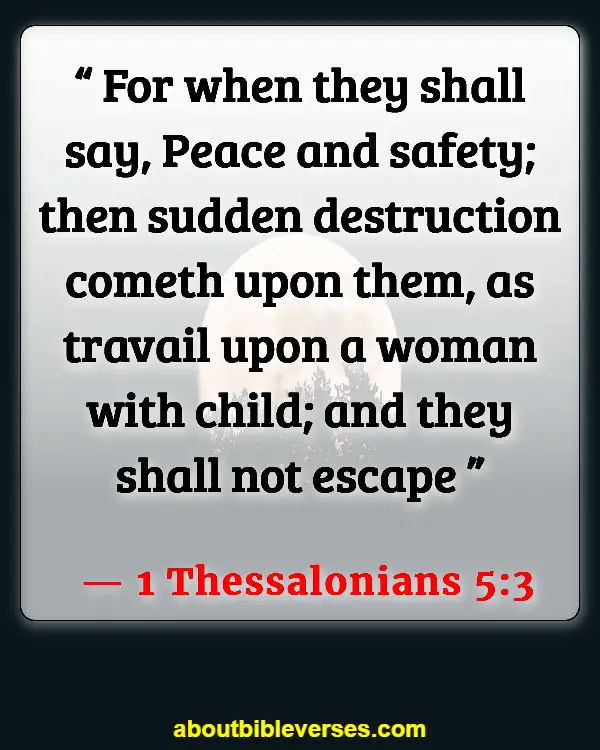 1 Thessalonians 5:3
"For when they shall say, Peace and safety; then sudden destruction cometh upon them, as travail upon a woman with child; and they shall not escape"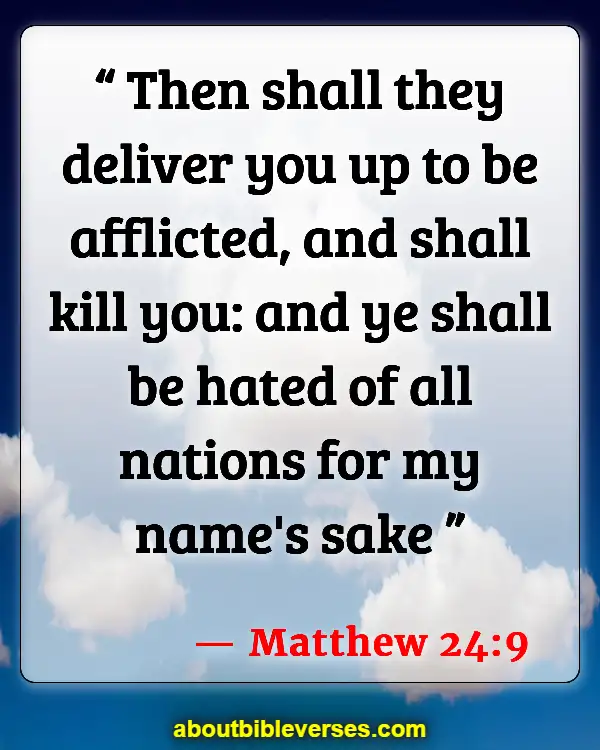 Matthew 24:9
"Then shall they deliver you up to be afflicted, and shall kill you: and ye shall be hated of all nations for my name's sake"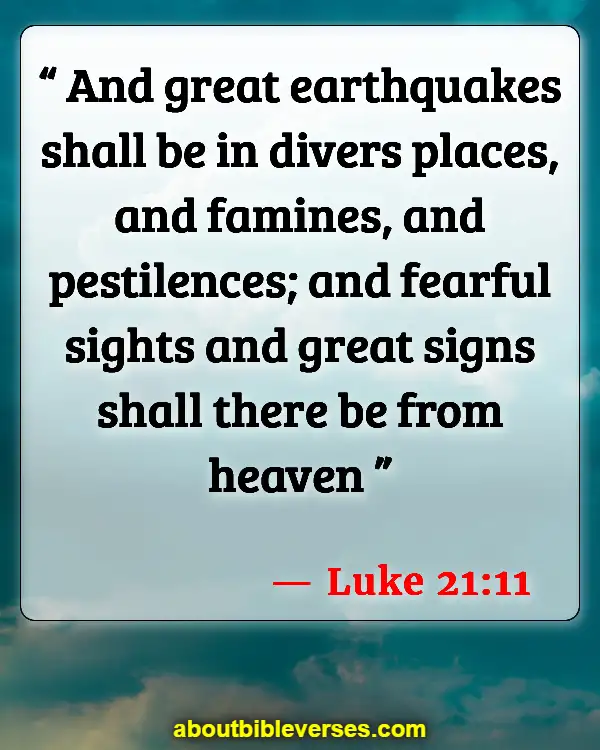 Luke 21:11
"And great earthquakes shall be in divers places, and famines, and pestilences; and fearful sights and great signs shall there be from heaven"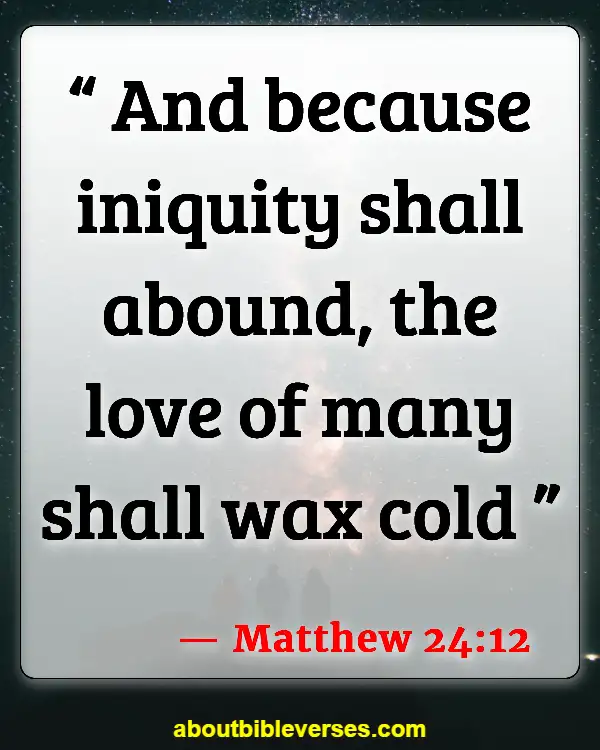 Matthew 24:12
"And because iniquity shall abound, the love of many shall wax cold"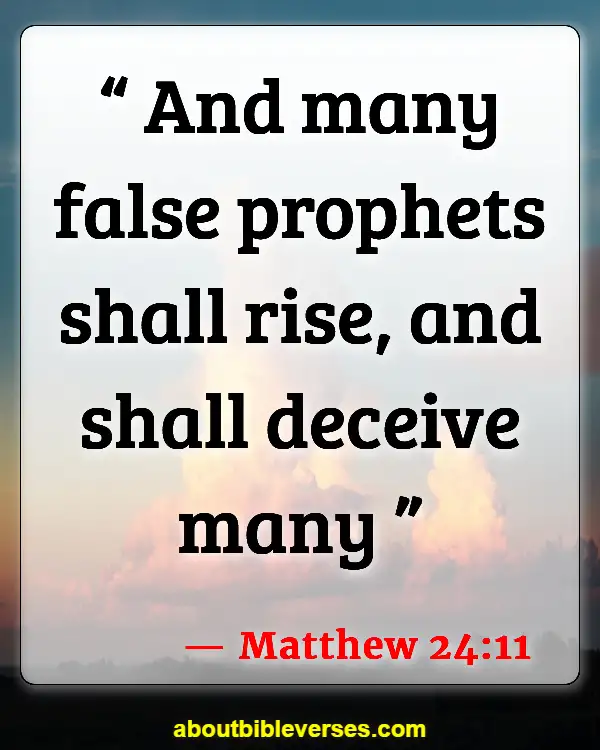 Matthew 24:11
"And many false prophets shall rise, and shall deceive many"