Hello dear friends, welcome to our site in the name of Jesus Christ. Today we will look at the Bible Scriptures To Fight Evil Thoughts In KJV. If you like today's post then definitely comment and share.
In life, the struggle with negative thoughts is one that every soul faces. The Bible guides us, like a beacon, offering wisdom to help counteract these troubling thoughts. This wisdom draws us towards love, peace, and positive thinking, as tools to dispel the darkness within us.
Imagine your mind as a garden. If you nurture it with love, gratitude, and good deeds, it will bloom with vibrant flowers of positive thoughts. But if you let the weeds of hate, envy, and evil thoughts grow, it will overshadow the beauty. Just like a gardener, it is your duty to tend to your mind's garden, plucking out the weeds of negativity and fostering positivity.
The Bible also advises us to don the armor of truth, righteousness, peace, faith, salvation, and the Word of God. This armor is not literal, but spiritual. Think of these virtues as your protective gear against any negative thoughts trying to invade your peace. Every morning when you wake up, imagine yourself putting on this armor and feel the strength and peace it offers.
We're also encouraged to meditate on the good things in life. Dwell on things that are true, noble, right, pure, lovely, and admirable. If something is excellent or praiseworthy, let those thoughts consume you. Like a songbird filling the air with melodious tunes, let your mind echo with these positive refrains.
Lastly, remember, the Bible guides us to always reach out to God in prayer and supplication. Share your worries, your fears, and your negative thoughts with Him. Trust in His infinite love and wisdom to guide you in overcoming your internal battles.
Remember, your thoughts shape your life, and with these divine wisdoms in your heart, you can ensure that it is shaped beautifully.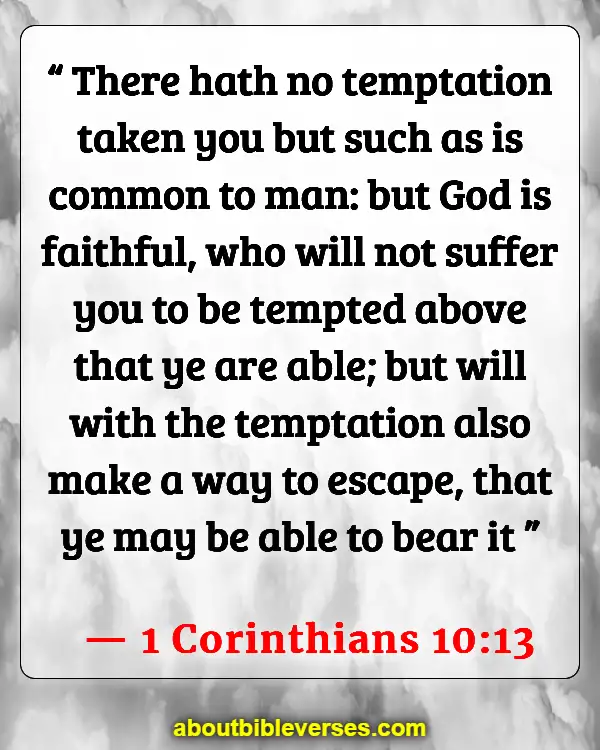 1 Corinthians 10:13
"There hath no temptation taken you but such as is common to man: but God is faithful, who will not suffer you to be tempted above that ye are able; but will with the temptation also make a way to escape, that ye may be able to bear it"
Ephesians 4:23-24
"And be renewed in the spirit of your mind; And that ye put on the new man, which after God is created in righteousness and true holiness"
2 Corinthians 10:5
"Casting down imaginations, and every high thing that exalteth itself against the knowledge of God, and bringing into captivity every thought to the obedience of Christ"
Philippians 4:8
"Finally, brethren, whatsoever things are true, whatsoever things are honest, whatsoever things are just, whatsoever things are pure, whatsoever things are lovely, whatsoever things are of good report; if there be any virtue, and if there be any praise, think on these things"
Colossians 3:2
"Set your affection on things above, not on things on the earth"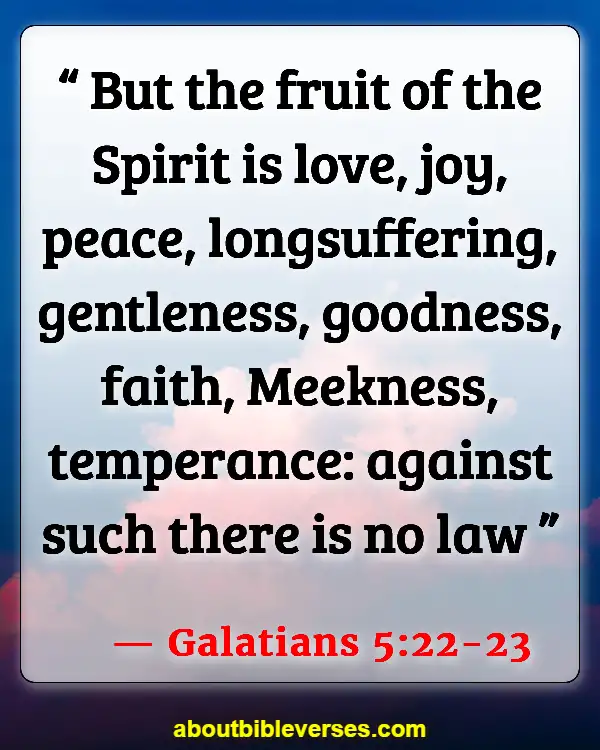 Galatians 5:22-23
"But the fruit of the Spirit is love, joy, peace, longsuffering, gentleness, goodness, faith, Meekness, temperance: against such there is no law"
Romans 12:2
"And be not conformed to this world: but be ye transformed by the renewing of your mind, that ye may prove what is that good, and acceptable, and perfect, will of God"
James 4:7
"Submit yourselves therefore to God. Resist the devil, and he will flee from you"
1 Peter 5:8-9
"Be sober, be vigilant; because your adversary the devil, as a roaring lion, walketh about, seeking whom he may devour: Whom resist stedfast in the faith, knowing that the same afflictions are accomplished in your brethren that are in the world"
Proverbs 4:23
"Keep thy heart with all diligence; for out of it are the issues of life"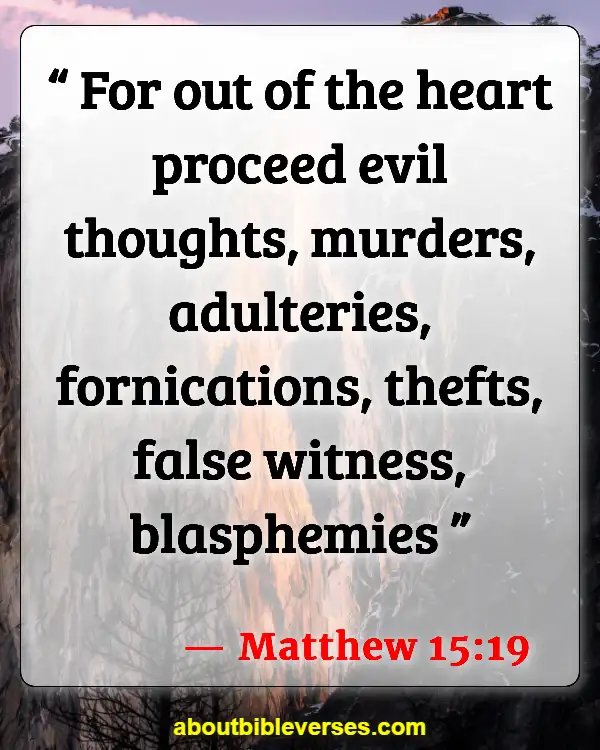 Matthew 15:19
"For out of the heart proceed evil thoughts, murders, adulteries, fornications, thefts, false witness, blasphemies"
1 John 4:4
"Ye are of God, little children, and have overcome them: because greater is he that is in you, than he that is in the world"
Romans 8:6
"For to be carnally minded is death; but to be spiritually minded is life and peace"
Matthew 5:28
"But I say unto you, That whosoever looketh on a woman to lust after her hath committed adultery with her already in his heart"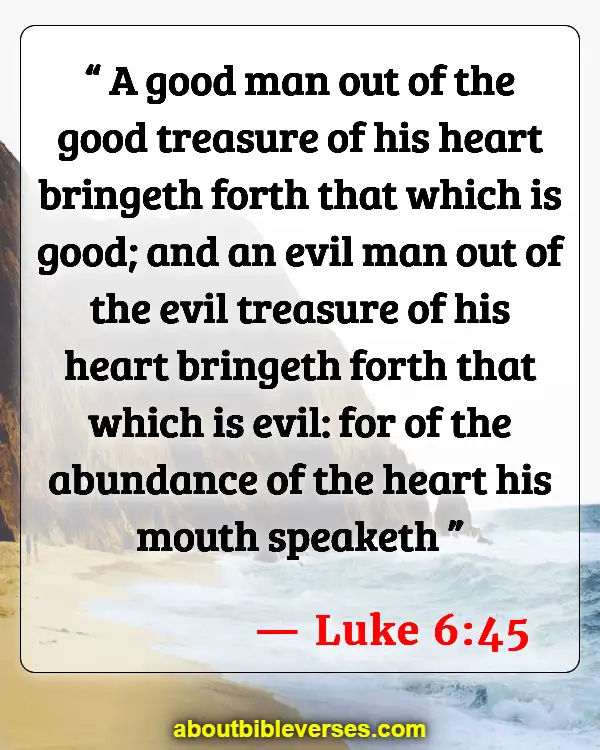 Luke 6:45
"A good man out of the good treasure of his heart bringeth forth that which is good; and an evil man out of the evil treasure of his heart bringeth forth that which is evil: for of the abundance of the heart his mouth speaketh"
Romans 13:14
"But put ye on the Lord Jesus Christ, and make not provision for the flesh, to fulfil the lusts thereof"
Isaiah 26:3
"Thou wilt keep him in perfect peace, whose mind is stayed on thee: because he trusteth in thee"
Psalm 101:3
"I will set no wicked thing before mine eyes: I hate the work of them that turn aside; it shall not cleave to me"
Psalm 139:23-24
"Search me, O God, and know my heart: try me, and know my thoughts: And see if there be any wicked way in me, and lead me in the way everlasting"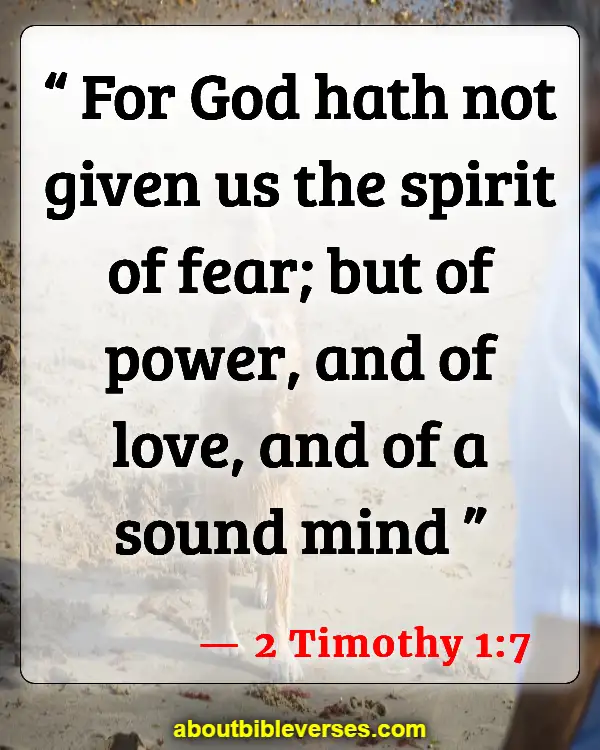 2 Timothy 1:7
"For God hath not given us the spirit of fear; but of power, and of love, and of a sound mind"
Romans 8:5
"For they that are after the flesh do mind the things of the flesh; but they that are after the Spirit the things of the Spirit"
1 Corinthians 2:16
"For who hath known the mind of the Lord, that he may instruct him? but we have the mind of Christ"
1 John 3:20
"For if our heart condemn us, God is greater than our heart, and knoweth all things"
James 1:13-15
"Let no man say when he is tempted, I am tempted of God: for God cannot be tempted with evil, neither tempteth he any man: But every man is tempted, when he is drawn away of his own lust, and enticed. Then when lust hath conceived, it bringeth forth sin: and sin, when it is finished, bringeth forth death"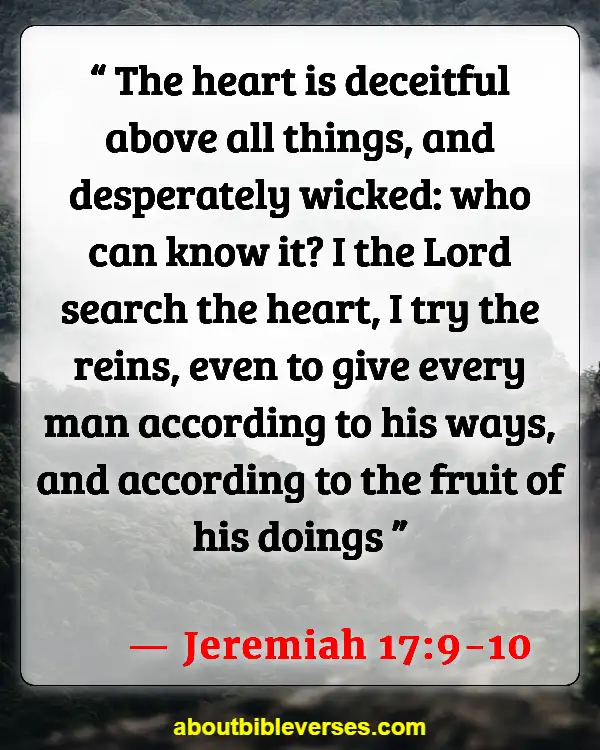 Jeremiah 17:9-10
"The heart is deceitful above all things, and desperately wicked: who can know it? I the Lord search the heart, I try the reins, even to give every man according to his ways, and according to the fruit of his doings"
Romans 7:23-25
"But I see another law in my members, warring against the law of my mind, and bringing me into captivity to the law of sin which is in my members. O wretched man that I am! who shall deliver me from the body of this death? I thank God through Jesus Christ our Lord. So then with the mind I myself serve the law of God; but with the flesh the law of sin"
Proverbs 23:7
"For as he thinketh in his heart, so is he: Eat and drink, saith he to thee; but his heart is not with thee"
Ezekiel 36:26
"A new heart also will I give you, and a new spirit will I put within you: and I will take away the stony heart out of your flesh, and I will give you an heart of flesh"
Proverbs 28:26
"He that trusteth in his own heart is a fool: but whoso walketh wisely, he shall be delivered"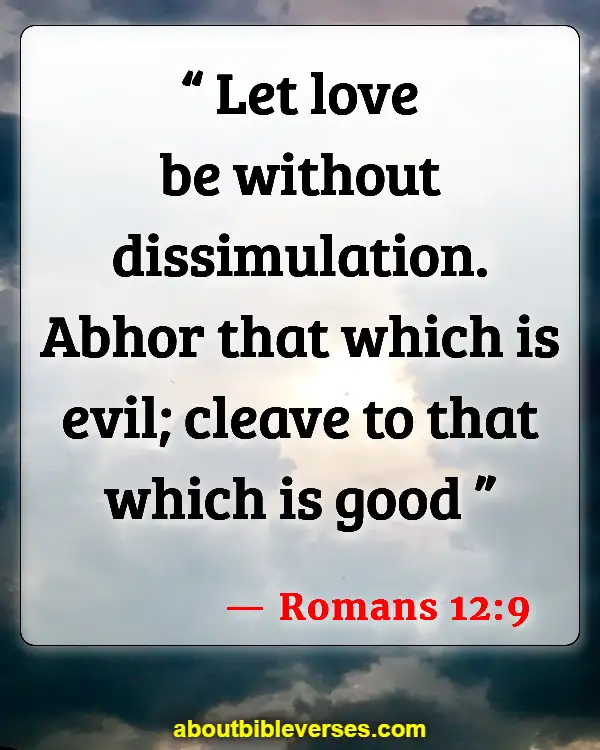 Romans 12:9
"Let love be without dissimulation. Abhor that which is evil; cleave to that which is good"
Galatians 6:7-8
"Be not deceived; God is not mocked: for whatsoever a man soweth, that shall he also reap. For he that soweth to his flesh shall of the flesh reap corruption; but he that soweth to the Spirit shall of the Spirit reap life everlasting"
Psalm 119:11
"Thy word have I hid in mine heart, that I might not sin against thee"
1 Thessalonians 5:21-22
"Prove all things; hold fast that which is good. Abstain from all appearance of evil"
Romans 8:37
"Nay, in all these things we are more than conquerors through him that loved us"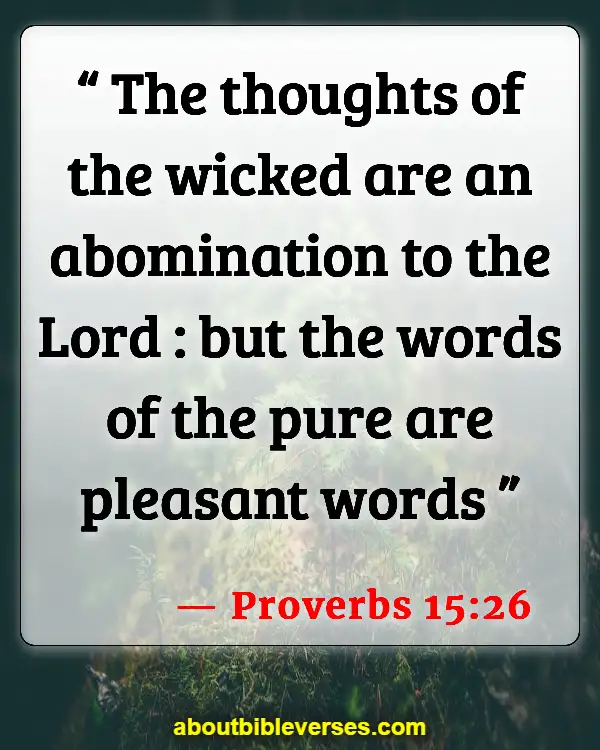 Proverbs 15:26
"The thoughts of the wicked are an abomination to the Lord : but the words of the pure are pleasant words"
Philippians 2:5
"Let this mind be in you, which was also in Christ Jesus"
1 Peter 1:13
"Wherefore gird up the loins of your mind, be sober, and hope to the end for the grace that is to be brought unto you at the revelation of Jesus Christ"
Hebrews 3:1
"Wherefore, holy brethren, partakers of the heavenly calling, consider the Apostle and High Priest of our profession, Christ Jesus"
2 Corinthians 3:18
"But we all, with open face beholding as in a glass the glory of the Lord, are changed into the same image from glory to glory, even as by the Spirit of the Lord"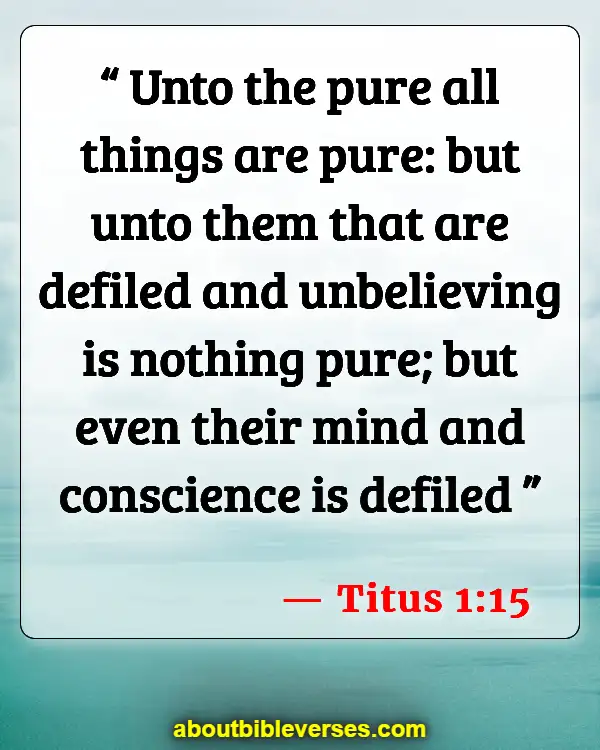 Titus 1:15
"Unto the pure all things are pure: but unto them that are defiled and unbelieving is nothing pure; but even their mind and conscience is defiled"