Dear brothers and sisters, marriage is a sacred union, one that God himself instituted. Encouraging your husband is not just about uplifting his spirit; it's about honoring the divine partnership. Through the ages, the Bible has shown us how vital encouragement is, not only within the bounds of marriage but in every relationship.
Brothers and sisters, from the days of Adam and Eve, to the times of Abraham and Sarah, the Bible presents us with numerous instances of couples facing challenges. In those trials, the power of encouragement often stands out as a beacon of hope.
For example, Sarah's unwavering faith and support for Abraham, even in the face of uncertainty, was key in God's plan unfolding for their lives. Similarly, dear friends, when a wife uplifts her husband with words of affirmation, it not only strengthens the bond between them but also fosters spiritual growth.
Every word of kindness, every gesture of support, and every act of love towards a husband acts as a pillar, strengthening the foundation of marriage. Encouragement does more than just boost morale; it instills courage, it renews faith, and it ignites hope. Dear sisters, when you encourage your husband, you are doing God's work, nurturing the love He has placed between the two of you.
Dear friends, now let's see the Bible scriptures below that talk about Encouraging Your Husband.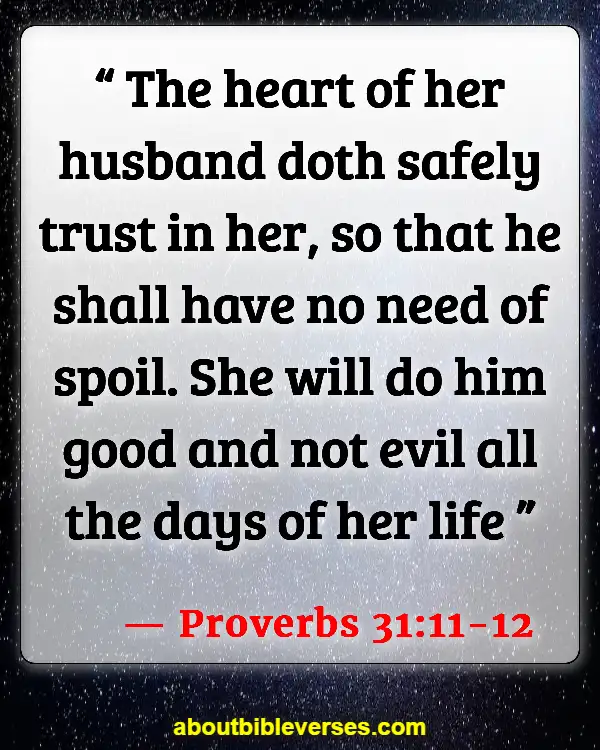 Proverbs 31:11-12
"The heart of her husband doth safely trust in her, so that he shall have no need of spoil. She will do him good and not evil all the days of her life"
Ephesians 5:22-24
"Wives, submit yourselves unto your own husbands, as unto the Lord. For the husband is the head of the wife, even as Christ is the head of the church: and he is the saviour of the body. Therefore as the church is subject unto Christ, so let the wives be to their own husbands in every thing"
Genesis 21:12
"And God said unto Abraham, Let it not be grievous in thy sight because of the lad, and because of thy bondwoman; in all that Sarah hath said unto thee, hearken unto her voice; for in Isaac shall thy seed be called"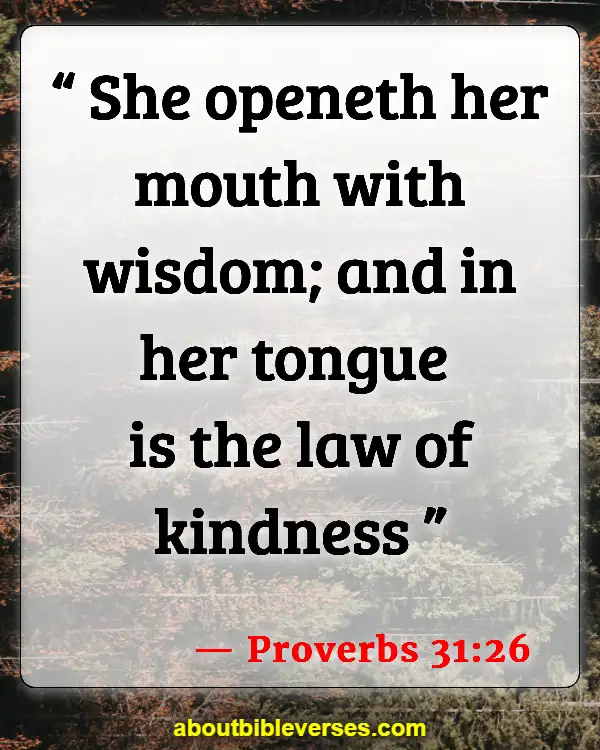 Proverbs 31:26
"She openeth her mouth with wisdom; and in her tongue is the law of kindness"
Proverbs 18:22
"Whoso findeth a wife findeth a good thing, and obtaineth favour of the Lord"
Proverbs 12:4
"A virtuous woman is a crown to her husband: but she that maketh ashamed is as rottenness in his bones"
1 Corinthians 7:3-4
"Let the husband render unto the wife due benevolence: and likewise also the wife unto the husband. The wife hath not power of her own body, but the husband: and likewise also the husband hath not power of his own body, but the wife"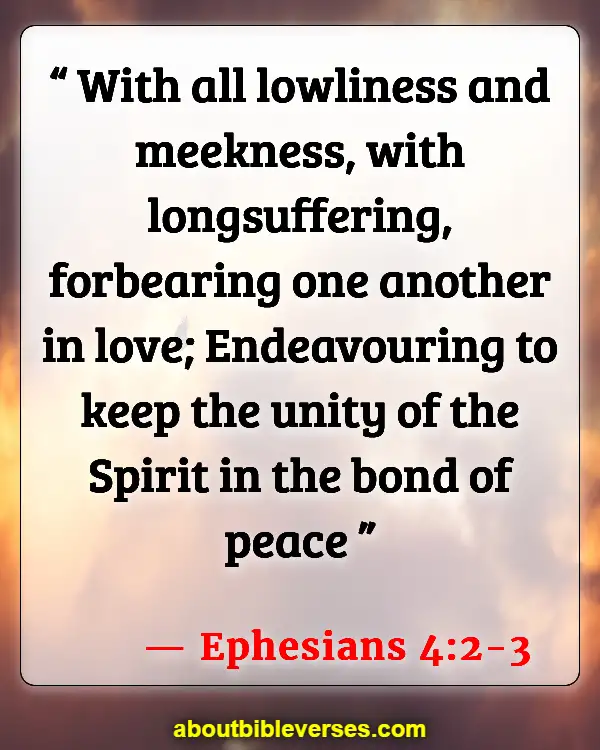 Ephesians 4:2-3
"With all lowliness and meekness, with longsuffering, forbearing one another in love; Endeavouring to keep the unity of the Spirit in the bond of peace"
1 Peter 3:1-2
"Likewise, ye wives, be in subjection to your own husbands; that, if any obey not the word, they also may without the word be won by the conversation of the wives; While they behold your chaste conversation coupled with fear"
Proverbs 19:14
"House and riches are the inheritance of fathers: and a prudent wife is from the Lord"
Ephesians 5:33
"Nevertheless let every one of you in particular so love his wife even as himself; and the wife see that she reverence her husband"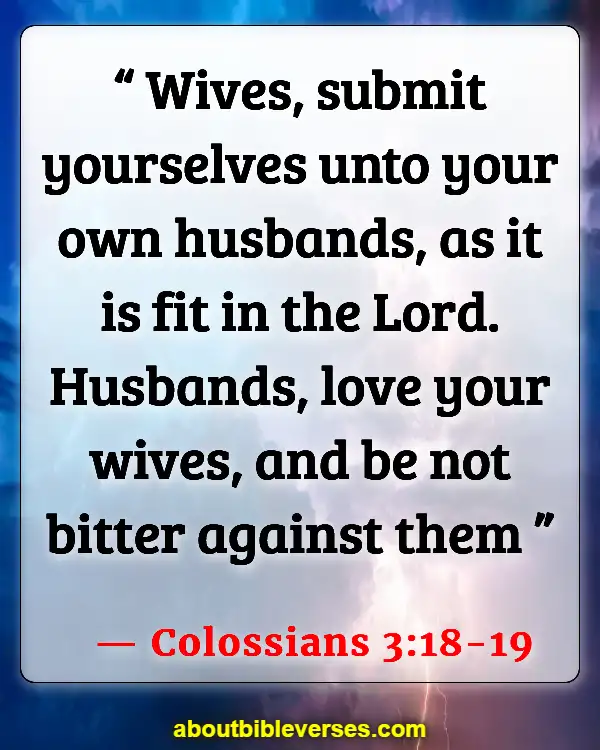 Colossians 3:18-19
"Wives, submit yourselves unto your own husbands, as it is fit in the Lord. Husbands, love your wives, and be not bitter against them"
Mark 10:6-9
"But from the beginning of the creation God made them male and female. For this cause shall a man leave his father and mother, and cleave to his wife; And they twain shall be one flesh: so then they are no more twain, but one flesh. What therefore God hath joined together, let not man put asunder"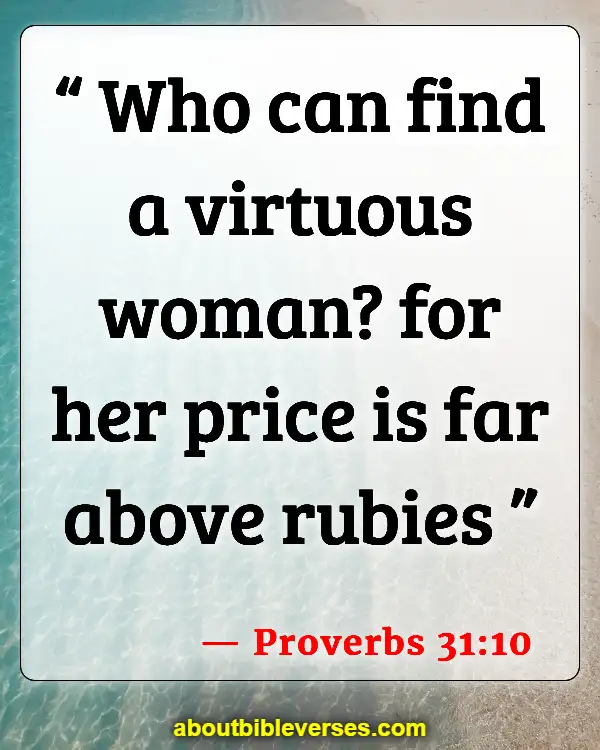 Proverbs 31:10
"Who can find a virtuous woman? for her price is far above rubies"
1 Peter 4:8
"And above all things have fervent charity among yourselves: for charity shall cover the multitude of sins"
Hebrews 13:4
"Marriage is honourable in all, and the bed undefiled: but whoremongers and adulterers God will judge"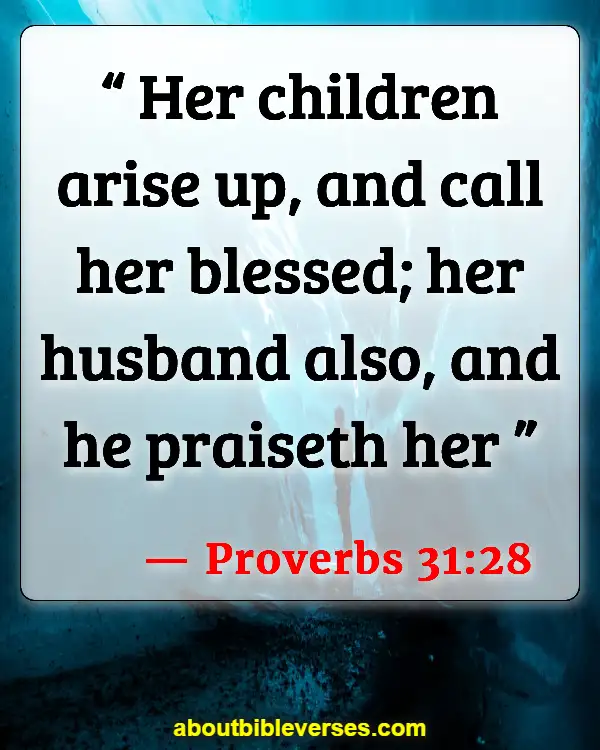 Proverbs 31:28
"Her children arise up, and call her blessed; her husband also, and he praiseth her"
1 Peter 3:7
"Likewise, ye husbands, dwell with them according to knowledge, giving honour unto the wife, as unto the weaker vessel, and as being heirs together of the grace of life; that your prayers be not hindered"
Proverbs 31:30
"Favour is deceitful, and beauty is vain: but a woman that feareth the Lord , she shall be praised"
1 Timothy 3:11
"Even so must their wives be grave, not slanderers, sober, faithful in all things"
Conclusion:
Dear sisters in Christ, your husband has been entrusted to you as a blessing from the Lord. Honor and encourage him, for his role is great. Help carry his burdens by lending a listening ear, offering words of affirmation, and praying for him daily. Build him up with sincere praise when warranted. Respect his leadership humbly and follow, not resisting or struggling against him.
Prepare nourishing meals cheerfully, keeping your home orderly and welcoming. Overlook minor faults and ask forgiveness when you wrong him. Trust in his provision, looking to him as your leader.
Stand faithfully beside your husband in times of trial. Comfort him in failure and celebrate with him in success. Have patience when he struggles spiritually, and gently point him toward the light of Christ. Seek to inspire him to righteousness, not nagging or scolding.
Make your marriage a haven from the stresses of the world. Laugh and enjoy life together. Pray as one, united in purpose. Let all you do reflect the love of the church for her Savior. Then your husband will rise up and call you blessed.