Beloved brothers and sisters, let us gather in the presence of the Almighty, seeking divine guidance and understanding as we embark on the journey of pursuing holiness. The Lord our God, who is perfect and pure, calls us to walk in His ways and be set apart from the ways of the world.
Holiness, dear ones, is not a mere religious ritual or a set of rules to follow, but a profound state of being that reflects God's nature within us. It is the sanctification of our hearts, minds, and souls, drawing closer to the Creator and distancing ourselves from sin and wickedness.
As we delve into the sacred scriptures, we find numerous examples of individuals who sought holiness and experienced divine favor. Consider the life of Joseph, who resisted temptation and remained faithful to God in the face of adversity. His unwavering commitment to righteousness brought about blessings not only for him but also for those around him.
Likewise, the story of King David teaches us that despite our failures, God's mercy and forgiveness are available to those who genuinely repent and turn away from sin. David's repentant heart became a testimony to the transformative power of holiness.
In the New Testament, we witness the life of Jesus, our Savior, who embodied perfect holiness. His teachings urge us to love one another, forgive our enemies, and walk humbly with our God. He set an example that we are called to follow.
Let us understand that pursuing holiness is not a solitary endeavor. It requires a community of believers supporting and encouraging each other. Together, we build a holy temple for the Lord, our actions and conduct reflecting the divine light to a world lost in darkness.
Dear congregation, let us be vigilant against the temptations that surround us, remaining steadfast in our pursuit of holiness. The journey may be challenging at times, but through prayer, scripture, and the guidance of the Holy Spirit, we can achieve a sanctified life in the presence of our Heavenly Father.
May the grace of God empower us, and may the pursuit of holiness be the anthem of our hearts, shining His light on all creation. Amen.
Dear friends now let's see the Bible scriptures below that talk about Pursuing Holiness.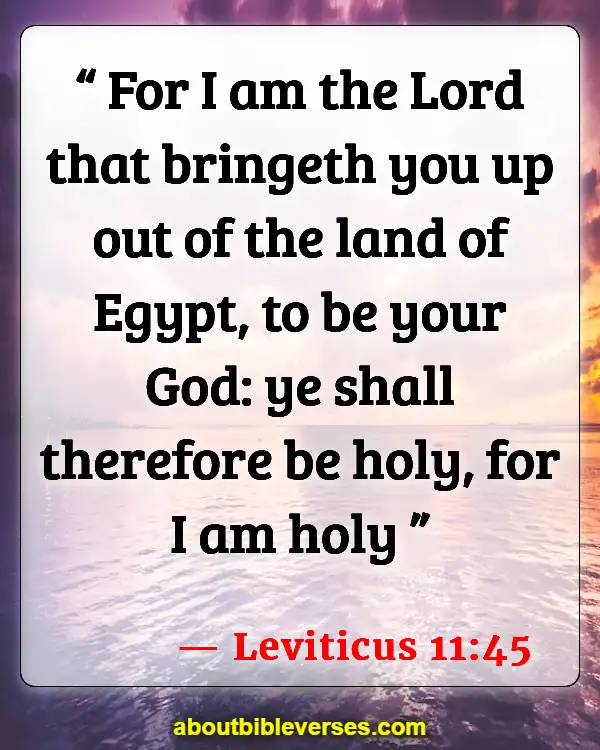 Leviticus 11:45
"For I am the Lord that bringeth you up out of the land of Egypt, to be your God: ye shall therefore be holy, for I am holy"
1 Peter 3:8
"Finally, be ye all of one mind, having compassion one of another, love as brethren, be pitiful, be courteous"
1 Peter 1:15-16
"But as he which hath called you is holy, so be ye holy in all manner of conversation; Because it is written, Be ye holy; for I am holy"
Hebrews 12:14
"Follow peace with all men, and holiness, without which no man shall see the Lord"
2 Corinthians 7:1
"Having therefore these promises, dearly beloved, let us cleanse ourselves from all filthiness of the flesh and spirit, perfecting holiness in the fear of God"
1 Thessalonians 4:7
"For God hath not called us unto uncleanness, but unto holiness"
Ephesians 1:4
"According as he hath chosen us in him before the foundation of the world, that we should be holy and without blame before him in love"
Romans 12:1
"I beseech you therefore, brethren, by the mercies of God, that ye present your bodies a living sacrifice, holy, acceptable unto God, which is your reasonable service"
1 Corinthians 6:19-20
"What? know ye not that your body is the temple of the Holy Ghost which is in you, which ye have of God, and ye are not your own? For ye are bought with a price: therefore glorify God in your body, and in your spirit, which are God's"
Matthew 5:48
"Be ye therefore perfect, even as your Father which is in heaven is perfect"
Romans 6:22
"But now being made free from sin, and become servants to God, ye have your fruit unto holiness, and the end everlasting life"
2 Timothy 2:21
"If a man therefore purge himself from these, he shall be a vessel unto honour, sanctified, and meet for the master's use, and prepared unto every good work"
Romans 8:29
"For whom he did foreknow, he also did predestinate to be conformed to the image of his Son, that he might be the firstborn among many brethren"
1 Peter 2:9
"But ye are a chosen generation, a royal priesthood, an holy nation, a peculiar people; that ye should shew forth the praises of him who hath called you out of darkness into his marvellous light"
2 Peter 3:11
"Seeing then that all these things shall be dissolved, what manner of persons ought ye to be in all holy conversation and godliness"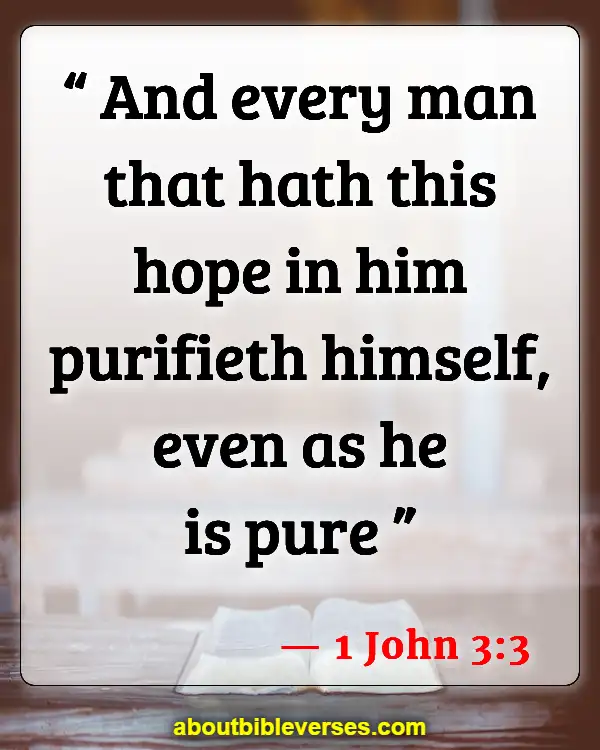 1 John 3:3
"And every man that hath this hope in him purifieth himself, even as he is pure"
Romans 6:12-13
"Let not sin therefore reign in your mortal body, that ye should obey it in the lusts thereof. Neither yield ye your members as instruments of unrighteousness unto sin: but yield yourselves unto God, as those that are alive from the dead, and your members as instruments of righteousness unto God"
Colossians 3:12
"Put on therefore, as the elect of God, holy and beloved, bowels of mercies, kindness, humbleness of mind, meekness, longsuffering"
Galatians 5:22-23
"But the fruit of the Spirit is love, joy, peace, longsuffering, gentleness, goodness, faith, Meekness, temperance: against such there is no law"
Ephesians 4:24
"And that ye put on the new man, which after God is created in righteousness and true holiness"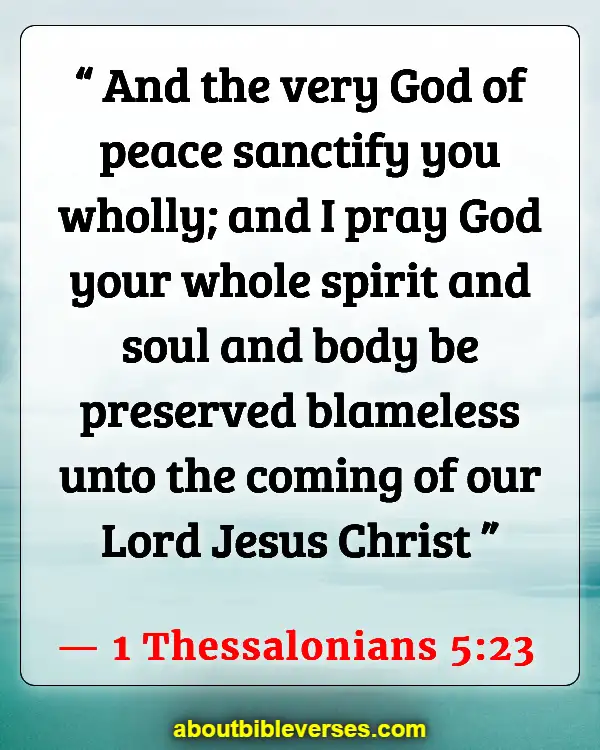 1 Thessalonians 5:23
"And the very God of peace sanctify you wholly; and I pray God your whole spirit and soul and body be preserved blameless unto the coming of our Lord Jesus Christ"
James 4:8
"Draw nigh to God, and he will draw nigh to you. Cleanse your hands, ye sinners; and purify your hearts, ye double minded"
Psalm 24:3-5
"Who shall ascend into the hill of the Lord ? or who shall stand in his holy place? He that hath clean hands, and a pure heart; who hath not lifted up his soul unto vanity, nor sworn deceitfully. He shall receive the blessing from the Lord , and righteousness from the God of his salvation"
Titus 2:11-12
"For the grace of God that bringeth salvation hath appeared to all men, Teaching us that, denying ungodliness and worldly lusts, we should live soberly, righteously, and godly, in this present world"
1 Corinthians 1:30
"But of him are ye in Christ Jesus, who of God is made unto us wisdom, and righteousness, and sanctification, and redemption"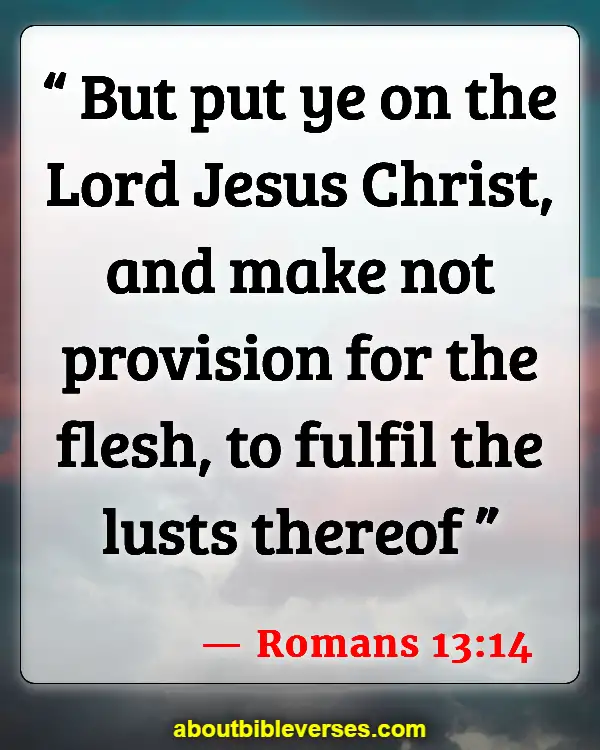 Romans 13:14
"But put ye on the Lord Jesus Christ, and make not provision for the flesh, to fulfil the lusts thereof"
Philippians 2:15
"That ye may be blameless and harmless, the sons of God, without rebuke, in the midst of a crooked and perverse nation, among whom ye shine as lights in the world"
Galatians 2:20
"I am crucified with Christ: nevertheless I live; yet not I, but Christ liveth in me: and the life which I now live in the flesh I live by the faith of the Son of God, who loved me, and gave himself for me"
Luke 1:75
"In holiness and righteousness before him, all the days of our life"
2 Timothy 1:9
"Who hath saved us, and called us with an holy calling, not according to our works, but according to his own purpose and grace, which was given us in Christ Jesus before the world began"
Psalm 119:9
"Wherewithal shall a young man cleanse his way? by taking heed thereto according to thy word"
Psalm 15:1-2
"Lord, who shall abide in thy tabernacle? who shall dwell in thy holy hill? He that walketh uprightly, and worketh righteousness, and speaketh the truth in his heart"
Proverbs 16:17
"The highway of the upright is to depart from evil: he that keepeth his way preserveth his soul"
Isaiah 35:8
"And an highway shall be there, and a way, and it shall be called The way of holiness; the unclean shall not pass over it; but it shall be for those: the wayfaring men, though fools, shall not err therein"
Matthew 5:8
"Blessed are the pure in heart: for they shall see God"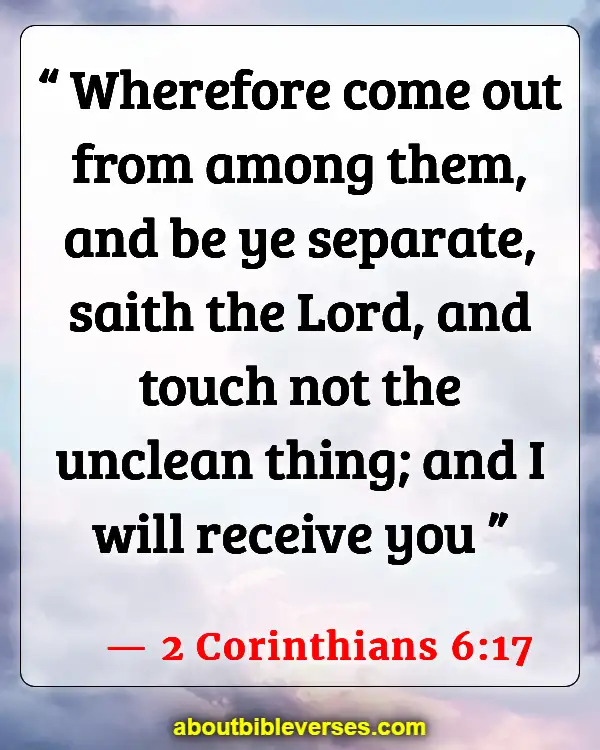 2 Corinthians 6:17
"Wherefore come out from among them, and be ye separate, saith the Lord, and touch not the unclean thing; and I will receive you"
Ephesians 5:1-2
"Be ye therefore followers of God, as dear children; And walk in love, as Christ also hath loved us, and hath given himself for us an offering and a sacrifice to God for a sweetsmelling savour"
Philippians 1:27
"Only let your conversation be as it becometh the gospel of Christ: that whether I come and see you, or else be absent, I may hear of your affairs, that ye stand fast in one spirit, with one mind striving together for the faith of the gospel"
Colossians 3:1-2
"If ye then be risen with Christ, seek those things which are above, where Christ sitteth on the right hand of God. Set your affection on things above, not on things on the earth"
1 John 2:15-17
"Love not the world, neither the things that are in the world. If any man love the world, the love of the Father is not in him. For all that is in the world, the lust of the flesh, and the lust of the eyes, and the pride of life, is not of the Father, but is of the world. And the world passeth away, and the lust thereof: but he that doeth the will of God abideth for ever"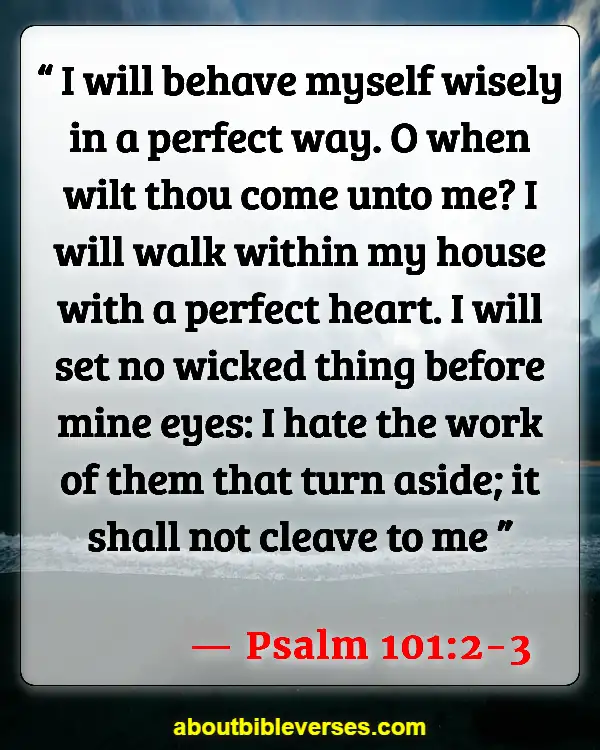 Psalm 101:2-3
"I will behave myself wisely in a perfect way. O when wilt thou come unto me? I will walk within my house with a perfect heart. I will set no wicked thing before mine eyes: I hate the work of them that turn aside; it shall not cleave to me"
Titus 3:5
"Not by works of righteousness which we have done, but according to his mercy he saved us, by the washing of regeneration, and renewing of the Holy Ghost"
Psalm 4:3
"But know that the Lord hath set apart him that is godly for himself: the Lord will hear when I call unto him"
Psalm 51:10
"Create in me a clean heart, O God; and renew a right spirit within me"
2 Peter 1:5-8
"And beside this, giving all diligence, add to your faith virtue; and to virtue knowledge; And to knowledge temperance; and to temperance patience; and to patience godliness; And to godliness brotherly kindness; and to brotherly kindness charity. For if these things be in you, and abound, they make you that ye shall neither be barren nor unfruitful in the knowledge of our Lord Jesus Christ"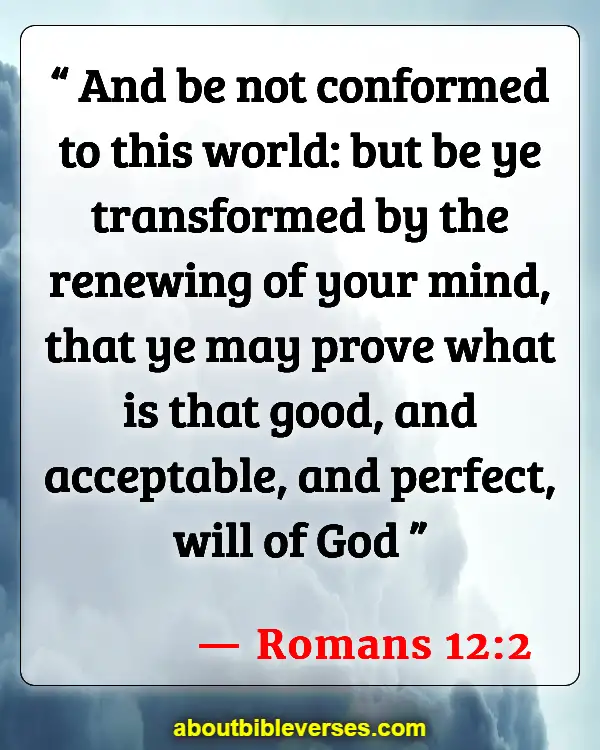 Romans 12:2
"And be not conformed to this world: but be ye transformed by the renewing of your mind, that ye may prove what is that good, and acceptable, and perfect, will of God"
Ephesians 5:8-9
"For ye were sometimes darkness, but now are ye light in the Lord: walk as children of light: (For the fruit of the Spirit is in all goodness and righteousness and truth;)"
Hebrews 13:12
"Wherefore Jesus also, that he might sanctify the people with his own blood, suffered without the gate"
1 Timothy 4:7-8
"But refuse profane and old wives' fables, and exercise thyself rather unto godliness. For bodily exercise profiteth little: but godliness is profitable unto all things, having promise of the life that now is, and of that which is to come"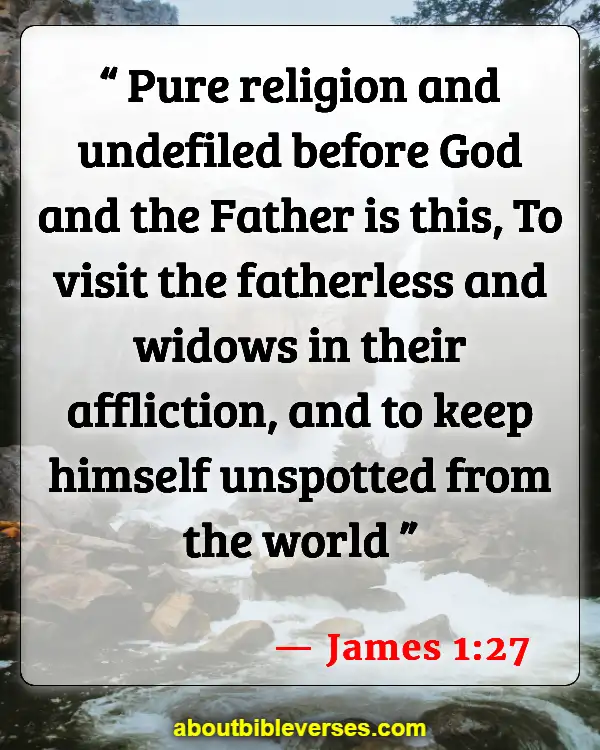 James 1:27
"Pure religion and undefiled before God and the Father is this, To visit the fatherless and widows in their affliction, and to keep himself unspotted from the world"