Hello dear friends, welcome to our site in the name of Jesus Christ. Today we will look at the Bible Scriptures About Trusting God In The Midst Of Trials In KJV. If you like today's post then definitely comment and share.
In the midst of life's trials and tribulations, one truth remains steadfast: Trusting God is the anchor for our souls. Just as the mighty oak stands firm against the storm, so can we stand firm in our faith when we put our trust in the Lord.
From the very beginning, the Bible teaches us about the importance of trusting God. In the story of Noah, he trusted God's word and built the ark, even when others mocked and ridiculed him. When the floodwaters came, Noah and his family were saved because of their unwavering trust in the Almighty.
Abraham, the father of many nations, exemplified trust in God's promises. Despite his old age, he believed that God would give him a son through Sarah, and his faith was not in vain. Isaac, the long-awaited child, was born, fulfilling God's promise and strengthening Abraham's trust even more.
Joseph, sold into slavery by his own brothers, endured numerous trials but never lost his trust in God. In the end, he became a powerful ruler in Egypt, saving his family and many others from famine, all by God's divine plan.
Even in the face of overwhelming challenges, David, a simple shepherd boy, trusted God's strength to defeat the giant Goliath. Through his trust, he became a mighty king, blessed by the Lord's guidance.
Let us not forget Job, who experienced tremendous loss and suffering, yet remained faithful and trusted in God's wisdom, even when his friends advised otherwise. In the end, God restored Job's fortunes and blessed him abundantly for his unwavering trust.
In the New Testament, the disciples faced trials, but their trust in Jesus never wavered. Despite the storms at sea, they learned to put their faith in Christ, who calmed the waves and stilled their fears.
Today, we may encounter various trials and uncertainties, but we must remember that God is with us. Like the heroes of faith before us, we can trust in His promises, knowing that He works all things for the good of those who love Him.
So, dear brothers and sisters, let us face trials with unwavering trust in God, for He is our rock, our fortress, and our deliverer. May our faith shine like a beacon in the darkness, drawing others to the hope and security found only in Him. Trust in the Lord, and He will guide you through every storm, for His love and faithfulness endure forever. Amen.
Dear friends now let's see the Bible scriptures below that talk about Trusting God In The Midst Of Trials.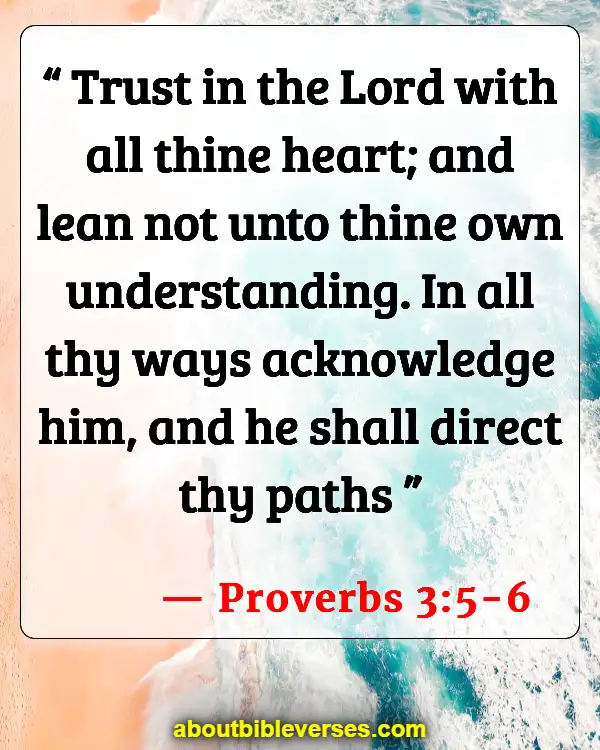 Proverbs 3:5-6
"Trust in the Lord with all thine heart; and lean not unto thine own understanding. In all thy ways acknowledge him, and he shall direct thy paths"
Psalm 37:5
"Commit thy way unto the Lord ; trust also in him; and he shall bring it to pass"
Isaiah 26:4
"Trust ye in the Lord for ever: for in the Lord Jehovah is everlasting strength"
Jeremiah 17:7
"Blessed is the man that trusteth in the Lord , and whose hope the Lord is"
Psalm 62:8
"Trust in him at all times; ye people, pour out your heart before him: God is a refuge for us. Selah"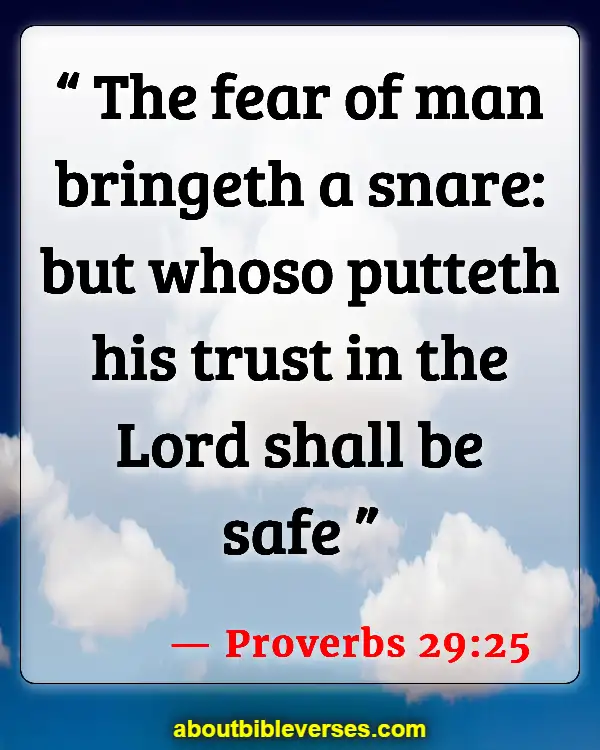 Proverbs 29:25
"The fear of man bringeth a snare: but whoso putteth his trust in the Lord shall be safe"
Psalm 115:11
"Ye that fear the Lord , trust in the Lord : he is their help and their shield"
Psalm 56:3
"What time I am afraid, I will trust in thee"
John 14:1
"Let not your heart be troubled: ye believe in God, believe also in me"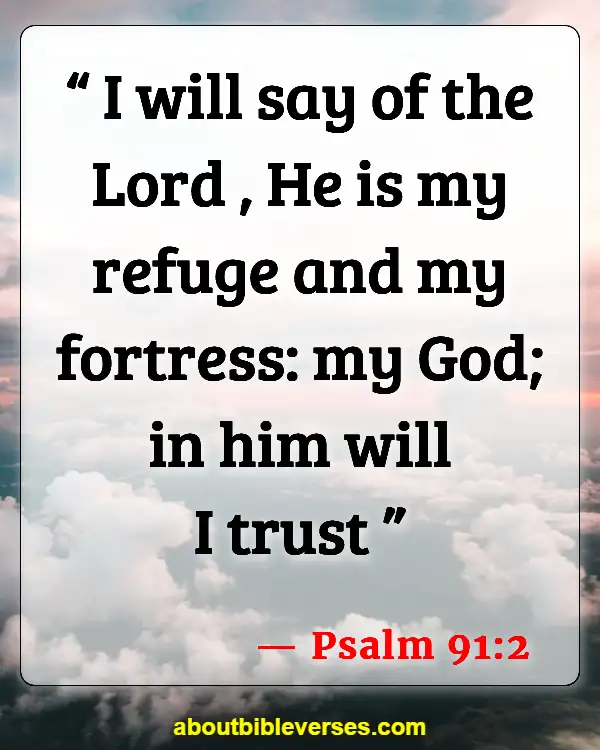 Psalm 91:2
"I will say of the Lord , He is my refuge and my fortress: my God; in him will I trust"
Psalm 20:7
"Some trust in chariots, and some in horses: but we will remember the name of the Lord our God"
Romans 15:13
"Now the God of hope fill you with all joy and peace in believing, that ye may abound in hope, through the power of the Holy Ghost"
Hebrews 13:6
"So that we may boldly say, The Lord is my helper, and I will not fear what man shall do unto me"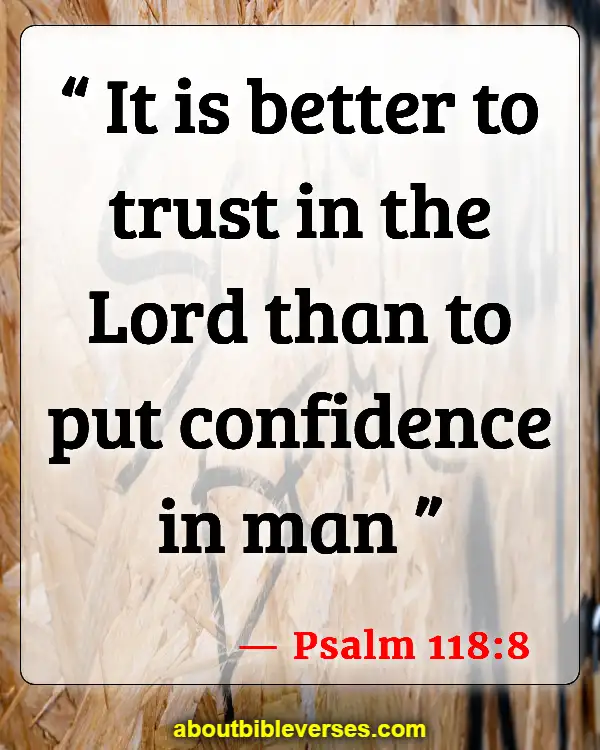 Psalm 118:8
"It is better to trust in the Lord than to put confidence in man"
Matthew 6:25
"Therefore I say unto you, Take no thought for your life, what ye shall eat, or what ye shall drink; nor yet for your body, what ye shall put on. Is not the life more than meat, and the body than raiment?"
1 Peter 5:7
"Casting all your care upon him; for he careth for you"
Matthew 11:28-29
"Come unto me, all ye that labour and are heavy laden, and I will give you rest. Take my yoke upon you, and learn of me; for I am meek and lowly in heart: and ye shall find rest unto your souls"
Psalm 55:22
"Cast thy burden upon the Lord , and he shall sustain thee: he shall never suffer the righteous to be moved"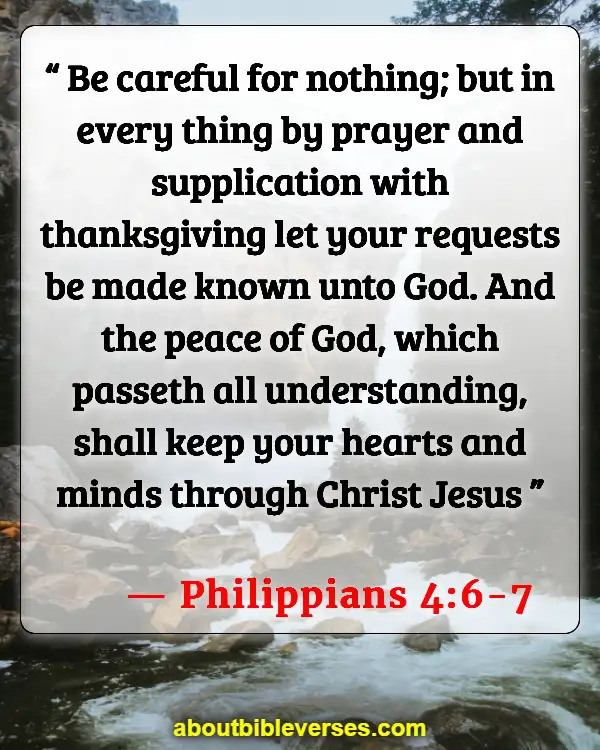 Philippians 4:6-7
"Be careful for nothing; but in every thing by prayer and supplication with thanksgiving let your requests be made known unto God. And the peace of God, which passeth all understanding, shall keep your hearts and minds through Christ Jesus"
Psalm 37:3
"Trust in the Lord , and do good; so shalt thou dwell in the land, and verily thou shalt be fed"
Psalm 46:1-3
"God is our refuge and strength, a very present help in trouble. Therefore will not we fear, though the earth be removed, and though the mountains be carried into the midst of the sea; Though the waters thereof roar and be troubled, though the mountains shake with the swelling thereof. Selah"
Deuteronomy 31:6
"Be strong and of a good courage, fear not, nor be afraid of them: for the Lord thy God, he it is that doth go with thee; he will not fail thee, nor forsake thee"
Joshua 1:9
"Have not I commanded thee? Be strong and of a good courage; be not afraid, neither be thou dismayed: for the Lord thy God is with thee whithersoever thou goest"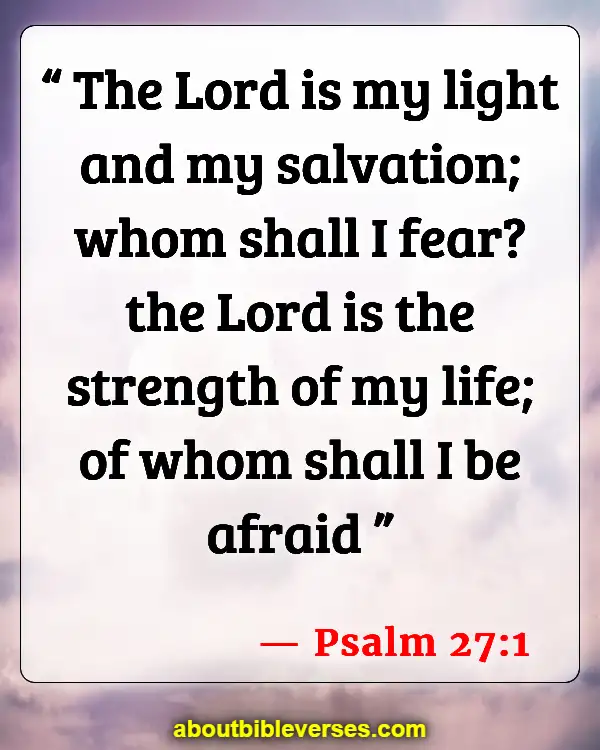 Psalm 27:1
"The Lord is my light and my salvation; whom shall I fear? the Lord is the strength of my life; of whom shall I be afraid?"
Isaiah 41:10
"Fear thou not; for I am with thee: be not dismayed; for I am thy God: I will strengthen thee; yea, I will help thee; yea, I will uphold thee with the right hand of my righteousness"
Psalm 28:7
"The Lord is my strength and my shield; my heart trusted in him, and I am helped: therefore my heart greatly rejoiceth; and with my song will I praise him"
Psalm 34:4
"I sought the Lord , and he heard me, and delivered me from all my fears"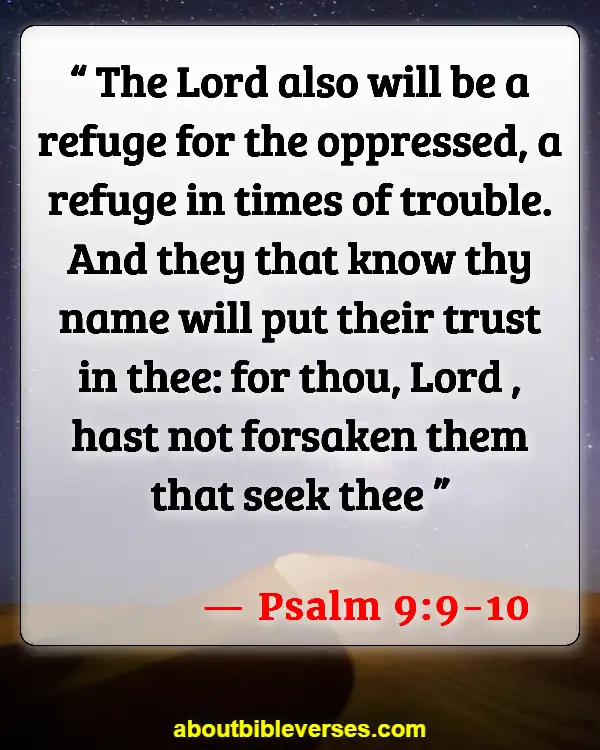 Psalm 9:9-10
"The Lord also will be a refuge for the oppressed, a refuge in times of trouble. And they that know thy name will put their trust in thee: for thou, Lord , hast not forsaken them that seek thee"
Romans 8:28
"And we know that all things work together for good to them that love God, to them who are the called according to his purpose"
2 Timothy 1:7
"For God hath not given us the spirit of fear; but of power, and of love, and of a sound mind"
2 Chronicles 20:20
"And they rose early in the morning, and went forth into the wilderness of Tekoa: and as they went forth, Jehoshaphat stood and said, Hear me, O Judah, and ye inhabitants of Jerusalem; Believe in the Lord your God, so shall ye be established; believe his prophets, so shall ye prosper"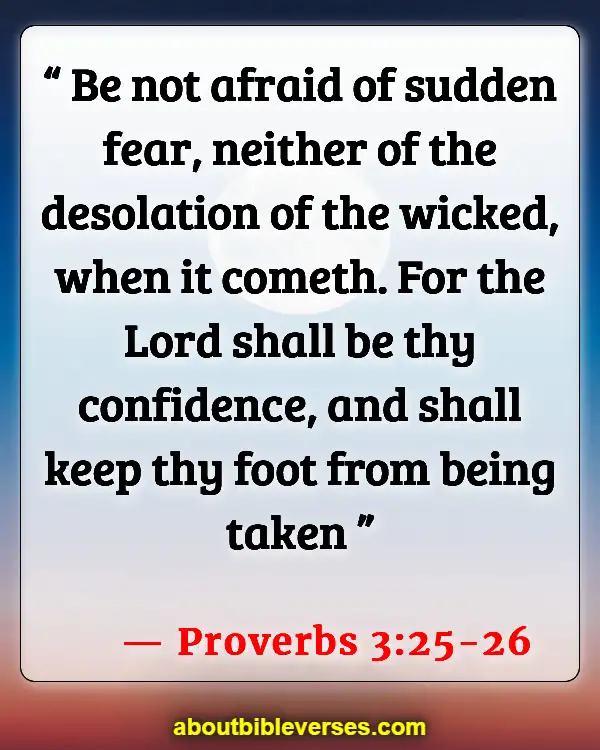 Proverbs 3:25-26
"Be not afraid of sudden fear, neither of the desolation of the wicked, when it cometh. For the Lord shall be thy confidence, and shall keep thy foot from being taken"
Psalm 112:7
"He shall not be afraid of evil tidings: his heart is fixed, trusting in the Lord"
Isaiah 12:2
"Behold, God is my salvation; I will trust, and not be afraid: for the Lord Jehovah is my strength and my song; he also is become my salvation"
Psalm 31:14-15
"But I trusted in thee, O Lord : I said, Thou art my God. My times are in thy hand: deliver me from the hand of mine enemies, and from them that persecute me"
Isaiah 35:4
"Say to them that are of a fearful heart, Be strong, fear not: behold, your God will come with vengeance, even God with a recompence; he will come and save you"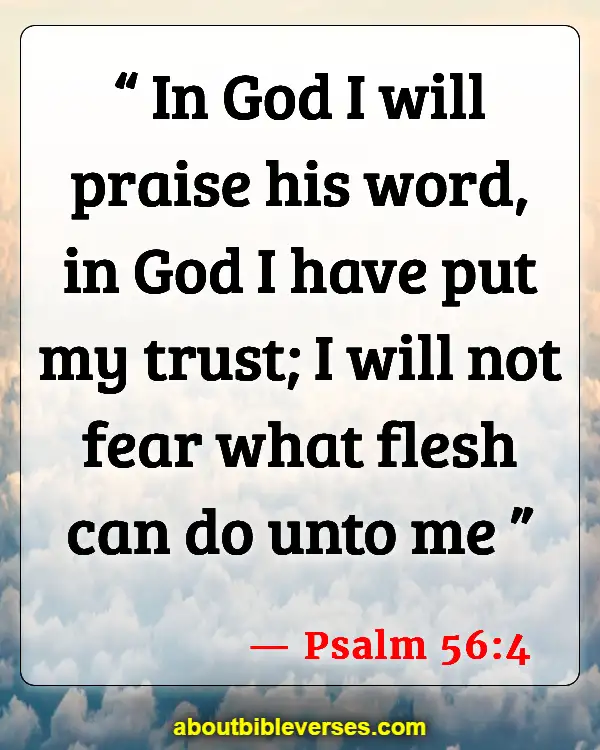 Psalm 56:4
"In God I will praise his word, in God I have put my trust; I will not fear what flesh can do unto me"
Psalm 4:8
"I will both lay me down in peace, and sleep: for thou, Lord , only makest me dwell in safety"
Psalm 143:8
"Cause me to hear thy lovingkindness in the morning; for in thee do I trust: cause me to know the way wherein I should walk; for I lift up my soul unto thee"
Nahum 1:7
"The Lord is good, a strong hold in the day of trouble; and he knoweth them that trust in him"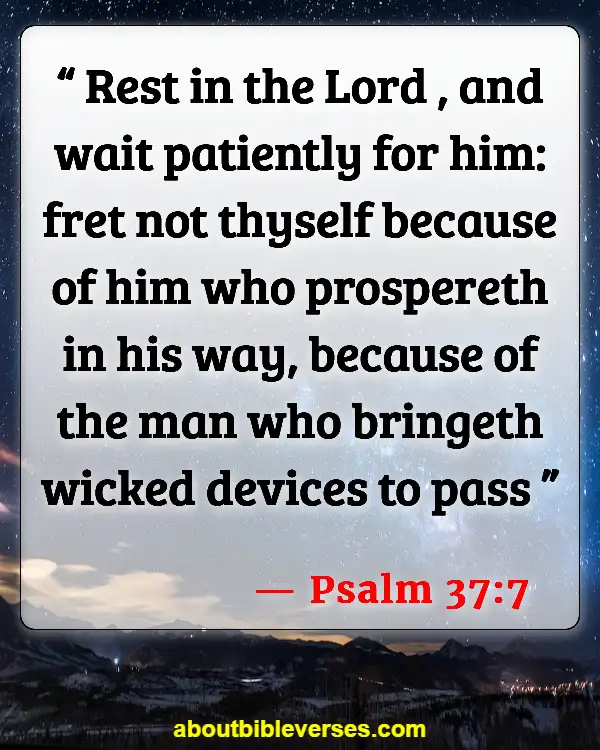 Psalm 37:7
"Rest in the Lord , and wait patiently for him: fret not thyself because of him who prospereth in his way, because of the man who bringeth wicked devices to pass"
Romans 4:20-21
"He staggered not at the promise of God through unbelief; but was strong in faith, giving glory to God; And being fully persuaded that, what he had promised, he was able also to perform"
2 Corinthians 1:9
"But we had the sentence of death in ourselves, that we should not trust in ourselves, but in God which raiseth the dead"
2 Corinthians 4:8-9
"We are troubled on every side, yet not distressed; we are perplexed, but not in despair; Persecuted, but not forsaken; cast down, but not destroyed"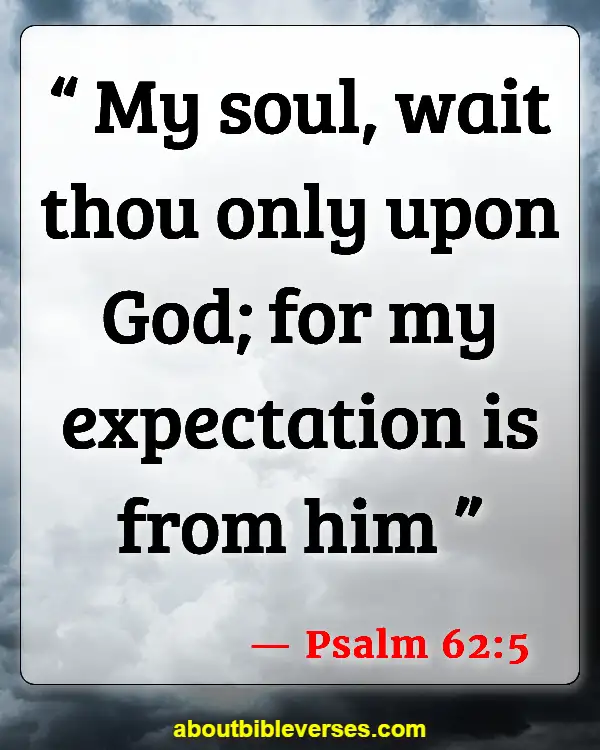 Psalm 62:5
"My soul, wait thou only upon God; for my expectation is from him"
Habakkuk 3:17-18
"Although the fig tree shall not blossom, neither shall fruit be in the vines; the labour of the olive shall fail, and the fields shall yield no meat; the flock shall be cut off from the fold, and there shall be no herd in the stalls: Yet I will rejoice in the Lord , I will joy in the God of my salvation"
2 Timothy 4:17
"Notwithstanding the Lord stood with me, and strengthened me; that by me the preaching might be fully known, and that all the Gentiles might hear: and I was delivered out of the mouth of the lion"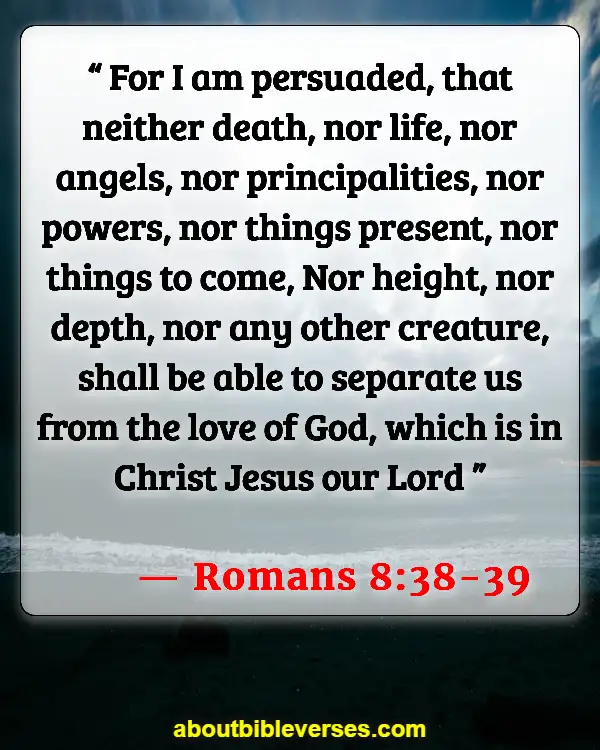 Romans 8:38-39
"For I am persuaded, that neither death, nor life, nor angels, nor principalities, nor powers, nor things present, nor things to come, Nor height, nor depth, nor any other creature, shall be able to separate us from the love of God, which is in Christ Jesus our Lord"