Dear Brothers, As children of God, we are not exempt from facing challenges and tribulations in our earthly journey. Just as precious metals are refined through fire, our faith is tested and purified through the furnace of trials.
In the sacred scriptures, we find many examples of God's chosen people enduring trials and emerging stronger in their faith. Consider the steadfastness of Job, who faced immense suffering and loss, yet remained faithful and found restoration in God's grace. Similarly, the Israelites wandered in the desert, facing numerous trials, yet God guided them and revealed His providence.
The trials we encounter may vary in nature, but each serves a divine purpose. They teach us patience, perseverance, and trust in the Almighty's plan. When we face trials, we must not lose hearts but turn to prayer and seek solace in the Word of God.
Let us recall the words of the apostle James, who wrote, "My brothers and sisters, consider it pure joy whenever you face trials of various kinds because you know that testing your faith produces perseverance." Yes, my dear brethren, these trials are instruments in the hands of our Heavenly Father to shape us into vessels of honor.
Therefore, let us embrace our trials with faith and hope, knowing that God is with us through every storm. His grace is sufficient, and His strength is made perfect in our weakness.
As we endure and conquer these trials, we grow in spiritual maturity and draw nearer to the divine purpose He has ordained for each of us. Trust in the Lord, for He is the One who carries us through every trial and leads us to triumph in Christ. Amen.
Here are some Bible verses related to the topic of God putting us through trials: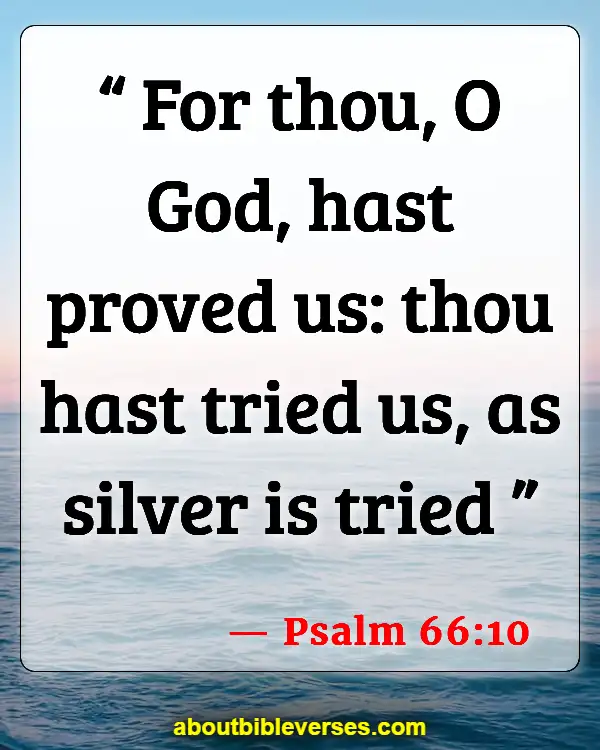 Psalm 66:10
"For thou, O God, hast proved us: thou hast tried us, as silver is tried"
John 16:33
"These things I have spoken unto you, that in me ye might have peace. In the world ye shall have tribulation: but be of good cheer; I have overcome the world"
1 Peter 1:6-7
"Wherein ye greatly rejoice, though now for a season, if need be, ye are in heaviness through manifold temptations: That the trial of your faith, being much more precious than of gold that perisheth, though it be tried with fire, might be found unto praise and honour and glory at the appearing of Jesus Christ"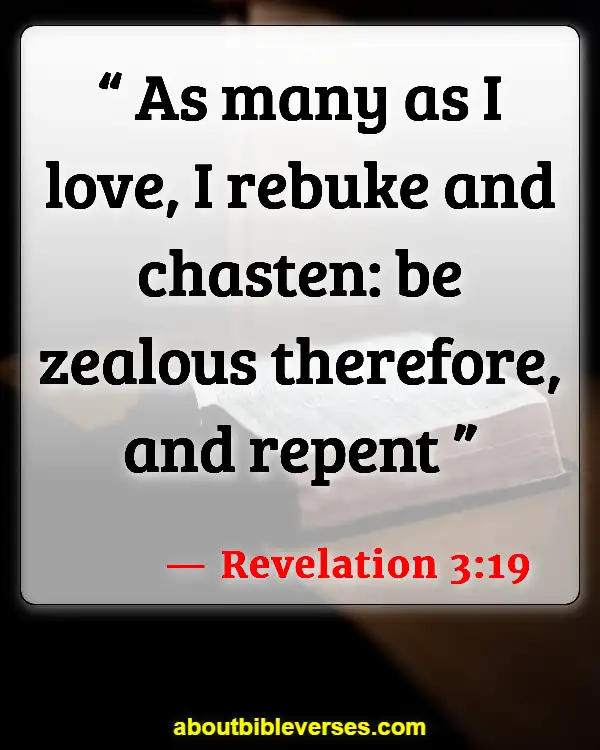 Revelation 3:19
"As many as I love, I rebuke and chasten: be zealous therefore, and repent"
1 Peter 4:12-13
"Beloved, think it not strange concerning the fiery trial which is to try you, as though some strange thing happened unto you: But rejoice, inasmuch as ye are partakers of Christ's sufferings; that, when his glory shall be revealed, ye may be glad also with exceeding joy"
Lamentations 3:32-33
"But though he cause grief, yet will he have compassion according to the multitude of his mercies. For he doth not afflict willingly nor grieve the children of men"
2 Corinthians 12:9-10
"And he said unto me, My grace is sufficient for thee: for my strength is made perfect in weakness. Most gladly therefore will I rather glory in my infirmities, that the power of Christ may rest upon me. Therefore I take pleasure in infirmities, in reproaches, in necessities, in persecutions, in distresses for Christ's sake: for when I am weak, then am I strong"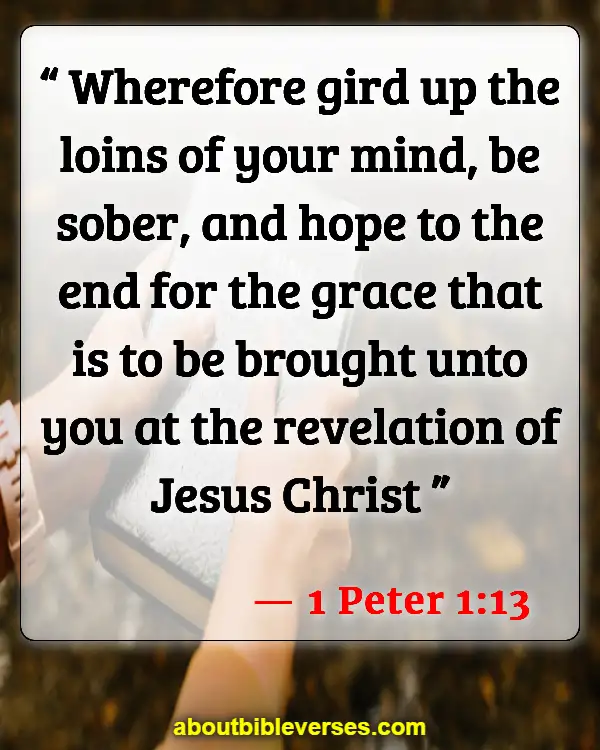 1 Peter 1:13
"Wherefore gird up the loins of your mind, be sober, and hope to the end for the grace that is to be brought unto you at the revelation of Jesus Christ"
Psalm 34:19
"Many are the afflictions of the righteous: but the Lord delivereth him out of them all"
Jeremiah 29:11
"For I know the thoughts that I think toward you, saith the Lord , thoughts of peace, and not of evil, to give you an expected end"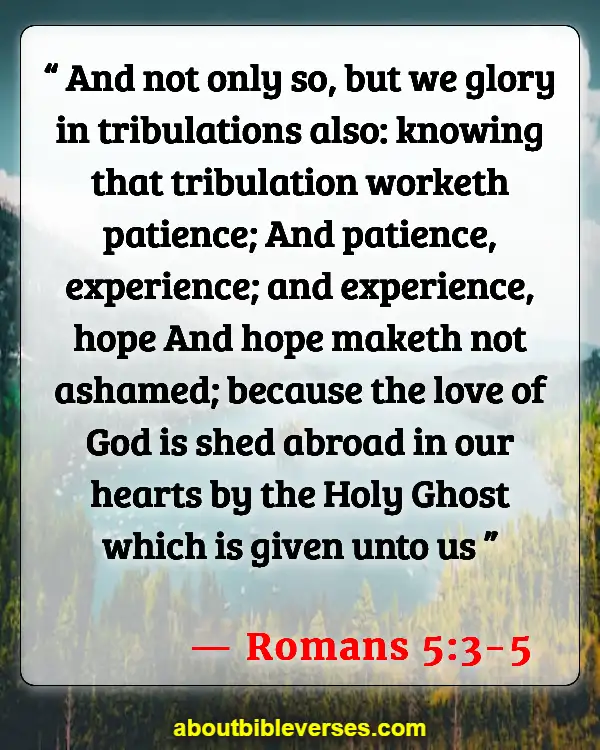 Romans 5:3-5
"And not only so, but we glory in tribulations also: knowing that tribulation worketh patience; And patience, experience; and experience, hope: And hope maketh not ashamed; because the love of God is shed abroad in our hearts by the Holy Ghost which is given unto us"
Psalm 119:75
"I know, O Lord , that thy judgments are right, and that thou in faithfulness hast afflicted me"
Romans 8:18
"For I reckon that the sufferings of this present time are not worthy to be compared with the glory which shall be revealed in us"
2 Timothy 3:12
"Yea, and all that will live godly in Christ Jesus shall suffer persecution"
Romans 8:28
"And we know that all things work together for good to them that love God, to them who are the called according to his purpose"
James 1:12
"Blessed is the man that endureth temptation: for when he is tried, he shall receive the crown of life, which the Lord hath promised to them that love him"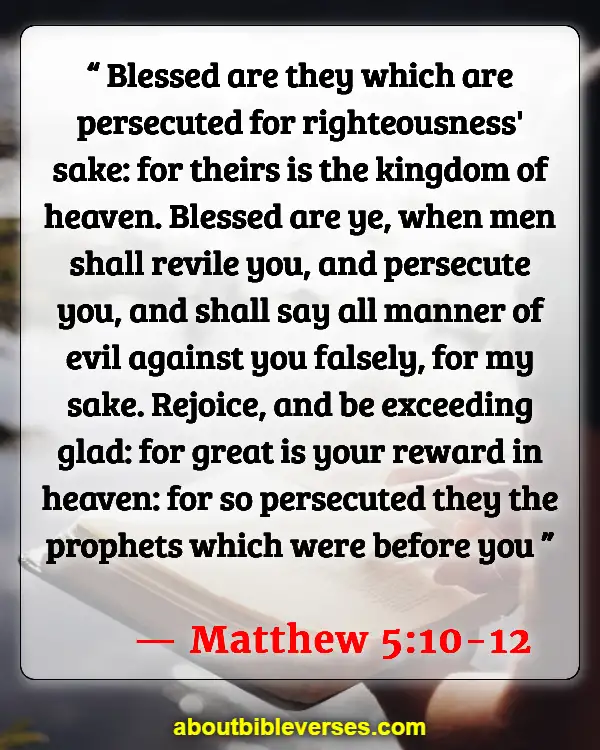 Matthew 5:10-12
"Blessed are they which are persecuted for righteousness' sake: for theirs is the kingdom of heaven. Blessed are ye, when men shall revile you, and persecute you, and shall say all manner of evil against you falsely, for my sake. Rejoice, and be exceeding glad: for great is your reward in heaven: for so persecuted they the prophets which were before you"
1 Corinthians 10:13
"There hath no temptation taken you but such as is common to man: but God is faithful, who will not suffer you to be tempted above that ye are able; but will with the temptation also make a way to escape, that ye may be able to bear it"
Isaiah 48:10
"Behold, I have refined thee, but not with silver; I have chosen thee in the furnace of affliction"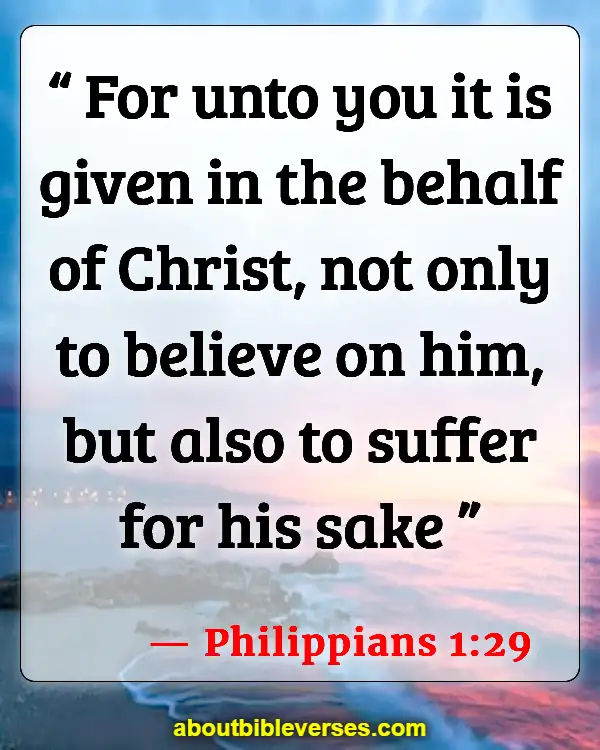 Philippians 1:29
"For unto you it is given in the behalf of Christ, not only to believe on him, but also to suffer for his sake"
James 1:2-4
"My brethren, count it all joy when ye fall into divers temptations; Knowing this, that the trying of your faith worketh patience. But let patience have her perfect work, that ye may be perfect and entire, wanting nothing"
1 Peter 5:10
"But the God of all grace, who hath called us unto his eternal glory by Christ Jesus, after that ye have suffered a while, make you perfect, stablish, strengthen, settle you"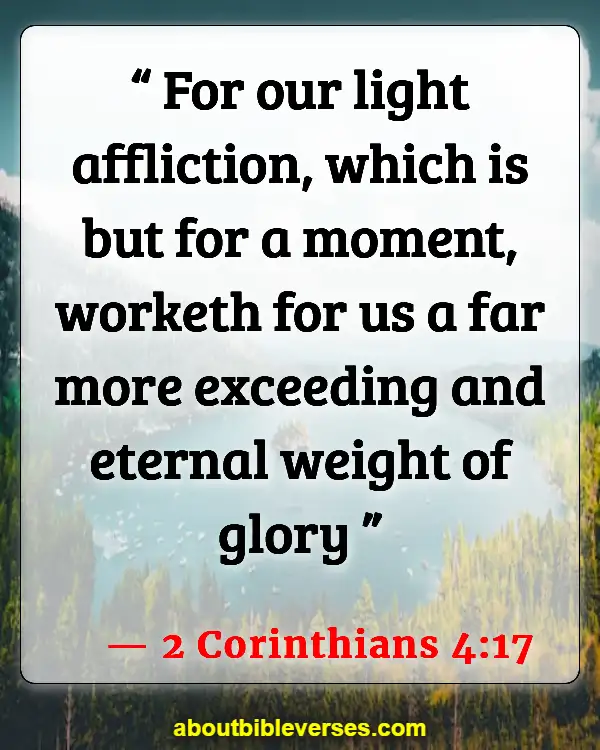 2 Corinthians 4:17
"For our light affliction, which is but for a moment, worketh for us a far more exceeding and eternal weight of glory"
2 Corinthians 1:4
"Who comforteth us in all our tribulation, that we may be able to comfort them which are in any trouble, by the comfort wherewith we ourselves are comforted of God"
1 Thessalonians 3:3-4
"That no man should be moved by these afflictions: for yourselves know that we are appointed thereunto. For verily, when we were with you, we told you before that we should suffer tribulation; even as it came to pass, and ye know"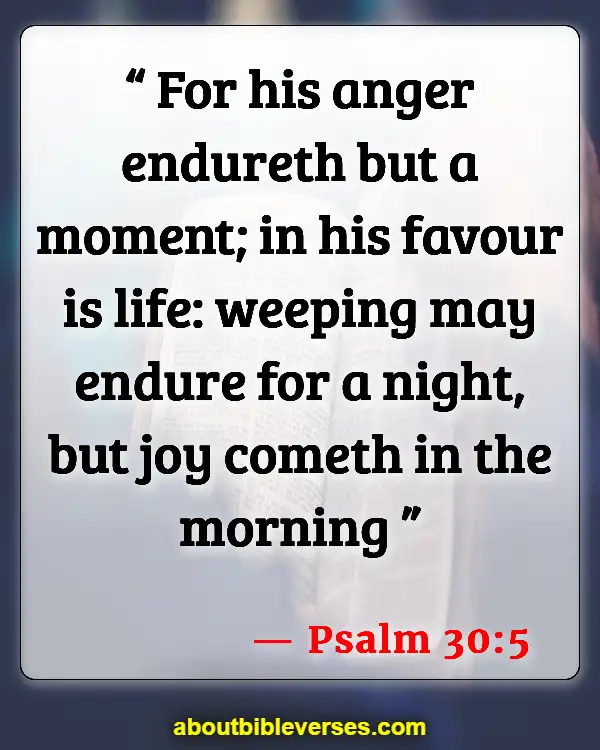 Psalm 30:5
"For his anger endureth but a moment; in his favour is life: weeping may endure for a night, but joy cometh in the morning"
Hebrews 12:11
"Now no chastening for the present seemeth to be joyous, but grievous: nevertheless afterward it yieldeth the peaceable fruit of righteousness unto them which are exercised thereby"
2 Corinthians 4:8-9
"We are troubled on every side, yet not distressed; we are perplexed, but not in despair; Persecuted, but not forsaken; cast down, but not destroyed"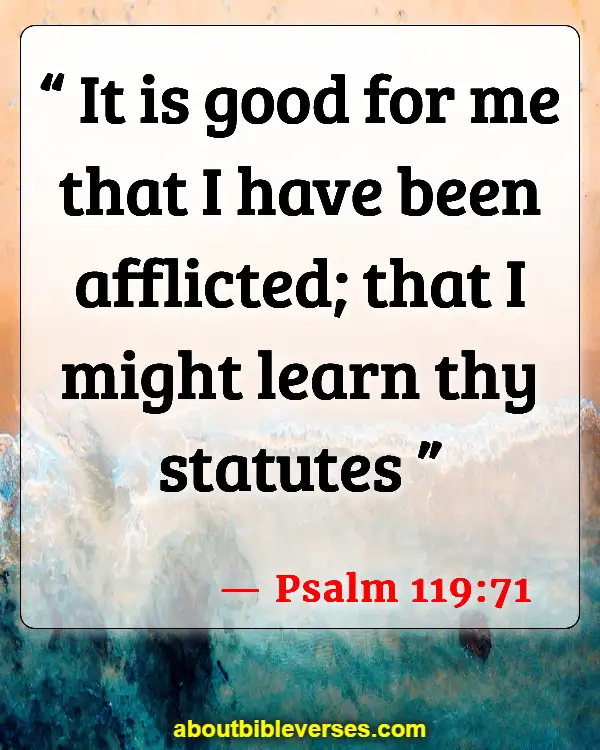 Psalm 119:71
"It is good for me that I have been afflicted; that I might learn thy statutes"
Job 23:10
"But he knoweth the way that I take: when he hath tried me, I shall come forth as gold"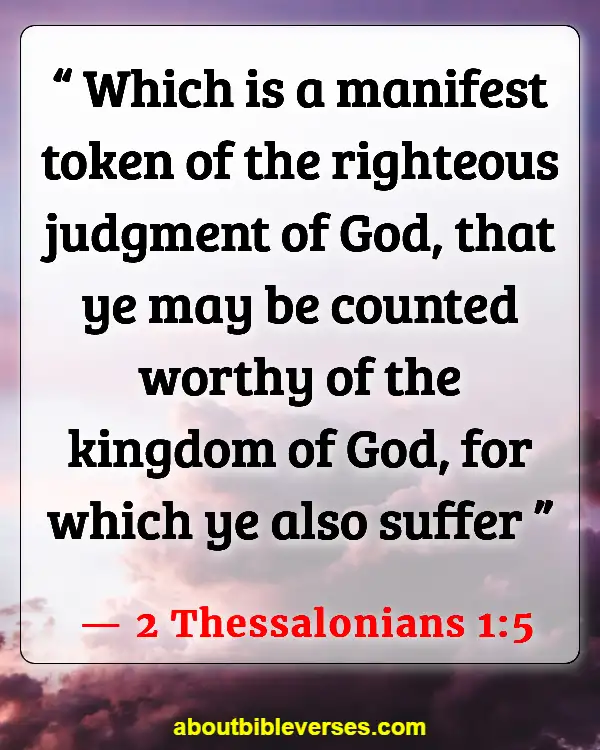 2 Thessalonians 1:5
"Which is a manifest token of the righteous judgment of God, that ye may be counted worthy of the kingdom of God, for which ye also suffer"